Future of Social Compact – Day for Spiritual Liberty
25 November is the anniversary of the United Nations « Declaration on the Elimination of All Forms of Intolerance and Discrimination Based on Religion or Belief. » The Declaration was proclaimed on 25 November 1981 and began by stating "Considering that one of the principles of the Charter of the United Nations is that of the dignity and equality inherent in all human beings, and that all Member States have pledged themselves to take joint and separate action in co-operation with the Organization to promote and encourage universal respect for and observation of human rights and fundamental freedoms for all, without distinction as to race, sex, language or religion."
The Declaration took nearly 20 years of difficult negotiations to draft. Preparation of the declaration began in 1962 and the Declaration was proclaimed in November 1981. Originally, negotiators at the UN had thought of drafting a single text which would have included the elimination of discrimination based on race, sex, and religion. However, there was too great a diversity of views. It was easier to deal with race because in the 1960s and 1970s in UN circles "race" was only the Apartheid policy of South Africa which everyone was, at least verbally, against.
Religion and belief were more difficult questions. The defense of spiritual liberty has been one of the most persistent of struggles, and there is no area of the world that does not have its martyrs to the cause. The struggle has often been against religious authorities who have wanted to maintain their faith within narrow limits claiming that they alone held the truth. It is significant that the words "dogmatic" "sectarian" and "inquisition" —all arise from the religious vocabulary. The stoning of the prophets and the auto-da-fe have been the answers of religious authorities — and often ordinary believers as well — to new ideas. Today, in most parts of the world, religious organizations can no longer put heretics to death. Now, religious organizations can only try to marginalize those who hold new ideas or to excommunicate them. However, as we see with the actions of the Islamic State in Iraq and Syria (ISIS) against the Yezidi, the Christians and other religious minorities, the spirit of the inquisition can return if the context is favorable.
If religious organizations are usually no longer able to put to death heretics, the State has taken over the task of establishing orthodoxy and putting heretics to death. Although today, governments are the prime agents of repression against the spiritual life, governments are also timidly building the defenses of spiritual liberty.
The Declaration of 25 November 1981 builds upon Article 18 of the Universal Declaration of Human Rights which states that "Everyone has the right to freedom of thought, conscience and religion; this right includes freedom to change his religion or belief, and freedom, either alone or in community with others and in public or private, to manifest his religion or belief in teaching, practice, worship and observance." There can be no doubt that freedom of thought, conscience, religion or belief is of a fundamental character and derives from the inherent dignity and worth of the human person.
One of the most difficult areas in drafting the Declaration concerned the rights of the child to have "access to education in the matter of religion or belief in accordance with the wishes of his parents and shall not be compelled to receive teaching on religion or belief against the wishes of his parents or legal guardians, the best interests of the child being the guiding principle." The Declaration went on to state "The child shall be protected from any form of discrimination on the grounds of religion or belief. He shall be brought up in a spirit of understanding, tolerance, friendship among peoples, and in full consciousness that his energy and talents should be devoted to the service of his follow men."
Despite the rather undramatic title of the Declaration, it is a cornerstone in the defense of spiritual liberty. Thanks to the Declaration on the Elimination of All Forms of Intolerance and Discrimination Based on Religion or Belief, we who work for a world of understanding and solidarity have a UN text on which to base our efforts to defend spiritual liberty. Its anniversary should remind us of the important tool we have at hand.
First published by the Partner Ovi
United Nations Drowning Prevention Group launched on World Water Day 2018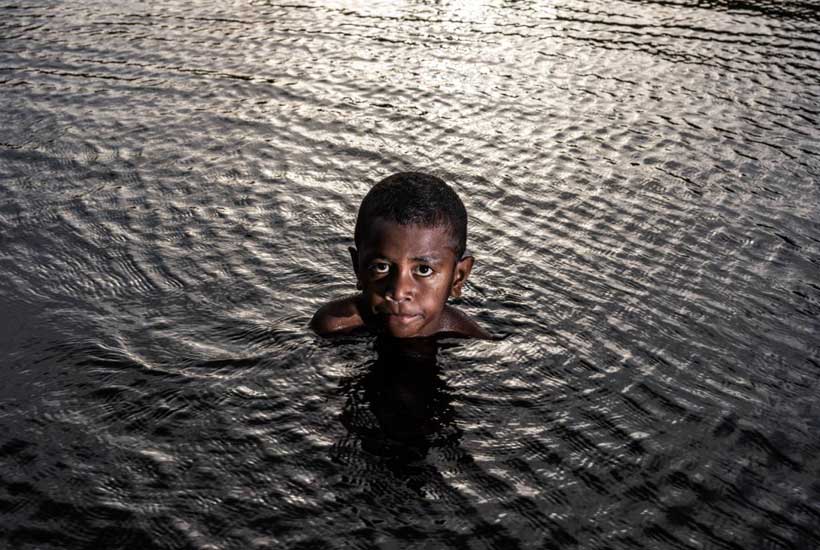 Ambassadors from across the world have highlighted the need for global drowning to be tackled if the United Nation's Sustainable Development Goals are to be met by 2030.
In an open letter on World Water Day (22 March), members of a newly formed UN group on drowning prevention, launched today, have called on the international community to recognise safe access to water as a global development priority alongside access to safe water.
With drowning claiming 360,000 lives a year across the globe, the UN Group of Friends on Drowning Prevention – with founding members including the governments of Bangladesh, Vietnam, Fiji, Thailand, Tanzania and Ireland – has called for drowning to be recognised and resourced in line with its impact on communities worldwide.
This comes as the UN launches the International Decade for Action on Water for Sustainable Development, focussed on addressing water-related challenges including access to safe water and sanitation.
Royal National Lifeboat Institution (RNLI) Head of International Advocacy Helen Morton said:
"Drowning is a silent epidemic. Responsible for more deaths each year than international development priorities including malnutrition and maternal mortality, it goes unrecognised and under-resourced. Drowning hits the most vulnerable first and worst; children and young people represent the majority of lives lost and almost all occur in low and middle income countries. Wasted lives and preventable deaths on an epidemic scale.
"Rightly, resource in recent decades has focused on delivering the human right to water, but it's now critical that we focus on water access in the fullest sense; recognising safe access to water as well as access to safe water as a pressing development problem, and as a means to enable development.
"The RNLI has been working with governments across the world committed to helping to end this silent epidemic, and we're encouraged that a new dedicated UN group has launched today on World Water Day to prove that prevention is possible."
The full open letter is available below.
A letter from the UN Group of Friends on Drowning Prevention
Today, on World Water Day, we celebrate that water enables the lives and livelihoods of billions of people across our planet. The launch of a new United Nations Decade of Action on Water is an opportune moment to reaffirm our commitments to this urgent and important issue.
But in our efforts to achieve the Sustainable Development Goals (SDGs) and make the UN Decade on Water successful, we must address the issue of water access in the fullest sense – that includes recognition of the realities in which those who are left behind live.
While our focus has been on access to safe water, it is critical to draw the attention of the global community to the need for safe access to water.
Each year, drowning is responsible for more deaths than malnutrition or maternal mortality. It affects the most vulnerable first and worst; almost all of the 360,000 drowning deaths occur in low- and middle-income countries. Among these, children and young people represent the majority of lives lost. Every other minute, a child loses their life to the water. Drowning is the number one cause of child mortality in many countries across South East Asia and the Western Pacific.
In committing to the SDGs every country in the world has committed to deliver a set of Goals for their citizens by 2030. Ensuring safe access to water will be critical to reducing child mortality and to achieving sustainable development as a whole. Drowning prevention is a forgotten but fundamental enabler to ensure that every child survives and thrives; while insuring investment in nutrition, education and immunisation and providing a set of required survival skills that will protect our future generations.
Drowning is not fate, nor inevitable.
Every life lost to the water is preventable. Simple and scale-able solutions, such as survival swim lessons, community crèches and flood response skills, can be delivered at a large scale and low-cost, saving hundreds of thousands of lives. This is ever-more important with growing exposure to water due to climate change and increased risks of natural disasters, yet to date drowning has been absent from political debate, and has not received the level of public attention it deserves.
So, today, we officially launch the Group of Friends on Drowning Prevention, to mobilise governments from across the geographic and political spectrum to act on this common cause; to ensure that the issue of drowning prevention is recognised and receives resources commensurate with its impact on communities worldwide.
As the President of the General Assembly launches the Decade of Action on Water for Sustainable Development, we call upon him, and fellow leaders, to recognise the importance of safe access to water alongside access to safe water. If we are to achieve the Sustainable Development Goals and ensure that no one is left behind, inaction is not an option.
Signed by:
Masud Bin Momen, Ambassador of Bangladesh to the United Nations Luke Daunivalu, Ambassador of Fiji to the United Nations Virachai Plasai, Ambassador of Thailand to the United Nations Nguyen Thi Phuong Nga, Ambassador of Viet Nam to the United Nations
Seven Out of 10 Top School Systems Are in East Asia Pacific
The East Asia and Pacific region has seven of the top ten performing education systems in the world, with schools in China and Vietnam showing significant progress, according to a new World Bank report released today. This is a major accomplishment that offers important lessons to countries around the world. In the rest of the region, however, up to 60 percent of students are in under-performing schools that fail to equip them with the skills necessary for success.
Growing Smarter: Learning and Equitable Development in East Asia and the Pacific argues that improving education is necessary to sustain economic growth and highlights the ways that countries in the region have been able to improve learning outcomes. Drawing on lessons from successful education systems in the region, it lays out a series of practical recommendations for key policies that promote learning so that students acquire foundational skills in reading and math, as well as more complex skills that are needed to meet future labor market demands.
"Providing a high-quality education to all children, regardless of where they are born, isn't just the right thing to do. It's also the foundation of a strong economy and the best way to stop and reverse rising inequalities," said Victoria Kwakwa, World Bank Vice President for East Asia and Pacific.
A quarter of the world's school-age children – some 331 million – live in East Asia and the Pacific. Up to 40 percent of them attend school in education systems whose students are ahead of the average students in OECD countries. These schools are not only in wealthy countries such as Singapore, Korea and Japan, but also in middle-income countries such as China and Vietnam. And, as the report highlights, student performance isn't necessarily tied to a country's income level. By age 10, for example, the average Vietnamese student outperforms all but the top students in India, Peru and Ethiopia.
But many countries in the region are not getting the results they want. In Indonesia, for example, test scores showed students were more than three years behind their top-performing peers in the region. In countries such as Cambodia and Timor-Leste, one-third or more of second graders were unable to read a single word on reading tests.
Another key finding of the report is that across the region, household incomes do not necessarily determine children's educational success. In Vietnam and China (Beijing, Shanghai, Jiangsu and Guangdong provinces), for example, students from poorer households do as well, if not better, in both math and science, as compared to average students in the OECD.
"Effective policies for the selection, motivation, and support of teachers as well as sound practices in the classroom are what determine how much students learn. For policymakers looking to improve their school systems, allocating existing budgets efficiently, coupled with strong political commitment, can make a real difference in the lives of children across the region," said Jaime Saavedra, the World Bank's Senior Director for Education.
The report lays out concrete steps for improving learning for lagging systems in the region and beyond, starting with ensuring that institutions are aligned so that objectives and responsibilities across the education system are consistent with each other. The report also urges a focus on four key areas: effective and equity-minded public spending; preparation of students for learning; selection and support of teachers; and systematic use of assessments to inform instruction.
The report found that top-performing systems spend efficiently on school infrastructure and teachers, have recruitment processes to ensure the best candidates are attracted into teaching, and provide a salary structure that rewards teachers with proven classroom performance. It also found that schools throughout the region increased preschool access, including for the poor, and have adopted student learning assessment into their educational policies.
The report complements and builds on the World Bank's World Development Report 2018: Learning to Realize Education's Promise, which was released in September 2017 and found that without learning, education will fail to deliver on its promise to eliminate extreme poverty and create shared opportunity and prosperity for all.
UN women's commission opens annual session at 'pivotal moment' for gender equality movement
Taking place at "a pivotal moment for the rights of women and girls," the United Nations body dedicated to gender equality and women's empowerment opened its annual session on Monday hearing calls to help women, especially those in rural communities, secure an end to the male-dominated power dynamic that has long marginalized their participation and muted their voices.
"Across the world, women are telling their stories and provoking important and necessary conversations – in villages and cities; in boardrooms and bedrooms; in the streets and in the corridors of power," said Secretary-General António Guterres, opening the 62nd session of the UN Commission on the Status of Women (CSW62).
"From 'MeToo' to 'Time's Up' and 'The Time is Now' […] women and girls are calling out abusive behaviour and discriminatory attitudes," he added.
Under the Commission's theme 'Challenges and opportunities in achieving gender equality and the empowerment of rural women and girls,' the UN chief observed that although a marginalized group, they were often the backbone of their families and communities, managing land and resources.
Mr. Guterres said that supporting these women is essential to fulfilling our global pledge to eradicate poverty and to create a safer, more sustainable world on a healthy planet – 2030 Agenda for Sustainable Development.
Mr. Guterres painted a picture of a male-dominated world with a male-dominated culture in which centuries of patriarchy and discrimination have left a damaging legacy.
Calling it "the greatest human rights challenge of our time," he said "progress for women and girls means changing the unequal power dynamics that underpin discrimination and violence."
"Discrimination against women damages communities, organizations, companies, economies and societies," he continued. "That is why all men should support women's rights and gender equality. And that is why I consider myself a proud feminist."
The President of the UN Economic and Social Council (ECOSOC), Marie Chatardova pointed to the Commission, as a critical instrument to strengthen the global normative framework for women's empowerment and the promotion of gender equality.
The body is also as a key driver of ECOSOC's work, with the Commission's outcomes as bolstering the 2030 Agenda's implementation and that of its 17 Sustainable Development Goals (SDGs), which seek to end poverty and ensure prosperity for all on a healthy planet.
Noting that gender equality and the empowerment of women and girls is a theme that cuts across all the Goals, Ms. Chatardova said the Commission's focus on rural women and girls was both timely and well-aligned with the 2030 Agenda.
According to the ECOSOC President, inclusion is a key element in all efforts.
Noting that the Commission has long provided a roadmap for the UN's work in women's empowerment and gender equality, she announced a special Council session in May to build sustainable, inclusive and resilient societies.
Gender perspective is critical
For his part, the President of the UN General Assembly, Miroslav Lajčák, noted that past challenges were approached without a gender perspective, which "has had a particularly damaging effect on rural women."
Mr. Lajčák underscored that this needs to stop, and that women must be taken into account in all actions, from access to water to closing pay gaps.
Drawing attention to rural women as a major source of innovation, he explained that their empowerment would benefit everyone.
"These kinds of women do not need our help, in finding solutions," he stated. "What they need is our support, in turning their ideas into reality."
Calling gender equality "an urgent priority," Mr. Lajčák he encouraged the Commission to carry on with its important work "until every woman, sitting in this room today has the same rights, and the same opportunities, as the man sitting beside her.'
"Thank you for continuing your calls. Let's make them stronger than ever," he concluded.
UN Women Executive Director Phumzile Mlambo-Ngcuka highlighted the importance of this year's focus on rurual women.
"It speaks to our commitment to fight some of the biggest challenges of our time: poverty, inequality, intersectionality and an end to violence and discrimination against women and girls, no matter where they live, or how they live, so that we 'leave no one behind,'" she stated.
Calling it "a tipping point moment," the UN Women chief urged the forum to seize the opportunity to secure and accelerate progress, build consensus and share best practices to serve "the poorest of the poor."
"It has never been so urgent to hold leaders accountable for their promises for accelerating progress" on the SDGs, she said.  An unprecedented hunger for change in women's lives was being seen around the world, as well as a growing recognition that when women banded together, "they can make demands that bite."
"Women are fighting to take steps that change their lives, and they are refusing to accept the practices that have normalized gender inequality, sexual misconduct, exclusion and discrimination across all walks of life," she argued.
She urged everyone to unite around the common cause, as set out in the principles of equality in the UN Charter, "to make this a moment of real acceleration, change and accountability."
The chair, Geraldine Byrne Nason, said the current session is a key moment on the path to ending discrimination against women and girls once and for all.  Indeed, "time is up" on women taking second place around the world, she said, challenging the Commission to do more and do better.
CSW functions under ECOSOC, acting as the UN organ promoting gender equality and the empowerment of women.  CSW62 runs until 23 March.