Vietnamese Australians' Community: Realities and Prospects
A Vietnamese Australian is an Australian, either born in Vietnam or having Vietnamese ancestors. These people make up the community of Vietnamese Australians and contribute significantly to both the Australian and Vietnamese economies as well as the comprehensive partnership relationship between the two countries. The circumstance behind the establishment of this community, however, was anything but without incidents.
In 1975 Vietnam was liberated from the US-backed Saigon regime. The new united Vietnam, christened the Socialist Republic of Vietnam was then established. Since then, particularly between 1975 and 1990, many people who worked for the South Vietnam government left Vietnam to reside abroad, including in Australia. According to the 1991 National Census, there were 124,800 people born in Vietnam residing in Australia and in 2001 there were 154,000. In 2011 this figure rose to 185,000. In the same year there were 219,000 people who spoke Vietnamese at home. (1)
The greatest proportion of Vietnamese Australians lives in Sydney (with strong vibrant communities in Sydney's west and south west) and Melbourne although many of the second generation now live throughout Australia. The social mix of the refugees included people from all professions and walks of life in Vietnam which is reflected in today's Vietnamese Australian communities. Mahayana Buddhism is the main religion of the community, followed by Christianity both Catholic and Protestant. The main festivals observed by Vietnamese Australians include Tet Nguyen Dan, the Lunar (or Chinese) New Year, and Tet Trung Thu (the Mid-Autumn Festival).
The article will analyze the Vietnamese Australians' contribution to the Commonwealth of Australia and Vietnam in terms of economic development, the forging of a multiracial and multicultural society as well as the promotion of the comprehensive partnership relationship between Vietnam and Australia. The article will analyze the current problems of the Vietnamese Australian Community and suggest measures to overcome these problems. The article will also forecast the prospect of Vietnamese Australian Community in Australia in the future and propose some suggestions to improve the role and status of Vietnamese Australians in both Australia and Vietnam.
1. Australia and Her Immigration Policy Towards Asian Refugees
Being a unique country created in a unique historical background, the nature of Australian nationalism and nation building has been considerably debated.
Australia was a colonial society generated in the period of the great imperialist competitions of the nineteenth century, having then accepted modern nationhood while still responding to the imperial imperatives of Great Britain. This colonial past has resulted in two unresolved consequences: The first of these imperatives remains the effective subjugation of the original nations, and their incorporation into each of the three subsystems. Much of contemporary debate about Indigenous issues reflects the "unfinished business" – both for the empire project and the people subject to it. The second imperative is the defence of the original imperial peoples against competing external empires (understood as cultural systems rather than militarily driven state invasions). They are both different faces of the Australian empire project: (i) the successful imposition in a new land of a cultural, political and economic system; (ii) and that system privileges and secures the interests of the colonizing peoples. The strategy has been presented as multiculturalism (since about 1975) and has sought to suppress the racial nature of Australian nationhood, through assertions of commitments to modern values of equality in cultural relations, and capacity to contribute to economic development in immigration policies.(2)
By 1966 under the Prime Minister Holt Edward (Liberal), Australia had signed the UN Convention on the Elimination of All Forms of Racial Discrimination. Educated, English-speaking Asians were being accepted – reflecting the idea of orientation to modernity as the organizing principle around which race could be reduced as a criterion of population selection. A modernizing nation would accept modernized populations, as they were expected to share values of democracy and economic productivity, and be bearers of significant stores of human capital (created by the investment by their states of origin). The new ALP government in 1973 withdrew all racial references in the Immigration Act, expecting that the modernity model of non-White immigration would continue as the norm. Indeed, a central ideological tenet of global modernity was created for this purpose, the concept of multiculturalism and its programmatic implementation.
Initially the Australian government under Prime Minister Gough Whitlam (3) was reluctant to get involved with the inflow of Asian refugees in spite of the aforementioned convention. Yet the arrival of the fishing boat KG4435 at a wharf in Darwin in April 1976 during the next government led by Malcolm Fraser meant that there had to be actions to take. The boat was the first sign of what had been happening throughout Southeast Asia, and soon it became a problem faced by every Australian government thereafter.
Fraser's government's solution was to broker a deal with the Asian countries of first refuge. The goal was twofold: To take the refugee problem off public attention, yet at the same time manage their arrival so as not to interfere with the Australian national interest and integrity. The government proposed that if the countries would no longer refuel the boats and send them towards the undefended north Australian coast, then Australia would take 15,000 refugees a year from the camps. However, the Australian government would choose those refugees it wanted in relation to their 'fit' with Australian priorities – thus attempting to sustain the modernity framework for population intake (and, in the process, minimize those with disabilities etc. who might be a long term cost to Australia). This became, more or less, a framework for later governments in dealing with refugee issues that persists until today (4).
Once the first wave of refugees had been contained and a system found to process them, Australia sought ways to manage the continuing pressures. This period is marked by two contradicting views of the two Prime Ministers Bob Hawke and John Howard. Prime Minister Bob Hawke argued that if the outsiders (refugees) are seen as strengthening the depth of the cultural resources of the community, the level of perceived threat to Australia is reduced. Criminal deviance can then be seen as a minority activity, requiring normal social control strategies, rather than reflecting the essential differences between communities, or defining the core of the culture of the "Others". On the contrary, in the late 1980s, John Howard as an opposition leader considered the outsiders as a threat to social cohesion.(5)
This duality, at its root, represents the real issue with white (or previously settled) Australian's view on Vietnamese refugees and the subsequent community. Given the insecurities and prejudice deeply rooted in history, how the "existing population" views the "newcomers" will play an important role in defining how well they would fit into the new society and their social roles in the years thereafter.
As social cohesion and the formation of a modern, internally consistent and stable Australia began to be called into question, the position of the Vietnamese community once again was the target of much debate. The gist of the modern Australian Empire Project is the creation of an Australia that can compete with nations in the world on equal footing while maintaining an advanced, progressive, democratic and developed society at home. To this goal, social cohesion is key element. Previously, ever since the arrival of the Vietnamese refugee community as a full-fledged ethnic group, there have been many arguments to and for multiculturalism and their role in promoting or undermining the Australian internal solidarity and social cohesion. At that time, these arguments were based more on cultural and social grounds than economic.
The argument involving social cohesion was extended to economic grounds in the wake of the proposal from Monash University's Centre for Population and Urban Research. It stated that the Vietnamese were forming part of an emerging structural underclass.(6) As it happened, the Vietnamese community in Sydney, whose composition consisted of a large portion of 'recent migrants who lack the skills to compete in the contemporary labour market' (7) was found to be contributing to the sedimentation of poverty. The polarization of income groups had accelerated from 1976 to 1991, and intensified over the next five years. This period paralleled the rise in Vietnamese immigration; the impact of this polarization was most evident amongst the Vietnamese, and by implication may indeed have been a consequence of their presence.(8)
In sum, in that quarter century, a generation, a social revolution had occurred in Australia: from a society with White Australia as a recent and avowedly racist population selection policy, to an egalitarian policy now avowedly non-racist; from a society in which Asian faces were still extraordinary, to one where visible diversity is everywhere; and from a society with little sense of non-European cultures and traditions, to one where every Buddha's birthday has senior politicians lining up to be seen at Vietnamese temples.
2. Immigration Reality from Vietnam to Australia
The community of Vietnamese Australians was established by refugees from the war in Vietnam and was the first large group of Asian immigrants to settle in Australia after the end of the White Australia policy in 1973. The migration of Vietnamese to Australia, which has occurred mostly during the last 40 years, has two distinct phases: (i) before Vietnam's renovation policy with assisting orphans pre-1975 and refugee resettlement during 1975–1985; (ii) and after renovation policy with purpose of family reunions, since the late 80s.
2.1. Immigration from Vietnam to Australia Before Renovation Policy
From 1958, Vietnamese students started to arrive in Australia to study at universities under the Colombo Plan. Almost all of these students returned to Vietnam after finishing their courses. Meanwhile, Australia committed combat troops to the Vietnam War in 1965. Later, many of these troops and other Australians married Vietnamese people and brought them back to Australia. Additionally, as a result of war there were over 800,000 orphans in South Vietnam alone. Australian families adopted 537 Vietnamese orphaned babies and infants between 1972 and 1975. This was the beginning of the first wave of permanent Vietnamese migration to Australia. In 1975 there were only about 1,000 people born in Vietnam living in Australia consisting of 335 Colombo Plan students; 130 private Vietnamese students; and over 500 orphans adopted by Australian families.(9)
After the fall of Saigon Regime in 1975, Australia, being a signatory to the "Convention Relating to the Status of Refugees" agreed to resettle its share of Vietnam-born refugees under a refugee resettlement plan between 1975 and 1985. In reality, Australia accepted Vietnam War refugees and arrivals of Vietnamese people increased rapidly. Once Prime Minister Fraser (from 11 November 1975 to 11 March 1983) had committed to taking the Vietnamese refugees, he was able to call on a shared liberal value set among his supporters in the Coalition, and the various spokespeople for the ALP Opposition, to fuse a solid wall of commitment to multiculturalism as the state ideology of inter-communal relations. Under this approach there was little argument about the Vietnamese policy at the level of parliamentary debate – other than to stress the need for services and the pressures to which government should respond.(10)
The resettlement of Vietnamese refugees did not happen without incidents. As refugees supported by the Australian government of the time, they were largely resettled in localities around the large migration centers. This is to say places like Cabramatta and Fairfield (Sydney), where already a relatively large population of previous immigrants – Yugoslavs, Italians, Russians, among others – existed. Unlike other postwar refugee communities, however, the Vietnamese community tended not to disperse from their initial place of settlement. As a result, they became a significant, condensed ethnic group in these localities, a fact that would fuel contention and public fallout for years to come.
Of these Vietnamese refugees, who arrived in the immediate post-war period, four main groups can be identified with different but in some cases overlapping arrival times: (i) the first group, arriving in 1975 was mostly elite Vietnamese, Chinese businessmen and Catholics. This group happened right before and after the liberation of South Vietnam; (ii) the second group arriving in 1976–78 was a gradually increasing outflow of refugees from camps outside Vietnam. In 1976 the first boat KG4435 arrived in Australia carrying refugees who had by-passed formal immigration procedures (11). Desperate to find a new home, they were accepted as immigrants on humanitarian grounds (see Table 1). Within three years a further 53 refugee boats had arrived; (iii) the third group, arriving in 1978, were mostly owners of private businesses, especially Chinese. Many of the boats that began to arrive in Australia had been refueled in Malaysia and then sent on their way. In addition, many of these refugees were not in fact boat people – but rather people being processed through refugee camps; (iv) The fourth group were so called 'economic refugees', mostly small traders, rural and urban workers and the unemployed. These left Vietnam during the socio-economic turmoil of the 1980s searching for a better life elsewhere and for the most parts weren't fueled by political reasons.
Table 1: Vietnamese Population in Australia, 1976-2001
| | | | | | | |
| --- | --- | --- | --- | --- | --- | --- |
| Census Year | Born in Vietnam | % change | The second generation | Speak Vietnamese | % change | % Australia- born speaking Vietnamese |
| 1976 | 2,427 | | | | | |
| 1981 | 41,096 | | | n/a | | |
| 1986 | 83,028 | 100 | | n/a | | |
| 1991 | 121,813 | 50 | 25,151 | 110,817 | | 16 |
| 1996 | 150,941 | 25 | 46,756 | 146,265 | 30 | 26 |
| 2001 | 154,831 | 3 | n/a | 174,236 | 20 | n/a |
Source:Andrew Jakubowicz, A Quintessential Collision: Vietnamese in Australia after a generation of settlement
and adaptation, University of Technology Sydney, May 2004.
After the initial intake of refugees in the late 1970s, there was a second immigration peak in 1983-84, most likely a result of the 1982 agreement between the Australian and Vietnamese governments on the Orderly Departure Program (ODP), which allowed relatives of Vietnamese Australians to leave Vietnam and migrate to Australia. This means that ODP emphasized family reunion, and two-thirds of arrivals over the next few years were women. Then the first immigrants from Vietnam under this program arrived in Australia in 1982. Within a few years the Vietnam-born population of Australia would again double. A third immigration peak in the late 1980s seems to have been mainly due to Australia's family reunion scheme. At the 1981 census, there were 41,096 people born in Vietnamese in Australia, a very large increase from the 1976 level (see Table 1). (12)
2.2 Vietnamese Immigration to Australia Since Renovation Policy (1986)
In 1986 the Vietnamese government committed to the Doi Moi (renovation) Policy, liberalizing the market and undertaking structural reforms needed to modernize the economy and produce more competitive, export-driven industries. The July 1989 International Conference adopted a Comprehensive Plan of Action that would have the effect of reducing the acceptance rate, increasing delays, and leaving about 40,000 rejected applicants in camps who refused to go back to Vietnam. In the wake of this situation the boats began to arrive again, with about 2,000 Indochinese arriving between 1989 and 1995, though the Vietnamese were few in numbers. The situation they faced had changed dramatically from what was before. These arrivals were now detained in camps in remote parts of Australia, facing arduous checks on their bona fides. When a couple walked out of one camp in 1992, security was intensified, based on a supposition that all unauthorized arrivals might seek to escape from lawful custody. All unauthorized arrivals, therefore and thereon, had to be interned under high security.
However, from the late 1980s Australia's family reunion program was officially applied, called the 'Vietnamese Family Migration Program' (VFMP). Over 90,000 refugees were processed and entered Australia during this time. By the 1990s, the number of Vietnam-born migrating to Australia had surpassed the number entering as refugees. Between 1991 and 1993, the percentage of Vietnam-born migrants had reached 77% of the total intake of Vietnam-born arriving in Australia. By 1996 Vietnamese immigration had effectively ceased – tough new rules on family reunion made by the Howard government (from 11 March 1996) meant that there was a net increases of less than 4,000 over the 1996-2001 census period. Meanwhile the community was reflecting many of the characteristics of a mature group: for instance, by 2001 over one in four Vietnamese speakers was Australian born, while in 1996, 86% of Vietnamese had adopted Australian citizenship; and by 2000, the percentage of Vietnam-born migrants had climbed to 98%. In 2001-2002, 1,919 Vietnam-born migrants and 44 humanitarian entrants settled in Australia (see Figure 1). (13)
In the 2001 census, the 155,000 people of Vietnamese ancestry were first or second generation Australians; first generation Australians of Vietnamese ancestry outnumbered second generation Australians with Vietnamese ancestry (74%: 26%). Relatively few people of Vietnamese ancestry stated another ancestry (6%). Among the leading ancestries, the proportion of people who spoke a language other than English at home was highest for those of Vietnamese (96%). (14) At the 2006 census, 173,663 Australian residents declared themselves to be of Vietnamese ancestry.
In more recent years the vast majority of Vietnamese migrants have come to Australia through the Family Stream although there are growing numbers of skilled migrants. Permanent migration refers to the number of visas granted in any given year, without taking into account whether the visa recipient actually arrived and settled in Australia. In 2012-13, 30% of permanent visas granted to Vietnamese nationals were skilled visas, up from 17 per cent in 2009–10. A total of 5,339 Vietnamese nationals were granted a permanent visa through Australia's Migration Programme in 2012–13, with the Family Stream accounting for 70% of visas granted. Of permanent migration, skilled migration focuses on facilitating the permanent entry of those who can make a positive contribution to Australia through their skills, qualifications, entrepreneurial spirit and employment potential. In 2012–13: (i) among the 128 & 973 skilled visas were granted, Vietnamese nationals accounted for 1.2% (1,592 grants) of the total. Compared to 2011–12, skilled visas granted to Vietnamese nationals rose by 49%. This represented an overall rise of 136% since 2009−10 and the highest on the record. Much of this recent growth can be explained by a large increase in Employer Sponsorship, from 392 grants in 2011–12 to 898 grants in 2012−13, a 129% increase; (ii) Skilled visas granted to Vietnamese nationals accounted for nearly one-third (30%) of all permanent visas granted. While this share is low compared to most other countries it has increased from a share of 17% in 2009−10. Vietnam moved back to 15th position as source of skilled migrants in 2012–13 after falling to 19th in 2011−12; (iii) Points Tested Skilled Migration accounted for 34% of all skilled visas issued to Vietnamese nationals. Accountants, cooks and software and applications programmers were among the main occupations for new Points Tested Skilled Migration visa holders.
In addition, family migration facilitates the entry of close family members of Australian citizens, permanent residents and eligible New Zealand citizens. The programme is currently dominated by partners and dependent children, but also provides options for other family members, such as Carers, Parents and Aged Dependent Relatives. In 2012–13: (i) 60 cases of 185 family visas were granted, with grants to Vietnamese nationals accounting for 6.2% (3,716 grants) of the total. This made Vietnam the fifth largest provider of Family migrants to Australia; (ii) permanent family visas granted through the Migration Programme were 2.7% higher, but for Vietnamese nationals they were only increased by 0.8%: (iii) the Family Stream accounted for 7 in 10 permanent visas granted to Vietnamese Nationals – 73% of visas granted in this stream were to partners of an Australian resident.
Permanent additions are the sum of those granted a permanent residency visa while in Australia and those granted a visa through an Australian mission abroad, who has entered Australia during the respective reporting period. In 2012–13, there were 5,940 Vietnam-born permanent additions to the Australian resident population. Among these new additions there are: (i) Skill Stream comprising 750 skilled migrants and 784 accompanying family members and accounted for 26% of all permanent additions; (ii) Family Stream, made up of 4087 migrants and accounted for 69% of all permanent additions; (iii) Non-programme Vietnamese-born New Zealand citizens account for 2.9% of all permanent additions (se Figure 1). (15)
Apart form that, the subclass 457 visa programme allows Australian employers to sponsor foreign workers for employment in management, professional, technical and skilled trades' positions. The programme is demand-driven and highly responsive to Australian labour market conditions. In 2012–13 demand for this visa remained high and increased from 125,070 in 2011–12 to 126,350 – an 86% rise since 2009–10: (i) In 2012–13, 1310 subclass 457 visas were granted to Vietnamese nationals – 115% higher than 2011–12 and 245% higher than the number granted in 2009–10; (ii) Among the Vietnamese workers sponsored under this programme, café and restaurant managers, accountants and cooks were the main occupation for which Australian employers recruited from abroad.(16)
By the end of 2013, there were 215,000 people born in Vietnam were resident in Australia and over 250,000 people speaking Vietnamese at home. This is equivalent to 3.5% of Australia's overseas-born population (17). There may additionally be persons of Vietnamese descent born in Australia, or of arguably non-Vietnamese ancestries (such as Cantonese) born in Vietnam.(18) About 0.9% of the Australian resident population was born in Vietnam. Today the Vietnam-born represent the fifth largest migrant community in Australia behind the United Kingdom (mainly from England and Scotland), New Zealand, China, and Italy, and after the United States of America, Australia is the second most common destination for Vietnamese migrants.(19)
2.3 The Advantages and Disadvantages of Vietnamese Australian Community
Vietnamese Australians vary in income and social class levels. Vietnam-born Australians are highly represented in Australian universities and many professions (particularly as information technology workers, engineers, doctors and pharmacists), while other members in the community are subject to high unemployment rates. As the Vietnamese presence continued to grow (no longer primarily refugees but ODP immigrants), the normalizing of the population change process intensified local antagonisms. The popular press made much of what was seen as an emerging crime problem, though in 1987, it was found that the situation was much less fearsome than the public discourse might suggest. For instance, Vietnamese minors were 50% less likely to offend than the community norm; unaccompanied minors were even less likely to offend; while the rate was rising it was still very much lower than the community norm. Vietnamese had a much lower violent crime rate: drug offences in 1987 were 75% of the norm; and the suburbs in which the Vietnamese were concentrated had less crime than before their arrival. (20) Even so, youth crime became the trope through which the fears about social cohesion were voiced. However, since 2000, the vast majority of Vietnamese migrants to Australia came through the Family Stream (although there have been growing numbers of skilled migrants). The income of this group is more than the average rate of the Vietnamese Australian community.
Over three-quarters of people born in Vietnam live in New South Wales (39%) and Victoria (37%) (21)(see Table 2). In Melbourne the suburbs of Richmond, Footscray, Springvale, Sunshine and St Albans have a significant proportion of Vietnamese-Australians, while in Sydney they are concentrated in Bankstown, Cabramatta, Canley Vale and Fairfield. Other places of significant Vietnamese presence include Brisbane, where many have settled in suburbs like Darra and Inala. For most of the decade after 1986, the focus was on the Vietnamese communities of Sydney and Melbourne.
Table 2: National geographical distribution, by Vietnamese-born and Vietnamese nationals (%)
National geographic distribution

NSW

Vic.

Qld

SA

WA

Tas

NT

ACT

Proportion of all persons counted in the Census, 2011

30

25

20

7

10

2

1

2

Proportion of all Vietnamese-born counted in the Census, 2011

39

37

9

6

7

0

0

2

Geographical distribution, permanent additions, 2012−13

Skill Stream (primary)

23

27

27

10

10

0

1

2

Skill Stream (dependent)

17

19

42

11

8

0

1

1

Geographical distribution, temporary entrants, 2012−13

International students

30

45

10

5

6

0

0

2

Temporary Work (Skilled) (subclass 457) visa (primary)

39

20

18

4

16

0

1

3

Permanent departure

All Vietnamese-born permanent resident

57

21

8

2

9

0

1

2
Source: Information on migrants has come from internal data collected by the Department of Immigration and Border Protection.
Information on the geographical distribution of the total population was sourced from the 2011 Census of Population and Housing
Of particular note, Vietnamese Australians have an exceptionally low rate of return migration to Vietnam. In December 2001, the Department of Foreign Affairs and Trade (DFAT) estimated that there were 3,950 Australian citizens resident in Vietnam. It is not clear what proportion of this number are returned emigrants with Australian citizenship or their Vietnamese Australian children, and what number are simply other Australians in Vietnam for business or other reasons. The greater proportion (3,000) was recorded in the south of the country. (22) What this means, among others, is that the community of Vietnamese Australians is relatively stable – they have come to stay for the rest of their lives.
3. Vietnamese Australian Community's Contribution to Commonwealth of Australia and Vietnam
3.1. Role of the Vietnamese Australians to Economic Development and Multiracial Society of Australia
Today over 250.000 Australians are Vietnam-born, a mix of Viet and Chinese ethnicities, of which 25% are white collar professionals, whilst 28% work in transport, production and laboring. They enjoy strong community networks, and make a distinctive cultural contribution to Australian life and commerce. Features of Australia's Vietnamese-born migrants are as follows: (i) The median age of 42.8 years was 5.5 years above that of the general Australian population; (ii) Females slightly outnumbered males – 53% compared with 47%; (iii) In August 2013, their labour force participation rate of 61% was slightly below the national average of around 65%; (iv) The unemployment rate at August 2013 was 7.8% – this is higher than average and above the national rate of 5.8%; (v) In August 2013, 107 000 Vietnam-born people were working in Australia. Their main occupations were labourers (19%), technicians and trade workers (15%) and professionals (14%).(23)
The arrival of the Vietnamese refugees and the culture clash and social paranoia that ensued as a result thereof was an unfortunate, yet natural, course when two wildly differing peoples made contact so suddenly, as has been examined in the above section. Yet more fascinating still is the growth of said community between the first arrival and present day. From 1975 until now, the Vietnamese community in Australia grew from near-nonexistence to a 250 thousand-strong ethnic minority. With this growth came an accompanying identity, which, in and of itself, contributed in many ways to the socio-political scene of the host country.
As a result, by 2012 the second generation was a significant part of Australian political, economic and cultural life. (24) Today there are Vietnamese newspapers, a community literary and cultural website as well as radio stations and regular SBS television programs. Vietnamese community organizations thrive and are involved in community development, advocacy and social work. Community members play an increasing role in local government as well as representation in the Upper Houses of Australian states. Vietnamese Australians are also well represented in the arts and the professions.
A far larger portion of Vietnamese are less successful, but do contribute to Australian society in their own ways. Many Vietnamese set up their own businesses, often working hard to put their children through school and university. Vietnamese small businesses gradually transformed streetscapes in suburbs like Richmond and Springvale into vibrant, restaurant and retail centers. Those who participate in these works do so mostly for survival. They have a long history of being overworked and underpaid until the Australian social activist community began to take action supporting their interest. (25) The result of these social movements is doubtful at best: The report found large numbers of Vietnamese workers still working for low pay, often being defrauded and suffering from exhaustion. (26)
For whatever motives, the contribution was made: their income was vital to the family, and the work often involved all the family. Thus, Vietnamese workers and their families have played a crucial part in the survival of many industries, particularly the Australian clothing one, literally sacrificing themselves in the work (suffering repetition and other injuries) so that their children can stay at high school, and successfully go on to university. The mentality behind this act of apparent sacrifice will be discussed in the following section.
All these achievements stand testimony to the fact that the Vietnamese Australian community has gone a long way by any standards. There are a number of factors affecting this interaction process as follows:
First, there is the political climate of the time. It was a stormy ride for the fledgling community since day one: They have constantly been used, positively or otherwise, in such political movements and upheavals as the real end of White Australia in the late 1970s. In the early 1980s their presence was again used as evidence in support of the abandonment of bi-partisanship on multiculturalism. In the following decade the community was centrally embroiled in the emergence of a politics of race in the 1990s, providing case studies for the vehement demagoguery of the One Nation party and their allies, while also providing widespread support for Australia's first significant antiracist political party, Unity.
To this end, the Vietnamese Community in Australia has contributed to and revealed the deep instability of the Australian empire project, yet has also highlighted its resilience and capacity to adapt to and incorporate potential threats (27). Whether or not these incidents were for the better or worse of the Vietnamese Australian community, they have found themselves unwittingly at the eye of the storm of change in the Australian political thoughts of the era.
Second, it is the coincidental affinity of the Vietnamese culture with the pro-education, meritocratic environment of modern Australia. The Vietnamese culture considers education and successes in studies, one of the greatest values to be had. Within both Buddhist and Catholic Vietnamese communities, there is an assertion of the value of education, and a belief in the potential for individuals to realize their aspirations through education. Such a belief was rooted deeply in the history of the country, since the time of the Vietnamese Imperial exams, the last of which was still held towards the end of the Nguyen Dynasty. In an Australian environment that encourages educational participation, in which a globally focused modernity permeates elite and middle class cultures, meritocratic rules of selection compete with racist structures of exclusion. The Vietnamese dedication to academic excellence, hence, has found an excellent thriving ground. It was no surprising that a significant part of the Vietnamese community makes it through these hurdles – although a marginalized minority fails to do so. This also explains the degree of sacrifice Vietnamese Australian parents have been undertaking for the education of their children, as touched upon above.
Third, globalization of intellectual elites, proliferation of modern ideas of self-actualization brought into existence by the aforementioned high levels of education and meritocracy. This seems to manifest in the drive for self-actualization and the search for a new identity for themselves among Vietnamese Australian of the second-generation and beyond. Nowhere is this seen more clearly than during the Viet Pop exhibition (mobilized by community arts worker Cuong Le) – the text panel concludes with the words "the search for identity" is what young Vietnamese Australians are.
Fourth (and the least fortunate) is the marginalization and failure to cope with the new environment seen in a significant part of the Vietnamese Australian population. Statistics are harrowing: Drawing on Victorian police reports, Vietnamese-born offenders processed for all crimes increased by nearly 40% from 1993 to 1997 – compared with a state rise of about 2%. Violent crime fell from about 350 offenders to 200, while drug offences rose from 220 to 1000. (28) Apart from that, a Commonwealth Parliamentary inquiry in 1995 into Asian Organized Crime made particular reference to the Vietnamese involvement in crime. In a detailed summary they identified a range of claims by police and law enforcement bodies across Australia, indicating that Vietnamese gangs were involved in heroin importation, sales and distribution, extortion, and home invasions. The concerns about the gangs in the Vietnamese community were widely held, and fuelled the growing antipathy to the community. (29)
This factor cannot and should not be taken out of context of the political difficulties mentioned above. The political turmoil and rejections as well as the failure to cope with the Australian environment has played a vital part in impoverizing and driving to crime a part of the Vietnamese Australian youth (30). They experience the strains too dramatically, and in their anomic reactions find alternative pathways to seeking (usually not successfully) economic success – often through crime as has typically occurred in other societies for newer immigrant groups, and in the past in Australia.(31)
Therefore, it is not surprising that the Vietnamese have drawn a fair amount of attention from social scientists and scholars interested in the ways in which cultural interaction, adaptation and change occur. (32) They were refugees from a colonial society escaping the aftermath of civil war, and entered a society that had been a protagonist on one side of that war. Many in the host society had hoped the war had been fought so that the population of Vietnam would stay in their own country, while others had supported the forces that won the war and triggered the exodus.
3.2 Role of the Vietnamese Australians to Economic Development of Vietnam and Promotion of Comprehensive Partnership Relationship between Vietnam and Australia
Economic opportunity is a huge driver for emigration (particularly among the educated). For this reason some 27.1% of Vietnam's tertiary-educated population live abroad. Despite solid and continuing growth in Vietnam, economic development throughout the country is uneven and gross domestic product (GDP) per capita is comparatively very low. This provides high incentives for Vietnamese nationals to leave in the hope of better economic prospects in countries like Australia, where on a purchasing power parity basis GDP per capita is more than 10 times higher (see Table 3).
Table 3: Economic and Human Development Indicators of Australia and Vietnam, 2013
| | | |
| --- | --- | --- |
| Indicator | Australia | Vietnam |
| Adult literacy (%) | 99.0 | 93.2 |
| Fertility rates (children per female) | 1.9 | 1.8 |
| GDP per capita PPP (US$) | 44,074 | 3,750 |
| Life expectancy at birth (years) | 82.0 | 75.4 |
| Mean years of schooling | 12.0 | 5.5 |
| Human Development Index (HDI) (33) | 0.938 | 0.617 |
| Median age (years) | 36.9 | 28.2 |
| Population (millions) | 22.9 | 89.7 |
| Population growth (%) | 1.8 | 1.1 |
Source: Most data in this table comes from the UNDP Human Development Report 2013, the CIA World Fact book and, the International Monetary Fund, World Economic Outlook Database April 2013. Data on the size, growth and median age of Australia's population was sourced from the Australian Bureau of Statistics.
The Vietnamese Australian community, in that backdrop, is in a unique position to impact on the economic development in Vietnam. Equally uniquely are they qualified in aiding the comprehensive partnership relationship between Vietnam and Australia. They have many means at their disposal to these ends:
Firstly, they are a significant economic driver, expressed through such channels as remittances, business and investment. There are many commercial centres of Vietnamese throughout Australia. Most notable is the contribution of the Vietnamese Australian Community's Entrepreneur Association, established with the support of Vietnam's Embassy in Australia. This Association with more than 200 members was inaugurated on 3rd July 2010 to support and assist the Vietnamese Australian community's entrepreneurs in undertaking business opportunities in Australia and Vietnam as well as other countries in the world. They have been making a positive contribution to the promotion of trade between the two countries as well as the supporting of the Vietnamese Australian business community.
With their economic capacity, the Vietnamese Australian business people have been increasingly investing into Vietnam. This has proven to be a growing source of remittances. According to World Bank data, remittances into Vietnam were US$9 billion in 2011, around seven times greater than in 2000 and equivalent to eight per cent of Vietnam's GDP, making Vietnam one of the top ten remittance recipients. Remittances of the Vietnamese Australian community accounted for about 25% of total remittances of overseas Vietnamese all over the world. (34) On average, remittances from Australia increase by 10 – 15% per year, contributing to stabilizing Vietnam's international balance of payment as well as socio-economic development. In previous period, remittances were mainly for helping families and relatives, but now this money is also used for business and/or macroeconomic purposes: investments in industries, contributions to poverty reduction and elimination, job creation and local welfare guarantee.
Secondly, the Vietnamese Australian community possesses many young, dynamic intellectuals with a lot of financial potentials, business and management experiences as well as high educated knowledge who have integrated into Australian societies. Through their skills and integrity they have acquired and held many political and economic positions in Australia and highly respected by many. Mr. Hieu Van Le, Governor of South Australia State, Chairman of the South Australian Multicultural and Ethnic Affairs Commission is one exemplary person.
The third and second generation who have been working in various crucial sectors of Australian economy such as information technology, electronics, composite materials, ecology, commerce, law, accounting and so on, have gradually replaced the first in Community operations. In recent years, every year there are many Vietnamese Australian experts, specialists, scientists, professors returning to Vietnam to take part effectively in teaching, textbook writing, consultation, knowledge, technological transfers and so on. They are cooperating with domestic experts, scientists, specialists and scholars to carry out research programs, to implement R&D projects, to bridge Australian universities and institutes with Vietnamese ones. Besides, thanks to their access to Australia's advanced technologies and the understanding of the world development trends, the Vietnamese Australians may suggest and comment on the building of Vietnamese legislation and the making of policies for better socio-economic development and international integration.
Thirdly, the Vietnamese Australians have become the important bridge to help Vietnam expand bilateral relationship between Vietnam and Australia. With their influences to various Australian authorities, the Vietnamese Australians can promote economic, trade and political relations between Vietnam and Australia, and mobilize Australian support in international forums. This can be considered a crucial factor contributing to the Vietnamese implementation of her expanded foreign policies: diversified and multilateral foreign relations policies, so as to contributing to national building and defence. Moreover, the Vietnamese Australians have the unique advantage of living and working in Australia and tend to have close ties with other countries and peoples as a result of this. Therefore, they are a real force to diffuse, popularize and broadcast Vietnam's culture, image of country and people to Australia and the world through cultural festival, food and tourism promotion, exhibition and trade fairs.
Fourthly, the Vietnamese Australian Community is also instrumental in protect the country from hostile activities of the enemies. Nowadays, there are more than 100 hostile organizations and groups including many in Australia (such as Viet Tan) who used to be soldiers and officers of the South Vietnam regime. They have ever been trying to contact reactionaries inside the country to obstruct and sabotage Vietnam's socio-economic development efforts, particularly in the remote and mountainous areas. They have illegally carried out missionary works in the areas to provoke ethnic minorities into protesting against Communist Party and government of Vietnam. In recent years, they have been taking advantage of such issues as democracy, human right, and freedom of religion to organize meetings to slander and distort the policies of Vietnam government.
It should be made clear that the base of power of these subversive elements lie within a small portion of the Vietnamese Australian Community. As long as they can sway the overseas Vietnamese's opinion to their way of thinking, the Vietnamese people and government's goal of upholding national unity and integrity will be severely challenged. On the other hand, if they should fail to rally overseas Vietnamese to their cause, it will be very difficult for them to do any real and lasting damage. The cooperation of the Vietnamese Australian community, hence, plays a role that cannot be overstated in maintaining national unity. In that context, the Vietnamese Australian community has correctly explained the policies and guidelines of Government and CPV, as well as disclosed their plots and hostile activities to Australian Government and people (for example, Lawyer Tran Ba Phuc in Melbourne).

3.3. Solutions and Suggestions to Improve the Role of the Vietnamese Australians in Australia and Vietnam
The Vietnamese Australian Community has continuously been growing both in number and quality. In recent years, apart from the vast majority of Vietnamese migrants through the Family Stream, there have been a growing number of skilled migrants. The Vietnamese Australian community has grown to almost 250,000 people at the end of 2013, excluding the 24,000 Vietnamese students at Australian schools and universities. Of this number there have been more and more successful Vietnamese Australians in political, economic and artistic fields.
Although deeply and widely integration into the Australian economy and society, there are many issues involving the Vietnamese Australian community that needs to be addressed in order to enhance their role in both Australia and Vietnam. There are such issues as the loss of the Vietnamese cultural root among the later generations of Vietnamese Australian Community, the rate of crime – especially drug-related crimes – among the poorer Vietnamese Australians, the loss of faith in the government of Vietnam and the Communist Party of Vietnam (or worse, the development of dissident thoughts and movements). From the Vietnamese side, there are a number of solutions the Vietnamese government can undertake: (i) stimulate the second and third generations to keep learning Vietnamese as well as maintain the Vietnamese cultural traditions and identity by providing textbooks and cultural products; (ii) promote their investment in Vietnam by means of such concessions as visa exemption, residence, investment incentives, tax holidays… as much as is within reasons; (iii) mobilize and incentivize Vietnamese Australian scientists, scholars and professors to work in Vietnam by provisions of material incentives and preferential treatments; (iv) maintain the community's ties with the homeland by providing them with information of current situation in Vietnam as well as achievement in political and economic affairs, supporting them to organize food and cultural promotion of Vietnam in Australia; (v) closely cooperate with the Australian authorities to counter Vietnamese Australian criminal activities, especially in drugs and human trafficking; (vi) Strengthen diplomatic information service to inform Vietnamese Australian of the true picture in Vietnam and counter slanders and misinformation spread by subversive elements hostile to the Vietnamese national unity.
At the same time, with diligence, skill and brain, the Vietnamese Australians treated fairly, supported and facilitated by Australian government to study at the universities and vocational colleges, will contribute a lot to Australia. In addition, with the dynamic development of East Asia, the Vietnamese Australians can be used by Australian Government as a cultural and economic bridge between Australia and the East Asian countries in general and between Australia and Vietnam in particular. Apart from that, with the support of both Vietnamese and Australian authorities, the establishment of Vietnamese center (town) will give rise to even greater multiculturalism of Australia.
4. Conclusion
For Vietnamese Australians, the strive for integration and assimilation into the greater Australian society was defining in many ways. In this long journey of more than forty years that have seen both the best and the worst in the Australian mindset, their efforts have in general paid off. In 2013 there are almost 250,000 thousand Vietnamese Australians in a community that has largely melded with the Australian society. Throughout this journey, they have made many contributions, both good and bad, for or against their own interest, to the Australian process of building a modern, democratic, non-discriminatory and civilized society.
However, this does not mean the role of policymakers should henceforth end. The contribution of Vietnamese Australians to both countries and to their relationship with each other is so significant that the community needs constant nurturing, promotion and accommodation. A strong, mature, civilized and modern Vietnamese Australian community will play a pivotal role in strengthening both Australia and Vietnam, as well as bridging the two countries whose culture and politics do not always see eye-to-eye. This paper seeks, then, to provide some assessment and suggestion for policymaking to pursue those ends. This is an endeavor that will require not only the close coordination and participation of the Vietnamese government, but also cooperation between Vietnam and Australia and the political will to commit to comprehensive joint actions.
(1)As many as a quarter of Vietnamese speakers in Australia are of Chinese ancestry but there is no real divide between ethnic Vietnamese and ethnic Chinese Vietnamese communities.
(2)Andrew Jakubowicz, A Quintessential Collision: Vietnamese in Australia after a generation of settlement and adaptation, University of Technology Sydney, May 2004.
(3)He used to be Army minister during the Vietnam War.
(4)For example, in conjunction with the Vietnamese government's orderly departure program. See more in: Viviani, N., 1980, Australian government policy on the entry of Vietnamese refugees in 1975, Centre for the Study of Australian-Asian Relations Griffith University.
(5)Social cohesion' was after all a central concern of the empire project – what sort of deal needed to be struck with incomers to ensure that the social order was not destabilized? The original strategies of assimilation had faltered as they did not address the realities of communal processes of survival and the critical role of culture in human identity and social engagement.
(6)Birrell B. and Seol B.-S., 1998, 'Sydney's ethnic underclass', People and Place, Vol. (6) 3.
(7)Healy E., 1997, "1996 Census Update – Residential Concentrations of Vietnam-Born people in Melbourne and Sydney", People and Place, Vol. 5(3).
(8)Tran, M.V., Holton, R. J., 1991, Sadness is losing our country, happiness is knowing peace: Vietnamese social mobility in Australia, 1975-1990, Canberra: Office of Multicultural Affairs.
(9)However, that before 1975 Vietnam was not separately recorded as a country of birth for settlers so the Australian Bureau of Statistics is unable to provide an exact picture of settler intake prior to this time.
(10) Lewins F. W. and Ly J., 1985, The first wave: the settlement of Australia's first Vietnamese refugees, Sydney: Allen & Unwin; Viviani N., 1984, The long journey: Vietnamese migration and settlement in Australia, Carlton, Vic.: Melbourne University Press.
(11) People sailing out of Vietnam to wherever would take them; if they survived from pirates, storms and unsafe boats. Many of the boats that began to arrive in Australia had been re-fuelled in Malaysia and then sent on their way.
(12)Australian Bureau of Statistics, Australian Social Trends, 1994 : Population Growth: Birthplaces of Australia's settlers, Canberra 1995.
(13)In the 2001 census almost all people of Vietnamese ancestry were first or second generation Australians, consistent with the timing of Vietnamese immigration, which essentially began in the mid-1970s and increased over the 1980s (Australian Bureau of Statistics, Australian Social Trends, 2003: Population characteristics: Ancestry of Australia's population, Canberra 2004).
(14)In 2001, the Vietnamese language was spoken at home by 174,236 people in Australia. Vietnamese is the sixth most widely spoken language in the country after English, the Chinese languages, Italian, Greek and Arabic. See: Australian Bureau of Statistics, Australian Social Trends, 2003: Population characteristics: Ancestry of Australia's population, Canberra 2004.
(15) Australia Government, Department of Immigration and Border Protection, Country Profile – Vietnam, Canberra 2013.
(16) Australia Government, Department of Immigration and Border Protection, Ibid.
(17)Between 1975 and 1986, almost all of the Vietnamese arrivals were refugees. This decreased to around 45 per cent between 1986 and 1991 and only 22% between 1991 and 1993. By 2000 the Vietnamese humanitarian arrivals were less than 2% of the total Vietnamese settler arrivals.
(18)Australian Bureau of Statistics, Country of Birth of Person by Sex – Australia, Canberra 2007.
(19)Australia Government, Department of Immigration and Border Protection, Country Profile – Vietnam, Canberra 2013.
(20)This is partly thanks to almost Vietnamese Australians follow one of the religions. According to census data released by the Australian Bureau of Statistics in 2012, Vietnamese Australians are, by religion, 30.3% Catholic, 0.4% Anglican, 3.1 other Christian, 55.2% other religions (mainly Buddhist with Taoism and Ancestor Worship as one), and only 11.0% no religion.
(21)Australian Bureau of Statistics, Ibid.
(22)Australia Government, Department of Immigration and Border Protection, Country Profile – Vietnam, Canberra 2012.
(23)Australia Government, Department of Immigration and Border Protection, Country Profile – Vietnam, Canberra 2013
(24)Indeed, in June 2002 in the outer Sydney suburb of Liverpool a group of twenty-something Vietnamese Australians created 'Viet Pop', a celebration of their experience as 'Generation 2'. Through music, performance, art and photography they sought to capture the multiplicity of identities, challenges and creative engagements that characterized their lives in this metropolis to which their parents had fled a generation before. In addition, in the 2003 Centenary Awards identified eight Vietnamese Australians for recognition – from SBS radio's Quang Luu to Fairfield Unity Party councillor Thang Ngo.
(25)Alcorso C., 1991, Non-English Speaking Background Immigrant Women in the Workforce, Centre for Multicultural Studies, University of Wollongong.
(26)Cregan C., 2001, Home sweat home: Preliminary findings of the first stage of a two-part study of outworkers in the textile industry in Melbourne, Melbourne: Department of Management, Melbourne University.
(27)Hage G., 2002, White nation: fantasies of white supremacy in a multicultural society, 2nd Edition, Sydney: Pluto Press.
(28)The figures were provided by Mukherjee of the Australian Institute of Criminology in 1999 (Melbourne).
(29)Parliamentary Joint Committee on the National Crime Authority, 1995.
(30)Robert Merton first theorised such situations in his studies in the 1940s of anomie and alienation in ethnic neighbourhoods of Chicago, and reflected on a sociological modelling of dis/organised crime. Merton proposed models of adaptation by immigrant communities facing existing hierarchies of status and privilege that produced dysfunctional outcomes he labelled as 'alienation' and 'anomie', drawing on but going beyond Durkheim's theoretical conclusions about the dynamics of suicide. Merton argued for a model that linked personal values and aspirations to social structure and mobility pathways. He suggested that the critical link was between aspiration and opportunity. 'Anomie' occurred where individuals had internalised wider societal values and aspirations but found that the legitimate pathways to achieve those goals were blocked – thus leading to the development of alternative pathways and structures. 'Alienation' referred to a process when the very values of the wider society were rejected, and alternative values with little chance of their realisation, emerged.
(31)See more in: (i) Featherstone, R. and Deflem, M., 2003, 'Anomie and Strain: Context and Consequences of Merton's Two Theories', Sociological Inquiry 73(4): 471-489; (ii) Merton, R. K., 1938, 'Social Structure and Anomie', American Sociological Review, No 3(October): 672-682.
(32)Kawakami, I. 2003 'Resettlement and Border Crossing: A Comparative Study on the Life and Ethnicity of Vietnamese in Australia and Japan', International Journal of Japanese Sociology 12(1): 48-67.
(33)The HDI produced by the UN is a composite measure of three dimensions of human development – health, education and income. Australia ranks very high on this measure, with a 2012 score of 0.94, second only to Norway. Comparatively, Vietnam's HDI in 2012 was 0.62, ranking the country 127 out of 186 countries. The HDI of East Asia and the Pacific in 2012 was 0.68.
(34) In term of remittance, Vietnam was the number 2 in South East Asia and the number 9 in the world in 2012.
C. Main Reference
1. Andrew Jakubowicz, Vietnamese in Australia: A Quintessential Collision, University of Technology Sydney, 2004
2. Ashley Carruthers, Vietnamese Dictionary of Sydney, 2008 http://dictionaryofsydney.org/entry/vietnamese.
3. Australia Government, Department of Immigration and Border Protection, Country Profile – Vietnam, Canberra 2013
4. Australian Social Trends, 1994, Population Growth: Birthplaces of Australia's settlers. Australian Bureau of Statistics. Retrieved 2008-03-14.
5. Australian Social Trends, 2003, Population characteristics: Ancestry of Australia's population. Australian Bureau of Statistics. Retrieved 2008-03-14.
6. Department of Immigration and Citizenship, http://www.immi.gov.au/media/publications/statistics/federation/body2.pdf.
7. Haslinda Abullah (2009), "Major Challenges to the Effective Management of Human Resource Training and Development Activities", The Journal of International Social Research, Volume 2/8 Summer 2009.
8. Gibbs, Stephen (2 December 2003). "Crunch time for SBS over Vietnamese news bulletin". Sydney Morning Herald. Retrieved 2008-03-14.
9. International Organization of Migration (IOM), Rural Development and Migration, Hanoi 2014.
10. International Organization of Migration (IOM), IOM Viet Nam joins together with National Government to host workshop on grievance redress mechanism for migrant workers, Hanoi 17th December 2013.
11. International Monetary Fund, World Economic Outlook Database, Washington April 2013.
12. James Jupp (ed.), 2001 The Australian People: An Encyclopedia of the Nation, Its People and Their Origins Edited by, Cambridge University Press 2001
13. Nguyen Anh Tuan (ed), 2006, Chapter 7: Migration of Labor Forces in International Economic Relations (Textbook), National Political Publisher, Hanoi.
14. Tim Lambert, a Brief History of Vietnam, http://www.localhistories.org/viethist.html,
15. Philip L. Martin, 2003, Highly Skilled Labor Migration: Sharing the Benefits, Geneva: The International Institute for Labour Studies.
16. Philip Martin, 2004, Inter-economics: Policy Responses to Unauthorized or Irregular Workers, Geneva: ILO, January/February
17. Viviani, N. and Griffith University. Centre for the Study of Australian-Asian Relations. 1980 Australian government policy on the entry of Vietnamese refugees in 1975, Centre for the Study of Australian-Asian Relations Griffith University.
18. Viviani, N., Lawe-Davies, J. and Griffith University. Centre for the Study of Australian-Asian Relations. 1980 Australian government policy on the entry of Vietnamese refugees, 1976 to 1978, Centre for the Study of Australian-Asian Relations Griffith University.
19. Viet Ventures, http://www.vietventures.com/vietnam/history_vietnam.asp
20. The World Fact book, https://www.cia.gov/library/publications/the-world-factbook/index.html
21. UNDP, UNDP Human Development Report 2013, the CIA World Fact book 2014.
22. Williams, J. R. and Morris, J. 1991, Homecoming: images of Vietnam, Nambour, Qld: Homecoming Publications.
Cambodian Prime Minister's Visit to Myanmar: Weakening Role of the ASEAN?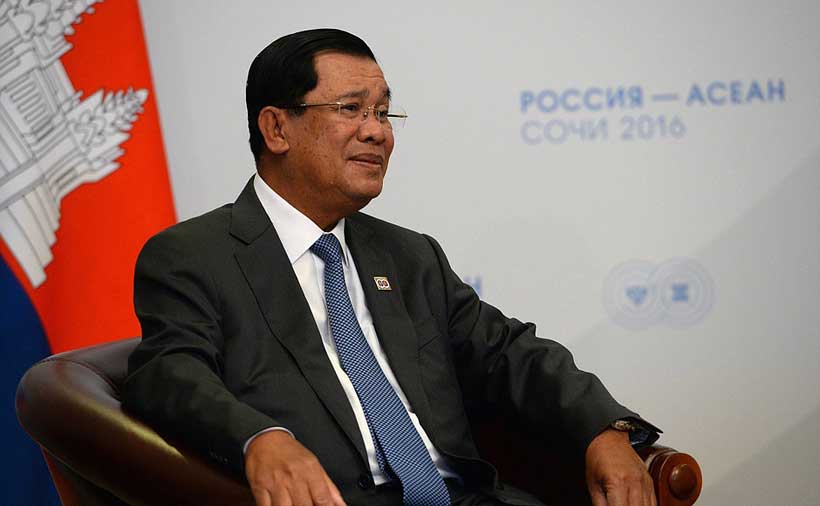 Cambodian Prime Minister Hun Sen recently visited Myanmar for two days despite a wave of condemnation that his visit undermines ASEAN and legitimizes Myanmar's deadly regime. Hun Sen is currently the chair of Association of Southeast Asian Nations (ASEAN) in 2022, and is expected to lead ASEAN in diplomatic activity on how to navigate Myanmar's political situation. As expected, Hun Sen was welcomed by the Myanmar officials, including Foreign Minister Wunna Maung Lwin, and was given a guard of honor. Accompanying Hun Sen are donations of medical equipment to fight Covid-19, comprising three million face masks, 200,000 N95 masks, 100,000 goggles, 30,000 personal protective equipment (PPE) suits, 30,000 face shields, 3,000 plastic boots, 50 ventilators appropriate for an ICU setting, 50 patient monitors and 50 oxygen concentrators. He was the first foreign leader to visit the country since the Myanmar military overthrew the democratically elected party and jailed it's leaders, including Aung San Suu Kyi. Since Feb 1, at least 1,435 people have been killed by the Tatmadaw in ruthless crackdowns on democracy protests. Conflict has also escalated in the nation's border zones creating a humanitarian disaster where tens of thousands of people have been fleeing for their lives. Prompted by Myanmar's exclusion from the bloc's summit in 2021, the premier has repeatedly signaled his intent to bring the country back into the ASEAN fold, arguing that the economic union was "incomplete".
Why has the Cambodian Prime Minister visited Myanmar, a nearly pariah nation in the world? Traditionally, Cambodia is a time-tested ally of Myanmar. This country has remained behind Myanmar solidly in times of crisis and challenges. Particularly, the current Hun Sen leadership is close to the military Junta of Myanmar. Cambodia has a different view about Myanmar and it's a deeply pro-Junta as Hun Sen believes that ASEAN did not operate very smoothly in 2021 on the Myanmar issue. As the ASEAN chair, Hun Sen is determined to find a way to halt the violence and maintain the "ceasefire" in Myanmar while pursuing the bloc's five-point consensus and bringing in humanitarian assistance. In his words, we cannot stand by passively while Myanmar falls apart and that we must find a way to resolve the stand-off between the opposing sides there and take advantage of all opportunities to pursue negotiations.
Although apparently the Cambodian leader focuses on political crisis in Myanmar, he has no concern for democracy, human rights and brutality of the military regime. He has no concern for the Rohingyas or any minority groups, which suits interests of Myanmar regime and its allies. Cambodia has launched a diplomatic blitz to rehabilitate the Junta first in ASEAN and then at the global level. Before taking over the revolving annual chairmanship of ASEAN, Hun Sen declared that he wanted the Burmese junta to be represented at the bloc's meeting. In responding to questions of whether Cambodia can resolve the issue of the Myanmar junta, Hun Sen mentioned that any resolution would have to come from Myanmar itself, saying that the regional bloc was only one part of helping the member nation find a solution. "It isn't based on whether Cambodia can resolve it or not, but Cambodia will try to compromise the situation of Myanmar to return it to a better situation.
Hun Sen is trying to use his personal influence as one of the oldest leaders in the region who is in power for more than 36 years and who even supported Vietnam's invasion of his country in 1978. His own leadership in Cambodia is also deeply criticized, so his diplomatic role can also help him legitimizing his power in one of the small but historic nations on earth, Cambodia. Hun Sen often refers to ASEAN's long-held convention of not interfering in each other's internal affairs as an excuse of not creating any pressure on the Junta government. He plainly promotes the idea that under the ASEAN charter, no one has the rights to expel another member.
Support for the Hun Sen Initiative
The visit of Hun Sen enjoys support from some members of ASEAN and outside. Cambodia enjoys strong endorsement from two powerful regional partners of ASEAN and members of ASEAN Plus Three, China and Japan. In a statement of Japan's MOFA, it is stated that Japan welcomes Cambodia's active engagement as ASEAN Chair on the situation in Myanmar, and both ministers shared the view to coordinate closely. Another close ally of Myanmar, China, is also strongly in favor of Hun Sen and Cambodia, as well as Myanmar. The Chinese foreign ministry official, Wang Wenbin states that China appreciates Myanmar's readiness to create favorable conditions for ASEAN's special envoy to fulfill his duty and [he] works toward effective alignment between Myanmar's five-point road map and ASEAN's five-point consensus. In his words, "China will fully support Cambodia, the rotating chair of ASEAN, in playing an active role and making [an] important contribution to properly managing the differences among parties of Myanmar". Members of ASEAN such as Thailand and Vietnam have strong support for Hun Sen visit. Cambodian Foreign Minister Prak Sokhonn said that ASEAN member-state Thailand's top diplomat had sent a "congratulatory message" saying, "he strongly supported the outcomes of the Cambodia-Myanmar joint press release".
Against the Visit
Rights groups are calling the visit a charade. They openly argue that by failing to insist that he would meet with all parties to the conflict, including imprisoned political leaders like Aung San Suu Kyi, PM Hun Sen has demonstrated a clear authoritarian orientation that all issues can be sorted out in closed door talks between dictators. They argue that such kind stance of Hun Sen threatens to undermine the very fragile ASEAN decision that Myanmar political authorities cannot participate in future ASEAN events unless they abide by the 5 Point Consensus agreed by junta supremo General Min Aung Hlaing in April 2021. Activists also argue that with the false confidence generated by this ill-advised visit, the serious worry is the Tatmadaw will see this as a green light to double down on its rights abusing tactics seeking to quell the aspirations of the Burmese people. The worrying fact is that ASEAN has been making some efforts to stabilise the political conflict in Myanmar since the 2021 coup, but many view Hun Sen's visit undermines this progress. Understandably, anti-coup activists and leading members of Myanmar's shadow government, the National Unity Government, have also condemned the visit across social media. The most outspoken ASEAN members against the visit are Indonesia and Malaysia who led the process in 2021 to keep the Junta leader, General Min Aung Hlaing out of ASEAN process for his blatant breach of 5-point consensus to which he was also a party.
Who has benefited from the Visit?
Undoubtedly, it is the military Junta of Myanmar who has gained exclusively from this visit orchestrated by the pro-Junta members within and outside of ASEAN. Myanmar and Cambodia are particularly happy with the outcomes of the visit. In the first place, the Myanmar Military has already achieved a huge diplomatic advantage from the visit of Hun Sen as he became the first foreign leader to visit Myanmar and meet the regime's leader, Min Aung Hlaing, since the military overthrew the country's elected government in February 2021. Meanwhile, the two leaders discussed bilateral relations in a 140-minute meeting in the capital of Naypyidaw and they agreed that the ASEAN Special Envoy could be involved in the Myanmar peace process. Myanmar believes that Cambodia will rule with fairness during its chairmanship this year of the ASEAN. To Myanmar, there were "good results" from the Cambodian leader's visit that boosted the military leadership as they argue that international pressure on Myanmar had not dialed down, but Myanmar would not bow to it.
Despite the satisfaction of Myanmar and Cambodia, Malaysian Foreign Minister Saifuddin Abdullah criticized Cambodia's Prime Minister Hun Sen for taking unilateral action in meeting the leader of Myanmar's junta. The foreign minister further added, "We would expect that he could have at least consult – if not all – a few of his brother leaders as to what he should say." He reminded that ASEAN position would not change that until there is clear progress on the five-point consensus Myanmar's representation at the Asean summit and related summits at the end of the year should remain non-political. Indonesia is another powerful member of ASEAN also criticized that visit and identified it as a futile exercise.
Another immediate outcome of the visit is postponement of the first ASEAN meeting known as The ASEAN Foreign Ministers Retreat (AMM Retreat) initially scheduled on Jan. 18-19, 2022, in Siem Reap province under Cambodia's 2022 chairmanship. Although COVID 19 was shown as a reason behind this decision, it is the division among the bloc's members over Prime Minister Hun Sen's visit to Myanmar has played a vital role behind this new development. Discords within ASEAN over Hun Sen's trip to Naypyidaw and a potential invitation to the Myanmar junta's foreign minister to attend the ASEAN diplomats' retreat might be why some ASEAN members chose not to attend the meeting. Precisely, the issue is members' intense disagreement over ASEAN chair's invitation to the Myanmar military-appointed Foreign Minister Wunna Maung Lwin have created an impasse. It may be mentioned that Brunei, Indonesia, Malaysia, the Philippines and Singapore had backed shutting out the coup leader from the regional bloc's top summit in 2021 when Brunei was the Chair of the bloc. Analysts fear that the postponement effectively delays the official endorsement of Foreign Minister Prak Sokhonn as ASEAN's new special envoy for Myanmar.
By visiting Myanmar and meeting with Min Aung Hlaing, Hun Sen legitimized him and at the same time, weakened the role of ASEAN in playing a constructive role in the Myanmar crisis. The military leader in Myanmar had promised, among other things, to end violence and give an ASEAN special envoy access to all parties in the Myanmar political crisis, but he has done none of those things. Hun Sen has reversed the stance of the previous Chair Brunei, which created positive pressure on the Myanmar regime. Now the visit has questioned the credibility and limit of ASEAN to continue its meaningful and effective diplomatic role in mitigating the crisis in Myanmar, which has adverse impact on the future of democratic movement and the possible repatriation of the Rohingyas.
Laos Prime Minister visit to Vietnam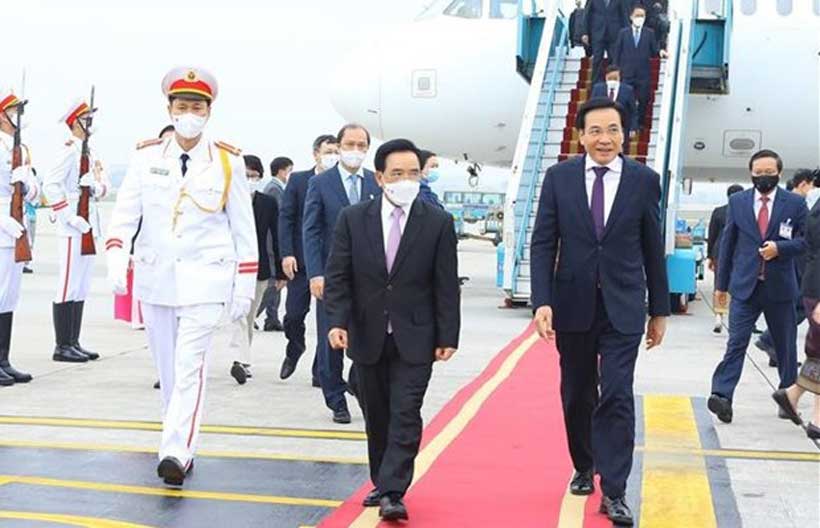 Laos Prime Minister Phankham Viphavanh along with a high-ranking delegation visited Vietnam from January 8 -10 to strengthen ties with its neighbour country. The official visit of Laos Prime Minister to Vietnam ushered in a new phase of interactions and outlook in friendship between the two neighbourly countries of Indochina. The Laotian prime minister would also usher in the era long celebration of the friendship between Laos and Vietnam in the year 2022. Given the fact that the two countries of Indochina have suffered the after effects of the pandemic COVID-19 in the year 2021, and have decided to enhance their partnership in select areas for protecting the mutual interest and forging cooperation between the parties, the government and developing people to people interactions. Vietnam has taken cognisance of the fact that the neighbouring countries require support both in terms of medicines, diagnostics and other health equipment which was required during the times of crisis.
Vietnam had given medical equipment and diagnostics kits worth US$2.2 million to Laos, and also sent a few of its medical personal to assist the Laotian patients and Vietnamese overseas citizens in Laos. At the times of crisis, even Laos has given Vietnam nearly US$300,000 for pandemic containment response and even the private sector in Laos came forward for giving 1.4 billion dollars to the Vietnamese communities located closer to the border of the two countries. Between Laos and Vietnam there has been economic and development cooperation under that there are more than 209 projects under which Vietnamese firms have invested more than $5.16 billion in Laos.
In terms of education, training and developing capacities the two countries have assisted each other and Vietnam has offered more than 1200 scholarships to Laotian officials and students for enhancing their knowledge and capacities.
Since last year the interaction between the two countries has been more profound and there has been a visit of party general secretary, presidents, and prime ministers of the two countries. In August 2021 Laos general secretary and president Thongloun Sisoulith paid an official visit to Vietnam. During the visit the discussions were held with regard to improving ties and elevating ties to the next level. One of the important agenda points which have been discussed was bringing about reforms and ensuring national construction and defence between the two countries. The party general secretary appreciated the extensive reforms which have been carried out in Vietnam in the last three and a half decades after Doi-Moi(economic reforms programme initiated in 1986). The two sides also discussed developing conducive conditions for mutual development and ensuring stability and prosperity in Southeast Asia. The issue of development in Mekong subregion and developing interactions at World Trade organizations were in the agenda too. One of the important highlights of the visit was strengthening cooperation and coordination with Cambodia so as to promote the CLV developmental triangle area. Laos and Vietnam also share the resources of Mekong River and it has become imperative for the two countries to develop institutional links and coordination mechanisms in this context. The two sides were also keen on developing defence ties and addressing challenges such as cross border crime an undertaking joint border patrol.
Following this visit, President Phuc visited Laos in his new term and the discussions were held between the two counterparts on COVID-19 pandemic cooperation and undertaking special efforts particularly in regional organisations as well as in the United Nations. During that visit nearly 14 cooperation documents were signed between the two ministries particularly in the fields of security, defence, drugs control, power exchange, and mineral exploration. The visit also opened new vistas of cooperation between the two sides and but trust the need for special solidarity and comprehensive cooperation. During the visit the 43rd meeting of the Vietnam Laos intergovernmental committee was also held and the two sides also decided on the cooperation strategy for the next decade (2021 to 2030). In fact, one of the important highlights of the visit of president Phuc has been the wide coverage which has been given by the media in Laos and also highlighting the special friendship between the two nations.
This visit of the Laos Prime Minister forms the basis of solidarity, political acknowledgement, and confidence between the two parties in the Indochina. Vietnam has also helped Laos in building its National Assembly which was worth 111 million USD dollars. Vietnam showed urgency and immediate support when Laos was facing widespread effects of COVID-19 pandemic. In one of the statements which was made by the Ambassador of Laos in Vietnam, he stated that this visit will build up foundation for a comprehensive partnership between the two nations in the year 2022. He added that this visit will help in deepening ties related to science and technology, culture, education, knowledge building security and defence ties as well as political interactions. The two countries have convergence is with regard to developing the age end of ASEAN meetings in the year 2022 as well as looking for better development avenues in the Mekong subregion. The Vietnam Laos friendship and solidarity year 2022 would help in better management of trade relationship, use of Vietnamese sea ports by Laotian businessman and exploring transport connections through the East West corridor.
Vietnam's contributions as non-permanent member of UNSC
Vietnam has joined the UN Security Council as a non-permanent member for the period 2020–2021 and during this period it was expected that Vietnam would be raising issues related to the regional development, challenges with regard to the pandemic, building consensus on sustainable development goals, and addressing issues related to maritime and regional security. In one of the statements which have been made by the permanent representative of Vietnam to the United Nations, he has clearly stated that Vietnam has been able to secure cooperation from the other members of the UNSC on issues related to objectivity, unity and transparency, and made a good case with regard to the legitimate interest of relevant parties in South China Sea. Vietnam has aspired to make the United Nations as a people centric approach and stressed on finding reasonable and sustainable solutions to settle maritime disputes through dialogue, and highlighted humanitarian challenges to the most vulnerable groups in the international society. Vietnam strongly supported the UN Charter in the maintenance of international peace and security. It was also very vocal with regard to protection of infrastructure which was critical to people's livelihood.
In one of the messages which was sent by President of Vietnam Phuc following the conclusion of Vietnam's term as non-permanent member of UNSC, it is stated that in the New Year Vietnam completed the term fulfilling the trust that was bestowed upon it by the international community when it got 192 out of and 193 votes for securing a non-permanent seat in the UNSC. He stated that Vietnam has always stressed on maintaining international peace and security and also urged the nations for building up consensus with regard to the pandemic and after effects caused by COVID-19.
Vietnam during the meeting on maritime security (held in August under the UNSC chairmanship of India) also suggested three important measures which included involvement of international organisations in regional conflict zones, undertaking consultative measures through dialogue mechanisms and also stressing on people centric approach so as to protect communities living in the coastal zones. Vietnam's President Phuc also stated that the UN Charter and international law should be protected at all times. During the two-year stint with the UNSC, Vietnam projected its foreign policy in terms of self-reliance, promoting peace and friendship among nations, strengthening multilateral structures, and expanding its relations with other countries of the world. In his message he also stated that Vietnam has now become a more active and responsible stakeholder in international dialogue and would be taking responsibilities which would strengthen institutions such as UN.
Vietnam is also aspiring to become a strong and prosperous middle power country by the year 2045 when Vietnam will be celebrating hundred years of its independence. The adroitness of the Vietnam's diplomatic community and the party cadres have helped in elevation of Vietnam's international stature and enhance ties with a number of countries representing in the UN. Vietnam steadfastly advocated for a world free from wars and conflict, and developing common objective of international peace along with removing poverty and inequalities.
During its stint as the chair of the UNSC in April 2021, Vietnam demonstrated a strong affinity to the international community and highlighted the issues which are of common concern for the mankind. Vietnam also highlighted the need for strengthening dialogue between the UN and regional organisations, and addressed one of the important issues of unexploded landmines and after effects of explosive remnants of the world wars.
Vietnam made a strong case for respect and recognition for international law and implementation of the charter enshrined under UNCLOS 1982. In fact, Vietnam also raise the issue of woman in peace and conflicts aspects and the collateral damage of the climate change in conflict zones. During the chairmanship of Vietnam, the pandemic effect became profound and, in that context, Vietnam showed diplomatic skilfulness in promoting international peace and security due to the pandemic conditions. Vietnam, during its stint as the chair of the ASEAN in 2020, has already explored the possibilities with regard to holding online and off-line activities and therefore its experience came very handy in UNSC to explore potential of online and off-line activities together.
Vietnam raised very pertinent questions with regard to the protection of civilians and critical civilian infrastructure in crises zones. One of the important achievements which was enshrined in Vietnam's tenure was the adoption of the International Day of Epidemic Preparedness. This was fully supported by all UN member states and the resolution was adopted worldwide. This International Day of Epidemic Preparedness was meant to prepare all organisations including private and public sector to address any gaps in preparedness and coordination as well as creating awareness among people.
Among the list of priorities which have been issued by the Vietnam for the year 2020-2021 tenure was primarily focused on peaceful settlement of disputes, strengthening of implementation of Chapter VI of the UN Charter, addressing the after effects of armed conflict, cooperation under the United Nations Peacekeeping Forces, and highlighting tangible solutions in mitigating the effects of climate change which are related to international peace and security. All in all, one can say that Vietnam has very deftly managed its position as non- permanent member at UNSC, and has also supported countries like India in addressing issues such as maritime security at the global level. This has generated lot of interest and international support which was instrumental in adopting common protocols and future agenda for protecting the global commons.