I am standing in the middle of the courtyard paved with sand, surrounded by a high wall made of mud bricks, for the house once used to belong to a Turkish family…
Outside the courtyard can only be seen the tall poplar trees and a few black locust trees, just like the one with all branches cut off and a stork nest at its top, where the stork was just combing its feathers.
My nephew, five year old Oliver, whom I call Ollie, and who can't see me, enthralled by playing with a small white piglet, petting its tummy while the piglet was laying next to the house wall and enjoying the sunlight covering only half of its body. Oliver is petting the piglet and talking something to it. I am not def yet, but still can't make out what he is saying to the piglet, and I could not, for Oliver has instinctively noticed my presence and ran towards me. He came a couple steps near me and then stopped without moving further keeping his distance.
At that moment one of the hens passed in between us and made it to the empty through made of wood in which the pigs are fed. The hen moved its head around a few times and then decided to start pecking on the inside of the wooden through, when a skinny black crow flew in silently from the top of the silo right next to the wooden trough. It landed and started settling its wings while still walking; I noticed one of the crow's feathers was gray.
The hen was busy pecking at the leftover food, did not even notice crow's presence, not until the crow put her beak inside the through, in a blink of an eye the hen stroke the crow and kept her hanging in the air on her beak. The crow had to fight for her life and got away somehow…
Oliver was still smiling when he asked me:
– Uncle, did you see how our hen attacked the crow?
– Yes Ollie, I saw it.
– Very brave our hen, isn't she?
– Yes, a big hero she is!
– And you, uncle, are you a big hero?
– Well, not so much, I don't think I am a big hero – I responded.
– Oh, so that means, you are a small hero then!? – Oliver concluded all worried and scratched his head.
I got him into a predicament. I had to get out if it although it was obvious that was too late. The only thing I could think of at that moment was the idea to ask him if he was a hero. I was however afraid that it would not have been much of a consolation, therefore continued to stare at the stork's nest, Oliver not wanting our conversation to end, quickly started to tell me how that stork was theirs too.
– Why then the stork has its nest in Urosh's yard …? – I asked
– That is Cane's house not Urosh's – Oliver responded
– Well, anyway, but… what I wanted to say was that still the nest is not in your yard.
– See, I was trying to get the stork to move over to our yard, but the wall is too high, the stork did not want to come over…
– So how were you trying to make the stork move over?
– From over there, from the top of the wall. I was waving with both hands, that's how I fell on my back on some dried wood, right on my spine!
– Augh! Well, did you get injured a lot? Did it hurt?
– I cried and then grandma heard me and came running and kissed me where it hurt and then it stopped hurting. It's only a scratch now.
– From that piece of wood, right?
– Yeah, from the damn wood!…
Oliver responded with a curious smile, afraid that I may criticize him for the bad language.
When I saw his smiley face – even if I really wanted – There was no way I could reprimand him, instead, with no need I was quickly changing my view over the courtyard, looking at the house of Guljaks next door neighbors and thinking of the Turks that once used to leave in the same house, up until fifty years ago or so.
Just how much of beauty and not needed sadness was in my look, and how much of the things around me were right in their own place, It made me swear at myself for the wrong feelings I had.
Sadly, one from the Guljak's family had passed away. Only his brother Urosh (Urke for short) was still alive, who has been watching us all this time from his balcony, without us noticing.
– Hey, Sande! Is that you!? You would not believe me, I could not recognize you!?
– I believe you, Urosh. Hello, how are you?
– You have come to see your mother and brother, I take it? – continues Urosh, confirming the reason of my visit like for himself and letting some small steamy clouds come out of his wide open mouth together with the words.
– Well, it was about time, uncle Urosh!
– Good, good!… So, how is over there at the sea? – asked me after a short pause, after his approval.

I found myself in a pickle and almost answered him with the old lame "well yes of course!" but the fear of being inappropriate made me act politely. That took a lot of time.
Meanwhile, Oliver was waiting patiently. He was waiting and kept looking at me from down below at the yard while I was looking above, but soon I looked back right at the top of Oliver's head full of thick dark hair with a small white spot in the middle of his double cowlick.
Ollie was at that moment in his deep thoughts and looked all serious. I would pay a fortune just to know what he was thinking about.
The idea about money seemed good, so I asked him loudly almost the same second:
– Ollie, do you like money?
– Yes I do, uncle! – He shouted, quickly like a gun.
– Well, since you like money, here, uncle will give you some money!
I reached in my pocket and pulled all change I had. Oliver had his hands open and ready as if I was going to give him a fortune. However, it was far from that. Nevertheless, Ollie was still happy, for he was quietly taking all coins and breathing little heavier.
As I was looking at him, I thought how he was going to like money even when he grows up. I thought about it and laughed to myself, but Ollie sensed my smile and was ready to ask me another question:
Uncle, why are you laughing now?
That got me all confused. I did not say anything, instead took his hand and walked him to the porch like the culprit who is paying for his earlier sins.
We got to the concrete sidewalk in front of the porch when he pulled his hand away from mine. I looked at him how he was running to his bedroom, most likely to hide his just acquired fortune. Deal Lord only knows where would he hide the money, anyway, it was certain that he was going to hide them well. No doubt about that!
He went away from me and left me alone.
I set at some tripod chair made from an aspen wood. I set on it like some old Bey, Pasha, or god forbids, Sultan!
It felt like an eternity!
Many thoughts crossed my head, but none of them wise.
Many years went by, decades; I did not get any better or any worse, but always felt some narrowness.
During that time Oliver had grown up and had become a student. Got his Bachelor's degree in Economics, some internship here and there and winded up in America!
When, how – don't ask! The kid left for a better life. He even sent a video tape, and on the tape besides him a chunky and all blonde baby…
I am watching the video and trying to spot and feel the atmosphere of American South, to be like in "Dry September" by William Faulkner… Waiting for the barber shop scene to show up, with an old fashioned fan blowing the hot air pointlessly…*
None of that, however; None of anything else, nothing has changed, and I am still the same as before, or at least that's what I think…
And Urke, he had died fifteen years ago!!!
In the courtyard in front of the porch, this time two piglets, one somewhat smaller than the other.
They walk thru the dusk always together like a small gang.
And the nest, on the top of the locust tree all dried and dead by now, is empty and forever abandoned… One has to be completely blind not to see how sad is all that. It is indeed so sad, good thing it is not worse…
At last, I got up from the tripod. Took myself to the bedroom, not to look for the money that once long time ago Oliver put away, but to sign myself up in some club where they worship life after death and where they heal you with some magical herbs that make you hallucinate…
At the same time I wanted to be a mushroom picker and to roam some unknown paths…
I was calling for some imaginary time portal thru which I could travel all in one piece!
I sighed against all that and in my all reasonable mind, without caring about anyone and anything, always wanted to look like some Arabian Sharif and someone special, at the same time forgetting what I really wanted to be…
I have forgotten, but I remember it as if it was yesterday!
So I deserve!
I entered the bedroom at last. Closed the door behind me and noticed the icon hanging on the wall, it said on it >> Saint George Slaying the Dragon <<
I was staring at the icon, when something stung me. It stabbed me so bad I dropped on the floor. I blacked out. I felt like an overloaded donkey, lying on the ground all broken by the weight and will never get up!
The power of time goes by and I can't catch a break. It hurts. I can hardly breathe. It hurts so much that I see stars in my eyes. I am trying to call for help but no one is here. Or maybe no one wants to help. Maybe that is how it has to be so I am not even expecting much help.
But still I soon cry for help again. Begging for the help to come soon; To save what could be saved. To take the load off me, but no one wants to come thru my time portal… Just some voices from faraway laughing at me asking if I have ever helped anyone!? Not only asking but want to know and want my answer that I have never helped anyone!
That beat me down but it did not knocked me out. At the last moment I am calling Saint George from the wall: Georgia, you help me, if you know god!
Saint George, however, was mumbling something under his grey beard and as if he is saying how he does not talk to infidels to begin with.
Soon I realize that everything has gone away from me. Only darkness and emptiness in which I am helping myself, but the voice is not leaving me alone. The miserable that I am, the voice is still asking for a list of all my flaws and merits so that he can summarize and draw a line.
I listen for some time with a look on my face hoping for mercy, until I lost it all and swore at the voice just like Oliver swore at the piece of wood that scarred his back.
That is how I saved my soul, for I have always imagined myself like someone who is a little bit nuts.
Or is it just a little bit!?…
Djenovici, Montenegro 2003.
(Biografy: Sande Dodevski, 1947., Kumanovo off Macedonien)

100 years of history: Historic hotel celebrates worker heritage
If you're the curious sort who enjoys exploring historic sites in your free time, you're far from alone.
Because people are fascinated with learning more about how Americans lived, thought and dreamed in the past, many seek out such cultural enclaves anytime they travel. That helps explain the $762 million in revenues logged by U.S. historic sites in 2013, according to Statista. Other research predicts the revenues realized by U.S. museums and historic sites will more than double between 2018 and 2022.
"Historic places create connections to our heritage that help us understand our past, appreciate our triumphs and learn from our mistakes," the National Trust for Historic Preservation recently noted. "Historic places help define and distinguish our communities by building a strong sense of identity. When you visit a historic site, you learn from their stories."
One fascinating and culturally rich historic site you may not have visited is The American Club, a Forbes Five-Star and AAA Five-Diamond resort hotel in the heartland of Kohler, Wisconsin. The iconic hotel owned by Kohler Co., global leader in plumbing, was built in 1918 as a dormitory for its immigrant workers. This year the multifaceted national attraction celebrates its centennial anniversary in grand style, with even more activities and offerings for its guests.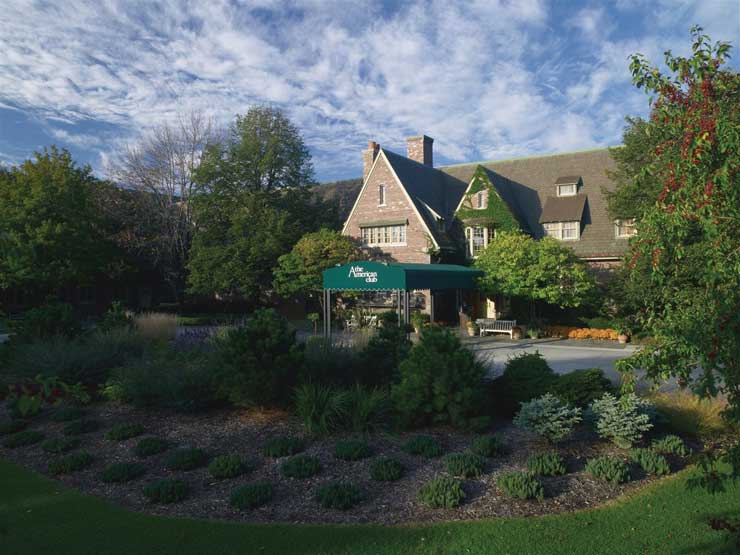 Year-long features of the celebration include a new history exhibit, guided tours and a new cast iron sculpture installation, "The Immigrant," created by artist Stephen Paul Day. Day took part in the Arts/Industry program and was inspired by the company history. The four-star restaurant, The Immigrant, will offer a tasting menu featuring dishes from France, the Netherlands, Germany, Normandy, Denmark and Great Britain — the primary homelands of original Kohler employees. Group Director Lodging for Kohler Co., Christine Loose explains, "The concept of gracious living and creating a sense of belonging has always been important to the company and our heritage."
With its trademark red brick, striking Tudor architecture and soaring roof peaks and slate tile, the landmark is recognized by both the Historic Hotels of America and the National Register of Historic Places.
Aside from the historic elements of The American Club, visitors and guests can partake of several other features offered in or near the surrounding resort known as Destination Kohler. Key attractions include the Forbes Five-Star Kohler Waters Spa; a lakeside boutique hotel known as the Inn at Woodlake; cycling and yoga studios; four championship golf courses (Blackwolf Run and Whistling Straits, the latter hosting the revered 2020 Ryder Cup); 12 dining establishments, renovation inspiration at the Kohler Design Center, and daily factory tours led by retired Kohler employees spotlighting the evolution of day-to-day manufacturing operations.
Destination Kohler is an hour north of Milwaukee and 2.5 hours north of Chicago. Learn more about its many attractions at DestinationKohler.com.
Weaving profits in Azerbaijan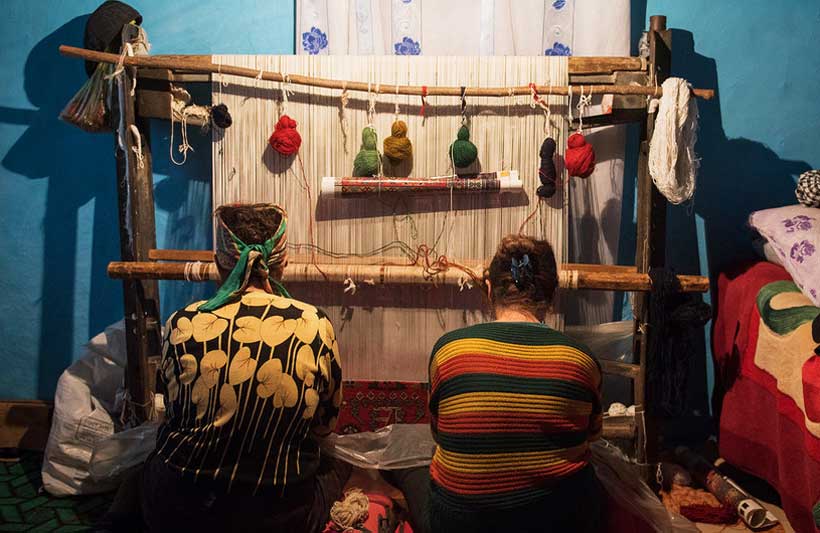 Artisans in Azerbaijan who practice the traditional art of carpet making are being provided with new business opportunities thanks to a project supported by the UN Development Programme (UNDP).
Weaving carpets is a skill that has been passed down through the generations and in the central Asian country is largely the work of women.
Although Azerbaijan is located on the ancient trading route known as the Silk Road, many artisans, especially those living in mountainous areas, are finding it increasingly difficult to get their carpets to market.
Small and Medium sized enterprises, like the carpet weavers of Azerbaijan, account for 60-70 per cent of global employment, according to the UN.
As the International Micro-, Small and Medium-sized Enterprises Day is marked across the world on June 27, the Azerbaijani authorities, with the support of UNDP, are boosting efforts to help artisans sell their goods.
New interactive Story Maps make Europe's cultural heritage more accessible
On the occasion of the first ever European Cultural Heritage Summit, the European Commission has released a set of interactive maps which will help to raise awareness of cultural heritage in Europe.
Speaking at the European Cultural Heritage Summit in Berlin today, Tibor Navracsics, Commissioner for Education, Culture, Youth and Sport, responsible for the Joint Research Centre, said: "Making cultural heritage more accessible to everyone is one of my main goals for the European Year. The Story Maps will play an important role in this, offering valuable information in a user-friendly way. The Joint Research Centre has already developed a number of tools that help us preserve cultural heritage, such as 3D scanning technologies that can be used to map heritage sites as well as smart materials for their reconstruction. Now the interactive Story Maps will help open up opportunities for Europeans to explore our shared heritage and get involved in safeguarding it for the future."
The Story Maps, developed by the Joint Research Centre, the Commission's science and knowledge service, inform in an easily accessible way about several initiatives across Europe linked to cultural heritage. These include actions like the European Heritage Days, the EU Prize for Cultural Heritage or the European Heritage Label, funded by Creative Europe, the EU programme that supports the cultural and creative sectors. The website also contains links to the digital collections of Europeana – the EU digital platform for cultural heritage. This platform allows users to explore more than 50 million artworks, artefacts, books, videos and sounds from more than 3500 museums, galleries, libraries and archives across Europe. These maps will be updated and developed, for example taking into account tips from young people exploring Europe's cultural heritage through the new DiscoverEU initiative.
The online tool was launched by Commissioner Tibor Navracsics at the European Cultural Heritage Summit in Berlin today. This Summit is one of the main events of the 2018 European Year of Cultural Heritage and is attended by high-level representatives of EU Institutions, civil society organisations and Member States, including German Federal President Frank-Walter Steinmeier. to protect, promote and raise awareness of cultural heritage in Europe. to protect, promote and raise awareness of cultural heritage in Europe. to protect, promote and raise awareness of cultural heritage in Europe.
Background
The Story Maps were presented to a wider audience at the European Cultural Heritage Summit, co-hosted by Europa Nostra, the Prussian Cultural Heritage Foundation and the German Cultural Heritage Committee. The Summit is one of the key events of the European Year of Cultural Heritage taking place in Berlin from 18 to 24 June. It will see the adoption of the "Berlin Call to Action – cultural heritage for the future of Europe", which supports the idea of a European Action Plan on Cultural Heritage, announced by the Commission in the New Agenda for Culture proposed in May. The Call to Action asks citizens, institutions and organisations to build on the momentum of the European Year, to recognise the positive and cohesive power of shared cultural heritage and values to connect Europe's citizens and communities and to give a deeper meaning to the entire European project.
The purpose of the European Year of Cultural Heritage is to raise awareness of the social and economic importance of cultural heritage. Thousands of initiatives and events across Europe will give citizens from all backgrounds opportunities to discover and engage with cultural heritage. The aim is to reach out to the widest possible audience, in particular children and young people, local communities and people who are rarely in touch with culture, to promote a common sense of ownership.