I am standing in the middle of the courtyard paved with sand, surrounded by a high wall made of mud bricks, for the house once used to belong to a Turkish family…
Outside the courtyard can only be seen the tall poplar trees and a few black locust trees, just like the one with all branches cut off and a stork nest at its top, where the stork was just combing its feathers.
My nephew, five year old Oliver, whom I call Ollie, and who can't see me, enthralled by playing with a small white piglet, petting its tummy while the piglet was laying next to the house wall and enjoying the sunlight covering only half of its body. Oliver is petting the piglet and talking something to it. I am not def yet, but still can't make out what he is saying to the piglet, and I could not, for Oliver has instinctively noticed my presence and ran towards me. He came a couple steps near me and then stopped without moving further keeping his distance.
At that moment one of the hens passed in between us and made it to the empty through made of wood in which the pigs are fed. The hen moved its head around a few times and then decided to start pecking on the inside of the wooden through, when a skinny black crow flew in silently from the top of the silo right next to the wooden trough. It landed and started settling its wings while still walking; I noticed one of the crow's feathers was gray.
The hen was busy pecking at the leftover food, did not even notice crow's presence, not until the crow put her beak inside the through, in a blink of an eye the hen stroke the crow and kept her hanging in the air on her beak. The crow had to fight for her life and got away somehow…
Oliver was still smiling when he asked me:
– Uncle, did you see how our hen attacked the crow?
– Yes Ollie, I saw it.
– Very brave our hen, isn't she?
– Yes, a big hero she is!
– And you, uncle, are you a big hero?
– Well, not so much, I don't think I am a big hero – I responded.
– Oh, so that means, you are a small hero then!? – Oliver concluded all worried and scratched his head.
I got him into a predicament. I had to get out if it although it was obvious that was too late. The only thing I could think of at that moment was the idea to ask him if he was a hero. I was however afraid that it would not have been much of a consolation, therefore continued to stare at the stork's nest, Oliver not wanting our conversation to end, quickly started to tell me how that stork was theirs too.
– Why then the stork has its nest in Urosh's yard …? – I asked
– That is Cane's house not Urosh's – Oliver responded
– Well, anyway, but… what I wanted to say was that still the nest is not in your yard.
– See, I was trying to get the stork to move over to our yard, but the wall is too high, the stork did not want to come over…
– So how were you trying to make the stork move over?
– From over there, from the top of the wall. I was waving with both hands, that's how I fell on my back on some dried wood, right on my spine!
– Augh! Well, did you get injured a lot? Did it hurt?
– I cried and then grandma heard me and came running and kissed me where it hurt and then it stopped hurting. It's only a scratch now.
– From that piece of wood, right?
– Yeah, from the damn wood!…
Oliver responded with a curious smile, afraid that I may criticize him for the bad language.
When I saw his smiley face – even if I really wanted – There was no way I could reprimand him, instead, with no need I was quickly changing my view over the courtyard, looking at the house of Guljaks next door neighbors and thinking of the Turks that once used to leave in the same house, up until fifty years ago or so.
Just how much of beauty and not needed sadness was in my look, and how much of the things around me were right in their own place, It made me swear at myself for the wrong feelings I had.
Sadly, one from the Guljak's family had passed away. Only his brother Urosh (Urke for short) was still alive, who has been watching us all this time from his balcony, without us noticing.
– Hey, Sande! Is that you!? You would not believe me, I could not recognize you!?
– I believe you, Urosh. Hello, how are you?
– You have come to see your mother and brother, I take it? – continues Urosh, confirming the reason of my visit like for himself and letting some small steamy clouds come out of his wide open mouth together with the words.
– Well, it was about time, uncle Urosh!
– Good, good!… So, how is over there at the sea? – asked me after a short pause, after his approval.

I found myself in a pickle and almost answered him with the old lame "well yes of course!" but the fear of being inappropriate made me act politely. That took a lot of time.
Meanwhile, Oliver was waiting patiently. He was waiting and kept looking at me from down below at the yard while I was looking above, but soon I looked back right at the top of Oliver's head full of thick dark hair with a small white spot in the middle of his double cowlick.
Ollie was at that moment in his deep thoughts and looked all serious. I would pay a fortune just to know what he was thinking about.
The idea about money seemed good, so I asked him loudly almost the same second:
– Ollie, do you like money?
– Yes I do, uncle! – He shouted, quickly like a gun.
– Well, since you like money, here, uncle will give you some money!
I reached in my pocket and pulled all change I had. Oliver had his hands open and ready as if I was going to give him a fortune. However, it was far from that. Nevertheless, Ollie was still happy, for he was quietly taking all coins and breathing little heavier.
As I was looking at him, I thought how he was going to like money even when he grows up. I thought about it and laughed to myself, but Ollie sensed my smile and was ready to ask me another question:
Uncle, why are you laughing now?
That got me all confused. I did not say anything, instead took his hand and walked him to the porch like the culprit who is paying for his earlier sins.
We got to the concrete sidewalk in front of the porch when he pulled his hand away from mine. I looked at him how he was running to his bedroom, most likely to hide his just acquired fortune. Deal Lord only knows where would he hide the money, anyway, it was certain that he was going to hide them well. No doubt about that!
He went away from me and left me alone.
I set at some tripod chair made from an aspen wood. I set on it like some old Bey, Pasha, or god forbids, Sultan!
It felt like an eternity!
Many thoughts crossed my head, but none of them wise.
Many years went by, decades; I did not get any better or any worse, but always felt some narrowness.
During that time Oliver had grown up and had become a student. Got his Bachelor's degree in Economics, some internship here and there and winded up in America!
When, how – don't ask! The kid left for a better life. He even sent a video tape, and on the tape besides him a chunky and all blonde baby…
I am watching the video and trying to spot and feel the atmosphere of American South, to be like in "Dry September" by William Faulkner… Waiting for the barber shop scene to show up, with an old fashioned fan blowing the hot air pointlessly…*
None of that, however; None of anything else, nothing has changed, and I am still the same as before, or at least that's what I think…
And Urke, he had died fifteen years ago!!!
In the courtyard in front of the porch, this time two piglets, one somewhat smaller than the other.
They walk thru the dusk always together like a small gang.
And the nest, on the top of the locust tree all dried and dead by now, is empty and forever abandoned… One has to be completely blind not to see how sad is all that. It is indeed so sad, good thing it is not worse…
At last, I got up from the tripod. Took myself to the bedroom, not to look for the money that once long time ago Oliver put away, but to sign myself up in some club where they worship life after death and where they heal you with some magical herbs that make you hallucinate…
At the same time I wanted to be a mushroom picker and to roam some unknown paths…
I was calling for some imaginary time portal thru which I could travel all in one piece!
I sighed against all that and in my all reasonable mind, without caring about anyone and anything, always wanted to look like some Arabian Sharif and someone special, at the same time forgetting what I really wanted to be…
I have forgotten, but I remember it as if it was yesterday!
So I deserve!
I entered the bedroom at last. Closed the door behind me and noticed the icon hanging on the wall, it said on it >> Saint George Slaying the Dragon <<
I was staring at the icon, when something stung me. It stabbed me so bad I dropped on the floor. I blacked out. I felt like an overloaded donkey, lying on the ground all broken by the weight and will never get up!
The power of time goes by and I can't catch a break. It hurts. I can hardly breathe. It hurts so much that I see stars in my eyes. I am trying to call for help but no one is here. Or maybe no one wants to help. Maybe that is how it has to be so I am not even expecting much help.
But still I soon cry for help again. Begging for the help to come soon; To save what could be saved. To take the load off me, but no one wants to come thru my time portal… Just some voices from faraway laughing at me asking if I have ever helped anyone!? Not only asking but want to know and want my answer that I have never helped anyone!
That beat me down but it did not knocked me out. At the last moment I am calling Saint George from the wall: Georgia, you help me, if you know god!
Saint George, however, was mumbling something under his grey beard and as if he is saying how he does not talk to infidels to begin with.
Soon I realize that everything has gone away from me. Only darkness and emptiness in which I am helping myself, but the voice is not leaving me alone. The miserable that I am, the voice is still asking for a list of all my flaws and merits so that he can summarize and draw a line.
I listen for some time with a look on my face hoping for mercy, until I lost it all and swore at the voice just like Oliver swore at the piece of wood that scarred his back.
That is how I saved my soul, for I have always imagined myself like someone who is a little bit nuts.
Or is it just a little bit!?…
Djenovici, Montenegro 2003.
(Biografy: Sande Dodevski, 1947., Kumanovo off Macedonien)

The feminist inspiration of Mona Lisa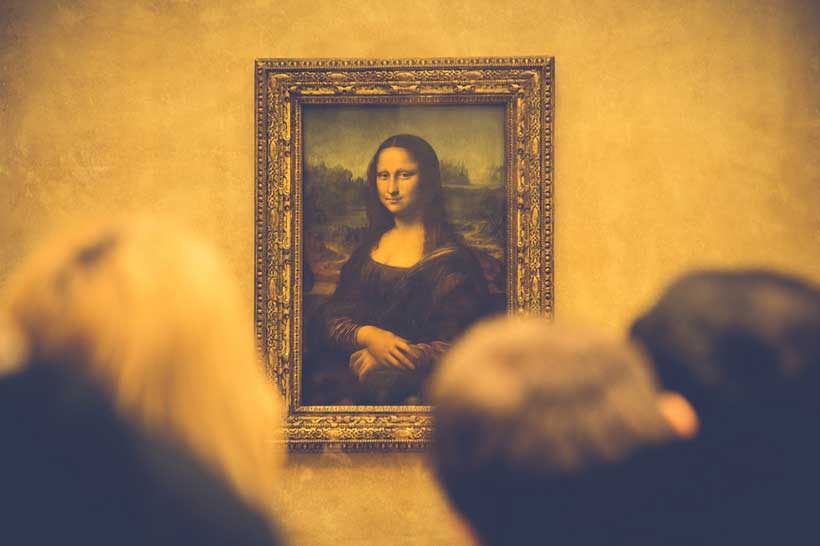 This year marks the 500th anniversary of the death of the Italian genius, Leonardo da Vinci, who died on 02 May 1519. On this occasion, UNESCO highlights some of the comments concerning the origins of one of the most famous paintings in history: Was Mona Lisa painted in a feminist spirit?
The thesis of the American art lover William Varvel highlights the links between feminism and the painting. According to his findings, Mona Lisa would represent a figure in the fight for gender equality. Why? William Varvel insists on "the theological rights of women" claimed through the vision of the famous painting from the Renaissance Period. These rights are linked to the status of priests, which women do not have access to. Therefore, the painting representing Mona Lisa would have for true desiderata the possibility for the women to have access to the priesthood. William Varvel assures that "Mona Lisa is a kind of declaration for the rights of women".
To support his argument, the author of The Lady Speaks: Uncovering the Secrets of the Mona Lisa explains how Leonardo hid clues in the painting: in total, not less than "40 symbols, taken from the 21 verses of the chapter 14 of the Book of the Prophet Zechariah" in the painting.
Therefore, there is a link between religion, the painting of the Italian master and his feminist commitment. It is precisely this link that William Varvel wishes to highlight in order to allow a reflection on the subject. A new definition of the place of Mona Lisa in the artworks from the Renaissance is necessary to apprehend the political and feminist scope of this masterpiece.
How UN cultural treasures helped set the stage for Game of Thrones
From King's Landing to the Iron Bank, so many of the breath-taking backdrops seen on the smash hit Game of Thrones television series are available for future generations to enjoy, thanks to a key, but little-known role played by the United Nations cultural agency.
Established in 1945, the UN Educational, Scientific and Cultural Organization (UNESCO) has worked to improve dialogue and understanding between civilizations, cultures and peoples. One of UNESCO's methods of doing this is by designating and preserving World Heritage Sites, defined as having outstanding universal value to humanity, which it inscribes on the World Heritage List to be protected for posterity.
To date, there are 1,092 natural and cultural places inscribed. The diverse and unique treasures range from the Great Barrier Reef in Australia to the Pyramids of Egypt and the Taj Mahal in India.
Since 2011 UNESCO's work has become inseparable with the magnificent film locations of the wildly popular Game of Thrones series.
For those tuning in to the show's final episodes, here's a look back at the Seven Kingdoms with a nod to the UN cultural agency.
Capital of the Seven Kingdoms
Long before it became known as King's Landing – one of the Seven Kingdoms and seat of the mighty Iron Throne – the old city of Dubrovnik in Croatia was an important Mediterranean seat of power from the 13th century onwards. Severely damaged by an earthquake in 1667 and by armed conflict in the 1990s, UNESCO is co-coordinating a major restoration programme.
Dubrovnik joined the UNESCO List of World Heritage Sites in 1979.
Battle of the Blackwater
You may recall the fiery Battle of the Blackwater, or scenes where King Robert Baratheon rules from the Iron Throne in the Red Keep, overlooking Blackwater Bay: Fort Lovrijenac, outside the western wall of the Croatian city, actually played an important role in resisting Venetian rule in the 11th century.
Private retreat for House Martell
It is easy to see why Doran Martell called the Water Gardens of Dorne "my favourite place in this world". Actually located in the heart of Seville, the Royal Palace of Alcázar is imbued with Moorish influences that date back from the Reconquest of 1248 to the 16th century. UNESCO points to it as "an exceptional testimony to the civilization of the Almohads as well as that of Christian Andalusia".
UNESCO inscribed the Royal Palace of Alcázarin in 1987.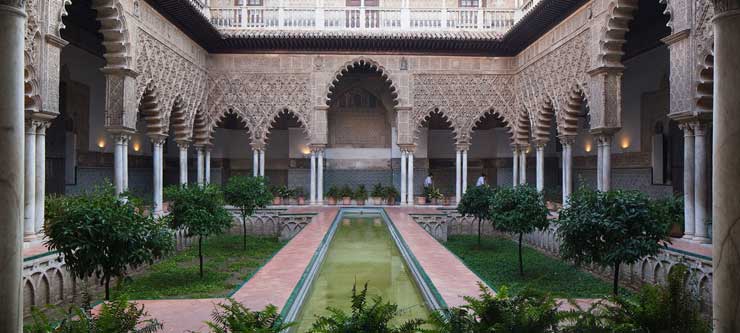 Daenerys' journey through Essos
When you look at the Medina of Essaouira in Morocco, perhaps you can image The Khaleesi lining up The Unsullied eunuch slave-soldiers in the city of Astapor before renaming Slaver's Bay, the Bay of Dragons. But for UNESCO, Essaouira is an exceptional example of a late-18th-century fortified town in North Africa. Since its creation, it has been a major international trading seaport, linking Morocco and its Saharan hinterland with Europe and the rest of the world.
The Medina of Essaouira joined the UNESCO List of World Heritage Sites in 2001.
Yunkai: 'A most disreputable place'
In the Yellow City, Daenerys' language skills are useful with the Yunkai'i, who speak a dialect of High Valyrian. But in Berber, the village of Ait-Ben-Haddou was a popular caravan route long before current-day Morocco was established. The crowded together earthen buildings surrounded by high walls offer a view of a traditional pre-Saharan habitat.
Ait-Ben-Haddou was designated a UNESCO World Heritage Site in 1987.
Theon returns to Lordsport Harbour
County Antrim envelops UNESCO-designated Giant's Causeway and Causeway coast. It is also home to the small fishing harbour of Ballintoy, known to fans as the port of Pyke, home to the Iron Islands of the Greyjoys. Located in real-life Northern Ireland, the Causeway consists of some 40,000 massive black volcanic rock columns sticking out of the sea. Over the last 300 years, geographical studies have greatly contributed to the development of the earth sciences.
The Causeway coast was declared a World Heritage Site by UNESCO in 1986.
Cersei's 'Walk of Shame'
The iconic scene in in which Cersei Lannister is forced to walk naked through the streets of King's Landing began atop of the baroque Jesuit Staircase, which leads to the Church of St. Ignatius of Loyola and Jesuit College in the UNESCO-desnigated Old City of Dubrovnik .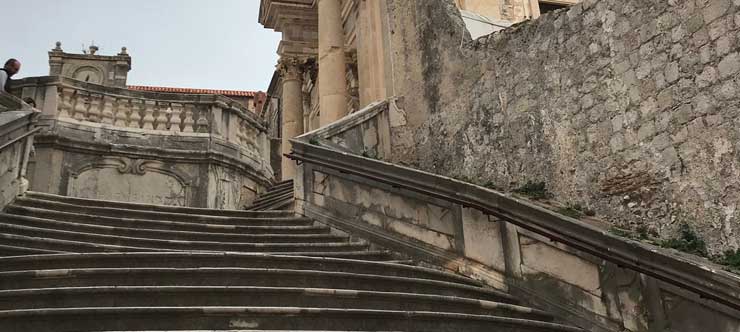 Kingslayer for gender equality
The connection between the United Nations and Game of Thrones does not end with UNESCO's inspiring sites.
While Jaime Lannister is the twin brother of Cersei and slayer of the Mad King, Aerys II Targaryen, real-life actor Nikolaj Coster-Waldau is a Goodwill Ambassador for the UN Development Fund. Passionate about ending discrimination and violence against women, the father of two girls is focusing his considerable talents on drawing attention to critical issues, such as gender equality – encouraging everyone to be agents of change.
Mr. Coster-Waldau was appointed a UNDP Goodwill Ambassador in 2016.
Baku forum to push back against 'rise of hate' with strong call for cultural and religious tolerance
Just off a plane from Sri Lanka, Miguel Angel Moratinos, United Nations High Representative for the Alliance of Civilizations (UNOAC), said on Wednesday that tomorrow's 5th World Forum for Intercultural Dialogue is opening at a "very timely" moment.
Speaking in Baku, Azerbaijan, ahead of the UN-backed Forum, Mr. Moratinos told UN News about his "emotional visit" to Colombo, the capital of Sri Lanka, where he paid his respects to victims of the suicide bombings that took place on Easter Sunday which killed more than 250 people at churches and hotels across several cities.
"Sri Lanka has been an open country with different religions and cultures, and suddenly there was this massacre", he said, adding that it had dealt a "tremendous blow to a country that is trying to live together in peace."
While social intolerance is not new, Mr. Moratinos was concerned about what he called "the return of hate."
"Hate is the word that mobilizes certain communities to destroy", he said, adding: "It drives people past the point of not being able to live together to the direction of exterminating their opponents and that is very dangerous."
"This Forum is important to send a strong message to the international community that it is possible to live together, that we can respect each other and that we have to better understand different cultures and religions," he told UN News.
Complex situations need clarity
He said that as the world is becoming more complex and uncertain, a global strategy for intercultural dialogue is ever more important.
"Solutions sought through financial, military and political means take a simplistic view", he stated, noting that sustainable solutions require a social-cultural approach that digs deep into the roots of different societies to bring clarity.
"Unless you understand the mentality of your neighbor, the history of an issue, how you come to this situation, what the consequences are and the relationship is, it is very difficult to find sustainable solutions," he maintained.
The High Representative is taking up this approach wholeheartedly, using it as a new tool "to explore and develop in the near future".
Mr. Moratinos also spoke about the message of interfaith dialogue and tolerance on which both the Grand Imam of Al Azhar and the Pope agreed.
He said the historic declaration that Al Azhar and the Vatican had produced was about "brotherhood, mutual understanding and overcoming past controversies to look toward the future".
"And it is not only between Islam and the Catholic Church, they want to go larger, to ask other religious faiths to join them", he said, noting that is provides "a good basis for discussion and for interreligious dialogue".
Turning to the global plan of action to safeguard religious sites – a fresh mandate given to UNAOC last month by UN chief António Guterres in the wake of the horrific mass shooting at two New Zealand mosques – Mr. Moratinos told UN News that while working on the draft, his Officer was "shocked by what happened in Sri Lanka", stressing that those attacks further demonstrated the urgency of developing a plan.
He detailed some of the work his team is doing to this end, such as in Sri Lanka, where they reached out to the Congress of Religions and "went into specific elements", including on how national legislation should be adapted "to meet new challenges" and the work needed to "put an end to social networks of hate and discrimination".
The High Representative shared his hope that by end-July a draft plan should be ready for adoption and implementation.
The 5th World Forum, which will open in Baku tomorrow, 2 May and through Friday, will examine the critical role of intercultural dialogue as an actionable strategy for building human solidarity and helping localities counter the violence and discrimination in diverse communities.
Running under the theme Building dialogue into action against discrimination, inequality and violent conflict, the Forum will also host the 2nd High Level Panel of the Heads of International Organizations and the Ministerial Panel, in order to build synergy and partnership among political, economic, financial, military, humanitarian and social organizations along with other stakeholders to elaborate a common roadmap for assisting public, private and third sector organizations in building inclusive and sustainable societies through promoting intercultural dialogue and human dignity.
The Government of Azerbaijan, in partnership with the UN Education, Scientific and Cultural Organization (UNESCO), UNAOC, the UN World Tourism Organization (UNWTO), the Council of Europe and the Islamic Educational, Scientific and Cultural Organization (ISESCO) is the host of the Forum.