I am standing in the middle of the courtyard paved with sand, surrounded by a high wall made of mud bricks, for the house once used to belong to a Turkish family…
Outside the courtyard can only be seen the tall poplar trees and a few black locust trees, just like the one with all branches cut off and a stork nest at its top, where the stork was just combing its feathers.
My nephew, five year old Oliver, whom I call Ollie, and who can't see me, enthralled by playing with a small white piglet, petting its tummy while the piglet was laying next to the house wall and enjoying the sunlight covering only half of its body. Oliver is petting the piglet and talking something to it. I am not def yet, but still can't make out what he is saying to the piglet, and I could not, for Oliver has instinctively noticed my presence and ran towards me. He came a couple steps near me and then stopped without moving further keeping his distance.
At that moment one of the hens passed in between us and made it to the empty through made of wood in which the pigs are fed. The hen moved its head around a few times and then decided to start pecking on the inside of the wooden through, when a skinny black crow flew in silently from the top of the silo right next to the wooden trough. It landed and started settling its wings while still walking; I noticed one of the crow's feathers was gray.
The hen was busy pecking at the leftover food, did not even notice crow's presence, not until the crow put her beak inside the through, in a blink of an eye the hen stroke the crow and kept her hanging in the air on her beak. The crow had to fight for her life and got away somehow…
Oliver was still smiling when he asked me:
– Uncle, did you see how our hen attacked the crow?
– Yes Ollie, I saw it.
– Very brave our hen, isn't she?
– Yes, a big hero she is!
– And you, uncle, are you a big hero?
– Well, not so much, I don't think I am a big hero – I responded.
– Oh, so that means, you are a small hero then!? – Oliver concluded all worried and scratched his head.
I got him into a predicament. I had to get out if it although it was obvious that was too late. The only thing I could think of at that moment was the idea to ask him if he was a hero. I was however afraid that it would not have been much of a consolation, therefore continued to stare at the stork's nest, Oliver not wanting our conversation to end, quickly started to tell me how that stork was theirs too.
– Why then the stork has its nest in Urosh's yard …? – I asked
– That is Cane's house not Urosh's – Oliver responded
– Well, anyway, but… what I wanted to say was that still the nest is not in your yard.
– See, I was trying to get the stork to move over to our yard, but the wall is too high, the stork did not want to come over…
– So how were you trying to make the stork move over?
– From over there, from the top of the wall. I was waving with both hands, that's how I fell on my back on some dried wood, right on my spine!
– Augh! Well, did you get injured a lot? Did it hurt?
– I cried and then grandma heard me and came running and kissed me where it hurt and then it stopped hurting. It's only a scratch now.
– From that piece of wood, right?
– Yeah, from the damn wood!…
Oliver responded with a curious smile, afraid that I may criticize him for the bad language.
When I saw his smiley face – even if I really wanted – There was no way I could reprimand him, instead, with no need I was quickly changing my view over the courtyard, looking at the house of Guljaks next door neighbors and thinking of the Turks that once used to leave in the same house, up until fifty years ago or so.
Just how much of beauty and not needed sadness was in my look, and how much of the things around me were right in their own place, It made me swear at myself for the wrong feelings I had.
Sadly, one from the Guljak's family had passed away. Only his brother Urosh (Urke for short) was still alive, who has been watching us all this time from his balcony, without us noticing.
– Hey, Sande! Is that you!? You would not believe me, I could not recognize you!?
– I believe you, Urosh. Hello, how are you?
– You have come to see your mother and brother, I take it? – continues Urosh, confirming the reason of my visit like for himself and letting some small steamy clouds come out of his wide open mouth together with the words.
– Well, it was about time, uncle Urosh!
– Good, good!… So, how is over there at the sea? – asked me after a short pause, after his approval.

I found myself in a pickle and almost answered him with the old lame "well yes of course!" but the fear of being inappropriate made me act politely. That took a lot of time.
Meanwhile, Oliver was waiting patiently. He was waiting and kept looking at me from down below at the yard while I was looking above, but soon I looked back right at the top of Oliver's head full of thick dark hair with a small white spot in the middle of his double cowlick.
Ollie was at that moment in his deep thoughts and looked all serious. I would pay a fortune just to know what he was thinking about.
The idea about money seemed good, so I asked him loudly almost the same second:
– Ollie, do you like money?
– Yes I do, uncle! – He shouted, quickly like a gun.
– Well, since you like money, here, uncle will give you some money!
I reached in my pocket and pulled all change I had. Oliver had his hands open and ready as if I was going to give him a fortune. However, it was far from that. Nevertheless, Ollie was still happy, for he was quietly taking all coins and breathing little heavier.
As I was looking at him, I thought how he was going to like money even when he grows up. I thought about it and laughed to myself, but Ollie sensed my smile and was ready to ask me another question:
Uncle, why are you laughing now?
That got me all confused. I did not say anything, instead took his hand and walked him to the porch like the culprit who is paying for his earlier sins.
We got to the concrete sidewalk in front of the porch when he pulled his hand away from mine. I looked at him how he was running to his bedroom, most likely to hide his just acquired fortune. Deal Lord only knows where would he hide the money, anyway, it was certain that he was going to hide them well. No doubt about that!
He went away from me and left me alone.
I set at some tripod chair made from an aspen wood. I set on it like some old Bey, Pasha, or god forbids, Sultan!
It felt like an eternity!
Many thoughts crossed my head, but none of them wise.
Many years went by, decades; I did not get any better or any worse, but always felt some narrowness.
During that time Oliver had grown up and had become a student. Got his Bachelor's degree in Economics, some internship here and there and winded up in America!
When, how – don't ask! The kid left for a better life. He even sent a video tape, and on the tape besides him a chunky and all blonde baby…
I am watching the video and trying to spot and feel the atmosphere of American South, to be like in "Dry September" by William Faulkner… Waiting for the barber shop scene to show up, with an old fashioned fan blowing the hot air pointlessly…*
None of that, however; None of anything else, nothing has changed, and I am still the same as before, or at least that's what I think…
And Urke, he had died fifteen years ago!!!
In the courtyard in front of the porch, this time two piglets, one somewhat smaller than the other.
They walk thru the dusk always together like a small gang.
And the nest, on the top of the locust tree all dried and dead by now, is empty and forever abandoned… One has to be completely blind not to see how sad is all that. It is indeed so sad, good thing it is not worse…
At last, I got up from the tripod. Took myself to the bedroom, not to look for the money that once long time ago Oliver put away, but to sign myself up in some club where they worship life after death and where they heal you with some magical herbs that make you hallucinate…
At the same time I wanted to be a mushroom picker and to roam some unknown paths…
I was calling for some imaginary time portal thru which I could travel all in one piece!
I sighed against all that and in my all reasonable mind, without caring about anyone and anything, always wanted to look like some Arabian Sharif and someone special, at the same time forgetting what I really wanted to be…
I have forgotten, but I remember it as if it was yesterday!
So I deserve!
I entered the bedroom at last. Closed the door behind me and noticed the icon hanging on the wall, it said on it >> Saint George Slaying the Dragon <<
I was staring at the icon, when something stung me. It stabbed me so bad I dropped on the floor. I blacked out. I felt like an overloaded donkey, lying on the ground all broken by the weight and will never get up!
The power of time goes by and I can't catch a break. It hurts. I can hardly breathe. It hurts so much that I see stars in my eyes. I am trying to call for help but no one is here. Or maybe no one wants to help. Maybe that is how it has to be so I am not even expecting much help.
But still I soon cry for help again. Begging for the help to come soon; To save what could be saved. To take the load off me, but no one wants to come thru my time portal… Just some voices from faraway laughing at me asking if I have ever helped anyone!? Not only asking but want to know and want my answer that I have never helped anyone!
That beat me down but it did not knocked me out. At the last moment I am calling Saint George from the wall: Georgia, you help me, if you know god!
Saint George, however, was mumbling something under his grey beard and as if he is saying how he does not talk to infidels to begin with.
Soon I realize that everything has gone away from me. Only darkness and emptiness in which I am helping myself, but the voice is not leaving me alone. The miserable that I am, the voice is still asking for a list of all my flaws and merits so that he can summarize and draw a line.
I listen for some time with a look on my face hoping for mercy, until I lost it all and swore at the voice just like Oliver swore at the piece of wood that scarred his back.
That is how I saved my soul, for I have always imagined myself like someone who is a little bit nuts.
Or is it just a little bit!?…
Djenovici, Montenegro 2003.
(Biografy: Sande Dodevski, 1947., Kumanovo off Macedonien)

Andy Warhol: From A to B and Back Again
The San Francisco Museum of Modern Art (SFMOMA) announces the exclusive West Coast presentation of the critically acclaimed exhibition, Andy Warhol—From A to B and Back Again on view from May 19 through September 2, 2019. Spanning the artist's 40-year career and featuring more than 300 works on three different floors of the museum, the exhibition includes paintings, drawings, graphics, photographs, films, television shows as well as a personal time capsule of ephemera. The retrospective features examples of the artist's most iconic pieces in addition to lesser-known abstract paintings from later in his career. Uncannily relevant in today's image-driven world, Andy Warhol—From A to B and Back Again provides new insight into Andy Warhol himself by examining the complexities of this enigmatic artist more than 30 years after his death in 1987. The show's title is taken from Warhol's 1975 book, The Philosophy of Andy Warhol (From A to B and Back Again), a memoir featuring the artist's musings on fame, love, beauty, class, money and other key themes that frequently appear in his work.
"He's a complicated figure and a complicated artist," said Gary Garrels, Elise S. Haas Senior Curator of Painting and Sculpture at SFMOMA. "His inner emotions, his psychic self were not his subject matter. Warhol is constantly labeled a Pop artist, but all that happened within a couple of years and then he moved on and the work goes quite dark and explores questions of gender and sexual identity, fame, subcultures. At the time of his death, the consensus was that Warhol was no longer relevant. But the last major retrospective in 1989 was a wake-up call: this is an artist we have to reckon with."
First presented at the Whitney Museum of American Art in New York and curated by Donna De Salvo, Deputy Director for International Initiatives and Senior Curator at the Whitney, with Christie Mitchell, senior curatorial assistant, and Mark Loiacono, curatorial associate, this exhibition provides an opportunity for new generations to reconsider Andy Warhol, one of the most influential, inventive and important American artists. Warhol's understanding of the growing power of images in contemporary life anticipated our social media-focused world and helped to expand the artist's role in society making him one of the most recognized artists of the 20th century.
Andy Warhol—From A to B and Back Again also showcases SFMOMA's impressive holdings of many of the artist's most important works including National Velvet (1963), Liz #6 (Early Colored Liz) (1963), Triple Elvis (Ferus Type), (1963), Silver Marlon (1963), Robert Mapplethorpe (1983) and self-portraits.
THE EXHIBITION
Andy Warhol—From A to B and Back Again will be presented on three floors of SFMOMA: two, four and five.
On the museum's second floor, two galleries of works on paper offer a detailed look at Warhol's earliest drawings from the 1940s and hand-drawn commercial illustrations created for advertising in the 1950s. These early drawings lay the groundwork for many of the techniques and approaches he would use throughout his career. This portion of the exhibition includes delicate, gilded collages and sketches of shoes for the Miller Shoe Company, and illustrations for publications such as Glamour Magazine and The New York Times.
On display in SFMOMA's fourth-floor special exhibition galleries, the exhibition takes visitors chronologically through the arc of Warhol's career and his production in painting, drawing, photography, film and installation. The first half of the exhibition opens with his best known work from the creatively active period of 1960–68, with his earliest paintings such as Dick Tracy (1961) and Superman (1961), followed by the groundbreaking, iconic Pop Art paintings, Green Coca-Cola Bottles (1962), 192 One Dollar Bills (1962) and the sculpture, Brillo Boxes (1969, version of 1964 original). The exhibition then highlights Warhol's depictions of celebrities, including Elvis, Elizabeth Taylor and Jacqueline Kennedy. In a dedicated black box gallery adjacent to the early Pop Art work, samples of Warhol's films and videos will be on view including his series of Screen Tests featuring Ethel Scull, Edie Sedgwick and Billy Name (1964–65).
Subjects take a darker turn in Warhol's Death and Disaster paintings (1963–64) memorializing car crashes, the electric chair and a benign yet sinister can of tuna fish contaminated with botulism. An eye-popping gallery filled with 16 colorful Flower paintings (1964) will be installed on top of Warhol's Cow Wallpaper (1966) for a bold immersive experience. Visitors will have a chance to experience Silver Clouds, Warhol's sculptural installation of shiny Mylar balloons created in 1966, the point at which he declared himself to be done with painting.
Warhol's work of the 1970s and 1980s focuses on post-Pop artwork, which Garrels observes are "very unknown to most people." In these galleries Warhol shifts his focus with a massive portrait of Chairman Mao (1972), followed by a gallery featuring photographs and paintings of trans women and drag queens from the 1970s, which provide a look into Warhol's fascination with the elusiveness and complexity of gender and identity. A separate suite of photographic self-portraits of Warhol in drag provides a different view into the artist's carefully cultivated persona. A large single gallery is dedicated to Warhol's grand experiments with abstract painting, featuring a gold Shadow painting (1978) and two large-scale Rorschach paintings (1984). Warhol's influence on the young artists of the East Village in the 1980s is highlighted through collaborative works created with Jean-Michel Basquiat and Keith Haring. Also on display is an unpacked personal time capsule, one of 610 created over the course of the artist's life.
Two galleries in the museum's fifth floor Pop, Minimal and Figurative Art presentation feature a 1970s "facebook" of wall-to-wall grids of large-scale silk-screened portraits representing a "who's who" of celebrities, cultural icons, gallerists, athletes and business leaders. These galleries feature nearly 40 portraits such as Halston (1975), Dominique de Menil (1969), Liza Minnelli (1978), Pelé (1977), Leo Castelli (1975), Mohammad Reza Shah Pahlavi (1976) and Gianni Versace (1979–80), as well as the artist's mother, Julia Warhola (1974). For the subject, a Warhol portrait provided social validation and an immediate status symbol; for Warhol these commissions were a consistent revenue stream that supported his studio and desire to explore other more personal ventures. Warhol's television shows and videos are on display in the city gallery on this floor.
THE ARTIST
Andy Warhol was born Andrew Warhola in Pittsburgh, PA in 1928. In 1949, he graduated from Carnegie Institute of Technology (now Carnegie Mellon University) with a Bachelor of Arts in pictorial design.  Shortly after graduation, Warhol moved to New York City, where he would live for the rest of his life, and began what would become a vaunted career as a commercial artist, for which he earned numerous awards and accolades. Despite his commercial success, Warhol was determined to pursue a career as a fine artist. He first exhibited his work at the Hugo Gallery in 1952, though he did not gain recognition in the fine art world until 1962 when the Ferus Gallery in Los Angeles staged his groundbreaking exhibition of Campbell's Soup Can paintings. Through the 1960s, Warhol exhibited at Ferus, Stable Gallery, Castelli Gallery, Sonnabend Gallery and internationally to great acclaim. He established "the Factory" in 1963, the same year he began his pioneering work in film. In 1965, Warhol announced his "retirement" from painting to pursue filmmaking full-time; underground films such as Empire (1964) and The Chelsea Girls (1966) remain some of his most influential works.
In 1968, Warhol was shot in a near-fatal assassination attempt, but by 1969 he had founded Interview magazine and his interest in producing work across all media—including sculpture, video and performance—was reignited. In 1975, Warhol published The Philosophy of Andy Warhol (From A to B and Back Again) and by the late 1970s had expanded his practice to cable television shows with Andy Warhol's Fashion, Andy Warhol's Fifteen Minutes and Andy Warhol's T.V. Warhol's work of the late 1970s and 1980s exhibits an increased interest in abstraction and collaboration and often reflexively returns to his own earlier work and iconography. His late work speaks to a voracious interest in current events and enthusiasm for artists from the East Village scene such as Keith Haring and Jean-Michel Basquiat, with whom he collaborated. In February 1987, Warhol died after a brief illness following routine gallbladder surgery. The Andy Warhol Diaries, his infamous account of his own life from the mid-1970s up to his death, was published posthumously in 1991.
Major exhibitions during Warhol's lifetime include his first institutional solo exhibition at the ICA Philadelphia in 1965, a 1968 exhibition at the Moderna Museet, Stockholm, a 1970 retrospective organized by the Pasadena Art Museum, which traveled extensively and Andy Warhol: Portraits of the 70s organized by the Whitney Museum in 1979–80. The final exhibition of his work during his lifetime, at Robert Miller Gallery, New York, in January 1987, debuted a new series of stitched photographs.  Warhol's work is collected by significant institutions across the world including major repositories at SFMOMA, the Whitney Museum of American Art, Tate, The Museum of Modern Art, The Art Institute of Chicago, The Museum Brandhorst, Munich, The Museum Ludwig, Cologne, The Marx Collection at the Hamburger Bahnhof, Berlin, the National Gallery of Art, Washington, D.C. and the Andy Warhol Museum, Pittsburgh.
CATALOGUE
The exhibition is accompanied by a full-color, 400-page scholarly monograph edited by Donna De Salvo spanning all periods of Warhol's career and including paintings, sculpture, drawings, prints, videos, photographs, archival and printed material, installations, films and media works. A contextualizing essay by De Salvo is complemented by essays and contributions from Jessica Beck, Okwui Enwezor, Trevor Fairbrother, Hendrik Folkerts, Bill Horrigan, Bruce Jenkins, Branden W. Joseph, Barbara Kruger, Glenn Ligon, Michael Sanchez and Lynne Tillman, as well as a plate section with 450 images. The catalogue is published by the Whitney and is distributed by Yale University Press.
San Francisco Museum of Modern Art
151 Third Street
San Francisco, CA 94103
Into the Void: Prints of Lee Bontecou
The images of Lee Bontecou (American, born 1931) are unmistakably hers: black voids, cosmic orbs, floating serrated teeth, mutant flowers, and strange, hybrid forms. They reflect a post–World War II angst and existential fear brought on by the arms race and nuclear threat, coupled with awe at a technology capable of space travel. While best known for her wall reliefs that bridge the divide between painting and sculpture, Bontecou produced a series of important prints between 1962 and 1982 at Universal Limited Art Editions (ULAE), a workshop founded by Tatyana Grosman in West Islip, New York, in 1957. This exhibition is the first show devoted to Bontecou's prints since 1975 and is drawn from the Art Institute's complete edition and significant archive of her ULAE production.
In Bontecou's prints, as in her early sculptures, the color black dominates. "Getting the black," she said, "opened everything up." The color, through its endless interpretability, evokes the mystery of the infinite and the terror of the unknown. Her powerful prints—mostly lithographs but some etchings—attend to all of the profound issues Bontecou addressed in her sculptures and drawings. In particular, many of the prints she produced at ULAE explore the black void at the heart of her early sculptures, a motif that runs through her entire career.
Into the Void: Prints of Lee Bontecou analyzes for the first time the totality of her prints as a reflection and an extension of her larger corpus, showing not only final states of her prints but also working proofs, variant states, finished and preparatory drawings, matrices (such as the copper etching plates used to print her works), and other ephemera that shed further light on her practice. Including over 100 objects, the exhibition explores the phenomena of process, repetition, and artistic obsession, and traces Bontecou's voyage through a series of experiments and happy accidents toward the mystique of her final, definitive images.
Art Institute of Chicago, Jan 26–May 5, 2019
Rio de Janeiro named as World Capital of Architecture for 2020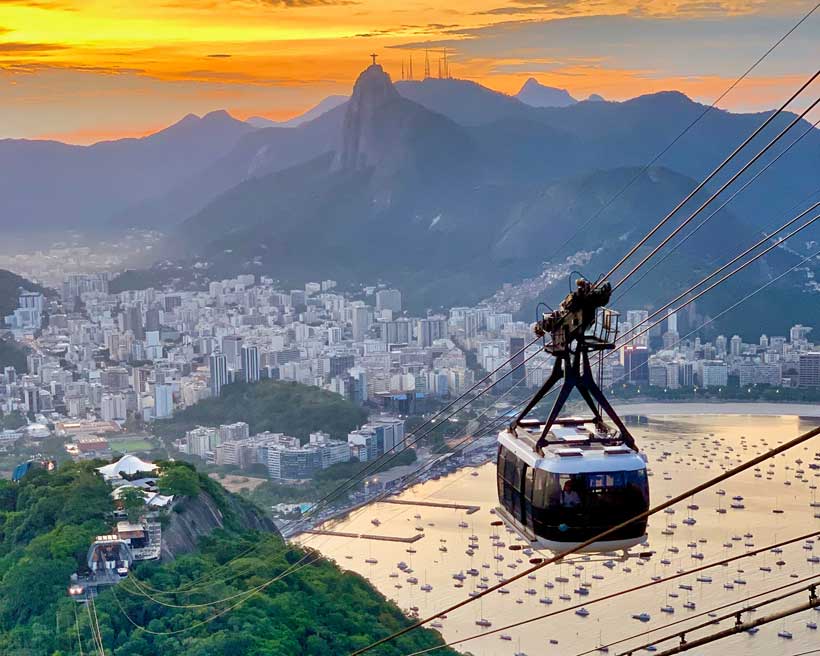 UNESCO's Assistant Director-General for Culture Ernesto Ottone R, Thomas Vonier, President of the International Union of Architects (UIA), and Verena Vicentini Andreatta, Municipal Secretary of the City of Rio for Urbanism, on Friday 18 January announced that the city of Rio de Janeiro (Brazil) will be the World Capital of Architecture for 2020.
"The World Capital of Architecture initiative underscores the common commitment of UNESCO and the UIA to preserve architectural heritage in the urban context," said Ernesto Ottone R. "Through the range and quality of its activities, the World Capital of Architecture in Rio de Janeiro will demonstrate the crucial role of architecture and culture in sustainable urban development."
In keeping with UNESCO's recent partnership agreement with the UIA, UNESCO, designates the World Capital of Architecture, which also hosts the UIA's World Congress, an event that takes place every three years. The World Capital of Architecture is intended to become an international forum for debates about pressing global challenges from the perspectives of culture, cultural heritage, urban planning and architecture.
As the first World Capital of Architecture, Rio de Janeiro will hold a series of events under the theme "All the worlds. Just one world," and promote the internationally agreed 2030 Agenda for Sustainable Development's 11th Goal: "Make cities and human settlements inclusive, safe, resilient and sustainable."
UNESCO, the UIA and local institutions will organize activities to promote projects involving architects and urban planners as well as policy makers, social institutions and professionals from other sectors including artists and writers in an open and creative space of dialogue and innovation.