I am standing in the middle of the courtyard paved with sand, surrounded by a high wall made of mud bricks, for the house once used to belong to a Turkish family…
Outside the courtyard can only be seen the tall poplar trees and a few black locust trees, just like the one with all branches cut off and a stork nest at its top, where the stork was just combing its feathers.
My nephew, five year old Oliver, whom I call Ollie, and who can't see me, enthralled by playing with a small white piglet, petting its tummy while the piglet was laying next to the house wall and enjoying the sunlight covering only half of its body. Oliver is petting the piglet and talking something to it. I am not def yet, but still can't make out what he is saying to the piglet, and I could not, for Oliver has instinctively noticed my presence and ran towards me. He came a couple steps near me and then stopped without moving further keeping his distance.
At that moment one of the hens passed in between us and made it to the empty through made of wood in which the pigs are fed. The hen moved its head around a few times and then decided to start pecking on the inside of the wooden through, when a skinny black crow flew in silently from the top of the silo right next to the wooden trough. It landed and started settling its wings while still walking; I noticed one of the crow's feathers was gray.
The hen was busy pecking at the leftover food, did not even notice crow's presence, not until the crow put her beak inside the through, in a blink of an eye the hen stroke the crow and kept her hanging in the air on her beak. The crow had to fight for her life and got away somehow…
Oliver was still smiling when he asked me:
– Uncle, did you see how our hen attacked the crow?
– Yes Ollie, I saw it.
– Very brave our hen, isn't she?
– Yes, a big hero she is!
– And you, uncle, are you a big hero?
– Well, not so much, I don't think I am a big hero – I responded.
– Oh, so that means, you are a small hero then!? – Oliver concluded all worried and scratched his head.
I got him into a predicament. I had to get out if it although it was obvious that was too late. The only thing I could think of at that moment was the idea to ask him if he was a hero. I was however afraid that it would not have been much of a consolation, therefore continued to stare at the stork's nest, Oliver not wanting our conversation to end, quickly started to tell me how that stork was theirs too.
– Why then the stork has its nest in Urosh's yard …? – I asked
– That is Cane's house not Urosh's – Oliver responded
– Well, anyway, but… what I wanted to say was that still the nest is not in your yard.
– See, I was trying to get the stork to move over to our yard, but the wall is too high, the stork did not want to come over…
– So how were you trying to make the stork move over?
– From over there, from the top of the wall. I was waving with both hands, that's how I fell on my back on some dried wood, right on my spine!
– Augh! Well, did you get injured a lot? Did it hurt?
– I cried and then grandma heard me and came running and kissed me where it hurt and then it stopped hurting. It's only a scratch now.
– From that piece of wood, right?
– Yeah, from the damn wood!…
Oliver responded with a curious smile, afraid that I may criticize him for the bad language.
When I saw his smiley face – even if I really wanted – There was no way I could reprimand him, instead, with no need I was quickly changing my view over the courtyard, looking at the house of Guljaks next door neighbors and thinking of the Turks that once used to leave in the same house, up until fifty years ago or so.
Just how much of beauty and not needed sadness was in my look, and how much of the things around me were right in their own place, It made me swear at myself for the wrong feelings I had.
Sadly, one from the Guljak's family had passed away. Only his brother Urosh (Urke for short) was still alive, who has been watching us all this time from his balcony, without us noticing.
– Hey, Sande! Is that you!? You would not believe me, I could not recognize you!?
– I believe you, Urosh. Hello, how are you?
– You have come to see your mother and brother, I take it? – continues Urosh, confirming the reason of my visit like for himself and letting some small steamy clouds come out of his wide open mouth together with the words.
– Well, it was about time, uncle Urosh!
– Good, good!… So, how is over there at the sea? – asked me after a short pause, after his approval.

I found myself in a pickle and almost answered him with the old lame "well yes of course!" but the fear of being inappropriate made me act politely. That took a lot of time.
Meanwhile, Oliver was waiting patiently. He was waiting and kept looking at me from down below at the yard while I was looking above, but soon I looked back right at the top of Oliver's head full of thick dark hair with a small white spot in the middle of his double cowlick.
Ollie was at that moment in his deep thoughts and looked all serious. I would pay a fortune just to know what he was thinking about.
The idea about money seemed good, so I asked him loudly almost the same second:
– Ollie, do you like money?
– Yes I do, uncle! – He shouted, quickly like a gun.
– Well, since you like money, here, uncle will give you some money!
I reached in my pocket and pulled all change I had. Oliver had his hands open and ready as if I was going to give him a fortune. However, it was far from that. Nevertheless, Ollie was still happy, for he was quietly taking all coins and breathing little heavier.
As I was looking at him, I thought how he was going to like money even when he grows up. I thought about it and laughed to myself, but Ollie sensed my smile and was ready to ask me another question:
Uncle, why are you laughing now?
That got me all confused. I did not say anything, instead took his hand and walked him to the porch like the culprit who is paying for his earlier sins.
We got to the concrete sidewalk in front of the porch when he pulled his hand away from mine. I looked at him how he was running to his bedroom, most likely to hide his just acquired fortune. Deal Lord only knows where would he hide the money, anyway, it was certain that he was going to hide them well. No doubt about that!
He went away from me and left me alone.
I set at some tripod chair made from an aspen wood. I set on it like some old Bey, Pasha, or god forbids, Sultan!
It felt like an eternity!
Many thoughts crossed my head, but none of them wise.
Many years went by, decades; I did not get any better or any worse, but always felt some narrowness.
During that time Oliver had grown up and had become a student. Got his Bachelor's degree in Economics, some internship here and there and winded up in America!
When, how – don't ask! The kid left for a better life. He even sent a video tape, and on the tape besides him a chunky and all blonde baby…
I am watching the video and trying to spot and feel the atmosphere of American South, to be like in "Dry September" by William Faulkner… Waiting for the barber shop scene to show up, with an old fashioned fan blowing the hot air pointlessly…*
None of that, however; None of anything else, nothing has changed, and I am still the same as before, or at least that's what I think…
And Urke, he had died fifteen years ago!!!
In the courtyard in front of the porch, this time two piglets, one somewhat smaller than the other.
They walk thru the dusk always together like a small gang.
And the nest, on the top of the locust tree all dried and dead by now, is empty and forever abandoned… One has to be completely blind not to see how sad is all that. It is indeed so sad, good thing it is not worse…
At last, I got up from the tripod. Took myself to the bedroom, not to look for the money that once long time ago Oliver put away, but to sign myself up in some club where they worship life after death and where they heal you with some magical herbs that make you hallucinate…
At the same time I wanted to be a mushroom picker and to roam some unknown paths…
I was calling for some imaginary time portal thru which I could travel all in one piece!
I sighed against all that and in my all reasonable mind, without caring about anyone and anything, always wanted to look like some Arabian Sharif and someone special, at the same time forgetting what I really wanted to be…
I have forgotten, but I remember it as if it was yesterday!
So I deserve!
I entered the bedroom at last. Closed the door behind me and noticed the icon hanging on the wall, it said on it >> Saint George Slaying the Dragon <<
I was staring at the icon, when something stung me. It stabbed me so bad I dropped on the floor. I blacked out. I felt like an overloaded donkey, lying on the ground all broken by the weight and will never get up!
The power of time goes by and I can't catch a break. It hurts. I can hardly breathe. It hurts so much that I see stars in my eyes. I am trying to call for help but no one is here. Or maybe no one wants to help. Maybe that is how it has to be so I am not even expecting much help.
But still I soon cry for help again. Begging for the help to come soon; To save what could be saved. To take the load off me, but no one wants to come thru my time portal… Just some voices from faraway laughing at me asking if I have ever helped anyone!? Not only asking but want to know and want my answer that I have never helped anyone!
That beat me down but it did not knocked me out. At the last moment I am calling Saint George from the wall: Georgia, you help me, if you know god!
Saint George, however, was mumbling something under his grey beard and as if he is saying how he does not talk to infidels to begin with.
Soon I realize that everything has gone away from me. Only darkness and emptiness in which I am helping myself, but the voice is not leaving me alone. The miserable that I am, the voice is still asking for a list of all my flaws and merits so that he can summarize and draw a line.
I listen for some time with a look on my face hoping for mercy, until I lost it all and swore at the voice just like Oliver swore at the piece of wood that scarred his back.
That is how I saved my soul, for I have always imagined myself like someone who is a little bit nuts.
Or is it just a little bit!?…
Djenovici, Montenegro 2003.
(Biografy: Sande Dodevski, 1947., Kumanovo off Macedonien)

Brazilian Favela Art Project – Global Project with Local Focus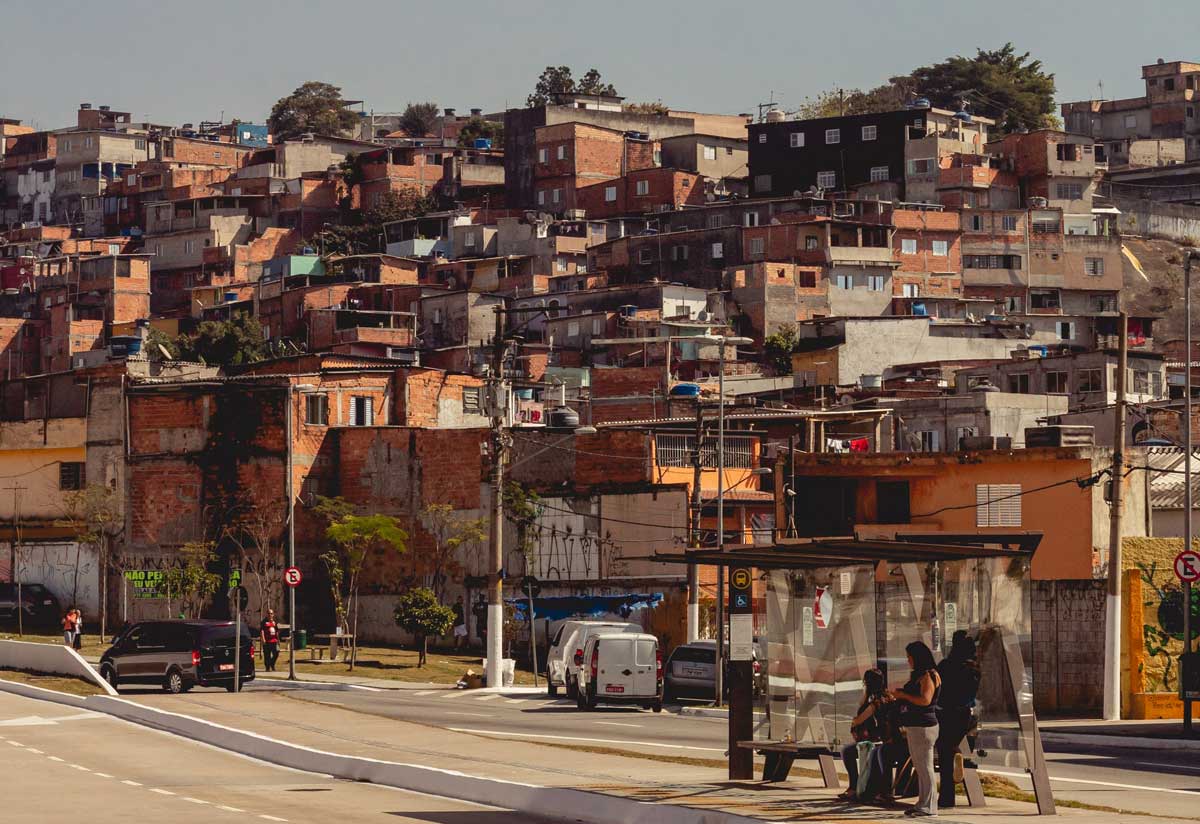 Brazilian Favelas, or shanty slums are some of the most underdeveloped and overly populated regions in Brazil with high levels of crime, violence, gender discrimination and poor levels of hygeine and sanitation. There is an urgent need to spread awareness about healthy lifestyle choices and improve the standards of living for people residing in these slums. This is not just the prevailing situation in slums in Brazil, but across slums worldwide. Inspired by the Misaal Mumbai project led by Rouble Nagi, aimed at painting Dharavi, the largest slum in Asia, located in the suburbs of Mumbai, it is crucial to start similar projects in other slums across the world, like in Brazil. Artwork is a great way to bring about social change and also enhance the landscape of slums. Brazilian slums have poor hygiene, lack of focus on education, higher crime rates, rampant sexism and other social issues. There is a pressing need to instill a better sense of hygiene, importance of education, reduced dropout rate from schools, fueled creativity, inspire a better future, make people aware of their legal rights (specially women), make women more aware of personal hygiene, promote healthier safer living environments, reduced family tensions, improve neighborhood relations and promote less harassment via artwork in Brazilian favelas. While it is unrealistic to expect social workers to visit slums everyday and educate people about social issues, artwork solves the purpose by acting as a constant reminder to slum dwellers about good decision making so they can partake in to be more responsible members of the community. In light of this, we have started a project called Brazilian Favela Art Project aimed at sponsoring artists to visit favelas in Brazil and create artwork on available walls and empty spaces, to promote positive social values. The project is led by me from Mumbai and involves funding from passionate donors across several countries. We work with artists from Brazil to sponsor their artwork in these shanty favelas.
Challenges
There are several challenges arising during the project, mainly because of language barriers. The most widely spoken language in Brazil is Portuguese, whereas most people who are a part of this project do not understand and speak Portuguese. To sort out this issue and to project a more global approach to local issues in slums, specifically Brazilian Favelas, we have added some Portuguese speaking locals from Goa, India to the project. Goa was a former Portuguese colony and still has over 12,000 Portuguese language speakers. These select Portuguese speakers help us to communicate with local artists from Brazil and curate artwork directed at social change in collaboration with them. Since, the artwork produced in the favelas is also in Portuguese language, the messaging is created by English speaking professionals along with Portuguese translators from Goa and Brazil. Hence, the project truly is global involving people speaking various languages across continents.
Another major challenge we face is funding by corporations. Most corporations only want to fund corporate social responsibility projects among their target audience to improve branding. Since favelas house low income populations, most corporations are not interested to heavily invest in social change in the region. Moreover, corporations also have reduced trust in favela residents and believe that the artwork produced will not bear a long term impact since it could be at the risk of mutilation by locals. However, our conversations with local Brazilian artists have proven otherwise. The artwork is preserved by local communities since they see the positive community value in the artwork, as well as benefits to external landscaping that are created. Most of the donors of this project, have therefore been individuals at the moment, and not large corporations. We need to find corporations that are more keenly interested in social change in favelas in Brazil and target them for fundraising. Though the funds required are not very high because the base costing is spent on travel to favelas and paintwork, we aim to create bigger murals across Brazilian Favelas, not just in Rio De Janeiro, where the project currently focuses.
It has also been the case, as local artists have informed us, that artwork against drug consumption is generally mutilated by drug dealers living in favelas, since it is a source of revenue for them. Hence, alternate methods to prevent drug consumption in favelas need to be better researched. There are no other cases of art mutilation in favelas.
Local initiative with global effort
In the age of digital connections, whatsapp groups, telegram chat channels, LinkedIn and other networking spots, there is little scope to go wrong with building global connections and uniting towards a cause. The main source of interaction to create impact has been on zoom, considering the project was founded during the 2020 COVID-19 pandemic, specifically in light of budding news about increased crime rates in slums across the world and increased stronghold of criminal gangs specifically in Brazilian Favelas. Various reports mentioned that Brazilian gang overlords were increasing their stronghold in favelas, enforcing lockdown with a long term focus to ride the wave of the pandemic. Consumption of cocaine and other drugs increased in favelas since drug overlords knew exactly what troubled the favela community members at distinct times during the pandemic. In light of this news, I realized it was crucial to create a global project to solve the rampant issue of crime, violence and drug abuse in favelas, among the most vulnerable communities impacted by the pandemic. I was deeply surprised to see that not enough was being done to support favela dwellers by local community members. Various local initiatives had popped up during the pandemic, but none at all to support favela dwellers in Brazil. The global project – Brazilian Favela Art Project, with a local focus was hence founded out of the pressing need to support favelas in Brazil and promote positive social values.
The initiative involves funders, donors, artists, language translators, public policy enthusiasts and administrative officials from various countries, sharing resourcing and joining hands to bring about positive social development in Brazilian Favelas. It has been a privilege to witness and personally observe the impact of the pandemic in making us realize that we are all united in battling issues. No issue, despite being continents away, is too big for us to not solve or too far for us to care about. With a united, global approach, we can solve any major issue in this world. Social change starts with you and with everything you wish to see differently.
Vidhi Bubna, author of the article is also the Founder of the Brazilian Favela Art Project and aims to reduce crime rates and encourage social change in Brazilian Favelas, specifically in Rio De Janeiro.
UN Geneva open exhibition "The World In Faces"
On November 24, United Nations Geneva hosts "The World in Faces", an exhibition of photos by the renowned Russian photographer Alexander Khimushin. The artist personally presented a collection of artistic photos of representatives of different peoples of the world, photographed in authentic national costumes in their habitat. The 170 large artistic portraits of more than 100 indigenous peoples around the world are on display in the main hall of UN Geneva's Palais des Nations. A big part of the exhibition is dedicated to the indigenous communities of Russia's Siberia and the Far East.
"It is gratifying that the exhibition at the UN this year takes place as the world celebrates the International Human Rights Day. It is a great pride and honour for me to present my photo project at the UN, especially on this momentous day", said Alexander Khimushin.
The idea to create a collection of photographic portraits of indigenous peoples in national dress and in their native environment was born in 2014, when Alexander had already accumulated a considerable amount of work done in the most exotic locations – from Samoa and Fiji to Swaziland. Since then, he has never stopped traveling around the world, and his project is growing and becoming a phenomenon.
In 2018, Khimushin went to the Russian Arctic – Taimyr. The result was a series of portraits of the region's indigenous inhabitants – Dolgans, Nganasans, Enets, Nenets, Evenks.
"Taimyr is unique in that it is a distant, cold place. For me, this was not something new, since I grew up in Yakutia (the Far East of Russia is the cold pole on the planet), but it is the peoples living there – the Nenets, Dolgans, Nganasans, they have a unique culture, their way of life and reindeer husbandry have been preserved. It was interesting to visit, thanks to Norilsk Nickel (The world's largest producer of palladium, one of the largest producers of Nickel, platinum and copper), to get to these places. I would like to return to Taimyr, shoot more there, if there is such an opportunity, "the artist noted.
The Norilsk Nickel company, which takes an active part in the fate of the small peoples of the Arctic, supported the Khimushin project.
"Nornickel has always interacted with the indigenous peoples of the Russian North in an atmosphere of friendship and mutual assistance. This year, the company's relations with the indigenous peoples reached a new level. Based on the UN principles and objectives of sustainable development, we study, with the involvement of leading international experts and the scientific community, the socio-cultural specifics of indigenous life in Taimyr, and the traditions and historical memory of the peoples living in the region. This helps us make our support to indigenous peoples more targeted and effective. Cultural projects and support of traditional folklore and handicrafts are one of the most important components of our projects", said Mikhail Kuznetsov, Nornickel's Director of Federal and Regional Programmes.
Nornickel regularly participates in projects intended to foster economic and social development of Taimy's indigenous communities. In 2020, Nornickel signed a cooperation agreement with organisations representing the interests of the indigenous communities of the North inhabiting the Taimyr Peninsula. Together with them, and based on proposals from the chiefs of indigenous communities, a comprehensive plan for the development of the peoples was developed for a total of RUB 2 bn. The plan is designed for five years. The programme will run until 2024 and includes support for traditional activities, protection of the indigenous habitat, and financing of new homes, hospitals, museums etc.
The photo exhibition will run until December 10, 2021.
Sezzadio: The small village where the great history of the Aleramici began
Men and women of culture, united by the idea of the Euro-Mediterranean Federation on Ancient Medieval Migration, challenges this difficult period of the pandemic with new historical research activities to rediscover and transmit the desire to return to normality.
As part of the project of "Le Vie Aleramiche Normanno Sveve" in Sezzadio, a village near Alessandria where Aleramo was born had been visited on the initiative of the Mayor, Enzo Daniele, the Councilor for Culture Piercarla Bocchio and the local head of FAI Anna Maria Gobello, collected the texts to create an "Aleramici Library" which will be closely linked to the "Aleramici Research Center of Sezzadio". Two honorary presidents are members of our technical-scientific committee: Francesco Barone of the University of Catania, one of the leading experts in the Aleramici history of Sicily and Salvatore Lo Re, historian and President of the National History Society of Piazza Armerina, City of foundation aleramica which, soon, will see the Municipal Library enriched with a section dedicated to the study of its origins. Therefore, a study workshop will be commenced to work in synergy with the parallel Sicilian structure: the prestigious Palermo "Officina Studi Medievali" headed by Prof. Diego Ciccarelli.
Sezzadio, the place of origin of this fascinating story: it is said, in fact, that the noble Aleprando, on a pilgrimage to Rome, stopped in this small town near Acqui Terme with his wife about to give birth and that Aleramo was born here. The municipal administration of Sezzadio, after having already undertaken various projects to enhance the small center of Alessandria and installed explanatory signs at the entrance to the village to highlight its extraordinary historical importance, has enthusiastically joined the proposal of the promoters of the project, Fabrizio Di Salvo and the UNESCO Club of Piazza Armerina, (represented by the President Anna Maria Di Rosa Placa and the Secretary Lavinia Garsia) and took the opportunity to give life to a research center that will be formed in network with the Workshop of Medieval Studies in Palermo and the research activity in Piazza Armerina, a real study center dedicated to ancient medieval immigration "on the contrary".
The fundamental activity was Fabrizio Di Salvo's visit to Sezzadio last summer which allowed to define the membership of the Municipality of Sezzadio to the Euro-Mediterranean Federation on Ancient Medieval Migrations, by virtue of which it benefits from the support of the Coordinator for Northern Italy, Nadia Ghizzi.
The work of identifying the texts and training the library was supported by our technical-scientific committee which boasts among its ranks the Byzantinist Walter Haberstumpf, Prof. Salvatore Trovato, former professor of Linguistics and Glottology at the Department of Humanities of the University of Catania, the Director of Sibrium Magazine and President of the Center for Prehistoric and Archaeological Studies of Varese Lucilla Caramella, Luigi Piano, the President of "Italia Medievale", Maurizio Calì, (who collaborated directly in the creation of the library), as well as the teachers and researchers of prestigious international universities, such as the distinguished medievalist Henri Bresc and Joanna Drell of the University of Richmond in the USA.
To realize the intent of making culture available to all, it is essential to give our research a European breath and make people understand how much the history of the Middle Ages, which took place in a Europe different from the current one, was well-defined in its supranational scope. The project connected France, Italy, and Germany and, in particular, the Municipalities of Hauteville-La-Guichard in France, (where the myth has it that Tancredi, the future lord of Hauteville and progenitor of the Altavilla family, saves the life of Duke Riccardo II of Normandy on a hunting trip); of Göppingen, in Baden-Württemberg near Stuttgart, (where tradition has it that the Swabian dynasty was born) and of Piazza Armerina, a city in Sicily founded by Aleramici in the 12th century. The cultural triangulation will also expand in Sezzadio, in the spirit of continuing to create links between historically similar realities and, currently, it takes the form of collaboration between the municipal administrations, anticipating and preparing the future twinning.
Thanks to the dedication of those who embraced and developed the project from the beginning, today, the Euro Mediterranean Federation for Ancient Medieval Migrations stands out for the adhesion of important figures from the world of culture, of high-level institutions, such as the Library of Alexandria of Egypt, of numerous Italian Municipalities, of Universities and Associations. Despite the interruptions due to the pandemic, the Project has given rise to numerous initiatives such as conferences, lectures, and meetings, and the production of a documentary film shot in the European lands touched by this research: Piedmont, Sicily, France, Turkey, Germany, Greece, and Ukraine.
A powerful work, curated for four years by Fabrizio Di Salvo, which collects precious contributions from excellent scholars and returns the atmosphere of medieval Europe thanks to the choice of splendid locations, such as the Castle of Pomaro in Monferrato, to the costumes of the ancient Samantha Panza's "Principessa Valentina" tailoring from Asti-Italy and coordinated by Gianni Gallo. The exceptional protagonist is the actor Walter Siccardi, an extraordinary interpreter in the role of Aleramo. The shields that recall the emblems of the Aleramici dynasties and parts of the sets used for the shooting will be donated by the Euro-Mediterranean Federation to the Aleramici Research Center in Sezzadio.
We will continue our incessant work of research and historical reconstruction, hoping that it will create opportunities for recovery, resilience, and increasingly nourish the dialogue between people who are only apparently distant.