Asia needs ASEAN-ization not Pakistanization of its continent
Why is (the Korean peninsula and East) Asia unable to capitalize (on) its successes
Speculations over the alleged bipolar world of tomorrow (the so-called G-2, China vs. the US), should not be an Asian dilemma. It is primarily a concern of the West that, after all, overheated China in the first place with its (outsourced business) investments. Hence, despite a distortive noise about the possible future G-2 world, the central security problem of Asia remains the same: an absence of any pan-continental multilateral setting on the world's largest continent. The Korean peninsula like no other Asian theater pays a huge prize because of it.
Why is it so?
How to draw the line between the recent and still unsettled EU/EURO crisis and Asia's success story? Well, it might be easier than it seems: Neither Europe nor Asia has any alternative. The difference is that Europe well knows there is no alternative – and therefore is multilateral. Asia thinks it has an alternative – and therefore is strikingly bilateral, while stubbornly residing enveloped in economic egoisms. No wonder that Europe is/will be able to manage its decline, while Asia is (still) unable to capitalize its successes. Asia – and particularly its economically most (but not yet politico-militarily) advanced region, East Asiy its most advnced : ' teater remains a very hostige of ita – clearly does not accept any more the lead of the post-industrial and post-Christian Europe, but is not ready for the post-West world.
By contrasting and comparing genesis of multilateral security structures in Europe with those currently existing in Asia, we can easily remark the following: Prevailing security structures in Asia are bilateral and mostly asymmetric, while Europe enjoys multilateral, balanced and symmetric setups (American and African continents too). These partial settings are more instruments of containment than of engagement. Containment will never result in the integration through cooperation. On contrary, it will trigger a confrontation which feeds the antagonisms and preserves alienation on the stage. Therefore, irrespective to the impressive economic growth, no Asian century will emerge with deeply entrenched divisions on the continent, where the socio-political currents of the Korean peninsula are powerful daily reminder that the creation of such a pan-Asian institution is an urgent must.
The Cold War revisited
Currently in Asia, there is hardly a single state which has no territorial dispute within its neighborhood. From the Middle East, Caspian and Central Asia, Indian sub-continent, mainland Indochina or Archipelago SEA, Tibet, South China Sea, Korean peninsula – that Poland of Asia, and the Far East, many countries are suffering numerous green and blue border disputes. The South China Sea solely counts for over a dozen territorial disputes – in which mostly China presses peripheries to break free from the long-lasting encirclement. These moves are often interpreted by the neighbors as dangerous assertiveness. On the top of that Sea resides a huge economy and insular territory in a legal limbo – Taiwan, which waits for a time when the pan-Asian and intl. agreement on how many Chinas Asia should have, gains a wide and lasting consensus.
Unsolved territorial issues, sporadic irredentism, conventional armament, nuclear ambitions, conflicts over exploitation of and access to the marine biota, other natural resources including fresh water access and supply are posing enormous stress on external security, safety and stability in Asia. Additional stress comes from the newly emerging environmental concerns, that are representing nearly absolute security threats, not only to the tiny Pacific nation of Tuvalu, but also to the Maldives, Bangladesh, Cambodia, parts of Thailand, of Indonesia, of Kazakhstan and of the Philippines, etc. All this combined with uneven economic and demographic dynamics of the continent are portraying Asia as a real powder keg.
It is absolutely inappropriate to compare the size of Asia and Europe – the latter being rather an extension of a huge Asian continental landmass, a sort of western Asian peninsula – but the interstate maneuvering space is comparable. Yet, the space between the major powers of post-Napoleonic Europe was as equally narrow for any maneuver as is the space today for any security maneuver of Japan, China, the Korean peninsula, India, Pakistan, Iran, and the like.
Centrifugal – centripetal oscillatory interplay
On the eastern, ascendant flank of the Eurasian continent, the Chinese vertigo economy is overheated and too-well integrated in the petrodollar system. Beijing, presently, cannot contemplate or afford to allocate any resources in a search for an alternative. (The Sino economy is a low-wage- and labor intensive- centered one. Chinese revenues are heavily dependent on exports and Chinese reserves are predominantly a mix of the USD and US Treasury bonds.) To sustain itself as a single socio-political and formidably performing economic entity, the People's Republic requires more energy and less external dependency.[1] Domestically, the demographic-migratory pressures are huge, regional demands are high, and expectations are brewing. Considering its best external energy dependency equalizer (and inner cohesion solidifier), China seems to be turning to its military upgrade rather than towards the resolute alternative energy/Green Tech investments – as it has no time, plan or resources to do both at once.Inattentive of the broader picture, Beijing (probably falsely) believes that a lasting containment, especially in the South China Sea, is unbearable, and that –at the same time– fossil-fuels are available (e.g., in Africa and the Gulf), and even cheaper with the help of battleships.[2]
In effect, the forthcoming Chinese military buildup will only strengthen the existing, and open up new, bilateral security deals[3]of neighboring countries, primarily with the US – as nowadays in Asia, no one wants to be a passive downloader. Ultimately, it may create a politico-military isolation (and financial burden) for China that would consequently justify and (politically and financially) cheapen the bolder reinforced American military presence in the Asia-Pacific, especially in the South and the East China Sea. It perfectly adds up to the intensified demonization of China in parts of influential Western media.
Hence, the Chinese grab for fossil fuels or its military competition for naval control is not a challenge but rather a boost for the US Asia-Pacific –even an overall– posture. Calibrating the contraction of its overseas projection and commitments – some would call it managing the decline of an empire – the US does not fail to note that nowadays half of the world's merchant tonnage passes though the South China Sea. Therefore, the US will exploit any regional territorial dispute and other frictions to its own security benefit, including the costs sharing of its military presence with the local partners, as to maintain pivotal on the maritime edge of Asia that arches from the Persian Gulf to the Indian Ocean, Malacca, the South and East China Sea up to the northwest–central Pacific.
Is China currently acting as a de facto fundraiser for the US?
A real challenge is always to optimize the (moral, political and financial) costs in meeting the national strategic objectives. In this case, it would be a resolute Beijing's turn towards green technology, coupled with the firm buildup of the Asian multilateralism. Without a grand rapprochement to the champions of multilateralism in Asia, which are Indonesia, India and Japan, there is no environment for China to seriously evolve and emerge as a formidable, lasting and trusted global leader.[4]Consequently, what China needs in Asia is not a naval race of 1908, but the Helsinki process of 1975. In return, what Asia needs (from China and Japan) is an ASEAN-ization, not a Pakistanization of its continent.
Opting for either strategic choice will reverberate in the dynamic Asia–Pacific theatre.[5] However, the messages are diametrical: An assertive military – alienates, new technology – attracts neighbors. Finally, armies conquer (and spend) while technology builds (and accumulates)! At this point, any eventual accelerated armament in the Asia-Pacific theatre would only strengthen the hydrocarbon status quo, and would implicitly further help a well-orchestrated global silencing of consumers' sensitivity over the record-high oil price.
With its present configuration, it is hard to imagine that anybody can outplay the US in the petro-security, petro-financial and petro-military global playground in the decades to come. Given the planetary petro-financial-media-tech-military causal constellations, this type of confrontation is so well mastered by and would further only benefit the US and the closest of its allies. China's defense complex is over-ideologized, under-capitalized, technologically outdated and innovation-inert, while the US' is largely privatized, highly efficient, deployable and prime innovative. Thus, even in security domain, the main China's problem is not a naval or overall military parity, but the disproportionate technological gap. After all, China's army was not meant (by Mao) and maintained (by Deng and his successors) to serve the external projection purpose. It was and still remains an ideological enterprise of cohesion, an essential centrifugal force to preserve territorial integrity of this land-colossus. (However, a design of the armies in the China's neighborhood significantly defers.)
Within the OECD/IEA grouping, or closely: the G-8 (the states with resources, infrastructure, tradition of and know-how to advance the fundamental technological breakthroughs), it is only Japan that may seriously consider a Green/Renewable-tech U-turn. Tokyo's external energy dependencies are stark and long-lasting. Past the recent nuclear trauma, Japan will need a few years to (psychologically and economically) absorb the shock – but it will learn a lesson. For such an impresive economy and considerable demography, situated on a small land-mass which is repeatedly brutalized by devastating natural catastrophes (and dependent on yet another disruptive external influence – Arab oil), it might be that a decisive shift towards green energy is the only way to survive, revive, and eventually to emancipate.
An important part of the US–Japan security treaty is the US energy supply lines security guaranty, given to (the post-WWII demilitarized) Tokyo. After the recent earthquake-tsunami-radiation armageddon, as well as witnessing the current Chinese military/naval noise, (the cabinet of the recently reconfirmed PM Noda and any other subsequent government of) Japan will inevitably rethink and revisit its energy policy, as well as the composition of its primary energy mix.
Tokyo is well aware that the Asian geostrategic myopias are strong and lasting, as many Asian states are either locked up in their narrow regionalisms or/and entrenched in their economic egoisms. Finally, Japan is the only Asian country that has clearly learned from its own modern history, all about the limits of hard power projection and the strong repulsive forces that come in aftermath from the neighbors. Their own pre-modern and modern history does not offer a similar experience to the other two Asian heavyweights, China and India.
This indicates the Far East as a probable zone of the Green-tech excellence, as much as ASEAN might be the gravity center of the consolidated diplomatic and socio-political action, and a place of attraction for many Asians in the decade to come. The ASEANized Korean peninsula – if patient, nuanced and farsighted (and if the unilateral peninsular assertiveness is always met with a de-escalating restrain, and never with a spiraling reciprocal provocation) may become this part of Asian excellence.
Post Scriptum on the Korean peninsula
As one of the exceptionally few world regions, Korean peninsula so far holds both what is otherwise missing in many other world's theaters – stabilized demographic growth and an impressive economic growth. However, the demographic and economic growth poses an additional environmental stress, which – if not under check – may result in confrontational domestic policies and practices aimed at to maximize a grab for finite, scarce resources.
Hence, be the outside world Kantian or Hobbesian (be it driven by the sense of higher civilizational mission and common Korean destiny, or by the pragmatic need to strengthen the nation's position), all necessary means are here! To register its future claims, the Korean – as well as wider East Asian theater – have to demonstrate its lasting and decisive vision and will.
Tentatively, we can cluster that will around three main tasks:
Prosperity

: Support to all three sides of the knowledge triangle: research (creation of knowledge); development/innovation (application of knowledge); education (dissemination of knowledge), as well as the promotion of life itself;

Solidarity

: Human dimension enhancement through promotion of cohesion policies, including the full respect of authenticity as well as the preservation and promotion of indigenous socio-cultural and environmental diversities;

Security

: Enhancing the human-centered (socio-economic) safety, based on free- dom, justice and inclusive collective (environmental and socio-political) security.
This opportunity should be understood as history's call – which both invites and obliges at the same time. Or, as Hegel reminds us that since: "reason is purposive activity…" the state should be: "…the actuality of the ethical Idea, of concrete freedom…" for all. An effective long-range prosperity, solidarity as well as (external or internal) security cannot be based on confrontational (nostalgia of) 'religious' radicalism and other ideological collisions. Clearly, it cannot rest on the escapist consumerism, corrosive socio-economic egoism and exclusion, restriction and denial, but only on promotion and inclusion. Simply, it needs to be centered on a pro-active, participatory policy not a reactive, dismissive one.
Present text is prepared for the Geneva conference: 'The Role of Dialogue and Understanding In De-Escalation on the Korean Peninsula and in East Asia', UNOG 31 OCT 2014.
---
[1]Most of China's economic growth is attributed to outsourced manufacturing. The US, the EU, Japan, Taiwan, Korea, Singapore, and other Asian and non-Asian OECD countries predominantly take advantage of China's coastal areas as their own industrial suburbia. It remains an open question how much this externally dictated growth of China has a destabilizing effect on the inner compact of the Sino nation.
[2] Since the glorious Treasury Fleets of Admiral Zhèng Hé have been dismantled by the order of the Mandarin bureaucracy in 1433, China has never recovered its pivotal naval status in the Asia-Pacific.
[3] More bilateralism (triggered by unilateralism) is not only less multilateralism– essentially, it is a setback for any eventual emancipation of the continent.
[4]More on the pan-Asian security architectures and preventive diplomacy in: Bajrektarevic, A. (2011) No Asian century without the pan-Asian Institution, GHIR (Geopolitics, History, and Intl. Relations) 3 (2) 2011, Addleton Publishers NY
[5] Historically, both Europe and Asia had a weak centre with the continent's peripheries traditionally pressing on a soft centre. With the strengthening of 19th century Germany (Bismarck's Greater Prussia), and of late 20th century's Deng's China, the centre started pressing on its peripheries for the first time in modern history. One of the central security dilemmas between Bismarck and Helsinki times was 'how many Germanys' Europe should have to preserve its inner balance and peace. Europe and the world have paid an enormous price in two world wars to figure it out. With the bitter memories of Nazism still residing in the body and soul of the continent, the recent unification of Germany was only possible within the Helsinki' tranquilized Europe.
Twists and Turns in US -China Trade War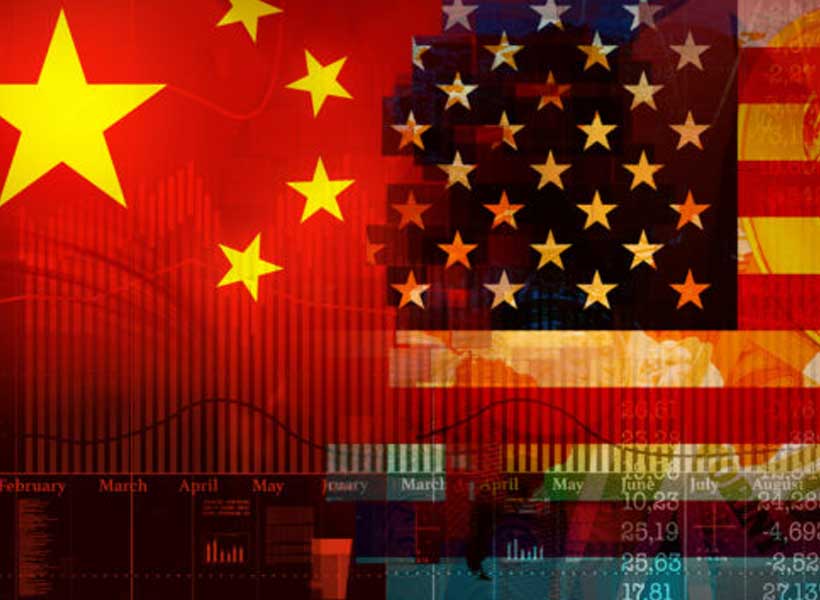 US Secretary of State Mike Pompeo's stopover at Beijing on 08 October may not have been a pleasant experience, more so in the backdrop of accusation of US Vice President Pence about  China attempting to interfere in U.S. elections. The agenda of North Korean denuclearisation, where US and China were broadly agreeing earlier, seems to have taken a back seat, and improvement of relations doesn't seem to be realistic in near future. The ongoing trade war continues as both sides dig their heels despite being the biggest trading partners of each other, because it is also linked with global dominance, strategic and military posturing, diplomatic and information offensive.
 China Braving Threat to its Vulnerabilities
China is putting a brave front despite being badly hit at some of its most vulnerable spots in the tit-for-tat trade war with both sides spiralling the slapping of tariffs on a wide range of each others' trade items. Taiwan, which is another sensitivity of Beijing is witnessing visit of US officials after Taiwan Travel Act was signed by President Trump, with a promise to arm it further with latest weaponry. US continued military posturing in South China Sea, along with the appearance of UK warship ignoring Chinese repeated warning is another concern.   A recent injection of over $110 billion by China into its banks and hardly any financial benefits coming out of BRI partners incapable to repay anything is tightening its financial freedom for global dominance. Some of its BRI partners want to get out of the 'Debt Trap' by refusing/reducing Chinese investments is adversely affecting Chinese dream project (BRI), after five years of its announcement like Philippines.
Not a Smooth Sail for US
US on the other hand cannot be celebrating either, with China digging it heals and refusing to give up either in trade war or South China Sea. On North Korean front, the policy of good optics continues with Kim managing to get a lot of goodies from South Korea (presumably at their cost), during the last summit of North and South Korea. Kim in fact has been an outright winner, managing to get another Summit with President Trump, which helps him in convincing his countrymen of his sound leadership, as well as boosting his status internationally. US sanctions on paper continue, but after the chest thumping at Singapore Summit, his friends like China automatically relaxed the sanctions on North Korea, without any worthwhile denuclearisation/reduction in his nuclear/missile arsenal. US realises that knocking out China financially is the key to its global dominance; hence is unlikely to soften up to China. US also faces another challenge of keeping its allies like Japan and South Korea satisfied while negotiating with North Korea and asking ASEAN to make choices of partners, besides continuing with CAATSA hurting some of its strategic partners who could be helpful in balancing China.
It will take some time to see that whoever has greater resilience to withstand the economic stand-off and appetite to take setbacks will have an upper edge, which seems to be US at this point of time. As per IMF assessment, China's GDP size will be 1.6 per cent lower in 2019 than it otherwise would be, if the US slaps tariffs on all Chinese imports.
How is India affected?
The Indian economy has survived some global slowdowns earlier and should be able to sail through the present one. The bigger problem is the sanction under CAATSA in dealing with Russia for urgently needed military hardware like S-400 and Iran for cheaper crude oil being paid in rupee terms, for which India has adequate refineries. The US option of buying shale oil does not suit India as it does not have adequate refineries and will have to purchase finished product in dollar terms. The port of Chabahar is also crucial for India for connectivity to Afghanistan and CAR. The silver lining is that US being our strategic partner will like to have well equipped Indian Forces to balance China and Indian connectivity to Afghanistan, in case Pakistan does not serve their strategic interest. On both counts I am hopeful that US will find a way out not to hurt its strategic partner.
The talks held in September 2018 between Kim Jong-Un and Moon Jae-In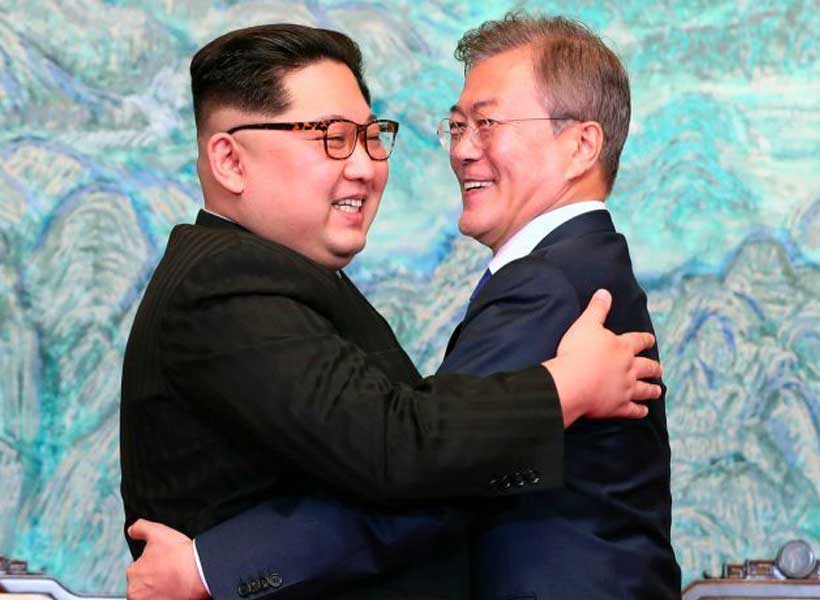 In less than one year three meetings have been held between the North Korean Leader and the South Korean President, Moon Jae-In.
In the initial meeting the two leaders had decided to put an end to the state of war between their two countries. They had also reaffirmed the goal of denuclearization of the entire peninsula, with the consequent destruction of the nuclear potential of South Korea and of the United States, in particular. They also decided to create an inter-Korean Liason Office between the two sides of the Demilitarized Zone and to bring together the families dispersed between the two Koreas. Finally, the idea was to create new communication infrastructure – railway lines, in particular – a project by which Russia has always set great store.
Indeed, Russia is betting many of its cards on a reunification between the two Koreas, capable of enabling it to keep its excellent relations with South Korea – which are essential for the economy – and to also support North Korea, which is Russia's unavoidable strategic goal.
Now the two Koreas are dealing on their own, without the US brokerage and intermediation with respect to South Korea, although President Donald J. Trump has recently stated that President Moon Jae-In is his official "delegate" for the denuclearization of the Korean peninsula.
The United States is scarcely interested in the internationalization of the North Korean economy. It only wants denuclearization, while Kim Jong-Un wants denuclearization to develop his country's economy and maintain its geopolitical and national autonomy.
A serious problem – both in talks and in the final or working documents – is also to define an effective mechanism to check denuclearization.
Indeed, between September 17 and 19, 2018, the signing of the Joint Declaration of Pyongyang has not fully clarified the mechanism of checks on the denuclearization of the Korean peninsula. Kim Jong-Un's idea is to organise these checks with a series of "experts" appointed by the friendly powers, while the South Korean idea is to accept the maximum possible denuclearization to start the long process of reunification.
The two respective Defence Ministers, however -namely Song Young Moo for South Korea and Rho Kwang Chul for North Korea – have just signed a separate document from the rest of agreements.
In that text confidence-building measures between the parties are put first, with North Korea's acceptance of dismantling a launch pad and a site for checking jet engines, with the presence of yet unspecified, but friendly international experts. From IAEA? We have some doubts, in this case.
Subsequently North Korea could also dismantle the Nongbyon site, if the United States does the same in South Korea.
It should also be recalled that most North Korean missiles are built to be launched by mobile vehicles, not from fixed bases.
In short, North Korea wants the United States to remove the nuclear umbrella protecting South Korea and Japan while, in the recent talks with North Korea, the United States thinks of a bilateral treaty regarding only the Korean peninsula and, at most, some classes of North Korean missiles.
In the US mind, the planned reduction of North Korean long-range missiles could be even equivalent to a nuclear and conventional decrease of its troops stationed in Guam.
On the basis of a new future agreement, both Koreas (and God only knows how and to what extent the North Korean conventional military potential would be useful for a South Korea unified with North Korea) would also define maritime and land buffer zones, as well as a no-fly zone over the old border, with a view to avoiding clashes or accidental air battles.
This is already partially clear, but much work shall be done to define all the details.
There would also be plans to cover or reduce artillery batteries along the coast.
Obviously, should these talks run aground, the only concrete political result would be the progressive divergence between South Korea and the United States, precisely on the problem of the peninsula's denuclearization.
Furthermore, over and above the aforementioned sites, North Korea will dismantle the site of Dongchang-ri, in addition to the site of Yongbyon, while Kim Jong-Un is also very interested in the building of fast railway links between South and North Korea.
The two Koreas will get the industrial site of Kaesong back in shape and the old tourist project concerning Mount Kumgang back in track, besides planning new joint economic and tourist areas.
The inter-Korean agreement regards also collaboration for medical and environmental issues, as well as for the protection from epidemics.
In other words, both Koreas think of an economy of compensation between them, which could also develop at a later stage and become a need for the development of both countries.
An economic-political symbiosis that could get the United States out of play and later reinstate Russia, which is increasingly interested in the South Korean economy, as well as finally favour China, which has no intention of leaving the Korean peninsula to the hegemony of North Korea alone.
At the end of the Treaty, there is also the project of a joint participation in the Tokyo 2020 Olympic Games and a joint candidature for the 2032 Olympics.
A few days ago, North Korea also expressed its intention to join the International Monetary Fund and the World Bank – a sign that the internationalization of the North Korean economy is now a certainty.
Hence it is a de facto peace treaty between the two Koreas.
If North Korea continues along this line, it is very likely that South Korea will gain a tactical advantage over the sea while, if the relations between South Korea and the United States remain as they currently are, there should be no significant changes in bilateral relations between the USA and South Korea.
However, what is the current state of relations between the United States and North Korea?
In fact, while the inter-Korean relations are all in the framework of effective confidence-building measures, the clear purpose of the fourth round of talks between the two Korean leaders is to preserve a strong US engagement in the whole negotiation process.
Kim Jong-Un wants to engage the United States for his global economic projection and he certainly does not want to remain tied to a regional economy, albeit open and "reformed" according to China's rules.
For North Korea, the procedure is simple: at first, bilateral talks with the US support for South Korea; later peace between the two Koreas and finally what is only interesting for the USA, namely denuclearization.
It is not even unlikely that the United States does not accept this timing, but it is also unlikely that it realizes the strategic and economic aspects of this timing.
North Korea wants a fundamental agreement with South Korea because: a) it is an unavoidable asset for the modernization of its economy; b) it is the fundamental strategic factor to have the support of both Russia and China, who want to avoid North Korea's hegemony over the peninsula, but also want to keep it as a rampart for US forces in South Korea; c) it is only through South Korea that North Korea will eventually be in a position to be connected to the Chinese maritime economic and strategic system and reach up to the Mediterranean.
In fact, if the relations between the United States and North Korea improve further, the site of Yongbyon could be dismantled definitively.
Hence currently Kim Jong-Un wants to thoroughly test the US goodwill, rather than South Korea's goodwill, in developing a long or very long-term peace policy.
In Kim Jong-Un's mind, there is in fact a key factor: the US behaviour in the phase in which Muammar Gaddafi accepted its proposal to dismantle his nuclear project.
Kim Jong-Un thinks that not even the story of Saddam Hussein is a guarantee for the US long-term reliability and for the stability of its leaders' word of honour.
This is the real important factor in the strategy of the North Korean Leader.
Moreover, the US immediate reactions to the last meeting between the two Korean leaders have been fast and positive, both by President Trump and by Secretary of State Mike Pompeo.
And North Korea's autonomous foreign policy has been seen also recently, with the 70th Anniversary military parade.
North Korea's military parade and its important national celebration, was attended by Li Zhansu, ranking third in the internal power hierarchy of the Communist Party of China (CPC); by Valentina Matviyenko, President of the Russian Federal Council, the third elected office in the Russian Federation; by a very significant figure, Mohamed Ould Abdel Aziz, President of Mauritania, and finally by Hilal al Hilal, deputy-General Secretary of the Syrian Baath Party.
With peace, North Korea will significantly develop its already multiple economic and political relations with Africa, which will be essential for its new economic development.
At the military parade staged on September 9, there were also authorities from Iran, South Africa and Singapore – which is the never forgotten model of the Chinese "Four Modernizations" -as well as other 60 delegations from "friendly" countries.
At economic level, in August, shortly before the big military parade of the 70th Anniversary, there was the International Fair of Razon, which hosted as many as 114 companies of which 52 North Korean ones.
The North Korean product lines mainly included pharmaceuticals, foodstuffs, textiles, electronics and cosmetics.
However, there were many Chinese large companies selling their products in North Korea despite the UN sanctions.
As from September 17, there was also the Autumn Fair which brought together 320 commercial companies from Russia, New Zealand, Australia and China.
This is in fact the new paradigm of North Korea's foreign policy.
The dollar has also grown in the exchanges with the North Korean currency, both on the official and on the "parallel" markets.
If all goes well at geopolitical level, the North Korean project will be to further improve its light industry, in addition to the diversification and quantity of products, with a view to trying its own autonomous way on the market world, as was the way of the nuclear system.
It should be recalled that this was also Kim Il-Sung's project.
China's Imprint underneath the Pyongyang Joint Declaration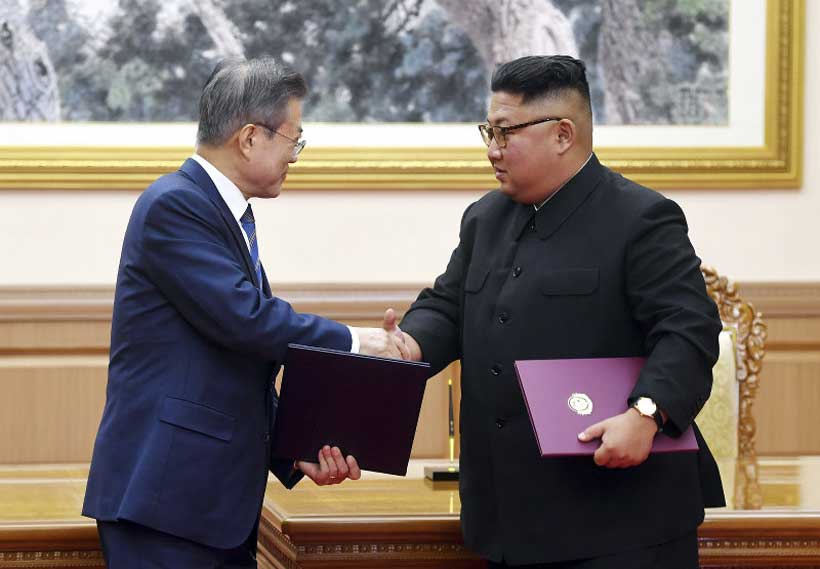 On September 18, the leaders of two Koreas met each other in Pyongyang, the capital of the DPRK. The world media focused on the meeting during which the two sides issued the "Pyongyang Joint Declaration". If we see the Panmunjom Declaration serving as the cornerstone of the dialogue between two Korea, it is necessary to say that this joint declaration took a substantial step to the denuclearization of the Korean peninsula that is vital to the regional peace and beyond.
Literally speaking, the Pyongyang joint declaration highlighted the key issues as follows. First, both sides are determined to achieve the denuclearization of the Korean peninsula. Second, they will work together to improve their relations with a view to the existing state of war, as the defense chiefs from the DPRK and ROK earlier signed a comprehensive agreement aiming to reduce tensions on the peninsula. Third, they will promote the peace talk process of the Korean peninsula. Given that Kim pledged to work toward the "complete denuclearization of the Korean Peninsula", it would be seen as a political declaration that would mark a starting point for peace negotiations. If all goes well, a peace treaty would be sealed and then comes normalization of DPRK-US relations after it achieves complete denuclearization.
As a close neighbor to the Korean Peninsula, China always supports the DPRK and ROK as well in improving their relations through dialogue and consultation and promoting reconciliation and cooperation. This is the consistent and persistent position of Beijing, which has been playing a responsible role in politically resolving the Korean Peninsula issue and achieving the long-standing peace of the region.
In effect, prior to the leaders of two Korea met each other this week in Pyongyang, they have closely contacted their respective allies or strategic partners. Among them is China, dealing with both sides – Pyongyang and Seoul – in a unique way. It is true that China is the largest trading partner of the ROK while it is equally the only legal ally of the DPRK as well as its largest ideological partner now. If we review the bilateral relations between China and North Korea since last March, Kim Jr. has paid three significant, though unofficial, visits to President Xi of China. For example, during his March 25-28 visit, both sides vowed to continue their traditional solidarity in terms of their shared ideologies and common strategic interests. Xi especially proposed to strengthen the close ties between the two ruling parties. As he said to Kim, "party-to-party and state-to-state relations are the common treasure to both sides. And safeguarding, consolidating and developing China – DPRK relations are unswerving guidelines for China's foreign policy and security strategy.
During his second meeting with Xi in Dalian summer resort, Kim vowed to terminate all the nuclear tests and to follow denuclearization if the United States took corresponding measures with good wishes. Then following his meeting with Trump in Singapore on June 12, Kim came to Beijing again on 19 to meet his Chinese counterpart. Xi confirmed China's "3-no change" policy towards the DPRK, that is, political solidarity between the two parties remains unchanged, the friendship between the two peoples remains unchanged, and China's support of a socialist Korea remains unchanged. Essentially, they serve as the foundation of the strategic consensus between Beijing and Pyongyang. In return, Kim reiterated his permanent shutdown of all nuclear tests and facilities if the US would respond sincerely and responsibly.
Given all the analysis above, it is understandable to conclude that China's long-standing adherence to the goal of denuclearization of the Peninsula through dialogue and consultation is fully reflected in the Pyongyang Declaration. Meanwhile, China's stance remains evident since it claims that the Korean issue must be resolved eventually by the Korean people rather than any external power. Therefore, peace not force is the only acceptable way. Also, as China and Russia have repeated that no coercive change of the regime by outside power is tolerated, North Korea can be confident and comfortable to proceed the permanent shutdown of the missile engine test site with international experts observing; and then a complete denuclearization is not too far in the future.
Here is necessary to argue that China has never claimed to play an exclusive role in the Korean Peninsula. Instead of that, China has always encouraged the DPRK to talk to the United States and other relevant parties. Since Kim has agreed to make a trip to Seoul for further talks and to meet the US high-ranking officials in Pyongyang soon, the summit between Kim and Moon marks a leap forward toward peace.
Yet, as the lessons in history show, it is better to approach realistically the Korean issue simply because it has involved too complicated concerns and memories and the overlapped interests. Therefore, we should be ready to accept trial and challenges lying ahead. China has insisted on diplomacy which means that all parties concerned should be brought to the negotiating table under the mandate of the UN Security Council.
Now, Beijing has navigated the course of denuclearization proactively to protect two sides' common core security stakes when Kim reportedly promised to give up his nuclear program if the United States and South Korea respond to his proposal with good will. Due to this reason, China will do what it can to help ensure "no change of regime by force and denuclearization at the same time in the Korean Peninsula". This is China's influence or Beijing's imprint on the Korean denuclearization issue and the regional peace.