The Asian Square Dance – 1st part
Goldman Sachs first coined the expression BRICs – Brazil, Russia, India and China – to identify the economic giants of the future that will reshape the world economic order. While Russia's economy is linked to the prices of commodities, energy in particular, Brazil has not lived up to expectations. Of the four countries, China and India have shown the most impressive growth in recent years with, respectively, 10% and 8%. Excluding Brazil, the population of the BRIC represents 40% of the world's inhabitants.
With Asia, reckoned to be today the most dynamic continent, accounting for 65% of the world's population, and China and India together accounting for 40%, these two countries can potentially alter the fragile equilibrium of the world's economy. It is forecast that by 2030 the East Asian economies will be the world's largest economic bloc.
Due to diverging political ideologies and concerns, however, this bloc does not, in fact, exist other than in prose. Even worse, all the countries in the area have made significant investments in military equipment over the recent past thus sharply increasing the risk of conflict particularly as fears grow over China's intentions.
The US' dream, during the cold war, of creating an Asian equivalent to NATO was short lived. Today, Asia has five nuclear powers: Pakistan, India, China, North Korea and Russia. On the other hand, the US is constrained by budgetary problems.
Our argument in this series of articles is that the development of Asia, and its impact on the rest of the world, depends to a large extent on the relations between five countries: China, India, Japan, South Korea and the US. Depending on the structure of the type of relations that will develop, and choices made by Russia and the US, for instance on their energy policy, we may see a new world order developing, very different from that of the last four hundred years. Further, if the Chinese economy faces difficulties in the future, the US will be instrumental in determining Asia's future. Conversely, if the US economy falters, China, if it so wishes, could assume the world's economic leadership.
Since the end of the Second World War, the US' role in the area has been a major influencing factor politically, militarily and economically and while it has declined recently, it remains, nevertheless, important. Asia is challenging the EU as the world's most important trade bloc.
The US imports from Asia for over $2 trillion per year, thus making the US responsible for the creation of hundreds of thousands of jobs. A weakening of the US dollar could significantly diminish the US' role in the region.
At issue here is what A F K Organski has termed 'Power transition theory' – i.e. the change of the guard of the dominant power where the dominant power occupies this position because of its control of resources, be they demographic, economic, geographic, natural or military.
According to the theory, the dominant power, or powers, must ensure the stability of the system failing what the system might be challenged by an emerging hegemon. These situations are conducive to confrontation, very often military.
The emerging hegemon is, no doubt, China, and the events in Eurasia, over the coming quarter century will witness an indirect confrontation between China and the US, a confrontation whose secondary actors are India and Russia.
Is China striving to attain the status of great power and challenge the US, at least regionally, and what role do the other regional powers, as well as Russia and the US play? Or is it just trying to reduce its feeling of being surrounded by enemies?
Asia has become a powerhouse with several countries showing economic strength and appearing to be rivals. A dangerous rivalry inasmuch as five countries in the area have a nuclear arsenal (China, India, North Korea, Pakistan and Russia), with two more (Japan and South Korea) able to produce a nuclear bomb in a relatively short time.
Monetary reserves in Asia are sufficient to allow the area to develop without much further foreign investments. Further, an increase in economic stability is heralded by the recent agreement between several Asian countries – the members of ASEAN, China, Japan and South Korea – to pool their financial resources in case of a speculative attack.
While the major trade partner of most of the countries in the area is Australia, the European Union and the United States, regional trade has increased considerably. Services such as tourism also cater increasingly to Asians.
There remains the question of whether the continent is able to develop its own technological base to compete with Europe and the US. There are diverging points of view on the issue.
The perception by the Asian countries of the effect of China's domination of the continent evolved into an understanding that they only have two options – siding with China or with Japan and its US ally.
The financial difficulties originating in the US and which have spilled all over the world have affected Asia in its role of major exporter. As a reaction, China, Japan and South Korea are considering the creation of a community modelled on the European Union that would help them expand trade within their area and increase trade with the ASEAN countries, Russia, the Middle East and Europe. They are encouraged in this action as inter-Asian trade has been growing at twice the rate of global trade. Inter-Asian trade is more important as a percentage of total trade than inter-NAFTA trade.
The US should fear the creation of a trading block including China, Japan and South Korea as it would represent 43% of US' foreign trade and holdings of over one trillion dollars in US Treasury paper.
Common problems
The countries in the area, with the notable exception of Russia, share two major problems: access to raw materials in general, and energy in particular, and an economy essentially geared to exports, and thus very dependent on the purchasing power of EU and US consumers. This last aspect is changing rapidly though with domestic markets starting to take shape and offering local producers a partial insulation from the American-led boom and bust cycles.
It is generally felt in the US that China has not been doing enough to stimulate internal demand – the number of consumers is no bigger than Italy while the population is 20 times that of the European country – and that the situation has been worsened by the decision of the Chinese government to peg the Yuan to the US dollar, thus effectively undertaking a devaluation.
Should China's export drive remain as a major contributor the country's economy, the accumulation of reserves by 2020 will be bigger than that of Germany, Japan and the Middle East countries put together. America's response could be to return to a more isolationist policy by slapping import duties on Chinese products or getting China to open its doors to greater exports of US products.
Both China and India have to contend with an extremely large population. In fact, they are the only two countries with a population of over 1 billion persons. Economic development has brought, to both countries, an uneven distribution of wealth to the extent that social disruptions can be feared in the future.
China has become the world's second largest oil consumer and it is likely that it will surpass the US to lead the world in energy use. Imports which represent 50% of consumption are likely to rise to reach 80% in another 10 – 15 years particularly considering the oil intensity of economic growth is particularly high, as in most developing countries. Thus, for each 1% growth in GDP, the country needs 1.2% additional oil.
In fact, China is the world's fast-growing energy user, Russia is the most inefficient user of energy and he US is the country with the largest carbon footprint.
China is also the world's largest consumer of several raw materials.
The country's search for natural resources has been done in a predatory way, and there is fear that, backed by its staggering reserves, it could encourage suppliers to increase prices at levels beyond those acceptable to a large number of other users.
India's energy requirements are expected to grow by 30% in the next 3 to 5 years and its imported crude oil dependency is expected to reach 95% by 2025.
India depends for 50% of its energy needs on coal and increasing its use would create major environmental problems.
Its gas suppliers are considered to be relatively unreliable and include Bangladesh, Iran, Myanmar and Turkmenistan.
This situation has encouraged India to pursue the road to nuclear power.
Such growth in raw material requirements is not sustainable and is strategically dangerous.
Both China and India have very large armies (in fact the largest in the world) and nuclear weapons.
Japan is also a major energy importer, relying entirely on imports for oil. Japan has an important stockpile of energy products, and it has encouraged other Asian countries, including China, to jointly plan the stocks and their administration.
Indeed, Asia's energy needs are expected to double in the coming 20 years. In spite of this, OPEC countries do not seem to be prepared to invest in increasing production, in large part because of the massive funds required. They have been estimated by McKinsey to be of the order of $ 45 billion a year over the next three decades.
The countries in the area perceive themselves as rivals in securing energy sources and China, particularly, has shown an eagerness to develop partnerships, whether through limited investments, or through political support, in the United Nations, of countries like Iran.
Hydrocarbon reserves in the China Sea are claimed by several countries, and are a growing point of contention. Neighboring countries are fearful of China's rising military power and have led them to develop closer relations with the US.
In an effort to temper their competition, India and China have made some joint bids to buy and share oil fields.
Japan too is dependent on energy imports and has recently been unlucky with their supply sources. Thus, they have had to curtail their investments in Iran, Kuwait, Russia and Saudi Arabia.
To counterbalance these losses, Japan has offered Saudi Arabia the possibility of building oil-storage facilities in Okinawa, provided Japan can have access to them in case of emergency.
A closer rapprochement between the two countries depends, however, on the US' willingness for this to take place as the Saudi monarchy depends on the US military shield against the rising threat of Iran and of the djihadists, and there is no way Japan can replace the US in that role. This, in spite of the fact that Asia is today, by far, the largest buyer of both Saudi and more generally, Middle Eastern oil – up to 60% and 70% of their exports, respectively.
Reliance on Russia for energy is therefore extremely important. While a pipeline is being built from Siberia to the Pacific that could partly alleviate these escalating needs, a number of other pipeline projects have been proposed. All these projects require large investments ($ 1-2 million per kilometer of pipeline or around $ 12 billion for the pipeline that will link Russia and China), long delays in building and face substantial political and ecological problems. Further, the gas transmission systems in China and Japan are under-developed and therefore not suitable for the transport of large quantities of imported gas.
Russian industry has access to gas supplies at prices substantially below those practised on world markets and has therefore become a voracious user. The Russian government will be increasing prices for domestic consumption, including for private heating, and / or turning to alternative energy sources such as coal, hydro-electric or nuclear power.
Other possibilities have also been considered, but they all depend on Russia's cooperation.
Thus, for instance, integrating the energy grids of Russia with those of China, Japan and the two Koreas has been proposed to enable the exchange of seasonal surplus.
This entails not only Russia's cooperation, but also North Korea's. It also requires large investments, although possibly not of the scale of building a pipeline network.
Another common point between the China, India, Japan and South Korea is that they constitute, jointly, the world's largest weapons market and their suppliers are the European Union, Russia and the United States.
China and Japan also share the will to stop North Korea's nuclear program.
The two countries are also large emitters of greenhouse gases.
Both China and Russia fear, perhaps rightly so, that the US is conducting an encirclement strategy due to their military presence in Central Asia as well as, in Japan, South Korea and Taiwan as far as China is concerned, and Russia is concerned with a possible NATO expansion in Europe.
Curating a Vision with Young African Entrepreneurs
How can young people be involved in creating a future of work that is decent, equitable and bright? This November I was fortunate enough to take part in an event with this mandate at its heart.
The Youth Entrepreneurship and Self-Employment Forum (YES Forum) in Dakar, Senegal was co-organised by the ILO and our partners in the Global Initiative on Decent Jobs for Youth. It was a collaborative effort supporting young entrepreneurs in the region, and it was a joy to see this vision becoming real during the two-day event – with young entrepreneurs shining at different stages of the YES Forum.
More than 30 young entrepreneurs took on active speaking roles across the discussion sessions, a "Dragon's Den" style pitching competition, and the Marketplace. This Marketplace offered participants the opportunity to float in between booths and to have one-on-one interactions with the presenting entrepreneurs and organisations.
The vibrant tone was set at the very start, with all participants given hand-made, customised notebooks, the product of an all-female team led by entrepreneur Ndey Fatou Njie for her business TIGA Gambia. TIGA Gambia is now an all-around fashion and accessories retailer, but originally zoomed in on providing locally-inspired swimwear – a large market gap that Ndey spotted and filled!
Not only were the TIGA Gambia notebooks a showstopper, they were also a colourful and popular extension of the empowering message of the YES Forum.
The innovative and vibrant spirit of entrepreneurs in their element was palpable all through the Forum, but shone particularly during the networking lunch and the Marketplace. It was difficult to lure the participants back into the plenary after these events, because they were so busy talking, forging synergies and building contacts.
While the young entrepreneurs embraced their speaking opportunities to the fullest, they also created a wonderfully inclusive setting that allowed everyone's successes to be seen and recognised. I was particularly touched when the pitching competition winner, Malick Diouf, CEO of LAfricaMobile, immediately called his three competitors onto the stage to congratulate them on their incredible work.
Malick was humble about his win but his company deserves a special shout-out. LAfricaMobile serves as a digital bridge between African media publishers and organizations wanting to disseminate their content to the African diaspora. As a comms aficionado I was particularly impressed by how effortless their SMS service is in helping the African diaspora connect to what is going on in their home countries.
All in all, the YES Forum left a lasting impression on me for two reasons: Firstly because of the level of mutual support and cooperation that the young entrepreneurs showed, and secondly because the Forum truly catered for these young entrepreneurs and allowed them to share their stories and to explore collaboration. I believe it will leave a lasting result – of stronger alliances and greater empowerment.
Mariama Johm, founder of Afri Taste, a Banjul health joint that combats fruit and vegetable waste, summed up the atmosphere in her remarks during the Young Global Entrepreneurs panel: "I am glad we have the youth actually speaking here. We, young entrepreneurs, want to speak and let policymakers hear from us – not only here, but we want to make governments take into consideration what we are saying and that they should not make decisions on our behalf."
Easing US-China trade tensions could save millions of jobs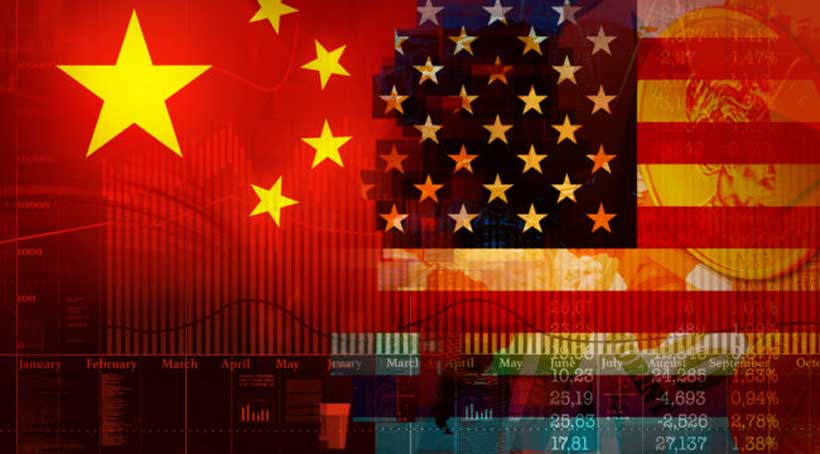 Millions of jobs in the Asia and Pacific region have been put at risk by conflicts over trade, despite a recent agreement not to escalate tit-for-tat tariffs by the United States and China, according to a new regional UN report.
The 2018 Asia-Pacific Trade and Investment Report, issued by the UN's development arm in the region, ESCAP, suggests that an escalating "tariff war" and resulting drop in confidence next year, could cut nearly $400 billion from the global gross domestic product, drive regional GDP down by $117 billion.
"As production shifts take place and resources are reallocated across sectors and borders due to the trade conflicts, tens of millions of workers may see their jobs displaced and be forced to seek new employment," said Mia Mikic, the head of Trade, Investment and Innovation Division at ESCAP.
That said, the report also noted trade tensions have already had had a major impact, resulting in disruptions to existing supply chains and dampening investment. Trade growth slowed after the first half of 2018, and foreign direct investment (FDI) flows to the region are also expected to continue on a downward trend next year, following a 4 per cent drop overall this year.
In such a scenario, regional investment will be key to creating new economic opportunities, says Ms. Mikic, adding that "complementary policies" such as labour, education and retraining, and social protection measures must be placed high on the policymaking agenda.
This is also critical for ensuring progress on implementing the Sustainable Development Goals (SDGs), she said.
ESCAP has also called on countries to take full advantage of all existing initiatives to strengthen regional cooperation, including a new UN treaty on digitalizing trade procedures and enabling cross-border paperless trade in the zone.
'Trade war' has no winners
The report has also underscored that neither China nor the US can win a "trade war", explaining that "both will see significant economic losses from continuing conflict."
It also finds that implementation of mega-regional trade agreements such as the Regional Comprehensive Economic Partnership, among the Association of South-East Asian Nations (ASEAN) and its six partners – Australia, China, India, Japan, New Zealand and the Republic of Korea – could offset much of the economic losses from trade tensions.
The 2018 report estimates that implementation of such agreements could boost exports by 1.3 to 2.9 per cent and add 3.5 to 12.5 million jobs in the Asia-Pacific.
ESCAP, or the Economic and Social Commission for Asia and the Pacific is largest among UN regional commissions. Its 53 member States and 9 associate members span a geographic area from the Pacific island of Tuvalu in the east to Turkey in the west, and Russia in the north to New Zealand in the south. The region is home to nearly two-thirds of the world's population.
In addition to countries in the Asia-Pacific region, ESCAP's membership also includes France, the Netherlands, the United Kingdom and the US.
Key elements of the EU-Japan Economic Partnership Agreement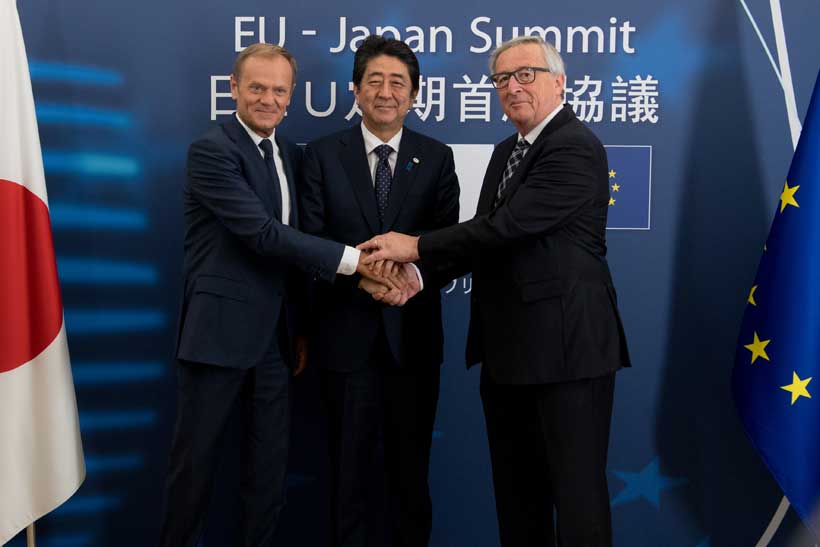 The EU-Japan Economic Partnership Agreement will boost trade in goods and services as well as create opportunities for investment.
The agreement will further improve the position of EU exporters and investors on Japan's large market, while including strong guarantees for the protection of EU standards and values. It will help cement Europe's leadership in setting global trade rules and send a powerful signal that cooperation, not protectionism, is the way to tackle global challenges.
This Agreement, as other agreements concluded recently by the EU, goes beyond trade issues only. It represents a significant strengthening of our partnership with Japan, as reflected in the name of the agreement.
What is the Economic Partnership Agreement about?
Elimination of customs duties – more than 90% of the EU's exports to Japan will be duty free at entry into force of the agreement. Once the agreement is fully implemented, Japan will have scrapped customs duties on 97% of goods imported from the EU (in tariff lines), with the remaining tariff lines being subject to partial liberalisation through tariff rate quotas or tariff reductions. This, in turn, will save EU exporters around €1 billion in customs duties per year.
Agriculture and food products – Japan is a highly valuable export market for European farmers and food producers. With annual exports worth over €5.7 billion, Japan is already the EU's fourth biggest market for agricultural exports. Over time around 85% of EU agri- food products (in tariff lines) will be allowed to enter Japan entirely duty-free. This corresponds to 87% of current agri-food exports by value.
The agreement will eliminate or sharply reduce duties on agricultural products in which the EU has a major export interest, such as pork, the EU's main agricultural export to Japan, ensuring duty-free trade with processed pork meat and almost duty-free trade for fresh pork meat exports. Tariffs on beef will be cut from 38.5% to 9% over 15 years for a significant volume of beef products.
EU wine exports to Japan are already worth around €1 billion and represent the EU's second biggest agricultural export to Japan by value. The 15% tariff on wine will be scrapped from day one, as will tariffs for other alcoholic drinks.
As regards cheese exports, where the EU is already the main player on the Japanese market, high duties on many hard cheeses such as Gouda and Cheddar (which currently are at 29.8%) will be eliminated, and a duty-free quota will be established for fresh cheeses such as Mozzarella. The EU-Japan agreement will also scrap today's customs duties (with a transitional period) for processed agricultural products such as pasta, chocolates, cocoa powder, candies, confectionary, biscuits, starch derivatives, prepared tomatoes and tomato sauce. There will also be significant quotas for EU exports (duty-free or with reduced duty) of malt, potato starch, skimmed milk powder, butter and whey.
Geographical Indications – the EU-Japan agreement recognises the special status and offers protection on the Japanese market to more than 200 European agricultural products from a specific European geographical origin, known as Geographical Indications (GIs) – for instance Roquefort, Aceto Balsamico di Modena, Prosecco, Jambon d'Ardenne, Tiroler Speck, Polska Wódka, Queso Manchego, Lübecker Marzipan and Irish Whiskey. These products will be given the same level of protection in Japan as they experience in the EU today.
Industrial products – tariffs on industrial products will be fully abolished, for instance in sectors where the EU is very competitive, such as chemicals, plastics, cosmetics as well as textiles and clothing. For leather and shoes, the existing quota system that has been significantly hampering EU exports will be abolished at the agreement's entry into force. Tariffs on shoes will go down from 30% to 21% at entry into force, with the rest of the duties being eliminated over 10 years. Tariffs on EU exports of leather products, such as handbags, will go down to zero over 10 years, as will be those on products that are traditionally highly protected by Japan, such as sports shoes and ski boots.
Fisheries – import quotas will no longer be applied and all tariffs will be eliminated on both sides, meaning better prices for EU consumers and big export opportunities for EU industry.
Forestry – tariffs on all wood products will be fully eliminated, with seven years staging for the most important priorities. Most tariffs on wood products will be dropped immediately, with some less important tariff lines being scrapped after 10 years.
Non-tariff barriers – The EU-Japan negotiations addressed many non-tariff measures that had constituted a concern for EU companies, as some Japanese technical requirements and certification procedures often make it difficult to export safe European products to Japan. The agreement will make it easier for EU companies to access the highly regulated Japanese market. Examples of such barriers addressed include:
Motor vehicles – the agreement ensures that both Japan and the EU will fully align themselves to the same international standards on product safety and the protection of the environment, meaning that European cars will be subject to the same requirements in the EU and Japan, and will not need to be tested and certified again when exported to Japan. With Japan now committing itself to international car standards, EU exports of cars to Japan will become significantly simpler. This also paves the way for even stronger cooperation between the EU and Japan in international standard setting fora. It includes an accelerated dispute settlement between the two sides specifically for motor vehicles, similar to the one agreed under the EU-South Korea trade agreement. It also includes a safeguard and a clause allowing the EU to reintroduce tariffs in the event that Japan would (re)introduce non-tariff barriers to EU exports of vehicles. The agreement will also mean that hydrogen-fuelled cars that approved in the EU can be exported to Japan without further alterations.
Medical devices – In November 2014, Japan adopted the international standard on quality management systems (QMS), on which the EU QMS system for medical devices is based. This reduces the costs of certification of European products exported to Japan considerably.
Textiles labelling – In March 2015, Japan adopted the international textiles labelling system similar to the one used in the EU. Textiles labels therefore do no longer need to be changed on every single garment exported to Japan, as was the case before.
"Quasi drugs", medical devices and cosmetics – a complicated and duplicative notification system that hampered the marketing of many European pharmaceuticals, medical devices and cosmetics in Japan was finally abolished on 1 January 2016.
Beer – From 2018 onwards, European beers can be exported as beers and not as "alcoholic soft drinks". This will also lead to similar taxation, thus doing away with differences between different beers.
In addition, the Economic Partnership Agreement also contains general rules on certain types of non-tariff barriers, which will help level the playing field for European products exported to Japan, and increase transparency and predictability:
Technical barriers to trade – the agreement puts the focus on Japan and the EU's mutual commitment to ensure that their standards and technical regulations are based on international standards to the greatest possible extent. Combined with the provisions on non-tariff measures, this is good news for European exporters of electronics, pharmaceuticals, textiles and chemicals. For instance, reliance on international standards will be helpful for easier and less costly compliance of food products with Japanese labelling rules.
Sanitary and phytosanitary measures – the agreement creates a more predictable regulatory environment for EU products exported to Japan. The EU and Japan have agreed to simplify approval and clearance processes and that import procedures are completed without undue delays, making sure that undue bureaucracy does not put a spanner in the works for exporters. The agreement will not lower safety standards or require parties to change their domestic policy choices on matters such as the use of hormones or genetically modified organisms (GMOs).
Trade in services
The EU exports some €28 billion of services to Japan each year. The agreement will make it easier for EU firms to provide services on the highly lucrative Japanese market. The agreement contains a number of provisions that apply horizontally to all trade in services, such as a provision to reaffirm the Parties' right to regulate. It maintains the right of EU Member States' authorities to keep public services public and it will not force governments to privatise or deregulate any public service at national or local level. Likewise, Member States' authorities retain the right to bring back to the public sector any privately provided services. Europeans will continue to decide for themselves how they want, for example, their healthcare, education and water delivered.
Postal and courier services – the agreement includes provisions on universal service obligations, border procedures, licences and the independence of the regulators. The agreement will also ensure a level-playing field between EU suppliers of postal and courier services and their Japanese competitors, such as Japan Post.
Telecommunications – the agreement includes provisions focused on establishing a level playing field for telecommunications services providers and on issues such as universal service obligations, number portability, mobile roaming and confidentiality of communications.
International maritime transport services – the agreement contains obligations to maintain open and non-discriminatory access to international maritime services (transport and related services) as well as access to ports and port services.
Financial services – the agreement contains specific definitions, exceptions and disciplines on new financial services, self-regulating organisations, payment and clearing systems and transparency, and rules on insurance services provided by postal entities. Many of these are based on rules developed under the World Trade Organisation, while addressing specificities of the financial services sector.
Temporary movement of company personnel – the agreement includes the most advanced provisions on movement of people for business purposes (otherwise known as "mode 4") that the EU has negotiated so far. They cover all traditional categories such as intra-corporate transferees, business visitors for investment purposes, contractual service suppliers, and independent professionals, as well as newer categories such as short-term business visitors and investors. The EU and Japan have also agreed to allow spouses and children to accompany those who are either service suppliers or who work for a service supplier (covered by "mode 4" provisions). This will, in turn, support investment in both directions.
State owned enterprises – state-owned enterprises will not be allowed to treat EU companies, services or products differently to their Japanese counterparts when buying and selling on commercial markets.
Public procurement – EU companies will be able to participate on an equal footing with Japanese companies in bids for procurement tenders in the 54 so-called 'core cities' of Japan (i.e. cities with around 300.000 to 500.00 inhabitants or more). The agreement also removes existing obstacles to procurement in the railway sector.
Investment – The agreement aims to promote investment between the EU and Japan. At the same time, the text explicitly reaffirms the right of each party to regulate to pursue legitimate policy objectives, highlighted in a non- exhaustive list. The agreement does not cover the protection of investment, on which negotiations are ongoing between the two sides for a potential agreement on the protection of investments. The EU has also tabled to Japan its reformed proposal on the Investment Court System. For the EU, it is clear that there can be no return to the old-style Investor to State Dispute Settlement System (ISDS).
Intellectual Property Rights (IPR) – the agreement builds on and reinforces the commitments that both sides have taken in the World Trade Organization (WTO), in line with the EU's own rules. The agreement sets out provisions on protection of trade secrets, trademarks, copyright protection, patents, minimum common rules for regulatory test data protection for pharmaceuticals, and civil enforcement provisions.
Data protection – Data protection is a fundamental right in the European Union and is not up for negotiation. Privacy is not a commodity to be traded. Since January 2017, the European Union and Japan engaged in a dialogue to facilitate the transfers of personal data for commercial exchanges, while ensuring the highest level of data protection. With the EU General Data Protection Regulation that entered into force last year and the new Japanese privacy law that entered into force in May, the EU and Japan have modernised and strengthened their respective data protection regimes. In July 2018, the Commission and the Japanese government reached a satisfactory conclusion on the robustness each other's data protection rules, and hence they intend to move forward with the adoption of a so-called "mutual adequacy" arrangement, which will create the world's largest area of safe transfers of data based on a high level of protection for personal data.
Sustainable development – the agreement includes all the key elements of the EU approach on sustainable development and is in line with other recent EU trade agreements. The EU and Japan commit themselves to implementing the core labour standards of the International Labour Organisation (ILO) and international environmental agreements, including the UN Framework Convention on Climate Change, as well as the Paris climate agreement. The EU and Japan commit not to lower domestic labour and environmental laws to attract trade and investment. The parties also commit to the conservation and sustainable management of natural resources, and to addressing biodiversity, forestry, and fisheries issues. The parties agree to promote Corporate Social Responsibility and other trade and investment practices supporting sustainable development. The agreement sets up mechanisms for giving civil society oversight over commitments taken in the field of Trade and Sustainable Development. The agreement will have a dedicated, binding mechanism for resolving disputes in this area, which includes governmental consultations and recourse to an independent panel of experts.
Whaling and illegal logging – The EU has banned all imports of whale products for more than 35 years, and this will not change with the Economic Partnership Agreement. The EU and its Member States are committed to the conservation and protection of whales and have consistently expressed strong reservations about whaling for scientific purposes. Whales receive special protection under EU law and the EU strictly enforces the ban on trade under the Convention on Trade in Endangered Species (CITES). The EU addresses whaling by all third countries, including Japan, both in bilateral relations and in the international fora that are best suited to deal with this issue – for example, at the International Whaling Commission, where we work with like-minded partners to address whaling with Japan. The sustainable development chapter of the EU-Japan economic partnership agreement will provide an additional platform to foster dialogue and joint work between the EU and Japan on environmental issues of relevance in a trade context.
The EU and Japan share a common commitment to combat illegal logging and related trade. Trade in illegal timber is not an issue between the EU and Japan. The EU has a very clear legislation on illegal logging, just like Japan, which applies to imports from any country of origin. Both partners have surveillance and certification systems in place to prevent the import of illegal timber. The two partners also work closely with third countries to support them in setting up efficient mechanisms to address the problem. The agreement includes a legal provision committing both partners to the prevention of illegal logging and related trade.
Corporate governance – for the first time in an EU trade agreement, there will be a specific chapter on corporate governance. It is based on the G20/OECD's Principles on Corporate Governance and reflects the EU's and Japan's best practices and rules in this area. The EU and Japan commit themselves to adhere to key principles and objectives, such as transparency and disclosure of information on publicly listed companies; accountability of the management towards shareholders; responsible decision-making based on an objective and independent standpoint; effective and fair exercise of shareholders' rights; and transparency and fairness in takeover transactions.
Competition – the agreement contains important principles that ensure that both sides commit themselves to maintaining comprehensive competition rules and implementing these rules in a transparent and non-discriminatory manner.
State-to-State dispute settlement mechanism – the agreement ensures that rights and obligations under the agreement are fully observed. It provides an effective, efficient and transparent mechanism with a pre-established list of qualified and experienced panellists for avoiding and solving disputes between the EU and Japan.
Anti-Fraud – The EU and Japan will include an anti-fraud clause in the economic partnership agreement. The anti-fraud clause is a condition for the EU to grant tariff preferences to any third country. It makes it possible for the EU to withdraw tariff preferences in cases of fraud and refusal to co-operate, while ensuring that legitimate traders are not adversely affected. The aim is to prevent abuse of preferential tariff treatment.
At the same time, negotiations with Japan continue on investment protection standards and investment protection dispute resolution.