It is wrong to say terrorism of the ISIS kind has 'nothing' to do with 'religion'
It is often said that Terrorism has nothing to do with religion. That is patently not true at least to the extent that a cult can be termed a religion. Certainly without fail, all terrorists acknowledge a religious motivation for their acts whether it's blowing up their underwear or shoes in planes over the US or hacking to death infidels on the streets of our homelands.
What the authorities mean to say (laudably) is that Terrorism does not equate with Islam for fear of tarring the whole Islamic community with the same brush. I have written an interesting article on the need to be accurate in describing the terrorist threat:
https://www.moderndiplomacy.eu/index.php?option=com_k2&view=item&id=134
:islam-the-religion-vs-the-wahhabi-salafi-takfiri-cult&Itemid=487
Not all Muslims are terrorists but some of them clearly are. What's more worryingly is that many millions (not just hundreds) are potentially terrorists with very little radicalizing and indeed some have become terrorists very soon after 'conversion' to 'Islam'.
Look to any Islamist street demonstration or riots against the West over the past 14 years (see picture as example of protests over the Danish cartoon incident) and you see similar hatred of the West based on the fingers pointed to Allah and the slight against their religion as a justification for their outrage. A convert after saying that there is only one God, Allah and that Mohammed is his prophet must then try and be a good Muslim. However how Muslim ought to live his life (especially in the West) is where the problem of identity, self-esteem and civic responsibility to adhere to the laws of the land arise. That's where the extremist Salafi cult comes in and creates a tear in the social fabric and poisons the mind of some Muslims and where counter terrorism and anti-radicalization measures must interdict future terrorism mindsets.
The extremists Muslims (those that want to follow a literal and strict adherence to the warrior ways of the first Muslim caliphs) give the young Muslim men the ideological blueprint on how to be a good Muslim. These extreme fundamentalists are called Salafis/Whabbi's (or in Indian sub-continent Deobandi/Taliban). Whilst there is a quietest branch of these religious Islamic fundamentalists, at the extreme end of the spectrum are the 'Takfiri' (those who see any deviation from their ideology as apostasy and all who practice falsity deserve death. Therefore the Wahhabi Salafi Takfiri Jihadi glories in terrorism (especially if by Allah's providence they can be also martyred at the same time) and the barbaric acts we have all witnessed in the deserts of Syria and Iraq and on the streets of New York, Boston, Toulouse and Woolwich, Train stations in London and Madrid, bars in Bali, the primary schools of Beslan or the concert halls of Moscow.
ISIS like the Woolwich slayer, Michael Adebolajo is just following the Salafi Takfiri script as written by its ideologues like The Blind Sheikh Omar Abdel-Rahman, Anwar al-Awlaki, Omar Bakri Mohammed, Abu Hamza (al-Masri) , Anjem Choudary, Trewvor Brooks (Abu Izzadeen), Mizanur Rahman, Mohammed Achamlane, Mohammad Ali Baryalei, and Abu Musab Al Suri, al-Bagdadi etc .
It is good and admirable that leaders make a distinction between mainstream Islam and the Islamists but it is wrong to say terrorism of the Jihadist kind has "nothing to do with religion" or religious ideology. The population will switch off this narrative as it's obvious that Jihadist terrorism is inspired by something in Islam. What the people do not understand however is that it's an extreme sect within Islam. When the next horrific Wahhabi Salafi Takfiri terrorist attack happens, like the planned random beheading of person on the Streets of Australia, there will be a backlash against the Muslim community as a whole, especially those that are ostensibly fundamentalist (such as men with beards and long white robes and women in black burqas).Also there will be little hope in tacking the extremist pro-terrorism ideology of the Wahhabi Salafi Takfiri's if security agencies monitor potential terrorists too broadly which will only tend to alienate the Muslim community who will feel under siege.
World leaders have finally come to the conclusion that civilization must not only attack ISIS on the ground but also its ideology. President Obama, Australian PM Abbott and UK PM Cameron have come to call ISIS a 'death cult'. This too whilst an accurate descriptor is not helpful in the degradation of their ideology and ability to radicalize homegrown terrorists or fighters for their land wars in the Middle East. Now how does one attack a ghost death cult that has nothing to do with Islam? It is not possible. There is no 'Death Cult' website, bookshop or headquarters. The leader of ISIS al-Bagdadi, has a PHD in Islamic studies and would but for his barbaric methods in Syria and Iraq be considered as an 'Islamic Scholar'. So it's not about Islamists having a shallow understanding of Islam. It's about a sect within Islam itself.
Al Qaeda too, once a formal and structured terrorist group has become after years of degradation, more of an ideal and an enabler than a formal group. Again you won't find an Al Qaeda bookshop or HQ. However you find the same ideology behind their motivation and justification for terrorism against the West.
The ideology of all the terrorist organizations or lone wolves that have or want to commit terrorist acts against the West whatever they call themselves is a cult of Islam that can be correctly and accurately described and called the Wahhabi Salafi Takfiri Jihadi. That is the one ideology that is behind all the fronts and brand names like: Al Qaeda, Boko Haram, al-Shabaab and ISIS 'al Muhajiroun', 'Islam4UK', 'Sharia4Belguim', Forsane Alizza, 'Force de Défense Musulmane sur Internet', 'Sharia4France', Al-Haramain , Benevolence International Foundation, Wafa al Igatha al Islamia , Hizb ut-Tahrir, al-Gheraba, Muslims Against Crusades, et al.
Underscoring this point is the life sentence for terrorism this week handed down by a New York court of Osama bin Laden's son in law, Sulaiman Abu Ghayth (pictured far left next to OBL).
Abu Ghayth was jailed for life September 2014 for conspiring on a planned second wave of 9/11 attacks. What was his previous occupation and driving motivation when planning more 9/11 attacks on the West? He was a religious instruction teacher at school and an imam at a Kuwaiti Mosque. He was a 'religious' man but of a fanatical Salafi sect of Islam, the Wahhabi Salafi Takfiri sect. In court Abu Ghayth denied he was an al-Qaida recruiter and claimed his 'role was a religious one aimed at encouraging all Muslims to rise up against their oppressors'. Speaking in Arabic through a translator, Abu Ghayth also told the New York court, "today when you are shackling my hands, and intend to bury me alive, you are unleashing the hands of thousands of Muslims and they will join the rally of free men." In his March 2014 trial prosecutors showed jurors a 50-second clip of a five-minute videotape of Abu Ghaith from October 9, 2001, in which he threatens that "America must know that the storm of airplanes will not abate, with God's permission." Alluding to martyrdom, he said there were "youths who are yearning to death just as Americans yearn to live…. "We strongly advise Muslims in America and the Britain, the children and those who reject unjust American policies, not to board aircraft and we advise them not to live in high-rises and tall buildings."
When you see pictures of ISIS fighters what are they gesturing with their hands? They are pointing with a finger toward heaven/Allah, in whose name they slaughter the innocents. In fact they are brainwashing their children from a very young age to equate submission to God with terrorism as the picture of ISIS children shows.
What is on their black flag but religious symbolism that all Muslims would easily recognize?
What is the essential message of ISIS and all such Wahhabi Salafi Takfiri groups and individual fanatics? That Islam is ISIS, God inspired, God sanctioned and God predestined to rule over all with their version of Sharia law. What did Mohamed Merah say just before he gunned down little Jewish children in Toulouse France: "This will bring France to its knees before Allah":
https://www.moderndiplomacy.eu/index.php?option=com_k2&view=item&id=136:islamo-fascist-terrorism-now-in-france-what-must-be-done-to-stop-its-spread&Itemid=487
What do they do before they blow themselves up, execute someone or fire a weapon but a religious salutation Allahu Akbar (Arabic: الله أكبر meaning "God is greater" and in context of the salutation before committing violence…' (their ideology, their God, their faith' is greater than the infidel non-believer/apostates or their errant religion or man-made democracies).
The Islamists whether they are ISIS fighters or lone wolf be-headers on the Streets of our homelands are brainwashed by the Wahhabi Salafi Takfiri Jihadi cult to believe their barbarous acts are sanctioned by the Quran and the example of their Prophet, Mohammed in the way in which he went about securing temporal power in the Middle East and North Africa in the seventh century creating the First Islamic Caliphate. To deal with the terrorist threat humanity has to deal with their ideology. The people best placed to do that are the vast majority of Muslims. To engage with that community, we should not speak for them when terrorism happens. We should give the Muslim majority a voice.
George Bush or President Obama saying Islam is a religion of peace is not the best way to go about the PR war on ISIS Al Qaeda or other Wahhabi Salafi Takfiri terrorists. They must call the terrorists by name of their ideology. Islamism is not accurate appropriate or helpful. It is the Wets lazy shorthand. When Western leaders refer to them they should use their correct descriptor Wahhabi Salafi Takfir Jihadi or WSTJ…that will cover the fighters and supports of ISIS, Al Qaeda ,Boko Haram, etc. and also the hate preachers, supporters and potential fifth column terrorists in our homelands. Our leaders and media should also let the voice of moderate (and majority) Islam be heard immediately after the terrorist attacks occur as we need to empower the Muslim community to inoculate their people from the WSTJ Ebola type contagion and be seen to condemn these attacks and also be seen by the non-Muslim fellow citizens as not condoning terrorism against their fellow citizens by apparent silence.
Until the Western leaders and media appreciate that one cannot understand (let alone defeat) ISIS or Al Qaeda without defeating their ideology, there is little hope. Their implacable hatred of the West is based on their genuinely and fanatically held religious views. There will be no end to terrorism of the Jihadist/Islamist kind, in fact it will only get worse,(especially in our homelands) even if ISIS is bombed back to the stone age unless the West recognizes the terrorist problem as associated with the extreme Salafi sect of Islam and their ambition to hijack that religion for the imposition of Sharia and world domination by WSTJ Muslims as the vanguard of an Islamic 'Third Reich' type Caliphate.
Wahhbai Salafi preachers like The Blind Sheikh Omar Abdel-Rahman have been at the forefront of radicalization and terrorist plots in the Middle East and the West for decades.
Choudary, Izzaden and other Wahhabi Salafi Takfiri's praised the September 11 terror atrocity and the July 7 London bombings which killed 52 innocent people in 2005. Choudary has preached that jihad, or holy war, is an 'obligation upon Muslims' – an interpretation rejected by moderate Muslim scholars – and has called for a draconian form of Sharia law to be imposed across Britain.
The arrests this week of Choudary and his ilk are long overdue and should be repeated around the world against all radicalizers and advocates and supporters of terrorist ideology irrespective of their protests that they are 'religious men'. What is needed now is a microphone and camera in front of Muslim leaders welcoming the arrests of these evil men who threaten their communities as well as the countries within which they live. The Islamic leaders will speak the truth and say these men are from a minority sect Islam which they and most Muslims find abhorrent and against their principles and beliefs as 'good Muslims'. Unless this happens neither we nor the Muslim youth can recognize what being a good Muslim is or is not and our security in the West will remain precarious. Counter rsadicalization in civil society is therefore more important than Counter Terrorism laws in defeating ISIS and Al Qaeda. Choudray's 2IC, Abu Izzadeen told then UK home secretary John Reid he was an 'enemy of Islam' after the minister asked Muslims to step in if they thought children were being radicalised.
This is where the real war on terrorism needs to focus. Had the UK and other Western nations acted earlier to clean out the vipers den of al Muhajiroun', 'Islam4UK' etc, ISIS may never have had the support of foreign fighters recruited from the West. Ideology is important. Politicians and the media must act responsibly and honestly in reporting the religious sect ideology behind terrorism so that it can be interdicted and the fabric of our multi0cultural societies not be rent by a backlash of the community who no longer listen to their leaders rhetoric.
http://www.dailymail.co.uk/news/article-2769098/BREAKING-NEWS-Nine-men-arrested-counter-terror-police-London-suspicion-encouraging-terrorism.html
https://www.moderndiplomacy.eu/index.php?option=com_k2&view=item&id=136:islamo-fascist-terrorism-now-in-france-what-must-be-done-to-stop-its-spread&Itemid=487
http://www.homelandsecuritynewswire.com/dr20140925-former-alqaeda-spokesman-obl-s-soninlaw-sentenced-to-life-in-prison
http://www.theguardian.com/world/2014/mar/11/shoe-bomb-witness-suleiman-abu-ghaith-trial
http://www.deccanchronicle.com/140924/world-americas/article/osama-bin-laden-son-law-sulaiman-abu-ghaith-gets-life-jail-terror
http://en.wikipedia.org/wiki/Sulaiman_Abu_Ghaith
http://www.dailymail.co.uk/news/article-2584374/Ex-al-Qaida-spokesman-recalls-9-11-bin-Laden.html
'Disturbing spike' in Afghan civilian casualties after peace talks began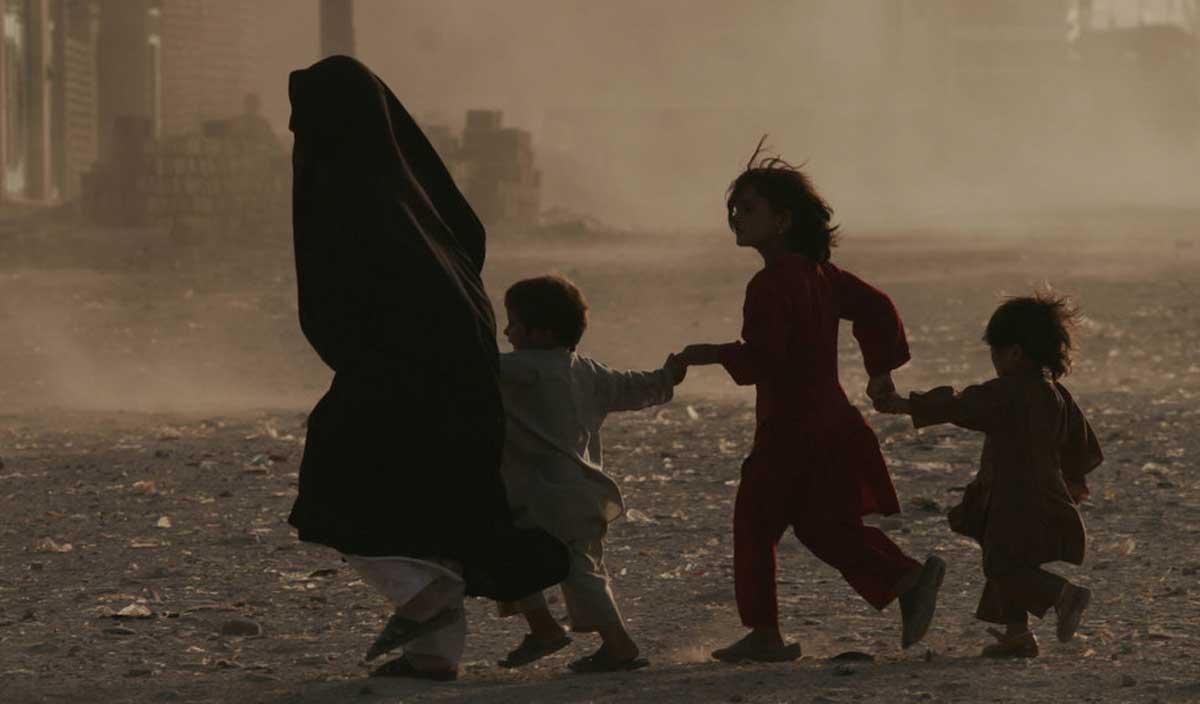 Civilian casualties in Afghanistan witnessed a sharp rise since peace negotiations started in September last year, even though overall deaths and injuries dropped in 2020, compared to the previous year, according to a UN human rights report launched Tuesday.
In their annual Afghanistan Protection of Civilians in Armed Conflict Annual Report, the Office of the UN High Commissioner for Human Rights (OHCHR) and the UN Assistance Mission in the country (UNAMA) documented some 8,820 civilian casualties (3,035 deaths and 5,785 injuries) in 2020, about 15 per cent less than in 2019.
It was also the first time the figure fell below 10,000 since 2013.
However, the country remains amongst the "deadliest places in the world to be a civilian", according to Michelle Bachelet, UN High Commissioner for Human Rights.
"I am particularly appalled by the high numbers of human rights defenders, journalists, and media workers killed since peace negotiations began in September", she said.
At least 11 rights defenders, journalists and media workers lost their lives since September, resulting in many professionals exercising self-censorship in their work, quitting their jobs, and even leaving their homes and the country – in hope it will improve their safety.
Rise in 'targeted killings'
According to the report, the overall drop in civilian casualties in 2020 was due to fewer casualties from suicide attacks by anti-Government elements in populated areas, as well as drop in casualties attributed to international military forces.
There was, however, a "worrying rise" in targeted killings by such elements – up about 45 per cent over 2019. The use of pressure-plate improvised explosive devices (IEDs) by the Taliban, air strikes by the Afghan Air Force, and ground engagements also resulted in increased casualties, the report said.
According to the report, anti-Government elements bore responsibility for about 62 per cent civilian casualties, while pro-Government forces were responsible for about 25 per cent casualties. About 13 per cent of casualties were attributed to crossfire and other incidents.
2020 could have been 'a year of peace'
Deborah Lyons, Special Representative of the UN Secretary-General for Afghanistan and head of UNAMA, called on all parties to take immediate and concrete action to protect civilians, urging them "not to squander a single day in taking the urgent steps to avoid more suffering".
"2020 could have been the year of peace in Afghanistan. Instead, thousands of Afghan civilians perished due to the conflict", Ms. Lyons said.
The "overriding objective" of the report is to provide the parties responsible with the facts, and recommendations, so they take immediate and concrete steps to protect civilians, she added.
Ms. Lyons highlighted that "ultimately, the best way to protect civilians is to establish a humanitarian ceasefire" – a call consistently made by Secretary-General António Guterres and the Security Council.
"Parties refusing to consider a ceasefire must recognize the devastating consequences of such a posture on the lives of Afghan civilians."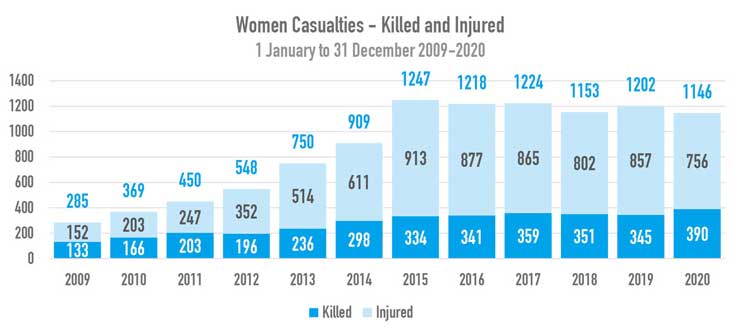 UNAMA-OHCHR report: Women casualties (killings and injuries) documented between 1 January 2009 and 31 December 2020
'Shocking toll' on women and children
The report went on to note that the years-long conflict in Afghanistan "continues to wreak a shocking and detrimental toll" on women and children, who accounted for 43 per cent of all civilian casualties – 30 per cent children and 13 per cent women.
"This report shows the acute, lasting needs of victims of the armed conflict and demonstrates how much remains to be done to meet those needs in a meaningful way", High Commissioner Bachelet said.
"The violence that has brought so much pain and suffering to the Afghan population for decades must stop and steps towards reaching a lasting peace must continue."
Attacking civilians 'serious violations'
With the conflict continuing, parties must do more to prevent and mitigate civilian casualties, the report said, urging them to fully implement the report's recommendations and to ensure that respect and protection of human rights is central to the ongoing peace negotiations.
It also reminded the parties that deliberately attacking civilians or civilian objects are serious violations of international humanitarian law that may amount to war crimes.
Is Blacklisting on Cards for Pakistan?
Financial Action Task Force (FATF) has been an integral part of the economic decision making and regulatory procedures of the country. The days of the ultimate decision are finally on cards as the Global Watchdog is expected to evaluate and review the performance and strategies of Pakistan via virtual meeting tentatively scheduled for February 22-25, 2021. This would be a much-anticipated review since a keen eye would be payed following a long hiatus to the litigations recently undertaken by the country to eliminate the risks and gaps in the financial framework which might earn Pakistan, a way out from the grey list. However, while the preceding meeting only guided more hopes for better litigation and measures to curb terror financing, brimming foreign propaganda and nefarious rulings within the country itself might hamper the way out but instead could dig the trench further towards a harrowing financial turmoil.
Pakistan was placed on the grey list back in June 2018 due to strategic deficiencies. Just before the Covid-19 pandemic wreaked havoc in the world, Pakistan was allowed a breather of 4-months to comply with the 27-point action plan; of which Pakistan met only 14 targets while missing out on the rest of 13 targets. Moreover, Pakistan could only satisfy 10 of a total of 40 recommendations devised by the task force. These lags led to a major pitfall in the Pakistan's Stock Market; PSX plummeting bellow 30,000 points. Furthermore, a bitter narrative started blooming regarding arch-rival India pulling all the strings to push Pakistan down further, even in the blacklist. This was largely shunned by the Indian representatives but the failure of the economic and diplomatic front of Pakistan was evident by now.
The FATF plenary was scheduled, like traditionally, in June. However, all scheduled evaluations and review procedures were deferred for 4-months in the wake of the Covid-19 pandemic, allowing yet another unforeseen yet thoroughly welcomed relief span to Pakistan to strive more actively to meet the requirements.
In the preceding 4 months, Pakistan acutely worked to amend the contradicting laws and policies, the parliament playing an agile role to introduce new bills relating to counter-terrorism and countering money laundering as an act to expedite compliance to the international laws and ultimately meeting up all 27 points in the action plan. Almost all the bills presented, albeit some political resistance, were eventually passed which even led to optimism in the stock market; PSX climbing back over 40,000 points after more than half a year, rallying to record high levels despite of the pandemic wreaking havoc on the investors' mentality across the globe.
The meeting held, after a steep deferral, back in October 2020; the FATF committee observed and commended on the vigilant stance assumed by Pakistan to crawl out of the Grey list. Pakistan has since delivered on 22 out of the 27 core points of the action plan defined. However, the meetings adjourned till February, retaining Pakistan in the grey list under the tag of 'jurisdiction under enhanced monitoring' whilst praising the steps of counter-terrorism and anti-money laundering adopted by Islamabad.
Pakistan was warned back in February last year that if not complied by the 27-point action plan, it could be a great threat to the foreign mechanism and would be eventually moved to the monitored jurisdiction, notoriously also known as the 'Blacklist'. Later this month, FATF would examine if Pakistan meets the 8 key categories of the action plan; remedial actions taken against money laundering, counterfeit terrorism while also reviewing the vigilance of the institutions in countering Terror Financing and actively managing risk. The committee representing Pakistan would perpetually convince the plenary that the country in-fact meets the criteria and transitioning over the next month, the fate of the tormented economy would finally prevail in light of the decision made.
However, Pakistan has been sluggish in taking action against the notorious entities linked to terrorism around the region. The meeting nears with the pinned watch of UN regarding Pakistan's role of providing a safe haven to Lashkar-e-Taiba founder, Hafiz Saeed, or the notorious acquittal of Ahmed Omer Sheikh, the prime culprit of the Daniel Pearle Murder case of 2002. Pakistan, however, claims to have made virtue on 22 of the defined 27 points while has garnered 'Substantial progress' on the remaining 5 points. Thus, the optimism brews that the meeting would push the country out of the list and would open more financial avenues especially in these distressful conditions.
Although Pakistan's Foreign Office including the Foreign Minister, Shah Mahmood Qureshi, appears optimistic to climb out of the grey list after 3 years, the infamous decisions passed by the Supreme Court of Pakistan, the excessive money laundering cases surging against the ex-office holders of Pakistan and the determined efforts of India to subvert Pakistan in global politics, all thwart down that optimism bit by bit. And while some of the economic experts claim that the decision of advancing Pakistan off the Grey list would be naïve move and would arguably impact regional dynamics, the decision could fall in tandem with the preceding outcome of sustaining the grey list status or could deteriorate the level further as gauged by a political expert, opining his narrative: "The facts demand that Pakistan remain on the grey list. The FATF shouldn't just keep Pakistan on the grey list. It should rather warn Islamabad that absent rapid and wide-ranging reform; blacklisting is coming".
Europe Must Confront Iranian Regime's Terrorism
After a two-and-a-half-year investigation, on 4thFebruary 2021, a Belgian court sentenced four culprits for attempting to bomb a large gathering of tens of thousands, including politicians and dignitaries, at a global summit organized by the Iranian opposition – the National Council of Resistance of Iran (NCRI) – in Villipinte, France in June 2018.
The perpetrators who attempted to attack the global summit included Assadollah Assadi, a senior accredited Iranian diplomat, who received the maximum sentence of 20 years in prison on attempted murder and terrorism charges – and his three accomplices who were imprisoned for 15,17, and 18 years, respectively. This was the first time that an Iranian diplomat was convicted in Europe.
The conviction and the sheer scale of the crime requires the EU to reconsider its approach to the Iranian regime.
The 2018 global summit was attended by tens of thousands of people who advocate for democracy and freedom in Iran. If the foiled terrorist plot had been successful, thousands of innocent people, including European citizens and prominent political figures, would have been killed or injured. The head of Belgium's national security has blamed the Iranian regime for orchestrating the attack, including Iran's Foreign Ministry and Ministry of Intelligence and Security who played a significant part in the execution of the attack.
Such terrorism-related trials are not new for the regime. In 1997, the regime was tried for a major terrorist act in Germany. The proceedings were called the Mykonos trial after a Berlin restaurant in which regime agents gunned down several opponents.
In a report dated April 10, 1997, the European Union's Presidency stated: "The High Court of Justice's findings in Berlin in the Mykonos case indicates Iranian regime officials' involvement at the highest level."
On April 29, 1997, the Council of the European Union reaffirmed that progress in normalizing relations between the EU and Iran would only be possible if Tehran's officials respect international law and cease terrorist acts, including those against Iranians residing abroad. When the regime refused to comply,Europe made a declaration to expel Iranian nationals with intelligence and security ties. Twelve countries that were not members of the European Union at the time also complied with the declaration.
21 years after the Mykonos trial, Assadi used his diplomatic cover to take a high-powered explosive on a passenger plane from Iran to Austria. He then personally handed it over to two intelligence agents to detonate it at the NCRI rally in Paris. The irrefutable evidence in this case shows Iranian regime officials' involvement at the highest levels.
Separately, the regime's ambassador and three diplomats were expelled from Albania (January 2020), three diplomats were expelled from France and the Netherlands (March 2018), and a diplomat was expelled from Denmark (October 2018) in the wake of the regime's terrorist plots. All of these expulsions reveal the involvement of the regime's embassies, Foreign Ministry and Ministry of Intelligence and Security to create terror in the European region.
Despite all of this, the EU has not taken any serious measures to counter the regime's belligerence.
Europe's failure to take appropriate actions has emboldened Tehran. Inaction reassures the regime that it can act with impunity, even in Europe. Europe has essentially communicated to the world's foremost state sponsor of terrorism that not even an attempt to bomb a peaceful gathering, which could lead to the killing of hundreds of European citizens, would bear any consequences. Thus, Europe's appeasement is in large part fueling the regime's aggression.
It is naive to speculate that Tehran's Foreign Minister Javad Zarif did not know about this conspiracy. Zarif sits on the Supreme National Security Council, which approves all such major security decisions. Additionally, his ministry and embassies serve as logistical and operational centers for terrorism and espionage.
Those who hatched and approved this terrorist plot, none other than senior Iranian leadership, must be brought to justice. This step is a necessary deterrent against Tehran, the godfather of international terrorism.
German security officials are reportedly still investigating the numerous trips that Assadi made throughout Europe, where he helped establish an extensive Iranian regime spy network across the region. At the time of his arrest, he had received several receipts for payment of money. The identities of money recipients have yet to be determined. The regime has always used its embassies and so-called religious and cultural centers abroad as centers of espionage against its opponents.
Normalizing diplomatic relations with the Iranian regime must be made contingent on disbanding its terrorist apparatus in Europe and ensuring that it will never again engage in terrorism in Europe. By taking this critical step, European leaders will protect their own citizens and effectively counter the regime's terrorist threats.