ISIS Online: The Internet presence of a brutal and international Islamic militant group
Within what seems like the very bowels of the internet, there lies a fully functional and multifaceted propaganda arm of one of the most brutal militant groups ever seen. The so-called Islamic State (or "ISIS", the Islamic State in Iraq and Syria) is not only ruthless in person, but in its virtual presence as well.
The element of the ISIS media arm that lies closest to the 'surface' of the internet is its usage of Twitter. It has been reported that thousands of Twitter accounts suspected of being affiliated with ISIS have been identified by the Twitter team, and the US Government has even requested information from Twitter on as many as 1,918 ISIS Twitter accounts in the first half of 2014. Most of these accounts, due to Twitter's policy against violence, have been manually suspended/deleted by Twitter admins. However, once these accounts are suspended, additional accounts suddenly appear to take their place. Most notably to the Western world, when ISIS released its propaganda film entitled A Message to America in which the gruesome execution of American journalist James Foley was shown, Twitter and YouTube administrators sprang into action in order to thoroughly delete all uploads of the video and prevent its further distribution. Still though, due to the nature of the worldwide web, plenty of ISIS-affiliated Twitter accounts still manage to fly under the radar and get their messages out. These accounts frequently tweet photos, video, and text glorifying and supporting ISIS's actions. Some of these accounts even appear to belong to in-country ISIS militants themselves, often tweeting themselves on the battlefield, Kalashnikov in hand. In more notable instances, US-based accounts have even directly threatened or 'trolled' the United States, such as a tweet showing a picture of the ISIS flag in front of the White House with a threatening message.
Twitter, however, is only the tip of the virtual Islamic State iceberg. Where ISIS really asserts itself online comes in the form of internet forums. These message-boards serve as the primary place where ISIS members (and more importantly, potential recruits), can somewhat inconspicuously communicate and distribute full-length ISIS-produced propaganda films. When terror/militant groups publish and distribute these films (as many Islamic militant groups have done, including the Taliban and Hamas), they are seeking not only to terrorize the outside world through fear, but also to reach those who may be seeking to join the group. Because there is no independent reporting from inside the Islamic State itself, these propaganda films offer a rare and exclusive glimpse into the Islamic State; and the glimpse is horrifying.
As these films are actively deleted by YouTube and other online video-upload sites, it is fairly difficult to track down and watch ISIS-made film. It took some digging for me to find the places where these videos are dumped to be distributed to the outside world. I finally came across an Arabic-language forum which does just that. Through the use of Google Translate, as well as surfing through the English-language section of the forum, I was able to not only find ISIS-produced media, but also to find the virtual recruiting grounds for the organization. On the message boards were everything from religious advice on health and sex, to information on travelling to the Islamic State, and even to encouragement and suggestions for the planning of 'revenge' attacks within the Western world (one lengthy post even went on about the "success" of the 9/11 attacks and the relative "disappointment" with the small scale of the 2013 Boston Marathon Attacks).
The videos themselves, which usually come in the form of episodes within several different 'series', can only be described as horrific, with normal human and Islamic activities playing only a sideshow/filler role. I do not exaggerate when I say that nearly every single film/episode includes at least one militant operation, suicide mission ("martyrdom") or cold-blooded killing. For ethical reasons I will not post any links to videos here (if one wishes to find and watch these videos, they can easily do so on their own). As I am sure an agent of any government intelligence/counterterrorism agency, who are undoubtedly researching these films would say, these videos are hard to watch and can indeed take a psychological toll on any human being. Nonetheless, I do personally believe that it is important to get the details of these videos out, even if that means only describing them in sanitized words to keep within good ethics and taste.
Each video/episode generally begins with a sermon from an imam in front of a mixed crowd of fighters and local townspeople. In the few videos that are translated into English the sermons are fiery; they frequently agitate the audience in some way or another to wage jihad against any and all of the elements opposed to the lofty aspirations of the Islamic State. A special focus is placed on the most immediate 'threats' to ISIS: the Shiite and Christian minorities of Iraq and Syria (including the militaries of both Assad in Syria and Maliki in Iraq, which are both largely Shia), the various Kurdish factions, and the less-defined takfiri's, whom Sunni Islamic doctrine defines as deviators from what it sees as "true" (Sunni) Islam, and thus are deemed enemies. Militants are often shown rummaging through the personal belongings of their dead enemies, excitedly showing items to the camera such as Christian crosses or Shia pamphlets with Iranian Supreme Leader Ayatollah Khamenei superimposed on them. The result is the powerful ideological justification of organized and rampant terrorist operations that transcend the long-standing international borders of Iraq and Syria, consuming considerable swathes of territory within the two countries allowing ISIS to take on its current appearance of an actual, sovereign state. As one translated video titled The End of Sykes-Picot (borders established during the colonial period by the British and French) demonstrates, the ideological aims of ISIS are inspired by Medieval Islamic history; the Islamic Caliphate. In other words, what ISIS seeks to do is to physically reestablish the Islamic Empire(s) of old, which at its height extended eastward from Arabia into what is now Pakistan, and as far westward as southern Spain. In a segment titled "Live the Cause", supplemented by background audio of English sermons given by the late American jihadi Anwar al-Awlaki, ISIS clearly explains to the outside world that it seeks "the transcendence of the Caliphate from words/theory to action and real-world results." What we have here is the most basic explanation of ISIS ideological aims and its narrative.
Because most, of these videos are un-translated and strictly in Arabic, much of what is being said is lost on the typical Westerner. The clear and threatening message of ISIS's brutal tactics of violence and terrorism, however, needs little translation. The videos are sadistic (ISIS terrorists show a consistent propensity to shoot dead bodies 10+ times), with footage of operations ranging from drive-by highway shootings of what appear to be random civilian vehicles, to the rounding up and summary execution of both combatant captives and regular unarmed civilians (there was one scene where militants literally flagged down three trucks on a highway, questioned the drivers briefly, and then lined up and shot them point-blank before yelling Allahu Akhbar and denouncing the corpses as Nusayri's, a term for members of the Alawite sect of Shia Islam). Apart from its seemingly random and brutal treatment of unarmed civilians, ISIS also shows an ability and willingness to attacking military targets. There are even segments where ISIS militants, disguised by the use of captured Iraqi Army uniforms and equipment, conduct raids on the homes of senior Iraqi officers during the night. Night-vision HD camera and all, the footage shows the militants first deceptively questioning the men before they realize what's going on. After enthusiastically revealing to their target that they are "Daw'lat Islam" ("Islamic State") they proceed to execute the men with a silenced pistol shot to the head. Mission after mission is shown throughout each video series, leaving the viewer feeling extremely sorry for the innocent human beings unfortunate enough to cross paths with ruthless ISIS militants.
Against the background of the vast and cloudless Iraqi-Syrian Desert skies, the actions of ISIS produce an image sure to impact any Western audience. Perhaps even more frightening still are how such acts of violence are mixed in with scenes of average townspeople assembling in ISIS-occupied towns to meet their new 'government'. Women, children and the elderly all appear amongst the men of the Islamic State and for the most part don't seem distressed at all. It is strikingly odd to see men commit the aforementioned acts of brutality, and then afterward mingle with the common folk in such a casual way. Among propagandistic portrayals of 'hearts and minds' efforts by the Islamic State, one segment of interest involves an assembly of about 60-70 children from "emigrant families" that appear to be of Indonesian/Malaysian (two Muslim-majority nations in SE Asia) ethnicity. The children, whose ages appear to range from 2 to 12 years old, are shown reciting verses from the Qur'an. The young girls who are shown are all in hijab (headscarf), and some are even in full niqab (full burka showing only the eyes). Fighting-aged South Asian men, some apparently the fathers of the children, also appear among Arab fighters, all brandishing assault rifles. It is of interest to note here that translated ISIS media is always translated into languages such as Indonesian/Malaysian, Bosnian, Urdu (Pakistan), and Chechen; all Islamic-majority nations from which non-Arab foreign jihadists have traditionally originated.
It is rather unsettling to know that people from all over the world are 'emigrating' to the Islamic State, including people from Western countries, as has been well documented. It is well known to Western intelligence services that foreign fighters are a key element of ISIS, and indeed these foreigners are also heavily featured in these propaganda productions, for practical reasons. The example of the use of a man with a British accent in the executions of James Foley and Steven Sotloff comes to mind. Some videos feature these foreigners participating in military actions against ISIS adversaries, including a white Canadian man called Abu Muslim al-Canadi who reveals he is a Muslim convert who "left his family and life of luxury and kufr (un-Islamic culture) to perform jihad for the sake of Allah." When all of these propaganda elements combine, the result is an intimidating virtual presence that does not seem like it will be disappearing anytime soon. More videos are released all the time, and ISIS has no doubt made its virtual presence felt across the globe, far beyond its physical reach.
A Virus Yet to Be Eradicated
Much as everything in this world, human memory knows its limits. Increasingly receding into a background of the past, episodes of our life—be they thrilling at the thought or intensely dramatic—grow faint and fade, as they are gradually eclipsed by latest events and fresh experiences.
On September 11, 2001, I happened to be a first-hand witness to the most heinous terrorist attack in humanity's contemporary history—the hijacked passenger jets heading to crash into the towers of the World Trade Center in lower Manhattan. Twenty-one years later, I'm somewhat in doubt that all of this happened to me for a fact: blinding flares of orange against the backdrop of a blue September sky, swirls of smoke and dust slowly blanketing the city's downtown narrow streets, a high-pitched cacophony of fire-truck and police sirens, crowds of disoriented people having no idea where to run and what the next moment might bring.
In the wake of 9/11, international terrorism has predictably become a thing to bandy about. Like many of my colleagues, I was attending numerous conferences and seminars as well as partaking in various research projects on the subject. Besides, a stroke of fate gave me a rare opportunity to have personal conversations with such heavyweights of world politics as Vyacheslav Trubnikov, Richard Armitage, Thomas R. Pickering, Kofi Annan and others, who made their meaningful contribution to fostering cooperation in countering the terrorist threat. In a way, their efforts have borne fruit as the world has seen nothing similar to 9/11 since 2001.
Still, we have to admit that the war on terror has not ended in a decisive victory. Terrorist attacks no longer claim lives of thousands—however, hundreds have died in the massive attacks in Paris and in Madrid, in Bagdad and in Berlin, in Beslan and over Sinai, in Gamboru (Nigeria) and in Mumbai (India), with new names added to this tragic list every so often. Large-scale terrorist attacks are now few and far between in the United States, but there have been more of them in Europe, let alone in the Middle East. The recent suicide bombing near the Russian Embassy in Kabul is yet another reminder that the terrorist threat is still here. Why, then, is the goal to wipe out terrorism—now dating two decades—not achieved so far?
In the first place, the international community has failed to agree on a common definition of terrorism's origins, driving forces and character. What some actors explicitly dub as "terrorist" may look like a national liberation struggle for others. Bring up the issue of terrorism in Kashmir in a conversation with Indians and Pakistani, only to see there can hardly be a common denominator in this matter.
Second, any success in the fight against terrorism entails a high level of trust between the interacting parties—simply because they would have to exchange sensitive and confidential information. In today's world, trust is thin on the ground. An apparent and mounting deficit of this resource is not only present in the relations between Moscow and Washington; it also takes its toll on the relations between Beijing and Brussels, between Riyadh and Teheran, between Cairo and Addis Ababa, between Bogota and Caracas, and the list goes on.
Third, international terrorism is far from an issue that is set in stone. It is gradually changing and evolving to become more resilient, sophisticated, and cunning. Similar to a dangerous virus, the terrorist threat is mutating, generating ever new strains. Ironically, what is especially dangerous today is the kind of terrorism bred by anonymous mavericks and amateurs rather than the sort represented by well-known transnational extremist movements—individualists are the hardest to track and neutralize, while plans of amateurs are harder to reveal.
The current progress in military technology, coupled with other trends in the contemporary international arena, portend a new spike in terrorist activities in the coming years. Modern and increasingly complex social and economic infrastructure, especially in large metropolitan areas, is an enabling environment for hard-hitting terrorist attacks. Besides, international and civil conflicts—like the one raging in Ukraine—drastically heighten the accessibility of modern arms for would-be terrorists.
Add to this a comprehensive setback in the resilience of global economy, which may be fraught with more social tensions and an inevitable rise of pollical radicalism and extremism in a broad range of countries. An obvious foretelling: In this "nutrient broth", the virus of terrorism, which has not been wholly eradicated, stands all the chances for an "explosive" growth.
It may well be possible that all of us will in the years ahead be lucky enough to avoid a second edition of the events that shattered the world on September 11, 2001. Still, taking terrorism off the agenda is only possible if humanity effects a transition to a new level of global governance. It is either that the leading powers are wise and energetic enough for this, or the tax that international terrorism imposes on our common civilization will be progressively higher.
From our partner RIAC
ISIS Rises from the Dust in the Syrian Desert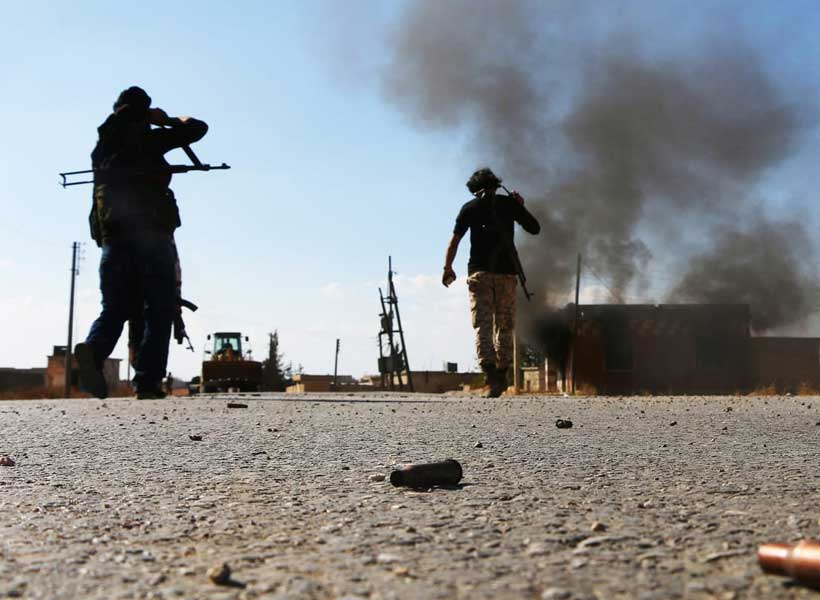 Over the last few months Syria's northeast has been spiraling downwards to chaos amid the surge of violence and terror attributed to Islamic State (IS). After almost five years of dormant existence the terror group is once again making its way to prominence in Syria. With the so-called territorial califate no longer viable, the IS members have switched to hit-and-run attacks on remote outposts and prolific use of improvised explosive devices (IED) against vehicles. These attacks target both US-supported Syrian Democratic Forces (SDF) and the Syrian army units operating in the northeastern provinces of Raqqa and Deir Ezzor. At the same time the terrorists managed to restore afinancial safety net by extorting money from local professionals, including small business owners, doctors and teachers. Those who refuse to pay are subjected to threats and torture. The resulting insecurity enables the terror group to widen the scope of its activities even further.
The deterioration of the security situation in Syria went almost unnoticed by the international community distracted by the Ukrainian conflict. Under these circumstances the U.S. has a window of opportunity to curb the Russian influence in Syria and undermine theimage of power projected by Moscow in the Middle East.
Indeed, the areas held by the Russians and the Syrian army in Deir Ezzor and Homs have witnessed an increase in bloody attacks, supposedly carried out by IS fighters. The terrorists were able to avoid retaliation by retreating to no man's land in the areas abutting the U.S. bases, namely Al-Shadadi, the Green Zone near Abu-Kemal border crossing and Al-Tanf base. Moreover, previously each IS attack in US-controlled areas had been followed by joint raids of SDF and the US special forces. It is no longer so. Considerable resources that might otherwise have been used for counterinsurgency operations are allocated to maintaining security in Al-Hol camp, where some 12,000 IS fighters and their family members are held. Add to that the imminent threat of Turkish invasion from the north. The SDF was led into a deadlock and is loosing the grip on the region. Meanwhile IS sleeper cells exploit the situation to their advantage and infiltrate territories controlled by the Syrian army.
These suspicions are confirmed by a high-ranking source in the Syrian intelligence. Speaking on the condition of anonymity, the source claimed that the U.S. helicopters transported 200 former IS fighters from prisons in Haseke to the 55-km security zone around Al-Tanf. The terrorists will be split up into groups of 10 – 15 people. These groups will be then sent to provinces with Russian presence including Homs, Latakia, Tartus and Damascus with the task of conducting terror attacks with IEDs at the Russian military sites. Most of the selected militants originate from Northern Caucasia or Central Asia and therefore are fluent in Russian.
The source added that the list of the primary targets of the terrorists includes the phosphate mines in Hneifis guarded by Russian security companies as well as Russian military bases in Lattakia, Tartus, Damascus and Aleppo.
Ultimately, the recruitment of IS members to create disturbance for the Russians would only become a logical development of the proxy policy adopted by the U.S. in Syria. After all, Washington is killing two birds with one stone by destabilizing the area of Russian influence and making use of the IS prisoners. However, there is another conclusion to be made: Washington has failed in its initial mission to defeat IS and is now resorting to the use of terror group splinters in its political power games.
Pakistan is a victim of terrorism
A High-Level Ministerial the first Session of the UN Global Congress of Victims of Terrorism was held on 8 September 2022, Pakistan's Foreign Minister Bilawal Bhutto Zardari's remarks:-
"I am honored to speak today at the first UN Global Congress of Victims of Terrorism. This subject has special resonance for me personally, having lost my illustrious mother, the first woman Prime Minister of Pakistan, in a dastardly act of terrorism.
2.​ The Government and the people of Pakistan pay solemn tribute to all those who have suffered at the hands of terrorists. I express my profound support and solidarity with the victims and families of those who have been affected by this scourge.
3.​ The international community has an abiding responsibility to protect and support victims of terrorism. This has to be the basic tenant of our efforts to promote peace and security in the world.
4.​ While waging kinetic efforts to eradicate terrorist groups is imperative, we cannot fully win the fight against terrorism without preserving the rights of millions of innocent, defenseless, and vulnerable people who have suffered immensely because of terrorism. There should be more focus on retribution and rehabilitation and justice. Equally important is the need to work together to prevent further attacks, hold terrorists to account, and adopt a uniform victim-centric approach while addressing the challenges faced in conflict zones.
5.​ It is also unfortunate that political expediency and real politick have been allowed to dictate international response towards terrorism. Our tolerance for terrorism must not be a function of our foreign and domestic policies. This selective approach toward terrorism is the biggest injustice to the victims of terrorism.
6. ​For the last two decades, Pakistan has been one of the worst victims of terrorism – with over 80,000 causalities and economic losses exceeding $150 billion. We pay tribute to the families of martyrs of our law enforcement agencies and armed forces, who have rendered invaluable sacrifices while defending our motherland.
7.​ If we are to chart a way forward for victims, we must look beyond narrow political interests and geo-political agendas. We must examine why, despite global strategies, the terrorist threats continue to proliferate and give rise to the number of victims.
8.​ To further debate this issue, I would like to make a few points: First, we must address the root causes of terrorism and conditions conducive to terrorism. Second, we must distinguish terrorism from legitimate struggles for self-determination. Third, we must address state-sponsored terrorism, especially in cases of foreign occupation, and reject occupying powers' propensity to use brute force against occupied people in the name of counter-terrorism operations. Fourth, we must have a consensus definition of terrorism and take into account new and emerging threats. Fifth, we must address challenges emanating from the use of new technologies by terrorists, especially on social media and the dark web. And finally, we must counter disinformation campaigns.
9.​ Pakistan condemns terrorism in all forms and manifestations including right-wing, Islamophobia, racially and ethnically motivated, and state-sponsored terrorism.
10.​ Terrorism can only be completely eradicated by fighting extremism and the mindset that breeds violent extremism. I would like to urge that this global problem requires continuing international cooperation without any prejudices or preconceived notions against any particular religion, race, civilization, or country.
11.​ I would also like to take this opportunity to pay special homage to the oppressed people of Indian Illegally Occupied Jammu and Kashmir (IIOJK) and Palestine who deserve our special attention for their continuing suffering as victims of the worst forms of state-terrorism. The international community must hold the perpetrators of such state terrorism, and crimes against humanity, to account.
12. ​Our inability to address these issues will continue to increase victims and add to their suffering. It will also add to the physical and psychological trauma that may outlive many conflicts. The international community owes it to the victims of terrorism to take effective steps to address terrorism, wherever it may be, in whatever form it exists, without political considerations. This is our moral as well as legal obligation."
Pakistan's sacrifices in the Afghan war are much more than the collective damages caused to the 46 nations alliance led by the US in Afghanistan. Pakistan suffered the loss of around 80,000 precious human lives and an economic loss of estimated worth US Dollars 250 billion, in addition to the menace of terrorism, drugs, and gun cultures. The international community should acknowledge Pakistan's sacrifices and compensate.