Tolstoy's War and Peace, NATO, and the Ukraine
In the last few years we have witnessed, in the very pages of this magazine, a debate on whether or not NATO has become an anachronism of the Cold War, which might have made sense when the West was confronting the former Soviet Union, but makes no sense now, in fact, some maintain, it needs to be jettison from present politics, if for no other reason that the EU needs to make its own decisions without interference from the US.
Usually the issue is debated within a framework of one century, beginning with the start of World War I in 1914. Let's revisit the issue in the light of the latest development from the Ukraine and also from an historical perspective that goes beyond 1914 by a few centuries. If we do that we may be surprised at how different the whole issue begins to appear.
As we speak, Russia has de facto annexed Crimea and is invading the Eastern part of the Ukraine while the EU has issued an ultimatum of one week before more stringent economic sanctions are approved and implemented. Putin, as the bully that he is, will predictably ignore the ultimatum and go ahead with his interference in Ukrainian affairs. One hears little from EU leaders about strengthening NATO and reinforcing the defenses of all NATO countries. So one may ask: after the downing of an airline over the Ukraine with Soviet provided missiles causing the death of a couple hundred Dutch, are second thoughts being entertained about the viability of NATO? Let's see.
It should be obvious to most observers, at least those who do not consider truth simply what is convenient to oneself, that the incursions of Russia into the Ukraine has put to rest the idea, some have called it a myth, that the end of the Cold War has brought permanent peace to Europe, unless we are talking of the permanent peace of a cemetery or a desert where nobody speaks and no controversies ensue. Do we need to brace ourselves for new realities on the ground? Is Russia farther than ever from the West?
Which leads to this question: is Putin testing the NATO alliance's purpose and commitment? Is US secretary of defense Hagel correct in calling what is going on a "clarifying moment" for the alliance? The time to take a second look at the complacency of the EU in thinking that it had a benign Russia on its eastern borders; the kind of benign cute Disney-like little bear shown by Putin at the Winter Olympics a few months ago, just before he annexed Crimea.
What did Angela Merkel mean with this statement made at the White House: "post-Cold War order has been put in question" by Russia's aggression. Why did NATO, who has had a formal relationship with Russia since 1997, suspend cooperation with Moscow in light of the Ukrainian problem? What did NATO's second ranking official, Alexander Vershbow, mean by saying that Russia has compelled NATO to begin viewing it as an adversary. Given that US defense spending on NATO's collective defense is three times the combined spending of all the EU allies, should they bear a greater share of that defense? Is the end of history really here with the end of the Cold War and the end of European insecurity, a Fukuyama proclaimed some time ago, thus making NATO irrelevant? Is NATO responsible for fomenting conflict with Russia, as some maintain, in as much as they allowed former nations in the Soviet sphere of influence to enter NATO? Or has the West as a whole sought partnership with Russia in as much as their security interests seemed to be converging? Is Russia still a democratic country, or a half-hearted one? One wonders.
Some may say that the above analysis is highly biased and does not take in consideration Russia's side of the story. They claim that In the Western media which has a very short attention span, not to speak of ignorance of historical perspective, the prevailing image is that Russia is an aggressor, intent on dominating its neighbors. Western influence is presented as "positive." Russian influence as "negative." Joining the EU is depicted as being a road to economic and social prosperity and NATO is offered as a defensive bulwark against the "terrible" Kremlin. Remarkably, at least in the United States, liberals and conservatives are singing the same song. Further, the discourse of "invasion," "occupation," "aggression," and "World War III" is hardly diplomatic. How does anyone believe that negotiations can ensue when such language is thrown about? Of course the other side of that coin is that, if we have learned anything from the beginning of World War II, it is that appeasing of a bully usually means that the bully has to get paid later with greater loss of treasure and blood.
In any case, by contrast, in Moscow, the view of the situation in Ukraine is quite different. It perceives the West as encroaching on countries to which it has been very closely associated. Ukraine (the entire country, East, South, Central, and even West), along with Belarus, is viewed as a fraternal East Slavic nation to which Russia is intimately bound. The capital Kiev is regarded by all Russians as the "mother Russian city," the common point of origin for all East Slavs. To view Kiev within the boundaries of the EU and NATO is more than just a violation of a sphere of influence. It is a violation of one's historical heritage. All of which of course does not excuse the use of KBG stratagems to violate the territorial integrity of neighboring sovereign countries.
It does not help that some of the most vocal advocates for Ukrainian membership in the EU and NATO come from countries that Russia perceives as historical invaders. They include Poland and Sweden, the co-founders of the Eastern Partnership program that sponsored the Ukraine-EU Association Agreement. Both countries have a history of animosity toward Russia, but it is Poland in particular that Moscow views as being one of the chief advocates for Western expansionism.
We in the West regard Poland primarily as the victim of Russian aggression, particularly communism. We reflect on Russia's participation in Poland's partitions, its suppression of Polish uprisings, the Polish-Soviet War, the Molotov-Ribbentrop Pact, the Katyń massacre, and the establishment of communist Poland. Conversely, to a Russian with a sense of history, Poland is perceived as a historical invader, a country that during the Time of Troubles in Russia (1598-1613) supported the Tsar-pretender "False Dmitriy," attempted to bring Catholicism to Orthodox Russia, and eventually invaded and occupied Moscow in 1609. That invasion was repelled in 1612 by the duo of Kuzma Minin and Dmitriy Pozharsky, whose statue stands today in front of St. Basil's in Moscow.
Even in more recent times, Russians recall that it was Poland's Marshal Piłsudski who, during the Polish-Soviet War of 1919-21, not only tried to ensure the freedom of Poland, but also sought to annex to Poland large swathes of Lithuania, Belarus, Ukraine, and Western Russia to restore the Polish-Lithuanian Commonwealth of old. Piłsudski is still admired by some in Poland today, including members of the political elite such as the late Polish President Lech Kaczyński and his twin brother, Jarosław. He is also greatly admired by former Georgian President Mikheil Saakashvili.
Russians likewise recall Polish participation in the Napoleonic invasion of Russia. In Leo Tolstoy's War and Peace, it is the Polish legion that is depicted as being the most fanatically supportive of an expansion toward Russia, so much so that they drown in the River Viliya for Napoleon. Today, the Russians see very much the same thing, except that Napoleon is now replaced by NATO and that the Poles are now showing their loyalty, not by drowning in the Viliya, but by asking for NATO troops to be stationed in their country.
In another Tolstoyan parallel, Moscow also likely views the Ukrainians who protested on the Maidan as being the modern equivalents of the muzhiks of War and Peace. It was the muzhiks who rose up against their oppressive landlords for Napoleon, who they viewed as the embodiment of the French revolutionary ideals of liberté, égalité, et fraternité. Today though, the modern landlords are Ukraine's corrupt political elite and oligarchs, while the liberal ideals of Napoleon and revolutionary France are today the liberal ideals of Brussels and the European Union. Moscow regards the latter ideals in 2014 just as they regarded Napoleon's ideals in 1812 – that is, as false promises motivated only by geopolitical ambitions rather than by any genuine sense of altruism.
While we should be clear-eyed about the present situation in the Ukraine and remember the bully Hitler, and take Putin's propaganda machine with a big grain of salt, on the other hand we ought not forget history and its lessons so that we do not end up in another World War by permitting that empty rhetoric, unsupported by the historical facts, gets out control. NATO did not come out of a cloud, it has historical precedents and we better know what they are, before we rush to a mindless defense of democracy, freedom and Western ideals, which in the past have been breached more than observed.
Note: this article has already appeared in Ovi Magazine on November 1, 2014.
Alexander's Dugin's Neo Eurasianism in Putin's Russia
The sheer vacuum created in the ideological realm of Russia after it deviated from Communist ideology in the backdrop of Perestroika became a prime factor in Russia's melancholy during its time of troubles in the '90s. It was by no means an exaggeration that every epoch in modern Russian history was illuminated by some kind of ideology and it constrained people to move on regardless of the realities that they were surrounded. However, the ideological anarchy that existed in Yeltsin era in Russia was followed by his hobnobbing with the Western liberal democracy which eventually resulted in utter failure. The rise of the lesser-known kooky character named "Alexander Dugin" was mainly bolstered by this socio-political and economic discontents of Russia in the '90s.
Dugin's penchant for mysticism, traditionalism and more importantly his antipathy on the US-led Liberal order made him the guru of the neo-right-wing brigade in Russia. Especially, Dugin was responsible for reviving a principle propounded by Sir Halfeld Mackinder on the importance of geopolitics. Mackinder was plucked from obscurity to fame as Dugin clung to the idea of "Geopolitics "as his cardinal thesis for Post-Soviet Russian space. Dugin's publication of his major work in 1997 called The Foundation of Geopolitics "sprang out of Mackinder's idea and this work created a heavy brainstorm in Russian intelligentsia that paved the path for Dugin to become the new prophet for Russian right-wing ideology. The reasons impacted on the popularity was essentially attributed to Russia was envisaging in the late '90s in limbo and the book arrived in Moscow when Russian elites were in an ambivalent position about Yeltsin's dream on Western Liberal democracy. The basic argument Dugin narrated in "The Foundation of Geopolitics "was an appealing one. He argued that that geography, not economics is the pivotal cause of world power and Russia by its intrinsic physical location providing a prime global role. The US was illustrated as the biggest villain which persisted in its " Atlanticism " over continental Europe. Dugin argued that Eurasian empire will be constructed on denying the common enemy the USA and its liberal values. In writing his classic work that Dugin insisted on the grave necessity of keeping a rapport with common allies like Iran against the common enemy. Yet, in Eurasian project Dugin clung to the idea of preserving the ethnic and cultural diversity of Eurasian civilization. Quoting the words of new right-wing ideologist Jean Francis Thiriart's famous saying "The main mistake of Hitler was that he tried to make Europe German. Instead, he should have tried to make it European", Dugin affirmed that Eurasianism would not be an imperial force.
The rigour of Dugin's influence in Russia has seen a steeping increase under Putin's rule and mainly his classic text "The Foundation of Geopolitics "has become a canonical reading for senior officers in Russian military indicating the depth of Dugin's rapport with the state apparatus. Dugin is known for his intellectual fascination with Heidegger and Julius Evola, especially he has revered Evola for being a true traditionalist in Europe who rejected the decadent concepts like liberalism and pacifism. In establishing the international Eurasianist movement Dugin vowed to expand his campaign against America's Atlanticism beyond Ruski Mir and the growing popularity of Dugin outside Russia as a public intellectual reveals the power of his ideas.
Following the Russian Federation's military campaigns in Georgia in 2008 and the hostile situation in Crimea in 2014 Dugin became an advocate for Kremlin's military machinery and Putin's chauvinist foreign policy. In particular, his harsh remarks on Eastern Ukraine got the world attention as legitimized Russia's military intervention there and called it "Russian Spring ". His obsession on annexing Russia dates back to Georgian invasion and Dugin was known to travel to disputed South Ossetia to encourage the separatist movement there. However, regardless of his partiality towards Putin at outset, he started to critique Putin in the post-Crimean period. Mainly Dugin went on to criticize President Putin's affinity with the liberals and the businessmen with western influence, which Dugin regarded as a weakening action of Russia's nationalist revival under liberal's inherent inclination to hobnobbing with the West. Dugin's newest publication "Putin Vs Putin" is a sentimental plea to the Russian president to change his stances.
Today Dugin stands as a stalwart in Russian nationalism and it is an indispensable fact that his Neo Eurasian project has consolidated many forces against the US and its liberal values. Taking Moscow as an idea standing for the Orthodox creed based on Filofi's 16th century "Third Rome Doctrine ", the alternative suggested by Alexander Dugin invokes the Eurasian nations to drift away from the Atlaantists led by the US and its market civilization. Dugin lampooned it as "The world of the sea, beginning with Carthage and ending with the US, embodies the pole of merchant regime ". Nevertheless, many scholars have argued that Dugin's sway over Putin is highly overstated. In fact, there is no plausible evidence to show a direct link between Putin and Dugin, but the palpable ideological similarities shown by both of them regarding specific issues denote that Dugin has left some influence over Vladimir Putin's mind. Especially Russian president flare for reviving the traditional Russian family values and his ardour on Orthodoxy are rooted in Dugin's ideas. It becomes more than a conjuncture by analyzing 2020 Russian constitutional reforms, wherein president Putin has proposed to include the marriage as purely a heterosexual union between man, which was exactly akin to Dugin's position on Russian family and his vehement criticism on homosexuality. It is true that depiction of Alexander Dugin's portrayal as influencer reminding of Rasputin is a hyperbolic attempt. But, it is evident that his Neo Eurasian project has become an appealing trajectory for Kremlin in shaping Russia's new geopolitical order.
Humanitarian Aid vs Sanctions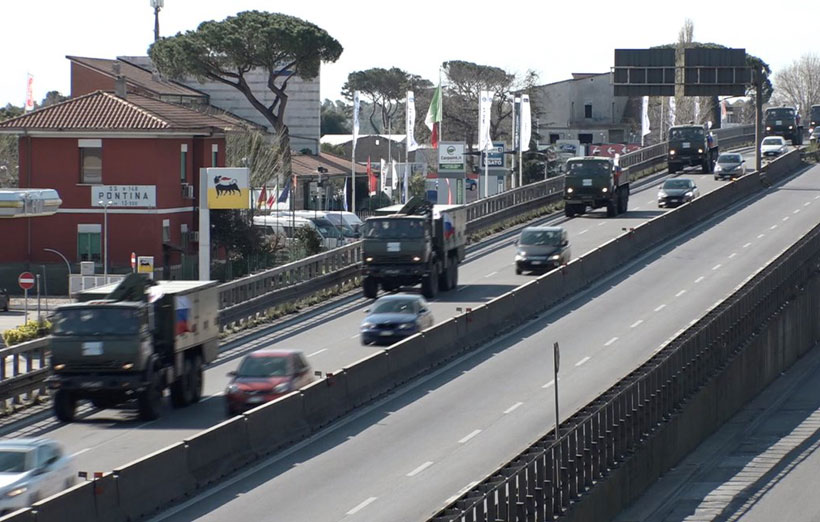 On the pretext of the COVID-19 pandemic, Russia seeks lifting sanctions. It is already clear to everyone that unprecedented world crisis is approaching, which will affect the economies of all countries without exception. Strict quarantine measures, border closures were introduced, amid destroying supply chains and the oil war which resulted in a sharp drop in consumption and the collapse of the world market. The situation for the Russian resource-based economy, to be honest, is not the best. Therefore, it is quite natural that Russia, in face of a great economic storm, is desperately trying to improve its position and is looking for allies to fight sanctions.
Russia has called on the UN Secretary General Antonio Guterres to facilitate lifting of "sanctions that impede the fight against the coronavirus spread." It has China, Iran, Cuba, Syria, Nicaragua, Venezuela and the DPRK as allies. Although formally the request concerned lifting of the restrictions on food, medicine and equipment supplies, it is quite obvious that such a precedent will make the path for Russia to get rid of the imposed restrictions.
Yet at the G-20 summit, Vladimir Putin calls for a moratorium on sanctions during the pandemic period for unimpeded supplies of humanitarian aid, goods of first priority and financial transactions for their procurement. But, despite the humanitarian context of the Russian leader's statements, their subtext is obviously motivated by the desire to use the situation for their own purposes and to get rid of the sanctions that have plagued Russia for six years now.
Then Moscow is developing a teeming international "humanitarian" activity. First, it sends a military aircraft with humanitarian aid to Italy. However, 80% of this assistance was practically useless as it later turned out (according to La Stampa). The cargo included equipment for disinfection of territories, instead of the necessary masks, tests for coronavirus and lung ventilators. Those specialists arrived turned out to be military virologists rather than medical anesthetists. But it is Russia that ostentatiously came to the aid of Italy, while the closest neighbors were trying to curb the epidemic in their states and did not respond to the appeal of Rome. It doesn't matter anymore that France and Germany have already donated more protective masks to Italy as humanitarian aid than both China and Russia together, and that Austria, Luxembourg and Germany have now made available their hospitals for patients from the states the most affected by coronavirus. Who knows about this? After all, these states provide real aid, and do not make shows during a pandemic.
Hardly had the scandal around this event subsided than a Russian military transport aircraft carrying humanitarian aid on board landed in the USA amid the glare of cameras. Strange thing, all the sanctions for some reason made it possible! It seems as if there is no epidemic in Russia and all problems with protective equipment and medical supplies in local hospitals have been resolved.
A video filming delivery of Russian "humanitarian" aid to the United States immediately circled the globe. Trump is excited, "a very, very large planeload of things, medical equipment, which was very nice." However, later it turns out that such widely-spread humanitarian aid is not an aid at all — Russia just kindly offered, and the United States purchased so unprocurable protective equipment and ventilators. Just a business. Still, everyone is happy!
Meanwhile, it is obvious that such "goodwill gesture" is in no way selfless. That is just a publicity stunt pursuing the aim to demonstrate to the whole world the humanitarian nature of the Russian politics in such a low-cost (economically and politically) way and to ease the sanctions imposed by the United States for Russia's interference into the 2016 United States presidential elections.
All these examples demonstrate quite eloquently that Russia does not leave the attempts to put the pressure on EU states in one way or another, seeking a review of sanctions. Russia will keep pretending that it is not an aggressive, but a humanitarian state, which is ready to help everyone, and strongly pushes for the cooperation in fight against the pandemic. Yet whenever possible, Russia will demand easing or lifting of sanctions in exchange for a service.
In this situation it is crucial that the principles of democracy remain inviolable. Moreover, anti-Russian sanctions have nothing to do with the pandemic, since they were introduced for the annexation of Crimea, the war in Donbas, the accident with MH17 flight, which was shot down over Donbas sky by the Russian-supported militants. Therefore, the talks on their lifting are possible only subject to cease of aggressive foreign policy by Russia and restoration of inviolability of the Ukrainian borders.
Coronavirus: Why Russians Are Lucky to Be Led by Putin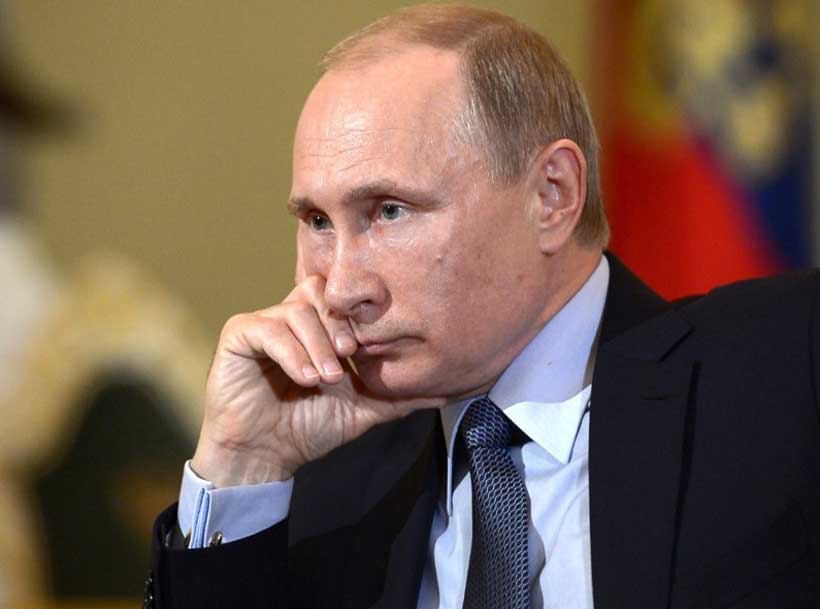 On Tuesday, March 24th, the following happened:
U.S.A. had the world's largest number of new coronavirus-19 cases: 10,168. The prior day, there were 33,546 cases; so, this 10,168 new cases were a 30% increase from the day before.
Russia had 71 new cases, up 19% from the prior day's 367.
Reuters bannered "U.S. has potential of becoming coronavirus epicenter, says WHO" and reported that,
The World Health Organization said on Tuesday it was seeing a "very large acceleration" in coronavirus infections in the United States which had the potential of becoming the new epicenter.
Over the past 24 hours, 85 percent of new cases were from Europe and the United States, WHO spokeswoman Margaret Harris told reporters. Of those, 40 percent were from the United States.
Asked whether the United States could become the new epicentre, Harris said: "We are now seeing a very large acceleration in cases in the U.S. So it does have that potential.
Right now, on Wednesday the 25th, the U.S. again has the world's largest number of new cases reported, 11,074. That's a 25% increase added to the 43,734 cases total on March 24th. And, within just three more days, America will have the world's largest total number of cases, if Italy won't. And after yet another day, the U.S. will almost certainly have the world's largest total number of cases, because Italy has been adding only around half as many new cases per day as the U.S., though Italy's total right now is higher than America's, and is actually the second largest total after only China's. China will have the world's third-largest total number of cases by this weekend, the 28th or 29th, and America will be #1 then, not only on the number of new cases, but on the total number of cases, of this infection. That quickly, then, China will become no longer the #1 coronavirus-19 nation, but, instead, #3, behind the #1 U.S., and the #2 Italy.
America has been in political chaos because each of its two houses of Congress, and both Parties, and the President, have been blocked from agreeing on what to do — all of them were ignoring that this is an existential emergency and thus dealt with it as if it were instead just another way for each to increase its chances of re-election at the expense of the others. Both political Parties, Republicans and Democrats, and Congress and the President, agreed on a "$500 billion fund for corporations" to reduce the negative impact on billionaires' wealth, but Democrats demanded that limits be placed on executives' pay, and "included reducing student debt and boosting food stability programs. Some of the ideas would be major sticking points with Republicans: The bill, for example, would invest money 'to eliminate high-polluting aircraft' and 'research into sustainable aviation fuels.'" Democrats also wanted, but Republicans refused, some costly measures to continue workers' incomes during their plague-induced period of unemployment. Agreement had been reached only on the billionaire-bailouts — protections especially of stock-values. This is the way America's 'democracy' works. Rule by the billionaires is considered to be 'democracy'. Luxuries are treated as being more important than necessities are. (Billionaires are thought to be superior people, who must be served before anyone else.) Dollars rule, people don't. And this chaos is the result of that.
On March 23rd, the prominent progressive economist James K. Galbraith headlined "What the Government Needs to Do Next" and described in detail what a governmental policy-response would be that would subsidize the public to deal with this crisis, but not subsidize the billionaires (who already have way too much and can well afford to become merely millionaires while not actually suffering at all), and that would be of maximum benefit to the total economy by protecting the assets of the most-vulnerable (who could then continue to shop and work), but his common-sense proposal wasn't even being considered by the legislators, nor by the President.
Only a few countries had a faster rate of increase in cases than the U.S. did on March 24th, but all of them had far fewer cases: Portugal, South Africa, Burkina Faso, Nigeria, Rwanda and Uganda. For example, Rwanda had the world's highest percentage-increase from the day before, almost a doubling, but that was 17 new cases, up from a total of 19 on the day before. So, America's 30% increase was clearly the world's worst performance, on that single day.
Russia's performance is perhaps the world's best.
On March 22nd, CNN headlined "Why does Russia, population 146 million, have fewer coronavirus cases than Luxembourg?" (that's a country of 628,000 people) and reported that
Russia's early response measures — such as shutting down its 2,600-mile border with China as early as January 30, and setting up quarantine zones — may have contributed to the delay of a full-blown outbreak, some experts say.
Russian President Vladimir Putin responded to criticism over the number of recorded cases.
A strong record on testing
"The director-general of WHO said 'test, test, test,'" Dr. Melita Vujnovic, the World Health Organization's representative in Russia, told CNN Thursday. "Well, Russia started that literally at the end of January."
Vujnovic said Russia also took a broader set of measures in addition to testing.
"Testing and identification of cases, tracing contacts, isolation, these are all measures that WHO proposes and recommends, and they were in place all the time," she said. "And the social distancing is the second component that really also started relatively early."
Rospotrebnadzor, Russia's state consumer watchdog, said Saturday that it had run more than 156,000 coronavirus tests in total. By comparison, according to CDC figures, the United States only picked up the pace in testing at the beginning of March.
On March 20th, the permanently anti-Russian U.S. organization, Carnegie Endowment for International Peace (whose "Orwellian" name was perhaps one of the inspirations for George Orwell's permanent-warfare novel, 1984) headlined "Confronting the Challenges of Coronavirus, Russia Sees Its Worldview Vindicated", and tried to put as bad a face on Russia's coronavirus performance as they could, such as by alleging that (alleged) dictatorships were performing no worse than 'democracies' at controlling the coronavirus threat:
The state has reasserted itself as the prime actor on the global scene. International institutions like the World Health Organization have become mere statisticians, and even the EU has taken a back seat to the governments of member states.
The world's democracies are not faring better in the crisis than nondemocracies.
However, back on 27 July 2015, that organization had bannered "How Authentic is Putin's Approval Rating?" and reviewed more than 15 years of Putin's approval ratings from the Russian public, and reluctantly concluded that it was and had always been "Authentic," and almost always high.
Internationally, too, Putin's leadership of Russia is more highly regarded than is the current U.S. President's leadership of America.
Back in 2017, the British firm of WIN/Gallup International issued "Gallup International's 41st Annual Global End of Year Survey Opinion Poll in 55 Countries Across the Globe", which sampled 1,000 persons in each country in order to determine in each one the percentage of the public who rated "Favorable" and who rated "Unfavorable" each of the following 12 national heads-of-state (listed here in descending order of their net favorability, or "favorable" minus "unfavorable"): Merkel, Macron, Modi, May, Xi, Putin, Saud, Netanyahu, Rouhani, Erdogan, and Trump. (Merkel globally scored highest, Trump lowest.)
Amongst Russians, the score for Putin was 79% Favorable, 11% Unfavorable, for a net score of +68%.
Though Germany's Merkel had the highest score worldwide, her score in Germany was only 54% Favorable and 44% Unfavorable, for a net of +10.
Macron's net score in France was -1%.
May's net in UK was -18%
Rouhani's in Iran was +37%
Erdogan's in Turkey was +22%
Modi's in India was +72% (that's 84%-12%)
Trump's in U.S. was -23% (35%-58%) — the worst of all.
The following leaders weren't surveyed in their own countries: Xi, Netanyahu, and Saud.
So: Putin's net +68% score amongst his own country's population was second ony to Modi's — and, whereas Modi had been in office for only 3 years and had not yet begun his controversial actively anti-Muslim campaign, Putin had led Russia for 17 years, and was a very firmly established high performer in these figures. Here are some of the reasons for this.