The political character of Social Media: How do Greek Internet users perceive and use social networks?
Mass media, due to their symbolic character as well as their level of penetration into every aspect of social life, play a significant role in the formation of identity. According to Mezek (2011, p. 7), they have a triple role: "an information broker, arena for ideas and a community sustainer", or in other words, they act as a forum for "public influence, identity and solidarity" (Alexander and Jacobs, 1998, p. 26). Thompson underlines the importance of media, as means of "acculturalisation", that partly formulate our perceptions of belonging in groups and communities, creating a so-called, "mediated sociality" (Thompson, 1995, p. 35).
Social media in particular, appear to have taken – intentionally or not – a fundamental role in the awakening of citizens, especially the young ones that are keen internet users. Posting a statement on our personal Facebook page or updating our tweets has been gradually integrated to our everyday lives, at a level that we can no longer easily recall our previous ways of self-expression. To what extent, though, is it normal to adjust our life moments to a social platform that will afterwards do the hard job to securely mediate our ideas, anguishes or feelings to our internet companions? Is that kind of semi-protected exposure – as we don't confront face to face any possible contradictions or disapprovals – a step forward to human communication, and even more, could that have real effects on the re-politicization of citizens?
When I first joined Facebook, back in 2007, no one really could imagine how this communicative tool could work. It was just funny to find your past acquaintances, take a look at their personal information and photos sometimes without them even knowing it and feed our need of curiosity about how their lives are progressing. Real, pure, on real time information has escaped the strict limits of professional journalism and has now passed into the hands of ordinary citizens, who testify the events they experience, thus leaving no room for any kind of misrepresentation or falsification, by the government oriented Media organizations.
As a matter of fact, we should consider social media not only as multitasking, communicative platforms, but also as rapidly developing, coordinating tools for joined actions, new initiatives, even protests and new political movements. It is of high importance to focus on the symbolic character of a new, digital community that was born from its citizens' deep need for expression, contribution, sharing and participation. In fact, it is what we call "shared awareness," the ability of each member of a group to not only understand the situation at hand but also understand that everyone else does, too. Social media increase shared awareness by propagating messages through social networks. (Shirky,C., 2011, p 7)
On the other hand, there is a lot of skepticism towards social media and their possible political effects that are according to them, more or less a form of a 'couch-potato democracy'. In particular, its critics are describing these alternative kinds of political engagement as an easy and low-cost method to virtually participate in a protest, without actually contributing to social or political change – ''committed actors cannot click their way to a better world ''. (Shirky,C., 2011 p 9). Though, a possible answer here could be that social media's effectiveness doesn't derive from a kind of an exclusive ability to change the world, but on the contrary, from their contribution to a new system of coordinated social movements that aim to totally utilize the benefits of digital, information society.
But still, to what extent could we rely on social media for the development of our social presence in the world, and after all, is it really a progress to participate and contribute to both interpersonal and social actions, securely hidden behind our laptop or cell phone? The voices against the level of social media's penetration have strengthened, somehow doubting the maintenance of human integrity through these processes. As Prof. Anis Bajrektarevic characteristically puts it, ''Human integrity is self-molested (brutalized) and self-reduced (trivialized) to a lame shop-window commodity, which is purchasable 24/7 by 'poking' on the photo of someone's personal profile. And, likies are available to give a rating for 'displayed commodities'.(Bajrektarevic, A. 2011). Additionally, when it comes to politics, part of the scientific community underlines the necessity to perceive social networks only as supportive tools to more fundamental freedoms (public speech, free press, interpersonal communication, free and fair elections etc.) and not as a panacea to every socio-political uprise. After all, seen from a historical point of view, media have always played a fundamental role in social change but other more determinant factors led the road to change. According to German philosopher Jurgen Habermas, the printing press helped in Europe's democratization process by providing free space for discussion and political interaction among citizens (in Shirky, C. 2011, p 6) .
However, the main aim of this article is to present and discuss the findings of a short survey, which tried to examine how Greek internet and social media users, perceive social networks, how exactly do they utilize them and even question the level of engagement of the latter ones with current socio-political affairs.
Methodological Issues
The conduction of this survey (which started on June 10th and was finalized on June 29th 2014) was based on the method of Simple Random Sampling, which is the most widely-used probability sampling method and was considered as the most suitable one for the limited audience of 100 respondents, as it was both easy to implement and analyze. After the target group was clearly specified, all possible respondents were equally likely to participate. The link to this online survey – written in Greek as it was specifically addressed to Greek citizens, indigenous or expatriates – was repeatedly posted on my personal accounts on Facebook, Twitter, LinkedIn, My space, on different social groups of Universities of Political Science/Communication/International Studies, students' fora of University Departments (MBA Program – Athens Open University, Department of Social Work -Technological Institute of Crete), Associations of Young Scientists (i.e. Scientific Association of Young Political Scientists – EONEPE) and other research groups, profile pages of online journals (Apopseis.gr, Politicsonline.gr) etc. and was also sent via e-mail to all my corresponding contacts.
Target Group
In this short survey, we have focused on the age category of 18-35 years old (even though we have very few responses that exceed this age limit). The reason why we have selected this particular target group is that it represents a number of citizens that are both politically active and digitally literate at a significant level, compared to citizens of other age groups. According to Eurostat (2009), in 2008, more than 70 % of those aged 16–24 used a computer daily and 66 % used the internet every day or almost every day, mostly from home and from the place of education. Especially young generations (aged 16–24) have integrated the Internet into their day-to-day life as a communication tool, e.g. using search engines to find information (86 %), sending emails with attached files (77 %) or posting messages on chat rooms (61 %) (European Commission, Youth in Europe, 2009).
Despite a few expected deviations, the homogeneity of this target group could be explained through its main distinguishing features:
 Political and social activity.
 Deep diffusion of new technology and digital means of communication.
 Common social interests (future employment prospects, socio-economic stability, environmental issues etc.)
 Less entrenched social perceptions. (Karantzeni, D., and Gouscos, Dimitris G. 2013, pp 485)
Although, we have chosen to include the citizens of between 25-35 years old as well, as they are, in most cases, more politically mature with the comparative advantage of multiple, previous voting experiences as well as of a consequent greater engagement with politics in general.
Findings
One of the first questions aimed to investigate which are the most popular social networks between Greek internet users. Facebook is a great winner, gathering a 42% of the total of responses.

Furthermore, the majority of respondents appear to have got engaged with social networking services between 2007 (19.4%) and 2008 (27.6%). This appears to be strongly related with the gradual growth of Internet users in Greece, after 2007. According to Mecometer's online statistics , Greece's Internet users had a positive growth of 31.5% during the Great Recession, as well as another positive growth of 32.1% since the end of it. From 24% of active users back in 2005, we have 32.25% in 2006, 35.88% in 2007, 44.40% in 2010, reaching a total of 57.85% in nowadays (2014).
When did you start joining these (or one of these) social networks for the first time?
An interesting, though predictable finding is that the majority of users prefer portable devices to stay connected on social networks (cell phones, laptops etc.). The level of penetration of social media in people's everyday lives is more than profound, as they feel the necessity to embed this usage in every particular aspect of their day, from a simple comment about the weather or the traffic, to the uploading of photos, usually on real time, from their night out, trip, or any other kind of excursion. Of course, the attraction of numerous likes/retweets etc., is more than essential.
Another important issue is the considerable differentiation of users' attitude towards social media's character/role when they first joined these networks compared to nowadays. To be more specific, the majority of users, when they first joined social media – between 2007 and 2008 – thought that they had to deal with another platform of indirect, mediated communication, or a free space for entertainment (funny games/applications etc.). Additionally, some of them focused on the opportunity of finding friends and other acquaintances that would probably be connected in the same network, whereas only very few perceived social media as new sites for information on news and events all around the world. Furthermore, there was a minority of respondents who stated that they hadn't been totally aware of the extent of its/their uses in the first place. On the contrary, today most of the respondents argue that they consider social media as an open environment for information with the capability of interactivity or an open environment for self-expression with multiple possible receivers. The third most popular answer is that social media are means of frequent, general information. That proves that there has been a gradual transformation on how Greek citizens – internet users perceive social networks. From a typical, communicative use of these platforms they have eventually found a new, alternative field of self-expression, that is though completely different from keeping a personal blog or journal, as in the case of social media, there is the opportunity of numerous receivers in a direct and on real time way, that could even lead to the incitement of new trends, actions and initiatives with unforeseen consequences. (see i.e. the Arab Spring). The distance is somehow eliminated and the citizens feel a new, almost provocative sense of freedom of thought that, for the first time in the digital world, it counts.
So, beyond this positive theoretical approach, how do Greek citizens prefer to use social networks? Unfortunately, there is not any coherence between the ways respondents characterize or perceive these networks and the ways they actually use them. A notable idea that seems to be prevailing among the respondents is that they use social media as informative platforms. Reading the timeline, with all their friends/followers updates as well as the groups that they've joined (e-journals and news sites, companies' profiles, institutions' accounts, celebrities etc.) is obviously the most common use.
Furthermore, the respondents seem to pay attention on the opportunity to read, upload or reproduce different news or articles concerning less popular topics and interests, that are probably hidden in the chaotic environment of the internet and the anonymity it offers – numerous blogs and sites with articles and news of controversial credibility – . So, instead of individually searching through the internet to find news that have been excluded from the agenda of the predominant means of communication, internet users can now use social platforms as an alternative environment that massively gathers such information. Of course, the danger of exchanging unverified, doubtful information still exists.
The second most popular use is the communication between friends/followers. After all, there is always the need to take advantage of the opportunity to directly communicate with everyone for free and also with the enhanced ability to choose between multiple options (instant messaging, exchanging of photos and other archives, video calls, group chat etc.)
Only a minor percentage of respondents – around 3.3% – states that their most common use of social media is to write and upload personal statements/tweets or links on their personal page/account.
Now when they do write a personal statement, how often do they feel this need for public self-expression and what is it about? Well they are interested in expressing their thoughts and feelings by writing statements in their personal account's walls or timelines, but only occasionally as only a 13.4% uploads a fresh new statement every day. Most of them choose to post a statement very rarely (35.1%), and the responses that follow record a usage that ranges between one or two times a week and one or two times a month. What about their favourite topics? Comments and uploads just for fun (33.3%), comments on personal moments of their lives or their friends' lives (28.1%), general comments on current issues or the news agenda (15.6%), comments related to social problems that aim to sensitize others (6.3%), comments related to sports (1%), other topics – unfortunately not specified – (6.3%).
So, have Greek internet users chosen a more passive attitude towards social networking? They seem to almost silently participate in everything, giving priority to leisure and fun, hiding their thoughts and ideas behind a like, a share or a retweet but still, they avoid the direct way of self-expression that would of course be exposed to criticism. The irony here is that they do not feel the same reluctance when exposing their personal moments in public (photos, videos etc.), which probably seems to them more harmless and carefree.
When it comes to politics, it appears that there is a considerable hesitation of citizens to recognize a possible political character in social media and even more to have corresponding prospects from their regular use.
First of all, there is an interesting tie between the two prevalent responses, that are very different to each other, as a percentage of (15.31%) totally disagrees with the idea that social media are a secure environment for open political debates, resulting to a sum of 55.12% of respondents, that have chosen between the first 4 points (1-4) of the scaled responses), actually meaning that the majority vividly disagree with the statement, whereas another 15.31% has selected the option 7, showing that they somehow agree with the statement, even if they have some second thoughts or doubts. Perhaps results would be different if there were just a few, particular responses available (like totally disagree, disagree, agree and totally agree), but now that respondents had to choose from a wider range of responses and were given the opportunity to self-evaluate the degree of their agreement/disagreement, the findings reflect some kind of division among the Greek social networkers.
Additionally, most of the respondents don't believe that these platforms create a new sense of proximity between the citizens and the politicians that use them. Here we have a clear disagreement of 61.22%, with the most popular answers ranging from 1-4 points, expressing total disagreement with the statement.
At the same time though, they strongly disagree with the idea that social media are entertainment platforms (the most popular answer is point 1 – standing for complete disagreement with a percentage of 20.41% and the second most popular is point 3, reflecting a strong disagreement for the 12.4% of respondents), and should only considered as such, which is by the way, proportional to the ways the majority of them chooses to use these networks, as outlined above.
Moreover, there is an intense fear expressed, that could partly explain this negative attitude, and that is that social media gradually lead to a limitless, uncontrolled exposure of personal political beliefs/orientation etc. (18.37% of respondents chose option 8, considerably agreeing with the statement, and another 14.29% gave 10 points, completely agreeing with this idea.) So here, we are in front of an interesting outcome; people feel free to express themselves on everyday affairs, to make comments or statements, even to participate in short dialogues that criticize the ongoing issues. Sometimes, just a news update on the timeline is more than enough to offer all the necessary incentives to the users, through its reproduction or the placement of a simple commentary. Nevertheless, they are unwilling to step outside these borders and expose themselves to a clear political debate, as they feel that this free space hardly offers a secure and controlled environment for a serious, argument-based, depolarized dialogue between the citizens and the politicians.
At the same time though, a great number of respondents strongly accepts the idea that social media provide people with new accessibility opportunities on political affairs and recognize -although very reluctantly- that social networks raise fruitful debates and arguments on major socio-political affairs. (answers from 7-10 are the most popular between the respondents, with the majority of them showing their highest agreement with the statement – 16.33% voted with 10 points).
Statement 1: Social media are a secure environment for open political debates
Statement 2: Social media provide people with new accessibility opportunities on political affairs
Statement 3: Social media create a new sense of proximity between the citizens and the politicians that use them
Statement 4: Social media are entertainment platforms and should only considered this way
Statement 5: Social media gradually lead to a limitless, uncontrolled exposure of personal political beliefs/orientation etc.
Statement 6: Social media raise fruitful debates and arguments on major socio-political affairs
Statement 7: I don't know
Consequently, they realize the potential of these networks as means of enhancing citizens' political participation but they don't feel convinced yet that it is safe or worth getting engaged with these alternative methods. That is also crystal clear in a particular point of the survey: in the question ''Do you consider social media as a suitable environment for self-expression or open discussions/debates on major political affairs?'', 44.4% of the respondents answered probably yes and another said 15.2% surely yes. Only a question below, the same respondents denied that social media are a secure environment for open political debates. (as analyzed above).. So, according to them, social media are suitable for self-expression and open discussions on political affairs but not for an open political debate that is significantly more organized and requires awareness of the ongoing matters, clear political position, active and responsible participation, confrontation with politicians as well as willingness to express opposition if necessary.
Another possible reason might be that social media, due to their extremely diverse nature, from funny games and pastime applications to the transfer of important political, socio-economic etc. information, do not seem to have a stable, trustful profile that will predetermine its audience for the necessary accuracy, appropriateness or even seriousness they should involve.
However, it's almost a unanimous point of view that Greek politicians do not have a satisfactory presence on social media. Particularly, 40.8% of respondents state that Greek politicians have not realized the political potential of social media yet, 15.3% argue that politicians have rejected social media as an alternative means of political influence or interaction with citizens and another 30.6% admits that the latter have a limited presence but they also believe that they wish to intensify it in the future. Only a 13.3% considers Greek politicians' engagement to social networks satisfactory. That is probably a good explanation of citizens' skepticism towards a future political potential of these networks. In fact, Greek politicians have lately embedded their social media presence in their political attitude, mainly by using Twitter, where they upload their tweets – comments related to ongoing political and economic affairs, inter-party issues, and they sometimes answer to press reviews or even argue against the opposition parties. Their tweets are at times, a 'hot topic' for some TV news programs, but that's probably the media organizations' struggle for more spicy and scandalous news events. Their presence on Facebook, the most popular social network at the moment, is limited to the existence of a profile account, with official announcements, press releases etc. Although, they still face social networks as – more or less – announcement boards, where they can earn temporary popularity or display their TV presence and electoral campaign. They maintain an indirect way of semi-participation, ignoring the important power of direct communication and enhanced proximity that these platforms could offer. Greek political communication analysts, Ms Maria Katsikovordou and Mr. Stathis Haikalis, seem to agree with this statement, by supporting it with particular examples.
Although, all this hesitation illustrated above, does not actually reflect a negative attitude of Greek social networkers towards the future political potential of social media use. On the contrary, the prevalent future expectations underline the importance of focusing on social problems that are traditionally less featured by the predominant mass media institutions (25.5%), as well as the transformation of these networks into reliable, up-to-date, general information (19.70%). In addition to the above, 15.40% of respondents envision a greater participation of citizens on major socio-political affairs via social media, whereas a percentage of 12.70% thinks that social networks use should be expanded to the field of conducting open political debates. Only a 10.4% of respondents has voted for the further enhancement of indirect, mediated communication features (chat, personal messaging, video calls, etc. ) and a minor percentage of 6.9% hopes that social platforms be limited on the fields of leisure/entertainment (games, pictures, applications, videos etc. ).
Concluding Remarks
Greek internet users are highly engaged to social networks, whereas their most frequent occupation is reading the timeline, the posts and the news and in general, keeping themselves informed on both the personal aspects of their friends/followers lives and the current news agenda. The most popular social networks are Facebook (42%), LinkedIn (18%) and Twitter (15%). The majority of respondents joined at least one social network between 2007 and 2008, a fact that could highly attributed to the great diffusion of Internet usage in Greece, after 2007. The most preferable devices so to stay connected are the portable ones (portable personal computer 36.50%, cell phone (35.50%), revealing an attitude that notably embodies social media presence to physical, everyday social presence.
When they first joined social networks, Greek internet users perceived them – more or less – as on-line communicative platforms or chatrooms (36.4%), a useful application to find old friends and acquaintances (19.2%), accompanied with some funny, pastime applications and games (25.3%). There was also a minor percentage of respondents, that hadn't been totally aware of their actual use (8.1%). Nowadays, they focus on the free access of real-time general information with the added value – compared to other blogs or news sites – of being able to interactively participate, bring issues forward, start a conversation on a hot topic, criticize or express disapproval and await for immediate feedbacks or responses.
They like to express their thoughts and feelings but not every day. They update their statements once/twice a week or once/twice a month and even more rarely, and they prefer to talk about their lives or make comments on their friends posts, keeping all this basically to an amusing level. Furthermore, they share, post or re-tweet news on their own or their friends' timeline and in this way they place their opinion on what is going on in the world, by texting or just 'like-ing'.
If we could somehow illustrate the social image of these networks – at least for the questioned target group – we might present it as a new field of multidimensional interaction, a new alternative opportunity for ordinary citizens to speak for their selves, to be heard, to be followed by a familiar or unknown audience, bring important social problems in the limelight and other less featured aspects of everyday life, the way they feel it and not the way others demonstrate it.
They don't see social media just as entertaining platforms, they recognize the numerous opportunities they offer as tools of enhancing citizens' awareness and participation but they don't trust social media as mediated platforms on serious ongoing political affairs i.e. open political debates etc.
Greek internet users appear to feel the intriguing power that these networks offer in the political arena, by opening closed doors, by gaining access to a previously strict, top-down approach on the application of political power, as they have the sense that their word could count, if added to a massive, rapid movement of politically active citizens. At the same time though, a great number of respondents questions the reliability and the effectiveness of such methods and is also disappointed with the way Greek politicians have seized this new opportunity of mediatized communication between them and the citizens (more than half of respondents), whereas another 30.6% more optimistically argues that Greek politicians may have a limited presence but they are willing to intensify. In addition to this, most of them also doubt that these networks have created a sense of proximity between them and the politicians. The fear of the unknown as well as the traditionally taboo-subject of openly expressing your political orientation and beliefs could probably explain this hesitation, but only in the first place, as if we'd scratch the surface we could see that all this behavior – conscious or not – has a very strong basis. This means that it is not possible and it is not right to build a brand new, digital world, based on likes and pokes, comments, shares and retweets, we cannot simply text-message a war or peace situation, we mustn't have emoticons substitute the real expression of our anguishes and feelings. Because of the extreme simplicity of these actions, it is easier to copy a saying, to imitate a behavior, to adopt an action just because it is currently in fashion; it's posted everywhere, liked by everyone or in other words, because we've been brain-washed with it. Literacy is far more important than social media usage and only deep knowledge and personal opinion formulation could change something in the world, accompanied of course by any means available. By no means should we underestimate the incredible power of rapid massive coordination of publics that social media offer as a major step to collective action. On the contrary, we must admit that it's the level and the frequency of exposure to major social events and current political issues which social media offers to its users that reinforces active participation. ''Conceptually, social discourse exposes people to a wide range of information that may influence participatory decisions, such as information about the desirability of participation. Discussions with friends who are interested or active in politics can help people learn about the reasons for participating while reinforcing the idea that such behavior is desirable among one's peers.'' (McClurg, Scott D., 2003, p. 6). We just have to always bear in mind that these tools are useless if not exploited carefully, as quality and not quantity should be the primary criterion for every social rally. No digital means of communication, no matter how up-to-date it is and the range of opportunities it offers, should substitute real, active participation, with a physical presence on socio-political affairs, deep consciousness and critical mind, free thinking and decision making, especially during voting periods. There's always the other side of the coin, where regimes of all kinds, even the most oppressive ones, become highly literate on the usage of social media and gradually transform them to perfect means of citizens' deception and manipulation.
References
1. Alexander, J.C. and Jacobs, R.N. (1998), "Mass communication, ritual and civil society", in Liebes, T. and Curran, J. (Eds), Media, Ritual and Identity, Routledge, London, pp. 23-41.
2. Bajrektarevic, A. (2011), Is there life after Facebook? The Cyber Gulag revisited & Debate reloaded, GHIR 11(2) 2012, Addleton Academic Publishers New York
3. European Commission, Youth in Europe – A statistical portrait, Luxembourg: Publications of the European, 2009
4. Eurostat (2009), "Youth in Europe – a statistical portrait", 2009 edn, Eurostat Statistical Books available at: http://epp.eurostat.ec.europa.eu/cache/ITY_OFFPUB/KS-78-09-920/EN/KS-78-09-920-EN.PDF (accessed 15 October 2013).
5. Karantzeni, D. and Gouscos, Dimitris G., eParticipation in the EU:Re-focusing on social media and young citizens for reinforcing European identity, Transforming Government: People, Process and Policy, Vol. 7 No. 4, 2013, pp. 485
6. McClurg Scott D., Social Networks and Political Participation: The Role of Social Interaction in Explaining Political Participation, Southern Illinois University Carbondale, Dep. Of Political Science, 2003,
7. Mezek, S. (2011), European Identity and the Media – Re-definition of Identity, pp. 10-11, Stockholm University, Department of Political Science, available at: www.statsvet.su.se/mediarum/Media_and_Politics_2/PDF/Cpapers/european_identity_and_media.pdf
8. Shirky, C. (2011) 'The Political Power of Social Media: Technology, the Public Sphere and Political Change', Clay Shirky, January/February 2011, available at: http://www.bendevane.com/FRDC2011/wp-content/uploads/2011/08/The-Political-Power-of-Social-Media-Clay-Sirky.pdf
9. Thompson, J.B. (1995), The Media and Modernity: A Social Theory of the Media, Polity Press,Cambridge, p. 186.
Links
Internet Live Stats: http://www.internetlivestats.com/internet-users-by-country/
Macro-Economy Meter – Mecometer : http://mecometer.com/whats/greece/internet-users/
From nanotechnology to solar power: Solutions to drought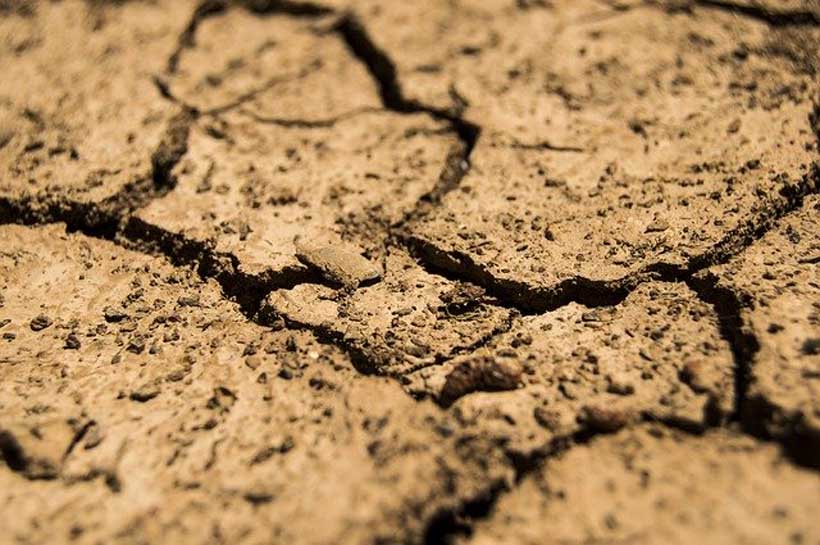 While the drought has intensified in Iran and the country is facing water stress, various solutions from the use of solar power plants to the expansion of watershed management and nanotechnology are offered by experts and officials.
Iran is located in an arid and semi-arid region, and Iranians have long sought to make the most of water.
In recent years, the drought has intensified making water resources fragile and it can be said that we have reached water bankruptcy in Iran.
However, water stress will continue this fall (September 23-December 21), and the season is expected to be relatively hot and short of rain, according to Ahad Vazifeh, head of the national center for drought and crisis management.
In such a situation, officials and experts propose various solutions for optimal water management.
Alireza Qazizadeh, a water and environment expert, referring to 80 percent of the arid regions in the country, said that "Iran has one percent of the earth's area and receives only 36 percent of renewable resources.
The country receives 250 mm of rainfall annually, which is about 400 billion cubic meters, considering 70 percent evaporation, there is only 130 billion cubic meters of renewable water and 13 billion cubic meters of input from border waters."
Referring to 800 ml of average rainfall and 700 mm of global evaporation, he noted that 70 percent of rainfall in Iran occurs in only 25 percent of the country and only 25 percent rains in irrigation seasons.
Pointing to the need for 113 billion cubic meters of water in the current year (began on March 21), he stated that "of this amount, 102 billion is projected for agricultural use, 7 percent for drinking and 2 percent for industry, and at this point water stress occurs.
In 2001, 5.5 billion cubic meters of underground resources were withdrawn annually, and if we consider this amount as 20 years from that year until now, it means that we have withdrawn an equivalent of one year of water consumption from non-renewable resources, which is alarming."
The use of unconventional water sources can be effective in controlling drought, such as rainwater or river runoff, desalinated water, municipal wastewater that can be reused by treatment, he concluded.
Rasoul Sarraf, the Faculty of Materials at Shahid Modarres University, suggests a different solution and states that "To solve ease water stress, we have no choice but to use nanotechnology and solar power plants.
Pointing to the sun as the main condition for solar power plant, and while pointing to 300 sunny days in the country, he said that at the Paris Convention, Iran was required to reduce emissions by 4 percent definitively and 8 percent conditionally, which will only be achieved by using solar power plants.
Hamidreza Zakizadeh, deputy director of watershed management at Tehran's Department of Natural Resources and Watershed Management, believes that watershed management can at least reduce the effects of drought by managing floods and extracting water for farmers.
Amir Abbas Ahmadi, head of habitats and regional affairs of Tehran Department of Environment, also referring to the severe drought in Tehran, pointed to the need to develop a comprehensive plan for water management and said that it is necessary to cooperate with several responsible bodies and develop a comprehensive plan to control the situation.
He also emphasizes the need to control migration to the capital, construction, and the implementation of the Comprehensive Plan of Tehran city.
While various solutions are proposed by officials and experts to manage water and deal with drought, it is necessary for the related organizations to work together to manage the current situation.
Mohammad Reza Espahbod, an expert in groundwater resources, also suggested that while the country is dealing with severe drought due to improper withdrawal of groundwater and low rainfall, karst water resources can supply the whole water needed by the country, only if managed.
Iran is the fifth country in the world in terms of karst water resources, he stated.
Qanats can also come efficient to contain water scarcity due to relatively low cost, low evaporation rates, and not requiring technical knowledge, moreover, they proved sustainable being used in perpetuity without posing any damages to the environment.
According to the Ministry of Energy, about 36,300 qanats have been identified in Iran, which has been saturated with water for over 2,000 years.
In recent years, 3,800 qanats have been rehabilitated through watershed and aquifer management, and people who had migrated due to water scarcity have returned to their homes.
Water resources shrinking
Renewable water resources have decreased by 30 percent over the last four decades, while Iran's population has increased by about 2.5 times, Qasem Taqizadeh, deputy minister of energy, said in June.
The current water year (started on September 23, 2020) has received the lowest rain in the past 52 years, so climate change and Iran's arid region should become a common belief at all levels, he lamented.
A recent report by Nature Scientific Journal on Iran's water crisis indicates that from 2002 to 2015, over 74 billion cubic meters have been extracted from aquifers, which is unprecedented and its revival takes thousands of years along with urgent action.
Three Iranian scientists studied 30 basins in the country and realized that the rate of aquifer depletion over a 14-year period has been about 74 billion cubic meters, which is recently published in Nature Scientific Journal.
Also, over-harvesting in 77 percent of Iran has led to more land subsidence and soil salinity. Research and statistics show that the average overdraft from the country's aquifers was about 5.2 billion cubic meters per year.
Mohammad Darvish, head of the environment group in the UNESCO Chair on Social Health, has said that the situation of groundwater resources is worrisome.
From our partner Tehran Times
Technology and crime: A never-ending cat-and-mouse game
Is technology a good or bad thing? It depends on who you ask, as it is more about the way technology is used. Afterall, technology can be used by criminals but can also be used to catch criminals, creating a fascinating cat-and-mouse game.
Countless ways technology can be used for evil
The first spear was used to improve hunting and to defend from attacking beasts. However, it was also soon used against other humans; nuclear power is used to produce energy, but it was also used to annihilate whole cities. Looking at today's news, we've learned that cryptocurrencies could be (and are) used as the preferred form of payments of ransomware since they provide an anonymous, reliable, and fast payment method for cybercriminals.
Similarly, secure phones are providing criminal rings with a fast and easy way to coordinate their rogue activities. The list could go on. Ultimately, all technological advancements can be used for good or evil. Indeed, technology is not inherently bad or good, it is its usage that makes the difference. After all, spears served well in preventing the extinction of humankind, nuclear power is used to generate energy, cryptocurrency is a promise to democratize finance, and mobile phones are the device of choice of billions of people daily (you too are probably reading this piece on a mobile).
However, what is new with respect to the past (recent and distant) is that technology is nowadays much more widespread, pervasive, and easier to manipulate than it was some time ago. Indeed, not all of us are experts in nuclear material, or willing and capable of effectively throwing a spear at someone else. But each of us is surrounded by, and uses, technology, with a sizeable part of users also capable of modifying that technology to better serve their purposes (think of computer scientists, programmers, coding kids – technology democratization).
This huge reservoir of people that are capable of using technology in a way that is different from what it was devised for, is not made of just ethical hackers: there can be black hats as well (that is, technology experts supporting evil usages of such technology). In technical terms, the attack vector and the security perimeter have dramatically expanded, leading to a scenario where technology can be easily exploited for rogue purposes by large cohorts of people that can attack some of the many assets that are nowadays vulnerable – the cybersecurity domain provides the best example for the depicted scenario.
Fast-paced innovation and unprecedented threats
What is more, is that technology developments will not stop. On the contrary, we are experiencing an exponentially fast pace in technology innovation, that resolves in less time between technology innovations cycles that, while improving our way of living, also pave the way for novel, unprecedented threats to materialize. For instance, the advent of quantum computers will make the majority of current encryption and digital signature methods useless and what was encrypted and signed in the past, exposed.
The tension between legitimate and illegitimate usages of technology is also heating up. For instance, there are discussions in the US and the EU about the need for the provider of ICT services to grant the decryption keys of future novel secure applications to law enforcement agencies should the need arise –a debatable measure.
However, technology is the very weapon we need to fight crime. Think of the use of Terahertz technology to discover the smuggling of drugs and explosives – the very same technology Qatar has successfully employed. Or the infiltration of mobile phone crime rings by law enforcement operators via high tech, ethical hacking (as it was the case for the EncroChat operation). And even if crime has shown the capability to infiltrate any sector of society, such as sports, where money can be laundered over digital networks and matches can be rigged and coordinated via chats, technology can help spot the anomalies of money transfer, and data science can spot anomalies in matches, and can therefore thwart such a crime – a recent United Nations-sponsored event, participated by the International Centre for Sport Security (ICSS) Qatar and the College of Science and Engineering (CSE) at Hamad Bin Khalifa University (HBKU) discussed the cited topic. In the end, the very same technology that is used by criminals is also used to fight crime itself.
Don't get left behind
In the above-depicted cybersecurity cat-and-mouse game, the loser is the party that does not update its tools, does not plan, and does not evolve.
In particular, cybersecurity can help a country such as Qatar over two strategic dimensions: to better prevent/detect/react to the criminal usage of technology, as well as to advance robustly toward a knowledge-based economy and reinforce the country's presence in the segment of high value-added services and products to fight crime.
In this context, a safe bet is to invest in education, for both governments and private citizens. On the one hand, only an educated workforce would be able to conceptualize/design/implement advanced cybersecurity tools and frameworks, as well as strategically frame the fight against crime. On the other hand, the same well-educated workforce will be able to spur innovation, create start-ups, produce novel high-skill products, and diversify the economy.
In this context, Qatar enjoys a head start, thanks to its huge investment in education over the last 20 years. In particular, at HBKU – part of Qatar Foundation – where we have been educating future generations.
CSE engages and leads in research disciplines of national and global importance. The college's speciality divisions are firmly committed to excellence in graduate teaching and training of highly qualified students with entrepreneurial capacity.
For instance, the MS in Cybersecurity offered by CSE touches on the foundations of cryptocurrencies, while the PhD in Computer Science and Engineering, offering several majors (including cybersecurity), prepares future high-level decision-makers, researchers, and entrepreneurs in the ICT domain – the leaders who will be driving the digitalization of the economy and leading the techno-fight against crime.
Enhancing poverty measurement through big data
Authors: Jasmina Ernst and Ruhimat Soerakoesoemah*
Ending poverty in all its forms is the first of the 17 Sustainable Development Goals (SDGs). While significant progress to reduce poverty had been made at the global and regional levels by 2019, the Covid-19 pandemic has partly reversed this trend. A significant share of the population in South-East Asia still lacks access to basic needs such as health services, proper nutrition and housing, causing many children to suffer from malnutrition and treatable illnesses.
Delivering on the commitments of the 2030 Agenda for Sustainable Development and leaving no one behind requires monitoring of the SDG implementation trends. At the country level, national statistics offices (NSOs) are generally responsible for SDG data collection and reporting, using traditional data sources such as surveys, census and administrative data. However, as the availability of data for almost half of the SDG indicators (105 of 231) in South-East Asia is insufficient, NSOs are exploring alternative sources and methods, such as big data and machine learning, to address the data gaps. Currently, earth observation and mobile phone data receive most attention in the domain of poverty reporting. Both data sources can significantly reduce the cost of reporting, as the data collection is less time and resource intensive than for conventional data.
The NSOs of Thailand and the Philippines, with support from the Asian Development Bank, conducted a feasibility study on the use of earth observation data to predict poverty levels. In the study, an algorithm, convolutional neural nets, was pretrained on an ImageNet database to detect simple low-level features in images such as lines or curves. Following a transfer learning technique, the algorithm was then trained to predict the intensity of night lights from features in corresponding daytime satellite images. Afterwards income-based poverty levels were estimated using the same features that were found to predict night light intensity combined with nationwide survey data, register-based data, and geospatial information. The resulting machine learning models yielded an accuracy of up to 94 per cent in predicting the poverty categories of satellite images. Despite promising study results, scaling up the models and integrating big data and machine learning for poverty statistics and SDG reporting still face many challenges. Thus, NSOs need support to train their staff, gain continuous access to new datasets and expand their digital infrastructure.
Some support is available to NSOs for big data integration. The UN Committee of Experts on Big Data and Data Science for Official Statistics (UN-CEBD) oversees several task teams, including the UN Global Platform which has launched a cloud-service ecosystem to facilitate international collaboration with respect to big data. Two additional task teams focus on Big Data for the SDGs and Earth Observation data, providing technical guidance and trainings to NSOs. At the regional level, the weekly ESCAP Stats Café series provides a knowledge sharing platform for experiences related to the impact of COVID-19 on national statistical systems. The Stats Café includes multiple sessions dedicated to the use of alternative data sources for official statistics and the SDGs. Additionally, ESCAP has published policy briefs on the region's practices in using non-traditional data sources for official statistics.
Mobile phone data can also be used to understand socioeconomic conditions in the absence of traditional statistics and to provide greater granularity and frequency for existing estimates. Call detail records coupled with airtime credit purchases, for instance, could be used to infer economic density, wealth or poverty levels, and to measure food consumption. An example can be found in poverty estimates for Vanuatu based on education, household characteristics and expenditure. These were generated by Pulse Lab Jakarta – a joint innovation facility associated with UN Global Pulse and the government of Indonesia.
Access to mobile phone data, however, remains a challenge. It requires long negotiations with mobile network operators, finding the most suitable data access model, ensuring data privacy and security, training the NSO staff and securing dedicated resources. The UN-CEBD – through the Task Team on Mobile Phone Data and ESCAP – supports NSOs in accessing and using mobile phone data through workshops, guides and the sharing of country experiences. BPS Statistics Indonesia, the Indonesian NSO, is exploring this data source for reporting on four SDG indicators and has been leading the regional efforts in South-East Asia. While several other NSOs in Asia and the Pacific can access mobile phone data or are negotiating access with mobile network operators, none of them have integrated it into poverty reporting.
As the interest and experience in the use of mobile phone data, satellite imagery and other alternative data sources for SDGs is growing among many South-East Asian NSOs, so is the need for training and capacity-building. Continuous knowledge exchange and collaboration is the best long-term strategy for NSOs and government agencies to track and alleviate poverty, and to measure the other 16 SDGs.
*Ruhimat Soerakoesoemah, Head, Sub-Regional Office for South-East Asia