The political character of Social Media: How do Greek Internet users perceive and use social networks?
Mass media, due to their symbolic character as well as their level of penetration into every aspect of social life, play a significant role in the formation of identity. According to Mezek (2011, p. 7), they have a triple role: "an information broker, arena for ideas and a community sustainer", or in other words, they act as a forum for "public influence, identity and solidarity" (Alexander and Jacobs, 1998, p. 26). Thompson underlines the importance of media, as means of "acculturalisation", that partly formulate our perceptions of belonging in groups and communities, creating a so-called, "mediated sociality" (Thompson, 1995, p. 35).
Social media in particular, appear to have taken – intentionally or not – a fundamental role in the awakening of citizens, especially the young ones that are keen internet users. Posting a statement on our personal Facebook page or updating our tweets has been gradually integrated to our everyday lives, at a level that we can no longer easily recall our previous ways of self-expression. To what extent, though, is it normal to adjust our life moments to a social platform that will afterwards do the hard job to securely mediate our ideas, anguishes or feelings to our internet companions? Is that kind of semi-protected exposure – as we don't confront face to face any possible contradictions or disapprovals – a step forward to human communication, and even more, could that have real effects on the re-politicization of citizens?
When I first joined Facebook, back in 2007, no one really could imagine how this communicative tool could work. It was just funny to find your past acquaintances, take a look at their personal information and photos sometimes without them even knowing it and feed our need of curiosity about how their lives are progressing. Real, pure, on real time information has escaped the strict limits of professional journalism and has now passed into the hands of ordinary citizens, who testify the events they experience, thus leaving no room for any kind of misrepresentation or falsification, by the government oriented Media organizations.
As a matter of fact, we should consider social media not only as multitasking, communicative platforms, but also as rapidly developing, coordinating tools for joined actions, new initiatives, even protests and new political movements. It is of high importance to focus on the symbolic character of a new, digital community that was born from its citizens' deep need for expression, contribution, sharing and participation. In fact, it is what we call "shared awareness," the ability of each member of a group to not only understand the situation at hand but also understand that everyone else does, too. Social media increase shared awareness by propagating messages through social networks. (Shirky,C., 2011, p 7)
On the other hand, there is a lot of skepticism towards social media and their possible political effects that are according to them, more or less a form of a 'couch-potato democracy'. In particular, its critics are describing these alternative kinds of political engagement as an easy and low-cost method to virtually participate in a protest, without actually contributing to social or political change – ''committed actors cannot click their way to a better world ''. (Shirky,C., 2011 p 9). Though, a possible answer here could be that social media's effectiveness doesn't derive from a kind of an exclusive ability to change the world, but on the contrary, from their contribution to a new system of coordinated social movements that aim to totally utilize the benefits of digital, information society.
But still, to what extent could we rely on social media for the development of our social presence in the world, and after all, is it really a progress to participate and contribute to both interpersonal and social actions, securely hidden behind our laptop or cell phone? The voices against the level of social media's penetration have strengthened, somehow doubting the maintenance of human integrity through these processes. As Prof. Anis Bajrektarevic characteristically puts it, ''Human integrity is self-molested (brutalized) and self-reduced (trivialized) to a lame shop-window commodity, which is purchasable 24/7 by 'poking' on the photo of someone's personal profile. And, likies are available to give a rating for 'displayed commodities'.(Bajrektarevic, A. 2011). Additionally, when it comes to politics, part of the scientific community underlines the necessity to perceive social networks only as supportive tools to more fundamental freedoms (public speech, free press, interpersonal communication, free and fair elections etc.) and not as a panacea to every socio-political uprise. After all, seen from a historical point of view, media have always played a fundamental role in social change but other more determinant factors led the road to change. According to German philosopher Jurgen Habermas, the printing press helped in Europe's democratization process by providing free space for discussion and political interaction among citizens (in Shirky, C. 2011, p 6) .
However, the main aim of this article is to present and discuss the findings of a short survey, which tried to examine how Greek internet and social media users, perceive social networks, how exactly do they utilize them and even question the level of engagement of the latter ones with current socio-political affairs.
Methodological Issues
The conduction of this survey (which started on June 10th and was finalized on June 29th 2014) was based on the method of Simple Random Sampling, which is the most widely-used probability sampling method and was considered as the most suitable one for the limited audience of 100 respondents, as it was both easy to implement and analyze. After the target group was clearly specified, all possible respondents were equally likely to participate. The link to this online survey – written in Greek as it was specifically addressed to Greek citizens, indigenous or expatriates – was repeatedly posted on my personal accounts on Facebook, Twitter, LinkedIn, My space, on different social groups of Universities of Political Science/Communication/International Studies, students' fora of University Departments (MBA Program – Athens Open University, Department of Social Work -Technological Institute of Crete), Associations of Young Scientists (i.e. Scientific Association of Young Political Scientists – EONEPE) and other research groups, profile pages of online journals (Apopseis.gr, Politicsonline.gr) etc. and was also sent via e-mail to all my corresponding contacts.
Target Group
In this short survey, we have focused on the age category of 18-35 years old (even though we have very few responses that exceed this age limit). The reason why we have selected this particular target group is that it represents a number of citizens that are both politically active and digitally literate at a significant level, compared to citizens of other age groups. According to Eurostat (2009), in 2008, more than 70 % of those aged 16–24 used a computer daily and 66 % used the internet every day or almost every day, mostly from home and from the place of education. Especially young generations (aged 16–24) have integrated the Internet into their day-to-day life as a communication tool, e.g. using search engines to find information (86 %), sending emails with attached files (77 %) or posting messages on chat rooms (61 %) (European Commission, Youth in Europe, 2009).
Despite a few expected deviations, the homogeneity of this target group could be explained through its main distinguishing features:
 Political and social activity.
 Deep diffusion of new technology and digital means of communication.
 Common social interests (future employment prospects, socio-economic stability, environmental issues etc.)
 Less entrenched social perceptions. (Karantzeni, D., and Gouscos, Dimitris G. 2013, pp 485)
Although, we have chosen to include the citizens of between 25-35 years old as well, as they are, in most cases, more politically mature with the comparative advantage of multiple, previous voting experiences as well as of a consequent greater engagement with politics in general.
Findings
One of the first questions aimed to investigate which are the most popular social networks between Greek internet users. Facebook is a great winner, gathering a 42% of the total of responses.

Furthermore, the majority of respondents appear to have got engaged with social networking services between 2007 (19.4%) and 2008 (27.6%). This appears to be strongly related with the gradual growth of Internet users in Greece, after 2007. According to Mecometer's online statistics , Greece's Internet users had a positive growth of 31.5% during the Great Recession, as well as another positive growth of 32.1% since the end of it. From 24% of active users back in 2005, we have 32.25% in 2006, 35.88% in 2007, 44.40% in 2010, reaching a total of 57.85% in nowadays (2014).
When did you start joining these (or one of these) social networks for the first time?
An interesting, though predictable finding is that the majority of users prefer portable devices to stay connected on social networks (cell phones, laptops etc.). The level of penetration of social media in people's everyday lives is more than profound, as they feel the necessity to embed this usage in every particular aspect of their day, from a simple comment about the weather or the traffic, to the uploading of photos, usually on real time, from their night out, trip, or any other kind of excursion. Of course, the attraction of numerous likes/retweets etc., is more than essential.
Another important issue is the considerable differentiation of users' attitude towards social media's character/role when they first joined these networks compared to nowadays. To be more specific, the majority of users, when they first joined social media – between 2007 and 2008 – thought that they had to deal with another platform of indirect, mediated communication, or a free space for entertainment (funny games/applications etc.). Additionally, some of them focused on the opportunity of finding friends and other acquaintances that would probably be connected in the same network, whereas only very few perceived social media as new sites for information on news and events all around the world. Furthermore, there was a minority of respondents who stated that they hadn't been totally aware of the extent of its/their uses in the first place. On the contrary, today most of the respondents argue that they consider social media as an open environment for information with the capability of interactivity or an open environment for self-expression with multiple possible receivers. The third most popular answer is that social media are means of frequent, general information. That proves that there has been a gradual transformation on how Greek citizens – internet users perceive social networks. From a typical, communicative use of these platforms they have eventually found a new, alternative field of self-expression, that is though completely different from keeping a personal blog or journal, as in the case of social media, there is the opportunity of numerous receivers in a direct and on real time way, that could even lead to the incitement of new trends, actions and initiatives with unforeseen consequences. (see i.e. the Arab Spring). The distance is somehow eliminated and the citizens feel a new, almost provocative sense of freedom of thought that, for the first time in the digital world, it counts.
So, beyond this positive theoretical approach, how do Greek citizens prefer to use social networks? Unfortunately, there is not any coherence between the ways respondents characterize or perceive these networks and the ways they actually use them. A notable idea that seems to be prevailing among the respondents is that they use social media as informative platforms. Reading the timeline, with all their friends/followers updates as well as the groups that they've joined (e-journals and news sites, companies' profiles, institutions' accounts, celebrities etc.) is obviously the most common use.
Furthermore, the respondents seem to pay attention on the opportunity to read, upload or reproduce different news or articles concerning less popular topics and interests, that are probably hidden in the chaotic environment of the internet and the anonymity it offers – numerous blogs and sites with articles and news of controversial credibility – . So, instead of individually searching through the internet to find news that have been excluded from the agenda of the predominant means of communication, internet users can now use social platforms as an alternative environment that massively gathers such information. Of course, the danger of exchanging unverified, doubtful information still exists.
The second most popular use is the communication between friends/followers. After all, there is always the need to take advantage of the opportunity to directly communicate with everyone for free and also with the enhanced ability to choose between multiple options (instant messaging, exchanging of photos and other archives, video calls, group chat etc.)
Only a minor percentage of respondents – around 3.3% – states that their most common use of social media is to write and upload personal statements/tweets or links on their personal page/account.
Now when they do write a personal statement, how often do they feel this need for public self-expression and what is it about? Well they are interested in expressing their thoughts and feelings by writing statements in their personal account's walls or timelines, but only occasionally as only a 13.4% uploads a fresh new statement every day. Most of them choose to post a statement very rarely (35.1%), and the responses that follow record a usage that ranges between one or two times a week and one or two times a month. What about their favourite topics? Comments and uploads just for fun (33.3%), comments on personal moments of their lives or their friends' lives (28.1%), general comments on current issues or the news agenda (15.6%), comments related to social problems that aim to sensitize others (6.3%), comments related to sports (1%), other topics – unfortunately not specified – (6.3%).
So, have Greek internet users chosen a more passive attitude towards social networking? They seem to almost silently participate in everything, giving priority to leisure and fun, hiding their thoughts and ideas behind a like, a share or a retweet but still, they avoid the direct way of self-expression that would of course be exposed to criticism. The irony here is that they do not feel the same reluctance when exposing their personal moments in public (photos, videos etc.), which probably seems to them more harmless and carefree.
When it comes to politics, it appears that there is a considerable hesitation of citizens to recognize a possible political character in social media and even more to have corresponding prospects from their regular use.
First of all, there is an interesting tie between the two prevalent responses, that are very different to each other, as a percentage of (15.31%) totally disagrees with the idea that social media are a secure environment for open political debates, resulting to a sum of 55.12% of respondents, that have chosen between the first 4 points (1-4) of the scaled responses), actually meaning that the majority vividly disagree with the statement, whereas another 15.31% has selected the option 7, showing that they somehow agree with the statement, even if they have some second thoughts or doubts. Perhaps results would be different if there were just a few, particular responses available (like totally disagree, disagree, agree and totally agree), but now that respondents had to choose from a wider range of responses and were given the opportunity to self-evaluate the degree of their agreement/disagreement, the findings reflect some kind of division among the Greek social networkers.
Additionally, most of the respondents don't believe that these platforms create a new sense of proximity between the citizens and the politicians that use them. Here we have a clear disagreement of 61.22%, with the most popular answers ranging from 1-4 points, expressing total disagreement with the statement.
At the same time though, they strongly disagree with the idea that social media are entertainment platforms (the most popular answer is point 1 – standing for complete disagreement with a percentage of 20.41% and the second most popular is point 3, reflecting a strong disagreement for the 12.4% of respondents), and should only considered as such, which is by the way, proportional to the ways the majority of them chooses to use these networks, as outlined above.
Moreover, there is an intense fear expressed, that could partly explain this negative attitude, and that is that social media gradually lead to a limitless, uncontrolled exposure of personal political beliefs/orientation etc. (18.37% of respondents chose option 8, considerably agreeing with the statement, and another 14.29% gave 10 points, completely agreeing with this idea.) So here, we are in front of an interesting outcome; people feel free to express themselves on everyday affairs, to make comments or statements, even to participate in short dialogues that criticize the ongoing issues. Sometimes, just a news update on the timeline is more than enough to offer all the necessary incentives to the users, through its reproduction or the placement of a simple commentary. Nevertheless, they are unwilling to step outside these borders and expose themselves to a clear political debate, as they feel that this free space hardly offers a secure and controlled environment for a serious, argument-based, depolarized dialogue between the citizens and the politicians.
At the same time though, a great number of respondents strongly accepts the idea that social media provide people with new accessibility opportunities on political affairs and recognize -although very reluctantly- that social networks raise fruitful debates and arguments on major socio-political affairs. (answers from 7-10 are the most popular between the respondents, with the majority of them showing their highest agreement with the statement – 16.33% voted with 10 points).
Statement 1: Social media are a secure environment for open political debates
Statement 2: Social media provide people with new accessibility opportunities on political affairs
Statement 3: Social media create a new sense of proximity between the citizens and the politicians that use them
Statement 4: Social media are entertainment platforms and should only considered this way
Statement 5: Social media gradually lead to a limitless, uncontrolled exposure of personal political beliefs/orientation etc.
Statement 6: Social media raise fruitful debates and arguments on major socio-political affairs
Statement 7: I don't know
Consequently, they realize the potential of these networks as means of enhancing citizens' political participation but they don't feel convinced yet that it is safe or worth getting engaged with these alternative methods. That is also crystal clear in a particular point of the survey: in the question ''Do you consider social media as a suitable environment for self-expression or open discussions/debates on major political affairs?'', 44.4% of the respondents answered probably yes and another said 15.2% surely yes. Only a question below, the same respondents denied that social media are a secure environment for open political debates. (as analyzed above).. So, according to them, social media are suitable for self-expression and open discussions on political affairs but not for an open political debate that is significantly more organized and requires awareness of the ongoing matters, clear political position, active and responsible participation, confrontation with politicians as well as willingness to express opposition if necessary.
Another possible reason might be that social media, due to their extremely diverse nature, from funny games and pastime applications to the transfer of important political, socio-economic etc. information, do not seem to have a stable, trustful profile that will predetermine its audience for the necessary accuracy, appropriateness or even seriousness they should involve.
However, it's almost a unanimous point of view that Greek politicians do not have a satisfactory presence on social media. Particularly, 40.8% of respondents state that Greek politicians have not realized the political potential of social media yet, 15.3% argue that politicians have rejected social media as an alternative means of political influence or interaction with citizens and another 30.6% admits that the latter have a limited presence but they also believe that they wish to intensify it in the future. Only a 13.3% considers Greek politicians' engagement to social networks satisfactory. That is probably a good explanation of citizens' skepticism towards a future political potential of these networks. In fact, Greek politicians have lately embedded their social media presence in their political attitude, mainly by using Twitter, where they upload their tweets – comments related to ongoing political and economic affairs, inter-party issues, and they sometimes answer to press reviews or even argue against the opposition parties. Their tweets are at times, a 'hot topic' for some TV news programs, but that's probably the media organizations' struggle for more spicy and scandalous news events. Their presence on Facebook, the most popular social network at the moment, is limited to the existence of a profile account, with official announcements, press releases etc. Although, they still face social networks as – more or less – announcement boards, where they can earn temporary popularity or display their TV presence and electoral campaign. They maintain an indirect way of semi-participation, ignoring the important power of direct communication and enhanced proximity that these platforms could offer. Greek political communication analysts, Ms Maria Katsikovordou and Mr. Stathis Haikalis, seem to agree with this statement, by supporting it with particular examples.
Although, all this hesitation illustrated above, does not actually reflect a negative attitude of Greek social networkers towards the future political potential of social media use. On the contrary, the prevalent future expectations underline the importance of focusing on social problems that are traditionally less featured by the predominant mass media institutions (25.5%), as well as the transformation of these networks into reliable, up-to-date, general information (19.70%). In addition to the above, 15.40% of respondents envision a greater participation of citizens on major socio-political affairs via social media, whereas a percentage of 12.70% thinks that social networks use should be expanded to the field of conducting open political debates. Only a 10.4% of respondents has voted for the further enhancement of indirect, mediated communication features (chat, personal messaging, video calls, etc. ) and a minor percentage of 6.9% hopes that social platforms be limited on the fields of leisure/entertainment (games, pictures, applications, videos etc. ).
Concluding Remarks
Greek internet users are highly engaged to social networks, whereas their most frequent occupation is reading the timeline, the posts and the news and in general, keeping themselves informed on both the personal aspects of their friends/followers lives and the current news agenda. The most popular social networks are Facebook (42%), LinkedIn (18%) and Twitter (15%). The majority of respondents joined at least one social network between 2007 and 2008, a fact that could highly attributed to the great diffusion of Internet usage in Greece, after 2007. The most preferable devices so to stay connected are the portable ones (portable personal computer 36.50%, cell phone (35.50%), revealing an attitude that notably embodies social media presence to physical, everyday social presence.
When they first joined social networks, Greek internet users perceived them – more or less – as on-line communicative platforms or chatrooms (36.4%), a useful application to find old friends and acquaintances (19.2%), accompanied with some funny, pastime applications and games (25.3%). There was also a minor percentage of respondents, that hadn't been totally aware of their actual use (8.1%). Nowadays, they focus on the free access of real-time general information with the added value – compared to other blogs or news sites – of being able to interactively participate, bring issues forward, start a conversation on a hot topic, criticize or express disapproval and await for immediate feedbacks or responses.
They like to express their thoughts and feelings but not every day. They update their statements once/twice a week or once/twice a month and even more rarely, and they prefer to talk about their lives or make comments on their friends posts, keeping all this basically to an amusing level. Furthermore, they share, post or re-tweet news on their own or their friends' timeline and in this way they place their opinion on what is going on in the world, by texting or just 'like-ing'.
If we could somehow illustrate the social image of these networks – at least for the questioned target group – we might present it as a new field of multidimensional interaction, a new alternative opportunity for ordinary citizens to speak for their selves, to be heard, to be followed by a familiar or unknown audience, bring important social problems in the limelight and other less featured aspects of everyday life, the way they feel it and not the way others demonstrate it.
They don't see social media just as entertaining platforms, they recognize the numerous opportunities they offer as tools of enhancing citizens' awareness and participation but they don't trust social media as mediated platforms on serious ongoing political affairs i.e. open political debates etc.
Greek internet users appear to feel the intriguing power that these networks offer in the political arena, by opening closed doors, by gaining access to a previously strict, top-down approach on the application of political power, as they have the sense that their word could count, if added to a massive, rapid movement of politically active citizens. At the same time though, a great number of respondents questions the reliability and the effectiveness of such methods and is also disappointed with the way Greek politicians have seized this new opportunity of mediatized communication between them and the citizens (more than half of respondents), whereas another 30.6% more optimistically argues that Greek politicians may have a limited presence but they are willing to intensify. In addition to this, most of them also doubt that these networks have created a sense of proximity between them and the politicians. The fear of the unknown as well as the traditionally taboo-subject of openly expressing your political orientation and beliefs could probably explain this hesitation, but only in the first place, as if we'd scratch the surface we could see that all this behavior – conscious or not – has a very strong basis. This means that it is not possible and it is not right to build a brand new, digital world, based on likes and pokes, comments, shares and retweets, we cannot simply text-message a war or peace situation, we mustn't have emoticons substitute the real expression of our anguishes and feelings. Because of the extreme simplicity of these actions, it is easier to copy a saying, to imitate a behavior, to adopt an action just because it is currently in fashion; it's posted everywhere, liked by everyone or in other words, because we've been brain-washed with it. Literacy is far more important than social media usage and only deep knowledge and personal opinion formulation could change something in the world, accompanied of course by any means available. By no means should we underestimate the incredible power of rapid massive coordination of publics that social media offer as a major step to collective action. On the contrary, we must admit that it's the level and the frequency of exposure to major social events and current political issues which social media offers to its users that reinforces active participation. ''Conceptually, social discourse exposes people to a wide range of information that may influence participatory decisions, such as information about the desirability of participation. Discussions with friends who are interested or active in politics can help people learn about the reasons for participating while reinforcing the idea that such behavior is desirable among one's peers.'' (McClurg, Scott D., 2003, p. 6). We just have to always bear in mind that these tools are useless if not exploited carefully, as quality and not quantity should be the primary criterion for every social rally. No digital means of communication, no matter how up-to-date it is and the range of opportunities it offers, should substitute real, active participation, with a physical presence on socio-political affairs, deep consciousness and critical mind, free thinking and decision making, especially during voting periods. There's always the other side of the coin, where regimes of all kinds, even the most oppressive ones, become highly literate on the usage of social media and gradually transform them to perfect means of citizens' deception and manipulation.
References
1. Alexander, J.C. and Jacobs, R.N. (1998), "Mass communication, ritual and civil society", in Liebes, T. and Curran, J. (Eds), Media, Ritual and Identity, Routledge, London, pp. 23-41.
2. Bajrektarevic, A. (2011), Is there life after Facebook? The Cyber Gulag revisited & Debate reloaded, GHIR 11(2) 2012, Addleton Academic Publishers New York
3. European Commission, Youth in Europe – A statistical portrait, Luxembourg: Publications of the European, 2009
4. Eurostat (2009), "Youth in Europe – a statistical portrait", 2009 edn, Eurostat Statistical Books available at: http://epp.eurostat.ec.europa.eu/cache/ITY_OFFPUB/KS-78-09-920/EN/KS-78-09-920-EN.PDF (accessed 15 October 2013).
5. Karantzeni, D. and Gouscos, Dimitris G., eParticipation in the EU:Re-focusing on social media and young citizens for reinforcing European identity, Transforming Government: People, Process and Policy, Vol. 7 No. 4, 2013, pp. 485
6. McClurg Scott D., Social Networks and Political Participation: The Role of Social Interaction in Explaining Political Participation, Southern Illinois University Carbondale, Dep. Of Political Science, 2003,
7. Mezek, S. (2011), European Identity and the Media – Re-definition of Identity, pp. 10-11, Stockholm University, Department of Political Science, available at: www.statsvet.su.se/mediarum/Media_and_Politics_2/PDF/Cpapers/european_identity_and_media.pdf
8. Shirky, C. (2011) 'The Political Power of Social Media: Technology, the Public Sphere and Political Change', Clay Shirky, January/February 2011, available at: http://www.bendevane.com/FRDC2011/wp-content/uploads/2011/08/The-Political-Power-of-Social-Media-Clay-Sirky.pdf
9. Thompson, J.B. (1995), The Media and Modernity: A Social Theory of the Media, Polity Press,Cambridge, p. 186.
Links
Internet Live Stats: http://www.internetlivestats.com/internet-users-by-country/
Macro-Economy Meter – Mecometer : http://mecometer.com/whats/greece/internet-users/
Global Vaccine Divide: Covid-19 Pandemic and Opportunity for India
As the novel coronavirus (SARS CoV-2) pandemic is raging across the world, a race has already ensued for the discovery of a vaccine. Normally, vaccine development takes a decade. But given the urgent need for a vaccine to fight the novel coronavirus, different national drug regulatory agencies are observed to have fast tracked their approval process. Additionally, various regulatory bottlenecks were also removed in order to facilitate the development of a vaccine in an earliest possible time. According to the World Health Organization (WHO), as of 17th May 2020, there are eight vaccine candidates already in different phases of clinical trials around the world.
As the Covid-19 vaccine race picked pace, questions are once again raised over the affordability of the vaccines to the population in the Low and Middle Income Countries (LMIC). The question appears timely, given the past behavior of developed countries to place bulk orders and hoard vaccines, at the expense of other countries. Additionally, exorbitant prices will lead to denial of vaccines to the population in the global south. At the heart of this affordability debate is the "patent monopoly" usually enjoyed by the firm that discovers the vaccine first. In this context, the Doha Declaration on TRIPS and Public Health has allowed for "compulsory licensing" of pharmaceuticals during national health emergencies. Opponents of this emergency provision have made a counter-argument that invoking TRIPS exemption to break patent monopoly would disincentivize innovation. Their argument seems valid given the fact that vaccine discovery involves billions of dollars in sunk costs. Therefore, by following their line of argument, it can be stated that any measure taken to forcefully license a future Covid-19 vaccine would be counterproductive.
In the quest to make vaccines affordable, it is important to keep in mind the interest of both the patent holder and the populations in the LMIC. In recognition of this factor, the 73rd session of the World Health Assembly (WHA) passed a resolution to establish a 'voluntary' global patent pool. Another solution is to introduce a government-funded prizing system that would keep the incentives for vaccine development, and prevent the emergence of patent monopolies at the same time. Few others have called the future patent holders for Covid-19 vaccine to 'unlock' their patent for a short period. Such small steps would enhance vaccine availability during times of pandemic, by allowing vaccine manufacturers in LMIC to mass produce vaccines and distribute them at affordable prices. However, these global efforts and other suggestions made towards preventing the emergence of patent monopoly, has invoked opposition from the US, the UK and Switzerland, as these countries are the home to many of the world's major pharmaceutical companies. In contrast, in his speech to the WHA made on 18th May 2020, President Xi of China declared that Chinese Covid-19 vaccine when available will be made a 'global public good', which will ensure "vaccine accessibility and affordability in developing countries".
At the beginning of the current pandemic, states were seen to be behaving in their own self-interest by hoarding medical supplies. For instance, both Italy and Spain accused Germany for denying ventilators to them during their times of shortage. Similarly, the US was accused by a handful of countries for diverting critical medical supplies meant to be delivered to them. Eventually, as the pandemic control measures failed, states' interests are seen to have shifted towards vaccine development and ensuring its future availability to their populations. In this regard, the Trump administration in the US was supposed to have paid the German firm Curevac to shift its vaccine research to the US, drawing Germany's ire. The French were infuriated when its pharmaceutical major Sanofi announced that the US will be the first country to get access to its future vaccine. Also, the US did not participate in the EU-organized global fund raising event to support Covid-19 vaccine development, signaling its intention to go alone. Instead, the Trump administration offered $1 billion to UK firm AstraZeneca to support its vaccine development efforts. Thus, in ensuring vaccine accessibility, few developed countries are behaving in a similar way as they have done in the past.
The present situation has given an opportunity for Indian vaccine manufacturers to step in to ensure 'equitable' access to Covid-19 vaccines. India is known for mass production of vaccines and selling them at affordable costs to multilateral organizations like GAVI. Indian manufacturers also account for 60% of vaccines supplied to UNICEF's global immunization programmes. India has also ramped up its efforts to indigenously develop a vaccine for Covid-19. If a successful vaccine emerges elsewhere, India could still leverage its strong biotech industrial base to partner with foreign firms and institutions for mass production of vaccines. In this respect, the University of Oxford has already partnered with Serum Institute of India in anticipation of a huge global demand for Covid-19 vaccines. Similarly, Bharat Biotech has joined hands with the University of Wisconsin and US firm FluGen to make 300 million doses of vaccines for global distribution. Given the uncertainty associated with vaccine development efforts, Indian pharmaceutical companies should choose the right partners based on the efficacy of their technology, and their suitability for mass production.
Majority of these partnerships are being formed while the vaccine is in the development phase and may fail to fructify in the future. This is because a successful vaccine candidate requires to pass rigorous clinical trials before it could be approved for wider usage. However, the need to mass produce vaccines to end the pandemic will lead to a number of post-development partnerships between biotech firms. In this respect, Indian vaccine manufacturers are better positioned to clinch more deals as they have the necessary 'skilled' workforce and R&D infrastructure for mass production. Still, the questions over the 'equitable' distribution of vaccines will remain unresolved, unless a percentage of vaccines produced by the manufacturers in India and other LMIC are reserved for local distribution at affordable prices.
Coronavirus in a Time of Chimeras
As the global COVID-19 scourge appears to recede, questions remain over the source and morphology of a virus that had locked down two-thirds of humanity over the first half of 2020. It may take years to satisfactorily decipher this extraordinary episode in human history.
Nonetheless, the novel coronavirus was not germinated in a vacuum. The type of research conducted at the Wuhan Institute of Virology had ominous analogues worldwide. These included the quest for super intelligence and the development of interspecies hybrids or chimeras.
Genetically-Enhanced Competitiveness
What began as a scientific mission to remedy congenital defects has rapidly morphed into a global race to create designer babies, super soldiers and transhumans through the aid of biotechnology and Artificial Intelligence. 21st century eugenics is tacitly justified by the need to boost "national competitiveness".
China leads the way here. In one revealing instance alone, genome sequencing giant BGI Shenzhen had procured and sequenced the DNA of more than 2,000 people – mostly Americans – with IQ scores of at least 160. According to Stephen Hsu, a theoretical physicist from Michigan State University and scientific adviser to BGI:
"An exceptional person gets you an order of magnitude more statistical power than if you took random people from the population…"
BGI Shenzhen intends to become a "bio-Google" that will collate the "world's biological information and make it universally accessible and useful". From 2012 onwards, it began to collaborate with the Bill & Melinda Gates Foundation.
Scientific endeavours like these are based on the assumption that an assemblage of smart samples will help in the identification and transplantation of optimal bits of DNA into future generations. It is not dissuaded by the nurture over nature debate, even after exhaustive studies have failed to establish genetic variants associated with intelligence. For example, a 2010 study led by Robert Plomin, a behavioural geneticist at King's College London, had probed over 350,000 variations in single DNA letters across the genomes of 7,900 children but found no prized variant. Curiously, most of the smart samples procured by BGI Shenzhen were sourced from Plomin's research activities.
Periodic setbacks will not deter the proponents of "procreative beneficence" who argue that it is a human duty to augment the genetic codes of future generations1. Failure to do so is couched in terms of "genetic neglect" and even child abuse2.If this sounds eerily familiar, look no further than the worldview that once animated Nazi Germany.
The eugenic zeitgeist has gripped China in a big way. Under its Maternal and Infant Health Care Law (1994), foetuses with potential hereditary diseases or deformities are recommended for abortion. At the rate Beijing is building its eugenic utopia, the definition of serious deformity may ultimately include a genetically-diagnosed lower IQ.
Instead of raising an eyebrow, the law precipitated a headlong rush to select "intelligent" babies through methods like preimplantation genetic diagnosis (PGD). The idea behind PGD isto screen and identify the most promising embryos for implantation and birth. Combined with CRISPR gene-editing tools, next generation Chinese citizens are expected to exhibit remarkably higher IQs – at least according to bioethicists who fret over a future marked by the "genetic haves" and "genetic have-nots". China already has three CRISPR-edited babies whose current fate remains unclear.
In the aftermath of the COVID-19 contagion, the availability of "smart samples" would have increased exponentially and may dovetail nicely with the vaccination agenda oft he Rockefeller Foundation and Bill Gates. Incidentally, Gates grew up in a household that was heavily invested in population control and eugenics.
Our smart societies may inevitably face the existential question of "live-lets" and "live-nots" down the line. The orchestrated rebellion towards selective extinction, if it occurs, has a tragicomical public face: A 17-year-old Swede who unceasingly exhorts the world to "listen to the science" and "listen to the experts" but who has little time to listen to her own school teachers.
What can future designer babies contribute to society? For one thing, we will be missing individuals like Beethoven (deaf); Albert Einstein (learning disability/late development); John Nash (schizophrenia); Andrea Boccelli (congenital glaucoma) and Vincent van Gogh (chronic depression/anxiety). A future Stephen Hawkings (motor neurone disease) and Greta Thunberg (Asperger's Syndrome – allegedly) may be genetically disqualified before birth.
It is now an inconvenience to consider intelligence as a result of peer interactions, human environment and personal adversity. Mapping out the complex and sometimes unpredictable interplay between 100 trillion synaptic connections in a human brain may take centuries. Genetic manipulation is implicitly regarded as the eugenic wormhole that will accelerate the emergence of a global smart society.
The late billionaire paedophile, Jeffrey Epstein, was a prominent proponent of this eugenics philosophy. Epstein intended to breed a"super race of humans with his DNA by impregnating women at his New Mexico ranch, genetic engineering and artificial intelligence." Welcome to Lebensborn 2.0 and it is all about saving the environment and humanity. For now!
Prominent scientists linked to Epstein's transhumanist fantasies included "molecular engineer George Church; Murray Gell-Mann, the discoverer of the quark; the evolutionary biologist Stephen Jay Gould; the neurologist and author Oliver Sacks; and the theoretical physicist Frank Wilczek."The late Stephen Hawking – who will ironically flunk the genetic pre-screenings of tomorrow – was another Epstein associate. Are misanthropes in charge of humanity now?
Eugenics-driven national competitiveness is a tacitly growing obsession among major powers.Its hyper-materialistic focus is encapsulated by an analogy used by Russian scientist Denis Rebrikov:
"It currently costs about a million rubles ($15,500 at the time) to genetically change an embryo—more than a lot of cars—but prices will fall with greater use…I can see the billboard now: 'You Choose: a Hyundai Solaris or a Super-Child?'"
Will that be an energy-efficient, coronavirus-resistant super child who will instinctively lead a low carbon-emitting lifestyle? The road to hell is indeed paved with fanciful intentions.
But why stop at children? From genetically engineered horses in Argentina that are supposedly faster, stronger and better jumpers to super-dogs in China that are comprehensively superior to the average mutt, the DNA of the entire natural world may be slated for a revolutionary redesign in the future.
Crouching Chimeras, Hideous Hybrids
We however cannot create a future generation of superhumans without being adept at recombining genetic sequences across species. That is the logic guiding eugenicists. As a result, a slew of chimeras or interspecies hybrids have been spawned with the aid of CRISPR. These include human-monkey hybrids, monkey-pig hybrids, human-rabbit hybrids and a host of other lab-manufactured monstrosities.
Chimeras are created when human embryonic stem cells are injected into embryos from another species. The goal, for the time being, is to induce the growth of targeted human organs. Those facing terminal illnesses will no longer have to worry about long organ waiting lists.A less controversial approach to human organ replacement is 3D bioprinting or its 4D bioprinting iteration. These techniques involve the "printing" of a replacement organ from the stem cells of a transplant recipient, thereby eliminating the odds of organ rejection.
But why stop at replacement organs when we can have replacement humans altogether? Future generations must think like Einsteins, be as nimble as leopards and possess owl-like night visions. And, of course, be virus-resistant as well!
The manipulation of the human genome is the new "grand response" to the venerable set of "grand challenges". Thanks to globalization, China is the go-to place for such genetic tinkering as some of these undertakings are technically illegal in the West. Since 2014, the Wuhan Institute of Virology was the recipient of a two-stage grant worth $7.2 million from the United States government for gain-of-function research into bat coronaviruses. According to a Newsweek report:
Many scientists have criticized gain of function research, which involves manipulating viruses in the lab to explore their potential for infecting humans, because it creates a risk of starting a pandemic from accidental release.
Such caution has not deterred a flurry of research into microbial gene manipulation. It may have instead spawned COVID-19. Recombining genetic codes at the substrate levels is fraught with risks, as any systems theory scholar can attest3. COVID-19 was therefore not a Black Swan event but likely an "emergent"4outcome arising from complex genomic interactions and human folly.
To solely blame China for the coronavirus pandemic therefore may bea tad unfair. Just as China is the factory of the world for foreign corporations, it is also the genetic incubator for a variety of viruses and chimeras for foreign governments and foundations. Even so, the human-pig chimera was the creation of the Salk Institute in California. Research into the world's first human-mouse hybrid was largely a Japanese affair. The Portuguese in the meantime had created a virus chimera.
The British, on their end, had spawned a human-cow hybrid embryo in 2008 – perhaps reflective of the bovine disposition of those who consume its mainstream media. Clinically-speaking, such analogies are not wholly unwarranted. It was in Britain where the game-changing Dolly the Sheep was cloned in 1996. The transition from sheep to sheeple may turn out to be a short 21st century Jurassic Park ride.
Coincidences and Consequences
Before the advent of gene-editing tools and supercomputing, it would have taken hundreds of years to create a viable chimera. The Genetics-Industrial Complex and contact tracing-type Panopticons constitute a new growth area for nearly-bankrupt Tech Titans5. Is it any wonder that the mainstream media and their Big Tech owners are furiously censoring contrarian expert views on COVID-19?
The dangers of genome editing were in fact included in the Worldwide Threat Assessment reports submitted to United States Congress in 2016 and 2017. They were either omitted or glossed over in the 2018 and 2019 reports– just as such risks were on the rise.
Is it a coincidence that the nations most affected by COVID-19 are the very ones that had either promoted or encouraged a variety of genetic experimentations that are contrary to nature? By the time this crisis is over, independent researchers should superimpose the maps of "genetic superpowers" with those of nations with either the highest COVID-19 fatality rates or the worst socioeconomic fallouts. There may likely be a good degree of overlap as the figure below indicates.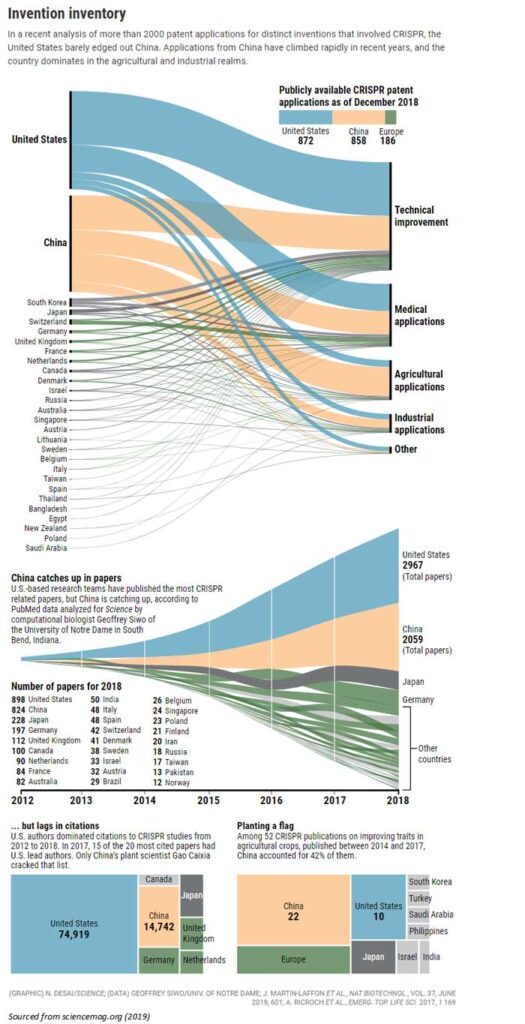 A Pandora's Box has been opened and more hideous chimeras may emerge during this decade. It is quite an irony that a new generation of artificially-manufactured and cerebrally-deficient "thought leaders", academics and activists are being groomed to promote "global governance" – a concept due for a portentous mission creep in tandem with the Second Great Depression. What will be their future worth in a eugenic global society that is centrally-controlled bya digital panopticon6?
"Designer babies" and "super humans" may also render many humans redundant. Will the genetic have-nots be reclassified as "live-nots" in the not-so-distant future?
India's Digitalization: Big Data is the New Oil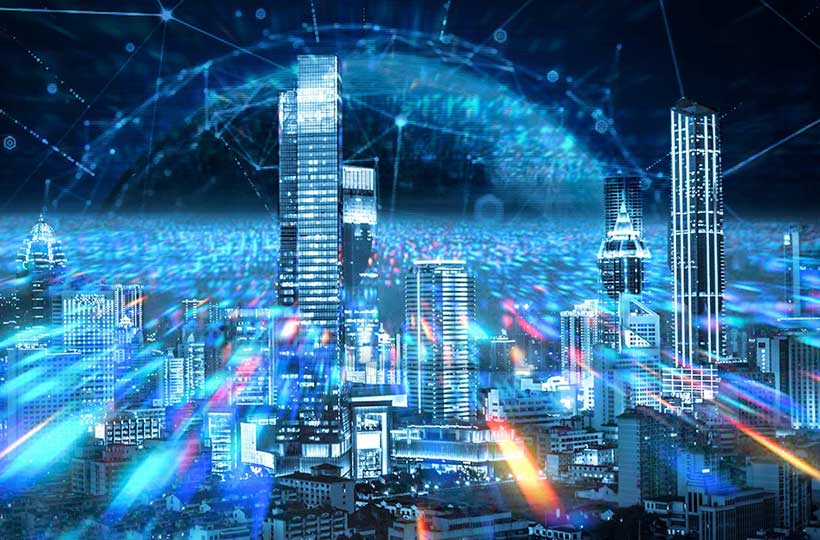 Over the last few years, India has travelled the path of rapid digitalization. Not only has the current crisis failed to stop this process, on the contrary, it has served to accelerate it in many areas and make some trends more evident.
Government efforts, active work of India's business and joint steps undertaken by India's public bodies and private entrepreneurs who are equally cognizant of the digital transformation's significance, difficulties and prospects for India's economy and society as a whole have advanced the process of shaping India's new digital realities.
In 2015, India's Prime Minister Narendra Modi announced the launch of the Digital India campaign spanning a series of key government initiatives such as increasing the people's digital literacy, developing infrastructure and creating an e-government. The most significant achievements include completing and putting into operation the Aadhar digital identification system; a single taxation system covering all Indian states that previously had individual taxation rules; and the Reserve Bank of India, jointly with the association of Indian banks, developing and introducing an instant payment system similar to that created by Russia's Central bank.
Nandan Nilekani, a well-known Indian entrepreneur and public figure, leads the committee on deepening digital payments at the Reserve Bank of India. An engineer by training, together with Narayana Murthy and several other entrepreneurs, Nilekani co-founded Infosys, one of India's most famous and successful companies working in software development and IT consulting. In 2009, Nilekani left Infosys and wrote several books about India's development and the way he sees its future: Imagining India: The Idea of a Renewed Nation (2009); Rebooting India: Realizing a Billion Aspirations (2015). He also headed the Unique Identification Authority of India, the government body that developed Aadhar, a digital biometric identification system, and introduced it throughout the country; Aadhar has already been mentioned; its importance for India is hard to overestimate. Digitalization has already resulted in tectonic shifts within a very short time-span, no more than 5-7 years, in such areas as India's e-payments and financial technologies, e-commerce, telemedicine and entertainment. The spread of digital technologies has great significance and potential in such areas as agriculture, education, increasing energy efficiency, regulating employment and the labour market, transportation, logistics and further development of e-government.
Yet, none of that would have been possible had government initiatives not been backed up by the ambitions and strategic approach of another Indian entrepreneur, Mukesh Ambani, who swiftly provided Indians with cheap Internet and accessible smartphones. As he advanced his digital business initiatives, Ambani called upon Narendra Modi's government to achieve maximum localisation of Indian data in India and spoke about the need to fight a new type of colonialism, the country's informational enslavement by global corporations, so-called data colonisation. He devoted all his resources to developing a new sovereign digital platform; back in 2016-2017, Ambani already said that data are the new oil and smart data are the new fuel of India's economy.
Following the sectoral liberalisation at the turn of the 20th-21st century, India created a telecommunication services market characterised by high competition among players (both Indian and international companies) that came to the promising area via partnerships with national bodies holding the requisite licences. By around 2010, most companies working in India saw that their revenues coming from traditional services might potentially drop, so they planned to transition to selling data. None of the many telecommunication companies on India's market have, however, succeeded in the attempt. The failure stems from several factors, including the policies of the regulator (which decided to change the rules of the game and check the terms and conditions of previously issued licences at a crucial time for the sector) and appearance of a new player with the requisite resources, who was willing to spend them on achieving his large-scale goals. That player was Mukesh Ambani and his company called Jio. The history of Ambani's family business is an integral and characteristic part of India's economy, and the development track of his companies, including Jio, is regularly discussed in business media and is the subject of several business cases in the world's leading schools.
Dhirubhai Ambani, the father of Mukesh Ambani and Anil Ambani, launched his business empire in 1957 with a small Bombay-based company importing synthetic fibers and exporting spices. In 1977, following its successful IPO, Dhirubhai Ambani's Reliance Group became synonymous with business success and guaranteed financial investment for many Indians. The company did not confine itself to the textile business and became a diversified holding that also worked in exploring and developing hydrocarbons, in oil processing, petrochemicals, as well as energy, finances, trade and other areas. In fewer than 30 years, Reliance Group became a fixture of Fortune Global 500 and India's biggest private company, rivalling such famous family holdings as Tata, Birla, Godrej, Mahindra. Dhirubhai Ambani died in 2002, leaving his sons a multibillion fortune. The brothers Anil and Mukesh engaged in a series of high-profile and unrestrained quarrels that resulted in Reliance Group's assets being split in 2006. The telecommunication company Mukesh Ambani formed in 2002 had to be transferred, among others, to Anil, but Mukesh had the powerful oil processing business left under his control. His company was now called Reliance Industries. Its assets included the famous high-tech complex in Jamnagar (Gujarat State) processing up to 1.4 million barrels of oil a day. 2010 marked an important stage in this story, when the brothers agreed on revising the terms and timeframe for the non-compete agreements, and subsequently, Mukesh had a chance to announce openly his intentions to embark on a qualitatively new approach to the telecommunication business.
It took Mukesh Ambani about six years to create a new company named Jio (Hindi for "live"). It was officially launched in September 2016. Back then, its telecommunication rivals realised that their already difficult situation would become far worse following the emergence of a powerful new player, but hardly anyone could imagine the cardinal and radical changes in store for the sector. India's normally very active anti-monopoly agency, as well as other supervisory bodies, were prepared to close their eyes to many controversial points, since Ambani's goals of swiftly spreading accessible Internet coincided with the course for digitalization steered by the government, while his statements that Indians' data must be kept in India were very appealing for India's political leadership. As of today, there are only two big players left in India's telecommunication sector besides Jio, and these two are in a deep financial crisis. India's government had to bail out both these companies by allowing large-scale foreign investment and by permitting all players to raise the prices for their services slightly, which had, over the last few years, fallen to an unprecedented low (between 2013 and 2017, the cost of 1 GB of data in India fell by 95%).
Today, Reliance Jio is part of the Jio Platforms holding company formed in 2019 as part of Reliance Industries. Mukesh Ambani's two elder children hold top managerial positions in the family business. His son Akash, a graduate of Brown University, is in charge of strategy in Reliance Jio, while his daughter Isha, who graduated from Yale University, is on the board of directors in Reliance Jio and Reliance Retail.
The infrastructure and entire digital ecosystem of Reliance Jio was created and put into operation in under 2–3 years. The estimated costs of creating Reliance Jio vary between USD 20 and 45 bn., which is approximately the amount of Reliance Industries' debt increase over the period of creating Jio. At the time of the company's IPO in 2016, two-thirds of India's population of over 1.3 bn. had no Internet access. The company set the goals of deploying an efficient 4G network throughout India, including its remotest areas, while securing a large tech margin for future improvements, and of providing its clients with cheap smartphones and access to various contents and services through its own apps. In the first few months of its operations, while the equipment and all systems were being checked, cheap mobile devices under Jio's own brand were literally handed out to customers free of charge. Later, minimal tariffs were introduced that immediately made India the leader in mobile operator accessibility for both voice services (phone calls were essentially free) and high-speed data transfer. Once sales took off, the company endeavoured to achieve 100 million new clients in the first 100 days, and did not slack off later: in the first two years, Jio had 250 million subscribers, and today it has 388 million. The company plans to reach 500 million users by 2021.
Jio has a large number of apps and services that have quickly become fixtures in the lives of Indians. They include JioTV, JioCinema, JioSaavn (a music service), JioMoney, JioCloud, JioFiber (broadband Internet access service). Jio rather efficiently provided digital functions to the conglomerate's commercial line: Reliance Retail, which is also the leader in its segment in India. JioMeet, a video call service, is the latest addition to this extensive range of services. Reliance Jio's contribution to increasing India's per capita GDP is estimated at 5.65% in 2018.
Internet access is, indeed, changing India's image and lifestyle before our very eyes. Largely owing to the decisive actions of the Indian businessman Mukesh Ambani, India has, in just a few years, made a qualitative leap in many digitalization-related areas while avoiding many intermediary stages that other countries spent years on. Only Indonesia outstrips India in its digitalization pace. In 2018, only China exceeded India's number of digital consumers (560 million users). A survey McKinsey conducted in 2019 showed that the pace of data consumption per user in India grew twice as fast as in the US and China, increasing by 152% annually. Various estimates put an Indian user's average data consumption at up to 9.8 GB of mobile Internet a month (this indicator is 5.5 GB in China, 8–8.5 GB in South Korea, and the 2019 figure in Russia is about the same). The number of Internet users in India was expected to grow by about 40% by 2023, to 750–800 million people, and the number of smartphones is expected to double, reaching 650–700 million (as of 2018, India had 1.2 bn. mobile subscribers). We can be sufficiently confident that new conditions arising from the pandemic will speed up these trends significantly.
The development prospects of India's digital economy and primarily its consumer segment stimulated an explosive growth of entrepreneurship that also relies on the traditionally strong stratum of Indian IT specialists. In 2017, Indian developers participated in creating over 100 000 apps for the App Store alone, while the total number of such apps is far higher, given that Indian specialists mostly create apps for Android. In the entrepreneurs' major league, 30 Indian digital high tech companies are unicorns (their capitalisation is over USD 1 bn., and they are still owned by their founders). In 2017, there were ten such companies. The crucial thing is that would-be unicorns in India are also quite numerous: in 2019, there were over 50 potential future champions.
There have always been many difficulties in working on the Indian market. Suffice it to say that, today, the majority of new Internet users in India do not speak English and need interfaces and content in regional languages. The country has 22 such principal languages. WhatsApp, for instance, supports 11 of them. Still, international investors bank on Indian tech companies, which is greatly helped by government bodies constantly working to stimulate the sector's investment appeal. Companies working in e-commerce, digital payment services, and tourism have long been the leaders in attracting investment among India's tech startups. A telling recent example of the international capital race for digital India was the USA's Walmart acquiring Flipkart, one of India's many digital e-commerce platforms, in May 2018. Walmart had long tried to gain access to India's offline market, all to no avail, and it finally came to India by buying 77% of Flipkart for USD 16 bn.
Several investment funds of Russian origin are among those making big investments in India. They continue actively selecting new projects for investment and for strategy adjustment, as do other investors.
Companies that appear not to have any tangible assets, not to make any money, and to accrue debt abound not only in developed countries but now in India as well and still continue to increase their investment potential, thus greatly befuddling traditionally-minded financiers. Yet, analysts increasingly have to admit that high-tech digital companies have unique sets of their clients' big data, which allows these companies to increase their market share and make correct managerial decisions while constantly improving the functions or services they provide.
Big data is becoming more and more important for governments as well. The quality of analytical materials, development of AI technologies and efficiency of modelling processes depend directly on data volume used as learning material; it can be used, among other things, to manage processes and resources in smart homes and cities efficiently. This is the purpose of Smart Cities, one of India's government programmes. By late 2020, Jio planned to present commercial solutions for the Internet of Things. The company's technical capabilities make this possible. While the Indian government is only preparing to make the decision on deploying 5G, Mukesh Ambani says that he has already built a new infrastructure capable of working with 6G and he is now striving to make India one of the principal beneficiaries of the 4th industrial revolution. Jio has no rivals in India in its capacity for collecting up-to-date data of Indian consumers and it plans to improve its technologies for their most prompt and precise processing and further use, while simultaneously developing cloud computing, smart devices, blockchain, augmented reality and more.
The current crisis arising from the pandemic is both shaping new consumer habits and bolstering demand for qualitative changes in approaches to the future economic development of many countries. This is also important for Russia, where, despite all the efforts to diversify its economy, there still remains the threat linked to dependency on commodity exports and the high energy intensity of other Russian exports. And it is also important for India, where 80% of its economy depends on imports of coal, oil and gas.
It was previously announced that 20% in Reliance Industries' petrochemical business would be sold to Saudi Aramco, Saudi Arabia's oil giant, for USD 15 bn. With oil prices falling to record lows, however, in March the deal fell through.
Instead of the Saudi Aramco deal, Jio Platforms finalised three different sales: 9.99% was sold to Facebook for USD 5.7 bn., 2.32% of Jio Platforms is now owned by the Vista Equity Partners investment fund (the stock is worth USD 1.5 bn.), and an additional 1.15% of the company's stock was purchased by investors at Silver Lake Partners for USD 747 m. Mukesh Ambani still holds 86.54% of the company. Other deals with other investors are likely to follow, which will allow the Indian businessman finally to pay off Reliance Industries' debt (about USD 8 bn.) by March 2021, without losing control of Jio Platforms, just as he planned.
In their official statements concerning the deals, all the participants, including Mukesh Ambani and Mark Zuckerberg, emphasize their confidence in the promising Indian market and in Jio Platforms' potential. In full accord with the expectations of the Indian government and regular Indian citizens, they say that the new collaboration does not entail data exchange between partner companies. Jio, Facebook, Vista and Silver Lake also say they intend to use their technologies for the benefit of India's small and medium-sized businesses by connecting such entrepreneurs more actively to e-commerce platforms. They are talking street trade and the so-called kiranas, typical Indian "neighbourhood" grocery stores; they will be able to find a more efficient digital way to meet their customers' demand. Facebook-owned WhatsApp, which is very popular in India, is expected to play an important role in this process. If talks with the regulator concerning granting WhatsApp payment-making functions are successful, then, by pooling efforts with JioMart, the company will be able to expand both sellers and buyers' capabilities significantly and compete with India's most widespread fintech service PayTM, whose investors include Alibaba Group (the Chinese company owns 40% in PayTM).
India, with its 300 million users, is Facebook's biggest market. WhatsApp has over 400 million users in India. As for the two other investors in JioPlatforms, Vista Equity Partners is noted for its major presence in India's tech sector: its Indian companies have over 13,000 employees, while its co-founder Brian Sheth is a native of Gujarat, like Mukesh Ambani and Narendra Modi. Like Vista, Silver Lake is based in Silicon Valley and has already invested over USD 40 bn. in tech companies such as Airbnb, Alibaba, Ant Financial owned by Alphabet Verily and Waymo, and also Dell Technologies and Twitter.
Observers with a lively imagination have long since noticed that the company's name, Jio, is a mirror image of the word "oil." It is not known for certain whether this is by its founder's design, but the events of the last few months and transactions around Jio Platforms confirm that, instead of demand for oil, the world is demonstrating a growing demand for innovations. Consequently, compared to other countries, India has every chance of becoming part of the process and a big-time winner. Russia's business cooperation with India needs, like never before, to have its current realities supplemented in new formats, be it financial technologies, information security, artificial intelligence, sustainable energy infrastructure, advanced materials or other innovative areas.
From our partner RIAC