Perils of ever-closer union
The preamble to the treaty of Rome signed by the EU's six founding countries famously says that they "were determined to lay the foundations of an ever-closer union among the peoples of Europe".
These words have hung around the necks of Europeans ever since. That grandiose language harked back to the preamble to the League of Nations when it was set up in 1920 'to secure international peace and security.' For all its faults, the treaty of Rome has weathered better than the League of Nations; its magnetism is such that countries still queue to join. Croatia has just done so, and others like Serbia, Moldova or Kosovo hope very much to get in.
The common market created by the treaty of Rome in 1957 was not much more than a customs union, and tariffs within it were not finally abolished until 1968. In France, General de Gaulle ignored many aspects of the treaty, and also treated Brussels with contempt. And the real questions surrounding an ever-closer union were only to become sensitive in the 1980s. The Single European Act, which was strongly promoted by Margaret Thatcher, marked the single biggest transfer, or at least sharing, of sovereignty ever seen in Europe. It was followed by the Maastricht treaty and then a decade ago by the Constitutional treaty, which paradoxically removed the reference to ever-closer union because by the early years of this century politicians were getting more and more nervous about the growth of euroscepticism in their countries' politics.
The term was reintroduced in the Lisbon treaty because it simply took over previous language from older treaties, even though opt-outs were developed as part of the sequence of European treaties to accommodate the need for the Danes to stay outside the currency union or in 1992 to allow the British to steer clear of social policy. Despite free movement of people, though, the closer integration of standards and an opening up to greater competition across Europe, the power of national governments to resist or delay a fully open market has remained strong. It was not until 1988, that the Germans had to admit that their Reinheitsgebot (purity ordinance) on beer dating from 1516, which laid down that beer could only be made from water, barley and hops, was a protectionist barrier against competition from brewers in other countries which add more ingredients.
EU governments must accept that individual countries' budgets will no longer be decided by national governments alone, and that national banking systems will be supervised and monitored centrally
But what exactly does ever-closer union mean today? Many markets across Europe are still far from being integrated, as a casual look at the service sector will testify. Taxes are unharmonised and there remains intense tax competition between countries. Moves towards political union have so far, to put it politely, been limited. In Britain, the House of Commons library examines each year the total number of laws adopted in the UK, and can never find more than 8% of primary legislation that originates from the EU. Despite the moves to greater integration since the euro crisis first struck, the fact is that if one looks at the legislation making headlines across Europe – gay marriage, education policy, health care provision, whether to have contributory or free systems of pension and student fees, welfare reform, voting systems, pay control, or even speed limits on motorways – it is Europe's national governments that are still firmly in the driving seat.
What Europe has instead witnessed in recent years is the rebirth of the nation state in contrast to the years between the treaty of Rome and the Single European Act. It is doubtful that the founding fathers of the European project ever dreamed that Lithuania would one day preside over their Europe, or that Slovakia and Croatia would have the same veto rights in European affairs as Germany and France. Catalonia has its own "embassy" in Brussels, as do Scotland and most of the major regions and provinces. The languages of Europe are respected and guaranteed as are national cultures. Far from an ever-closer union, it may be argued that it would be more accurate to talk of 'ever more nation-states' as the chief product of the EU in recent times. And the euro crisis has if anything encouraged even greater nationalism in many countries in Europe as a reaction to austerity policies.
At the same time, the European Parliament sees fewer and fewer citizens voting in its elections. Only 20% of Croatian voters could be bothered to turn out to elect their six MEPs in April of this year. In Germany, Chancellor Angela Merkel often talks of 'more Europe', but on condition that no more German money should be involved. In fact, the more Europe has sought to appropriate the symbols of a union or a single entity the less its citizens have wanted to pay, and the more they have supported the anti-Brussels political formations that have grown in strength in nearly all the EU's member states.
On foreign policy, there certainly is no ever-closer union. Europe is divided over whether or not to intervene in Syria and its member governments habitually take different positions on such key international questions as recognition of the Palestinian authority as a UN state. Europe's military strength is diluted by remaining parcelled out between different armies with different defence procurement policies.
On energy policy, there is equally little sense of an ever-closer union – Germany opts out of nuclear, Poland sticks to brown coal, Britain keeps dashing for gas, and prices paid by industry vary widely.
Despite this, co-operation and the search for agreement on common policy is worthwhile and necessary. Political agreement, if not political union, is needed to transfer authority to the European Commission in areas like trade and competition – and financial supervision and control. Political union in the sense of supranational agreement to transfer sovereignty to the European Court of Justice in key areas has been a good thing from an economic point of view. The single market, although still not complete, is the product of ever-closer political union.
The big question remains the single currency. British eurosceptics point to the eurozone crisis as proving the failure of the attempt to move to a closer 'union' through the adoption of a common currency across much of the continent. And even the most devoted supporter of the euro must surely admit that too many countries with too many different levels of development rushed into EMU at the same time. That was ignored by the 'mission accomplished' complacency that followed its introduction more than a decade ago, and left no mechanisms to spot the housing bubbles, unsustainable cheap money credit growth and the failure of some national economies to align their spending and revenues. Arguably the single currency still requires ever-closer political union with more power to be held and used at the centre. And it is precisely because that didn't exist that the eurozone has experienced the terrible difficulties of recent years.
Today, the elements of complacency are again visible. Yet the euro is still in trouble and the basic flaws in its construction have still not been corrected. There can be no doubt that to make the single currency work there will have to be exactly what the British have long feared, more political union that can make the EU capable of overruling Berlin and telling Italy and Portugal how better to govern themselves. It's hard to see this happening in a hurry, and to get there there are a number of preconditions that must be met. It would in the first place require collective responsibility to ensure that the eurozone gets out of its current problems sustainably. That in turn means an understanding by surplus countries like Germany, whose growth has been export driven and which has greatly benefited from membership of the wider euro area of the concessions they too must make. They need to rebalance their own economies in favour of more consumer spending, open their own markets to competition, which in many areas is still lacking, and support growth on the periphery through the direct and indirect transfer of funds to weaker countries. They also need to accept that the debt burden of many of the 'stressed' countries will remain unsustainable, and that further restructuring is inevitable. But this should be on condition that the periphery countries fully buy into the proposition that they must themselves focus on investment and growth through the substantial reorganisation of their economies.
The European Central Bank should also be allowed to do what it is supposed to do if it is to act as a proper central bank of an integrated Europe and should be able to engage in Outright Monetary Transactions (OMT) to buy the bonds of stressed countries whenever necessary to prevent periodic sovereign debt and credit crunches. The ECB should in effect embark on Europe's own version of the quantitative easing that has worked elsewhere, most notably in the U.S. And most controversial of all, EU governments must accept that individual countries' budgets will no longer be decided by national governments alone, and that national banking systems will be supervised and monitored centrally.
Bits of all this may happen as European countries move forward kicking and screaming. But is anyone in the EU up for the whole package? If the answer is no, then it would be better to start rethinking what ever-closer union really means, and whether Europe will ever get there.
First published by the Europe's World, article re-posted per author's permission
Whatever Happened To Due Process In International Relations?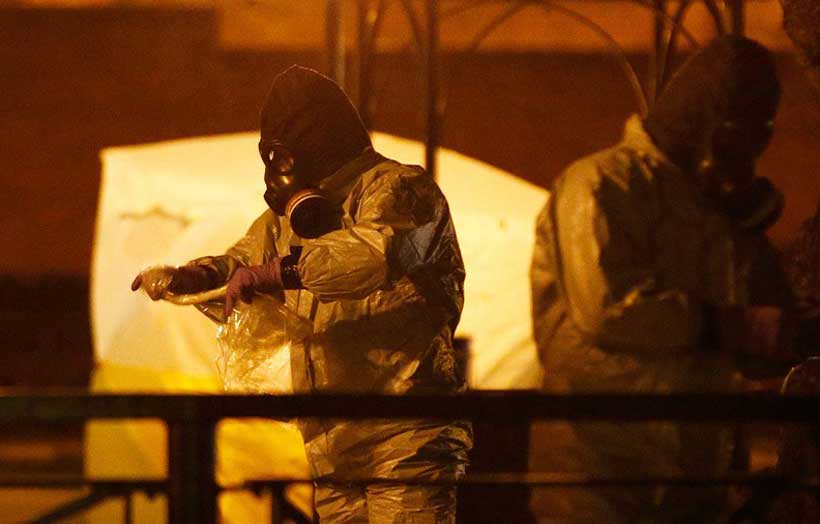 It seems that recent events across the globe have further revealed a glaring hole within the framework and structure of international relations, law, and diplomacy – the complete and total lack of Due Process.
In each and every country around the world, from the local level all the way to the federal, there exists in criminal and civil jurisprudence the concept of Due Process – a concept which has been defined as the legal requirement that the state must respect all legal rights that are owed to a person.
Due process balances the power of law of the land and protects the individual person from it.
When a government harms a person without following the exact course of the law, this constitutes a due process violation, which offends the rule of law.
Due process has also been frequently interpreted as limiting laws and legal proceedings so that judges, instead of legislators, may define and guarantee fundamental fairness, justice, and liberty.
Analogous to the concepts of natural justice, and procedural justice used in various other jurisdictions, the interpretation of due process is sometimes expressed as a command that the government must not be unfair to the people or abuse them physically.
Due process developed from clause 39 of Magna Carta in England.
Reference to due process first appeared in a statutory rendition of clause 39 in 1354 AD: "No man of what state or condition he be, shall be put out of his lands or tenements nor taken, nor disinherited, nor put to death, without he be brought to answer by due process of law."
When English and American law gradually diverged, due process was not upheld in England but became incorporated in the U.S. Constitution.
While there is no definitive list of the "required procedures" that due process requires, Judge Henry Friendly (July 3, 1903 – March 11, 1986), a prominent judge in the United States, who sat on the United States Court of Appeals for the Second Circuit from 1959 through 1974, generated a list that remains highly influential, as to both content and relative priority:
(1) An unbiased tribunal;
(2) Notice of the proposed action and the grounds asserted for it;
(3) Opportunity to present reasons why the proposed action should not be taken;
(4) The right to present evidence, including the right to call witnesses;
(5) The right to know opposing evidence;
(6) The right to cross-examine adverse witnesses;
(7) A decision based exclusively on the evidence presented;
(8) Opportunity to be represented by counsel;
(9) Requirement that the tribunal prepare a record of the evidence presented; and
(10) Requirement that the tribunal prepare written findings of fact and reasons for its decision.
The international news media, on behalf of various governmental agencies, intelligence organizations, private deep state oligarch run businesses, has been blasting from time to time, allegations and accusations leveled by one country or empire versus another, most notably by the Western NATO powers against the Eurasian ones, that of Russia, Syria, Iran, and North Korea, China and others, while the converse has not occurred at all.
This should tell us something.
Lately, the Skripal poisoning attempts, the multiple alleged Bashar Assad Syrian government chemical weapons attacks, and countless others have dominated the headlines.
Russia has been screaming from the rooftops that their greatest concern is that the USA or West will manufacture some type of false flag attack to blame it on them.
The only solution then is that both the United Nations and the International Criminal Court must be given the power, funding, and support by countries that are being victimized by false flag allegations to be empowered to put a stop to these irresponsible lobbings and accusations of criminal conduct by one set of nations versus the others.
When Due Process is absent from our nations' courts, police departments, law enforcement agencies, then innocent people get thrown into jail in criminal cases or bankrupted in civil matters.
But when nations are not afforded Due Process in the course of international relations, terrorism breaks out, and so does the possibility of nuclear annihilation of all the worlds' people.
Assessing failures of "Humanitarian Intervention": Finding a "non-traditional"approach
Within the context of traditional theory of international relations humanitarian intervention is referred as "intervention-from-above", highlighting the "tactics of intervention" by various states, international institutions, government sponsored think tanks and international aid organizations. At the global level, flow of international aid is unidirectional (traditionally flowing from North to South); although, intervention is not only limited to North, but may occur regionally in the South too. Historically, the world has witnessed tensions highlighting "certain drawbacks" in the global legal system particularly within the context of a donor country "crossing humanitarian boundaries, sovereignty, the principle of non-intervention, while purposefully meddling in the regional affairs of the host", violating every nomenclature of humanitarian assistance and instigating dilemma among probable future host economies.
Today, host countries are forced to question the objectives of donor economies. Many states begin formulating an "after-effect strategy" in case the donor intends to violate, in the light of many least economic developed economies being host, fewer states respond. From the aforementioned arguments, the questions that challenge policy makers of today are: Does humanitarian intervention bring results? Does it truly assist the host economy? If it does, which is the best effective and efficient plan of action?
Policy makers must focus their attention on the "flaws in international law highlighted in the aforementioned arguments". Furthermore, historically it has been seen that, nations ignore legal guidelines and international laws which does not benefit it while giving jurisprudence to politics than the international laws.
Today, the focus of the article will be on the three traditional pillars of humanitarian intervention, the donor's "capability" to assist the host, the donors "interests" in providing assistance to the host, and the "after-effects" on the host; in an effort to "effectively" understand and identify factors responsible for recent "negative outcomes" from humanitarian interventions while identifying alternative non-traditional approaches of humanitarian intervention shifting the focus of political thinkers and strategic experts from military theories, while giving special emphasis on the role of non-government development agencies and civil society organizations. Keeping all relevant actors in play, it is literally impossible to predict the success of "traditional grass-root focused "humanitarian intervention especially when the "much advanced top-down approach" continue to fail.
The quest to identify non-traditional theories of humanitarian intervention, also termed by strategic experts as "bottom to top approach", will be the focus of this article. It will be safe to say that, such non-traditional approaches, will depend majorly, on intervention policies of humanitarian aid agencies and public works development focussed institutions of non-governmental organizations, development focussed civil society and volunteer groups from the masses, civil rights advocacy groups and organizations advocating for a specific society.
Decoding the myths
Political and Strategic experts have, classified, two types of traditional "humanitarian intervention" theories. The first theory relies on aggressive military intervention to fulfil strategic objectives of the host and is carried under the leadership of one or more host states, or by unanimously approaching the United Nations Security Council and other regional and international institutions.
The first theory comprises of intervention tactics, which could fulfil positive humanitarian objectives of great benefit for the host, however it remains secondary to the intervention objective implemented by the host. For example, repetitive acts of crimes against humanity, horrific abuses by successive regimes could come to an end through an intervention which is designed specifically by the host government. It is important to note that, such intervention is rare, especially considering the "humanitarian" view of this form of intervention, instead their long presence could result in oppression against the masses forcing the host to use all forms of excessive force.
Some historical examples include devastation of Germany during World War II, the Liberation of Bangladesh in 1971, and the invasion of Cambodia by Vietnam in 1968. Policy makers must understand that, interventions at such level involves specific military and political goals that starts with "intervention and occupation" for an indefinite time.
In this form of humanitarian intervention, genocide, crimes against humanity and violence induced on local masses are common. Such acts are destitute to walk among the strategic and military objectives of the host. However, in regions where the host intervened without any strategic objectives, for example intervention on Kurdish regions since World War I, and military confrontation against the indigenous tribes of Amazon, excessive violence induced against human life have been categorically side-lined or purposefully ignored.
In the second theory of humanitarian intervention, human rights abuses instigate an "aggressive response", although without any strategic advantage. If the intervention does takes place, it will be implemented without a "clear sight, objective or commitment" on the host intervening state, the commitment would be largely to challenge the political structure or the authority responsible for carrying such horrific crimes. Strategic and political experts refer this scenario, which remains active in the Middle East today, "the CNN factor", an aggressive wide scale visual representation of horrors and distress particularly depicting crimes against humanity, stressing the masses of West to force their governments to response, particularly "Americanised" nations.
If the agendas established by policy makers are restricted, and the actors tasked to "bull-work" the humanitarian intervention agendas follow strict discipline and designated guidelines, simultaneously earning the trust of the masses, humanitarian intervention in this platform could bring relief to the socio-economic havoc wretched life of the masses. This initiative has been implemented for the Kurds living in northern Iraq post-Gulf War, in the early years of relief and rehabilitation initiatives in Somalia (before invasion),and deployment of UNPROFOR aid and relief units for the then civil war-stricken masses of Croatia, the then Bosnia. In the aforementioned examples, however, the strategic objectives to eliminate the factors responsible for the crisis were absent, on larger extent, the crisis devastated the lives of millions.
If the state intervening in the crisis receives armed responses that could increase volatility in the region, then the state forces intervening could deploy evasive tactics and steer away from the confrontation. The participation of Washington has been vital with relevance to its extensive experience in humanitarian intervention. During Clinton administration, the US aggressively shifted its policy of "strategic objectives dipped humanitarian intervention" and an example to this "doctrine" was largely visible during the "initial deployment of medical and food aid workers" deployed in Somalia, eliminating the "strategic discourse" while establishing an example of "stringent and self-restraining" regime. The new established theory was a perfect example of "intended humanitarian intervention" of a state, having an edge over responses taken by globally established international institution.
The change in international relations dynamics followed by acute regional, religion/ sectoral "coloured" violent conflicts has resulted into numerous debates on "humanitarian intervention as a viable tool in global politics". The debate however, failed to separate the two theories of humanitarian intervention aforementioned discussed. This has resulted in "fragmented policies which not only failed but also became a principle factor in fuelling regional conflicts, further deteriorating an already deteriorated situation" leading to discontent and apprehension towards humanitarian intervention, while fuelling rage among the local masses and apprehensive governments towards UN actions. Clearing the "thick air" is not the purpose of this article, but many progressive steps could be taken in an effort to identify alternative theories.
Establishing outcomes from intervention
To begin with, a political tool such as an "intervention", if introduced as a traditional mechanism in foreign policy, is troublesome even without the presence of "strategic action", witnessed from the example of US intervention in Vietnam, or Soviet Union intervention of Afghanistan.
Using military superiority and using it to achieve desired political objectives/agendas is increasingly becoming difficult inspite of the "rightist regimes in the West". The traditional tools of foreign policy (aggressively used by Washington during post-World War II until the end of Cold War) such as "cloak and dagger diplomacy", "gunboat diplomacy" which elevated Washington's position as a hegemon, benefitted many US intelligence agencies in holding many economies hostage without any resistance. In the light of globalisation, tradecraft tactics evolved and advanced weaponry, began playing a much larger role.
In 1983 when a single truck exploded inside the barracks of US soldiers, Washington which was already on an edge, withdrew the remaining stationed US forces and shifted the US foreign policy which was focussed on rebuilding and restructuring city of Beirut during post-1982 war. An aggressive President Bush Jrdid not undertake restructuring and rehabilitation initiatives in Iraq, which could have forced Washington to deploy forces in Iraq which could have instigated terror factions in targeting US soldiers. Bush understood the "careful policies implemented by Clinton administration "particularly the actions taken by Washington in Somalia an example of "self-limiting" the objective to strictly humanitarian intervention. His objectives were very clear, turning Iraq's fate into Bosnia was all he feared.
Since 1989, the traditional concepts of international relations have evolved. The pragmatic but traditional theories that were applicable in IR are fairly limited. This has largely been a "misconception" among traditional international relations theorists, military and political experts making their expectations uncleared:
a) Even today, traditional theorists continue to believe, that cooperation and coordination among the nations could only be effective within the UN.
b) The aforementioned notion comes from the successful restoration of Kuwaiti sovereignty after the deployment of UN forces. The resultant of the conflict created a biased approach on a half-baked truth followed by rhetorical idea that combined security initiatives would be sufficient to mobilise large troops and financial assistance to implement resolutions passed by the United Nations Security Council. The traditional theorists failed to acknowledge the presence of Washington's "hunt for oil" and Israeli's "security dilemma". They also failed to foresee the lust for Middle East economies to acquire nuclear weapons.
c) Numerous severe simultaneous humanitarian crisis erupted which resulted in dictatorial regimes and failed states. The continent of Africa witnessed subsequent collapse of imperial regimes while the Central Asia witnessed the collapse of Soviet Union and the then Yugoslavia, which paved the way for ethnic conflicts, civil war and nationalist dictatorial regimes.
d) It was by now evident that, cost-efficient intervention will not be effective and even an objective focussed intervention will not bear desired results fearing which no political leadership was willing to accept the high cost of collateral damage during uninsured even in the name of "vital national interests." Reinforced by poor political leadership in intervened states and their failure to adhere or implement any concrete domestic policy along with subsequent challenges to domestic security, decision makers "waited and watched".
e) In colonial dominated regions particularly Africa, Latin America and Caribbean and South Asia, the concept of" humanitarian intervention" represented the interest of traditional colonial forces in the region, paving a way to regain dominate the lost territories, particularly those with significant Muslim population. This "delusion" idea was further fuelled by the West's retention of oil in the Gulf but refraining from taking any action against "systematic killing, ethnic cleansing" of Muslims in Serbia. Furthermore, the use of technology in the urban setting especially in the regions of Mogadishu to hunt warlord Aidid, reinforced their idea.
Strategy or Politics?
Bringing the focus back on political leadership, Bosnia was "political fore-play" which backfired. Argued by ethics professors even today, the reluctance to interfere, even after witnessing the horrors in war, mass killings, rape, gender-based violence and genocide reminding the days of World War II gripped Europe, the world has been reminded of another holocaust. It is nothing less than a betrayal to the lives of people who took a pledge "Never Again", the pledge was disrespected by the ugly truths of international political world. When thousands of leftists were brutally murdered in Singapore, the West particularly Washington compensated the loss of lives with the fear of communist controlled Singapore. When Indonesia invaded East Timor, dismantling all trumps (sovereignty, national and territorial integrity and right to existence) of international relations, instigating a policy on mass rape, murder, extensive killing and genocide which resulted in the deaths of over half of the then population, intervention in all forms remain absent.
Perhaps evidently, inspite of genocide carried by communist regime on large scale in Cambodia, forced the West not to intervene (presence and support of China)in the Vietnam invasion of Cambodia which resulted in the end of Khmer Rouge. Policy makers must understand that, the decisions under taken by the West form a pattern: strategic objectives outweigh even the harshest and deplorable humanitarian crisis.
The aforementioned statements points towards the fact that, there is an imminent need to re-evaluate and reassess humanitarian intervention policy. Today, the masses will not accept the decision to "fight someone else's war" irrespective of deplorable circumstances. This could come as a relief for many rightist political leadership, but it practically "chokes" the nation's policy for humanitarian intervention.
A failed political leadership to blame?
It is important to note that, the political leadership reluctance highlights the "inadequate importance" given to the segment of humanitarian intervention in international diplomacy coupled with the "saga of failure" of global powers and international established institutions failures in the past. Coupled with the failure of political will and leadership, identifying "strategic interests" and formulating a strategy resulted in some of the worst humanitarian crisis in Haiti, Bosnia, Somalia, Rwanda. The larger responsible segment of this failure goes to liberal "appeasing" foreign policy coupled with strategic interests and domestic security preferences. Historically, Washington was pushed to take a leading role and pulled by its own masses particularly when the "stakes were too high" overseas. This "tendency" continues to thrive within power nations which is evident from the on-going Rohingya crisis in South Asia.
The fundamental issue with humanitarian intervention lies largely on "intervention" aspect rather than "humanitarian" support, the larger perception remains the same "internal violence being the only factor capable of changing the dynamics of the domestic policy of a state". Policy makers must note that, if the nation undertakes the responsibility of providing" clean water, food, medicine, temporary shelter for refugees and internal displaced conflict-ridden masses" limiting the action to strictly humanitarian, then nations should not consider it an "intervention" even if the host country has not acknowledged or given a formal consent. If the intervening state intents to meddle with the host state's internal issues particularly in times of internal conflict or civil war, then the intervening state will fail even if its intentions are "humanity centred".
It is imperative for policy makers to identify or formulate strategies of "humanitarian intervention" without instigating further violence, fuelling crimes against humanity, genocide, factors leading to further deterioration of the host state.
Violence against Healthcare: Social and Humanitarian Implications
Historically, medical treatment during conflict has not been taken for granted as it is nowadays. For instance, in the 16th century, soldiers were not immediately taken from the battlefield to the nearest medical treatment facility, they had to wait two or more days until their conditions stabilized. Worst case scenario, they wouldn't make it. Their sufferings were alleviated when the first surgeon began treatment on wounded soldiers. Ambroise Pare was the one who decided to give them a chance at survival. Therefore, back in the day, the term "violence" could not be associated with "healthcare", since there wasn't any humanitarian assistance available in the first place.
In the 21st, violence against healthcare does very much happen. Campaigns such as "Health Care in Danger" conducted by the ICRC and reports such as the UN Special Rapporteur on the Right to Health have coined the phrase "compounded cost of violence on healthcare" as a result of this type of violence occurring.
The case of Syria is a tragic example and it might seem more relatable to the general public due to the fact that is a contemporary humanitarian disaster. In one of the reports on 'Protecting Healthcare in Conflict' released by the Commission of Inquiry on Syria demonstrates just how devastating is the purposeful zeroing in on the destruction of medical facilities, the targeting of health care staff and the refusal of certain ethnic groups to allow the treatment of the ill and wounded. These attacks are having consequences of paramount importance on the increasingly significant exodus of healthcare staff, the vaccination campaigns that are being sharply curtailed and the inventory that is facing a seemingly insurmountable stock-out.
Variations in Violence
The most pervasive mode of violent attacks is on the medical personnel, irrespective of the fact that they are from an INGO or belong to the local workforce.  According to Bruce Eshaya-Chauvin, medical adviser to the ICRC, "healthcare workers in conflict zones are literally being hunted down". Through the killing by armed groups of expatriate healthcare staff, their kidnapping from the workplace, their arrests and the constant threats coming from insurgents and governments in an equal manner, not to mention the countless explosive weapons used by armed forces during combat that render medical staff collateral victims and cause them severe injuries or even death, the healthcare system is being shattered from its roots.
Interesting cases have occurred when medical staff have been threatened to provide care for specific ethnic groups during the hijacking of an ambulance. An assistant medical coordinator at the ICRC in Bangui, Central African Republic recalled an instance in which she was "threatened by armed men who insisted on getting in the car and making us take them where they wanted to go. When we tried to explain our work to them they became angry and threatened us with machetes and rifles." ("Effects of Violence on Healthcare", 2014)
Another way through which violence against medical staff can be seen is through the limitation imposed by armed groups on the doctors while practising their jobs. For instance, a certain Dr. Cox talked to Discovery News about the rules of war and his experiences in Congo by saying that due to mortar rounds having fallen near the hospital, he had to tap the windows of the operating room to prevent them from shattering and perform the surgery while wearing body armour. This severely limits the way they practise medicine and puts them under constant psychological terror.
Violent events that are affecting the healthcare system as a whole are also those aimed at healthcare buildings. By buildings, it is meant hospitals, blood transfusion centres, laboratories, first-aid centres and those buildings in which medication and medical equipment is stored. Healthcare infrastructure is being hit by weapons during conflict, is being entered into by police and state armed forces or is being occupied for strategic reasons by armed groups. This ultimately leads to hospitals being unable to run generators because of lack of fuel or to the same healthcare buildings running out of drugs. According to the World Health Organization, 37% of the hospitals from Syria have been destroyed, while 20% have been severely damaged. There, the hospital under MSF jurisdiction was completely destroyed together with the rest of the town. This was the only hospital with surgery capabilities and the ability to provide treatment for tuberculosis and HIV for 270,000 people. Having suffered such a high degree of destruction – medical equipment, laboratory work and blood transfusions being thoroughly dismantled – it became extremely difficult for MSF to resume its activities. Nevertheless, the MSF personnel did manage to resume its activities by treating approximately 1,600 malnourished children only in the first 3 weeks.
Violent events also affect healthcare transportation. By transportation, it is meant medical vehicles such as ambulances, medical aircrafts, medical ships and machines used for the transportation of medical equipment or medical supplies. These vehicles are being attacked while en route by armed groups or state armed forces, they are being damaged by the same groups with the help of explosive devices and, most commonly, are being delayed and harassed at checkpoints. According to the Syrian-American Medical Society, 78% of the ambulances operating on Syrian territory have been badly damaged. The most representative cases in point are the attacks on healthcare infrastructure happening in Libya, thoroughly reported by the international media and the aid organizations.
Patients are also being attacked. Some even refuse to go to the hospital for fear of being identified by their wounds. Bijan Farnoudi, from the ICRC, told Al Jazeera that "a lot of the time they die because the ambulance didn't make it in time, because the hospital they were trying to seek shelter in was destroyed the night before, or because they were simply too scared to travel to make it to the nearest clinic", the latter also being a type of psychological violence against patients.
Doctor Rubin Coupland, a British war surgeon from the ICRC, is also advocating for the safety and dignity of patients by encouraging for the speeding of ambulance inspections at checkpoints. "It should take maybe five minutes to inspect an ambulance, not five hours". He goes on to say that "you don't have to put dogs in the ambulances to run all over the patients, as we've seen, to check for explosives".
Another way through which patients are suffering from violence is by being abducted. For instance, in January 2014, the police raided a Ukrainian centre of the Red Cross. This event escaladed even further and the healthcare workers soon found themselves being shot at while witnessing the abduction of their wounded patients ("Attacks on Healthcare", 2014)
Consequences of violence against healthcare
According to the Iraq's health ministry, 18,000 out of 34,000 doctors fled the country between the years of 2003 and 2006 due to increasing violence. That led to the breakdown of the country's health system, according to the founder of the NGO, Doctors for Iraq. The same individual warns that there are only 11 surgeons in Mogadishu, the Somali capital, "if anyone was killed, there would be no one to replace them".
The worst-case  scenario in this situation is the complete withdrawal of entire agencies from disease-ridden areas. Unfortunately, this is not simply a scenario. For instance, MSF decided to pull out of Somalia in 2013, after 22 years of continuous humanitarian work due to the fact that 16 of its workers had been killed since 1991 and several had been attacked.
Both the fleeing and the withdrawal of healthcare workers have preposterous implications. The skills of these workers are often irreplaceable and the ability to recruit people after all the previous attacks becomes exceedingly problematic since they all have even more reasons to be afraid of getting killed.
There seems to be a whole campaign out there that has as its main purpose the targeting of anti-polio healthcare staff. For instance, only in Pakistan, in December 2012, 9 anti-polio workers were killed by gunshots, which led the United Nations to decide against the continuation of the eradication program in that zone of conflict. Approximately 2 weeks after this unfortunate incident, other 7 more workers, assigned to do community development work, were killed only because they were associated with the anti-polio work carried out by their colleagues. In February 2013, this time in Nigeria, members of an Islamist group killed 9 other healthcare workers. Since 2012, a shocking 60 healthcare workers dealing with anti-polio vaccinations have been killed, threatening a polio "renaissance".
The same issue applies in terms of non-infectious chronic diseases. Because of this "militarization of healthcare", many refugees are more predisposed towards overcharging and exploitation since they are not in their home country. Adjacently, the surge in non-infectious chronic diseases in war zones is something to keep an eye on since they are progressively in the foreground. Proof gathered from both natural disasters and warfare points out to the excess in mortality and morbidity as caused by non-infectious diseases such as diabetes, hypertension and cancer. Moreover, not being able to access basic medical care leads to a propensity towards outbreaks of cholera, dysentery, typhoid or hepatitis.  All those seemingly routine blood tests needed for chronic diseases, such as the thyroid stimulating hormone or different types of medications like an asthma inhaler become unavailable when violence against healthcare buildings, ambulances or stores occurs. Maternal deaths are another reason why the lack of international healthcare or the lack of access to it is so sharply felt. These deaths – that can otherwise be considered preventable – happen because of mishandled home deliveries, all the missed abortions which in many cases led to sepsis and all the conflict-related impediments that constrain both patients and physicians' access to one another.
Since many doctors are being considered "enemies of the regime" for treating protestors, for instance, they are constantly targeted which makes hospitals unsafe places to seek treatment in. That leads to an increase in the setting up of alternative places to practice "medicine" such as makeshift hospitals, underground networks of healthcare workers or, in some cases, somebody's living room.  People choose to be treated in these parallel healthcare establishments for fear of being arrested or, even worse, tortured by their ethnic group for entrusting their health to these medical practitioners that are viewed as foes. However, these places have unsustainable and disjointed care.
Non-measured, non-existent…
"What we are surprised about is how much these incidents almost go unnoticed" said Yves Daccord, the Director-General of the ICRC. This is probably due to the fact that all of these repercussions brought by violence on the healthcare system are equally tough to measure. As Rudi Coninx from the Emergency Risk Management and Humanitarian Response department at the World Health Organization stated, "If you ask someone at WHO, 'What is the extent of the problem?', if they were honest, they would say, 'I don't know', as nobody collects these data in a systematic way".
Legal Provisions 
A year after the creation of the ICRC, the Geneva Convention of the 1864 set the legal basis for the neutrality and protection of medical personnel, hospitals and ambulances against violence during active combat (ICCR, 1864). However, the Geneva Conventions that are currently serving as the legal frameworks for the carrying of medical activities in armed conflicts were negotiated in 1949. They were subsequently amended with the inclusion of the Additional Protocols that were meant to take into consideration newer types of conflict. However, these violations of the law go far beyond the principles enshrined in the Geneva Protocols. According to the Special Representative of the Secretary-General for Children and Armed Conflict, Leila Zerrougui, the aftermath of conflict affects children's right to healthcare, in terms of their ability to access healthcare services during wars and the difficulties encountered by the healthcare personnel in providing for their most basic needs. That happens in spite of the legal framework constructed by the United Nations Security Council in which the protection of children in conflict zones is rendered a priority. The denial of humanitarian access to healthcare services is situated among the other six violations classified by the UNSC as gravely affecting the wellbeing of the children. Another violation is represented by the attacks on hospitals and schools. The main idea is that all of these violations are inadequately covered in the current legal framework meant to protect healthcare in conflict zones.
Refashioning the System                              
Steps towards the remodelling of the healthcare system have already been taken starting with the mere acknowledgement of the problems posed by the violence against healthcare. For instance, in May 2011, at the World Health Assembly, the government expressed avid interest towards the matter by simply admitting violence against healthcare does happen; more than that, it is pervasive and something needs to be done about it.
Nonetheless, this is not the stage at which things should be stopped. Appropriate measures to advance the delivery of healthcare by enhancing security need to be taken both within the health community itself and in the arenas of politics, law by creating standard operating procedures within the military and enhancing humanitarian dialogue. For example, in the realm of politics, the obstruction in the manufacture and trade of light weapons and small arms could lead to less civilian deaths in active combat. Another solution to protect healthcare workers is to establish a special protection force. Furthermore, something that is already being done with leaders of rebel groups such as Charles Taylor is the prosecution of attack perpetrators on healthcare personnel at the International Criminal Court.
"One of the first victims of war is the healthcare system itself", as Marco Balden interestingly stated. Some even believe that the legal framework is not as relevant anymore due to the urgency and importance of the matter. For instance, Paul Christopher Webster, an award-winning documentary film director who has reported from 20 countries since 1992, sustained the idea that "we need to focus on the consequences and not get bogged down in legalistic debates". He then went on to say that "this issue [violence against healthcare] is very real and very important for huge numbers of patients".   Regardless of differing opinions, what needs to be borne in mind is that the sick and the wounded are being denied healthcare that can make a difference between life and death when healthcare workers and killed, injured or threatened and when ambulances and hospitals are rendered non-functional.