ASEAN's much underrated soft power
The 10-nation Association of South-east Asian Nations (ASEAN) still doesn't figure high on Europe's foreign policy agenda, yet the EU's chances of stronger political, business and security profile in Asia rest on forging stronger relations with it. This means EU governments must have a clearer understanding of ASEAN and its many little-noticed achievements.
With its policy of quiet, cautious and often not so fast regional co-operation and "preventive diplomacy", ASEAN has managed to achieve peace and stability in the region. Slowly but steadily, ASEAN members are integrating their economies and institutions, making the group a respected political force in the region.
Peace and stability in South-east Asia was certainly not a given when Singapore, Indonesia, Thailand, the Philippines and Malaysia signed the political declaration in 1967 that formed the basis for ASEAN. In a climate of uncertainty and suspicion, ASEAN started as a purely political undertaking. One big difference between the EU and ASEAN is that by starting as a political project, it wasn't until 1993 that the ASEAN agenda, inspired by the EU, was extended to cover economic integration.
And even then, ASEAN's goal of establishing an economic community by end-2015 with a "single market and common production base" doesn't mean it's on track to become another EU. ASEAN's economic integration is less 'deep' than that of the EU. In addition to its own integration, it is the group's policy to push ahead with the knitting together of its many different free trade agreements into one over-arching accord. The goal is to establish by 2015 an umbrella trade deal known as the Regional Comprehensive Economic Partnership (RCEP) with Australia, China, India, Japan, Korea and New Zealand as part of a policy of "widening". The RCEP is designed to create a free trade zone for a market of 3bn people with an economy of $17 trillion.
Equally impressive is ASEAN's role as a political stabiliser in the region through its network of dialogues on issues ranging from maritime security, health and climate change. These ASEAN-driven initiatives tend to go largely unnoticed in the west but they are the tools of preventive diplomacy.
ASEAN's Treaty of Amity and Co-operation (TAC) began as a "peace treaty" between its own member states but now includes a growing number of countries and 'regional organisations' (since the TAC was adapted so the EU could join) that have committed to the TAC's message of "peaceful co-operation and non-interference". In 2003, China was the first non-ASEAN member to sign up to the TAC, and others that have followed included the U.S. in 2009, the EU in 2012 and Norway and Pakistan as the most recent members, with Turkey and Brazil about to join.
ASEAN has, significantly, managed to keep relations with China on an even keel despite the tensions in the South China Sea over conflicting territorial claims of China and Vietnam, and China and the Philippines. This may lead some to indulge in simplistic conclusions of "inevitable war" in the region – but the reality is very different. China, after long, patient but relentless lobbying by ASEAN, has finally agreed to talk with ASEAN as a bloc about a Code of Conduct for the South China Sea. This ASEAN-China dialogue is still fragile, and fresh incidents could yet lead to future misunderstandings and escalation, so armed conflict can never be ruled out. In the meantime though, ASEAN has played an important stabilising role.
Indonesia, accounting for some 40% of ASEAN's population and economy, is in the vanguard of efforts to keep the peace with China and has steered clear of China-U.S. rivalry in the region. Indonesia seeks to keep ASEAN, which includes some very pro-U.S. members and others who are allied with China, on a similarly neutral course. When East Timor said it wanted to join ASEAN, Indonesia was clear about ASEAN's role as a counter-balance to China, with Indonesia's foreign minister, Marty Natalegawa warning that a negative ASEAN reaction to East Timor's entry bid could only lead to "greater influence of China in East Timor". This said, the minister has stressed on more than once occasion that there is "no need to create a new Cold War climate".
ASEAN executed much behind-the-scenes influence to spur political change and reform in Myanmar. Its decision in 1997 to accept military-ruled Myanmar as a member was in part related to growing Chinese influence in that country, and ASEAN member states felt it was better to deal with Myanmar through a policy of "constructive engagement" than to exclude it.
Myanmar's ASEAN membership of course led to difficulties in relations with the EU, the U.S. and other Western countries. But ASEAN felt it was not up to those outside the region to pass judgment on the issue, and it can now claim with some justification that this inclusive approach towards Myanmar produced the right results. ASEAN diplomats like to explain that it played an equally important role by showing Myanmar that the 'international community' was not composed of a bunch of unpleasant bullies.
ASEAN's rapid response to cyclone Nargis when it struck Myanmar in 2008 also helped to spur change in the country. Former ASEAN Secretary General Surin Pitsuwan convinced Myanmar's leaders of the need to accept foreign assistance, and in addition, there was constant soft pressure from Indonesia, whose leaders never spoke out openly against the regime, but for many years met with their Myanmar counterparts to underline the importance of becoming democratic, holding up their own country as an example of a transformation from an authoritarian regime to a vibrant democracy. Myanmar isn't there yet, but the process of change now underway is testimony to ASEAN's little-noticed soft power.
ASEAN's post-modern diplomacy and its role as a factor of stability and peace in the region have long been underestimated by Europe and the U.S. But both Brussels and Washington are now waking to ASEAN's importance, recognising that it shares with the EU the fate of a regional "peace organisation" that seldom makes the headlines. ASEAN plays a crucial stabilising and balancing role in a south-east Asia, and in the face of rivalries between China, the U.S., Australia, India, Russia and others, its protective fence is of utmost importance to the region's smaller countries. And even Indonesia finds itself better able to promote its policy of "zero enemies, thousand friends" in the ASEAN context than alone.
In spite of the shouting matches that at times erupt between individual ASEAN members and China, ASEAN as a group has a constructive relationship with its huge neighbour. ASEAN-China co-operation covers many sectors and the two sides have concluded an ambitious free trade agreement. There remain problems, but these are dealt with in a way that is arguably more mature and proactive than, for instance, the uneasy relationship between the EU and Russia.
ASEAN's soft power may be hard to understand for those who think of power in terms of helicopters and gunboats. But today's world needs peace-builders and conflict managers – and ASEAN's stabilising role should not be underestimated. It is time Europe took note.
First published by the Europe's World, article re-posted per author's permission
Infrastructure Drive, Strong Domestic Demand to Sustain Philippine Growth
The Philippines' economic growth is expected to sustain its quick pace in 2018 and 2019 as the government's infrastructure program is rolled out, says a new Asian Development Bank (ADB) report.
In its new Asian Development Outlook (ADO) 2018, ADB projects Philippine gross domestic product (GDP) growth at 6.8% this year and 6.9% in 2019, up from 6.7% in 2017. Rising domestic demand, remittances, and employment, in addition to infrastructure spending, will drive growth. ADO is ADB's flagship annual economic publication.
"Along with domestic demand, the government's infrastructure investments will fuel the country's growth in the next few years, supported by a sound economic policy setting," said Kelly Bird, ADB Country Director for the Philippines. "We expect this growth to further lift wage employment numbers, add to household incomes, and benefit more poor families across the archipelago."
The Philippines remained one of the strongest growing economies in Southeast Asia in 2017. Domestic investment recorded 9% growth last year, moderating from a brisk 23.7% in 2016, although growth in fixed investment in industrial machinery, transport equipment, and public construction remained robust. Household consumption grew by 5.8% in 2017, from 7% in 2016, on the back of higher remittances and employment, with the unemployment rate falling by 1.3 percentage points to 5.3% in January 2018 as 2.4 million jobs were added. Public spending rose by 7.3% last year from 8.4% in 2016.
Consumer price inflation reached 3.2% last year from 1.8% in 2016 due to strong economic growth, higher international fuel prices, and Philippine peso depreciation, but well within the 2% to 4% target by the Bangko Sentral ng Pilipinas—the country's central bank. The country's external debt further declined to 23.3% of GDP in 2017, from 24.5% of GDP in 2016.
Moving forward, ADB projects services will continue to drive GDP growth, along with manufacturing and construction industries. The approval of the Tax Reform for Acceleration and Inclusion law in December 2017 will augment tax revenues and provide additional fiscal space for more progressive public spending. The policy reforms are expected to yield additional 90 billion to 144 billion Philippine pesos ($1.73 billion to $2.76 billion) in tax revenue collection in 2018 and 2019, respectively.
With economic growth gaining momentum, inflation is projected to reach 4% in 2018 as global oil and food prices rise, and higher excise taxes on some commodities take effect. In 2019, meanwhile, inflation is expected to marginally decline to 3.9%.
The report notes there are external risks to the Philippines' growth outlook from heightened volatility in international financial markets and uncertainty about global trade openness, although the country's strong external payments position would cushion these effects.
A major policy challenge to the country's growth outlook, according to the report, is managing the rollout of the government's "Build, Build, Build" infrastructure program, which is expected to raise public infrastructure spending to 7.3% of GDP by 2022 from 4.5% in 2016. The report provides suggestions on ways to enhance government capacity, including strengthening coordination between government agencies and improving technical capacity of staff within these agencies, and fostering stronger partnerships between government agencies, the private sector, and development partners.
Securing the future prosperity of the Greater Mekong Subregion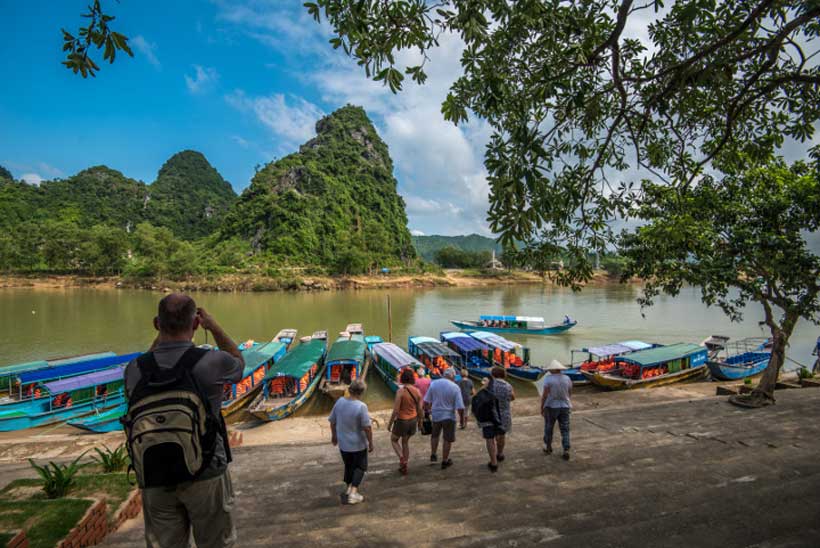 The Greater Mekong Subregion (GMS) countries have made stunning progress over the past quarter century. Once plagued by poverty, they are now economic success stories.
The GMS Economic Cooperation Program has contributed significantly to this transformation. Since it was established in 1992 as a means to enhance economic relations and promote regional cooperation, its six member countries—Cambodia, the People's Republic of China, Lao People's Democratic Republic, Myanmar, Thailand, and Viet Nam—have built a platform for economic cooperation that has mobilized almost $21 billion for high-priority infrastructure projects. Foreign direct investment into the subregion has surged ten-fold and trade between its countries has climbed from $5 billion to over $414 billion.
But the subregion faces challenges to its prosperity. Further reducing poverty, climate change adaptation and mitigation, energy efficiency, food security, and sustainable urbanization remain priorities of the GMS Program. Countries also face new challenges, including growing inequalities, rising levels of cross-border migration, and the potential impact on jobs of the fourth industrial revolution.
Moreover, GMS countries have agreed to significant commitments under the Sustainable Development Goals and the Paris Agreement on climate change.
There are also emerging opportunities for the region, including incorporating new technologies in various sectors such as education, agriculture, health, and finance. GMS countries are situated at the crossroads of South and Southeast Asia, and hence they can benefit from the increased momentum for growth in South Asia.
As GMS leaders gather this week in Ha Noi to chart the future of the program, it's a good time to consider how a new generation of initiatives can ensure the GMS Program remains relevant and responsive to the subregion's needs.
The Ha Noi Action Plan and the GMS Regional Investment Framework 2022, both proposed for adoption at the Summit, provide a platform for countries to strengthen their cooperation through continuous innovation. These two documents will have a sharpened focus on the GMS Program's strategic goals of enhancing connectivity, competitiveness, and community in the subregion.
Connectivity, the first objective, has been dramatically improved. More than 10,000 kilometers of new or upgraded roads and 3,000 kilometers of transmission and distribution lines have been added under the program. These transport networks have been transformed into an interconnected network of transnational economic corridors, building on 25 years of work to extend the benefits of growth to remote areas. The Ha Noi Action Plan calls for the continued expansion of these economic corridors to boost connectivity both between and within countries.
The subregion's competitiveness is improving through ongoing efforts to facilitate transport and trade flows, enhance agriculture exports, and promote the GMS as a single tourism destination after receiving a record 60 million visitors in 2016. Looking ahead, it will be important to continue cutting red tape and to remove remaining barriers to transport and trade.
Finally, communities are being strengthened through cross-border initiatives to control the spread of communicable diseases, expand educational opportunities, protect the subregion's rich biodiversity, and mitigate the impacts of climate change.
GMS countries have identified a new pipeline of 227 projects worth about $66 billion under the GMS Regional Investment Framework 2018–2022. These projects will expand economic prosperity by developing cross-border transport and energy infrastructure.
ADB, which has been the program's secretariat since its inception, expects to provide $7 billion over the next 5 years for a range of projects supporting transport, tourism, energy, climate change mitigation and adaptation, agribusiness value chains, and urban development. This builds on more than $8 billion in financing provided by ADB so far under the program.
To deliver these projects and make headway on other priorities such as infectious disease control and environmental preservation, strong partnerships are vital. The GMS Program depends on the collaboration of many stakeholders, including local administrations and communities, development partners, academia, and the media.
The GMS will benefit from strengthened partnerships with other regional and global cooperation platforms, leading to new opportunities for future development.
Partnerships with the private sector will also be increasingly important, and it is gratifying to see them deepening through the GMS Business Council, the Mekong Business Initiative, the e-Commerce Platform, GMS tourism and agriculture forums, and the recent Finance Sector and Trade Finance Conference.
I am optimistic that the subregion will meet its challenges and capitalize on emerging opportunities. By working together, GMS countries can deliver rapid, sustainable, and inclusive growth for another 25 years and beyond. ADB will continue to be an important and trusted partner in that endeavor.
Vietnam continues to reduce poverty
Poverty in Vietnam continues to fall, particularly amongst ethnic minorities, who saw their rate of poverty decline significantly by 13 percentage points, the largest decline in the past decade, says a new World Bank report.
According to Climbing the Ladder: Poverty Reduction and Shared Prosperity in Vietnam, released today by the World Bank, improving income from highland agriculture can help Vietnam further reduce poverty, which has fallen by almost 4 percentage points since 2014, to 9.8 percent in 2016. Ethnic minorities – many of them living in highland areas – account for 72 percent of Vietnam's poor, and encouraging them to grow more profitable industrial crops may improve their earnings.
"Vietnam has achieved tremendous results in reducing poverty and improving the quality of life for millions. The decline in poverty amongst ethnic minorities is encouraging, and more focused efforts on improving their incomes can further broaden their opportunities and reduce persistent inequalities," said Ousmane Dione, World Bank Country Director for Vietnam. "The aspirations of those with less opportunities cannot be ignored."
Outlining recent trends and patterns of poverty in Vietnam, the report proposes solutions for that untapped agriculture potential in highland areas where the poor are concentrated. Land use and cropping decisions, for example, contribute more to agriculture income differences between households. Low-income families in highland areas use their land to grow basic crops such as rice or maize instead of raising more profitable crops such as coffee, black pepper, or rubber.
Improving access to credit may help highland farmers make the necessary investments for higher-earning agricultural production. Strengthening earning capacity can help narrow inequalities between groups.  The average per capita consumption of ethnic minorities, for example, remains less than 45 percent of the Kinh and Hoa. Moreover, the poor faces a widening gap in terms of access to upper secondary education and improved water and sanitation.
At the same time, the report recognizes that 70 percent of Vietnam's population is now classified as economically secure, including the 13 percent who are now part of the global middle-class. These income classes are growing rapidly, rising by over 20 percentage points between 2010 and 2017. An average of 1.5 million Vietnamese joined the global middle class each year since 2014, confirming that households continue to climb the economic ladder after escaping poverty. The rise of the consumer class changes society's aspirations and the focus of the poverty and shared prosperity agenda shifts from combatting extreme poverty to effecting broad improvements in the quality of life and supporting the further expansion of the middle class. Rapid job creation and an ongoing transition to wage employment are driving gains in poverty reduction and shared prosperity.
The report suggests several areas of strategic priorities to further reduce poverty and promote shared prosperity, including:
Boosting labor productivity and investing in infrastructure to sustain job creation and wage growth without losing competitiveness.
Implementing education reforms designed to equalize opportunities and develop workforce skills.
Spurring agriculture structural transformation through changing farmland use patterns, strengthening land user rights, and improving skills of the poor farmers.
While reducing inequality remains a challenge, the report notes that the number of individuals vulnerable to falling back into poverty declined to only 2 percent between 2014 and 2016. In contrast, the period saw the middle class expanding by more than 3 million people.
One of the prioritized areas under the new World Bank Group Country Partnership Framework with Vietnam for the period from FY18 – FY22 is inclusive growth, with a specific objective for the "economic integration of the poor and vulnerable groups" under which the Bank will provide support for targeted interventions to expand economic opportunities for people in lagging areas.