Presidential Election 2014 and Indonesian Foreign Policy
Indonesian Presidential general election has been underway on July 9th. There were 2 pairs of strong candidates for Presidential and Vice-Presidential position: Prabowo Subianto-Hatta Rajasa (Prabowo-Hatta) and Joko Widodo and Jusuf Kalla (Jokowi-JK). There will be numerous challenges for the elected pair, and one of the more important challenge will be regarding Indonesia's future foreign politics policy. This article will try to foresee the type of leadership of each couple and also their foreign politics performance.
The official results of legislative elections on 9 April 2014 General Election Commission put PDIP at the ranked first with 23,681,471 votes (18.95%), followed by Golkar: 18,432,312 (14.75%), Gerindra: 14,760,371 (11 , 81%), Democrats: 12,728,913 (10.19%), PKB: 11,298,957 (9.04%), PAN: 9,481,621 (7.59%), PKS: 8,480,204 (6.79 %), Nasdem: 8,402,812 (6.72%), PPP: 8,157,488 (6.53%), Hanura: 6,579,498 (5.26%), PBB: 1,825,750 (1:46%), and PKPI: 1,143,094 (0.91%). Bottom two of political parties, namely PBB, and PKPI are declared not qualify parliamentary threshold (3%) and did not get any seats quota in parliament. Since none of the party with the most votes above 20%, as a condition of Presidential thrashhold to be able to carry a pair of candidates for president and vice president themselves, the coalition of political parties is a must. In the presidential system in Indonesia, election of coalition partners is also directed by the vote or seats in parliament (at least 50 percent +1), which is then tied in a mutual political platform.
After the legislative elections is resulted in maneuvering the political elite to form a coalition at the presidential election May 9, 2014. Because the public orientation to the above figures of a political party is still a presidential election winning political formula, then the composition selection of the Presidential Candidate – Vice Presidential Candidate is very important to the victory of the candidate pairs. Of the various movements of some leaders of political parties, eventually converging on a two couples of Presidential Candidate – Vice Presidential Candidate for which respectively carried by supporting political parties to compete seizing power in Indonesia from 2014 to 2019. Two strongest pairs are Prabowo-Hatta and Jokowi-Jusuf Kalla. Prabowo-Hatta named their coalition as a Red White coalition carried by Gerindra, PAN, PPP, PKS, Golkar and PBB that total votes are 48.93%, or 292 seats in parliament. While the duo Jokowi-Jusuf Kalla brought by a coalition party of PDI-P, Nasdem, PKB, Hanura, and PKPI with a total of 39.97% of the total votes in 2014 legislative elections, or 207 seats in the House.
After receiving the serial number of the National Election Commission, the duo Prabowo-Hatta (serial number : one), and Jokowi-Jusuf Kalla (serial number : two), two sets of candidates on June 3 at Bidakara Hotel signed an integrity pact for peaceful election in Indonesia later dated July 9, 2014. Peace Election Post-Declaration, each contestant campaigned to all corners of Indonesia to share their vision and mission to the community, followed with national or global issues considered to be of importance and urgency. The question that a distinguish colleague and dear frined of mine prof. Anis Bajrektarevic has recently asked in his luminary work "Europe of Sarajevo 100 years later", 'Was history ever on holiday?' – is nearly answered, at least this time in Indonesia – the 3rd largest democracy in the world.
Two variant of Leaders
Borrowing the term of Herbert Feith, there are two types of political leadership in Indonesia, namely "manager type" (administrator) and type "unifying type" (solidarity maker). Leaders with the administrator type are those who have the technical ability to govern the state. This type is generally represented by educated leaders who master a particular field. While the leaders of the solidarity maker types are the ones who are able to approach the masses, influence them, as well as gain wider sympathy and support from community.
If seen from figures of Presidential Candidates: Prabowo and Jokowi, both are the solidarity maker type because of their capacities to make both of them are not only popular among their supporters, but also have a relatively high electability in the public eye. The difference is, that Prabowo as a solidarity maker figure has high performance characteristics, while Jokowi is more low performance. High performance of Prabowo is manifested in the figure of confident, assertive and bold, while the existing low performance of Jokowi lies in its simplicity aura everyday.
Meanwhile, Vice Presidential Candidate of Hatta Rajasa and Jusuf Kalla, both equally can be characterized as figures considered expert in managing government (administrator) for some experiences as bureaucrats and state officials. The difference, Hatta Rajasa is more low profile, while Jusuf Kalla is quite a high profile in his performance.
Of both pairs have benefits and deficiencies of each. But the leader of solidarity maker type with high performance (Prabowo) could further demonstrate his capabilities as a leader because he had a better motion and political communication, including in attracting public support. While Jokowi looks less good for political communication. The high imaging seems too strong to be on his shoulder. Signaled himself as the party officer and Doll Presidential Candidate is a heavy burden amid the Presidential Candidates and their popularities. Path "on leave" as the governor also indicated that Jokowi judged not to confident in contestation to face Presidential Election 2014. Currently, campaigned as a Presidential Candidate, executing tasks of Jakarta Governor are undertaken by the deputy governor, Basuki Tjahya Purnama (Ahok). It means, if Jokowi lost the battle for the number one seat in Indonesia later, he could take back his position as Jakarta Governor.
Candidate for Vice President has the low profile administrator type (Hatta Rajasa) seeming to be able to work together in government. This type is similar to the figure of Indonesian vice president, Boediono, now. Not much to say, experienced, courteous, and competent. Jusuf Kalla also balanced. Jusuf Kalla has plenty of experiences in the government bureaucracy. The difference, Hatta Rajassa is the General Chairman of the Party (PAN), moreover Jusuf Kalla is the former coriander of the Golkar Party which also rely on the popularity as Jokowi. The problem is also that Vice Presidential Candidate, Jusuf Kalla (72 years) is much older than Jokowi (52 years) as a candidate for president. The Second Symptom Captain in one vessel can not be avoided. Two captains are not among Jokowi with Jusuf Kalla, but also between Megawati and Jusuf Kalla later.
Foreign Politics Performance
During the campaign period ahead of voting until July 9, 2014, the vision-mission of both pairs are louder presented to the public, ranging from a matter of economics, education, health, environment, food, energy, law enforcement, until about fighting corruption. Which did not escape that should be of concern is how the performance of Indonesian foreign politics of the two couple of candidates later. It's no secret if the issues of foreign politics is often a secondary priority compared to national issues. But the fact that a peaceful election in Indonesia should be able to be a major capital and stimulus to improve active role in regional and global arena, as mandated by the opening of Constitution 1945 paragraph 4 to participate in creating a world order.
Indonesian Foreign Politics Challenges
In the short and medium term, foreign politics still faces two strategic issues. The first is the traditional security challenges, such as separatism and border disputes. Separatist Action of Free Papua Movement (OPM), or the work of Malaysian who do not appreciate status quo territory, at Camar Bulan and Tanjung Datu in West Kalimantan border needs to be addressed explicitly by the new Indonesian leader. The second is non-traditional strategic issues, as transnational crime such as terrorism, money laundering, climate change, maritime security and others. Crimes at sea such as illegal fishing, illegal logging, illegal mining, human trafficking, drug trafficking passing Indonesia sea channel continued. Moreover, Indonesia is directly adjacent to the 10 countries in the sea and only 2 countries on the land.
In the context of maritime security, Indonesia needs to be a leadership pioneer in ASEAN to be bold against China on issue in South China Sea, especially if China enters the water territory of Natuna as part of its claim. Indonesian shall enforce Exclusive Economic Zone and freedom of navigation in accordance with norms of international laws. Therefore, modernizing Indonesia military is a must.
Performance of Presidential Candidate – Vice Presidential Candidate
As has been described above by the author, figures of Presidential Candidates Prabowo and Jokowi has solidarity maker type. The difference is the leadership style off Prabowo Subianto having characteristics of high performance, while Jokowi is more low performance. Meanwhile, Vice Presidential Candidate of Hatta Rajasa and Jusuf Kalla, both equally can be characterized as figures considered expert in managing government (administrator) for some experiences as bureaucrats and state officials. However, Hatta Rajasa is more low profile at work, while Jusuf Kalla has high profile type.
At glance there are similarities if you look at the vision-mission of foreign relations between Prabowo-Hatta and Jokowi-Jusuf Kalla. Both pairs equally lays self-reliance principle of Indonesian people in facing the global challenges ahead. Prabowo-Hatta and Jusuf Kalla Jokowi Visions in maritime sector both want to build ports. Each of the Presidential candidate pairings equally want contract re-negotiation between the Indonesian Government with the foreign companies that have been operating in Indonesia for quite some time, who have a number of issues that deemed harmful to the interest of the Indonesian people, for example Freeport in Papua and Newmont in West Nusa Tenggara. National needs and interests are articulated through foreign politics of both pairs. But masculine characteristics in the implementation of the Indonesian foreign politics from Prabowo-Hatta are more pronounced for protecting the nation, play an active role and confident in facing the global arena (Outward Looking). The hope of Indonesian nationals are more respected by other countries, inside or outside the regions. Prabowo-Hatta is considered to have the competence to anticipate issues and challenges of traditional security. Prabowo-Hatta International slogans about 'Revival Indonesian' becoming Asian Tiger is a high performance leadership style in Indonesian foreign politics.
While the more feminine performance of Indonesia's foreign politics looks of the duo Jokowi-Jusuf Kalla. Concentration of Indonesia's foreign relations will be more focused inward looking. Visions-Missions of Jokowi-Kalla are more based on the national interest and the desire to strengthen the identity of Indonesia as a maritime nation. The idea is to save Indonesia's marine wealth that will be done by building the fish processing industries, as well as improving transportation links for large ships at strategic locations. The idea of the need for the Indonesian people to do 'mental revolution' as a guide to the 'Wonderful Indonesia' is the slogan of the foreign politics implementation of a low-performance-high-profile.
Closing
Visions and missions from both pairs of Presidential Candidate – Vice Presidential Candidate are in fact complement each other and fill the two polugri major issues mentioned above. As head of state and head of government, the elected president later will have to have a vital role and influence on the implementation direction of the foreign politics that strived for the prosperity of the Indonesian people, keep maintaining integrity of the Republic, as well as a commitment to be part of an international collaboration in creating world peace. In 2015, Indonesia will face the ASEAN Community. Indonesia needs to show the attitude of 'do not come home' in agreements towards ASEAN economic society later. When viewed from its history, Indonesian foreign politics are closely related to the issue of its national pride, position, and role in the international world. The fact that a peaceful election in Indonesia should be a major capital and stimulus to improve the active role in regional and global arena, as mandated by opening of the Constitution 1945 paragraph 4 to participate in creating a world order, as well as to resolve issues and security challenges
References :
Herbert Feith, The Decline of Constitutional Democracy in Indonesia, Jakarta, Equinox Publishing, 2007.
Rebecca Grant & Kathleen Newland, Gender and International Relations, Buckingham, Open University Press, 1991.
Prabowo Subianto, et. all, Membangun Kembali Indonesia Raya, Jakarta, Institute Garuda Nusantara, 2009.
Anis H. Bajrektarevic, From WWI to www. – Was history ever on Holiday?, Addleton Academic Publishers/GHIR, New York
http://www.themalaysianinsider.com/sideviews/article/on-the-indonesias-election-2014-igor-dirgantara
http://www.thejakartapost.com/news/2013/09/18/prabowo-could-be-indonesia-s-lee-kuan-yew.html
http://www.geopoliticalmonitor.com/voting-trends-in-upcoming-indonesian-elections-4936/
http://www.thejakartapost.com/news/2014/05/12/jokowi-wants-start-mental-revolution.html
Mood, Wisdom and Passions of Middle Class in Upcoming Indonesian Election
http://www.thejakartaglobe.com/opinion/race-strengthen-foreign-ties/
http://www.antaranews.com/en/news/93655/observer-raises-suspicion-over-jokowi-blake-meeting
http://www.teraspos.com/en/read/2014/03/15/84284/jokowi-breaks-his-campaign-promise-for-his-presidential-candidacy
Public Favors Presidential Candidates with Military Background
A Short History of the ASEAN Digital Future
This month, Malaysia celebrates its 62nd anniversary of Independence, led by 94-year old but digitally savvy Prime Minister Mahathir Mohamad. Singapore also celebrated its 54th National Day this month, with Prime Minister Lee Hsien Loong speaking in Malay, Mandarin and English about how to prepare Singapore for climate change. At the 74th anniversary of Independence, Indonesian President Joko "Jokowi" Widodo announced an ambitious plan to move the capital from Jakarta to Borneo.
Traveling around ASEAN this month made me realize that while the rest of the world is more preoccupied with the turbulent present, Southeast Asia is already thinking and preparing for the future.
The reason for this is pretty straight forward. At 600 million people with more than US$2.5 trillion in gross domestic product (GDP), ASEAN economies remain one of the youngest and fastest growing region in the world. ASEAN's success since the 1960s has been built on trade, peace and stability, and dedication to economic growth rather than politics. Its future success hinges on its political neutrality, despite attempts by the Great Powers asking the region to choose sides.
In Hanoi for a Young Scholars Initiative meeting of young academics, I was struck by how Vietnam was already planning for a digital economy by 2030 and 2045.
Having touched 7.1 percent GDP growth in 2018, and with just under 100 million population, Vietnam has been a major beneficiary of China shedding its low-cost industries and the diversification of the Asian global supply chain.
In 2010, Vietnam achieved the World Bank's middle-income status and at the current trajectory, could be larger than Singapore's economy by 2029, according to a DBS study.
In order to maintain its growth momentum and to provide jobs for its growing youth, Vietnam envisaged four possible digital futures, as buyer or seller of digital products and services.
In the first Heritage scenario, using traditional engines of growth with low digital transformation, the additional growth could be minimal.
In the second scenario of Digital Exporter, using overseas companies hiring Vietnamese workers for exports, the projection shows some improvement, but only marginal benefits.
The third scenario of Digital Consumer leverages off Vietnam's own large consumer market, but the amount of current jobs at risk would be one-third higher than the two earlier scenarios.
The fourth scenario of a Digitally Transformed Economy, across all industries and government services, predicted an increase of 1.1 percent additional annual GDP growth, but 38.1 percent of current jobs would be at risk of transformation or disruption.
In essence, Vietnam realizes that its own industries can be cannibalized by relying only on the foreign sector and should therefore have a total domestic transformation that engages digitally with the rest of the world. That scenario lays out a road map that would give priority to infrastructure, network security, increasing digital skills and capabilities, modernizing government, an industry 4.0 and national innovation plan, and significant tax and regulatory reform.
Arriving in Jakarta last week for a conference on digital finance, I was struck how traffic from the airport has significantly improved, while everyone was also very focused on how digital transformation, social justice and climate change would be critical to Indonesia's future.
The move out of Jakarta, one of the most congested urban conglomerations in the world, would cost $33 billion over 10 years to build the new capital in Kalimantan. But another $40 billion would be spent on transforming Jakarta, as two-fifths of the city is below sea level and parts are sinking due to rising seas and soil settlement.
Indonesia is moving fast into the digital space, because its internet user growth rate is three times faster than the global average, and its internet user community is only 56 percent or 150 million out of its total population of 268 million. President Jokowi understands fully that "data is the new type of wealth for our nation, it is now more valuable than oil".
But since Indonesia is one of the biggest markets for Google, Facebook, Youtube and WhatsApp, the key to future growth will be the access to data. Will Indonesian companies, government and start-ups have access to data so that they can compete equally with multinationals that are willing to pay for such data? If we as individuals cede our private data to these platform companies, which then sell them as "private income", when will data become a public good for growth?
One reason why I am optimistic about ASEAN as digital economies is that they are actually more innovative than the present indicators suggest. If you look at the Global Innovation Index 2019, you would find that Switzerland is number 1, the United States (3) and Singapore (8), while Hong Kong, China and Japan are 13, 14 and 15th respectively. On the other hand, Malaysia ( 35 ), Vietnam ( 42 ), Thailand ( 43 ) and Philippines ( 54 ) are behind Latvia ( 34 ) and nearer India ( 52 ).
These scores are essentially weighted in ways like the famous IQ tests, which were essentially Euro-centric in bias. In the digital space, innovation and ability to capture markets are very much in the SPEED x SCALE x SCOPE framework. China was able to compete rapidly with the US, because of the scale of its internal market (800 million internet users), high speed broadband infrastructure available, and scope of hybrid services across multiple sectors (Alibaba and WeChat).
Clearly, within ASEAN, Indonesia, Vietnam and Philippines have scale, with populations over 100 million each. ASEAN's real strength is the youth of the population, already digitally savvy and moving into middle and higher income ranges. Hong Kong and Singapore score highly, but that is due to the higher weighting given to institutions, infrastructure and market sophistication, as you would expect from world-class cities. But Singapore came only 34th in terms of creative output, and Hong Kong came 33rd in terms of knowledge and technology outputs.
It is precisely because the ASEAN countries have youth, diversity of culture and access to world-class knowledge, as well as strategic geographical location, that they will become the cutting edge digital future. And since they are, as prof. Anis H. Bajrektarevic rightfully claims, 'champions of multilateralism' so much needed in a 'theatre of brewing expectations', that of 'still worryingly bilateral' Asia.
No economy today can afford to be complacent. Least of all in terms of flawed indices. To think that Hong Kong, considered by the Heritage Foundation to be number one in economic freedom, can descend into protests because of an intergenerational dispute over the rule of law and inequality, means that we need a root-and-branch review of how to compete in a complex digital world.
An earlier version of this text appeared in Jakarta Post under the title: A digital August in ASEAN.
Indonesia abandoning its Capital ?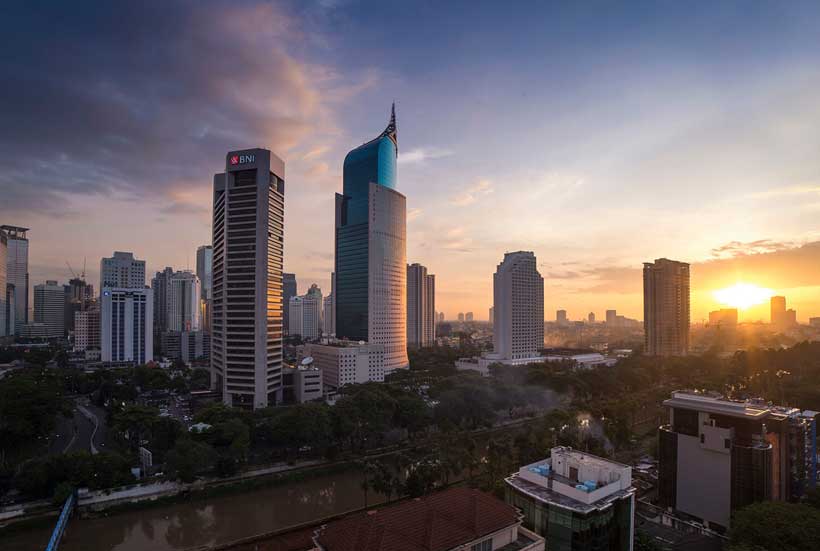 I have almost always lived in capital cities. I was born in New Delhi, resided in London, Prague (before Czechoslovakia split in 1993), Budapest, Rome, Bonn (long before the capital moved to Berlin in 1991), when my parents were posted there as diplomats. When in Indonesia, it's always been in Jakarta.
So am I a capital city snob? In connection to the uber-densely populated, polluted, badly planned, garbage-filled, flood prone, traffic-choked, sinking city that Jakarta is? Hah! Not likely.
Jakarta is Indonesia's gateway to the world, Southeast Asia's most dynamic metropolitan area, and the nation's economic, political, cultural and intellectual center. It provides all sorts of opportunities unavailable elsewhere in the country, which is what draws migrants in.
Jakarta proper hosts about 11 million in an area of 661.5 square kilometers, while the entire metropolis is home to over 30 million people across 6,400 sq km. Pretty squeezy huh?
Furthermore, Jakarta could also be hit by a powerful earthquake, not just the tremors we've been experiencing. Then we wouldn't have a capital. Oh boy!
So when I heard about the plan to move the capital from Jakarta to Kalimantan, I thought, hmmm (read: thinking hard!). A recent survey (posted in Coconuts Jakarta) unsurprisingly found that 95.7 percent of Jakartans were against the move. They suggested the new capital be called "Jokograd" or "Saint Jokoburg", mocking what they consider President Joko "Jokowi" Widodo's overly ambitious plan.
Megalomania? Overly enthusiastic? Or just like all leaders, wanting a legacy? Pak Jokowi, you have left legacies aplenty already! Yeah, sure, some failures, misguided policies, and many unmet promises as well, but no one's perfect!
So what and who is behind Jokowi's burning ambition? Could former president Megawati Soekarnoputri be one of them? Her father had also wanted to move the capital to Palangkaraya in Central Kalimantan (Jokowi decided on North PenajamPaser regency and part of Kutai Kertanegara regency in East Kalimantan). Moving the capital was one of first president Sukarno's unmet goals, so is "Mama Mega" passing it on to Jokowi?
Those who are for the move say it's courageous and revolutionary. Not really. Besides Sukarno, almost every president — certainly Soeharto and Susilo Bambang Yudhoyono, wanted to do it. But Jokowi is typically the Nike guy who says "just do it!"
Since independence in 1945, we've always been too Java-centric, even more than during colonial times. It's curious considering Java is an island comprising 7 percent (128,297 sq km) of the size of Indonesia (1,905 million sq km), populated by almost 160 million people, nearly 60 percent of the total population.
Kalimantan meanwhile has a land mass of 542,630 sq km, hosting under 14 million people. Transmigration from Java to the lesser populated islands of Kalimantan, Sumatra, Sulawesi and even Papua seemed an obvious solution to reduce overpopulation and poverty.
Transmigration programs, starting since the Dutch colonial period, later stoked fears of Javanization and Islamization, triggering conflicts, communal violence and bolstering separatist movements. Uh-oh!
In 2015 Jokowi scrapped the transmigration program, but now he's ferociously adamant about moving the capital to Kalimantan?
OK, let's look at the pros: like the transmigration program, it certainly looks good on paper. It suggests the government is serious about paying more attention to parts of Indonesia other than Java.
The move is expected to stimulate economic growth in the outer islands, and give a nod to non-Javanese culture. According to EndyBayuni of The Jakarta Post, "It's a step toward the 'de-Javanization' of Indonesia […] decentralization and regional autonomy are not enough".
My nephew, Andi Haswidi, a researcher, said, "Jakarta is sinking, and relocating the capital could induce a more equitable economic development". But he warned, the process will be incredibly hard and will require the revision of so many laws, unless the government resorts to using government regulations in lieu of law (Perppu). "It also requires incredible leadership, a serious commitment to the rule of law, and a more relaxed fiscal policy". Right. Just minor things.
The cons: extremely costly with an expected budget of Rp 477 trillion (US$36.6 billion) and humungous disruption, while the benefits are still uncertain. And remember Murphy's Law: expect the unexpected!
It's also one way to shrink the civil service, and possibly not getting the best human resources to work there. Would you be willing to just get up and leave everything that constitutes your life in Jakarta/Java? Family, friends and facilities, from health, education, entertainment and access to other places, both domestic and international?
Emil Salim, senior economist and extremely seasoned politician who held several governmental and Cabinet posts, reminds us of Indonesia's archipelago of 17,000 islands, flanked by two oceans, located smack bang in the middle of maritime traffic. A capital in Kalimantan would be very difficult to access.
"If Jakarta is fraught with problems, fix them", he said, "Moving is shirking responsibility". His opinion is echoed by Jeffrey Winters, a professor of Northwestern University who said, "It's capitulation. Jakarta is such a colossal failure, they've given up on trying to fix the city." But Winters also said, "It would be irresponsible to keep a capital in a sinking city that is going to be completely under water in less than five decades".
Environmental activists warn that the move could spark "a fresh environmental crisis in a region home to rainforests and endangered orangutans". They say mining and palm oil plantations are already threatening Kalimantan's environment and endangered species habitats, which could worsen if a big city is built near a key conservation area. And don't forget the forest fires!
"Equitable development" has always been a catchphrase in every president's rhetoric and every regime. According to Monique Rijkers in an article in Deutsche Welle, Indonesia doesn't need a new capital, what it needs are more metropolitan cities and infrastructure spread throughout Indonesia. As she points out, even the basic needs of the people such as access to water, electricity, health, education have not been met, and the government wants to move the capital?
Oh dear! Everyone has a point. It's so dilemmatic! Even those against the relocation admit that at some point the capital has to move, but not now. There are still too many pressing issues that need urgently to be tended to.
I give up. The House of Representatives needs to give its approval first anyway. Let's take it one step at a time, shall we, and let history, politics, science, and nature, run its course. 
Author's note: Early version of this text published by the Jakarta Post under the title: Jakarta to Kalimantan: Capital gain or capitulation?
In Myanmar, Better Oversight of Forests a Vital Step in Transition to Rule of Law
Authors: Art Blundell and Khin Saw Htay
For the first time, the Myanmar Extractive Industries Transparency Initiative (MEITI) has opened the books to share information with the public on revenue Myanmar's government collects from harvesting timber. Last month, the MEITI released two reports juxtaposing statistics on production and tax payments from government ministries' ledgers with corresponding figures reported by the state-owned Myanma Timber Enterprise (MTE) and forestry companies.
The reports are an important step toward improved transparency and accountability in Myanmar's forest sector because they shine a light on irregularities that may point toward mismanagement or illegal activities. Unclear legal frameworks and weak enforcement in Myanmar's forestry sector – a remnant of decades of military rule – have created an environment ripe for illegal logging and illicit trade, and mismanagement of natural resources.
The role of forests in Myanmar's transition to democracy cannot be overemphasized. Money from illegal logging helped to fuel Myanmar's decades-long civil war. Smuggling of illegally harvested timber to countries like Chinahas led to the loss of millions of dollars each year in government revenue. Corruption also fuels continued violence and prolongs armed conflict, especially in the heavily forested states that are home to most of Myanmar's ethnic minorities.
The MEITI is committed to sharing its results at the state level—especially in Myanmar's forest-rich regions. Myanmar's citizens have the right to understand how their forests are being managed for the public good.
The EITI framework was launched globally in 2003 with a focus on oil, gas, and mining, given that these lucrative sectors are often key drivers of corruption in resource-rich countries. Myanmar is one of only a few countries (following Liberia's lead) to add forestry to its EITI reporting, thanks to advocacy from civil society.
Myanmar's newest MEITI reports are a commendable step by the government toward transparency. But producing a report like this is not easy. The reporting highlights numerous disparities and irregularities in government record-keeping. This is not unusual for a first EITI report. It is also a major objective of the EITI: transparency leads to meaningful discussion about necessary reforms, while regular reporting creates an accountability mechanism to demonstrate progress. MEITI is now preparing their next report covering fiscal years 2016-2017 and 2017-2018.
The MEITI is already driving progress. Myanmar's Ministry of Planning and Finance (MoPF) has announced it will close the so-called "other accounts" maintained by State-owned Economic Enterprises, like the MTE, that have kept more than half their profits separate from the government's central budget. Data in the MEITI report suggest that MTEretained74% of its $1 billion profits from fiscal years 2014-2015and2015-2016 in these other accounts–significantly more than the 55% that is permissible.
Myanmar's Ministry of Natural Resources and Environmental Conservation (MoNREC) now holds important data that can be used to investigate and resolve irregularities uncovered by the MEITI reporting. For instance, the Forestry Department's data on production does not match the data provided by the MTE, and it is substantially more than the Annual Allowable Cut (a government-determined sustainable level of harvest). Likewise, the MTE indicated that more teak was sold than its total reported supply. The source of the additional volume of teak logs is unexplained.
Reforms should help MoNREC address these irregularities. Current reporting is obviously insufficient to capture reality. With the help of a workshop that followed the MEITI launch, stakeholders are working with MoNREC to develop appropriate reforms for MTE and the Forestry Department, and to improve forestry sector governance in general.
Opacity hurts the country in more ways than one. Illegal logging, corruption, and smuggling siphon off revenues meant for programs serving the public. Illegalities also threaten forests – and the communities that rely on forests for their livelihoods – and they drive off credible investment, leaving a gap often filled by investors with less regard for environmental and social regulations.
It is important to note that the MEITI reports cover only the period from April 2014 through March 2016, prior to Aung San Suu Kyi's NLD Party coming into power. The current administration has committed to fairer distribution of benefits from Myanmar's natural resources among its citizens, yet systematic barriers remain. Endorsing the recommendations from the MEITI report and implementing a roadmap for reform would signal the NLD's commitment to good forest governance. Meanwhile, companies should do their part to comply with the law and accurately report production, sales, and other data in an accessible manner that allows for independent monitoring.
Myanmar's forest resources hold great promise for the country's people, its economy, and the government budget, if managed responsibly. The MEITI has a clear role in charting that path forward and in helping Myanmar manage its natural resources based on the principles of good governance.