Presidential Election 2014 and Indonesian Foreign Policy
Indonesian Presidential general election has been underway on July 9th. There were 2 pairs of strong candidates for Presidential and Vice-Presidential position: Prabowo Subianto-Hatta Rajasa (Prabowo-Hatta) and Joko Widodo and Jusuf Kalla (Jokowi-JK). There will be numerous challenges for the elected pair, and one of the more important challenge will be regarding Indonesia's future foreign politics policy. This article will try to foresee the type of leadership of each couple and also their foreign politics performance.
The official results of legislative elections on 9 April 2014 General Election Commission put PDIP at the ranked first with 23,681,471 votes (18.95%), followed by Golkar: 18,432,312 (14.75%), Gerindra: 14,760,371 (11 , 81%), Democrats: 12,728,913 (10.19%), PKB: 11,298,957 (9.04%), PAN: 9,481,621 (7.59%), PKS: 8,480,204 (6.79 %), Nasdem: 8,402,812 (6.72%), PPP: 8,157,488 (6.53%), Hanura: 6,579,498 (5.26%), PBB: 1,825,750 (1:46%), and PKPI: 1,143,094 (0.91%). Bottom two of political parties, namely PBB, and PKPI are declared not qualify parliamentary threshold (3%) and did not get any seats quota in parliament. Since none of the party with the most votes above 20%, as a condition of Presidential thrashhold to be able to carry a pair of candidates for president and vice president themselves, the coalition of political parties is a must. In the presidential system in Indonesia, election of coalition partners is also directed by the vote or seats in parliament (at least 50 percent +1), which is then tied in a mutual political platform.
After the legislative elections is resulted in maneuvering the political elite to form a coalition at the presidential election May 9, 2014. Because the public orientation to the above figures of a political party is still a presidential election winning political formula, then the composition selection of the Presidential Candidate – Vice Presidential Candidate is very important to the victory of the candidate pairs. Of the various movements of some leaders of political parties, eventually converging on a two couples of Presidential Candidate – Vice Presidential Candidate for which respectively carried by supporting political parties to compete seizing power in Indonesia from 2014 to 2019. Two strongest pairs are Prabowo-Hatta and Jokowi-Jusuf Kalla. Prabowo-Hatta named their coalition as a Red White coalition carried by Gerindra, PAN, PPP, PKS, Golkar and PBB that total votes are 48.93%, or 292 seats in parliament. While the duo Jokowi-Jusuf Kalla brought by a coalition party of PDI-P, Nasdem, PKB, Hanura, and PKPI with a total of 39.97% of the total votes in 2014 legislative elections, or 207 seats in the House.
After receiving the serial number of the National Election Commission, the duo Prabowo-Hatta (serial number : one), and Jokowi-Jusuf Kalla (serial number : two), two sets of candidates on June 3 at Bidakara Hotel signed an integrity pact for peaceful election in Indonesia later dated July 9, 2014. Peace Election Post-Declaration, each contestant campaigned to all corners of Indonesia to share their vision and mission to the community, followed with national or global issues considered to be of importance and urgency. The question that a distinguish colleague and dear frined of mine prof. Anis Bajrektarevic has recently asked in his luminary work "Europe of Sarajevo 100 years later", 'Was history ever on holiday?' – is nearly answered, at least this time in Indonesia – the 3rd largest democracy in the world.
Two variant of Leaders
Borrowing the term of Herbert Feith, there are two types of political leadership in Indonesia, namely "manager type" (administrator) and type "unifying type" (solidarity maker). Leaders with the administrator type are those who have the technical ability to govern the state. This type is generally represented by educated leaders who master a particular field. While the leaders of the solidarity maker types are the ones who are able to approach the masses, influence them, as well as gain wider sympathy and support from community.
If seen from figures of Presidential Candidates: Prabowo and Jokowi, both are the solidarity maker type because of their capacities to make both of them are not only popular among their supporters, but also have a relatively high electability in the public eye. The difference is, that Prabowo as a solidarity maker figure has high performance characteristics, while Jokowi is more low performance. High performance of Prabowo is manifested in the figure of confident, assertive and bold, while the existing low performance of Jokowi lies in its simplicity aura everyday.
Meanwhile, Vice Presidential Candidate of Hatta Rajasa and Jusuf Kalla, both equally can be characterized as figures considered expert in managing government (administrator) for some experiences as bureaucrats and state officials. The difference, Hatta Rajasa is more low profile, while Jusuf Kalla is quite a high profile in his performance.
Of both pairs have benefits and deficiencies of each. But the leader of solidarity maker type with high performance (Prabowo) could further demonstrate his capabilities as a leader because he had a better motion and political communication, including in attracting public support. While Jokowi looks less good for political communication. The high imaging seems too strong to be on his shoulder. Signaled himself as the party officer and Doll Presidential Candidate is a heavy burden amid the Presidential Candidates and their popularities. Path "on leave" as the governor also indicated that Jokowi judged not to confident in contestation to face Presidential Election 2014. Currently, campaigned as a Presidential Candidate, executing tasks of Jakarta Governor are undertaken by the deputy governor, Basuki Tjahya Purnama (Ahok). It means, if Jokowi lost the battle for the number one seat in Indonesia later, he could take back his position as Jakarta Governor.
Candidate for Vice President has the low profile administrator type (Hatta Rajasa) seeming to be able to work together in government. This type is similar to the figure of Indonesian vice president, Boediono, now. Not much to say, experienced, courteous, and competent. Jusuf Kalla also balanced. Jusuf Kalla has plenty of experiences in the government bureaucracy. The difference, Hatta Rajassa is the General Chairman of the Party (PAN), moreover Jusuf Kalla is the former coriander of the Golkar Party which also rely on the popularity as Jokowi. The problem is also that Vice Presidential Candidate, Jusuf Kalla (72 years) is much older than Jokowi (52 years) as a candidate for president. The Second Symptom Captain in one vessel can not be avoided. Two captains are not among Jokowi with Jusuf Kalla, but also between Megawati and Jusuf Kalla later.
Foreign Politics Performance
During the campaign period ahead of voting until July 9, 2014, the vision-mission of both pairs are louder presented to the public, ranging from a matter of economics, education, health, environment, food, energy, law enforcement, until about fighting corruption. Which did not escape that should be of concern is how the performance of Indonesian foreign politics of the two couple of candidates later. It's no secret if the issues of foreign politics is often a secondary priority compared to national issues. But the fact that a peaceful election in Indonesia should be able to be a major capital and stimulus to improve active role in regional and global arena, as mandated by the opening of Constitution 1945 paragraph 4 to participate in creating a world order.
Indonesian Foreign Politics Challenges
In the short and medium term, foreign politics still faces two strategic issues. The first is the traditional security challenges, such as separatism and border disputes. Separatist Action of Free Papua Movement (OPM), or the work of Malaysian who do not appreciate status quo territory, at Camar Bulan and Tanjung Datu in West Kalimantan border needs to be addressed explicitly by the new Indonesian leader. The second is non-traditional strategic issues, as transnational crime such as terrorism, money laundering, climate change, maritime security and others. Crimes at sea such as illegal fishing, illegal logging, illegal mining, human trafficking, drug trafficking passing Indonesia sea channel continued. Moreover, Indonesia is directly adjacent to the 10 countries in the sea and only 2 countries on the land.
In the context of maritime security, Indonesia needs to be a leadership pioneer in ASEAN to be bold against China on issue in South China Sea, especially if China enters the water territory of Natuna as part of its claim. Indonesian shall enforce Exclusive Economic Zone and freedom of navigation in accordance with norms of international laws. Therefore, modernizing Indonesia military is a must.
Performance of Presidential Candidate – Vice Presidential Candidate
As has been described above by the author, figures of Presidential Candidates Prabowo and Jokowi has solidarity maker type. The difference is the leadership style off Prabowo Subianto having characteristics of high performance, while Jokowi is more low performance. Meanwhile, Vice Presidential Candidate of Hatta Rajasa and Jusuf Kalla, both equally can be characterized as figures considered expert in managing government (administrator) for some experiences as bureaucrats and state officials. However, Hatta Rajasa is more low profile at work, while Jusuf Kalla has high profile type.
At glance there are similarities if you look at the vision-mission of foreign relations between Prabowo-Hatta and Jokowi-Jusuf Kalla. Both pairs equally lays self-reliance principle of Indonesian people in facing the global challenges ahead. Prabowo-Hatta and Jusuf Kalla Jokowi Visions in maritime sector both want to build ports. Each of the Presidential candidate pairings equally want contract re-negotiation between the Indonesian Government with the foreign companies that have been operating in Indonesia for quite some time, who have a number of issues that deemed harmful to the interest of the Indonesian people, for example Freeport in Papua and Newmont in West Nusa Tenggara. National needs and interests are articulated through foreign politics of both pairs. But masculine characteristics in the implementation of the Indonesian foreign politics from Prabowo-Hatta are more pronounced for protecting the nation, play an active role and confident in facing the global arena (Outward Looking). The hope of Indonesian nationals are more respected by other countries, inside or outside the regions. Prabowo-Hatta is considered to have the competence to anticipate issues and challenges of traditional security. Prabowo-Hatta International slogans about 'Revival Indonesian' becoming Asian Tiger is a high performance leadership style in Indonesian foreign politics.
While the more feminine performance of Indonesia's foreign politics looks of the duo Jokowi-Jusuf Kalla. Concentration of Indonesia's foreign relations will be more focused inward looking. Visions-Missions of Jokowi-Kalla are more based on the national interest and the desire to strengthen the identity of Indonesia as a maritime nation. The idea is to save Indonesia's marine wealth that will be done by building the fish processing industries, as well as improving transportation links for large ships at strategic locations. The idea of the need for the Indonesian people to do 'mental revolution' as a guide to the 'Wonderful Indonesia' is the slogan of the foreign politics implementation of a low-performance-high-profile.
Closing
Visions and missions from both pairs of Presidential Candidate – Vice Presidential Candidate are in fact complement each other and fill the two polugri major issues mentioned above. As head of state and head of government, the elected president later will have to have a vital role and influence on the implementation direction of the foreign politics that strived for the prosperity of the Indonesian people, keep maintaining integrity of the Republic, as well as a commitment to be part of an international collaboration in creating world peace. In 2015, Indonesia will face the ASEAN Community. Indonesia needs to show the attitude of 'do not come home' in agreements towards ASEAN economic society later. When viewed from its history, Indonesian foreign politics are closely related to the issue of its national pride, position, and role in the international world. The fact that a peaceful election in Indonesia should be a major capital and stimulus to improve the active role in regional and global arena, as mandated by opening of the Constitution 1945 paragraph 4 to participate in creating a world order, as well as to resolve issues and security challenges
References :
Herbert Feith, The Decline of Constitutional Democracy in Indonesia, Jakarta, Equinox Publishing, 2007.
Rebecca Grant & Kathleen Newland, Gender and International Relations, Buckingham, Open University Press, 1991.
Prabowo Subianto, et. all, Membangun Kembali Indonesia Raya, Jakarta, Institute Garuda Nusantara, 2009.
Anis H. Bajrektarevic, From WWI to www. – Was history ever on Holiday?, Addleton Academic Publishers/GHIR, New York
http://www.themalaysianinsider.com/sideviews/article/on-the-indonesias-election-2014-igor-dirgantara
http://www.thejakartapost.com/news/2013/09/18/prabowo-could-be-indonesia-s-lee-kuan-yew.html
http://www.geopoliticalmonitor.com/voting-trends-in-upcoming-indonesian-elections-4936/
http://www.thejakartapost.com/news/2014/05/12/jokowi-wants-start-mental-revolution.html
Mood, Wisdom and Passions of Middle Class in Upcoming Indonesian Election
http://www.thejakartaglobe.com/opinion/race-strengthen-foreign-ties/
http://www.antaranews.com/en/news/93655/observer-raises-suspicion-over-jokowi-blake-meeting
http://www.teraspos.com/en/read/2014/03/15/84284/jokowi-breaks-his-campaign-promise-for-his-presidential-candidacy
Public Favors Presidential Candidates with Military Background
Letter to heaven: An eulogy to Luang Poo Boonyarith Bundito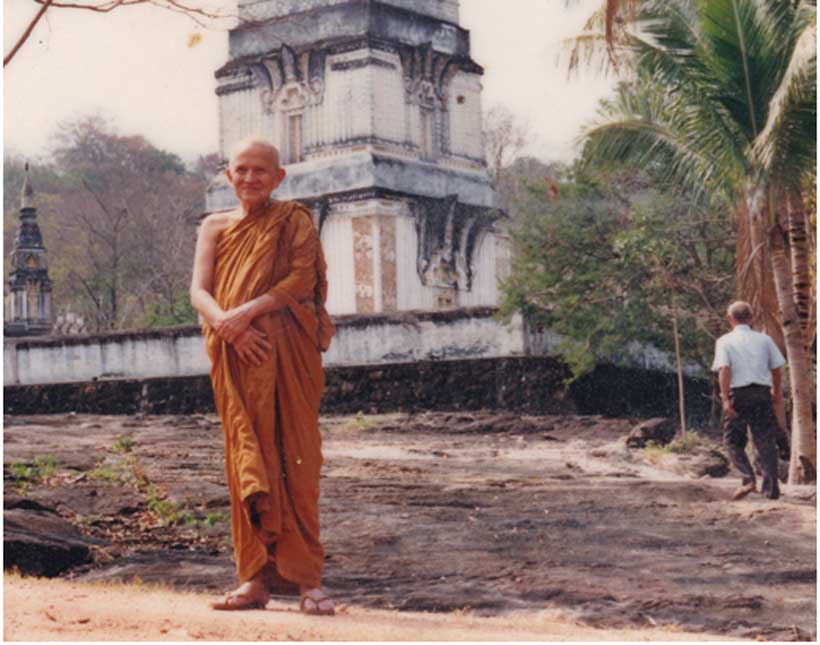 Everyone knows him as a great monk who was an exceptional teacher of meditation. From the royal family to a layman, Luangpoo Boonyarith Bundito was well loved and respected.
Luang Poo Boonyarith was a forest monk who ordained since the age of 31. Like forest monks before him from Luang Poo Mann Puritat to Luang Poo Chob Thannasamo, he followed a strict tradition of solitude. For decades, he traveled to the furthest parts of Thailand and remained there on his own. For at least 9 years, he lived by himself in the peak of a Karen Mountain in the Northern Part of Thailand.
"The karen has an innocent mind" he said in his meditation preaching.
In 1974, he was sent by Wat Bawornnivetviharn on a diplomatic mission to preach Buddhism in Australia. During more than 30 years of his tenure there, he built, strengthened and taught the beauty of mediation to foreigners and Thai alike.
An epitome of what a modern diplomacy is.
With his compassion and open-mindedness, he welcomed Christian, Jewish and Muslim into his temples to learn how to meditate, even though they were clear not to be Buddhist.
He was equally straightforward to them. "Meditation and Buddhism is intertwined and Buddhism is a religion, not a philosophy nor a lifestyle".
Something that would kill the New Age followers.
I had the privilege of knowing him since I was nearly four years old, where he would stay at our house during his trips and sabbatical to Bangkok. Sometimes he stayed for a couple weeks, sometimes that would last for a couple months. At least for 20 summers, we were lucky enough to host him.
While his disciples came to our house to seek truth and find peace, for a 4 years old me, Luang Poo was my English tutor. Having been fluent in French, German and English, Luang poo was a great linguist who paid attention to details of grammatic rules and depth of meaning and complexity of the vocabulary.
He is an avid reader – with extensive collection of books on philosophy, history, maps, arts and great classics. His gifts for me involved pens and notebooks, collection of postcards from foreign lands I never been or books I had never heard of.
At the age of 16, he gave me Brave New World by Aldous Huxley. With the density of idea and complexity of vocabulary, I quickly returned it to him.
He insisted: "keep it, when the time comes, you will get it."
I did. When I joined Thammasat as an undergraduate student, Brave New World became my favourite, inspiring reference to make a difference in a toxic society.
As I became more interested in graduate schools and had my eyes on the most prestigious scholarship in Thailand, the Anandamahidol scholarship under the royal patronage the late king Bhumibol of Thailand, our conversation became more intense, focused and intellectual.
We debated ideas. With his wealth of knowledge on world history, we would always talk current affairs and politics. Theories and concepts.
Who would have thought a forest monk would be on point on world political affairs?
Luang Poo continued to guide me through the hardship of graduate schools. We would talk on the phone on the books I read, the papers I wrote and the difficulty things were for me to conceptualise.
"Sati, Ninja, Sati." Conscious that meant. He said, "one word at a time. Never skim".
He loves dictionary so he taught and trained me to open up every word I don't understand.
If you open his books, you will find scribbles on the sideline on the explanation of words he did not know or his interpretation of them.
As studying theories became more complex, that kind of attention to detail allowed me to be on point, concise and succinct.
He said however that a Buddhist is not a theorist. A Buddhist is a doer. Test the theories, he meant.
When I consulted him with the idea of creating UNITE Thailand, he was on board and gave me the most life changing advice to an idealistic me with heavily foreign influences.
"Forget the theories, forget democracy, forget Buddhism, make kids happy, as many as possible."
We did.
Before the tragic day of the 14th of November 2018 where he parted this world for heaven, he has suffered severe health issues and complication for 7 years that he could not talk, move or eat by himself.
He was the educator who loved Thailand so much. The last sentence he ever said to me was "a great person is one with gratitude. We are indebted to this land, be good. Be kind. Be nice. Be helpful."
Thailand loses a great monk who taught them Dhamma. I lost a grandfather who helped me through the intensity of life, who taught me to read, write and question, who taught me the beauty of life, the necessity to serve our society.
Enjoy heaven, Luang Poo.
I will always remember you.
Ninja.
Decoding The MoU Between India And Brunei For Space Research
Brunei Darussalam or Brunei is one of the oldest continuing monarchies in the world. The ancient name "Negara Brunei Darussalam" means "State of Brunei- Abode of Peace". Its earliest documented history dates back to 6th century when Brunei was apparently called "Puni" a possible distortion of the Sanskrit word "Baruni". Brunei was then a Hindu-Buddhist kingdom which had linkages with the famed Sri Vijaya and Majapahit empires of the region, as well as with China.  It was in the late 14th century, Brunei converted into an Islamic Sultanate when its ruler, Awang AlakBetatar, married a Muslim Johore princess from Malacca and embraced Islam to become Brunei's first Sultan – Mohammed Shah.  Bilateral diplomatic relations between India and Brunei were cemented in May 1984. India and Brunei by virtue being developing countries with strong traditional and cultural ties, enjoy a fair degree of commonality in their perceptions of major international issues. Brunei is a constant partner of India's 'Act East' policy and expansion and deepening of cooperation with the Association of Southeast Asian Nations (ASEAN). Diplomatically, Brunei supports India's claim for permanent membership in an expanded United Nations Security Council (UNSC) and also supported India for its candidature for a Non-Permanent Seat of the UNSC in 2012.
India's export trade with Brunei in 2013 valued USD 32 million while imports mainly crude oil from Brunei were valued at USD 763 million. According to trade stats, India is the third-largest importer of crude oil for Brunei. The two important reasons enabling a positive bilateral trade have been relatively flexible shipping costs and Brunei's small population base. Indians constitute around 2.3 per cent of Brunei's total population. Indian migration to Brunei started since 1929 when oil was discovered in the country. Presently, the majority of the doctors in Brunei are from India and other professionals include engineers, IT professionals, bankers, teachers etc. Indian businessmen have managed to maintain a clear monopoly in the textile industry. According to the Census, there are approximately 10,000 Indian nationals living and working in Brunei.  Bilateral trade between India and Brunei stood at over $504 million in FY 2016-17, according to figures published by Brunei's Department of Economic Planning and Development. The southeast Asian nation is critical for India's Look East Policy and geopolitical expansion for strengthening of cooperation with the 10-nation regional bloc (ASEAN). Brunei also has served India's country coordinator and political facilitator with the ASEAN for three years from 2012.
"When India celebrates the 75th year of Independence in 2022, and if possible, even before, an Indian son or daughter will undertake a manned space mission on board 'Gaganyaan' carrying the national flag," Prime Minister Narendra Modi announced in his 2018 Independence Day Speech. This milestone will make India the fourth nation to send a human in space after the United States, Russia and China. Future plans include the development of Unified Launch Vehicle (ULV), Small Satellite Launch Vehicle (SSLV), development of a reusable launch vehicle, human spaceflight, controlled soft lunar landing, interplanetary probes, and a solar spacecraft mission. The Department of Space was allocated Rs 8,936.97 crore in the 2018 Budget for various space-related projects. The total allocation for the Department of Space for the second fiscal was around Rs 10,783 crore a leap from Rs 9,155.52 crore allocated for the FY 2017-18 net of recoveries and receipts. 'Space economics' suggests that spending on science and technology leads to all-round social development. The Government is also planning on investing extensively in research, training and skill development in robotics, AI, digital manufacturing, Big Data intelligence and Quantum communications, among others. Space Research has been one of the most important areas of interest of the present government.  In the current era of outer space research and development, India is heavily banking on bi-lateral and multi-lateral tie-ups to delve into this area.
The Union Cabinet chaired by the Hon'ble Prime Minister Narendra Modi has approved the Memorandum of Understanding (MoU) between India and Negara Brunei Darussalam on coordination in the operation of Telemetry tracking and Telecommand station for satellite and launch vehicles, and for collaboration in the field of Space Research, Science and Applications. The MoU authorises India to continue to operate, maintain and augment its ground station meant for supporting India's launch vehicle and satellite missions. This will also enable India to share its experience and expertise in space activities through training of officials and students from Brunei Darussalam on Space Technology applications. Cooperation with Brunei Darussalam through this MoU would facilitate operation, maintenance and augmentation of Indian Ground Station to support India's launch vehicle and satellite missions. The MoU will provide momentum to explore contemporary research activities in ground station operations and training on space technology applications. The MoU was signed in New Delhi, India on 19th July 2018. India also signed an MoU with South Africa on 26th July 2018, which shall enable both the nations to coordinate on the potential areas of cooperation such as space science, technology and applications including remote sensing of the earth, satellite communication and satellite-based navigation, space science and planetary exploration, utilise spacecraft and space systems and ground systems and application of space technology.
India has also signed similar MoUs with Russia, Oman and Japan for expansion of cooperation in the field of exploration and use of outer space for peaceful purposes. Joint projects, sharing of expertise and resources, development of space systems and components, scientist training and exchange of vital information are the central components of these agreements. India is marching towards economic prosperity and being labeled as the fastest growing economy in the world, it is geopolitically and strategically crucial for India to have a powerful outer space technology and to have a strong space relationship with other countries.
Ahok biopic: The making of a man, the unmaking of a nation
After comedies, ghost horror films are the genre most liked by Indonesians, with 44 percent saying they enjoy them. Apparently they produce a thrill, stimulate the imagination, invite curiosity and induce anticipation that the protagonist will prevail over evil forces.
Personally, I'm not a fan of such movies but I found myself looking forward to Nov. 8, when a "ghost" movie was to be screened in theatres all over Indonesia. How come? That's because the film was A Man Called Ahok — yup, about Basuki "Ahok" Tjahaja Purnama, former governor of Jakarta, currently jailed on blasphemy charges. I thought he was one of the best governors Jakarta has had, indeed, one of Indonesia's best leaders, someone who wasn't afraid to shake up the status quo.
It was a "ghost" movie in that it contained an apparition of Ahok, which embodied not just his spirit, but also the spirit of values that Indonesia seems to have forgotten, values needed to build a nation.
Controversy never seems to be far away from Ahok, from the no-nonsense way he ran his office, his zero tolerance for bad management, laziness and corruption, his unpopular policies (notably the eviction of squatters from slums), his fiery temper and tough talk (which enraptured and excited, agitated and outraged at the same time), his blasphemy trial and subsequent imprisonment, his divorce from Veronica Tan, his wife of 21 years while in prison, but also his amazing achievements during the short time he was Jakarta governor: disciplining civil servants, eliminating the ubiquitous pungli (illegal levies), transparency of the city budget, responding to citizens' complaints, transforming Jakarta city transportation into one fit for a metropolitan city, cleaning up filthy polluted Jakarta rivers, beautifying and greening the city — achieving many things his predecessors were unable to do.
But you'll see none of that in the film that was far from controversial. A review of the film stated that the "biopic about one of Indonesia's most divisive, loved and hated political figures chooses to play it safe through a family friendly narrative and storytelling" ('A Man Called Ahok: Journey from childhood to prominence', The Jakarta Post, Nov. 10).
While the review provides a good summary of the film, I don't think it was at all a matter of playing it safe. The filmmakers made a very deliberate, wise and insightful choice to portray the making of a man, from his childhood origins in Bangka Belitung, which makes us understand better why he turned into the leader that he did.
The film started when Ahok was aged 10 ( 1976), and stopped just about the time he became regent of East Belitung (2005). Ahok was born and raised in Gantong, East Belitung. His father Kiem Nam was a tauke (Chinese businessman), owner of a tin mining company, who raised his five children with tough love, teaching them to cooperate with each other, instilling the values of hard work and ambition, not for selfish personal reasons, but to serve others.
Kiem would drive his wife to despair, as he was always giving out money to people in need, even borrowing, so he could continue helping them. He said to her that their family still had a roof over their heads, and good food to eat. Yes, that was the case, because she sold some of her gold jewelry, so that the family could continue to eat.
While their relationship was often strained, clearly Ahok was a chip off the old block. He gave up being a doctor (his father's dream) and a businessman (his own dream), to become a politician so that he could help people in a systematic way, unlike his father, not using his own money, but state funds.
The film is a biopic, true, but it's a lot more than that. It's in fact a microcosm of Indonesia, raising issues that remain relevant.
Discrimination: despite Kiem's known humanitarianism and generosity, when Ahok decided to run for office, he faced resistance because of his Chinese ethnicity. As a child, he had once asked his father, "Are we Chinese or are we Indonesian?". The father responded unequivocally, "We are Indonesians". The film shows clearly how his father instilled the love of people and nation in his son.
Bangka Belitung has one of the largest concentrations of ethnic Chinese in Indonesia, who have helped the tin industry flourish. Indonesia is the second-largest producer of tin in the world, after China, this means the ethnic-Chinese have contributed to creating revenue for Indonesia.
That's not the only thing they have contributed. They have contributed to our culture (look at all those dragons, phoenix, snakes and Chinese lions motifs on batik!), food (too many to mention), much needed capital, sporting prowess and guess what? Also Islam, which was brought in by Chinese traders in the 15th century. And yet the Chinese remain reviled and have been targeted as scapegoats throughout Indonesia's history.
Poverty: There was clearly poverty depicted in the film throughout Ahok's life in Bangka Belitung. While in 2018 poverty has fallen to a historic low, the Statistics Indonesia (BPS) figures show that almost 10 percent (27 million) of Indonesians are poor. That is still a very large number.
Corruption: in the film, there was a corrupt government official who kept trying to extort money from both Kiem, and later Ahok when he was an adult running the company. So far, corruption is still the cancer that is eating up the nation. According to the 2017 Corruption Perceptions Index, Indonesia ranks 96th out of 175 of the least corrupt countries. Well, at least it's better than in 2007, when we ranked 143rd.
The lack of health services portrayed in the film is still the reality for many families in Indonesia, as are education facilities, still out of reach for many children.
Watching the film was a very emotional experience for me because of the injustice Ahok has had to endure. Talk about being punished for doing good! But it was emotional also because I thought of Indonesia and how the nation is currently ruled by mindless sectarianism, where religion is used to incite evil instead of fostering good, where selfish, narrow group interests prevail over the greater good.
A Man Called Ahok is a timely reminder of what it takes to build a nation. Hopefully, like a good ghost movie, the (good guys) protagonists will prevail over the evil forces currently haunting Indonesia.
An early version of text appeared in the Jakarta Post