Is the "crisis of secularism" in Western Europe the result of multiculturalism?
Prof. Anis Bajrektarevic famously claimed that "…the conglomerate of nation-states/EU has silently handed over one of its most important debates – that of European identity – to the wing-parties, recently followed by the several selective and contra-productive foreign policy actions." Elaborating on these actions he went further as to claim that: "…sort of Islam Europe supported in the Middle East yesterday, is the sort of Islam that Europe hosts today. (…) and "…that Islam in Turkey (or in Kirgizstan and in Indonesia) is broad, liberal and tolerant while the one in Northern Europe is a brutally dismissive and assertive."
Western Europe is phasing the outcomes of the development of two different trajectories. On one side, the immigrant presence from the former colonies, growing since the 1960's, has turned Western Europe into a multicultural and, by extension, multi-faith mosaic. On the other, the permanent decline of religious performance has brought up a wider consensus concerning the privatization of religion as well as its status of invisibility in the public sphere. These two trajectories can be perceived as oppositional if one bears in mind the significant numbers of non- white immigrants residing in Western European states and the paramount importance most of them place on religion for identification, organization and political representation. Several prominent academics refer to the emergence of the aforementioned phenomenon as a 'crisis of secularism'.
However, I would like to argue that such clear-cut judgments present several problems. To begin with, 'secularism' is a complex term with multiple meanings. Western Europe currently sports two forms of secularism; the radical model of French laicité and the moderate form followed by the rest of the states. Within the latter framework, several kinds of state-religion connections have been developed throughout the years. Even in the radical French model some state-religion connections exist, although they are concealed under cultural terms. As becomes apparent, if we take absolute state-religious separation as a crude definition of secularism, it turns out that 'a crisis' occurred well before the advent of multicultural presence.
Indeed, this essay will attempt to clarify that although multiculturalism supports and promotes the recognition of minority religious identities, the statement that it puts secularism under crisis is a bit exaggerated, if not purposefully misleading. Multiculturalism does not opt for a complete disestablishment of secularism. On the contrary, multiculturalism supports moderate secularism as it is believed that the various types of religion-state connections within it can be extended so as to accommodate minority religions, as well. All in all, multiculturalism strives for a rethinking of secularism, a renegotiation of the term, for it to become less restrictive for minorities that feel marginalized because of their religious identity.
The defining characteristics of Western Europe's multicultural reality
Western Europe started to receive exceptionally large numbers of non-white immigrants after the 1973 oil crisis, in order to rebuild its devastated economy. As its capitalist economy constantly demands a cheap labor force, people continue immigrating to Western Europe for the prospect of a better and safer life. Under these circumstances, Western Europe has reached the diversity previously characteristic of traditional immigrant receptacles such as the USA. There is, however, a fundamental difference in this comparison; the large amounts of Muslim immigrants residing in Western Europe. Specifically, Muslims form the majority of non-white Western European immigrants, with a rough estimate putting them at approximately 6% of the relevant total (Pew Research, 2011). Although Muslims appear to be evenly distributed, their presence in the larger cities is far more noticeable and rapidly growing. Regardless of this strong Muslim presence, non- white immigrant minorities in Western Europe, especially those coming from South Asia, seek to identify themselves, while also being recognized by the state and their fellow-citizens, on the basis of their religious identity (Sikhs, Hindus, Muslims). This strong religious assertiveness, despite having gone unnoticed for a long time as a matter of importance concerning group recognition, has become the main topic of discussion in Western European multicultural politics over the last few decades. The matter of controversy is the position of religious or ethno-religious immigrant identities in the public sphere of Western European states.
Multiculturalism, multicultural citizenship and religious identities
Multiculturalism is a political ideology which, during the last few decades in Western Europe, focuses primarily on the need for recognition of immigrant minorities. According to Modood, multiculturalism 'refers to the struggle, the political mobilization but also the policy and institutional outcomes, to the forms of accommodation in which 'differences' are not eliminated, are not washed away but to some extent recognized'. Moreover, as he proceeds to mention, multiculturalism 'is a politics which recognizes post-immigration groups exist in western societies in ways that both they and the other, formally and informally, negatively and positively are aware that these group-differentiating dimensions are central to their social constitution'. In summation, multiculturalism avoids group-blind approaches and 'promotes politics of recognition as a means to secure multicultural equalities between groups'.
Members of ethnic minorities with a strong religious character (such as Muslims, Sikhs and Hindus) experience marginalization on the grounds of their religion. For the members of these minority groups, however, religion is a basic element of their self-identity that they are not willing to surrender so as to become accepted. Jacobson, O'Beirne, Fish and Gillat-Ray are just a few examples that illustrate precisely how religion is an aspect that permeates all aspects of Muslim's life, representing an integral part of their self as well as a tradition offering a sense of belonging. Thus, these groups react with a strong religious assertion in the public sphere, demanding the same recognition and respect previously given to other minority groups, originally marginalized in terms of their 'different' identity (racial, ethnic, sexual).
Multicultural politics support equality for all citizens not on the basis of providing equal rights to all but rather on that of recognition of the existence of group identities

According to Modood, 'multicultural citizenship is the project to make citizenship-inclusion or integration possible on terms that respect all and in particular those […] whose subjectivities are marginalized or dismissed […]'. Bearing this position in mind, multicultural politics acknowledge 'the importance of religious identities to some non-white ethnic minorities…and…their centrality to some forms of ethnic minority self-assertions, mobilizations and political claims-making'. Thus, from a multiculturalist perspective, in order for these ethnic minorities to be equally accommodated, the state must respect and recognize their religious identities.
Under such circumstances, it becomes clear that state-religion relations can be seen as a matter of recognition. As religious identities (Sikh, Hindu and most notably Muslim) have become one of the most salient minority status markers, Western European states, driven by a 'multicultural sensibility', realize that state-religion connections must be rethought according to the needs presented by the new multi-faith reality. This process of negotiation for the place of religious minority identities in public is perceived by many as a violation of the secular norms of religious neutrality and church-state separation, which are deeply rooted in Western European states. However, to what extent this contention is true is a matter of great controversy.

Secularism in Western Europe
Modood defines political secularism as a condition in which 'political authority does not rest on religious authority and the latter does not dominate political authority'.
Secularism is a principle deeply embedded in all Western European states since the signing of the treaty of Westphalia. In national narratives, secularism has been referenced as the modern developmental process that brought about the emergence of sovereign states. It has been defined as the principle that disentangled individuals and states from their religious beliefs to halt the potential resurgence of the violent wars of the past. Thus, the need for a separate existence of secular and religious spheres has come to be perceived as the alleged sine qua non for every society that wants to be perceived as modern.
'The separation of Church and State, the neutrality of the state in regard to religion, religious freedom and understandings of secularisation in terms of the privatisation and decline of religion, are all at the heart of discourses about secularism'. The practical implementation of secularism differs across state borders. Thus, in broader terms, Western European secularism can be divided in two different categories; the radical model and the moderate one.
a. Laicité
Laicité is the radical model of secularism adopted solely by France. In this kind of secularism, religion is essentially banished from the public sphere. Religion is perceived as an anachronistic element, which must be completely marginalized in the name of reason and liberal individual freedom. Religion is strictly differentiated from the public domain, only maintaining a place in individuals' private life. Accordingly, the state takes a neutral stance on any kind of religion in the name of the liberal value of equal treatment for all individuals. Under these circumstances, the state supports a model of assimilationist, civic integration. 'Integration here is understood as an allegiance to a common civic identity and the joint pursuit of the common good'. In other words, in order for someone to be fully integrated into French society, the civic element of his/her identity should trump all others in the public sphere. As Bouchard & Taylor aptly put it, such a position 'demands the removal or neutralization of the identity markers (including religion […]) that differentiate citizens' and '[…] assumes that the removal of the difference is a prerequisite to integration'.
However, this rigid a context is destabilized when the need to integrate people not previously nurtured with these hard boundaries between private and public religion arises. Such is the case with immigrant minorities claiming a strong religious identity.
The French state reacted to this multiculturalist challenge with a top-down approach, which sought to restrict the public expression of minority religious identities. The state as well as the majority of the public opinion perceived the wearing of religious symbols in public as a political project violating the secular principle concerning the privatization of religion and the neutrality of the public sphere. Consequently, the wearing of conspicuous religious symbols – clearly aimed at Muslims' headscarves and Sikhs' turbans – was banned by law in February 2004. The banning of the full-face veil (niqab) from public spaces followed in April 2011.

Both of these legislation initiatives show an inclination to bracket 'difference' through the implementation of the historically contingent principles of secularism in a sort of 'fetishization of the favored institutional arrangements'. Such movements show the unwillingness of the state to recognize that religion can be a representative element of groups or entire cultures. In other words, the state replies to religious assertiveness with a 'religious-focused version of different-blindness'. The denial of public religious accommodation conceals the cultural privileges of Christian traditions that are deeply entrenched in the notion of secularism, thus sustaining the inferiority and alienation of non-Christian traditions. This is to say that a concept of 'neutrality' is impossible, as the state always reflects specific cultural characteristics, which in the case of France are rooted in Christianity.
The strong insistence of French politics on the preservation of secularism, as presented through the application of the aforementioned measures, reifies the secular-religious dichotomy as an unsurmountable opposition, diminishing any potential for a fruitful mixture between the two sides. Based on a secularist argumentation, the state presents itself as acting in the service of an 'us' wanting to assimilate (or exclude) an as yet illiberal (or premodern) 'them'. As Modood puts it, 'such totalized dualistic perspectives are not conducive to fostering dialogue, to respect for difference, to seeking common ground and negotiated accommodation[…]and above all to multicultural citizenship'. If religious identities are excluded in a way that no other identity (be it racial, ethnic, sexual or whatever else) is, then there is obviously a profound bias against religious identity which clashes with the multicultural principle of equality between identity groups. If one were to use this radical form of secularism as a model, then multiculturalism clearly makes it 'at risk'.
However, there is another perspective in the French laicité which is worth mentioning, to illustrate that ethnic minorities' claims for religious accommodation are not all that contradictory to the existing practices of the Republican state. Rather, they are based on pre-existing state-religious relationships. More specifically, since the establishment of the law of 1905, the state is committed to contribute financially to the preservation of church buildings, as it acknowledges that they are part of French cultural heritage. Moreover, since the establishment of 'Debré Law' in 1959, the state, to a great extent, sponsors Catholic Church Schools. Clearly, the secular French state both acknowledges and respects, by law, that religion is a part of one's tradition and culture that needs to be preserved and moreover that it can contribute to education.
Bearing the aforementioned facts in mind, it seems that even in the radical laicité model, some manner of state-religion connections are already active. Consequently, ethnic minorities' struggle, based on the multiculturalist principles, for the recognition of their religious identity by the state is not an initiative that places secularism under 'crisis'. What is requested is not the desecularisation or disestablishment of the privileges of the Christian tradition within a secular context. Rather, the challenge is how to add the new faiths alongside the older ones in a process of 'equalising upwards'.
A relevant initiative has been launched by president Sarkozi with the establishment of the French Council for the Muslim Faith in 2003, whose function is to act as the primary liaison between the French government and Muslims. Despite the fact that the assembly of the council was a state-construct and that it has, to date, failed to become recognized as representative by the majority of the French Muslim population, such initiatives are necessary for the equal accommodation of religious minorities. Even if these initiatives may seem prima facie contrary to laicité, this is not the case for their relationship to moderate secularism.
b. Moderate secularism
Following Modood, 'the key feature of moderate secularism is that it sees organized religion as not just a private benefit but as a potential public good or national resource, […]which the state can in some circumstances assist to realise'. Under these circumstances state and church remain autonomous but may still collaborate in several domains. Modood aptly explains what can be perceived as such a state-religion connection; it is a 'kind of relationship with the state such that a religious organisation participates in the functions of the state or is a partner in governance, helping the state to discharge some of its duties and implementation of policies or it is continuously supported by public funds or it is part of the symbolism of the state in a clearly non-neutralist way'. Through the presentation of a series of empirical examples of states that adopt religion-state connections, an attempt will be made to show that multicultural recognition politics for immigrants' religious identities do not clash with this manner of arrangements. On the contrary, the latter may be a platform for multicultural integration.
Initially presented to support this argument follows the German example. In Germany, the most important source of funding for religious communities comes from tax receipts. This state financial aid to 'religious societies being organized as corporations under public law' is also protected by the law. Moreover, numerous public sponsorships are granted to religious communities. In addition, it must be mentioned that around half of Germany's welfare provisions are channeled to the public through Church-based organisations, within a climate of a civic society, in which church and state can work together for the accomplishment of common goals. The Muslim presence in Germany is considerable and enduring, especially bearing in mind the large Turkish minority. According to Korioth & Ausberg, Muslims make up approximately 4% of the German population. Of course, Germany is renowned for its anti-multiculturalist sentiments and the 'Gastarbeiter' approach in its immigration policy. However, a climate of 'multiculturalist sensibility' is present and reflected in 'corporatist' forms of Muslim accommodation. More specifically, chancellor Merkel and her government launched the first German Islam Conference in 2006. According to Aslan, this initiative had aimed 'to restore mutual trust within the society and its Muslim communities' so as 'to enhance the religious and social integration of the Muslim population in Germany'. Since then, the conference has been held annually in the form of a dialogue between 'the state and selected representatives of Muslims in Germany'. Although top-down, such an attempt can be viewed neither as radically secularist nor as assimilationist. Rather, it meets the multiculturalist prerequisites of willingness for mutual negotiation in order to find effective solutions for the accommodation of religious difference. The German state remains secular but understands that Muslims face discrimination on the basis of their religion and that the state needs to take action so as to protect this group. This solution is not sought outside of the secular principles. Rather, the state tries to renegotiate these principles so that Muslim integration can be achieved within them.
England is another relevant paradigm. Religion and the state are first connected 'symbolically', as the monarch has also the ultimate authority of the Church of England and can only undertake duties after being blessed by bishops. Accordingly, 26 bishops are members of the House of Lords, the supreme legislative body of the state, having equal rights with the rest of the members. Apart from that, the Church of England has a substantial educational contribution, in which it is almost exclusively supported by state subsidies.
Of import to the argument at hand is the expansion of state connections to incorporate its Muslim immigrant population, as well. During the New Labor governance, the state recognized the Muslim Council of Britain (MCB) as the representative voice of British Muslim population (1997). Throughout its period of governance, New Labor in collaboration with the MCB initiated a series of measures that enabled and promoted the smooth integration of Muslims in the national context. They jointly fostered public acknowledgment of the importance of their religious identity, the introduction of state funded Muslim schools (following their Jewish and Christian counterparts) and concentrated policies on tackling religious discrimination, which reached their peak with the establishment of the law against religious discrimination (2003). All of these attempts were backed by the Church in a climate of 'interfaith respect' and 'multi-faith harmony'.
Relevant examples of states that have extended their church connections to accommodate religious diversity can also be found in Belgium's multi-faith Council of Religions and in Denmark's model of 'multiple establishment', were Muslim religious communities enjoy a formally recognized and approved status as well as state tax benefits.
None of the aforementioned examples drift from the minimalistic definition of secularism presented previously, meaning that a mutual autonomy between state and religion is still ensured. It should by now have become apparent, through the presentation of these empirical examples, that the type of state-religion connections developed within the framework of moderate secularism makes a clear case that religious minorities can be recognized and accommodated without braking the basic secular rule. In other words, multiculturalism and religious diversity do not necessarily equate eradication of established churches or a 'crisis' of secularism.
Conclusion
This essay aimed to evaluate the contention that the 'crisis of secularism' in Western Europe is the result of multiculturalism. To this end, several points, facts and empirical examples were presented. The presence of immigrants in Western Europe has undeniably brought with it both multiculturalism and religious diversity. Moreover, some immigrants brought, and continue to bring, with them religious beliefs totally alien to Western Europeans, which can lead to their being discriminated against on the basis of their religion. Muslims are the most notable example of the aforementioned observance, since they form the majority of non-Christian immigrants residing in Western European states, with Sikhs and Hindus also sharing similar experiences. It is therefore clear that the minority statuses of the aforementioned immigrant groups are due to their religious identities.

Multicultural politics support equality for all citizens not on the basis of providing equal rights to all but rather on that of recognition of the existence of group identities. Accordingly, multiculturalism acknowledges the fact that for immigrant groups with a strong-religious character to be recognized, the state needs to recognize religious difference and seek to tackle the problem of religious discrimination. Some people, and more specifically adherents of crude secularism, believe that this brings the whole notion of 'secularism' under crisis. However, as Modood aptly puts it, multiculturalism's focus on recognition of immigrant groups' religious identities 'is based on recognition and inclusivity, not the truth of doctrines' and 'is not opposed to secular or non- religious identities but is additional to them and is not meant to suggest any inherent superiority or desirability of religious over non-religious identities – or vice versa'.
Multiculturalism interacts with two different kinds of secularism in Western Europe. On the one hand, there is the French laicité, which reacts to the multi-faith challenge with religious-blind policies that sustain the inequalities faced by immigrant religious minority groups. On the grounds of an alleged principle of state neutrality as well as the liberal principle of individual freedom, the French state seeks to banish the presence of minority religions form the public sphere. As it becomes clear, if this is the prototypical model of secularism taken into consideration, multiculturalism definitively puts it under great strain. However, the challenge is not one of forcing France to lose its Catholic character or abandon the idea of secularism on the whole. What is requested, is some form of state-religion connection within the secular framework, which would provide some sort of recognition to the Muslim immigrant community.
Such state-religion connections have been a part of the prevalent, moderate, form of secularism implemented in most of the Western European states for some time now. In moderate secularism, religion is not only understood as a private matter but also as a potential public good, which the state seeks to assist. Germany, England, Denmark and Belgium are just some of the states that have positively and effectively responded to the challenge of multicultural religious diversity by extending their state-religion connections so as to accommodate immigrant religious minorities.
In summation, multiculturalism may bring religion to the forefront anew but it does not do so in ways necessarily totally alien to secularism. As it has been shown, several kinds of long-lasting state-religion connections have been developed, especially in moderate forms of secularism, even before the expression of immigrant demand for some sort of public recognition of their religious identities. Seen in this light, multiculturalism cannot be seen as seeking a "crisis of secularism", but rather as calling for nothing more than an extension of tenets already present in secularism, so that new faiths can be brought into any given secular state model alongside their older, preexisting counterparts.
Andy Warhol: From A to B and Back Again
The San Francisco Museum of Modern Art (SFMOMA) announces the exclusive West Coast presentation of the critically acclaimed exhibition, Andy Warhol—From A to B and Back Again on view from May 19 through September 2, 2019. Spanning the artist's 40-year career and featuring more than 300 works on three different floors of the museum, the exhibition includes paintings, drawings, graphics, photographs, films, television shows as well as a personal time capsule of ephemera. The retrospective features examples of the artist's most iconic pieces in addition to lesser-known abstract paintings from later in his career. Uncannily relevant in today's image-driven world, Andy Warhol—From A to B and Back Again provides new insight into Andy Warhol himself by examining the complexities of this enigmatic artist more than 30 years after his death in 1987. The show's title is taken from Warhol's 1975 book, The Philosophy of Andy Warhol (From A to B and Back Again), a memoir featuring the artist's musings on fame, love, beauty, class, money and other key themes that frequently appear in his work.
"He's a complicated figure and a complicated artist," said Gary Garrels, Elise S. Haas Senior Curator of Painting and Sculpture at SFMOMA. "His inner emotions, his psychic self were not his subject matter. Warhol is constantly labeled a Pop artist, but all that happened within a couple of years and then he moved on and the work goes quite dark and explores questions of gender and sexual identity, fame, subcultures. At the time of his death, the consensus was that Warhol was no longer relevant. But the last major retrospective in 1989 was a wake-up call: this is an artist we have to reckon with."
First presented at the Whitney Museum of American Art in New York and curated by Donna De Salvo, Deputy Director for International Initiatives and Senior Curator at the Whitney, with Christie Mitchell, senior curatorial assistant, and Mark Loiacono, curatorial associate, this exhibition provides an opportunity for new generations to reconsider Andy Warhol, one of the most influential, inventive and important American artists. Warhol's understanding of the growing power of images in contemporary life anticipated our social media-focused world and helped to expand the artist's role in society making him one of the most recognized artists of the 20th century.
Andy Warhol—From A to B and Back Again also showcases SFMOMA's impressive holdings of many of the artist's most important works including National Velvet (1963), Liz #6 (Early Colored Liz) (1963), Triple Elvis (Ferus Type), (1963), Silver Marlon (1963), Robert Mapplethorpe (1983) and self-portraits.
THE EXHIBITION
Andy Warhol—From A to B and Back Again will be presented on three floors of SFMOMA: two, four and five.
On the museum's second floor, two galleries of works on paper offer a detailed look at Warhol's earliest drawings from the 1940s and hand-drawn commercial illustrations created for advertising in the 1950s. These early drawings lay the groundwork for many of the techniques and approaches he would use throughout his career. This portion of the exhibition includes delicate, gilded collages and sketches of shoes for the Miller Shoe Company, and illustrations for publications such as Glamour Magazine and The New York Times.
On display in SFMOMA's fourth-floor special exhibition galleries, the exhibition takes visitors chronologically through the arc of Warhol's career and his production in painting, drawing, photography, film and installation. The first half of the exhibition opens with his best known work from the creatively active period of 1960–68, with his earliest paintings such as Dick Tracy (1961) and Superman (1961), followed by the groundbreaking, iconic Pop Art paintings, Green Coca-Cola Bottles (1962), 192 One Dollar Bills (1962) and the sculpture, Brillo Boxes (1969, version of 1964 original). The exhibition then highlights Warhol's depictions of celebrities, including Elvis, Elizabeth Taylor and Jacqueline Kennedy. In a dedicated black box gallery adjacent to the early Pop Art work, samples of Warhol's films and videos will be on view including his series of Screen Tests featuring Ethel Scull, Edie Sedgwick and Billy Name (1964–65).
Subjects take a darker turn in Warhol's Death and Disaster paintings (1963–64) memorializing car crashes, the electric chair and a benign yet sinister can of tuna fish contaminated with botulism. An eye-popping gallery filled with 16 colorful Flower paintings (1964) will be installed on top of Warhol's Cow Wallpaper (1966) for a bold immersive experience. Visitors will have a chance to experience Silver Clouds, Warhol's sculptural installation of shiny Mylar balloons created in 1966, the point at which he declared himself to be done with painting.
Warhol's work of the 1970s and 1980s focuses on post-Pop artwork, which Garrels observes are "very unknown to most people." In these galleries Warhol shifts his focus with a massive portrait of Chairman Mao (1972), followed by a gallery featuring photographs and paintings of trans women and drag queens from the 1970s, which provide a look into Warhol's fascination with the elusiveness and complexity of gender and identity. A separate suite of photographic self-portraits of Warhol in drag provides a different view into the artist's carefully cultivated persona. A large single gallery is dedicated to Warhol's grand experiments with abstract painting, featuring a gold Shadow painting (1978) and two large-scale Rorschach paintings (1984). Warhol's influence on the young artists of the East Village in the 1980s is highlighted through collaborative works created with Jean-Michel Basquiat and Keith Haring. Also on display is an unpacked personal time capsule, one of 610 created over the course of the artist's life.
Two galleries in the museum's fifth floor Pop, Minimal and Figurative Art presentation feature a 1970s "facebook" of wall-to-wall grids of large-scale silk-screened portraits representing a "who's who" of celebrities, cultural icons, gallerists, athletes and business leaders. These galleries feature nearly 40 portraits such as Halston (1975), Dominique de Menil (1969), Liza Minnelli (1978), Pelé (1977), Leo Castelli (1975), Mohammad Reza Shah Pahlavi (1976) and Gianni Versace (1979–80), as well as the artist's mother, Julia Warhola (1974). For the subject, a Warhol portrait provided social validation and an immediate status symbol; for Warhol these commissions were a consistent revenue stream that supported his studio and desire to explore other more personal ventures. Warhol's television shows and videos are on display in the city gallery on this floor.
THE ARTIST
Andy Warhol was born Andrew Warhola in Pittsburgh, PA in 1928. In 1949, he graduated from Carnegie Institute of Technology (now Carnegie Mellon University) with a Bachelor of Arts in pictorial design.  Shortly after graduation, Warhol moved to New York City, where he would live for the rest of his life, and began what would become a vaunted career as a commercial artist, for which he earned numerous awards and accolades. Despite his commercial success, Warhol was determined to pursue a career as a fine artist. He first exhibited his work at the Hugo Gallery in 1952, though he did not gain recognition in the fine art world until 1962 when the Ferus Gallery in Los Angeles staged his groundbreaking exhibition of Campbell's Soup Can paintings. Through the 1960s, Warhol exhibited at Ferus, Stable Gallery, Castelli Gallery, Sonnabend Gallery and internationally to great acclaim. He established "the Factory" in 1963, the same year he began his pioneering work in film. In 1965, Warhol announced his "retirement" from painting to pursue filmmaking full-time; underground films such as Empire (1964) and The Chelsea Girls (1966) remain some of his most influential works.
In 1968, Warhol was shot in a near-fatal assassination attempt, but by 1969 he had founded Interview magazine and his interest in producing work across all media—including sculpture, video and performance—was reignited. In 1975, Warhol published The Philosophy of Andy Warhol (From A to B and Back Again) and by the late 1970s had expanded his practice to cable television shows with Andy Warhol's Fashion, Andy Warhol's Fifteen Minutes and Andy Warhol's T.V. Warhol's work of the late 1970s and 1980s exhibits an increased interest in abstraction and collaboration and often reflexively returns to his own earlier work and iconography. His late work speaks to a voracious interest in current events and enthusiasm for artists from the East Village scene such as Keith Haring and Jean-Michel Basquiat, with whom he collaborated. In February 1987, Warhol died after a brief illness following routine gallbladder surgery. The Andy Warhol Diaries, his infamous account of his own life from the mid-1970s up to his death, was published posthumously in 1991.
Major exhibitions during Warhol's lifetime include his first institutional solo exhibition at the ICA Philadelphia in 1965, a 1968 exhibition at the Moderna Museet, Stockholm, a 1970 retrospective organized by the Pasadena Art Museum, which traveled extensively and Andy Warhol: Portraits of the 70s organized by the Whitney Museum in 1979–80. The final exhibition of his work during his lifetime, at Robert Miller Gallery, New York, in January 1987, debuted a new series of stitched photographs.  Warhol's work is collected by significant institutions across the world including major repositories at SFMOMA, the Whitney Museum of American Art, Tate, The Museum of Modern Art, The Art Institute of Chicago, The Museum Brandhorst, Munich, The Museum Ludwig, Cologne, The Marx Collection at the Hamburger Bahnhof, Berlin, the National Gallery of Art, Washington, D.C. and the Andy Warhol Museum, Pittsburgh.
CATALOGUE
The exhibition is accompanied by a full-color, 400-page scholarly monograph edited by Donna De Salvo spanning all periods of Warhol's career and including paintings, sculpture, drawings, prints, videos, photographs, archival and printed material, installations, films and media works. A contextualizing essay by De Salvo is complemented by essays and contributions from Jessica Beck, Okwui Enwezor, Trevor Fairbrother, Hendrik Folkerts, Bill Horrigan, Bruce Jenkins, Branden W. Joseph, Barbara Kruger, Glenn Ligon, Michael Sanchez and Lynne Tillman, as well as a plate section with 450 images. The catalogue is published by the Whitney and is distributed by Yale University Press.
San Francisco Museum of Modern Art
151 Third Street
San Francisco, CA 94103
Into the Void: Prints of Lee Bontecou
The images of Lee Bontecou (American, born 1931) are unmistakably hers: black voids, cosmic orbs, floating serrated teeth, mutant flowers, and strange, hybrid forms. They reflect a post–World War II angst and existential fear brought on by the arms race and nuclear threat, coupled with awe at a technology capable of space travel. While best known for her wall reliefs that bridge the divide between painting and sculpture, Bontecou produced a series of important prints between 1962 and 1982 at Universal Limited Art Editions (ULAE), a workshop founded by Tatyana Grosman in West Islip, New York, in 1957. This exhibition is the first show devoted to Bontecou's prints since 1975 and is drawn from the Art Institute's complete edition and significant archive of her ULAE production.
In Bontecou's prints, as in her early sculptures, the color black dominates. "Getting the black," she said, "opened everything up." The color, through its endless interpretability, evokes the mystery of the infinite and the terror of the unknown. Her powerful prints—mostly lithographs but some etchings—attend to all of the profound issues Bontecou addressed in her sculptures and drawings. In particular, many of the prints she produced at ULAE explore the black void at the heart of her early sculptures, a motif that runs through her entire career.
Into the Void: Prints of Lee Bontecou analyzes for the first time the totality of her prints as a reflection and an extension of her larger corpus, showing not only final states of her prints but also working proofs, variant states, finished and preparatory drawings, matrices (such as the copper etching plates used to print her works), and other ephemera that shed further light on her practice. Including over 100 objects, the exhibition explores the phenomena of process, repetition, and artistic obsession, and traces Bontecou's voyage through a series of experiments and happy accidents toward the mystique of her final, definitive images.
Art Institute of Chicago, Jan 26–May 5, 2019
Rio de Janeiro named as World Capital of Architecture for 2020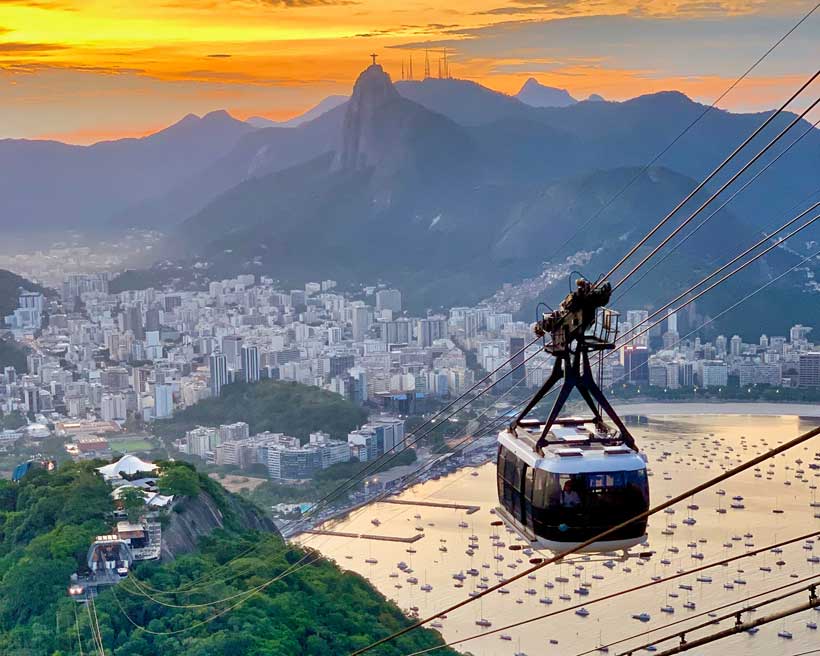 UNESCO's Assistant Director-General for Culture Ernesto Ottone R, Thomas Vonier, President of the International Union of Architects (UIA), and Verena Vicentini Andreatta, Municipal Secretary of the City of Rio for Urbanism, on Friday 18 January announced that the city of Rio de Janeiro (Brazil) will be the World Capital of Architecture for 2020.
"The World Capital of Architecture initiative underscores the common commitment of UNESCO and the UIA to preserve architectural heritage in the urban context," said Ernesto Ottone R. "Through the range and quality of its activities, the World Capital of Architecture in Rio de Janeiro will demonstrate the crucial role of architecture and culture in sustainable urban development."
In keeping with UNESCO's recent partnership agreement with the UIA, UNESCO, designates the World Capital of Architecture, which also hosts the UIA's World Congress, an event that takes place every three years. The World Capital of Architecture is intended to become an international forum for debates about pressing global challenges from the perspectives of culture, cultural heritage, urban planning and architecture.
As the first World Capital of Architecture, Rio de Janeiro will hold a series of events under the theme "All the worlds. Just one world," and promote the internationally agreed 2030 Agenda for Sustainable Development's 11th Goal: "Make cities and human settlements inclusive, safe, resilient and sustainable."
UNESCO, the UIA and local institutions will organize activities to promote projects involving architects and urban planners as well as policy makers, social institutions and professionals from other sectors including artists and writers in an open and creative space of dialogue and innovation.