Is the "crisis of secularism" in Western Europe the result of multiculturalism?
Prof. Anis Bajrektarevic famously claimed that "…the conglomerate of nation-states/EU has silently handed over one of its most important debates – that of European identity – to the wing-parties, recently followed by the several selective and contra-productive foreign policy actions." Elaborating on these actions he went further as to claim that: "…sort of Islam Europe supported in the Middle East yesterday, is the sort of Islam that Europe hosts today. (…) and "…that Islam in Turkey (or in Kirgizstan and in Indonesia) is broad, liberal and tolerant while the one in Northern Europe is a brutally dismissive and assertive."
Western Europe is phasing the outcomes of the development of two different trajectories. On one side, the immigrant presence from the former colonies, growing since the 1960's, has turned Western Europe into a multicultural and, by extension, multi-faith mosaic. On the other, the permanent decline of religious performance has brought up a wider consensus concerning the privatization of religion as well as its status of invisibility in the public sphere. These two trajectories can be perceived as oppositional if one bears in mind the significant numbers of non- white immigrants residing in Western European states and the paramount importance most of them place on religion for identification, organization and political representation. Several prominent academics refer to the emergence of the aforementioned phenomenon as a 'crisis of secularism'.
However, I would like to argue that such clear-cut judgments present several problems. To begin with, 'secularism' is a complex term with multiple meanings. Western Europe currently sports two forms of secularism; the radical model of French laicité and the moderate form followed by the rest of the states. Within the latter framework, several kinds of state-religion connections have been developed throughout the years. Even in the radical French model some state-religion connections exist, although they are concealed under cultural terms. As becomes apparent, if we take absolute state-religious separation as a crude definition of secularism, it turns out that 'a crisis' occurred well before the advent of multicultural presence.
Indeed, this essay will attempt to clarify that although multiculturalism supports and promotes the recognition of minority religious identities, the statement that it puts secularism under crisis is a bit exaggerated, if not purposefully misleading. Multiculturalism does not opt for a complete disestablishment of secularism. On the contrary, multiculturalism supports moderate secularism as it is believed that the various types of religion-state connections within it can be extended so as to accommodate minority religions, as well. All in all, multiculturalism strives for a rethinking of secularism, a renegotiation of the term, for it to become less restrictive for minorities that feel marginalized because of their religious identity.
The defining characteristics of Western Europe's multicultural reality
Western Europe started to receive exceptionally large numbers of non-white immigrants after the 1973 oil crisis, in order to rebuild its devastated economy. As its capitalist economy constantly demands a cheap labor force, people continue immigrating to Western Europe for the prospect of a better and safer life. Under these circumstances, Western Europe has reached the diversity previously characteristic of traditional immigrant receptacles such as the USA. There is, however, a fundamental difference in this comparison; the large amounts of Muslim immigrants residing in Western Europe. Specifically, Muslims form the majority of non-white Western European immigrants, with a rough estimate putting them at approximately 6% of the relevant total (Pew Research, 2011). Although Muslims appear to be evenly distributed, their presence in the larger cities is far more noticeable and rapidly growing. Regardless of this strong Muslim presence, non- white immigrant minorities in Western Europe, especially those coming from South Asia, seek to identify themselves, while also being recognized by the state and their fellow-citizens, on the basis of their religious identity (Sikhs, Hindus, Muslims). This strong religious assertiveness, despite having gone unnoticed for a long time as a matter of importance concerning group recognition, has become the main topic of discussion in Western European multicultural politics over the last few decades. The matter of controversy is the position of religious or ethno-religious immigrant identities in the public sphere of Western European states.
Multiculturalism, multicultural citizenship and religious identities
Multiculturalism is a political ideology which, during the last few decades in Western Europe, focuses primarily on the need for recognition of immigrant minorities. According to Modood, multiculturalism 'refers to the struggle, the political mobilization but also the policy and institutional outcomes, to the forms of accommodation in which 'differences' are not eliminated, are not washed away but to some extent recognized'. Moreover, as he proceeds to mention, multiculturalism 'is a politics which recognizes post-immigration groups exist in western societies in ways that both they and the other, formally and informally, negatively and positively are aware that these group-differentiating dimensions are central to their social constitution'. In summation, multiculturalism avoids group-blind approaches and 'promotes politics of recognition as a means to secure multicultural equalities between groups'.
Members of ethnic minorities with a strong religious character (such as Muslims, Sikhs and Hindus) experience marginalization on the grounds of their religion. For the members of these minority groups, however, religion is a basic element of their self-identity that they are not willing to surrender so as to become accepted. Jacobson, O'Beirne, Fish and Gillat-Ray are just a few examples that illustrate precisely how religion is an aspect that permeates all aspects of Muslim's life, representing an integral part of their self as well as a tradition offering a sense of belonging. Thus, these groups react with a strong religious assertion in the public sphere, demanding the same recognition and respect previously given to other minority groups, originally marginalized in terms of their 'different' identity (racial, ethnic, sexual).
Multicultural politics support equality for all citizens not on the basis of providing equal rights to all but rather on that of recognition of the existence of group identities

According to Modood, 'multicultural citizenship is the project to make citizenship-inclusion or integration possible on terms that respect all and in particular those […] whose subjectivities are marginalized or dismissed […]'. Bearing this position in mind, multicultural politics acknowledge 'the importance of religious identities to some non-white ethnic minorities…and…their centrality to some forms of ethnic minority self-assertions, mobilizations and political claims-making'. Thus, from a multiculturalist perspective, in order for these ethnic minorities to be equally accommodated, the state must respect and recognize their religious identities.
Under such circumstances, it becomes clear that state-religion relations can be seen as a matter of recognition. As religious identities (Sikh, Hindu and most notably Muslim) have become one of the most salient minority status markers, Western European states, driven by a 'multicultural sensibility', realize that state-religion connections must be rethought according to the needs presented by the new multi-faith reality. This process of negotiation for the place of religious minority identities in public is perceived by many as a violation of the secular norms of religious neutrality and church-state separation, which are deeply rooted in Western European states. However, to what extent this contention is true is a matter of great controversy.

Secularism in Western Europe
Modood defines political secularism as a condition in which 'political authority does not rest on religious authority and the latter does not dominate political authority'.
Secularism is a principle deeply embedded in all Western European states since the signing of the treaty of Westphalia. In national narratives, secularism has been referenced as the modern developmental process that brought about the emergence of sovereign states. It has been defined as the principle that disentangled individuals and states from their religious beliefs to halt the potential resurgence of the violent wars of the past. Thus, the need for a separate existence of secular and religious spheres has come to be perceived as the alleged sine qua non for every society that wants to be perceived as modern.
'The separation of Church and State, the neutrality of the state in regard to religion, religious freedom and understandings of secularisation in terms of the privatisation and decline of religion, are all at the heart of discourses about secularism'. The practical implementation of secularism differs across state borders. Thus, in broader terms, Western European secularism can be divided in two different categories; the radical model and the moderate one.
a. Laicité
Laicité is the radical model of secularism adopted solely by France. In this kind of secularism, religion is essentially banished from the public sphere. Religion is perceived as an anachronistic element, which must be completely marginalized in the name of reason and liberal individual freedom. Religion is strictly differentiated from the public domain, only maintaining a place in individuals' private life. Accordingly, the state takes a neutral stance on any kind of religion in the name of the liberal value of equal treatment for all individuals. Under these circumstances, the state supports a model of assimilationist, civic integration. 'Integration here is understood as an allegiance to a common civic identity and the joint pursuit of the common good'. In other words, in order for someone to be fully integrated into French society, the civic element of his/her identity should trump all others in the public sphere. As Bouchard & Taylor aptly put it, such a position 'demands the removal or neutralization of the identity markers (including religion […]) that differentiate citizens' and '[…] assumes that the removal of the difference is a prerequisite to integration'.
However, this rigid a context is destabilized when the need to integrate people not previously nurtured with these hard boundaries between private and public religion arises. Such is the case with immigrant minorities claiming a strong religious identity.
The French state reacted to this multiculturalist challenge with a top-down approach, which sought to restrict the public expression of minority religious identities. The state as well as the majority of the public opinion perceived the wearing of religious symbols in public as a political project violating the secular principle concerning the privatization of religion and the neutrality of the public sphere. Consequently, the wearing of conspicuous religious symbols – clearly aimed at Muslims' headscarves and Sikhs' turbans – was banned by law in February 2004. The banning of the full-face veil (niqab) from public spaces followed in April 2011.

Both of these legislation initiatives show an inclination to bracket 'difference' through the implementation of the historically contingent principles of secularism in a sort of 'fetishization of the favored institutional arrangements'. Such movements show the unwillingness of the state to recognize that religion can be a representative element of groups or entire cultures. In other words, the state replies to religious assertiveness with a 'religious-focused version of different-blindness'. The denial of public religious accommodation conceals the cultural privileges of Christian traditions that are deeply entrenched in the notion of secularism, thus sustaining the inferiority and alienation of non-Christian traditions. This is to say that a concept of 'neutrality' is impossible, as the state always reflects specific cultural characteristics, which in the case of France are rooted in Christianity.
The strong insistence of French politics on the preservation of secularism, as presented through the application of the aforementioned measures, reifies the secular-religious dichotomy as an unsurmountable opposition, diminishing any potential for a fruitful mixture between the two sides. Based on a secularist argumentation, the state presents itself as acting in the service of an 'us' wanting to assimilate (or exclude) an as yet illiberal (or premodern) 'them'. As Modood puts it, 'such totalized dualistic perspectives are not conducive to fostering dialogue, to respect for difference, to seeking common ground and negotiated accommodation[…]and above all to multicultural citizenship'. If religious identities are excluded in a way that no other identity (be it racial, ethnic, sexual or whatever else) is, then there is obviously a profound bias against religious identity which clashes with the multicultural principle of equality between identity groups. If one were to use this radical form of secularism as a model, then multiculturalism clearly makes it 'at risk'.
However, there is another perspective in the French laicité which is worth mentioning, to illustrate that ethnic minorities' claims for religious accommodation are not all that contradictory to the existing practices of the Republican state. Rather, they are based on pre-existing state-religious relationships. More specifically, since the establishment of the law of 1905, the state is committed to contribute financially to the preservation of church buildings, as it acknowledges that they are part of French cultural heritage. Moreover, since the establishment of 'Debré Law' in 1959, the state, to a great extent, sponsors Catholic Church Schools. Clearly, the secular French state both acknowledges and respects, by law, that religion is a part of one's tradition and culture that needs to be preserved and moreover that it can contribute to education.
Bearing the aforementioned facts in mind, it seems that even in the radical laicité model, some manner of state-religion connections are already active. Consequently, ethnic minorities' struggle, based on the multiculturalist principles, for the recognition of their religious identity by the state is not an initiative that places secularism under 'crisis'. What is requested is not the desecularisation or disestablishment of the privileges of the Christian tradition within a secular context. Rather, the challenge is how to add the new faiths alongside the older ones in a process of 'equalising upwards'.
A relevant initiative has been launched by president Sarkozi with the establishment of the French Council for the Muslim Faith in 2003, whose function is to act as the primary liaison between the French government and Muslims. Despite the fact that the assembly of the council was a state-construct and that it has, to date, failed to become recognized as representative by the majority of the French Muslim population, such initiatives are necessary for the equal accommodation of religious minorities. Even if these initiatives may seem prima facie contrary to laicité, this is not the case for their relationship to moderate secularism.
b. Moderate secularism
Following Modood, 'the key feature of moderate secularism is that it sees organized religion as not just a private benefit but as a potential public good or national resource, […]which the state can in some circumstances assist to realise'. Under these circumstances state and church remain autonomous but may still collaborate in several domains. Modood aptly explains what can be perceived as such a state-religion connection; it is a 'kind of relationship with the state such that a religious organisation participates in the functions of the state or is a partner in governance, helping the state to discharge some of its duties and implementation of policies or it is continuously supported by public funds or it is part of the symbolism of the state in a clearly non-neutralist way'. Through the presentation of a series of empirical examples of states that adopt religion-state connections, an attempt will be made to show that multicultural recognition politics for immigrants' religious identities do not clash with this manner of arrangements. On the contrary, the latter may be a platform for multicultural integration.
Initially presented to support this argument follows the German example. In Germany, the most important source of funding for religious communities comes from tax receipts. This state financial aid to 'religious societies being organized as corporations under public law' is also protected by the law. Moreover, numerous public sponsorships are granted to religious communities. In addition, it must be mentioned that around half of Germany's welfare provisions are channeled to the public through Church-based organisations, within a climate of a civic society, in which church and state can work together for the accomplishment of common goals. The Muslim presence in Germany is considerable and enduring, especially bearing in mind the large Turkish minority. According to Korioth & Ausberg, Muslims make up approximately 4% of the German population. Of course, Germany is renowned for its anti-multiculturalist sentiments and the 'Gastarbeiter' approach in its immigration policy. However, a climate of 'multiculturalist sensibility' is present and reflected in 'corporatist' forms of Muslim accommodation. More specifically, chancellor Merkel and her government launched the first German Islam Conference in 2006. According to Aslan, this initiative had aimed 'to restore mutual trust within the society and its Muslim communities' so as 'to enhance the religious and social integration of the Muslim population in Germany'. Since then, the conference has been held annually in the form of a dialogue between 'the state and selected representatives of Muslims in Germany'. Although top-down, such an attempt can be viewed neither as radically secularist nor as assimilationist. Rather, it meets the multiculturalist prerequisites of willingness for mutual negotiation in order to find effective solutions for the accommodation of religious difference. The German state remains secular but understands that Muslims face discrimination on the basis of their religion and that the state needs to take action so as to protect this group. This solution is not sought outside of the secular principles. Rather, the state tries to renegotiate these principles so that Muslim integration can be achieved within them.
England is another relevant paradigm. Religion and the state are first connected 'symbolically', as the monarch has also the ultimate authority of the Church of England and can only undertake duties after being blessed by bishops. Accordingly, 26 bishops are members of the House of Lords, the supreme legislative body of the state, having equal rights with the rest of the members. Apart from that, the Church of England has a substantial educational contribution, in which it is almost exclusively supported by state subsidies.
Of import to the argument at hand is the expansion of state connections to incorporate its Muslim immigrant population, as well. During the New Labor governance, the state recognized the Muslim Council of Britain (MCB) as the representative voice of British Muslim population (1997). Throughout its period of governance, New Labor in collaboration with the MCB initiated a series of measures that enabled and promoted the smooth integration of Muslims in the national context. They jointly fostered public acknowledgment of the importance of their religious identity, the introduction of state funded Muslim schools (following their Jewish and Christian counterparts) and concentrated policies on tackling religious discrimination, which reached their peak with the establishment of the law against religious discrimination (2003). All of these attempts were backed by the Church in a climate of 'interfaith respect' and 'multi-faith harmony'.
Relevant examples of states that have extended their church connections to accommodate religious diversity can also be found in Belgium's multi-faith Council of Religions and in Denmark's model of 'multiple establishment', were Muslim religious communities enjoy a formally recognized and approved status as well as state tax benefits.
None of the aforementioned examples drift from the minimalistic definition of secularism presented previously, meaning that a mutual autonomy between state and religion is still ensured. It should by now have become apparent, through the presentation of these empirical examples, that the type of state-religion connections developed within the framework of moderate secularism makes a clear case that religious minorities can be recognized and accommodated without braking the basic secular rule. In other words, multiculturalism and religious diversity do not necessarily equate eradication of established churches or a 'crisis' of secularism.
Conclusion
This essay aimed to evaluate the contention that the 'crisis of secularism' in Western Europe is the result of multiculturalism. To this end, several points, facts and empirical examples were presented. The presence of immigrants in Western Europe has undeniably brought with it both multiculturalism and religious diversity. Moreover, some immigrants brought, and continue to bring, with them religious beliefs totally alien to Western Europeans, which can lead to their being discriminated against on the basis of their religion. Muslims are the most notable example of the aforementioned observance, since they form the majority of non-Christian immigrants residing in Western European states, with Sikhs and Hindus also sharing similar experiences. It is therefore clear that the minority statuses of the aforementioned immigrant groups are due to their religious identities.

Multicultural politics support equality for all citizens not on the basis of providing equal rights to all but rather on that of recognition of the existence of group identities. Accordingly, multiculturalism acknowledges the fact that for immigrant groups with a strong-religious character to be recognized, the state needs to recognize religious difference and seek to tackle the problem of religious discrimination. Some people, and more specifically adherents of crude secularism, believe that this brings the whole notion of 'secularism' under crisis. However, as Modood aptly puts it, multiculturalism's focus on recognition of immigrant groups' religious identities 'is based on recognition and inclusivity, not the truth of doctrines' and 'is not opposed to secular or non- religious identities but is additional to them and is not meant to suggest any inherent superiority or desirability of religious over non-religious identities – or vice versa'.
Multiculturalism interacts with two different kinds of secularism in Western Europe. On the one hand, there is the French laicité, which reacts to the multi-faith challenge with religious-blind policies that sustain the inequalities faced by immigrant religious minority groups. On the grounds of an alleged principle of state neutrality as well as the liberal principle of individual freedom, the French state seeks to banish the presence of minority religions form the public sphere. As it becomes clear, if this is the prototypical model of secularism taken into consideration, multiculturalism definitively puts it under great strain. However, the challenge is not one of forcing France to lose its Catholic character or abandon the idea of secularism on the whole. What is requested, is some form of state-religion connection within the secular framework, which would provide some sort of recognition to the Muslim immigrant community.
Such state-religion connections have been a part of the prevalent, moderate, form of secularism implemented in most of the Western European states for some time now. In moderate secularism, religion is not only understood as a private matter but also as a potential public good, which the state seeks to assist. Germany, England, Denmark and Belgium are just some of the states that have positively and effectively responded to the challenge of multicultural religious diversity by extending their state-religion connections so as to accommodate immigrant religious minorities.
In summation, multiculturalism may bring religion to the forefront anew but it does not do so in ways necessarily totally alien to secularism. As it has been shown, several kinds of long-lasting state-religion connections have been developed, especially in moderate forms of secularism, even before the expression of immigrant demand for some sort of public recognition of their religious identities. Seen in this light, multiculturalism cannot be seen as seeking a "crisis of secularism", but rather as calling for nothing more than an extension of tenets already present in secularism, so that new faiths can be brought into any given secular state model alongside their older, preexisting counterparts.
Architecture Reflecting Culture: The Alhambra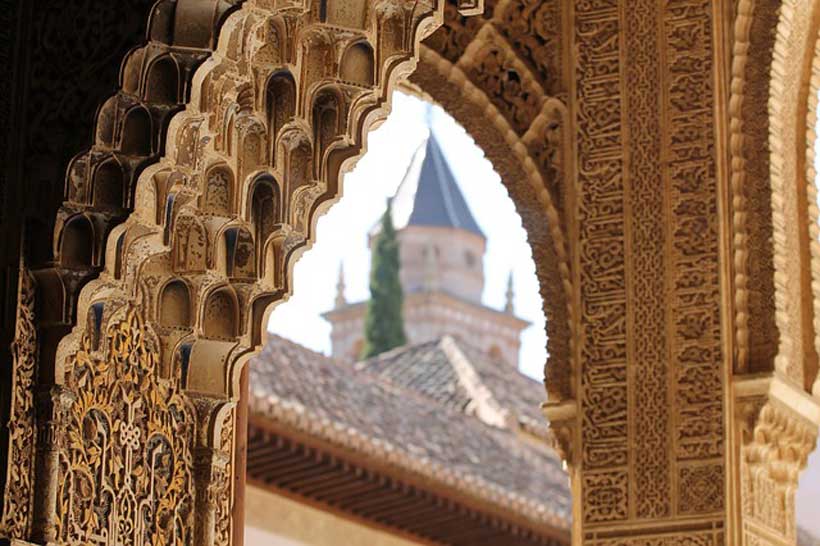 Throughout history civilizations have been overtaken by successors. These in turn decline and fall as time marches on. Often all that remain are monuments, an occasional palace or temple often a tomb, usually in ruins unless of relatively current vintage.
The ancient Egyptians built massive pyramids to bury their pharaohs, projects lasting a lifetime and ensuring a reliable source of income for the workers and others involved.
The Greeks favored exquisitely proportioned temples and statuary rendered with a skill that was not matched again until the Renaissance. One would be remiss not to mention their vast output of the mind from philosophy and logic to the poetry and drama played out in the amphitheaters.
If Roman entertainment relied on blood and gore, it was part of a culture of brutal wars, subjugation and suppression of foreign peoples welded into an empire. Then there was Roman law, even if it applied only to citizens.
Of more recent vintage are the great cathedrals of Europe like Chartres, tall, massive, constructed in a span of time unimaginable in our era of haste. Preceding them were the great mosques of the Muslim era decorated in geometric shapes and colors to dazzle the eye. Damascus and Isfahan come to mind.
Then there are the Nasrid kings of Grenada in southern Spain, al Andalus to these descendants of North African Berbers and Arabs who ruled there for several centuries. A time when the three Abrahamic religions coexisted in relative harmony it saw the flowering of a civilization noted for its mixture of opposites.
The city of Cordoba with its great mosque was an early fruit of this admixture becoming the largest city in Europe during the 10th century, although civil wars had diminished it considerably by the 13th century. Yet the 13th century began the growth of a city on a hill now called Alhambra probably due to the reddish color (alhamra in Arabic) of the rock face. Housing some 40,000 citizens then, not many of the buildings survive. Notable are the defensive citadel Alcazaba, three palaces — the Mexuar, the Comares and the Court of the Lions — and an encircling wall with battlements and towers. The great mosque was replaced by a Franciscan monastery in the 15th century and is now a parador — a government-run hotel that was formerly a castle or palace or the like.
The Courtyard of the Lions is justly famous as the symbol of Alhambra. The twelve lions at the center appear to be holding up a water basin right in the center of a network of channels … on the periphery, colonnades supporting delicately carved arches form an abbey-like cloister. But the walls in the adjoining rooms hold their own surprise in intricately carved geometries of colored tiles and plasterwork. Glancing up, the ceilings are designed to take your breath away. Even more intricately constructed, they comprise thousands of meticulously carved sections of wood rising layer upon layer to feast the eye as small apertures allow in shafts of sunlight or moonlight. Watercourses run through many rooms spilling across portals into pools among enclosed gardens melding interior with exterior and joining it with nature.
The architect LeCorbusier called it 'the intelligent, just and magnificent interplay of volumes made harmonious by daylight.' Henri Matisse exclaimed, 'The Alhambra is a marvel' and Washington Irving captured imaginations throughout the western world with his 1832 book, The Alhambra. At the time going to rack and ruin, his romantic vision helped to trigger an effort to preserve the precious gem.
Now a magnet for tourists, it remains a precious reminder of what an intermingling of cultures can produce — just as the Taj Mahal does in India where Mughal emperors often married Hindu Rajput princesses and Shah Jahan (whose mother Manmati was one) built his own marvel.
Don't avoid what is easy – diplomacy meets art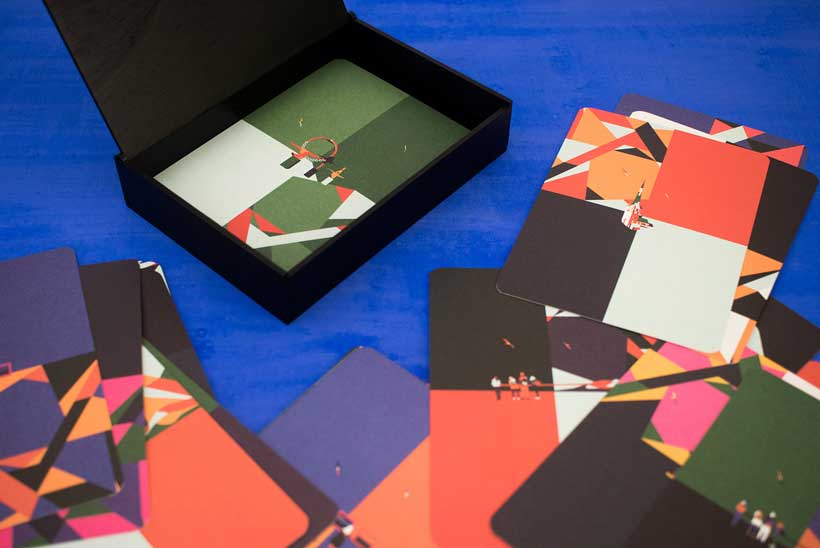 Individuals should and need to feel like they have the right to want. That is the message that artist Anastasia Lemberg-Lvova is continuously expressing through her artwork. Exemplifying socially-engaged art, Lemberg-Lvova aims to be a part of a much broader political movement which discusses important historical and modern-day social processes through creative means.
The second-wave feminist movements from the 1960s is one example of such a powerful movement. With their infamous quote, 'The personal is political', authored by millions of voices of women collectively rather than one feminist author, the message that every individual has the right to a voice was heavily stressed. As personal experiences took center stage and the individual became a political platform during the feminist movements, crowds of individuals also gained new meanings of courageous collectivity. Ultimately, the movement gave opportunity for previously ignored and taken-for-granted personal circumstances to be framed in a bigger picture – a picture that women as minorities were often left out of.
Continuing to portray the central message that movements such as the feminist strikes and many other historical crusades have fought for, Lemberg-Lvova uses her own art to focus on the younger European generation, highlighting the vast diverseness of the voices that live in Europe and sending a bold message that evidences a heterogeneity which needs to be more thoroughly discussed amongst the European community. With her projects, she is able to recognise the ways in which the systemic infrastructures that exist around the individual leave them feeling insecure or insignificant in relation to their voice and its right to exist in public. By initiating healthy conversation and focusing on this very elemental act of daring to express one's desires towards public space, she has created a platform that encourages individuals to learn to voice their opinions more often, ultimately leading the person to be engaged as the multiplicities of voices are amplified to lead to more diverse discussion and perhaps outcomes.
Her exhibition, 'Don't Avoid What is Easy', on show from August 14th – September 9th at the Freedom Gallery in Tallinn, Estonia, is thus the result of 2 years of research conducted mainly through interviews of younger generation individuals during her own expenditures through Europe. Although seemingly humble in its outcome as portraits, there is a strong message behind Lemberg-Lvova's work, depicting the notion that we should feel more confident to voice our opinions about our public surroundings, Lemberg-Lvova uses art and representations to give a voice to over 100 participants from 24 European countries.
By painting vibrant oil portraits of a selected 7 individuals whom she interviewed, she touches on the concept of art and its political capacity by explaining "There will be portraits of participants with a visual interpretation of their wish as the background. The experience of, as we often say, "putting a face to a name" has a profound effect and is more intuitively understood than just going through text or trying to grasp abstract ideas. Painting as a form of expression is immensely malleable and useful when getting ideas across."The desire to initiate discussion and give it a platform within the context of a gallery means Lemberg-Lvova's art is inherently social and public. These qualities make for an intriguing space where the audience can identify small changes that resemble the tip of a much bigger iceberg– or at least the ignition of confidence and curiosity.
This focus on the first and easiest step sometimes being the hardest is something of great importance for Lemberg-Lvova as she explains "An inhabitant of a city logically has the right to express ideas or wishes when it comes to their surroundings – it is, after all, their home. But they are often stuck in the belief of not being able to change anything. In this instance, I am not talking about taking action or creating a plan. This is about the simplest first step that does not require anything – feeling like one is entitled to express a wish. It doesn't have to lead anywhere; just remember that you have the right to want something. What follows is a different matter, but it is clear that nothing will happen without this first step."
An interactive wall installation where participant answers are projected for all to see will pay homage to the importance that Lemberg-Lvova holds for communities to listen to the expressions of their surrounding civilians. She explains "From an early age, our heads are flooded with subliminal messaging and that often diminishes internal self-worth. Let me explain this from the point of view of a woman – a frame of reference I am most familiar with. As a woman one feels that unless they have perfect dazzlingly white teeth, flawless hair, a tiny waist and the right kind of shoes they are not worthy of expressing an opinion. Because if you do not fulfill all of the criteria above, no one will listen to you or even consider you worthy of attention. This is a cliché, yet it exists because it is true. It describes the reality of many women, because we are surrounded by sources reaffirming it – adverts, friends, sometimes parents or spouses, fitness centers and the list goes on. At the exhibition, I am striving to fill the space with messaging that reiterates one's right to express their wishes whoever they are."
Her message is clear – we should not avoid formulating our wishes in matters that concern us. Her persistence to initiate discussion and to give it a platform within the context of a gallery means her art is inherently social and public. These qualities make for an intriguing meeting space for the artist as well as her audience amongst each other.
Open Studio at Kogo Gallery, Widget Factory (Aparaaditehas), Tartu, Estonia: 08.07-01.08
Exhibition "Don't Avoid What is Easy – Diplomacy meets art"at Vabaduse Gallery: 14.08-09.09
*Valeriya Billich also contributed to this article. Photos:Mariia Nedosekova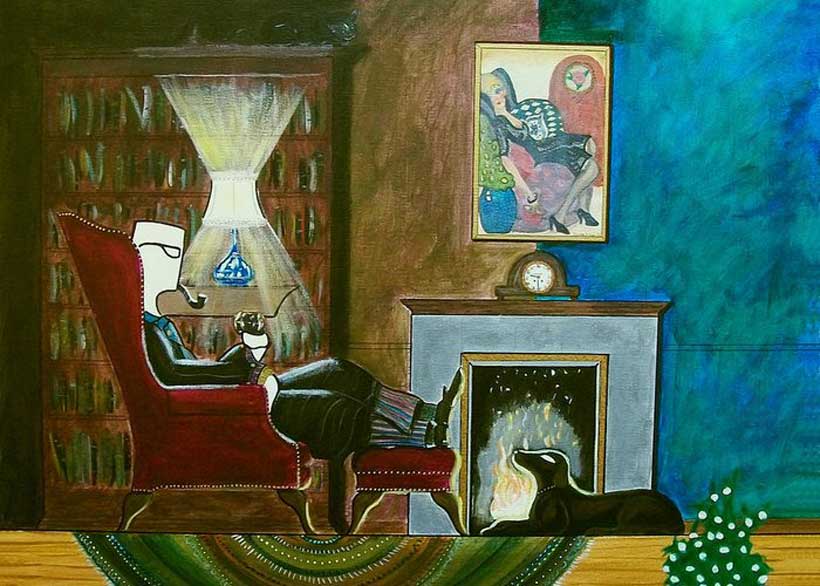 Uncertainty and summer saunter in with its retinue of rules, so I am told. While philistines slip into their shorts. Gentlemen don't do that. At least the ones I know, or rather, admire. I am strongly of the opinion that summer requires meticulous management and planning. There needs to be a complete overhaul of the sartorial preferences, dietary habits, and recreational regime. Additionally, and rather, increasingly significant nowadays, at the bar cabinet, which must gracefully welcome fresh grog.
Change, I am reminded of being told is a perpetual challenge. This is true now more than ever before. This summer shall be different for me; No travel to new or old destinations, no steeps into rich heritage which are pulsing with an unparalleled artistic spirit, no gastronomic sensations and beautifully landscaped parks and gardens that beautifully manicured and most of all, a restricted consumption regime of spirits and smokes. There is no doubt about the fact that the perfection of a sufficient dose of sensual stimulation shall be missed, dearly.
In times of such glaring uncertainty, many of us find ourselves in the rigour of isolation. Yet one mustn't drown in sorrow, for that pernicious jump into the rabbit hole of total despair will drive to insanity. Instead, in the spirit of making hay while the sun shines, I find myself deeply grasped in my hobbies and interests of art, culture, fashion, and even interior design. In furtherance of my interests and passions, I plan future trips to the European continent for study and debaucherously pleasurable activities while my folks worry about the thickness of their chequebook.
Despite countless hours spent on my multiple whims and fancies devoting time to the daily duties is an art. An art that is similar to the fine tailoring abilities of the talented gentlemen with the extraordinary skill of Hunstman, Savile Row. Managing the split of time is learned and perfected over time, like the of cutting cloth. This skill, over which I have achieved mastery, I am lucky to say, I received at birth from my mother who hails from a decorated family of army officers. For me, it runs my veins to be fastidious. For novices, here's a hint; Avoid morning lie-ins, afternoon naps, and daytime Netflix binges while leaving tasks to complete after the evening meal. Have some self-discipline, dude.
These days after supper, I find myself sitting back in my armchair engrossed in a new book with either a Cohiba or something out from my patriarch's prized whiskey collection, resting on my mahogany piecrust tripod table helping me fulfil the senses. Millennial Chilling is not for me. I have often been told that I am an old soul trapped in a new body. To me, that is madness, but I often see the method in it. That is because, I do not find any sense of gratification or contentment in doing nothing but, for those who do, remember, one simply can't make love seven days a week, much as one's partner might desire it. Other forms of vigorous exercise are sometimes required.
While I happily drown myself in pursuit of knowledge, I turn to the literary world to share my final thoughts to share a contrary tale. The words of Ernest Hemingway: "No man is an island entire of itself; every man is a piece of the continent, a part of the main". For me, contrarily, the gleeful effect of the fine cognac and Erik Satie's mastery on the piano has its drowning effect. You hear only what you wish to hear much like my most favoured ruler, Napoleon. To that, I'll drink.