Geo–cultural strategy for Eurasia
By Emre Kovacs and Murray Hunter
In September 2013, Chinese President Xi Jinping proposed that China and Central Asia collaborate to build a Silk Road Economic Belt, which would comprise all countries within the Eurasian region. According to Eurasian expert and China Daily columnist Liang Qiang, such a corridor would be the World's longest economic belt, with the most potential for development, and a strategic base of energy resources in the 21st century.
In the 2014 Report on the Work of the Government, Premier Li Keqiang reaffirmed that China will intensify on its planning and building of a Silk Road Economic Belt and a 21st century maritime Silk Road.
However, just as important as the economic considerations and aspects of a new Silk Road concept, is the formulation of a geo-cultural framework for the Silk Road. This is based upon the assumption that with better mutual understanding and appreciation of each other's art and culture, an environment of trust will overcome any underlying deep rooted historical and modern prejudices, doubts, suspicions, misunderstandings arising from cultural differences which would otherwise make the common ground of the Silk Road slippery and unpredictable.
Chinese State Councilor Yang Jiechi said just recently stated publicly that mutual cultural understanding as will be paramount and fundamental to making the Silk Road development initiative work for all. He further added, that the Chinese government will strive for the vision of establishing the Silk Road Economic Belt by making further efforts to build mutual trust and overcome doubts, such as making clear the difference between China's vision and those of Russia and the US, and stressing development and cooperation without economic integration, and by taking into consideration the different concerns of different countries and actively seeking converging economic interests with regional countries.
Thus one of the major barriers to implementing the Silk Economic Belt will be overcoming the long embedded divisions and prejudices, some justified and others unjustified, and fears of Chinese economic and demographic domination, as China reemerges as the major influential power in the region.
This requires serious discussion about what type of programs should accompany Silk Road development itself, where new policy approaches will be necessary to overcome the barriers discussed above.
At the wake of this new Eurasian economic initiative, a new paradigm to solve the problems created by fast development, and rebalance economics back inwards towards Asia once again.
There is a great historical example here, a proven Asian paradigm which was successful in promoting many diverse cultures with a mutually shared prosperity, where the peoples of the region prospered. This paradigm is the culture and economy of the ancient Silk Road.
Today the ancient Silk Road is being rebuilt in the form of a transcontinental network of bullet trains, oil and gas pipelines, highways, telecommunication lines and satellites, trade agreements and scientific cooperation. But the silk road economic belt also needs a cultural soul
The authors propose and accompanying Silk Road Cultural Belt which should be focused on the nations and cultures of countries comprising the Silk Road region. The programs should focus on the developing the indigenous cultures of those nations which once have all been connected through the Silk Road, both on land and on the seaway.
Today the ancient Silk Road is being rebuilt in the form of a transcontinental network of bullet trains, oil and gas pipelines, highways, telecommunication lines and satellites, trade agreements and scientific cooperation. But the silk road economic belt also needs a cultural soul.
In this regard, one must bear in mind that the ancient Silk Road was not only a road for commodity exchange. The burgeoning economy along the Silk Road was made possible by the mutual appreciation of each other's culture and artifacts. Cultural understanding and interaction was the very base which sustained and enhanced the trade and economies within the Silk Road Belt and acted as a unifying force for Asia. The ancient Silk Road was the road of commodities, but it was as much as the road of ideas, art, cultures, spiritual teachings, scholarly knowledge, medicine and gastronomy.
A new scholarly understanding of the different cultures, their intricate connection and often shared roots, will bring the nations of Eurasia closer to each other.
A new, heartfelt and sincere artistic expression nurtured by the rich cultural inspiration of the Silk Road traditions will make the precious knowledge and experience of many generations available for modern thought and action.
The scholars and the artists with vision will together surely find many keys and focal points to map out the road towards an enhanced Asian cultural understanding, and mutual prosperity.
Everything that exists and created by humans has to exist first in the mind to become an idea and thought, which can be followed by action and accomplishment. Scholarship and art can conceive, create and communicate ideas and thoughts for actions and accomplishments. Imagination is the key to innovation.
Eurasian nations, we believe, will, in this way, come to recognize what is common, everlasting and beautiful within each culture of the vast Eurasian continent.
The paramount goal should be for the different cultures to be inspired by each other to find and cultivate their common roots and values, to appreciate each other's specialties and differences..
It is envisioned that as a result, understanding and relationships will deepen between the participating people and their nations. The Eurasian Cultural Belt should become the focal point and radiating source of a new Eurasian consciousness for the reemerging New Silk Road which we believe will be a key factor in the twenty-first century coexistence.
If we want to have the blessings and opportunities that will come with a renewed Eurasian consciousness, we need to rebuild this Eurasian consciousness on solid ground, cemented by art, scholarship and culture. Surely, economics and politics will follow.
While the people of the world are often divided by political and economic interests, the authors believe that it would be possible for people to communicate more effectively with one another and to form a true brotherhood through culture exchange and mutual appreciation.
Music, dance, the fine arts, fashion and gastronomy have a strong attraction for people, and can often be easily shared and appreciated. In other words, culture can bring people together.
It is also important that through culture people can often come to know one another. The soul of a people, their innermost nature, is expressed in their fine art, music, dance and gastronomy.
It is the opinion of the authors that scholarship, art and economy go hand in hand, that they are interdependent and are able to either nurture or destroy each other. Regarded as a whole, they need to be brought into harmony. Otherwise, destructive forces can emerge to threaten the achievements of humanity.
The facilitation of cultural understanding through scholarship and art should the primary goal of The Eurasian Cultural Belt. This will make Eurasian Cultural Belt conferences and exhibitions of the New Silk Road unique events, where scholars and artists, the leaders of culture, economy and politics can find new tools and comprehensive approaches for their own work.
The engine of the above initiative should be the Eurasian Cultural Exchange Trade Posts (ECETP), domiciled in every capital and major city of the new Silk Road. These trade posts should take the form of spacious art and cultural villages, housing libraries, study rooms for scholars, art galleries, showrooms, conference and meeting facilities, cafes, restaurants and hotels along with art fashion and media studios to facilitate excitement, experience and interaction between scholars and artists and anybody else interested.
The programs should include art and research scholarships, conferences, presentations, exhibitions, media events and public culture dissemination.
The culture and history of the nations of the New Silk Road should be researched and promoted by the Eurasian Cultural Exchange Trade Post. Confidence, self esteem and generosity towards each other will than develop in an open and inclusive atmosphere.
The Eurasian Cultural Exchange Trade will work on the premise that diversity is strength and not weakness, and that cooperation evolves from the appreciation and understanding of each other's culture.
This is the necessary new paradigm for the Eurasia of the 21st century and beyond. According to Charles Darwin, those that survive are not the strongest, or smartest, but those who are able to adapt to changing environments.
Otherwise domination, colonization, division, strife and slavery will dominate the next century within the current paradigms we know, in the midst of environmental and social deterioration.
Standing up to China: Czech mayor sets a high bar
A Czech mayor's refusal to endorse Beijing's One China policy potentially sets a high bar as Western powers grapple with how to respond to allegations of excessive use of violence by police against Hong Kong protesters and the implications of leaked documents detailing a brutal crackdown in China's north-western province of Xinjiang.
Prague mayor Zdenek Hrib rejected a sister city agreement between the Czech capital and Beijing in late October because it included a clause endorsing the One China policy, which implicitly recognizes China's sovereignty over Taiwan, as well as Hong Kong and Tibet.
Mr. Hrib argued that the agreement was a cultural arrangement and not designed to address foreign policy issues that were the prerogative of the national government.
The mayor's stance has since taken on added significance against the backdrop of US President Donald J. Trump's signing of legislation that allows for the sanctioning of Hong Kong officials, embarrassing Communist party leaks that document repression in Xinjiang, the election of a new Sri Lankan government that intends to adopt a tougher policy towards China, and simmering anti-Chinese sentiment in Central Asia and beyond.
Mr. Hrib's rejection was in fact a reflection of anti-Chinese sentiment in the Czech Republic as well as opposition to the pro-China policy adopted by Czech president Milos Zeman.
To be sure, Mr. Hrib, a 38-year old medical doctor who interned in Taiwan, was shouldering little political or economic risk given Czech public anger at China's failure to fulfil promises of significant investment in the country.
On the contrary, Mr. Hrib, since becoming mayor in mid-2018, appears to have made it his pastime to put Mr. Zeman on the spot by poking a finger at China.
Mr. Hrib visited Taiwan in the first six months of his mayorship, flew the Tibetan flag over Prague's city hall, and rejected a request by the Chinese ambassador at a meeting with foreign diplomats to send Taiwanese representatives out of the room.
Beijing's cancellation of a tour of China by the Prague Philharmonic Orchestra in response to Mr. Hrib's provocations forced Mr. Zeman to describe the Chinese retaliation as "excessive" and his foreign minister, Tomas Petricek, to declare that "diplomacy is not conducted with threats."
Perhaps more importantly, M. Hrib was taking a stand based on principles and values rather than interests. In doing so, he was challenging the new normal of world leaders flagrantly ignoring international law to operate on the principle of might is right.
"Our conscience is not for sale," said Michaela Krausova, a leading member of the governing Pirate Party of the Prague city council. Ms. Krausova and Mr. Hrib's party was founded to shake up Czech politics with its insistence on the safeguarding of civil liberties and political accountability and transparency.
While couched in terms of principle, Mr. Hrib's stand strokes with newly installed Sri Lankan president Gotabaya Rajapaksa's intention to wrest back control from China of the island's strategic Hambantota port that serves key shipping lanes between Europe and Asia.
Hambantota became a symbol of what some critics have charged is Chinese debt trap diplomacy after Sri Lanka was forced to hand over the port to China in 2017 on a 99-year lease because the government was unable to repay loans taken to build it.
"I believe that the Sri Lankan government must have control of all strategically important projects like Hambantota. The next generation will curse our generation for giving away precious assets otherwise," Mr. Rajapaksa said.
Fears of a debt trap coupled with the crackdown on Turkic Muslims in Xinjiang, which targets not only Uighurs, but also groups that trace their roots to Central Asian countries, have fuelled anti-Chinese sentiment in Kyrgyzstan, Tajikistan and Kazakhstan.
"Given that China is likely to continue to expand its presence, further irritating local publics, the temptation of opposition groups to exploit such anger will only grow. If that happens…the anti-Chinese demonstrations that have taken place to date will be only the prelude to a situation that could easily spiral out of control, ethnicizing politics in these countries still further," said Central Asia scholar Paul Goble.
Beyond Xinjiang, anti-Chinese sentiment in Central Asia is fuelled by some of the same drivers that inform Czech attitudes towards China.
The shared drivers include unfulfilled promises, idle incomplete Chinese-funded infrastructure projects, widespread corruption associated with Chinese funding, and the influx of Chinese labour and materials at the expense of the local work force and manufacturers.
Beyond Xinjiang, Central Asians worry about potential debt traps. The Washington-based Center for Global Development listed last year two Central Asian nations, Kyrgyzstan and Tajikistan, as risking China-related "debt distress."
Warned China and Central Asia scholar Ayjaz Wani: "Chinese principles in Central Asia are hegemonic. China has always interacted with Central Asian states without regarding their cultural identities, but according to its own vested interests… However, the ongoing anti-China sentiments may be coming to a tipping point."
Old wine in new bottles: Chinese containment policy in South Asia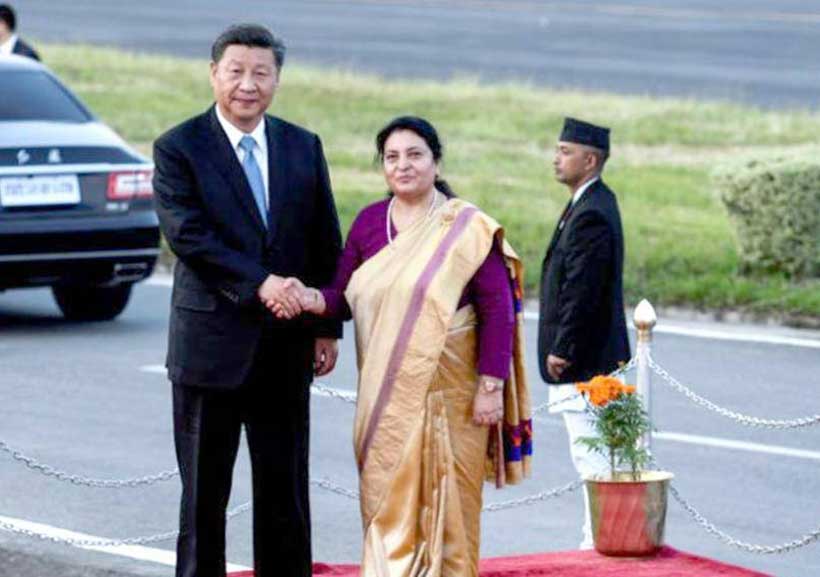 A lot of discussion in international relations scholarship is concentrated upon how US maximizing its security presence in the Asia-Pacific region. It is trying to contain, growing Chinese Influence to protect its national interest.It was described by former US President Barack Obama as a pivot Asia policy. But in the case of South Asia, United States is strengthening its ties with India to boost it as a force to contain Chinese emerging influence. It was termed by John J Mearsheimer as buck-passing in which a world superpower will give power and authority to another state to try to contain the influence of an emerging world hegemon. The Indo-US nuclear deal and former President Barack Obama's remarks about the inclusion of India inthe United Nations Security council demonstrates that the United States is helping India to rise as the regional hegemon. India considers itself as an important actor at international level.It is increasing its political clout internationally but in South Asia, it can face a new kind of isolation. This is evident from the three recent events that occurred in a span of only 10 days in the first half of October
On 07th October Pakistan's Prime Minister Imran Khan visited China with high-level delegation. He met there with Chinese President Xi Jinping and other important officials, it was his third visit to China since he came into power. During the meeting, both leaders, Imran Khan and Xi Jinping, discussed strengthening bilateral relations which are already at a higher level in terms of military and economic partnership. China is already working on a project to invest more than $50 billion under the name of China Pakistan Economic corridor let alone the cooperation on strategic and political issues. During the course of the visit, officials from both sides discussed Free Trade agreement which will be helpful in solving the problem of trade deficit for Pakistan. Total trade volume between China and Pakistan is around $15 billion in which Chinese export to Pakistan is of 13 billion. This Free Trade Agreement will open up about 90% of the Chinese market to Pakistan and will reduce trade deficit. During his meeting with Imran Khan, Xi Jinping accepted Kashmir as a disputed region and asked both parties to solve it through peaceful means.
All this happened just a few days before the visit of Chinese President Xi Jinping to India.Although both countries have made some progress on economy-related issues, no concrete efforts have been made to solve more radical issues like Indo-China border dispute in the northern Himalayan region. However more astonishing for India was that Xi Jinping visited Nepal after India. Nepal is a landlocked country crammed between two South Asia giants India and China. India is present on three sides of Nepal and considers it as its backyard. Both countries did have very solid relations and 60% of total Nepalese trade is done with India. In 2015 when Nepal adopted new constitution, relations between both countries soured. Although it was the internal matter of Nepal, India put an unofficial blockade for Nepal, which stopped all the supplies including food and medicine. Blockade continued for more than two months and it created a severe crisis because Nepal was already damaged by a strong earthquake in early 2015 in which more than 9000 people died. This blocked proved decisive in changing behavior of Nepalese leadership though they were complaining of Indian hegemonic role for many years. Nepal turned toward China for their needs. China also responded in a very positive way. Besides reconstructing earthquake effected areas, China also provided 1.03 million liters of fuel. In 2017 Nepal signed China's Belt and Road initiative and pledged to construct a railway line which will connect China with Nepal directly. This initiated a new beginning in China-Nepal relations.
When Xi Jinping arrived at Katmandu, China by this time was thelargest foreign direct investor in Nepal.It was the first visit by any Chinese president in the last 23 years.During the course of his visit, 18 agreements were signed between Nepal and China, including a railway link between China and Nepal.
These three important tours in less than ten days present the new geopolitical reality of the region. Although the Chinese president visited India but this visit was sandwiched between Imran Khan's visit to China and Xi Jinping's visit to Nepal. Pakistan is an arch-rival of India in South Asia and Nepal which historically remained in the Indian sphere of influence, is slowly slipping away from it.it clearly demonstrates containment policy by China in which China is progressively growing its influence in South Asian states. The Story does not end with Pakistan and Nepal but other South Asian states like Bangladesh and Sri Lanka now also have very strong ties with China.it represents in a new normal situation in which South Asian region is no longer dominated by India. Though India is showing to the world that it is solely protecting peace and stability in the region but reality has changed In fact South Asian states consider it as dominating power evident from its relation with Pakistan and blockade of Nepal. With growing Chinese influence in South Asia containment of India is now very much a reality.
How Australia is becoming China's Australia
If it were not for China, Australia's population inroad scheme would take a serious hit. Out of more than 0.7 million international students, more than 30% Chinese are pursuing degrees in universities. Australia lives along the values of the Western culture, but when it comes to its economy, rather dishonourably; it has had to lean towards the East. Chinese consumerism compensates for a healthy Australian economy and while it stands stronger on its democratic values, Australia, now faces a paradoxical relationship with the Asian hegemon. For instance, it is quietly ignoring the protests in Hong Kong. During recent elections, the Australian Prime Minister was mocked on WeChat; his funny nuances were subject to ridicule in the Chinese social media.
Now, Australia is facing the task. It is fighting a battle to save its identity against a consumer band, governed by communist policies. China's message is clear; an interference of any sort is not welcome, else the consequences are going to be economical. Emancipated Chinese students in Australia have been protesting against the government backlash in Hong Kong. Resultantly, back home in China, apartments were raided and their parents taught the lesson of conformity. A lesson of nationalism that has blossomed outside its territories. Australia is swallowing up the hypocrisy. On its own land, it cannot protect the values of freedom and democracy.
Wang LiQiang or as he would like to be known as "William", took to the Australian authorities for his involvement in spying activities. In his own admission, William was conducting intelligence operations and most significantly, assassinations on Australian soil. William is only one among high profile spies that have been operating in Australia. Ironically, his testament sufficiently reflects the Australian attitude towards Chinese interference, which has essentially been negligent and non-conversational. Notably, William's particular mention about operating a system of political donation will nevertheless disturb Australian administrators. They will realize that it is only about time when China will explicitly begin to reassert its influence. The police did not find Wang Li Qiang; instead, he volunteered to surrender. Especially, coming from a senior Chinese operative, the message could not be clearer.
On the outset, China and Australia maintain a well-documented "good relationship". However, administrative hierarchies in Canberra are also accused of implying a very positive attitude towards presenting and defending bilateral ties. As much as economic interests have motivated the Australian behaviour of non-acceptance, politicians do not shy away from painting an over simplified picture of Chinese problems that are realistically, complex in nature. As Prime Minister Scott Morrison handled the allegations of a Chinese backed ring that was trying to plot a spy in the parliament; the government has tried too hard to overlook the obvious. Mr. Morrison urged his citizens to not draw anxious conclusions, instead; he suggested that Australia would need to be vigilant from the threats that it faced more broadly. The substitutability of discourse that is apparent in Australian politics, marks a rather gifted trade-off for China and its actions. Andrew Hastie, parliamentary head of intelligence and security, claimed that such incidents did not surprise him. As more evidences would suggest, Chinese interference was knocking at the doors.
In terms of China, there are two faces of Australian political rhetoric. One that is motivated by the larger interests in the administrative chairs of governance, overlooking the infiltration for personal benefits. Secondly, the critiques emanating from opposition politicians and the likes of intelligence chiefs, for instance ASIO's former Directorate General, Duncan Lewis, warned that China would take over Australia in a matter of time. Elsewhere in the borders of the communist giant, two Australian MP's were denied travel entry, citing largely undetermined reasons. With a population of merely 25 million inhabitants, 1.8 million Chinese students have migrated to Australia for education. The dragon is marching towards the continent, in a first, the troops are ready on site.