May of Investments, Entrepreneurship and Floods in SE Europe
It's barely two decades since the end of a devastating War on Ex-Yugoslavia teritory, devastating and lasting for 3,5 years in Bosnia and Herzegovina. We have seen the most brutal scenes of crime, masacred civilians (children and women), hundreds of thousands refugees, have been filling top headlines of famous world's media, day after day.
May 2014, is no exception these days. Catastrofic Floods, destruction and people escaping from their homes, has reminded us of the 92-95 War in Bosnia, (i.e. Agression by Ex-YU Army (JNA), supported by Serbian and Croatian political and military establishments) at that time, but also it's a reminder of how nature can be upredictable. It is officially said that over 2 million people have been attacked these days by devastating Floods in the Balkans region.
Sadly, more than 45 people lost their lives in enormous Floods, combined in two Balkan countries: Serbia and Bosnia and Herzegovina which have been the mostly efected. Experts predict that those numbers will rise as flood waters recede. It is truly epic flooding, keeping records in the last 120 years, meteorologists say.
Apart from some obvious devastating results, like vanishing homes/humanitarian catastrophie, destruction, desease and epidemic danger for the people in flooding area, those floods bring another very dangerous situation: replacing mines. As stated by Bosnian President Bakir Izetbegovic, speaking yesterday for CNN's Christiane Amanpour: "We cannot say exactly what happened with the mine fields". He warned that the mines were likely displaced in the flooding along with signs warning of mines in the area. "The system of the mine fields (was) under control, and had warnings marks are now actually removed," Izetbegovic said.
5th Sarajevo Business Forum, 14-15 May
Just couple of days earlier Regional Investment Conference – 5th Sarajevo Business Forum was preparing to take place in Sarajevo, capital of Bosnia and Herzegovina. It was supposed to include presentations of business and investment opportunities in Energy, Infrastructure, Agriculture and Tourism from seven countries of Southeast Europe: Bosnia and Herzegovina, Albania, Croatia, Macedonia, Montenegro, Serbia and Slovenia.Yet, couple of days earlier, another tragic event occured. This time in Turkey, one of the friendly countries of the SBF Forum. It was a horrible mining explosion in the city of Soma, Manisa (western Turkey), where more than 300 workers lost their lives. Minister of Foreign Affairs of Turkey, Mr. Ahmet Davutoglu participated in the opening ceremony of the 5th SBF Forum on May 14, 2014., and before the opening speeches of the Forum, participants paid homeage to workers who lost their lives in the mining accident in Soma. In his opening speech, Foreign Minister Davutoglu thanked for supporting messages conveyed in Sarajevo over the mining accident in Soma.
Participant list of this year's SBF, included some eminent names from political and business life, like: President of Montenegro Filip Vujanovic, crown prince of the Malaysian state of Perak Raja Dr. Nazrin Shah, former President of Slovenia Danilo Turk, Turkish Foreign Minister Ahmet Davutoglu, Minister of Foreign Affairs of Qatar al Khalid Bin Mohammed Al Attiyah, and Ahman Al Sayed, Minister of State and General Director of "Qatar Investment Authority" (QAI), one of the largest investment funds in the world. SBF for the 5th year in a row, by BBI Bank in collaboration with the Islamic Development Bank (IDB), this year aimed to strengthen economic cooperation and attract international investments in South Easterm Europe.
Despite of its high reputation, what can the event like Sarajevo Business Forum, bring as a benefit to the SE Europe Region and community? Undoubtly, it already became widely recognizable, regional Investment Conference, attracting to site some of the wealthiest people from the world. One if them is Sheikh Saleh Kamel, who is highly ranked on the Forbes list of the richest people in the world and chairman of the financial and business groups "Al Baraka". He is also the President of the Islamic Chamber of Commerce and Industry. In addition to inviting in investment projects in Bosnia and Herzegovina, Sheikh Kamel is at the board of initiative for BBI Fund with an annual amount of 600 thousand dollars in the last three years, with scholarships for 1,500 young people from Bosnia and Herzegovina.
Potential for investing counted to 15 billion EUR
The second day of SBF started with a panel of regional potentials in energy sector. Speaking at this panel discussion Erdal Trhulj, Minister of Energy, Mining and Industry of Federation of Bosnia and Herzegovina, said that so far in Federation had been discussed mainly about electricity potential, and now we are in position to talk about oil and gas explotation. Regional Director of NIS Gaspromneft, Branko Radujko noted that the region in next 7 to 10 years could attract about 15 billion euros in energy projects.
"We should facilitate procedures and work together, because as a small countries we have to work jointly in order to attract investment", said Radujko.
During the panel disscusion about infrastructure, it was pointed out that a good and quality roads infrastructure is among the basic precondititon/requirementsfor the successful development of any economy. As a well known fact, Bosnia and Herzegovina is at he the end of the list by modern roads facilities, with only 68 kilometers of the highway, while the European average is 860 kilometers.
Similar situation is in Montenegro, Albania, Kosovo and Macedonia.
Turkey as an example
As it comes to the agriculture sector, Bosnia and the whole region have strategic predisposition for development of this sector, such as good climate (it was until this May and Floods), water, furtile soil, cheap and skilled labour force and low tax rates."We are aware of the agricultural potentials of the Balkans region, and there is no need for their presentation, but for branding and markting", said Saif al-Sowaidi, Vice president of the Qatar company "Al Meera Consumer Good". He pointed out Turkey as an example which Bosnia and Herzegovina should follow, as it has first being organized fairs, forums, and investing in branding and marketing and in that way conquer the global market.
By closing the two-day conference Minister Trhulj said that Bosnia becomes, as some used to say, El Dorado for investors and added that Government makes every effort to ease investment procedures in Bosnia and Herzegovina. Potential investors were presented a large number of projects. But how many of them will be likely to find investors, remains to be seen in the future.
Sarajevo Pitch Day 17-18 May (IT Startup Conference)
As an entrepreneur who have failed with more than 30 projects up to now (please don't blame me, life is sometimes tough, isn't it?), and sent over 15,000 emails about several projects and ideas in the last 12 years – I know exactly how important is to get a chance to present yourself in front of some some big 'faces' – investors and innovation experts, people with experience (and good intentions). If you intend to succeed in any field, in this case we talk about IT, it is extremely important to network with not only technology guys, but also journalists, political guys, marketers, innovation experts, etc. They all know overall market better than you, and indeed will point you to some trick & tips that you have minimal chances to learn, any other way in your career. So, listen to what they have to say, carefully, at least I use to.
Startbootcamp and HUB387
Sarajevo's first technological park HUB387 hosted the members of a "regional Pitch day" on 17-18 May. In this way, Sarajevo was the first city in the region, as a host to the biggest European startup accelerator Startupbootcamp from Berlin.
On this occasion some of the well known Europe's IT experts and innovation specialists arrived to Sarajevo, like Andy Shannon, Head of Global operations at Startup Bootcamp Berlin, which is making accelerator programs, and in addition to Berlin, his team has also developed its business in Amsterdam, Copenhagen, Eindhoven, London and Tel Aviv. Among others, we also hosted Mike Butcher, editor and founder at TechCrunch.com, Tobias Stone, enterprise and innovation fellow from University of Huddersfield who is running work in London and Berlin. At the host side, Edin Saracevic, founder of HUB387 did amazing work, to provide that eminent guests feel pleasant and comfortable in our city.
The call for applications was open for the whole region of the former Yugoslavia, and HUB387 invited all individuals and teams which had, or wanted to develop a startup idea, not to miss this unique opportunity. Sarajevo "Pitch Day" was entitled as "the entrance" in the world of global business for the most successful regional startup entrepreneurs from Slovenia, Croatia, Serbia, Montenegro, Macedonia, Kosovo and Bosnia and Herzegovina.
It was told that Startupbootcamp will offer the three month program in their Berlin accelerator to the selected startups. In this way, teams would get the opportunity to develop their ideas in cooperation with respected mentors and all with the secured resources for the accelerated development. After 100 days of intensive work, the startups should have be able to present their products to the wider public, and to the chosen group of investors. According to the statistics done so far, more than 70% of startups which go through the Startupbootcamp program were successful in getting the investment for further development, and the way to become more successful companies in future.
I personally attended Sarajevo Pitch Day last Saturday. It was really amazing to see the crowd and listen to the guests (mentors mentioned earlier in article) – they all came with huge expertize and experience to share, from large and successfull teams/companies they've been operating with across Europe.
Be brave, don't lose your focus
The one thing I noticed at the online registration form, a day earlier, was that plan scheduled for at least 10 Startups to Pitch their ideas to the jury, that day. Unfortunately, only 8 teams presented themselves on the stage. It was a pity, and a sign that we need to rise awareness among young teams and talented people to get courage and get to stage. Undoubtly, there is a strong concentration of IT talent in the Balkans countries, all we need now is a bit mentorship and education (and of course, investment, which comes naturally in later phase). It is not easy to present idea on stage, in front of Investors, so I would advice the teams to choose from their team a guy who can do this sensitive 'work' in the best possible way. You have 3-5 minutes to present your several years' hard work, or a unique idea, so you definitely don't want to miss that opportunity. As stated by Andy Shannon, "we don't invest in presentations or apllications – we invest in people", or Mike Butcher, he said: "Start your presentation with a real problem." When it comes to pitching your ideas to investors, the crutial thing is to explain them, what is the problem you are trying to solve, or disrupt on the market – and then get straight to the point of how you intend to do this. It is not easy, I know. You must make long and good preparations, exercise in front of your team and finally choose the best 'presentator' in your team, to show the best of you and your idea.
I really hope events like this will happen more frequently in Sarajevo. We must 'fight', we must use every opportunity to become better people and more successful in future, i.e. financially stronger, because we never know what catastrophy or natural disaster may next happen. It is better to prevent than cure. It is better to be in position to provide help to those who need (as a strong), than to ask for help (if you are poor, or homeless).
Belgrade and Pristina: Will a territorial exchange really happen?
The European Union is dialing up pressure on Serbia and Kosovo in an effort to convince Belgrade and Pristina to sign an agreement on normalizing bilateral relations. This would allow Brussels to seize the initiative in the Balkans from the United States, which has previously managed to get the two sides clinch a similar deal on trade and other economic issues. Moreover, the EU is even ready to break from its previous policy and give a nod to a territorial exchange between Serbs and Albanians, which was categorically rejected, above all by Germany. However, while the Serbian leadership largely welcomes the idea, the Kosovo Albanians' radically-minded leaders rule out any territorial concessions to Belgrade, thus deepening the Kosovo impasse.
Albin Kurti, the leader of the radical Vetëvendosje ("Self-Determination") movement, who has regained the Kosovo premiership, categorically rejected the idea of any territorial exchange with Serbia, proposed by the EU's High Representative for International Affairs Josep Borrell.
"I do not think that we should give anything away." … "This is pressure from Serbia. They want us to give in," Kurti said.
That being said, the former Kosovo president, Hashim Thaci, actively lobbied the idea of ​​a territorial exchange, even more than others. Back in August 2018, he and his Serbian counterpart Aleksandar Vucic reached a preliminary agreement on this when meeting on the sidelines of the European Forum in Alpbach, Austria. Thaci and Vucic voiced their intention to double down on signing a comprehensive deal, and invited the EU to act as its mediator and guarantor.
"We have a small window of opportunity," Hashim Thaci said at the time. The planned agreement was supposed to be inked in Brussels already in September 2018, with the participation of the EU leadership. However, the whole process immediately hit a snag due to disagreements over border delimitation and opposition protests in both Belgrade and Pristina.
According to the plan, devised by Hashim Thaci, the delimitation issues should be discussed as a "package" and provide for a complex exchange of territories, including both the Serbian-populated North Kosovo communities of Leposavic, Zvecan and Zubin Potok (roughly one-fifth of the territory of Kosovo), and the southern Serbian communities of Buyanovac, Presevo and, preferably, Medvedja, adjacent to Kosovo, populated mainly by ethnic Albanians. The Kosovar leader argued that a territorial exchange whereby regions with a majority Albanian population would end up in Kosovo, and those with a predominantly Serbian population – in Serbia, would help ease tensions between Belgrade and Pristina.
According to the latest census in Serbia, about 90,000 people live on the territory of the three southern Serbian communities: in Presevo, 89 percent are Albanians and 9 percent are Serbs; in Bujanovac, 55 percent are Albanians and 34 percent are Serbs; in Medvedja, 26 percent are Albanians and 67 percent are Serbs. Thus, Albanians already make up the majority of the population of Presevo and Bujanovac. In Medvedja, their share has also been steadily rising.
While President Aleksandar Vucic generally agrees to the partition of Kosovo with the return of control over the province's northern regions to Belgrade, he is still against the idea of extending the "package" exchange to include the southern Serbian communities of the Presevo Valley.
There is no unity on this issue outside the Balkans too, with Germany and France initially rejecting the idea of territorial exchanges as such, arguing that this could fire up tensions in North Macedonia and Bosnia and Herzegovina.
"The territorial integrity of the Western Balkan states is already a hard fact and cannot be changed," German Chancellor Angela Merkel said.
Austria has been foursquare behind the partition of Kosovo as a means of normalizing relations between Belgrade and Pristina.
"If Serbia and Kosovo agree on a border correction, the agreement will have our support," Austrian Chancellor Sebastian Kurz said.
The EU's Commissioner for Enlargement and Neighborhood Policy Johannes Hahn equally favored the upcoming agreement. He urged his EU colleagues not to obstruct the deal between Pristina and Belgrade, even if it involves changing borders. Such an agreement, if it is reached, will be a one-off affair though and "should not be used as an example for solving other problems," Hahn said at the end of August 2018.
The US administration backed the upcoming deal, with President Trump's national security advisor John Bolton going on record saying that "Our policy, the US policy, is that if the two parties can work it out between themselves and reach agreement, we don't exclude territorial adjustments."
The agreement on the exchange of territories, drawn up in 2018 never came to fruition though. Responsibility for this failure lies with radical nationalist forces in both Belgrade and Pristina, not interested in any compromise solutions that won't sit well with their own political intentions. While Serbian President Aleksandar Vucic is still in power and has not changed his position, Vjos Osmani, who replaced Hashim Thaci as President of Kosovo, is less inclined to accept any compromises with Belgrade.
This situation adds to EU and US headaches with Barack Obama's de facto foreign policy team, now back in power in Washington, being eager to strengthen the position of the United States in the Balkans through more active military and political activity and pressure (not trade and economic scenarios and proposals, as was the case under Donald Trump). The EU and the US now have two options to choose from – either to ramp up pressure on Serbia in order to force it to recognize Kosovo without any territorial exchanges (which is more to the Joe Biden administration's liking), or to convince the Kosovar leaders to accept territorial compromises (more preferred by the EU).
And here we should not forget about the Bosnian factor, since any changes to the status and borders of Kosovo will inevitably reflect on the domestic political situation in Bosnia and Herzegovina and, in particular, on the position of the Bosnian Serbs. When briefing reporters a few days ago, the chairman of the Presidium of Bosnia and Herzegovina, Milorad Dodik, said that in any case he would insist on the implementation of the concept of "peaceful divergence," that is, the disintegration of the country, which, according to him, is already happening. He stated that the integrity of Bosnia and Herzegovina cannot be maintained, and this is something that has increasingly been discussed by the international community.
"We are waiting for the moment when a peaceful gap becomes real," Milorad Dodik noted, adding that he was not a warmonger and was only offering a way out of the current situation, which he described as unstable.
The EU too appears ready to "reformat" Bosnia and Herzegovina. When, during a visit to Sarajevo in early March of this year, Slovenian President Borut Pahor informally asked members of that country's collective leadership whether a "peaceful divergence" was a possibility. Bosnian Muslim Shefik Jaferovic and Croat Zeljko Komšić responded that this was impossible, while Milorad Dodik, for his part, said that it was a likely scenario.
The current situation of "unstable equilibrium" around Kosovo and Bosnia and Herzegovina is serious enough to prod all the disputing parties to more actively seek Russia's mediation. Serbia and Republika Srpska maintain partner relations with Moscow. Meanwhile, the disagreements between the EU and the United States could make the other participants in the discussions more accommodating, including the Kosovar Albanians, who are interested in normalizing relations with Belgrade and implementing large-scale regional projects.
From our partner International Affairs
A leaderless ship: The Bulgaria's political crisis and the storm to come
Internal and international tensions
Politics tends to develop in a complex conundrum in all Balkan countries. Thus, never can observers take their eyes off the ball, investors feel completely safe or international partners express enduring satisfaction. In effect, this is the case also for bits of the region that have joined the European Union in the last decade. Recently, Bulgaria has been the most interesting hearth of, popular outrage, institutional instability and international tensions amongst the latter countries.
Actually, the atmosphere began simmering back in Summer 2020, when thousands of people took to the streets for several weeks. Arguably, the combination of the umpteenth high-echelon corruption scandal involving andthe pandemic-induced recession was only the most immediate cause. Swiftly, dissatisfaction led to vigorous calls for the Prime Minister's and the Attorney General's resignation and early election. Even the President of the Republic, Rumen Radev, broke with his supposed non-partisanship and joined the protestors gathering vast support. However, the winter suppressed street protests and Boyko Borisov, the Prime Minister, exploited the pandemic to justify his indifference.
In the meantime, the cabinet embroiled Bulgaria in a dispute which the country had refrained from ever since 1991. The so-called 'Macedonian question'predates the Former Yugoslav Republic of Macedonia's independence, but only then turned into a crisis. Indeed, the hardest-fought issue was that surrounding the use of the name 'Macedonia', which Greece opposed until the Prespa Agreement. But the newly named Republic of North Macedonia has failed to acknowledge the deep historical and cultural connection with Bulgaria. Eventually, the former's lack of real cooperation led Sofia to veto the opening of negotiations on EU membership. Thence, scholars have criticised the country's government while foreign politicians tried to persuade Borisov to lift his veto.
Against the background of such a delicate, multifaceted domestic and international circumstances Bulgaria celebrated regular election on April 4. The country needed everything but being left leaderless, but this is exactly what happened.
Election results: Who to form a cabinet?
The most recent elections speak volume about the difficulty in understanding Bulgarian politics and understanding what the popular sentiment is. For a start, GERB, Borisov's party, lost about 300,000 votes falling from 33.65%in 2017, to 26.18% this year. Moreover, the nationalist collation United Patriots, GERB's reliable allies, split up and failed to clear the 4% threshold. Thus, with his 75 MPs in the 240-seat Parliament Borisov had no more a majority and desperately needed a partner.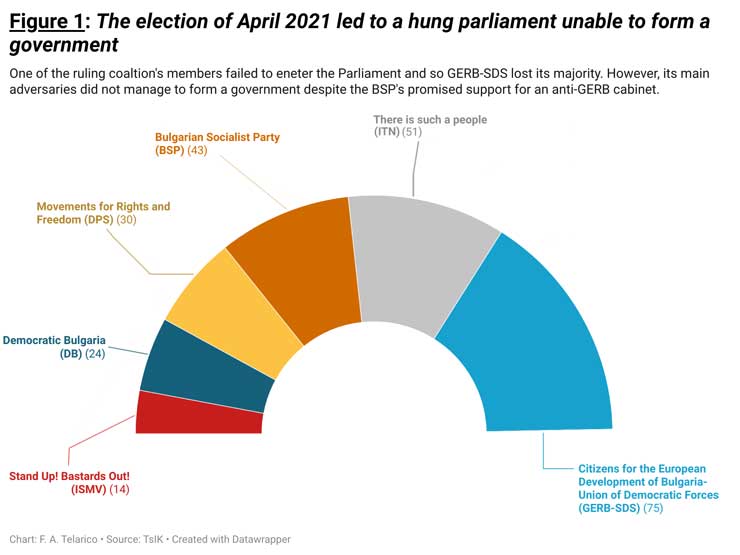 At the same time, the elections produced an unusually hostile environment for GERB. In fact, a number of new leaders and formations emerged — all of which declared GERB a "most toxic party". Still, opposing Borisov's "model", as they use to say, was not enough to form a government. Neither the protest party There is such a people (ITN) nor the establishment Bulgarian Socialist Party (BSP) even tried. Therefore, the two smaller protest parties – Democratic Bulgaria (DB) and Stand Up! Bastards Out (ISMV) – and the Muslim Movement for Rights and Freedoms (DPS) had to accept new elections in July.
In effect, once the elections results became clear, no one nurtured many hopes for a stable government. The BSP had offered it external, conditional support to an ITN cabinet as the DPS and even GERB did. Perhaps, members of DB and ISMV could have joined the project to ensure wider representation. But all attempts failed in front of ITN's leader, the showman-turned-politician SlaviTrifonov, display of "political fearfulness". The ultimate result of these developments was the shortest parliamentin Bulgaria's two-century history.
What the parliament produced
Without a fully-functioning political government and with a lame-duck Parliament, Bulgaria is traversing a difficult period. The legislature has yet to approve the Recovery and sustainability plan towards which the EU has granted €6bln ($7.3bln). Without these funds, it will be harder for the country's economy to rebound after the last recession. At the same time, no one is in charge of managing the ongoing feud with the Republic of North Macedonia. Hence, Sofia can neither substantiate its claims and pretences vis-à-vis Skopje nor backtrack and let membership negotiations start. Finally, in the last weeks tensions between Bulgaria and Russia have risen with mutual expulsion of several high-ranking diplomats. In fact, Czech authorities have found out about a "Bulgarian connection" in the incidents allegedly blamed on Russian security services.
On the offense: ITN, DB and ISMV against GERB
Yet, the parliament has found not time to address any of these really pressing issues. As it often happens after the elections, foreign policy has disappearedfrom the order of the day. There was no discussion of either the bilateral relations with Russia nor the North Macedonian issue.
Representative from ITN, DB and ISMV wrapped up the Recovery plan into their wider attempt to publicly discredit GERB. Thus, they refused to let the competent executive official introducing the bill and pretended Borisov himself did it.
Meanwhile, the three parties and the BSP also forced a vote on the cabinet's resignation. Hence, the government is officially in charge only of managing current affairs: it cannot update the budget or adopt new economic measures. The opposition also blocked the automatic renewal of key concession for Sofia's airport and some highways to Borisov's closest allies.
So-called 'Protest parties' also formed a parliamentary commission to investigate Borisov governments' misdeed. However, the legislature will soon dissolve, so nothing will come out of it besides some gossipy kompromat. The only real change is a new electoral law,remedying to some of the previous legal framework's most evident fallacies. The hope is that it will curb the purchase of votes and other instances of fraud.
Wait-and-see: Borisov's unkind defence
Borisov's loyalists in the government, in the Parliament and, more importantly, in the media are repelling this frontal assault vehemently.
Figure 1 Acting Prime Minister Boyko Borissov called the Parliament "a show" in a video on his Facebook page.
Acting foreign minister Ekaterina Zakharieva has spoken out against the supposed attempt to make 850,000 GERB voters 'disappear'. The chair of GERB's parliamentary group, Desislava Atanasova, accused other parties of having "failed to fulfil society's interests". Borisov himself went out for the biggest prey: President Radev.On Facebook he declared
I hope that Radev is not proud [of the result of last year's protests …]: This parliamentary show costs 19 million [leva, €9.5mln] a day. It is better that they closed it because we would have gone bankrupt.
The opposition motto offers no way forward behind the idea that "What GERB did must be cancelled". Yet, GERB is not less destructive in its agenda. Currently, Borisov's clique is challenging both the moratorium of concessionsand the electoral reformin front of the constitutional court. According to many experts, the justices could strike down or rescale at least one of these two measures. Hence, all hopes for a real democratic change will likely evaporate as long as GERB holds the levers of power.
Forecast: A leaderless ship in a stormy sea
Some have been talking about the rebirth of parliamentarism. But partisanship, anger and personal hatred currently dominate Bulgaria's politics. Thus, a disenchanted observer could only see the dismaying polarisationand personalisation of the mainstream political discourse. At this time, Bulgaria is like a ship whose crew has mutinied, but whose captain refuses to jump off. Fortunately, the peaks of the economic and sanitary crisis seem over — for now. But the international setting conspires against the vessel. A storm is mounting from the East and the West. Winds of reprisal spire from Russia, whereas the EU is increasingly discontent with Bulgaria's management of the North Macedonian issue. Assuming that the next elections will produce a working government, either the mutineers or the old captain will be just in time to manage the gale. But should this not happen, the country may soon regret the current lull.
Geopolitics of Europe and the Third Wave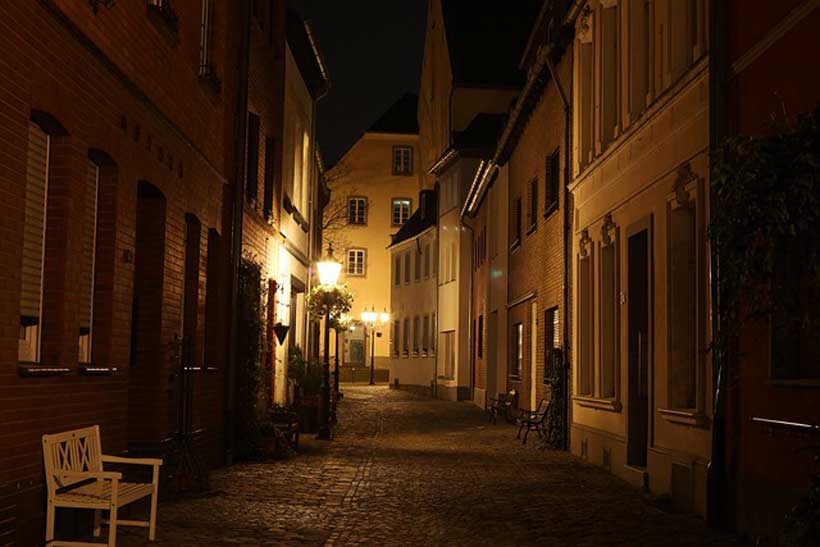 With hospitals filling up across the continent, new variants of the virus proliferating and vaccine shortages biting back, Europe can be seen to be under the third wave of the COVID crisis. This wave has been a confused sea across Europe in which some national epidemics are worsening, some are reaching their peak and some are declining. Although lockdowns have eased as vaccine drives make headway, the end of state emergency does not undermine the inevitable long-term consequences of the crisis. COVID has brought to the forefront new geopolitical dynamics and created risks for the foreign policy of the European Union on several fronts. Beyond the epidemiological challenge of the impending health calamity, economic, political and geopolitical challenges are also plenty.
The crisis has held up a mirror to the Western countries as their effectiveness in managing the pandemic has been distorted and has brought about de-Westernisation of the world. As globalisation is under strain, the crisis is bound to redraw the borders between the state and the markets in democracies such as the Member States of the EU. Such an environment is likely to emphasise on national initiatives to the detriment of international cooperation. In a post-COVID world, the EU may have to deal with its geopolitical problems with less external credibility as well as internal solidarity among its member states.
The potential geopolitical consequences of the virus can be identified by extrapolating those trends that were taking place before the onset of the virus. Amidst evolving global scenarios, there has been a constant push from the EU to establish itself as a relevant geopolitical actor to realise its global power aspirations. In this context, it becomes important to note the two areas of concern raised by the crisis consist of questions on the internal cohesion of the EU and Europe's ability to adapt to the increasing rivalry and competition among other global powers.
The EU as a player derives its identity from its supranationalism. However, with COVID wreaking havoc on the already unequal economy of the Northern and Southern Europe, the downslides of globalisation are being highlighted. This is likely to further embolden nationalist narratives, rather than European solutions. This will lead to the fragmentation of the region into its component member-states part, threatening the very identity if the Union. This has been a challenge to the EU as the Union recognizes solidarity as a fundamental principle as per Article 2 of the Treaty of the European Union. With the EU is facing the increasingly centrifugal 'member states first' approach put forward by the European capitals, the European integration project is under threat.
Further, with the pre-existing tensions between US and China, the European Union has been facing heat from both the sides of the Pacific. While the EU has put forward its own Indo-Pacific Strategy in order to constructively engage with the region, it continues to be challenged by America's confrontational foreign policies and also being apprehensive of China's refusal to open up their markets at a time of dwindling global economies, China's assault on Hong Kong's independence as well as China's growing support towards the populist parties of Europe. The EU has come to perceive China as a systemic rival promoting alternative models of governance with this perception largely being shaped by China's revisionist challenge and its alarming nationalist narrative.
It is important to understand that coronavirus is not here to kill geopolitics. However, the European Union will have to strengthen their efforts towards ensuring that the pandemic does not kill the EU as a geopolitical force. The European Commission must step up its efforts to broker the Multilateral Financial Framework (MFF) among member states which was long pending even before the pandemic struck the continent. It would enable the Union to act collectively in funding recovery efforts in a post-COVID reconstruction of the economies. Further, the EU should focus on shortening their supply chains pursuing a policy of strategic autonomy such that EU's external dependencies are diversified. The need of the hour is to rebuild an economically sound healthcare Europe while at the same time working towards a more geopolitical Europe. This will require EU to continue investment as a full-spectrum power in military as well as other security capabilities along with assistance and aid to the neighboring countries to rebuild their resilience in a geopolitically volatile environment.
The EU needs to defend and promote the European model which is struggling to stand amidst the global battle of narratives along with maintaining its strategic autonomy in health, economic and other sectors. At the same time, the Union needs to bolster existing and forge new alliances in order to fill the gap on multilateralism. It needs to locate a strategic edge to resist the external pressures and protect its presence in the global scene and continue being relevant in the changing global order with its extraordinary transcontinental presence of soft power.