May of Investments, Entrepreneurship and Floods in SE Europe
It's barely two decades since the end of a devastating War on Ex-Yugoslavia teritory, devastating and lasting for 3,5 years in Bosnia and Herzegovina. We have seen the most brutal scenes of crime, masacred civilians (children and women), hundreds of thousands refugees, have been filling top headlines of famous world's media, day after day.
May 2014, is no exception these days. Catastrofic Floods, destruction and people escaping from their homes, has reminded us of the 92-95 War in Bosnia, (i.e. Agression by Ex-YU Army (JNA), supported by Serbian and Croatian political and military establishments) at that time, but also it's a reminder of how nature can be upredictable. It is officially said that over 2 million people have been attacked these days by devastating Floods in the Balkans region.
Sadly, more than 45 people lost their lives in enormous Floods, combined in two Balkan countries: Serbia and Bosnia and Herzegovina which have been the mostly efected. Experts predict that those numbers will rise as flood waters recede. It is truly epic flooding, keeping records in the last 120 years, meteorologists say.
Apart from some obvious devastating results, like vanishing homes/humanitarian catastrophie, destruction, desease and epidemic danger for the people in flooding area, those floods bring another very dangerous situation: replacing mines. As stated by Bosnian President Bakir Izetbegovic, speaking yesterday for CNN's Christiane Amanpour: "We cannot say exactly what happened with the mine fields". He warned that the mines were likely displaced in the flooding along with signs warning of mines in the area. "The system of the mine fields (was) under control, and had warnings marks are now actually removed," Izetbegovic said.
5th Sarajevo Business Forum, 14-15 May
Just couple of days earlier Regional Investment Conference – 5th Sarajevo Business Forum was preparing to take place in Sarajevo, capital of Bosnia and Herzegovina. It was supposed to include presentations of business and investment opportunities in Energy, Infrastructure, Agriculture and Tourism from seven countries of Southeast Europe: Bosnia and Herzegovina, Albania, Croatia, Macedonia, Montenegro, Serbia and Slovenia.Yet, couple of days earlier, another tragic event occured. This time in Turkey, one of the friendly countries of the SBF Forum. It was a horrible mining explosion in the city of Soma, Manisa (western Turkey), where more than 300 workers lost their lives. Minister of Foreign Affairs of Turkey, Mr. Ahmet Davutoglu participated in the opening ceremony of the 5th SBF Forum on May 14, 2014., and before the opening speeches of the Forum, participants paid homeage to workers who lost their lives in the mining accident in Soma. In his opening speech, Foreign Minister Davutoglu thanked for supporting messages conveyed in Sarajevo over the mining accident in Soma.
Participant list of this year's SBF, included some eminent names from political and business life, like: President of Montenegro Filip Vujanovic, crown prince of the Malaysian state of Perak Raja Dr. Nazrin Shah, former President of Slovenia Danilo Turk, Turkish Foreign Minister Ahmet Davutoglu, Minister of Foreign Affairs of Qatar al Khalid Bin Mohammed Al Attiyah, and Ahman Al Sayed, Minister of State and General Director of "Qatar Investment Authority" (QAI), one of the largest investment funds in the world. SBF for the 5th year in a row, by BBI Bank in collaboration with the Islamic Development Bank (IDB), this year aimed to strengthen economic cooperation and attract international investments in South Easterm Europe.
Despite of its high reputation, what can the event like Sarajevo Business Forum, bring as a benefit to the SE Europe Region and community? Undoubtly, it already became widely recognizable, regional Investment Conference, attracting to site some of the wealthiest people from the world. One if them is Sheikh Saleh Kamel, who is highly ranked on the Forbes list of the richest people in the world and chairman of the financial and business groups "Al Baraka". He is also the President of the Islamic Chamber of Commerce and Industry. In addition to inviting in investment projects in Bosnia and Herzegovina, Sheikh Kamel is at the board of initiative for BBI Fund with an annual amount of 600 thousand dollars in the last three years, with scholarships for 1,500 young people from Bosnia and Herzegovina.
Potential for investing counted to 15 billion EUR
The second day of SBF started with a panel of regional potentials in energy sector. Speaking at this panel discussion Erdal Trhulj, Minister of Energy, Mining and Industry of Federation of Bosnia and Herzegovina, said that so far in Federation had been discussed mainly about electricity potential, and now we are in position to talk about oil and gas explotation. Regional Director of NIS Gaspromneft, Branko Radujko noted that the region in next 7 to 10 years could attract about 15 billion euros in energy projects.
"We should facilitate procedures and work together, because as a small countries we have to work jointly in order to attract investment", said Radujko.
During the panel disscusion about infrastructure, it was pointed out that a good and quality roads infrastructure is among the basic precondititon/requirementsfor the successful development of any economy. As a well known fact, Bosnia and Herzegovina is at he the end of the list by modern roads facilities, with only 68 kilometers of the highway, while the European average is 860 kilometers.
Similar situation is in Montenegro, Albania, Kosovo and Macedonia.
Turkey as an example
As it comes to the agriculture sector, Bosnia and the whole region have strategic predisposition for development of this sector, such as good climate (it was until this May and Floods), water, furtile soil, cheap and skilled labour force and low tax rates."We are aware of the agricultural potentials of the Balkans region, and there is no need for their presentation, but for branding and markting", said Saif al-Sowaidi, Vice president of the Qatar company "Al Meera Consumer Good". He pointed out Turkey as an example which Bosnia and Herzegovina should follow, as it has first being organized fairs, forums, and investing in branding and marketing and in that way conquer the global market.
By closing the two-day conference Minister Trhulj said that Bosnia becomes, as some used to say, El Dorado for investors and added that Government makes every effort to ease investment procedures in Bosnia and Herzegovina. Potential investors were presented a large number of projects. But how many of them will be likely to find investors, remains to be seen in the future.
Sarajevo Pitch Day 17-18 May (IT Startup Conference)
As an entrepreneur who have failed with more than 30 projects up to now (please don't blame me, life is sometimes tough, isn't it?), and sent over 15,000 emails about several projects and ideas in the last 12 years – I know exactly how important is to get a chance to present yourself in front of some some big 'faces' – investors and innovation experts, people with experience (and good intentions). If you intend to succeed in any field, in this case we talk about IT, it is extremely important to network with not only technology guys, but also journalists, political guys, marketers, innovation experts, etc. They all know overall market better than you, and indeed will point you to some trick & tips that you have minimal chances to learn, any other way in your career. So, listen to what they have to say, carefully, at least I use to.
Startbootcamp and HUB387
Sarajevo's first technological park HUB387 hosted the members of a "regional Pitch day" on 17-18 May. In this way, Sarajevo was the first city in the region, as a host to the biggest European startup accelerator Startupbootcamp from Berlin.
On this occasion some of the well known Europe's IT experts and innovation specialists arrived to Sarajevo, like Andy Shannon, Head of Global operations at Startup Bootcamp Berlin, which is making accelerator programs, and in addition to Berlin, his team has also developed its business in Amsterdam, Copenhagen, Eindhoven, London and Tel Aviv. Among others, we also hosted Mike Butcher, editor and founder at TechCrunch.com, Tobias Stone, enterprise and innovation fellow from University of Huddersfield who is running work in London and Berlin. At the host side, Edin Saracevic, founder of HUB387 did amazing work, to provide that eminent guests feel pleasant and comfortable in our city.
The call for applications was open for the whole region of the former Yugoslavia, and HUB387 invited all individuals and teams which had, or wanted to develop a startup idea, not to miss this unique opportunity. Sarajevo "Pitch Day" was entitled as "the entrance" in the world of global business for the most successful regional startup entrepreneurs from Slovenia, Croatia, Serbia, Montenegro, Macedonia, Kosovo and Bosnia and Herzegovina.
It was told that Startupbootcamp will offer the three month program in their Berlin accelerator to the selected startups. In this way, teams would get the opportunity to develop their ideas in cooperation with respected mentors and all with the secured resources for the accelerated development. After 100 days of intensive work, the startups should have be able to present their products to the wider public, and to the chosen group of investors. According to the statistics done so far, more than 70% of startups which go through the Startupbootcamp program were successful in getting the investment for further development, and the way to become more successful companies in future.
I personally attended Sarajevo Pitch Day last Saturday. It was really amazing to see the crowd and listen to the guests (mentors mentioned earlier in article) – they all came with huge expertize and experience to share, from large and successfull teams/companies they've been operating with across Europe.
Be brave, don't lose your focus
The one thing I noticed at the online registration form, a day earlier, was that plan scheduled for at least 10 Startups to Pitch their ideas to the jury, that day. Unfortunately, only 8 teams presented themselves on the stage. It was a pity, and a sign that we need to rise awareness among young teams and talented people to get courage and get to stage. Undoubtly, there is a strong concentration of IT talent in the Balkans countries, all we need now is a bit mentorship and education (and of course, investment, which comes naturally in later phase). It is not easy to present idea on stage, in front of Investors, so I would advice the teams to choose from their team a guy who can do this sensitive 'work' in the best possible way. You have 3-5 minutes to present your several years' hard work, or a unique idea, so you definitely don't want to miss that opportunity. As stated by Andy Shannon, "we don't invest in presentations or apllications – we invest in people", or Mike Butcher, he said: "Start your presentation with a real problem." When it comes to pitching your ideas to investors, the crutial thing is to explain them, what is the problem you are trying to solve, or disrupt on the market – and then get straight to the point of how you intend to do this. It is not easy, I know. You must make long and good preparations, exercise in front of your team and finally choose the best 'presentator' in your team, to show the best of you and your idea.
I really hope events like this will happen more frequently in Sarajevo. We must 'fight', we must use every opportunity to become better people and more successful in future, i.e. financially stronger, because we never know what catastrophy or natural disaster may next happen. It is better to prevent than cure. It is better to be in position to provide help to those who need (as a strong), than to ask for help (if you are poor, or homeless).
EU-Republic of Korea Summit: Building on a well-established partnership
The 9th EU-Republic of Korea Summit took place on 19 October in Brussels. It marked the 55th anniversary of diplomatic relations between the EU and the Republic of Korea and set the stage for a further strengthening of bilateral ties.
Jean-Claude Juncker, President of the European Commission and Donald Tusk, President of the European Council, represented the European Union at the Summit. The Republic of Korea was represented by its President, Moon Jae-in. The EU High Representative for Foreign Affairs and Security Policy/Vice-President of the European Commission, Federica Mogherini and EU Trade Commissioner Cecilia Malmström also participated, alongside several Ministers from the Republic of Korea.
"In 2011, the EU agreed its first Free Trade Agreement with an Asian country. That country was the Republic of Korea", said President Jean-Claude Juncker. "The beneficiaries of this agreement have been our citizens and our businesses, but if our trade relationship is to reach its full potential, we need to ensure that it is being implemented properly. At the same time, we must continue to dispel the notion that protectionism protects, continue to invest in multilateralism, and continue to increase our cooperation in sustainable development and the implementation of the Paris climate agreement. I am confident that in the years to come, our relations will be even more dynamic and our ties even stronger than now."
Presidents Juncker, Tusk and Moon committed to further develop the EU-Republic of Korea Strategic Partnership, which is underpinned by three concrete pillars: an enhanced Partnership and Cooperation Agreement; an ambitious Free Trade Agreement; and a Framework Participation Agreement for EU crisis management operations. The Summit provided an opportunity to explore further areas for cooperation within the Strategic Partnership.
Discussions focused on the situation on the Korean Peninsula, the broader situation in the world, and trade relations. The Summit also provided an opportunity for the initialling, by the European Commission and the Republic of Korea, of a Horizontal Aviation agreement and the signing of a Joint Statement committing to work closely together to fight against Illegal, Unreported and Unregulated fishing.
Jointly addressing global challenges
The EU and Korea are united by common values of democracy, human rights and the rule of law. The Leaders reaffirmed their strong commitment to multilateralism and the international rules-based order, politically and economically, while also supporting global action on climate change and the environment. The EU and Korea will continue promoting free, fair and rules-based trade, modernising the WTO-based multilateral trading system, and maintaining international cooperation against protectionism.
The Leaders discussed a number of pressing issues on the global agenda, chief among them prospects for achieving lasting peace and security on a Korean Peninsula free of nuclear weapons and finding a comprehensive solution through diplomacy, while fully implementing the relevant UNSC Resolutions. The EU supports the Republic of Korea's efforts and diplomatic initiatives, in particular the three inter-Korean Summits and the US-DPRK Summit, and the implementation of their outcomes. The EU sees the development of inter-Korean relations, the denuclearisation of, and the establishment of a peace regime on the Korean Peninsula as vital for peace and security not only in East Asia, but for the entire world. In this context, the EU stressed the requirement for the Democratic People's Republic of Korea (DPRK) to completely, verifiably and irreversibly dismantle all its nuclear and other weapons of mass destruction, ballistic missiles and related programmes and facilities.
The EU and the Republic of Korea reiterated their commitment to maintaining close coordination on foreign and security issues. In the field of crisis management, the EU and the Republic of Korea will continue the good cooperation under the EU-Republic of Korea Framework Participation Agreement, through which the Republic of Korea has regularly contributed to the EU's naval counter-piracy operation off the coast of the Horn of Africa, EU NAVFOR Atalanta. Similarly, they discussed and agreed to cooperate more closely on implementing the 2030 Agenda for Sustainable Development and achieving its Sustainable Development Goals, and will bolster their bilateral policy dialogue on international development issues and promote joint cooperation in areas and third countries of mutual interest, notably in Asia and Africa.
Expanding the bilateral agenda to bring further benefits to citizens
The leaders recalled that the EU-Republic of Korea Free Trade Agreement has been an economic success that has increased wealth on both sides. The EU is Korea's 3rd largest trading partner and Korea the EU's 8th largest; annual trade in goods between the EU and Korea is now worth about €100 billion. With that in mind, the leaders exchanged views on how to ensure that our citizens and businesses can reap the full benefits of the agreement. The EU highlighted several important issues: for example, ensuring the full implementation of the long-standing, binding labour commitments under the Trade and Sustainable Development Chapter; opening the Korean market to EU beef from all EU Member States; and fully implementing commitments in the area of intellectual property rights, including protecting new Geographical Indications.
The Summit also provided an opportunity for the European Commissioner for Environment, Maritime Affairs and Fisheries, Karmenu Vella, and Kim Young-Choon, Minister for Oceans and Fisheries of the Republic of Korea to sign a joint statement committing to work closely together to fight against Illegal, Unreported and Unregulated fishing.  The Republic of Korea is the fourth country with whom the EU signs such a joint statement as part of its efforts to tackle the most serious threats to sustainable fishing and to marine biodiversity in the world's oceans, with devastating environmental and socio-economic consequences. The new partnership, in line with the objectives of the EU's Ocean Governance strategy, will help exchange information about suspected Illegal, Unreported and Unregulated activities, enhance traceability of fishery products and promote sustainable fishing through education and training.
Excellent progress has been made in the area of transport, where this week the European Commission and the Republic of Korea initialled a Horizontal Aviation Agreement on certain aspects of air services. The agreement will restore legal certainty to all 22 bilateral air services agreements that the Republic of Korea has with EU Member States by bringing these into conformity with EU law. The number of passengers travelling directly between the Republic of Korea and the EU has grown on average 10.1% over the past five years, totalling 3.4 million passengers in 2017. Currently, direct passenger flights are operated between 10 EU Member States and the Republic of Korea. The Horizontal Aviation Agreement reflects this growth in the EU-Republic of Korea aviation market and should serve as a catalyst for increased flows.
Leaders also stressed their commitment to implementing the Paris climate agreement. To translate this political commitment into concrete projects, the EU has set up a platform to exchange best practice on climate action and support the implementation of the Korean Government's Emissions Trading System (ETS) to reach the goals of the Paris Agreement. The EU's Partnership Instrument also financially supports exchanges of cultural practitioners and artists from both the EU and Korea, economic cooperation between companies, as well as the promotion of research and teaching on EU-related issues in Korea, adding to the overall breadth of the relationship.
ASEM Summit: Europe and Asia – Global Partners for Global Challenges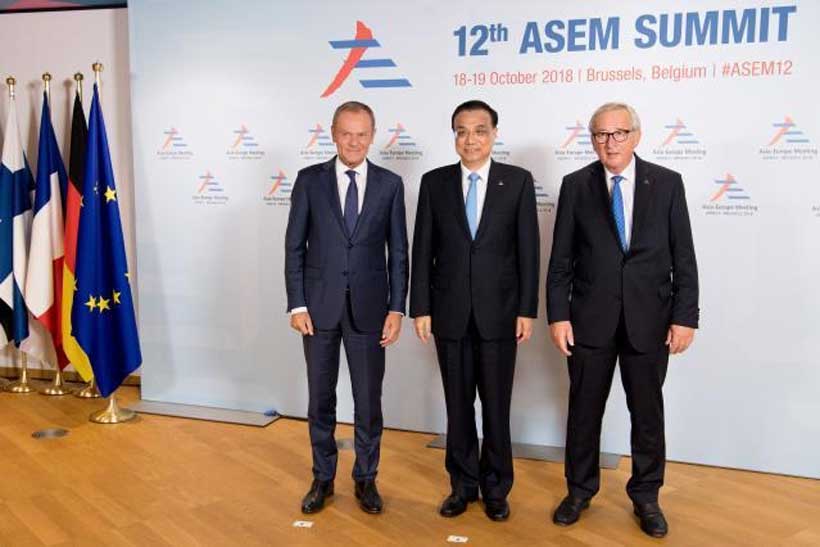 The 12th ASEM (Asia-Europe Meeting) Summit took place on 18-19 October in Brussels, bringing together 51 countries, as well as EU and Asian institutions. Under the title "Global Partners for Global Challenges", leaders addressed some of the world's most pressing issues.
Jean-Claude Juncker, President of the European Commission and Donald Tusk, President of the European Council, represented the European Union at the Summit. Heads of State or Government of the 28 EU Member States, Switzerland and Norway, in addition to 21 Heads of State or Government from Asian countries, as well as the Secretary General of ASEAN (the Association of Southeast Asian Nations), were also invited. The High Representative of the European Union for Foreign Affairs and Security Policy/Vice-President of the European Commission, Federica Mogherini, and the Vice-President of the European Commission for Jobs, Growth, Investment and Competitiveness, Jyrki Katainen, also participated at the Summit.
"We want to give our relationship with Asia, which is already very dynamic – as illustrated by the numerous trade and cooperation agreements we have, fresh impetus", said President Jean-Claude Juncker at the Summit's plenary session this morning. "Only a multilateral approach will enable us to confront global challenges. This is why I reiterate our commitment to support multilateral organisations in all their efforts, including the United Nations and the World Trade Organisation – a World Trade Organisation that we have to reform together, so that its rules correspond better to the new realities. It is by acting together that we will be able to preserve our planet […], contribute to resolving conflicts, eradicate poverty, reduce inequalities, […] and that we can better manage migration flows and develop free and fair trade."
"What Europe and Asia agree together matters not only for the two of us, but for the entire world. Together we represent 55% of global trade, 60% of global population, 65% of global economy and 75% of global tourism; together we represent a real global power", said the High Representative/Vice-President, Federica Mogherini at the Summit's press conference. "We come out of this two-day Summit with a reinforced global partnership between Europe and Asia. It has allowed us to translate our global weight into concrete policy initiatives – on regional and international security, foreign policy issues, climate change action, free and fair trade, and the digital agenda to name a few. Together, we can make a real difference for the world."
A Chair's Statement, covering the wide range of areas discussed and focussing on ASEM's three pillars – namely political, economic and financial, and social and cultural – has also been issued.
Sustainable connectivity between Europe and Asia
In his address at the Summit's plenary session, President Juncker highlighted the importance of investing in more sustainable connectivity between the European Union and Asia. The European Union has this week adopted a new strategy on connecting Europe and Asia, building on the proposal of the European Commission and the High Representative in September. With financial, environmental, and social sustainability at the core of the EU's approach to connectivity, the EU's objective is to develop sustainable connectivity networks across the digital, transport, energy and human dimensions, as well as to strengthen partnerships at the bilateral, regional and international levels, in particular to ensure a rules-based approach and interoperability of standards.
As a contribution to enhancing Euro-Asian connectivity, as well as to demonstrate the huge potential of the relationship, the European Commission has this week launched the ASEM Sustainable Connectivity Portal, offering policymakers, researchers, businesses and other stakeholders alike a wealth of data on the political, economic and societal relationships between the two continents. A full press release and factsheet are available online. In parallel to the Summit, a number of events to bring Europeans and Asians together are taking place in Belgium, such as the ASEM Cultural Festival, the Young Leaders' Summit, the Business Forum, the People's Forum for civil society, the Labour Forum and the Parliamentary Partnership Meeting.
Strengthening EU-Asia bilateral ties
In the margins of the ASEM Summit, the European Union signed a number of bilateral agreements to deepen and expand its relations with Singapore and Vietnam respectively.
President Juncker,President Tusk and Austrian Chancellor Sebastian Kurz signed, together with the Prime Minister of Singapore, Lee Hsien Long, the EU-Singapore Free Trade Agreement. In the presence of the leaders, EU High Representative/Vice-President, Federica Mogherini and the Minister of Foreign Affairs of Singapore, Vivian Balakrishnan signed the EU-Singapore Framework Agreement on Partnership and Cooperation and Commissioner for Trade Cecilia Malmström and Mr S Iswaran, Minister for Communications and Information, and Trade Relations of Singapore signed the EU-Singapore Investment Protection Agreement. These agreements represent a significant step forward for a more comprehensive and mutually-beneficial relationship between the EU and Singapore, opening new opportunities for European producers, farmers, service providers and investments, as well as strengthening political and sectoral cooperation through more formal and intensive exchanges for example in environment, climate change and counter-terrorism.
The European Union is also stepping up its relations with Vietnam. Earlier this week, the European Commission adopted the EU-Vietnam trade and investment agreements, paving the way for their signature and conclusion. The trade agreement will eliminate virtually all tariffs on goods traded between the two sides. The agreement also includes a strong, legally binding commitment to sustainable development, including the respect of human rights, labour rights, environmental protection and the fight against climate change, with an explicit reference to the Paris Agreement. Today, the EU and Vietnam signed a Forest Law Enforcement, Governance and Trade Voluntary Partnership Agreement. The Agreement will help improve forest governance, address illegal logging and promote trade in verified legal timber products from Vietnam to the EU, and other markets. In addition to the variety of social, economic and environmental benefits associated with better management of the forestry sector in Vietnam, the licensing will simplify business for timber traders.
EU-ASEAN Leaders' Meeting
Following the ASEM Summit, a Leaders' Meeting between the European Union and ASEAN took place. President Jean-Claude Juncker and President Donald Tusk, accompanied by EU High Representative/Vice-President Federica Mogherini represented the European Union, whilst the Association of Southeast Asian Nations was represented by the Prime Minister of Singapore, Lee Hsien Loong, as the country holding the ASEAN Chairmanship for 2018, the Prime Minister of Thailand, Prayut Chan-o-cha, as the country which will hold the Chairmanship of ASEAN in 2019, and the ASEAN Secretary General, Lim Jock Hoi.
"The EU's partnership with ASEAN is founded on common interests across many areas. We share common values – in the European Union and in the founding charter of ASEAN – which need to be respected by all", said President Juncker at the opening of the Leaders' Meeting. "Proof of our intense cooperation is the number of agreements with Singapore that we have just signed. These, I hope, will be the first in a long series of such agreements with ASEAN countries, and will eventually result in a region-to-region agreement."
At the Leaders' Meeting, alongside matters of trade, connectivity and transport, leaders addressed global peace and security challenges, including climate change, non-proliferation, the Joint Comprehensive Plan of Action – the Iran nuclear deal, counter-terrorism, maritime security and migration. They agreed to strengthen the EU-ASEAN relationship, in particular to address global challenges and to work together to reinforce the rules-based international order and multilateralism.
A New Redrawing of Balkan Borders: A Road to Hell
More than a decade after Kosovo region's unilateral declaration of independence from Serbia, the issue of redrawing borders is back on the agenda. The ongoing negotiations between Belgrade and Pristina on the settlement of bilateral relations under the auspices of the European Union may lead to an unexpected result – the breakaway of Serbia's three predominantly Albanian-populated southern Serbian regions of the Presevo Valley and their accession to Kosovo – which, in turn, will be carved up into Serbian and Albanian parts. Such a scenario, in turn, can set off disintegration processes in Macedonia, Bosnia and Herzegovina, Montenegro and even Greece (with Albanians enclaves in the north).
The Pesident of the self-proclaimed Kosovo Republic, Hasim Thaci, said that in the event of an agreement signed between Belgrade and Pristina, the Presevo Valley adjacent to the Kosovo border, would likewise join Kosovo.
According to him, "the requests of the Albanian population of the Presevo Valley for joining Kosovo are institutionalized," and if an agreement is reached between Belgrade and Pristina, neither the EU, nor NATO or the US would be able to interfere with its implementation. Moreover, he said that the problem of Presevo will soon be discussed in Brussels anyway.
However, he once again ruled out the possibility of Kosovo proper being divided into Serbian and Albanian parts (which is increasingly being discussed in Serbian political and public circles), although he was rather vague about the possibility of "adjusting the Kosovo-Serbian border." For his part, Serbian President Aleksandar Vucic supports the idea of carving up Kosovo, which he argues would help avoid a new conflict.
"A territory, if you don't know how to treat it or who it belongs to, is always a source of potential conflicts and problems." "I am foursquare behind this [separation] and this my policy, whether people like it or not. I am holding out for separation with Albanians," Vucic stated. rts.rs.
Serbia's current Foreign Minister Ivica Dacic was the first top-level politician to come up with the idea of dividing Kosovo, describing it as a long-term compromise solution to the Kosovo conflict. In an interview with the Pristina-based Albanian-language newspaper Zeri, Ivica Dacic, who was then First Deputy Prime Minister and Interior Minister, said that "the only real solution is to leave the Serbs in Serbia and separate the other part where Albanians live. It will be a working mechanism to quickly solve the problem. Other options will be just a waste of time."
However, the idea of partitioning Kosovo can now become part of a broader "package" agreement on the normalization of relations between Belgrade and Pristina. The European Commission makes Serbia's admission to the European Union, which in this case could come in 2025, strictly conditional on a legally binding agreement signed by Belgrade and Pristina.
Many media outlets consider the division of Kosovo and a territorial exchange a very likely scenario. The Croatian newspaper Jutarnji List even claims that the matter is already a "done deal," and warns of possible negative consequences: "In fact, it's not just Kosovo. Pandora's box may be thrown open. This could have a knock-on effect. Just imagine the worst possible scenario the partition of Kosovo could lead to. Bosnia and Herzegovina would immediately follow suit, followed by Macedonia. Montenegro could possibly come next." jutarnji.hr
The Albanian leaders of southern Serbian Presevo Valley, which is home to three mixed Serbian-Albanian communities, admitted the possibility of a "territorial exchange" as envisaged by pertinent agreement between Belgrade and Pristina, as early as in 2012. The leader of the Presevo community, Ragmi Mustafa, emphasized that the three communities (Presevo, Medvedja and Bujanovac) "must join Kosovo," while "northern Kosovo must join Serbia." He believes that a pertinent proposal should be discussed in Brussels.
"I think that this holds the future for our region," he said. A year before that – in the summer of 2011 – representatives of Albanians living in Kosovo and Presevo Valley, including Ragmi Mustafa, met in Gnilan and adopted a resolution on "facilitating the return" of Presevo Valley communities to "independent Kosovo Republic," including with the participation of the international community. The latter, according to the participants, would help deter the Serbian government from "obstructing the free will of the Presevo Valley population."
Accurate and reliable data on the ethnic composition of the three communities is not available. However, if we compare the estimates, we will see that 90 percent of Albanians and 10 percent of Serbs live in Presevo, 60 percent of Albanians and 30 percent of Serbs live in Bujanovac and 30 percent of Albanians and 60 percent of Serbs live in Medvedja. Thus, Albanians now constitute an absolute majority in  Presevo and Bujanovac.
Just as the President of the Turkish International Cooperation Agency in Ankara, Umut Arik, warned as early as in the mid-1990s, all talk about creating a security system in the Balkans makes no sense until "decisions relating to nation-states can be made and revised unilaterally". This is exactly what has recently been happening around Kosovo. What is also evident is the interrelated development of disintegration processes going on in the Balkans. This may force the leading world powers and international institutions to abandon what they have professed all these years – "a policy focused on the state, rather than territory" as the University of Pristina professor of public law Enver Hasani puts it.
Such a policy provides for solving the problems of each Balkan country separately from one another. This approach was at the heart of the Stability Pact for Southeast Europe, devised by the European Union and introduced in 1999.
The unilateral declaration of independence for Kosovo in 2008 embedded in this concept a provision about the "uniqueness of the Kosovo case."
However, amid the current impasse around Kosovo Serbs and the growing activity of Albanian nationalists, the international curators of the Balkan settlement, above all the most business-minded and openly cynical of them in the form of the administration of the US President Donald Trump, could switch to a "territory-focused policy," which views a region not as an combination of already established states, but as a system of territories in dynamic equilibrium and, therefore, capable of reformatting.
"For some Balkan politicians, talk about territorial division and redrawing of maps is like adrenaline," the Croatian newspaper "Jutarnji list" rightly wrote.
"The question is, what will happen to the federation of Bosnia and Herzegovina? Will this catastrophic disintegration of Bosnia and Herzegovina affect Croatia, or will a peaceful Bosnia finally emerge taking in "parts of Croatia"!? Another question is, how would the Bosnians and their defenders, such as Turkey, react to this?! Perhaps, for Serbia, the matter would not be limited to Presevo, and the processes would affect both Sandzak and the very north of Serbia. On the other hand, the exchange of territories with Kosovo could raise the issue of 'consolidating the Albanian nation,' which would revive old ideas of dividing Macedonia. And with the process of Albanian consolidation on and with the Republika Srpska already  part of Serbia, this would whet Serbian appetite, if not for the whole of Montenegro, then at least for its 'Serbian parts,'" the newspaper forecasts and makes a sad conclusion: "Despite the seeming simplicity ("we give you, you give us"), this decision leads to hell." jutarnji.hr
In all fairness, any new changes in the situation in the Balkans – and above all, the delineation of borders – will raise the discussion to a higher international level and may potentially bring them back to the floor of the UN and the UN Security Council where Russia  wields a veto power.
Simultaneously, such scenarios are forcing Belgrade to work more closely together with Moscow, which is one of its key international allies.
"The Serbian political class is aware that it cannot move forward without progress toward resolving the long-standing Kosovo issue. But in order to save face with its constituents, the Serbian leadership has to come up with some settlement in which Serbia will not be perceived as the total loser of the Kosovo dispute. To that end, Serbia must have a great power backer in the negotiating process, and as Serbia lacks a patron in the West, Russia is useful in that role. As long as Kosovo remains in play and as long as Serbian leadership lacks a settlement acceptable to public opinion, Russia will have a high place in Serbian foreign policy considerations. The West should be cognizant of this. For their part, both the European Union and the United States need to be aware that close ties between Russia and Serbia are in large part the result of taking Serbia and the Balkans for granted," The American Interest emphasizes.
Given the situation at hand, Russia needs to figure out the possible options of such a reformatting of the Balkans and choose the ones, which are best suited to its geopolitical interests and those of its allies and partners in the Balkans region and beyond.
First published in our partner International Affairs