Four Game-Changers that Will Revolutionize Travel and Transport by 2025
A new report released at the Annual Summit of the International Transport Forum today by the World Economic Forum, in collaboration with The Boston Consulting Group, shows how travel and transport will be transformed by 2025.
According to the report, Connected World: Hyperconnected Travel and Transportation in Action, the lack of cross-industry cooperation, conflicting policies and missing standards, and the inherent risks of hyperconnectivity are the main barriers for seamless travel and transport. These barriers, notes the report, can be overcome through four solutions based largely on existing technology: a game-changer for using intermodal travel; a future traffic management system for megacities; a new answer for visa, airport security and border control processes; and logistics optimization.
"The solutions will allow us to revolutionize travel and transport," said John Moavenzadeh, Senior Director of Mobility Industries at the World Economic Forum. "The tremendous benefits they can provide to the public and private sectors are clear. What is needed to realize those benefits is for the relevant stakeholders to come around the table to work together on bringing them to life."
José Viegas, Secretary-General of the International Transport Forum at the OECD, added: "The digitalization of everything is changing transport in ways we are only beginning to fathom. But transport should go beyond adaptation, it should leverage innovations produced in engineering and organizational sciences. If it combines them into innovative, effective patterns, it can once more change the way the world is functioning."
For example, the Integrated Proactive Intermodal Travel Assistant (IPITA) enables travellers to use one ticket per journey, regardless of the mode of transport, and provides real-time advice on congestion and route-change options. Not only does it improve transparency on travel options, but it also allows travellers to cut time spent on travel planning and reduces costs of rescheduling through delays.
The report describes the benefits of these solutions and how to build the public-private governance models for implementing them
"In the years ahead, solutions like IPITA, with real-time updates, customized recommendations and end-to-end ticketing will become game-changers for travellers. There's a great opportunity for the private sector and public agencies to work together to make this a widespread reality," said Margo Georgiadis, President, Americas Operations, at Google.
The Condition-based Megacity Traffic Management System (COMET) integrates and processes information from vehicles, travel infrastructure, individuals and the environment in real time to manage traffic through analytics, dynamic signalling and smart parking. It reduces congestion, emissions and accidents with significant improvement for health and safety. The total net benefits of the system can range from $2 billion to $10 billion per city.
"Traffic management is a growing challenge for megacities around the world," said Niklas Gustavsson, Executive Vice-President of Public Affairs of Volvo. "A system like COMET could generate significant benefits for them. Using real-time data collection and analytics combined with smart parking and dynamic steering would reduce congestion, greenhouse gas emissions and fuel consumption."
Another solution includes Automated Check-in, Security, Border Control and SMART visas (ACIS), which harnesses technology such as biometric identification, real-time risk classification of passengers, improved full body and luggage scanners, and electronic visa procedures to improve efficiency and security. The aim is to provide a smoother travel experience for international travellers and can increase travel volumes and tourism receipts.
And, the Tracking and Transparency-based Logistics Optimizer (TATLO) uses real-time information exchange between companies and between companies and governments to speed and enhance trade flows. It provides an integrated view for shippers and buyers on the status of their shipments and reduces the cost of and time spent on creating and processing trade documentation.
"To overcome the remaining challenges and to demonstrate the feasibility of the solutions, we have to work together with private and public stakeholders in implementing them, first as pilots and then scaling those pilots to full operation," said Antonella Mei-Pochtler, Senior Partner and Managing Director of The Boston Consulting Group.
The Connected World: Hyperconnected Travel and Transportation in Action report is the product of a cross-industry effort involving over 50 leading companies from the travel, transportation, and information and communications technology industries. The report is part of the World Economic Forum's Hyperconnectivity Initiative, offering insight on how the increasing prevalence and speed of connections around the globe will have an impact on security, cybercrime and privacy.
Can China electrify all new passenger cars by 2030?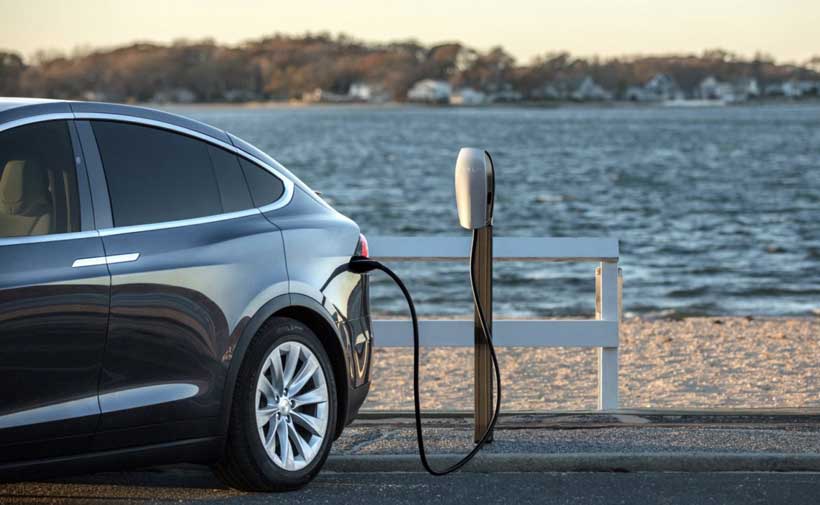 China's electric vehicle industry is entering a new phase of accelerating development, President Xi Jinping wrote in a congratulatory message to participants of a new energy vehicle conference in early July. In 2018, China sold almost as many electric vehicles as the rest of the world combined. At the same event, the chairman of Chinese electric vehicle giant BYD upped the ante, challenging China to electrify all passenger vehicles by 2030.

New energy vehicle sales are booming, but they still only amounted to 2.5% of car sales in China in 2018. Could all sales feasibly be electric within the next decade?
A recent report from the Innovation Centre for Energy and Transportation (iCET) made the first public proposal of a timeline for the phaseout of petrol and diesel vehicles across China. According to the Beijing-based thinktank, 2030 is premature, but an entire phaseout could be possible by 2040. However, the report also highlights significant uncertainties ahead, including whether consumer appetite for electric vehicles will wane when government subsidies are cut.

Why phase out traditional vehicles?

Starting in 2016, regions and countries around the world began proposing an end to driving as we know it. China's vice minister of industry and information technology made waves when he announced in 2017 that China, the world's largest car market for the past decade, was researching a phaseout of petrol and diesel vehicles.

The news followed a steady drumbeat of policies supporting the growth of China's new energy vehicle industry in recent years. From generous government subsidies to driving restriction exceptions in China's congested cities, the government has been coaxing the industry along.
China has much to gain from phasing out all petrol and diesel vehicles. For one, the country relies on imports to meet 70% of its crude oil demand, 42% of which is consumed by vehicles. Petrol and diesel cars also have a major impact on public health. They are among the main perpetrators of air pollution in many of China's cities. As car ownership has climbed, increasing oil use has also contributed to China's rising greenhouse gas emissions.

With solar panels and wind turbines, China used subsidies to build companies that now dominate the industries worldwide. The burgeoning electric vehicle market presents a similar opportunity.

Is a phaseout possible?

Hainan, the island province in China's south, has emerged as a green pioneer in recent years. In a plan released in March this year, it became the first region in China to set an official date for the phaseout of petrol and diesel vehicles.

Hainan has its sights set on 2030, but the rest of the country is unlikely to meet that deadline according to iCET's report. The group built a model based on China's automobile industry trends, national policies and oil consumption under a scenario of limiting global warming to under 2C, and proposed a phaseout timetable accordingly. The timetable states that smaller petrol and diesel passenger vehicles will be phased out between 2020 and 2040. Larger "commercial vehicles", such as buses and trucks, will follow, so that all petrol and diesel vehicles are phased out by 2050.

The study proposes an incremental phaseout based on the type of vehicle and region. The largest cities that already have strong electric vehicle markets are prioritised along with cities suffering the most from pollution, while relatively underdeveloped regions are given more time to make the transition. Taking the lead will be government-owned vehicle fleets, followed by private vehicles, which will allow some time for costs to come down further for alternative vehicle technologies. The majority of passenger vehicles will be replaced by new energy vehicles and non plug-in hybrids (like the Toyota Prius) according to the study.

Taiyuan, an industrial city in west China, has already demonstrated this model by electrifying its taxi fleet. Shenzhen followed suit this year. However, Li Wanli, formerly of the Ministry of Industry and Information Technology, commented at the report launch: "I personally think the proposed timetable is too early and tight for privately owned vehicles."

He also cautioned that the study's suggested approach may pose problems. Citing fuel efficiency standards being rolled out regionally right now, he said the piecemeal approach has caused headaches for manufacturers and is a case to learn from.

Potential speedbumps

Although the study's timetable aligns with current policies and projections, the authors elaborate that several uncertainties could influence China's path. The electric vehicle industry is in the midst of a major transition. Subsidies have long been boosting sales, accounting for 20-35% of the take-home sale price for manufacturers in 2016. Now, the government has decided to wean the industry off the handouts, likely entirely by 2020.

This shift could dampen consumer appetite. Projections show that electric vehicles could reach price parity with petrol and diesel vehicles by 2030, but for now they will likely remain out of reach for many Chinese buyers without government support. The Tesla Model 3, for instance, is being advertised as a vehicle for the mass market. But its price tag is still about US$15,000 above the average car in China.

Whether enough alternative cars can be produced is also moot. Production of new energy vehicles is slightly above sales in China, but even at over one million sales in 2018, it is dwarfed by the market for conventional vehicle. To encourage production, this year China is introducing a national production policy for large manufacturers. The system is slightly more complex than a pure quota, but it essentially requires automakers to meet production targets for 2019 and 2020 or buy credits from overperforming companies. The policy is expected to double new energy vehicles' share of sales, according to Bloomberg New Energy Finance, but no quota has been set for after 2020.

Whether infrastructure can keep up with the phaseout is also a looming question. Building out enough charging stations to supply a rapidly expanding electric vehicle fleet is a government priority, and an unprecedented challenge. The power grid may also struggle to keep up with charging if demand is not timed intelligently. A Natural Resources Defense Council (NRDC) study found that peak load on the grid could increase 58% by 2030.

Environmental pros and cons

The iCET study finds that greenhouse gases and air pollution would be reduced significantly if their timetable is followed. A study by the China Automobile Technology Research Centre found that phasing out petrol and diesel vehicles would lead to a 41% drop in nitrogen oxide and a 35% drop in particulate matter emissions in 2050, compared to a 2017 baseline. Based on the iCET study, end-user greenhouse gas emissions would fall 51% in 2040 and 77% in 2050 while lifecycle emissions (including from electricity generation) would fall 55% in 2050.

However, electric vehicles are not without their own environmental hazards. Battery supply in particular has raised red flags. Currently, battery recycling remains very low due to there being diverse battery types and an unwillingness from recyclers to take responsibility for safety risks. The iCET study warns that if a better recycling system is not established, lithium, cobalt and manganese in the batteries could cause significant damage to public health and the environment. Dealing with this blockage in the electric vehicle lifecycle could slow down the rollout, the authors argue.

Setting a date

The government has set a number of long-term targets for new energy vehicle production. The most ambitious is for them to account for 40% of car sales by 2030. Will China ratchet up the pace by setting a phaseout target on top of that?

Hainan has already fired the starting gun. However, its vehicle market is relatively small (the province has about one sixth as many cars as Beijing) so it will not be as significant an undertaking there. A Caixin article suggests that Beijing might be a good candidate to follow Hainan's example as it has led in the establishment of other new energy vehicle policies in the past.

At the report release, Wang Baixia, one of the drafters of Hainan's phaseout plan, said having a target would send a strong signal: "A timetable is still needed, for the government and companies, everyone needs such a timetable (…) this long-term expectation is very important."

The government is working on a 15-year new energy vehicle development plan, which may provide further clarity on its phaseout plans.
From our partner chinadialogue.net
Smart Border Management: Transformation from Analog to Digital Borders
A border is something where the territorial boundary of a sovereign country ends and what begins is a bigger responsibility of protecting its boundary from any external threat, which can be defined in a broad term as border security. Different countries have different types of borders, including land borders, coastal borders and aerial borders (or airspace). Securing these different types of borders at all times makes border security a challenging task.
This analyst insight will highlight the pain points and opportunities in the smart border management market and how the traditional analog borders can be transformed into digital borders with the help of technology.
The dynamics of border security change with every country, as every country has different types of terrains, a different type of threat perception and different types of borders.
The terrain can be anything from plains, marsh, mountains, deserts, creeks, riverine, dense forests, deltas, etc. The more types of terrains a country has on its borders, the bigger the problem would be to secure its borders.
Threat perception can be anything from arms and drugs smuggling to illegal immigrants, to cross-border terrorism, to illegal occupation of its boundaries by neighbors.
Types of borders can be anything from fenced to unfenced borders, to friendly borders or hostile borders.
Every border is different and needs different, tailor-made solutions to protect them.
We are living in an era where technology is driving everything and is changing so fast that it has nullified all the traditional wisdom of securing borders. Today, hybrid warfare is possible, wherein cyberattacks, satellite attacks, and drone attacks are the reality and terrorist organizations are using them globally. We have seen an attack on the Saudi Aramco facility, wherein using drone-based loitering ammunition hampered the overall global supply chain. If a nation does not adapt to these technological changes, sooner or later, enemies will find a way to enter its borders, and the effects can be catastrophic.
So a nation is required to have 360-degree protection to form a smart, comprehensive border management system that is digital and can cope with these ever-changing global security scenarios.
First of all:
They need to secure their maritime borders, land borders and airspace using different technologies – perimeter security sensors, radars/sonars, C4ISR systems, digital intelligence, predictive analysis tools, etc. – for security from any kind of outside intrusions/attacks.
They need a strong intelligence collection mechanism at the borders so that information on any upcoming threat can be gathered beforehand and preventive measures can be taken. Different tools and systems should be deployed for SIGINT, COMINT, ELINT, and IMIMT.
They also need to secure themselves from any kind of airborne attacks and should have systems to detect and neutralize not only bigger aerial vehicles and missiles but also for UAVs flying on/near their airspace.
A strong response mechanism is needed to respond to any intrusion events, which can include autonomous UAVs/UGVs/remote weapon stations, to act as a force multiplier and can help ground forces in effectively disseminating the threats without endangering forces that are physically protecting the borders.
It should have a reliable communication system (wired and wireless) in place with a strong encryption mechanism (an overlap of 256-bit encryption and proprietary algorithms) and their exclusive waveforms so that nobody can hack into their mission-critical communication.
Second, they need to secure their ports of entry – airports, seaports, land ports:
At these ports, they should have robust security mechanisms (which should be fast as well as effective) for identity check, immigration, baggage screening, physical security, etc.
For coastal borders and seaports, artificial intelligence and machine learning-based maritime analytics can play a bigger role by taking information from centralized systems like AIS, GIS, etc., and can inform the authorities in advance about any suspicious vessels/ships/ boats before they even enter national waters.
Third, countries need to have a strong national cybersecurity system in place that can help detect threats and vulnerabilities in the system and suggest ways to overcome them.
By adopting the above-mentioned measures and technologies, nations can transform their existing analog borders into digital borders, wherein every suspicious activity gets detected, recorded and presents a holistic picture of the overall security scenario to concerned officials for better decision-making.
Based on the Frost & Sullivan analysis of the global border protection market, the industry is expected to grow to $168 billion by 2025, expanding at a CAGR of 7%. Below are the key technology investment opportunities for security companies:
Autonomous UAS (UAV and UGV) – To automatically respond to any threat
Counter UAS Systems – To detect and neutralize unmanned aerial threats
Remote Weapon Station – To guard the borders, without endangering lives
Software-defined Radios – For robust, futureproof, unhackable communication
Maritime Analytics – To detect and catch the suspicious vessels before entering national waters
Predictive Analytics – A strong, centralized and automated Cyber Threat Intelligence (CTI) platform that can detect probable cyberattacks and suggest ways to mitigate them
Integrated C4ISR System – To build a system of systems that can take information from various subsystems and show a holistic view of the overall security system
Every problem brings an opportunity to solve it. These problems of securing different types of borders in different countries, for different terrains, and to address different threats present a much bigger opportunity for security companies.
5G: A new stage in civilization development amid global competition
The format of the next-generation cellular networks, which is commonly known as 5G, is considered by a vast majority of experts as one of the "key technologies in the decades to come." It is seen as a major element in ensuring the leading positions of a country at a new stage of the race for the most favorable national development status. What are the political features of this phase of technology rivalry?
The International Telecommunication Union (ITU) plans to approve the final version of the 5G standard by early next year. However, experts throughout the globe have been developing the "general principles and properties" of the fifth-generation cellular communication technologies for more than five years. The current fourth-generation technology guarantees maximum data transfer rate at about 150 Mbit/s. 5G promises speeds of more than 1 Gbit / s. By the middle of this year, "China, South Korea, Japan, and most EU countries had chosen the frequency spectrum that will be used in fifth-generation networks." A heated debate has been under way in the United States, which has already held several frequency auctions for 5G .According to Deputy Prime Minister Maxim Akimov, who oversees the development of digital technologies in the Russian Federation, the launch of 5G is "a matter of survival if we do not want to lose technological leadership".
Experts have no doubt that the fifth generation mobile networks will lead to "drastic changes" in many areas of life. While the present-day cellular communication standards are designed to exchange voice traffic and exchanges between terminal communication devices, the 5G technology is intended to create an environment in which billions of different devices interact with each other in real time. Moreover, the speed and reliability of connection should boost many times. The 5G environment should become a kind of communicative digital "ocean" into which an overwhelming majority of people and economic entities will plunge in the coming decades. This will fundamentally change the industry, global supply chains, defense tecnology, agriculture, transport, medicine, approaches to managing national infrastructure, and in general, the quality of life of billions of people, by becoming part and parcel of everyday life.
One of the most promising and at the same time, conflicting areas, which will, undoubtedly, get good impetus following the introduction of 5G, will be the so-called "Internet of Things". Microchips will be installed in almost all industrial and consumer products, transmitting all kinds of information and capable of receiving control commands from the outside. Critics fear that the world is moving in the direction of "surveillance capitalism". The government and business are to address many issues, The Economist points out, including digital ownership, big data, surveillance, competition monitoring, and security. The standards of receiving, transmitting, processing and storing data promise to become a battlefield of both private companies and government organizations . Those who will control their development and implementation will enjoy significant, if not crucial, advantages.
"When an invention becomes part of infrastructure, it also becomes part of political relations and undergoes both engineering and political changes". Therefore, the main political battles are currently unfolding over the choice of frequency bands for building 5G networks, and over the suppliers. Pessimists, including in Russia, fear that, in case of the worst scenario, the priorities of maintaining sovereignty and security may lead to further fragmentation of not only the Internet, but also the cellular communications space. Differences in the frequency bands used for the development of 5G networks may cause conflicts between telecom operators and refusals to conclude agreements on international roaming. According to optimists, in the absence of universally approved 5G standards, manufacturers of client equipment, from terminals to smart phones, are forced to envisage the possibility of operating in the widest possible frequency range.
At present, the observer attention is focused on two conflicting approaches to the implementation of 5G technologies, the American one, on the one hand, and the Chinese one, on the other. US President Donald Trump regularly makes high-profile statements about the need to ensure America's top position in promoting 5G technologies. Trump has come out strongly against the purchase of Chinese-made 5G technologies by the United States. Washington is urging other countries to refrain from doing so as well. Otherwise, it said it may wrap up cooperation with its close allies in the field of telecommunications, including the exchange of intelligence data. Given the situation, the US government agencies that deal with technology development have, on the one hand, already managed to distribute the bulk of frequency modulations for the introduction of 5G, compared to other countries. On the other hand, Leonid Kovachich of the Carnegie Moscow Center says, "the United States is working to create networks in the ultra-high frequency range." Such frequencies – above 6 GHz, provide "the most tangible capacity growth against the existing ones." However, due to specific technological characteristics, they require an extremely high density of transceiver infrastructure. Thus, America has picked the most expensive option, which, according to critics, including specialists from the US Federal Communications Commission (FCC), is "extremely prodigal". In addition, this approach "will further accentuate the technological and, as a result, social gap between large cities and sparsely populated regions in the United States", and will also significantly weaken the ability of American cellular manufacturers and mobile operators to successfully compete with China in other countries of the world.
China's authorities have been trying to follow major global trends, including the choice of frequencies for 5G. Meanwhile, as experts at Oxford Information Labs claim, China is operating in several areas at once, for the purpose of at least significantly downsizing the competitive edge of Western companies in implementing 5G projects. The Chinese companies are stimulated by the fact that they already control "more than a third of all 5G patents in the world" and also a fairly limited number of potential developers and manufacturers of 5G technology. The West suspects official Beijing of striving to create a de facto corporate-technological "vertical", with non-governmental organizations pursuing a policywhich is determined by the country's political and military leadership. What speaks of such a policy is the pragmatic readiness of the Chinese authorities to provide substantial government loans and subsidies for an early launch of domestically developed technologies, including abroad, through resorting to political, diplomatic, financial and economic influence amidst the international community.
Amid the growing confrontation between the United States and China, European countries voice different views. The German government, Die Zeit wrote in November, still expresses its readiness to "use the key technology of the coming decades – data transmission through the new 5G standard – using the technology of the Chinese company Huawei." However, according to French President Emmanuel Macron, such an approach "is naive." Macron is convinced that the infrastructure of the future, which is represented by 5G, should consolidate the sovereignty of Europe, not weaken it. What is meant is data security, without which, Europeans say, it makes no sense to talk about security policy asn such. In his opinion, "it is necessary to abandon" the Chinese-manufactured technologies "in favor of European analogues".
Russia is balancing between fears of alarmists over the "cumbersome nature" of regulators and controllers that "jeopardize" the country's technological development under the pretext of concern "for national security", on the one hand, and on the other, the belief of optimists who remind them that the 4G and LTE standards of cellular communication were introduced in a similarly protracted and "bureaucratic" way. A number of representatives of the Russian telecommunications industry have expressed concern that "transition to unconventional frequencies or even an isolated Russian 5G system will delay the creation of modern networks for 5-7 years". Their opponents are confident that domestic operators will need a few more years to launch 5G networks that cover vast areas. "There are no economic scenarios for 5G yet, no one in the world knows how to earn money on such networks, the existing networks all but prove this in practice. It makes no sense to strive to launch 5G networks at any cost. Just as there is no need to clear the frequencies now – nobody will use them ".
Whatever the case, the undisguised attempts to halt the development of Chinese high-tech companies or even ruin them which have been made by the United States in recent years "have demonstrated to most countries that independence in IT technology is crucial." A possible scenario envisages prohibition or restriction of services, products or services provided by American companies in other countries; or at least in such a vital sector as public procurement. For many states it becomes critical to create and develop the domestic IT sector, IT services and software. All this may culminate in the "process of disintegration" of the global IT market, the division of countries into blocks and coalitions focused on "their own" manufacturers of software and their own technological standards.
The problem is to ensure sovereignty without having to face technological or informational isolation. "Information isolationism in the era of digital communication is usually a characteristic of rogue states." While easing the burden of confronting external pressure, this approach deprives the country of the opportunity to form its own international agenda, believes Dmitry Evstafiev from the Higher School of Economics . On his part, Igor Ashmanov, CEO of Ashmanov & Partners, remarks: "Absence of information sovereignty is an absolutely toxic thing. Speaking about digital sovereignty from a technological point of view, it is necessary to underscore the importance of creating domestic technologies and companies. Borrowing something without giving it any thought is not the right thing to do. " In his turn, Ilya Massukh, Director of the Autonomous Non-Profit Organization " Center for Import Substitution in ICT", says that technological development may result in the loss of identity. Consequently, nations that are striving to maintain sovereignty cannot afford to be completely dependent on foreign "suppliers of technological products".
Russia, like most countries of the world, has yet to strike the so-called "golden middle," which would enable it to use the advantages of the new technological reality to maximum efficiency in terms of national development. However, it should do so without turning the process of adopting new technologies into the driving force of self-isolation, which may easily reduce to zero a significant chunk of benefits supplied by the next- generation communication technologies.
From our partner International Affairs