Four Game-Changers that Will Revolutionize Travel and Transport by 2025
A new report released at the Annual Summit of the International Transport Forum today by the World Economic Forum, in collaboration with The Boston Consulting Group, shows how travel and transport will be transformed by 2025.
According to the report, Connected World: Hyperconnected Travel and Transportation in Action, the lack of cross-industry cooperation, conflicting policies and missing standards, and the inherent risks of hyperconnectivity are the main barriers for seamless travel and transport. These barriers, notes the report, can be overcome through four solutions based largely on existing technology: a game-changer for using intermodal travel; a future traffic management system for megacities; a new answer for visa, airport security and border control processes; and logistics optimization.
"The solutions will allow us to revolutionize travel and transport," said John Moavenzadeh, Senior Director of Mobility Industries at the World Economic Forum. "The tremendous benefits they can provide to the public and private sectors are clear. What is needed to realize those benefits is for the relevant stakeholders to come around the table to work together on bringing them to life."
José Viegas, Secretary-General of the International Transport Forum at the OECD, added: "The digitalization of everything is changing transport in ways we are only beginning to fathom. But transport should go beyond adaptation, it should leverage innovations produced in engineering and organizational sciences. If it combines them into innovative, effective patterns, it can once more change the way the world is functioning."
For example, the Integrated Proactive Intermodal Travel Assistant (IPITA) enables travellers to use one ticket per journey, regardless of the mode of transport, and provides real-time advice on congestion and route-change options. Not only does it improve transparency on travel options, but it also allows travellers to cut time spent on travel planning and reduces costs of rescheduling through delays.
The report describes the benefits of these solutions and how to build the public-private governance models for implementing them
"In the years ahead, solutions like IPITA, with real-time updates, customized recommendations and end-to-end ticketing will become game-changers for travellers. There's a great opportunity for the private sector and public agencies to work together to make this a widespread reality," said Margo Georgiadis, President, Americas Operations, at Google.
The Condition-based Megacity Traffic Management System (COMET) integrates and processes information from vehicles, travel infrastructure, individuals and the environment in real time to manage traffic through analytics, dynamic signalling and smart parking. It reduces congestion, emissions and accidents with significant improvement for health and safety. The total net benefits of the system can range from $2 billion to $10 billion per city.
"Traffic management is a growing challenge for megacities around the world," said Niklas Gustavsson, Executive Vice-President of Public Affairs of Volvo. "A system like COMET could generate significant benefits for them. Using real-time data collection and analytics combined with smart parking and dynamic steering would reduce congestion, greenhouse gas emissions and fuel consumption."
Another solution includes Automated Check-in, Security, Border Control and SMART visas (ACIS), which harnesses technology such as biometric identification, real-time risk classification of passengers, improved full body and luggage scanners, and electronic visa procedures to improve efficiency and security. The aim is to provide a smoother travel experience for international travellers and can increase travel volumes and tourism receipts.
And, the Tracking and Transparency-based Logistics Optimizer (TATLO) uses real-time information exchange between companies and between companies and governments to speed and enhance trade flows. It provides an integrated view for shippers and buyers on the status of their shipments and reduces the cost of and time spent on creating and processing trade documentation.
"To overcome the remaining challenges and to demonstrate the feasibility of the solutions, we have to work together with private and public stakeholders in implementing them, first as pilots and then scaling those pilots to full operation," said Antonella Mei-Pochtler, Senior Partner and Managing Director of The Boston Consulting Group.
The Connected World: Hyperconnected Travel and Transportation in Action report is the product of a cross-industry effort involving over 50 leading companies from the travel, transportation, and information and communications technology industries. The report is part of the World Economic Forum's Hyperconnectivity Initiative, offering insight on how the increasing prevalence and speed of connections around the globe will have an impact on security, cybercrime and privacy.
Five New Technologies that Can Prevent Everything from Fraud to Future Financial Shocks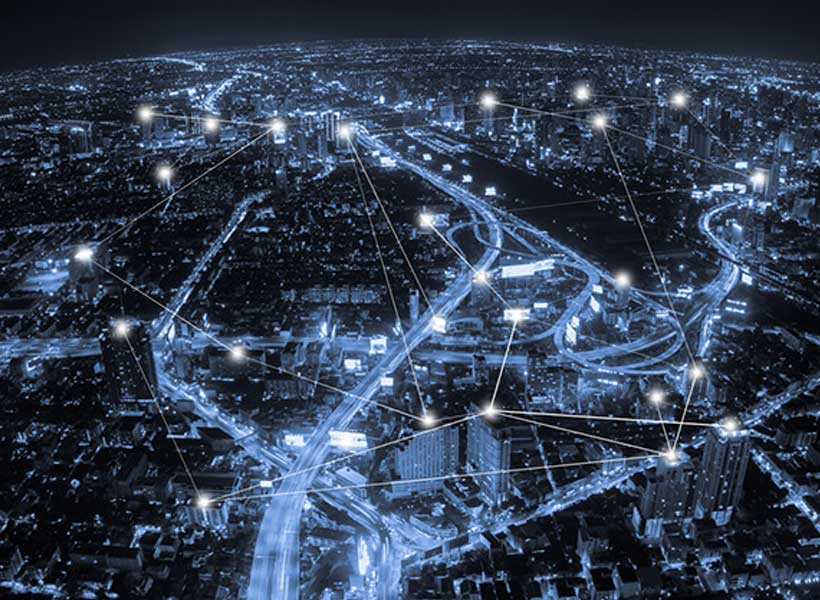 A new white paper, The Next Generation of Data Sharing in Financial Services, from the World Economic Forum has identified new technologies that banks and other financial institutions can implement for privacy-protected data-sharing between institutions. This data-sharing will enable broad analysis, which can be used to identify industry-wide risks and could even prevent future financial shocks.
Beyond system-wide benefits, these newly identified technologies, coined "privacy-enhancing techniques" can also use improved data-sharing to prevent fraud, offer financial advice, and much more. Privacy-enhancing techniques lessen the tensions underlying data-sharing. Instead of threatening customer privacy, this new wave of technology not only protects it but also enhances industry collaboration.
These five technologies include: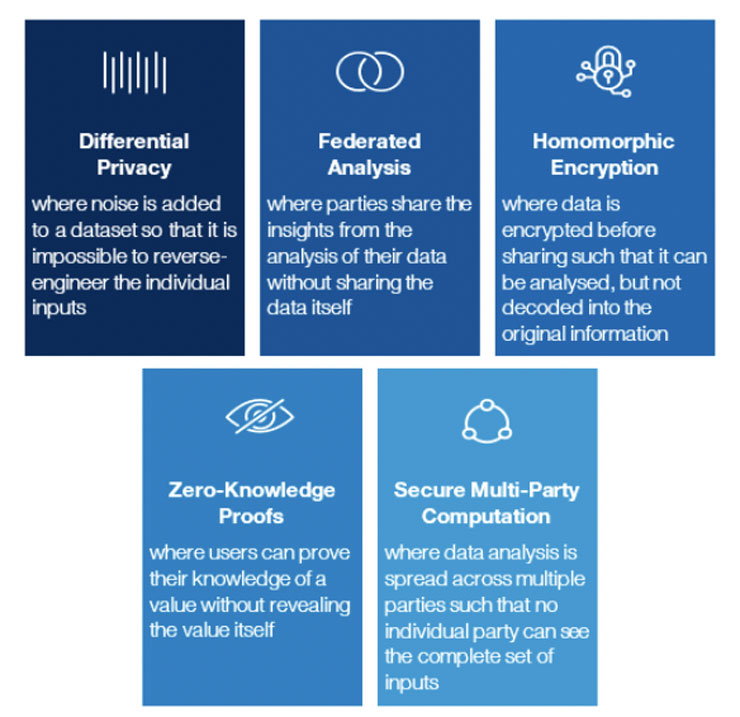 While new and novel for use in financial services, these technologies have existed within laboratories for years and are now ready for use in the real world of banking and other financial services. If harnessed, these tools could usher in a new, more collaborative, era of the sector on matters related to risk and product development.
"With advancing privacy-enhancing technologies, financial services have the ability to work more closely together on a range of important challenges and opportunities, from combating illicit financial transactions to identifying material risk exposures across institutions, to developing more personalized financial advice and products," says Matthew Blake, Head of Financial and Monetary System Initiatives, World Economic Forum. "Privacy-enhancing techniques open a range of possibilities for enhanced risk management and financial innovation with benefits for customers, regulators and financial institutions alike."
These technologies, used separately or in conjunction, greatly reduce the risks associated with data sharing and have the potential to fundamentally redefine the dynamics of data sharing in financial services. Opportunities from these technologies include the ability to:
· Better detect and prevent fraudulent activity: Federated analysis could be used to create shared fraud detection and prevention models across institutions without sharing the personally sensitive information about specific customers
· Identify system-wide risks and prevent financial crises: Secure multi-party computation could be used to conduct aggregate analysis on financial institutions' risk exposures without breaching their institutional competitive secrets, allowing for an advance warning on systemic risks and exposures such as those that led to the 2008 financial crisis
· Enable new forms of personalized digital advice: Leveraging differential privacy in the analysis of transactions across an institution's customer base could enable sophisticated and specific "people like you" recommendations without exposing individual customers' spending habits
· And more, as explored in The Next Generation of Data Sharing in Financial Services
One of the key learnings from the financial crisis was that system-wide risk exposures were not properly quantified and understood by enterprises as well as financial supervisors. This was partly due to inadequate management information systems that did a poor job of aggregating risk exposures across institutions as well as too narrow a focus by supervisors on the risk of individual financial firms rather than the interconnections between institutions and the broader system.
Competitive dynamics also played a part; it is perilous for a financial institution to make explicit its risk exposures because other actors may take advantage and profit from that level of transparency. Enter privacy-enhancing techniques, which make sharing granular information across institutions possible – allowing for transparency without unveiling too much, presenting new possibilities for collaboration between institutions, supervisors and customers.
"It is important to note that these technologies are not a magic wand. Using them requires financial institutions to address surrounding issues such as poor data quality, legal uncertainties and siloed data infrastructures," says Bob Contri, Principal, Deloitte United States; Global Financial Services Industry Leader. "However, addressing these roadblocks and using privacy-enhancing techniques can propel the financial services industry into a new era of collaboration and value delivery."
According to the World Economic Forum, financial services executives should take a concerted look at these new techniques and where they might best be deployed. Bringing these technologies into practice will require a degree of experimentation and technological expertise. Nonetheless, the benefits of widescale adoption are clear and speak to greater alignment and action among key stakeholders on issues of systemic importance.
'Digital divide' will worsen inequalities, without better global cooperation
Inequality will worsen unless the so-called "digital divide" – the gap between under-connected and highly digitalized countries – is not addressed, warns a new report released on Wednesday by the UN trade body, UNCTAD.
The first-ever Digital Economy Report outlines enormous potential gains from the increasingly inter-connected global economy, but calls for "concerted global efforts to spread the wealth potential to the many people who currently reap little benefit from it.
US and China pull ahead, Africa and Latin America trail behind
The United States and China create the vast majority of wealth in the digital economy, the study reveals, and the two countries account for 75% of all patents related to blockchain technologies, 50% of global spending on the "Internet of Things" (IoT), more than 75% of the cloud computing market, and as much as 90% per cent of the market capitalization value of the world's 70 largest digital platform companies.
The rest of the world, particularly countries in Africa and Latin America, are trailing considerably behind, and this trajectory is likely to continue, further contributing to rising inequality, said UN Secretary-General António Guterres, in a foreword to the report.
"We must work to close the digital divide" he writes, "where more than half the world has limited, or no access to the Internet. Inclusivity is essential to building a digital economy that delivers for all".
Massive increase in data on the horizon
Despite the impact that digital data has already had, the world is still in the early days of the data-driven economy, according to the study, which forecasts a dramatic surge in data traffic in the next few years.
This reflects the growth in the number of people using the Internet, and the uptake of frontier technologies such as blockchain, data analytics, artificial intelligence, 3D printing, IoT, automation, robotics and cloud computing.
Platforms to rule the world
Wealth and power in the digital sphere are increasingly being held by a small number of so-called "super platforms", comprising the seven global brands Microsoft, Apple, Amazon, Google, Facebook, Tencent and Alibaba.
Between them, these companies account for two-thirds of the total market value of the top 70 platforms: in China, WeChat, owned by Tencent, and AliPay, an Alibaba company, have captured virtually the entire Chinese mobile payment market between them. Google accounts for some 90 per cent of the global Internet search market, and Facebook is the top social media platform in more than 90 per cent of countries.
The reports shows that these companies are competing aggressively to stay on top, acquiring competitors, expanding into new services, lobbying policy-makers, and establishing strategic partnerships with leading multinationals in traditional sectors.
UNCTAD warns that the dominance of these platforms is leading to a concentration and consolidation of digital value, rather than reducing inequalities between and within countries, with developing countries at the bottom of the pile. The report calls for a rethink, that will bring about a fairer distribution of the gains from the digital economy.
The role of government in levelling the playing field
Governments can play a critical role in defining the rules of the game, explains Mukhisa Kituyi, Secretary-General of UNCTAD , by adapting existing laws, and passing new ones in many areas:
"A smart embrace of new technologies, enhanced partnerships and greater intellectual leadership are needed to redefine digital development strategies and the future contours of globalization", he wrote.
The report calls for greater international collaboration on issues associated with the digital economy, with the full involvement of developing countries, on issues such as competition, taxation, cross-border data flows, intellectual property, trade and employment policies.
Air pollution in a tweet: Communicating complex science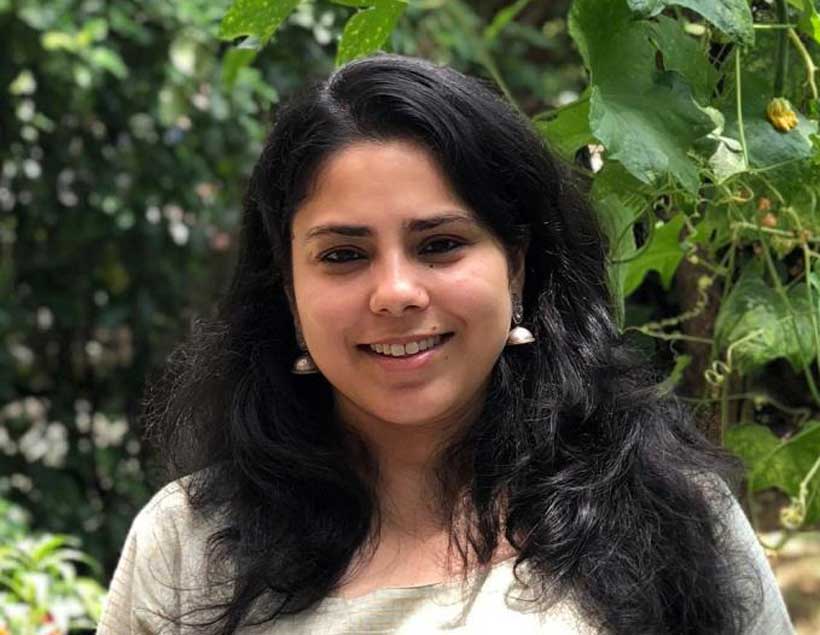 Air pollution is a complex issue that is difficult to communicate to most people. What causes air pollution? How does it affect our children's cognitive development? What does air pollution have to do with rising temperatures?
Pallavi Pant is an air quality scientist who received her PhD in urban air quality in 2014. Today, she is a staff scientist at the Health Effects Institute in Boston. She is also Social Media Editor with the Journal of Exposure Science and Environmental Epidemiology, where she aims to communicate the journal's work to a broader audience.
"But when it comes to communicating science, it's vital to get the facts right. Young people like Pallavi—experts in their field with a passion to drive forward clear messages about air pollution, health and climate—are commendable in their ability to communicate the problems and how we can be part of the solution."
This International Youth Day, themed "transforming education," we asked Pant why, as a scientist, she feels compelled to tweet. How does she educate and bring complex messages to a non-scientific audience?
What influenced your decision to be a scientist, and is being a woman in this field a challenge?
I grew up in a household where curiosity was encouraged. I remember designing scientific experiments to test hypotheses as a kid with my friends. Throughout high school and college, I took steps towards a career in environmental science. In the early days, I wasn't sure what aspect I would focus on; air pollution piqued my interest and I spent more time understanding it better. My personal experience living in Delhi—seeing the quality of air change over time—was another key contributing factor. Being a woman in science is fun and exciting, but also poses challenges. Occasionally, it has been difficult to deal with stereotypes that influence people's interactions. In some instances, it is also about being safe—in the field working alone for example. But overall, I've had a good experience, and my mentors have been supportive.
Why do you feel it's important to communicate science to a general audience?
Huge portions of important scientific research are still behind paywalls, and people are often unable to find accurate, reliable information, especially on digital media. Combined with the need for 'bite-sized' information, it is critical that scientists find ways to engage with the public, to dispel myths where they exist, and share useful information. After all, the goal for science is to help move towards a better future, isn't it? During my PhD program, I started a knowledge platform—Air Quality in India—to publicize and communicate the latest science and policy developments on air pollution. I co-founded a similar effort for South Asia—Air South Asia. It is important that accurate, scientifically valid information is brought to the public. I also give public seminars on the topic of air pollution, and I answer queries from concerned individuals about sources of air pollution and possible impacts on human health. I engage with organizations that work directly with communities and point them towards trusted sources of information. On social media, I post curated content on air pollution.
The Journal of Exposure Science and Environmental Epidemiology is one of the first environmental journals to create its own social media platforms. What influenced this decision?
When I spoke with the journal editors, it was clear that they were trying to expand the reach and make the information accessible to a broad audience. I had some experience doing that, and this seemed to be an excellent opportunity to expand my skills too! We hope to disseminate new findings from research published in the journal on social media, and get others interested in the field of environmental health.
What is the biggest challenge you face in communicating air pollution science?
When we train as scientists, we are encouraged to speak in scientific terms. The first issue I encountered was to learn to take a minute and think about my choice of words, and how they would be interpreted by a particular audience. Air pollution science is often complex, and it is a hard task to explain the nuance of the science while making it engaging and interesting. For example, air pollutants can be primary [directly emitted] and secondary [formed in atmosphere from other pollutants], and control strategies are very different for both types of pollutants. Communicating this effectively can be challenging. Sometimes, it is only a matter of directing people to the right information. In other cases, some thinking is required. In all cases, the bottom line for me is to make the information relatable for the particular audience.
How do you hope to take your storytelling to a level where it can reach more people?
I am still learning ways to communicate science better, and weave data and stories together to generate meaningful narratives for people. This year, I am hoping to expand a large, open-source database on air pollution in India, set up a mentoring network for women in air quality in the South and continue working to expand the reach of the Journal of Exposure Science and Environmental Epidemiology.
Can you summarize the main threats of air pollution in 140 characters?
Air pollution impacts our health, environment & economy; we need to act both at personal & societal levels to improve the quality of air.