The Palestinians' Real Enemies
For most of the twentieth century, inter-Arab politics were dominated by the doctrine of pan-Arabism, postulating the existence of "a single nation bound by the common ties of language, religion and history.
… behind the facade of a multiplicity of sovereign states";[1] and no single issue dominated this doctrine more than the "Palestine question" with anti-Zionism forming the main common denominator of pan-Arab solidarity and its most effective rallying cry. But the actual policies of the Arab states have shown far less concern for pan-Arab ideals, let alone for the well-being of the Palestinians, than for their own self-serving interests. Indeed, nothing has done more to expose the hollowness of pan-Arabism than its most celebrated cause.
Denying Palestinian Nationalism
Consider, for instance, Emir Faisal ibn Hussein of Mecca, the celebrated hero of the "Great Arab Revolt" against the Ottoman Empire and the effective leader of the nascent pan-Arab movement. Together with his father and his older brother Abdullah, Faisal placed Palestine on the pan-Arab agenda by (falsely) claiming that they had been promised the country in return for their anti-Ottoman rising. In January 1919, he signed an agreement with Chaim Weizmann, head of the Zionists, supporting the November 1917 Balfour Declaration on the establishment of a Jewish national home in Palestine and the adoption of "all necessary measures … to encourage and stimulate immigration of Jews into Palestine on a large scale."[2] Yet when the opportunity for self-aggrandizement arose, in March 1920, he had himself crowned king of Syria "within its natural boundaries, including Palestine." Had either option been realized, Palestine would have disappeared from the international scene at that time.
Nor did Faisal abandon his grand ambitions after his expulsion from Damascus by the French in July 1920. Quite the reverse, using his subsequent position as Iraq's founding monarch, he toiled ceaselessly to bring about the unification of the Fertile Crescent under his rule. This policy was sustained after his untimely death in September 1933 by successive Iraqi leaders, notably by Nuri Said, Faisal's comrade-in-arms and a long-time prime minister. In the summer of 1936, Said sought to convince Palestine's Arab and Jewish communities, as well as the British government, to agree to the country's incorporation into a pan-Arab federation, and six years later, he published a detailed plan for pan-Arab unification (known as the Blue Book) that envisaged that "Syria, Lebanon, Palestine, and Transjordan shall be reunited into one state."[3]
The scheme was vigorously opposed by Abdullah, who strove to transform the emirate of Transjordan (latterly Jordan), which he had ruled since 1921, into a springboard for the creation of a "Greater Syrian" empire comprising Syria, Palestine, and possibly, Iraq and Saudi Arabia; and it was the Arab states' determination to block this ambition and to avail themselves of whatever parts of Palestine they could that underlay the concerted attempt to destroy the state of Israel at birth. This, on the face of it, was a shining demonstration of pan-Arab solidarity; in reality, it was a scramble for Palestinian territory in the classic imperialist tradition. As Arab League secretary-general Abdel Rahman Azzam admitted to a British reporter, Abdullah "was to swallow up the central hill regions of Palestine with access to the Mediterranean at Gaza. The Egyptians would get the Negev. [The] Galilee would go to Syria, except that the coastal part as far as Acre would be added to Lebanon if its inhabitants opted for it by a referendum [i.e., the inhabitants of the said coastal strip]."[4]
Had Israel lost the war, its territory would have been divided among the invading Arab forces. The name Palestine would have vanished into the dustbin of history. By surviving the pan-Arab assault, Israel has paradoxically saved the Palestinian national movement from complete oblivion.
Manipulating the Palestinian Cause
Having helped drive the Palestinians to national ruin, the Arab states continued to manipulate the Palestinian national cause to their own ends. Neither Egypt nor Jordan allowed Palestinian self-determination in the parts of Palestine they occupied during the 1948 war. Upon occupying the biblical lands of Judea and Samaria, Abdullah moved to erase all traces of corporate Palestinian Arab identity. On April 4, 1950, the territory was formally annexed to Jordan to be subsequently known as the "West Bank" of the Hashemite kingdom of Jordan. Its residents became Jordanian citizens, and they were increasingly integrated into the kingdom's economic, political, and social structures. And while Egypt showed no desire to annex the occupied Gaza Strip, this did not imply support of Palestinian nationalism or of any sort of collective political awareness among the Palestinians. The refugees were kept under oppressive military rule, were denied Egyptian citizenship, and were subjected to severe restrictions on travel. "The Palestinians are useful to the Arab states as they are," President Gamal Abdel Nasser candidly responded to an enquiring Western reporter. "We will always see that they do not become too powerful. Can you imagine yet another nation on the shores of the eastern Mediterranean!"[5] Had these territories not come under Israel's control during the June 1967 war, their populations would have lost whatever vestiges of Palestinian identity they retained since 1948. For the second time in two decades, Israel unwittingly salvaged the Palestinian national cause.
Nor was Syria more sympathetic to the idea of Palestinian statehood. During his brief presidency (April-August 1949), Husni Zaim proposed the resettlement of Palestinian refugees in Syria in return for financial and political gain while Hafez Assad (1970-2000), who as late as September 1974 described Palestine as "a basic part of southern Syria,"[6] was a persistent obstacle to Palestinian self-determination. He pledged allegiance to any solution amenable to the Palestine Liberation Organization (PLO)—appointed by the Arab League in October 1974 as the "sole legitimate representative of the Palestinian people"—so long as it did not deviate from the Syrian line advocating Israel's destruction. Yet when in November 1988, the PLO pretended to accept the November 1947 partition resolution (and by implication to recognize Israel's existence) so as to end its ostracism by the United States,[7] Syria immediately opposed the move. The PLO then took this pretense a step further by signing the September 1993 Declaration of Principles on Interim Self-government Arrangements (DOP) with Israel. This provided for Palestinian self-rule in the entire West Bank and Gaza Strip for a transitional period of up to five years, during which Israel and the Palestinians would negotiate a permanent peace settlement. But the Syrian regime strongly condemned the declaration while the Damascus-based Palestinian terrorist, Ahmad Jibril, threatened PLO chairman Yasser Arafat with death.
A no less instrumental approach was exhibited by Saddam Hussein, another self-styled pan-Arab champion whose professed allegiance to the Palestinian cause was matched by a long history of treating that cause with indifference, if not outright hostility. Saddam stood firmly against Iraqi intervention to aid the Palestinians in Jordan during the "Black September" of 1970 and subsequently sought to exclude Palestinians from coming to work in Iraq's booming, oil-rich economy. Though a vociferous critic of Egypt's Anwar Sadat for reaching a separate peace with Israel in 1979, Saddam quickly reconsidered when he needed Egyptian military aid in his war against Iran (1980-88), toiling tirelessly for Cairo's readmission into the Arab fold. Nor was Saddam deterred from collaborating with Israel against Syrian interests in Lebanon (to punish Assad for his support of Tehran in its war against Baghdad), or from seeking sophisticated Israeli military equipment.[8] In 1984, at a time of pressure due to the war with Iran, he went so far as to voice public support for peace negotiations with the Jewish state, emphasizing that "no Arab leader looks forward to the destruction of Israel" and that any solution to the conflict would require "the existence of a secure state for the Israelis."[9]
This support, to be sure, did not prevent Saddam from attempting to link his August 1990 invasion of Kuwait to the Palestine problem. During the months of negotiations with the Kuwaitis before the invasion, Saddam made no mention of Palestine. Once confronted with a firm international response, he immediately opted to "Zionize" the crisis by portraying his predatory move as the first step toward "the liberation of Jerusalem." But this pretense made no impression whatsoever on most Arab states, which dismissed the spurious link as the ploy it obviously was and fought alongside the West to liberate Kuwait.
Nor did the anti-Iraq coalition collapse when Saddam, in a desperate bid to widen the conflict, fired thirty-nine Scud missiles at Israel—a move cheered by the Palestinians and by demonstrators in marginal states such as Yemen but otherwise greeted with conspicuous calm by the proverbially restive "Arab street." Not a single Arab regime was swept from power following its participation in the war, with the war even producing an ad hoc tacit alliance between Israel and the Arab members of the anti-Saddam coalition: Israel kept the lowest possible profile, eschewing retaliation for Iraq's missile attacks while the latter highlighted the hollowness of Saddam's pan-Arab pretenses by sustaining the war operations against Baghdad.[10]
If anything, it was the Palestinians who paid a heavy price for their entanglement in the conflict as the PLO's endorsement of the Iraqi occupation led to its ostracism by the Arab world and the postwar expulsion of most of the 400,000 Palestinians who had been living and working in Kuwait.[11] So much for pan-Arab solidarity with "the sole representative of the Palestinian people."
Unwanted Guests
The political manipulation of the Palestinian cause was mirrored by the dismal treatment of the Palestinian refugees based in Arab states since the 1948 war. Far from being welcomed, the new arrivals were seen as an unpatriotic and cowardly lot who had shamefully abdicated their national duty while expecting others to fight on their behalf, and this attitude was entrenched and institutionalized over time. Yet with their desire to offload their Palestinian guests matched by the lingering dream of Israel's destruction, the Arab states as well as the Palestinian leadership rejected U.N. General Assembly resolution 194 of December 11, 1948, which conditioned repatriation on the attainment of comprehensive peace and partial refugee resettlement in the host Arab states.[12] The resolution's subsequent transformation into the cornerstone of an utterly spurious claim to a "right of return" has only served to perpetuate the refugee problem as the Arab states used this "right" as a pretext to prevent Palestinian assimilation into their societies in anticipation of their eventual return to their homeland.
Nowhere has this state of affairs been more starkly illustrated than in Lebanon, the most liberal Arab state up until the mid-1970s. Fearful lest the burgeoning and increasingly radicalized Palestinian population (which grew from 100,000 in 1948 to about 500,000 in 2012)[13] undermine the country's fragile confessional edifice, the authorities barred its incorporation into Lebanon's social, political, and economic structures. As a result, the vast majority of Palestinians have remained stateless refugees with more than half living in abject poverty in twelve squalid and overcrowded camps (another five camps were destroyed during the Lebanese civil war of 1975-90), administered by the U.N. Relief and Works Agency for Palestine Refugees in the Near East (UNRWA), created in 1949 for the exclusive relief of Palestinian Arab refugees.[14]
Camp residents or not, Lebanese Palestinians have been excluded from numerous walks of life and spheres of activity due to their alien status; and unlike other foreign residents who can evade this discrimination by virtue of their countries' reciprocity treaties with Lebanon, the stateless Palestinians can claim no such rights and have consequently been singled out for distinct mistreatment including severe restrictions on travel, property ownership, and ability to work. For decades, they were barred by government decree from more than seventy professions, from doorkeepers, to mechanics, to file clerks, to schoolteachers, to personnel managers; and while the ministry of labor lifted the ban on fifty professions in June 2005, the actual application of this measure has been haphazard at best. Likewise, only 2 percent of Palestinians took advantage of the August 2010 legislation aimed at improving their access to the official labor market and the social security benefit system with Lebanese law still barring Palestinians from at least twenty-five professions requiring syndicated membership (such as law, medicine, and engineering) and discriminating against their work and social conditions (e.g., Palestinians are underpaid in comparison to Lebanese workers for performing the same jobs and overpay for their pensions). Palestinian refugees are still prevented from registering property in accordance with a discriminatory 2001 law.[15]
While Lebanon may offer the starkest example of abuse, nowhere in the Arab world have the Palestinians been treated like "brothers." In accordance with Arab League resolutions, all Arab states reject naturalization and/or resettlement as solutions to the refugee problem and refuse as a matter of principle to contribute to UNRWA's budget or to assume responsibility for any of its functions; and all restrict the freedom of movement of their Palestinian residents as well as their property rights and access to such government services as health, education, and social benefits.[16] When in 2004 Saudi Arabia revised its naturalization law allowing foreigners who had resided in its territory for ten years to apply for citizenship, the estimated 500,000 Palestinians living and working in the kingdom were conspicuously excluded. The pretext: the Arab League's stipulation that Palestinians living in Arab countries be denied citizenship to avoid dissolution of their identity and protect their "right to return" to their homeland.[17]
Even in Jordan, where most Palestinians have been naturalized and incorporated into the country's fabric, they remain largely marginalized and discriminated against. Between 1949 and 1967, when Jordan was in control of the West Bank, some 250,000-500,000 Palestinians moved across to the East Bank or migrated abroad in search of a better life. But even East Bank Palestinians have been subjected to systematic discrimination. They pay much heavier taxes than their Bedouin compatriots; they receive close to zero state benefits; they are almost completely shut out of government jobs, and they have very little, if any, political representation: Not one of Jordan's twelve governorships is headed by a Palestinian, and the number of Palestinian parliamentarians is disproportionately low.[18]
The situation is further exacerbated by the fact that more than two million Palestinians, most of whom have full Jordanian citizenship, are registered as UNRWA refugees with some 370,000 living in ten recognized camps throughout the country.[19] This has in turn resulted in the perception of the kingdom's entire Palestinian population as refugees who would eventually depart to implement their "right of return."[20]
This outlook can be traced to the founding of the Palestine Liberation Organization (PLO) in 1964, which quickly challenged Jordan as the focus of Palestinian national identity. The situation came to a head in the autumn of 1970 with the organization's attempt to overthrow the Hashemite dynasty. This forced King Hussein to drive the PLO out of the country, gaining traction in July 1988 when hundreds of thousands of West Bankers lost their Jordanian citizenship as a result of the king's severance of "administrative and legal ties" with the territory. After the signing of the DOP and the July 1994 Jordanian-Israeli peace treaty, the process shifted to the East Bank where thousands of Palestinians were stripped of their Jordanian citizenship.[21] "For East Bankers, the right of return is often held up as the panacea which will recreate Jordan's Bedouin or Hashemite identity," read a 2008 confidential memo by the U.S. ambassador to Amman:
At their most benign, our East Banker contacts tend to count on the right of return as a solution to Jordan's social, political, and economic woes. But underlying many conversations with East Bankers is the theory that once the Palestinians leave, "real" Jordanians can have their country back … In fact, many of our East Banker contacts do seem more excited about the return [read: departure] of Palestinian refugees than the Palestinians themselves.[22]
Brotherly Massacres
Not only have the host Arab states marginalized and abused their Palestinian guests, but they have not shrunk from massacring them on a grand scale whenever this suited their needs. When in 1970 his throne was endangered by the Palestinian guerilla organizations, the affable and thoroughly Westernized King Hussein slaughtered thousands of Palestinians during a single month, now known as "Black September." Fearing certain death, scores of Palestinian fighters fled their Jordanian "brothers" to surrender themselves to the Israeli Defense Forces (IDF). Civilian casualties were exorbitant with estimates ranging from three thousand to fifteen thousand dead—higher than the Palestinian death toll in the 1948 war.[23]
In the summer of 1976, Lebanese Christian militias, backed by the Syrian army, massacred some 3,500 Palestinians, mostly civilians, in the Beirut refugee camp of Tel Zaatar. Six years later, these very militias slaughtered hundreds of Palestinians in the refugee camps of Sabra and Shatila, this time under the IDF's watchful eye. None of the Arab states came to the Palestinians' rescue.
When in 1983 the PLO tried to reestablish its military presence in Lebanon, having been driven out the previous year by Israel, it was unceremoniously expelled by the Syrian government, which went on to instigate an internecine war among the Palestinian factions in Lebanon that raged for years and cost an untold number of lives. So much so that Salah Khalaf (aka Abu Iyad), the number two man in the PLO, accused Damascus of committing worse crimes against the Palestinian people than "those of the Israeli enemy."[24]
In the summer of 2007, the Lebanese army killed hundreds of Palestinians, including many civilians, in the north Lebanese refugee camp of Nahr al-Bared, inflicting widespread environmental damage and driving some 30,000 persons to seek refuge in a nearby camp.[25]
Thousands of Palestinians have been killed in the ongoing Syrian civil war, and tens of thousands have fled the country with refugee camps subjected to military attacks and prolonged sieges that reduced their inhabitants to destitution and starvation. The large Yarmuk camp south of Damascus, once home to some 250,000 Palestinians, including 150,000 officially registered refugees, is now "nothing but ruins, and houses only around 18,000 residents who couldn't escape to Lebanon, Jordan, or elsewhere."[26]
Brotherly Nakba
Much has been made of the Palestinian exodus of 1948, but during their decades of dispersal, the Palestinians have been subjected to similarly traumatic ordeals at the hands of their Arab brothers. As early as the 1950s, the Arab gulf states expelled striking Palestinian workers while the Black September events led to the expulsion of some 20,000 Palestinians from Jordan and the demolition of their camps.[27] And this tragedy pales in comparison with the eviction of most of Kuwait's 400,000 Palestinians after the 1991 Kuwait war. "What Kuwait did to the Palestinian people is worse than what has been done by Israel to Palestinians in the occupied territories," Arafat lamented, as if it were not the PLO's endorsement of Iraq's brutal occupation (August 1990-February 1991) that triggered this deadly retribution.[28]
It mattered not that this community had nothing to do with the PLO's reckless move. Within months of the country's liberation, only 50,000-80,000 Palestinians remained in the emirate, and by the end of the year, the number had dwindled to some 30,000. Most of these were holders of Egyptian travel documents, originally from Gaza; they were unable to obtain visas to anywhere in the world, including Egypt, the governing power in their homeland at the time when they left for the gulf. By contrast, as noted in The Palestine Yearbook of International Law, "Israel generally placed no obstacles on the post-war return to the territories of Palestinian families from the West Bank," repatriating some 30,000 West Bankers and 7,000 Gazans with valid Israeli identity cards who had been living and working in Kuwait and Saudi Arabia.[29]
No sooner had the dust settled on the Kuwait exodus than the Palestinians experienced yet another expulsion, this time from Libya. In a speech on September 1, 1995, as Israel was about to surrender control of the Palestinian populated areas in the West Bank to Arafat's Palestinian Authority (control of the Gaza population had been surrendered the previous year), Mu'ammar al-Qaddafi announced his intention to expel all Palestinians living and working in the country, urging the Arab states to follow his lead so as to expose the hollowness of the Palestinian-Israeli peace process. He argued,
Since the Palestinian leaders claim they have now got a homeland and a passport, let the 30,000 Palestinians in Libya go back to their homeland, and let's see if the Israelis would permit them to return. That's how the world will find out that the peace it's been advocating is no more than treachery and a conspiracy.[30]
While no Arab state took up Qaddafi's advice and some implored him to rescind his decision, none opened their doors to the deportees. Lebanon denied entry to several thousand arrivals without Lebanese travel documents and banned maritime transport from Libya to preempt the possible flow of deportees while Egypt allowed Palestinians with Israeli permits for entry to Gaza or the West Bank to cross its territory—under escort—to the Palestinian-ruled areas, leaving thousands of hapless refugees stranded in the Egyptian desert for months. Holders of residence permits elsewhere were gradually able to move out; the rest were eventually allowed to remain in Libya when Qaddafi rescinded his decision in early 1997.[31]
Last but not least, the toppling of Saddam Hussein in April 2003 unleashed a tidal wave of violence and terror against Iraq's 34,000-strong Palestinian community, driving some 21,000 people to flee the country in fear for their lives. Yet far from protecting their long time "guests," the internationally-propped Iraqi government was implicated in the arbitrary detention, torture, killing, and disappearance of Palestinians while none of the neighboring Arab states (with rare, temporary exceptions) opened their doors to fleeing Iraqi Palestinians. "It's hard to understand why Syria has provided refuge to nearly a million Iraqi refugees but is shutting the door on hundreds of Palestinians also fleeing Iraq," commented a leading human rights watchdog. "The Syrian government's mistreatment of these Palestinian refugees contrasts sharply with its declarations of solidarity with the Palestinian people."[32] A few years later the same watchdog was voicing the same grievance vis-à-vis the Lebanese government for preventing Palestinian refugees fleeing the Syrian civil war from entering its territory.[33]
No Love Lost
In fairness to the Arab states, their animosity and distrust were more than reciprocated by the Palestinians. As early as the 1948 war, the pan-Arab volunteer force that entered Palestine to fight the Jews found itself at loggerheads with the community it was supposed to defend. Denunciations and violent clashes were common with the local population often refusing to provide the Arab Liberation Army, as this force was ambitiously named, with the basic necessities for daily upkeep and military operations; for their part, Arab army personnel abused their Palestinian hosts of whom they were openly contemptuous.
This mutual animosity was greatly exacerbated in subsequent decades by the recklessness of the Palestinian leadership, headed from the mid-1960s to November 2004 by Arafat, which turned on Arab host societies whenever given the opportunity. As noted above, it was the PLO's subversive activities against the Jordanian regime that set in train the chain of events culminating in the Black September massacres. Likewise, the PLO's abuse of its growing power base in Lebanon, where it established itself after its expulsion from Jordan, and its meddling in that country's internal politics, helped trigger the Lebanese civil war that raged for nearly two decades and cost hundreds of thousands of lives.
"I remember literally screaming at him in my own house," the Palestinian academic Walid Khalidi, then based in Beirut, said, recalling his desperate attempt to dissuade Arafat from taking sides in the nascent civil war. "I was really very angry because it just didn't make sense for him to say that. I told him that we as Palestinians had no business calling for the ostracism of the Phalangists, and that it would drive them all the way into the hands of the Israelis."[34] This point was not lost on ordinary Palestinians, who often blamed Arafat for their Lebanese misfortunes. When in summer 1976 the PLO chairman visited survivors of the Tel Zaatar massacre, he was treated to a barrage of rotten vegetables and chants of "traitor" by the embittered refugees who accused him of provoking the camp's blood-drenched fall.[35]
This political meddling was accompanied by wanton violence wreaked by the PLO on its host society. In a repeat of their Jordanian lawlessness, Palestinian guerrillas turned the vibrant and thriving Lebanese state, whose capital of Beirut was acclaimed as the "Paris of the Middle East," into a hotbed of violence and anarchy. Several districts of Beirut and the refugee camps came under exclusive Palestinian control, so much so that they became generally known as the Fakhani Republic, after the Beirut district in which Arafat had set up his headquarters. Substantial parts of southern Lebanon or "Fatahland" also were under Palestinian control. In flagrant violation of Lebanese sovereignty, the PLO set up roadblocks, took over buildings and drove out local residents, operated extortion rackets, protected criminals fleeing from Lebanese justice, and committed countless atrocities against Lebanese civilians, notably the January 1976 massacre of hundreds of residents of the Christian town of Damour, south of Beirut, and the expulsion of the remaining population.[36]
Conclusion
Self-serving interventionism under the pretence of pan-Arab solidarity has transformed the bilateral Palestinian-Israeli dispute into a multilateral Arab-Israeli conflict, thereby stirring unrealistic hopes and expectations in Palestinian political circles and, at key junctures, inciting widespread and horrifically destructive violence. The consequence has been to increase the intensity of the conflict and make its resolution far more complex and tortuous, leaving the Palestinians stateless for over six-and-a-half decades.
The sooner the Palestinians reject this spurious link and recognize that their cause is theirs alone, the sooner are they likely to make their own peace with the existence of the Jewish state—as stipulated by the 1947 partition resolution—and win their own state at long last despite their Arab "brothers."
[1] Walid Khalidi, "Thinking the Unthinkable: A Sovereign Palestinian State," Foreign Affairs, July 1978, pp. 695-6; Hisham Sharabi, Nationalism and Revolution in the Arab World (New York: Van Nostrand Reinhold Company, 1966), p. 3.
[2] Walter Laqueur, ed., The Israel-Arab Reader (Harmondsworth: Penguin, 1970), p. 37.
[3] Gen. Nuri Said, Arab Independence and Unity: A Note on the Arab Cause with Particular Reference to Palestine, and Suggestions for a Permanent Settlement to which Are Attached Texts of All the Relevant Documents (Baghdad: Government Press, 1943), p. 11.
[4] "Interview [by] Clare Hollingowith with Azzam Pasha, Mar. 23, 1948, S25/9020"; see, also, "Fortnightly Intelligence Newsletter No. 57," issued by HQ British Troops in Palestine for the period 6 Dec.-18 Dec. 1947, WO 275/64, p. 2; Cunningham to Creech Jones, Feb. 24, 1948, "Cunningham Papers," VI/1/80; Kirkbride to Bevin, Dec. 23, 1947, FO 371/61583; Musa Alami, "The Lesson of Palestine," Middle East Journal, Oct. 1949, p. 385.
[5] John Laffin, The PLO Connections (London: Corgi Books, 1983), p. 127.
[6] Damascus Radio, Mar. 8, 1974.
[7] Palestinians leaders went out of their way to reassure their constituents that this was merely a tactical ploy aimed at enhancing the PLO's international standing and, as a result, its ability to achieve the ultimate goal of Israel's destruction: "We vowed to liberate Palestine before 1967," stated Abu Iyad, Yasser Arafat's second in command. "We will restore Palestine step by step and not in one fell swoop, just as the Jews had done." He reiterated this pledge a few days later: "The establishment of a Palestinian state on any part of Palestine is but a step toward the [liberation of the] whole of Palestine." Al-Anba (Kuwait), Dec. 5, 13, 1988.
[8] Davar (Tel Aviv), Nov. 12, 1987; Hadashot (Tel Aviv), Nov. 13, 15, 1987.
[9] International Herald Tribune (Paris), Nov. 27, Dec. 5, 1984.
[10] For further discussion of this issue, see Efraim Karsh and Inari Rautsi, Saddam Hussein: A Political Biography (New York: Grove, 2003; rev. and updated ed.); Lawrence Freedman and Efraim Karsh, The Gulf Conflict 1990-1991: Diplomacy and War in the New World Order (Princeton: Princeton University Press, 1993).
[11] The New York Times, Mar. 16, 1991; "A New Beginning," US News & World Report, Sept. 13, 1993.
[12] "194 (III). Palestine – Progress Report of the United Nations Mediator," U.N. General Assembly, New York, Dec. 11, 1948, art. 11; "393 (v) – Assistance to Palestine Refugees," idem, Dec. 2, 1950, art. 4; "Special report of the Director and Advisory Commission of the United Nations Relief and Works Agency for Palestine Refugees in the Near East," idem, Nov. 29, 1951, A/1905/Add. 1, p. 4. For Arab rejection of res. 194, see "Arab Broadcasts: Daily Summary," Israeli Foreign Office, Middle Eastern Dept., no. 36, Sept. 12-13, 1948; Hagana Archive (Tel Aviv), HA 105/88, p. 153; "Arabs Firm on Refugees," The New York Times, Sept. 9, 1948; British Middle East Office (Cairo) to Foreign Office, Sept. 11, 1948, FO 371/68341; Davar, Aug. 8, 1948; al-Masri (Cairo), Oct. 11, 1948, quoted in "Refugee Repatriation—A Danger to Israel's security," Israeli Foreign Ministry, Research Dept., Sept. 4, 1951, FM 2564/1.
[13] "Where We Work – Lebanon," UNRWA, New York, accessed Dec. 8, 2013; "Exiled and Suffering: Palestinian Refugees in Lebanon," Amnesty International, London, Oct. 2007, pp. 2, 10; Julie Peteet, "From Refugees to Minority: Palestinians in Post-War Lebanon," Middle East Report, July-Sept. 1996, p. 29.
[14] Lena El-Malak, "Betrayed and Forgotten: Palestinians Refugees in Lebanon," Yearbook of Islamic and Middle Eastern Law, vol. 9, 2002-03, pp. 136-7; Souheil al-Natour, "The Legal Status of Palestinians in Lebanon," Journal of Refugee Studies, no. 3, 1997, pp. 360-77.
[15] "Palestinians in Lebanon working under precarious conditions," International Labor Organization, Geneva, Nov. 20, 2012; World Report 2010: Lebanon, World Report 2011: Lebanon, World Report 2013: Lebanon, Human Rights Watch, New York; "Exiled and Suffering," Amnesty International, London, pp. 18-22.
[16] See, for example, "Recommendations by the Committee of Arab Experts in Reply to the Proposals by the U.N. Secretary-General Regarding the Continuation of U.N. Assistance to the Palestine Refugee" (Sofar, Leb.), Aug. 17, 1959, in Muhammad Khalil, The Arab States and the Arab League: A Documentary Record (Beirut: Khayat, 1962), vol. 2, pp. 654-5; Abbas Shiblak, "Residency Status and Civil Rights of Palestinian Refugees in Arab Countries," Journal of Palestine Studies, Spring 1996, pp. 36-45.
[17] P.K. Abdul Gharfour, "A Million Expatriates to Benefit from New Citizenship Law," Arab News (Riyadh), Oct. 21, 2004.
[18] Moshe Efrat, "Haplitim Hapalestinaim 1949-74: Mehkar Kalkali Vehevrati" (Tel Aviv: Tel Aviv University, Horowitz Center for the Study of Developing Countries, Sept. 1976), pp. 22-3; Don Peretz, Palestinian Refugees and the Middle East Peace Process (Washington, D.C.: United States Institute of Peace Press, 1993), pp. 49-50; Mudar Zahran, "Jordan Is Palestinian," Middle East Quarterly, Winter 2012, pp. 3-12.
[19] "Where We Work: Jordan," UNRWA. Figures as of Jan. 1, 2012.
[20] "World Directory of Minorities and Indigenous Peoples – Jordan: Palestinians, 2008," Minority Rights Group International, London, accessed Feb. 3, 2014.
[21] Laurie A. Brand, "Palestinians and Jordanians: A Crisis of Identity," Journal of Palestine Studies, Summer 1995, pp. 46-61; "Stateless Again: Palestinian-Origin Jordanians Deprived of Their Nationality," Human Rights Watch, New York, Feb. 1, 2010; "Jordan: Stop Withdrawing Nationality from Palestinian-Origin Citizens," Human Rights Watch, Feb. 1, 2010.
[22] U.S. Ambassador to Jordan David Hale, "Confidential Memo on the Debate in Jordan Concerning the Palestinian Right of Return, Amman, Feb. 5, 2008," Journal of Palestine Studies, Winter 2012, pp. 220, 222.
[23] Said Aburish, Arafat: From Defender to Dictator (London: Bloomsbury, 1998), p. 114.
[24] Al-Majallah (London), Nov. 26, 1983.
[25] "Exiled and suffering," Amnesty International, London, pp. 5-6.
[26] Ramzy Baroud, "Starving to Death in Syria," al-Ahram (Cairo), Jan. 9-15, 2014; The Jerusalem Post, Dec. 19, 2013; Haaretz (Tel Aviv), Jan. 2, 2014; The Guardian (London), Dec. 12, 2012.
[27] "From Badil Refugee Survey 2008-2009: Secondary Forced Displacement in Host Countries – An Overview," BADIL Resource Center for Palestinian Residency and Refugee Rights, Bethlehem, Summer-Autumn 2010.
[28] Al-Musawwar (Cairo), Nov. 15, 1991.
[29] "Nowhere to Go: The Tragedy of the Remaining Palestinian Families in Kuwait," Human Rights Watch, Middle East Watch, Oct. 23, 1991, reprinted in The Palestine Yearbook of International Law, vol. 6, 1990-91, pp. 99-102; Steven J. Rosen, "Kuwait Expels Thousands of Palestinians," Middle East Quarterly, Fall 2012, pp. 75-83; Ann M. Lesch, "Palestinians in Kuwait," Journal of Palestine Studies, Summer 1991, pp. 47-53.
[30] The Baltimore Sun, Sept. 14, 1995; The New York Times, Oct. 5, 1995.
[31] Abbas Shiblak, "A Time of Hardship and Agony: Palestinian Refugees in Libya," Palestine-Israel Journal, no. 4, 1995; "The Palestinian Crisis in Libya, 1994-1996 (Interview with Professor Bassem Sirhan)," Forced Secondary Displacement: Palestinian Refugees in the Gaza Strip, Iraq, Jordan, and Libya, BADIL Resource Center for Palestinian Residency and Refugee Rights, Bethlehem, Winter 2010.
[32] "Syria: Give Refuge to Palestinians Fleeing Threats in Iraq," Human Rights Watch, Feb. 2, 2007.
[33] "Nowhere to Flee: The Perilous Situation of Palestinians in Iraq," Human Rights Watch, New York, Sept. 2006; "Syria: Give Refuge to Palestinians Fleeing Threats in Iraq," idem, Feb. 2, 2007; "Lebanon: Palestinians Fleeing Syria Denied Entry," idem, Aug. 8, 2013.
[34] Andrew Gowers and Tony Walker, Arafat: The Biography (London: Virgin, 1994), pp. 186, 200.
[35] Robert Fisk, Pity the Nation: Lebanon at War (Oxford: Oxford University Press, 1992), pp. 86, 102.
[36] Aburish, Arafat, p. 151.
What is the public sphere today in Turkey?
The concept of public sphere, which was started to be examined in Europe in the 1960s, has different meanings according to different perspectives, as a definite definition cannot be made today, and this situation creates important discussion topics about the use of such spaces.
Long debated the definition of public space in Europe, in Turkey also began to affect 1980"l year. After the 1980 coup, some communities, which were kept out of sight, fearing that the Republic project would be harmed, demanded the recognition of their ethnic and cultural identities. Thus the concept of the public sphere in Turkey, especially since the early 1990s to be addressed in various academic publications, use and began to discuss political issues.
Especially in the past years, the public sphere debates on the headscarf issue were discussed from various angles. The debate started with Prime Minister Erdogan's criticism of President Ahmet Necdet Sezer, who did not invite his wife to a NATO dinner, saying "Dolmabahçe is not a public space", and the President of the Council of Higher Education, Prof.Dr. Erdoğan Teziç; He responded by emphasizing that the public sphere is not a " geographical definition " but a functional concept.
Before defining the public sphere, the understanding that shows that the definition of space in the Ottoman Empire was shaped as less private, private, very private and very very private is still one of the biggest reasons for the definition of the public sphere. While expressing, it reminds that he entered the Ottoman literature in a different way in the 19th century. Thinkers who indicate the association of the public sphere with the state in general express it as the sphere that is related to the state, not the "public". "When you say 'public', the state comes to mind immediately; We mean something like government administration, its organs, organizations, officials, or activities, an official domain that is owned or run under state control. However, as Habermas said, the public sphere is above all the sphere in which the public opinion is formed in our social life ".
As citizens of the city, we observe that some projects have spread to the spaces defined as public space due to the fact that today's public space and public space concepts have not been defined precisely and construction activities have increased due to the anxiety of rent.
Erdogan's Calamitous Authoritarianism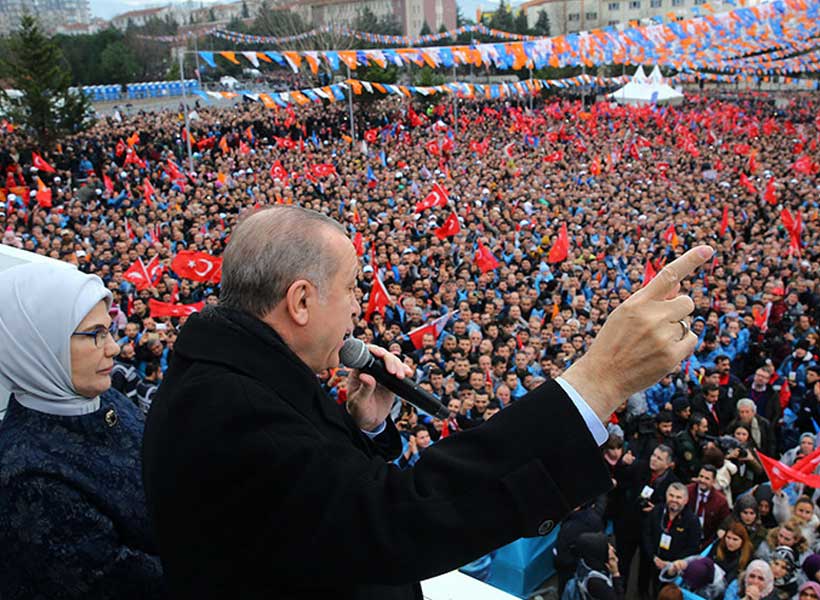 Turkey's President Erdogan is becoming ever more dangerous as he continues to ravage his own country and destabilize scores of states in the Middle East, the Balkans, and North Africa, while cozying up to the West's foremost advisories. Sadly, there seems to be no appetite for most EU member states to challenge Erdogan and put him on notice that he can no longer pursue his authoritarianism at home and his adventurous meddling abroad with impunity.
To understand the severity of Erdogan's actions and ambitions and their dire implications, it suffices to quote Ahmet Davutoglu, formerly one of Erdogan's closest associates who served as Minister of Foreign Affairs and subsequently Prime Minister. Following his forced resignation in May 2016 he stated "I will sustain my faithful relationship with our president until my last breath. No one has ever heard — and will ever hear — a single word against our president come from my mouth."
Yet on October 12, Davutoglu declared "Erdogan left his friends who struggled and fought with him in exchange for the symbols of ancient Turkey, and he is trying to hold us back now…. You yourself [Erdogan] are the calamity. The biggest calamity that befell this people is the regime that turned the country into a disastrous family business."
The stunning departure of Davutoglu from his earlier statement shows how desperate conditions have become, and echoed how far and how dangerously Erdogan has gone. Erdogan has inflicted a great calamity on his own people, and his blind ambition outside Turkey is destabilizing many countries while dangerously undermining Turkey's and its Western allies' national security and strategic interests.
A brief synopsis of Erdogan's criminal domestic practices and his foreign misadventures tell the whole story.
Domestically, he incarcerated tens of thousands of innocent citizens on bogus charges, including hundreds of journalists. Meanwhile he is pressuring the courts to send people to prison for insulting him, as no one can even express their thoughts about this ruthlessness. Internationally, Erdogan ordered Turkish intelligence operatives to kill or smuggle back to the country Turkish citizens affiliated with the Gülen movement.
He regularly cracks down on Turkey's Kurdish minority, preventing them from living a normal life in accordance with their culture, language, and traditions, even though they have been and continue to be loyal Turkish citizens. There is no solution to the conflict except political, as former Foreign Minister Ali Babacan adamantly stated on October 20: "… a solution [to the Kurdish issue] will be political and we will defend democracy persistently."
Erdogan refuses to accept the law of the sea convention that gives countries, including Cyprus, the right to an Exclusive Economic Zone (EEZ) for energy exploration, while threatening the use of force against Greece, another NATO member no less. He openly sent a research ship to the region for oil and gas deposits, which EU foreign policy chief Josep Borrell called "extremely worrying."
He invaded Syria with Trump's blessing to prevent the Syrian Kurds from establishing autonomous rule, under the pretext of fighting the PKK and the YPG (the Syrian Kurdish militia that fought side-by-side the US, and whom Erdogan falsely accuses of being a terrorist group).
He is sending weapons to the Sunni in northern Lebanon while setting up a branch of the Turkish Cooperation and Coordination Agency (TIKA) in the country—a practice Erdogan has used often to gain a broader foothold in countries where it has an interest.
While the Turkish economy is in tatters, he is investing hundreds of millions of dollars in the Balkans, flooding countries with Turkish imams to spread his Islamic gospel and to ensure their place in his neo-Ottoman orbit. Criticizing Erdogan's economic leadership, Babacan put it succinctly when he said this month that "It is not possible in Turkey for the economic or financial system to continue, or political legitimacy hold up."
Erdogan is corrupt to the bone. He conveniently appointed his son-in-law as Finance Minister, which allows him to hoard tens of millions of dollars, as Davutoglu slyly pointed out: "The only accusation against me…is the transfer of land to an educational institution over which I have no personal rights and which I cannot leave to my daughter, my son, my son-in-law or my daughter-in-law."
Erdogan is backing Azerbaijan in its dispute with Armenia (backed by Iran) over the breakaway territory of Nagorno-Karabakh, which is inhabited by ethnic Armenians and has been the subject of dispute for over 30 years.
He is exploiting Libya's civil strife by providing the Government of National Accord (GNA) with drones and military equipment to help Tripoli gain the upper hand in its battle against Khalifa Haftar's forces. Former Foreign Minister Yasar Yakis said in February 2020 that "The unclear Turkish foreign policy by Erdogan may put Turkey in grave danger due to this expansion towards Libya."
He is meddling in the Israeli-Palestinian conflict in an effort to prevent them from settling their dispute unless Israel meets Palestinian demands. He granted several Hamas officials Turkish citizenship to spite Israel, even though Hamas openly calls for Israel's destruction.
He betrayed NATO by buying the Russian-made S-400 air defense system, which seriously compromises the alliance's technology and intelligence.
He is destabilizing many countries, including Somalia, Qatar, Libya, and Syria, by dispatching military forces and hardware while violating the air space of other countries like Iraq, Cyprus, and Greece. Yakis said Turkey is engaging in a "highly daring bet where the risks of failure are enormous."
Erdogan supports extremist Islamist groups such as the Muslim Brotherhood and Hamas, and an assortment of jihadists, including ISIS, knowing full well that these groups are sworn enemies of the West—yet he uses them as a tool to promote his wicked Islamic agenda.
He regularly blackmails EU members, threatening to flood Europe with Syria refugees unless they support his foreign escapades such as his invasion of Syria, and provide him with billions in financial aid to cope with the Syrian refugees.
The question is how much more evidence does the EU need to act? A close look at Erdogan's conduct clearly illuminates his ultimate ambition to restore much of the Ottoman Empire's influence over the countries that were once under its control.
Erdogan is dangerous. He has cited Hitler as an example of an effective executive presidential system, and may seek to acquire nuclear weapons. It's time for the EU to wake up and take Erdogan's long-term agenda seriously, and take severe punitive measures to arrest his potentially calamitous behavior. Sadly, the EU has convinced itself that from a geostrategic perspective Turkey is critically important, which Erdogan is masterfully exploiting.
The EU must be prepared take a stand against Erdogan, with or without the US. Let's hope, though, that Joe Biden will be the next president and together with the EU warn Erdogan that his days of authoritarianism and foreign adventurism are over.
The views expressed are those of the author.
Syrian Refugees Have Become A Tool Of Duplicitous Politics
Since the beginning of the conflict in Syria the issue of Syrian refugees and internally displace has been the subject of countless articles and reports with international humanitarian organizations and countries involved in the Syrian conflict shifting responsibility for the plight of migrants.
The most notorious example of human suffering put against political games is the Rukban refugee camp located in eastern Syria inside the 55-km zone around Al-Tanf base controlled by the U.S. and its proxies.
According to official information, more than 50,000 people, mostly women and children, currently live in the camp. This is a huge number comparable to the population of a small town. The Syrian government, aware of the plight of people in Rukban, has repeatedly urged Washington to open a humanitarian corridor so that everyone can safely return home. However, all such proposals were ignored by the American side. U.S. also refuse to provide the camp with first aid items. Neighbouring Jordan is inactive, too, despite Rukban being the largest of dozens other temporary detention centres in Syria, where people eke out a meager existence.
At the same time, the problem is not only refugee camps. Syria has been at war for a decade. The country's economy has suffered greatly over this period, and many cities have been practically grazed to the ground. Moreover, the global coronavirus epidemic didn't spare Syria and drained the already weakened economy even more. However, Damascus' attempts of post-war reconstruction and economic recovery were undermined by multiple packages of severe sanctions imposed by the U.S. At the same time, U.S.-based human rights monitors and humanitarian organizations continue to weep over the Syrian citizens' misery.
The situation is the same for those refugees who stay in camps abroad, especially in countries bordering on Syria, particularly Jordan and Turkey. Ankara has been using Syrian citizens as a leverage against the European states in pursuit of political benefits for a long time. No one pays attention to the lives of people who are used as a change coin in big politics. This is equally true for Rukban where refugees are held in inhuman conditions and not allowed to return to their homeland. In those rare exceptions that they are able to leave, refugees have to pay large sums of money that most of those living in camp are not able to come by.
It's hard to predict how long the Syrian conflict will go on and when – or if – the American military will leave the Al-Tanf base. One thing can be said for sure: the kind of criminal inaction and disregard for humanitarian catastrophe witnessed in refugee camps is a humiliating failure of modern diplomacy and an unforgivable mistake for the international community. People shouldn't be a tool in the games of politicians.