From November 2013 to January 2014, Faculty of Social and Politics, University of Jayabaya (UJ), periodically conducted surveys related to the electability of the political parties and the presidential and vice-presidential candidates for the 2014 elections.
The results show that the electability of the Democratic Party and the Prosperous Justice Party (PKS) have been decreasing following corruption cases. The survey was conducted in 33 provinces by taking a sample of 1225 people which have the right to vote (aged 17 years and over. or not yet 17 years old but already married). The margin of error is + / – 2.8% and the confidence level is 95%. Population Data were collected through interviews withrespondents using techniques based on the questionnaire.
When asked whether the respondents still believe that the PKS is a "clean party", about 66% said "not sure". Only 15.7% of respondents believe that the PKS is still a "clean party", the rest (18.3%) did not know. When asked whether the party of which the cadres are most involved in corruption cases, as many as 67.3% of respondents mentioned the Democratic Party. PKS came in as distant second at 5.8% and has taken over from Golkar Party. which is now mentioned as third (5.2%). When I asked respondents, the party to be selected if elections wereheld today.only 6.9% would vote for the Democratic Party. Only 2.6% would vote for PKS, much lower than their result in 2009, which was 8%.
In terms of electability, the Golkar Party remained in the top position with 18.9%. When referring to the results of a survey of various other research institutions, Golkar's chance to win the 2014 election seems pretty open. The Golkar Party is still being followed by PDI-P with a rate of 16.8% electability. Gerindra, which in the 2009 elections ended in eighth place, according to my survey electability has now reached the level of 10.3% and is in third place.
The high electability of the Golkar Party is apparently inversely proportional to chairperson Aurizal Bakrie (ARB), which is in a fifth position as presidential candidate, at 8.7%. This is far below JokoWidodo (Jokowi) which ranks as the first public option among the most potential candidates (15,1 %).
Jokowi is a symbol of new hope for the people. He is simple, honest and populist. Jokowi is showing togetherness between the leaders and the led. "He is one of us". Jokowi quite successfully managed to bring himself to the public with a policy in which he often visits slums in Jakarta. If in the United States (U.S.) people were disappointed with the war on terrorism of President Bush and elected Barrack Obama, it is possible that if Jokowi steps forward as a 2014 presidential candidate, Indonesian people will chose him because of their disappointment overthe war on corruption under President SusiloBambangYudhoyono during the second period from 2009 to now.
On average, respondents said they agree that if Jokowi would run for the presidency, and would not be concerned if Jokowi did not finish the job until his term as Jakarta Governor until 2017. Only 26% of respondents would not agree. Jokowi, who is PD1-P cadre.also received support from other party voters. For example, 26% of Golkar voters would choose Jokowi, as would 33.5% of Democratic Party voters, 13.8% of Gerindra voters, 35.1% of Hanura voters, 35.1%, 26.7% of PAN voters and 59.5% of PKS voters. The passing away of MPR Chairman Taufik Kiemas of the PDI-P should open the possibilities for younger party cadre, such as Jokowi in order to get a maximum results. instead of proposing the older chairperson MegawatiSoekarnoputri as candidate.
PRABOWO SUBIANTO VS JOKOWI
Jokowi electability level surpasses its competitors. The nearest is only Prabowo Subianto (13,9%). If the 2014 presidential election took place in two rounds where Jokowi would go head to head with Prabowo. But Prabowo Subianto and Gerindra Party requires extra efforts to get support from other parties to form a coalition. For that he continued his guerrilla to garner support. Of whom he had met were Hatta Rajasa, Chairman of the PAN, and Susilo Bambang Yudhoyono, the Chairman of the Democratic Party (PD). He was also diligent in communicating with a number of leaders of other parties, including the PDI-P. As a presidential candidate, Prabowo fits the bill on a number of levels. He was Megawati's running mate in her unsuccessful 2009 campaign, and he will have learned much from that. His reputation feeds the belief that Indonesia needs a return to assertive leadership, while his association with the former first family strikes a chord among the cross section of Indonesians who feel let down by democracy and who harbour a genuine nostalgia for the Suharto era.
It would be very interesting if the two favored public figures then do not get tickets in contestation. Other figures will be born. The names that are under them will pop up, among them, Megawati, Bakrie, Hatta Rajasa, Dahlan Iskan, Mahfud MD, Jusuf Kalla, and so on. If that happens, a new candidate will emerge. Proponents of Jokowi and Prabowo Subianto will be disappointed, some will survive to follow the motion of the party, and others will move wildly following their own logic. The figures that follow PD convention will have an opportunities. Related to the Partai Demokrat's convention, State Minister for State Owned Enterprises, Dahlan Iskhan, still chairing the convention, followed by Pramono Edhi Wibowo, Gita Wirjawan, Anis Baswedan, and Dino Patti Djalal. It is very likely that Democratic Party will step down from their status of incumbent in the next general election of 2014. If their kept their position as the top 3, there will still be a chance to nominate their convention winner as presidential candidate – even though if they need to do a coalition with other parties. If not, then whoever picked as their candidate will only be feasible to be a potential vice president candidate.
Currently, the candidates are not dealing with incumbent or a candidate supported by the ruling party. Even the two names, Jokowi and Prabowo, come from the opposition party. There is excitement to correct public policy or seek a different atmosphere from the color of the current ruler. These two figures represent the antithesis of SBY. Jokowi is a rustic figures, common people, not handsome, simple, informal, and so on. This contrasts with SBY; handsome, elegant, charming, and formalistic. While Prabowo represent nationalistic thinking, assertive, and pro-people – at least as his speech. This is in contrast with the image of SBY who over consider the interests of the world and foreign investors, closer to the elite, and too cautious in decision making.
All of this indirectly answers the two questions at the beginning. The 2014 presidential election is not as simple as one might imagine, especially over the spread of electability numbers of various polls. The numbers are not fully pro Jokowi. Still, there is a possible rise of surprises. First, if the Court annulled the candidacy requirement of 20 per cent to three per cent. Secondly, if there is a mistake of Jokowi as governor and his supporters. The fanatical supporter's attitude as shown in the world of social media and the birth of Pro Jokowi movement has a weak point of its own. Third, if a figure exists that could encapsulate all the expectations of the voters. Prabowo Subianto, who has a handicap in the past, was accepted because he carries this message. This expectation is also reflected in the high popularity of Dahlan Iskan and Jusuf Kalla. Still, the popularity of the President also shows that the public wants harmony, order, and decency. On the other hand, the public is still easily swept away by advertising and traditional loyalty. The color of pragmatism is a reality that remains in any society.
PROGRAM PARTY
Based on the findings the Survey, people crave the emergence of an alternative leadership figure. The people like leaders who have a love of integrity, and who are honest. clean. populist, and have a strong commitment to the reform agenda. such as the eradication of corruption. and a good track record. The people would consider a candidate who has the ability to solve national problems, especially economic problems.
Results from various surveys taken, Prabowo Subianto, electability-wise, is by far the strongest competitor for Jokowi. According to media monitoring, including social media, that the writer did, it was obvious that Prabowo – as well as Jokowi – is the leader figure that the people are talking about. Prabowo's popularity able to counterbalance that of Jokowi's. The public perceive Prabowo as a firm and bold figure. Not only that, he is also considered have the capability to solve Indonesia's chronic problems, which are corruption, poverty, and security. Prabowo is being assessed as a candidate with the clearest and definite vision and mission compared to others, especially the one that related to his "Ekonomi Kerakyatan" programme, like the one of 1 billion fund policy for every village in Indonesia if he were to be elected as the next President come 2014. Prabowo clearly supported by Gerindra party as their 2014 Presidential Candidate, whereas Jokowi, who still leads other 2014 presidential candidates' electability, at the moment still waiting for a certainty to be nominated as his party's, PDI Perjuangan, presidential candidate, or still waiting for the official final decision to be made by the PDIP's chairperson, Megawati Soekarnoputri. Meanwhile, the main problem for Prabowo centers on whether Gerindra will be able to breakthrough the 20 percent parliamentary threshold required, in order to avoid being forced to do a coalition with other parties and be able to nominate their own candidate(s). Moreover, nominating Prabowo Subianto as their presidential candidate is a must for them. If Gerindra able to achieve 20 percent of legislative slots, then the next strategy, which will be crucial, for Prabowo is his eye in choosing the perfect companion for the vice president position, who would be able to widen the public's support for him.
In general, the results of the survey show several trends:
First, there is a real possibility that the Democratic Party will be replaced as the largest political party by Golkar or PDI-P. The apparently never ending internal conflicts on the alleged involvement of some party leaders in a number of cases of corruption is hijacking the Democratic Party and this could last into next year. This is not to mention the issue of dynastic politics, of which President SBY is often criticized. Therefore.the desire of the Democratic Party by the President SBY to hold the Democratic convention later in the month of July-August 2014 could be interpreted as an effort to increase the popularity and electability.
Second, the political map in the House of Representatives will likely become much simpler due to the decreasing number of political parties that will achieve national parliamentary seats, as the parliamentary threshold is increased from 2.5 to 3.5 percent.
Third, it is possible that the largest political party will not get morethan 30 percent. so that seats are more evenly distributed over all parties participating in the elections. Indonesian voters make their choice based more on emotion. For either party with a good image or able to improve its image, there is an abundance of opportunities from swing voters. But parties of which the image is damaged by "cases", will likely lose disproportionally. PDI-P and Golkar Party tend to have a stable electorate.
Fourth, there is the possibility that Islamic and Islamic-based political parties (National Mandate Party -PAN, the National Awakening PartyPKB , the Prosperous Justice Party – PKS. the Crescent Star Party – PBB and the United Development Party-PPP) will be eliminated in the 2014 election. Factors are public policy mistakes made by these parties, and the absence of presidential candidates or high profile leaders. The declining of electability of Islamic parties could bring about "poros tengah" (central axis) discourse a coalition between Islamic parties, considering there are still potentials of votes from Indonesian population that are mostly Muslims.
Fifth, the 2014 election is the momentum of the transition generation. Currently only the PDI-P and the Democratic Party give ample space for the emergence of young leaders in 2014. About 40-70% of the productive age group (18-40 years) who become potential voters want change in 2014. and this is reflected in the orientation and preferences of those who like the new lc,ider figures. The Democratic Candidates convention November 2013-March 2014 has a chance to end the gerontocracy (rule led by the majority of the elderly) in Indonesia. In the 2014 general election, there will be a potential of novice voters, in which most of them consist of young people and used to using the internet, as big as 40 percent of the total voters. Therefore, campaign using "cyber warrior" and social media could be the more effective way to generate their votes.
Sixth, is the tendency of those who do not use their right to vote in the upcoming election (abstentions). This is also reflected in the considerable number of swing voters, i.e. those who do not or not yet provide a political choice (undecided voters). It is also visible in a floating mass who are disappointed in the current ruling political parties and in thetransactional politics (horsetrading). The young people are seen to have the ability and integrity, and candidates matter more than political parties.
Seventh, politics is always concerned with probabilities. Therefore, manuvers, strategy, and the choice of political party elites will remain crucial in the 2014 election beyond the limits in the program and the issues or platforms of each party. In this context, the practice of money politics will still be used to expand support, followed by highly flexible political manuevering to serve the needs and intrests of the parties and their leaders.

Indonesia: Balanced politics amid major powers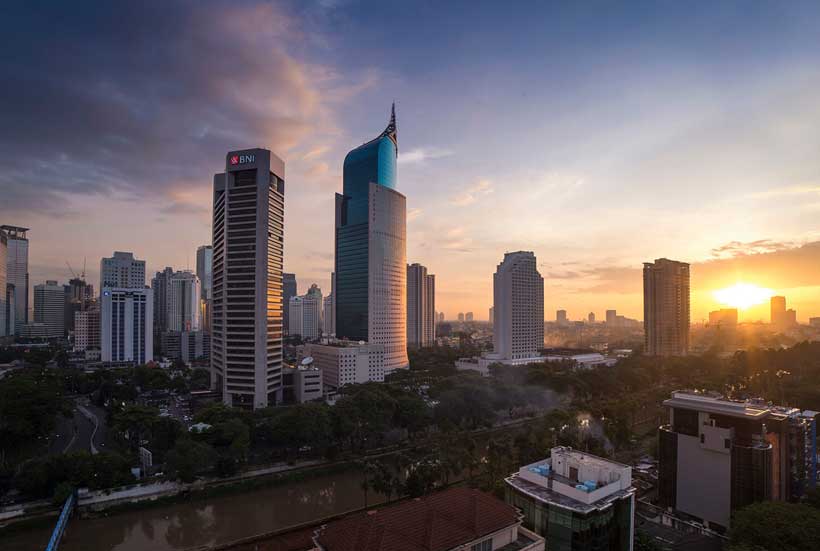 In 2020, Russia and Indonesia will mark 70 years to the establishment of  diplomatic relations between the two countries. Given that the epicenter of the geopolitical activity is currently shifting towards the Asia-Pacific Region (APR), the role of Indonesia as the planet's strategically important location increases.
Along with Russia, there are a number of other countries that are as keen on developing ties with Indonesia. One of them is Australia, which is particularly active due to its geographical location.
Indonesia and Australia boast a comprehensive bilateral strategic partnership agreement, which defines them as "strategic anchors of the Indo-Pacific Region". According to tradition, each newly elected Australian Prime Minister pays his first foreign visit to Indonesia. Prime Minister Scott Morrison, who took office on August 24, 2018, kept the tradition as well.
In Jakarta, Morrison met with Indonesian partners to discuss the details of a strategic cooperation agreement, which envisages economic cooperation, security measures, exploitation of marine resources, ensuring stability in the Indo-Pacific Region and social projects.
According to the Jakarta Maritime Policy Strategy (Global Maritime Fulcrum), Indonesia is regarded as the fulcrum between the Indian and the Pacific. Canberra also sees Jakarta as key to Australia's defense strategy.
Indonesia's territory embraces most of the archipelagoes north of Australia and these make a convenient springboard for a hypothetical threat to the Australian coast. In addition, Indonesia stands at the junction of marine and air routes from Australia to Europe and from Australia to Asia-Pacific countries. Joint naval exercises run by the Indonesian and Australian defense ministries account for 24% of the total, while 33% of the drills are held by the Air Forces, 30% by special services and special task forces, and 2% by the peacekeeping contingents.
Australia became the third country with which Jakarta signed a comprehensive strategic cooperation agreement after the United States (2013) and China (2015). In 2017, the two parties signed the Joint Declaration on Maritime Cooperation, in 2018 – the Maritime Cooperation Action Plan, covering 85 areas with the participation of 17 Australian and 20 Indonesian departments and agencies.
Australia finds Indonesia more important than Indonesia finds Australia. As a single continent, Australia attaches particular importance to foreign policy with a view to ensure its national security. As for Indonesia, it has a more introverted policy. Being the largest island nation on the planet, Jakarta aims to guarantee its security through internal consolidation of the many islands that make up the Indonesian state.
Pursuing the policy of "non-alignment", Indonesia seeks to diversify foreign economic and foreign policy relations. This becomes clear from the previous development of the Indonesian-Australian relations: Jakarta would quickly freeze projects with Canberra once it spotted a disproportionate presence of Australia in Indonesian politics.
That was the case in 1999 when Jakarta withdrew from the Security Agreement, signed in 1995, in 2013 when it suspended defense cooperation and cooperation between special services, and 2016 when it suspended the language training of military personnel.
For Indonesia, a multi-vector foreign policy is crucial for maintaining a healthy balance of power in the region. For this reason, Moscow is an attractive economic partner for Jakarta. That Russian-Indonesian contacts have been developing at fast pace can be concluded from the fact that there have been several meetings between the two countries' presidents, that Russia has been supplying Indonesia with weapons, that the two countries' armed forces have held joint exercises, that Indonesian representatives have participated in business forums in Russia and that the Russian capital has revealed in interest in Indonesia's projects in the mining industry.
Jakarta and Moscow are considering prospects for the introduction of a free trade zone in Indonesia and the EEU. Indonesia is also ready to join the Chinese global infrastructure project "One Belt, One Road."
Under the project, Chinese investments in the Indonesian transport infrastructure amount to $ 6 billion, which is clearly not enough for a rapid growth of transit of commodities and haulages from China and the Asia-Pacific countries through Indonesia. Indonesia's medium-term economic development plan stipulates local financing at 63% (4). The rest should come from foreign investors, which could include Russia.
First published in our partner International Affairs
Improving Vocational Education in Thailand: An interview with Khunying Sumonta Promboon
Bangkok – When robots are advancing and industries are playing catch up to technological advancement, vocational education plays a pivotal role in national development. Instead of arcane theory, vocational education trains students with sophisticated, hands on and practical skills needed to excel in the world of work. Vocational training offers an up to date and cutting edged techniques for students not only comply but push technical boundaries forward. Countries that excel in their industrialization all champion vocational education – Germany, China and Taiwan to name but a few.
Thailand, despite setting its eyes for Thailand 4.0 to transform its economy to digitalization, automation and robotics, is falling behind the race to the top. The World Bank found that 40% of the top tier international firms reported the inadequate skills as the major constraint. While the country is in much needed position for vocational education, there are only 1 million students in vocational school comparing to 2.5 millions in higher education. Although the country has more than 900 vocational colleges, students opt for higher education because better images and prestigious. When news about vocational education in Thailand are filled with images of violent students and gang fights amongst students, there is a dire need to reform this important sector. Rattana Lao, Program Officer in Policy and Research at the Asia Foundation, talked to Associate Professor Khunying Sumonta Promboon, the President of Chitralada Technology College on ways in which Thailand vocational education can reform itself to better respond to national demand: One step at a time.
What role should vocational education play in Thailand?
Vocational education should be the main educational track to educate and encourage young students to partake in the national development of the country. After receiving basic education of grade 1 to 9, the majority of students should enroll in vocational education. However, the case of Thailand is different. The majority of Thai students like to enroll in basic education of grade 10 to 12 and continue to enroll in universities rather than vocational education.
How can one promote vocational education?
Many factors need to be taken into account in order to incentivize more students to enroll in vocational education.
Firstly, students need to have guaranteed employment. Such employment should begin when they are still students, an internship of some sorts. This requires a close collaboration between educational institutes and corporates. A symbiosis between the two stakeholders is necessary. This is not widespread in Thailand. The opportunities are still inadequate and limited to a few top students in colleges rather than available equally to all students.
Secondly, the social attitude must change. In Thailand, parents want their children attend higher education and receive bachelor degrees, master degrees and PhD. To change this attitude, it will take time. It goes back to the first point that students need secure employment.
We incorporated these ideas into the creation of Chitralada Technology College. We want to take lead in enabling students who take vocational education with us being able to transfer into higher education later on– making the opportunities for education and employment aligned.
What are the problems of vocational education in Thailand?
The first problem is the social bias. People prefer basic education because its more prestigious. The second problem is students do not know the diversity of career paths. They know only limited choices of teachers, soldiers and doctors. The educational counselling in Thailand needs an improvement.
What does Chitralada Technology College try to do?
There are two institutes within the same umbrella. The first is Chitralada Vocational School and the second is Chitralada Technology College. There are total number of 800 students in these two institutes. Although we are small in sizes, we would like to lead best practices in term of vocational educational practices. There are many programs that we offer for students.
What is your strategy to promote vocational education in Thailand that is different from others?
We have extensive networks of 67 businesses throughout Thailand as well as partnered with other organizations. In total, we have MOUs with more than 80 institutions. We partnered with Singapore, China and Germany.
Can you give examples?
With China, we partnered with Leshan Vocational Technical College. They accept our students' exchanges for culinary school. There is also Tienjin Sino-German Vocational Technical College that we partner about mechatronics. With Singapore, we work with Singapore Polytechnique. We are beginning to initiate exchanging programs with Temasek and Singapore Polytechnique. Last year, we took Singapore students to Sumutsongkarm to visit local communities who produce shrimp pastes. It's impressive idea they are creating. There is also Senior Expert Project we partner with Germany. Mostly it is about mechanics and mechatronics.
How do these collaborations help Thailand?
These are successful countries who implemented vocational education and we can learn from them.
There are a lot of pictures of Her Royal Highness Princess Maha Chakri Sirindhorn. How does HRH inspire this college?
Her idea is to educate students according to their talents. Those who do not like academic track should have the opportunity to pursue other alternatives. Her Royal Highness plays a monumental role to guide our college's direction and inspires us to excel. When HRH visits other countries, HRH enables the college to expand our collaboration with successful institutions from abroad.
We want to change the images of vocational students in Thailand from being violent students to be responsible students.
Indonesia shaping the South East Asian foreign policy of India and Sri Lanka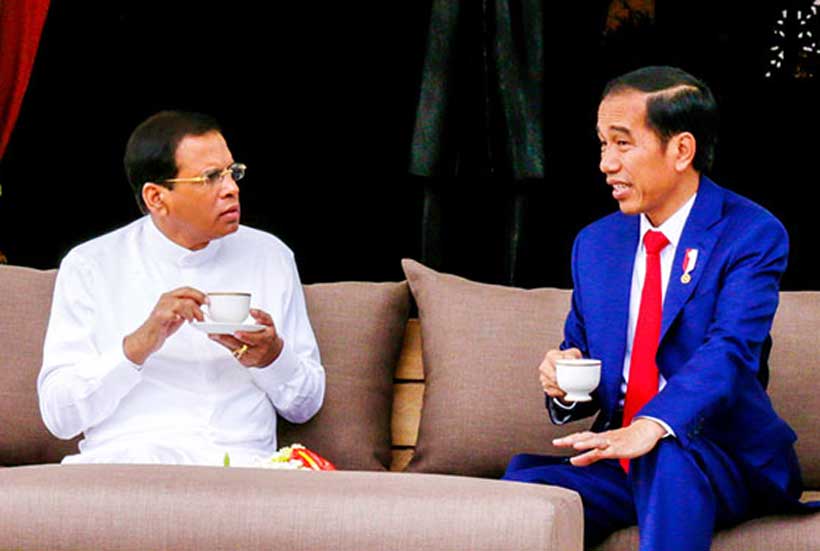 Authors: Srimal Fernando and Megha Gupta*
Indonesia with more than 17,000 islands, occupies a key geopolitical position in the ten-member Association of Southeast Asian Nations (ASEAN) regional bloc. In the recent past Indonesia has been trying to strengthen its foreign policy outlook both diplomatically and economically through bilateral or multilateral means.
Indonesia with its large population, military capabilities, vast territory and rich natural resources in Southeast Asia is trying to align with India possessing similar power potentialities in South Asia. With this strategy in mind Indonesia has been trying to access the 1.3 billion Indian consumer market and also has been trying to cooperate with Sri Lanka due to its vital geographical position in the Indian Ocean. In this regard, there has been a growing bilateral and trilateral interest among these three countries such that they can tap into the consumer and producer market hence generating higher revenue. However, these three financial hotspots have found themselves in the forefront of challenges posed by globalization and this makes it vital for them to revive their cooperation in different areas.
Over the past few decades, Indonesia has made several development landmarks through restructuring its polity and society. The economy and foreign policy goals of this nation have constructively transformed from President Sukarno to Joko. Furthermore, in the 1980's Indonesia also took a large step in establishing the regional body of ASEAN. Since then for more than a quarter century, ASEAN has been the most important reason for bilateral and multilateral engagements between Indonesia and the two South Asian countries.
Currently, the two-way trade between Indonesia and India stands at about $18.13 billion according to the Indonesia's Central Statistics Agency (bps).  With this mutually beneficial relationship, in the coming years Indonesia and India are planning to enhance their bilateral trade to $50 billion. There is also said to be an increased strategic, defense and security partnership between the two which got reiterated with the state visit of the Indonesian President Joko Widodo.
Similarly, the trade between Indonesia and Sri Lanka has doubled from $418 million in 2011 to around a billion dollar in the recent past and the ties between the two is set to improve further with the establishment of a future Free Trade Agreement (FTA). The year 2018 has also marked the 66th Anniversary of the diplomatic relationship between Indonesia and Sri Lanka where the visit of the Indonesian President after 40 years saw the signing of a series of agreements between the two island nations.
Since the Bandung Summit of 1955, the Indonesia's relationship with India and Sri Lanka has been strong. Later ASEAN has played a leading role in making this partnership grow further. However, India's cooperation with Indonesia and ASEAN serves as a test bed for the new ideas to grow between the two regions.
Indonesia positioned between Southeast Asia and Australasia is a crucial gateway for India and Sri Lanka to further their foreign, economic and security endeavors in these two regions.
*Megha Gupta, a scholar of Masters in Diplomacy, Law, Business at Jindal School of International Affairs, India.