From November 2013 to January 2014, Faculty of Social and Politics, University of Jayabaya (UJ), periodically conducted surveys related to the electability of the political parties and the presidential and vice-presidential candidates for the 2014 elections.
The results show that the electability of the Democratic Party and the Prosperous Justice Party (PKS) have been decreasing following corruption cases. The survey was conducted in 33 provinces by taking a sample of 1225 people which have the right to vote (aged 17 years and over. or not yet 17 years old but already married). The margin of error is + / – 2.8% and the confidence level is 95%. Population Data were collected through interviews withrespondents using techniques based on the questionnaire.
When asked whether the respondents still believe that the PKS is a "clean party", about 66% said "not sure". Only 15.7% of respondents believe that the PKS is still a "clean party", the rest (18.3%) did not know. When asked whether the party of which the cadres are most involved in corruption cases, as many as 67.3% of respondents mentioned the Democratic Party. PKS came in as distant second at 5.8% and has taken over from Golkar Party. which is now mentioned as third (5.2%). When I asked respondents, the party to be selected if elections wereheld today.only 6.9% would vote for the Democratic Party. Only 2.6% would vote for PKS, much lower than their result in 2009, which was 8%.
In terms of electability, the Golkar Party remained in the top position with 18.9%. When referring to the results of a survey of various other research institutions, Golkar's chance to win the 2014 election seems pretty open. The Golkar Party is still being followed by PDI-P with a rate of 16.8% electability. Gerindra, which in the 2009 elections ended in eighth place, according to my survey electability has now reached the level of 10.3% and is in third place.
The high electability of the Golkar Party is apparently inversely proportional to chairperson Aurizal Bakrie (ARB), which is in a fifth position as presidential candidate, at 8.7%. This is far below JokoWidodo (Jokowi) which ranks as the first public option among the most potential candidates (15,1 %).
Jokowi is a symbol of new hope for the people. He is simple, honest and populist. Jokowi is showing togetherness between the leaders and the led. "He is one of us". Jokowi quite successfully managed to bring himself to the public with a policy in which he often visits slums in Jakarta. If in the United States (U.S.) people were disappointed with the war on terrorism of President Bush and elected Barrack Obama, it is possible that if Jokowi steps forward as a 2014 presidential candidate, Indonesian people will chose him because of their disappointment overthe war on corruption under President SusiloBambangYudhoyono during the second period from 2009 to now.
On average, respondents said they agree that if Jokowi would run for the presidency, and would not be concerned if Jokowi did not finish the job until his term as Jakarta Governor until 2017. Only 26% of respondents would not agree. Jokowi, who is PD1-P cadre.also received support from other party voters. For example, 26% of Golkar voters would choose Jokowi, as would 33.5% of Democratic Party voters, 13.8% of Gerindra voters, 35.1% of Hanura voters, 35.1%, 26.7% of PAN voters and 59.5% of PKS voters. The passing away of MPR Chairman Taufik Kiemas of the PDI-P should open the possibilities for younger party cadre, such as Jokowi in order to get a maximum results. instead of proposing the older chairperson MegawatiSoekarnoputri as candidate.
PRABOWO SUBIANTO VS JOKOWI
Jokowi electability level surpasses its competitors. The nearest is only Prabowo Subianto (13,9%). If the 2014 presidential election took place in two rounds where Jokowi would go head to head with Prabowo. But Prabowo Subianto and Gerindra Party requires extra efforts to get support from other parties to form a coalition. For that he continued his guerrilla to garner support. Of whom he had met were Hatta Rajasa, Chairman of the PAN, and Susilo Bambang Yudhoyono, the Chairman of the Democratic Party (PD). He was also diligent in communicating with a number of leaders of other parties, including the PDI-P. As a presidential candidate, Prabowo fits the bill on a number of levels. He was Megawati's running mate in her unsuccessful 2009 campaign, and he will have learned much from that. His reputation feeds the belief that Indonesia needs a return to assertive leadership, while his association with the former first family strikes a chord among the cross section of Indonesians who feel let down by democracy and who harbour a genuine nostalgia for the Suharto era.
It would be very interesting if the two favored public figures then do not get tickets in contestation. Other figures will be born. The names that are under them will pop up, among them, Megawati, Bakrie, Hatta Rajasa, Dahlan Iskan, Mahfud MD, Jusuf Kalla, and so on. If that happens, a new candidate will emerge. Proponents of Jokowi and Prabowo Subianto will be disappointed, some will survive to follow the motion of the party, and others will move wildly following their own logic. The figures that follow PD convention will have an opportunities. Related to the Partai Demokrat's convention, State Minister for State Owned Enterprises, Dahlan Iskhan, still chairing the convention, followed by Pramono Edhi Wibowo, Gita Wirjawan, Anis Baswedan, and Dino Patti Djalal. It is very likely that Democratic Party will step down from their status of incumbent in the next general election of 2014. If their kept their position as the top 3, there will still be a chance to nominate their convention winner as presidential candidate – even though if they need to do a coalition with other parties. If not, then whoever picked as their candidate will only be feasible to be a potential vice president candidate.
Currently, the candidates are not dealing with incumbent or a candidate supported by the ruling party. Even the two names, Jokowi and Prabowo, come from the opposition party. There is excitement to correct public policy or seek a different atmosphere from the color of the current ruler. These two figures represent the antithesis of SBY. Jokowi is a rustic figures, common people, not handsome, simple, informal, and so on. This contrasts with SBY; handsome, elegant, charming, and formalistic. While Prabowo represent nationalistic thinking, assertive, and pro-people – at least as his speech. This is in contrast with the image of SBY who over consider the interests of the world and foreign investors, closer to the elite, and too cautious in decision making.
All of this indirectly answers the two questions at the beginning. The 2014 presidential election is not as simple as one might imagine, especially over the spread of electability numbers of various polls. The numbers are not fully pro Jokowi. Still, there is a possible rise of surprises. First, if the Court annulled the candidacy requirement of 20 per cent to three per cent. Secondly, if there is a mistake of Jokowi as governor and his supporters. The fanatical supporter's attitude as shown in the world of social media and the birth of Pro Jokowi movement has a weak point of its own. Third, if a figure exists that could encapsulate all the expectations of the voters. Prabowo Subianto, who has a handicap in the past, was accepted because he carries this message. This expectation is also reflected in the high popularity of Dahlan Iskan and Jusuf Kalla. Still, the popularity of the President also shows that the public wants harmony, order, and decency. On the other hand, the public is still easily swept away by advertising and traditional loyalty. The color of pragmatism is a reality that remains in any society.
PROGRAM PARTY
Based on the findings the Survey, people crave the emergence of an alternative leadership figure. The people like leaders who have a love of integrity, and who are honest. clean. populist, and have a strong commitment to the reform agenda. such as the eradication of corruption. and a good track record. The people would consider a candidate who has the ability to solve national problems, especially economic problems.
Results from various surveys taken, Prabowo Subianto, electability-wise, is by far the strongest competitor for Jokowi. According to media monitoring, including social media, that the writer did, it was obvious that Prabowo – as well as Jokowi – is the leader figure that the people are talking about. Prabowo's popularity able to counterbalance that of Jokowi's. The public perceive Prabowo as a firm and bold figure. Not only that, he is also considered have the capability to solve Indonesia's chronic problems, which are corruption, poverty, and security. Prabowo is being assessed as a candidate with the clearest and definite vision and mission compared to others, especially the one that related to his "Ekonomi Kerakyatan" programme, like the one of 1 billion fund policy for every village in Indonesia if he were to be elected as the next President come 2014. Prabowo clearly supported by Gerindra party as their 2014 Presidential Candidate, whereas Jokowi, who still leads other 2014 presidential candidates' electability, at the moment still waiting for a certainty to be nominated as his party's, PDI Perjuangan, presidential candidate, or still waiting for the official final decision to be made by the PDIP's chairperson, Megawati Soekarnoputri. Meanwhile, the main problem for Prabowo centers on whether Gerindra will be able to breakthrough the 20 percent parliamentary threshold required, in order to avoid being forced to do a coalition with other parties and be able to nominate their own candidate(s). Moreover, nominating Prabowo Subianto as their presidential candidate is a must for them. If Gerindra able to achieve 20 percent of legislative slots, then the next strategy, which will be crucial, for Prabowo is his eye in choosing the perfect companion for the vice president position, who would be able to widen the public's support for him.
In general, the results of the survey show several trends:
First, there is a real possibility that the Democratic Party will be replaced as the largest political party by Golkar or PDI-P. The apparently never ending internal conflicts on the alleged involvement of some party leaders in a number of cases of corruption is hijacking the Democratic Party and this could last into next year. This is not to mention the issue of dynastic politics, of which President SBY is often criticized. Therefore.the desire of the Democratic Party by the President SBY to hold the Democratic convention later in the month of July-August 2014 could be interpreted as an effort to increase the popularity and electability.
Second, the political map in the House of Representatives will likely become much simpler due to the decreasing number of political parties that will achieve national parliamentary seats, as the parliamentary threshold is increased from 2.5 to 3.5 percent.
Third, it is possible that the largest political party will not get morethan 30 percent. so that seats are more evenly distributed over all parties participating in the elections. Indonesian voters make their choice based more on emotion. For either party with a good image or able to improve its image, there is an abundance of opportunities from swing voters. But parties of which the image is damaged by "cases", will likely lose disproportionally. PDI-P and Golkar Party tend to have a stable electorate.
Fourth, there is the possibility that Islamic and Islamic-based political parties (National Mandate Party -PAN, the National Awakening PartyPKB , the Prosperous Justice Party – PKS. the Crescent Star Party – PBB and the United Development Party-PPP) will be eliminated in the 2014 election. Factors are public policy mistakes made by these parties, and the absence of presidential candidates or high profile leaders. The declining of electability of Islamic parties could bring about "poros tengah" (central axis) discourse a coalition between Islamic parties, considering there are still potentials of votes from Indonesian population that are mostly Muslims.
Fifth, the 2014 election is the momentum of the transition generation. Currently only the PDI-P and the Democratic Party give ample space for the emergence of young leaders in 2014. About 40-70% of the productive age group (18-40 years) who become potential voters want change in 2014. and this is reflected in the orientation and preferences of those who like the new lc,ider figures. The Democratic Candidates convention November 2013-March 2014 has a chance to end the gerontocracy (rule led by the majority of the elderly) in Indonesia. In the 2014 general election, there will be a potential of novice voters, in which most of them consist of young people and used to using the internet, as big as 40 percent of the total voters. Therefore, campaign using "cyber warrior" and social media could be the more effective way to generate their votes.
Sixth, is the tendency of those who do not use their right to vote in the upcoming election (abstentions). This is also reflected in the considerable number of swing voters, i.e. those who do not or not yet provide a political choice (undecided voters). It is also visible in a floating mass who are disappointed in the current ruling political parties and in thetransactional politics (horsetrading). The young people are seen to have the ability and integrity, and candidates matter more than political parties.
Seventh, politics is always concerned with probabilities. Therefore, manuvers, strategy, and the choice of political party elites will remain crucial in the 2014 election beyond the limits in the program and the issues or platforms of each party. In this context, the practice of money politics will still be used to expand support, followed by highly flexible political manuevering to serve the needs and intrests of the parties and their leaders.

Seven Years of UNITE Thailand: Freedom to be Free
BANGKOK – During the peak of Thailand's political warfare between the Red and Yellow shirts, I was a graduate student at Teachers College, Columbia University pursuing a Doctorate in Political Science with a specialization in Comparative and International Education.
As Bangkok's buildings were burnt down, I sat in tears in front of my computer could not comprehend nor tolerate the sights and senses of such catastrophe.
What's happening to Thailand? A place we once called the land of smile.
I put myself together and defended my proposal. I came home for my dissertation research. But once I landed, I began something entirely different.
I called my friends from all walks of lives: academics, businesses, politics and civil society and we started talking about the future of Thailand what to do, what can we do?
Inspired by the KEEPS project at the London School of Economics, where I did my Master of Sciences in Development Studies, we initiated an art project for political liberation.
Something Freire would be proud of.
We took paint colors, brushes and canvases to rural areas and began using art as mean to break political deadlocks – to initiate a conversation. We asked our students to paint the future of Thailand in their visions.
From a humble beginning in 2011, we grew in size and scope. UNITE Thailand is now a global youth networks of like-minded individuals who want to make a difference for Thailand. We are an educational project with 3,000 members.
We have collaborated with the Open Society Foundation in 2012 to create the 1st IDEA Asia Youth Forum where we brought together 200 Asia youth from 22 countries to work with Thai university students in Thailand for 2 weeks.
We have worked with the International Labour Organizations in 2013 – 2014VDO to promote the Sapansiang Campaign that addresses the positive images of migrant workers in Thailand.
Anna Olsen, the Technical Specialist TRIANGLE in ASEAN program of the ILO said, "working with UNITE Thailand allowed us to reach young Thai people with our messages of protection and promotion of the rights of migrant workers who contribute so much to Thai society and development."
Since its inception, MCOT Thailand and the Anandamahidol Foundation have helped to scale up our 20 art camps for our students nation-wide by creating ongoing documentaries that capture the essences of what we try to do on the ground.
Sitting here on the eve of International Youth Day of 2018, I am writing to my students globally that never let anyone tell us what we are and are not capable of. The power of the young is momentous and paramount. Never let your inspiration, motivation and determination die down just because what we think seem impossible or someone else tell us so.
Thailand is far from where we want it to be. It's still rotten with corruption, rampant inequality and lack democracy. But each brush we stroke, each project we strike, we do it with hope and dignity, we do it to empower and we aspire to make a difference.
Mayaclear Aphornsuvan, UNITE Thailand Youth Representative, encapsulates her seven years experiences with the movement.
"Opportunities, dreams, and chances seem so far away when no one is by your side. That's how it felt to me when I was in high school, at least. But I crossed paths with UNITE Thailand by chance, and it was the first time a group of people believed in me. And in turn, this gave me all the strength I needed to believe in myself and others. UNITE Thailand gives opportunities to those who often get ignored. But the first opportunity in one's life is oftentimes the most important.  UNITE Thailand means the world to me, because they gave me a whole new world of opportunity and dreams."
On behalf of UNITE Thailand, we thank our friends from all over the world for showering us with your trust and enabling us to keep dreaming.
We, 3,000 of UNITE Thailand, dedicate this project to His Majesty the King Bhumibol Adulyadej, Rama the ninth to the Chakri Dynasty, our King of Education, for not only sponsoring my transatlantic education through the Anandamahidol Foundation, but for providing Thailand with a necessary guiding light. We wish his soul rest in peace. We wish him well.
We promise to be kind and find peace from within outward.
What are the causes of the current calamity in Laos? An Interview with Dr. Lia Genovese
The Xe Pian-Xe Nam Noy hydropower project is financed by companies from South Korea (SK Engineering and Korea Western Power), Thailand's Ratchaburi Electricity Generating Holding and the Lao government. A statement issued by Mekong Eye on 31 July 2018 stated that Japan is also involved in its financing.
A devastating incident occurred in the Sanamxay district of Attapeu province in southern Laos. On the evening of 22 July 2018, engineers at SK Engineering discovered that one of the project's supporting dams had been partially washed out and notified the Lao authorities. Apparently, efforts to repair the damaged structure were hampered by the state of the roads, which delayed the necessary heavy equipment reaching the area before disaster struck the very next day. On 23 July, the top of a saddle dam at one of the Xe Pian-Xe Nam Noy reservoirs collapsed, releasing billions of cubic feet of water. Over 6,000 people have already been evacuated to emergency shelters. The flood has caused severe damage to private property and infrastructure. The dam collapse has also affected villages downstream in Cambodia.
The precise death toll is still unknown and has oscillated between 31 and 35 victims. On 5 August, the Chinese agency Xinhua stated that 34 people were confirmed dead and scores more are still unaccounted for.
Early official statements calling the catastrophe a natural disaster caused by seasonal rains, are being disputed by experts. During an interview with the BBC World Service on 25 July, Dr. Ian Baird, Associate professor of geography at the University of Wisconsin-Madison, USA, unequivocally attributed the disaster to poor management. Furthermore, the South Korean building company, SK Engineering & Construction, asserts that "it warned the [Lao] government".
The disaster could have been prevented with better management, greater risk assessment and better building standards, according to the Lao government. On 27 July, four days after the dam collapse, the Lao Energy Minister, Mr. Khammany Inthirath, told a press conference in Vientiane that the disaster was caused by substandard construction.
Attapeu province is highly contaminated by unexploded ordnances (UXO, remnants of the Vietnam conflict), and although parts of the province have been cleared of UXO, the UN recommends caution when digging, since cluster bombs are more likely to be buried ('Lao PDR: Flash Flooding in Sanamxay', District Office of the UN Resident Coordinator Situation Report No. 05 (as of 1 August 2018).
Livestock, buffaloes and domestic animals have perished. On 3 August, the Vientiane Times reported the loss at more than 12,000 animals, as well as more than 19,000 chickens and other fowl, while 280 fishponds were damaged.
What are the immediate needs to help rebuild Laos?
Numerous governments have sent funds and humanitarian aid, including Thailand, Vietnam, China, Singapore, Cambodia, the European Union (EU), the US and North Korea. It seems that supplies have reached the affected areas with some difficulty, due to the state of the roads, damaged by the flood and covered in rivers of mud. According to a Voice of America report published on 6 August: "Satellite images show Attapeu lying on a bend of the river with a pre-crisis network of roads, but a later image shows the flooded area as a brown mass of mud with few structures left recognizable".
Cash donations have also been collected. The Lao bank BCEL set up the One Heart fund-raising initiative for people to donate by debit or credit cards. In Thailand, donations collected by Krungthai Bank for the flood victims had reached 25 million baht by the end of July (account number 067-12886-4 of Krungthai Bank, Government House branch, Cash donations are proving effective in helping victims of this disaster, while the delivery of relief aid (blankets, medicines, safe drinking water, food, etc.) is hampered by practical difficulties in accessing the affected areas.
Do you think the country is resilient enough to weather this chaos?
As a concerned citizen of the world, rather than an expert on development strategies, in my view there are good chances that Laos, and particularly the affected areas in Attapeu province, will weather this catastrophe. Laos has much at stake in its chosen development strategy aimed at energy generation. This is a setback in the country's ambitious plan to have a total of 100 dams by 2040. Approximately, 85 percent of the energy generated by these dams is exported.
What needs to be done differently for Laos to recover and sustain?
Since 1971, the UN has classed Laos as a Least Developed Country (LDC), a label the country is trying to shed. Laos is traversed by the Mekong for hundreds of miles, from north to south, before this great river flows into Cambodia and the delta in Vietnam. Laos has said in the past that it is making the best of a punishing geography, due to the country being landlocked.
Yearly, the sale of energy contributes around $650 million to the country's GDP, but still only half of the revenue generated by ore production from mining investment projects approved by the central government, which in 2017 reached around $1.2 billion.
Unlike some of her neighbours (Thailand and the Philippines, chiefly), Laos has shown negligible interest in the potential of renewable energy, despite enjoying an average of 1,800-2,000 hours of sunlight per year, or 200-300 sunlight days per year, particularly in the south of the country. Consequently, progress in sources of renewable energy has been slow and foreign investment has lagged behind, in contrast to the aggressive push for hydropower projects.
What Laos wishes to do is secondary to other countries' vision for Laos. A number of countries, as well as NGOs, environmental and human rights organisations, have expressed their reservations about Laos' stated hydropower goals, because of the cost to the country's ecology, and the human cost caused by the displacement of thousands of families. Laos' potential in generating energy for sale was known to the French colonisers a century ago but, despite a number of surveys shortly after the 1893 annexation of Laos as the fifth province of French Indochina, the French colonial government elected not to exploit the potential of the Nam Theun river, due to the massive investment required in building an often non-existent infrastructure. Only in recent years, was this massive hydropower project built, with funding from the World Bank, among others.
Laos can recover from this tragedy, through its own resources and with help from the international community.
What can the public immediately do to save Laos?
In the immediate aftermath of this man-made disaster, the public should follow events and contribute with cash donations and goods in kind, and pay attention to messages from the Lao government and aid agencies as to the most effective ways to assist the affected communities.
For the longer term, a rethink of Laos' development goals is essential. Much of Laos' energy for sale is exported to its neighbours, where it is squandered on excessive air-conditioning for shopping malls, supermarkets, offices and homes, entertainment places, etc. Laos' energy-hungry neighbours need to understand the hidden "costs" to a poor country like Laos, where the race to become the "Battery of Southeast Asia" is being achieved at the expense of natural resources, human capital and tragedies.
Concerned members of the public can lobby their respective governments for civil society to be respected in Laos, as a forum for free expression. It is essential that Lao citizens are involved in the consultation process for new hydropower projects or other large-scale projects which involve environmental degradation, a high level of risk and loss of a traditional way of life for communities along the Mekong.
Building dams along the Mekong must be discussed as a transnational issue, rather than pertaining to Laos alone, as was made clear in the Xe Pian-Xe Nam Noy disaster affecting downstream villages in Cambodia.
Pressure should be applied on the Lao government to ensure transparency in its investigations of Lao communities affected by the massive flooding in Attapeu province.
The 31 July statement issued by Mekong Watch, mentioned earlier, urges donor countries and development agencies to support the Lao government "in seeking compensation from the dam companies, and re-direct their aid policies that rely on hydropower development".
About Lia Genovese
Lia Genovese holds a PhD from SOAS-University of London for a Dissertation titled 'The Plain of Jars of North Laos – Beyond Madeleine Colani'. Her current research interests include: the Plain of Jars of Laos; French colonial archaeology; the megaliths of South and Southeast Asia; Iron Age mortuary practices; cultural heritage and conservation. She is currently working on a critical biography of the life and work of the French archaeologist Madeleine Colani.
Explaining Gendered Wartime Violence: Rohingya Ethnic Cleansing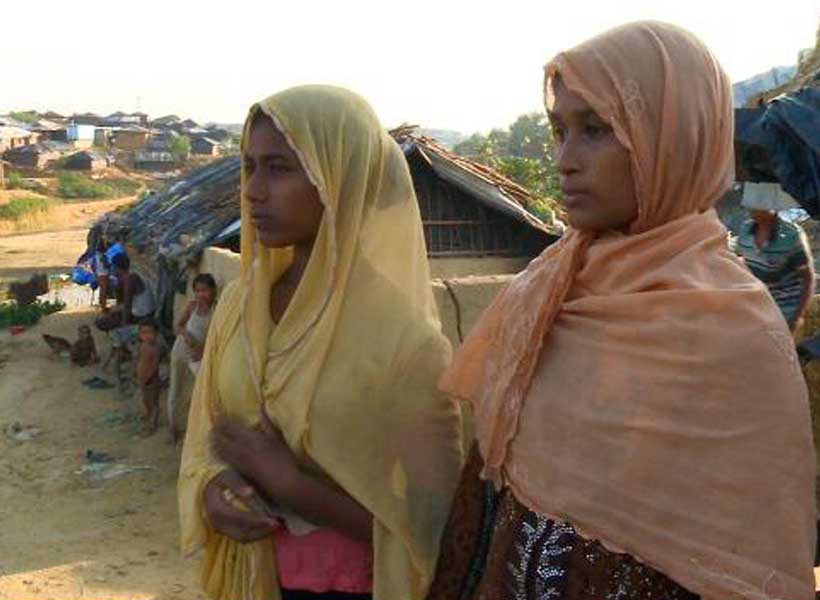 The United Nations described Rohingyas as 'amongst the most persecuted minority groups in the world.' News reports and refugee testimonies have confirmed that the plight of Muslims in Rakhine State of Myanmar is atrocious. The humanitarian crisis taking place in the Rakhine state has led to the death of an appalling number of Rohingya's Muslims. It has been reported, that nearly 500,000 people have fled destruction of their livelihood and, are currently living in refugee camps in Bangladesh. The UN reports suggest that Rohingyas have faced "killings, torture, rape and arson", by Burmese troops. It has been categorised as a 'textbook case of ethnic cleansing' of Muslims in Myanmar.
Rohingya Muslims represent the largest percentage of Muslims in Myanmar, and the majority lived in Rakhine state before the violence broke out. Myanmar is predominantly a Buddhist country which has for decades denied Muslims citizenship, they have been subjected to brutal government and police violence, and their identity has been decreased to that of an 'illegal immigrant.' On the 25th of August, 2017 the Rohingya militant army launched a deadly attack on the Muslims which has culminated into a systematic case of ethnic violence, turning into ethnic cleansing. They have slowly, but successfully forced majority of the Muslims to flee the country, resulting in one of the deadliest case of violence in the 21st century.
Within this Muslim minority exists another kind of minority, 'Rohingya Women' who have been subjected to sexual violence and rape by the army militants. It has been reported that tens of thousands of young girls and women of the Muslim community have been sexually violated and raped by the army militants In the report prepared for the UN Commission on Human Rights, Gay J. McDougall defined wartime rape as "a deliberate and strategic decision on the part of combatants to intimidate and destroy 'the enemy' as a whole by raping and enslaving women who are identified as members of the opposition group." However, wartime rape is not a new phenomenon. Many historical and anthropological researchers have provided us with evidence that rape during war can be traced back to earlier wars. It was reported that during the Second World War, the city of Berlin witnessed extremely high levels of rape and sexual violence against women by the Soviet forces. It has been estimated that around 900,000 women were raped and violated during the war.The infamous 'Rape of Nanking' is another case where Japanese soldiers reportedly raped an estimated 20,000 to 80,000 women in the city of Nanjing, China in 1937.
According to the Human Rights Watch report titled 'All of My Body was in Pain: Sexual Violence against Rohingya Women and Girls in Burma', women and girls are brutally being raped and sexually violated, humiliated, beaten up and even killed by the Burmese militants. They also suffer from the ordeal of seeing their children, parents or partners being murdered in front of them. The Burmese militant army is using systematic rape as a weapon of war in the massacre of the Rohingyas – using women to be the easy target, and thereby making the Rohingya crisis a grave gender concern. Priyanka Motaparthy, a senior researcher in the Emergencies division of the Human Rights Watch, mentions in a Human Rights Watch report, "These horrific attacks on Rohingya women and girls by security forces add a new and brutal chapter to the Burmese military's long and sickening history of sexual violence against women."
It is believed that sexual violence and rape is systematically used against women during wartime due multiple reasons. In addition to women being 'easy targets', they are subjected to this ordeal in order to break down the reproductive cycle of an ethnicity, which thereby can result in eliminating that ethnic population altogether. It is also used to decrease or break down the morale of their enemy population, who are responsible for securing their women and girls, thus weakening their opponents. Therefore, the connecting factor between 'gender based violence' and 'wartime' are the underlying patriarchal values that persists in societies and dictates their culture. Within this structure, it is often assumed that a woman's honor resides in her reproductive system, violating her reproductive system is seen as a way of stripping her honor, subjecting her to humiliation and furthermore gaining 'power.' It is a way of systematically destroying a community as a whole.
This is not the first time the world is witnessing gender based violence. However, the silence on the issue and lack of action by international authorities such as the United Nations is alarming. Urgent and crucial steps need to be taken by the Burmese government along with other International Organizations to bring relief to these women and girls. There is also an urgent need to implement stringent policies and necessary actions must be taken against people who use of sexual violence during wartime. However, the most urgent need of the hour is to overthrow patriarchal values from societies all across the world. Even though this is optimistic, it is important to instill a sense of equality between men and women, which in turn could help in eliminating the use of sexual violence as a weapon of war.