The Muslim Brotherhood/Al-Qaeda Connection
As former Egyptian President Muhammad Morsi's trials continue, it's enlightening to consider what is likely to be one of the centerpieces of the trial: longstanding accusations that Morsi and his Muslim Brotherhood party worked with foreign terrorist organizations, including al-Qaeda, against the national security of Egypt.
Based on these accusations of high treason, Morsi and others could face the death penalty.
Concerning some of the more severe allegations, one of Egypt's most widely distributed and read newspapers, Al Watan, recently published what it said were recorded conversations between Morsi and Muhammad Zawahiri, al-Qaeda leader Ayman Zawahiri's brother.
In these reports, Watan repeatedly asserts that Egyptian security and intelligence agencies confirmed (or perhaps leaked out) the recordings.
Much of the substance of the alleged conversations is further corroborated by events that occurred during Morsi's one-year-rule, most of which were reported by a variety of Arabic media outlets, though not by Western media.
In what follows, I relay, summarize, and translate some of the more significant portions of the Watan reports (verbatim statements are in quotation marks). In between, I comment on various anecdotes and events—many of which were first broken on my website—that now, in light of these phone conversations, make perfect sense and independently help confirm the authenticity of the recordings.
—–
The first recorded call between Muhammad Morsi and Muhammad Zawahiri lasted for 59 seconds. Morsi congratulated Zawahiri on his release from prison, where he had been incarcerated for jihadi/terrorist activities against Egypt, and assured him that he would not be followed or observed by any Egyptian authorities, and that he, Morsi, was planning on meeting with him soon. Prior to this first call, Refa' al-Tahtawy, then Chief of Staff, mediated and arranged matters.
The presidential palace continued to communicate regularly with Muhammad Zawahiri, and sources confirm that he was the link between the Egyptian presidency and his brother, Ayman Zawahiri, the Egyptian-born leader of al-Qaeda.
It should be noted that, once released, the previously little-known Muhammad Zawahiri did become very visible and vocal in Egypt, at times spearheading the Islamist movement.
The next recording between Morsi and Zawahiri lasted for 2 minutes and 56 seconds and took place one month after Morsi became president. Morsi informed Zawahiri that the Muslim Brotherhood supports the mujahidin (jihadis) and that the mujahidin should support the Brotherhood in order for them both, and the Islamist agenda, to prevail in Egypt.
This makes sense in the context that, soon after Morsi came to power, the general public did become increasingly critical of him and his policies, including the fact that he was placing only Brotherhood members in Egypt's most important posts, trying quickly to push through a pro-Islamist constitution, and, as Egyptians called it, trying in general to "Brotherhoodize" Egypt.
This second phone call being longer than the first, Zawahiri took it as an opportunity to congratulate Morsi on his recent presidential victory—which, incidentally, from the start, was portrayed by some as fraudulent—and expressed his joy that Morsi's presidency could only mean that "all secular infidels would be removed from Egypt."
Then Zawahiri told Morsi: "Rule according to the Sharia of Allah [or "Islamic law"], and we will stand next to you. Know that, from the start, there is no so-called democracy, so get rid of your opposition."
This assertion comports extremely well with his brother Ayman Zawahiri's views. A former Muslim Brotherhood member himself, some thirty years ago, the al-Qaeda leader wrote Al Hissad Al Murr ("The Bitter Harvest"), a scathing book condemning the Brotherhood for "taking advantage of the Muslim youths' fervor by … steer[ing] their onetime passionate, Islamic zeal for jihad to conferences and elections." An entire section dedicated to showing that Islamic Sharia cannot coexist with democracy even appears in Ayman Zawahiri's book (see "Sharia and Democracy," The Al Qaeda Reader, pgs. 116-136).
The call ended in agreement that al-Qaeda would support the Brotherhood, including its international branches, under the understanding that Morsi would soon implement full Sharia in Egypt. After this, Muhammad Zawahiri and Khairat al-Shater, the number-two man of the Muslim Brotherhood organization, reportedly met regularly.
It is interesting to note here that, prior to these revelations, U.S. ambassador Anne Patterson was seen visiting with Khairat al-Shater—even though he held no position in the Morsi government—and after the ousting and imprisonment of Morsi and leading Brotherhood members, Sens. John McCain and Lindsay Graham made it a point to visit the civilian Shater in his prison cell and urged the Egyptian government to release him.
The next call, recorded roughly six weeks after this last one, again revolved around the theme of solidifying common cooperation between the Egyptian presidency and the Muslim Brotherhood on the one hand, and al-Qaeda and its jihadi offshoots on the other, specifically in the context of creating jihadi cells inside Egypt devoted to protecting the increasingly unpopular Brotherhood-dominated government.
As I reported back in December 2012, Egyptian media were saying that foreign jihadi fighters were appearing in large numbers—one said 3,000 fighters—especially in Sinai. And, since the overthrow of the Brotherhood and the military crackdown on its supporters, many of those detained have been exposed speaking non-Egyptian dialects of Arabic.
During this same call, Zawahiri was also critical of the Morsi government for still not applying Islamic Sharia throughout Egypt, which, as mentioned, was one of the prerequisites for al-Qaeda support.
Morsi responded by saying "We are currently in the stage of consolidating power and need the help of all parties—and we cannot at this time apply the Iranian model or Taliban rule in Egypt; it is impossible to do so now."
In fact, while the Brotherhood has repeatedly declared its aspirations for world domination, from its origins, it has always relied on a "gradual" approach, moving only in stages, with the idea of culminating its full vision only when enough power has been consolidated.
In response, Zawahiri told Morsi that, as a show of good will, he must "at least release the mujahidin who were imprisoned during the Mubarak era as well as all Islamists, as an assurance and pact of cooperation and proof that the old page has turned to a new one."
After that call, and as confirmed by a governmental source, Morsi received a list from Zawahiri containing the names of the most dangerous terrorists in Egyptian jails, some of whom were on death row due to the enormity of their crimes.
In fact, as I reported back in August 2012, many imprisoned terrorists, including from Egypt's notorious Islamic Jihad organization—which was once led by Ayman Zawahiri—were released under Morsi.
One year later, in August 2013, soon after the removal of Morsi, Egypt's Interior Ministry announced that Egypt was "preparing to cancel any presidential pardons issued during Morsi's era to terrorists or criminals."
During this same call, and in the context of pardons, Morsi said he would do his best to facilitate the return of Muhammad's infamous brother and al-Qaeda leader, Ayman Zawahiri, back to Egypt—"with his head held high," in accordance with Islamist wishes—as well as urge the U.S. to release the "Blind Sheikh" and terrorist mastermind, Omar Abdul Rahman.
In March 2013, I wrote about how Morsi, during his Pakistan visit, had reportedly met with Ayman Zawahiri and made arrangements to smuggle him back to Sinai. According to a Pakistan source, the meeting was "facilitated by elements of Pakistani intelligence [ISI] and influential members of the International Organization, the Muslim Brotherhood."
The gist of the next two calls between Morsi and Muhammad Zawahiri was that, so long as the former is president, he would see to it that all released jihadis and al-Qaeda operatives are allowed to move freely throughout Egypt and the Sinai, and that the presidential palace would remain in constant contact with Zawahiri, to make sure everything is moving to the satisfaction of both parties.
Zawahiri further requested that Morsi allow them to develop training camps in Sinai in order to support the Brotherhood through trained militants. Along with saying that the Brotherhood intended to form a "revolutionary guard" to protect him against any coup, Morsi added that, in return for al-Qaeda's and its affiliates' support, not only would he allow them to have such training camps, but he would facilitate their development in Sinai and give them four facilities to use along the Egyptian-Libyan border.
That Libya is mentioned is interesting. According to a Libyan Arabic report I translated back in June 2013, those who attacked the U.S. consulate in Benghazi, killing Americans, including Ambassador Chris Stevens, were from jihadi cells that had been formed in Libya through Egyptian Muslim Brotherhood support. Those interrogated named Morsi and other top Brotherhood leadership as accomplices.
More evidence—including some that implicates the U.S. administration—has mounted since then.
Next, Watan makes several more assertions, all of which are preceded by "according to security/intelligence agencies." They are:
That Morsi did indeed as he promised, and that he facilitated the establishment of four jihadi training camps. Morsi was then Chief in Command of Egypt's Armed Forces, and through his power of authority, stopped the military from launching any operations including in the by now al-Qaeda overrun Sinai.

That, after Morsi reached Pakistan, he had a one-and-a-half hour meeting with an associate of Ayman Zawahiri in a hotel and possibly spoke with him.

That, after Morsi returned to Egypt from his trip to Pakistan, he issued another list containing the names of 20 more convicted terrorists considered dangerous to the national security of Egypt, giving them all presidential pardons—despite the fact that national security and intelligence strongly recommended that they not be released on grounds of the threat they posed.

That the Muslim Brotherhood's international wing, including through the agency of Khairat al-Shater, had provided $50 million to al-Qaeda in part to support the Muslim Brotherhood in Egypt.
One of the longer conversations between Morsi and Zawahiri reported by Watan is especially telling of al-Qaeda's enmity for secularist Muslims and Coptic Christians—whose churches, some 80, were attacked, burned, and destroyed, some with the al-Qaeda flag furled above them, soon after the ousting of Morsi. I translate portions below:
Zawahiri: "The teachings of Allah need to be applied and enforced; the secularists have stopped the Islamic Sharia, and the response must be a stop to the building of churches." (An odd assertion considering how difficult it already is for Copts to acquire a repair permit for their churches in Egypt.)
Zawahiri also added that "All those who reject the Sharia must be executed, and all those belonging to the secular media which work to disseminate debauchery and help deviants and Christians to violate the Sharia, must be executed."
Morsi reportedly replied: "We have taken deterrent measures to combat those few, and new legislative measures to limit their media, and in the near future, we will shut down these media stations and launch large Islamic media outlets. We are even planning a big budget from the [Brotherhood] International Group to launch Islamic and jihadi satellite stations to urge on the jihad. There will be a channel for you and the men of al-Qaeda, and it can be broadcast from Afghanistan."
Undeterred, Zawahiri responded by saying, "This [is a] Christian media—and some of the media personnel are paid by the [Coptic] Church and they work with those who oppose the Sharia… secularist forces are allied with Christian forces, among them Naguib Sawiris, the Christian-Jew."
Morsi: "Soon we will uphold our promises to you."
In fact, there was a period of time when the secular media in Egypt—which was constantly exposing Brotherhood machinations—were under severe attack by the Brotherhood and Islamists of all stripes (comedian Bassem Youssef was the tip of the iceberg). In one instance, which I noted back in August 2012, six major media stations were attacked by Brotherhood supporters, their employees severely beat.
The last call recorded between Muhammad Morsi and Muhammad Zawahiri took place on the dawn of June 30, 2013 (the date of the June 30 Revolution that ousted Morsi and the Brotherhood). Morsi made the call to Zawahiri in the presence of Asad al-Sheikha, Deputy Chief of Presidential Staff, Refa' al-Tahtawy, Chief of Presidential Staff, and his personal security.
During this last call, Morsi incited Zawahiri to rise against the Egyptian military in Sinai and asked Zawahiri to compel all jihadi and loyalist elements everywhere to come to the aid of the Muslim Brotherhood and neutralize its opponents.
Zawahiri reportedly responded by saying "We will fight the military and the police, and we will set the Sinai aflame.
True enough, as I reported on July 4, quoting from an Arabic report: "Al-Qaeda, under the leadership of Muhammad Zawahiri, is currently planning reprisal operations by which to attack the army and the Morsi-opposition all around the Republic [of Egypt]." The report added that, right before the deposing of Morsi, Zawahiri had been arrested and was being interrogated—only to be ordered released by yet another presidential order, and that he had since fled to the Sinai.
Also on that same first day of the revolution, Khairat al-Shater, Deputy Leader of the Brotherhood, had a meeting with a delegate of jihadi fighters and reiterated Morsi's request that all jihadis come to the aid of the presidency and the Brotherhood.
—–
As Morsi's trial continues, it's only a matter of time before the truth of these allegations—and their implications for the U.S.—is known. But one thing is certain: most of them comport incredibly well with incidents and events that took place under Morsi's government.
Chinese purchases of Iranian oil raise tantalizing questions
A fully loaded Chinese oil tanker ploughing its way eastwards from two Iranian oil terminals raises questions of how far Beijing is willing to go in defying US sanctions amid a mounting US military build-up in the Gulf and a US-China trade war.
The sailing from Iran of the Pacific Bravo takes on added significance with US strategy likely to remain focused on economic rather than military strangulation of the Iranian leadership, despite the deployment to the Gulf of an aircraft carrier strike group as well as B-52 bombers and a Patriot surface-to-air missile system.
As President Donald J. Trump, backed by Secretary of State Mike Pompeo, appears to be signalling that he is not seeking military confrontation, his administration is reportedly considering a third round of sanctions that would focus on Iran's petrochemical industry. The administration earlier this month sanctioned the country's metals and minerals trade.
The sailing raises the question whether China is reversing its policy that led in the last quarter of 2018 to it dramatically reducing its trade with Iran, possibly in response to a recent breakdown in US-Chinese trade talks.
"The question is whether non-oil trade remains depressed even if some oil sales resume, which I think it will. That's the better indicator of where Chinese risk appetite has changed. Unfortunately Iran's reprieve will be limited—but better than zero perhaps," tweeted Esfandyar Batmanghelidj, head of Bourse & Bazaar, a self-described media and business diplomacy company and the founder of the Europe-Iran Forum.
A Chinese analyst interviewed by Al Jazeera argued that "China is not in a position to have Iran's back… For China, its best to stay out" of the fray.
The stakes for China go beyond the troubled trade talks. In Canada, a senior executive of controversial Chinese telecommunications giant Huawei is fighting extradition to the United States on charges of violating US sanctions against Iran.
Reports that Western companies, including Kraft Heinz, Adidas and Gap, wittingly or unwittingly, were employing Turkic Muslims detained in re-education camps in China's north-western province of Xinjiang, as part of opaque supply chains, could increase attention on a brutal crackdown that China is struggling to keep out of the limelight.
The Trump administration has repeatedly criticized the crackdown but has stopped short of sanctioning officials involved in the repressive measures.
Bourse & Bazaar's disclosure of the sailing of the Pacific Bravo coincided with analysis showing that Iran was not among China's top three investment targets in the Middle East even if Chinese investment in the region was on the rise.
The Pacific Bravo was steaming with its cargo officially toward Indonesia as Iranian foreign minister Mohammad Javad Zarif was touring his country's major oil clients, including China, in a bid to persuade them to ignore US sanctions.
A second tanker, the Marshal Z, was reported to have unloaded 130,000 tonnes of Iranian fuel oil into storage tanks near the Chinese city of Zhoushan.
The Marshall Z was one of four ships that, according to Reuters, allegedly helped Iran circumvent sanctions by using ship-to-ship transfers in January and forged documents that masked the cargoes as originating from Iraq.
The unloading put an end to a four-month odyssey at sea sparked by buyers' reticence to touch a cargo that would put them in the US crosshairs.
"Somebody in China decided that the steep discount this cargo most likely availed … was a bargain too good to miss," Matt Stanley, an oil broker at StarFuels in Dubai, told Reuters.
The Pacific Bravo, the first vessel to load Iranian oil since the Trump administration recently refused to extend sanction exemptions to eight countries, including China, was recently acquired by China's Bank of Kunlun.
The acquisition and sailing suggested that Bank of Kunlun was reversing its decision last December to restrict its business with Iran to humanitarian trade, effectively excluding all other transactions.
The bank was the vehicle China used in the past for business with Iran because it had no exposure to the United States and as a result was not vulnerable to US sanctions that were in place prior to the 2015 international agreement that curbed Iran's nuclear program.
China's willingness to ignore, at least to some extent, US sanctions could also constitute an effort to persuade Iran to remain fully committed to the nuclear accord which it has so far upheld despite last year's US withdrawal.
Iran recently warned Europe that it would reduce its compliance if Europe, which has struggled to create a credible vehicle that would allow non-US companies to circumvent the sanctions, failed to throw the Islamic republic an economic lifeline.
In a letter that was also sent to Russia and China, Iran said it was no longer committed to restrictions on the storage of enriched uranium and heavy water stocks, and could stop observing limits on uranium enrichment at a later stage.
Russian president Vladimir Putin warned in response to the Iranian threat that "as soon as Iran takes its first reciprocal steps and says that it is leaving, everyone will forget by tomorrow that the US was the initiator of this collapse. Iran will be held responsible, and the global public opinion will be intentionally changed in this direction."
Will there be war with Iran? Will there not be war with Iran? The questions are being asked repeatedly in the media even though a single carrier task force is steaming up there. The expression is old for the latest carriers are nuclear powered. Imagine the mess if it was blown up.
There are two kinds of weapons in the world … offensive and defensive. The latter are cheaper, a fighter plane compared to a bomber. If a country does not (or cannot afford to) have offensive intent, it makes sense to focus on defense. It is what Iran has done. Moreover, its missile centered defense has a modern deadly twist — the missiles are precision-guided.
As an Iranian general remarked when questioned about the carrier task force: some years ago it would've been a threat he opined; now it's a target. Iran also has a large standing army of 350,000 plus a 120,000 strong Revolutionary Guard and Soviet style air defenses. In 2016 Russia started installation of the S-300 system. It has all kinds of variants, the most advanced, the S-300 PMU-3 has a range similar to the S-400 if equipped with 40N6E missiles, which are used also in the S-400. Their range is 400 km, so the Iranian batteries are virtually S-400s. The wily Putin has kept trump satisfied with the S-300 moniker without short-changing his and China's strategic ally. The latter continuing to buy Iranian oil.
Iran has friends in Europe also. Angela Merkel in particular has pointed out that Iran has complied fully with the nuclear provisions of the UN Security Council backed Joint Comprehensive Plan of Action i.e. the Iran nuclear deal. She is mustering the major European powers. Already alienated with Trump treating them as adversaries rather than friends, they find Trump's bullying tiresome. President Macron, his poll ratings hitting the lowest, is hardly likely to engage in Trump's venture. In Britain, Theresa May is barely able to hold on to her job. In the latest thrust by senior members of her party, she has been asked to name the day she steps down.
So there we have it. Nobody wants war with Iran. Even Israel, so far without a post-election government does not want to be rained upon by missiles leaky as its Iron Dome was against homemade Palestinian rockets.
Topping all of this neither Trump nor Secretary of State Pompeo want war. Trump is as usual trying to bully — now called maximum pressure — Iran into submission. It won't. The wild card is National Security Adviser John Bolton. He wants war. A Gulf of Tonkin type false flag incident, or an Iranian misstep, or some accident can still set it off.
In Iran itself, moderates like current President Hassan Rouhani are being weakened by Trump's shenanigans. The hard liners might well want to bleed America as happened in Iraq and Afghanistan.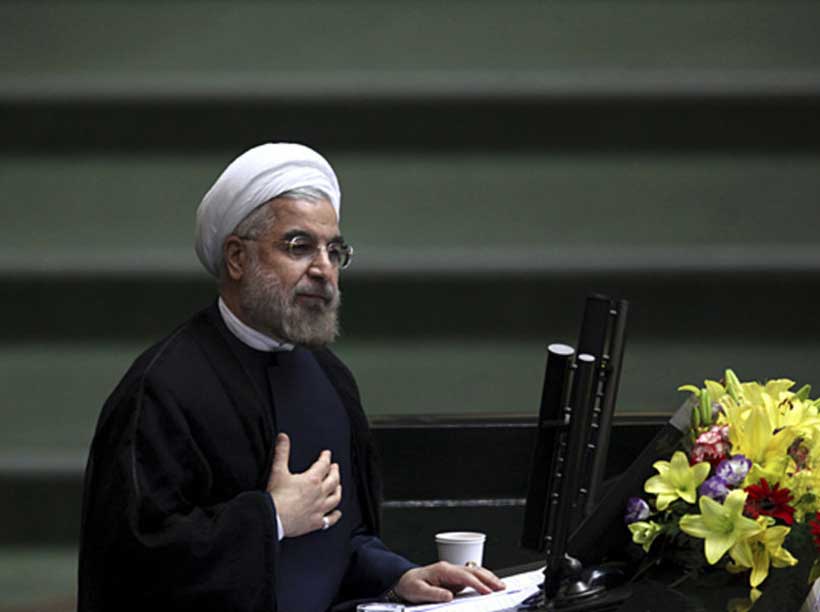 By announcing that Iran will begin keeping its excess uranium and heavy water, the Islamic Republic now sends a firm and clear message to the west, exactly one year after U.S. president, Donald Trump unilaterally withdrew from its nuclear deal with Iran.
At this point, it seems that Iran has made a wise decision. Over the last year, the European troika has not only done anything to revive the nuclear deal or bring any kind of benefit to the Iranian nation, but they have actually backed up U.S. by developing new plans to undermine Iran's "missile work", and diminish its "power in the region" as well as its "nuclear technology".
As stated in clauses 26 and 36 of Joint Comprehensive Plan of Action (JCPOA), if the other side fails to meet its obligations, Iran is entitled to partially or completely end its commitments as well. So, Iran's recent decision could be analyzed both on legal and strategic terms.
However, it seems that the strategic aspects of Iran's decision are even more important than its legal aspects. This decision is strategically important because it stops Washington and European troika to carry out their anti-Iran scheme, a dangerous scheme that they actually started devising when Trump took the office in 2017.
At the time, Theresa May, the British Prime Minister, and Emmanuel Macron, the French president played a major part in carrying out the west scheme. A scheme based on enforcing Iran to keep its "nuclear promises" and stay committed to a "distorted nuclear deal" while "U.S. had abandoned the deal", and at the same time, trying to "diminish Iran's power in the region" and "reduce its missile activities".
All other actions of Europeans toward Iran were also simply targeted at carrying out this major plan, including how they constantly changed their strategies toward Tehran, and how Germany, U.K. and France intentionally delayed in launching the alternative trade mechanism (Instex) with Iran.
Now, Iran's decision to keep its Uranium and heavy water is definitely in compliance with JCPOA, and more importantly, it will seriously undermine the "American-European" joint plan against Iran. This also explains why French government was so distressed by Iran's new nuclear strategy and had such a quick reaction, considering that Emmanuel Macron, the French president and Jean-Yves Le Drian, the French Foreign Minister both have had important roles in carrying out the American-European anti-Iran scheme.
At any rate, what is clear now is that the game has just started! And the Iranian political system and specially the foreign ministry have a great mission to run this game wisely.
In following days, the European troika might want to force Iran into changing its decision by threats such as reviving the European Union sanctions against Iran or even taking Iran's case to the United Nations Security Council (so that Trump administration can meddle in Iran's affairs). But, it is time for Iran political system to be adamant in its decision.
The Iranian Foreign Ministry should clearly ask the Europeans to choose one of these options, either Iran will "further reduce its commitments to the nuclear deal" or the Europeans should do something practical to "protect the rights of Iranian nation".
It is also necessary that the Iranian political system reveals the American-European joint anti-Iran scheme to the people so that the true nature of Europeans is showed to Iranians. In that case, Europe and specially the European troika will completely lose their reputation.
First published in our partner Tehran Times