The Muslim Brotherhood/Al-Qaeda Connection
As former Egyptian President Muhammad Morsi's trials continue, it's enlightening to consider what is likely to be one of the centerpieces of the trial: longstanding accusations that Morsi and his Muslim Brotherhood party worked with foreign terrorist organizations, including al-Qaeda, against the national security of Egypt.
Based on these accusations of high treason, Morsi and others could face the death penalty.
Concerning some of the more severe allegations, one of Egypt's most widely distributed and read newspapers, Al Watan, recently published what it said were recorded conversations between Morsi and Muhammad Zawahiri, al-Qaeda leader Ayman Zawahiri's brother.
In these reports, Watan repeatedly asserts that Egyptian security and intelligence agencies confirmed (or perhaps leaked out) the recordings.
Much of the substance of the alleged conversations is further corroborated by events that occurred during Morsi's one-year-rule, most of which were reported by a variety of Arabic media outlets, though not by Western media.
In what follows, I relay, summarize, and translate some of the more significant portions of the Watan reports (verbatim statements are in quotation marks). In between, I comment on various anecdotes and events—many of which were first broken on my website—that now, in light of these phone conversations, make perfect sense and independently help confirm the authenticity of the recordings.
—–
The first recorded call between Muhammad Morsi and Muhammad Zawahiri lasted for 59 seconds. Morsi congratulated Zawahiri on his release from prison, where he had been incarcerated for jihadi/terrorist activities against Egypt, and assured him that he would not be followed or observed by any Egyptian authorities, and that he, Morsi, was planning on meeting with him soon. Prior to this first call, Refa' al-Tahtawy, then Chief of Staff, mediated and arranged matters.
The presidential palace continued to communicate regularly with Muhammad Zawahiri, and sources confirm that he was the link between the Egyptian presidency and his brother, Ayman Zawahiri, the Egyptian-born leader of al-Qaeda.
It should be noted that, once released, the previously little-known Muhammad Zawahiri did become very visible and vocal in Egypt, at times spearheading the Islamist movement.
The next recording between Morsi and Zawahiri lasted for 2 minutes and 56 seconds and took place one month after Morsi became president. Morsi informed Zawahiri that the Muslim Brotherhood supports the mujahidin (jihadis) and that the mujahidin should support the Brotherhood in order for them both, and the Islamist agenda, to prevail in Egypt.
This makes sense in the context that, soon after Morsi came to power, the general public did become increasingly critical of him and his policies, including the fact that he was placing only Brotherhood members in Egypt's most important posts, trying quickly to push through a pro-Islamist constitution, and, as Egyptians called it, trying in general to "Brotherhoodize" Egypt.
This second phone call being longer than the first, Zawahiri took it as an opportunity to congratulate Morsi on his recent presidential victory—which, incidentally, from the start, was portrayed by some as fraudulent—and expressed his joy that Morsi's presidency could only mean that "all secular infidels would be removed from Egypt."
Then Zawahiri told Morsi: "Rule according to the Sharia of Allah [or "Islamic law"], and we will stand next to you. Know that, from the start, there is no so-called democracy, so get rid of your opposition."
This assertion comports extremely well with his brother Ayman Zawahiri's views. A former Muslim Brotherhood member himself, some thirty years ago, the al-Qaeda leader wrote Al Hissad Al Murr ("The Bitter Harvest"), a scathing book condemning the Brotherhood for "taking advantage of the Muslim youths' fervor by … steer[ing] their onetime passionate, Islamic zeal for jihad to conferences and elections." An entire section dedicated to showing that Islamic Sharia cannot coexist with democracy even appears in Ayman Zawahiri's book (see "Sharia and Democracy," The Al Qaeda Reader, pgs. 116-136).
The call ended in agreement that al-Qaeda would support the Brotherhood, including its international branches, under the understanding that Morsi would soon implement full Sharia in Egypt. After this, Muhammad Zawahiri and Khairat al-Shater, the number-two man of the Muslim Brotherhood organization, reportedly met regularly.
It is interesting to note here that, prior to these revelations, U.S. ambassador Anne Patterson was seen visiting with Khairat al-Shater—even though he held no position in the Morsi government—and after the ousting and imprisonment of Morsi and leading Brotherhood members, Sens. John McCain and Lindsay Graham made it a point to visit the civilian Shater in his prison cell and urged the Egyptian government to release him.
The next call, recorded roughly six weeks after this last one, again revolved around the theme of solidifying common cooperation between the Egyptian presidency and the Muslim Brotherhood on the one hand, and al-Qaeda and its jihadi offshoots on the other, specifically in the context of creating jihadi cells inside Egypt devoted to protecting the increasingly unpopular Brotherhood-dominated government.
As I reported back in December 2012, Egyptian media were saying that foreign jihadi fighters were appearing in large numbers—one said 3,000 fighters—especially in Sinai. And, since the overthrow of the Brotherhood and the military crackdown on its supporters, many of those detained have been exposed speaking non-Egyptian dialects of Arabic.
During this same call, Zawahiri was also critical of the Morsi government for still not applying Islamic Sharia throughout Egypt, which, as mentioned, was one of the prerequisites for al-Qaeda support.
Morsi responded by saying "We are currently in the stage of consolidating power and need the help of all parties—and we cannot at this time apply the Iranian model or Taliban rule in Egypt; it is impossible to do so now."
In fact, while the Brotherhood has repeatedly declared its aspirations for world domination, from its origins, it has always relied on a "gradual" approach, moving only in stages, with the idea of culminating its full vision only when enough power has been consolidated.
In response, Zawahiri told Morsi that, as a show of good will, he must "at least release the mujahidin who were imprisoned during the Mubarak era as well as all Islamists, as an assurance and pact of cooperation and proof that the old page has turned to a new one."
After that call, and as confirmed by a governmental source, Morsi received a list from Zawahiri containing the names of the most dangerous terrorists in Egyptian jails, some of whom were on death row due to the enormity of their crimes.
In fact, as I reported back in August 2012, many imprisoned terrorists, including from Egypt's notorious Islamic Jihad organization—which was once led by Ayman Zawahiri—were released under Morsi.
One year later, in August 2013, soon after the removal of Morsi, Egypt's Interior Ministry announced that Egypt was "preparing to cancel any presidential pardons issued during Morsi's era to terrorists or criminals."
During this same call, and in the context of pardons, Morsi said he would do his best to facilitate the return of Muhammad's infamous brother and al-Qaeda leader, Ayman Zawahiri, back to Egypt—"with his head held high," in accordance with Islamist wishes—as well as urge the U.S. to release the "Blind Sheikh" and terrorist mastermind, Omar Abdul Rahman.
In March 2013, I wrote about how Morsi, during his Pakistan visit, had reportedly met with Ayman Zawahiri and made arrangements to smuggle him back to Sinai. According to a Pakistan source, the meeting was "facilitated by elements of Pakistani intelligence [ISI] and influential members of the International Organization, the Muslim Brotherhood."
The gist of the next two calls between Morsi and Muhammad Zawahiri was that, so long as the former is president, he would see to it that all released jihadis and al-Qaeda operatives are allowed to move freely throughout Egypt and the Sinai, and that the presidential palace would remain in constant contact with Zawahiri, to make sure everything is moving to the satisfaction of both parties.
Zawahiri further requested that Morsi allow them to develop training camps in Sinai in order to support the Brotherhood through trained militants. Along with saying that the Brotherhood intended to form a "revolutionary guard" to protect him against any coup, Morsi added that, in return for al-Qaeda's and its affiliates' support, not only would he allow them to have such training camps, but he would facilitate their development in Sinai and give them four facilities to use along the Egyptian-Libyan border.
That Libya is mentioned is interesting. According to a Libyan Arabic report I translated back in June 2013, those who attacked the U.S. consulate in Benghazi, killing Americans, including Ambassador Chris Stevens, were from jihadi cells that had been formed in Libya through Egyptian Muslim Brotherhood support. Those interrogated named Morsi and other top Brotherhood leadership as accomplices.
More evidence—including some that implicates the U.S. administration—has mounted since then.
Next, Watan makes several more assertions, all of which are preceded by "according to security/intelligence agencies." They are:
That Morsi did indeed as he promised, and that he facilitated the establishment of four jihadi training camps. Morsi was then Chief in Command of Egypt's Armed Forces, and through his power of authority, stopped the military from launching any operations including in the by now al-Qaeda overrun Sinai.

That, after Morsi reached Pakistan, he had a one-and-a-half hour meeting with an associate of Ayman Zawahiri in a hotel and possibly spoke with him.

That, after Morsi returned to Egypt from his trip to Pakistan, he issued another list containing the names of 20 more convicted terrorists considered dangerous to the national security of Egypt, giving them all presidential pardons—despite the fact that national security and intelligence strongly recommended that they not be released on grounds of the threat they posed.

That the Muslim Brotherhood's international wing, including through the agency of Khairat al-Shater, had provided $50 million to al-Qaeda in part to support the Muslim Brotherhood in Egypt.
One of the longer conversations between Morsi and Zawahiri reported by Watan is especially telling of al-Qaeda's enmity for secularist Muslims and Coptic Christians—whose churches, some 80, were attacked, burned, and destroyed, some with the al-Qaeda flag furled above them, soon after the ousting of Morsi. I translate portions below:
Zawahiri: "The teachings of Allah need to be applied and enforced; the secularists have stopped the Islamic Sharia, and the response must be a stop to the building of churches." (An odd assertion considering how difficult it already is for Copts to acquire a repair permit for their churches in Egypt.)
Zawahiri also added that "All those who reject the Sharia must be executed, and all those belonging to the secular media which work to disseminate debauchery and help deviants and Christians to violate the Sharia, must be executed."
Morsi reportedly replied: "We have taken deterrent measures to combat those few, and new legislative measures to limit their media, and in the near future, we will shut down these media stations and launch large Islamic media outlets. We are even planning a big budget from the [Brotherhood] International Group to launch Islamic and jihadi satellite stations to urge on the jihad. There will be a channel for you and the men of al-Qaeda, and it can be broadcast from Afghanistan."
Undeterred, Zawahiri responded by saying, "This [is a] Christian media—and some of the media personnel are paid by the [Coptic] Church and they work with those who oppose the Sharia… secularist forces are allied with Christian forces, among them Naguib Sawiris, the Christian-Jew."
Morsi: "Soon we will uphold our promises to you."
In fact, there was a period of time when the secular media in Egypt—which was constantly exposing Brotherhood machinations—were under severe attack by the Brotherhood and Islamists of all stripes (comedian Bassem Youssef was the tip of the iceberg). In one instance, which I noted back in August 2012, six major media stations were attacked by Brotherhood supporters, their employees severely beat.
The last call recorded between Muhammad Morsi and Muhammad Zawahiri took place on the dawn of June 30, 2013 (the date of the June 30 Revolution that ousted Morsi and the Brotherhood). Morsi made the call to Zawahiri in the presence of Asad al-Sheikha, Deputy Chief of Presidential Staff, Refa' al-Tahtawy, Chief of Presidential Staff, and his personal security.
During this last call, Morsi incited Zawahiri to rise against the Egyptian military in Sinai and asked Zawahiri to compel all jihadi and loyalist elements everywhere to come to the aid of the Muslim Brotherhood and neutralize its opponents.
Zawahiri reportedly responded by saying "We will fight the military and the police, and we will set the Sinai aflame.
True enough, as I reported on July 4, quoting from an Arabic report: "Al-Qaeda, under the leadership of Muhammad Zawahiri, is currently planning reprisal operations by which to attack the army and the Morsi-opposition all around the Republic [of Egypt]." The report added that, right before the deposing of Morsi, Zawahiri had been arrested and was being interrogated—only to be ordered released by yet another presidential order, and that he had since fled to the Sinai.
Also on that same first day of the revolution, Khairat al-Shater, Deputy Leader of the Brotherhood, had a meeting with a delegate of jihadi fighters and reiterated Morsi's request that all jihadis come to the aid of the presidency and the Brotherhood.
—–
As Morsi's trial continues, it's only a matter of time before the truth of these allegations—and their implications for the U.S.—is known. But one thing is certain: most of them comport incredibly well with incidents and events that took place under Morsi's government.
Algerian controversy over Salafism puts government control of religion on the spot
A controversy in Algeria over the growing popularity of Saudi-inspired Salafi scholars spotlights the risk governments run in a region in which they strive to control religion in a bid to counter militant strands of Islam, often by touting apolitical, ultra-conservative trends.  These efforts are proving difficult to contain within the limits of the government's agenda.
The controversy over Saudi support of Salafi scholars highlights how state control, frequently exercised through degrees of micro-management of weekly Friday prayer sermons, and/or putting clerics on the government payroll as well as supervision of mosques and school textbooks, often backfires.  For one, the credibility of government-sponsored Islamic scholars is undermined as they become increasingly viewed as functionaries and parrots of regimes.
It also thrusts into the limelight the slippery slope on which governments play politics with conservative and ultra-conservative religion for opportunistic reasons or as in the case of Turkey in a bid to establish state-controlled Turkish Islam as a global force.
Ultra-conservatism's increasing attractiveness is magnified by the inability of governments to comprehensively police alternative expressions of religion on the Internet and social media as well as halt the popping up of unlicensed mosques and informal study groups.
As a result, Saudi-inspired ultra-conservative as well as militant strands of Islam emerge as the only alternative release valve, particularly in countries that restrict freedom of expression, the media and religion and have failed in their delivery of public goods and services
"Whatever the state does to control the religious realm, it cannot oblige or guarantee that people will rely on official bodies and individuals for their religious guidance. In fact, Algerian youths in particular are disillusioned and have lost confidence in their religious institutions. As such, they may be attracted to other religious voices, especially those offering 'grab and go' solutions to complex issues or a Manichean view of the world," said Algeria scholar Dalia Ghanem-Yazbeck.
The controversy in Algeria further raises questions about definitions of Saudi Crown Prince Mohammed bin Salman's declared effort to return the kingdom to what he termed 'moderate Islam' given that Saudi Arabia played a key role in globally promoting Sunni Muslim ultra-conservatism for almost half a century.
In Saudi Arabia, the jury is still out on Prince Mohammed's approach to moderation. In an ultra-conservative country in which religious leaders were not only popular, but government employees who shared power with the ruling Al Saud family, Prince Mohammed has whipped the religious establishment into subservience and kowtowing to his reforms with little indication that they have had a true change of heart.
Algeria has long seen Saudi-inspired quietist strands of Salafism that preach unreserved obedience to a Muslim ruler as a way of countering expressions of popular discontent and more militant strands of Islam.
"The onset of the 2011 Arab uprisings only increased the utility of quietist Salafists to the state. All the main quietist figures issued calls for Algerians to resist the wave of political contestation rocking the Arab world… This drove a wedge between rulers and ruled, exacerbating social divisions, which would inevitably lead to a rise in insecurity and worsening corruption," said international relations scholar Anouar Boukhars.
A recent study showed that many Algerians were turning on social media to Saudi and Egyptian rather than Algerian religious scholars.
Some Saudi scholars like Sheikh Mohamed al-Arefe, a controversial ultra-conservative, known for his misogynist and anti-Shiite tirades, who ranks among the top 100 global and top 10 Arab social media personalities with 21.6 million followers on Twitter and 24.3 million on Facebook boast a larger following in Algeria than in the kingdom itself.
The study concluded that Mr. Al-Arefe had two million Algerian followers as opposed to 1.3 million Saudis.
Algerian media reports, echoing secular concerns, detailed earlier this year Saudi propagation of a quietist, apolitical yet supremacist and anti-pluralistic form of Islam in the North African country. The media published a letter by a prominent Saudi scholar that appointed three ultra-conservative Algerian clerics as representatives of Salafism.
"While Saudi Arabia tries to promote the image of a country that is ridding itself of its fanatics, it sends to other countries the most radical of its doctrines," asserted independent Algerian newspaper El Watan.
El Watan and other media reproduced a letter written by Saudi Sheikh Hadi Ben Ali Al-Madkhali, a scion of Sheikh Rabia Al-Madkhali, the intellectual father of what French Islam scholar Stephane Lacroix terms a loyalist strand of Salafism that projects the kingdom as the ideal place for those who seek a pure Islam that has not been compromised by non-Muslim cultural practices and secularism.
The letter appoints three prominent Algerian scholars, including Mohamed Ali Ferkous, widely viewed as the spiritual guide of Algerian Madkhalists, as Salafism's representatives in Algeria.
"Madkhalism…(is) perhaps Saudi Arabia's own Trojan Horse," quipped North Africa scholar George Joffe. "State-approved imams in Algeria now find themselves under considerable pressure, in mosques that have been targeted, to adapt their teachings and doctrines to Salafi precept, even if this challenges the authority of the ministry of religious affairs," Mr. Joffe added.
The mixed results of the Algerian government's effort to control and use religion are replicated across the Muslim world.
Pakistan, a country in which ultra-conservatism and militancy has over decades been woven into the fabric of the state and society and that is struggling with political violence against the state as well as minorities, serves as an example of the risks involved in playing politics with religion and state support for non-pluralistic, intolerant and supremacist interpretations of Islam.
Attempting to rollback the fallout of such policies is proving to be a gargantuan task. The Pakistani government earlier this year launched a pilot project in Islamabad to regulate Friday prayer sermons. The problem is that it controls a mere 86 of the city's 1,003 mosques.
Some critics warn that Turkish President Recep Tayyip Erdogan may be taking his country down a road like that of Pakistan. They compare the Turkish leader to former Pakistani ruler General Zia ul-Haq who in the 1980s accelerated Islamization of Pakistani society.
Former Pakistani ambassador to the United States and director of South and Central Asia for the Washington-based Hudson Institute Husain Haqqani asserted that Mr. Erdogan was adopting the "Pakistani formula of mixing hard-line nationalism with religiosity" and pouring money into Islamic schools.
"Erdogan has taken the Pakistani formula of mixing hard-line nationalism with religiosity. Zia imposed Islamic laws by decree, amended the constitution, marginalized secular scholars and leaders, and created institutions for Islamization that have outlasted him. Erdogan is trying to do the same in Turkey," Mr. Haqqani told journalist and columnist Eli Lake.
Mr. Lake argued that Turkey, despite having tacitly supported the Islamic State at one point during the Syrian civil war, Turkey had not yet "sunk" to Pakistan's level of cooperation with Islamic militants in its dispute with India and manoeuvring in Afghanistan.
However, suggesting that Turkey risked becoming another Pakistan, Mr. Lake quoted former US ambassador to Turkey Eric Edelman as saying: "Turkey is not Pakistan yet, but if it continues the trajectory that Erdogan has put it on, there is a prospect it could become like Pakistan."
At the other extreme, Chinese authorities in the north-western province of Xinjiang, home to China's Uyghur Muslim minority, were several months ago shutting down some 100 illegal, underground religious seminaries a month despite creating in the region the world's most repressive surveillance state, according to a Chinese communist party official.
The crackdown involves the banning of religious practices and the teaching of the Uyghur language in schools and the detention of thousands in political re-education camps.
The controversy in Algeria, Mr. Erdogan's embrace of Islam, Pakistan's struggle to come to grips with the fallout of ultra-conservatism, China's efforts to crackdown on religion, anti-government and anti-clergy protests in Iran earlier this year, and examples of societies elsewhere in Asia turning towards intolerance and conservatism as governments employ or repress religion for opportunistic political purposes, suggest that political leaders have learnt little, if anything.
Yet, the lesson is that government control and/or playing with religion seldom produces sustainable results. The lesson is also that repression, including restricting freedoms of expression, media and religion, aggravates problems and benefits ultra-conservatives and militants.
Finally, the lesson is that the solution likely lies in inclusive rather than exclusionary policies and transparent and accountable governments capable of delivering pubic goods and services that ensure that all segments of the population have a stake in society. That lesson is one that governments in Algeria, Pakistan, Saudi Arabia, Turkey and China seemingly prefer to overlook.
A Mohammedan Game of Thrones: Iran, Saudi Arabia, and the Fight for Regional Hegemony
Authors: James J. Rooney, Jr. & Dr. Matthew Crosston*
The people in the United States didn't think well of those living in the Soviet Union during the Cold War. There was a basic mistrust and a lack of kind words on both sides. But what you didn't hear was anyone excitedly talking about wanting to completely annihilate the other side despite both having the capacity to do just that. Fast forward to 2018: to Saudi Arabia and Iran and a new regional Middle East version of Mutually Assured Destruction, where it takes on a whole new meaning. Both of these nations maintain terrible images of each and neither would probably shed a tear if the Earth suddenly opened up and swallowed the other. Forgive the propensity to reach hyperbole, but in truth this rivalry goes back 1,385 years when, just after the death of the prophet Mohammed in AD 632, there arose among the faithful a disagreement concerning the issue of succession. Mohammed drafted a Last Will & Testament and set up an ancient version of a Trust Fund for the kids' college/ lifeneeds, but never said a word about succession. In hindsight we now know what colossally poor planning this was as it led to a split between two key factions that would come to be known as the Sunni (who favored a vote for succession) and the Shi'a (who favored keeping it in Mohammed's bloodline). "The Sunnis prevailed and chose a successor to be the first caliph." (Shuster, 2017, 1) What followed was a swinging pendulum of tension with hundreds of years of both war and peace interspersed between the two sides. Today, it looks like they're heading back to war in some form. But the real question is, are they heading back to war because of a 1,000+ year old religious grudge match? Many experts think not. Some say that the bad blood that has been forming between Saudi Arabia and Iran is not about religion, but something else: competing and hostile legitimizing myths. "With the aim of uniting peoples behind their leaders in distinction to 'the other', as it is so often the case, religion is misused as a dividing tool in order to enforce a political agenda." (Reimann, 2016, 3) Not surprisingly, there are religious overtones embedded within these regional hegemonic politics pushing both sides continuously to greater episodes of dangerous tension.
The House of Al Saud, the ruling royal family of Saudi Arabia, is composed of the descendants of Muhammad bin Saud, founder of the Emirate of Diriyah, which was known as the First Saudi state (1744–1818), and his brothers. The ruling faction of the family, however, is primarily led by the descendants of Ibn Saud, the modern founder of Saudi Arabia. The government of Iran is a modern Shia theocracy that was forged in part by the overthrow of Mohammad Reza Pahlavi, the last Shah of Iran, in 1979. Today, "Iran is considered a unitary Islamic republic with one legislative house. The country's 1979 constitution put into place a mixed system of government, in which the executive, parliament, and judiciary are overseen by several bodies dominated by the clergy. At the head of both the state and oversight institutions is a ranking cleric known as the rahbar, or leader, whose duties and authority are those usually equated with a head of state." (Editorial Staff, 2017. 1) Ironically, many have argued that Iran has one of the most democratically structured Constitutions in the world, if not for these extra-constitutional religious oversight bodies that sit over all of the constitutional structures. Even putting the religious affiliations and religio-political structures aside, these two countries are as different as Persian night and Saudi day.
Both Saudi Arabia and Iran view themselves through the legitimizing myth of being the purer form of Islam and true holder of Mohammed's legacy. As if that wasn't conflictual enough, to make matters worse, the Wahhabist theocratic leadership in Riyadh sees the government and family of Saud as secular barbarians that strategically use their Sunni Wahhabist religious connections as a hedge to maintain power. The royal family of Saudi Arabia, for its part, views the theocracy of Iran as a bastardized form of Islam led by illegitimate Imams that hold a potentially progressive nation hostage to outdated religious edicts that have no relevance in the modern Islamic world. Even more dismissively, the Saudi royal family sneer at how this 'Iranian backwardness' has led directly to decades of crippling American sanctions against the people. Of course, the theocracy in Iran sees the cozy relationship between the Saudis and Americans as proof of the infidel fall of the keepers of the Prophet's two great cities, Mecca and Medina. The Saudis are in bed with the Great Satan.
These underlying myths that debate ancient religious legitimacy may be fueling the hatred and Muslim-on-Muslim discrimination found on both sides. But disturbingly, there is one more legitimizing myth that might actually rule over all the others and it's tied to the massive political power and influence greased by black crude. Saudi Arabia comes in as number 2 in terms of the world's known oil reserves. Iran sits at number 4. That oil, and the wealth and political power it translates to, is not lost on either side. Oil is easily the top revenue-producing commodity in both countries. While ups and downs in the global market can have serious consequences for both countries, it means more damage for Iran than Saudi Arabia. The royal Saudi family has wisely/secretly over the past half century stashed away over half a trillion dollars to uniformly smooth out the revenue curves that are innate to the natural resource market in a volatile global economy. Since Tehran has been the subject of severe sanctions, due to its association with Islamic extremism and terrorism, it simply has not been able to create the same safety net/golden pillow of economic protection. Consequently, Iran has not been able to capitalize on its vast reserves of oil, selling much of it on the black market for rock bottom prices to less-than-ideal market consumers. This disparity in oil wealth, the freedom of action within the world market, and the subsequent ability to wield enhanced political power in the region is the real legitimizing myth that acts as a true political hammer separating the two and concretizing their strife with one another.
Iran's political and military expansion into Syria, and its alliance with Russia, is another facet of its hegemonic intentions and desire to unseat Saudi Arabia as the real regional power broker. Iran appears willing to become a client or "dependent" ally of Russia, much as Saudi Arabia has a similar arrangement with the United States. Obviously, this is a dangerous recipe: regional power pretenses, advanced weapons from larger global powers, divergent religious positions, and political gamesmanship operating in the middle of another country's civil war. Both Russia and the United States have cautiously moved their respective chess pieces as events develop in Syria, but unfortunately this caution does not exhibit the press for peace: rather, the American-Russian chess game in Syria only seems to exacerbate the animosity between the Saudis and Iranians. The alleged chemical weapon attacks on rebel positions inside Damascus by Syrian President Bashar al-Assad, backed by Russian forces, caused a direct but limited military response by Washington. American cruise missile attacks on Syrian chemical weapons plants, though marginally effective, nevertheless was a message to Russia and Iran that the U.S. would defend its interests in the region. Those interests are decidedly in favor of a Saudi regional hegemonic leadership. Thus, what we have are cross-competing and hostile legitimizing myths being created in real time about what the future role of each of these players is going to be, America supporting the Saudi myth and Russia supporting the Iranian one.
Clearly, Saudi Arabia and Iran are going to remain deeply entrenched in hostile efforts for political and military dominance in the region. Though ancient religious strife seems like a convenient excuse for continued bad feelings between the two powers – and is focused on to a heavy extent by world media – modern strategic reasons are more dangerous and multi-layered. What we can recognize is an old fashion game of power politics in which both sides have aligned themselves with powerful and protective allies. This game is being made manifest in a critical region of the world where resources are converted to global wealth and power. The parties should remember that oil is combustible. Politics built on oil even more so. But politics built on oil, doused in religious fervor, and shaken vigorously by outside players with their own agendas is the most combustible of all. For the time being, this Mohammedan Game of Thrones seems to have a plotline that will be as deadly and bloody as its more famous Hollywood moniker.
*Dr. Matthew Crosston is Executive Vice Chairman of ModernDiplomacy.eu. He is Senior Doctoral Faculty in the School of Security and Global Studies at the American Military University and was just named the future Co-Editor of the seminal International Journal of Intelligence and Counterintelligence. His work is catalogued at:  https://brown.academia.edu/ProfMatthewCrosston/Analytics
Might Trump Ask Israel to Fund America's Invasion-Occupation of Syria?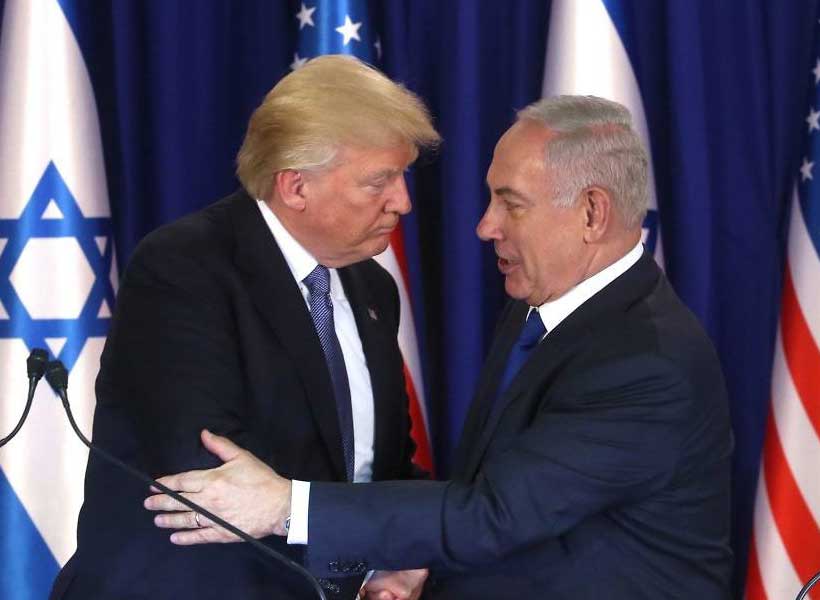 On 16 April 2018, the internationally respected analyst of Middle-Eastern affairs, Abdel Bari Atwan, headlined about Trump's increasingly overt plan to break Syria up and to establish permanent U.S. control over the parts it wants, "Attempting the Unachievable". He stated that "The coming few months are likely to prove very difficult for the Americans, and very costly, not just in Syria but also in Iraq." He closed: "Who will cover the costs of this American move? There are no prizes for guessing the answer: it has already been spelled out." The only country that his article mentioned was Israel: "It would not be surprising if Israel and the various lobbies that support were behind this American strategic volte-face. For Israel is in a state of panic."
The U.S. already donates $3.8 billion per year to Israel's military, in order for Israel to purchase U.S.-made weapons. However, Atwan argues that the costs of this invasion-occupation of Syria are likely to run into the trillions of dollars. The Gross Domestic Product of Israel is only $318.7 billion as of 2016. So, America now already donates a bit more than 1% to that amount, and Atwan's thesis is that Israel will now become instead a net donor to America's international corporations (funding some of the Pentagon, which then will pay that money to America's weapons-firms), in order to avoid adding the enormous costs of this increasing invasion-occupation of Syria, onto America's taxpayers, fighting forces, etc.
I do not consider this enormous reversal of Israel — from recipient to donor — to be likely. Far likelier, in my view, is Saudi Arabia, to finance the invasion.
The GDP of Saudi Arabia is $646.4 billion as of 2016, more than twice Israel's — and the Saud family, who own that country, are accustomed to paying for the services they buy, not having them donated (unless by their fellow fundamentalist Sunnis, to spread the faith). Furthermore, the royal family, the Sauds, are extremely close to America's leading oil families, who also donate heavily to Republican politicians. Ever since at least 2012, the Sauds have been the U.S. Government's main partner in the long campaign to overthrow and replace Syria's President Bashar al-Assad, by a Sharia-law, fundamentalist-Sunni, regime, which will do what the Sauds want.
America's oil companies and pipeline companies, and military contractors such as Lockheed Martin, profit from America's invasion-occupation of Syria, but U.S. President Donald Trump isn't doing it only with their welfare in mind; he has an international campaign to press America's allies to foot a larger percentage of the cost to U.S. taxpayers for America's military. He wants America's allies to pay much more, in order for them to be able to enjoy the privileges of staying in America's alliance against Russia, China, and other countries whose economies threaten to continue growing faster than America's. U.S. aristocrats fear that such challengers could replace them as the global hegemon or Empire, the über-aristocracy. Empire is expensive, and the general public pay for it, but Trump wants foreign taxpayers to pay a bigger share of these costs in order to relieve part of the burden on U.S. taxpayers. His famous comment about the invasion-occupation of Iraq, "We should have taken the oil", is now being put into practice by him in Syria. However, that money goes only to corporations, not to the U.S. Treasury.
Which allies could finance escalated war against Syria?
On 24 September 2017, the Wall Street Journal bannered, "U.S.-Backed Forces Seize Syrian Gas Plant From Islamic State", and reported: "U.S.-backed forces said Sunday they were advancing through eastern Syria after seizing a gas plant there from Islamic State, striking a blow to the terror group's dwindling finances, which rely heavily on its control of Syria's oil and gas fields. The plant, one of the most important in the country, is capable of producing nearly 450 tons of gas a day."
Trump wants the profits from that to go to American companies, not to Syrian ones. That's the type of arrangement Trump has been favoring when he says "We should have taken the oil." Syria is allied with Russia, and with Iran. The U.S. is allied with Saudi Arabia and Israel, which are the two countries that call Iran an "existential threat" — and which have been urging a U.S. invasion to overthrow Assad.
The Sauds and their allied fundamentalist Sunni Arab royal families are considering to finance an American-led invasion of Syria. Turkey's newspaper Yeni Safak headlined on 15 June 2017, "Partitioning 2.5M barrels of Syria's oil", and reported:
A meeting was held on June 10 for the future of Syrian oil on the premise of the intelligence of Saudi Arabia and the US in Syria's northeastern city of Qamishli, which borders with Turkey. One of the US officers who visited terrorist organizations in the Sinjar-Karachok region after Turkey's anti-terror operation in northern Syria and spokesman for the Global Coalition to Counter Daesh, Colonel John Dorrian, attended the meeting. Representatives from Egypt, the United Arab Emirates (UAE) and Saudi Arabia, as well as some tribal leaders from Syria and senior Democratic Union Party (PYD) members attended the meeting. The delegation gathered for the purpose of determining a common strategy for the future of Syrian oil, and decided to act jointly after Daesh. Former President of the National Coalition of the Syrian Opposition and Revolutionary Forces, Ahmed Carba, determined the tribal and group representatives from Syria, and Mohammed Dahlan determined which foreign representatives would attend the meeting. Representatives agreed on a pipeline route. Radical decisions were made regarding the extraction, processing and marketing of the underground wealth of the Haseke, Raqqah and Deir ez Zor regions, which hold 95 percent of Syrian oil and natural gas' potential.
That's "taking the oil." There could be lots of it.
This article also reported that, "Syria produced 34,828,000 barrels of crude oil in the first quarter of 2011 and reached 387,000 barrels per day during the same period" and that, "there are 2.5 billion barrels of oil reserves in Syria."
On 16 April 2018, Whitney Webb at Mint Press bannered "How the US Occupied the 30% of Syria Containing Most of its Oil, Water and Gas", and reported that, "Though the U.S. currently has between 2,000 to 4,000 troops stationed in Syria, it announced the training of a 30,000-person-strong 'border force' composed of U.S.-allied Kurds and Arabs in the area, which would be used to prevent northeastern Syria from coming under the control of Syria's legitimate government."
She noted, regarding the area in Syria's northeast, where U.S.-armed, Saudi-funded, Syrian Kurds are in control: "those resources – particularly water and the flow of the Euphrates – gives the U.S. a key advantage it could use to destabilize Syria. For example, the U.S. could easily cut off water and electricity to government-held parts of Syria by shutting down or diverting power and water from dams in order to place pressure on the Syrian government and Syrian civilians. Though such actions target civilians and constitute a war crime, the U.S. has used such tactics in Syria before."
She says: "Given the alliance between Syria and Iran, as well as their mutual defense accord, the occupation is necessary in order to weaken both nations and a key precursor to Trump administration plans to isolate and wage war against Iran."
That type of plan could be worth a lot to Israel, but Yeni Safak headlined on 18 April 2018, "US to build Arab force in NE Syria as part of new ploy: The US is seeking to amass an Arab force in northeastern Syria comprised of funding and troops from Egypt, Saudi Arabia, Qatar and the UAE." This report said:
The Saudi Arabian Foreign Minister Adel al-Jubeir said that the kingdom is willing to send troops to Syria in a press conference on Tuesday. The minister noted that discussions on sending troops to Syria were underway. "With regards to what is going on now, there are discussions regarding what kind of force needs to remain in eastern Syria and where that force would come from. And those discussions are ongoing," said al-Jubeir. He stressed that troop deployment in Syria will be done within the framework of the Islamic Military Counter Terrorism Coalition and also suggested Saudi Arabia would provide financial support to the U.S.
How likely is it that Israel would be funding this huge escalation in The West's invasion-occupation of Syria — an escalation in which fundamentalist-Sunni armies would then be serving Israeli masters? Though Arab royals might find it acceptable, their soldiers would not.
The Sauds are the world's wealthiest family, and they can and do use the state that they own, Saudi Arabia, as their investment asset, which they aim to maximize. This war will be a great investment for them, and for their allies, in U.S., UK, Israel, and elsewhere. Israel can't take the lead in such a matter. But the Sauds and their friends could.
Funding by the Sauds would be the likeliest way. On 21 May 2017, I headlined "U.S. $350 Billion Arms-Sale to Sauds Cements U.S.-Jihadist Alliance" and reported that the day before, "U.S. President Donald Trump and the Saud family inked an all-time record-high $350 billion ten-year arms-deal that not only will cement-in the Saud family's position as the world's largest foreign purchasers of U.S.-produced weaponry, but will make the Saud family, and America's ruling families, become, in effect, one aristocracy over both nations, because neither side will be able to violate the will of the other. As the years roll on, their mutual dependency will deepen, each and every year." That turned out to be true — and not only regarding America's carrying the Sauds' water (doing their bidding) in both Yemen and Syria, but in other ways as well. Now the Sauds will pitch in to pay tens of thousands of troops in order to dominate over Iran and Shiites, whom the Sauds hate (and have hated since 1744).
On 21 March 2018, CNBC bannered "Trump wants Saudi Arabia to buy more American-made weapons. Here are the ones the Saudis want", and reported what Trump had just negotiated with Saudi Arabia's Crown Prince Mohammed bin Salman al-Saud, which was a step-up in that $350 billion sale, to $400 billion. So: Trump is working on the Sauds in order to get them to take over some of the leadership here — with American weapons. It's a business-partnership.
On 16 April 2018, which was the same day that Atwan suggested Israel would take the lead here, the Wall Street Journal bannered "U.S. Seeks Arab Force and Funding for Syria: Under plan, troops would replace American military contingent after ISIS defeat and help secure country's north; proposal faces challenges," and reported that:
The Trump administration is seeking to assemble an Arab force to replace the U.S. military contingent in Syria and help stabilize the northeastern part of the country after the defeat of Islamic State, U.S. officials said. John Bolton, President Donald Trump's new national security adviser, recently called Abbas Kamel, Egypt's acting intelligence chief, to see if Cairo would contribute to the effort, officials said. The initiative comes as the administration has asked Saudi Arabia, Qatar and the United Arab Emirates to contribute billions of dollars to help restore northern Syria. It wants Arab nations to send troops as well, officials said.
If the U.S. will invade, Israel will participate in this invasion-occupation, but the Sauds will lead it — with U.S.-made weapons. And taxpayers everywhere will lose from it, because invasions just get added to the federal debt. The invading nation goes into debt, which that nation's public will pay. The invaded nation gets its wealth extracted and sold by the invading aristocracy. It's happened for thousands of years.
first published at strategic-culture.org