The Muslim Brotherhood/Al-Qaeda Connection
As former Egyptian President Muhammad Morsi's trials continue, it's enlightening to consider what is likely to be one of the centerpieces of the trial: longstanding accusations that Morsi and his Muslim Brotherhood party worked with foreign terrorist organizations, including al-Qaeda, against the national security of Egypt.
Based on these accusations of high treason, Morsi and others could face the death penalty.
Concerning some of the more severe allegations, one of Egypt's most widely distributed and read newspapers, Al Watan, recently published what it said were recorded conversations between Morsi and Muhammad Zawahiri, al-Qaeda leader Ayman Zawahiri's brother.
In these reports, Watan repeatedly asserts that Egyptian security and intelligence agencies confirmed (or perhaps leaked out) the recordings.
Much of the substance of the alleged conversations is further corroborated by events that occurred during Morsi's one-year-rule, most of which were reported by a variety of Arabic media outlets, though not by Western media.
In what follows, I relay, summarize, and translate some of the more significant portions of the Watan reports (verbatim statements are in quotation marks). In between, I comment on various anecdotes and events—many of which were first broken on my website—that now, in light of these phone conversations, make perfect sense and independently help confirm the authenticity of the recordings.
—–
The first recorded call between Muhammad Morsi and Muhammad Zawahiri lasted for 59 seconds. Morsi congratulated Zawahiri on his release from prison, where he had been incarcerated for jihadi/terrorist activities against Egypt, and assured him that he would not be followed or observed by any Egyptian authorities, and that he, Morsi, was planning on meeting with him soon. Prior to this first call, Refa' al-Tahtawy, then Chief of Staff, mediated and arranged matters.
The presidential palace continued to communicate regularly with Muhammad Zawahiri, and sources confirm that he was the link between the Egyptian presidency and his brother, Ayman Zawahiri, the Egyptian-born leader of al-Qaeda.
It should be noted that, once released, the previously little-known Muhammad Zawahiri did become very visible and vocal in Egypt, at times spearheading the Islamist movement.
The next recording between Morsi and Zawahiri lasted for 2 minutes and 56 seconds and took place one month after Morsi became president. Morsi informed Zawahiri that the Muslim Brotherhood supports the mujahidin (jihadis) and that the mujahidin should support the Brotherhood in order for them both, and the Islamist agenda, to prevail in Egypt.
This makes sense in the context that, soon after Morsi came to power, the general public did become increasingly critical of him and his policies, including the fact that he was placing only Brotherhood members in Egypt's most important posts, trying quickly to push through a pro-Islamist constitution, and, as Egyptians called it, trying in general to "Brotherhoodize" Egypt.
This second phone call being longer than the first, Zawahiri took it as an opportunity to congratulate Morsi on his recent presidential victory—which, incidentally, from the start, was portrayed by some as fraudulent—and expressed his joy that Morsi's presidency could only mean that "all secular infidels would be removed from Egypt."
Then Zawahiri told Morsi: "Rule according to the Sharia of Allah [or "Islamic law"], and we will stand next to you. Know that, from the start, there is no so-called democracy, so get rid of your opposition."
This assertion comports extremely well with his brother Ayman Zawahiri's views. A former Muslim Brotherhood member himself, some thirty years ago, the al-Qaeda leader wrote Al Hissad Al Murr ("The Bitter Harvest"), a scathing book condemning the Brotherhood for "taking advantage of the Muslim youths' fervor by … steer[ing] their onetime passionate, Islamic zeal for jihad to conferences and elections." An entire section dedicated to showing that Islamic Sharia cannot coexist with democracy even appears in Ayman Zawahiri's book (see "Sharia and Democracy," The Al Qaeda Reader, pgs. 116-136).
The call ended in agreement that al-Qaeda would support the Brotherhood, including its international branches, under the understanding that Morsi would soon implement full Sharia in Egypt. After this, Muhammad Zawahiri and Khairat al-Shater, the number-two man of the Muslim Brotherhood organization, reportedly met regularly.
It is interesting to note here that, prior to these revelations, U.S. ambassador Anne Patterson was seen visiting with Khairat al-Shater—even though he held no position in the Morsi government—and after the ousting and imprisonment of Morsi and leading Brotherhood members, Sens. John McCain and Lindsay Graham made it a point to visit the civilian Shater in his prison cell and urged the Egyptian government to release him.
The next call, recorded roughly six weeks after this last one, again revolved around the theme of solidifying common cooperation between the Egyptian presidency and the Muslim Brotherhood on the one hand, and al-Qaeda and its jihadi offshoots on the other, specifically in the context of creating jihadi cells inside Egypt devoted to protecting the increasingly unpopular Brotherhood-dominated government.
As I reported back in December 2012, Egyptian media were saying that foreign jihadi fighters were appearing in large numbers—one said 3,000 fighters—especially in Sinai. And, since the overthrow of the Brotherhood and the military crackdown on its supporters, many of those detained have been exposed speaking non-Egyptian dialects of Arabic.
During this same call, Zawahiri was also critical of the Morsi government for still not applying Islamic Sharia throughout Egypt, which, as mentioned, was one of the prerequisites for al-Qaeda support.
Morsi responded by saying "We are currently in the stage of consolidating power and need the help of all parties—and we cannot at this time apply the Iranian model or Taliban rule in Egypt; it is impossible to do so now."
In fact, while the Brotherhood has repeatedly declared its aspirations for world domination, from its origins, it has always relied on a "gradual" approach, moving only in stages, with the idea of culminating its full vision only when enough power has been consolidated.
In response, Zawahiri told Morsi that, as a show of good will, he must "at least release the mujahidin who were imprisoned during the Mubarak era as well as all Islamists, as an assurance and pact of cooperation and proof that the old page has turned to a new one."
After that call, and as confirmed by a governmental source, Morsi received a list from Zawahiri containing the names of the most dangerous terrorists in Egyptian jails, some of whom were on death row due to the enormity of their crimes.
In fact, as I reported back in August 2012, many imprisoned terrorists, including from Egypt's notorious Islamic Jihad organization—which was once led by Ayman Zawahiri—were released under Morsi.
One year later, in August 2013, soon after the removal of Morsi, Egypt's Interior Ministry announced that Egypt was "preparing to cancel any presidential pardons issued during Morsi's era to terrorists or criminals."
During this same call, and in the context of pardons, Morsi said he would do his best to facilitate the return of Muhammad's infamous brother and al-Qaeda leader, Ayman Zawahiri, back to Egypt—"with his head held high," in accordance with Islamist wishes—as well as urge the U.S. to release the "Blind Sheikh" and terrorist mastermind, Omar Abdul Rahman.
In March 2013, I wrote about how Morsi, during his Pakistan visit, had reportedly met with Ayman Zawahiri and made arrangements to smuggle him back to Sinai. According to a Pakistan source, the meeting was "facilitated by elements of Pakistani intelligence [ISI] and influential members of the International Organization, the Muslim Brotherhood."
The gist of the next two calls between Morsi and Muhammad Zawahiri was that, so long as the former is president, he would see to it that all released jihadis and al-Qaeda operatives are allowed to move freely throughout Egypt and the Sinai, and that the presidential palace would remain in constant contact with Zawahiri, to make sure everything is moving to the satisfaction of both parties.
Zawahiri further requested that Morsi allow them to develop training camps in Sinai in order to support the Brotherhood through trained militants. Along with saying that the Brotherhood intended to form a "revolutionary guard" to protect him against any coup, Morsi added that, in return for al-Qaeda's and its affiliates' support, not only would he allow them to have such training camps, but he would facilitate their development in Sinai and give them four facilities to use along the Egyptian-Libyan border.
That Libya is mentioned is interesting. According to a Libyan Arabic report I translated back in June 2013, those who attacked the U.S. consulate in Benghazi, killing Americans, including Ambassador Chris Stevens, were from jihadi cells that had been formed in Libya through Egyptian Muslim Brotherhood support. Those interrogated named Morsi and other top Brotherhood leadership as accomplices.
More evidence—including some that implicates the U.S. administration—has mounted since then.
Next, Watan makes several more assertions, all of which are preceded by "according to security/intelligence agencies." They are:
That Morsi did indeed as he promised, and that he facilitated the establishment of four jihadi training camps. Morsi was then Chief in Command of Egypt's Armed Forces, and through his power of authority, stopped the military from launching any operations including in the by now al-Qaeda overrun Sinai.

That, after Morsi reached Pakistan, he had a one-and-a-half hour meeting with an associate of Ayman Zawahiri in a hotel and possibly spoke with him.

That, after Morsi returned to Egypt from his trip to Pakistan, he issued another list containing the names of 20 more convicted terrorists considered dangerous to the national security of Egypt, giving them all presidential pardons—despite the fact that national security and intelligence strongly recommended that they not be released on grounds of the threat they posed.

That the Muslim Brotherhood's international wing, including through the agency of Khairat al-Shater, had provided $50 million to al-Qaeda in part to support the Muslim Brotherhood in Egypt.
One of the longer conversations between Morsi and Zawahiri reported by Watan is especially telling of al-Qaeda's enmity for secularist Muslims and Coptic Christians—whose churches, some 80, were attacked, burned, and destroyed, some with the al-Qaeda flag furled above them, soon after the ousting of Morsi. I translate portions below:
Zawahiri: "The teachings of Allah need to be applied and enforced; the secularists have stopped the Islamic Sharia, and the response must be a stop to the building of churches." (An odd assertion considering how difficult it already is for Copts to acquire a repair permit for their churches in Egypt.)
Zawahiri also added that "All those who reject the Sharia must be executed, and all those belonging to the secular media which work to disseminate debauchery and help deviants and Christians to violate the Sharia, must be executed."
Morsi reportedly replied: "We have taken deterrent measures to combat those few, and new legislative measures to limit their media, and in the near future, we will shut down these media stations and launch large Islamic media outlets. We are even planning a big budget from the [Brotherhood] International Group to launch Islamic and jihadi satellite stations to urge on the jihad. There will be a channel for you and the men of al-Qaeda, and it can be broadcast from Afghanistan."
Undeterred, Zawahiri responded by saying, "This [is a] Christian media—and some of the media personnel are paid by the [Coptic] Church and they work with those who oppose the Sharia… secularist forces are allied with Christian forces, among them Naguib Sawiris, the Christian-Jew."
Morsi: "Soon we will uphold our promises to you."
In fact, there was a period of time when the secular media in Egypt—which was constantly exposing Brotherhood machinations—were under severe attack by the Brotherhood and Islamists of all stripes (comedian Bassem Youssef was the tip of the iceberg). In one instance, which I noted back in August 2012, six major media stations were attacked by Brotherhood supporters, their employees severely beat.
The last call recorded between Muhammad Morsi and Muhammad Zawahiri took place on the dawn of June 30, 2013 (the date of the June 30 Revolution that ousted Morsi and the Brotherhood). Morsi made the call to Zawahiri in the presence of Asad al-Sheikha, Deputy Chief of Presidential Staff, Refa' al-Tahtawy, Chief of Presidential Staff, and his personal security.
During this last call, Morsi incited Zawahiri to rise against the Egyptian military in Sinai and asked Zawahiri to compel all jihadi and loyalist elements everywhere to come to the aid of the Muslim Brotherhood and neutralize its opponents.
Zawahiri reportedly responded by saying "We will fight the military and the police, and we will set the Sinai aflame.
True enough, as I reported on July 4, quoting from an Arabic report: "Al-Qaeda, under the leadership of Muhammad Zawahiri, is currently planning reprisal operations by which to attack the army and the Morsi-opposition all around the Republic [of Egypt]." The report added that, right before the deposing of Morsi, Zawahiri had been arrested and was being interrogated—only to be ordered released by yet another presidential order, and that he had since fled to the Sinai.
Also on that same first day of the revolution, Khairat al-Shater, Deputy Leader of the Brotherhood, had a meeting with a delegate of jihadi fighters and reiterated Morsi's request that all jihadis come to the aid of the presidency and the Brotherhood.
—–
As Morsi's trial continues, it's only a matter of time before the truth of these allegations—and their implications for the U.S.—is known. But one thing is certain: most of them comport incredibly well with incidents and events that took place under Morsi's government.
Turkey and the time bomb in Syria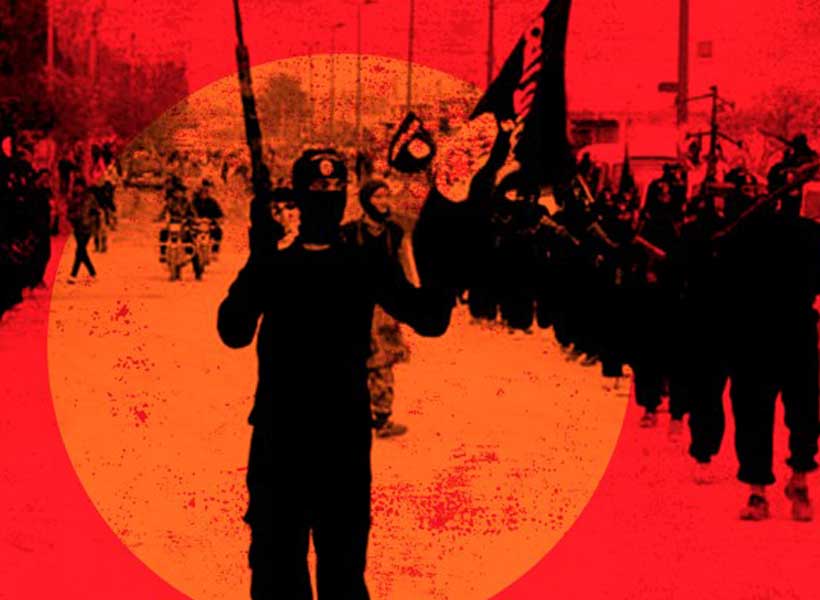 The Turkish attack on northern Syria has provided conditions for ISIS militants held in camps in the region to escape and revitalize themselves.
Turkey launched "Operation Peace Spring" on Wednesday October 9, claiming to end the presence of terrorists near its borders in northern Syria. Some countries condemned this illegal action of violation of the Syrian sovereignty.
The military attack has exacerbated the Syrian people's living condition who live in these areas. On the other hand, it has also allowed ISIS forces to escape and prepare themselves to resume their actions in Syria. Before Turkish incursion into northern Syria, There were many warnings that the incursion would prepare the ground for ISIS resurgence. But ignoring the warning, Turkey launched its military attacks.
Currently, about 11,000 ISIS prisoners are held in Syria. ISIS has claimed the responsibility for two attacks on Qamishli and Hasakah since the beginning of Turkish attacks.
Meanwhile, Donald Trump said that Turkey and the Kurds must stop ISIS prisoners from fleeing. He urged European countries to take back their citizens who have joined ISIS.
It should be noted that the U.S. is trying to prove that ISIS has become stronger since the U.S. troops pulled out before the Turkish invasion, and to show that Syria is not able to manage the situation. But this fact cannot be ignored that ISIS militants' escape and revival were an important consequence of the Turkish attack.
Turkish troops has approached an important city in the northeast and clashed with Syrian forces. These events provided the chance for hundreds of ISIS members to escape from a camp in Ayn Issa near a U.S.-led coalition base.
The camp is located 35 kilometers on the south of Syria-Turkey border, and about 12,000 ISIS members, including children and women, are settled there. The Kurdish forces are said to be in charge of controlling these prisoners.
Media reports about the ISIS resurgence in Raqqa, the former ISIS stronghold, cannot be ignored, as dozens of terrorists have shot Kurdish police forces in this city. The terrorists aimed to occupy the headquarters of the Kurdish-Syrian security forces in the center of Raqqa. One of the eyewitnesses said the attack was coordinated, organized and carried out by several suicide bombers, but failed.
In response to Turkey's invasion of Syria, the Kurds have repeatedly warned that the attack will lead to release of ISIS elements in the region. Turkey's President Recep Tayyib Erdogan denied the reports about the escape of ISIS prisoners and called them "lies".
European officials fear that ISIS prisoners with European nationality, who have fled camps, will come back to their countries.
Kurdish forces are making any effort to confront Turkish troops in border areas, so their presence and patrol in Raqqa have been reduced.
Interestingly, the Turkish military bombarded one of temporary prisons and caused ISIS prisoners escaping. It seems that ISIS-affiliated covert groups have started their activities to seize the control of Raqqa. These groups are seeking to rebuild their so-called caliphate, as Kurdish and Syrian forces are fighting to counter the invading Turkish troops. Families affiliated with ISIS are held in Al-Hol camp, under the control of Kurdish forces. At the current situation, the camp has turned into a time bomb that could explode at any moment. Under normal circumstances, there have been several conflicts between ISIS families in the camp, but the current situation is far worse than before.
There are more than 3,000 ISIS families in the camp and their women are calling for establishment of the ISIS caliphate. Some of SDF forces have abandoned their positions, and decreased their watch on the camp.
The danger of the return of ISIS elements is so serious, since they are so pleased with the Turkish attack and consider it as an opportunity to regain their power. There are pictures of ISIS wives in a camp in northern Syria, under watch of Kurdish militias, showing how happy they are about the Turkish invasion.
In any case, the Turkish attack, in addition to all the military, political and human consequences, holds Ankara responsible for the escape of ISIS militants and preparing the ground for their resurgence.
Currently, the camps holding ISIS and their families are like time bombs that will explode if they all escape. Covert groups affiliated with the terrorist organization are seeking to revive the ISIS caliphate and take further actions if the Turkish attacks continue. These attacks have created new conflicts in Syria and undermined Kurdish and Syrian power to fight ISIS.
From our partner Tehran Times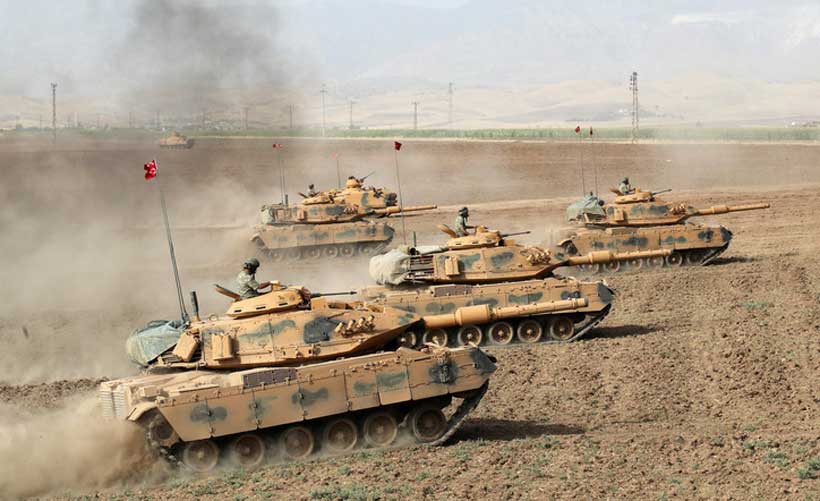 The only certainty in war is its intrinsic uncertainty, something Turkish President Recep Tayyip Erdogan could soon chance upon. One only has to look back on America's topsy-turvy fortunes in Iraq, Afghanistan and even Syria for confirmation.
The Turkish invasion of northeastern Syria has as its defined objective a buffer zone between the Kurds in Turkey and in Syria. Mr. Erdogan hopes, to populate it with some of the 3 million plus Syrian refugees in Turkey, many of these in limbo in border camps. The refugees are Arab; the Kurds are not.
Kurds speak a language different from Arabic but akin to Persian. After the First World War, when the victors parceled up the Arab areas of the Ottoman Empire, Syria came to be controlled by the French, Iraq by the British, and the Kurdish area was divided into parts in Turkey, Syria and Iraq, not forgetting the borderlands in Iran — a brutal division by a colonial scalpel severing communities, friends and families. About the latter, I have some experience, having lived through the bloody partition of India into two, and now three countries that cost a million lives.
How Mr. Erdogan will persuade the Arab Syrian refugees to live in an enclave, surrounded by hostile Kurds, some ethnically cleansed from the very same place, remains an open question. Will the Turkish army occupy this zone permanently? For, we can imagine what the Kurds will do if the Turkish forces leave.
There is another aspect of modern conflict that has made conquest no longer such a desirable proposition — the guerrilla fighter. Lightly armed and a master of asymmetric warfare, he destabilizes.
Modern weapons provide small bands of men the capacity and capability to down helicopters, cripple tanks, lay IEDs, place car bombs in cities and generally disrupt any orderly functioning of a state, tying down large forces at huge expense with little chance of long term stability. If the US has failed repeatedly in its efforts to bend countries to its will, one has to wonder if Erdogan has thought this one through.
The Israeli invasion of Lebanon in 1982 is another case in point. Forever synonymous with the infamous butchery at Sabra and Shatila by the Phalange militia facilitated by Israeli forces, it is easy to forget a major and important Israeli goal: access to the waters of the Litani River which implied a zone of occupation for the area south of it up to the Israeli border.
Southern Lebanon is predominantly Shia and at the time of the Israeli invasion they were a placid group who were dominated by Christians and Sunni, even Palestinians ejected from Israel but now armed and finding refuge in Lebanon. It was when the Israelis looked like they were going to stay that the Shia awoke. It took a while but soon their guerrillas were harassing Israeli troops and drawing blood. The game was no longer worth the candle and Israel, licking its wounds, began to withdraw ending up eventually behind their own border.
A colossal footnote is the resurgent Shia confidence, the buildup into Hezbollah and new political power. The Hezbollah prepared well for another Israeli invasion to settle old scores and teach them a lesson. So they were ready, and shocked the Israelis in 2006. Now they are feared by Israeli troops.
To return to the present, it is not entirely clear as to what transpired in the telephone call between Erdogan and Trump. Various sources confirm Trump has bluffed Erdogan in the past. It is not unlikely then for Trump to have said this time, "We're leaving. If you go in, you will have to police the area. Don't ask us to help you." Is that subject to misinterpretation? It certainly is a reminder of the inadvertent green light to Saddam Hussein for the invasion of Kuwait when Bush Senior was in office.
For the time being Erdogan is holding fast and Trump has signed an executive order imposing sanctions on Turkish officials and institutions. Three Turkish ministers and the Defense and Energy ministries are included. Trump has also demanded an immediate ceasefire. On the economic front, he has raised tariffs on steel back to 50 percent as it used to be before last May. Trade negotiations on a $100 billion trade deal with Turkey have also been halted forthwith. The order also includes the holding of property of those sanctioned, as well as barring entry to the U.S.
Meanwhile, the misery begins all over again as thousands flee the invasion area carrying what they can. Where are they headed? Anywhere where artillery shells do not rain down and the sound of airplanes does not mean bombs.
Such are the exigencies of war and often its surprising consequences.
Author's Note: This piece appeared originally on Counterpunch.org
Could Turkish aggression boost peace in Syria?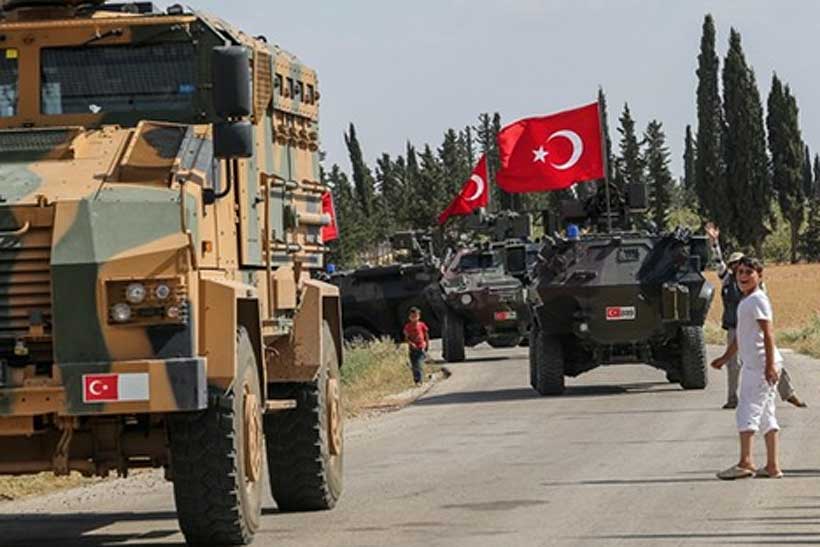 On October 7, 2019, the U.S. President Donald Trump announced the withdrawal of American troops from northeast Syria, where the contingent alongside Kurdish militias controlled the vast territories. Trump clarified that the decision is connected with the intention of Turkey to attack the Kurdish units, posing a threat to Ankara.
It's incredible that the Turkish military operation against Kurds – indeed the territorial integrity of Syria has resulted in the escape of the U.S., Great Britain, and France. These states essentially are key destabilizing components of the Syrian crisis.
Could this factor favourably influence the situation in the country? For instance, after the end of the Iraqi war in 2011 when the bulk of the American troops left the country, the positive developments took place in the lives of all Iraqis. According to World Economics organization, after the end of the conflict, Iraq's GDP grew by 14% in 2012, while during the U.S. hostilities the average GDP growth was about 5,8%.
Syria's GDP growth should also be predicted. Not right away the withdrawal of U.S., French, British, and other forces, but a little bit later after the end of the Turkish operation that is not a phenomenon. The Turkish-Kurdish conflict has been going on since the collapse of the Ottoman Empire when Kurds started to promote the ideas of self-identity and independence. Apart from numerous human losses, the Turks accomplished nothing. It is unlikely that Ankara would achieve much in Peace Spring operation. The Kurds realize the gravity of the situation and choose to form an alliance with the Syrian government that has undermined the ongoing Turkish offensive.
Under these circumstances, Erdogan could only hope for the creation of a narrow buffer zone on the Syrian-Turkish border. The withdrawal of the Turkish forces from the region is just a matter of time. However, we can safely say that the Turkish expansion unwittingly accelerated the peace settlement of the Syrian crisis, as the vital destabilizing forces left the country. Besides, the transfer of the oil-rich north-eastern regions under the control of Bashar Assad will also contribute to the early resolution of the conflict.
It remains a matter of conjecture what the leaders of Saudi Arabia, the United Arab Emirates, and Russia agreed on during the high-level talks. Let's hope that not only the Syrians, but also key Gulf states are tired of instability and tension in the region, and it's a high time to strive for a political solution to the Syrian problem.