Who is Egypt's Mysterious New Pharaoh?
Egypt's new de facto pharaoh, General Abdel-Fattah al-Sisi, is a man of mystery. Is he an Islamist, or a nationalist? Is he a person of high principle, or a lowly opportunist?
And in a land which has known five thousand years of mainly centralized, one-man rule, with limited experience of democracy, when have we seen his type before, and where will he lead the troubled, ancient nation now?
These questions are crucial to knowing how the U.S. should react to al-Sisi's removal of Egypt's first "freely elected" president, Mohamed Morsi on July 3 in answer to overwhelmingly massive street protests demanding that he do so, and to the ongoing bloody crackdown on Morsi's group, the Muslim Brotherhood (MB), that began on August 14. Citing the ongoing, actually two-way violence in Egypt, President Barack Obama's administration has now suspended much of our annual $1.6 billion aid to the country, save for money needed to maintain security operations along the Israeli border in Sinai and to directly support the 1979 Egypt-Israel Peace Treaty.
Earlier, the administration had stopped the scheduled delivery of four out of twenty F-16s to Egypt, cancelled the bi-annual "Bright Star" joint training exercises that had been set for September, and launched a review of the bi-lateral relationship. There has now been a delay in paying the final $585 million tranche of this year's aid package, pending that review, according to an October 9 report by the global strategic analysis firm, Stratfor.
However, the administration has been careful not to classify Morsi's removal a "coup," which under U.S. law would require an immediate cut-off of all of our aid to Egypt. That assistance is vital to the U.S.' favored access to the Suez Canal, maintenance of the 1979 Egypt-Israel Peace Treaty and crucial bi-lateral security cooperation against international terrorism. Nonetheless, the latest move puts the entire alliance at great risk, and plays into popular demands that Egypt switch to a more independent stance, or even adopt Russia as chief military supplier instead of the U.S., an idea made more enticing by Washington's apparent weakness in surrendering its interests in Syria to Moscow, and its seeming haste to make concessions to Cairo's post-MB regional antagonist in Tehran over the latter's nuclear program.
Yet along with a number of key Congressional leaders and most of the mainstream media, Obama has been far more critical of al-Sisi and his use of force against a group that our government wrongly supported while in power under the illusion that it was "moderate," than they have been of the violence and mayhem of the MB.
Meanwhile, the MB's "peaceful demonstrators" have been busy burning scores of Christian churches and schools along with hundreds of Christian businesses while attacking other citizens, museums and public buildings, the police and the army, and waging an open war against the state in Sinai and around the country. As the total number of deaths in the past nearly two months of confrontations climbs toward the thousands, the MB clearly hopes to use its own "martyrs" (as both sides call their fallen) to generate sympathy for their unaltered goal of restoring Morsi to power. So far, however, it's not working. Despite a surge in turnout at demonstrations it organized to coincide with the State's grand celebrations of the 40th anniversary of the 1973 war on October 6, fewer and fewer people have been joining its protests, which have been tiny compared to the unprecedentedly-huge demonstrations against the Islamists.
THE SECRET THESIS
But what besides the obvious hard realities pushed al-Sisi to act when he did? What does he believe, and what does he want? A quiet man known for saying little and keeping his own counsel, in his year of study at the U.S. Army War College in 2006, al-Sisi produced a research paper or brief thesis on his views of Islam and the state. That document was first exposed by Robert Springborg, an expert on Egypt's military, in a July 28 article in Foreign Affairs.
Springborg predicted that al-Sisi, who has sworn to swiftly restore democracy after a nine-month transition, intends to keep real power for himself. Furthermore, Springborg warned of his "Islamist agenda," saying that he would not likely restore the "secular authoritarianism" practiced by Mubarak, but would install "a hybrid regime that would combine Islamism with militarism." Intriguingly, though it holds no state secrets, the document was classified, and was only released under a Freedom of Information Act request by Judicial Watch on August 8.
In it, al-Sisi declares, "There is hope for democracy in the Middle East over the long term; however, it may not be a model that follows a Western Template" (sic). By that, al-Sisi makes plain, he means that Middle Eastern democracy must be based not on secularism, but on Islam.
However, in an August 16 profile of the previously obscure general published by The Daily Beast by Mike Giglio and Christopher Dickey, those who know al-Sisi (few of whom will talk much about him) say that he grew up in a family that was both religiously conservative—not radical—but extremely nationalistic. And indeed it is that sense of nationalism which seems to have had the upper hand in motivating the actions he's taken thus far.
The chaos, economic calamity, and political upheaval that have rocked Egyptian society since a much more limited popular uprising against longtime president Hosni Mubarak resulted in Mubarak's ouster by the military on February 11, 2011 (at Obama's thinly-veiled urging the night before)—and which led in part to al-Sisi's move against Morsi—have all been seen before.
THE RETURN OF GENERAL HOREMHEB?
In 1952, the widespread corruption, resort to political assassination, and the burning of the most elegant parts of downtown Cairo (both of the latter done, it is thought, mainly by the MB) led a group of so-called Free Officers to overthrow Egypt's last king, the feckless Farouk—with covert aid from the U.S.[1]—in a coup, and to declare a republic the next year. Though the move was clandestine and confined to the army, it gained massive popularity and created a mythic hero (who was really an epic failure), Colonel Gamal Abdel-Nasser, the movement's charismatic leader, himself initially a mystery—and to whom al-Sisi is often compared today.
Or perhaps he will be more like Anwar al-Sadat, another Free Officer, who in 1970 succeeded Nasser—the father of one of Egypt's greatest military defeats, in the war of 1967. Sadat partially made up for Nasser's many economic and political blunders by launching a successful surprise attack against Israeli forces in Sinai in 1973 (though it culminated in yet another defeat), partially repealing Nasser's reckless state socialism, trading an alliance with the Soviet Union for one with the United States, and daring to make peace with Israel—though it cost him his life when Islamists shot him down on the anniversary of that "victory" in 1981.
Al-Sisi has rapidly returned to the direct and confident military cooperation with the Jewish State that Morsi reviles, in order to prevent al-Qa'ida-affiliated groups (believed to have cooperated with the Muslim Brotherhood) from staging deadly incidents along the sensitive border.
However, much less reassuringly, al-Sisi has begun to flirt with both Russia and China, and is known to have neither much affection for the U.S., or patience with Obama's pro-MB policy. But going back even further, to 1805, al-Sisi could turn out to be like Mohamed Ali Pasha—Farouk's first direct royal forebear, an Albanian-Kurdish mercenary who used popular discontent against Egypt's oppressive Ottoman governor to replace him in office.
Mohamed Ali would briefly revive Egypt's long-lost military glory, and more relevantly, would do so by breaking with his own patrons in Istanbul–a possible cautionary tale for Washington now. And yet, plumbing much more deeply the currents of Egyptian history, al-Sisi may really most resemble Horemheb, the last king of the fabled 18th Dynasty.
Horemheb served as head of the army under Akhenaten (ruled 1353-1336 B.C.), the "heretic king" who became the first ruler of any country to embrace something close to monotheism, a fanatic who threw out the traditional pantheon of ancient Egyptian gods in favor of worship of the Aten, the disc of the sun. Akhenaten's navel-gazing neglect of the nation's economy and security while he persecuted the believers of other deities and—like Morsi—inserted his own followers everywhere in the bureaucracy, led to massive unrest and perhaps prompted his most trusted lieutenant, Horemheb, to overthrow him—though his exact fate is unknown.
Born a commoner, Horemheb did not seize the throne until its last royal claimant, Tutankhamun, had died—as well as the boy-king's aged tutor Ay, who had married his widow. But when he did take it, he promptly stamped out the hated Aten cult and brought back that of the suppressed Amun-Ra, leading to a century of initially strong and stable rule by people mainly bearing the name of his successor and military protégé, a man called Ramesses.
As a soldier, Horemheb was no doubt angry that Akhenaten allowed Egypt's hard-won empire in the Near East to largely slip away without a fight. The nation's sacred prestige fell for the first time in centuries, and had to be reestablished so that ma'at—meaning everything from truth to order to righteousness, bound up with Egypt's well-being–could reign once again. And that he quickly set out to do.
Here is a degree of parallel with al-Sisi, who reportedly had been enraged by Morsi's actions that led not only to a loss of Egypt's international prestige but also damaged her national sovereignty. This he saw not only in Morsi's apparent covert cooperation with militants who had killed and kidnapped many Egyptian troops in Sinai, but also in his release of numerous terrorists convicted of murdering their fellow Egyptians plus members of the army, police and foreign tourists. Two symbolic acts by Morsi also not only raised eyebrows, but a sense of alarm about his intentions.
The first was Morsi's decision not only to invite Tarek al-Zomor, a member of the terrorist organization, al-Gama'a al-Islamiya (the Islamic Group), who took part in the assassination of President Anwar al-Sadat on the eighth anniversary of his 1973 brief but psychologically crucial triumph over Israel in Sinai, but to place him in the front row during the commemoration of the day on October 6 last year. The second was Morsi's June 2013 appointment of Adel Mohamed al-Khayat, a leader of al-Gama'a al-Islamiya, which waged a civil war against the Mubarak regime in the 1990s, killing scores of foreign tourists as well as hundreds of security officials, politicians and Egyptian civilians, to be governor of Luxor—where its most violent attack killed 58 foreigners and four Egyptian police and tourist guides (who died trying to defend the others) in November 1997.
Moreover, in late June this year, Morsi threatened to declare jihad on the embattled Bashar al-Assad regime in Syria in which the military had no interest. Al-Sisi was similarly piqued that Morsi allowed some in his cabinet to make threats to attack a controversial dam in Ethiopia that it is feared will lessen Egypt's accustomed share of the Nile's vital waters. And he was reportedly appalled that Morsi had evidently even told Sudan's Islamist president, Omar Bashir, whom the U.N. has accused of genocide in Darfur, that he would consider giving that country land which lies in dispute between them on their common border.
To Egyptians since antiquity, to yield any part of the nation's territory is an unforgivable heresy.
"BUT I LOVED EGYPT MORE."
Perhaps worst of all, the MB calls for the establishment of a new caliphate, and lately demanded that its capital be in Jerusalem, which would not only mean a war to the death with Israel for which Egypt is not prepared, but—if successful–would obliterate the nation's independence. Misr al-Mahrusa—"God-Guarded Egypt," an ancient epithet for the country–would be no more.
Though the general wrote nostalgically in his U.S. War College paper of the caliphate that united the Islamic world for seventy years after the death of the Prophet Muhammad in 632, he stated as well that only extremists were calling for its immediate return now. And if it does come back, he would undoubtedly want it to be based in Cairo.
Adding to all this was Morsi's rapid and relentless attempt to turn Egypt into a one-party Islamist dictatorship, and how it had destroyed both tourism and foreign investment while turning formerly rather small, if persistent protests by scattered secularist groups in an historically pious society into the largest demonstrations the world had ever seen.
On October 8, The Washington Post ran an AP story that quoted the first of a three part interview of al-Sisi by the respected Egyptian daily, AlMasryAlYoum, in which the general-turned-king breaker recounts for the first time what led to his actions on July 3:
El-Sissi said the turmoil of the past three months could have been avoided if Morsi had resigned in the face of the protests that drew out millions against him, starting on June 30. Days after the protests began, el-Sissi said, he met with senior Brotherhood figures, including the group's strongman Khairat el-Shater.
He said el-Shater warned him that the Brotherhood, which made up the backbone of Morsi's administration, would not be able to control retaliation by Islamic groups in Sinai and other areas if Morsi were removed.
"El-Shater spoke for 45 minutes, vowing terrorist attacks, violence, killings by the Islamic groups," el-Sissi told the paper. "El-Shater pointed with his finger as if he is shooting a gun."
He said el-Shater's speech "showed arrogance and tyranny," adding: "I exploded and said … 'What do you want? You either want to rule us or kill us?"
Addressing Islamists now in the wake of Morsi's fall, el-Sissi said, "Watch out while dealing with Egyptians. You have dealt with Egyptians as if you are right and they are wrong … (as if) you are the believer and they are the infidels. This is arrogance through faith."
In the first part of the interview published Monday, el-Sissi said he told Morsi in February, "your project has ended and the amount of antipathy in Egyptians' souls has exceeded any other regime." He added that the military's move against Morsi was driven by fears of civil war.
Given all this, could it be any wonder that the highly-patriotic, if also pious general with whom Morsi had replaced the aged Mubarak holdover Mohamed Hussein Tantawi because of his seemingly solid Islamist credentials had—after long hesitation—eventually felt that he had to act for the sake of his country? Ironically, al-Sisi was born and raised in the old Islamic quarter of Cairo called Gamaliya, the native district of Egypt and the Arab world's first (and so far only) Nobel laureate in literature, Naguib Mahfouz (1911-2006).
Mahfouz, despite a very strict Islamic upbringing, was from his youth a pharaonist—someone who placed Egypt's unique national heritage above anything else, including Islam, in defining her identity—as well as his own. One of Mahfouz's most prescient works is his peculiar 1983 novel-in-dialogue, Before the Throne. In it he hauls about three score of the nation's rulers–from Menes in the First Dynasty to al-Sadat—before the Osiris Court, the divine tribunal which in ancient Egyptian belief judged the souls of the dead. Before the Throne features many cycles of tyranny, rebellion, chaos and restoration, which presage the events of the past three years in uncanny ways.
In the afterlife trial of Horemheb, there is an exchange between the general who turned on Akhenaten and the addled religious zealot himself that could well have taken place between al-Sisi and Morsi, though without the intense mutual affection, no doubt:
"I loved none of my followers more than you, Horemheb," Akhenaten reproached him. "Nor was I as generous with anyone as much as I was with you. My reward was that you betrayed me…"
"I deny nothing you have said," replied Horemheb. "I loved you more than any man I'd ever known—but I loved Egypt more."
(This writer has explored this novel's uncanny relationship to the overthrow of Mubarak in a May 2011 E-Note, "Egypt's Revolution Foreseen in Fiction: Before the Throne by Naguib Mahfouz.")
Time will tell if al-Sisi, currently calling the shots behind an all-secularist civilian government of technocrats of his choosing, is truly more nationalist than Islamist—whether he will restore ma'at or shari'a (Islamic law)—and if he will guide Egypt back into stability (or fails to do so) as a democrat in uniform, or as a martinet behind a "democratic" curtain. A key clue will be if he pushes for a new Constitution that omits the central problem with the one rammed through by Morsi, which not only made shari'a the main source of legislation (as it was before)—but which also empowered the clerics of al-Azhar, the highest authority in Sunni Islam, to interpret all laws to ensure compliance with it.
A draft of the new Constitution, released on August 21, would reinstate the Mubarak-era ban on religious parties, throw out the most offensive aspects of Morsi's Islamist Constitution from the point of view of religious tolerance, and ban the formation of religious parties—a very good sign. The fifty-member commission (headed by former Arab League chief and presidential candidate, Amr Moussa), that is now reworking the draft, in coordination with the panel of experts that produced it, may entirely rewrite the Morsi-era charter.
The only Islamist group to join the body and to play any part in the transition, the Salafi al-Nour Party, has protested against the removal of the shari'a provision—but the secularists, including the commission's spokesman, head of the Arab Writers' Union Mohamed Salmawy, seem to control the process so far. However, the August 21 draft specifically outlawed the removal of the president by popular protest, reserving that right for parliament (the lower house of which has been dissolved due to violations of elections laws since June 2012)—to the outrage of the activists who fought to bring down both Mubarak and Morsi.
A recent decree replaces the oath that members of the armed forces formerly took to the nation's president, Constitution and laws with a declaration of loyalty solely to the country's military leadership. As the experience not only of Egypt both before and under the Brotherhood, but also Pakistan under its own generals, Gaza under Hamas and even Turkey under the more stealthily Islamist Recep Tayyip Erdogan has shown, only a separation of mosque and state with civilian control of the military can deliver anything like real democracy.
In Egypt, arguably the most religion-obsessed country on earth all through her world's-longest history (and one of the most authoritarian as well), we should not expect to see either genuine democracy or even its prerequisite, a strong degree of secularism, with or without the new Constitution—or al-Sisi himself–anytime soon.
Yet at least Egypt will not be ruled by the MB—which threatens not only the world's oldest nation, but us all–thanks to this enigmatic character from the heart of Old Cairo:General Abdel-Fattah al-Sisi.
Americans return to Syria for oil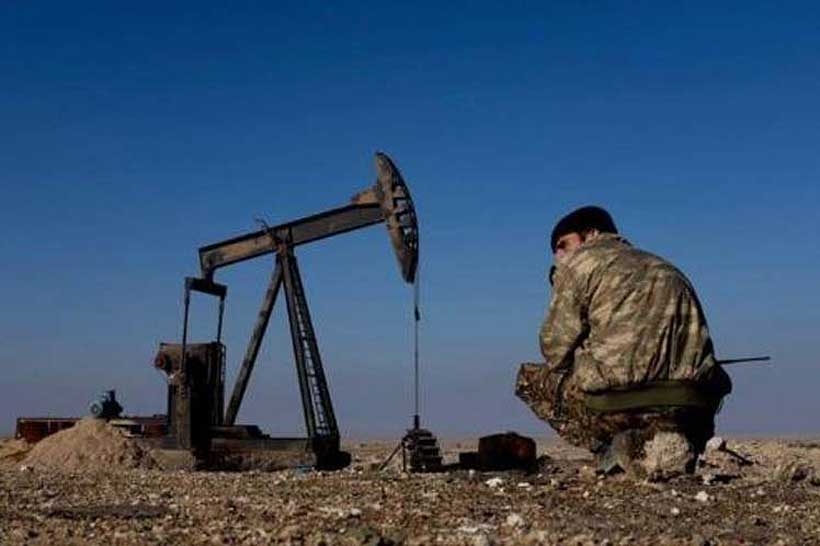 Soon after the adoption of the Russian-Turkish Memorandum on Syria, President Trump, known for his "consistency" in decision-making, made it clear that he had no intention of withdrawing US troops, which had already been moved to Iraq, from the east of Syria. The reason for the US forces to stay on is the need to protect the local oil reserves against the "Islamic State" (which is prohibited in the Russian Federation). The American president even reflected on which company should be contracted to produce Syrian oil, eventually opting for ExxonMobil (who else!).
The Pentagon spoke to this effect as well, in more concrete terms. The oil of northeast Syria will go to the allied Syrian Democratic Forces (SDF), – said US Secretary of Defense Mark Esper, adding: "We want to make sure that the SDF have access to these resources, in order to guard prisons and arm their own units . Our mission is to ensure the safety of the deposits." When asked by reporters whether Syrian and Russian forces would have access to these resources, Esper answered in the negative. Thus, the United States has yet again demonstrated that they do not deem themselves bound by international law. At the same time, they confirmed the American so-called "businesslike" approach to international problems.
The Russian Foreign Ministry has repeatedly insisted that Syrian oil should belong to the Syrian people. Speaking at a press conference following the recent meeting with Turkish and Iranian counterparts, Sergey Lavrov said: the United States plans to protect Syrian oil from Syria.
According to the Russian Defense Ministry, the Americans found it normal to trade in Syrian oil before. Igor Konashenkov, spokesman for the Russian Defense Ministry, the United States extracts oil using de facto "contraband" equipment that was brought on the territory of the Syrian Arab Republic bypassing American sanctions. According to the Russian military, revenue from these transactions exceeds $ 30 million per month.
Compared to neighbors, Syria is far from an "oil giant." Its developed reserves amount to about 2.5 billion barrels, while Saudi Arabia has reserves of 268 billion, Iran – 158 billion, Iraq – 144 billion, Kuwait – 104 billion, UAE – 98 billion barrels. Oil reserves in Syria are not that abundant for the US to "cling" to them. So what's the matter?
Only a fraction of oil reserves are located on the territory liberated by the Syrian army and its allies, the lion's share of the reserves is controlled by SDF units (and the Americans, of course). By means of depriving Damascus of oil revenues, which made a major source of the country's pre-war budget, Washington hopes to weaken Syria's resistance. In addition, the United States won't stop short of supporting the Kurdish state. By "gifting" Syrian oil to their political protégés, the Americans encourage the Kurds to refrain from making an alliance with Damascus and continue to act as a counterweight to Turkey and Russia and play the role of an anti-Iranian bastion.
It's the Americans themselves who will buy this oil. In all likelihood, they will buy it cheap. "I want to bring our soldiers back home, but I want oil too. I'm a civilian, I don't understand why the war in Iraq was needed at all. If my people go to Iraq, let them at least keep the oil," – Donald Trump shared his thoughts not so long ago, criticizing the policies of his predecessors. Bashar al-Assad responded by describing Trump as "the best American president ever" because he is the most transparent and honest." "He says he wants oil, and that's absolutely true – it's American policy," – the Syrian leader concluded.
Simultaneously, while maintaining control of the oil fields, the Americans continue to "punish" Ankara for its "excessive" independence in international affairs. After all, they are not going to pump stolen oil through Turkey, which is trying hard to become the southern energy hub for Europe.
Furthermore, the majority of oil-bearing regions in Syria are populated by Arabs, rather than Kurds. Peshmerga captured the fields during the struggle against the Islamic State, prohibited in Russia. Now, should the Americans change their minds about the "protection" of the oil reserves, they will use this to "explain" their yet another betrayal to the Kurds.
In all likelihood, there will be no serious armed clashes over Syrian oil. The problem could be solved through reaching a power-sharing agreement between Damascus and the Kurds, which means dividing the powers between the central government and the local authorities. The Constitutional Committee, which is currently in session in Geneva, could play an important role to achieve this but for the fact that neither Ankara nor Damascus wants the Committee to comprise representatives of the SDF – a bloc that de facto controls the north-east of the country. As a result, Hikmat Habib the Executive Committee of the Assembly of Democratic Syria said: the outcomes of the Geneva meeting will not mean anything "for the people of northern and eastern Syria" (Kurds – A.I.).
However, Damascus and the Syrian Democratic Forces (SDF) have been taking steps towards each other: after the start of another Turkish military operation, the Kurds allowed Syrian troops to enter the territory under their control, while Damascus proposed that peshmerga should become part of the Syrian army. As it happens, chances to maintain the territorial integrity of the country are there for grabs.
From our partner International Affairs
US-Iran confrontation amid Lebanon, Iraq protests
The U.S welcomes to spread uprising to Iran and weakening Iran`s influence in Lebanon and Iraq, whereas Iran seeks up political stability in the two countries.
Enormous antigovernment demonstrations in Iraq and Lebanon have been the spotlight around the world since last month. People in the two countries are dissatisfied concerning socio-economic problems include mismanagement in urban services, recession, governmental corruption, increasing unemployment, and growing injustice. Both countries have a common factor. Iran is the only country that has an important influence on their governments. So, the country has followed the related happenings carefully.
A few days after the protests, Iranian officials expressed their position. The first man was Amir Abdollahian, who is the special assistant to the speaker of Iran`s parliament. He wrote in his Instagram Page that "yesterday in Yemen, the United States and Saudi Arabia forced the prime minister to resign and failed, as they are currently struggling in quagmire of Yemen" he said then. "Today in Lebanon and Iraq, they also launched the same project of chaos and destroying governments that the new copy of political terrorism will undoubtedly fail."
But Iran`s president and foreign minister have not said anything about the crisis, although recently Iran's Supreme Leader Ayatollah Ali Khamenei has blamed the U.S and its allies for spreading "insecurity and turmoil" in Iraq and Lebanon, urging anti-government protesters in both countries to seek changes in a lawful way.
"Their people also have to know that although they have legitimate demands, those demands can be met only through the framework of legal structures," he added.
In fact, Iraq and Lebanon are very sensitive for Iran. Iraq has a long border with the country and Hezbollah as a proxy force in the south of Lebanon is its security border along Israel. So, any changes in both can be hazardous for Iran`s interests because the country has an effective position in their governing body structures.
On the other side, the U.S has conducted full support to protesters especially in Iraq where some protesters have stated slogans against Iran`s intervention. Some protesters in Karbala attacked Iran`s consulate. Although the socio-economic is the main problem of Iraqis, Iran`s influence had been a side issue and an interesting subject for critics of the Islamic regime.
Iraq`s prime minister has agreed to resign as well as Saad Hariri resigned in Lebanon. In the meantime, governmental media of Iran have attempted to portray that any resign or government changing is a wrong solution for two countries. Just as Seyed Hasan Nasrollah, leader of Hezbollah had disagreed with Hariri`s resign but the U.S has supported to form a new government in Lebanon and Iraq.
The U.S Secretary of State Mike Pompeo called on "Lebanon's political leaders to urgently facilitate the formation of a new government that can build a stable, prosperous, and secure Lebanon that is responsive to the needs of its citizens."
Pompeo also sent a message about to accountability necessity of government concerning killed people amid protests in Iraq, unlike Iran that wants to abate the chaos.
U.S Secretary of State said the Iraqi government's investigation into the violence in early October "lacked sufficient credibility" and that "the Iraqi people deserve genuine accountability and justice."
After that, Iranians rail against U.S. Brigadier General Hossein Nejat, who is the deputy of the I.R.G.C`s chief said, "The U.S has invested in the social faults in Iraq and Lebanon." Still, he said "this is America sedition"
"From a long time ago, Americans had brought many persons from Iraq to America for training, and they formed extensive social media. The U.S wants Iraq to be insecurity intensively until a dictator comes and catches the power," he added.
Also Mohammad Ali Movahhedi Kermani, Tehran's provisional Friday prayers leader said that "Based on the available information, the U.S ambassador to Iraq has openly backed the ongoing violence in Iraq and has called on Iraqi police to let such behaviors continue.
Iran has exported its Islamic ideology to some countries in the region such as Iraq and Lebanon in years ago. But now, the economic problems are the most important subject for people of the two countries. That`s why one protester told Foreign Policy that "hungry has no religion." This sentence has the same meaning Imam Ali`s hadith, Shias' first Imam that "the poverty is bigger death."
Simply put, ideology is not working without money and social welfare. Now, Iran is under tough sanctions by America and its people have economic problems with high-level inflation. But the U.S and its allies have more chance to increase influence in two countries in terms of the economic situation. The U.S has aided $1.5 billion to Lebanon`s army since 2005. But according to the WSJ, the financial assistance by the U.S has stopped recently to Lebanon due to Israel`s pressure. WSJ wrote, "The Trump Administration has suspended security assistance to Lebanon, congressional officials said, including more than $100 million for the Lebanese armed forces."
Also, a meeting held between United States Secretary of the Treasury Mnuchin and Israeli Prime Minister Benjamin Netanyahu. In this negotiation, Netanyahu complained that Iran was financing new missile-development activities inside Lebanon for the Hezbollah militant movement.
Several Israeli news organizations reported this week that Mr. Netanyahu has asked government officials to urge allied capitals to impose conditions on their aid to Lebanon to ensure Lebanese officials clamp down on the missile-development activities—one possible reason for a U.S. funding suspension.
In related news, Saudi Arabia as a close ally of The U.S recently has suspended the assistance to Lebanon to weakening the Hezbollah.
"In a way, you bail out Lebanon, you bail out Hezbollah," said Shafeeq Ghabra, the political science professor at Kuwait University, according to Daily Star.
One Gulf official, who declined to be identified by name when talking about sensitive foreign policy, "Prime Minister Saad Hariri had refused financial help to avoid money going to Hezbollah via the government," the Daily Star reported too.
Based on some reports, America has suggested rebuilding oil and power Iraq`s facilities instead of Iraq`s companionship with sanctions against Iran. So, Lebanon and Iraq are under economic pressure and both need foreign aids, whereas Iran now has a severe budget shortage. This situation can be a factor to reduce Iran`s influence compared to the U.S in two countries after uprisings.
Analysts said the power-sharing system in the two countries is very important for Iran because the Shiite has a high position currently. Both have different religions and sects. In Iraq, the prime minister is Shiite. Also in Lebanon based on the agreement of 1989, the power divided into religion and sects, such that parliament speaker must be a Shiite Muslim. The current condition is acceptable by Iran because Shia's power is insured. But protests now are not examples of deep sectarian divisions in two countries. For the first time, the protesters seek the end of sectarian power and power-sharing system. They want to root out corruption by a new government. So, the unprecedented protests can be dangerous for Iran`s investments in the Shiite groups in the region. Due to America's attempts and some slogans in protests against Iran, it is possible the power of Shiite`s groups in the two countries will be abated finally.
In fact, The U.S wants the uprising will extend to Iran because Iranians are in the same situation in terms of economic problems, just as Iran`s government is wary about protests infectious power. If Iran`s Shiite allies like Hezbollah and Amal in Lebanon and Al-Hashd Ash-Shabi in Iraq be able to separate Shias from other protesters, its spread range will reduce.
The U.S welcomes to spread uprising to Iran and weakening Iran`s influence in Lebanon and Iraq, whereas Iran seeks up political stability in the two countries. Iran also attempts to say the U.S is behind the protests and insecurity in the two countries is their work.
Lately, Hossein Shariatmadari, the representative of supreme leader Ayatollah Khamenei and editor chief of the conservative Kayhan newspaper, wrote addressed to Iraqis that "seize the American and Saudi embassies."
Some suggested that President Trump's "maximum pressure" campaign against Iran has been almost defeated because Iran has not come to the negotiation table so far, so perhaps the protests in Lebanon and Iraq lead to Iran's surrender.
Nowadays, Iraqis and Lebanon`s people seek up a better future by changing the political structures in their countries. Thinking to welfare, removing the corrupted politicians and protecting their countries from any foreign interference. But amid the protests, the confrontation has begun in two countries between America and Iran but would not finish simply.
The narrative approach of Lebanon's uprising
In Social Politics, intellectuals and scholars are surely defined political protestation as new concept of a social group that operates action together to obtain a political and social outcomes in terms of contemporary democracies, Indeed, some have included currently in Lebanon, Iraq, Algeria, and Sudan as a continuation of what happened at the end of 2010 and early 2011 in Egypt and Tunisia, and the events of proxy war in Syria, Yemen, and Libya, or somewhere else as part of the American creative disorder delusively labeled the Arab Spring.
Truly speaking, the current demonstrations in Lebanon are similarly shaped in a form of previous Arab anti-government uprisings scenario due to decisions that are seen as unfair socially and politically taking place within the constitutional process of people interest conciliated by political institutions at affecting public and Scio-cultural processes, which therefore challenge the status quo of which makes what happens in these states out of chaos of the "Arab Spring", even for the current overturning demonstrations, we find divergences in each state has its own Arab spring based on its social perspective.
For Lebanon, the people demonstration for the second week, provoked by ineffective of government laws management and unfair situation of handling peoples social needs that affect the standard of million citizens suffering from a serious depreciation in life productivity, hides deep and complicated causes and has several Lebanese specificities and approaches:
First, The sectarian approach, where the masses are clear in their demands to overthrow sectarianism and change all status of the political class, the protestation initiate a auspice of a outbreak against the sectarian system of all sects and indicates that sectarianism rolling party is fully responsible for impoverishing Lebanon's people and corruption of state institutions and detriment of political standing.
Second, The absence of Islamic party from the scene, might be invisible but Hezbollah and other Islamist groups are highly cautious about the seriousness of out breaking and imperils of other external involved parties pushed to change the current government and destabilized the regime, Therefore, there are unknown reports saying that this uprising in Lebanon is driven by Hezbollah group.
Third, The protestors stick to their commitment to democratic principles and fight all injustice and grievance in the civil state based on citizenship. Besides, despite the absence of clear international stands, particularly from Washington and the West, which is taking place in Lebanon, the Lebanese geopolitics enhances fears of the ability of the Lebanese people to distance themselves from outside interference.
The fourth, The fundamental fuss is not foreign intervention or interference of states' military, but rather the armed party militias related to the government coalition, whether it is Hezbollah or Christian parties. These militias are much powerful than the Lebanese army itself and it could demount the structure of the army and might provoke a proxy war.
In addition, as a result of these frequent Lebanese popular uprising occurrence is the accumulations of combining the deterioration of the weak economic circumstances with the irresponsible political experience of Lebanese political system and the crisis of democratic strategies of portions or consensus among the sects, rather than a prolonging the disorder of the Arab Spring. In the past decades, Lebanon has seen several bloody uprisings as a form of proxy war in 1958 and 1975 until the Taif Conference 1989.
It is understandable that what is happening in Lebanon or even the Arab Middle East region is based on mal-political calculations in resolving the current economic grievances and socio-cultural standards. it is clear to perceive the root of the Lebanese sectarian system which is based on confessionalism power-sharing system and the historical setting of its functioning, and before the digression came in the discourse of defining the political sectarianism as subjective context it is "an exchange of social-political system, focus on the handling of the individual part of the religious group in his political positions, and formed as sectarianism political sect of the state ".The Lebanese state emerged in 1920. unlike the rest of the Arab states from the Sykes-Picot Agreement, and as Britain's delegate to Palestine committed itself to the Balfour Declaration that grants a state to the Jews in Palestine, Also France committed itself to make Lebanon as a sole for Christians, especially the Maronites, who constituted the majority of the population. So the separation or portion in several positions six for Christians and five for Muslims and the rest of the religious sects. Thus, the unwritten legislative charter agreed in 1943 was based on sectarian sharing power politics between Muslims and Christians within the constitutional and for the rest of the high ranking positions, with the head of state is a Maronite Christian, the prime minister a Sunni Muslim, the speaker of the House of Representatives a Shiite Muslim.
Accordingly, At the 1989 Taif conference, which came after the proxy war, there was unsubstantial change that was recognized to be fifty per cent for each party within Lebanon the parliament, with the extension of the sectarian dominance and covenants to overcome it to change Lebanon from a sectarian democracy status based on portions into a modern democracy that blackout sectarianism, but this did not Politicalized sectarianism in order to be reinforced by a social sectarianism that was overtaken by all modern societies. Lebanon, Iran, Syria, Iraq, and Palestine.
This is quite superficial with regards to the past decades, the Status of Lebanon was able to extend a formula of inter-communal coexistence within the framework of so-called "sectarian democracy", As a matter of fact, the outbreak of the 1975 proxy war, and with the exception of the events of 1958, Lebanon was qualified to live in stability with economic and cultural prosperity and more importantly openness to all states of the world. Therefore, the great Palestinian refugee in the camps resulting from the 1948 war did not confuse the internal political balances.
With a new chapter turned in this formula of sectarian power-sharing system, the sectarian quota democracy creating a transitional step through the democracy of Lebanon citizenship that denies sectarianism and power-sharing which enhancing the confessionalism political system in accordance with to the sectarian representatives of the communities. this sharing power formula becomes the property or the estate of the confessionalism sect, especially its high ranking men, and the appointed Politicians have chosen by the sect to sustain in their positions without accountability or responsibility, though each sect has become like a state within a state, with its areas of influence and armed militias, these sects can maintain foreign relations as the legitimate state symbolized protecting entity of sectarianism, and attempts to inclusive development were confronted with the interests of communities and external alliances, as the law of recognized state of Lebanon was absent due to mediation and interventions of the sectarian communities, but other non confessionalism sect their people and families, became living on the ounce left by sectarian quotas.
In fact, what makes Lebanon uprising different and more fascinating from other the Arab movements is that it is so soft that the beauty of the Lebanese women who suddenly participated has forgotten the sameness of some outbreaks, and sometimes even covered the demands of the revolutionary street in Beirut communities and the rest of the cities, and the political details operating the movement. Making many Arab observers unconcerned with Saad Hariri's proposals, eager only for the continuation of the Lebanese revolution.
As noted, The demonstrations in the communities and streets were an opening for Lebanese women to demonstrate their strength and ability to influence not only their violent and unbreakable hardness, or their confrontation with the military, but also the dominance of their intellectualism statements, their sedition, their beauty, and their nationalism. Sometimes, with her very realistic comments, she complains to the media how corruption has deprived her of the better social life that this beauty, which God has given for her, asked for fair political, social and better economic conditions.
Though controversial, The woman's moves into the streets to protest is evidence that the outbreaks in Lebanon have become more than a necessity, and that it is a consistent decision among the Lebanese. Women, in general, are characterized by conservatism and tranquility. When women decide to strike against irresponsible political and social conditions, it means that the crisis is really true, and to that extreme, in Lebanon uprising, women should show to the world that women have the right to express their political and social attitudes towards stimulating protest among the general public.
To sum up, as a cliché says, where there's a will, there's a way. the outbreaks who took to the streets of Lebanese cities may be qualified to overthrow the existing legitimate government and circumstances may change to constitutional rules. The upset and rejection of sectarianism, although as noble goal, it needs a radical change in the structure and socio-cultural of Lebanese society, and if the Lebanese are committed to their democratic behavior to overthrow political sectarianism, Then this will be a great victory for the Lebanese people and will pave the way for eradicating political and sectarian confessionalism throughout the Arab world, particularly in Syria and Iraq.