Four big things to know about Egypt in 2014
Egypt will continue to make much news in the New Year — as it has since the 2011 revolution that brought down longtime U.S. ally President Hosni Mubarak amid scenes of blood and jubilation in Tahrir Square and beyond.
As Egypt celebrates the third anniversary of that revolution's launch on January 25th, the world's oldest nation-state enters another phase in its volatile transition from Mubarak's fading, sclerotic autocracy to a yet-uncertain future:
With all that in mind, here are four big things to know about Egypt in 2014.
1. EGYPTIANS SHOULD BE HEADING BACK TO THE POLLS SHORTLY. The overwhelming passage January 14-15 of an amended Constitution paves the way for new presidential and parliamentary elections soon, and legitimizes the ouster of former President Mohamed Morsi following the largest demonstrations in history last June 30.
This means that Egypt's extremely popular military regime, headed by charismatic Minister of Defense General Abdel-Fattah al-Sisi, has turned a crucial corner in gaining international acceptance, after nearly seven months of physical attacks within Egypt, and of media and policy assaults from abroad.
2. TERRORISM AND DISSENT WILL CONTINUE TO TORTURE EGYPT. Despite this latest triumph of the majority's will, the same destructive forces that have plagued the nation following the euphoria at Mubarak's fall will likely keep eating away at Egypt's social, political and economic fabric for the foreseeable future.
Friday, four explosions, including a suicide bombing that blew the facade off the seven-story State Security building downtown, have struck targets throughout Cairo, killing at least six and wounding more than 60 others.
President Barack Obama's botched handling of the rollout of Egypt's — and the Arab world's –democracy, in which the U.S. backed Islamists over secular liberal forces throughout the region, means our alliance with Cairo is far less secure than it was during Mubarak's nearly thirty years atop the pyramid of power in Egypt.
Mubarak told ABC's Christiane Amanpour on February 3, 2011, that Obama "doesn't understand Egyptian culture and what would happen if I step down now."
Mubarak accurately warned that if he resigned abruptly, as he was pushed to do that February 11 by Obama and the military in response to protests, bringing to climax the Arab Spring, he would be followed by chaos and rule by the Muslim Brotherhood (MB), which Egypt now rightly calls a terrorist organization.
Chaos duly ensued, and the well-organized, deeply entrenched MB and its Salafi allies, after electoral victories, imposed an Islamist agenda on the country, eventually alienating almost the whole citizenry.
As Obama told CBS's Steve Kroft during a joint interview with then-outgoing Secretary of State Hillary Clinton broadcast on "60 Minutes" January 27, 2013, at the height of the Islamists' ascendancy, "You know, when it comes to Egypt, I think, had it not been for the leadership we showed, you might have seen a different outcome there."
Supporters of Mubarak's successor, Mohamed Morsi, an MB hardliner, launched an armed insurgency when he was deposed on July 3, 2013 after only one year in power.
The MB's violent protests will probably not go away, though they are shrinking at least for the moment, while some of the key secular liberal groups that helped bring down both Mubarak and Morsi are turning against the repressive military.
Turnout for the new Constitution — which strips away most of the Islamist provisions found in the previous one, rammed through by Morsi in December 2012, while placing the military leadership beyond civilian control– was officially a modest 38.6 percent, but with a "Yes" vote of 98.1 percent.
In actual numbers, almost 20 million voters backed the document, over eight million more than endorsed Morsi's charter in December 2012, and roughly six million more than had voted for Morsi as president that May.
The MB and its Islamist allies, plus a few of the secular liberal groups that had opposed Mubarak, boycotted the vote, denouncing the crackdown on dissent under al-Sisi, a Bizarro World replay of the campaign against Morsi's own Constitution.
The 2014 referendum's success enables the widely-expected presidential candidacy of al-Sisi, a modern day pharaoh in a land that has known largely that kind of rule for the past five millennia.
Al-Sisi now runs Egypt through competent surrogates like Acting President Adly Mansour and Prime Minister Hazem al-Beblawy, though his glow may dim should he finally shed his uniform and govern directly as a civilian.
3 . EGYPT MAY BE JOINING A NUCLEAR ARMS RACE WITH IRAN WHILE REACHING OUT EVER MORE TO RUSSIA AND PERHAPS CHINA FOR ALTERNATIVES TO U.S. AID. This is happening as the Obama administration implements a toothless nuclear deal with radical Shiite Iran, alienating traditional Sunni allies like Egypt, Saudi Arabia and the United Arab Emirates.
In October 2013, Mansour announced a major expansion of Egypt's sixty-year old advanced nuclear program, possibly with help from Russia, with which Cairo signed an alarming $2 billion arms deal in November.
That alliance-shifting switch was prompted by Obama's decision last fall to suspend about a third of the annual $1.6 billion U.S. aid package to Egypt out of pique at al-Sisi's crackdown on the MB, while the White House had increased aid to Morsi when he had muzzled and even murdered his own opposition, angering most Egyptians.
To calm these strategically dangerous waters, last week Congress voted to grant $1.52 billion in aid to Egypt for 2014 — but it is so hedged with conditions that no one can be sure if all or indeed any of it will actually go to Cairo, or assuage a single Egyptian after so many snubs if it does.
4. CHRISTIANS WILL STILL SUFFER BUT MAYBE NOT AS MUCH. Egypt's long-persecuted Christian minority, wrongly blamed and physically targeted in a pogrom by the Islamists after Morsi's fall, will find neither the same level of active persecution, nor — unfortunately — much more government protection than it did in the waning days of Mubarak, which were also marred by frequent acts of mayhem against them.
Nor will they probably receive any help from the White House, which shamefully has been almost completely silent on the ever-more intense, large-scale violence against Christians throughout the Middle East and Muslim world in recent years.
Yet despite the divisions that still wrack the country, we ought to thank al-Sisi and the Egyptian people for ending the reign of the falsely "moderate," militantly anti-Western, anti-Christian, anti-Semitic, anti-female and anti-gay MB, that is allied with Al Qaeda and was using Egypt as a base to spread its influence and ideology.
For that service alone, Egypt today would be worth more than every penny it might yet see of the American taxpayers' money–even if we cannot buy a genuine democracy in a land that has never known one.
Why no global outcry over Saudi war in Yemen?
On Sunday, the US intelligence agency confirmed that the brazen killing of Saudi journalist Jamal Khashoggi was ordered by the Saudi crown prince Mohammad Bin Salman, which must have finally given some comfort to his restless soul. The truth was not hidden from the world, as it was already established by the Turkish authorities, but now we have the word straight from the horse's mouth.
Khashoggi's killing led to unprecedented global outcry against the Saudi regime because of its wanton disregard for human rights. It dominated newspaper headlines and primetime TV discussions for weeks as the mystery surrounding the dissident journalist's killing grew.
To their credit, Turkish government authorities left no stone unturned to unravel the murder mystery and expose the masterminds of the most diabolical crime. The whole world waited with bated breath because suddenly something had stirred people's conscience.
Today everyone knows about Khashoggi and everyone knows his murderer. Everyone is talking about it and tweeting about it. But, hold on, this is not the only crime his murderer has committed. His murderer has the blood of thousands of Yemenis on his hands and he is directly responsible for the starvation of millions of people in Yemen. Does the world know about it? Does it care?
A much-anticipated UN Security Council resolution calling for a cessation of Saudi-led war in Yemen and for the humanitarian aid to be allowed to reach millions of starving people was reportedly "stalled" this week after British Foreign Secretary Jeremy Hunt, who had moved the resolution, met the Saudi crown prince in Riyadh.
The prince, reports say, 'threw a fit' about the resolution. He didn't like the idea of food reaching the starving Yemenis because he wishes to see them killed either through bombardment or with starvation. Hunt surrendered tamely because UK happens to have arms trade with the Saudi regime.
Saudi-led war in Yemen has stretched into its third year now, killing more than 10,000 people and leaving the country completely devastated. The humanitarian situation in the war-ravaged country has been termed 'catastrophic' by aid groups. And the world has chosen to be a mute spectator.
The blockade of the country means around 18 million people don't have access to food, which could eventually and inevitably lead to the worst famine in more than a century. Already 2.2 million children are acutely malnourished and fighting for their lives. The World Food Program warned this week that the country was "marching to the brink of starvation".
Why has the world chosen to be silent even as warnings of famine have assumed alarming proportions? Akshaya Kumar, a senior Human Rights Watch official, says it's because of the "sway" Saudi has over some members of the UN Security Council, which has prevented the UN in naming and shaming the regime in Riyadh. "At this point, vague appeals to 'all parties' to improve their behavior won't work; Any resolution that doesn't specifically mention the Saudi-led coalition by name and call it out for its role in the carnage in Yemen won't have the required effect in Riyadh," he said in an interview.
The patronage of world powers like the United States and United Kingdom has ensured that Saudi rulers escape culpability for their war crimes in Yemen. Their support for the Saudi-led coalition in the form of arms, training, intelligence, and refueling of bombers has compounded the misery of Yemenis. The two countries continue to sell billions of dollars in arms to the Saudi regime, thus are directly complicit in the war crimes being committed against the Yemenis.
While bombings by the Saudi-led coalition have devastated the country, US drones have also been flying in the air. A new report by AP documenting civilian deaths in Yemen reveals that the US drones have contributed to several civilian killings this year, while pretending to be fighting Al-Qaeda's local franchise. What Americans did in Iraq and Afghanistan previously, they are now doing that in Yemen, directly and indirectly.
Today millions of children in Yemen weigh less than an average American's weekend lunch. One of them dies every ten minutes due to acute malnutrition and various diseases. United Nations has already estimated that 10 million people may starve to death, majority of them children, due to the Saudi-led war and blockade. Yet, there is no anger, no outrage, no vigils, no street demonstrations, no primetime TV debates, no editorials. It is a forgotten war.
Human rights have been reduced to a joke by the Saudi-led coalition and its international sponsors involved in Yemen war. The only way to end this war is to stop arms sale to the Saudi regime and to hold all parties – which includes Saudi Arabia, UAE, Kuwait, Bahrain, Qatar, Sudan, Egypt, Jordon, Morocco, US and UK – accountable for their war crimes.
First published in our partner MNA
Gulf countries pivot towards Israel: Can Arab recognition be foresighted?
The visit of Israeli Prime Minister Benjamin Netanyahu to Oman surprised the entire world and delivered a message of smoothening of relations between Oman and Israel. This event has marked the first ever visit by any Israeli leader to Oman in 22 years. The Israeli Prime Minister and the Sultan discussed 'Ways to enhance the peace process in the Middle East' as well as other issues of 'joint interest'. For Netanyahu, a milestone was achieved in the form of Oman recognition of Israel as normalizing relations with fellow regional states is one of the important clause of Netanyahu's policy. Moreover, an Israeli Minister Yisrael Katz attended an International Transport Conference in Oman and proposed a railway link to connect Persian Gulf with the Mediterranean Sea. However, the railway link isn't confirmed yet, it was just proposed in the conference. In parallel, Israeli Culture and Sports Minister Miri Regev attended Abu Dhabi Grand Slam 2018 in United Arab Emirates, where for the first time in history the national anthem of Israel was played. Similar approach was adopted by Israel towards Qatar. These changing dynamics can foresight the future of Gulf politics, that is, gulf countries can align with Israel to counter the influence of Iran in the region and for this purpose gulf countries may recognize Israel.
An important thing to notice is that the countries smoothening their relations with Israel are members of GCC, where Saudi Arabia is at the top of hierarchy- the major decision maker in Middle East- which means without Saudi Arabia's willingness and its interests, GCC countries cannot take such a big decision. Now here a question arises, why would Saudi Arabia allow this approach?
The main reasons are; firstly, the crown prince Mohammad Bin Salman have cordial relations with Israel's top leadership and he(MBS) is seen as a potential ally by Israel in Middle East, the major reason why Israel demanded US to side by Saudi Arabia in Khashoggi murder case. Second, it would be very difficult for Saudi Arabia- the self-proclaimed leader of the Sunni Muslim world- to recognize Israel while other states in the region still oppose the existence of a Jewish state in Middle East. Recognition of Israel by other GCC countries would make it far easier for Saudi Arabia to recognize Israel or at least to melt ice. Lastly, the Khashoggi murder case have already deteriorated the international image of Saudi Arabia, at this point of time the country cannot afford to bear another blame as Muslim countries think it would be injustice to Palestinians if Israel is recognized.
So will Saudi Arabia follow the suit and recognize Israel? The question still remains ambiguous, but since Saudi Arabia haven't opposed these action of GCC countries and a continuous diplomatic support from Israel to Saudi Arabia have been visible although both countries do not have diplomatic relations, it can be predicted that something is going on, between both of these states which they have chosen  not to disclose now. Coming to Qatar, since Qatar is also involved in this process of developing diplomatic relations with Israel, it can prove to be a catalyst in the troubled Saudi/Qatar relations as helping Saudi Arabia to develop relations with Israel while other Arab states are doing the same can lift up the entire blame from Saudi Arabia. Maybe the sanctions over Qatar will be lifted or just become less intensified. Qatar sees it as an opportunity to regain the similar status in the region as well as to reconstruct relations with the other Arab countries.
Turkish Newspaper Implicates UAE's Crown Prince in Covering Up Murder of Khashoggi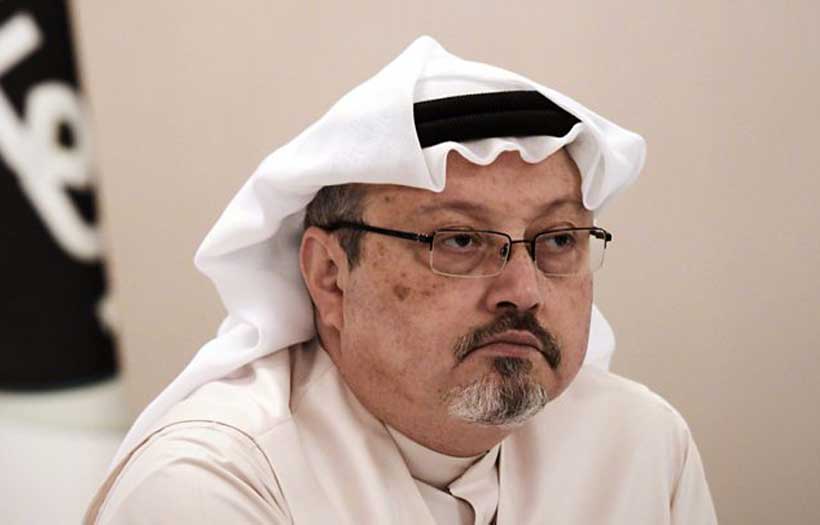 Saudi Crown Prince Mohammed bin Salman al-Saud, and UAE Crown Prince Mohammed bin Zayed al-Nahyan, are close friends and allies, who jointly lead the war against Houthi-led Yemen. On Sunday afternoon, November 18th, a leading Turkish newspaper, Yeni Şafak, reported the two leaders to have also collaborated in hiding the murder on October 2nd in Istanbul of Washington Post columnist Jamal Khashoggi.
Yeni Şafak headlined "Dahlan 'cover-up team' from Lebanon helps hide traces of Khashoggi murder" and reported that on October 2nd, "A second team that arrived in Istanbul to help cover-up the murder of Saudi journalist Jamal Khashoggi was dispatched by Muhammed Dahlan, UAE Crown Prince Muhammed bin Zayed's chief hitman in the region, … according to an informed source who spoke to Yeni Şafak daily on the condition of anonymity."
On November 16th, the Washington Post had headlined "CIA concludes Saudi crown prince ordered Jamal Khashoggi's assassination".
Bin Salman and bin Zayed are U.S. President Donald Trump's closest foreign allies other than, possibly, Israel's Prime Minister Benjamin Netanyahu. All four men are determined that there be regime-change in Shiite Iran. This anti-Shia position bonds them also against the Houthis, who are Shiites, in Yemen, where bin Salman and bin Zayed lead the war, and the United States provides the training, logistics, and weapons. Both bin Salman and bin Zayed are fundamentalist Sunnis who are against Shia Muslims. Israel and the United States are allied with these two princes. Saudi Arabia's royal family have been committed against Shia Muslims ever since 1744 when the Saud family made a pact with the fundamentalist Sunni preacher Mohammed ibn Wahhab, who hated Shia Muslims. Thus, Saudi Arabia is actually Saudi-Wahhabi Arabia, with Sauds running the aristocracy, and Wahhabists running the clergy.
In 2017, in Saudi Arabia's capital of Riyadh, Trump sold, to the Saudi Crown Prince, initially, $350 billion of U.S.-made weapons over a ten-year period (the largest weapons-sale in world history), and $110 billion in just the first year. That deal was soon increased to $404 billion. For Trump publicly to acknowledge that Salman had "ordered Jamal Khashoggi's assassination" would jeopardize this entire deal, and, perhaps, jeopardize the consequent boom in America's economy. It also would jeopardize the U.S. alliance's war against Shiites in Yemen.