As Obama dithers, Egypt ramps up its nuclear options
After the fatally-flawed interim deal signed by the P5+1 in Geneva November 24 over Iran's nuclear program, America's slighted ally Egypt is now possibly pursuing its own nuclear option, amid fears of an atomic arms race between Tehran and its regional Sunni rivals in Cairo, Riyadh and beyond.
And no one seems to be paying attention.
Egypt's traditionally close relations with the U.S. have been severely strained since Minister of Defense General Abdel-Fattah al-Sisi ousted the narrowly-elected President Mohamed Morsi after more than thirty million marched against him and the rule of the Muslim Brotherhood (MB), to which he belongs.
To the outrage of most Egyptians, the U.S. cut roughly a third in cash and equipment of its annual $1.6 billion of mainly military aid to Cairo in early October in punishment for the new regime's crackdown on the MB, which demands the return of Morsi — and which Egypt now correctly classifies as a terrorist organization.
Yet the White House had boosted aid to Egypt even as Morsi grew more and more repressive, imposing his Islamist agenda on the country.
On October 6, Egypt's interim president, Adly Mansour, announced at the annual commemoration of Egypt's successful 1973 surprise attack on the Israelis across the Suez Canal that construction of a 1,000 MW light-water reactor to generate electricity at El-Debaa, 120 kilometers west of Alexandria — the first of four planned in the country — would go ahead.
Egypt's 60-year-old nuclear program is already the third largest in the region, after those of Israel and Iran.
On November 26, the respected Middle East news site Al-Monitor reported that Egypt expects to generate $4 billion in grants from interested international companies to finance the project.
Morsi, whom al-Sisi appointed Mansour to replace pending new elections next year, had earlier approved a similar plan, even obtaining a pledge of Russian "research assistance" for Egypt's nuclear expansion, as well as help in exploiting the nation's previously unknown major deposits of uranium.
In mid-November, Russia's Foreign Minister Sergei Lavrov and Defense Minister Sergei Shoygu visited Egypt, where they negotiated a deal through which Egypt will buy $2 billion worth of Russian military equipment.
"We want to give a new impetus to our relations and return them to the same high level that used to exist with the Soviet Union"—i.e., during the Cold War–Egypt's Foreign Minister Nabil Fahmi is quoted as saying.
On November 11, the destroyer Varyag docked with an official welcome at Alexandria, the first Russian warship to visit one of Egypt's ports in decades.
It is not known if the Russians and their hosts also discussed Egypt's nuclear program in those talks.
Morsi — whom the Iranians too had offered to help develop his nuclear program, and with whom he worked to have closer ties after three decades of frozen relations–was most likely interested in acquiring nuclear weapons, for which the MB has called since 2006.
That idea is still wildly popular in Egypt, even if the MB no longer is.
Yet unlike Iran, a major oil exporter, Egypt really does have an urgent, legitimate need to develop new sources of energy.
Rolling brownouts and blackouts have been increasingly common, especially in post-Mubarak Egypt.
But as al-Sisi and Obama drift further apart, there are good reasons to be aware, if not wary, of Egypt's push for nuclear power.
Egypt's nuclear program, which began in 1954, features two research reactors and a hot-cell laboratory, all located at Inshas in the Delta.
From the reactors' spent fuel rods, the hot-cell laboratory reportedly extracts at least six kilograms of plutonium — enough for one nuclear bomb — per year.
During the rule of Hosni Mubarak — overthrown in February 2011 in a U.S.-backed coup propelled by public protests–the International Agency for Atomic Energy (IAEA) in 2004 opened an investigation into irradiation experiments and the unreported import of nuclear materials, and in 2007 and 2008 found traces of Highly-Enriched Uranium (HEU), all at Inshas.
After each, the IAEA issued brief, bland reports, but the last case is apparently still open, while similar traces of HEU found in facilities in Iran provided the first clue that Pakistan had been aiding Tehran's own drive for the bomb.
Mubarak also called for a Weapons of Mass Destruction Free Zone (WMDFZ) in the Middle East–now a movement, co-led by Iran, obviously aimed at freeing Israel of its most effective last-ditch defenses.
Yet, although Egypt signed the Nuclear Non-Proliferation Treaty (NPT) in 1968, it has refused to sign the NPT's Additional Protocol, which permits spot inspections, as well as treaties banning the possession of chemical and biological weapons.
Al-Sisi shares Mubarak's antipathy for the ayatollahs, and rightly fears their growing rapprochement with a gullible U.S. eager to create a new alignment in the Middle East, at the expense of traditional Sunni allies.
That means not only Egypt but Saudi Arabia and the United Arab Emirates (UAE), who ultimately felt threatened by the MB in Egypt (the UAE is now prosecuting about thirty MB members accused of plotting subversion), which the Obama administration continues to stand by instead, despite the group's anti-Western ideology and actions.
There is now enormous support on the street for Egypt to shift its alliance away from the U.S., particularly toward Russia, especially after President Vladimir Putin's masterful diplomatic deflection of America's pusillanimous threat of a military strike against Moscow's Syrian client last fall.
The rift is not yet complete- — though there still is no clear sign that the Obama administration will either fully accept the loss of Morsi, or actually stop Iran from acquiring nuclear weapons and the means of delivering them.
Whatever Iran chooses to do when it finally gets the bomb, its very proximity to having these ultimate weapons could impel its neighbors to seek their own deterrent.
Sadly, no deterrent nor strategy of containment can control the dynamics of this most unstable region should Iran achieve its ultimate nuclear ambitions.
And a nuclear arms race between the Sunni states and Iran — also, in the end, aimed at Israel — would be even worse.
The new strategic axis between the Russian Federation and Iran
On February 11 last the Iranian Foreign Minister, Mohammed Javad Zarif, arrived in Beirut, shortly after the establishment of a new Lebanese government that, although led by an old friend of Westerners, namely Hariri, is certainly one of the recent governments closest to Hezbollah.
Minister Javad Zarif offered the Iranian support to the new government – "support in all sectors".
Besides the Foreign Minister, the Iranian delegation was composed of a select group of 30 Iranian businessmen, who met Lebanese and Palestinian businessmen.
It is the first sign of an Iranian "grip on the Lebanon" by the Shiite Republic of Iran, which will lead to many strategic, geopolitical and economic changes.
It is obvious that, at the end of clashes in Syria, Iran wants to secure a stable centre of power in the Mediterranean region, in close contact with Israel and towards the East Mediterranean gas area which – as often noted – will be very important in the future.
Nor should we forget that Zarif's visit was scheduled precisely on the day of the 40thanniversary of Imam Khomeini's Shite revolution – a political symbol which should certainly not be overlooked in a country with a large Shite population.
Same religion, same political leadership – this seems to be the meaning of this careful choice and coordination of dates.
Hence both Russia and Iranthink that the new stability in the Syria led by Bashar al-Assad is based above all in the Lebanon.
Both Russia and Iran, however, have indicated – at least indirectly in the case of Russia – Hezbollah, in particular, as their primary point of reference in the Lebanon.
For the Russian Ambassador to Beirut, currently only the United States can trigger a conflict with Iran, given its regional policy.
As to the probable future conflict between Israel and the Lebanon, Ambassador Zasypkyn believes that the situation is much more unstable and even more controllable.
In other words, Russia still relies on its power of political and military deterrence in Syria to avoid a clash between Hezbollah and Israel – a war that would put a strain on both its new hegemony in the Middle East and stability in Syria.
Just one day before Zarif's visit to the Lebanon, the Russian envoy to Jerusalem had reassured the Israeli government that Hezbollah was a "stability force" throughout the region.
Probably Russia cannot yet do without Iran, both in Syria and in the Lebanon, and accepts – like it or not – that the primary link in the Lebanon is between the "Party of God" and the new government led by Hariri.
But how long can it last?
If Hezbollah decided to exert new pressure on Israel, Russia could quickly lose its grip on Southern Syria and miss its primary goal of becoming the rotating platform of the Greater Middle East.
Inter alia, the signals coming from the Lebanese Shiite military group are very clear: on February 7 last, Hassan Nasrallah openly called for the rearming of Lebanese forces (obviously) only by Iran and later made it clear that, in a possible US future attack to support Israel, Hezbollah would immediately fight on the Iranian side.
Nasrallah also asked to make the new Iranian "advanced" missiles available to the Lebanon, as well as sensor systems and tactical and signals intelligence.
It is therefore the request for a real strategic parity between Southern Lebanon and Israel.
This means that the Lebanese Shiites' aim is to eliminate all kind of US interference in the region and later put pressure – not just at military level – on the Jewish State that, without the US support, would be forced to accept a downward and uncertain peace.
This is the first goal of both Iran and Hezbollah, but certainly not of the Russian Federation.
Nevertheless, in his Lebanese meetings, Javad Zarif – who implicitly accepted Hezbollah's request for help – also made it clear that Bavar 373 – a missile launching and air defence system very similar to the Russian S-300 – was ready for the forces of the "Party of God", but also for the Lebanese regular army.
"Bavar" means "belief", albeit in a strictly religious sense, while the number 373 reminds of the soldiers belonging to the final ranks of the Twelfth Imam.
Iran is full of political symbols that must always be taken into account.
Bavar 373 is a well-copied surface-to-air missile system – probably from the Russian S-300 system that appeared in Iran for the first time in 2015.
The system uses the Iran-made missile called Sayyad-4 having a range of 150 kilometres. It also uses advanced radars that – as the analysts who saw Bavar 373 at work maintain – can saturate at least sixty targets at the same time.
It is therefore obvious to imagine what will immediately happen: sooner or later Israel will have the opportunity of destroying the Iranian networks in the Lebanon with a surgical operation. In all likelihood, however, Hariri's government will refuse Iran's offer, thus allowing Russian weapons and, above all, the S-300 missiles to arrive in the Lebanon.
It should be recalled that the S-300 missiles will be carefully monitored both from the Russian bases in Syria, which will never be abandoned by Russia, and simultaneously from the Russian missile site.
Obviously Iran does not object to the transfer of Russian weapons to the Lebanon. Quite the reverse.
Furthermore, the Shite regime will soon maintain that, since the United States still arm and train the Kurds against the so-called Caliphate, it also regularly and lawfully arms their Hezbollah units against the same enemy, and with equivalent devices and systems.
Hence Iran's and Russia's primary goal is the total expulsion of the United States from Syria and from the Lebanese and Israeli Mediterranean coast.
Once completed this operation, Russia will ask Israel for a new deployment of its potentials against Hezbollah and the Palestinian jihad forces, which are also in Iran's calculations.
And possibly, in the future, in Russia's calculations.
However, as far as we currently know, the final US withdrawal from Syria should be completed by the end of April.
But, again, what is the reason underlying this new Russian interest in the "Party of God"?
It is already clear that Russia does not want to remain alone in Syria.
The Russian Federation, however, does not even want Iran to undermine its regional hegemony, since it believes that everything Iran can ask is the stability of its "corridor" from Iraq to the Lebanon, but only under Russia's control.
Hence taking Hezbollah away from Iran's hands is vital for the Russian Federation, which desperately needs strategic buffers to control Syria by isolating Iran's primary instrument, namely Hezbollah.
As already seen, also on February 11 last, in its talks with Netanyahu's government, Russia maintained that "Hezbollah was a peace force".
This also makes us understand that President Putin has no interest in stopping the Israeli operations against the tunnels of the Shiite military organization.
Again, for Russia, the possible conflict between Israel and Lebanon can only break out because of the United States, considering that Hezbollah supported only the lawful government of Damascus, unlike what the United States did since the beginning of hostilities.
Hence Russia believes that the United States should tone down its attacks on Iran, with a view to reducing the Shiite Republic's pressure on Hezbollah and the current Lebanese government.
Is this hypothesis reasonable? Both yes and no.
Certainly, if the United States wants a prolonged war (this is the sense that Iran attributes to the US statements), the most likely reaction will be an Iranian attack that will set fire to the whole "corridor" and destabilize the Golan region.
Nevertheless, is it not equally probable that the US Presidency's brags were just a strategic "trial balloon" and boasts for internal use?
As is currently probable, it is precisely Russia that wants the "Party of God" shift from a clear Iranian dominance to a stable (and hegemonic) Russian protection.
If this happened, Russia would avoid paying too high a Syrian price to Iran. It would also have a military organization at its disposal that could well secure the East Mediterranean region and keep – again on Russia's behalf – peace and stability of Bashar al-Assad's regime, whose Armed Forces it never liked much.
Three important considerations shall be made in this respect: the S-300 operating systems that Russia has left in Syria since last October are not yet operational.
This means that Russia has not yet decided what to do with them in Syria.
Furthermore, Iran has not yet completed the factory and has not yet started the production of "advanced" missiles on the Syrian territory.
It was, in fact, mere psyops to show to Israel and the USA a greater development stage than the real one and to underline the impending  danger of an Israeli attack.
Finally, Iran has not yet accepted the pressing Russian request to quickly move the centralized command of its forces in Syria, which operates from the Damascus International Airport area.
All Iranians are still there and they will stay there for a long time.
Therefore, in essence, Russia believes that all these post-truths are the result of an American and Israeli psywar operation, designed to clearly separate the Iranian, Russian and Lebanese interests and hence rebuild a security network in Syria and in the Lebanon.
Precisely in response to said alleged psyops, Russia is currently trying to place the whole "Party of God" movement under its wing, at a time when it knows very well that the Iranian support for Hezbollah is weak and economically unpredictable.
Hence a new Hezbollah, which would act as a watchdog in Syria and ensure the security of the coasts south of Latakia and Tartus. It would also enable Russia to have access to the wide universe of Sunni and Shite "resistance" movements opposing the Israeli expansion.
Russia wants a stable Israel, but small and less powerful than it currently is.
We have already seen important signs of this operation during the Sochi meeting between Putin, Erdogan and Hassan Rouhani held on February 14 last.
On that occasion President Putin clearly reaffirmed his support for Hezbollah, i.e. his "grip on the group", and the possible use of this new protection for both Turkey and obviously Iran.
Probably Russia knows that Iran can no longer afford to support the very expensive "Party of God", as well as the whole jihadist network south of Israel.
According to Russian plans, however, Iran and Turkey will never be able to use the new arrangement of the "Party of God" on their own.
In addition, Rosneft has already penetrated the complex and largely autonomous Lebanese natural gas market which, as already noted, has left the sphere of the Cairo Conference.
A twenty-year agreement between the Russian natural gas giant and the Lebanese government is already in place for a storage site in Tripoli.
As soon as the USA leaves the Middle East, Russia will immediately occupy the oil and gas sites and positions.
But it will do so on its own, without parallel agreements with Syria or Iran.
Moreover, from now on, the Lebanon explicitly wants Russia to manage the relations between the Lebanon and Syria that, as is well-known, have never been particularly peaceful.
The variable of the Lebanese real independence from Syria is the central point of Russia's current posture and, hence, of its specific focus on Hezbollah.
The one billion US dollar agreement of military transfers from Russia to the Lebanon, which has been much discussed in Western capitals, is a first sign showing that Russia does not want Iran in the Lebanon, but can accept it among the other secondary players, above all in Syria.
The Russian-Lebanese trade has risen from 423 million in 2016 to the current 800 million, with a market dominated by Russian energy transfers to the Lebanese market.
In all likelihood, in the future Russia will support Hezbollah's request that the Israeli deep-sea Leviathan gas field illegally acquires some of the resources of the Lebanese gas fields.
The threat is clear: if Russia fully supported the Lebanese requests, there would be the possibility of a beginning of hostilities between the "Party of God" and Israel. At the end of a short, but harsh confrontation, said hostilities would be mediated exactly by the Russian Federation.
Suicide attack in Iran frames visit to Pakistan by Saudi crown prince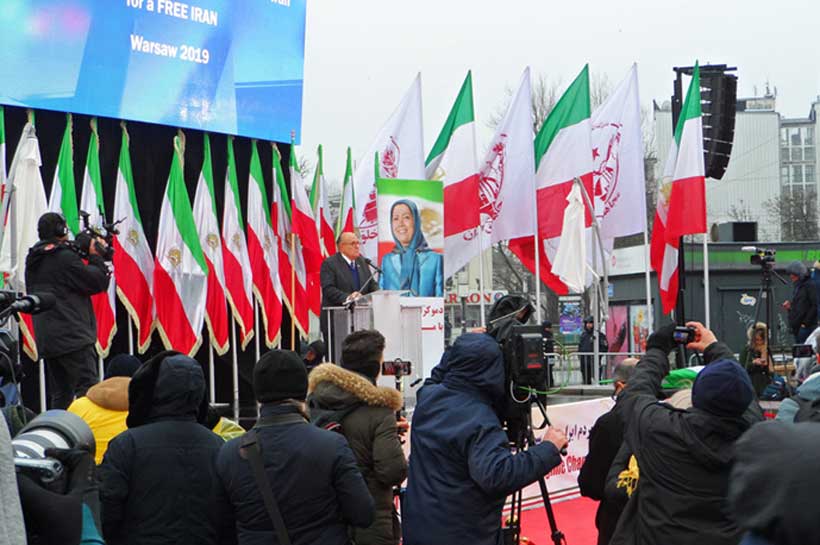 This week's suicide attack on Revolutionary Guards in Iran's south-eastern province of Sistan and Baluchistan, the second in two months, could not have come at a more awkward moment for Pakistani prime minister Imran Khan.
The assault on a bus carrying the guards back from patrols on the province's border with the troubled Pakistani region of Balochistan killed 27 people and wounded 13 others. It occurred days before Saudi crown prince Mohammed bin Salman was scheduled to visit Pakistan as part of a tour of Asian countries.
While Baluchistan is set to figure prominently in Prince Mohammed's talks with Mr. Khan, the attack also coincided with a US-sponsored conference in Warsaw, widely seen as an effort by the Trump administration to further isolate Iran economically and diplomatically.
Inside the conference, dubbed The Ministerial to Promote a Future of Peace and Security in the Middle East, Secretary of State Mike Pompeo insisted that US policy was designed to force Iran to alter its regional and defense policies and not geared towards regime change in Tehran.
Yet, US President Donald J. Trump appeared to be sending mixed messages to the Iranians as well as sceptical European governments with his personal lawyer, Rudolph Giuliani, addressing a rally outside the conference organized by the Mujahedeen-e-Khalq, a controversial Iranian exile group believed to enjoy Saudi backing.
Mr. Giuliani told the protesters who waved Iranian flags and giant yellow balloons emblazoned with the words, "Regime Change" that "we want to see a regime change in Iran."
Mr. Trump appeared to fuel suspicion that Mr. Giuliani represented his true sentiment by tweeting on the eve of the Warsaw conference in a reference to the 40th anniversary of the Islamic revolution: "40 years of corruption. 40 years of repression. 40 years of terror. The regime in Iran has produced only #40YearsofFailure. The long-suffering Iranian people deserve a much brighter future."
In a statement, the Revolutionary Guards blamed the attack on "mercenaries of intelligence agencies of world arrogance and domination," a reference to Saudi Arabia, the United States and Israel.
Jaish-al-Adl (the Army of Justice), a Pakistan-based splinter group that traces its roots to Saudi-backed anti-Shiite groups with a history of attacks on Iranian and Shiite targets, has claimed responsibility for the attack.
The group says it is not seeking Baloch secession from Iran. Instead, it wants to "force the regime of the guardianship of jurisconsult (Iran) to respect the demands of the Muslim Baloch and Sunni society alongside the other compatriots of our country."
Militants targeted a Revolutionary Guards headquarters in December in a rare suicide bombing in Chabahar, home to Iran's Indian-backed port on the Arabian Sea, a mere 70 kilometres from the Chinese supported port of Gwadar, a crown jewel in the Pakistani leg of the People's Republic's Belt and Road initiative.
The attacks coupled with indications that Saudi Arabia and the United States may be contemplating covert action against Iran using Pakistani Balochistan as a launching pad, and heightened Saudi economic and commercial interest in the province, frame Prince Mohammed's upcoming talks in Islamabad.
During his visit, Prince Mohammed is expected to sign a memorandum of understanding on a framework for US$10 billion in Saudi investments.
The memorandum includes a plan by Saudi national oil company Aramco to build a refinery in Gwadar as well as Saudi investment in Baluchistan's Reko Diq copper and gold mine.
The investments would further enhance Saudi influence in Pakistan as well as the kingdom's foothold in Balochistan.
They would come on the back of significant Saudi aid to help Pakistan evade a financial crisis that included a US$3 billion deposit in Pakistan's central bank to support the country's balance of payments and another US$3 billion in deferred payments for oil imports.
Taken together, the refinery, a strategic oil reserve in Gwadar and the mine would also help Saudi Arabia in potential efforts to prevent Chabahar from emerging as a powerful Arabian Sea hub.
Saudi funds have been flowing for some time into the coffers of ultra-conservative anti-Shiite, anti-Iranian Sunni Muslim madrassahs or religious seminars in Balochistan. It remains unclear whether they originate with the Saudi government or Saudi nationals of Baloch descent and members of the two million-strong Pakistani Diaspora in the kingdom.
The funds help put in place potential building blocks for possible covert action should the kingdom and/or the United States decide to act on proposals to support irredentist activity.
The flow started at about the time that the Riyadh-based  International Institute for Iranian Studies, formerly known as the Arabian Gulf Centre for Iranian Studies, an allegedly Saudi government-backed think tank, published  a study that argued that Chabahar posed "a direct threat to the Arab Gulf states" that called for "immediate counter measures."
If executed, covert action could jeopardize Indian hopes to use Chabahar to bypass Pakistan, significantly enhance its trade with Afghanistan and Central Asian nations and create an anti-dote to Gwadar.
Pakistani analysts expect an estimated US$ 5 billion in Afghan trade to flow through Chabahar after India in December started handling the port's operations.
Iranian concerns that the attacks represent a US and/or Saudi covert effort are grounded not only in more recent US and Saudi policies, including Mr. Trump's withdrawal last year from the 2015 international agreement to curb Iran's nuclear program despite confirmation of its adherence to the accord and re-imposition of harsh economic sanctions against the Islamic republic.
They are also rooted in US and Saudi backing of Iraq in the 1980s Gulf war, US overtures in the last year to Iranian Kurdish insurgents, the long-standing broad spectrum of support of former and serving US officials for the Mujahedeen-e-Khalq and in recent years of Prince Turki al-Faisal, a former head of Saudi intelligence and ex-ambassador to the United States and Britain.
Said Ali Vaez, the International Crisis Group's Iran analyst: "The concern was never that the Trump admin would avert its eyes from Iran, but rather that is in inflicted by an unhealthy obsession with it. In hyping the threat emanating from Iran, Trump is more likely than not to mishandle it and thus further destabilize the Middle East."
Turkey-Israel: Caught between friendship and enmity
In 1949, Turkey became the first Muslim country to recognize the State of Israel. Territorial disputes with Iraq (Ankara claims the Mosul region as Turkish territory) and with neighboring Syria (which has never recognized Alexandretta Sanjak, Hatayt vilayet's joining Turkey after WWI) necessitated a search for a regional ally. Moreover, the long-simmering conflict with Greece and accusations of the Armenian genocide had threatened to cut off the supply of high technologies and weapons from Western countries. Therefore, Israel has from the very outset been a major supplier of such advanced technologies and weapons to Turkey.
As for Israel, ties with Turkey meant a breach in the Middle Eastern countries' political and economic blockade of the Jewish state, and an example to follow by neighboring countries. The rapprochement between Ankara and Tel Aviv was good news also for the United States, as it set the stage for the emergence of a pro-American alliance in the Middle East.
The agreement that Israel and the Palestine Liberation Organization (PLO) signed in 1993 served as a "moral" basis for forging even closer ties between Ankara and Tel Aviv. After the Israeli intelligence services helped their Turkish colleagues to locate the whereabouts of the Kurdistan Workers' Party leader Abdullah Ocalan, Turkey and Israel signed a raft of cooperation agreements on security, on combating terrorism and on the implementation of joint agricultural projects in Central Asia.
Exchanges of visits by the two countries' senior military officials that followed resulted in the conclusion of contracts for the supply and joint development of certain types of weapons, with Turkey making its airspace available for training flights of Israeli military aircraft as the territory of the Jewish state is too small for this.
The Free Trade Agreement that Ankara and Tel Aviv inked in 1996, effectively opened the Israeli market, and also those of the United States, Canada and Mexico for Turkish goods. However, in that very same year, relations between the two countries suffered a setback when Turkish Prime Minister Nejmettin Erbakan, the founder of "Turkish political Islam," openly branded Israel as the "archenemy" of the Arab and Muslim world, intimidating voters with a Zionist plot against Turkey and ultimately calling for an end to all ties with the Jewish state. Before long, however, Erbakan was forced out by the then-powerful Turkish generals.
However, after the Justice and Development Party came to power in Turkey in 2002, relations between Turkey and Israel cooled again. The anti-Israeli rhetoric in Turkey has been heating up since 2004 with Turkish filmmakers contributing to this process by presenting Israel in a bad light – to a point where Israel's Mossad agents were shown in a TV series as taking the Turkish ambassador hostage, along with his entire family. Israeli Deputy Foreign Minister Danny Ayalon was forced to go on record saying that "scenes similar to those shown in the series make the life of Jews in Turkey unsafe."
This did not prevent the two countries from raising the volume of their bilateral trade and continuing military-technical cooperation though. Even faced with a situation like that, Turkey still proved itself a cool-headed realist.
Tensions between Turkey and Israel came to a head in 2009 when Ahmet Davutoglu, the author of the "neo-Ottomanism with Muslim overtones" doctrine, which became the unofficial paradigm of Ankara's foreign policy, was appointed foreign minister. Besides, a new Israeli invasion of the Gaza Strip prompted Ankara to postpone and ultimately cancel a planned drill by Turkish, US, Italian and Israeli military. And, to top it all off, incensed by Israeli Prime Minister Benjamin Netanyahu's speech at the World Economic Forum in Davos, Turkish President Recep Tayyip Erdogan vowed never to return to the annual gathering again.
In May 2010, Israeli forces intercepted the so-called "Freedom Flotilla" with humanitarian aid for Gaza residents. Simultaneously, passengers of the Turkish ship Mavi Marmara actively attempted to thwart a landing on the ship by Israeli commandos. In the violent clash that followed nine activists were killed and 30 were injured. The Turkish Foreign Ministry condemned the incident, Ankara recalled its ambassador from Israel and an angry crowd hurled stones at the Israeli consulate in Istanbul. Many experts believe that the conflict was deliberately provoked. In any case, the "resistance" by the passengers of the Turkish ship and Ankara's angry response earned it the laurels of a fighter for Muslim interests both inside the country and elsewhere in the Muslim world. Even though the UN commission investigating the incident concluded that the Israeli commandos had used force to defend themselves against "organized and armed resistance from a group of passengers."
Alarmed by the events of the "Arab Spring" that fueled the rise of political Islam in the region amid the growing confrontation with Turkey, the Israeli leaders started building up ties with Greece and Cyprus. In 2013, Israel launched commercial development of an offshore natural gas field near  Haifa with an eye to exporting its gas to Europe via these two countries. Turkish companies, for their part, proposed building an underwater pipeline to a Turkish terminal, from where the gas could be delivered to European consumers through the Turkish pipeline system.
Wary of Moscow's reaction to the November 2015 downing of a Russian Su-24 bomber over Syria, and fearing Russian sanctions, Ankara started looking for alternative trade partners. In a bid to ensure its energy security, Turkey now staked on Israeli natural gas. In a surprise move, President Recep Tayyip Erdogan said that peace in the Middle East was impossible without Turkey and Israel working together. Israel, meanwhile, while praising Ankara's desire to mend fences, was still mindful of Russia's possible backlash with then-Foreign Minister Avigdor Lieberman warning that "normalization of relations with Ankara will cause serious damage to our relations with Cyprus, Greece and, of course, with Russia."
Israel still paid compensation to the families of the victims of the Mavi Marmara incident, and agreed to allow Turkish humanitarian supplies into the Gaza Strip.
Last year's transfer of the US embassy from Tel Aviv to Jerusalem in defiance of a resolution by the UN General Assembly, which condemned the move, sparked a new standoff between Turkey and Israel.  After Palestinian protests were harshly suppressed by Israel, Turkey expelled the Israeli ambassador, recalled its own envoy from Ankara and convened an extraordinary summit of the Organization of Islamic Cooperation in Istanbul. Speaking at the forum, President Erdogan said that he expected the OIC countries to "put the decision of the embargo [on trade with Israel] into practice."
Erdogan's hope never came true as Ankara did not actually want to cut ties with the Jewish state. Indeed, harsh as Ankara's rhetoric was, it did not slow the pace of the trade and other economic ties between the two countries.  According to the Turkish Ministry of Commerce, in 2000, bilateral trade amounted to $1.13 billion, in 2005 – $2.27 billion, in 2010 – $3.44 billion, in 2017 – $4.91 billion and in the first 10 months of 2018 – $4.54 billion. This is what postmodern reality is all about.
Politics-wise, the future of relations between Turkey and Israel generally looks pretty bleak as Ankara is now relying on the Astana format in implementing its foreign policy goals, while Israel is gravitating towards a Saudi-led anti-Iranian bloc, which is now being established in the Middle East. Turkey refuses to recognize Bashar Assad as Syria's legitimate president, but Israel would rather have Assad as a neighbor than religious radicals or a pro-Iranian government in Damascus.
Israel is much less concerned about the situation in northern Syria though. Turkey, whose freedom of geopolitical maneuver is much greater than what Israel can boast of, plays and will continue to play a leading role in bilateral relations. However, these relations will only be able to improve sustainably if the Turkish leaders give up on the ideology of neo-Ottomanism, where Israel is assigned a very unenviable rile. With the Turkish leaders' ambitions extending far beyond the country's boundaries, chances of Ankara revising its foreign policy any time soon look pretty slim. That being said, the history of the past few decades shows that rapprochement is still possible, but this will most likely have a tactical nature depending on the changing political situation. For example, if the United States abandons its doctrine of creating "controlled chaos" in the Middle East.
Russia, which is now returning to the Middle East, will avoid confrontation with any of the regional players (save for terrorists, of course) as the "above-the-fray" position allows it to act as a mediator in resolving major regional conflicts.
First published in our partner International Affairs