Two decades after the signing of the declaration of principles (DOP) by Israel and the Palestine Liberation Organization (PLO) on the White House lawn, there is something unreasonable in the world's continued adherence to the Oslo paradigm, tattered and battered as it is by years of a bloody fiasco.
The Palestinian Arab leadership has consistently and adamantly rejected the two-state solution since its first articulation in 1937 by the British Peel commission[1] and has, as consistently, advocated the destruction of the Jewish state. Still, it undertook a successful public relations campaign in the 1980s promoting the notion of a Palestinian state in the West Bank and the Gaza Strip—"the occupied territories."
Over the years and especially in the wake of the DOP, the Palestinian demand for statehood has gained rapid political momentum and international acceptance. A succession of Israeli prime ministers—from Shimon Peres, to Ehud Barak, Ariel Sharon, Ehud Olmert, and Binyamin Netanyahu—embraced the idea, as did U.S. presidents Bill Clinton, George W. Bush, and Barack Obama. The paradigm for a final peace includes among its primary components Israeli territorial withdrawal and Palestinian sovereignty, political separation with reconciliation, compromise, and coexistence.
Yet twenty years on, the two parties find themselves further apart despite years of diplomatic wrangling. It is thus past time to examine and invalidate the paradigm that has taken hold in the hope that a new and less sanguinary one will take root.
A History of Failure
The concept of a Palestinian state appears just and reasonable. It evolves from the notion of a right to national self-determination for the stateless Palestinian people and their demand to end an Israeli presence in the territories captured in 1967. The terminology of decolonization regarding Jews who have settled in those territories fits this narrative of thwarted native Palestinian rights; ending the "illegality" of Israeli rule over the West Bank, the Gaza Strip, and East Jerusalem is a global political stipulation for conflict-resolution. From the November 1988 resolution in Algiers that called for Palestinian independence to the extensive diplomatic campaign of September 2011 to promote Palestinian statehood at the United Nations, the PLO dramatically altered the political parameters of the conflict and its resolution. In sketching the two-state solution of Israel and Palestine as representing complementary rather than contradictory elements in the puzzle of peace-making, values of equality and freedom radiated from both sides.
The Palestinian state idea had been proposed repeatedly in the post-1967 era,[2] and its feasibility, viability, and desirability were analyzed and advocated again and again. The idea was central to the Arab-originated Fahd plan of 1981 and the Fez plan of 1982 and was reintroduced two decades later in 2002 by the Saudis as the Beirut peace plan. On the Jewish side, the nongovernmental Council for Peace and Security founded in 1988 was book-ended by the so-called Geneva initiative of 2003—headed by two failed politicians, Yossi Beilin and Amnon Lipkin-Shahak—with centrist Labor and leftist political parties contributing their own details along the way, all promoting a Palestinian state alongside Israel. The two-state solution emerged within PLO circles in 1988 when Bassam Abu Sharif, a political advisor to Arafat, presented a position paper on the theme.[3]
However, when the Oslo accords between Israel and the PLO were signed in September 1993, there was no explicit mention that the peace process would culminate in a Palestinian state. Prime Minister Yitzhak Rabin, who had in 1974 rejected the notion of a "third state" between Israel and Jordan,[4] had reiterated this position in an autobiographical work in 1979, contending that a Palestinian "mini-state" in the West Bank and Gaza Strip would serve as a stage toward the "secular, democratic state of Palestine" that would rise "on the ruins of the state of Israel."[5] Four years before concluding the historic agreement with Arafat at the White House, Rabin asserted that a Palestinian state would be a time-bomb for chaos and warfare,[6] and even with the establishment of the Palestinian Authority (PA) in 1994, it remained Rabin's belief that the final version of the Palestinian entity must be less than a sovereign state.[7]
With that said, Palestinian sovereignty was, nevertheless, anticipated as the end-product of the Oslo process. Israel had acknowledged Palestinian peoplehood and rights in the 1978 Camp David-negotiated framework agreement for Middle East peace. It then recognized the Palestine Liberation Organization in 1993, agreed to the founding of the PA and its police force in 1994, and implemented territorial withdrawals from towns and rural areas in Judea-Samaria and Gaza in 1994-97. The International Donors' Committee provided billions of dollars in aid to the PA, which established institutions for what could be termed a state in formation. Binyamin Netanyahu, leader of the opposition Likud Party in 1993, said he would abrogate the Oslo accords, but as prime minister in 1996, he failed to do so.[8] The Hebron protocol of January 1997 and the Wye River memorandum of October 1998 demonstrated that Netanyahu operated within the Oslo paradigm for peace by relinquishing Israeli control over land, which was linked to explicit Palestinian obligations such as combating terrorist organizations and preventing incitement. Soon afterward, the Israeli government cancelled additional withdrawals because the PLO did not fulfill its commitments but not because Jerusalem dispensed with the Oslo idea.
Faith in Oslo did not dissolve even when failure struck over and over again. In July 2000 at the Camp David summit, Ehud Barak offered Arafat Palestinian statehood with control over approximately 92 percent of the West Bank and the Gaza Strip and a political capital in the vicinity of Jerusalem. But Arafat spurned the offer, and a reign of terror and suicide-bombing ensued.
Despite the basic breakdown of diplomacy and although U.S. Middle East envoy Dennis Ross admitted that Oslo had failed, he remained convinced—having written eight hundred pages of close text detailing the intricacies, efforts, obstacles, formulae, and setbacks regarding "the missing peace"—that "there is room for creative diplomacy."[9] Should failure not have brought about a reevaluation and some change in policy orientation?
In January 2002, President Bush called for an "end to occupation and [for] a peaceful democratic Palestinian state" as the prescription for peace, a formula endorsed a year later by the international "Quartet" (the United States, Russia, the European Union, and the United Nations). Another year later, Prime Minister Ariel Sharon also hitched onto the Palestinian state bandwagon as did his successors in Jerusalem—Olmert and Netanyahu—a few years hence. Yet negotiations, such as those between Olmert and PA president Mahmoud Abbas in the latter part of 2007, dragged on without results. The plethora of issues—from settlements and prisoners, to Palestinian institutions in East Jerusalem, to the Fatah/Hamas split—preoccupied and confounded the Israeli-Palestinian discussions without any satisfactory conclusion.[10]
On May 19, 2011, President Barack Obama affixed his name to the distinguished roster of supporters of a Palestinian state by advocating that "the borders of Israel and Palestine should be based on the 1967 lines with mutually agreed swaps."[11] Netanyahu reacted sharply that the Palestinian state could not come at the "expense of Israeli existence," affirming that the 1967 borders were "indefensible."[12] This set the political stage for a dispute between Washington and Jerusalem and assured that Israeli-Palestinian negotiations were not likely to renew soon. The Oslo paradigm was frozen: There were to be no negotiations, no Palestinian recognition of a Jewish state, and no peace in the offing. The three "nos" on Israel formulated at the 1967 Khartoum Arab summit—no negotiations, no recognition, and no peace—had been transformed and reformulated with their political core unchanged.[13]
Twenty years of the Oslo process filled with optimism and enthusiasm, adorned with Nobel prizes, grand summitry, and historic declarations that peace was "just around the corner" have delivered no peace. Firmly entrenched in its place, however, is a textbook example of cognitive dissonance written on a grand political scale. A final status agreement should have been consummated by 1999, five years following the "Gaza-Jericho First" stage in 1994, but neither Rabin's assassination in 1995 nor the murder of 1,084 Israelis from September 2000 to October 2010 (along with 250 from 1993 until July 2000)[14] could quash efforts at advancing the process. True believers continue to argue that once a Palestinian state in the territories is established, the Oslo paradigm will be validated. For those afflicted with "Osloitis," when the evidence counters their utopian paradigm, the bearer of bad news is defamed rather than commended for contributing to an alternative conceptual construct.
Oslo's Unaddressed Fallacies
At the heart of the failed Oslo paradigm are a core group of fallacies that have been promoted as truths: that the land can sustain two opposing population groups; that the Arab goal of destroying Israel can be appeased through "painful concessions" (rather than defeated by an Israeli victory); and that this is not a conflict based on something as elemental and incendiary as religion. Not one can withstand close scrutiny.
Geopolitical conflict is frequently a function of a dearth of resources and cannot be resolved by a mere wish for human harmony. In this case, both land and water are scarce, and the less than 40-mile width of the land from the Mediterranean coast to the Jordan River is insufficient to accommodate two rival states with expanding populations and vibrant national ambitions. While there are a few small states living cheek by jowl like the Netherlands and Luxembourg that are not at each others throats, they do not face the other factors that have contributed to the Israeli-Palestinian impasse.
There is, moreover, a great likelihood that a Palestinian state ensconced in the West Bank and Gaza Strip would evoke a powerful zeal for further land concessions, not only from the Arabs of Ramallah or Nablus, but also among many Israeli Arabs in the Galilee, for example, of whom opinion surveys indicate their belief that Jews are foreigners in the Middle East.[15] Such a state could easily foment an insurgency within Israel, bringing along further disruptions and destruction in its wake. Indeed, the Palestinian belief that Tiberias, Haifa, and Tel Aviv-Jaffa are lost cities of Arab Palestine fuels a deep-seated rejectionism, which is manifested in the leadership's adamant refusal to recognize Israel's very right to exist as a Jewish state.[16]
Finally, the war against Israel is little more than a modern application of Qur'anic hostility toward Jews, expressing the ethos of jihad and the religious definition of Palestine as a sacred waqf (Islamic religious endowment). Buoyed with this faith and ideology, Iran and Hezbollah, al-Qaeda and the Muslim Brotherhood, Hamas, Islamic Jihad, and other Muslim elements dedicate themselves to destroying Israel once and for all. In this, they are only more obvious than the so-called moderate Fatah leadership, which makes use of religious imagery and imperatives whenever it suits its purpose. A two-state solution is, in essence, a betrayal of Islam although a Palestinian state could become the springboard for the ongoing campaign to undermine, overrun, and eradicate the Jewish state—fi Sabil Allah (in the path of God). All this is so because, as article 15 of the Hamas covenant declares, "the Palestinian problem is a religious problem."[17]
The irrefutable conclusion is that the Oslo process brought no discernible change in the Palestinian attitude toward Israel. It remains a state that has to be eliminated. In May 2013, Mahmoud Abbas repeated the PLO's position that the Palestinians would refuse, as they indeed have, to recognize Israel's legitimacy as a Jewish state.[18] Jibril Rajoub, Fatah Central Committee member, declared soon thereafter that the Palestinians were the enemies of Israel, adding that if the Palestinians had nuclear weapons they would use them.[19] No less acerbic was a remark by Jamal Zahalka, Arab member of Israel's Knesset, who on July 31, 2013, railed against his fellow-citizens and parliamentarians: "We [the Arabs] were here before you [the Jews], and we'll be here after you're gone."[20]
In addition, the Oslo paradigm founders on the twin rocks of Palestinian factionalism and extremism as Palestinian society is hopelessly fissured by traditional identities and loyalties with extended family and tribal ties enduring despite a narrative of nationalism. The rural-urban split, the settled-refugee dichotomy, and the Muslim-Christian differentiation all confound integral social cohesion. Such a political tapestry, barely holding together despite decades of trying, baffles national unity, complicating the viability of any Palestinian state project becoming sturdy or stable.
These divisions have become further concretized by geopolitical partition. In 2007, Hamas seized control of Gaza after Israel's disengagement-withdrawal from the strip two years earlier and the Islamists' electoral victory over Fatah in 2006. The 40-kilometer geographic separation between the West Bank and the Gaza Strip, alongside the ideological and political enmity between Fatah-PA and Hamas, is a powerful obstacle to generating Palestinian unity. The conventional two-state proposal is a misnomer inasmuch as Gaza already constitutes a Palestinian "statelet," so that another Palestinian state based in the West Bank would actualize a three-state solution. The fathers of the Oslo accords could not imagine in their wildest dream such a bizarre turn of events.
Lastly, an ethic of extremism has been embedded in the culture of Palestinian politics for the last one hundred years, beginning with Hajj Amin Husseini (1897-1974) and continuing through the tenure of Yasser Arafat (1929-2004), with a slew of other noteworthy firebrands such as Izz al-Din al-Qassam (1882-1935) and Ahmad Yassin (1937-2004) throwing fuel on the blaze in between. Five days before the Oslo signing, Arafat told an Israeli journalist that one day there would be "a united state in which Israelis and Palestinians will live together" (without Israel)[21] while in 1996, after Oslo, he forecast Israel's collapse under the weight of an Arab return to the West Bank and Jerusalem, linked to psychological warfare that would convince the Israelis to emigrate.[22] The Arabs of Palestine have every reason to believe that the country is theirs alone because their leaders have been telling them that from the very beginnings of their own self-awareness as a people. For them, extremism is justified although this mental universe of self-delusion and fanaticism has not led them to a political victory.
Four Insurmountable Oslo Issues
Early in 1993, the Oslo negotiators concluded that a full and immediate resolution of the conflict was an impossible task, preferring instead to conceive of peace-making as a staged process rather than a single, decisive event. The major points of contention would be left to a later phase following the initial and practical launching of the accord. In the final status negotiations, peace would be achieved when the outstanding issues could be settled to the satisfaction of the Israelis and Palestinians alike.[23]
The religious-cum-political issue of the holy city of Jerusalem represented perhaps the most intractable problem to be resolved. Despite the Jewish people's millennial connections to Zion, Israel's June 1967 decision to apply its law and administration over the entire united city as its capital was rejected by the Palestinians and their abettors in the international community. At Camp David in July 2000, contorted and repeated efforts were made to formulate an agreement that would accord Palestinians sovereignty over the Arab-inhabited peripheral areas of Jerusalem, jurisdiction over the inner neighborhoods, and Palestinian governance over the Muslim and Christian quarters of the Old City. In these plans, the Temple Mount, the holiest site in Judaism, would be handed over to a Palestinian administration that claimed it as the al-Haram al-Sharif (sacred precinct). Prime Minister Barak's negotiating position, although it seemed to waver over the summit days, demanded Israeli sovereignty over West Jerusalem and the post-1967 Jewish neighborhoods around the city but also over the inner Arab-inhabited Jerusalem neighborhoods such as Sheikh Jarrah and Wadi Joz. He firmly rejected Palestinian sovereignty over the Temple Mount while Arafat apparently called for Palestinian sovereignty over all of Jerusalem.[24] In the end, Arafat spurned the deal, and the world will never know if further Israeli concessions, like recognizing absolute Muslim control and Palestinian sovereignty over the Haram al-Sharif, would have perhaps elicited Arafat's agreement. Palestinian militancy regarding Jerusalem has continued over the years, leading to assaults upon Jews in the Old City area and stoning attacks on the Temple Mount. These attacks have occurred despite an Israeli policy to limit and sometimes prohibit Jewish prayer on the mount. Self-imposed Israeli renunciation of Jewish religious rights merges with and perhaps evokes Palestinian violence.
An even greater sticking point is the final status of the so-called Palestinian refugees. The unyielding Palestinian demand that the "right of return" be acknowledged and implemented is a call for Palestinian "justice" that carries within it the seed for Israel's destruction. The "right of return" has become sacred dogma for Palestinians. Perhaps equally fixed is the Israeli rejection of the idea as suicidal for the Jewish state. A growing constituency of Arabs in Israel echoes the "return" theme.[25]
This Palestinian position, sustained by a contrived memory of forced dispossession and nurtured by political rigidity, has been met with an equally steadfast Israeli rejection although Barak was willing to concede a symbolic number of returning refugees in July 2000.[26] The refugee issue proves clearly that the Palestinian intent is to Arabize Israel and obliterate the Zionist enterprise. These are not the building blocks for the two-state solution envisaged by the Oslo negotiators.
Of late, the issue of the "settlements"—Jewish communities—has become the international community's bête noire. The Jewish presence in Judea and Samaria, numbering more than 120 localities with more than 330,000 people, may have begun in part as a perceived security imperative, but early on, it also expressed the immutable right of the Jewish people to live in and control the Land of Israel west of the Jordan River. For the Palestinians however, these communities were concrete evidence of Zionist expansionism and colonial occupation. The Palestinian position has become monolithic, demanding a dismantling of all Israeli communities and the expulsion of all their residents.
Meanwhile, Israeli governments forged a public consensus around those population blocks to be retained in any future agreement, a position endorsed by President Bush in 2004.[27] The Palestinian position hardened further in 2010 when Abbas, encouraged by President Obama, demanded a complete cessation of all construction activity, not only in the territories but also in post-1967 Jerusalem neighborhoods such as Har Homa and Ramat Shlomo, which are on the eastern side of the city.[28] In short, the settlement issue brought the sides to political wrangling that froze the already-stalled Oslo process. A Judenrein West Bank, recalling what Menachem Begin did in expelling Jews when handing over the Sinai Peninsula to Egypt in 1982, and what Ariel Sharon similarly did in the Gaza Strip in 2005, was not the future that many Israelis had in mind when imagining the contours of peace.
The fourth intractable issue is one of borders. A final political map delineating the outline of a Palestinian state is tied to the Arab demand that Israel withdraw to the June 4, 1967 lines. No Israeli government ever agreed to such a total retreat, which runs counter to U.N. resolution 242, which established the land for peace formula in the wake of the 1967 war: Barak wavered between 88-93 percent of the West Barak while Sharon and Netanyahu considered withdrawal from perhaps 50 percent of the area.[29] Military control of the Jordan Valley remains of particular importance for Israel to prevent both future smuggling of weapons and terrorists through Jordan into Palestine and to constitute a defensive line for Israel's eastern front facing the Arab states across the river. Israel would have to evacuate 100,000 residents in the unlikely event that final borders would exclude many smaller Jewish localities dispersed throughout Judea and Samaria beyond the larger population centers such as Ariel, Maaleh Adumim, and the Etzion block.[30] This grim scenario alone would be sufficiently critical to hamper an agreement, considering the national trauma that resulted from the expulsion of 8,000 Gush Katif residents from Gaza in August 2005. This is not the kind of public atmosphere that would generate Israeli support, let alone enthusiasm, for any peace based on the Oslo parameters.
Conclusion
While Israelis consistently poll in support of a Palestinian state, the reasons for abandoning the idea have multiplied over time. Palestinian nationalism with its malignant and rogue features remains committed to destroying Zionism. The Fatah media and school curricula indoctrinate the Palestinian people and youth to disparage Jews as "evil" and Israel as a "cancer."[31] Palestinian military forces train for the possibility of future fighting with Israeli military forces,[32] and Palestinian diplomacy, like the recent failed attempt to get the U.N. to grant it unconditional statehood, remains the stuff of wily bazaar bargaining in a diplomatic war of attrition. It is clear that the Palestinian public has never really accepted the two-state solution as a final end to the conflict.[33] This was given vivid expression in the last interview by the late Faisal Husseini, the prominent PLO leader, who infamously compared the Oslo process to a Trojan horse that would bring about Israel's demise.[34] More recently, Abbas Zaki, Fatah Central Committee member, confessed that "it's not acceptable to say we want to wipe Israel out … It's not [acceptable] policy to say so. Don't say these things to the world. Keep it to yourself."[35]
Obstacles also exist in addressing the practical aspects and nitty-gritty details of a Palestinian state centered in the West Bank. Israel's security-related conditions regarding demilitarization and control of airspace and military monitoring stations on West Bank hilltops meet with unwavering Palestinian opposition on all counts.[36] A state of Palestine, founded in a moment of desperation and born in bitter acrimony, will lack the space to absorb millions of refugees should the expatriate Palestinian community opt for emigration and be fated for economic impoverishment (discounting the billions of dollars donated to the PA by the international community since 1994). Based on everything a dispassionate observer can testify to since the 1994 establishment of the Palestinian Authority, this Palestinian state, awkwardly sandwiched between Israel and Jordan, has all the likelihood of becoming a failed state—fragile, mismanaged, tending to disorder and civil war.[37]
As such, the two-state paradigm trumpeted by Oslo has been invalidated with the growth of the magnitude of dissonance. There is just no sound political basis for an Israeli-Palestinian peace agreement. All basic final status issues escape resolution. Yet, there has never been an admission of error, let alone an apology by Peres or Bill Clinton, Bush, Sharon, Olmert, Obama, or Netanyahu in their advocacy of a two-state solution. Speaking of the predominant role played by Peres in the Oslo saga, the contemporary grand master of realpolitik, Henry Kissinger, once remarked that Peres had "the trait of French academics who tend to believe that the formulation of an idea is equivalent to its realization."[38] The same could be said of all those well-intentioned diplomats and politicians who have followed in Peres's footsteps. Small wonder that, notwithstanding the plan's abysmal failure and likely calamitous future, the intellectual brainwashing exercised by the Oslo paradigm has not yet loosened its grip over people's minds as evidenced most recently by John Kerry's heroic, but ultimately doomed, attempt to resuscitate the "peace process."[39]
Mordechai Nisan is a retired lecturer in Middle East Studies at the Hebrew University of Jerusalem and at other academic institutions in Israel. His most recent book is Only Israel West of the River (CreateSpace Independent Publishing Platform).
[1] The Peel commission recommended the incorporation of the Arab part of western Palestine into Transjordan, ruled by Emir Abdullah ibn Hussein, rather than its constitution as an independent state.
[2] For example, Richard J. Ward, Don Peretz, and Evan M. Wilson, The Palestine State: A Rational Approach (Port Washington, N.Y.: Kennikat Press, 1977); Mark A. Heller, A Palestinian State: The Implications for Israel (Cambridge.: Harvard University Press, 1983).
[3] Mark Tessler, A History of the Israeli-Palestinian Conflict, 2nd ed. (Bloomington and Indianapolis: Indiana University Press, 2009), pp. 535-8, 711-29.
[4] Yediot Aharonot (Tel Aviv), July 26, 1974.
[5] Yitzhak Rabin, Pinkas Sherut, vol. II (Tel Aviv: Ma'ariv, 1979), p. 583.
[6] Ma'ariv (Tel Aviv), Feb. 10, 1989.
[7] David Makovsky, Making Peace with the PLO: The Rabin Government's Road to the Oslo Accord (Washington and Boulder: The Washington Institute for Near East Policy and Westview Press, 1996), p. 123.
[8] Yossi Beilin, "Oslo Kvar Betocheinu," Yisrael Hayom (Tel Aviv), July 27, 2011.
[9] Dennis Ross, The Missing Peace: The Inside Story of the Fight for Middle East Peace (New York: Farrar, Straus and Giroux, 2004), p. 800.
[10] "The Israeli-Palestinian Conflict: Annapolis and After," Middle East Briefing, no. 22, International Crisis Group, Jerusalem/Washington/Brussels, Nov. 20, 2007.
[11] Barack Obama, remarks on the Middle East and North Africa, State Department, Washington, D.C., May 19, 2011.
[12] Al-Jazeera TV (Doha), May 19, 2011.
[13] "The Khartoum Resolutions," Sept. 1, 1967, The Jewish Virtual Library.
[14] Ross, The Missing Peace, p. 782.
[15] The Jerusalem Post, May 19, 2011.
[16] "My Country Palestine," Fatah PA TV, July 13, 2011, in MEMRI Bulletin, Middle East Media Research Institute, Washington, D.C., July 26, 2011; YNet News (Tel Aviv), Aug. 28, 2011.
[17] "Hamas Covenant 1988," Yale Law School Avalon Project, accessed Oct. 29, 2013.
[18] Al-Hayat al-Jadida (Ramallah), May 4, 2013, quoted by Palestinian Media Watch, Jerusalem.
[19] Al-Mayadeen TV (Beirut), in Palestinian Media Watch Bulletin, May 8, 2013.
[20] Israel Hayom, Aug. 1, 2013.
[21] Efraim Karsh, Arafat's War: The Man and His Battle for Israeli Conquest (New York: Grove Press, 2003), pp. 59-60; idem, "Arafat Lives," Commentary, Jan. 2005.
[22] The Jerusalem Post, Feb. 23, 1996; Yedidya Atlas, "Stockholm Revisited," Israel radio 7, May 10, 1996.
[23] Makovsky, Making Peace with the PLO, chap. 2-3.
[24] Shlomo Ben-Ami, Hazit Le'lo O'ref: Masa el Gvulot Tahalich Hashalom (Tel Aviv: Yediot Aharonot, 2004), pp. 165-95; Ross, The Missing Peace, pp. 686-7.
[25] L. Barkan, "Israeli Arab Leadership Jockeys for Central Role in Palestinian Leadership," Middle East Media Research Institute, Inquiry & Analysis Series Report, no.721, Aug. 11, 2011.
[26] Ron Pundak, "From Oslo to Taba: What Went Wrong?" Survival, Autumn 2001, pp. 31-45.
[27] The Washington Post, Apr. 15, 2004.
[28] YNet News, Nov. 10, 2010.
[29] Ha'aretz (Tel Aviv), Nov. 4, 2006; The Times of Israel (Jerusalem), Feb. 19, 2013; "Peace Negotiations in Name Only," DebkaFile (Jerusalem), Sept. 23, 2013.
[30] Giora Island, "The Future of the Two-State Solution," Jerusalem Issue Brief, Jerusalem Center for Public Affairs, Feb. 8, 17, 2009.
[31] Al-Aqsa TV (Gaza), July 13, 2008; "Religious War," Palestinian Media Watch, Jerusalem, July 3, 2013.
[32] Gal Luft, "The Palestinian Security Forces: Capabilities and Effects on the Arab-Israeli Military Balance," Ariel Center for Policy Research, Shaarei Tikva, Oct. 2001; CNS News, July 7, 2008.
[33] Benny Morris, "Eliminating Israel," The National Interest, July 19, 2011.
[34] Al-Arabi (Cairo), June 6, 2001.
[35] The Blaze (New York and Dallas), Oct. 3, 2011.
[36] Dore Gold, "Banging Square Pegs into Round Holes," Jerusalem Center for Public Affairs, Dec. 2008.
[37] Charles W. Kegley, Jr., and Eugene R. Wittkopf, World Politics: Trend and Transformation, 7th ed. (Boston: Bedford/St. Martin's, 1999), p. 372.
[38] Henry Kissinger, Years of Renewal (New York: Simon and Schuster, 1999), p. 376.
[39] The New York Times, July 19, 2013.
Chinese purchases of Iranian oil raise tantalizing questions
A fully loaded Chinese oil tanker ploughing its way eastwards from two Iranian oil terminals raises questions of how far Beijing is willing to go in defying US sanctions amid a mounting US military build-up in the Gulf and a US-China trade war.
The sailing from Iran of the Pacific Bravo takes on added significance with US strategy likely to remain focused on economic rather than military strangulation of the Iranian leadership, despite the deployment to the Gulf of an aircraft carrier strike group as well as B-52 bombers and a Patriot surface-to-air missile system.
As President Donald J. Trump, backed by Secretary of State Mike Pompeo, appears to be signalling that he is not seeking military confrontation, his administration is reportedly considering a third round of sanctions that would focus on Iran's petrochemical industry. The administration earlier this month sanctioned the country's metals and minerals trade.
The sailing raises the question whether China is reversing its policy that led in the last quarter of 2018 to it dramatically reducing its trade with Iran, possibly in response to a recent breakdown in US-Chinese trade talks.
"The question is whether non-oil trade remains depressed even if some oil sales resume, which I think it will. That's the better indicator of where Chinese risk appetite has changed. Unfortunately Iran's reprieve will be limited—but better than zero perhaps," tweeted Esfandyar Batmanghelidj, head of Bourse & Bazaar, a self-described media and business diplomacy company and the founder of the Europe-Iran Forum.
A Chinese analyst interviewed by Al Jazeera argued that "China is not in a position to have Iran's back… For China, its best to stay out" of the fray.
The stakes for China go beyond the troubled trade talks. In Canada, a senior executive of controversial Chinese telecommunications giant Huawei is fighting extradition to the United States on charges of violating US sanctions against Iran.
Reports that Western companies, including Kraft Heinz, Adidas and Gap, wittingly or unwittingly, were employing Turkic Muslims detained in re-education camps in China's north-western province of Xinjiang, as part of opaque supply chains, could increase attention on a brutal crackdown that China is struggling to keep out of the limelight.
The Trump administration has repeatedly criticized the crackdown but has stopped short of sanctioning officials involved in the repressive measures.
Bourse & Bazaar's disclosure of the sailing of the Pacific Bravo coincided with analysis showing that Iran was not among China's top three investment targets in the Middle East even if Chinese investment in the region was on the rise.
The Pacific Bravo was steaming with its cargo officially toward Indonesia as Iranian foreign minister Mohammad Javad Zarif was touring his country's major oil clients, including China, in a bid to persuade them to ignore US sanctions.
A second tanker, the Marshal Z, was reported to have unloaded 130,000 tonnes of Iranian fuel oil into storage tanks near the Chinese city of Zhoushan.
The Marshall Z was one of four ships that, according to Reuters, allegedly helped Iran circumvent sanctions by using ship-to-ship transfers in January and forged documents that masked the cargoes as originating from Iraq.
The unloading put an end to a four-month odyssey at sea sparked by buyers' reticence to touch a cargo that would put them in the US crosshairs.
"Somebody in China decided that the steep discount this cargo most likely availed … was a bargain too good to miss," Matt Stanley, an oil broker at StarFuels in Dubai, told Reuters.
The Pacific Bravo, the first vessel to load Iranian oil since the Trump administration recently refused to extend sanction exemptions to eight countries, including China, was recently acquired by China's Bank of Kunlun.
The acquisition and sailing suggested that Bank of Kunlun was reversing its decision last December to restrict its business with Iran to humanitarian trade, effectively excluding all other transactions.
The bank was the vehicle China used in the past for business with Iran because it had no exposure to the United States and as a result was not vulnerable to US sanctions that were in place prior to the 2015 international agreement that curbed Iran's nuclear program.
China's willingness to ignore, at least to some extent, US sanctions could also constitute an effort to persuade Iran to remain fully committed to the nuclear accord which it has so far upheld despite last year's US withdrawal.
Iran recently warned Europe that it would reduce its compliance if Europe, which has struggled to create a credible vehicle that would allow non-US companies to circumvent the sanctions, failed to throw the Islamic republic an economic lifeline.
In a letter that was also sent to Russia and China, Iran said it was no longer committed to restrictions on the storage of enriched uranium and heavy water stocks, and could stop observing limits on uranium enrichment at a later stage.
Russian president Vladimir Putin warned in response to the Iranian threat that "as soon as Iran takes its first reciprocal steps and says that it is leaving, everyone will forget by tomorrow that the US was the initiator of this collapse. Iran will be held responsible, and the global public opinion will be intentionally changed in this direction."
Will there be war with Iran? Will there not be war with Iran? The questions are being asked repeatedly in the media even though a single carrier task force is steaming up there. The expression is old for the latest carriers are nuclear powered. Imagine the mess if it was blown up.
There are two kinds of weapons in the world … offensive and defensive. The latter are cheaper, a fighter plane compared to a bomber. If a country does not (or cannot afford to) have offensive intent, it makes sense to focus on defense. It is what Iran has done. Moreover, its missile centered defense has a modern deadly twist — the missiles are precision-guided.
As an Iranian general remarked when questioned about the carrier task force: some years ago it would've been a threat he opined; now it's a target. Iran also has a large standing army of 350,000 plus a 120,000 strong Revolutionary Guard and Soviet style air defenses. In 2016 Russia started installation of the S-300 system. It has all kinds of variants, the most advanced, the S-300 PMU-3 has a range similar to the S-400 if equipped with 40N6E missiles, which are used also in the S-400. Their range is 400 km, so the Iranian batteries are virtually S-400s. The wily Putin has kept trump satisfied with the S-300 moniker without short-changing his and China's strategic ally. The latter continuing to buy Iranian oil.
Iran has friends in Europe also. Angela Merkel in particular has pointed out that Iran has complied fully with the nuclear provisions of the UN Security Council backed Joint Comprehensive Plan of Action i.e. the Iran nuclear deal. She is mustering the major European powers. Already alienated with Trump treating them as adversaries rather than friends, they find Trump's bullying tiresome. President Macron, his poll ratings hitting the lowest, is hardly likely to engage in Trump's venture. In Britain, Theresa May is barely able to hold on to her job. In the latest thrust by senior members of her party, she has been asked to name the day she steps down.
So there we have it. Nobody wants war with Iran. Even Israel, so far without a post-election government does not want to be rained upon by missiles leaky as its Iron Dome was against homemade Palestinian rockets.
Topping all of this neither Trump nor Secretary of State Pompeo want war. Trump is as usual trying to bully — now called maximum pressure — Iran into submission. It won't. The wild card is National Security Adviser John Bolton. He wants war. A Gulf of Tonkin type false flag incident, or an Iranian misstep, or some accident can still set it off.
In Iran itself, moderates like current President Hassan Rouhani are being weakened by Trump's shenanigans. The hard liners might well want to bleed America as happened in Iraq and Afghanistan.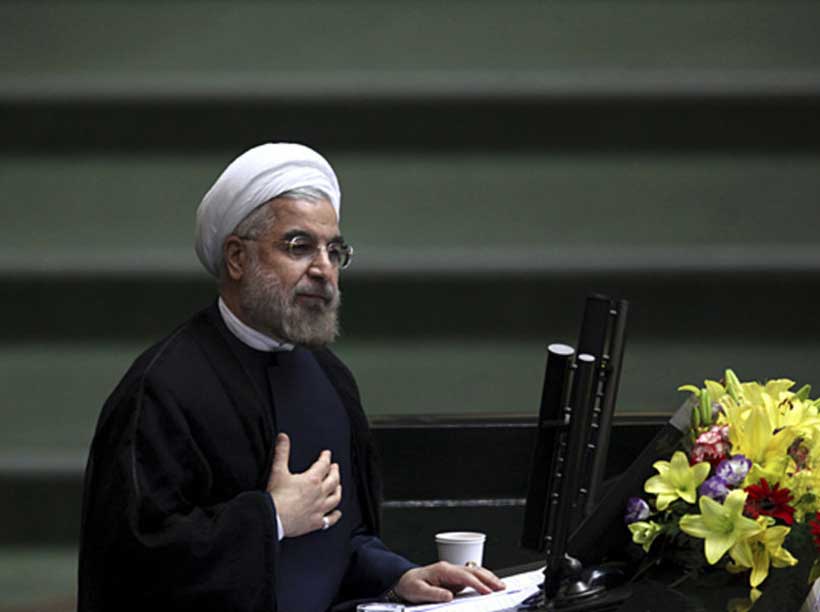 By announcing that Iran will begin keeping its excess uranium and heavy water, the Islamic Republic now sends a firm and clear message to the west, exactly one year after U.S. president, Donald Trump unilaterally withdrew from its nuclear deal with Iran.
At this point, it seems that Iran has made a wise decision. Over the last year, the European troika has not only done anything to revive the nuclear deal or bring any kind of benefit to the Iranian nation, but they have actually backed up U.S. by developing new plans to undermine Iran's "missile work", and diminish its "power in the region" as well as its "nuclear technology".
As stated in clauses 26 and 36 of Joint Comprehensive Plan of Action (JCPOA), if the other side fails to meet its obligations, Iran is entitled to partially or completely end its commitments as well. So, Iran's recent decision could be analyzed both on legal and strategic terms.
However, it seems that the strategic aspects of Iran's decision are even more important than its legal aspects. This decision is strategically important because it stops Washington and European troika to carry out their anti-Iran scheme, a dangerous scheme that they actually started devising when Trump took the office in 2017.
At the time, Theresa May, the British Prime Minister, and Emmanuel Macron, the French president played a major part in carrying out the west scheme. A scheme based on enforcing Iran to keep its "nuclear promises" and stay committed to a "distorted nuclear deal" while "U.S. had abandoned the deal", and at the same time, trying to "diminish Iran's power in the region" and "reduce its missile activities".
All other actions of Europeans toward Iran were also simply targeted at carrying out this major plan, including how they constantly changed their strategies toward Tehran, and how Germany, U.K. and France intentionally delayed in launching the alternative trade mechanism (Instex) with Iran.
Now, Iran's decision to keep its Uranium and heavy water is definitely in compliance with JCPOA, and more importantly, it will seriously undermine the "American-European" joint plan against Iran. This also explains why French government was so distressed by Iran's new nuclear strategy and had such a quick reaction, considering that Emmanuel Macron, the French president and Jean-Yves Le Drian, the French Foreign Minister both have had important roles in carrying out the American-European anti-Iran scheme.
At any rate, what is clear now is that the game has just started! And the Iranian political system and specially the foreign ministry have a great mission to run this game wisely.
In following days, the European troika might want to force Iran into changing its decision by threats such as reviving the European Union sanctions against Iran or even taking Iran's case to the United Nations Security Council (so that Trump administration can meddle in Iran's affairs). But, it is time for Iran political system to be adamant in its decision.
The Iranian Foreign Ministry should clearly ask the Europeans to choose one of these options, either Iran will "further reduce its commitments to the nuclear deal" or the Europeans should do something practical to "protect the rights of Iranian nation".
It is also necessary that the Iranian political system reveals the American-European joint anti-Iran scheme to the people so that the true nature of Europeans is showed to Iranians. In that case, Europe and specially the European troika will completely lose their reputation.
First published in our partner Tehran Times