The Dead's Envy for the Living
Many commentators, most eloquently Bret Stephens at the Wall Street Journal, draw a parallel between the appeasement of Hitler at Munich in 1938 and the appeasement of Iran at Geneva.
There is another, more chilling parallel: Iran's motive for proposing to annihilate the Jewish State is the same as Hitler's, and the world's indifference to the prospect of another Holocaust is no different today than it was in 1938. It is the dead's envy for the living.
Dying civilizations are the most dangerous, and Iran is dying. Its total fertility rate probably stands at just 1.6 children per female, the same level as Western Europe, a catastrophic decline from 7 children per female in the early 1980s. Iran's present youth bulge will turn into an elderly dependent problem worse than Europe's in the next generation and the country will collapse. That is why war is likely, if not entirely inevitable.
Iran's Elderly Dependent Ratio
| | |
| --- | --- |
| Year | Elderly Dependent Ratio |
| 2010 | 7.4 |
| 2015 | 8.8 |
| 2020 | 10.5 |
| 2025 | 12.8 |
| 2030 | 15.7 |
| 2035 | 18.8 |
| 2040 | 22.7 |
| 2045 | 28.4 |
| 2050 | 34 |
| 2055 | 37.5 |
| 2060 | 39.2 |
Source: UN "Low Variant"
The table above is drawn from United Nations projections. It probably underestimates Iran's predicament: the UN's "low variant" puts the country's total fertility rate at 1.9 children as of 2015, but it already has fallen to just 1.6. This means in simple arithmetic that a generation hence, there will be two elderly dependents for every three workers, compared to 7 elderly dependents for every 93 workers today. That is a death sentence for a poor country, and at this point it is virtually irreversible.
As the United States Institute for Peace wrote in its April 2013 "Iran Primer":
Iran's low fertility rate has produced a rapidly aging population, according to a new U.N. report. The rate has declined from 2.2 births per woman in 2000 to 1.6 in 2012. This has pushed the median age of Iranians to 27.1 years in 2010, up from 20.8 years in 2000. The median age could reach 40 years by 2030, according to the U.N. Population Division. An elderly and dependent population may heavily tax Iran's public health infrastructure and social security network.
In 2005 and 2006, I was the first Western analyst to draw strategic conclusions from this trend, the steepest decline in fertility in the history of the world. Iran must break out and establish a Shiite zone of power, or it will break down.
Iran's theocracy displays the same apocalyptic panic about its demographic future that Hitler expressed about the supposed decline of the so-called Aryan race. Unlike Hitler, whose racial paranoia ran wild, Iran's presentiment of national death is well founded on the facts. That is not to understate Iran's paranoia. In 2013 Iran's Vice President alleged that Jews ran the international drug trade. In a June 2013 Facebook post earlier this year Iran's Supreme Leader Ayatollah Khameini wrote, "U.S. President is being elected [sic] only from two parties while Zionist regime is controlling everything from behind the scenes." That captions a cartoon showing fat men with moneybags for heads under a Star of David. Iranian officials routinely threaten to "annihilate the Zionist regime."
The difference, to be sure, is that Germany's decline was by no means inevitable in 1938, while Iran's decline cannot be reversed. Iran's leaders know this quite well. Its universities have competent demographers who helped frame the first studies of Iran's fertility decline, and its leaders have inveighed for years against the failure of Iranian women to bear children. Persian-language website warn of the tidal wave of elderly dependents who will swamp Iran's economy. For all the public anguish the situation gets worse by the year. Nicholas Eberstadt of the American Enterprise Institute is doing the definitive work on this.
Why should Iran's fertility decline so drastically? In my 2011 book How Civilizations Die (and How Islam is Dying, Too) I observed that Muslim countries jump from infancy to senescence without passing through adulthood. Wherever Muslim countries have wrenched their people out of traditional society into the modern world, a demographic transition has ensued, compressing the slow decline of fertility of the West during the past two centuries into a couple of decades. Literacy (and female literacy in particular) is the best predictor of fertility in Muslim countries: the best educated among them, namely Tunisia, Algeria, and Turkey also have fallen below replacement fertility. Iran's fertility fell the fastest in part because the deposed Shah set in motion a crash literacy program.
Hitler only hallucinated the exhaustion of a mythical Aryan race: Iran's leaders live with the certainty that their civilization has barely a generation left before it collapses. Even a modest increase in fertility from present levels would do nothing to avert the coming train wreck, and the problem is getting worse by the year.
What is the "national interest" of a dying country? In the case of Hungary, for example, with a Magyar fertility rate of less than 0.9, it is to ease the transition into oblivion by selling the country to foreigners and turning its capital into a theme park for tourists. 1,100 years ago the Magyars were feared conquerors who threatened the fragile recovery of newly-Christianized Europe; today they are a relic. Iran is not so ready to go gentle into that demographic night, however. It lashes out against enemies real and imagined, and the enemies it imagines in its worst nightmares are the Jews.
Why the Iranians, and why the Jews? Jew-hatred is rampant in the Muslim world, to be sure, but that did not prevent Egypt and Jordan from keeping the peace with Israel for thirty years. Nor does it prevent Saudi Arabia, where Arabic editions of the "Protocols of the Elders of Zion" line bookstore shelves, from making a tactical alliance with Israel. Except for Iran no Muslim regime trumpets its intention to "annihilate the Zionist" regime in routine utterances.
Iran has no common border with Israel. No Iranian soldier has killed an Israeli soldier in combat since the founding of the Jewish State. Yet hatred and fear of the Jews is a palpable presence in the minds of Iran's rulers. Some days the mullahs make the Nazis look rational by comparison. I cited a lecture given by an advisor to Iran's culture minister insisting that the cartoon "Tom and Jerry" was part of a plot by Jewish studio executives in Hollywood to rehabilitate the image of Jews.
Iran's theocrats hate and fear the Jews for the same reason that Hitler did. The "Master Race" delusion of the Nazis twisted the Chosenness of Israel into a doctrine of racial election; for the "Master Race" to be secure in its dominion, the original "paragon and exemplar of a nation" (Rosenzweig) had to be exterminated. Islam is by construction a supercessionist religion. It claims that the Jewish and Christian Scriptures perverted the original prophecy of Islam, and that Mohammed restored the true religion through the Koran. Mohammed is the "seal of the prophets," the final and definitive exponent of God's word, replacing the falsified version of Christians and Jews.
Muslims may believe this and peaceably await the day when its competitor religions will crumble and the whole world will acknowledge its prophet, just as Jews pray thrice daily for the Messianic era when all the world will acknowledge one God by one name. But it is difficult for Iran to be patient when its self-conceived guardians of God's message are staring into an inescapable abyss at the horizon of a single generation. This is a culture inherently incapable of reflection on its own deficiencies, one that has nourished itself for 1,200 years on morbid rancor against the Sunni Muslim majority and more recently against the West. Patience in this case is a poison.
Israel thus faces a new Hitler and the threat of a new Holocaust. There is no way to portray the situation in a less alarming light. That is one parallel to 1938; another is the response of the world's powers to the emergence of this monster.
To the declining nations of Western Europe, Israel's national self-assertion is a moral outrage. Since St. Isidore of Seville persuaded the Visigoth kings of Spain to adopt Christianity with the promise that they would become the leaders of a chosen nation in emulation of King David, the national consciousness of the European nations has taken the form of national election. I argued in a 2008 essay for the religious monthly First Things:
As Franz Rosenzweig observed, once the Gentile nations embraced Christianity, they abandoned their ancient fatalism regarding the inevitable extinction of their tribe. It is the God of Israel who first offers ­eternal life to humankind, and Christianity extended Israel's promise to all. But the nations that adhered to Christendom as tribes rather than as individuals never forswore their love for their own ethnicity. On the ­contrary, they longed for eternal life in their own ­Gentile skin rather than in the Kingdom of God promised by Jesus Christ. After Christianity taught them the election of Israel, the Gentiles coveted election for themselves and desired their own people to be the chosen people. That set ethnocentric nationalism in conflict both with the Jews—the descendents of Abraham in the flesh—and with the Church, which holds itself to be the new People of God.
As Rosenzweig put it, "Precisely through Christianity the idea of Election has gone out amongst the individual nations, and along with it a concomitant claim upon eternity. It is not that the case that such a claim upon eternity conditioned the entire life of these peoples; one hardly can speak of this. The idea of Election, upon which such a claim [upon eternity] uniquely can be based, becomes conscious for the peoples only in certain exalted moments, and in any case is more of a festive costume than their workaday dress. . . . Still, there sleeps upon the foundation of one's love for one's own people the presentiment that someday in the distant future it no longer will be, and this gives this love a sweetly painful gravity."
The European elite cannot distinguish its own past parody of Israel's election from the self-understanding of the Jewish people as a blessing to all nations by virtue of its unique national life. Israeli nationalism only brings to mind Europe's failed nationalisms and their horrendous denouement in the world wars of the past century. Europe is enervated, exhausted by past wars, aging, hedonistic and cynical. It is not surprising that the nations of Europe once again would avert their eyes to the threat of another Holocaust.
What explains, though, the Obama administration's obsession with a compromise at any cost with the Tehran regime? I have not changed my view of what an Asian leader private called "America's NGO president" since I profiled Barack Obama in February 2008:
America is not the embodiment of hope, but the abandonment of one kind of hope in return for another. America is the spirit of creative destruction, selecting immigrants willing to turn their back on the tragedy of their own failing culture in return for a new start. Its creative success is so enormous that its global influence hastens the decline of other cultures. For those on the destruction side of the trade, America is a monster. Between half and nine-tenths of the world's 6,700 spoken languages will become extinct in the next century, and the anguish of dying peoples rises up in a global cry of despair. Some of those who listen to this cry become anthropologists, the curators of soon-to-be extinct cultures; anthropologists who really identify with their subjects marry them. Obama's mother, the University of Hawaii anthropologist Ann Dunham, did so twice.
Obama's most revealing disclosure, perhaps, came in his autobiobraphy Dreams of My Father as he recounts his thoughts while visiting Chicago's public housing as a young community organizer:
And yet for all that poverty [in the Indonesian marketplace], there remained in their lives a discernible order, a tapestry of trading routes and middlemen, bribes to pay and customs to observe, the habits of a generation played out every day beneath the bargaining and the noise and the swirling dust. It was the absence of such coherence that made a place like [the Chicago housing projects] so desperate.
He deeply identifies with the fragile, unraveling cultures of the Third World against the depredations of the globalizing Metropole. So, I suspect, does his mentor and chief advisor, the Iranian-born Valerie Jarrett, and most of his inner circle. This goes beyond the famous declaration of Jimmy Carter's advisor Hamilton Jordan—"the Palestinians are the n****ers o the Middle East"—and Carter's own mainline-Protestant reverence for the "holy men" of Iran's 1979 Iranian revolution. It goes beyond the post-colonial theory of liberal academia. For Obama, it is matter of personal experience. His father and stepfather were Third World Muslims, his mother was an anthropologist who dedicated her life to protecting the traditional culture of Indonesia against the scourge of globalization, and four years of his childhood were spent at an Indonesian school. The same point has been made by Dinesh d'Souza, among others.
Obama's commitment to rapprochement with Iran arises from deep personal identification with the supposed victims of imperialism. That is incongruous, to be sure. Persia spent most of his history as one of the nastier imperial powers, and its present rulers are no less ambitious in their pursuit of a pocket empire in the Shi'ite world. The roots of his policy transcend rationality. Israel can present all the evidence in the world of Iran's plans to build nuclear weapons and delivery systems, and the Iranians can cut the Geneva accord into confetti. Obama will remain unmoved. His heart, like his late mother's, beats for the putatively oppressed peoples of the so-called Third World.
No factor of this sort was present in 1938: Neville Chamberlain did not sympathize with Hitler. He simply feared him and needed time to rearm, as the Wall Street Journal's Mr Stephens observes. If Lord Halifax rather than Chamberlain had been Prime Minister then, the parallel to Obama would be stronger.
I do not know how Israel will respond. There are too many unknowns in the shifting political equation of the Middle East to solve that equation. But the facts on the ground support the Israeli view that the Geneva accord puts the Jewish State at existential risk.
Public decency law puts Saudi reforms in perspective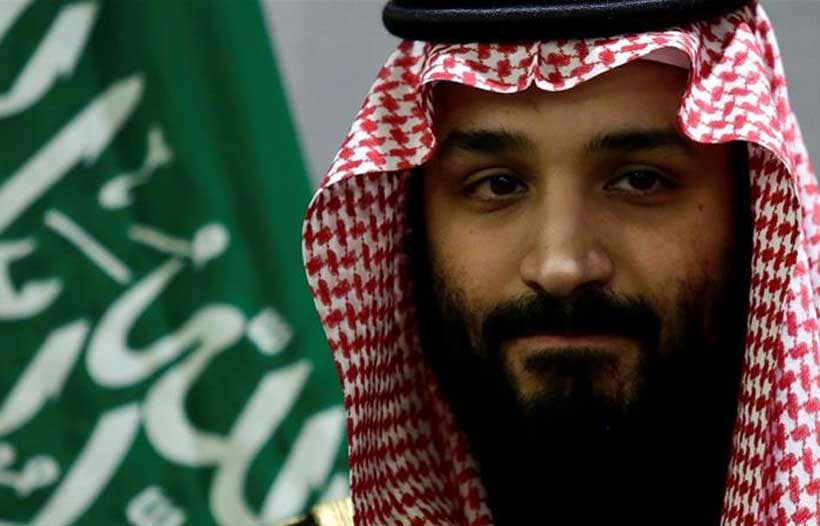 A newly adopted Saudi law on public decency helps define Crown Prince Mohammed bin Salman's vague notion of 'moderate Islam.'
It also lays bare the pitfalls of his social reforms as well as his preference for hyper-nationalism rather than religion as the legitimizing ideology of his rule and his quest for control of every aspect of Saudi life.
In an indication that Prince Mohammed is walking a fine line, Saudi media reported that the government was still weighing how to implement the law almost two months after it was adopted.
"This (law) is an effort to balance the pressure from conservative elements of society that accuse the (government) of allowing things to go 'out of control'. Effecting social change is an art form — you want to push as fast as possible without provoking a counter reaction. Not easy!" Ali Shihabi, founder of Arabia Foundation, a Washington-based, pro-Saudi think-tank, told Agence France-Presse.
The law comes on the back of a series of reforms in recent years that were designed to facilitate Prince Mohammed's plans to streamline and diversify the Saudi economy and project the crown prince as a reformer.
The reforms included the lifting of a ban on women's driving, relaxation of gender segregation, enhancement of women's professional opportunities, the introduction of modern forms of entertainment and the curbing of the powers of the kingdom's feared religious police.
Prince Mohammed also vowed to revert the inward-looking, ultra-conservative kingdom to a form of moderate Islam he claimed existed prior to the 1979 Iranian revolution.
Ultimately, Prince Mohammed's short-lived reformist image was severely tarnished by the kingdom's devastating war in Yemen; the brutal killing of journalist Jamal Khashoggi; the mass arrest of clerics, activists, journalists and academics; his failure to lift the kingdom's male guardianship system; and the mushrooming number of people fleeing the kingdom, including dissidents as well as women seeking to escape repressive and abusive families.
Sparking ridicule on social media, the new law defines limits of Prince Mohammed's social reforms and creates one more anchor for his repression of any form of dissent.
The law bans men's shorts except for on beaches and in sports clubs. It also bans garments with questionable prints that like shorts "offend public tastes." It forbids the taking of pictures or use of phrases that might offend public decency as well as graffiti that could be interpreted as "harmful."
The bans packages public decency as representing Saudi "values and principles" in a nod towards Prince Mohammed's promotion of a hyper-nationalist Saudi identity.
Yet, various of its restrictions are more in line with the kingdom's long-standing austere interpretation of Islam while others reinforce the crown prince's repression of anything that does not amount to an endorsement of his rule or policies.
The restrictions on clothing and this month's closure on opening night of the kingdom's first-ever alcohol-free 'Halal' disco constitute an apparent effort to cater to ultra-conservatives who oppose liberalisation of gender segregation and public religious rituals such as the muted lifting of rules that force businesses to close during prayers times.
The reforms, while significant in and of themselves, stop short of dismantling what politics scholar Brandon Ives terms 'religious institutionalism' or the intertwining of religion and state through a "plethora of institutions, policies, and legal codes."
Religious institutionalism complicates Prince Mohammed's attempt to replace religious legitimization of his rule with hyper-nationalism because of its success in fusing religion with Saudi culture.
"Religion and culture are now so intertwined in what it means to be Saudi that it is hard to separate the two," said Eman Alhussein, author of a just published European Council of Foreign Relations report on Saudi hyper-nationalism.
As a result, some nationalists have joined religious conservatives in calling for limitations on what is deemed acceptable entertainment and media content.
Ms. Alhussein noted that some online critics were cautioning that the promotion of hyper-nationalism stripped Saudis of their values in a manner that weakens their loyalty to the regime.
"Nationalism in this increasingly strident form could eventually become a Trojan horse that undermines the state," Ms. Alhussein warned.
Nationalism's double edge is enhanced, Ms. Alhussein went on to argue, by the undermining of the buffer function of the kingdom's traditional religious establishment. "The state will now be more accountable for its credibility, and potentially much more exposed," she said.
Prince Mohammed's refusal to tackle religious institutionalism impacts not only his attempts at consolidation of his power but also his effort to project the kingdom as an enlightened 21st century state.
The crown prince, in a bid to alter the kingdom's image and cut expenditure, has significantly reduced spending on a decades-long, US$100 billion campaign to globally promote anti-Shiite, anti-Iranian strands of ultra-conservative Sunni Islam.
Prince Mohammed has at the same time ordered state-controlled vehicles that once promoted religious ultra-conservativism to preach tolerance, mutual respect and inter-faith dialogue instead.
Mr. Ives' analysis suggests, however, that the kingdom's U-turn is unlikely to lead to a clean break with support abroad of ultra-conservatism without the dismantling of religious institutionalism.
He argues that the domestic pressure that persuades states such as Saudi Arabia and Iran to support co-religionist rebel groups beyond their borders is generated not by religious affinity but by religious institutionalism that creates a political role for religious forces.
Mr. Ives' arguments appear to be borne out by continued Saudi support for Islamist militants in Balochistan, the Pakistani province that borders on Iran, as well as Algeria and Libya and propagation of non-violent expressions of an apolitical, quietist, and loyalist interpretation of Islam in countries like Kazakhstan.
Saudi Arabia's new public decency law in effect highlights the limitations of Prince Mohammed's reforms.
In a private conversation last year with the Archbishop of Canterbury during a visit to Britain, Prince Mohammed reportedly put some flesh on the skeleton of his vision of moderate Islam.
When urged by the archbishop to allow non-Muslims to open places of worship in the kingdom, Prince Mohammed responded: "I could never allow that. This is the holy site of Islam, and it should stay as such."
Why should China fully support Iran in Persian Gulf tensions?
According to many international thinkers creating tensions in the Persian Gulf region by the U.S. also aims at containing China and limiting Beijing's access to energy resources of the region which is driving engine of Chinese economy.
China was one of the oil exporter countries in 70s and 80s, but following its economic growth it has turned into an oil importing country since 1993 and due to continuation of its economic growth now the country is heavily dependent on importing of oil from other countries. Nowadays the country is the second energy consuming and third oil importing country in the world. Despite the Beijing's efforts to provide its energy security by diversifying its energy sources during the past years, the country is still heavily dependent on energy import.
Thanks to its efforts and hardworking people China left its global economic rivals behind and became the second biggest economy of the world after the United States. It seems that due to its plans and initiatives Beijing is also managing to leave behind the U.S. in near future and become the world's biggest economy. The White House has kept an eye the China's development and its plans and initiatives. The U.S. has never been negligent in monitoring China's achievements and ambitions.
By changing its approaches and positive interaction with rest of the world Since 1970s, China has promoted its global position to the second biggest economy of the world while before it the country was among the third world countries. The U.S.'s efforts to contain China has become more serious since the beginning of the 21st century. Since Donald Trump took office the level of conflicts between China and the U.S. has climbed up from economic and trade level and is entering into political and security level. Now, Increase of Chinese power and global influence is a major challenge for the White House. In the first step president Trump waged wagged a trade and economic war against Beijing and in the next stage Trump is going to restrict China's influence globally particularly among the U.S. allies.
To contain China, the U.S. has resorted to many strategies and tactics such as destabilizing west borders of China in Afghanistan and Pakistan and trying to spread to central Asia aiming at thwarting Chinese 'One road-One belt' initiative that many experts believe that success of this project will let China to determine the word trade orders in the future.
Trying to intensify territorial disputes between China and its neighbors besides its trade war against Beijing are among another U.S. tactics to contain China.
Statistics from www.worldstopexports.com website indicates that China imports its needed crude oil from the following countries:
1. Russia: US$37.9 billion (15.8% of China's total imported crude)
2. Saudi Arabia: $29.7 billion (12.4%)
3. Angola: $24.9 billion (10.4%)
4. Iraq: $22.4 billion (9.4%)
5. Oman: $17.3 billion (7.2%)
6. Brazil: $16.2 billion (6.8%)
7. Iran: $15 billion (6.3%)
8. Kuwait: $11.9 billion (5%)
9. Venezuela: $7 billion (2.9%)
10. United States: $6.8 billion (2.8%)
11. United Arab Emirates: $6.7 billion (2.8%)
12. Congo: $6.4 billion (2.7%)
13. Colombia: $5 billion (2.1%)
14. Malaysia: $4.8 billion (2%)
15. Libya: $4.7 billion (2%)
Crude oil import is driving engine of Chinese economy so any threats to energy security of China will inflict a heavy blow to the country's economic growth and can help U.S. to win trade war against Beijing and contain it.
Above mentioned statistics show that some 43% of the crude oil that China imports goes from Persian Gulf and 4.6% goes from Libya and Venezuela that the U.S. destructive polices has already created a chaotic situation in two countries.
Many experts believe that the U.S. withdrawal from Iran's nuclear deal known as the JCPOA under false pretexts not only aims at pressurizing Iran but also it is a way to pressurize China to compromise in the trade war that Washington has waged against it. Any conflict and tension in the Persian Gulf region which China's economy is heavily dependent on means a great blow to the country's economy, therefore many suspicious incidents and tensions created by Washington and its proxies in Persian Gulf region like attacking oil tankers can be interpreted as the White House's measures to contain China in order to guarantee the U.S. hegemony and influence for the next decades.
Commenting on possible relation between recent developments in Persian Gulf and its effects on China's economy, Dr. Osman Faruk Logoglu a senior member of Tukey's CHP and former diplomat says," With its provocative actions and sanctions, Washington not only aims to buttress its support for Israel and its Arab allies by punishing Iran but at the same time also intends to deny Chinese access to Iranian oil. The fear of and rivalry with China is today one of the primary drivers of American foreign policy. Interruption of the oil flow in the Gulf is one way to directly hurt Chinese interests. The Trump administration is, therefore, playing with fire in Iran and a potential conflagration with China."
A senior Iranian analyst Sadeq Maleki also believes, "The rising tensions between the United States and Iran are mainly caused by Tehran's independence policy and Washington's intolerance toward this fact. However, such independence is considered as an exceptional opportunity for the Europeans and other states, especially China, that need to supply their energy from Iran and the Persian Gulf region. A big part of Washington's policy of fomenting tensions against Tehran and making the Persian Gulf region more volatile comes in line with the White House's plan to contain China. Iran's resistance to the U.S.' pressure is in fact shaping an equation, in which the Islamic Republic indirectly contributes to the interests of China and even Europe. So, China and Europe are highly expected to help Iran in this regard. In a long-term strategic perspective, the U.S.' long distance from the Middle East, the dangers of insecurity in the Persian Gulf region, and the proximity of Europe and China to the region, heighten the need for greater coordination between Iran, China and Europe in countering the U.S.' aggressive attitudes."
Zeynep Oktav, an international relation Professor at Istanbul Medeniyet University also sees a close relation between U.S. created tensions in the Persian Gulf and containment of China. She said, "I believe there's a close relation as Washington wants to dominate the Middle East with its efforts to exclude China from the region. In this context containing Iran is of crucial importance as China buys Iranian crude oil. China currently seems to change its previous policies of balancing Iran and USA. Beijing applies latest sanctions on Iran, however, it opposes any possibility of American military attack on Iran. In my opinion, USA challenges China by threatening Iran in the Middle East, the issue is not about Iran, it's about China."
Even some experts who don't believe in close relation between the ongoing U.S. created tensions in Persian Gulf and containment of China by the U.S. don't reject the possibility totally and say the relation is indirect not direct.
Prof. Larry Catá Backer of Pennsylvania State University says, "Relation between Persian Gulf tensions and U.S.-China negotiations may reflect post facto efforts to exploit serendipitous perceive opportunity; it is much less likely to represent the execution of some sort of strategic plan."
Prof. Nader Entessar, a Professor Emeritus in the Department of Political Science and Criminal Justice at the University of South Alabama believes that if there is any relationship between the tensions in the Persian Gulf and containment of China, it is not direct.
From our partner Tehran Times
Istanbul, the Mayoral Election Rerun: A Turning Point for Democracy?
Despite state-sponsored and private efforts to influence the outcome of Turkey's mayoral elections on March 31 either directly or indirectly, President Recep Tayyip Erdogan and his Justice and Development Party (AKP) suffered major losses. Of particular note is the mayoral election in Istanbul where AKP member and former Prime Minister Binali Yildirim lost to Republican People's Party (CHP) candidate Ekrem Imamoglu, someone who was not especially popular or well-known. He resembles the last person, who effectively challenged the AKP in general election: Selahattin Demirtas, the charismatic co-leader of the Peoples' Democratic Party (HDP) who has been jailed since 2016.
The outcome of the mayoral election in Istanbul reflects poorly on the president's ability to ensure that a member of his own party remains in power in the city where Erdogan himself was elected as mayor in 1994, although with the lowest percentage(25.19%) in Istanbul election history. Since then, Erdogan has not lost even one election—be it for mayor or some other political position—despite widespread claims of corruption involving Erdogan and the AKP.
Imamoglu prevailed in the election against his AKP opponent because he was seen by many diverse people as the antithesis of Erdogan and the AKP. Istanbul voters apparently saw Imamoglu as a champion of their desire for a peaceful country and someone who could stop the ruling party's pervasive hateful and divisive discourse and policies, its human rights violations, and its embrace of kleptocracy and kakistocracy, at least in Istanbul. Erdogan, of course, was not happy with Imamoglu's popularity and acted as if he, too, was running against Imamoglu. Erdogan wanted his close companion, Yildirim, to win the mayoral election and resorted his usual strategy of declaring his critics terrorists. Through state-controlled media, Erdogan implied that anyone voted for his candidate, Yildirim, was voting in support of Turkey and that anyone who voted for Yildirim's opponent, Imamoglu, supported terrorists and were enemies of state. Yildirim's (and by extension Erdogan's) campaign slogan was "the survival of Turkey."The message was that for Turkey to continue to exist, the residents of Istanbul should support the ruling party, the AKP. In other words, if the ruling party is defeated, Turkey will no longer exist. The campaign slogan and the policies of the AKP received consistent support from the leader of the ultranationalist Nationalist Movement Party (MHP), Devlet Bahceli. The efforts of Erdogan and Bahceli, however, failed miserably. The winner on March 31 was Mr. Imamoglu, leaving Erdogan and Bahceli shocked at the outcome.
The election defeat was not something that Erdogan could swallow, and he made his displeasure known. The Supreme Election Council (YSK) subsequently ruled that the mayoral election in Istanbul would be repeated on June 23. Erdogan realized that his strategy did not work this time. He also realized the importance of Kurdish voters in Turkey and that these Kurdish citizens would be the ones to determine the winner of the mayoral election in Istanbul.
Armed with these insights, Erdogan changed his campaign strategy to one that was built on gaining the votes of Turkey's Kurdish citizens. Gone from the playbook was ethnic discrimination and the indiscriminate labeling of opponents of the ruling party as terrorists. The strategy, however, would be an uphill battle. Turkey's Kurdish citizens have not forgotten the government's harsh policies in the name of fighting terrorism, such as destroying houses in several Kurdish populated cities in the southeastern region of Turkey. When he developed his new campaign strategy, Erdogan most likely underestimate the power of the Kurdish vote. As the jailed HDP co-leader Demirtas warned, "Those who see Kurds as 'simpletons who are very easy to deceive' have always been mistaken, they will continue being mistaken." He encouraged Kurdish citizens to go to the ballot boxes to say no to fascism and to defend their rights. In other words, Demirtas was implying that the Kurdish population should vote but not to support the AKP, as the AKP is fascist.
Discourse on the issues occurred for the first time. For example, Yildirim used the word Kurdistan during one of his political rallies. Just before the March 31 election, however, Erdogan said, "In my country, there is no region called Kurdistan." In another example, the leader of the MHP, Bahceli, referred to the leader of the Kurdistan Workers' Party (PKK) as Ocalan. Bahceli previously had avoided calling the PKK leader by name, referring to him instead as "the chief of terrorists."
At the same time, the leader of PKK, Abdullah Ocalan, countered Demirtas' plea for Kurdish voters to vote in the mayoral election but not for the AKP, making an announcement through state news agency, Anadolu Agency(AA) in which he called on Turkey's most influential pro-Kurdish party, the HDP, to remain neutral and not support either candidate in the Istanbul election rerun on June 23. Meanwhile, Osman Ocalan, the PKK leader's brother, appeared on the state-run television network TRT Kurdi for an interview in which he supported his brother's message and criticized the CHP and its candidate.
The outcome of the election on June 23 most likely will be the same as it was on March 31. The Kurds, whose houses and neighborhoods have been destroyed by the security forces in the name of counterterrorism policies have not forgotten what happened at the hands of the ruling AKP. They also have not forgotten the Kobani incidents, where Kurds were left to die in front of ISIS. Further, some righteous citizens who have observed the victimization of hundreds of thousands of individuals and families, regardless of their ethnicity or color, by government decrees, will also not support Erdogan's candidate for mayor of Istanbul. They will choose the opposition candidate because they long for an end to the Erdogan regime's constitutional and human rights violations (Human Rights Watch, 2019; UN Report, 2018) in response to Kurds who dare to disagree with the ruling party.Istanbul's Kurdish voters will not forget Erdogan's disdain for the Kurds. The Kurds know that Kurds,too, are human. They will not forget Erdogan's overly political and pragmatist approach to human beings. Yesterday's terrorist is today's human, or vice versa, depending on the vote the ruling party needs.
If the Erdogan-supported candidate is again defeated, it is highly likely that the Istanbul mayoral election rerun will be a turning point for Turkish democracy—a turning back to Turkish democracy.
*Yusuf Gunay, Security Expert & Analyst, Cleveland, Ohio, US