Mugabe and Mandela: Same Experiences, Different Paths
The careers of two of Africa's most prominent politicians, Robert Mugabe and Nelson Mandela, have striking similarities.
After Mandela's passing and Mugabe's "late" letter of condolences to Mandela's family, a central question surfaces. How history will judge them and will historians be fair to both men since Mugabe, in a rare television interview this year, criticized Mandela for being too soft on South Africa's white minority after the end of apartheid. Mandela on the other hand never criticized Mugabe openly. Mandela simply did not want to scare off investment by alienating the country's former leaders, who dominated the economy. Experts on Southern African politics note that the two men had a strained relationship as they silently fought for relevance on the global stage.
Both were born in an era when white power prevailed throughout Africa, Mandela in 1918, Mugabe in 1924. Mandela and Mugabe were among that generation of African decision-makers whose reputations were forged in the struggle against colonialism or white minority rule. It was hard for many to let go of power, succumbing to the temptations of authoritarian control and its material spoils. Both were products of the Christian mission school system, Mandela of the Methodist variety, Mugabe of the Catholic. Both attended the same university, Fort Hare in South Africa. Both emerged as members of the small African professional elite, Mandela a lawyer, Mugabe a teacher. Both were drawn into the struggle against white minority rule, Mandela in South Africa, Mugabe in neighboring Rhodesia. Both advocated violence to bring down white-run regimes. Both endured long terms of imprisonment, Mandela, 27 years, Mugabe, 11 years. Both suffered the anguish of losing a son while in prison and both were refused permission to attend the funeral.
It has been argued that Mandela used his prison years to open a dialogue with South Africa's white rulers in order to defeat apartheid and Mugabe emerged from prison bent on revolution, determined to overthrow white society by force. However, few analysts note that Mugabe's role was central in the 1980s reconciliation between blacks and whites in Zimbabwe. Mugabe has perhaps been somewhat discredited since he took principled stances on opposing apartheid rule and on racial reconciliation towards white Rhodesians in the new Zimbabwe. In this sense he somewhat preceded Mandela.
On the other hand, we should not also forget that despite its angry Marxist past and the fears expressed by the white minority, after winning the 1980 election Mugabe appeared as a model of moderation, pledging to work for reconciliation and racial harmony. Even the recalcitrant white leader, Ian Smith, who had previously denounced him as "the apostle of Satan," now found him "sober and responsible". In its first year of independence, Zimbabwe was awarded £900m in aid, enabling Mugabe to embark on ambitious programs of education and health development. The white population also benefited from the growing economic prosperity.
But crucially and in sharp contrast with Mandela, Mugabe crushed his black political opponents in 1982 and in 1987. He established a one-party state and favored the military's role in politics. It is quite true that the economy halted in the mid-1990s and the land reform program financed by Britain came to a halt when it was discovered that Mugabe was handing out farms intended for peasant resettlement to his own cronies. By 2000, Zimbabweans were generally worse off than they had been at independence: average wages were lower, unemployment had skyrocketed, public services were crumbling and life expectancy was falling.
Again, roughly during the same period, 1999 and 2000, the often-violent seizures of thousands of white-owned commercial farms by Mugabe loyalists disrupted Zimbabwe's agriculture-based economy. After the farm seizures, Mugabe's party demanded that companies not already owned by blacks yield 51 percent of assets and control. Zimbabwe, a former breadbasket, now relies on food imports. Mugabe after the emergence of the new opposition party the 'Movement for Democratic Change' (MDC) is charged with masterminding the killing of their supporters. Mandela on the other hand, stepped down in 1999 after a single five-year presidential term, during which he preached reconciliation. The decision not to seek a second term, a disappointment to his followers, fit with his insistence that leadership was a collective effort, not an individual one. It could also be seen as a message to other continental leaders who had opted to stay in power.
Furthermore it was Mandela's moral stature that made him more respected than Mugabe as he never had a Swiss bank account nor other excesses that come with ruling with an iron fist. Mandela never arrested a critic or anyone who disagreed with him. Many other leaders have labeled critics as "terrorists," "saboteurs," "counter-revolutionaries," "colonial stooges," etc. to be liquidated. One can even be jailed for saying that the president is not well.
Evidently, Mandela's work is unfinished. President Jacob Zuma was acquitted of rape, but history will judge him harshly for his lack of leadership and judgment. Still, for all that, it is better to have the promise of democracy and transition than the bitter aftertaste of a revolution gone awry.
A New Currency Offers New Hope for Zimbabwe
For many Zimbabweans queuing up outside banks last week, it must have felt like the beginning of a new era. A decade after the Zimbabwean dollar was abandoned after falling victim to years of hyper-inflation, crisp new "Zimdollars" have once again entered circulation. However, this time around the denominations come – at least for now – in two and five dollar bills, instead of the 100 million dollar notes that were printed towards the end of the last Zimbabwean dollar.
This new generation Zimdollar is the latest salvo by the government to combat the physical cash crunch and a crucial step ahead in its currency reforms. The Reserve Bank of Zimbabwe plans to incrementally inject $1 billion into the economy over the next six months, stimulating demand and production in a measured manner while keeping money supply in check.
"We will make sure that we drip-feed the physical cash into the market in order to ensure that there is sufficient cash in the economy," said central bank chief John Mangudya. "We believe this will also help in eliminating queues at the bank where people spend countless hours of productive time queuing for cash."
Mangudya added that the new Zimdollar would take the place of existing electronic money, alleviating the fear that the cash injection in the middle of an economic crisis would stoke inflation. Keeping price increases and speculative behaviour in check is also one of the reasons why the Reserve Bank is initially issuing lower denomination notes and coins.
For Zimbabweans, the new cash is a welcome relief. Over the past 10 years, they had to juggle a multitude of currencies and proxies. Following the collapse of the old Zimbabwean dollar in 2009, a basket of currencies became legal tender in the country, from the US dollar to the Chinese yuan. By 2015, the foreign currency notes dried up at the banks, which started the chronic cash shortage in Zimbabwe. The central bank introduced bond notes as a surrogate currency, but black market speculation quickly eroded their value, which then triggered the creation of electronic notes.
Given Zimbabwe's disastrous state of affairs, a popular uprising ensued against the country's long-time strongman Robert Mugabe, leading to his resignation two years ago. He was replaced by Emmerson Mnangagwa, who then won the presidential election in July 2018. He inherited a struggling economy marked by hyperinflation, cash shortages, a budget deficit, endemic corruption and a lack of monetary sovereignty.
Promising wide-ranging reforms, Mnangagwa appointed MthuliNcube as Finance Minister, a respected economist who was a professor of Public Policy at Oxford with a PhD in Mathematical Finance from Cambridge University. Mnangagwa tasked him to stabilise and transform the Zimbabwean economy so that it could achieve upper middle-income status by 2030, in line with countries such as Russia, China, Thailand, Costa Rica, Turkey and Malaysia (in fact, Zimbabwe was upgraded by the World Bank from a low income to lower middle income country in July).
Facing large fiscal deficits due to the expansion of underground economic activity and the sanctions imposed on Zimbabwe during Mugabe's rule – which restricted access to U.S. dollars – Ncube launched the Transitional Stabilisation Programme (TSP) a year ago with far-reaching currency and structural reforms. The move was endorsed by the International Monetary Fund (IMF), with whom Zimbabwe signed a two-year monitoring programme that could earn it debt forgiveness and future financing.
In February this year, the government introduced the so-called Real Time Gross Settlement (RTGS) dollar and abandoned its multi-currency system four months later. By now, most Zimbabweans had resorted to mobile money, which became an integral part of the country's payment system. But it too had its challenges, as wallet holders had to pay premiums of up to 50% to price-gouging mobile money agents to access their funds in cash. This contributed to the rapid depreciation of the currency and compounded the cash shortage. This month's issuance of the physical Zimdollar bills aims to alleviate that problem, as the availability of cash will eliminate the extortionate premiums incurred when transacting through mobile money.
The new currency likely faces an uphill battle. But the government is confident, urging Zimbabweans to embrace the freshly minted bills and coins to ensure they find traction in the market. Leaders from politics, business and civil society need to play their part as well, shedding their differences and quarrels and rally collectively behind the Zimdollar.
Its roll-out comes at a critical time for the government's reform agenda, coinciding with the presentation of Zimbabwe's 2020 budget, which revolved around enhancing productivity, growth, competitiveness and job creation, and the passing of the Maintenance of Peace and Order (MOPA) bill, which replaced a controversial emergency law that dated back to the Mugabe era, a key demand by the U.S. government to remove sanctions.
Implementing reforms – especially after decades of mismanagement – is a painful process and Zimbabweans are tired. But with political will tangible results are gradually being achieved. The country may be on the cusp of a better future, finally putting the years of isolation behind it. Perseverance and collaboration will help to ease the way.
The Geopolitics of natural resources of Western Sahara
In the post-bipolar international legal literature, the right to self-determination is part of the broader concept of human rights, and the only aspect of self-determination that remains in current international relations is the right to self-determination for peoples to dispense with their natural wealth, a concept related of the right of development.
Western Sahara is regarded by the UN as the last colony in Africa. However, Morocco continues to occupy the Saharawi territory without any respect to UN resolutions on decolonization. The main driver of this colonisation is natural resources.
In fact, with the natural resources of Western Sahara that Morocco buys the political positions of the States, to finance lobbyists in the EU and the USA to defend the Moroccan thesis of occupation, and at the same time to develop its internal economy and encourage the movement of Moroccan populations to Western Sahara, to make Sahrawi a minority in their homeland.
Natural resources determining factor in conflicts
There is a high likelihood that most of the important (armed) conflicts in our twenty-first century will be those concerning resources. All the conflicts have an economic aspect, with greater or lesser weight in their emergence and development. Indeed, the French sociologist Gaston Bouthoul states that Germany had to resort to the 1914 war as a result of the too costly economic struggle that it had sustained against others great industrial and exporting powers.
With the same idea, the famous phrase of the Prussian strategist Carl von Clausewitz "War is not an independent phenomenon, but the continuation of politics by different means", one could say that geopolitics is nothing more than the concentrated expression of geo-economics.
This left Lenin the leader of the Russian Revolution of 1917, to observe that "politics is the concentrated expression of the economy", something that we live and that is perfectly valid for all times, economic aspects have been the main engine of interstate relations, the economic realities that truly set the pace for the rest of the politics, including the bellicose or the pacific, which leaves Napoléon Bonaparte to say, "war is done with three things: money, money, money".
The natural resources and their economic exploitation have contributed, and continue to do so, to favour a kind of occupation of the Western Sahara Territory, which would introduce a more complex resolution of a conflict encysted for more than forty-four years.
The marginalized and impoverished of Saharawi people, whether during the Spanish colonial era or during the Moroccan colonial period
We can say that the economic side of the colonialism phenomenon constitutes the decisive characteristic feature of Spanish presence in Western Sahara. Indeed, the international economic crisis which began in the 1870s contributed to the origin of spurred Spain to rush its colonization of the southern flank of Western Sahara, while the other parts of Western Sahara were only pacified late in 1934, by stimulating the imagination of those caught up in it to find means of escaping from a precarious situations.
Historically, since 1884 and until the arrival of the Franco in power in Spain, Western Sahara, had an essentially economic value, both for its proximity to the old caravan routes, and mainly for the very rich fishing bank that runs along its coasts, since one of the most important in the world and has represented the grease between both banks along of history. In addition, the political interest of Western Sahara lay in its geostrategic position in the Atlantic as a rearguard of the Canary archipelago.
The occupation of Western Sahara aims to build up a powerful national economy, whose production is geared to the needs of the mother country while isolating the colonial economy which is just the supplier of the raw materials needed for the economy of the colonial state. This will be amplified with the exploitation of Saharawi phosphates in the region of Boukraa in 1967.
In view of these 44 years of Moroccan occupation of Western Sahara, the Moroccan practice use the same process as that of the Spanish colonial era. In fact, Morocco will start relentlessly to exploit the natural resources (fishing, phosphates, agriculture, other precious metals solar and wind energy, ) of the Saharawi people while marginalizing indigenous populations, by favouring Moroccan settlers who today represent an undeniable majority in the daily life of the occupied territories.
Spain and Morocco they have an important common denominator, that of being despotic regimes and their objective aims to eliminate Saharawi political and cultural identity. However, the international law of the Non-Self-Governing Territories distorts the equation of the colonizing country
The low profile of UN action in Western Sahara to protect the natural resources of the Saharawi people
In 1975 the International Court of Justice (ICJ) Advisory Opinion insisted that the people of Western Sahara should be fully decolonised and allowed their right to self- determination.
From then until today, this opinion has had its political and legal importance, since it has served as a support for the Polisario Front position and explains in a clear way the favouring votes to the self-determination of the Saharawi people within the AU and UN.
The legal aspect will be strengthened in favour of the right of the Saharawi people and their sovereignty over their natural wealth in the opinion of the UN legal counsel Hans Corell stated succinctly in 2002,in accordance with the international law, one cannot exploit the natural resources of an occupied country without the express consent of the indigenous population. To do so is plunder.
These legal instruments in favour of the Saharawi people will be reinforced by the two judgments of the European Court of Justice of 2016 and 2018 regarding raw materials exploited by Morocco with connivance and complicity of some EU states.
However, like MINURSO the only mission of the UN without wings to supervise the human rights in Western Sahara, so how will be protected the natural resources of the Saharawi people:it is a bubble dream.
You have to notice, the discrete role of the UN which is constant, already in 1975, Spain retired without holding the referendum of self-determination, we see that the Security Council does not show a special interest, it is more likely favourable to the role that Morocco plays in the area as an ally of France and Europe from the geostrategicpoint view to leave the situation as it is in an endless status quo.the UN is unable or unwilling to force Morocco to respect the referendum.
We can conclude that the UN has never taken a firm and clear position around Western Sahara and has never used all the mechanisms at its disposal, as would be the use of Chapter VII of the UN Charter and maintain the application of Chapter VI concerning the peaceful rule of controversy and supports negotiations between Morocco and Polisario, as if they are two equal parties.
China's ties with Africa go beyond the "debt trap"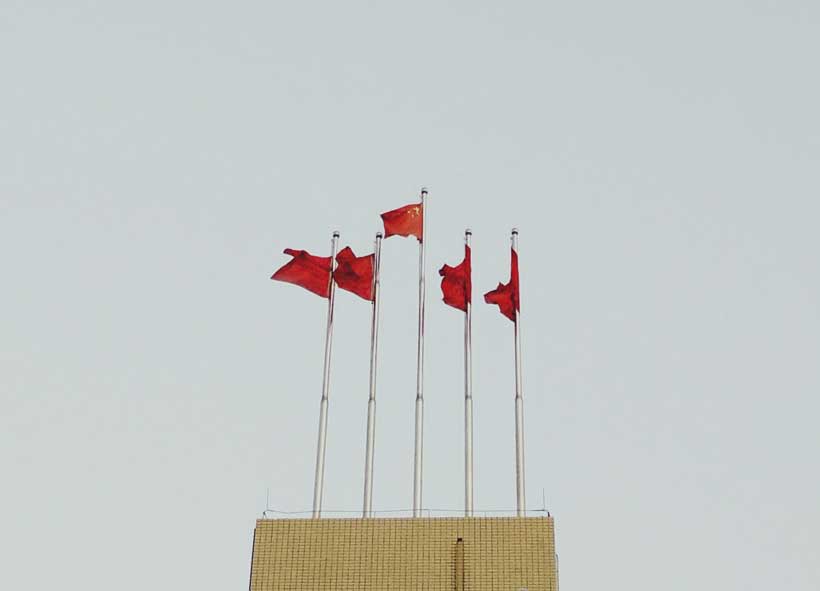 Authors: Do Quynh Anh & Francis Kwesi Kyirewiah*
Over the past decades, there have been numerous arguments about China's relations with Africa which is seen as the foundation of Beijing's diplomacy. Some scholars have linked China-Africa relations to a new form of colonialism and resources diplomatic strategy of China. For historical and political reasons, China has been close with African countries because they share common past of their former colonial suffering and the common tasks of promoting their economic development. Now as the largest developing country as well as the second largest economy of the world, China's economic relations with Africa en bloc is obviously changing from the previous low-technology aid to a rapidly medium- and high-technology assistance. To that end, China is able to provide more financial aid to all the developing countries including Africa.
To be sure, it is normal for any country to provide aid to each other in terms of borrowing and lending. Historically and politically, the parties involving international financial interactions might end up as enemies. Professor J. A. Frieden, of Harvard once argued, in general, developing countries are by definition short of capital, so most of their governments are eager to borrow abroad. It is therefore presupposed that the prospect of using borrowed money is to speed up growth and increase national output. Yet, sometimes the borrowers could have little incentive to use the money wisely. It is also true that the lending powers have used or misused or even abused the financial weapons available: they can cut off debtor governments from future lending, and they may be able to retaliate in related areas, such as freezing debtor governments' bank accounts or taking other government-owned properties. Equally noted is that lending governments are able to use broader foreign policy considerations to induce the borrowing side into compliance with the lenders' demands. That is true in terms of many cycles of lending and debt crises. For example, all through the 19th and early 20th centuries, rapidly growing countries borrowed heavily from the major European financial creditors, primarily London but also Paris, Amsterdam and Berlin. Usually, debts appear to have contributed to economic development, but there are also plenty of crises and political disputes. Therefore, debt crises have existed in world politics for centuries, and now it appears in a new face as "debt trap."
China's relation with Africa is relatively new due to the fact that the rise of China and the independence of Africa are the most recent scenario over the past 40-60 years. As Dr. DambisaMoyo, a scholar in international affairs anda native from Zambia, argued, "No country has come to symbolize the profound economic transformation witnessed in the past half-century than China. It has become the largest exporter and the largest foreign currency-holder of the world and it has already surpassed Japan to rank second in terms of GDP." By 1978, China's world GDP share was only 1.75%, but since then, it share has risen up to 17% in 2017.Today China is the largest FDI source to Africa and the bilateral trade has been rising substantially. The resultant fact is not necessarily because of China's smart policy, but equally due to the West's own folly policymaking.
Yet, China has been targeted by the West headed by the United States as the "debt-trap maker". The reasons might be different but it argues that China has tried to use its increasing financial power to dictate its Communist will and nationalistic goal in the world affairs, in particular towards the Africans. This is really ridiculous. First, a closer look into the Marshal Plan endorsed by the United States in 1948 to assist European recovery from the war-time destruction, the West called it the "European Recovery Plan" which aimed to invest billions of U.S. dollars to help the war-worn states of Europe. However, when they discuss the economic plan from Beijing and Moscow, they use the terms of traps and conspiracy, such as "Beijing's expansion is inexorable, has a global scope and is driven by the depression in the West." Ideologically, the United States has tried to distort any Chinese economic plan including the "Belt & Road Initiative". Second, the United States and many other countries of the West as well have entertained the mentality of their superiority. They do hold the perception that Europeans are the only most creative people on the Earth. Thus the rise of China is surely regarded as the loss of their superiority and prestige as well. In light of this, the third point is that they have perceived China as a potential or even a real rival or enemy in a geopolitical sense, as U.S. politician Mike Pompeo has repeatedly targeted China both publicly and privately.
However, the relationship between China and Africa has gone beyond the so-called "debt trap diplomacy". From the mid-1950s, China was committed to supplying all possible aid and supports to the African peoples who were struggling for their national independence, while newly-independent states consistently extend their supports to China diplomatically and politically. Since the last decades of the 20th century, China-Africa relations have been primarily focused on economic cooperation. With its economic power growing, China's aid has been focused on infrastructure development, consisting of constructing railways, roads and hydropower to business cooperation such as mining, farming and tourism. In return, Africa has made all possible efforts to improve its investment and business environment in order to protect the legitimate rights and interests of Chinese companies. This is now urgent for both sides need to work decisively to transform and upgrade the quality and efficiency of the cooperation in strategic terms. As Italian economist Vilfredo Pareto argued, it is quite possible for there to be an action in an economy that harms no one and helps at least one by one. Whether it is accepted or not, China's sustained growth can't be in isolation from the rest of the world in a long perspective.
China's aid to Africa has never been a lip-service as it believes that in order to insure sustainable economic growth, it is strategically necessary for any country, either small or large, to have a complete transportation network and reliable power-supply system. This is what is referred to as 'two wings theory for development.' Today, most African countries lack basic transportation system and sustainable power supply for accelerated and sustainable economic development. For example, agreements signed in various fields between China and Africa wasvalued at over $50 billion between 2015 and 2016. Most African states have been eager to accelerate their national industries' production capacity in order to achieve their economic independence. Thus far, Chinese companies have been instrumental in the construction of numerous symbolic infrastructure projects, including but not limited to the newly-completed railwayline connecting the capital of Kenya (Nairobi) to its coastal city and port hub of Mombasa, and the highly anticipated network of Chinese-built railway in East Africa. In addition, China is currently the largest contributor to peacekeeping missionin Africa,rangingfrom non-combat peacekeepers in medical and engineering servicesto the deployment of troops in Sudan.
For sure, China's overall capacity in Africa has been much greater than 50 years ago when it started the first railway from Tanzania to Zambia during the Cold War heydays. Now is the time for China to link infrastructure development to a grand strategy, such as "the Belt & Road Initiative" proposed by Chinese President Xi in 2013. This is manifested by the completion of the railway line from Nairobi to Mombasa in 2018. Politically, according to the consensus between China and Africa, the leaders of the two sides vowed to promote their comprehensive ties to a new-level of strategic partnership. Also unlike Western foreign-aid policies, which generally prioritize political issues and social values, China's aid has been primarily driven to economic issues. On one hand, this is consistent with China's adherence to non-intervention policy in domestic affairs of other states. On the other hand, both China and Africa look forward to a future of unprecedented transformation on the launch of the Nairobi-Mombasa railway that would not only revolutionized the transport sector of Kenya, but also more important stimulating investments in advanced manufacturing in Kenya and African as a whole.
For China, the pace of transformation of Africa has been remarkable. Even though its short-term goal remains economic and diplomatic, it seems inevitable that China's basic interests will eventually lead it to far greater involvement in the continent. Though diverse in both economics and politics, Africa remains sided with China on international issues, and this quasi-alliance strictly delimits the scope of Sino-African collaboration and the opportunity to assist in the formation of Chinese conceptions and strategy in the world politics for decades to come. It is true that Chinese leaders are well-aware of this advantage.
In conclusion, China has high expectations for Africa as the latter has an immense reservoir of resources to spur its envisioned growth and China's economic growth. As a rising power, Chinawillwork in conjunction with Africa towards the creation ofa more just and impartial world order and that places the East Asian giant in a stronger position to provide more substantial aid to Africa under win-win cooperation. As expressed at the G-20 FM meeting in Bonn in 2017, Chinese Foreign Minister reconfirmed that China would carry on enhancing strategic relationships with Africa. China would alsoabide by the key tenet which aims to develop the local, regional and international economics in light of "Africa's initiative, Africa's consent and Africa's first". Due to this, China's strategic partnership with Africa is patently beyond the debt trap diplomacyin terms of Beijing's global strategy.
*Francis Kwesi Kyirewiah, a PhD student in International Affairs, at SIPA, Jilin University, China.