Is the US changing sides in the regional conflict between Iran and its enemies?
A report by respected Washington DC based journalist Hussein Abdul Hussein in the Kuwaiti al-Rai newspaper this week revealed details of an indirect US channel with Hizballah.
The report comes, of course, close on the heels of the interim agreement concluded between the P5 + 1 and Iran allowing the latter to continue to enrich uranium.
News items are also surfacing suggesting a stark split between the US and Saudi Arabia over regional policy in general and policy toward Syria in particular. Saudi officials are going on the record expressing their alarm at the direction of American policy. Happily stirring the pot, some Iran-associated outlets have suggested that Washington is actively seeking to rein back Saudi intelligence chief Prince Bandar bin Sultan, who favors a hard line against Iranian interference in the region.
Meanwhile, agreement has now been reached over the long postponed 'Geneva 2' conference to discuss the war in Syria. The conference will go ahead because US-backed Syrian opposition representatives abandoned their demand that President Assad could have no part in any transitional phase of government in the country.
What does all this add up to? There are an increasing number of voices who perceive a shape behind all these details: namely, an effort by the current US Administration to turn the Iranian regime from an adversary into a partner. The method: acceding in part or whole to key Iranian demands.
Let's take a look at each item in more detail.
The usually reliable Hussein Abdul Hussein's report details the mechanism by which the US is speaking to Hizballah, in spite of that organization being a US-designated terrorist group. British diplomats are the ones who do the talking. The channel of communication between UK officials and the 'political wing' of the movement was recently revived, in tune with the improving relations between London and Teheran. It is now serving to transfer messages between Washington and Teheran.
An un-named diplomatic source quoted by Abdul Hussein explained that this dialogue is 'designed to keep pace with the changes in the region and the world, and the potential return of Iran to the international community.' The official went on to explain that because the US does not concur with the (British, entirely fictitious) division of Hizballah into 'political' and 'military' wings, direct dialogue is currently not possible.
The report goes on to outline moments in recent months when the US has found itself on the 'same page' as Hizballah. One of these, very notably, was the occasion in June when the Lebanese Army, together with Hizballah fighters, fought against the partisans of the pro al-Qaeda Salafi preacher Ahmed al-Assir in the Lebanese town of Sidon. The US backed the army, without reference to the key role played by Hizballah fighters in the action, which resulted in al-Assir's defeat.
The other was the US condemnation of the recent al-Qaeda linked bombing at the Iranian embassy in Beirut. The condemnation, well noted in Lebanon, did not contain any reference to the presence of Iranian and Hizballah fighters in Syria.
Thus far the Abdul Hussein report. It tells us that the US 'outreach' to Iran is not on the nuclear file alone. Rather, even before any comprehensive agreement is reached, Washington appears to have begun to dismantle the carefully assembled diplomatic structure seeking to contain Iranian regional ambitions.
Even Teheran's proxy Hizballah, which killed 241 US Marines in Beirut in 1983, is evidently now a fit subject for communication, as part of Iran's return to the 'international community.'
Reports suggesting US reining in of Bandar are somewhat less reliable, coming as they do from pro-Iran and pro-Hizballah media outlets (al-Manar and the Revolutionary Guards associated Fars News Agency). But certainly the deep Saudi frustrations with the direction of US policy are not an invention of pro-Iran propagandists.
Nawaf Obeid, a senior adviser to the Saudi royal family, this week accused Washington of deceiving Riyadh over the Iran nuclear deal. 'We were lied to, things were hidden from us,' Obeid told an audience in London, as quoted in the Daily Telegraph.
He went on to vow continued Saudi resistance to Iranian machinations across the region. In particular, he expressed Saudi determination to turn back the Iranians in Syria. 'We cannot accept Revolutionary Guards running around Homs,' the adviser said.
But this defiant tone appears in stark contrast to the developing US position. The Geneva 2 conference is now scheduled to take place on January 22nd. It is a US-sponsored affair. It is not yet clear if Iran itself will be there.
But what is clear is that the conference will take place entirely according to the agenda of the Assad regime and its backers. That is – the US backed Syrian National Coalition will directly face the regime, while the regime now flatly rejects any notion of its stepping down.
In a statement issued on Wednesday, humming with the old Ba'athist rhetoric, the Syrian foreign ministry said that 'The official Syrian delegation is not going to Geneva to surrender power… The age of colonialism, with the installation and toppling of governments, is over. They must wake from their dreams.'
The armed rebels will not be sending representatives to the conference. They, financed and armed by Saudi Arabia and Qatar, have formed a new 'Islamic Front' which is battling the regime around Damascus, in Aleppo, and in the border region of Qalamun this week. The military advantage continues to ebb and flow.
But the stark contrast between the US-led diplomacy and the events on the ground is another clear reminder of the extent to which Washington's position has moved away from confrontation, away from Riyadh – and toward Teheran.
Assad has revived his fortunes in the course of 2013 mainly because of the massive Iranian assistance he has received. Washington, which officially backs the opposition, appears to be sponsoring a conference which will crown this achievement.
So is the US in fact changing sides in the contest between Iran and those regional forces seeking to contain and turn back its advance?
Michael Doran of the Brookings Institute, suggested this week that Washington is in the first phase of seeking a 'strategic partnership' with Iran, an 'entente cordiale' which would see a US-Iranian alliance forming a lynchpin of regional stability.
If this is indeed what the welter of evidence detailed above portends, then the Middle East is headed into a dangerous period indeed. As Doran also notes, there is no reason at all to think that Iranian designs for regional hegemony have been abandoned.
The effect of US overtures to Teheran and undermining of allies will be to build the Iranians' appetite. This will serve to intensify their continued efforts at expansion. The corresponding efforts by other regional powers, Israel and Saudi Arabia chief among them, to resist this process will also increase. That, in turn, is likely to mean greater instability across the region. An eventual direct collision could result.
Back to an Authoritarian Past? Elections in Baja California
On the 2nd of June2019 Mexico held local elections that proved to be a successful referendum on the incumbent president's popularity. These elections were the first ones after his inauguration on December 1st, 2018. Despite a declining economy and increasing levels of violence, his ruling party, the National Regeneration Movement (MORENA), gained major wins and further extended his influence across 6 states: The governorships in Baja California and Puebla; Tijuana's Mayor's seat; and legislative majorities in the local congresses of Baja California and Quintana Roo.
Baja California has become key in recent weeks in the process of democratisation in the country. After 30 years of being the ruling party in the state, the National Action Party (PAN), was defeated by MORENA. Conditions are set in Baja California are set for an intense post electoral process with serious consequences for the incumbent administration, and for the prospects of democracy in Mexico: On Monday 8th of July, the local Congress approved an extension to the current term of the governor from 2 to 5 years.
The choice of Jaime Bonilla as MORENA's candidate was a troublesome one. Bonilla was resident of the American state of California until very recently, and a militant of the American Republican Party. The problem lies on the way he was chosen as candidate and his Republican militancy in the United States. Bonilla's candidacy was propped up when Andrés Manuel López Obrador travelled to Baja California and agreed to publicly share a photo with the candidate, in a style that mirrored the very old authoritarian practices of the former hegemonic party Institutional Revolutionary Party, (PRI). MORENA's obstinacy materialised to ensure the extension of the term once he was elected.
A 2014 constitutional reform mandated that the governor of the state of Baja California elected in 2019 would serve a 2-year term. This was done to align the state's gubernatorial elections with the federal mid-term elections of 2021. MORENA argued that a 2-year term administration would prove to be more expensive and create higher political and economic uncertainty in the state. If such argument is allowed to be used this time, this could set a dangerous precedent to disappear institutions and extend terms of future administrations in order to make public administration more cost-effective. This is not a plausible justification and represents a serious setback.
The extension of the term from 2 to 5 years is a constitutional violation and electorally speaking it represents a throwback to the old monopolistic practices of the PRI. It also represents a violation to what election means in a democracy. Elections make a fundamental contribution to democratic governance. Because direct democracy. Elections enable voters to select leaders and to hold them accountable for their performance in office. Accountability can be undermined when elected leaders do not care whether they are re-elected or when, for historical or other reasons, one party is so dominant that there is effectively no choice for voters among alternative candidates, parties, or policies. Elections also reinforce the stability and legitimacy of the political community.
More importantly, a country cannot be truly democratic until its citizens have the opportunity to choose their representatives through elections that are free and fair. Elections also need to ensure the respect of essential criteria to be considered fair that include impartial electoral frameworks; credible electoral administration; and respect of electoral results. In the particular case of Baja California, such a reform to extend the term of the governor, should have been discussed, negotiated and ratified in 2017, before the elections of 2018 and 2019 for it to be considered as a legitimate measure. From a constitutional perspective, electoral processes are considered conclusive and each stage is final.
The president has decided to distant himself from the matter and leave this issue in the hand of the judiciary. The president has the attribution to promote an action of unconstitutionality in the Supreme Court of Justice, should he wish to condemn a clear anti-democratic action. Legislators of opposition parties have presented such recourse, and the incumbent Baja California governor has refused to ratify the results. López Obrador's attempt to distance himself from the decision in Baja California is not an expression of respect and autonomy, it is rather one of consent and complicit that would leave doors open to further unconstitutional actions.
It is worrying bathat López Obrador washes his hands in a clear trampling of the popular will and the constitutional framework. By not defending effective suffrage, the president is validating the right to extend the term of any administration, by simple legislative whim, in any other governmental administration. All this could mean a setback to Mexico's democracy. Like the PRI, MORENA is a pragmatic umbrella organisation including all sorts of political actors: there is room for everyone: the left, the right, those with a history of corruption, those who are not corrupt. It is back to the future. MORENA could also take over much of the PRI's old patronage networks. While the PRI has curbed the power of top unions, MORENA has courted them, and part of MORENA's ascent is based on the territorial grassroots work that the PRI dominated decades ago, let us hope that MORENA does not decide to also start mirroring the old authoritarian, undemocratic practices that allowed the PRI to remain in power for 71 years.
Trump: Rebukes and Worries
It's one for the history books, as they say. On July 16, 2019, Donald Trump was formally rebuked by the House (in a 240 to 187 vote) for his 'racist' tweets on four Congresswomen. The last time the House rebuked a president was William Howard Taft over a 100 years ago.
So what did Trump do? He told the four members of Congress to 'go-back' to the 'the crime infested places from which they came' instead of 'viciously telling' us 'how our government is to be run.
Three of the women were born in the U.S. and Ilhan Omar was a refugee from Somalia. Not difficult to guess which country was largely responsible for a proxy war in Somalia that overthrew a regime agreed to by warring parties for a rare interlude of peace. The resulting civil war now continues, and Uganda, Kenya and Tanzania are home to more than 2 million Somali refugees. Others have ventured further, to the EU and the US.
Trump's assessment of all this is uniquely Trumpian. He thinks he has won because he has now got Speaker Nancy Pelosi exactly where he wants her for the 2020 election … in the arms of the squad of four, who he positions as radicals.
Exactly how radical are they? They want a living minimum wage, healthcare for all — something other developed countries already have — a decent shot at education, and they are strongly against Trump's policies on the southern order. Finally, they want Palestinians to get a fair deal.
Steny Hoyer (aged 80) the Majority Leader and Nancy Pelosi (aged 79), the first woman Speaker of the House of Representatives, both with distinguished decades' long careers, starting together coincidentally as staffers in the office of Senator Daniel Brewster (Democrat, Maryland), have weathered difficult battles on critical issues as well as the rough and tumble of politics for many a year.
To them the squad of four appear as upstarts with a brashness and energy that have captured the attention of mainstream news, and had a heretofore unseen impact on social media. They seem unwilling to compromise, and speak as equals despite a half-century age difference and a vast power gap in the House itself.
Not for them the lure of key committee appointments or other such carrots for a successful Congressional career. They are out and out idealists with a platform publicized positively thanks to left-wing websites and social media, and which can not be ignored by the mainstream outlets. The world has changed; no, these four have turned it upside down.
Trump himself has other worries. There is the case against Roger Stone his long-time ally, friend and attorney, who was back in court for disobeying the judge's gag order. As the case goes forward, we will be back to the 2016 election, the Russian connection, and other efforts to smear Hillary Clinton. Will the calls for impeachment finally find a receptive ear in Nancy Pelosi?
Then there is Iran. Trump's idea of a better deal is always to walk away from the present one. No matter if its a treaty or an international agreement. Ayatollah Ali Khamanei is not having any of it. People in this country are unaware that most such clerics, in addition to Islamic studies, are experts in jurisprudence and philosophy, are well-read, well-informed, and above all have to be highly intelligent to have been selected for this career path. The Ayatollah wants relief from sanctions first.
Trump's new envoy to Iran, Senator Rand Paul is a libertarian like his father, and both are anti-war with a particular aversion for America's misadventures abroad. So there is hope.
Just What Is An American?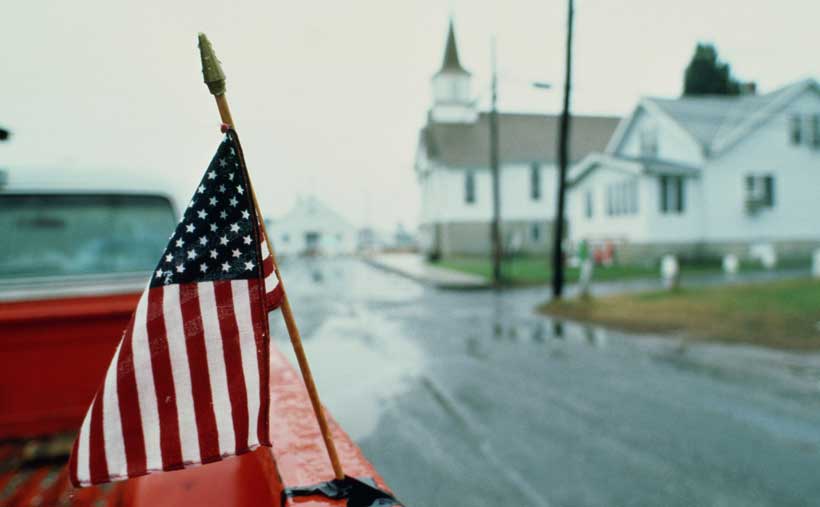 The greatest mistake any leader, or moneyed powerful individual, or even masses of people (all 3 of which tend to have the loudest voices) is to culturally appropriate unto themselves, just exactly what it means to be an American, based on their own selfish notion of what it means.
The fact remains that the ideal of Americanism is a concept – a truly growing, organic, ever changing, and ever expanding idea that is enshrined within its founding documents and laws.
For example, the Declaration of Independence, Bill of Rights, US Constitution, Civil Rights Act, and the Equal Rights Amendment, among scores of other acts of legislation, point to an ever growing ongoing journey to forge a new nation, just like ancient Rome did, united by a common destiny, and drawn from different experiences, cultures, cuisines, religions, ethnicities, races, nationalities, and world views.
So when President Trump on July 15, 2019 told four minority female congresswomen in sum and substance to "go back to there they came from" if they "didn't like America," he trampled over their own views, ideals, and experiences as Americans.
Quite simply his statement was an appropriation of what it means to be an American, from the point of view of a German/ Irish American senior citizen male, to a group of Latin/ Somali/ Palestinian/ African-American younger females.
Perhaps President Trump should re-visit his own people's racial history, wherein the Irish were systematically excluded by the previously arrived and established Anglican Protestants, or even with the Germans in America who were actually interred in camps during the periods of World War I & World War II.
The German-American Experience
During World War II, the legal basis for this detention was under Presidential Proclamation 2526, made by President Franklin Delano Roosevelt under the authority of the Alien and Sedition Acts.
With the U.S. entry into World War I, German nationals were automatically classified as "enemy aliens."
Two of the four main World War I-era internment camps were located in Hot Springs, N.C. and Fort Oglethorpe, Georgia.
Attorney General A. Mitchell Palmer wrote that "All aliens interned by the government are regarded as enemies, and their property is treated accordingly."
The Irish-American Experience
In 1836, young Benjamin Disraeli wrote: "The Irish hate our order, our civilization, our enterprising industry, our pure religion. This wild, reckless, indolent, uncertain and superstitious race have no sympathy with the English character. Their ideal of human felicity is an alternation of clannish broils and coarse idolatry. Their history describes an unbroken circle of bigotry and blood."
Nineteenth-century Protestant American "Nativist" discrimination against Irish Catholics reached a peak in the mid-1850s when the Know-Nothing Movement tried to oust Catholics from public office.
Much of the opposition came from Irish Protestants, as in the 1831 riots in Philadelphia, Pennsylvania.
After 1860, many Irish sang songs about "NINA signs" reading Help wanted – no Irish need apply.
The 1862 song "No Irish Need Apply" was inspired by NINA signs in London.
Alongside "No Irish Need Apply" signs, in the post-World War II years, signs saying "No Irish, No Blacks, No Dogs" or similar anti-Irish sentiment began to appear as well.