Muslim Persecution of Christians: June, 2013
The degradation of Christian women living in the Islamic world continued in the month of June.
In Syria, after the al-Qaeda linked rebel group conquered Qusair, a city of the governate of Homs, 15-year-old Mariam was kidnapped, repeatedly gang raped according to a fatwa legitimizing the rape of non-Sunni women by any Muslim waging jihad against Syria's government, and then executed.
According to Agenzia Fides, "The commander of the battalion 'Jabhat al-Nusra' in Qusair took Mariam, married and raped her. Then he repudiated her. The next day the young woman was forced to marry another Islamic militant. He also raped her and then repudiated her. The same trend was repeated for 15 days, and Mariam was raped by 15 different men. This psychologically destabilized her and made her insane. Mariam became mentally unstable and was eventually killed."
In Pakistan, Muslim men stormed the home of three Christian women, beat them, stripped them naked and tortured them, and then paraded them in the nude in a village in the Kasur district. Days earlier, it seems the goats of the Christian family had accidentally trespassed onto Muslim land; Muslims sought to make an example of the Christian family, who, as third-class citizens, must know their place at all times.
The rest of June's roundup of Muslim persecution of Christians around the world includes (but is not limited to) the following accounts, listed by theme and country in alphabetical order, not according to severity:
Attacks on Christian Worship: Churches and Monasteries
Iraq: During the middle of the night, armed men attacked St. Mary's Assyrian Catholic Church in Baghdad; they wounded two Christian guards, one seriously. Later the same day, bombs were set off at two Christian-owned businesses, both near the church; they killed one Christian shop owner, a parishioner at St. Mary's. Since the U.S. "liberation" of Iraq in 2003, 73 churches have been attacked or bombed, and more than half of the country's Christian population has either fled or been killed.
Kenya: Motorbike assailants hurled an explosive device into the Earthquake Miracle Ministries Church in Mrima village church compound during the Sunday of June 9, injuring 15 people, including one pastor who had both his legs broken, another pastor who sustained serious injuries, and a 10-year-old child. Said another church leader, "The Christians living around the scene of the incident are still in shock and are wondering as to the mission behind the attack, while several pastors looked demoralized. But others said prayers will help them stand strong in sharing the Christian faith." Islamic extremists from Somalia's jihadi organization Al Shabaab are suspected of this and other attacks on Christians in the coastal areas of Kenya.
Nigeria: Four churches were burned in an attack committed by members of the jihadi group Boko Haram in Borno State in the Muslim-majority north of the country. According to Agenzia Fides, "A group of armed men with improvised explosive devices and petrol bombs attacked the Hwa'a, Kunde, Gathahure and Gjigga communities on Gwoza Hills, burning the 4 churches, raiding and looting cattle and grain reserves belonging to the population." Discussing the ongoing terrorism Christians in the north are exposed to, one pastor lamented, "There are Christian villages that have been completely wiped out by these Muslim terrorists… Christian fellowship activities and evangelism outreaches are no longer possible…. For a number of years, the attacks on Christians in these three local government areas have caused the displacement of thousands of Christians there. There is a very lamentable problem, as we are no longer able to worship God as Christians in this part of Nigeria."
Syria: An Islamic jihadi rebel wearing a suicide belt reportedly detonated himself outside the Virgin Mary Greek Orthodox Church in an old Christian quarter in Damascus; the attack left four people dead and several injured. Rebel sources confirmed the attack but said it was caused by a mortar bomb. Around the same time, jihadi rebels massacred the Christian village of al-Duwair near Homs, while destroying its churches. Also, according to Agenzia Fides, a Belgian Catholic priest, Fr. Daniel Maes, 74, of the religious Order of "Canons Regular Premonstratensian," was last reported as being "in the sights of jihadi groups who intend to eliminate him and invade the monastery of San James mutilated in Qara," which dates back to the fifth century. Earlier the priest had denounced the "ethnic cleansing" carried out on Christians in Qusair, after the town was taken by the rebels and jihadi groups: "The surrounding Christian villages were destroyed and all the faithful who were caught were killed, according to a logic of sectarian hatred… For decades, Christians and Muslims lived in peace in Syria. If criminal gangs can roam and terrorize civilians, is this not against international laws? Who will protect the innocent and ensure the future of this country? … Young people are disappointed, because foreign powers dictate their agenda. Moderate Muslims are worried, because Salafists and fundamentalists want to impose a totalitarian dictatorship of religious nature. The citizens are terrified because they are innocent victims of armed gangs."
Attacks on Christian Freedom: Apostasy, Blasphemy, Proselytism
Indonesia: The Indonesian Ulema Council in Tegal issued a fatwa against Catholic schools, saying they are "forbidden" and "morally unsound" for young Muslim students, despite its pupils, both Muslim and Christian, routinely scoring higher than in other schools. "For the schools," reported Asia News, "the fatwa is a great blow, coming in the wake of attacks from Muslim extremists and local governments that included threats of closure that were however eventually dropped… [M]any Muslim families have come to the defence of the two schools, claiming their right to a quality education. In fact, many schools run by nuns, priests and lay Catholics offer such excellence in education that they are sought after by non-Christians." Earlier the influential Indonesian Ulema Council lashed out during flag-raising "because Mohammed never did it;" before that announcement, the Islamic clerics "launched anathemas against Facebook for its 'amoral' nature, as well as yoga, smoking and voting rights, in particular for women."
Pakistan: A 16-year-old boy who converted to Christianity from Islam a year ago, and began attending Bible lessons in a Protestant community, was abducted in Peshawar. Local sources said he was kidnapped by Taliban-linked Islamic militants "and his fate may already be marked, as he is considered 'guilty of apostasy,'" the penalty of which is death. As one Pakistani pastor explained: "If a young Muslim converts to Christianity in Pakistan, he is forced to live in hiding. Every Muslim might feel compelled to kill him. The change of religion is not punished by the civil law, it is punishable by Islamic law. For this reason cases of Muslim conversion to Christianity are very rare and some convert in secret."
Somalia: Islamic terrorists from Al Shabaab ("The Youth") publicly executed a 28-year-old man after determining that he had in fact become a Christian. Aiming at his head, he was shot "to death." As Morning Star News explains, "Somalis are considered Muslim by birth, and apostasy, or leaving Islam, is punishable by death." After the execution, the man's parents, widow and son fled the region. The Al-Qaeda linked Al Shabaab has vowed to cleanse Somalia of all Christian presence, and its members have murdered dozens of Muslim converts to Christianity.
Uzbekistan: Four police officers raided the home of a 76-year-old Christian woman, ill with Parkinson's disease. After removing her from her bed and without producing a search warrant, they "turned everything in the home upside down," and confiscated her Bible and other Christian materials. Since then, the woman has been subjected to innumerable legal proceedings. Most recently, she was convicted of "Illegal production, storage, or import into Uzbekistan with a purpose to distribute or distribution of religious materials by physical persons." The judge ordered that her Bible, 14 Christian books, six DVDs and a video be destroyed. She was told by court officials, "This is a Muslim country and all of your Christian books including the Bible are outlawed." Because these proceedings have caused her extreme anxiety, after one hearing an ambulance was called for her.
Dhimmitude: A Climate of Hate and Contempt
Bangladesh: A mob of some "60 extremists" raided a predominantly Christian village. According to the Barnabas Aid group, "they plundered the residents' livestock and other possessions and threatened to return to burn down homes. The attackers then moved on to nearby Bolakipur and targeted a Christian seminary. Battering down the doors, they forced their way into the building and severely beat the rector and a number of students. The previous day, two church leaders from Tumilia were beaten and robbed."
Egypt: "Unknown persons" kidnapped a 7-year-old Christian girl in Dakhaleya Province in northern Egypt. The girl, Jessica Nadi Gabriel, was attending a wedding ceremony with her family when she was seized and torn away. Her father later revealed that the 7-year-old girl's abductors called him demanding a ransom of 650,000 Egyptian Pounds (nearly $100,000 USD). Two weeks earlier, a 6-year-old Coptic boy who was kidnapped and held for ransom, was still killed and discarded in the sewer—even after his family paid the Muslim kidnapper the demanded ransom. Also, a Coptic Christian man named Milad, living in Tanta, said that "unknown persons" invited him and his family to renounce Christianity and submit to Islam and convert. According to widely-read Egyptian newspaper, Youm7, "They also snatched at the crucifix he was wearing around his neck, and threatened to kidnap his children and wife if he refused to convert to Islam." As they wore the trademark white robes and long beards, the man identified them as members of the Salafi movement in Egypt. Meanwhile, U.S. ambassador Anne Patterson was urging the Coptic pope to forbid the Copts from protesting against Muslim Brotherhood rule — even though they, as Christians, would suffer under it most — while Al Azhar, the world's oldest Islamic university, based in Cairo, called on new Catholic Pope, Francis I, to declare that "Islam is a peaceful religion."
Iran: According to a June 19 Morning Star News report, "Six more Christians were sentenced for practicing their faith last week, while Iran's presidential election of a moderate politician was not expected to soften the regime's persecution of religious minorities." The same six Christians had been arrested earlier in February 2012, when police raided their house-church meeting. Officials rejected their appeal for release on bail; they are being held in Adel Abad Prison in Shiraz, which houses hardened criminals and often lacks heating or health facilities, and where officials routinely deny medical treatment to prisoners.
Pakistan: Three months after a mob of 3,000 Muslims attacked a Christian neighborhood in Lahore, burning down two churches and 160 Christian homes, few of the perpetrators are in prison. Hundreds of those detained immediately after the incident were released; of the 83 who were arrested, 31 have been released on bail. "Most of the people who were stopped after the attack were declared innocent by the police and immediately released, for corruption or political pressure," said a Christian lawyer. Meanwhile, the Christian whose arrest on blasphemy charges was the occasion for the rampage has gone on trial, even as he insists he never insulted Islam's Prophet Muhammad.
Palestinian Authority: Five schools in Gaza—two Catholic and three Christian—face closure if the Hamas government follows through on an order forbidding co-educational institutions. According to Fr. Faysal Hijazin: "This will be a big problem. We hope they will not go through with it, but if they do, we will be in big trouble. We don't have the space and we don't have the money to divide our schools." In addition to finding additional space, he said, the schools face having to hire more teachers. Under Islamic law, men and women teachers would not be allowed to teach classes to members of the opposite sex older than the age of 10. "It is a concern that in education things are getting more conservative," said the priest. "It reflects the whole society. This is of concern to both Christians and moderate Muslims. It is not easy to be there."
Tanzania: Two Christian pastors were attacked by Muslims. On the night of Sunday, June 2, a Muslim mob broke into the home of Robert Ngai, the pastor of the Evangelical Assemblies of God Church in northeastern Tanzania, and attacked him with machetes. The pastor received serious cuts on his hands and arms when he raised them to protect his head from the blows; when last heard of, he was in the intensive care unit. Two nights earlier, the home of Daudi Nzumbi, Pastor of the Free Pentecostal Church of Tanzania congregation in Geita, also came under attack. However, the attackers fled after they were confronted by Pastor Nzumbi's large, barking dogs. When Nzumbi called police, the officer in charge told him, "I cannot protect every pastor!"
About this Series
Because the persecution of Christians in the Islamic world is on its way to reaching pandemic proportions, "Muslim Persecution of Christians" was developed to collate some—by no means all—of the instances of persecution that surface each month. It serves two purposes:
1) To document that which the mainstream media does not: the habitual, if not chronic, Muslim persecution of Christians.
2) To show that such persecution is not "random," but systematic and interrelated—that it is rooted in a worldview inspired by Sharia.
Accordingly, whatever the anecdote of persecution, it typically fits under a specific theme, including hatred for churches and other Christian symbols; sexual abuse of Christian women; forced conversions to Islam; apostasy and blasphemy laws that criminalize and punish with death those who "offend" Islam; theft and plunder in lieu of jizya (financial tribute expected from non-Muslims); overall expectations for Christians to behave like dhimmis, or second-class, "tolerated" citizens; and simple violence and murder. Sometimes it is a combination.
Because these accounts of persecution span different ethnicities, languages, and locales—from Morocco in the West, to India in the East, and throughout the West wherever there are Muslims—it should be clear that one thing alone binds them: Islam—whether the strict application of Islamic Sharia law, or the supremacist culture born of it.
US-Iran Tension: Avert any big disaster to humanity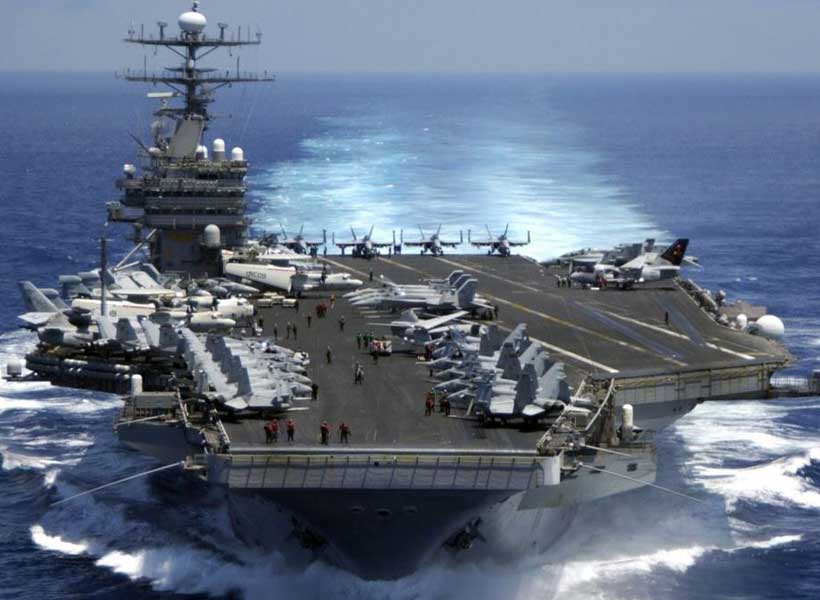 US-Iran tension is growing to a dangerous level. Irrespective of who is right and who is wrong, but everyone agrees that it is leading toward a big disaster. Human life and natural resources are at stake. Irrespective, who will suffer more and who will suffer less, but it is human life, which is the most precious thing in this world, is at stake.
Middle-East is an oil and gas-rich area and meets the major portion of world energy demand. Any disturbance in this region will have a severe impact on the global economy. Whether one is right or wrong, will be the victim of this crisis directly or indirectly.
This war will be not like the Iraq war or the Libya War. As at that time, there was only one superpower and the world was unipolar. There was no resistance from any corner of the world. US and allies, without any resistance, conducted the war and achieved their desired results. But a lot of resistance was witnessed in case of Syrian War. The whole scenario has been changed, the calculated results were not achieved yet. Finally, the US has decided to pull back its troops. Similarly, Afghanistan case is not ideal, after spending trillion dollars, and fighting for 17 years, not gains on the ground and finally has to pull back.
It may not be limited to only US-Iran but may engulf the whole region. As traditional rivals are waiting for an appropriate opportunity to settle their old disputes. Whether, it is Arab-Iran, or Israel-Iran, or Arab-Israel enmity, may it spread to a much wider sphere than expected. It is in control of a few countries to start or refrain the escalation, but once it has been broken, it may be beyond the control of either country.
Especially, Russia and China are not sleeping at this time. They are in a strong position to offer resistance. It should not be taken an easy task like Iraq or Libya war. It is difficult to predict the exact reaction of Russia or China, but anticipated resistance.
If we expect, US or Iran to avert this foreseeable war will be not a realistic approach. As if they were to avoid any disaster, they should not have created so hype and should not have moved to this stage. They may not accept total hegemony of the US in this part of the world. They have heavy stakes in the middle-East and cannot be spectators only.
Geopolitics has been changed, regional alliances have emerged, and nations have re-aligned themselves. Much more complex changes have been witnessed after the war on terror. Public awareness has been enhanced, maybe some of the governments in this region have a different outlook, but public opinion is much more realistic and may play a vital role in the days to come. Old time's friends may stand on the other side of the table. Some radical changes may be visible on grounds.
UN role was ineffective in the past and a little is expected in the future. In fact, the UN has been hijacked and curtailed to a very limited role practically. While one of its major mandates was to resolve the disputes among nations and avoid wars or war-like situations.
Under this serious scenario, there is a hope that all peace-loving nations and individuals, may peruse the UN and International Community do something to avert this bid human disaster. We all share one world, we have the responsibility to save this world. Any loss of human life in any part of the world is considered the loss to the whole of humanity. And the destruction of natural resources may be considered a loss to humanity. Any damage to Environment or ecology or biodiversity may be a net loss to humanity. We all are son and daughter of ADAM and share a common world, common environment, common resources. We need to protect humanity, environment and natural resources.
It is strongly appealed to the UN, International Community and all individuals who believe in Peace, must act, and must act now, and must act strongly, to avert any bid disaster to humanity.
Chinese purchases of Iranian oil raise tantalizing questions
A fully loaded Chinese oil tanker ploughing its way eastwards from two Iranian oil terminals raises questions of how far Beijing is willing to go in defying US sanctions amid a mounting US military build-up in the Gulf and a US-China trade war.
The sailing from Iran of the Pacific Bravo takes on added significance with US strategy likely to remain focused on economic rather than military strangulation of the Iranian leadership, despite the deployment to the Gulf of an aircraft carrier strike group as well as B-52 bombers and a Patriot surface-to-air missile system.
As President Donald J. Trump, backed by Secretary of State Mike Pompeo, appears to be signalling that he is not seeking military confrontation, his administration is reportedly considering a third round of sanctions that would focus on Iran's petrochemical industry. The administration earlier this month sanctioned the country's metals and minerals trade.
The sailing raises the question whether China is reversing its policy that led in the last quarter of 2018 to it dramatically reducing its trade with Iran, possibly in response to a recent breakdown in US-Chinese trade talks.
"The question is whether non-oil trade remains depressed even if some oil sales resume, which I think it will. That's the better indicator of where Chinese risk appetite has changed. Unfortunately Iran's reprieve will be limited—but better than zero perhaps," tweeted Esfandyar Batmanghelidj, head of Bourse & Bazaar, a self-described media and business diplomacy company and the founder of the Europe-Iran Forum.
A Chinese analyst interviewed by Al Jazeera argued that "China is not in a position to have Iran's back… For China, its best to stay out" of the fray.
The stakes for China go beyond the troubled trade talks. In Canada, a senior executive of controversial Chinese telecommunications giant Huawei is fighting extradition to the United States on charges of violating US sanctions against Iran.
Reports that Western companies, including Kraft Heinz, Adidas and Gap, wittingly or unwittingly, were employing Turkic Muslims detained in re-education camps in China's north-western province of Xinjiang, as part of opaque supply chains, could increase attention on a brutal crackdown that China is struggling to keep out of the limelight.
The Trump administration has repeatedly criticized the crackdown but has stopped short of sanctioning officials involved in the repressive measures.
Bourse & Bazaar's disclosure of the sailing of the Pacific Bravo coincided with analysis showing that Iran was not among China's top three investment targets in the Middle East even if Chinese investment in the region was on the rise.
The Pacific Bravo was steaming with its cargo officially toward Indonesia as Iranian foreign minister Mohammad Javad Zarif was touring his country's major oil clients, including China, in a bid to persuade them to ignore US sanctions.
A second tanker, the Marshal Z, was reported to have unloaded 130,000 tonnes of Iranian fuel oil into storage tanks near the Chinese city of Zhoushan.
The Marshall Z was one of four ships that, according to Reuters, allegedly helped Iran circumvent sanctions by using ship-to-ship transfers in January and forged documents that masked the cargoes as originating from Iraq.
The unloading put an end to a four-month odyssey at sea sparked by buyers' reticence to touch a cargo that would put them in the US crosshairs.
"Somebody in China decided that the steep discount this cargo most likely availed … was a bargain too good to miss," Matt Stanley, an oil broker at StarFuels in Dubai, told Reuters.
The Pacific Bravo, the first vessel to load Iranian oil since the Trump administration recently refused to extend sanction exemptions to eight countries, including China, was recently acquired by China's Bank of Kunlun.
The acquisition and sailing suggested that Bank of Kunlun was reversing its decision last December to restrict its business with Iran to humanitarian trade, effectively excluding all other transactions.
The bank was the vehicle China used in the past for business with Iran because it had no exposure to the United States and as a result was not vulnerable to US sanctions that were in place prior to the 2015 international agreement that curbed Iran's nuclear program.
China's willingness to ignore, at least to some extent, US sanctions could also constitute an effort to persuade Iran to remain fully committed to the nuclear accord which it has so far upheld despite last year's US withdrawal.
Iran recently warned Europe that it would reduce its compliance if Europe, which has struggled to create a credible vehicle that would allow non-US companies to circumvent the sanctions, failed to throw the Islamic republic an economic lifeline.
In a letter that was also sent to Russia and China, Iran said it was no longer committed to restrictions on the storage of enriched uranium and heavy water stocks, and could stop observing limits on uranium enrichment at a later stage.
Russian president Vladimir Putin warned in response to the Iranian threat that "as soon as Iran takes its first reciprocal steps and says that it is leaving, everyone will forget by tomorrow that the US was the initiator of this collapse. Iran will be held responsible, and the global public opinion will be intentionally changed in this direction."
Will there be war with Iran? Will there not be war with Iran? The questions are being asked repeatedly in the media even though a single carrier task force is steaming up there. The expression is old for the latest carriers are nuclear powered. Imagine the mess if it was blown up.
There are two kinds of weapons in the world … offensive and defensive. The latter are cheaper, a fighter plane compared to a bomber. If a country does not (or cannot afford to) have offensive intent, it makes sense to focus on defense. It is what Iran has done. Moreover, its missile centered defense has a modern deadly twist — the missiles are precision-guided.
As an Iranian general remarked when questioned about the carrier task force: some years ago it would've been a threat he opined; now it's a target. Iran also has a large standing army of 350,000 plus a 120,000 strong Revolutionary Guard and Soviet style air defenses. In 2016 Russia started installation of the S-300 system. It has all kinds of variants, the most advanced, the S-300 PMU-3 has a range similar to the S-400 if equipped with 40N6E missiles, which are used also in the S-400. Their range is 400 km, so the Iranian batteries are virtually S-400s. The wily Putin has kept trump satisfied with the S-300 moniker without short-changing his and China's strategic ally. The latter continuing to buy Iranian oil.
Iran has friends in Europe also. Angela Merkel in particular has pointed out that Iran has complied fully with the nuclear provisions of the UN Security Council backed Joint Comprehensive Plan of Action i.e. the Iran nuclear deal. She is mustering the major European powers. Already alienated with Trump treating them as adversaries rather than friends, they find Trump's bullying tiresome. President Macron, his poll ratings hitting the lowest, is hardly likely to engage in Trump's venture. In Britain, Theresa May is barely able to hold on to her job. In the latest thrust by senior members of her party, she has been asked to name the day she steps down.
So there we have it. Nobody wants war with Iran. Even Israel, so far without a post-election government does not want to be rained upon by missiles leaky as its Iron Dome was against homemade Palestinian rockets.
Topping all of this neither Trump nor Secretary of State Pompeo want war. Trump is as usual trying to bully — now called maximum pressure — Iran into submission. It won't. The wild card is National Security Adviser John Bolton. He wants war. A Gulf of Tonkin type false flag incident, or an Iranian misstep, or some accident can still set it off.
In Iran itself, moderates like current President Hassan Rouhani are being weakened by Trump's shenanigans. The hard liners might well want to bleed America as happened in Iraq and Afghanistan.