As the Syrian civil war rages on with no end in sight, many advocates of U.S. intervention are claiming that an infusion of Western arms to carefully vetted rebel factions will help bring about a peaceful resolution of the conflict.
Though hardly the first time that tools of war have been recast as instruments of peace, this curious proposition has gained unprecedented currency across the ideological spectrum, from liberal internationalists to conservative hawks.
Unfortunately, the magic bullets theory doesn't hold much water. Arming the rebels might bring the war to a close sooner by helping "good" guys kill "bad" guys more efficiently, but there's no compelling reason to believe it will entice them to stop fighting.
The superficial logic of arms-for-peace is elegant, to be sure, rooted in the classic diplomatic axiom that a political settlement to an armed conflict is possible only when, for all relevant players, the expected utility of a negotiated peace, E[u(p)], is greater than the expected utility of continued war, E[u(w)]. There are several arguments as to how a calibrated infusion of arms into Syria will help produce this rare condition (presumably absent from the large majority of civil wars in the modern era that ended in the military defeat of one side or the other). Let's take them one at a time.
DECREASING E[u(w)] FOR PRO-REGIME ACTORS
The most common arms-for-peace argument, frequently invoked by Obama administration officials, is that arming the rebels will begin shifting the balance of power away from pro-government forces and signal Western resolve to tip it further, thereby diminishing E[u(w)] for the regime, its domestic supporters, and/or its Russian and Iranian backers. "Altering the balance of power on the ground … is the only way a politically negotiated transition can become possible," writes Dennis Ross. Negotiations "will amount to little given the current power asymmetry," concurs Elizabeth O'Bagy.
However, the balance of power is not the only thing influencing E[u(w)] in the Syrian arena. For President Bashar Assad and upper echelon regime elites, Iranian patronage is increasingly a central determinant of E[u(w)], and they have very good reason to believe that Iran will continue financing and resupplying them for the foreseeable future. Even if Damascus falls, they can carry on the fight for quite some time in the coastal heights of northwestern Syria where non-Sunnis constitute a majority of the population, then go into comfortable exile in Tehran if and when continued resistance becomes untenable. Whatever their battlefield setbacks, they will be loathe to abandon Iranian protection at a time of great danger and uncertainty.
For ordinary Syrians who support and fight for the regime (mostly Alawites and other non-Sunni minorities), on the other hand, E[u(w)] is far more dependent on the anticipated outcome and costs of the conflict. However, while American sponsorship of the rebellion may sap their confidence in military victory, the perception that Washington is pulling the strings of the rebels could also raise E[u(w)] for regime supporters if they expect image-conscious American policymakers to balk at green-lighting the horrific violence sure to accompany a successful rebel push on Damascus, or if they assume that Western involvement will mitigate the political consequences of losing the war. In any case, because their E[u(p)] is very low (more on this below) and they have little independent capacity to mobilize, a diminished E[u(w)] is more likely to produce individual defection, desertion, or passivity than concerted bottom-up pressure on their leaders to change course. Lower morale among regime supporters may make it easier to overpower Assad's forces, but this alone won't open a path to peace.
A stronger case can be made that tilting the military balance will diminish E[u(w)] for Russia. However, this may not precipitate a major policy change, as Moscow is bearing few of the war's costs – its economic support for the regime is minimal,[1] while its arms sales would appear to yield a net profit. The reputational expenses of arming murderers loathed throughout the Sunni Islamic world may eventually lead Russia to cut off arms sales to Assad, but Moscow will incur these costs irrespective of whether Washington aids the rebels. In any case, there is little reason to believe that a more enlightened Russian policy will decisively change expected utility calculations for the regime as long as Iran is backing it to the hilt.
Iran, on the other hand, is directly subsidizing pro-regime forces financially (to the tune of 12.6 billion dollars so far, according to one recent estimate) and mobilizing Iraqi and Lebanese Shiites to fight alongside them. A military escalation precipitated by an influx of Western arms will undoubtedly strain its sanctions-riddled economy. But this doesn't mean, as some interventionists maintain, that it "will most likely back down when faced with the prospect of confrontation with the United States."
There are many intervening variables that make it difficult to predict E[u(w)] for the Islamic Republic. The intense religiosity of Iranian leaders surely inflates their confidence in ultimate victory. Overt U.S. involvement in the rebel war effort may shift the military balance, but it could also serve to legitimize Iran's Syria policy as a fight against the Great Satan (or otherwise make abandoning it more politically unpalatable). Though it's difficult to imagine how continued conflict could turn out well for the Iranian regime in the long run, some commentators have suggested that it can use even a losing war in Syria to expand its influence among Shiites in the region.[2] In any case, if the past is any guide, a major change in Tehran's disposition is likely to drag far behind the changing realities that drive it. Whatever else it might achieve, an arms-for-peace strategy with this aim in mind won't produce peace anytime soon.
INCREASING E[u(p)] FOR PRO-REGIME ACTORS
Of course, even a substantial reduction in E[u(w)] for one or more of the above won't matter if their E[u(p)] is demonstrably lower. For regime elites, E[u(p)] is abysmally low. Rebels have constantly reiterated that Assad and his inner circle must step down and relinquish control of the military-security apparatus at the start of any negotiated political transition. They are unwilling even to negotiate with anyone who has "blood on their hands" let alone offer them a place in the post-war order. Assad and his ilk are being asked to accept a conditional surrender, not a power-sharing arrangement of the kind that brought an end to the 1975-1990 civil war in Lebanon.
Iran's E[u(p)] is also very low. The predominantly Sunni rebels' overt sectarian discourse and frequent denunciations of the Shiite theocratic republic – even before the large influx of foreign Shiite fighters in the first half of this year – leave little doubt that Iran will lose out in any peace settlement that produces a stable post-war majoritarian government. Significantly, both the rebels and Western governments have thus far refused to allow Iranian representatives to attend prospective peace talks in Geneva. While Russia can hope to win some American-guaranteed concessions in post-war Syria in exchange for leaning on Assad (like keeping its naval base at Tartus), Iran will be left squarely in the cold.
Ordinary regime supporters are more amenable to a negotiated settlement than their leaders and foreign benefactors, but they also have deep reservations about majoritarian rule. Though Alawites have dominated Syria's Baathist state for over four decades, they and other sectarian minorities previously endured centuries of socio-political exclusion and impoverishment at the hands of Sunni rulers. Given the pronounced Islamist character of the rebellion, many understandably fear that they will be made to pay for the Assad regime's crimes. Insofar as regime supporters have the capacity to project influence over their leaders, it will not be to support a transition process that leaves them at the mercy of their adversaries.
A second family of arms-for-peace arguments hold that Western patronage of the rebels will increase E[u(p)] for the regime and/or its supporters (particularly lower echelon security personnel and civil servants). One strand of this reasoning holds that American sponsorship of the rebellion will alleviate their fears of Sunni domination and retribution by strengthening moderate rebels vis-à-vis extremists[3] and obliging the former to act more responsibly.[4] A second strand holds that equipping and supplying the rebels will unify their ranks so that they can make credible commitments to possible pro-regime interlocutors (at present, no one has the power to ensure that disparate rebel forces comply with anything).
However, it's doubtful that U.S. patronage will produce these effects in sufficient measure to generate much constituent pressure on regime leaders to stand down. While those who receive the weapons will surely pay lip service to American ideals, any Lebanese ex-warlord can tell you that building proxy forces on the basis of patronage doesn't create a culture of civic responsibility. The U.S. experience in Iraq underscores how fleeting are the returns of distributing money and power to Middle Eastern supplicants.
An influx of American arms may increase cohesion among those groups who receive them, but it will surely come at the expense of deepening antagonism between pro-Western and jihadist rebels. This would raise E[u(w)] for pro-regime actors by giving them hope that their adversaries will turn on each other if they keep up the fight long enough.
So long as the rebels have a surrender-or-die attitude toward peace with their adversaries, it's unlikely that they will find many takers. After witnessing the collapse of an eerily similar minoritarian autocracy and its violent aftermath next door in Iraq, regime supporters have little faith that an American-managed transition can protect their core interests. They will not agree to disband (or relinquish to civilian authority) their military forces until the transition process is near completion (if then), a condition that no rebel commander is today prepared to accept.
INCREASING E[u(p)] FOR PRO-REBEL ACTORS
A third arms-for-peace argument posits that Western military aid will raise E[u(p)] for the rebels by giving them the strength and confidence to risk negotiating with an enemy they do not trust. The rebels are unwilling to negotiate at present "because they think that they will be bargaining from a position of relative weakness," writes Bilal Y. Saab. "We are trying to get the opposition to get involved in a negotiation with people they really don't want to negotiate with … They need an incentive," explains Reza Afshar, head of the Syria team at Britain's Foreign Office.
Far from encouraging rebels to negotiate in good faith, however, the Obama administration's decision in June to begin directly providing them with arms appears to have done the opposite. In late July, the Syrian National Coalition (SNC) added new preconditions for talks, such as an advance commitment by Assad to step down and the withdrawal of foreign Shiite fighters from Syria. SNC President Ahmed Jarba now even balks at granting Assad and his family safe exit from Syria if the president gives up power.
The problem is not that the rebels lack confidence. Whatever their current circumstances, most are quite certain of prevailing over the regime in the long run, and for good reason. Syria's Sunni Arab majority, which overwhelmingly supports the rebels, is five times larger than minority Alawites who comprise the bulk of pro-regime forces. Moreover, outside powers that dwarf Russia and Iran financially and militarily are steadily increasing their support for the cause. Add to that the strong belief of most rebels that God is on their side and it appears likely that more arms will only further embolden them not to compromise.
CONCLUSION
While the Obama administration officially maintains that its paramount goal in Syria is to bring about a "political solution that ends the violence," its steadily expanding role in arming combatants isn't likely to create conditions conducive to a negotiated peace. Indeed, it could make the pursuit of peace more difficult by bolstering rebel confidence in absolute victory, deepening intra-rebel antagonisms, encouraging Iran to double down, and myriad other ways discussed above. As Kathleen Gallagher Cunningham and William Reed recently reminded us, external intervention in civil wars serves, on average, to prolong their duration.[5]
Unfortunately, there is very little the United States can do to bring about a negotiated settlement of the Syria conflict until all of the major players are willing to forgo many of their wartime objectives in favor of a compromise that salvages what is left of Syria's state institutions and economic infrastructure. If that day should ever come, the Syrian people will need a powerful neutral arbiter, not a war-weary external partisan, to provide the necessary guarantees for combatants to make credible commitments to one another.
Of course, that day may never come. All signs indicate that the burgeoning jihadist factions of the rebel alliance will stop at nothing to bring about the kind of oppressive postwar order that many regime supporters will stop at nothing to prevent – as long as that's the case, moderates will be powerless to bridge the gap. Like the large majority of civil wars in history, the conflict in Syria appears destined to endure until someone wins.
In view of this unfortunate reality, the use of American patronage to buy influence and equity in the Syrian arena may be justified. Whatever the strategic merits of aiding and abetting Syria's rebel alliance, however, we shouldn't call it peacemaking or pretend that it isn't going to be a dirty business. No matter how carefully Washington vets potential recipients, it is very likely that rebel groups receiving American arms will commit egregious human rights violations before (and probably after) the smoke clears. When the co-directors of the New York-based Campaign for Peace and Democracy, ostensibly devoted to promoting a "progressive and non-militaristic U.S. foreign policy," obliquely endorse the Obama administration's arming of Syrian rebels,[6] something has gone very wrong in the public debate in this country. Proxy warfare, as Henry Kissinger famously said of covert action, "should not be confused with missionary work."[7]
Gary C. Gambill is a frequent contributor to Foreign Policy, The National Interest, The National Post, and FPRI E-Notes. Formerly editor of Middle East Intelligence Bulletin and Mideast Monitor, Gambill is an associate fellow at the Middle East Forum.
[1] Although Western media reports often allude to Russia's "deep financial support" for Assad and there have been some statements by Syrian officials implying as much for public relations purposes, there is little evidence of Russian economic assistance aside from small amounts of humanitarian aid (ostensibly raised through religious charities) and preferential barter agreements (mainly crude oil for fuel).
[2] See Phillip Smyth, "Even if Assad loses, Iran gains from its support of Shia militias," The National (Abu Dhabi), August 12, 2013.
[3] For an eloquent elaboration of this point, see Frederic Hof, "Syria's Time Is Running Out," Foreign Policy, December 19, 2012. Hof argues that arming the rebels will ensure "that weapons go to those advocating a non-sectarian, decent political system for Syria and are denied to those seeking a sectarian outcome."
[4] Emile Hokayem, "Arm Syrian rebels to make a political solution possible," The National (Abu Dhabi), October 31, 2012. Michael Bröning, "Time to Back the Syrian National Coalition," Foreign Affairs, December 17, 2012.
[5] See Kathleen Gallagher Cunningham and William Reed, "Arming Syrian rebels may make peace elusive," The Baltimore Sun, July 11, 2013; David E. Cunningham, "Blocking Resolution: How External States Can Prolong Civil Wars," Journal of Peace Research, vol. 47 no. 2 (March 2010), pp. 115-127; Ibrahim A. Elbadawi and Nicholas Sambanis, "External Interventions and the Duration of Civil Wars," paper presented at the World Bank's Development Economic Research Group (DECRG) conference on "The Economics and Politics of Civil Conflicts," Princeton University, March 18-19, 2000.
[6] Thomas Harrison and Joanne Landy, "Syria's fate must not be decided by foreign powers or forces," Green Left Weekly, July 9, 2013. They write that they "strongly oppose" any outside diplomatic initiative that "prevents the Syrian people from overthrowing the Assad regime," and that "the democratic opponents of the Assad dictatorship have the right to get guns where they can," while bemoaning "all attempts by those who provide arms to acquire political and military influence in return."
[7] "Covert action should not be confused with missionary work." Remark in testimony to the Pike Committee in 1975.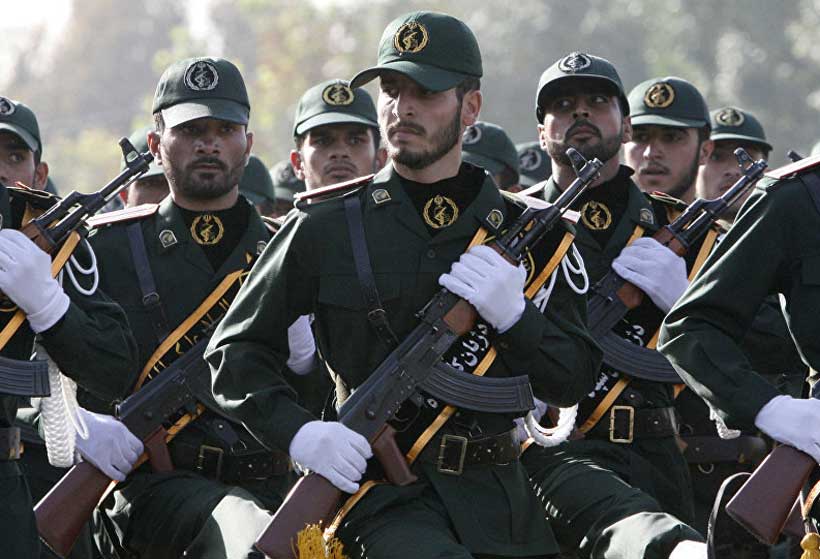 It is exactly the withdrawal of the 2,000 US soldiers from their current positions in Syria and Jordan – an operation that continues at considerable speed – which is creating significant strategic space for Iran.
President Trump also claims he wants to keep an indefinite amount of US soldiers in Iraq, just to control Iranian movements and developments towards the Syrian border with Iraq.
Hence it is quite probable that, in the near future, the already evident tensions between Hezbollah and Israel on the Bekaa-Golan border could explode. In this case, the clash could certainly involve also the Iranian forces, as well as Bashar al-Assad's ones and even other Sunni and Lebanese groups stationing in that area.
In this phase the primary goal of the Lebanese Shiite "Party of God" and of Assad's himself – who can no longer say no to Iran – is to provide effective missiles to the Lebanese and Iranian-Syrian forces to hit the positions in  Northern Israel.
And later possibly shift from the control of the Bekaa-Golan axis directly into the Jewish State.
In this phase, however, Iran wants to avoid a conventional confrontation with Israel and its US allies.
Currently, also in the areas it currently holds in Syria, Iran is interested only in its traditional asymmetric war, which enables it to have a low-cost clash with the minimum use of its forces.
This, however, does not enable us to think about an Iranian war against Israel that is only at low intensity: we should recall, in fact, the operations of the Iranian UAVs in the Israeli airspace of February 2018 or the many missile test launches in June 2018.
Also the Jewish State, however, does not want an open clash. In fact, since 2013 Israel has carried out over 230 operations in Syria, especially against the trafficking of arms for Hezbollah, in addition to many operations – in the "war between wars " – against the Iranian bases in Syria at least since 2017.
In the statements made by Hassan Nasrallah in February 2019, however, Hezbollah maintained that if there were a clash between the Shiite "Party of God" and Israel, it would not be necessarily confined to the Syrian-Lebanese or to the Lebanese-Israeli system, but it would immediately involve all the "voluntary" forces of the Arab world.
All the organizations that, in various capacities, are part of the Iranian system between the Lebanon and the Sunni area south of Israel will certainly be used by the "Iranian Revolutionary Guards" to operate against the Jewish State in an integrated way.
The "corridor" line between Iraq, Iran, Syria and the Lebanon -which is the Iranian target in the Syrian war – is the axis along which all future operations against the Jewish State will take place. It is a broad and very difficult front to hold for both sides, namely Israel and Iran.
Hence, in principle, the future scenarios could be the following: a) a conventional war in Northern Lebanon, with the participation of Hezbollah, Iran, the Hamas network already present on the Litani river and some Syrian groups.
Or b) a clash on the Bekaa-Golan border initially focused on the Syrian territory, thus leaving Southern Lebanon free for a possible secondary attack on Israel, at a later stage of operations.
This war against Israel would clearly be waged by Bashar al-Assad's forces, by the Iranian Pasdaran, Hezbollah, the Shite groups on the Syrian border, as well as Hamas and the Southern Sunni Islamic jihad and, in all likelihood, also by the pro-Syrian groups present along the border of the Palestinian National Authority with the Jewish State.
Finally, there could be c) a "dual war" in the Lebanon and Syria at the same time, with the further and subsequent support of Hamas and Islamic jihad attacks on Israel from the South.
It should also be recalled that the Houthi guerrillas in Yemen are already capable of blocking the Israeli maritime interests in the Bab-el-Mandeb Strait and across the Red Sea.  Not to mention the always possible attacks of Iranian missile positions in Iraq towards the Jewish State, thus probably resulting in further attacks on the remaining US units between Syria, Iraq and Jordan.
In this case, only two considerations can be made: Israel's future war in the Lebanon would certainly be less limited than the operations already carried out from 1978 to 1982 until 2000 (the stabilization of Hezbollah) and the actions of 2006.
We can also add that currently the Iranian, Sunni and Syrian forces will shift – as quickly as possible – from an attack against the Israeli critical infrastructure to a real counterforce occupation on the ground.
However, will the Hezbollah and Iranian centres of gravity, as well as those of the Sunni forces in the Lebanon, be quickly identified by Israel in an upcoming attack?
However, in the future is it not ever more probable to have a wide area of action from the North, which will imply – from the very beginning – Hezbollah, Syrian and Iranian positions all along the Syrian border with Israel?
Moreover, what will the Russian Federation do?
Will it want to be hegemonic throughout the Middle East and hence will it reach a sort of agreement with Israel, or will it choose the old strategic posture of acting as defender of the Arab world against the Jewish State?
Where would Russia go with such an old and weak geopolitical perspective?
Whatever happens, the Russian Federation will be the keystone of every operation between Israel, the Lebanon and the Syrian-Iranian axis.
Therefore Russia has only two options: either it steps aside in the future Syrian-Lebanese-Israeli conflict – and hence runs the risk of losing all its power also in Syria – or it chooses to take part in the clashes, possibly indirectly, to favor one party or the other, but only at the right time.
In the future, however, Russia will never do anything to trigger the Syrian fuses again.
Every war operation across Syria runs the risks of undermining above all Russia's new strategic assets.
In a short time, however, the United States could support the Israeli missile defences. Later Russia could support Iran and Syria only to be consistent and fulfill a commitment made, thus preventing them from using the Russian advanced weapons on Assad's territory. Furthermore the United States could support Israel, but also an international diplomatic effort that would turn the clash into a short and conventional war, without Israel's "access to the extremes", in the customary style in place since 1973.
At that juncture, Israel could choose to systematically weaken the enemy forces, or to divide the opponents, according to the strategy of the Horatii and the Curiatii or of the "distant friend". Or, as it has already proven it can do, Israel can destabilize Syria and possibly even Iraq on the border of Iraq with Bashar al-Assad's regime.
The extent to which Israel can still trust the United States in this operational and strategic choice is largely uncertain, if not unlikely.
If possible, in the future Israel can organize only a cold peace with Russia, thus increasing – however -its possibility to put pressure on the Russian Federation, also at military one.
The first rule for the Jewish State will always be to avoid splitting and fragmenting its forces. Hence it will always primarily need to immediately identify the enemy's centre of gravity, although complex and resulting from alliances between different strategic aims.
Hence what can Hezbollah alone do in this phase?
The "Party of God" could avoid bringing the clash with Israel to Southern Lebanon, so as to avoid turning its primary assets into relatively easy targets for Israel.
A movement like the Shiite "Party of God", but without a Lebanese hinterland or a cover area between the Litani river and Beirut, does not stand a chance and is defeated at the outset.
How much would Syria participate in the operations against Israel?
Probably, as much as to be able to decide the political effects of the war on its border with the Lebanon, but never so much as to use up its forces, in view of a destabilization on the Golan region.
Furthermore, how and to what extent would Iran arm the Houthi with a view to stopping the Israeli supplies in the Red Sea?
Is it possible that the Houthi's primary goal for Iran is precisely to keep Saudi Arabia away from the new war in the Lebanon?
Would Iran better use them solely for putting pressure on Saudi Arabia, especially pending a Shite uprising from Bahrain, so as to later reach the Saudi provinces – with a Shiite majority – of Baharna, al-Qatif and Al- Ahsa, with the powerful and hidden Twelver Shia community of the Nakhawila, who have always lived in Medina?
You cannot do everything at the same time.
Or Iran and Hezbollah could opt for a low-medium intensity "long war" on the Israeli borders.
As far as we can currently know, however, Hezbollah has not yet clear ideas in mind.
This Shite movement is ever more the result of the many tensions within the complex and now fragmented Iranian regime.
According to the most reliable sources, however, the Lebanese Shiite "Party of God" has at least 110,000 missiles and rockets on the border with Israel.
Iran has at least 3,800 of them between the Litani border and the Bekaa-Golan axis.
Nevertheless 80% of these Iranian missiles cannot yet reach the Israeli territory while ensuring operational safety and security.
Apart from those left by Russia – and closely monitored by it – Syria still has few own missiles, all controlled directly from the Moscow's Centre for the Aerospace Forces.
Obviously, the only potential that Hezbollah can use is currently its missile and military system in Southern Lebanon.
Also Iran closely monitors Southern Lebanon and, as far as we know, it has a dual command chain for the most relevant missiles.
Hence, time is short for a "war between wars" of the Lebanese, Iranian and Syrian Shiites against Israel.
Nevertheless, while the Party of God's centre of gravity is so evident and small – and Lebanese only – Israel can always attack massively and in a very short time, thus blocking Hezbollah's response and implicitly threatening any Lebanese Shiite allies.
Hence, for the "Party of God" the problem is also to be ready for an effective war against Israel, but without ever involving the Lebanese territory, which could become a necessary safe haven after the first Israeli salvos.
Therefore, a concrete possibility is that Hezbollah, Iran and a part of Syria create their guerrilla groups along the Bekaa-Golan and Iraq-Lebanon "corridor", with a view to distributing the efforts against Israel and avoiding the immediate elimination of their centre of gravity by Israel.
There are currently around 20,000 Shiite foreign fighters in Syria, although Iran has always claimed to have called and trained at least 180,000.
Hence an inevitably slow mobilization – an easy goal of interdiction by the Israeli air forces.
However, Hezbollah's missiles alone are enough to saturate Israeli defenses.
However, despite the recent Iranian support, the salvo quality and accuracy still leaves something to be desired.
Currently the only possibility for Iran and the Shiite Lebanon against Israel is to launch a limited attack and then use diplomacy and the international business and influence networks to contain and curb the strength of Israeli response.
Hence a good possibility for the Jewish State is to exploit or support Iran's tendency to trigger a non-conventional conflict, but with the obvious possibility that, from the very beginning, the Syrian or Lebanese conflict may expand directly also onto the Iranian territory.
Hence, we could think of a further effort by Israel to "keep the Americans in", but even the "Russians in" – just to paraphrase what Lord Ismay said about NATO -as well as to move Hezbollah away from the borderline of the Litani river and the Bekaa-Golan axis, well over the 80 kilometers already requested by Israel.
If Russia remains in Syria, as is now certain, it will have no interest in a long war in Syria or in the Lebanon.
Hence, it could slowly separate its forces from the Shiite and Syrian ones, or ban some areas to the Shiite guerrillas that Iran has already called in Syria.
The Israeli military services, however, have already signaled the presence of Iranian forces from the border with Israel to Northern and Eastern Syria, with a strong Syrian-Lebanese and Iranian military pressure that will almost certainly take place around the upcoming Israeli elections of April 9.
Shortly afterwards, Israel shall assess President Trump's proposal for a definitive peace between Israel and the Palestinian world.
A peace that will change the whole strategic formula of the Greater Middle East.
Hence, it is not hard to foresee that the Gaza Strip will become an area of overt and full-blown war, put in place by Palestinians and their Iranian supporters.
Over the last few days, major incidents have already occurred at the border between the Gaza Strip and Israel. Therefore the electoral tension in Israel will be a further trigger of very strong and future political-military actions in the North and in the South.
At the Northern border, between Bekaa and Golan, there will be further tensions that will lead to actions by Shiite guerrilla organizations on the Israeli territory.
Both Hezbollah and the Al Qods Brigades of the "Iranian Revolutionary Guards" will choose the right time to hit the Jewish State with their missiles, obviously when the tension towards the Gaza Strip reaches its peak.
Or – but it is not an alternative option – along the border between the Palestinian National Authority (PNA) and Israel.
There is nothing to prevent the Shiite organizations from using Russian positions as shields, which will obviously never participate in the operations of their Syrian-Iranian or Lebanese allies against Israel.
During the Israeli electoral period, the Palestinian jihadist organizations will operate especially between Judea and Samaria. They will possibly be even supported by the Russian Federation, which still plays the card of Palestinian unity both to compete with Iran and to organize the support for Russia by the Sunni world.
Nevertheless, nothing prevents us from thinking that Russia also has some political "champion" within the Israeli electoral campaign.
Not surprisingly, the first Conference for Palestinian Unity began in Warsaw on February 13, with as many as 60 countries invited and the initial proposal for mediation by the United States.
Nevertheless, precisely on February 11-13, a new inter-Palestinian Conference was organized in Moscow, with the participation of Hamas and other groups of the Sunni jihad.
What does Russia want to obtain from these operations?
Firstly, Russia wants to avoid a new Iranian hegemony in this region that Russia has always nurtured.
For obvious purposes, which have little changed since the end of the Cold War.
Secondly, the Russian Federation wants to win the geopolitical support of this unified Palestinian region, with a view to becoming the real broker of a new Middle East peace, thus ousting both the United States and the much sillier "mediators" of the unaware and now comical Union European.
Hence, the Russian Federation's bet is a minimax, as we would say in mathematical terms: to reach the primary goal, that is the Russian hegemony over the whole Middle East, with the minimum effort, i.e. the systematic negotiation with all actors.
In all likelihood, Russia will ask the Jewish State to reduce the military pressure eastwards and southwards, but only to replace it with its own future "deterrence force" at the edges of the various borders.
Obviously, by using all Russia's allies.
Israeli Prime Minister Netanyahu will discuss these issues in his upcoming meetings with President Putin in Moscow on February 21.
However, Syria and Iran will certainly not be the only topics of the bilateral talks with President Putin.
Hence, as already said, the Iranian and the Lebanese Shiite forces, the proxies of the Shiite guerrillas that Iran has called in Syria, the Iranian special forces and those of Bashar al-Assad are moving away from the border with Israel to gather in Northern and Eastern Syria, up to the border with Iraq.
This is really bad news for the Israeli decision-makers.
Currently Iran – with its "revolutionary" groups called from Afghanistan, Iraq and even Pakistan – but also the Hezbollah and the Pasdaran special units, are quickly moving away from the Golan region and -hence – become hard to be attacked by the Israeli forces.
This obviously happens because of the USA leaving its positions – a withdrawal that Iran wants to capitalize quickly and fully, thus removing forces from Syria and, hence, reaching full strategic depth in Iraq, a country from which Iranian missiles can still reach the Israeli territory.
Iran's plan is therefore to leave the various militias, its Shiite proxies and a part of Hezbollah on the Syrian-Israeli border, as if they were various buffer areas, so as to later protect itself permanently from the Israeli attacks and anyway make it hard for the Israeli forces to control Northern Israel militarily.
Said forces could not control remote operations, if not when it is too late.
Hence, Israel is currently the primary target of the missiles owned by the Palestinian jihad, both in the South and in the East, as well as of the Iranian and Shiite forces in Iraq, of Hezbollah in the north and of Hamas in the Gaza Strip.
Not to mention the Iraqi networks of Iran and part of its Shiite proxies.
It will be a war on several fronts and with centers of gravity other than the usual ones.
Upon closer inspection, it appears that the Islamic Republic of Iran has a relative near dearth of human rights organizations operating freely within that country.
Although Iran has apparently allowed the International Atomic Energy Agency and the United Nations, as all as some foreign nations to inspect from time to time its weapons facilities and nuclear power apparati, there does not seem to be a corresponding level of interest generated both externally or internally in investigating the various human rights complaints and abuses within Iran.
To be sure, this is the ultimate Achilles Heel of Iran – and a massive glaring fact that Western powers such as the United States, Israel, and other nations seize on to justify bombing the current government of Iran into oblivion.
On a more sick and hypocritical level the fact that Gulf States nations such as Saudi Arabia and Bahrain also constantly issue clarion calls for regime change or war with Iran, when they themselves host numerous and countless violations of human rights against women, minorities, religious organizations, and "heretics," still this only underscores the geopolitical reasons that these aggressive nations want to change or destroy the current Iranian regime.
In order to both diffuse and defray these attacks, Iran has no other real choice other than to augment and increase their internal human rights organizations to both monitor as well as organically implement change in their country, subject to the will of their governed people.
By doing so, Iran could effectively accomplish 2 goals: (1) maintain their current government with relative stability; and (2) organically grow and develop to adequately and accurately transform their government into one that faithfully represents the interests and aspirations of its people, rather than appearing to subjugate and suppress them.
To be sure, Iran would be giving up some of its internal and external sovereignty by allowing more human rights monitoring agencies to actively police and report on its internal human rights conflicts and complaints, but it would go miles towards placating its enemies, removing their arguments for regime change/outright disastrous war, and would also allow for Iran to approach modernity with the rest of the world, rather than being trapped in a society/culture which really has nothing in common with the rest of the civilized world, any more.
In a similar vein, if the Iranian regime is truly serious about joining the league of modern nations, then they should not be afraid or closed off with regards to implementing this.
A nation must be confident in itself, its government, and its own culture, but should also evolve and reflect global change as it presents itself by and for the will of its people, not repressing them as such.
Iran has apparently had a troubling history with appointing human rights organizations in the past, as is reflected by its handling and treatment of the Human Rights Activists in Iran (also known as "HRAI" and "HRA") which is a non-political non-governmental organization composed of advocates who defend human rights in Iran, which was founded in 2006.
This HRAI organization supposedly was set up to keep the Iranian community and the world informed by monitoring human rights violations in the country and disseminating the news about such abuses.
Additionally, HRAI was allegedly enacted to strive to improve the current state of affairs in a peaceful manner and support strict adherence to human rights principles.
However, the Islamic Republic of Iran has apparently moved to both dismantle and arrest many of the organization's leaders and representatives, beginning in 2010.
Specifically, on March 2, 2010, the government of Iran moved to break up HRAI.
During the subsequent reconstruction of the organization, the organization apparently registered as a United States non-profit organization and was invited to attend the annual NGO Conference sponsored by the United Nations.
While the Iranian government may have a reason to distrust the impetus/motivations of the United States, Israel and the Gulf States, it really has no reason to distrust the United Nations, which has historically been its only real honest broker/ally.
Adding insult to injury, the HRAI has also been invited to join the World Movement for Democracy and to participate in the human rights events sponsored by the governments of Canada, the United States and the European Union.
The Islamic Republic of Iran can not (and should not) avoid this issue any further.
Merely parroting the mantra that "Saudi Arabia engages in more (or less) human rights abuses" is no longer adequate to stave off and prevent the war drum that is heading Iran's way.
There are simply too many financial, oil and gas, military industrial complex, geopolitical, and human rights reasons and powers fixated on either regime change or outright war with the Islamic Republic of Iran.
If Iran is truly a confident nation that values it past history and desired future, it must drastically increase and augment its human rights organizations (to get on par with the United States, Europe, and Israel) and move forward to finally embrace its place in the sun as its leaders supposedly state that they want.
If not, then it deserves exactly what it is probably going to get, more war, destabilization, destruction, disorientation, and disarray, similar to what happened to Libya, Syria, Iraq, Yemen and other nations with closed door human rights policies.
The new strategic axis between the Russian Federation and Iran
On February 11 last the Iranian Foreign Minister, Mohammed Javad Zarif, arrived in Beirut, shortly after the establishment of a new Lebanese government that, although led by an old friend of Westerners, namely Hariri, is certainly one of the recent governments closest to Hezbollah.
Minister Javad Zarif offered the Iranian support to the new government – "support in all sectors".
Besides the Foreign Minister, the Iranian delegation was composed of a select group of 30 Iranian businessmen, who met Lebanese and Palestinian businessmen.
It is the first sign of an Iranian "grip on the Lebanon" by the Shiite Republic of Iran, which will lead to many strategic, geopolitical and economic changes.
It is obvious that, at the end of clashes in Syria, Iran wants to secure a stable centre of power in the Mediterranean region, in close contact with Israel and towards the East Mediterranean gas area which – as often noted – will be very important in the future.
Nor should we forget that Zarif's visit was scheduled precisely on the day of the 40thanniversary of Imam Khomeini's Shite revolution – a political symbol which should certainly not be overlooked in a country with a large Shite population.
Same religion, same political leadership – this seems to be the meaning of this careful choice and coordination of dates.
Hence both Russia and Iranthink that the new stability in the Syria led by Bashar al-Assad is based above all in the Lebanon.
Both Russia and Iran, however, have indicated – at least indirectly in the case of Russia – Hezbollah, in particular, as their primary point of reference in the Lebanon.
For the Russian Ambassador to Beirut, currently only the United States can trigger a conflict with Iran, given its regional policy.
As to the probable future conflict between Israel and the Lebanon, Ambassador Zasypkyn believes that the situation is much more unstable and even more controllable.
In other words, Russia still relies on its power of political and military deterrence in Syria to avoid a clash between Hezbollah and Israel – a war that would put a strain on both its new hegemony in the Middle East and stability in Syria.
Just one day before Zarif's visit to the Lebanon, the Russian envoy to Jerusalem had reassured the Israeli government that Hezbollah was a "stability force" throughout the region.
Probably Russia cannot yet do without Iran, both in Syria and in the Lebanon, and accepts – like it or not – that the primary link in the Lebanon is between the "Party of God" and the new government led by Hariri.
But how long can it last?
If Hezbollah decided to exert new pressure on Israel, Russia could quickly lose its grip on Southern Syria and miss its primary goal of becoming the rotating platform of the Greater Middle East.
Inter alia, the signals coming from the Lebanese Shiite military group are very clear: on February 7 last, Hassan Nasrallah openly called for the rearming of Lebanese forces (obviously) only by Iran and later made it clear that, in a possible US future attack to support Israel, Hezbollah would immediately fight on the Iranian side.
Nasrallah also asked to make the new Iranian "advanced" missiles available to the Lebanon, as well as sensor systems and tactical and signals intelligence.
It is therefore the request for a real strategic parity between Southern Lebanon and Israel.
This means that the Lebanese Shiites' aim is to eliminate all kind of US interference in the region and later put pressure – not just at military level – on the Jewish State that, without the US support, would be forced to accept a downward and uncertain peace.
This is the first goal of both Iran and Hezbollah, but certainly not of the Russian Federation.
Nevertheless, in his Lebanese meetings, Javad Zarif – who implicitly accepted Hezbollah's request for help – also made it clear that Bavar 373 – a missile launching and air defence system very similar to the Russian S-300 – was ready for the forces of the "Party of God", but also for the Lebanese regular army.
"Bavar" means "belief", albeit in a strictly religious sense, while the number 373 reminds of the soldiers belonging to the final ranks of the Twelfth Imam.
Iran is full of political symbols that must always be taken into account.
Bavar 373 is a well-copied surface-to-air missile system – probably from the Russian S-300 system that appeared in Iran for the first time in 2015.
The system uses the Iran-made missile called Sayyad-4 having a range of 150 kilometres. It also uses advanced radars that – as the analysts who saw Bavar 373 at work maintain – can saturate at least sixty targets at the same time.
It is therefore obvious to imagine what will immediately happen: sooner or later Israel will have the opportunity of destroying the Iranian networks in the Lebanon with a surgical operation. In all likelihood, however, Hariri's government will refuse Iran's offer, thus allowing Russian weapons and, above all, the S-300 missiles to arrive in the Lebanon.
It should be recalled that the S-300 missiles will be carefully monitored both from the Russian bases in Syria, which will never be abandoned by Russia, and simultaneously from the Russian missile site.
Obviously Iran does not object to the transfer of Russian weapons to the Lebanon. Quite the reverse.
Furthermore, the Shite regime will soon maintain that, since the United States still arm and train the Kurds against the so-called Caliphate, it also regularly and lawfully arms their Hezbollah units against the same enemy, and with equivalent devices and systems.
Hence Iran's and Russia's primary goal is the total expulsion of the United States from Syria and from the Lebanese and Israeli Mediterranean coast.
Once completed this operation, Russia will ask Israel for a new deployment of its potentials against Hezbollah and the Palestinian jihad forces, which are also in Iran's calculations.
And possibly, in the future, in Russia's calculations.
However, as far as we currently know, the final US withdrawal from Syria should be completed by the end of April.
But, again, what is the reason underlying this new Russian interest in the "Party of God"?
It is already clear that Russia does not want to remain alone in Syria.
The Russian Federation, however, does not even want Iran to undermine its regional hegemony, since it believes that everything Iran can ask is the stability of its "corridor" from Iraq to the Lebanon, but only under Russia's control.
Hence taking Hezbollah away from Iran's hands is vital for the Russian Federation, which desperately needs strategic buffers to control Syria by isolating Iran's primary instrument, namely Hezbollah.
As already seen, also on February 11 last, in its talks with Netanyahu's government, Russia maintained that "Hezbollah was a peace force".
This also makes us understand that President Putin has no interest in stopping the Israeli operations against the tunnels of the Shiite military organization.
Again, for Russia, the possible conflict between Israel and Lebanon can only break out because of the United States, considering that Hezbollah supported only the lawful government of Damascus, unlike what the United States did since the beginning of hostilities.
Hence Russia believes that the United States should tone down its attacks on Iran, with a view to reducing the Shiite Republic's pressure on Hezbollah and the current Lebanese government.
Is this hypothesis reasonable? Both yes and no.
Certainly, if the United States wants a prolonged war (this is the sense that Iran attributes to the US statements), the most likely reaction will be an Iranian attack that will set fire to the whole "corridor" and destabilize the Golan region.
Nevertheless, is it not equally probable that the US Presidency's brags were just a strategic "trial balloon" and boasts for internal use?
As is currently probable, it is precisely Russia that wants the "Party of God" shift from a clear Iranian dominance to a stable (and hegemonic) Russian protection.
If this happened, Russia would avoid paying too high a Syrian price to Iran. It would also have a military organization at its disposal that could well secure the East Mediterranean region and keep – again on Russia's behalf – peace and stability of Bashar al-Assad's regime, whose Armed Forces it never liked much.
Three important considerations shall be made in this respect: the S-300 operating systems that Russia has left in Syria since last October are not yet operational.
This means that Russia has not yet decided what to do with them in Syria.
Furthermore, Iran has not yet completed the factory and has not yet started the production of "advanced" missiles on the Syrian territory.
It was, in fact, mere psyops to show to Israel and the USA a greater development stage than the real one and to underline the impending  danger of an Israeli attack.
Finally, Iran has not yet accepted the pressing Russian request to quickly move the centralized command of its forces in Syria, which operates from the Damascus International Airport area.
All Iranians are still there and they will stay there for a long time.
Therefore, in essence, Russia believes that all these post-truths are the result of an American and Israeli psywar operation, designed to clearly separate the Iranian, Russian and Lebanese interests and hence rebuild a security network in Syria and in the Lebanon.
Precisely in response to said alleged psyops, Russia is currently trying to place the whole "Party of God" movement under its wing, at a time when it knows very well that the Iranian support for Hezbollah is weak and economically unpredictable.
Hence a new Hezbollah, which would act as a watchdog in Syria and ensure the security of the coasts south of Latakia and Tartus. It would also enable Russia to have access to the wide universe of Sunni and Shite "resistance" movements opposing the Israeli expansion.
Russia wants a stable Israel, but small and less powerful than it currently is.
We have already seen important signs of this operation during the Sochi meeting between Putin, Erdogan and Hassan Rouhani held on February 14 last.
On that occasion President Putin clearly reaffirmed his support for Hezbollah, i.e. his "grip on the group", and the possible use of this new protection for both Turkey and obviously Iran.
Probably Russia knows that Iran can no longer afford to support the very expensive "Party of God", as well as the whole jihadist network south of Israel.
According to Russian plans, however, Iran and Turkey will never be able to use the new arrangement of the "Party of God" on their own.
In addition, Rosneft has already penetrated the complex and largely autonomous Lebanese natural gas market which, as already noted, has left the sphere of the Cairo Conference.
A twenty-year agreement between the Russian natural gas giant and the Lebanese government is already in place for a storage site in Tripoli.
As soon as the USA leaves the Middle East, Russia will immediately occupy the oil and gas sites and positions.
But it will do so on its own, without parallel agreements with Syria or Iran.
Moreover, from now on, the Lebanon explicitly wants Russia to manage the relations between the Lebanon and Syria that, as is well-known, have never been particularly peaceful.
The variable of the Lebanese real independence from Syria is the central point of Russia's current posture and, hence, of its specific focus on Hezbollah.
The one billion US dollar agreement of military transfers from Russia to the Lebanon, which has been much discussed in Western capitals, is a first sign showing that Russia does not want Iran in the Lebanon, but can accept it among the other secondary players, above all in Syria.
The Russian-Lebanese trade has risen from 423 million in 2016 to the current 800 million, with a market dominated by Russian energy transfers to the Lebanese market.
In all likelihood, in the future Russia will support Hezbollah's request that the Israeli deep-sea Leviathan gas field illegally acquires some of the resources of the Lebanese gas fields.
The threat is clear: if Russia fully supported the Lebanese requests, there would be the possibility of a beginning of hostilities between the "Party of God" and Israel. At the end of a short, but harsh confrontation, said hostilities would be mediated exactly by the Russian Federation.