As the Syrian civil war rages on with no end in sight, many advocates of U.S. intervention are claiming that an infusion of Western arms to carefully vetted rebel factions will help bring about a peaceful resolution of the conflict.
Though hardly the first time that tools of war have been recast as instruments of peace, this curious proposition has gained unprecedented currency across the ideological spectrum, from liberal internationalists to conservative hawks.
Unfortunately, the magic bullets theory doesn't hold much water. Arming the rebels might bring the war to a close sooner by helping "good" guys kill "bad" guys more efficiently, but there's no compelling reason to believe it will entice them to stop fighting.
The superficial logic of arms-for-peace is elegant, to be sure, rooted in the classic diplomatic axiom that a political settlement to an armed conflict is possible only when, for all relevant players, the expected utility of a negotiated peace, E[u(p)], is greater than the expected utility of continued war, E[u(w)]. There are several arguments as to how a calibrated infusion of arms into Syria will help produce this rare condition (presumably absent from the large majority of civil wars in the modern era that ended in the military defeat of one side or the other). Let's take them one at a time.
DECREASING E[u(w)] FOR PRO-REGIME ACTORS
The most common arms-for-peace argument, frequently invoked by Obama administration officials, is that arming the rebels will begin shifting the balance of power away from pro-government forces and signal Western resolve to tip it further, thereby diminishing E[u(w)] for the regime, its domestic supporters, and/or its Russian and Iranian backers. "Altering the balance of power on the ground … is the only way a politically negotiated transition can become possible," writes Dennis Ross. Negotiations "will amount to little given the current power asymmetry," concurs Elizabeth O'Bagy.
However, the balance of power is not the only thing influencing E[u(w)] in the Syrian arena. For President Bashar Assad and upper echelon regime elites, Iranian patronage is increasingly a central determinant of E[u(w)], and they have very good reason to believe that Iran will continue financing and resupplying them for the foreseeable future. Even if Damascus falls, they can carry on the fight for quite some time in the coastal heights of northwestern Syria where non-Sunnis constitute a majority of the population, then go into comfortable exile in Tehran if and when continued resistance becomes untenable. Whatever their battlefield setbacks, they will be loathe to abandon Iranian protection at a time of great danger and uncertainty.
For ordinary Syrians who support and fight for the regime (mostly Alawites and other non-Sunni minorities), on the other hand, E[u(w)] is far more dependent on the anticipated outcome and costs of the conflict. However, while American sponsorship of the rebellion may sap their confidence in military victory, the perception that Washington is pulling the strings of the rebels could also raise E[u(w)] for regime supporters if they expect image-conscious American policymakers to balk at green-lighting the horrific violence sure to accompany a successful rebel push on Damascus, or if they assume that Western involvement will mitigate the political consequences of losing the war. In any case, because their E[u(p)] is very low (more on this below) and they have little independent capacity to mobilize, a diminished E[u(w)] is more likely to produce individual defection, desertion, or passivity than concerted bottom-up pressure on their leaders to change course. Lower morale among regime supporters may make it easier to overpower Assad's forces, but this alone won't open a path to peace.
A stronger case can be made that tilting the military balance will diminish E[u(w)] for Russia. However, this may not precipitate a major policy change, as Moscow is bearing few of the war's costs – its economic support for the regime is minimal,[1] while its arms sales would appear to yield a net profit. The reputational expenses of arming murderers loathed throughout the Sunni Islamic world may eventually lead Russia to cut off arms sales to Assad, but Moscow will incur these costs irrespective of whether Washington aids the rebels. In any case, there is little reason to believe that a more enlightened Russian policy will decisively change expected utility calculations for the regime as long as Iran is backing it to the hilt.
Iran, on the other hand, is directly subsidizing pro-regime forces financially (to the tune of 12.6 billion dollars so far, according to one recent estimate) and mobilizing Iraqi and Lebanese Shiites to fight alongside them. A military escalation precipitated by an influx of Western arms will undoubtedly strain its sanctions-riddled economy. But this doesn't mean, as some interventionists maintain, that it "will most likely back down when faced with the prospect of confrontation with the United States."
There are many intervening variables that make it difficult to predict E[u(w)] for the Islamic Republic. The intense religiosity of Iranian leaders surely inflates their confidence in ultimate victory. Overt U.S. involvement in the rebel war effort may shift the military balance, but it could also serve to legitimize Iran's Syria policy as a fight against the Great Satan (or otherwise make abandoning it more politically unpalatable). Though it's difficult to imagine how continued conflict could turn out well for the Iranian regime in the long run, some commentators have suggested that it can use even a losing war in Syria to expand its influence among Shiites in the region.[2] In any case, if the past is any guide, a major change in Tehran's disposition is likely to drag far behind the changing realities that drive it. Whatever else it might achieve, an arms-for-peace strategy with this aim in mind won't produce peace anytime soon.
INCREASING E[u(p)] FOR PRO-REGIME ACTORS
Of course, even a substantial reduction in E[u(w)] for one or more of the above won't matter if their E[u(p)] is demonstrably lower. For regime elites, E[u(p)] is abysmally low. Rebels have constantly reiterated that Assad and his inner circle must step down and relinquish control of the military-security apparatus at the start of any negotiated political transition. They are unwilling even to negotiate with anyone who has "blood on their hands" let alone offer them a place in the post-war order. Assad and his ilk are being asked to accept a conditional surrender, not a power-sharing arrangement of the kind that brought an end to the 1975-1990 civil war in Lebanon.
Iran's E[u(p)] is also very low. The predominantly Sunni rebels' overt sectarian discourse and frequent denunciations of the Shiite theocratic republic – even before the large influx of foreign Shiite fighters in the first half of this year – leave little doubt that Iran will lose out in any peace settlement that produces a stable post-war majoritarian government. Significantly, both the rebels and Western governments have thus far refused to allow Iranian representatives to attend prospective peace talks in Geneva. While Russia can hope to win some American-guaranteed concessions in post-war Syria in exchange for leaning on Assad (like keeping its naval base at Tartus), Iran will be left squarely in the cold.
Ordinary regime supporters are more amenable to a negotiated settlement than their leaders and foreign benefactors, but they also have deep reservations about majoritarian rule. Though Alawites have dominated Syria's Baathist state for over four decades, they and other sectarian minorities previously endured centuries of socio-political exclusion and impoverishment at the hands of Sunni rulers. Given the pronounced Islamist character of the rebellion, many understandably fear that they will be made to pay for the Assad regime's crimes. Insofar as regime supporters have the capacity to project influence over their leaders, it will not be to support a transition process that leaves them at the mercy of their adversaries.
A second family of arms-for-peace arguments hold that Western patronage of the rebels will increase E[u(p)] for the regime and/or its supporters (particularly lower echelon security personnel and civil servants). One strand of this reasoning holds that American sponsorship of the rebellion will alleviate their fears of Sunni domination and retribution by strengthening moderate rebels vis-à-vis extremists[3] and obliging the former to act more responsibly.[4] A second strand holds that equipping and supplying the rebels will unify their ranks so that they can make credible commitments to possible pro-regime interlocutors (at present, no one has the power to ensure that disparate rebel forces comply with anything).
However, it's doubtful that U.S. patronage will produce these effects in sufficient measure to generate much constituent pressure on regime leaders to stand down. While those who receive the weapons will surely pay lip service to American ideals, any Lebanese ex-warlord can tell you that building proxy forces on the basis of patronage doesn't create a culture of civic responsibility. The U.S. experience in Iraq underscores how fleeting are the returns of distributing money and power to Middle Eastern supplicants.
An influx of American arms may increase cohesion among those groups who receive them, but it will surely come at the expense of deepening antagonism between pro-Western and jihadist rebels. This would raise E[u(w)] for pro-regime actors by giving them hope that their adversaries will turn on each other if they keep up the fight long enough.
So long as the rebels have a surrender-or-die attitude toward peace with their adversaries, it's unlikely that they will find many takers. After witnessing the collapse of an eerily similar minoritarian autocracy and its violent aftermath next door in Iraq, regime supporters have little faith that an American-managed transition can protect their core interests. They will not agree to disband (or relinquish to civilian authority) their military forces until the transition process is near completion (if then), a condition that no rebel commander is today prepared to accept.
INCREASING E[u(p)] FOR PRO-REBEL ACTORS
A third arms-for-peace argument posits that Western military aid will raise E[u(p)] for the rebels by giving them the strength and confidence to risk negotiating with an enemy they do not trust. The rebels are unwilling to negotiate at present "because they think that they will be bargaining from a position of relative weakness," writes Bilal Y. Saab. "We are trying to get the opposition to get involved in a negotiation with people they really don't want to negotiate with … They need an incentive," explains Reza Afshar, head of the Syria team at Britain's Foreign Office.
Far from encouraging rebels to negotiate in good faith, however, the Obama administration's decision in June to begin directly providing them with arms appears to have done the opposite. In late July, the Syrian National Coalition (SNC) added new preconditions for talks, such as an advance commitment by Assad to step down and the withdrawal of foreign Shiite fighters from Syria. SNC President Ahmed Jarba now even balks at granting Assad and his family safe exit from Syria if the president gives up power.
The problem is not that the rebels lack confidence. Whatever their current circumstances, most are quite certain of prevailing over the regime in the long run, and for good reason. Syria's Sunni Arab majority, which overwhelmingly supports the rebels, is five times larger than minority Alawites who comprise the bulk of pro-regime forces. Moreover, outside powers that dwarf Russia and Iran financially and militarily are steadily increasing their support for the cause. Add to that the strong belief of most rebels that God is on their side and it appears likely that more arms will only further embolden them not to compromise.
CONCLUSION
While the Obama administration officially maintains that its paramount goal in Syria is to bring about a "political solution that ends the violence," its steadily expanding role in arming combatants isn't likely to create conditions conducive to a negotiated peace. Indeed, it could make the pursuit of peace more difficult by bolstering rebel confidence in absolute victory, deepening intra-rebel antagonisms, encouraging Iran to double down, and myriad other ways discussed above. As Kathleen Gallagher Cunningham and William Reed recently reminded us, external intervention in civil wars serves, on average, to prolong their duration.[5]
Unfortunately, there is very little the United States can do to bring about a negotiated settlement of the Syria conflict until all of the major players are willing to forgo many of their wartime objectives in favor of a compromise that salvages what is left of Syria's state institutions and economic infrastructure. If that day should ever come, the Syrian people will need a powerful neutral arbiter, not a war-weary external partisan, to provide the necessary guarantees for combatants to make credible commitments to one another.
Of course, that day may never come. All signs indicate that the burgeoning jihadist factions of the rebel alliance will stop at nothing to bring about the kind of oppressive postwar order that many regime supporters will stop at nothing to prevent – as long as that's the case, moderates will be powerless to bridge the gap. Like the large majority of civil wars in history, the conflict in Syria appears destined to endure until someone wins.
In view of this unfortunate reality, the use of American patronage to buy influence and equity in the Syrian arena may be justified. Whatever the strategic merits of aiding and abetting Syria's rebel alliance, however, we shouldn't call it peacemaking or pretend that it isn't going to be a dirty business. No matter how carefully Washington vets potential recipients, it is very likely that rebel groups receiving American arms will commit egregious human rights violations before (and probably after) the smoke clears. When the co-directors of the New York-based Campaign for Peace and Democracy, ostensibly devoted to promoting a "progressive and non-militaristic U.S. foreign policy," obliquely endorse the Obama administration's arming of Syrian rebels,[6] something has gone very wrong in the public debate in this country. Proxy warfare, as Henry Kissinger famously said of covert action, "should not be confused with missionary work."[7]
Gary C. Gambill is a frequent contributor to Foreign Policy, The National Interest, The National Post, and FPRI E-Notes. Formerly editor of Middle East Intelligence Bulletin and Mideast Monitor, Gambill is an associate fellow at the Middle East Forum.
[1] Although Western media reports often allude to Russia's "deep financial support" for Assad and there have been some statements by Syrian officials implying as much for public relations purposes, there is little evidence of Russian economic assistance aside from small amounts of humanitarian aid (ostensibly raised through religious charities) and preferential barter agreements (mainly crude oil for fuel).
[2] See Phillip Smyth, "Even if Assad loses, Iran gains from its support of Shia militias," The National (Abu Dhabi), August 12, 2013.
[3] For an eloquent elaboration of this point, see Frederic Hof, "Syria's Time Is Running Out," Foreign Policy, December 19, 2012. Hof argues that arming the rebels will ensure "that weapons go to those advocating a non-sectarian, decent political system for Syria and are denied to those seeking a sectarian outcome."
[4] Emile Hokayem, "Arm Syrian rebels to make a political solution possible," The National (Abu Dhabi), October 31, 2012. Michael Bröning, "Time to Back the Syrian National Coalition," Foreign Affairs, December 17, 2012.
[5] See Kathleen Gallagher Cunningham and William Reed, "Arming Syrian rebels may make peace elusive," The Baltimore Sun, July 11, 2013; David E. Cunningham, "Blocking Resolution: How External States Can Prolong Civil Wars," Journal of Peace Research, vol. 47 no. 2 (March 2010), pp. 115-127; Ibrahim A. Elbadawi and Nicholas Sambanis, "External Interventions and the Duration of Civil Wars," paper presented at the World Bank's Development Economic Research Group (DECRG) conference on "The Economics and Politics of Civil Conflicts," Princeton University, March 18-19, 2000.
[6] Thomas Harrison and Joanne Landy, "Syria's fate must not be decided by foreign powers or forces," Green Left Weekly, July 9, 2013. They write that they "strongly oppose" any outside diplomatic initiative that "prevents the Syrian people from overthrowing the Assad regime," and that "the democratic opponents of the Assad dictatorship have the right to get guns where they can," while bemoaning "all attempts by those who provide arms to acquire political and military influence in return."
[7] "Covert action should not be confused with missionary work." Remark in testimony to the Pike Committee in 1975.
Papal visit to Iraq: Breaking historic ground pockmarked by religious and political minefields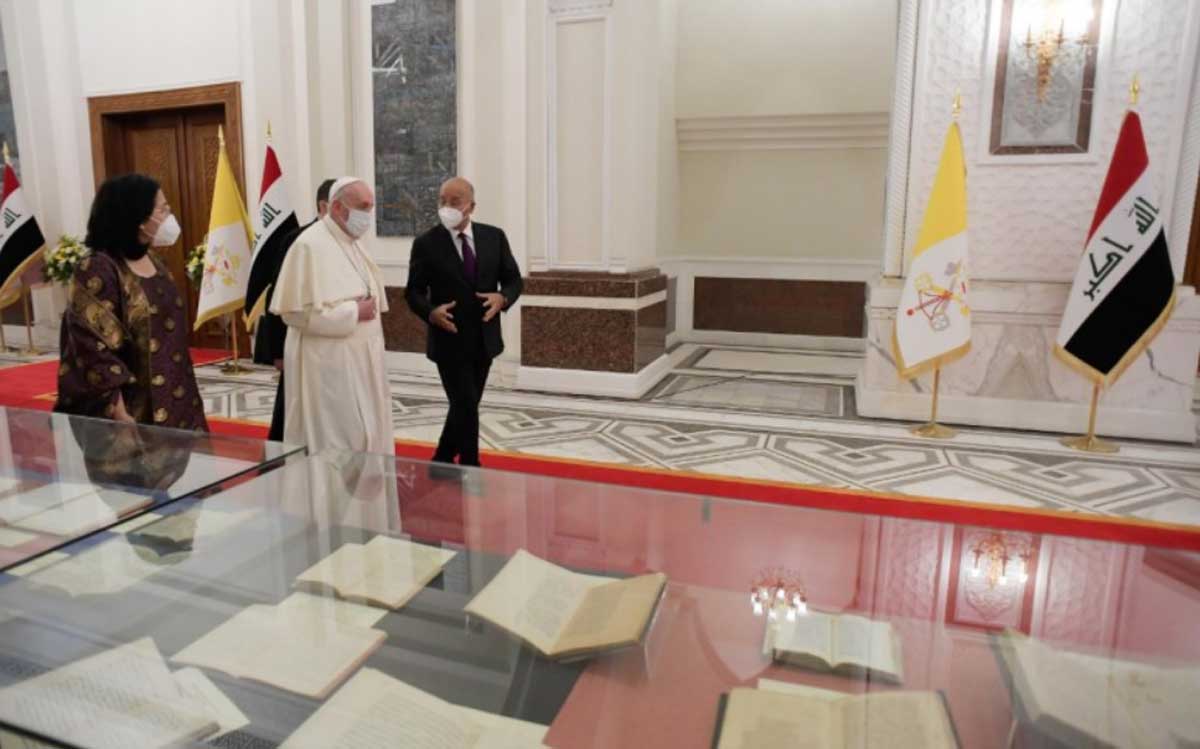 When Pope Francis sets foot in Iraq on Friday, he will be breaking historic ground while manoeuvring religious and political minefields. So will his foremost religious counterpart, Grand Ayatollah Sayyid Ali al-Husayni al-Sistani, one of the Shia Muslim world's foremost scholars and leaders.
The three-day visit contrasts starkly with past papal trips to the Middle East that included Turkey, Egypt, Morocco, the United Arab Emirates and Azerbaijan, states that, unlike neighbouring Iran, are more accustomed to inter-faith interactions because of their Sunni Muslim history and colonial experience or in the case of Shia-majority Azerbaijan a modern history of secular and communist rule.
Unlike in Azerbaijan, Pope Francis is venturing in Iraq into a Shia-majority country that has been wracked by sectarian violence in which neighbouring Iran wields significant religious and political influence and that is home to religious scholars that compete with their counterparts in the Islamic republic. As a result, Iraqi Shiite clerics often walk a tightrope.
Scheduled to last 40 minutes, Ayatollah Al-Sistani's meeting with the pope, a high point of the visit, constitutes a double-edged sword for a 90-year-old religious leader born in Iran who has a complex relationship with the Islamic republic.
Ayatollah Al-Sistani has long opposed Iran's system of direct rule by clerics. As a result, he has eschewed executive and political authority while playing a key role in reconciling Iraqi Shiites and Sunnis, promoting inter-tribal and ethnic peace, and facilitating the drafting and ratification of a post-US invasion constitution.
Ayatollah Al-Sistani's influence, however, has been evident at key junctures in recent Iraqi history. Responding to an edict by the ayatollah, Iraqis flocked to the polls in 2005 despite the risk of jihadist attacks. Large numbers enlisted in 2017 to fight the Islamic State after Ayatollah Al-Sistani rallied the country. The government of Prime Minister Adel Abdul Mahdi resigned in 2019, four days after Ayatollah Al-Sistani expressed support for protesters demanding sweeping reforms.
To avoid controversy, Ayatollah Al-Sistani is likely to downplay the very aspects of a meeting with the pope that political and religious interlocutors of the head of the Catholic church usually bask in: the ability to leverage the encounter to enhance their legitimacy and position themselves as moderate and tolerant peacemakers.
With state-controlled media in Iran largely refraining from mentioning the visit and Iranian Spiritual Leader Ayatollah Ali Khamenei claiming the mantle of leadership of the Muslim world, Ayatollah Al-Sisi is likely to avoid projecting the encounter as a recognition by the pope that he is Shiite Islam's chief interlocutor or that the holy Iraqi city of Najaf, rather than Iran's Qom, is the unrivalled capital of Shiite learning.
Sources close to Ayatollah Al-Sistani, who rarely receives foreign dignitaries, have described his encounter on Saturday with the pope as a "private meeting."
"Khamenei will not like it," said Mehdi Khalaji, an Islamic scholar who studied in Qom and is a senior fellow at The Washington Institute for Near East Policy.
Critics are likely to note that Ayatollah Al-Sistani was meeting the pope but had failed to receive in December Iranian Chief Justice Ebrahim Raisi, who is touted as a potential presidential candidate in elections scheduled for June and/or successor to Ayatollah Khamenei.
Mr. Khalaji noted that Iran has long downplayed Ayatollah Al-Sistani's significance that is boosted by the fact that he maintains a major presence not only in Najaf but also in Qom where he has a seminary, a library, and a clerical staff.
Shiite scholars suggest that is one reason why Pope Francis and Ayatollah Al-Sistani are unlikely to issue a Shiite-Christian equivalent of the Declaration of Human Fraternity that was signed in Abu Dhabi two years ago by the pontiff and Sheikh Ahmed el-Tayeb, the Grand Imam of Al-Azhar, the Cairo-based historic cathedral of Islamic learning.
"Al-Sistani does not want to provoke Khamenei. There is no theological basis to do so. Muslims cannot be brothers of Christians. Mainstream Islamic theological schools see modern Christianity as inauthentic. They view Jesus as the divine prophet, not as the incarnation of God and his son. In short, for official Islam, today's Christianity is nothing short of heresy," Mr. Khalaji said, referring to schools of thought predominant in Iran. "Sunnis are a little bit more flexible," he added.
Mr. Khalaji noted further that Shiite religious seminaries have no intellectual tradition of debate about inter-faith dialogue nor do any of the offices of religious leaders have departments concerned with interacting with other faith groups. "The whole discourse is absent in Shia Islam," Mr. Khalaji said.
That has not stopped Ayatollah Al-Sistani from maintaining discreet contacts with the Vatican over the years.
In a bid to popularize the concept of inter-faith dialogue, Pope Francis is scheduled to hold a multi-religious prayer meeting in Ur, the presumed birthplace of Abraham, revered as the father of Judaism, Christianity, and Islam.
By the same token, Pope Francis, concerned about the plight of Christians in the Middle East and particularly Iraq that has seen the diverse minority shrink from 1.2 million before the 2003 US invasion to at most 300,000 today, will want to build on the Shiite leader's past calls for protection of the minority faith group from attacks by militants and condemnation of "heinous crimes" committed against them.
The pope hopes that a reiteration by Ayatollah Al-Sistani of his empathy for the plight of Christians would go a long way in reducing pressure on the community from Iranian-backed militias that has stopped many from returning to homes they abandoned as they fled areas conquered by the Islamic State.
The pope's visit, little more than a month after a bomb blast in Baghdad killed 32 people and days after rockets hit an airbase housing US troops, has sparked hope among some Iraqis that it will steer the country away from further violence.
That hope was boosted by a pledge by Saraya Awliyat Al-Dam (Custodians of the Blood), the pro-Iranian group believed to have attacked the airbase, to suspend its operations during the pope' visit "as a sign of respect for Imam Al-Sistani."
Said Middle East scholar Hayder al-Khoei: "There will be no signing of a document, but both (Pope Francis and Ayatollah Al-Sistani) are advocates of interfaith dialogue and condemn violence committed in the name of religion. The meeting will undoubtedly strengthen the voices and organizations who still believe in dialogue."
Iraq Opens Hands to the Pope Francis' Historic Visit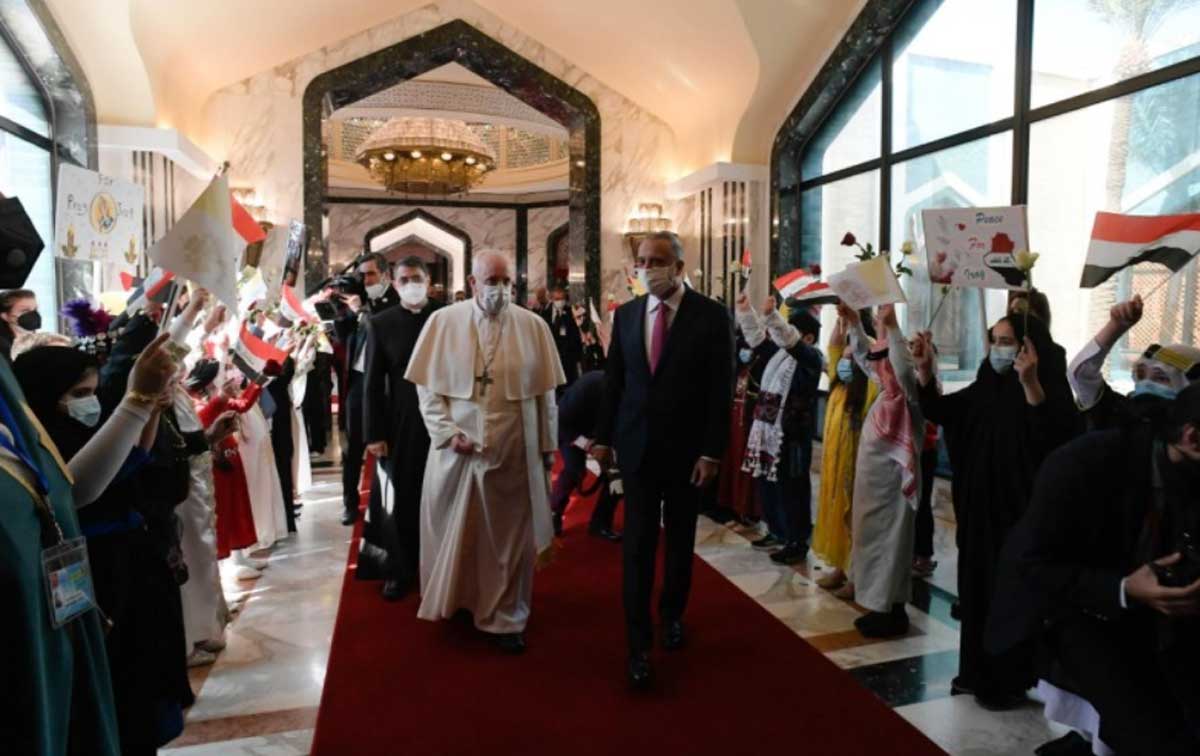 The world looks forward to Pope Francis' historic visit to Iraq which is considered the first papal trip represented by the Roman Catholic Church to the cradle of civilization, Mesopotamia, despite spreading the second wave of COVID-19 and the security situation in Iraq. This expected visit has an important impact on highlighting the challenges and disasters of humiliation, the sectarian war and displacing people, Yazidis persecution, and fleeing the Christian minorities that faced Iraq during all these past years after the US invasion occurred in 2003.
The three-day-visit is considered as the message of peace after years of war and violence, referring that the Pope's visit is as a pilgrim to the cradle of civilization. The papal visit includes Baghdad, Erbil, Mosul- Qaraqosh, and Ur city. The trip comes after 18 months as the pandemic restricts his movement, and it is the first visit to the Middle East when he visited the U.A.E in February 2019 where he met and celebrated in front of 180,000 people at the Zayed Sports City stadium in Abu Dhabi.
The papal visit was intended to occur twenty years ago when St. John Paul II tried to visit Mesopotamia during Saddam's regime, but the endeavors failed to complete that proposed trip. "The people of Iraq are waiting for us. The people waited for St. John Paul II who was not permitted to go. We cannot disappoint them twice", said the Pope.
In a video message addressed by the Pope to the people of Iraq, he expressed his happiness and longing to meet the people who suffered from war, scourges, and death during all these years. "I long to meet you, to look at your faces and to visit your blessed ancient land and the cradle of civilization," the Pope said.
It is expected that the purpose of the Pope's visit is to preserve the rest of the Christians in Iraq. According to the estimation of the charity aid of the Church in Need, the numbers of Christians have decreased from 1.4 million to under 250,000 since the American invasion of Iraq in 2003, especially in the cities of northern Iraq. Many Christians were killed and fled from 2014 to 2017 due to the Islamic State occupation and due to their atrocities, persecution, and violence against the Christian areas. The Pope yearns for meeting the dwindling Christian communities in Mosul, Qaraqosh, and Nineveh plains where these regions had suffered from the atrocities of ISIS in 2014 and people had been compelled to flee.
The world is waiting for the most significant historic meeting between the 90-year-old Shia Muslim cleric, the Grand Ayatollah Ali al-Sistani, and the 84-year-old Pope Francis in the Shiite shrine city of Najaf. The expected meeting is seen as a real chance to enhance the bonds of fraternity between the Muslims and Christians and to lighten the impact of the islamophobia concept that swept Europe and America due to the terrorism actions that happened in Europe. This expected meeting that will be by Saturday signifies a historic moment when the Grand Ayatollah Ali al-Sistani meets Pope Francis, illustrating the fraternal bonds to make people live in peace and tranquility.
Back in February 2019, the Pontiff Francis and Sheikh Ahmed al-Tayeb, the Grand Imam of Cairo's al-Azhar mosque and the most prestigious leader in Sunni Islam, agreed and signed the declaration of fraternity, affirming peace among all nations. The two parties in this document adhere to fight extremism in every place in the world. If the Pontiff and the Grand Ayatollah sign a document like the declaration of fraternity, this will give Najaf's Marjiya a very great impact, and this move will be seen as the first step to decrease the religious tensions and fill the gap of the clash of civilization. This document, if it is enacted, will have a great impact to make peace prevailing and encouraging Muslims and Christians to live in peaceful coexistence.
Ur, which is the oldest city in the world, is to be visited by the pontiff. It is considered the biblical birthplace of Ibraham, the common prophet to the Christians, Muslims, and Judaism and the father of Judaism, Christianity, and Islam. It is expected that there will be prayers in Ziggurat where this place is one of UNESCO world heritage sites. This visit to this historic site will help the landmark to polarize people from Iraq and outside to visit it after years of negligence and ignorance attention to its importance and the vital role that can help Iraq to increase the public income.
The papal visit has many different messages to the people of Iraq. Firstly, the expected meeting with the Grand Ayatollah Ali al-Sistani reflects the fraternal and human stances, and this meeting underlines the important role played by the Grand Ayatollah Ali al-Sistani after the US-led-invasion in 2003. Secondly, his visit to Ur to pray there is a message of the peaceful coexistence between Islam, Christianity, and Judaism, trying to point out that all these three religions emerged from one source. Thirdly, the Pope endeavors to be with the Christians who suffer from the past events of persecution, humiliation, and atrocities. His presence among them is a message of tranquility, serenity, peace, and contentment to live in Iraq with the Muslims and to abandon fighting against others. Finally, the Pope's visit to Iraq pays the world's attention to the religious importance of Iraq and the significant role that can be played by Iraq.
Restart Iran Policy by Stopping Tehran's Influence Operations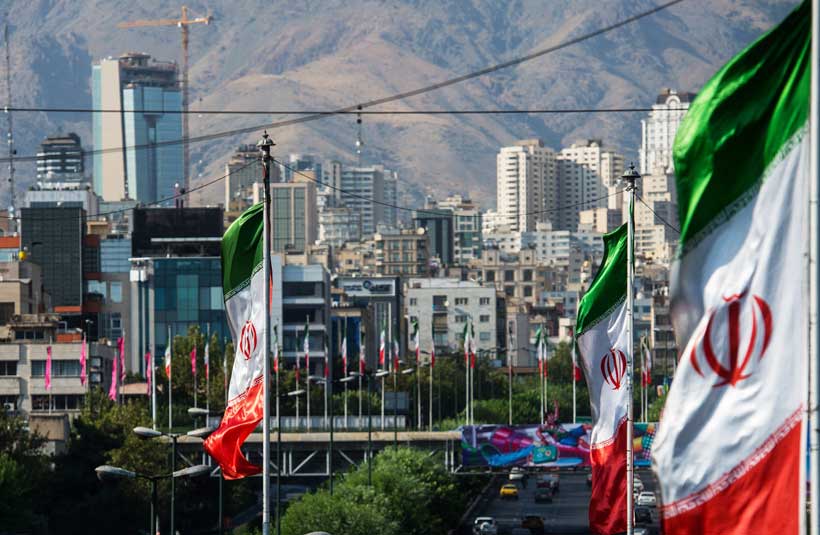 Another US administration is trying to figure out its Iran policy. And, as always, the very regime at the core of the riddle is influencing the policy outcome. Through the years, the clerical rulers of Iran have honed the art of exploiting America's democratic public sphere to mislead, deceive, confuse, and influence the public and government.
Yet Washington still does not have a proper taxonomy of policy antidotes when it comes to Tehran's influence operations.
Arguments dictated by Iranian intelligence services echo in think tanks and many government agencies. These include the extremely misguided supposition that the murderous regime can be reformed or is a reliable negotiating partner for the West; or that there is no other alternative but to deal with the status quo.
How has Tehran been able to deceive some in the US into believing such nonsense? First, by relying on the policy of appeasement pursued by Western governments. And second, through its sophisticated influence operations facilitated by that policy.
Consider three recent instances.
First. Just last month, an Iranian "political scientist" was charged by the Justice Department for acting as an unregistered agent of Iran and secretly receiving money from its mission in New York. "For over a decade, Kaveh Afrasiabi pitched himself to Congress, journalists, and the American public … for the benefit of his employer, the Iranian government, by disguising propaganda as objective polic1y analysis and expertise," the Justice Department noted.
Afrasiabi has an extensive body of published work and television appearances. In July 2020, according to the Justice Department, he linked many of his books and hundreds of articles in an email written to Iran's Foreign Minister, Javad Zarif, saying: "Without [Zarif's] support none of this would have been possible!"
Second. Across the Atlantic, one of Zarif's official diplomats in Europe, Assadollah Assadi, was convicted and given a 20-year prison sentence by a Belgian court on February 4 for trying to bomb an opposition rally in the outskirts of Paris in June 2018.
Court documents revealed that Assadi crisscrossed Europe as Tehran's intelligence station chief, paying and directing many agents in at least 11 European countries.
Assadi's terrorist plot in 2018 was foiled at the last minute. The main target was Maryam Rajavi, the President-elect of the National Council of Resistance of Iran (NCRI). Hundreds of Western lawmakers and former officials were also in attendance.
Third. Unable to harm its opposition through terrorism, the regime has expanded its influence operations against NCRI's main constituent organization the Mujahedin-e Khalq (MEK), which Tehran considers its arch nemesis.
For decades, the mullahs have misled, deceived, and confused America's Iran policy by disseminating considerable disinformation about the democratic opposition. This has in turn resulted in bungled American responses to Tehran's threats.
In a breaking revelation this month, a former Iranian intelligence operative wrote a letter to the UN Secretary General, outlining in glaring detail how the regime's Ministry of Intelligence and Security (MOIS) recruits, pays, and controls dozens of agents across Europe to influence policy.
Forty-one-year-old Hadi Sani-Khani wrote that he was approached by intelligence agents who lured him into the Iranian embassy in Tirana, Albania (MEK's headquarters). He said he wants to go back to Iran. On one condition, the embassy responded: Cooperate with the regime's intelligence against the MEK. He subsequently met with the regime's intelligence chief, Fereidoun Zandi, who coordinated a network of paid agents in Albania since 2014. The intelligence chief was later expelled by Albanian authorities along with the regime's ambassador.
Khani was paid 500 euros per month to write and publish anti-MEK articles and also send copious amounts of similar propaganda to members of the European parliament. Dozens of websites are operated by Tehran's intelligence, some of which are, astonishingly, undeclared sources for unsuspecting Western journalists, think tanks and government agencies when it comes to the MEK.
In many cases, reporters have met directly with the regime's intelligence agents for their stories. In September 2018, for example, according to Khani, a reporter from German newspaper Der Spiegel traveled to Albania. Khani recalls: "We met the Der Spiegel reporter in a Café in Ramsa district in Zagozi square. Each of us then told her lies about the MEK which we had been given in preparation of the meeting. … [Later on,] she occasionally asked me questions about the MEK which I then raised with the embassy and provided her the response I received."
Der Spiegel published the story on February 16, 2019, parts of which were copied from websites affiliated with Iran's intelligence service. Following a lawsuit, a court in Hamburg ordered Der Spiegel to remove the defamatory segments of its article.
These same agents also met with a New York Times correspondent at the same Café, who subsequently wrote a piece against the MEK, regurgitating the very same allegations.
The mullahs' influence operations are a serious obstacle to formulating an effective US policy toward Tehran. As long as the regime's agents are allowed to exploit America's public sphere, cultivate important relationships, infiltrate the media and think tanks, and influence serious policy deliberations in Washington through a flood of falsehoods, America will be at a substantial disadvantage.