Muslim Persecution of Christians: May, 2013
The month of May continued to prove that Nigeria is the most dangerous nation for Christians—where more Christians have been killed last year than all around the Muslim world combined.
In one instance, Boko Haram Muslim militants stormed the home of a Pentecostal pastor and secretary of the Christian Association of Nigeria, and opened fire on him, instantly murdering him.
Separately, other Boko Haram gunmen killed 14 Christians, including the cousin and two nephews of the Rev. Moses Thliza, head of a Christian organization dedicated to preventing AIDS and caring for AIDS patients and orphans: Said Thliza: "My cousin, Bulus [Paul] Buba, was dragged out at gunpoint from his house by the Boko Haram members. They collected his car keys, demanded money and asked him three times to renounce his Christian faith, and three times he declined to do so [prompting them to execute him]. The attackers met three guards on duty, killed two of them by cutting their necks with knives, and then proceeded to take the third guard, Amtagu Samiyu, at gunpoint to lead them to where the keys of the deputy governor's house is."
As for some Christians observing a wake two kilometers away, Boko Haram Muslims asked to know what was going on there, and when they learned that people were saying prayers for an elderly Christian woman who had died, they charged in and shot into the crowd. "The attackers went there and shot indiscriminately at the worshippers, killing eight Christians—two women and six elderly men," said Thliza. "In all, we buried 14 Christians. Some were injured and taken to the hospital."
Despite all this, when the Nigerian government tried militarily to confront and neutralize Boko Haram, the Obama administration criticized it, warning it not to violate the "human rights" of the Islamic terrorists.
Categorized by theme, the rest of May's roundup of Muslim persecution of Christians around the world includes (but is not limited to) the following accounts, listed by theme and in country alphabetical order, not necessarily according to severity:
Church Attacks
Bosnia: The Serbian Orthodox church of Saint Sava in Sarajevo, where Muslims make up approximately half of the population, was "desecrated" and six of its windows panes broken. The unidentified vandals wrote "Allah" in dark paint twice on the church wall. A month earlier, unidentified persons tried to set the church on fire.
Central African Republic: According to the Episcopal Commission for Justice and Peace, since an Islamic rebel leader proclaimed himself president, the situation for Christians, has "deeply worsened." The organization warns against "the evil intentions for the programmed and planned desecration and destruction of religious Christian buildings, and in particular the Catholic and Protestant churches…. All over the country the Catholic Church has paid a high price." Several dioceses have been seriously damaged and plundered, and priests and nuns attacked (more information below, under "Dhimmitude.")
Egypt: Two Coptic Christian churches were attacked, one in Alexandria, the other in Upper Egypt. St. Mary in Alexandria was attacked by Molotov cocktails and bricks, causing the gate to burn and the stained glass windows to shatter. One-thousand Christians tried to defend the church against 20,000 Muslims screaming "Allahu Akbar" ["Allah is Greater"]. One Copt was killed and several injured. In the village of Menbal in Upper Egypt, after "Muslim youths" harassed Christian girls—including hurling bags of urine at them—and Coptic men came to their rescue, another Muslim mob stormed the village church of Prince Tadros el-Mashreki. They hurled stones and broke everything inside the church, including doors and windows. The mob then went along the streets looting and destroying all Coptic-owned businesses and pharmacies and torching cars. Any Copt met by the mob in the street was beaten.
Iran: Because it refused to stop using the national Persian language during its services—which makes the Gospel intelligible to all Iranian Muslims, some of whom converted—the Central Assemblies of God Church in Tehran was raided by security services during a prayer meeting; its pastor taken to an unknown location, and the church was searched and its books, documents and equipment seized. Security agents posted a sign stating that the church was now closed. One local source said, "They constantly threaten the church leaders and their families with imprisonment, unexplained accidents, kidnapping and even with execution. We cannot go on like this." A number of its members have already been killed and its activities greatly restricted over the last few years.
Libya: The Catholic Church of the Immaculate Conception in Benghazi was bombed. In the words of the Apostolic Vicar of Tripoli, "They put a bomb at the entrance of the corridor leading to the courtyard where there is the door of the church. The church, therefore, was not touched directly, but the attack is not a positive sign. The Church in Libya is suffering. In Benghazi the Coptic Church was hit, its chaplain was killed and now the Catholic Church. As I reported on other occasions, in Cyrenaica different religious women's institutes have been forced to close their doors, in Tobruk, Derna, Beida, Barce, as well as in Benghazi. The nuns who were forced to leave, served the population with generosity."
Syria: A violent explosion destroyed the church and convent of the Capuchin Franciscan Friars in Deir Ezzor. According to Fr. Haddad of the region, "It was the only church in Deir Ezzor [that] so far still remained almost untouched." It is not clear how it was destroyed, but some say a car bomb was placed next to the church. Fr. Haddad lamented that, as in other regions, "there are no more Christians" left in Ezzor, due to "all this hate and desecration."
Tanzania: During a service to mark its official opening, a new church in a predominantly Christian suburb was bombed, killing at least five people and wounding some 60. According to a local source, "This was… a well-planned attack. Even before it, the threat was given and we still have many threats. Pray for us, and that God will overcome all these in Jesus' name." He added that, "radical camps in the country were teaching young Muslims that Christians must be killed or live as second-class citizens," or dhimmis. Among those arrested, four were Saudi Arabian nationals. The bombing follows the slaying of two church leaders in February, and the shooting in the face of a third on Christmas Day. In October, several church buildings were torched and vandalized.
Apostasy, Blasphemy, Proselytism
Egypt: Twenty-four-year-old Demiana Ebeid Abdelnour, a social studies teacher, was fired and arrested for comparing the late Coptic Pope Shenouda to Islam's prophet Muhammad, "as well as putting her hand on her neck or her stomach every time she mentioned [Islam's prophet] Muhammad," which was interpreted by some students under 10-years-old as disgust. She would be the last Coptic Christian victim to be arrested or imprisoned in a "defamation of Islam" spree that began under now ousted President Morsi. One Coptic activist wondered, "Why is defamation of religion a one-way street, only for the benefit of the Muslims, while Christianity is defamed every day?" He added that Sheikh Abu Islam, who tore and burned the Holy Bible, has not been detained.
Iran: Vahid Hakkani, a Christian prisoner in Shiraz, is suffering from internal digestive bleeding. Although doctors have diagnosed his condition as critical, and have recommended urgent surgery, prison officials have not allowed his transfer to any hospital. Earlier, Hakkani and other Christians were gathered for worship in a house-church when they were arrested "for participating in house-church services, evangelizing and promoting Christianity, having contact with foreign Christian ministries, propagating against the regime and disturbing national security."
Kashmir: Two Christians accused of carrying out "acts of proselytism," for distributing pamphlets and publications with biblical passages to some young Muslims, were savagely beaten by a mob, and later arrested by police, "who rescued them from a secure lynching." Separately, the "United Jihad Council" said that Christian missionaries in Kashmir are "highly reprehensible" and have a "hidden agenda [to] exploit the poor and the needy, offering them economic aid to convert them to Christianity," adding that "Islam is the religion of peace and harmony, and that protects minorities. However, anti-Islam activities [evangelization] cannot be tolerated." The United Jihad Council accordingly calls on all Christian missionaries "immediately to leave the valley of Kashmir," warning, "If not, they will suffer the consequences."
Kazakhstan: Despite the nation's president recently boasting that, "Kazakhstan is an example to the world of equal rights and freedoms for all citizens" and that, "religious freedom is fully secured" in the country, the Barnabas Fund states that the government "has instructed people to report any individuals who speak about their faith with others in public to the police," as "talking about one's faith with others constitutes missionary activity, which requires personal registration… Compulsory prior censorship of all printed and imported religious literature is another way in which the state controls Christian activity. Confiscation of religious books appears to be increasing, with Christians amongst those most likely to be targeted."
Morocco: A fatwa by the government's top Islam authority, partially based on the teachings of Islam's prophet Muhammad, calls for the execution of those Muslims who leave Islam, causing many Christian converts to live in fear. Lamented one Christian: "The fatwa showed us that our country is still living in the old centuries—no freedom, no democracy. Unfortunately, we feel that we aren't protected. We can be arrested or now even killed any time and everywhere. The majority of the Christian Moroccan leaders have the same feeling. We are more followed now by the secret police than before. Only the Grace of our Lord Jesus Christ gives us courage and peace."
Saudi Arabia: A Christian Lebanese man, accused of helping a Saudi women convert to Christianity, was sentenced to six years in prison and 300 lashes. Even so, the father of the woman claims the punishment is not sufficient. The daughter was also sentenced to six years and 300 lashes, causing her to flee, reportedly to Sweden, where authorities are trying to find her and extradite her back to the Arabian peninsula. Another man, a Saudi national who reportedly forged a travel document to help the woman flee, was sentenced to two years in jail and 200 lashes.
Dhimmitude
[General Abuse of Non-Muslims as Third-Class "Citizens," or Dhimmis]
Central African Republic: Christians are being terrorized, killed, and plundered by Islamic militants, who seized control of the country in March, even as international media and government ignore the crisis. In what one pastor is calling "a reign of terror," Muslims are tying up, beating and forcing Christians to pay money to save their lives. Many have been killed or wounded. The Barnabas Fund states that "rebels have a hit list of pastors and other Christian workers, and that places of worship are being attacked. Christian property is being looted. In one incident towards the end of last month, Seleka [Islamic] troops seized all the collection money given at a gathering of church leaders. Many Christians have fled their homes to the countryside and are too fearful to return. More than 200,000 people are internally displaced, while 49,000 refugees have been registered in neighbouring countries." On 10 May, Human Rights Watch released a report citing "grave violations" committed by the Seleka rebels against civilians, including pillage, summary executions, rape and torture. One pastor of a besieged church was shot dead when he went out holding a Bible aloft as a sign of peace.
Egypt: Mohamed Abu Samra, secretary-general of the Islamic Jihad Party, asserted that "it is permissible to kill some Christians today," justifying it by adding "Those who came out with weapons, their blood is allowed for us [to spill], as a fighter is not considered dhimmi." In Islamic law, a dhimmi is a non-Muslim who is permitted to exist provided he pays monetary tribute and lives as a submissive, lowly subject, according to Koran 9:29. Those Coptic Christian activists who vocally called for the removal of former Islamist president Morsi were not doing that, thereby becoming fair game for killing.
Indonesia: After an earlier Christmas Eve attack, during which members of Filadelfia Batak Christian Protestant Church were pelted with rotten eggs, dung and plastic bags full of urine, as the pastor was attempting to leave the scene with his wife, Abdul Aziz, the leader of the mob who had earlier threatened to kill him, moved to attack him. Because the pastor stopped the Muslim agitator's blow with his hand to protect his wife and himself, he is now facing assault charges. Islamic law, based on the "Conditions of Omar," forbids Christians from raising their hands to Muslims, even in self-defense. The church has been meeting outside and in homes since its building was sealed off by authorities to appease Islamists in 2010—despite its having met all conditions for a building permit, as well as a Supreme Court ruling that a permit should be granted.
Pakistan: Over the course of five days, a Muslim mob tortured Javaid Anjum, a Christian teenaged student to death, because he dared drink water from the tap of an Islamic seminary while on a long journey to visit his grandfather. When Muslims discovered he was Christian, they forced him into the seminary, where they tried to force him to renounce Christianity and convert to Islam. When he refused, for five days, Muslim seminary students electrocuted him, broke his arm, and pulled out his fingernails. The electric shocks caused his kidneys to fail and he eventually died.
About this Series
Because the persecution of Christians in the Islamic world is on its way to reaching pandemic proportions, "Muslim Persecution of Christians" was developed to collate some—by no means all—of the instances of persecution that surface each month. It serves two purposes:
1) To document that which the mainstream media does not: the habitual, if not chronic, Muslim persecution of Christians.
2) To show that such persecution is not "random," but systematic and interrelated—that it is rooted in a worldview inspired by Sharia.
Accordingly, whatever the anecdote of persecution, it typically fits under a specific theme, including hatred for churches and other Christian symbols; sexual abuse of Christian women; forced conversions to Islam; apostasy and blasphemy laws that criminalize and punish with death those who "offend" Islam; theft and plunder in lieu of jizya (financial tribute expected from non-Muslims); overall expectations for Christians to behave like dhimmis, or second-class, "tolerated" citizens; and simple violence and murder. Sometimes it is a combination.
Because these accounts of persecution span different ethnicities, languages, and locales—from Morocco in the West, to India in the East, and throughout the West wherever there are Muslims—it should be clear that one thing alone binds them: Islam—whether the strict application of Islamic Sharia law, or the supremacist culture born of it.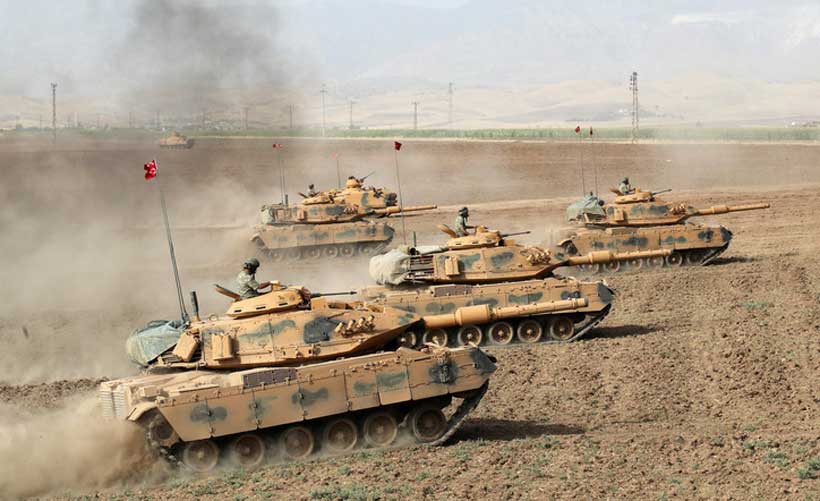 The only certainty in war is its intrinsic uncertainty, something Turkish President Recep Tayyip Erdogan could soon chance upon. One only has to look back on America's topsy-turvy fortunes in Iraq, Afghanistan and even Syria for confirmation.
The Turkish invasion of northeastern Syria has as its defined objective a buffer zone between the Kurds in Turkey and in Syria. Mr. Erdogan hopes, to populate it with some of the 3 million plus Syrian refugees in Turkey, many of these in limbo in border camps. The refugees are Arab; the Kurds are not.
Kurds speak a language different from Arabic but akin to Persian. After the First World War, when the victors parceled up the Arab areas of the Ottoman Empire, Syria came to be controlled by the French, Iraq by the British, and the Kurdish area was divided into parts in Turkey, Syria and Iraq, not forgetting the borderlands in Iran — a brutal division by a colonial scalpel severing communities, friends and families. About the latter, I have some experience, having lived through the bloody partition of India into two, and now three countries that cost a million lives.
How Mr. Erdogan will persuade the Arab Syrian refugees to live in an enclave, surrounded by hostile Kurds, some ethnically cleansed from the very same place, remains an open question. Will the Turkish army occupy this zone permanently? For, we can imagine what the Kurds will do if the Turkish forces leave.
There is another aspect of modern conflict that has made conquest no longer such a desirable proposition — the guerrilla fighter. Lightly armed and a master of asymmetric warfare, he destabilizes.
Modern weapons provide small bands of men the capacity and capability to down helicopters, cripple tanks, lay IEDs, place car bombs in cities and generally disrupt any orderly functioning of a state, tying down large forces at huge expense with little chance of long term stability. If the US has failed repeatedly in its efforts to bend countries to its will, one has to wonder if Erdogan has thought this one through.
The Israeli invasion of Lebanon in 1982 is another case in point. Forever synonymous with the infamous butchery at Sabra and Shatila by the Phalange militia facilitated by Israeli forces, it is easy to forget a major and important Israeli goal: access to the waters of the Litani River which implied a zone of occupation for the area south of it up to the Israeli border.
Southern Lebanon is predominantly Shia and at the time of the Israeli invasion they were a placid group who were dominated by Christians and Sunni, even Palestinians ejected from Israel but now armed and finding refuge in Lebanon. It was when the Israelis looked like they were going to stay that the Shia awoke. It took a while but soon their guerrillas were harassing Israeli troops and drawing blood. The game was no longer worth the candle and Israel, licking its wounds, began to withdraw ending up eventually behind their own border.
A colossal footnote is the resurgent Shia confidence, the buildup into Hezbollah and new political power. The Hezbollah prepared well for another Israeli invasion to settle old scores and teach them a lesson. So they were ready, and shocked the Israelis in 2006. Now they are feared by Israeli troops.
To return to the present, it is not entirely clear as to what transpired in the telephone call between Erdogan and Trump. Various sources confirm Trump has bluffed Erdogan in the past. It is not unlikely then for Trump to have said this time, "We're leaving. If you go in, you will have to police the area. Don't ask us to help you." Is that subject to misinterpretation? It certainly is a reminder of the inadvertent green light to Saddam Hussein for the invasion of Kuwait when Bush Senior was in office.
For the time being Erdogan is holding fast and Trump has signed an executive order imposing sanctions on Turkish officials and institutions. Three Turkish ministers and the Defense and Energy ministries are included. Trump has also demanded an immediate ceasefire. On the economic front, he has raised tariffs on steel back to 50 percent as it used to be before last May. Trade negotiations on a $100 billion trade deal with Turkey have also been halted forthwith. The order also includes the holding of property of those sanctioned, as well as barring entry to the U.S.
Meanwhile, the misery begins all over again as thousands flee the invasion area carrying what they can. Where are they headed? Anywhere where artillery shells do not rain down and the sound of airplanes does not mean bombs.
Such are the exigencies of war and often its surprising consequences.
Author's Note: This piece appeared originally on Counterpunch.org
Could Turkish aggression boost peace in Syria?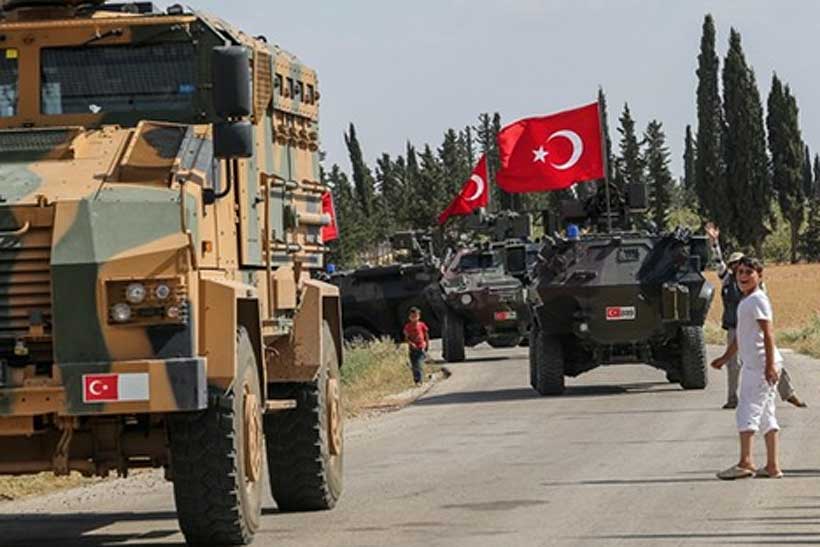 On October 7, 2019, the U.S. President Donald Trump announced the withdrawal of American troops from northeast Syria, where the contingent alongside Kurdish militias controlled the vast territories. Trump clarified that the decision is connected with the intention of Turkey to attack the Kurdish units, posing a threat to Ankara.
It's incredible that the Turkish military operation against Kurds – indeed the territorial integrity of Syria has resulted in the escape of the U.S., Great Britain, and France. These states essentially are key destabilizing components of the Syrian crisis.
Could this factor favourably influence the situation in the country? For instance, after the end of the Iraqi war in 2011 when the bulk of the American troops left the country, the positive developments took place in the lives of all Iraqis. According to World Economics organization, after the end of the conflict, Iraq's GDP grew by 14% in 2012, while during the U.S. hostilities the average GDP growth was about 5,8%.
Syria's GDP growth should also be predicted. Not right away the withdrawal of U.S., French, British, and other forces, but a little bit later after the end of the Turkish operation that is not a phenomenon. The Turkish-Kurdish conflict has been going on since the collapse of the Ottoman Empire when Kurds started to promote the ideas of self-identity and independence. Apart from numerous human losses, the Turks accomplished nothing. It is unlikely that Ankara would achieve much in Peace Spring operation. The Kurds realize the gravity of the situation and choose to form an alliance with the Syrian government that has undermined the ongoing Turkish offensive.
Under these circumstances, Erdogan could only hope for the creation of a narrow buffer zone on the Syrian-Turkish border. The withdrawal of the Turkish forces from the region is just a matter of time. However, we can safely say that the Turkish expansion unwittingly accelerated the peace settlement of the Syrian crisis, as the vital destabilizing forces left the country. Besides, the transfer of the oil-rich north-eastern regions under the control of Bashar Assad will also contribute to the early resolution of the conflict.
It remains a matter of conjecture what the leaders of Saudi Arabia, the United Arab Emirates, and Russia agreed on during the high-level talks. Let's hope that not only the Syrians, but also key Gulf states are tired of instability and tension in the region, and it's a high time to strive for a political solution to the Syrian problem.
Turkey and the Kurds: What goes around comes around
Turkey, like much of the Middle East, is discovering that what goes around comes around.
Not only because President Recep Tayyip Erdogan appears to have miscalculated the fallout of what may prove to be a foolhardy intervention in Syria and neglected alternative options that could have strengthened Turkey's position without sparking the ire of much of the international community.
But also because what could prove to be a strategic error is rooted in a policy of decades of denial of Kurdish identity and suppression of Kurdish cultural and political rights that was more likely than not to fuel conflict rather than encourage societal cohesion.
The policy midwifed the birth in the 1970s to militant groups like the Kurdish Workers Party (PKK), which only dropped its demand for Kurdish independence in recent years.
The group that has waged a low intensity insurgency that has cost tens of thousands of lives has been declared a terrorist organization by Turkey, the United States and the European Union.
Turkish refusal to acknowledge the rights of the Kurds, who are believed to account for up to 20 percent of the country's population traces its roots to the carving of modern Turkey out of the ruins of the Ottoman empire by its visionary founder, Mustafa Kemal, widely known as Ataturk, Father of the Turks.
It is entrenched in Mr. Kemal's declaration in a speech in 1923 to celebrate Turkish independence of "how happy is the one who calls himself a Turk," an effort to forge a national identity for country that was an ethnic mosaic.
The phrase was incorporated half a century later in Turkey's student oath and ultimately removed from it in 2013 at a time of peace talks between Turkey and the PKK by then prime minister, now president Erdogan.
It took the influx of hundreds of thousands of Iraqi Kurds in the late 1980s and early 1990s as well as the 1991 declaration by the United States, Britain and France of a no-fly zone in northern Iraq that enabled the emergence of an autonomous Iraqi Kurdish region to spark debate in Turkey about the Kurdish question and prompt the government to refer to Kurds as Kurds rather than mountain Turks.
Ironically, Turkey's enduring refusal to acknowledge Kurdish rights and its long neglect of development of the pre-dominantly Kurdish southeast of the country fuelled demands for greater rights rather than majority support for Kurdish secession largely despite the emergence of the PKK
Most Turkish Kurds, who could rise to the highest offices in the land s long as they identified as Turks rather than Kurds, resembled Palestinians with Israeli citizenship, whose options were more limited even if they endorsed the notion of a Jewish state.
Nonetheless, both minorities favoured an independent state for their brethren on the other side of the border but did not want to surrender the opportunities that either Turkey or Israel offered them.
The existence for close to three decades of a Kurdish regional government in northern Iraq and a 2017 referendum in which an overwhelming majority voted for Iraqi Kurdish independence, bitterly rejected and ultimately nullified by Iraqi, Turkish and Iranian opposition, did little to fundamentally change Turkish Kurdish attitudes.
If the referendum briefly soured Turkish-Iraqi Kurdish relations, it failed to undermine the basic understanding underlying a relationship that could have guided Turkey's approach towards the Kurds in Syria even if dealing with Iraqi Kurds may have been easier because, unlike Turkish Kurds, they had not engaged in political violence against Turkey.
The notion that there was no alternative to the Turkish intervention in Syria is further countered by the fact that Turkish PKK negotiations that started in 2012 led a year later to a ceasefire and a boosting of efforts to secure a peaceful resolution.
The talks prompted imprisoned PKK leader Abdullah Ocalan to publish a letter endorsing the ceasefire, the disarmament and withdrawal from Turkey of PKK fighters, and a call for an end to the insurgency. Mr. Ocalan predicted that 2013 would be the year in which the Turkish Kurdish issues would be resolved peacefully.
The PKK's military leader, Cemil Bayik, told the BBC three years later that "we don't want to separate from Turkey and set up a state. We want to live within the borders of Turkey on our own land freely."
The talks broke down in 2015 against the backdrop of the Syrian war and the rise as a US ally of the United States in the fight against the Islamic State of the PKK's Syrian affiliate, the People's Protection Units (YPG).
Bitterly opposed to the US-YPG alliance, Turkey demanded that the PKK halt its resumption of attacks on Turkish targets and disarm prior to further negotiations.
Turkey responded to the breakdown and resumption of violence with a brutal crackdown in the southeast of the country and on the pro-Kurdish Peoples' Democratic Party (HDP).
Nonetheless, in a statement issued from prison earlier this year that envisioned an understanding between Turkey and Syrian Kurdish forces believed to be aligned with the PKK, Mr. Ocalan declared that "we believe, with regard to the Syrian Democratic Forces (SDF), the problems in Syria should be resolved within the framework of the unity of Syria, based on constitutional guarantees and local democratic perspectives. In this regard, it should be sensitive to Turkey's concerns."
Turkey's emergence as one of Iraqi Kurdistan's foremost investors and trading partners in exchange for Iraqi Kurdish acquiescence in Turkish countering the PKK's presence in the region could have provided inspiration for a US-sponsored safe zone in northern Syria that Washington and Ankara had contemplated.
The Turkish-Iraqi Kurdish understanding enabled Turkey to allow an armed Iraqi Kurdish force to transit Turkish territory in 2014 to help prevent the Islamic State from conquering the Syrian city of Kobani.
A safe zone would have helped "realign the relationship between Turkey's Kurdistan Workers Party (PKK) and its Syrian offshoot… The safe-zone arrangements… envision(ed) drawing down the YPG presence along the border—a good starting point for reining in the PKK, improving U.S. ties with Ankara, and avoiding a potentially destructive Turkish intervention in Syria," Turkey scholar Sonar Cagaptay suggested in August.
The opportunity that could have created the beginnings of a sustainable solution that would have benefitted Turkey as well as the Kurds fell by the wayside with Mr. Trump's decision to withdraw US troops from northern Syria.
In many ways, Mr. Erdogan's decision to opt for a military solution fits the mould of a critical mass of world leaders who look at the world through a civilizational prism and often view national borders in relative terms.
Russian leader Vladimir Putin pointed the way with his 2008 intervention in Georgia and the annexation in 2014 of Crimea as well as Russia's stirring of pro-Russian insurgencies in two regions of Ukraine.
Mr. Erdogan appears to believe that if Mr. Putin can pull it off, so can he.