Muslim Persecution of Christians: May, 2013
The month of May continued to prove that Nigeria is the most dangerous nation for Christians—where more Christians have been killed last year than all around the Muslim world combined.
In one instance, Boko Haram Muslim militants stormed the home of a Pentecostal pastor and secretary of the Christian Association of Nigeria, and opened fire on him, instantly murdering him.
Separately, other Boko Haram gunmen killed 14 Christians, including the cousin and two nephews of the Rev. Moses Thliza, head of a Christian organization dedicated to preventing AIDS and caring for AIDS patients and orphans: Said Thliza: "My cousin, Bulus [Paul] Buba, was dragged out at gunpoint from his house by the Boko Haram members. They collected his car keys, demanded money and asked him three times to renounce his Christian faith, and three times he declined to do so [prompting them to execute him]. The attackers met three guards on duty, killed two of them by cutting their necks with knives, and then proceeded to take the third guard, Amtagu Samiyu, at gunpoint to lead them to where the keys of the deputy governor's house is."
As for some Christians observing a wake two kilometers away, Boko Haram Muslims asked to know what was going on there, and when they learned that people were saying prayers for an elderly Christian woman who had died, they charged in and shot into the crowd. "The attackers went there and shot indiscriminately at the worshippers, killing eight Christians—two women and six elderly men," said Thliza. "In all, we buried 14 Christians. Some were injured and taken to the hospital."
Despite all this, when the Nigerian government tried militarily to confront and neutralize Boko Haram, the Obama administration criticized it, warning it not to violate the "human rights" of the Islamic terrorists.
Categorized by theme, the rest of May's roundup of Muslim persecution of Christians around the world includes (but is not limited to) the following accounts, listed by theme and in country alphabetical order, not necessarily according to severity:
Church Attacks
Bosnia: The Serbian Orthodox church of Saint Sava in Sarajevo, where Muslims make up approximately half of the population, was "desecrated" and six of its windows panes broken. The unidentified vandals wrote "Allah" in dark paint twice on the church wall. A month earlier, unidentified persons tried to set the church on fire.
Central African Republic: According to the Episcopal Commission for Justice and Peace, since an Islamic rebel leader proclaimed himself president, the situation for Christians, has "deeply worsened." The organization warns against "the evil intentions for the programmed and planned desecration and destruction of religious Christian buildings, and in particular the Catholic and Protestant churches…. All over the country the Catholic Church has paid a high price." Several dioceses have been seriously damaged and plundered, and priests and nuns attacked (more information below, under "Dhimmitude.")
Egypt: Two Coptic Christian churches were attacked, one in Alexandria, the other in Upper Egypt. St. Mary in Alexandria was attacked by Molotov cocktails and bricks, causing the gate to burn and the stained glass windows to shatter. One-thousand Christians tried to defend the church against 20,000 Muslims screaming "Allahu Akbar" ["Allah is Greater"]. One Copt was killed and several injured. In the village of Menbal in Upper Egypt, after "Muslim youths" harassed Christian girls—including hurling bags of urine at them—and Coptic men came to their rescue, another Muslim mob stormed the village church of Prince Tadros el-Mashreki. They hurled stones and broke everything inside the church, including doors and windows. The mob then went along the streets looting and destroying all Coptic-owned businesses and pharmacies and torching cars. Any Copt met by the mob in the street was beaten.
Iran: Because it refused to stop using the national Persian language during its services—which makes the Gospel intelligible to all Iranian Muslims, some of whom converted—the Central Assemblies of God Church in Tehran was raided by security services during a prayer meeting; its pastor taken to an unknown location, and the church was searched and its books, documents and equipment seized. Security agents posted a sign stating that the church was now closed. One local source said, "They constantly threaten the church leaders and their families with imprisonment, unexplained accidents, kidnapping and even with execution. We cannot go on like this." A number of its members have already been killed and its activities greatly restricted over the last few years.
Libya: The Catholic Church of the Immaculate Conception in Benghazi was bombed. In the words of the Apostolic Vicar of Tripoli, "They put a bomb at the entrance of the corridor leading to the courtyard where there is the door of the church. The church, therefore, was not touched directly, but the attack is not a positive sign. The Church in Libya is suffering. In Benghazi the Coptic Church was hit, its chaplain was killed and now the Catholic Church. As I reported on other occasions, in Cyrenaica different religious women's institutes have been forced to close their doors, in Tobruk, Derna, Beida, Barce, as well as in Benghazi. The nuns who were forced to leave, served the population with generosity."
Syria: A violent explosion destroyed the church and convent of the Capuchin Franciscan Friars in Deir Ezzor. According to Fr. Haddad of the region, "It was the only church in Deir Ezzor [that] so far still remained almost untouched." It is not clear how it was destroyed, but some say a car bomb was placed next to the church. Fr. Haddad lamented that, as in other regions, "there are no more Christians" left in Ezzor, due to "all this hate and desecration."
Tanzania: During a service to mark its official opening, a new church in a predominantly Christian suburb was bombed, killing at least five people and wounding some 60. According to a local source, "This was… a well-planned attack. Even before it, the threat was given and we still have many threats. Pray for us, and that God will overcome all these in Jesus' name." He added that, "radical camps in the country were teaching young Muslims that Christians must be killed or live as second-class citizens," or dhimmis. Among those arrested, four were Saudi Arabian nationals. The bombing follows the slaying of two church leaders in February, and the shooting in the face of a third on Christmas Day. In October, several church buildings were torched and vandalized.
Apostasy, Blasphemy, Proselytism
Egypt: Twenty-four-year-old Demiana Ebeid Abdelnour, a social studies teacher, was fired and arrested for comparing the late Coptic Pope Shenouda to Islam's prophet Muhammad, "as well as putting her hand on her neck or her stomach every time she mentioned [Islam's prophet] Muhammad," which was interpreted by some students under 10-years-old as disgust. She would be the last Coptic Christian victim to be arrested or imprisoned in a "defamation of Islam" spree that began under now ousted President Morsi. One Coptic activist wondered, "Why is defamation of religion a one-way street, only for the benefit of the Muslims, while Christianity is defamed every day?" He added that Sheikh Abu Islam, who tore and burned the Holy Bible, has not been detained.
Iran: Vahid Hakkani, a Christian prisoner in Shiraz, is suffering from internal digestive bleeding. Although doctors have diagnosed his condition as critical, and have recommended urgent surgery, prison officials have not allowed his transfer to any hospital. Earlier, Hakkani and other Christians were gathered for worship in a house-church when they were arrested "for participating in house-church services, evangelizing and promoting Christianity, having contact with foreign Christian ministries, propagating against the regime and disturbing national security."
Kashmir: Two Christians accused of carrying out "acts of proselytism," for distributing pamphlets and publications with biblical passages to some young Muslims, were savagely beaten by a mob, and later arrested by police, "who rescued them from a secure lynching." Separately, the "United Jihad Council" said that Christian missionaries in Kashmir are "highly reprehensible" and have a "hidden agenda [to] exploit the poor and the needy, offering them economic aid to convert them to Christianity," adding that "Islam is the religion of peace and harmony, and that protects minorities. However, anti-Islam activities [evangelization] cannot be tolerated." The United Jihad Council accordingly calls on all Christian missionaries "immediately to leave the valley of Kashmir," warning, "If not, they will suffer the consequences."
Kazakhstan: Despite the nation's president recently boasting that, "Kazakhstan is an example to the world of equal rights and freedoms for all citizens" and that, "religious freedom is fully secured" in the country, the Barnabas Fund states that the government "has instructed people to report any individuals who speak about their faith with others in public to the police," as "talking about one's faith with others constitutes missionary activity, which requires personal registration… Compulsory prior censorship of all printed and imported religious literature is another way in which the state controls Christian activity. Confiscation of religious books appears to be increasing, with Christians amongst those most likely to be targeted."
Morocco: A fatwa by the government's top Islam authority, partially based on the teachings of Islam's prophet Muhammad, calls for the execution of those Muslims who leave Islam, causing many Christian converts to live in fear. Lamented one Christian: "The fatwa showed us that our country is still living in the old centuries—no freedom, no democracy. Unfortunately, we feel that we aren't protected. We can be arrested or now even killed any time and everywhere. The majority of the Christian Moroccan leaders have the same feeling. We are more followed now by the secret police than before. Only the Grace of our Lord Jesus Christ gives us courage and peace."
Saudi Arabia: A Christian Lebanese man, accused of helping a Saudi women convert to Christianity, was sentenced to six years in prison and 300 lashes. Even so, the father of the woman claims the punishment is not sufficient. The daughter was also sentenced to six years and 300 lashes, causing her to flee, reportedly to Sweden, where authorities are trying to find her and extradite her back to the Arabian peninsula. Another man, a Saudi national who reportedly forged a travel document to help the woman flee, was sentenced to two years in jail and 200 lashes.
Dhimmitude
[General Abuse of Non-Muslims as Third-Class "Citizens," or Dhimmis]
Central African Republic: Christians are being terrorized, killed, and plundered by Islamic militants, who seized control of the country in March, even as international media and government ignore the crisis. In what one pastor is calling "a reign of terror," Muslims are tying up, beating and forcing Christians to pay money to save their lives. Many have been killed or wounded. The Barnabas Fund states that "rebels have a hit list of pastors and other Christian workers, and that places of worship are being attacked. Christian property is being looted. In one incident towards the end of last month, Seleka [Islamic] troops seized all the collection money given at a gathering of church leaders. Many Christians have fled their homes to the countryside and are too fearful to return. More than 200,000 people are internally displaced, while 49,000 refugees have been registered in neighbouring countries." On 10 May, Human Rights Watch released a report citing "grave violations" committed by the Seleka rebels against civilians, including pillage, summary executions, rape and torture. One pastor of a besieged church was shot dead when he went out holding a Bible aloft as a sign of peace.
Egypt: Mohamed Abu Samra, secretary-general of the Islamic Jihad Party, asserted that "it is permissible to kill some Christians today," justifying it by adding "Those who came out with weapons, their blood is allowed for us [to spill], as a fighter is not considered dhimmi." In Islamic law, a dhimmi is a non-Muslim who is permitted to exist provided he pays monetary tribute and lives as a submissive, lowly subject, according to Koran 9:29. Those Coptic Christian activists who vocally called for the removal of former Islamist president Morsi were not doing that, thereby becoming fair game for killing.
Indonesia: After an earlier Christmas Eve attack, during which members of Filadelfia Batak Christian Protestant Church were pelted with rotten eggs, dung and plastic bags full of urine, as the pastor was attempting to leave the scene with his wife, Abdul Aziz, the leader of the mob who had earlier threatened to kill him, moved to attack him. Because the pastor stopped the Muslim agitator's blow with his hand to protect his wife and himself, he is now facing assault charges. Islamic law, based on the "Conditions of Omar," forbids Christians from raising their hands to Muslims, even in self-defense. The church has been meeting outside and in homes since its building was sealed off by authorities to appease Islamists in 2010—despite its having met all conditions for a building permit, as well as a Supreme Court ruling that a permit should be granted.
Pakistan: Over the course of five days, a Muslim mob tortured Javaid Anjum, a Christian teenaged student to death, because he dared drink water from the tap of an Islamic seminary while on a long journey to visit his grandfather. When Muslims discovered he was Christian, they forced him into the seminary, where they tried to force him to renounce Christianity and convert to Islam. When he refused, for five days, Muslim seminary students electrocuted him, broke his arm, and pulled out his fingernails. The electric shocks caused his kidneys to fail and he eventually died.
About this Series
Because the persecution of Christians in the Islamic world is on its way to reaching pandemic proportions, "Muslim Persecution of Christians" was developed to collate some—by no means all—of the instances of persecution that surface each month. It serves two purposes:
1) To document that which the mainstream media does not: the habitual, if not chronic, Muslim persecution of Christians.
2) To show that such persecution is not "random," but systematic and interrelated—that it is rooted in a worldview inspired by Sharia.
Accordingly, whatever the anecdote of persecution, it typically fits under a specific theme, including hatred for churches and other Christian symbols; sexual abuse of Christian women; forced conversions to Islam; apostasy and blasphemy laws that criminalize and punish with death those who "offend" Islam; theft and plunder in lieu of jizya (financial tribute expected from non-Muslims); overall expectations for Christians to behave like dhimmis, or second-class, "tolerated" citizens; and simple violence and murder. Sometimes it is a combination.
Because these accounts of persecution span different ethnicities, languages, and locales—from Morocco in the West, to India in the East, and throughout the West wherever there are Muslims—it should be clear that one thing alone binds them: Islam—whether the strict application of Islamic Sharia law, or the supremacist culture born of it.
Algerian controversy over Salafism puts government control of religion on the spot
A controversy in Algeria over the growing popularity of Saudi-inspired Salafi scholars spotlights the risk governments run in a region in which they strive to control religion in a bid to counter militant strands of Islam, often by touting apolitical, ultra-conservative trends.  These efforts are proving difficult to contain within the limits of the government's agenda.
The controversy over Saudi support of Salafi scholars highlights how state control, frequently exercised through degrees of micro-management of weekly Friday prayer sermons, and/or putting clerics on the government payroll as well as supervision of mosques and school textbooks, often backfires.  For one, the credibility of government-sponsored Islamic scholars is undermined as they become increasingly viewed as functionaries and parrots of regimes.
It also thrusts into the limelight the slippery slope on which governments play politics with conservative and ultra-conservative religion for opportunistic reasons or as in the case of Turkey in a bid to establish state-controlled Turkish Islam as a global force.
Ultra-conservatism's increasing attractiveness is magnified by the inability of governments to comprehensively police alternative expressions of religion on the Internet and social media as well as halt the popping up of unlicensed mosques and informal study groups.
As a result, Saudi-inspired ultra-conservative as well as militant strands of Islam emerge as the only alternative release valve, particularly in countries that restrict freedom of expression, the media and religion and have failed in their delivery of public goods and services
"Whatever the state does to control the religious realm, it cannot oblige or guarantee that people will rely on official bodies and individuals for their religious guidance. In fact, Algerian youths in particular are disillusioned and have lost confidence in their religious institutions. As such, they may be attracted to other religious voices, especially those offering 'grab and go' solutions to complex issues or a Manichean view of the world," said Algeria scholar Dalia Ghanem-Yazbeck.
The controversy in Algeria further raises questions about definitions of Saudi Crown Prince Mohammed bin Salman's declared effort to return the kingdom to what he termed 'moderate Islam' given that Saudi Arabia played a key role in globally promoting Sunni Muslim ultra-conservatism for almost half a century.
In Saudi Arabia, the jury is still out on Prince Mohammed's approach to moderation. In an ultra-conservative country in which religious leaders were not only popular, but government employees who shared power with the ruling Al Saud family, Prince Mohammed has whipped the religious establishment into subservience and kowtowing to his reforms with little indication that they have had a true change of heart.
Algeria has long seen Saudi-inspired quietist strands of Salafism that preach unreserved obedience to a Muslim ruler as a way of countering expressions of popular discontent and more militant strands of Islam.
"The onset of the 2011 Arab uprisings only increased the utility of quietist Salafists to the state. All the main quietist figures issued calls for Algerians to resist the wave of political contestation rocking the Arab world… This drove a wedge between rulers and ruled, exacerbating social divisions, which would inevitably lead to a rise in insecurity and worsening corruption," said international relations scholar Anouar Boukhars.
A recent study showed that many Algerians were turning on social media to Saudi and Egyptian rather than Algerian religious scholars.
Some Saudi scholars like Sheikh Mohamed al-Arefe, a controversial ultra-conservative, known for his misogynist and anti-Shiite tirades, who ranks among the top 100 global and top 10 Arab social media personalities with 21.6 million followers on Twitter and 24.3 million on Facebook boast a larger following in Algeria than in the kingdom itself.
The study concluded that Mr. Al-Arefe had two million Algerian followers as opposed to 1.3 million Saudis.
Algerian media reports, echoing secular concerns, detailed earlier this year Saudi propagation of a quietist, apolitical yet supremacist and anti-pluralistic form of Islam in the North African country. The media published a letter by a prominent Saudi scholar that appointed three ultra-conservative Algerian clerics as representatives of Salafism.
"While Saudi Arabia tries to promote the image of a country that is ridding itself of its fanatics, it sends to other countries the most radical of its doctrines," asserted independent Algerian newspaper El Watan.
El Watan and other media reproduced a letter written by Saudi Sheikh Hadi Ben Ali Al-Madkhali, a scion of Sheikh Rabia Al-Madkhali, the intellectual father of what French Islam scholar Stephane Lacroix terms a loyalist strand of Salafism that projects the kingdom as the ideal place for those who seek a pure Islam that has not been compromised by non-Muslim cultural practices and secularism.
The letter appoints three prominent Algerian scholars, including Mohamed Ali Ferkous, widely viewed as the spiritual guide of Algerian Madkhalists, as Salafism's representatives in Algeria.
"Madkhalism…(is) perhaps Saudi Arabia's own Trojan Horse," quipped North Africa scholar George Joffe. "State-approved imams in Algeria now find themselves under considerable pressure, in mosques that have been targeted, to adapt their teachings and doctrines to Salafi precept, even if this challenges the authority of the ministry of religious affairs," Mr. Joffe added.
The mixed results of the Algerian government's effort to control and use religion are replicated across the Muslim world.
Pakistan, a country in which ultra-conservatism and militancy has over decades been woven into the fabric of the state and society and that is struggling with political violence against the state as well as minorities, serves as an example of the risks involved in playing politics with religion and state support for non-pluralistic, intolerant and supremacist interpretations of Islam.
Attempting to rollback the fallout of such policies is proving to be a gargantuan task. The Pakistani government earlier this year launched a pilot project in Islamabad to regulate Friday prayer sermons. The problem is that it controls a mere 86 of the city's 1,003 mosques.
Some critics warn that Turkish President Recep Tayyip Erdogan may be taking his country down a road like that of Pakistan. They compare the Turkish leader to former Pakistani ruler General Zia ul-Haq who in the 1980s accelerated Islamization of Pakistani society.
Former Pakistani ambassador to the United States and director of South and Central Asia for the Washington-based Hudson Institute Husain Haqqani asserted that Mr. Erdogan was adopting the "Pakistani formula of mixing hard-line nationalism with religiosity" and pouring money into Islamic schools.
"Erdogan has taken the Pakistani formula of mixing hard-line nationalism with religiosity. Zia imposed Islamic laws by decree, amended the constitution, marginalized secular scholars and leaders, and created institutions for Islamization that have outlasted him. Erdogan is trying to do the same in Turkey," Mr. Haqqani told journalist and columnist Eli Lake.
Mr. Lake argued that Turkey, despite having tacitly supported the Islamic State at one point during the Syrian civil war, Turkey had not yet "sunk" to Pakistan's level of cooperation with Islamic militants in its dispute with India and manoeuvring in Afghanistan.
However, suggesting that Turkey risked becoming another Pakistan, Mr. Lake quoted former US ambassador to Turkey Eric Edelman as saying: "Turkey is not Pakistan yet, but if it continues the trajectory that Erdogan has put it on, there is a prospect it could become like Pakistan."
At the other extreme, Chinese authorities in the north-western province of Xinjiang, home to China's Uyghur Muslim minority, were several months ago shutting down some 100 illegal, underground religious seminaries a month despite creating in the region the world's most repressive surveillance state, according to a Chinese communist party official.
The crackdown involves the banning of religious practices and the teaching of the Uyghur language in schools and the detention of thousands in political re-education camps.
The controversy in Algeria, Mr. Erdogan's embrace of Islam, Pakistan's struggle to come to grips with the fallout of ultra-conservatism, China's efforts to crackdown on religion, anti-government and anti-clergy protests in Iran earlier this year, and examples of societies elsewhere in Asia turning towards intolerance and conservatism as governments employ or repress religion for opportunistic political purposes, suggest that political leaders have learnt little, if anything.
Yet, the lesson is that government control and/or playing with religion seldom produces sustainable results. The lesson is also that repression, including restricting freedoms of expression, media and religion, aggravates problems and benefits ultra-conservatives and militants.
Finally, the lesson is that the solution likely lies in inclusive rather than exclusionary policies and transparent and accountable governments capable of delivering pubic goods and services that ensure that all segments of the population have a stake in society. That lesson is one that governments in Algeria, Pakistan, Saudi Arabia, Turkey and China seemingly prefer to overlook.
A Mohammedan Game of Thrones: Iran, Saudi Arabia, and the Fight for Regional Hegemony
Authors: James J. Rooney, Jr. & Dr. Matthew Crosston*
The people in the United States didn't think well of those living in the Soviet Union during the Cold War. There was a basic mistrust and a lack of kind words on both sides. But what you didn't hear was anyone excitedly talking about wanting to completely annihilate the other side despite both having the capacity to do just that. Fast forward to 2018: to Saudi Arabia and Iran and a new regional Middle East version of Mutually Assured Destruction, where it takes on a whole new meaning. Both of these nations maintain terrible images of each and neither would probably shed a tear if the Earth suddenly opened up and swallowed the other. Forgive the propensity to reach hyperbole, but in truth this rivalry goes back 1,385 years when, just after the death of the prophet Mohammed in AD 632, there arose among the faithful a disagreement concerning the issue of succession. Mohammed drafted a Last Will & Testament and set up an ancient version of a Trust Fund for the kids' college/ lifeneeds, but never said a word about succession. In hindsight we now know what colossally poor planning this was as it led to a split between two key factions that would come to be known as the Sunni (who favored a vote for succession) and the Shi'a (who favored keeping it in Mohammed's bloodline). "The Sunnis prevailed and chose a successor to be the first caliph." (Shuster, 2017, 1) What followed was a swinging pendulum of tension with hundreds of years of both war and peace interspersed between the two sides. Today, it looks like they're heading back to war in some form. But the real question is, are they heading back to war because of a 1,000+ year old religious grudge match? Many experts think not. Some say that the bad blood that has been forming between Saudi Arabia and Iran is not about religion, but something else: competing and hostile legitimizing myths. "With the aim of uniting peoples behind their leaders in distinction to 'the other', as it is so often the case, religion is misused as a dividing tool in order to enforce a political agenda." (Reimann, 2016, 3) Not surprisingly, there are religious overtones embedded within these regional hegemonic politics pushing both sides continuously to greater episodes of dangerous tension.
The House of Al Saud, the ruling royal family of Saudi Arabia, is composed of the descendants of Muhammad bin Saud, founder of the Emirate of Diriyah, which was known as the First Saudi state (1744–1818), and his brothers. The ruling faction of the family, however, is primarily led by the descendants of Ibn Saud, the modern founder of Saudi Arabia. The government of Iran is a modern Shia theocracy that was forged in part by the overthrow of Mohammad Reza Pahlavi, the last Shah of Iran, in 1979. Today, "Iran is considered a unitary Islamic republic with one legislative house. The country's 1979 constitution put into place a mixed system of government, in which the executive, parliament, and judiciary are overseen by several bodies dominated by the clergy. At the head of both the state and oversight institutions is a ranking cleric known as the rahbar, or leader, whose duties and authority are those usually equated with a head of state." (Editorial Staff, 2017. 1) Ironically, many have argued that Iran has one of the most democratically structured Constitutions in the world, if not for these extra-constitutional religious oversight bodies that sit over all of the constitutional structures. Even putting the religious affiliations and religio-political structures aside, these two countries are as different as Persian night and Saudi day.
Both Saudi Arabia and Iran view themselves through the legitimizing myth of being the purer form of Islam and true holder of Mohammed's legacy. As if that wasn't conflictual enough, to make matters worse, the Wahhabist theocratic leadership in Riyadh sees the government and family of Saud as secular barbarians that strategically use their Sunni Wahhabist religious connections as a hedge to maintain power. The royal family of Saudi Arabia, for its part, views the theocracy of Iran as a bastardized form of Islam led by illegitimate Imams that hold a potentially progressive nation hostage to outdated religious edicts that have no relevance in the modern Islamic world. Even more dismissively, the Saudi royal family sneer at how this 'Iranian backwardness' has led directly to decades of crippling American sanctions against the people. Of course, the theocracy in Iran sees the cozy relationship between the Saudis and Americans as proof of the infidel fall of the keepers of the Prophet's two great cities, Mecca and Medina. The Saudis are in bed with the Great Satan.
These underlying myths that debate ancient religious legitimacy may be fueling the hatred and Muslim-on-Muslim discrimination found on both sides. But disturbingly, there is one more legitimizing myth that might actually rule over all the others and it's tied to the massive political power and influence greased by black crude. Saudi Arabia comes in as number 2 in terms of the world's known oil reserves. Iran sits at number 4. That oil, and the wealth and political power it translates to, is not lost on either side. Oil is easily the top revenue-producing commodity in both countries. While ups and downs in the global market can have serious consequences for both countries, it means more damage for Iran than Saudi Arabia. The royal Saudi family has wisely/secretly over the past half century stashed away over half a trillion dollars to uniformly smooth out the revenue curves that are innate to the natural resource market in a volatile global economy. Since Tehran has been the subject of severe sanctions, due to its association with Islamic extremism and terrorism, it simply has not been able to create the same safety net/golden pillow of economic protection. Consequently, Iran has not been able to capitalize on its vast reserves of oil, selling much of it on the black market for rock bottom prices to less-than-ideal market consumers. This disparity in oil wealth, the freedom of action within the world market, and the subsequent ability to wield enhanced political power in the region is the real legitimizing myth that acts as a true political hammer separating the two and concretizing their strife with one another.
Iran's political and military expansion into Syria, and its alliance with Russia, is another facet of its hegemonic intentions and desire to unseat Saudi Arabia as the real regional power broker. Iran appears willing to become a client or "dependent" ally of Russia, much as Saudi Arabia has a similar arrangement with the United States. Obviously, this is a dangerous recipe: regional power pretenses, advanced weapons from larger global powers, divergent religious positions, and political gamesmanship operating in the middle of another country's civil war. Both Russia and the United States have cautiously moved their respective chess pieces as events develop in Syria, but unfortunately this caution does not exhibit the press for peace: rather, the American-Russian chess game in Syria only seems to exacerbate the animosity between the Saudis and Iranians. The alleged chemical weapon attacks on rebel positions inside Damascus by Syrian President Bashar al-Assad, backed by Russian forces, caused a direct but limited military response by Washington. American cruise missile attacks on Syrian chemical weapons plants, though marginally effective, nevertheless was a message to Russia and Iran that the U.S. would defend its interests in the region. Those interests are decidedly in favor of a Saudi regional hegemonic leadership. Thus, what we have are cross-competing and hostile legitimizing myths being created in real time about what the future role of each of these players is going to be, America supporting the Saudi myth and Russia supporting the Iranian one.
Clearly, Saudi Arabia and Iran are going to remain deeply entrenched in hostile efforts for political and military dominance in the region. Though ancient religious strife seems like a convenient excuse for continued bad feelings between the two powers – and is focused on to a heavy extent by world media – modern strategic reasons are more dangerous and multi-layered. What we can recognize is an old fashion game of power politics in which both sides have aligned themselves with powerful and protective allies. This game is being made manifest in a critical region of the world where resources are converted to global wealth and power. The parties should remember that oil is combustible. Politics built on oil even more so. But politics built on oil, doused in religious fervor, and shaken vigorously by outside players with their own agendas is the most combustible of all. For the time being, this Mohammedan Game of Thrones seems to have a plotline that will be as deadly and bloody as its more famous Hollywood moniker.
*Dr. Matthew Crosston is Executive Vice Chairman of ModernDiplomacy.eu. He is Senior Doctoral Faculty in the School of Security and Global Studies at the American Military University and was just named the future Co-Editor of the seminal International Journal of Intelligence and Counterintelligence. His work is catalogued at:  https://brown.academia.edu/ProfMatthewCrosston/Analytics
Might Trump Ask Israel to Fund America's Invasion-Occupation of Syria?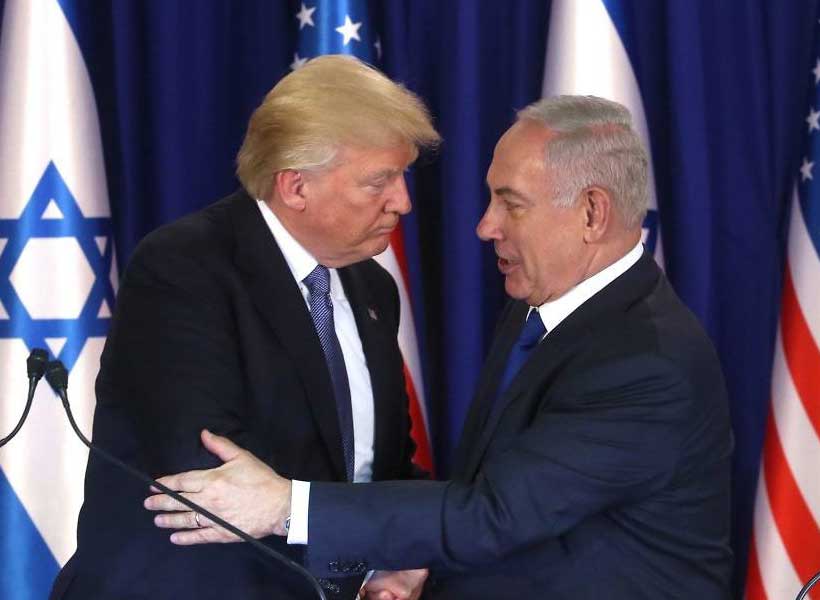 On 16 April 2018, the internationally respected analyst of Middle-Eastern affairs, Abdel Bari Atwan, headlined about Trump's increasingly overt plan to break Syria up and to establish permanent U.S. control over the parts it wants, "Attempting the Unachievable". He stated that "The coming few months are likely to prove very difficult for the Americans, and very costly, not just in Syria but also in Iraq." He closed: "Who will cover the costs of this American move? There are no prizes for guessing the answer: it has already been spelled out." The only country that his article mentioned was Israel: "It would not be surprising if Israel and the various lobbies that support were behind this American strategic volte-face. For Israel is in a state of panic."
The U.S. already donates $3.8 billion per year to Israel's military, in order for Israel to purchase U.S.-made weapons. However, Atwan argues that the costs of this invasion-occupation of Syria are likely to run into the trillions of dollars. The Gross Domestic Product of Israel is only $318.7 billion as of 2016. So, America now already donates a bit more than 1% to that amount, and Atwan's thesis is that Israel will now become instead a net donor to America's international corporations (funding some of the Pentagon, which then will pay that money to America's weapons-firms), in order to avoid adding the enormous costs of this increasing invasion-occupation of Syria, onto America's taxpayers, fighting forces, etc.
I do not consider this enormous reversal of Israel — from recipient to donor — to be likely. Far likelier, in my view, is Saudi Arabia, to finance the invasion.
The GDP of Saudi Arabia is $646.4 billion as of 2016, more than twice Israel's — and the Saud family, who own that country, are accustomed to paying for the services they buy, not having them donated (unless by their fellow fundamentalist Sunnis, to spread the faith). Furthermore, the royal family, the Sauds, are extremely close to America's leading oil families, who also donate heavily to Republican politicians. Ever since at least 2012, the Sauds have been the U.S. Government's main partner in the long campaign to overthrow and replace Syria's President Bashar al-Assad, by a Sharia-law, fundamentalist-Sunni, regime, which will do what the Sauds want.
America's oil companies and pipeline companies, and military contractors such as Lockheed Martin, profit from America's invasion-occupation of Syria, but U.S. President Donald Trump isn't doing it only with their welfare in mind; he has an international campaign to press America's allies to foot a larger percentage of the cost to U.S. taxpayers for America's military. He wants America's allies to pay much more, in order for them to be able to enjoy the privileges of staying in America's alliance against Russia, China, and other countries whose economies threaten to continue growing faster than America's. U.S. aristocrats fear that such challengers could replace them as the global hegemon or Empire, the über-aristocracy. Empire is expensive, and the general public pay for it, but Trump wants foreign taxpayers to pay a bigger share of these costs in order to relieve part of the burden on U.S. taxpayers. His famous comment about the invasion-occupation of Iraq, "We should have taken the oil", is now being put into practice by him in Syria. However, that money goes only to corporations, not to the U.S. Treasury.
Which allies could finance escalated war against Syria?
On 24 September 2017, the Wall Street Journal bannered, "U.S.-Backed Forces Seize Syrian Gas Plant From Islamic State", and reported: "U.S.-backed forces said Sunday they were advancing through eastern Syria after seizing a gas plant there from Islamic State, striking a blow to the terror group's dwindling finances, which rely heavily on its control of Syria's oil and gas fields. The plant, one of the most important in the country, is capable of producing nearly 450 tons of gas a day."
Trump wants the profits from that to go to American companies, not to Syrian ones. That's the type of arrangement Trump has been favoring when he says "We should have taken the oil." Syria is allied with Russia, and with Iran. The U.S. is allied with Saudi Arabia and Israel, which are the two countries that call Iran an "existential threat" — and which have been urging a U.S. invasion to overthrow Assad.
The Sauds and their allied fundamentalist Sunni Arab royal families are considering to finance an American-led invasion of Syria. Turkey's newspaper Yeni Safak headlined on 15 June 2017, "Partitioning 2.5M barrels of Syria's oil", and reported:
A meeting was held on June 10 for the future of Syrian oil on the premise of the intelligence of Saudi Arabia and the US in Syria's northeastern city of Qamishli, which borders with Turkey. One of the US officers who visited terrorist organizations in the Sinjar-Karachok region after Turkey's anti-terror operation in northern Syria and spokesman for the Global Coalition to Counter Daesh, Colonel John Dorrian, attended the meeting. Representatives from Egypt, the United Arab Emirates (UAE) and Saudi Arabia, as well as some tribal leaders from Syria and senior Democratic Union Party (PYD) members attended the meeting. The delegation gathered for the purpose of determining a common strategy for the future of Syrian oil, and decided to act jointly after Daesh. Former President of the National Coalition of the Syrian Opposition and Revolutionary Forces, Ahmed Carba, determined the tribal and group representatives from Syria, and Mohammed Dahlan determined which foreign representatives would attend the meeting. Representatives agreed on a pipeline route. Radical decisions were made regarding the extraction, processing and marketing of the underground wealth of the Haseke, Raqqah and Deir ez Zor regions, which hold 95 percent of Syrian oil and natural gas' potential.
That's "taking the oil." There could be lots of it.
This article also reported that, "Syria produced 34,828,000 barrels of crude oil in the first quarter of 2011 and reached 387,000 barrels per day during the same period" and that, "there are 2.5 billion barrels of oil reserves in Syria."
On 16 April 2018, Whitney Webb at Mint Press bannered "How the US Occupied the 30% of Syria Containing Most of its Oil, Water and Gas", and reported that, "Though the U.S. currently has between 2,000 to 4,000 troops stationed in Syria, it announced the training of a 30,000-person-strong 'border force' composed of U.S.-allied Kurds and Arabs in the area, which would be used to prevent northeastern Syria from coming under the control of Syria's legitimate government."
She noted, regarding the area in Syria's northeast, where U.S.-armed, Saudi-funded, Syrian Kurds are in control: "those resources – particularly water and the flow of the Euphrates – gives the U.S. a key advantage it could use to destabilize Syria. For example, the U.S. could easily cut off water and electricity to government-held parts of Syria by shutting down or diverting power and water from dams in order to place pressure on the Syrian government and Syrian civilians. Though such actions target civilians and constitute a war crime, the U.S. has used such tactics in Syria before."
She says: "Given the alliance between Syria and Iran, as well as their mutual defense accord, the occupation is necessary in order to weaken both nations and a key precursor to Trump administration plans to isolate and wage war against Iran."
That type of plan could be worth a lot to Israel, but Yeni Safak headlined on 18 April 2018, "US to build Arab force in NE Syria as part of new ploy: The US is seeking to amass an Arab force in northeastern Syria comprised of funding and troops from Egypt, Saudi Arabia, Qatar and the UAE." This report said:
The Saudi Arabian Foreign Minister Adel al-Jubeir said that the kingdom is willing to send troops to Syria in a press conference on Tuesday. The minister noted that discussions on sending troops to Syria were underway. "With regards to what is going on now, there are discussions regarding what kind of force needs to remain in eastern Syria and where that force would come from. And those discussions are ongoing," said al-Jubeir. He stressed that troop deployment in Syria will be done within the framework of the Islamic Military Counter Terrorism Coalition and also suggested Saudi Arabia would provide financial support to the U.S.
How likely is it that Israel would be funding this huge escalation in The West's invasion-occupation of Syria — an escalation in which fundamentalist-Sunni armies would then be serving Israeli masters? Though Arab royals might find it acceptable, their soldiers would not.
The Sauds are the world's wealthiest family, and they can and do use the state that they own, Saudi Arabia, as their investment asset, which they aim to maximize. This war will be a great investment for them, and for their allies, in U.S., UK, Israel, and elsewhere. Israel can't take the lead in such a matter. But the Sauds and their friends could.
Funding by the Sauds would be the likeliest way. On 21 May 2017, I headlined "U.S. $350 Billion Arms-Sale to Sauds Cements U.S.-Jihadist Alliance" and reported that the day before, "U.S. President Donald Trump and the Saud family inked an all-time record-high $350 billion ten-year arms-deal that not only will cement-in the Saud family's position as the world's largest foreign purchasers of U.S.-produced weaponry, but will make the Saud family, and America's ruling families, become, in effect, one aristocracy over both nations, because neither side will be able to violate the will of the other. As the years roll on, their mutual dependency will deepen, each and every year." That turned out to be true — and not only regarding America's carrying the Sauds' water (doing their bidding) in both Yemen and Syria, but in other ways as well. Now the Sauds will pitch in to pay tens of thousands of troops in order to dominate over Iran and Shiites, whom the Sauds hate (and have hated since 1744).
On 21 March 2018, CNBC bannered "Trump wants Saudi Arabia to buy more American-made weapons. Here are the ones the Saudis want", and reported what Trump had just negotiated with Saudi Arabia's Crown Prince Mohammed bin Salman al-Saud, which was a step-up in that $350 billion sale, to $400 billion. So: Trump is working on the Sauds in order to get them to take over some of the leadership here — with American weapons. It's a business-partnership.
On 16 April 2018, which was the same day that Atwan suggested Israel would take the lead here, the Wall Street Journal bannered "U.S. Seeks Arab Force and Funding for Syria: Under plan, troops would replace American military contingent after ISIS defeat and help secure country's north; proposal faces challenges," and reported that:
The Trump administration is seeking to assemble an Arab force to replace the U.S. military contingent in Syria and help stabilize the northeastern part of the country after the defeat of Islamic State, U.S. officials said. John Bolton, President Donald Trump's new national security adviser, recently called Abbas Kamel, Egypt's acting intelligence chief, to see if Cairo would contribute to the effort, officials said. The initiative comes as the administration has asked Saudi Arabia, Qatar and the United Arab Emirates to contribute billions of dollars to help restore northern Syria. It wants Arab nations to send troops as well, officials said.
If the U.S. will invade, Israel will participate in this invasion-occupation, but the Sauds will lead it — with U.S.-made weapons. And taxpayers everywhere will lose from it, because invasions just get added to the federal debt. The invading nation goes into debt, which that nation's public will pay. The invaded nation gets its wealth extracted and sold by the invading aristocracy. It's happened for thousands of years.
first published at strategic-culture.org