Muslim Persecution of Christians: May, 2013
The month of May continued to prove that Nigeria is the most dangerous nation for Christians—where more Christians have been killed last year than all around the Muslim world combined.
In one instance, Boko Haram Muslim militants stormed the home of a Pentecostal pastor and secretary of the Christian Association of Nigeria, and opened fire on him, instantly murdering him.
Separately, other Boko Haram gunmen killed 14 Christians, including the cousin and two nephews of the Rev. Moses Thliza, head of a Christian organization dedicated to preventing AIDS and caring for AIDS patients and orphans: Said Thliza: "My cousin, Bulus [Paul] Buba, was dragged out at gunpoint from his house by the Boko Haram members. They collected his car keys, demanded money and asked him three times to renounce his Christian faith, and three times he declined to do so [prompting them to execute him]. The attackers met three guards on duty, killed two of them by cutting their necks with knives, and then proceeded to take the third guard, Amtagu Samiyu, at gunpoint to lead them to where the keys of the deputy governor's house is."
As for some Christians observing a wake two kilometers away, Boko Haram Muslims asked to know what was going on there, and when they learned that people were saying prayers for an elderly Christian woman who had died, they charged in and shot into the crowd. "The attackers went there and shot indiscriminately at the worshippers, killing eight Christians—two women and six elderly men," said Thliza. "In all, we buried 14 Christians. Some were injured and taken to the hospital."
Despite all this, when the Nigerian government tried militarily to confront and neutralize Boko Haram, the Obama administration criticized it, warning it not to violate the "human rights" of the Islamic terrorists.
Categorized by theme, the rest of May's roundup of Muslim persecution of Christians around the world includes (but is not limited to) the following accounts, listed by theme and in country alphabetical order, not necessarily according to severity:
Church Attacks
Bosnia: The Serbian Orthodox church of Saint Sava in Sarajevo, where Muslims make up approximately half of the population, was "desecrated" and six of its windows panes broken. The unidentified vandals wrote "Allah" in dark paint twice on the church wall. A month earlier, unidentified persons tried to set the church on fire.
Central African Republic: According to the Episcopal Commission for Justice and Peace, since an Islamic rebel leader proclaimed himself president, the situation for Christians, has "deeply worsened." The organization warns against "the evil intentions for the programmed and planned desecration and destruction of religious Christian buildings, and in particular the Catholic and Protestant churches…. All over the country the Catholic Church has paid a high price." Several dioceses have been seriously damaged and plundered, and priests and nuns attacked (more information below, under "Dhimmitude.")
Egypt: Two Coptic Christian churches were attacked, one in Alexandria, the other in Upper Egypt. St. Mary in Alexandria was attacked by Molotov cocktails and bricks, causing the gate to burn and the stained glass windows to shatter. One-thousand Christians tried to defend the church against 20,000 Muslims screaming "Allahu Akbar" ["Allah is Greater"]. One Copt was killed and several injured. In the village of Menbal in Upper Egypt, after "Muslim youths" harassed Christian girls—including hurling bags of urine at them—and Coptic men came to their rescue, another Muslim mob stormed the village church of Prince Tadros el-Mashreki. They hurled stones and broke everything inside the church, including doors and windows. The mob then went along the streets looting and destroying all Coptic-owned businesses and pharmacies and torching cars. Any Copt met by the mob in the street was beaten.
Iran: Because it refused to stop using the national Persian language during its services—which makes the Gospel intelligible to all Iranian Muslims, some of whom converted—the Central Assemblies of God Church in Tehran was raided by security services during a prayer meeting; its pastor taken to an unknown location, and the church was searched and its books, documents and equipment seized. Security agents posted a sign stating that the church was now closed. One local source said, "They constantly threaten the church leaders and their families with imprisonment, unexplained accidents, kidnapping and even with execution. We cannot go on like this." A number of its members have already been killed and its activities greatly restricted over the last few years.
Libya: The Catholic Church of the Immaculate Conception in Benghazi was bombed. In the words of the Apostolic Vicar of Tripoli, "They put a bomb at the entrance of the corridor leading to the courtyard where there is the door of the church. The church, therefore, was not touched directly, but the attack is not a positive sign. The Church in Libya is suffering. In Benghazi the Coptic Church was hit, its chaplain was killed and now the Catholic Church. As I reported on other occasions, in Cyrenaica different religious women's institutes have been forced to close their doors, in Tobruk, Derna, Beida, Barce, as well as in Benghazi. The nuns who were forced to leave, served the population with generosity."
Syria: A violent explosion destroyed the church and convent of the Capuchin Franciscan Friars in Deir Ezzor. According to Fr. Haddad of the region, "It was the only church in Deir Ezzor [that] so far still remained almost untouched." It is not clear how it was destroyed, but some say a car bomb was placed next to the church. Fr. Haddad lamented that, as in other regions, "there are no more Christians" left in Ezzor, due to "all this hate and desecration."
Tanzania: During a service to mark its official opening, a new church in a predominantly Christian suburb was bombed, killing at least five people and wounding some 60. According to a local source, "This was… a well-planned attack. Even before it, the threat was given and we still have many threats. Pray for us, and that God will overcome all these in Jesus' name." He added that, "radical camps in the country were teaching young Muslims that Christians must be killed or live as second-class citizens," or dhimmis. Among those arrested, four were Saudi Arabian nationals. The bombing follows the slaying of two church leaders in February, and the shooting in the face of a third on Christmas Day. In October, several church buildings were torched and vandalized.
Apostasy, Blasphemy, Proselytism
Egypt: Twenty-four-year-old Demiana Ebeid Abdelnour, a social studies teacher, was fired and arrested for comparing the late Coptic Pope Shenouda to Islam's prophet Muhammad, "as well as putting her hand on her neck or her stomach every time she mentioned [Islam's prophet] Muhammad," which was interpreted by some students under 10-years-old as disgust. She would be the last Coptic Christian victim to be arrested or imprisoned in a "defamation of Islam" spree that began under now ousted President Morsi. One Coptic activist wondered, "Why is defamation of religion a one-way street, only for the benefit of the Muslims, while Christianity is defamed every day?" He added that Sheikh Abu Islam, who tore and burned the Holy Bible, has not been detained.
Iran: Vahid Hakkani, a Christian prisoner in Shiraz, is suffering from internal digestive bleeding. Although doctors have diagnosed his condition as critical, and have recommended urgent surgery, prison officials have not allowed his transfer to any hospital. Earlier, Hakkani and other Christians were gathered for worship in a house-church when they were arrested "for participating in house-church services, evangelizing and promoting Christianity, having contact with foreign Christian ministries, propagating against the regime and disturbing national security."
Kashmir: Two Christians accused of carrying out "acts of proselytism," for distributing pamphlets and publications with biblical passages to some young Muslims, were savagely beaten by a mob, and later arrested by police, "who rescued them from a secure lynching." Separately, the "United Jihad Council" said that Christian missionaries in Kashmir are "highly reprehensible" and have a "hidden agenda [to] exploit the poor and the needy, offering them economic aid to convert them to Christianity," adding that "Islam is the religion of peace and harmony, and that protects minorities. However, anti-Islam activities [evangelization] cannot be tolerated." The United Jihad Council accordingly calls on all Christian missionaries "immediately to leave the valley of Kashmir," warning, "If not, they will suffer the consequences."
Kazakhstan: Despite the nation's president recently boasting that, "Kazakhstan is an example to the world of equal rights and freedoms for all citizens" and that, "religious freedom is fully secured" in the country, the Barnabas Fund states that the government "has instructed people to report any individuals who speak about their faith with others in public to the police," as "talking about one's faith with others constitutes missionary activity, which requires personal registration… Compulsory prior censorship of all printed and imported religious literature is another way in which the state controls Christian activity. Confiscation of religious books appears to be increasing, with Christians amongst those most likely to be targeted."
Morocco: A fatwa by the government's top Islam authority, partially based on the teachings of Islam's prophet Muhammad, calls for the execution of those Muslims who leave Islam, causing many Christian converts to live in fear. Lamented one Christian: "The fatwa showed us that our country is still living in the old centuries—no freedom, no democracy. Unfortunately, we feel that we aren't protected. We can be arrested or now even killed any time and everywhere. The majority of the Christian Moroccan leaders have the same feeling. We are more followed now by the secret police than before. Only the Grace of our Lord Jesus Christ gives us courage and peace."
Saudi Arabia: A Christian Lebanese man, accused of helping a Saudi women convert to Christianity, was sentenced to six years in prison and 300 lashes. Even so, the father of the woman claims the punishment is not sufficient. The daughter was also sentenced to six years and 300 lashes, causing her to flee, reportedly to Sweden, where authorities are trying to find her and extradite her back to the Arabian peninsula. Another man, a Saudi national who reportedly forged a travel document to help the woman flee, was sentenced to two years in jail and 200 lashes.
Dhimmitude
[General Abuse of Non-Muslims as Third-Class "Citizens," or Dhimmis]
Central African Republic: Christians are being terrorized, killed, and plundered by Islamic militants, who seized control of the country in March, even as international media and government ignore the crisis. In what one pastor is calling "a reign of terror," Muslims are tying up, beating and forcing Christians to pay money to save their lives. Many have been killed or wounded. The Barnabas Fund states that "rebels have a hit list of pastors and other Christian workers, and that places of worship are being attacked. Christian property is being looted. In one incident towards the end of last month, Seleka [Islamic] troops seized all the collection money given at a gathering of church leaders. Many Christians have fled their homes to the countryside and are too fearful to return. More than 200,000 people are internally displaced, while 49,000 refugees have been registered in neighbouring countries." On 10 May, Human Rights Watch released a report citing "grave violations" committed by the Seleka rebels against civilians, including pillage, summary executions, rape and torture. One pastor of a besieged church was shot dead when he went out holding a Bible aloft as a sign of peace.
Egypt: Mohamed Abu Samra, secretary-general of the Islamic Jihad Party, asserted that "it is permissible to kill some Christians today," justifying it by adding "Those who came out with weapons, their blood is allowed for us [to spill], as a fighter is not considered dhimmi." In Islamic law, a dhimmi is a non-Muslim who is permitted to exist provided he pays monetary tribute and lives as a submissive, lowly subject, according to Koran 9:29. Those Coptic Christian activists who vocally called for the removal of former Islamist president Morsi were not doing that, thereby becoming fair game for killing.
Indonesia: After an earlier Christmas Eve attack, during which members of Filadelfia Batak Christian Protestant Church were pelted with rotten eggs, dung and plastic bags full of urine, as the pastor was attempting to leave the scene with his wife, Abdul Aziz, the leader of the mob who had earlier threatened to kill him, moved to attack him. Because the pastor stopped the Muslim agitator's blow with his hand to protect his wife and himself, he is now facing assault charges. Islamic law, based on the "Conditions of Omar," forbids Christians from raising their hands to Muslims, even in self-defense. The church has been meeting outside and in homes since its building was sealed off by authorities to appease Islamists in 2010—despite its having met all conditions for a building permit, as well as a Supreme Court ruling that a permit should be granted.
Pakistan: Over the course of five days, a Muslim mob tortured Javaid Anjum, a Christian teenaged student to death, because he dared drink water from the tap of an Islamic seminary while on a long journey to visit his grandfather. When Muslims discovered he was Christian, they forced him into the seminary, where they tried to force him to renounce Christianity and convert to Islam. When he refused, for five days, Muslim seminary students electrocuted him, broke his arm, and pulled out his fingernails. The electric shocks caused his kidneys to fail and he eventually died.
About this Series
Because the persecution of Christians in the Islamic world is on its way to reaching pandemic proportions, "Muslim Persecution of Christians" was developed to collate some—by no means all—of the instances of persecution that surface each month. It serves two purposes:
1) To document that which the mainstream media does not: the habitual, if not chronic, Muslim persecution of Christians.
2) To show that such persecution is not "random," but systematic and interrelated—that it is rooted in a worldview inspired by Sharia.
Accordingly, whatever the anecdote of persecution, it typically fits under a specific theme, including hatred for churches and other Christian symbols; sexual abuse of Christian women; forced conversions to Islam; apostasy and blasphemy laws that criminalize and punish with death those who "offend" Islam; theft and plunder in lieu of jizya (financial tribute expected from non-Muslims); overall expectations for Christians to behave like dhimmis, or second-class, "tolerated" citizens; and simple violence and murder. Sometimes it is a combination.
Because these accounts of persecution span different ethnicities, languages, and locales—from Morocco in the West, to India in the East, and throughout the West wherever there are Muslims—it should be clear that one thing alone binds them: Islam—whether the strict application of Islamic Sharia law, or the supremacist culture born of it.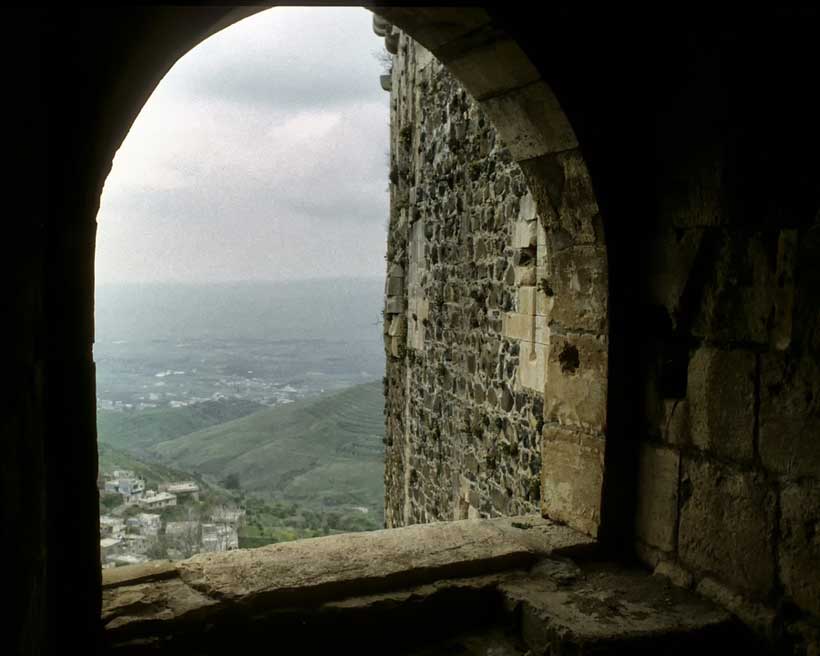 The Middle Eastern land has a diverse blend of history with conflicts and developments in knowledge. Where on one hand Baghdad was considered as the realm of knowledge on the other hand Constantinople was a symbol of power and domination. But now it seems that all has been shattered completely with conflicts.
The Middle Eastern landscape is facing its worst time ever: a phase of instability and misery. The oil ridden land is now becoming conflict ridden, from Euphrates to Persian Gulf; every inch seems to be blood stained nowadays. The region became more like a chess board where kings are not kings but pawns and with each move someone is getting close to checkmate.
Starting from the spring which brought autumn in the Middle Eastern environment, now the curse is on Assyrian land where blood is being spilled, screams have took over the skies. The multi facet conflict has caused more than 400,000 deaths and 5 million seeking refuge abroad whereas 6 million displaced internally.
What began with a mere peaceful civil uprising, has now become a world stage with multiplayers on it. Tehran and Moscow are playing their own mantra by showing romance with Assad while Washington has its own way of gambling with kings in their hand. Involvement of catchy caliphate from 2014 is worsening the complexities of the Syrian saga. The deck is getting hot and becoming more and more mess, chemical strikes, tomahawk show, carpet bombing, stealth jets and many more, Syrian lands is now a market to sell the products exhibiting fine examples of military industrial complex. While to some, Syrian stage seems to be a mere regional proxy war, in reality it seems like a black hole taking whole region into its curse. One by one every inch of the country is turned into altar as the consequence of war. A country is now ripped into different territories with different claimants, but the question still remains as "Syria belongs to whom?"
The saga of Syrian dusk has its long roots in past and with each passing moment it is becoming a spiral of destruction. What is being witnessed in current scenario is just a glimpse of that spiral. It has already winded the region into it and if not resolve properly and maturely it can spread like a contagious disease that can take whole Middle East into its chakra.
With recent development in Iran nuclear deal which left whole world into shock; and house of Sauds forming strong bond with western power brokers and Israel, to counter Tehran (because kings of holy desert have so much engraved hatred towards shiaits, that they prefer to shake hands with Jews and establish an unholy alliance) is making matters worse. This all has the potential to push the region into further more sectarian rifts. With Syrian stage already set. The delicacy of the situation is not secluded from the palette of the world.
Despite the condemnations from across the globe, humanitarian watch remains blind and failed to address the issues in Syria leaving Syrians in long lasting agony and despair The symphony of pain and suffering continues in the Middle Eastern region while world watches like a vicious sadist, the region becomes a playground for major powers as 'Uncle Sam" has their own interests in engaging, Kremlin have their own concerns same goes for every single actor who is party to the conflict.
The panacea to the Arabian pain is simple "a sincere determined approach" to the disease. Even if every party with draws from the conflict the situation can get worse due to the generated power vacuum and can make Syria a replica of Iraq. The Syrian grieve needs to be addressed through proper management skills, if not the curse is upon whole region.
The battle for leadership of the Muslim world: Turkey plants its flag in Christchurch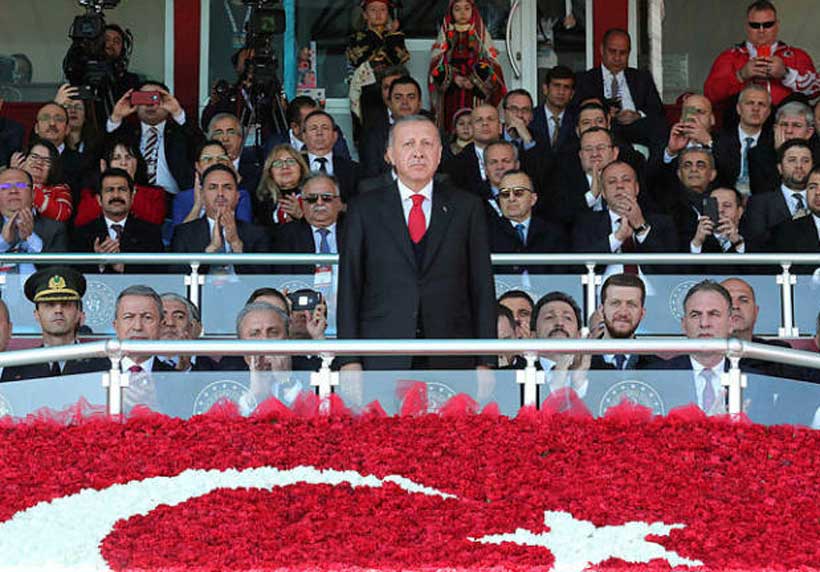 When Turkish vice-president Fuat Oktay and foreign minister Mevlut Cavusoglu became this weekend the first high-level foreign government delegation to travel to Christchurch they were doing more than expressing solidarity with New Zealand's grieving Muslim community.
Messrs. Oktay and Cavusoglu were planting Turkey's flag far and wide in a global effort to expand beyond the Turkic and former Ottoman world support for President Recep Tayyip Erdogan's style of religiously-packaged authoritarian rule, a marriage of Islam and Turkish nationalism.
Showing footage of the rampage in Christchurch at a rally in advance of March 31 local elections, Mr. Erdogan declared that "there is a benefit in watching this on the screen. Remnants of the Crusaders cannot prevent Turkey's rise."
Mr. Erdogan went on to say that "we have been here for 1,000 years and God willing we will be until doomsday. You will not be able to make Istanbul Constantinople. Your ancestors came and saw that we were here. Some of them returned on foot and some returned in coffins. If you come with the same intent, we will be waiting for you too."
Mr. Erdogan was responding to an assertion by Brenton Tarrant, the white supremacist perpetrator of the Christchurch attacks in which 49 people were killed in two mosques, that Turks were "ethnic soldiers currently occupying Europe."
Messrs. Oktay and Cavusoglu's visit, two days after the attacks, is one more facet of a Turkish campaign that employs religious as well as traditional diplomatic tools.
The campaign aims to establish Turkey as a leader of the Muslim world in competition with Saudi Arabia, the United Arab Emirates, and to a lesser degree Morocco.
As part of the campaign, Turkey has positioned itself as a cheerleader for Muslim causes such as Jerusalem and the Rohingya at a moment that Saudi Arabia, the UAE and other Muslim nations are taking a step back.
Although cautious not to rupture relations with Beijing, Turkey has also breached the wall of silence maintained by the vast majority of Muslim countries by speaking out against China's brutal crackdown on Turkic Muslims in the troubled north-western province of Xinjiang.
Mr. Erdogan's religious and traditional diplomatic effort has seen Turkey build grand mosques and/or cultural centres across the globe in the United States, the Caribbean, Europe, Africa and Asia, finance religious education and restore Ottoman heritage sites.
It has pressured governments in Africa and Asia to hand over schools operated by the Hizmet movement led by exiled preacher Fethullah Gulen. Mr. Erdogan holds Mr. Gulen responsible for the failed military coup in Turkey in 2016.
On the diplomatic front, Turkey has in recent years opened at least 26 embassies in Africa, expanded the Turkish Airlines network to 55 destinations in Africa, established military bases in Somalia and Qatar, and negotiated a long-term lease for Sudan's Suakin Island in the Red Sea.
The Turkish religious campaign takes a leaf out of Saudi Arabia's four decade long, USD 100 billion effort to globally propagate ultra-conservative Sunni Islam.
Like the Saudis, Turkey's Directorate of Religious Affairs (Diyanet) provides services to Muslim communities, organizes pilgrimages to Mecca, trains religious personnel, publishes religious literature, translates the Qur'an into local languages and funds students from across the world to study Islam at Turkish institutions.
Turkish Muslim NGOs provide humanitarian assistance in former parts of the Ottoman empire, the Middle East and Africa much like the Saudi-led World Muslim League and other Saudi governmental -non-governmental organizations, many of which have been shut down since the 9/11 attacks on New York and Washington.
Saudi Arabia, since the rise of crown prince Mohammed bin Salman in 2015, has significantly reduced global funding for ultra-conservatism.
Nonetheless, Turkey is at loggerheads with Saudi Arabia as well as the UAE over the killing of journalist Jamal Khashoggi; Turkish support for Qatar in its dispute with the Saudis and Emiratis; differences over Libya, Syria and the Kurds; and Ankara's activist foreign policy. Turkey is seeking to position itself as an Islamic alternative.
Decades of Saudi funding has left the kingdom's imprint on the global Muslim community. Yet, Turkey's current struggles with Saudi Arabia are more geopolitical than ideological.
While Turkey competes geopolitically with the UAE in the Horn of Africa, Libya and Syria, ideologically the two countries' rivalry is between the UAE's effort to establish itself as a centre of a quietist, apolitical Islam as opposed to Turkey's activist approach and its support for the Muslim Brotherhood.
In contrast to Saudi Arabia that adheres to Wahhabism, an austere ultra-conservative interpretation of the faith, the UAE projects itself and its religiosity as far more modern, tolerant and forward looking.
The UAE's projection goes beyond Prince Mohammed's attempt to shave off the raw edges of Wahhabism in an attempt to present himself as a proponent of what he has termed moderate Islam.
The UAE scored a significant success with the first ever papal visit in February by Pope Francis I during which he signed a Document on Human Fraternity with Sheikh Ahmad al-Tayeb, the grand imam of Egypt's Al-Azhar, the revered 1,000-year-old seat of Sunni Muslim learning.
The signing was the result of UAE-funded efforts of Egyptian general-turned-president Abdel Fattah Al-Sisi to depoliticize Islam and gain control of Al Azhar that Sheikh Al-Tayeb resisted despite supporting Mr. Al-Sisi's 2013 military coup.
To enhance its influence within Al Azhar and counter that of Saudi Araba, the UAE has funded Egyptian universities and hospitals and has encouraged Al Azhar to open a branch in the UAE.
The UAE effort paid off when the pope, in a public address, thanked Egyptian judge Mohamed Abdel Salam, an advisor to Sheikh Al-Tayeb who is believed to be close to both the Emiratis and Mr. Al-Sisi, for drafting the declaration.
"Abdel Salam enabled Al-Sisi to outmanoeuvre Al Azhar in the struggle for reform," said an influential activist.
The Turkey-UAE rivalry has spilt from the geopolitical and ideological into competing versions of Islamic history.
Turkey last year renamed the street on which the UAE embassy in Ankara is located after an Ottoman general that was at the centre of a Twitter spat between Mr. Erdogan and UAE foreign minister Abdullah bin Zayed al-Nahyan..
Mr. Erdogan responded angrily to the tweet that accused Fahreddin Pasha, who defended the holy city of Medina against the British in the early 20th century, of abusing the local Arab population and stealing their property as well as sacred relics from the Prophet Muhammad's tomb,. The tweet described the general as one of Mr. Erdogan's ancestors.
"When my ancestors were defending Medina, you impudent (man), where were yours? Some impertinent man sinks low and goes as far as accusing our ancestors of thievery. What spoiled this man? He was spoiled by oil, by the money he has," Mr. Erdogan retorted, referring to Mr. Al-Nahyan.
Who Will Rebuild Syria: Extremely Loud & Incredibly Close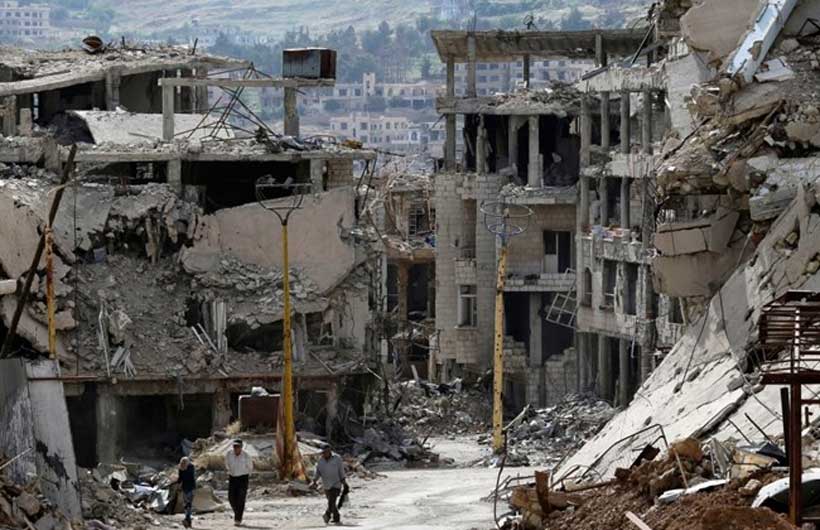 After raging for eight years, the violent phase of the Syrian civil war seems to be reaching its final stages, with Idlib as the last holdout. Recently, leaders of Russia, Iran and Turkey held talks in Sochi to discuss securing peace in Syria and preventing a large-scale military assault on Idlib, Syria's last rebel enclave. World leaders have also discussed the the reconstruction of the war-torn country. Russian President Vladimir Putin urged European Union countries to help rebuild Syria, arguing that it would lead to a faster return of refugees from Europe to their country. His efforts have so far been unsuccessful as EU countries refuse to participate in a rebuilding process that involves Bashar Al-Assad. Arab states are considering readmitting Syria into the Arab League and have shown interest in investing in the country's reconstruction. However, the United States is pressuring the Gulf states to hold back on restoring relations with Syria and investing in its reconstruction. As such, it seems that in addition to Russia, China, Iran, and India are best poised to invest in and benefit from the country's rebuilding. Former United Nations Special Envoy to Syria, Staffan de Mistura estimates the cost of Syria's reconstruction to be 250 billion USD, while the Syrian government estimates the number to be 400 billion USD. Either way, the cost is too high for the Syrian government to finance on its own without the help of its leading businessmen and international partners and allies.
How the Civil War Changed Syria's Economic Environment
However, during the eight years of ongoing civil war, some prominent faces in Syria's economic arena have disappeared, giving way to new actors who have positioned themselves and their businesses to benefit from the vacuum created by the civil war and, therefore, became highly influential, obtaining access to Al-Assad's 'inner circle'. Some of Bashar Al-Assad's inner circle members were forced to flee the country, defect to the opposition, or remain neutral—thus losing their favourable position in this inner circle. This applies not only to the decision-making process, but also to the country's internal economic process. The International Crisis Group's Peter Harling argues that the war "forced large families to exile or to shut their businesses down and allowed a new generation of wheeler-dealers to emerge." However, most of these actors and their assets have been sanctioned by the West due to their relationship with, and involvement in projects linked to the Syrian government. This creates a hurdle on the way to Syria's reconstruction as many businessmen find their own funds—as well as international funds, companies and suppliers—inaccessible.
Economic Sanctions as an Obstacle
Economic sanctions have been successful in limiting the activity of Syria's economic actors. It didn't put them out of business as they have developed methods to bypass sanctions. Among those is establishing a close relationship with the Syrian government based on a system of 'favors', in which businessmen provide the government with some financial services in return for access to lucrative projects across the country. This poses several obstacles in the face of the country's reconstruction. How independent are these businessmen from the government as economic actors best poised in terms of access and financial resources to rebuild the country? Given their proximate relationship to the Assad government, it is unlikely that they will gain access to foreign funds needed for the country's rebuilding. Moreover, do their interests lay in rebuilding infrastructure and improving citizens' living standards? Or will they rather pursue lucrative projects that are not entirely related to infrastructure, and therefore, will not bring significant benefit to the majority of the population? Furthermore, given the nature of the political and economic process in Syria, foreign companies will need to partner with local Syrian actors who have close ties to the government to be able to effectively invest and participate in the rebuilding process. However, these partnerships are restricted due to economic sanctions. As such, it is important to identify these local actors, their relation to the Syrian government and what initiatives towards rebuilding the country they have taken thus far. The most prominent and currently active businessmen in Syria can be divided into two groups: the 'old guard' who have been able to withstand local and external pressures and remain operable, and the 'new guard', who saw in the civil war the opportunities to gain access to financially beneficial economic sectors and projects.
Syria's Most Prominent 'Old Guards'
Rami Makhlouf is at the top of the 'old guard' list. Even under Western sanctions, he is still successfully operating in the country. This is in great part due to his relation to Al-Assad: he is a cousin from mother's side. Following the outbreak of the war, Makhlouf stated that he would turn to charity and no longer pursue projects that can generate personal gain. However, Makhlouf still has close ties with leading businessmen in the country and is active in several economic sectors, including telecommunications (he owns mobile network company Syriatel), import/export, natural resources, and finance. Moreover, the Makhlouf empire has branches in some European countries, and a team of lawyers creating shell companies and bank accounts to bypass economic sanctions. Therefore, even if at times he is not the face of projects, it is highly likely that Makhlouf is somehow still benefiting from his relations with other businessmen and his numerous shell companies.
Mohammad Hamsho is another infamous old guard who currently serves as Secretary of the Damascus Chamber of Commerce, Secretary of the Federation of Syrian Chambers of Commerce and member of the People's Assembly for Damascus. In 2018, Hamsho visited Tehran and met with Secretary General of Tehran Chamber of Commerce, Dr. Bahman Eshghi. During the meeting, both sides affirmed their determination to work on improving their economic relation, and signed a memorandum of understanding on cooperation between the two countries in various economic, trade, investment and production sectors. However, given that both countries are under sanctions, the magnitude of their economic cooperation is still hard to predict. Hamsho has been subject to US sanctions since 2011, but has been successful in having European sanctions lifted in 2014 on the grounds that there was insufficient evidence of his involvement with the regime. Two prominent Syrian businessmen who landed on the EU's latest list of sanctioned individuals, published on January 21, 2019, are Nader Qalei and Khaled Al-Zubaidi. The two are leading actors operating in Syria with investments in the construction industry. One of their most significant investments is in the construction of Grand Town, a luxury tourist project. The Syrian government has granted Qalei and Al-Zubaidi a 45-year agreement for this project in exchange for approximately 20% return on revenue. According to the Council of the EU, Qalei and Al-Zubaidi benefit from and/or support the regime through their business activities, in particular through their stake in the Grand Town development. One of the most prominent actors in the country's media sector is Majd Sleiman, otherwise known as the 'intelligence boy', son of Hafez Al-Assad's cousin. Sleiman is currently the chief executive director of Alwaseet Group, one of the largest media groups in the Middle East and North Africa region. At the age of 25, he was already running several businesses and had established regional and international connections in the Middle East, Africa, East Asia, Europe and the United States. Even though Sleiman is active in the media and publishing sector, which is considered unprofitable, his companies received significant amounts of money from British accounts. This could be indicative of potential money laundering for the Syrian regime through British banks, via Sleiman.
Syria's Most Prominent 'New Guards'
With some families falling out of Al-Assad's favors, and others exiled or unable to operate due to economic sanctions, a few savvy businessmen found an opportunity to fill the newly created vacuum and establish ties with the Al-Assad government by providing it with much needed services. Most prominent among these 'new guards' is Samer Foz, a leading Syrian businessman, known for his ruthlessness in conducting business. In fact, in 2013, Foz served a six month jail sentence for killing a Ukrainian/Egyptian businessman in Istanbul, Turkey. Foz is involved in multiple sectors of Syria's economy, including brokering grain deals, and a stake in a regime-backed joint venture involved in the development of Marota City—a luxury residential and commercial development project. After several of Al-Assad's former business allies found themselves unable to continue their business activities, Al-Assad welcomed Foz to his inner circle. Moreover, after being heavily affected by the war, Syria's agricultural industry suffered, and Foz positioned himself as one of the few businessmen with the ability to broker grain deals. As a result, he received access to commercial opportunities through the wheat trade. Through his investments in the food industry and some reconstruction projects, Foz made his way into the inner circle by providing financial and other support to the regime, including funding the Military Security Shield Forces. Notably, Foz maintains very close ties with Iran, as well as Russia and other Western and Arab countries such as Italy, the United Arab Emirates (UAE) and Lebanon.
Another relatively new name to the arena of businessmen in Syria is Mazen Al Tarazi. Al Tarazi resides in Kuwait and has launched several campaigns in an attempt to get into Al-Assad's inner circle. One of his campaigns was named "Returning to Syria" in which he pledged to bear the cost of Syrians wanting to return to their country. Moreover, in 2014, he assigned a plane at his own expense to transfer Syrians from Kuwait to Damascus, and back to Kuwait so they can cast their votes in the Presidential election. In 2017, his attempts proved successful and he was granted an investment license for a private airline in Syria, as well as other projects including a deal with Damascus Cham Holdings for a 320 USD million investment in the construction of Marota City. The Syrian Palestinian businessman benefited from his public support of the Assad government. In fact, according to Syrian media, Al Tarazi's investment in Marota City is the first investment in Syria in which the investor's share is greater than that of the public sector (51% of the project was owned by Al Tarazi and 49% by the Damascus Holding Company of the Damascus governorate). This investment, as well as his outspoken support for Al-Assad landed him on the EU's latest list of sanctioned persons. The final businessman on the 'new guards' list is Samir Hassan, owner and agent of several companies in Syria, including Nokia and Nikon. After bad harvests due to war, he invested in imports of food supplies, in particular wheat, rice, sugar, and tea, and developed a close relationship with the Al-Assad family. During the civil war and against the background of improved relations with Russia, Hassan was named the Chairman of the Syrian-Russian Business Council, quite a prestigious position given the special relationship between Russia and Syria. Hassan's investments in the food industry will also be vital during the reconstruction of Syria where he will be able to provide materials and products needed for reviving the agricultural sector, one of the greatest contributors to Syria's Gross Domestic Product (GDP).
Trends in investments of Syria's Businessmen
In general, businessmen involved in the Marota City and Grand Town projects have found themselves under Western economic sanctions. Most of Syria's prominent businessmen have invested in these projects thanks to their connections with the government. In addition to some of the figures mentioned above, Anas Talas, Nazir Ahmad Jamal Eddine, Khaldoun Al-Zoubi, Hayan Mohammad, Nazem Qaddour, Maen Rizk Allah Haykal and Bashar Mohammad Assi have been recently sanctioned primarily due to their participation in the construction of Marota City. The Marota City and Grand Town projects are not essential for the country's reconstruction, as they represent luxury residential and commercial projects and do not contribute to rebuilding the damaged infrastructure. However, several of the mentioned businessmen have been investing in infrastructure-related industries, such as the metal and steel industry, as well as the electrical and food industries. Recently, Hamsho bought "Al Sewedy Cables" factory, previously owned by Egyptian businessman Ahmad Al Sewedy, which produces electrical cables, towers, columns, transformers and circuit breakers, as well as a foundry (metal melting) factory that produces material for construction. Hamsho was able to acquire Al Sewedy's company after it defaulted on loans given to it by the Islamic Bank of Syria and was sold in an auction. Foz has also been investing in former businessmen's assets as he secured the 'empires' of two Syrian millionaires previously in Al-Assad's inner circle. Emad Hamisho, previously known as the "economic shark" of Syria, and his family were sanctioned by the Syrian Ministry of Finance in 2013 after defaulting on a loan of 3.8 million Syrian Pounds he had borrowed from the real estate bank. In 2014, the sanctions were lifted without any clarifications on whether Hamisho had settled his account with the ministry or not. In 2018, the Ministry of Finance issued a new decision to sanction the assets of "Hamisho Minerals." Foz saw an opportunity in it and swooped in. He entered into a partnership with Hamisho and created a new company where he heads the board of directors. Moreover, after a series of tightening measures initiated against him by the Syrian government in the early phases of the civil war, Imad Ghreiwaty decided to gradually transfer his investments abroad and resign from his position as the head of the Union of Chambers of Industry. His assets included a cables company, "Syria Modern Cables", which Foz bought in 2017. Notwithstanding the manner of purchase, these initiatives are important for the country's rebuilding, and are profitable for the investors, as they will provide construction material necessary for the reconstruction phase.
Financing Syria's reconstruction
It is evident that rebuilding Syria will be largely controlled by Al-Assad's inner circle of businessmen who have preferential access to investments and are best positioned to receive projects and tenders in the upcoming period. However, a few businessmen will not be able to rebuild the country on their own, and even the country's most prominent and richest businessmen will find themselves limited in their activities due to imposed economic sanctions. While Syria's allies are willing to help, and have already begun cultivating and consolidating relationships with local actors to gain access to the Syrian market, they are also facing certain limitations. Iran and Russia are constrained by economic sanctions of their own, whereas India and China are reluctant to invest unless they receive security guarantees to insure and protect their investments in Syria. Therefore, while both local and external actors are willing and seek to invest in the lucrative industry of Syria's rebuilding, they are faced with many obstacles, including economic sanctions. The irony of the matter is that actors who have access and finances to invest in rebuilding Syria cannot do so since their access depends on their relationship with Al-Assad—a relationship that has provided them with opportunities and finances, and landed them on international economic sanctions lists that now restrict their ability to operate at their full capacity. With the United States and European Union unwilling to foot the bill, it remains to see whether the Gulf States will overcome Western pressures, restore ties with Al-Assad and invest in rebuilding Syria.
First published in our partner RIAC