Dumb, Dumber, Dumberer in Washington
Earlier today, Egypt's military government arrested former prime minister Mohammed Mursi on charges of conspiring with the terrorist organization Hamas, the Muslim Brotherhood's Palestinian affiliate.
That is as good as it gets in this part of the world. Hamas has murdered 457 Israelis and wounded more than 3,000 since 2000, according to the Israeli government. It is an implacable enemy of the United States as well as the State of Israel. Since taking power, the Egyptian military has shut down illegal tunnel traffic with Gaza, Hamas' stronghold, and strangled its economy.
Gen. Abdulfatah al-Sisi, the Egyptian military commander, is doing the dirty work of the West. Yet both the Obama administration and the Republican mainstream have denounced the military-led government and demanded the Muslim Brotherhood's return to power. "Trying to break the neck of the Brotherhood is not going to be good for Egypt or for the region," a White House official told the New York Times on July 25th, explaining why Obama had canceled the delivery of four F-16s to Egypt. And some prominent neo-conservatives, including Max Boot and Reuel Marc Gerecht, are taking the side of the Brotherhood. It is the world turned upside down, foreign policy as Mel Brooks might have scripted it.
Obama and the Republican mainstream — John McCain and the Weekly Standard — united in their misplaced enthusiasm for the so-called Arab Spring in early 2011, as I reported in a Tablet magazine essay May 20 titled "Dumb and Dumber." They have learned nothing from the collapse of the so-called "Spring" into civil war in Syria, Islamist terrorism in Tunisia, and state failure in Egypt. Such is the power of ideology. If the most practical man of business is the mental slave of a defunct economist, as Keynes said, the most practical politician may be the mental slave of a defunct political philosopher.
Here is Max Boot at the Commentary blog on July 25th:
Rather than trying to reach accommodation with the Islamists, who for all their faults did win a free election, the army is demonizing them as "traitors" who must be rooted out. Dispensing with the facade of civilian rule, the military commander, Gen. Abdul Fattah el-Sisi, is calling for mass protests to give the military a mandate to crack down on "terrorism" and "violence," which, if delivered, no doubt will be interpreted as a mandate to crack down on all opposition, period.
Egypt is seeing not the rule of law but the rule of the mob and the military. Alas, history teaches that when well-organized movements with mass support are pushed out of the political process, they are likely to resort to violence. See the Algerian civil war of the 1990s, or Egypt's own bloodletting during that decade during a war against radical jihadists.
And Reuel Marc Gerecht at the Wall Street Journal, the previous day:
Economic revitalization in Egypt won't happen unless the poor accept the pain that will come with shrinking the country's unsustainable subsidies and state-owned enterprises. Buying in now, after the coup, will be much more difficult for those who support Islamist causes.
It also isn't clear that the secular crowd is economically more adept than the Muslim faithful. Socialism has been a hard-to-kick drug for Egypt's legions of nominally college-educated youth, who came of age expecting government jobs. Capitalism has probably got firmer roots among devout Muslims, where Islamic law teaches a certain respect for private property.
The Muslim Brotherhood's senior leadership may not recover from the coup…But only the deluded, the naïve and the politically deceitful—Western fans of the coup come in all three categories—can believe that Islamism's "moment" in Egypt has passed. More likely, it's just having an interlude.
Gerecht has staked his reputation on what he calls "The Islamist Road to Democracy," and embraces died-in-the-wool totalitarians as long as they keep up democratic pretenses. Anyone who disagrees with him is "deluded, naive, or politically deceitful." How about "realistic"? It seems churlish to point this out, but I was right about Egypt from the outset while Gerecht was dead wrong. I predicted a failed state in Egypt on Feb. 2, 2011, observing that then-President Hosni Mubarak's problems arose from a free fall of the Egyptian economy already in progress. No-one is right all the time, and there is no shame in having been wrong, unless, of course, one insults everyone who might disagree with a view that already has produced a catastrophically wrong forecast.
Gerecht asserts — without a shred of evidence — that Egypt can stabilize its economy by shutting down subsidies. Morsi refused to do so (as the International Monetary Fund demanded) because he did not believe he could do so and survive politically. It is absurd to suggest that restoring the Brotherhood to power in some way would make possible the austerity measures that the Brotherhood could not push through when it had all the power. Who is deluded here may be adduced from the track record.
Half of Egypt's people live on $1.65 a day or less and the country imports half its food. Its economy is in ruins and cannot be revived by an IMF austerity package, as Gerecht seems to imply. Morsi fell when he ran out of money. The Saudis and other Gulf states refused to bankroll the Muslim Brotherhood, which is seeking to overthrow the Arab monarchies, but immediately lent $12 billion to Morsi's successors, averting starvation in Egypt for the next year.
I wrote in the cited May 20 Tablet essay:
It is a widespread misimpression (reinforced by conspiracy theorists seeking the malign influence of the "Israel Lobby") that the neoconservative movement is in some way a Jewish thing. On the contrary, it is a distinctly American thing. As the born-again Methodist George W. Bush said in 2003, "Peoples of the Middle East share a high civilization, a religion of personal responsibility, and a need for freedom as deep as our own. It is not realism to suppose that one-fifth of humanity is unsuited to liberty; it is pessimism and condescension, and we should have none of it." The Catholic neoconservative and natural-law theorist Michael Novak put it just as passionately in his 2004 book The Universal Hunger for Liberty: "The hunger for liberty has only slowly been felt among Muslims. That hunger is universal, even when it is latent, for the preconditions for it slumber in every human breast."
One is reminded of the industrialist in the 1930s who refused to book radio ads on Sunday on the grounds that everyone would be out playing polo. It is hard for Americans to understand that everyone is not like us: are we not an amalgam of all the cultures and races of the world? But that is a fallacy of composition: we Americans are brands plucked out of the fire, the few individuals who rejected the tragedies of the cultures of our origin and embraced something radically different.
The "political philosophy" that has guided so many diligent and clever analysts into absurdities does not address the definitive political phenomenon of our time, namely cultural suicide. The materialism of Hobbes et. al. proceeds from the idea of individual self-preservation to a theory of the state; it does not consider that cultures may veer collectively toward self-destruction. At its worst, so-called rationalist political philosophy turns into the old materialist assertion that being determines consciousness: put people into democratic institutions and they will turn into democrats, just as the Communists asserted that collectivizing the means of production would produce a "new man." Perhaps something good will come out of all of this: Max Boot and Reuel Marc Gerecht are as close as living writers can come to an embodiment of reductio ad absurdum.
Battling for the Future: Arab Protests 2.0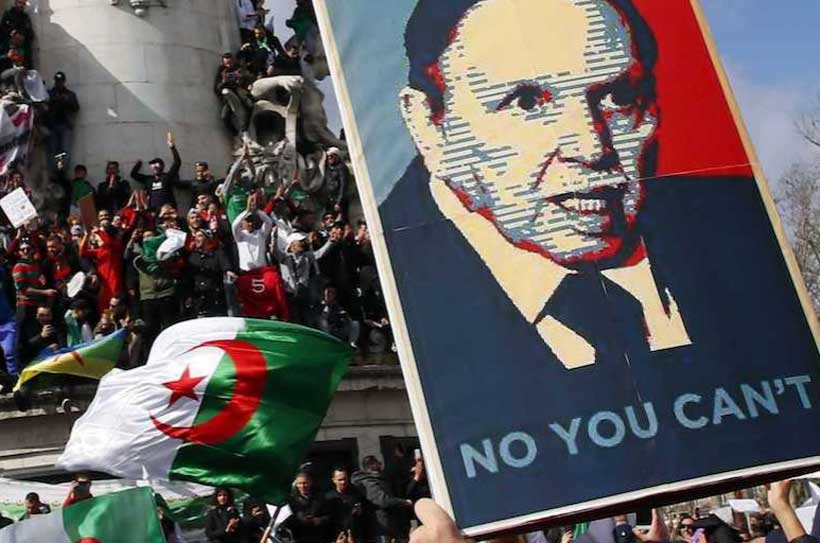 Momentous developments across Arab North and East Africa suggest the long-drawn-out process of political transition in the region as well as the greater Middle East is still in its infancy.
So does popular discontent in Syria despite eight years of devastating civil war and Egypt notwithstanding a 2013 military coup that rolled back the advances of protests in 2011 that toppled Hosni Mubarak and brought one of the country's most repressive regimes to power.
What developments across northern Africa and the Middle East demonstrate is that the drivers of the 2011 popular revolts that swept the region and forced the leaders of Egypt, Tunisia, Libya and Yemen to resign not only still exist but constitute black swans that can upset the apple cart at any moment.
The developments also suggest that the regional struggle between forces of change and ancien regimes and militaries backed by the United Arab Emirates and Saudi Arabia is far from decided.
If anything, protesters in Algeria and Sudan have learnt at least one lesson from the failed 2011 results: don't trust militaries even if they seemingly align themselves with demonstrators and don't surrender the street until protesters' demands have been fully met.
Distrust of the military has prompted an increasing number of Sudanese protesters to question whether chanting "the people and the army are one" is still appropriate. Slogans such as "freedom, freedom" and "revolution, revolution" alongside calls on the military to protect the protesters have become more frequent.
The protests in Algeria and Sudan have entered a critical phase in which protesters and militaries worried that they could be held accountable for decades of economic mismanagement, corruption and repression are tapping in the dark.
With protesters emboldened by their initial successes in forcing leaders to resign, both the demonstrators and the militaries, including officers with close ties to Saudi Arabia and the UAE, are internally divided about how to proceed.
Moreover, neither side has any real experience in managing the crossroads at which they find themselves while it is dawning on the militaries that their tired playbooks are not producing results.
In a telling sign, Sudan's interim leader Abdel Fattah Abdelrahman Burhan praised his country's "special relationship" with Saudi Arabia and the UAE as he met this week with a Saudi-Emirati delegation at the military compound in Khartoum, a focal point of the protests.
Saudi Arabia has expressed support for the protests in what many suspect is part of an effort to ensure that Sudan does not become a symbol of the power of popular sovereignty and its ability to defeat autocracy.
The ultimate outcome of the dramatic developments in Algeria and Sudan and how the parties manoeuvre is likely to have far-reaching consequences in a region pockmarked by powder kegs ready to explode.
Mounting anger as fuel shortages caused by Western sanctions against Syria and Iran bring life to a halt in major Syrian cities have sparked rare and widespread public criticism of president Bashar al-Assad's government.
The anger is fuelled by reports that government officials cut in line at petrol stations to fill up their tanks and buy rationed cooking gas and take more than is allowed.
Syria is Here, an anonymous Facebook page that reports on economics in government-controlled areas took officials to task after state-run television showed oil minister Suleiman al-Abbas touring petrol stations that showed no signs of shortage.
"Is it so difficult to be transparent and forward? Would that undermine anyone's prestige? We are a country facing sanctions and boycotted. The public knows and is aware," the Facebook page charged.
The manager of Hashtag Syria, another Facebook page, was arrested when the site demanded that the oil ministry respond to reports of anticipated price hikes with comments rather than threats. The site charged that the ministry was punishing the manager "instead of dealing with the real problem."
Said Syrian journalist Danny Makki: "It (Syria) is a pressure cooker."
Similarly, authorities in Egypt, despite blocking its website, have been unable to stop an online petition against proposed constitutional amendments that could extend the rule of President Abdel Fattah el-Sisi until 2034 from attracting more than 320,000 signatures as of this writing.
The petition, entitled Batel or Void, is, according to Netblocks, a group that maps web freedom, one of an estimated 34,000 websites blocked by Egyptian internet service providers in a bid to stymie opposition to the amendments.
Mr. El-Sisi is a reminder of how far Arab militaries and their Gulf backers are potentially willing to go in defense of their vested interests and willingness to oppose popular sovereignty.
Libyan renegade Field Marshall Khalifa Belqasim Haftar is another, Mr. Haftar's Libyan National Army (LNA) is attacking the capital Tripoli, the seat of the United Nations recognized Libyan government that he and his Emirati, Saudi, and Egyptian backers accuse of being dominated by Islamist terrorists.
The three Arab states' military and financial support of Mr. Haftar is but the tip of the iceberg. Mr. Haftar has modelled his control of much of Libya on Mr. El-Sisi's example of a military that not only dominates politics but also the economy.
As a result, the LNA is engaged in businesses ranging from waste management, metal scrap and waste export, and agricultural mega projects to the registration of migrant labour workers and control of ports, airports and other infrastructure. The LNA is also eyeing a role in the reconstruction of Benghazi and other war-devastated or underdeveloped regions.
What for now makes 2019 different from 2011 is that both sides of the divide realize that success depends on commitment to be in it for the long haul. Protesters, moreover, understand that trust in military assertions of support for the people can be self-defeating. They further grasp that they are up against a regional counterrevolution that has no scruples.
All of that gives today's protesters a leg up on their 2011 counterparts. The jury is out on whether that will prove sufficient to succeed where protesters eight years ago failed.
As Marsha Lazareva languishes in jail, foreign businesses will "think twice" before investing in Kuwait
IF THERE IS one thing to glean from the case of Marsha Lazareva, it's that foreign businesses must now think very carefully before investing in Kuwait.
For more than a year, Lazareva, who has a five-year-old son and is one of Russia's most successful female investors in the Gulf, has been held in the Soulabaiya prison by Kuwaiti authorities. Those authorities claim she 'stole' half a billion dollars, a claim she strenuously denies.
Human rights groups and prominent officials, including the former FBI director, Louis Freeh, and Jim Nicholson, former Chairman of the Republican Party and former US Ambassador to the Vatican, have called for her release and expressed concerns about the apparent absence of due process in a country where Lazareva has worked for over 13 years. Both Freeh and Nicholson visited Kuwait in recent weeks with Neil Bush, son of the late President George H. W. Bush. Bush has said Lazareva's incarceration 'threatens to darken relations between the U.S. and Kuwait, two countries that have enjoyed a long and prosperous relationship.'
Russian officials have been equally concerned. Vladimir Platonov, the President of the Moscow Chamber of Commerce and Industry, confirmed that a single witness gave testimony in Kuwaiti court, and only for the prosecution. 'I myself worked in prosecution for more than eight years, and I cannot imagine any judge signing off on an indictment like this,' he said. 'One fact of particular note is that Maria was given 1,800 pages of untranslated documents in Arabic.'
Serious questions surrounding the safety and future viability of investing in Kuwait are now being raised. Through The Port Fund, a private investment company managed by KGL Investment, Lazareva has contributed hundreds of millions of dollars to local infrastructure and economic development projects during her time in the country. Until 2017, when a Dubai bank froze $496 million without cause, she had worked largely unobstructed.
But as things stand, more foreign investment is unlikely to be forthcoming. Jim Nicholson has said that the 'imprisonment and harassment' of Lazareva 'threatens' U.S. support. adding that the 'willingness of the U.S. to do business with Kuwait' is based on 'its record as a nation that respects human rights and the rule of law'. Mark Williams, the investment director of The Port Fund and a colleague of Lazareva's, has called on international investors to 'think twice before doing business in this country'.
These comments will surely concern the Kuwaiti government, who said last year that FDI was 'very crucial' to the success of its Kuwait Vision 2035 road map. In September 2018, the FTreported that the government planned to reverse its traditional position as an investor in order to diversify its economy, carrying out a series of reforms designed to facilitate foreign investment and assist investors.
But despite these changes, which have propelled Kuwait to 96th—higher than the Middle East average—in the World Bank's 'Ease of Doing Business' report, investors may be unwilling to take the risk so long as Lazareva remains in jail. Lazareva's lawyers have accused Kuwait of violating international law by breaching a long-standing bilateral investment treaty with Russia. Lord Carlile of Berriew, QC has brought the case to the attention of the British public and the EU, writing in The Times that 'there is no evidential basis to justify any claim of dishonesty, corruption or any other criminal wrong'. He added: 'Anyone thinking of doing business in Kuwait should read on with mounting concern.'
What's worth remembering is that Kuwait is an important, long-standing ally of the UK, and a country generally seen as stable and fair. It is equally a major non-NATO ally of the United States, where there are more than 5,000 international students of Kuwaiti origin in higher education. But these relationships, and the investment to which they have historically led, have been cast into doubt. And it now seems certain that relations will continue to sour so long as Marsha Lazareva languishes in Soulabaiya.
Economic reform in the Gulf: Who benefits, really?
For Gulf leaders, long-overdue economic reforms were never going to be easy.
Leaders like the crown princes of Saudi Arabia and the United Arab Emirates, Mohammed bin Salman and Mohammed bin Zayed, quickly discovered that copying China's model of economic growth while tightening political control was easier said than done. They realised that rewriting social contracts funded by oil wealth was more difficult because Gulf Arabs had far more to lose than the average Chinese. The Gulf states' social contracts had worked in ways China's welfare programmes had not. The Gulf's rentier state's bargain—surrender of political and social rights for cradle-to-grave welfare—had produced a win-win situation for the longest time.
Moreover, Gulf leaders, struggling with mounting criticism of the Saudi-UAE-led war in Yemen and the fall-out of the killing of journalist Jamal Khashoggi, also lacked the political and economic clout that allowed China to largely silence or marginalise critics of its crackdown on Turkic Muslims in the troubled northwestern province of Xinjiang.
The absence of a welfare-based social contract in China allowed the government to power economic growth, lift millions out of poverty, and provide public goods without forcing ordinary citizens to suffer pain. As a result, China was able to push through with economic reforms without having to worry that reduced welfare benefits would spark a public backlash and potentially threaten the regime.
Three years into Mohammed bin Salman's Vision 2030 blueprint for diversification of the economy, Saudi businesses and consumers complain that they are feeling the pinch of utility price hikes and a recently introduced five per cent value-added tax with little confidence that the government will stay the course to ensure promised long-term benefit.
The government's commitment to cutting costs has been further called into question by annual handouts worth billions of dollars since the announcement of the reforms and rewriting of the social contract to cushion the impact of rising costs and quash criticism.
In contrast to China, investment in the Gulf, whether it is domestic or foreign, comes from financial, technology and other services sector, the arms industry or governments. It is focused on services, infrastructure or enhancing the state's capacities rather than on manufacturing, industrial development and the nurturing of private sector.
With the exception of national oil companies, some state-run airlines and petrochemical companies, the bulk of Gulf investment is portfolios managed by sovereign wealth funds, trophies or investment designed to enhance a country's prestige and soft power.
By contrast, Asian economies such as China and India have used investment fight poverty, foster a substantial middle class, and create an industrial base. To be sure, with small populations, Gulf states are more likely to ensure sustainability in services and oil and gas derivatives rather than in manufacturing and industry.
China's $1 trillion Belt and Road initiative may be the Asian exception that would come closest to some of the Gulf's soft-power investments. Yet, the BRI, designed to alleviate domestic overcapacity by state-owned firms that are not beholden to shareholders' short-term demands and/or geo-political gain, contributes to China's domestic growth.
Asian nations have been able to manage investors' expectations in an environment of relative political stability. By contrast, Saudi Arabia damaged confidence in its ability to diversify its oil-based economy when after repeated delays it suspended plans to list five per cent of its national oil company, Saudi Arabian Oil Company, or Aramco, in what would have been the world's largest initial public offering.
To be sure, China is no less autocratic than the Gulf states, while Hindu nationalism in India fits a global trend towards civilisationalism, populism and illiberal democracy. What differentiates much of Asia from the Gulf and accounts for its economic success are policies that ensure a relatively stable environment. These policies are focused on social and economic enhancement rather than primarily on regime survival. That may be Asia's lesson for Gulf rulers.
Author's note: first published in Firstpost