Islam currently represents a backward, aggressive, and violent force. Must it remain this way, or can it be reformed and become moderate, modern, and good-neighborly?
Can Islamic authorities formulate an understanding of their religion that grants full rights to women and non-Muslims as well as freedom of conscience to Muslims, that accepts the basic principles of modern finance and jurisprudence, and that does not seek to impose Sharia law or establish a caliphate?
A growing body of analysts believe that no, the Muslim faith cannot do these things, that these features are inherent to Islam and immutably part of its makeup. Asked if she agrees with my formulation that "radical Islam is the problem, but moderate Islam is the solution," the writer Ayaan Hirsi Ali replied, "He's wrong. Sorry about that." She and I stand in the same trench, fighting for the same goals and against the same opponents, but we disagree on this vital point.
My argument has two parts. First, the essentialist position of many analysts is wrong; and second, a reformed Islam can emerge.
Arguing Against Essentialism
To state that Islam can never change is to assert that the Koran and Hadith, which constitute the religion's core, must always be understood in the same way. But to articulate this position is to reveal its error, for nothing human abides forever. Everything, including the reading of sacred texts, changes over time. Everything has a history. And everything has a future that will be unlike its past.
Only by failing to account for human nature and by ignoring more than a millennium of actual changes in the Koran's interpretation can one claim that the Koran has been understood identically over time. Changes have applied in such matters as jihad, slavery, usury, the principle of "no compulsion in religion," and the role of women. Moreover, the many important interpreters of Islam over the past 1,400 years—ash-Shafi'i, al-Ghazali, Ibn Taymiya, Rumi, Shah Waliullah, and Ruhollah Khomeini come to mind—disagreed deeply among themselves about the content of the message of Islam.
However central the Koran and Hadith may be, they are not the totality of the Muslim experience; the accumulated experience of Muslim peoples from Morocco to Indonesia and beyond matters no less. To dwell on Islam's scriptures is akin to interpreting the United States solely through the lens of the Constitution; ignoring the country's history would lead to a distorted understanding.
Put differently, medieval Muslim civilization excelled and today's Muslims lag behind in nearly every index of achievement. But if things can get worse, they can also get better. Likewise, in my own career, I witnessed Islamism rise from minimal beginnings when I entered the field in 1969 to the great powers it enjoys today; if Islamism can thus grow, it can also decline.
How might that happen?
The Medieval Synthesis
Key to Islam's role in public life is Sharia and the many untenable demands it makes on Muslims. Running a government with the minimal taxes permitted by Sharia has proved to be unsustainable; and how can one run a financial system without charging interest? A penal system that requires four men to view an adulterous act in flagrante delicto is impractical. Sharia's prohibition on warfare against fellow Muslims is impossible for all to live up to; indeed, roughly three-quarters of all warfare waged by Muslims has been directed against other Muslims. Likewise, the insistence on perpetual jihad against non-Muslims demands too much.
To get around these and other unrealistic demands, premodern Muslims developed certain legal fig leaves that allowed for the relaxation of Islamic provisions without directly violating them. Jurists came up with hiyal (tricks) and other means by which the letter of the law could be fulfilled while negating its spirit. For example, various mechanisms were developed to live in harmony with non-Muslim states. There is also the double sale (bai al-inah) of an item, which permits the purchaser to pay a disguised form of interest. Wars against fellow Muslims were renamed jihad.
This compromise between Sharia and reality amounted to what I dubbed Islam's "medieval synthesis" in my book In the Path of God (1983). This synthesis translated Islam from a body of abstract, infeasible demands into a workable system. In practical terms, it toned down Sharia and made the code of law operational. Sharia could now be sufficiently applied without Muslims being subjected to its more stringent demands. Kecia Ali, of Boston University, notes the dramatic contrast between formal and applied law in Marriage and Slavery in Early Islam, quoting other specialists:
One major way in which studies of law have proceeded has been to "compare doctrine with the actual practice of the court." As one scholar discussing scriptural and legal texts notes, "Social patterns were in great contrast to the 'official' picture presented by these 'formal' sources." Studies often juxtapose flexible and relatively fair court outcomes with an undifferentiated and sometimes harshly patriarchal textual tradition of jurisprudence. We are shown proof of "the flexibility within Islamic law that is often portrayed as stagnant and draconian."
While the medieval synthesis worked over the centuries, it never overcame a fundamental weakness: It is not comprehensively rooted in or derived from the foundational, constitutional texts of Islam. Based on compromises and half measures, it always remained vulnerable to challenge by purists. Indeed, premodern Muslim history featured many such challenges, including the Almohad movement in 12th-century North Africa and the Wahhabi movement in 18th-century Arabia. In each case, purist efforts eventually subsided and the medieval synthesis reasserted itself, only to be challenged anew by purists. This alternation between pragmatism and purism characterizes Muslim history, contributing to its instability.
The Challenge of Modernity
The de facto solution offered by the medieval synthesis broke down with the arrival of modernity imposed by the Europeans, conventionally dated to Napoleon's attack on Egypt in 1798. This challenge pulled most Muslims in opposite directions over the next two centuries, to Westernization or to Islamization.
Muslims impressed with Western achievements sought to minimize Sharia and replace it with Western ways in such areas as the nonestablishment of religion and equality of rights for women and non-Muslims. The founder of modern Turkey, Kemal Atatürk (1881-1938), symbolizes this effort. Until about 1970, it appeared to be the inevitable Muslim destiny, with resistance to Westernization looking rearguard and futile.
But that resistance proved deep and ultimately triumphant. Atatürk had few successors and his Republic of Turkey is moving back toward Sharia. Westernization, it turned out, looked stronger than it really was because it tended to attract visible and vocal elites while the masses generally held back. Starting around 1930, the reluctant elements began organizing themselves and developing their own positive program, especially in Algeria, Egypt, Iran, and India. Rejecting Westernization and all its works, they argued for the full and robust application of Sharia such as they imagined had been the case in the earliest days of Islam.
Though rejecting the West, these movements—which are called Islamist—modeled themselves on the surging totalitarian ideologies of their time, Fascism and Communism. Islamists borrowed many assumptions from these ideologies, such as the superiority of the state over the individual, the acceptability of brute force, and the need for a cosmic confrontation with Western civilization. They also quietly borrowed technology, especially military and medical, from the West.
Through creative, hard work, Islamist forces quietly gained strength over the next half century, finally bursting into power and prominence with the Iranian revolution of 1978–79 led by the anti-Atatürk, Ayatollah Khomeini (1902-89). This dramatic event, and its achieved goal of creating an Islamic order, widely inspired Islamists, who in the subsequent 35 years have made great progress, transforming societies and applying Sharia in novel and extreme ways. For example, in Iran, the Shiite regime has hanged homosexuals from cranes and forced Iranians in Western dress to drink from latrine cans, and in Afghanistan, the Taliban regime has torched girls' schools and music stores. The Islamists' influence has reached the West itself, where one finds an increasing number of women wearing hijabs, niqabs, and burqas.
Although spawned as a totalitarian model, Islamism has shown much greater tactical adaptability than either Fascism or Communism. The latter two ideologies rarely managed to go beyond violence and coercion. But Islamism, led by figures such as Turkey's Premier Recep Tayyip Erdoğan (1954-) and his Justice and Development Party (AKP), has explored nonrevolutionary forms of Islamism. Since it was legitimately voted into office in 2002, the AKP gradually has undermined Turkish secularism with remarkable deftness by working within the country's established democratic structures, practicing good government, and not provoking the wrath of the military, long the guardian of Turkish secularism.
The Islamists are on the march today, but their ascendance is recent and offers no guarantees of longevity. Indeed, like other radical utopian ideologies, Islamism will lose its appeal and decline in power. Certainly the 2009 and 2013 revolts against Islamist regimes in Iran and Egypt, respectively, point in that direction.
Toward a Modern Synthesis
If Islamism is to be defeated, anti-Islamist Muslims must develop an alternative vision of Islam and explanation for what it means to be a Muslim. In doing so, they can draw on the past, especially the reform efforts from the span of 1850 to1950, to develop a "modern synthesis" comparable to the medieval model. This synthesis would choose among Shari precepts and render Islam compatible with modern values. It would accept gender equality, coexist peacefully with unbelievers, and reject the aspiration of a universal caliphate, among other steps.
Here, Islam can profitably be compared with the two other major monotheistic religions. A half millennium ago, Jews, Christians, and Muslims all broadly agreed that enforced labor was acceptable and that paying interest on borrowed money was not. Eventually, after bitter and protracted debates, Jews and Christians changed their minds on these two issues; today, no Jewish or Christian voices endorse slavery or condemn the payment of reasonable interest on loans.
Among Muslims, however, these debates have only begun. Even if formally banned in Qatar in 1952, Saudi Arabia in 1962, and Mauritania in 1980, slavery still exists in these and other majority-Muslim countries (especially Sudan and Pakistan). Some Islamic authorities even claim that a pious Muslim must endorse slavery. Vast financial institutions worth possibly as much as $1 trillion have developed over the past 40 years to enable observant Muslims to pretend to avoid either paying or receiving interest on money, ("pretend" because the Islamic banks merely disguise interest with subterfuges such as service fees.)
Reformist Muslims must do better than their medieval predecessors and ground their interpretation in both scripture and the sensibilities of the age. For Muslims to modernize their religion they must emulate their fellow monotheists and adapt their religion with regard to slavery and interest, the treatment of women, the right to leave Islam, legal procedure, and much else. When a reformed, modern Islam emerges it will no longer endorse unequal female rights, the dhimmi status, jihad, or suicide terrorism, nor will it require the death penalty for adultery, breaches of family honor, blasphemy, and apostasy.
Already in this young century, a few positive signs in this direction can be discerned. Note some developments concerning women:
Other notable developments, not specifically about women, include:
The Saudi government abolished jizya (the practice of enforcing a poll tax on non-Muslims).

An Iranian court ordered the family of a murdered Christian to receive the same compensation as that of a Muslim victim.

Scholars meeting at the International Islamic Fiqh Academy in Sharjah have started to debate and challenge the call for apostates to be executed.

All the while, individual reformers churn out ideas, if not yet for adoption then to stimulate thought. For example, Nadin al-Badir, a Saudi female journalist, provocatively suggested that Muslim women have the same right as men to marry up to four spouses. She prompted a thunderstorm, including threats of lawsuits and angry denunciations, but she spurred a needed debate, one unimaginable in prior times.

Like its medieval precursor, the modern synthesis will remain vulnerable to attack by purists, who can point to Muhammad's example and insist on no deviation from it. But, having witnessed what Islamism, whether violent or not, has wrought, there is reason to hope that Muslims will reject the dream of reestablishing a medieval order and be open to compromise with modern ways. Islam need not be a fossilized medieval mentality; it is what today's Muslims make of it.

Policy Implications

What can those, Muslim and non-Muslim alike, who oppose Sharia, the caliphate, and the horrors of jihad, do to advance their aims?

For anti-Islamist Muslims, the great burden is to develop not just an alternative vision to the Islamist one but an alternative movement to Islamism. The Islamists reached their position of power and influence through dedication and hard work, through generosity and selflessness. Anti-Islamists must also labor, probably for decades, to develop an ideology as coherent and compelling as that of the Islamists, and then spread it. Scholars interpreting sacred scriptures and leaders mobilizing followers have central roles in this process.

Non-Muslims can help a modern Islam move forward in two ways: first, by resisting all forms of Islamism—not just the brutal extremism of an Osama bin Laden, but also the stealthy, lawful, political movements such as Turkey's AKP. Erdoğan is less ferocious than Bin Laden, but he is more effective and no less dangerous. Whoever values free speech, equality before the law, and other human rights denied or diminished by Sharia must consistently oppose any hint of Islamism.

Second, non-Muslims should support moderate and Westernizing anti-Islamists. Such figures are weak and fractured today and face a daunting task, but they do exist, and they represent the only hope for defeating the menace of global jihad and Islamic supremacism, then replacing it with an Islam that does not threaten civilization.
Erdogan's multiple goals in Khashoggi case
Disappearance of Saudi journalist Jamal Khashoggi at the Saudi Consulate in Istanbul created a wave of reactions against Saudi young Crown Prince Mohammed bin Salman's suppressive policies.
Despite early denials, worldwide reactions finally forced the Saudi rulers to acknowledge the death of Saudi journalist Jamal Khashoggi, the critic of Crown Prince Mohammed bin Salman policies in the country's consulate.
Among all international bodies, countries and political figures nobody reacted to Khashooggi's death as strong as Turkish President Erdogan did.
Along with the Turkish police investigations the countries officials particularly President Erdogan have been revealing details of the murder gradually. Rejecting the Riyadh's proposed bribe and despite the Saudi ruler's acknowledgment, Turkey has called the Riyadh's explanation incomplete and Turkish President has vowed to uncover the truth behind Saudi journalist Jamal Khashoggi's killing.
Although Turkish President has called the Saudi journalist as "a friend", other reasons can be imagined behind President Erdogan's determination to follow the issue so seriously.
Saudi Arabia and Turkey have been competing for influence in Middle East for years and have had lots of conflicts and tensions over the developments in Egypt which resulted in removal of Turkish backed Morsi from power by Saudi backed al-Sisi, Qatar crisis, Saudi role in 2016 failed coup in Turkey and Saudi destructive role in Syria and Iraq and Riyadh's financial and political support to separatist Kurdish groups which Turkey considers them as a threat to its national security.
Turkey considers Mohammad bin Salman behind all Riyadh's regional and anti-Turkey policies. The tensions between the two countries heightened so that Saudi Crown prince referred to Turkey as part of a regional "triangle of evil" along with Iran and Qatar.
Savage killing of Khashoggi at the Saudi consulate provided Erdogan with a golden opportunity to press international community and the US to push Saudi King to remove the young prince from power or at least to contain his destructive policies in the region especially regarding the Kurds in Syria and Iraq.
It also seems that President Erdogan is using the current situation to reduce domestic and international critiques of himself. Rejecting the US demand to release of Pastor Andrew Brunson accused of links to PKK terrorist group and the Gulenist movement by Turkish president resulted in the White House's sanctions against Turkey which deteriorated the country's economic situation.
Over the past couple of years, Erdogan has always been accused of limiting journalists' rights and freedom of speech both domestically and internationally, by supporting the Saudi Journalist he can show himself as defender of journalist's rights internationally.
First published in our partner MNA
Middle East Instability to Overshadow Future Global Nuclear Nonproliferation Efforts
The Middle East fragile situation in which contradicting aspirations of states and non-states' actors that are involved in shaping the regional balance of power would most likely overshadow the global nuclear nonproliferation efforts in the near future. Factors such as the United States withdrawal from the Iran Nuclear Deal last May, and the polarization of Middle Eastern rivals-allies' relations in recent years, also encompass lack of trust, weakening on norms and increased uncertainty in the region that ultimately undermines existing multilateral arms control arrangements.
Most of the public debate on the Middle East instability, so far, has been focusing on issues such as the implications of intensified subsequent U.S sanctions, or the reaction of the global markets, as well as ongoing polarization in international relations. While this debate is important, attempts to figure out how to best deal with this situation often ignores the context of the overall global efforts to reduce proliferation of Weapons of Mass Destruction (WMD) and their implication on global security stability. A regional stabilization would be more practical by emphasizing the link between the regional WMD challenges to the Treaty on The Nonproliferation of Nuclear Weapons (NPT) that already encompasses most of these challenges. Developments in Iran's nuclear actions and the continuing stagnation in the Arab League's demand to advance negotiation on a Middle East Weapons of Mass Destruction Free-Zone (WMDFZ) are significant issues that have already taken a toll on the NPT and has already eroded the treaty member states obligations to it.
The above argument is also supported by a recent Russian official statement and by a draft resolution that the League of Arab States have submitted on the Middle East WMDFZ to the United Nations General Assembly. On September 28, 2018, the Russian News Agency published a statement by the Russian Director of the Foreign Ministry Department for Non-Proliferation and Arms Control Vladimir Yermakov. According to Mr. Yermakov, the establishment of a WMDFZ in the region is not feasible today, but it is urgent to advance it since current stagnation would "undermine the foundations of the NPT." The League of Arab States on their part, presented on October 11, 2018, a new draft resolution to the General Assembly, calling for the Secretary-General to take responsibility on convening a conference to establish a WMDFZ in the Middle East no later than June 2019. This draft resolution takes into consideration the limited time frame before the convening of the 2020 NPT review conference and the 2019 Preparatory committee to the conference.
So far, Five out of nine NPT review conferences that were held quinquennially since 1975 have failed to conclude with a final document, which symbolically shows a unified position and the commitment of the state parties to adhere to the treaty. Legally, the authority of review conferences is to clarify and interpret the treaty clauses, and not to amend them, to improve the treaty's implementation. This conduct makes the review conference political in nature since adopted decisions are based on political consent and are not legally binding. This political nature has often brought different issues of major controversies, such as the nuclear weapons states' obligations under the NPT to denuclearize or the Middle East WMDFZ, to overshadow other issues on the agenda, such as the emergence of new technologies, or suggestions to increase transparency that could affect the treaty's implementation.
In order to strengthen the NPT review process and to promote a constructive dialog among the parties, the 1995 NPT Review and Extension Conference have decided to include a Preparatory Committee support mechanism to improve the function and the outcomes of their subsequent review conferences. Nevertheless, the attempts to utilize preparatory committees for this aim by ultimately formulate significant recommendations for discussion at the treaty review conferences have failed to meet expectations, so far. Manifested political gaps between the nuclear member states and the non-nuclear member states that frequently appeared in previous review conferences have reproduced to their preparatory committees. These political gaps have practically obstructed improvements and  mutual understandings between state parties on nuclear issues, which prevented the formulation of a consensus- based final document in the review conference of 2005 and 2015. This in turn, significantly undermine the strength of the NPT and makes preparatory committees merely a preamble for their consecutive review conferences' dynamics.
The first sign for the possibility to maintain and improve global cooperation on nuclear nonproliferation, in light of the Middle East tensions, would be given at the upcoming NPT review conference that is expected in April 2020. Positive outcomes of this conference would be achieved once a unified position (or at least the widest possible) of the state parties on their commitment to adhere to the NPT would be formulated and agreed upon in the final document of the conference. As the 2000 and 2010 review conferences showed, a unified position that is brought together with an adoption of some practical steps to promote the treaty goals (with an emphasis on the Middle East WMDFZ) could enhance the significance of the NPT to deal with future nuclear weapons challenges.
Despite the relative success in the 2000 and 2010 conferences, failing to fulfill commitments on the agreed practical steps to promote the Middle East WMDFZ have raised frustration in the League of Arab States. Led by Egypt, the League of Arab States have been calling to promote a WMDFZ since 1974 (together with Iran), and with great extent since the 'Resolution on The Middle East' was adopted in the 1995 NPT review and extension conference – a resolution that in practice included the issue within the NPT framework. This issue was ultimately one of the main reasons for the failure of the NPT 2015 review conference due to a disagreement between the US and Egypt. The US-Egypt wrangled over the WMDFZ and accused each other on inflexibility, lack of interest and the use of this topic for political purposes. These direct accusations can only reflect on the overall undermining of the NPT in recent years. The same goes with the Iran Deal, where current inability to reach equilibrium that would suitable the interests of Iran and Russia on one side and the US and other moderate Sunni states on the other side (Israel is not member in the NPT) would eventually pervade to the 2020 review conference negotiations and negatively impact the conference's outcomes.
Nevertheless, achieving a positive outcome in the 2020 review conference depends not only on what would happen during the conduct of the conference, in terms of dynamics and the convened parties' will to compromise, but also on the states parties' ability to cooperate and reach at least principle agreements in the current time frame – prior to the conference's due date. All the more so, any gains achieved regardless of the NPT context are also likely to negatively impact the 2020 NPT review conference. The treaty's framework is the most relevant to comprehensively deal with the most crucial aspects of WMD nonproliferation in the Middle East while bringing most of the parties involved together to the same table.
The existing alternatives to gain a progress in the Middle East security situation relays on the ground that the NPT provides. Such alternatives are ranged from convening a regional arms control and regional security conference, as the League of Arab states asserts, through a direct cooperation and involvement of the NPT depositories – Britain, Russia, and the US that could provide guarantees to mitigate regional tensions. Failing to provide a pragmatic prospect for regional negotiations prior to the 2020 review conference would not only deepen the current deadlock and increase instability and frustration but would also undermine the relevancy of the NPT when it is most needed to regulate nonproliferation.
Mohammed bin Salman: For better or for worse?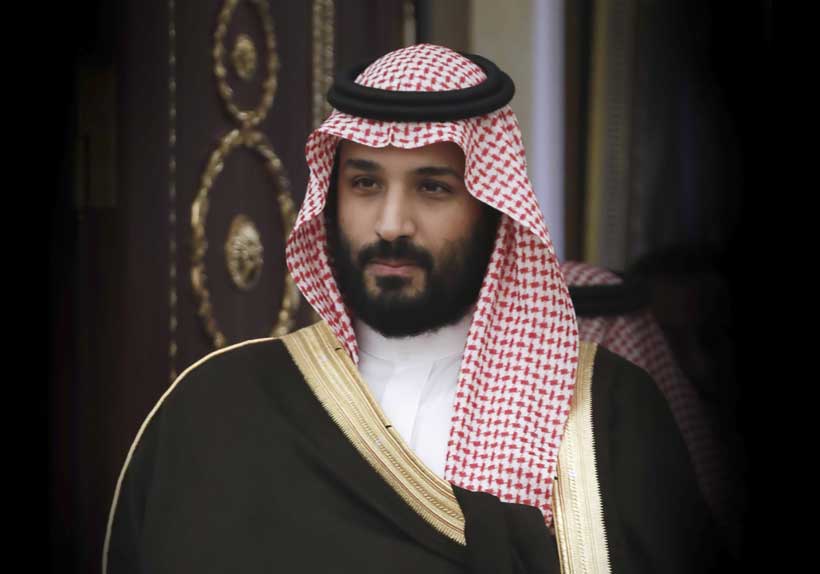 Embattled Saudi Crown Prince Mohammed bin Salman could prove to be not only a cat with nine lives but also one that makes even stranger jumps.
King Salman's announcement that Prince Mohammed was put in charge of reorganizing Saudi intelligence at the same time that the kingdom for the first time admitted that journalist Jamal Khashoggi had been killed in its Istanbul consulate signalled that the crown prince's wings were not being clipped, at least not immediately and not publicly.
With little prospect for a palace coup and a frail King Salman unlikely to assume for any lengthy period full control of the levers of power, Prince Mohammed, viewed by many as reckless and impulsive, could emerge from the Khashoggi crisis, that has severely tarnished the kingdom's image and strained relations with the United States and Western powers, even more defiant rather than chastened by international condemnation of the journalist's killing.
A pinned tweet by Saud Al-Qahtani, the close associate of Prince Mohammed who this weekend was among several fired senior official reads: "Some brothers blame me for what they view as harshness. But everything has its time, and talk these days requires such language." That apparently was and could remain Prince Mohammed's motto.
Said former CIA official, Middle East expert and novelist Graham E. Fuller in a bid to identify the logic of the madness: "As the geopolitics of the world changes—particularly with the emergence of new power centres like China, the return of Russia, the growing independence of Turkey, the resistance of Iran to US domination in the Gulf, the waywardness of Israel, and the greater role of India and many other smaller players—the emergence of a more aggressive and adventuristic Saudi Arabia is not surprising."
Prince Mohammed's domestic status and mettle is likely to be put to the test as the crisis unfolds with Turkey leaking further evidence of what happened to Mr. Khashoggi or officially publishing whatever proof it has.
Turkish leaks or officially announced evidence would likely cast further doubt on Saudi Arabia's assertion that Mr. Khashoggi died in a brawl in the consulate and fuel US Congressional and European parliamentary calls for sanctions, possibly including an arms embargo, against the kingdom.
In a sharp rebuke, US President Donald J. Trump responded to Saudi Arabia's widely criticized official version of what happened to Mr. Khashoggi by saying that "obviously there's been deception, and there's been lies.".
A prominent Saudi commentator and close associate of Prince Mohammed, Turki Aldakhil, warned in advance of the Saudi admission that the kingdom would respond to Western sanctions by cosying up to Russia and China. No doubt that could happen if Saudi Arabia is forced to seeks alternative to shield itself against possible sanctions.
That, however, does not mean that Prince Mohammed could not be brazen in his effort to engineer a situation in which the Trump administration would have no choice but to fully reengage with the kingdom.
Despite pundits' suggestion that Mr. Trump's Saudi Arabia-anchored Middle East strategy that appears focussed on isolating Iran, crippling it economically with harsh sanctions, and potentially forcing a change of regime is in jeopardy because of the damage Prince Mohammed's international reputation has suffered, Iran could prove to be the crown prince's window of opportunity.
"The problem is that under MBS, Saudi Arabia has become an unreliable strategic partner whose every move seems to help rather than hinder Iran. Yemen intervention is both a humanitarian disaster and a low cost/high gain opportunity for Iran," tweeted former US Middle East negotiator Martin Indyk, referring to Prince Mohammed by his initials.
Mr. "Trump needed to make clear he wouldn't validate or protect him from Congressional reaction unless he took responsibility. It's too late for that now. Therefore I fear he will neither step up or grow up, the crisis will deepen and Iran will continue to reap the windfall," Mr. Indyk said in another tweet.
If that was likely an unintended consequence of Prince Mohammed's overly assertive policy and crude and ill-fated attempts to put his stamp on the Middle East prior to the murder of Mr. Khashoggi, it may since in a twisted manner serve his purpose.
To the degree that Prince Mohammed has had a thought-out grand strategy since his ascendancy in 2015, it was to ensure US support and Washington's reengagement in what he saw as a common interest: projection of Saudi power at the expense of Iran.
Speaking to The Economist in 2016, Prince Mohammed spelled out his vision of the global balance of power and where he believed Saudi interests lie. "The United States must realise that they are the number one in the world and they have to act like it," the prince said.
In an indication that he was determined to ensure US re-engagement in the Middle East, Prince Mohammed added: "We did not put enough efforts in order to get our point across. We believe that this will change in the future."
Beyond the shared US-Saudi goal of clipping Iran's wings, Prince Mohammed catered to Mr. Trump's priority of garnering economic advantage for the United States and creating jobs. Mr. Trump's assertion that he wants to safeguard US$450 billion in deals with Saudi Arabia as he contemplates possible punishment for the killing of Mr. Khashoggi is based on the crown prince's dangling of opportunity.
"When President Trump became president, we've changed our armament strategy again for the next 10 years to put more than 60 percent with the United States of America. That's why we've created the $400 billion in opportunities, armaments and investment opportunities, and other trade opportunities. So this is a good achievement for President Trump, for Saudi Arabia," Prince Mohammed said days after Mr. Khashoggi disappeared.
The crown prince drove the point home by transferring US$100 million to the US, making good on a long standing promise to support efforts to stabilize Syria, at the very moment that US Secretary of State Mike Pompeo last week landed in Riyadh in a bid to defuse the Khashoggi crisis.
A potential effort by Prince Mohammed to engineer a situation in which stepped-up tensions with Iran supersede the fallout of the Khashoggi crisis, particularly in the US, could be fuelled by changing attitudes and tactics in Iran itself.
The shift is being driven by Iran's need to evade blacklisting by the Financial Action Task Force (FATF), an international anti-money laundering and terrorism finance watchdog. Meeting the group's demands for enhanced legislation and implementation is a pre-requisite for ensuring continued European support for circumventing crippling US sanctions.
In recognition of that, Iranian supreme leader Ayatollah Ali Khamenei dropped his objection to adoption of the FATF-conform legislation.
If that were not worrisome enough for Prince Mohammed, potential Iranian efforts to engage if not with the Trump administration with those segments of the US political elite that are opposed to the president could move the crown prince to significantly raise the stakes, try to thwart Iranian efforts, and put the Khashoggi crisis behind him.
Heshmatollah Falahatpisheh, head of parliament's influential national security and foreign policy commission, signalled the potential shift in Iranian policy by suggesting that "there is a new diplomatic atmosphere for de-escalation with America. There is room for adopting the diplomacy of talk and lobbying by Iran with the current which opposes Trump… The diplomatic channel with America should not be closed because America is not just about Trump."
Should he opt, to escalate Middle Eastern tensions, Prince Mohammed could aggravate the war in Yemen, viewed by Saudi Arabia and the Trump administration as a proxy war with Iran, or seek to provoke Iran by attempting to stir unrest among its multiple ethnic minorities.
To succeed, Prince Mohammed would have to ensure that Iran takes the bait. So far, Iran has sat back, gloating as the crown prince and the kingdom are increasingly cornered by the Khashoggi crisis, not wanting to jeopardize its potential outreach to Mr. Trump's opponents as well as Europe.
That could change if Prince Mohammed decides to act on his vow in 2017 that "we won't wait for the battle to be in Saudi Arabia Instead, we will work so that the battle is for them in Iran, not in Saudi Arabia."