The Secret History of America's Thirty-Years Conflict with Iran
Relations with Iran have challenged every U.S. administration since the 1979 revolution, and all U.S. presidents since Jimmy Carter have had to address the regime's attempts to export its Islamist revolution abroad, its fierce opposition to the Arab-Israeli peace process,
and its dogged nuclear quest. As President Barack Obama begins a second term in office, it would serve the president and those advising him well to truly understand the mindset of the revolutionary regime in order to avoid repeating past mistakes.
The task of untangling that history, facilitated by such books as Kenneth Pollack's The Persian Puzzle[1] and Patrick Clawson and Michael Rubin's Eternal Iran,[2] has now received a major boost with David Crist's excellent new title The Twilight War: The Secret History of America's Thirty-Years Conflict with Iran.[3] Based on twenty years of archival research and four hundred interviews, it is a serious contribution to our understanding of the turbulent relations between Washington and Tehran during the past three decades. Crist highlights both the immaturity of the revolutionary regime in Tehran and errors in judgment by Washington that have led to numerous missed opportunities to normalize relations over the years.
The book's most important shortcoming, however, is its lack of primary source material in the Persian language. In most cases, this material would have reinforced Crist's arguments, yet in a few important instances, this deficiency leads to questionable conclusions. In particular, his judgments about the Iran-Iraq war (1980-88)—the formative experience shaping the minds of the current crop of Iranian decision makers—would have greatly benefited from the use of such sources. Its proper understanding offers insights into the Islamic Republic's strategy today that might help avert looming catastrophes.
The Iraqi Invasion
According to official Islamic Republic historiography, the war with Iraq began on August 22, 1980, when Iraqi forces conducted a surprise invasion of Iranian territory.[4] Grand Ayatollah Ruhollah Khomeini himself made a point of stressing the element of surprise when addressing ambassadors of Islamic countries in October 1980: "The usurping government of Saddam attacked Iran from the sea, air, and on the ground without any excuse acceptable to the governments of the world and without prior information or warning of conquest."[5]
Notwithstanding Khomeini's public pronouncement, he had been warned of an imminent Iraqi invasion well in advance. Crist perceptively cites a meeting on October 1979 between CIA officer George Cave and then-foreign minister Ebrahim Yazdi, in which such a warning was given.[6] Cave also instructed Yazdi to reactivate a signals intelligence collection station in Ilam to "find out what Iraq is up to," but Yazdi dismissed the advice saying: "They wouldn't dare!"[7]
Persian language primary source material reveals other early warnings ignored by the supreme leader. In a September 22, 1991 interview with the weekly Payam-e Enghelab, Ahmad Khomeini, son of the grand ayatollah, disclosed that Shapour Bakhtiar, the last prime minister of the shah, had reached out to Grand Ayatollah Khomeini in Paris through his chief of staff. When denied an audience with Khomeini, Bakhtiar's chief of staff met with Ahmad and warned him of suspicious movements by Iraqi forces detected by Iran's military intelligence.[8] Ayatollah Khomeini dismissed Bakhtiar's warnings as a scare tactic.
On June 15, 1980, Iran's first post-revolutionary president, Abol-Hassan Bani-Sadr, sent a letter to Khomeini warning of suspicious movements of Iraqi forces.[9] A September 19, 1980 letter from the president is even more revealing:
I don't know what happened at your residence last night and what the army and the Islamic Revolutionary Guard Corps [IRGC] discussed with you. But I find it necessary to report this: … One month ago I sent you the exact same commanders who passed you information about today's conspiracy. Afterward you told me that you didn't believe in such intelligence. Today the intelligence has been proven right, and there is a strong possibility of an extensive battle from the Turkish border to Pakistan.[10]
Why did Yazdi dismiss the CIA's alert? Why did Khomeini ignore Bakhtiar's, Bani-Sadr's, and the army commanders' reports on developments on the Iraqi side of the border? And why did the grand ayatollah isolate Iran diplomatically by continually threatening its neighbors with "export of the revolution" at a time when he was perfectly aware of the Iraqi threat?[11]
Crist correctly concludes that the Iraqi invasion provided Khomeini with an opportunity to consolidate his rule.[12] This is further confirmed by a 2008 interview in Persian between political scientist Sadeq Zibakalam and former Iranian president Ayatollah Ali-Akbar Hashemi Rafsanjani. In the course of the conversation, Zibakalam told Rafsanjani: "My conclusion is that deep down, the imam [Khomeini] was happy about the war. He never said so directly, but deep down he thought that it was not us who wanted to attack the Baath regime of Iraq, but now that they have attacked us, we will pursue it [the war] to the very end." To which Rafsanjani responded: "I agree with your view. But it is not true that it was deep in his [Khomeini's] heart. He would also say that aloud. He did not hide it. … The war gave us a path to solve the regional problems and build our nation. We all said this, and the imam too was of this belief."[13]
Thanks to the Iraqi invasion of Iran, Khomeini was able to rally a fragmented nation around the revolutionary leadership and hoped to use the war to overthrow the Baath regime in Baghdad. The revolutionary leadership also used the war instrumentally, to keep the remnants of the shah's army busy at the front and effectively out of politics. Finally, the invasion gave the Islamist regime the necessary excuse for suppressing popular demands for political freedoms by imposing a state of emergency. The war, indeed, proved a "divine blessing" for the regime—one actively sought and called for by Khomeini.[14]
Why the War Continued after 1982
On April 3, 1982, Saddam Hussein offered a cease-fire, which was dismissed by Tehran. Not long thereafter, on May 24, Iranian forces liberated the border city of Khorramshahr, ending Iraqi occupation of Iranian territory. Why then did the war continue?
According to Crist, a "divided Iranian leadership" debated its next steps in the war, but "[n]o one advocated accepting the cease-fire." He claims that Ahmad Khomeini pressed for continuing the war on Iraqi soil, but then-president Ali Khamene'i, foreign minister Ali-Akbar Velayati, and Rafsanjani (then parliamentary speaker) were "less sanguine about invading Iraq proper." Most importantly, he suggests that to some degree, Khomeini himself opposed an invasion of Iraq.[15]
Access to Persian language documents corroborates this. In his September 22, 1991 interview with Payam-e Enghelab, Ahmad Khomeini revealed,
The imam believed that it was better to end the war, but those responsible for the war said that we had to move toward Shatt al-Arab so that we could demand war reparations from Iraq. The imam did not agree with this line at all and used to say that if … one didn't prevail in the war now, this war couldn't be ended at all. We must continue this war to a certain point. Now that Khorramshahr had been liberated, it was the best time to end the war.[16]
Rafsanjani's memoirs also stress Khomeini's opposition, conveyed through his son on March 26, 1982, and at a meeting with military commanders on June 10, 1982.[17] According to Rafsanjani, three days after the liberation of Khorramshahr, the grand ayatollah argued against invasion before the Supreme Defense Council, stating that
(1) After invading Iraq, the Arab countries will support Baghdad more overtly and will display Arab extremism.
(2) The people of Iraq have not supported Saddam until now because he was on our soil. But should we invade Iraq, they will support him; we should strive not to drive the Iraqi people to oppose us.
(3) Should we invade Iraq, the Iraqi people will be harmed. Thus far, those Iraqis who have not fought have not been harmed.
(4) The world will present us as invaders and will subject us to propaganda pressure.[18]
If Grand Ayatollah Khomeini was so adamantly opposed to an invasion of Iraq, how and why did the war drag on for another six years? Who were the supporters of the continuation of the war?
Persian language primary source material shows that it was the Revolutionary Guards' leaders who managed to persuade an unwilling grand ayatollah to continue the war. And in contrast to Crist's view, they were supported in this position by Rafsanjani himself.
In his April 18, 1982 diary entry, Ayatollah Rafsanjani writes:
The country's warlike atmosphere and the high expectations of the people, especially the combatants, are such that they ridicule such propositions [of peace negotiations] and do not consider immediate but conditional withdrawal enough and criticize those responsible for the war effort … [as to] why they don't immediately enter Iraqi soil.[19]
Further, Khomeini withdrew his opposition since the "armed forces made solid military and technical arguments, and the imam, in a limited and conditional way, capitulated to their view."[20]
In his memoirs and interviews, Rafsanjani has deftly avoided clarifying his own position concerning the continuation of the war after Khorramshahr, but Mohsen Rezaei, then-commander of the Revolutionary Guards, shed light on this in his own war memoirs:
Following the liberation of Khorramshahr, the imam said: "You stay at the border and fight here" … [but] Rafsanjani said that we should move beyond the international borders. Should we desire to end the war, we need to have something we can use in the [cease-fire] negotiations.[21]
Rezaei also claimed that Rafsanjani had urged the military to occupy Basra, to be used as a bargaining chip.[22]
Different proponents of continuing the war had their own motives for doing so, but the Revolutionary Guards had the strongest. When Rezaei was appointed commander on August 24, 1981, there were only "20 to 30,000 members of the Guards and the Basij [its closely allied paramilitary force]."[23] That number increased to a quarter of a million members by 1988 with the lion's share of Iran's military budget allocated to it. This development would not have been possible had it not been for the continuation of the war. The IRGC essentially sacrificed Iran's national interest and hundreds of thousands of Iranian lives for the sake of its corporate and organizational expansion.
Apart from this, Khomeini's acquiescence in the IRGC's demands for continuing the war after Khorramshahr's liberation illustrates the clerics' dependence on the IRGC to suppress domestic opposition. Beyond its historical relevance, this mechanism may also in part explain Supreme Leader Ali Khamene'i's position on the nuclear crisis today.
Why the War Ended
In The Twilight War, Crist echoes the widely held belief that the accidental and tragic July 3, 1988 downing of Iran Air flight 655 by the USS Vincennes convinced the Iranian leadership to end the war with Iraq.[24] Yet while Khomeini's July 20, 1988 acceptance of the cease-fire agreement happened in the immediate wake of the civilian airliner tragedy,[25] Persian primary source material reveals that the decision had been maturing for quite some time prior to the incident.
On June 3, 1988, Rafsanjani was appointed commander-in-chief. In his account, Ayatollah Abd al-Karim Mousavi Ardebili, the judiciary's chief, President Khamene'i, Ahmad Khomeini, and Prime Minister Mir-Hossein Mousavi had all concluded by June 1988 that "they [the West in general and the United States in particular] will not allow us to win in the war."[26] A number of Revolutionary Guards commanders endorsed this view, and on June 10, 1988, Ali Shamkhani, then-Revolutionary Guards ground forces commander, urged Rafsanjani to end the war.[27]
On June 16, Rafsanjani met with Khamene'i, Mousavi, and Ahmad Khomeini and concluded that Iran would either have to mobilize all the resources of the state for the war effort or end the conflict. Despite their passing this on to the grand ayatollah, Khomeini still opted for total war. However, barely a month later, on July 14—eleven days after the downing of the Iranian airliner—Khomeini decided to end the war.[28] Yet rather than being impelled by the civilian disaster, this decision was based on a letter Khomeini had received from Rezaei in which the Revolutionary Guards commander confessed there would be no victory in the next five years unless almost unlimited resources were to be directed to the IRGC and the military and unless Tehran developed a nuclear bomb and managed to force the United States to leave the Persian Gulf.[29] Since none of these options seemed realistic, Khomeini chose to drink from the poisoned chalice and end the war with Iraq. Thus, the IRGC had the final say in both continuation of the war after 1982 and its end in 1988.
Conclusions
Iranian archives remain closed to scholars, and few individuals involved in the shaping or execution of Tehran's policies are willing to risk their lives giving interviews. Outside of Western intelligence experts with access to classified documents, there is little that academics or nongovernment analysts can rely on for accurate information. In spite of the lack of Persian source material, Crist's Twilight War is among the best works we have.
What is most sobering is that twenty-four years after the end of the war with Iraq, the leadership of the Islamic Republic faces many of the same challenges seen during that conflict. The regime in Tehran combines an incredible degree of unpreparedness for conflict with the greatest degree of provocation against regional countries and great powers alike. Threats to annihilate Israel, rivalry with Sunni Arab states, systematic provocations against the U.S. military in Afghanistan and Iraq, along with its clandestine nuclear program, have left Tehran largely isolated and friendless in a dangerous world. The regime hopes to rally a fragmented nation around the flag by maintaining Iran in a permanent state of crisis, just as it did during the Iran-Iraq war. Yet in the midst of the crisis, political factions, in particular the Revolutionary Guards, sacrifice the welfare of the Iranian nation on the altar of their own narrow interests, following the exact path as in the 1980s.
In the meantime, the Iranian regime's occasional offers of rapprochement, such as the much debated May 4, 2003 fax to the U.S. State Department,[30] carry little weight in reality. Civilian leaders may have sounded out Washington at a time when the U.S. military surrounded Iran, but were the officers of the Revolutionary Guards on the same page? Even if they were, would Tehran have honored its obligations once the vulnerabilities of the U.S. positions in Afghanistan and Iraq had become apparent? On the whole, one cannot help but think that the fundamental obstacle between the two states is the nature of the regime in Tehran. Absent external enemies, how else can Iranian leaders legitimize their repression of internal opposition?
The balance between bellicosity and faux rapprochement is delicate. One day Tehran will cross the red lines of Washington and its allies thereby igniting a disastrous war, which is likely to prove another poisoned chalice waiting for Iranian leaders to drink.
Ali Alfoneh is a senior fellow at the Foundation for the Defense of Democracies.
[1] Random House, 2005.
[2] Palgrave Macmillan, 2005.
[3] New York, Penguin, 2012.
[4] "Aghaz-e Jang-e Tahmili-ye Eragh Alayh-e Iran Va Hafteh-ye Defa'-e Moghaddas," Markaz-e Asnad-e Enghelab-e Eslami website, Tehran, accessed Sept. 13, 2010.
[5] Moassesseh-ye Tanzim Va Nashr-e Asar-e Hazrat-e Emam Khomeini, Sahifeh-ye Hazrat-e Emam Khomeini, CD-ROM, Tehran, vol. 13, p. 276.
[6] "Toward an International History of the Iran-Iraq War, 1980-1988: A Critical Oral History Workshop," Cold War International History Project, Woodrow Wilson International Center for Scholars, Washington, D.C., July 19, 2004; David Crist, The Twilight War: The Secret History of America's Thirty-Years Conflict with Iran (New York: Penguin, 2012), p. 87.
[7] Crist, The Twilight War, p. 87.
[8] Moassesseh-ye Tanzim Va Nashr-e Asar-e Emam Khomeini, Majmou-eh-ye Asar-e Yadegar-e Emam—Hojjat al-Eslam va Al-Moslemin Hajj Seyyed Ahmad Khomeini (N.P., 1996), p. 715.
[9] Abol-Hassan Bani-Sadr, Nameh-ha Az Agha-ye Bani-Sadr Be Agha-ye Khomeini va Digaran (Frankfurt Am Main: Enghelab-e Eslami Zeitung, 2006), p. 55.
[10] Ibid., p. 156.
[11] See Khomeini's Dec. 17, 1979 interview quoted in Moassesseh-ye Tanzim Va Nashr-e Asar-e Hazrat-e Emam Khomeini, Sahifeh-ye Hazrat-e Emam Khomeini, vol. 11, p. 290; idem, Dec. 19, 1979 interview quoted in Sahifeh-ye Hazrat-e Emam Khomeini, vol. 11, p. 336; idem, Jan. 5, 1980 interview with Time quoted in Sahifeh-ye Hazrat-e Emam Khomeini, vol. 12, p. 37; idem, Mar. 21, 1980 new year address quoted in Sahifeh-ye Hazrat-e Emam Khomeini, vol. 12, p. 202.
[12] Crist, The Twilight War, p. 89.
[13] Sadeq Zibakalam and Fereshteh Sadat Ettefaghfar, Hashemi Bedoun-e Routoush (Tehran: Rowzaneh, 2008), p. 277.
[14] Sepah-e Pasdaran-e Enghelab-e Eslami, Gozari Bar Do Sal Jang (N.P.: Daftar-e Siasi-ye Sepah-e Pasdaran-e Enghelab-e Eslami, n.d.), p. 21.
[15] Crist, The Twilight War, p. 94.
[16] Khomeini, Majmou-eh-ye Asar-e Yadegar-e Emam, pp. 716-17. The same claim was also made in the memoirs of Ayatollah Hossein-Ali Montazeri, Khaterat-e Ayatollah Hossein-Ali Montazeri (Los Angeles: Ketab Corp., 2001), p. 330.
[17] Fatemeh Hashemi, ed., Pas Az Bohran. Karnameh va Khaterat-e Hashemi Rafsanjani Sal-e 61, (Tehran: Daftar-e Nashr-e Ma'aref-e Enghelab, 2000), pp. 40, 137.
[18] Zibakalam and Ettefaghfar, Hashemi Bedoun-e Routoush, pp. 285-6.
[19] Hashemi, Pas Az Bohran. Karnameh, pp. 68-9.
[20] Zibakalam and Sadat Ettefaghfar, Hashemi Bedoun-e Routoush, p. 286.
[21] Mohsen Rezaei Mir-Qaed, Jang Be Revayat-e Farmandeh, Pezhman Pourjabbari, ed. (Tehran: Bonyad-e Hefz-e Asar va Nashr-e Arzesh-ha-ye Defae-e Moqaddas, 2012), pp. 140-1.
[22] Ibid.
[23] Ibid., p. 42.
[24] Crist, The Twilight War, pp. 370-1.
[25] Moassesseh-ye Tanzim Va Nashr-e Asar-e Hazrat-e Emam Khomeini, Sahifeh-ye Hazrat-e Emam Khomeini, vol. 21, p. 95.
[26] Rezaei, Jang Be Revayat-e Farmandeh, p. 289.
[27] Akbar Hashemi Rafsanjani, Payan-e Defae—Aghaz-e Bazsazi, Ali-Reza Hashemi, ed. (Tehran: Daftar-e Nashr-e Maaref-e Enqelab, 2012), p. 163.
[28] Ibid., pp. 171-2, 210.
[29] Hossein-Ali Montazeri, Khaterat-e Ayatollah Hossein-Ali Montazeri, pp. 571-2.
[30] Crist, The Twilight War, p. 476.
Poll Shows Trump's Israel Policy Is Opposed Even by Republicans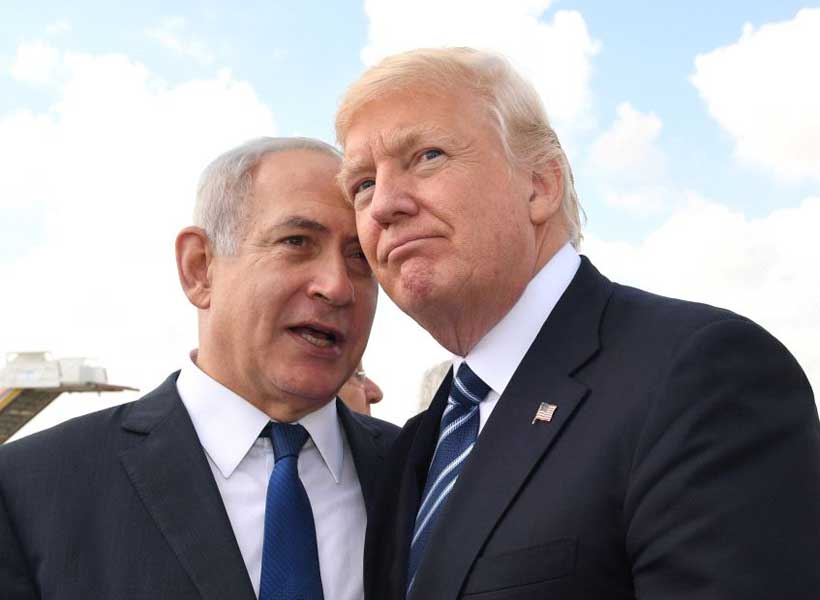 On Monday, November 18th, Reuters headlined "U.S. backs Israel on settlements, angering Palestinians and clouding peace process" and reported that, "The United States on Monday effectively backed Israel's right to build Jewish settlements in the occupied West Bank by abandoning its four-decade-old position that they were 'inconsistent with international law,' a stance that may make Israeli-Palestinian peace even more elusive." This article made clear that, of all entities Reuters could contact about the matter, only U.S. Secretary of State Mike Pompeo thought that these illegal settlements are legal, and even Pompeo was offering no other reason than that "'The establishment of Israeli civilian settlements is not, per se, inconsistent with international law,' Pompeo told reporters at the State Department, reversing a formal legal position taken by the United States under Carter in 1978." It was merely his dictat, as authority for this major U.S. policy-change.
One poll was recently taken of Americans on the matter. It was done by Scarborough Research, a joint venture by The Nielsen Company and Arbitron, and its sample size was unusually large for such a poll and employed rigorous sampling techniques. Thus, its findings should be considered to be close to the reality. Here is a summary of that poll's methodology and findings. [I add my explanations in brackets].
The survey was carried out September 12 – October 9, 2018 online from a nationally representative sample of Nielsen Scarborough's probability-based panel, originally recruited by mail and telephone using a random sample of adults provided by Survey Sampling International. The national sample was 2,352.
Q57. As you may know, the United States has been acting as a mediator between the Israeli government and the Palestinian Authority, with the aim of reaching an agreement in the IsraeliPalestinian conflict. Whether or not these efforts succeed, there is a question about what kind of future for Israel and the Palestinians the U.S. should be supporting over the long term, and many analysts feel that time is running out for some options. Here are four possible approaches that are frequently discussed. Please select the one you think the U.S. should support.
Rep Dem Ind Total
1. A two-state solution: Israel and a Palestinian state side by side. The Palestinian state would be established on the territories that Israel has occupied since 1967. 24% 48% 31% 36% [That's 24% "Rep"; 48% "Dem"; 31% "Ind"; 36% "Total."]
2. A one-state solution: A single democratic state in which both Jews and Arabs are full and equal citizens, covering all of what is now Israel and the Palestinian Territories. 33% 36% 38% 35%
3. Annexation without equal citizenship: Israel would annex the Palestinian territories, but keep a majority-Jewish state in the expanded territories by restricting citizenship rights of Palestinians. 14% 3% 4% 8%
4. Maintain the occupation of both the territories Israel has captured in 1967 and the Palestinians inhabiting them indefinitely. 18% 5% 13% 11%
Refused 11% 8% 14% 10%
[71% support either a two-state or a one-state solution (a sort of democratic solution). 19% support either "Annexation without equal citizenship" or Israel's permanent militarily imposed "occupation of both the territories (West Bank and Gaza)." On this question, only 19% support Trump's Israel policy, but 25% of Republicans do. However, 67% of Republicans don't.]
One of the issues of tension between the United States and Israel has been its construction of Israeli settlements in the territories occupied by Israel in the 1967 war. These settlements are considered illegal by most of the international community and have been opposed by every U.S. administration, both Republican and Democratic. The Israeli government has continued to build settlements. … How do you believe the U.S. should react to new settlements?
1. Do nothing: 38% 17% 33% 28%
2. Verbally criticize: 30% 22% 27% 26%
3. Economic sanctions: 17% 41% 22% 17%
4. More serious action: 9% 15% 11% 12%
[Trump's "Do nothing" is supported by 28% of American voters. That even includes only 38% of Republicans. 56% of Republicans want some type of at least criticism against Israel.]
Consequently: Trump has now gone far out onto a far-right limb here in his policies toward the state of Israel and its dictatorship over Palestinians (the people who are the descendants of what were the vast majority of Israel's population until the ethnic cleansing that slaughtered and displaced them).
The Intellectual Doomsday Clock: 30 Seconds to Midnight?
As someone who has dedicated his entire professional career to higher education, to engaging young minds and striving to advance new thinking across a whole host of critically important global issues, it is with great sadness that I write this article. Not only do all of the scientific surveys point to a coming calamity, my own career provides extensive anecdotal confirmation of the sad reality that we are, as a human society, pushing ourselves down into an intellectual abyss from which we might not be able to emerge. Perhaps most disturbing of all, this pushing momentum is not done by accident. Rather, most of society today seems hell-bent on orgiastically rejoicing in our diminishing skills and our dismissal of 'smartness.' Refined thinking, nuanced analysis, and subtle reasoning are now the supposed domain of out-of-touch elite, of people who do not know about reality and are therefore happily removed from the debate/discussion stage. This is not the same kind of anti-elitism we have seen in decades past. This is not simply a fight between the benefits of 'book learning' versus 'experiential wisdom.' This is more about total war being waged against the intellectual process itself with adjacent side-battles against research, open-mindedness, and scientific thinking. It is not about the quality of the journey of intellectual engagement. It is about the attempt to annihilate discussion in total, surrounding ourselves with our own anti-intellectual camps of sycophantic chatter amounting to nothing. It is not about inquiry leading to epiphany. It is about the biased construction of self-affirmation. We are a society of self-delusional dullards. May this be a not-so-subtle early warning to stop our own dumb and dumber destruction.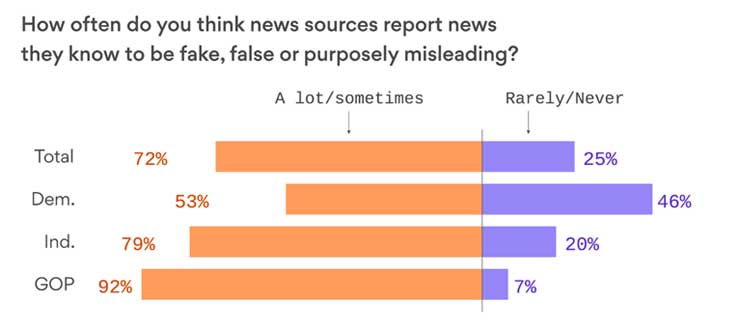 The above chart is fairly self-explanatory. The chief aspect to focus on is how most Democrats will actually use this as supposed 'proof' of their open-mindedness and ability to think more independently, far more so than the other two representative groups covering most of society in America. While I can grant it is horrifically appalling to see percentages amongst Republicans to go all the way to 92% and even "independents" proving they are not so independent at all by going up to 4/5 of their numbers, the surveys still show one out of every 2 democrats, slightly more than that actually, are in the exact same boat as the other members of society. Why does this matter? It matters because on one very crucial aspect this chart explains the secret ingredient that currently powers the base rationalization and self-justification most people use to fuel their purposeful refusal to seek out alternative arguments, embrace people with differing viewpoints, and understand the crucial humility needed in the world of politics and social order, that being there are very few, if any, questions that have one single undebatable answer that should rationally end all further debate. When you can reject all of these things, it allows you to be content with rejecting even the search for multiple sources, the comparative analysis crucial to any real truth-finding, and the rational thinking that creates true deep thought and nuanced intellectualism. The rejection of the impartiality of news sources as an entity de facto turns into behavior that rejects the need to be discerning about sources overall. If the sources are all tainted, then why do we need them at all? All we need is our own thinking, backed of course by the resident echo chambers we create by surrounding ourselves only with like-minded people. As long as the people I spend most of my time with (and that is increasingly becoming a measure based on 'virtual exposure' rather than 'face-to-face living engagement') agree with me, why do I need to care about other fools with different opinions?
The above chart clusters Republican (red) and Democrat (blue) representatives on a spectrum of ideology (defined by how often they vote with the rest of their party) then links opposite party members according to their votes together. The links grow larger and darker the more often representatives vote across party lines. In this case, that symbolizes the positive representation of independent thinking and the ability to make decisions NOT according to knee-jerk party lines or blind ideological allegiance. The graphs' evolution over time is simply remarkable in that not only does the prevalence of cross-party line votes diminish radically over the decades, the behavior by 2011 de facto evaporates while adhering staunchly to party ideology. Exclusionary thinking becomes intensely concentrated and exclusive. It is also disappointing to note that this fascinating study ended in 2011: one year before the second term of President Barack Obama and fully five years before the controversial first term of President Donald Trump. It is not scientifically radical to say the ideological tendencies in American partisanship have only worsened since that 2011 end-of-study date. In fact, heading into 2020, most political discussions in America no longer even include the possibility of any cross-party thinking, let alone behavior. The idea itself is dismissed as being symbolic NOT of independent thinking but of social betrayal that should be shunned and punished.
This final chart is the cherry on top of the stupid sundae. It shows the clear and inevitable path that global IQ is taking from 1950 all the way to 2110. Some may say that a decline from an average of 92 to a new average of 84 is not much given it is covering 160 years. Some might even be motivated to invoke the old "Malthusian Dilemma" to criticize the data, pointing out that such long-term extrapolations are only based on current trends remaining immutable and cannot, therefore, take into account what future counter-measures might be taken by society to right the wrong indicators. I would like to be a member of the Malthusian camp, quite honestly. In its own way, this article is an effort to kick-start those supposed Malthusian strategies, bringing future resolutions to our 'stupid problem' sooner to the forefront rather than later. But all of this is wishful thinking. It is not hard science. My hopes, in fact, are based on the opposite of what the data shows, what society currently rejoices in, and what so many individual people profess as being an advancement in 'popular intelligence.' As long as our global society, led most decidedly by the most powerful and influential country on earth, continues to revel in anti-intellectualism as proof of its own grassroots intelligence, as long as people rationalize away critical reasoning and analytical thinking as just so much elite ivory tower snobbery, then the only path we craft for ourselves as a society is one of blissful ignorance, confrontational delusion, and self-righteous obliviousness. The only society to emerge from this path is a dead society. A society of stagnation and regression. The intellectual doomsday clock is at 30 seconds to midnight. The ability to shift the ticking second hand backwards, back to enlightenment and dynamic knowledge engagement, may already be gone. May the Malthusian Army appear soon.
U.S.-Turkey relations: From close friendship to conflict of interests
Relations between the U.S. Turkey have strained since the failed July 2016 coup in Turkey. Now, the most important reasons for the tension is Washington's strong opposition to Turkey's plan to buy S-400 missile system from Russia and Turkish military invasion into northern Syria.
Although Turkish President Recep Tayyip Erdogan's visit to the U.S. on November 13 was intended to resolve the two countries' disputes and open a new horizon in economic and trade relations, differences still remain.
Though after the meeting at the White House, Trump made some pledges, including increasing trade ties to $100 billion, it takes a long time to fulfill these promises.
Contrary to such pledges, the Pentagon announced that it had replaced all F-35 fighter parts made by Turkey.
While the Turkish and U.S. leaders were meeting, F-35 production program executive Lt. Gen. Eric Fick said at a congressional hearing that Turkey would be completely phased out until March.
At the moment the U.S. has narrowed the number of parts down from 1,000 to 12.
Undersecretary of Defense for Acquisition and Sustainment Ellen Lord affirmed to Rep. Donald Norcross, D-N.J., that as of Wednesday, Turkey's exit from the program was not expected to cause any F-35 production delays.
The U.S. government believes Ankara's move to buy S-400 missile system from Russia is not in line with NATO policies. Washington also sees Turkey's decision as a threat to U.S. F-35 fighters. However, Ankara has announced that it will go ahead with its decision to buy the missile system.
Erdogan said it is not a right policy to ask Ankara to deprive itself of the Russian S-400 missile defense system.
Erdogan's remarks came in response to some reports that Trump had requested Turkey to cancel the purchase of S-400 system, a defense system that has been deployed in some parts of Turkey since July 2019.
But after Trump and Erdogan's meeting, the Turkish president claimed that the U.S. president had a positive view on buying the missile system.
Though Trump may seek to strike a deal with Erdogan on the S-400 missile system and F-35 fighter aircraft, based on his own businessmen approach, Ankara's military intervention in northern Syria and its insistence on buying the S-400 system are at odds with Washington. For this reason, the House of Representatives has passed two resolutions against Turkey.
On October 30, the House approved a resolution against Turkey recognizing the Ottoman massacre of Armenians in 1915. 305 representatives voted in favor of the resolution, with only three opposing it. It also passed another resolution calling on Trump to impose sanctions on Turkey over military operations in northern Syria. The resolution was also adopted by 403 votes in favor and 16 against, a move that rose Turkey's anger.
After Erdogan's meeting with Trump, attended by some Congress representatives, senior Republican Senator Lindsey Graham and chairman of the Senate Judiciary Committee vetoed the resolution recognizing the massacre of Armenians by the Ottoman Empire.
Earlier, Senate Majority Leader Robert Menendez had called for the resolution to be approved. Lindsey Graham noted that he had listened to Erdogan's speech at the White House and criticized a House resolution that recognized the Armenian genocide.
Menendez argued that "U.S. policy must be unanimous and honest in the face of human rights violations, crimes against humanity, ethnic cleansing, and genocide" and sent it to the Senate for approval.
There is a difference between the White House and Congress in how to deal with Turkey. Also, there is a difference between Republicans and Democrats despite Trump's promises to Erdogan.
From our partner Tehran Times