U.S. Defends "Human Rights" of Persecutors of Christians
The Islamic jihad against Christians in Nigeria is proving to be the most barbaric. A new report states that 70% of Christians killed around the world in 2012 were killed in the African nation. Among some of the atrocities committed in March alone, at least 41 people were killed in a suicide bomb attack at a bus station in a predominantly Christian neighborhood.
According to the Christian Association of Nigeria, these attacks "were a signpost of the intended extermination of Christians and Christianity from northern Nigeria."
According to the Rev. Jerome Ituah, "Out of the 52 Catholic churches in Maiduguri diocese, 50 of them have been destroyed by Boko Haram. When two Christian brothers were returning home after Sunday church service, jihadis opened fire on them with machine guns, killing the brothers, as well as three others, and injuring several more Christians.
Another 13 Christian factory workers in Kano were "gruesomely" slain. Said the local bishop: "Reports of the attack reaching us disclosed that on that fateful Saturday at about 7 p.m, Muslim faithful were conducting their prayer close to the affected compound occupied by Christian families, when two taxi cabs stopped in front of the compound and the occupants, who all concealed their arms dashed into the complex and demanded to know why the residents were not part of the 7 p.m. Muslim prayer. They responded by telling the visitors they were Christians and so could not be part of the Muslim gathering. At that point, they separated the men from their wives and children and shot them dead on the spot after ordering the women and children into their homes" to be enslaved.
The bishop added that, "government should show more concern, like it has always done when Muslims are affected; I have not seen that in the case of Christians—that 13 Christians were killed in one straight attack and nothing is heard from the government reflects selective justice because we are aware of compensation paid to Muslim families in situations of this nature."
However, the Nigeria government recently did go on the offensive to try to contain the jihadis in northern Nigeria—only to be chastised by the Obama administration, in the person of John Kerry, who recently warned the Nigerian government not to violate the "human rights" of the jihadi mass murderers.
Categorized by theme, the rest of March's Muslim persecution of Christians around the world includes (but is not limited to) the following accounts, listed by theme and in country alphabetical order, not necessarily according to severity:
Church Attacks
Egypt: According to El Watan News, three Christian brothers were shot dead at their home by automatic weapons a few weeks before two were set to have their weddings. The victims' family was earlier accused of trying to build a church on land they owned because they purchased building material to build a house on that land. The rumors about the building of a church spread during the Friday sermon at the mosque, following which 2,000 Muslims stormed the land and tried to destroy the house, car and tractor, resulting in the murder of the three Christian brothers.
Indonesia: Authorities demolished a church building with a bulldozer in West Java, even as Muslim bystanders cheered and denounced Christians as "infidels." According to Pastor Leonard Nababan, the government is "criminalising our religion." The congregation had gathered around the church in an effort to save it; so did Muslims, shouting, "They're infidels and they've built their church without permission," "Knock the church down now" and "Allahu Akbar."
Iraq: According to Fox News, before the U.S. invasion of Iraq, there were more than 300 Christian churches. Today, a decade after the jihad was unleashed on Christians and their churches, only 57 Christian churches remain in the nation. And "The churches that remain are frequent targets of Islamic extremists, who have driven nearly a million Christians out of the land…" An Iraqi-based human rights organization said that "The last 10 years have been the worst for Iraqi Christians because they bore witness to the biggest exodus and migration in the history of Iraq…. More than two-thirds [of Christians] have emigrated." One of the most dramatic cases of Christian persecution came in late October of 2010, when Al Qaeda members laid siege to Our Lady of Deliverance Church in Baghdad, killing 58 and wounding 78. According to an AP report "Iraq's Catholic Christians flocked to churches to celebrate Easter Sunday [in March], praying, singing and rejoicing in the resurrection of Christ behind high blast walls and tight security cordons… [emphasis added]."
Libya: A Coptic Christian church located in Benghazi was attacked by armed Muslims. The jihadis severely beat and shaved the beard and mustache of Father Paul, the priest of the church, as a sign of humiliation. They also beat the deacon and nine attendees. Meanwhile, because Egypt's Muslim Brotherhood-led government had done little regarding the systematic abuse of Egyptian citizens in Libya, including the murder of one under torture, Copts demonstrated in front of the Libyan embassy in Cairo—prompting yet another attack on the Benghazi church, which was set on fire.
Pakistan: In response to one Christian man accused of blaspheming Islam's prophet thousands of Muslims attacked the Christian Joseph Colony of Lahore, burning two churches, one Catholic, the other a Seventh Day Adventist, as often happens in Pakistan in the context of collectively punishing Christians.
Sudan: According to Morning Star News, Khartoum's jihad continues to "rid the area of non-Arabs and Christianity": the Evangelical Church in the Nuba was "reduced … to ashes" after an aerial bombardment. Days later, another bombing campaign left two dead and twelve injured, in the Christian-majority region. "These bombardments are major sources of fear among the people in South Kordofan," said a church leader.
Turkey: The 5th century Studios Monastery, dedicated to St. John the Baptist, is set to go from being a branch of the Hagia Sophia—Christianity's grandest cathedral, which was transformed into a mosque, after the Islamic conquest and is currently a museum—to being an active mosque. Many Turkish Muslims continue calling for the return of the Hagia Sophia itself to a mosque.
Apostasy, Blasphemy, Proselytism
Holland: A 43-year-old Iranian Muslim convert to Christianity was found murdered. According to the Farsi Christian News Network, the victim went to church the afternoon he was killed: "The shocking news of this senseless murder has brought grief and sorrow to the local Christians, Iranian-Christian community, and asylum seekers across the country." Christians constitute a large percentage of the Iranians seeking asylum in Holland. (Islamic Sharia law calls for the killing of apostates, and converts to Christianity are regularly targeted in the Islamic world.)
Iran: During a major conference, a Shi'ite leader claimed that Islam was under attack by Christianity in Iran: "Christian booklets and brochures are being sent to people's doors for free in many areas… Christianity is being preached in many shops in the Islamic city of Mashhad. Also Christian booklets are sent to people's addresses without restrictions." But a Mohabat News spokesperson said "Of course, the Islamic cleric did not provide any supporting evidence for his claim. However, it seems their sole purpose in bringing up and repeating these claims is to provoke security authorities against, and provide the means for increased pressure on Iranian Christians converts."
Kazakhstan: Vyacheslav Cherkasov , a Christian street evangelist, was detained for offering Christian literature to passersby and fined the equivalent of one month's wages on charges of "violating the rules" regarding "importing, publishing and distribution of religious literature" which came into force in 2011. The court ordered the destruction of his 121 pieces of Christian literature, including Bibles and children's Bibles, in the first such ruling since the nation gained independence from the Soviet Union in 1991. Local Council of Churches Baptists said in published remarks: "We were shocked—this is sacrilege and illegality."
Pakistan: The blasphemy case against Rimsha Masih, the 14-year-old Christian girl who was earlier arrested for "blasphemy" when a Muslim cleric falsely claimed that she burned a Koran, has been reopened. According to a BosNewsLife report, "A police investigator asked the Supreme Court in Islamabad to reopen the case" against the Christian girl, "saying he was pressured by the government to drop charges against her after an international outcry." She and her family are currently in hiding. A court is also considering a death sentence against 47-year-old Martha Bibi, a Christian and mother, due to alleged "derogatory remarks" about Muslim prophet Muhammad. Another Christian man was arrested after a Muslim accused him of blasphemy. But his arrest was not enough to appease the 3000 strong mob that went on to collectively punish the nation's Christians, burning two churches, some 200 Christian homes, and stealing their property.
Somalia: Muslim militants murdered yet another Christian. Ahmed Ali Jimale, 42, was killed by two men as he stood outside his house, near a police station. Among other things, the man was accused of apostasy—on the widespread assumption that all Somalis are born Muslims—and, because he worked as a teacher, of "introducing the children to foreign Christian religion"; Muslim militants had warned him that "we shall come for your head." A friend of the slain said "Jimale was a good man who helped our community. His widow is very scared and afraid, not knowing what will happen." He also leaves behind four children, ages 10, 8, 6, and 4.
Dhimmitude
[General Abuse and Suppression of Non-Muslims as "Tolerated" Citizens]
Egypt: Muslim rioters in town of Kom Ombo threw firebombs and rocks at police after Friday mosque prayers in an effort to storm a church where they claimed a Muslim woman who converted to Christianity was hiding. Violence began when a 36 year-old Muslim woman, who had been missing for five days, was allegedly seen outside the church with a female Christian friend. Days later, hundreds of Muslims marched in the town of al-Wasta, to protest the disappearance of another young Muslim girl and accuse the priest of St. George's Church of using "black magic" to lure her to Christianity. They hurled stones at the church; Coptic shops were forced to close down; Salfis threatened to kidnap a Christian girl if their Muslim girl did not return. However, Watani newspaper had already reported that the Muslim girl sent an open letter to her family, posted on the Internet, saying that she ran away because she was sexually abused by her uncles, was forced to marry a man she did not want, and that she had left Egypt and was married to a Muslim man. Unrelatedly a Fox News report states that "Islamic hard-liners stormed a mosque in suburban Cairo, turning it into [a] torture chamber for Christians who had been demonstrating against the ruling Muslim Brotherhood in the latest case of violent persecution that experts fear will only get worse." And according to a Voice of Russia report, "up to 100,000 Christians have left Egypt since the Muslim Brotherhood came to power. Some of those have arrived in Moscow."
Iran: According to Fox News, a UN report indicates that "Iran's hard-line regime has intensified its violent crackdown on Christians and other religious minorities, even imprisoning nursing mothers for practicing their faith…" The March report provides a "rare, detailed view into the shocking treatment of Christians in Iran, where American Pastor Saeed Abedini is serving an eight-year sentence for his alleged work with Christians." According to a UN expert on human rights in Iran, "The persecution of Christians has increased. It seems to target new converts and those who run house churches…. more than 300 Christians have been arrested since June 2010, according to the report." Most recently, Five members of the Church of Iran denomination appeared before a judge and "charged with disturbing public order, evangelizing, action against national security and an internet activity against the system."
Pakistan: After 3,000 Muslims attacked a Christian village—burning two churches and some 200 homes—the government punished Christians for protesting. According to the Daily Times, "Christians around the country are incensed by the recurring theme of blasphemy allegation followed by attacks and burning down of their vulnerable communities. They have held protests across the country in a concerted effort to vent their disgust at the recent incident and to show solidarity with the victims… Lahore police used the opportunity to beat the innocent Christian protesters. They shot tear gas shells at them and beat them with sticks. Yet when the Muslim attack took place they stood back and watched till the town had been razed to the ground…Muslims of Jhelum city have threatened to burn Christians home in response to the protests. Now the community is living in fear of reprisals for their simple act of condemning violence and the blasphemy laws of Pakistan."
Sweden: According to Charisma News, "Christians in Iran face arrest, torture, even death. But that doesn't seem to matter to Swedish immigration officials. Sweden wants to send Iranian Christian asylum seekers, who left Islam, back to Iran where they could be killed. Iran is one of the most dangerous places in the world for Christians. As apostates from Islam, they face grave danger in this country. But their requests for asylum status that could save their lives have been denied."
Syria: According to a Catholic leader, up to 30,000 Christians have fled the city of Aleppo, and two priests were abducted and held for a ransom of 15 million Syrian pounds each. Christians are regularly kidnapped and beheaded by jihadi rebels. Also, a short English-language video appeared where Fr. Fadi al-Hamzi told of how his uncle was recently murdered: "They killed him because he is Christian, they refuse to have any Christians in Syria. … I'm not afraid; my uncle died, he's immortal now. I can be like him." When asked if he was worried if Christians would be massacred if the U.S.-supported jihadis overthrew the government, the priest said , "Yes, yes, this will be… they don't want us here." Christians were in Syria 600 years before Islam conquered the nation.
About this Series
Because the persecution of Christians in the Islamic world is on its way to reaching pandemic proportions, "Muslim Persecution of Christians" was developed to collate some—by no means all—of the instances of persecution that surface each month. It serves two purposes:
1) Intrinsically, to document that which the mainstream media does not: the habitual, increasingly chronic, Muslim persecution of Christians.
2) Instrumentally, to show that such persecution is not "random," but systematic and interrelated—that it is rooted in a worldview inspired by Sharia.
Accordingly, whatever the anecdote of persecution, it typically fits under a specific theme, including hatred for churches and other Christian symbols; apostasy and blasphemy laws; sexual abuse of Christian women; forced conversions to Islam; theft and plunder in lieu of jizya (tribute); overall expectations for Christians to behave like cowed "dhimmis" (barely tolerated citizens); and simple violence and murder. Oftentimes it is a combination thereof.
Because these accounts of persecution span different ethnicities, languages, and locales—from Morocco in the west, to India in the east, and throughout the West, wherever there are Muslims—it should be clear that one thing alone binds them: Islam—whether the strict application of Islamic Sharia law, or the supremacist culture born of it.
Saudi engagement in Iraq: The exception that confirms the rule?
Stepped up Saudi efforts to forge close diplomatic, economic and cultural ties to Shia-majority Iraq in a bid to counter significant Iranian influence in the country appear to be paying off. The Saudi initiative demonstrates the kingdom's ability to engage rather than exclusively pursue a muscular, assertive and confrontational policy towards the Islamic republic and its perceived allies. It raises the question whether it is a one-off or could become a model for Saudi policy elsewhere in the region.
The kingdom's recent, far more sophisticated approach to Iraq is testimony to the fact that its multi-billion dollar, decades-long support for Sunni Muslim ultra-conservatism that at times involved funding of both violent and non-violent militants had failed in Iraq. It constitutes recognition that Saudi Arabia's absence effectively gave Iran a free reign.
Saudi Crown Prince Mohammed bin Salman's Iraqi charm offensive amounts to a far more concerted and successful effort than attempts more than a decade ago by then Saudi King Abdullah to reach out to Iraqi Shiite leaders, including firebrand Muqtada al-Sadr and involving the organization of a meeting in Mecca between Sunni and Shia Iraqi religious leaders. King Abdullah's efforts did not at the time involve a crackdown on funding by Saudi sources of a devastating Sunni Muslim insurgency.
King Abdullah's initiative notwithstanding, Saudi policy towards Iraq for more than a decade since Iraq's Shiite majority emerged from the shadow of Saddam Hussein's minority Sunni Muslim rule as a result of the 2003 US invasion was one of non-engagement, sectarianism, and support of the country's Sunni minority.
It took the kingdom 11 years to open its first embassy in post-Saddam Iraq, the kingdom's first diplomatic presence in the country since it broke off diplomatic relations in 1990 because of Saddam's invasion of Kuwait. Even then, relations got off to a rocky start with Iraq demanding the replacement of the kingdom's first ambassador, Thamer al-Sabhan, after he publicly criticised Iranian involvement in Iraqi affairs and the alleged persecution of Iraqi Sunni Muslims.
The emergence in 2014 of Iraqi prime minister Haider al-Abadi, who succeeded Nuri al-Maliki, seen by the Saudis as an Iranian pawn, coupled with the rise of Prince Mohammed and the Saudi charm offensive in the wake of the defeat of the Islamic state has produced a remarkable turnaround that holds out the prospect of the kingdom becoming an influential player in the reconstruction of war-ravaged Iraq.
Beyond the opening of the embassy, Saudi Arabia is slated to open a consulate in Basra as well as in Najaf, widely seen as Shia Islam's third most holy city that rivals Iran's Qom as a centre of Shiite learning. Unconfirmed reports suggest that Prince Mohammed may visit Najaf after Iraqi elections scheduled for May 12.
The two countries have reopened their Arar Border Crossing that was closed for 27 years and restored commercial air traffic for the first time in more than a quarter of a century. More than 60 Saudi companies participated earlier this year in the Baghdad International Fair.
A Saudi Arabia-Iraq Coordination Council, inaugurated last year aims to strengthen security ties as well as economic and cultural relations envisions student and cultural exchanges and Saudi investment in oil and gas, trade, transport, education, light industry, and agriculture. Saudi Arabia pledged $1.5 billion for Iraqi reconstruction at a donors' conference in Kuwait in February.
Saudi Arabia garnered substantial brownie points in February by playing its first soccer match in Iraq in almost three decades, boosting Iraqi efforts to persuade world soccer body FIFA to lift its ban on Iraqi hosting of international matches. The kingdom subsequently promised to build a 100,000-seat football stadium in Baghdad.
In shifting gears in Iraq, Prince Mohammed appears to have broken with decades of Saudi efforts to primarily confront Iran in proxy and covert wars. It remains, however, unclear to what degree Prince Mohammed's policy shift in Iraq is an indication of a broader move away from sectarianism and support for ultra-conservative militants and towards engagement.
The record is mixed. Saudi Shiite activists see little positive change and, if anything, assert that repression in their heartland in the kingdom's Eastern Province has increased since Prince Mohammed's rise.
"Bin Salman is already acting like he's the king of Saudi Arabia. He keeps telling the West that he will reform Islam, but he keeps raiding the homes of Shia and stripping us of any political rights," one activist said.
Nonetheless, a Saudi-funded Bangladeshi plan to build moderate mosques to counter militancy, the kingdom's relinquishing of control of the Grand Mosque in Brussels, and the newly found propagation of tolerance and inter-faith dialogue by the government-controlled World Muslim League that for decades funded ultra-conservatism globally would suggest that Saudi money may be invested in attempting to curb the impact of the kingdom's decades-long support of ultra-conservatism.
There are, however, also indications that Prince Mohammed is not averse to funding militants when it suits his geopolitical purpose. Saudi funds have flowed since his rise in 2015 to militant religious seminaries in the Pakistani province of Balochistan at a time that the kingdom was drafting plans to destabilize Iran by exploiting grievances and stirring unrest among Iran's ethnic minorities, including the Baloch. Those plans have not left the drawing board and may never do so, but ultra-conservative militants figure prominently in them.
Nevertheless, the magnitude of the shifting of gears in Saudi policy towards Iraq as well as other steps that Prince Mohammed has taken to curb, redirect, and reduce, if not halt, Saudi support for militant ultra-conservatism is highlighted by the conclusions of a 2002 study of funding of political violence conducted by the New York-based Council of Foreign Relations.
Coming in the wake of the 9/11 attacks when Saudi funding and counter-terrorism cooperation with the United States was put under the magnifying glass, the study suggested that the kingdom's global support for ultra-conservatism was woven into its fabric.
"It may well be the case that if Saudi Arabia…were to move quickly to share sensitive financial information with the United States, regulate or close down Islamic banks, incarcerate prominent Saudi citizens or surrender them to international authorities, audit Islamic charities, and investigate the hawala system—just a few of the steps that nation would have to take—it would be putting its current system of governance at significant political risk," the study warned.
In many ways, Saudi support for the Iraqi insurgency was a textbook example of the decades-long, $100 billion Saudi campaign to confront Iran globally by promoting ultra-conservatism and sectarianism and in a minority of countries – Afghanistan, Pakistan, Bosnia Herzegovina, Iraq and Syria – funding violence.
Nawaf Obaid, a Saudi scholar with close ties to the government, said Saudi options at the height of the Sunni Muslim insurgency included supplying the insurgents with the same type of funding, arms and logistical support that Iran was giving to Shiite armed groups. Another option, he said, was to create new Sunni brigades to combat the Iranian-backed militias.
"Saudi engagement in Iraq carries great risks — it could spark a regional war. So be it: The consequences of inaction are far worse," Mr. Obaid said in 2006.
US and Iraqi officials at the time suspected Saudi Arabia of covertly supporting sectarian Sunni jihadist insurgents opposed to the US military presence in the country and the rise of a Shia-dominated government. While there was no evidence of government assistance, the lines between the actions of private citizens and authorities were and remain often blurred in the kingdom.
An Iraq Study Group report in 2006 at the height of the Sunni Muslim insurgency concluded that "funding for the Sunni insurgency comes from private individuals within Saudi Arabia and other Gulf states."
Without identifying them, Iraqi officials asserted that funds were also flowing from Saudi charities that often operated as governmental non-government organizations. They said some of the funds had been channelled through Saudi clerics who decided who the beneficiary would be.
Truck drivers at the time described transporting boxes of cash from Saudi Arabia that were destined for insurgents. The transports frequently coincided with pilgrimages to Mecca.
"They sent boxes full of dollars and asked me to deliver them to certain addresses in Iraq. I know it is being sent to the resistance, and if I don't take it with me, they will kill me," one driver said. He said he was instructed to hide the money from authorities at the Iraqi border.
One official said $25 million was sent by a Saudi religious scholar to a senior Iraqi Sunni cleric who bought Russian Strela shoulder-fired anti-aircraft missiles on the black market in Romania.
Baath Party loyalists claimed at the time that a US Air Force F-16 jet that crashed while flying in support of American soldiers fighting insurgents in Anbar province had been downed by a Strela. The US military denied the claim.
"We have stockpiles of Strelas and we are going to surprise them (the Americans)," a spokesman for the party, said.
The Iraqi cleric involved in the purchase of the missiles was suspected to be Sheikh Harith Sulaiman al-Dhari, a tribal chieftain dubbed "the Spiritual Leader of the Iraqi Resistance" with a lineage of opposition to foreign rule dating back to the killing in 1920 of a British colonel by his father and grandfather. Iraqi authorities issued an arrest warrant for Mr. Al-Dhari in late 2006, who has since passed away, on charges of inciting sectarian violence after he visited Saudi Arabia.
Saudi Arabia's approach to Iraq has come a long way since the days of the insurgency. The question is whether the kingdom will draw a lesson from its success in the way it manages its regional rivalry with Iran. So far, there is little indication that Iraq is more than the exception that confirms the rule.
Said political analyst Hussein Ibish in a just published study of Saudi-Iraqi relations: "Iraq is the only major regional battleground at present in which Saudi Arabia is relying almost entirely on carrots rather than sticks. Yet, arguably, more has been accomplished by Riyadh over the past year in Iraq than, for example, in either Yemen or Lebanon… Saudi Arabia's outreach in Iraq, particularly in 2017, belies the stereotype of a rash, reckless, and uncontrolled new major regional actor, showing instead that Saudi Arabia can be deft and delicate when it wants to. That's an important lesson for the rest of the world, but also for Saudi Arabia itself, to ponder."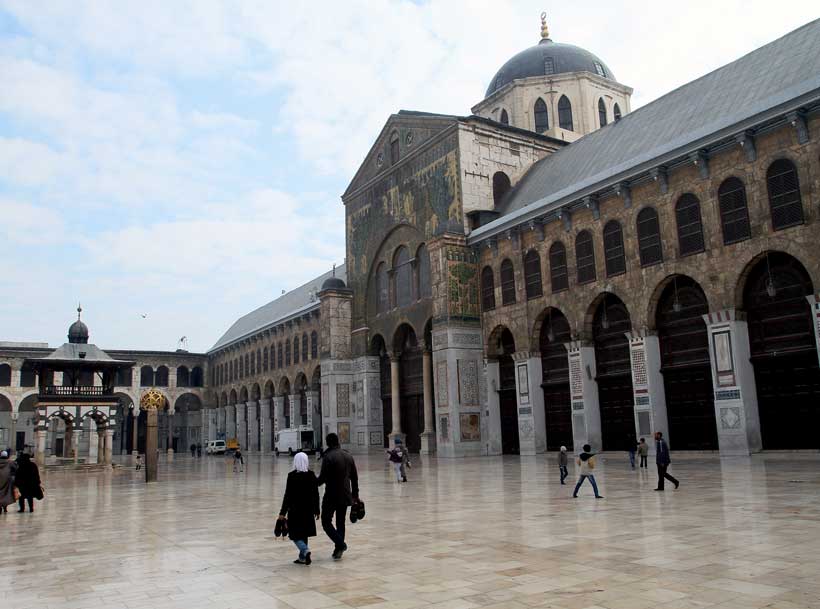 Many sources think that the most significant clashes in Syria are likely to end late this year.
Probably the small clashes between the various ethnic groups and hence among their external points of reference  will not end yet. The bulk of armed actions, however, will certainly finish since now the areas of influence are stabilized.
The first fact that stands out is that, despite everything, Bashar al-Assad's forces have won.
All the international actors operating on the ground -be they friends or foes – have no difficulty in recognizing it.
Certainly neither Assad nor Russia alone have the strength to rebuild the country, but Western countries – especially those that have participated in the fight against Assad – and the other less involved countries plan to participate in the reconstruction process, with a view to influencing Syria, although peacefully this time.
The military start of Assad's victory was the Northwest campaign of the Syrian Arab Forces from October 2017 to February 2018.
Operations against what the United States calls "rebels" -namely, in that case, Isis and Tahrir al-Sham – focused at that time on the intersection between the provinces of Hama, Idlib and Aleppo.
It is extremely difficult for a regular army to conduct operations against guerrilla organizations, but Assad' Syrian Arab Army has succeeded to do so.
The subsequent destruction of Isis-Daesh pockets south of Damascus, in Eastern Ghouta and Idlib was decisive to later establish stable and undisputed hegemony of the Syrian forces throughout the Syrian territory – and above all in traditionally Sunni areas.
There is also the issue of Al-Rastan, the ancient town of Arethusa on the Orontes river, located on the side of the bridge uniting Hama and Homs. From the beginning of hostilities, it has been a basis for the jihadism of the so-called "rebels".
Another military problem is the opening of the bridge and the commercial passage on the border between Syria and the Lebanon, namely Al-Nasib, which is essential for Syria's trade with Jordan and the Gulf countries.
Conquering the Al-Nasib pass means conquering also the road between Deraa and Damascus, as well as the Syrian side of the Djebel Druze.
Between the Deraa-Damascus road and the Golan, the situation is still largely frozen thanks to the agreement reached by the Russian Federation with the United States and Israel, in which the former guaranteed to the Jewish State that Iran and Hezb'ollah would not get close – up to the limit of 25 miles (40 kilometers) – to the old ceasefire line established in 1973.
Moreover, even though the representatives of the Democratic Federation of Northern Syria, commonly known as Rojava, were never accepted in the negotiations between the parties in conflict, the Kurds – already abandoned by the United States – know that the territories they freed from Isis-Daesh will be returned precisely to the Sunni Arabs, but in exchange for the autonomy of the traditionally Kurdish districts of Afrin, Kobane and Qamishli.
Furthermore, since the Sochi Conference on the Congress of Syrian National Dialogue held at the end of January 2018, Russia has convinced the 1,500 participants from the various parts of Syria to accept the fact that every ethnic and religious area and every group of Syrian society must be respected and protected by the new Constitution. A break with the old Ba'athist and centralist tradition of the Syrian regime, but without reaching the Lebanese paradox, i.e. permanent civil war.
The political process envisaged by Russia is a process in which the Westerners still present in the Syrian territory had no say in the matter.
Nor will they have it in the future.
The going will be really tough when the time of reconstruction comes.
Reconstruction is the most important future lever for external influence on the long-suffering Syrian Arab Republic, where conflict has been going on for seven years.
The World Bank estimates the cost of reconstruction at  250 billion dollars.
Other less optimistic, but more realistic estimates point to a cost for Syrian national reconstruction up to 400 and even 600 billion US dollars.
Syria does not even dream of having all these capital resources, which even the Russian Federation cannot deploy on its own.
Six years after the outbreak of the conflict, in 2011, the great diaspora of Syrian businessmen met in Germany in late February 2017.
Hence the creation of the Syrian International Business Association (SIBA).
With specific reference to the great Syrian reconstruction, the Russian, Iranian and Chinese governments are already active and have already secured the largest contracts in the oil and gas, minerals, telecommunications, real estate and electricity sectors.
As far as we know, there is no similar investment by Western countries, which will still leave the economic power they planned to acquire in the hands of other countries, after having caused the ill-advised but failed "Arab Spring" in Syria.
Also the BRICS and countries such as the Lebanon, Armenia, Belarus and Serbia invest in Syria, or at least in the regions where peace has been restored and the "Caliphate" does no longer exist.
Usually collaboration takes place through the purchase of pre-existing companies in Syria – something which now  happens every day- or through bilateral collaborations with Syrian companies.
With specific reference to regulations, Syria is continuously changing the rules regarding the structure of operating companies, work permits, imports and currency  transfers.
State hegemony, in the old Ba'athist tradition – the old Syrian (but also Egyptian) national Socialism which, however, adapts itself to the structure of current markets.
It is estimated that Syrian companies can already provide 50% of the 300 billion US dollars estimated by the World Bank as cost for Syria's reconstruction.
An estimate that many still think to be rather optimistic.
Nevertheless, it will take at least thirty years to bring Syrian back to the conditions in which it was before  hostilities began.
With rare effrontery and temerity, the United States and the European Union are already putting pressure on the Syrian government to be granted economic and political concessions, but Assad has no intention of giving room to its old enemies.
In any case, the Syrian reconstruction will need at least 30 million tons of goods per year from sea lines, while the Latakia and Tartus airports can – at most – allow loads of 15 million tons/year.
From this viewpoint, the Lebanon is organizing a Special Economic Zone around the port of Tripoli, already adapted by China to the international transport of vast flows of goods in cargoes and containers.
Obviously the companies going to work in Syria must also take the physical safety of their workers and their offices into account, as well as the need to have constant, careful and close relations with local authorities.
Furthermore, the US sanction regime also favours President Trump's plan to topple the Syrian regime through economic pressure, which would make also the work of European companies in Syria very difficult or even impossible.
However what is the need for destroying Syria economically? For pure sadism? The current US foreign policy is not unpredictable, it is sometimes crazy.
The US sanctions, however, concern the new investment of US citizens in Syria; the re-exporting or exporting of goods and services to Syria; the importing of Syrian oil or gas into the United States;the transactions of Syrian goods and services carried out by non-US citizens also involving a US citizen.
Other sanctions will soon be imposed by President Trump on the Russian Federation due to its "tolerance" for the increasingly alleged factories of nerve gas and materials.
Obviously the fact that the Syrian regime is the winner of military confrontation, along with Russia and Iran, is now a certainty.
Nevertheless, loyalist Syrians are still badly supplied, both at military and civilian levels, and they are severely dependent on external aid, which is decisive also for their survival and for preserving their strategic and military superiority.
Without Russia and Iran, Bashar al-Assad would have collapsed within two months since the beginning of the  "Syrian spring", when the Muslim Brotherhood organized by the United States was demonstrating in the streets violently.
Hence, in the current stability of the Syrian regime, nothing must be taken for granted: the end or decrease of Russian support and the fast return back home of the Iranian Pasdaran and Afghan Shiites organized by Iran would bring Assad's military and civilian power back to the 2011 level.
Nevertheless Syria does no longer exist as a Soviet-style centralized State.
In Assad-led Syria the centralized economy does no longer exist, for the excellent reason that four primary military powers operate in the country, namely Russia, Iran, Turkey and the United States.
They collectively control all the Syrian resources on which the Syrian national government no longer has any power.
As can be easily imagined, the United States holds oil reserves by means of their occupation – through the Kurds – of Raqqa and the Northeastern region.
Turkey holds a nominally Syrian region of approximately 2,400 square kilometers between Aleppo and Idlib, in the area of the "Euphrates Shield" operations.
Russia and Iran already hold the majority of reconstruction contracts, while they will acquire most of the public sector to repay the military expenses they incurred to keep Bashar al-Assad's regime in power.
Hence if no agreements are reached between Russia and the United States, each area of influence will have different reconstruction and development plans.
As early as the 1945-1958 period, Syria had been the  target of expansionist designs that were anyway bound to fragment its territory.
The two Hashemite Kingdoms of Iraq and Jordan thought they could together take control of the whole Syrian State,  while their eternal rivals, namely the Saudi-Egyptian axis, thwarted their designs.
Great Britain and France, still powerful in Syria, operated through their Arab points of reference.
CIA collaborated with the Syrian dictator, Husni Zaim.
Zaim was of Kurdish origin and had taken power in 1949. He had organized a regime not disliked by the Ba'ath Party – a Westernizing and vaguely "Socialist" dictatorship.
After Husni Zaim's fall, Syria was divided as usual: the collective leadership was held by the Sunni urban elite who had fought harshly against France.
Nevertheless, the unity of the nation – which was decisive for the Sunnis themselves – found it hard to bring together the Alawites, the Druze, the Shiites and the thousands of  religious and ethnic factions that characterized Syria at that time as in current times.
The nationalist union between Syria and Egypt created in 1958 and soon undermined by Syria's defection in 1961, experienced its Ba'athist-nationalist coup in 1963, with a military take-over.
Hafez El Assad – the father of the current Syrian leader, who ruled Syria from 1963 to 2000, the year of his death – immediately emerged among the military.
Long-term instability, medium-term political stability. That is Syria, from the end of the French domination to current times.
How the Guardian newspaper fulfills George Orwell's prediction of 'Newspeak'
On Sunday April 15th, Britain's Guardian bannered "OPCW inspectors set to investigate site of Douma chemical attack" and pretended that there was no question that a chemical attack in Douma Syria on April 7th had actually occurred, and the article then went further along that same propaganda-line, to accuse Syria's Government of having perpetrated it. This 'news' story opened [and clarificatory comments from me will added in brackets]:
UN chemical weapons investigators were set on Sunday to begin examining the scene of a chemical attack in the Syrian city of Douma, which had prompted the joint US, French and British strikes against military installations and chemical weapons facilities near the capital, Damascus.
The arrival of the delegation from the Organisation for the Prohibition of Chemical Weapons (OPCW) came as the Syrian military announced that it had "purified" [no source provided, but this — from 7 March 2018 — is the only source that existed prior to the April 14th missiles-invasion of Syria, and its meaning is very different: the region of eastern Ghouta, of which Douma is a part, after a two-month campaign that killed nearly 2,000 civilians [no source provided as regards either the number, or that all of them were 'civilians' and that none of them were jihadists or "terrorists"], following years of siege.
The propaganda-article continued directly: "Units of our brave armed forces, and auxiliary and allied forces, completed the purification of eastern Ghouta, including all its towns and villages, of armed terrorist organisations," the general command statement said.
No source was provided for that, but this sentence is a sly mind-manipulation, because here is what the Syrian Government's General Command had actually said: "Statement of the Army General Command declaring Eastern Ghouta clear of terrorism" as headlined by the Syrian Government itself.
In other words: the Guardian's 'journalist' had substituted the word "clear" by the word "purify" and did this after having already asserted but not documented, that the Government had just completed "a two-month campaign that killed nearly 2,000 civilians." When the Syrian Government announces that an area has been "cleared of terrorists (or of terrorism)," the U.S.-allied propagandist uses the word "purify," such as "purified the region of eastern Ghouta" or "the purification of eastern Ghouta, including all its towns and villages, of armed terrorist organisations." But by the time that the reader gets there to "purification … of armed terrorist organisations," the reader has already been doctrinated to believe that Syria's Government is trying to "purify" land, or perpetrate some type of ethnic-cleansing. That's professional propaganda-writing; it is not professional journalism.
Later, the article asserts that, "The OPCW mission will arrive in Douma eight days after the chemical attack, and days after the area fell to the control of Russian military and Syrian government forces. That delay, along with the possibility of the tampering of evidence by the forces accused of perpetrating the attack, raises doubts about what the OPCW's inspectors might be able to discover." However, a fierce debate is being waged over whether this was not any real "chemical attack" but instead a staged event by the jihadists in order to draw Trump back into invading Syria. In other words: any journalistic reference yet, at this time, to the event as "the chemical attack" instead of as "the alleged chemical attack" is garbage, just as, prior to the guilty-verdict in a murder trial, no journalistic reference may legitimately be made to the defendant as "the murderer," instead of as "the defendant." That is lynch-mob 'journalism', which Joseph Goebbels championed.
The Joseph-Goebbels-following 'journalist' has thus opened by implying that the Russia-allied Syrian Government is trying to crush a democratic revolution, instead of the truth, that the U.S.-allied Governments are trying to overthrow and replace the Russia-allied Syrian Government. It's a big difference, between the lie, and the truth.
Another story in the April 15th Guardian was "Pressure grows on Russia to stop protecting Assad as US, UK and France press for inquiry into chemical weapons stockpiles" and this one pretended that the issue is for "Russia to stop protecting Assad," who is the democratically elected and popular President of Syria, and not to stop the invasion of Syria since 2011 by U.S. and Saudi backed foreign jihadists to overthrow him. Furthermore, as regards "press for inquiry into chemical weapons stockpiles," the real and urgent issue right now is to allow the Organization for the Prevention of Chemical Weapons (OPCW) into Douma to hold an independent and authoritative investigation into the evidence there. Russia pressed for it at the U.N. Security Council and the U.S. and its allies blocked it there. But the OPCW went anyway — even after the U.S.-allied invasion on April 14th — and this courageous resistance by them against the U.S. dictatorship can only be considered heroic. Now that they are there, the remaining jihadists in Douma are firing shots at them to drive them away.
That type of 'news'-reporting is virtually universal in The West, among the U.S. and its allied governments, which refer to themselves as 'democracies' and refer to any Government that they wish to overthrow and replace by their own selected dictator, as 'dictatorships', such as these regimes had referred to Iraq in 2003, Libya in 2011, Syria forever, and Ukraine in 2014. It's Newspeak.
first published at strategic-culture.org