Russia's new Middle Eastern role
Russia has thrown a monkey wrench into Western plans for Syria by promising to deliver its top-of-the-line S300 surface-to-air missile system to the Bashar al-Assad government. Exactly when the missiles might arrive remains unclear; the last word from Moscow is that the missiles are not yet in place, which means the matter is up for bargaining.
It is humiliating for the West to trip over a game-changing Russian technology nearly a quarter of a century after the fall of the Berlin Wall. The larger scandal is that the West lacks countermeasures against the Russian system, the result of misguided defense priorities over the past dozen years. If the United States had spent a fraction of the resources it wasted in nation-building in Iraq and Afghanistan on anti-missile technology, Russia would lack the bargaining chip in the first place. That's spilt milk, however, and the pressing question is: what should the West do now?
The questions to ask are:
1. Is Russia a rational actor?
2. If the answer to the first question is affirmative (as the overwhelming majority of analysts believe), what does it have to be rational about?
3. Can the United States do anything in the foreseeable future to change the present regime in Russia?
4. If the answer to the third question is affirmative, then what do we want to negotiate with Vladimir Putin?
The right way to go about this, I believe, is to draw a bright line between Russia's opportunistic meddling in Middle Eastern affairs and existential issues for the Russian state. Much as we may dislike the way the Russians manage their affairs, it isn't within the power of the West to change the character of the Russian regime.
What does Moscow want in the Middle East? It has taken a more active interest in the region's malefactors of late. Jean Aziz of Al-Monitor argues that Russian Foreign Minister Mikhail Bogdanov's April 28 meeting with Hezbollah chief Hassan Nasrallah in Lebanon marks a turn in Russia's relationship with the Hezbollah. Russia's new alliance-that seems to be the right word-with the Lebanese terrorist organization implies a Russian commitment to carving out a sphere of influence.
On the other hand, Russia does not seem to want a full-blown alliance with the Iranian regime and its Syrian satrap. Iran is present suing Russia for failing to deliver the promised S300 system at the same time that Russia claims that it is sending the same system to Syria. Russia's refusal to honor its contract with Tehran is a signal that the Putin regime would not be heartbroken if someone were to obliterate Iran's nuclear bomb-making capacity. Russia has no interest in helping a fanatical regime deploy nuclear weapons on its southern flank.
On the other hand, Russia's support for the Assad regime is a fact of life. Russia may enjoy the paralysis of the West in the region and seek to embarrass the United States and its allies, but that is a secondary matter. It also may want to demonstrate to the world that it doesn't abandon allies the way that the United States abandoned former Egyptian president Hosni Mubarak. Again, that is a minor matter. Russia's interest in the outcome of the Syrian civil war stems from two critical interests.
The lesser of these is the naval supply station at Tartus, which supports the expansion of Russia's naval presence in the Eastern Mediterranean. The more important concern is Russia's fear of the Sunni jihadists who dominate the rebel opposition.
Russia has been fighting a brutal war against jihadists in the northern Caucasus for 20 years, punctuated by some of the most horrendous terrorist acts ever perpetrated, including the 2004 slaughter of 380 hostages on North Ossetia, mainly small schoolchildren. The term "paranoid Russian" may be a pleonasm, but in this case Russia has a great deal to be paranoid about. Caucasus terrorism spilled over into the United States with the Boston marathon bombing.
"In Russia, most analysts, politicians and ordinary citizens believe in the unlimited might of America, and thus reject the notion that the US has made, and continues to make, mistakes in the [Middle East]. Instead, they assume it's all a part of a complex plan to restructure the world and to spread global domination," wrote Fyodor Lukyanov on the Al Monitor website March 19.
Lukyanov, who chairs Russia's Council on Foreign and Defense Policy, dismisses this sort of thinking as a "conspiracy theory". But he is quite serious in his account of the Putin government's frame of mind. The Russian elite really think that the United States is creating chaos in the Middle East as a matter of geopolitical intent. Lukyanov wrote:
From Russian leadership's point of view, the Iraq War now looks like the beginning of the accelerated destruction of regional and global stability, undermining the last principles of sustainable world order. Everything that's happened since – including flirting with Islamists during the Arab Spring, US policies in Libya and its current policies in Syria – serve as evidence of strategic insanity that has taken over the last remaining superpower.
It is impossible to persuade Vladimir Putin that the Middle East policies of the past two American administrations were merely stupid, because Putin doesn't believe that stupid people rule great powers. All the stupid people he met are dead. From the Obama administration's vantage point, chaos in the Middle East is a matter for hand-wringing by the likes of anti-genocide crusader Samantha Power, now the designated ambassador to the United Nations. From the Russian point of view, it is an existential threat.
The ethnic Russian population is declining, and Russia well may have a Muslim majority by mid-century. If chaos envelops the Muslim world on its southern border, it may spread to Russia via the northern Caucasus. During the Cold War, America supported jihadis in Afghanistan and elsewhere to make trouble for the Soviet Empire (and properly so, because the Soviet threat to American security outweighed any inconvenience the US might suffer at the hands of jihadists). Russia is convinced that America still intends to promote jihad in order to destabilize its old Cold War opponent.
How should America respond?
First, the US should back the partition of Syria into a Sunni majority state and an Alawite rump state in the northwestern quadrant of the country, where the Russian navy station happens to be located. The Kurds should get autonomy, just like their Iraqi compatriots.
Turkey will object vociferously because it would advance Kurdish independence, which Prime Minister Recep Tayyip Erdogan views the way Captain Hook viewed the crocodile. Too bad for the Turks: someone has to lose here, and it might as well be they. Partition is the only way to stop the civil war and avoid mass murder in its wake. Total victory by either side would be followed by massacres. The most humane solution is a breakup on the precedent of the former Yugoslavia. Assad can remain in power in a rump state where the Alawites will be safe from Sunni reprisals, and the Russians can keep their fueling station. One wonders why the "responsibility to protect" crowd in Washington hasn't considered that.
Second, the US should use its influence with Turkey, Saudi Arabia and Qatar to clean out the nastier jihadist elements among Syria's Sunni rebels. It should also make clear to the Russians that it will not interfere with their counter-terrorist operations in the Caucasus, grisly as these might be.
Third, the US should attack Iran and destroy its nuclear weapons capability and key Revolutionary Guard bases (and perhaps a few other things; various American flag officers have they own list of druthers).
Neutralizing Iran is the key: it eliminates the pipeline of support from Iran to Assad and various terrorist organizations, and reduces them to obnoxious but strategically unemployed local players.
Russia evidently has fewer objections to an American air strike on Iran than on Damascus. It has signaled this as clearly as it can by refusing to deliver the S300 system to the Iranian regime while promising to deliver it to the Syrian regime. The bad news is that we cannot extract Russia from the region; America has made too many blunders in the region to turn the clock back.
The good news is that the problems occasioned by Russia's enhanced role can be localized and contained. Basher al-Assad and his Alawite army bottled up in a redoubt would be an annoyance, not a strategic threat. A Sunni regime with a Kurdish autonomy zone in the remainder of the country would be susceptible to Western pressure to purge the more dangerous jihadists.
In fact, Russia has fewer objections to an American attack on Iran's nuclear program and foreign subversion capacity than does the Obama administration. It is painful to read American conservative Jeremiads against the resurgence of Russian influence in the Middle East, when few American conservatives openly propose a strike against Iran. They are afraid that voters don't trust them with guns after the poor results of the Iraq and Afghanistan nation-building campaigns.
It is much easier to rally the troops by shouting "The Russians are coming!" than to point out that the Obama administration's ideological aversion to using force against Iran is the core problem. In fact, Putin's position is more amenable to America's strategic requirements than Obama's, counterintuitive as that might sound.
More broadly, the US should draw a bright line between areas of the world where it has inviolable interests and areas subject to bargaining. It was a supreme act of stupidity to abandon the deployment of anti-missile systems in Poland and the Czech Republic as the Obama administration did in September 2009. Russia didn't like it, but Russia is not supposed to like it. Showing weakness to the Russians merely elicits contempt. The US should make clear that ties of culture and blood link the Poles and Czechs to the American people, and that we will stand behind them no matter what.
Ukraine is a different matter. Russians comprise half the population of Ukraine, and Russia cannot walk away from them, nor from the rest of the 22 million Russians left outside the Federation in the so-called near abroad after the 1991 collapse of the Soviet Union.
As I reported in a 2008 essay (Americans Play Monopoly, Russians Chess, Asia Times Online, August 19, 2008), "The desire of a few hundred thousand Abkhazians and South Ossetians to remain in the Russian Federation rather than Georgia may seem trivial, but Moscow is setting a precedent that will apply to tens of millions of prospective citizens of the Federation – most controversially in Ukraine."
America has no strategic interest in Ukraine. Nine years after the so-called Orange Revolution, the pro-Moscow Party of the Regions remains firmly in charge. The opposition is tainted with an ugly strain of anti-Semitism, as Rachel Ehrenfeld, director of the American Center of Democracy, reported May 30.
The nationalists whom Washington backed in the heady days after the invasion of Iraq are not exactly the good guys. What we have learned from a decade of bumbling is that Russia can have Ukraine if it wants it badly enough, and that we really don't want it anyway. Except for Hungary, Ukraine has the lowest fertility rate of any country in Europe. Its strategic importance will deteriorate along with its demographics.
The proposals above are stopgap measures to limit damage in a deteriorating situation. If the US really want to get Russia's attention, it needs to do precisely what Ronald Reagan and his team set out to do in 1981: convince the Russians that America would leapfrog them in military technology. That means aggressive funding of basic research on model of the old DARPA (Defense Advanced Research Projects Agency). If Putin is persuaded that his residual advantage in surface-to-air missile technology has reached its best-used-by-date, he will be far more flexible on a range of negotiating issues.
I am painfully aware that the political environment is not conducive to this approach. That does not change the fact that it is what needs to be done.
Chinese purchases of Iranian oil raise tantalizing questions
A fully loaded Chinese oil tanker ploughing its way eastwards from two Iranian oil terminals raises questions of how far Beijing is willing to go in defying US sanctions amid a mounting US military build-up in the Gulf and a US-China trade war.
The sailing from Iran of the Pacific Bravo takes on added significance with US strategy likely to remain focused on economic rather than military strangulation of the Iranian leadership, despite the deployment to the Gulf of an aircraft carrier strike group as well as B-52 bombers and a Patriot surface-to-air missile system.
As President Donald J. Trump, backed by Secretary of State Mike Pompeo, appears to be signalling that he is not seeking military confrontation, his administration is reportedly considering a third round of sanctions that would focus on Iran's petrochemical industry. The administration earlier this month sanctioned the country's metals and minerals trade.
The sailing raises the question whether China is reversing its policy that led in the last quarter of 2018 to it dramatically reducing its trade with Iran, possibly in response to a recent breakdown in US-Chinese trade talks.
"The question is whether non-oil trade remains depressed even if some oil sales resume, which I think it will. That's the better indicator of where Chinese risk appetite has changed. Unfortunately Iran's reprieve will be limited—but better than zero perhaps," tweeted Esfandyar Batmanghelidj, head of Bourse & Bazaar, a self-described media and business diplomacy company and the founder of the Europe-Iran Forum.
A Chinese analyst interviewed by Al Jazeera argued that "China is not in a position to have Iran's back… For China, its best to stay out" of the fray.
The stakes for China go beyond the troubled trade talks. In Canada, a senior executive of controversial Chinese telecommunications giant Huawei is fighting extradition to the United States on charges of violating US sanctions against Iran.
Reports that Western companies, including Kraft Heinz, Adidas and Gap, wittingly or unwittingly, were employing Turkic Muslims detained in re-education camps in China's north-western province of Xinjiang, as part of opaque supply chains, could increase attention on a brutal crackdown that China is struggling to keep out of the limelight.
The Trump administration has repeatedly criticized the crackdown but has stopped short of sanctioning officials involved in the repressive measures.
Bourse & Bazaar's disclosure of the sailing of the Pacific Bravo coincided with analysis showing that Iran was not among China's top three investment targets in the Middle East even if Chinese investment in the region was on the rise.
The Pacific Bravo was steaming with its cargo officially toward Indonesia as Iranian foreign minister Mohammad Javad Zarif was touring his country's major oil clients, including China, in a bid to persuade them to ignore US sanctions.
A second tanker, the Marshal Z, was reported to have unloaded 130,000 tonnes of Iranian fuel oil into storage tanks near the Chinese city of Zhoushan.
The Marshall Z was one of four ships that, according to Reuters, allegedly helped Iran circumvent sanctions by using ship-to-ship transfers in January and forged documents that masked the cargoes as originating from Iraq.
The unloading put an end to a four-month odyssey at sea sparked by buyers' reticence to touch a cargo that would put them in the US crosshairs.
"Somebody in China decided that the steep discount this cargo most likely availed … was a bargain too good to miss," Matt Stanley, an oil broker at StarFuels in Dubai, told Reuters.
The Pacific Bravo, the first vessel to load Iranian oil since the Trump administration recently refused to extend sanction exemptions to eight countries, including China, was recently acquired by China's Bank of Kunlun.
The acquisition and sailing suggested that Bank of Kunlun was reversing its decision last December to restrict its business with Iran to humanitarian trade, effectively excluding all other transactions.
The bank was the vehicle China used in the past for business with Iran because it had no exposure to the United States and as a result was not vulnerable to US sanctions that were in place prior to the 2015 international agreement that curbed Iran's nuclear program.
China's willingness to ignore, at least to some extent, US sanctions could also constitute an effort to persuade Iran to remain fully committed to the nuclear accord which it has so far upheld despite last year's US withdrawal.
Iran recently warned Europe that it would reduce its compliance if Europe, which has struggled to create a credible vehicle that would allow non-US companies to circumvent the sanctions, failed to throw the Islamic republic an economic lifeline.
In a letter that was also sent to Russia and China, Iran said it was no longer committed to restrictions on the storage of enriched uranium and heavy water stocks, and could stop observing limits on uranium enrichment at a later stage.
Russian president Vladimir Putin warned in response to the Iranian threat that "as soon as Iran takes its first reciprocal steps and says that it is leaving, everyone will forget by tomorrow that the US was the initiator of this collapse. Iran will be held responsible, and the global public opinion will be intentionally changed in this direction."
Will there be war with Iran? Will there not be war with Iran? The questions are being asked repeatedly in the media even though a single carrier task force is steaming up there. The expression is old for the latest carriers are nuclear powered. Imagine the mess if it was blown up.
There are two kinds of weapons in the world … offensive and defensive. The latter are cheaper, a fighter plane compared to a bomber. If a country does not (or cannot afford to) have offensive intent, it makes sense to focus on defense. It is what Iran has done. Moreover, its missile centered defense has a modern deadly twist — the missiles are precision-guided.
As an Iranian general remarked when questioned about the carrier task force: some years ago it would've been a threat he opined; now it's a target. Iran also has a large standing army of 350,000 plus a 120,000 strong Revolutionary Guard and Soviet style air defenses. In 2016 Russia started installation of the S-300 system. It has all kinds of variants, the most advanced, the S-300 PMU-3 has a range similar to the S-400 if equipped with 40N6E missiles, which are used also in the S-400. Their range is 400 km, so the Iranian batteries are virtually S-400s. The wily Putin has kept trump satisfied with the S-300 moniker without short-changing his and China's strategic ally. The latter continuing to buy Iranian oil.
Iran has friends in Europe also. Angela Merkel in particular has pointed out that Iran has complied fully with the nuclear provisions of the UN Security Council backed Joint Comprehensive Plan of Action i.e. the Iran nuclear deal. She is mustering the major European powers. Already alienated with Trump treating them as adversaries rather than friends, they find Trump's bullying tiresome. President Macron, his poll ratings hitting the lowest, is hardly likely to engage in Trump's venture. In Britain, Theresa May is barely able to hold on to her job. In the latest thrust by senior members of her party, she has been asked to name the day she steps down.
So there we have it. Nobody wants war with Iran. Even Israel, so far without a post-election government does not want to be rained upon by missiles leaky as its Iron Dome was against homemade Palestinian rockets.
Topping all of this neither Trump nor Secretary of State Pompeo want war. Trump is as usual trying to bully — now called maximum pressure — Iran into submission. It won't. The wild card is National Security Adviser John Bolton. He wants war. A Gulf of Tonkin type false flag incident, or an Iranian misstep, or some accident can still set it off.
In Iran itself, moderates like current President Hassan Rouhani are being weakened by Trump's shenanigans. The hard liners might well want to bleed America as happened in Iraq and Afghanistan.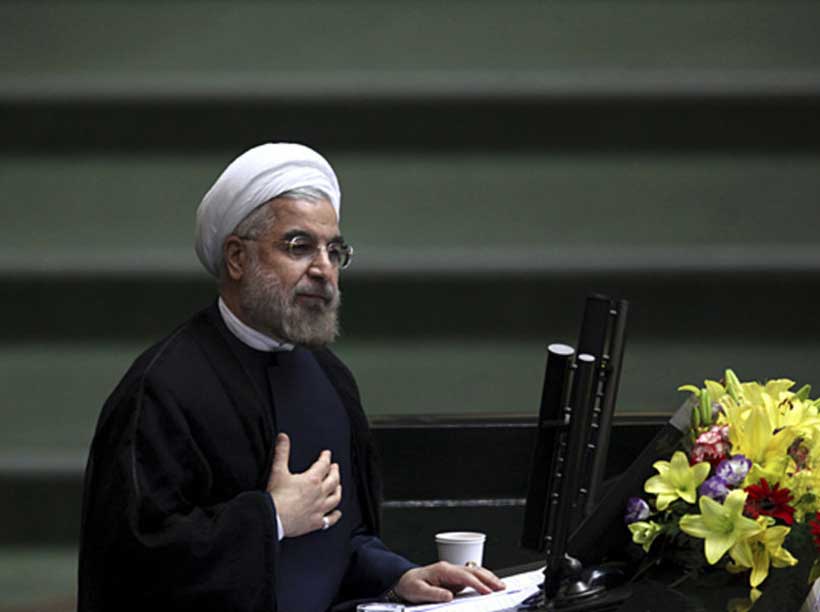 By announcing that Iran will begin keeping its excess uranium and heavy water, the Islamic Republic now sends a firm and clear message to the west, exactly one year after U.S. president, Donald Trump unilaterally withdrew from its nuclear deal with Iran.
At this point, it seems that Iran has made a wise decision. Over the last year, the European troika has not only done anything to revive the nuclear deal or bring any kind of benefit to the Iranian nation, but they have actually backed up U.S. by developing new plans to undermine Iran's "missile work", and diminish its "power in the region" as well as its "nuclear technology".
As stated in clauses 26 and 36 of Joint Comprehensive Plan of Action (JCPOA), if the other side fails to meet its obligations, Iran is entitled to partially or completely end its commitments as well. So, Iran's recent decision could be analyzed both on legal and strategic terms.
However, it seems that the strategic aspects of Iran's decision are even more important than its legal aspects. This decision is strategically important because it stops Washington and European troika to carry out their anti-Iran scheme, a dangerous scheme that they actually started devising when Trump took the office in 2017.
At the time, Theresa May, the British Prime Minister, and Emmanuel Macron, the French president played a major part in carrying out the west scheme. A scheme based on enforcing Iran to keep its "nuclear promises" and stay committed to a "distorted nuclear deal" while "U.S. had abandoned the deal", and at the same time, trying to "diminish Iran's power in the region" and "reduce its missile activities".
All other actions of Europeans toward Iran were also simply targeted at carrying out this major plan, including how they constantly changed their strategies toward Tehran, and how Germany, U.K. and France intentionally delayed in launching the alternative trade mechanism (Instex) with Iran.
Now, Iran's decision to keep its Uranium and heavy water is definitely in compliance with JCPOA, and more importantly, it will seriously undermine the "American-European" joint plan against Iran. This also explains why French government was so distressed by Iran's new nuclear strategy and had such a quick reaction, considering that Emmanuel Macron, the French president and Jean-Yves Le Drian, the French Foreign Minister both have had important roles in carrying out the American-European anti-Iran scheme.
At any rate, what is clear now is that the game has just started! And the Iranian political system and specially the foreign ministry have a great mission to run this game wisely.
In following days, the European troika might want to force Iran into changing its decision by threats such as reviving the European Union sanctions against Iran or even taking Iran's case to the United Nations Security Council (so that Trump administration can meddle in Iran's affairs). But, it is time for Iran political system to be adamant in its decision.
The Iranian Foreign Ministry should clearly ask the Europeans to choose one of these options, either Iran will "further reduce its commitments to the nuclear deal" or the Europeans should do something practical to "protect the rights of Iranian nation".
It is also necessary that the Iranian political system reveals the American-European joint anti-Iran scheme to the people so that the true nature of Europeans is showed to Iranians. In that case, Europe and specially the European troika will completely lose their reputation.
First published in our partner Tehran Times