Same dilemma from the MENA
Both are fully devoted, supported and promoted by the social media. Highly polarizing, both are fracturing any consensus. What Lady Gaga with her gay/gender gigs (or any similar sort of stage-acting à la Pussy Riot) is for the human rights, are the so-called Islamists for the Muslim world– strategic obstructers, assertively trivializing important larger contents that are essential for any human advancement. Does the placement on a proper Facebook page automatically mean being on the right side of history? Is our emphatic and socio-political interaction (increasingly irrelevant as it becomes trivial) reduced to a lame datafied, and monetizable cyber commodity?
Let's get Sy(i)ria-ous: Where is the counter-narrative?
The MENA theatre is situated in one of the most fascinating locations of the world. It actually represents, along with the Balkans-Caucasus, the only existing land corridor that connects three continents. It also holds over a half of the world's proven oil-gas reserves (56% – oil, 48% – gas). Further on, the Gulf OPEC states and Libya have –by far– the lowest costs of oil extraction, thanks to the high crude 'purity' (measured by overall properties such as the state of aggregation, excavation gravity, viscosity, weight, sulfuric content and other contaminants) which simplifies and cheapens the refinement process. These petrol-exporters also enjoy the close proximity to open warm seas for the fast and low-cost, convenient overseas shipments. Hence, the costs per barrel of crude for Libya and the Persian Gulf states are under 5USD, for other OPEC members below 10USD. This is in a sharp contrast to countries such as the US, Russia, Norway, Canada and many others that bear production costs of several tens of USD per barrel – according to the International Energy Agency (IEA).
Therefore, it is an absolute imperative for the external/peripheral powers to dominate such a pivotal geo-economic and geopolitical theater by simply keeping its center soft (e.g. by pre-empting, preventing or hindering the emancipation that might come through any indigenous socio-political modernization and economic diversification). This is the very same imperative that has remained a dominant rational of inner European and Asian machtpolitik for centuries.
No wonder that the competition in the MENA theatre, which has a lasting history of external domination or interference (and largely the Versailles, Anglo-French drawn borders), is harsh, multiple, unpredictable. The region is predominantly populated by the Sunni (Arab) Muslims. With its high population density and a demographic growth far outpacing the economic one, this very young median population (on average 23–27 years old) – that is frequently lacking any (universal) access to education, health and housing – is dominated by juvenile, mainly unemployed or underemployed, but socially mobilized and often angry males. An exceptional fact that the Middle East is a cradle of all four monotheistic religions is thus turned into its own paradox: Fueled by severe socio-economic exclusions and exacerbated by exploitation of the Shia–Sunni and of Muslim–Jewish–Christian antagonism, political radica-lization is surely one of the most convenient instruments of tacit control aimed at preserving local governing authorities predatory-alienated, unauthentic and weak, if not incapacitated.
It should not be of any surprise that each and every one of the predominantly Sunni-Muslim Balkans-MENA countries of the secular republican type, where the external powers have brokered the political settlement – often by compromising the very sovereignty and territorial integrity, is enveloped in perpetuated instabilities, remaining thus paralyzed. So far, not a single absolutistic monarchy has been significantly affected. Starting in Bosnia – nearly 20 years ago – followed by Kosovo, Afghanistan, Iraq and Libya as well as in the post-Spring Egypt, Tunisia, Yemen, all the way to 'ungoverned' Mali, South Sudan and Algeria's south, and up to the post-assassination revolt-torn Tunis or anti-Avanti Mursi' Cairo, a purposely dysfunctional and indecisive central government seems to have been put in place.
For one thing, as it now seems, the euphorically tam-tamed 'Facebook revolutions' across MENA were rather a strategic distractions 'innocently' dressed up in the diverting banality of social media networks
Policy of Timing or No Spring on a single string
Conclusively, most observers would agree that while the so-called Arab Spring had a cross-Arab impact, this was still far from a pan-Arab ripple effect: It was more of a spontaneous social revolt; a series of isolated events (related to each other more by Al-Jazeera-connecting-pots potting and fanning), rather than a directional process. To channel something so unexpectedly inflammatory and cross-Arab, while studiously avoiding pan-Arabism let alone any hint of real structural socio-economic reform and political emancipation – that could have only been achieved by lighting the torch of Islamism. Lacking any enlightenment, this torch far too often and far too easily brought about the extremist blindness of Islamo-fascism.
No Spring on a single string, right?! How could any social cohesion indispensible for the MENA democratization possibly work where primary loyalties are (returned) to sect, tribe or ethnicity? This dilemma relates not only to democracy, but also to the very quest of secularism – for the one presupposes the other – ever since the French Revolution. In this or any other part of the (developing) world, institutionalization of democracy without secularization of state inevitably leads to a dysfunctional, destabilizing and (self-)debilitating government: divinization of the post and personalization of power. The current state of the MENA republics affected by the Arab Spring as well as that of the GCC monarchies provides the best proof of this.
For one thing, as it now seems, the euphorically tam-tamed 'Facebook revolutions' across MENA were rather a strategic distractions 'innocently' dressed up in the diverting banality of social media networks. The very same role those networks well played elsewhere too. (Hence, is it of any surprise that the broad and universal right of self-determination has been sadly reduced to the right of internet-freedom? Contrary to the established apotheosis, many fundamental human rights are currently compressed like a zip-file, emailed and entrusted to just a pair of omnipotent, self-centered and self-interested non-state and semi-state actors of unilateral globalism/egoism: private IT corporations and shadowy intelligence agencies. )
Presently, the announced reduction of the American physical presence in Afghanistan, the limitations it faces in the nearly failed (nuclear bomb holding) Pakistan, and the massive overextensions suffered all over the southwestern flank of the Euro-Asian continent including the recent US Army pullout from Iraq, is felt within the GCC (and in France, UK, Israel and Turkey too) as resulting in dangerous exposure to a neighboring (increasingly anticipated as assertive) Iran as well as to Russia and China behind it. Right now, Syria pays a proxy-war price for that: This multi-religious country of subtle ancient cultural layers may end up entirely combusted, thereby creating a dangerous security vacuum in the heart of MENA. Or to use the words of frustration of the senior French diplomat who recently told me in Brussels: "we have to demonize and quickly delegitimize the legitimate Syrian government, and topple al-Assad in order to convince Israel not to bomb Iran…"
"Western national interests will no longer determine the moral and political impulses of today's global community… Whatsoever the outcome, Syria's agony has underscored a further irreversible weakening of the West's dominant global role…" claims India's former Foreign Minister Jaswant Singh. Perhaps so; the West has indeed become too weak to architecture, but it certainly remains strong enough to destabilize its conceived political peripheries:
As recently, the 'Group of Friends of Syria'- induced recognition of the so-called Syrian opposition means also that Turkey is now practically at war with Syria. At this point, let me be both instructive and predictive: The fall of al-Assad will most certainly trigger the dissolution of Syria. It will also lead to a formalized federalization of Iraq, in a desperate move to prevent its total decomposition as well as to a serious crisis of Lebanese and Jordanian statehood – in both cases probably beyond reparation. The winners in such a scenario would then seem to be Israel (a country that remains enveloped in its traumatic European holocaust past and detached from its present neighborhood) along with the GCC monarchies – at least in the short run. However, over the long term the 'winners' would be the Kurds and Shias – even though the northern portions of Syria have already been occupied by the Turkish army for quite some time.
Consequently, with any proclamation of a Kurdish state (inevitably being of a Black Sea –Eastern Mediterranean stretch, a dream line of all Russian tsars in past), the Erdoğan government (as well as Iraq) would not be able to survive – as it has already created enough enemies at home and in its near abroad. Ergo, besides the dispersed, rarified and terrified MENA Christians, the moderate (Arab) Sunnis are definitely the long-term losers.
Possible, yet not probable epilogue
However, while the cacophony of European contradictions works towards a self-elimination of the EU from the region, Turkey tries to reinsert itself. The so-called neo-Ottomanism of the current (Anatolian, eastern rural power-base) government is steering the country right into the centre of grand bargaining for both Russia and for the US. To this emerging triangular constellation, ambitious and bold PM Erdoğan wishes to beat his own drum.
Past the Arab Spring, neither will Russia effectively sustain its presence in the Middle East on a strict pan-Arabic secular, republican and anti-Islamic idea, nor will the US manage to politically and morally justify its continuous backing off of the absolutistic monarchies that are so energized by the backward, dismissive and oppressive Wahhabism. Ankara tries its best to sublimate both in an effective manner: blending a mix of secular republican modernity and leavened with a traditional, tolerant and emancipating Islam, and to advertise this as an attractive future model across the Middle East. Simply enough, Bosporus wakes up to itself as the empiric proof that Islam and modernity work together. In fact, it is the last European nation that still has both demographic and economic growth.
Moreover, Ataturk's Republic is by large and by far the world's most successful Muslim state: It was never resting its development on oil or other primary-commodity exports, but on a vibrant socio-economic sector and solid democratic institutions. This is heavily contesting, not only for Russia, but primarily for the insecure regime of the House of Saud (and the other GCC autocracies), which rules by direct royal decree over a country of recent past, oil-export dependent and fizzing present and improbable future. No wonder that on the ideological battlefield these two belligerent parties will be dominating the Middle East, which is currently in a self-questioning, past yet another round of calamities. The outcome will be felt significantly beyond the Arab region and will reverberate all across the Sunni Muslim world.
Ankara is attempting to justify that the Saudi-promoted Islam is actually a toxic, separatist/ sectarian Wahhabist ideology that self-constrains Muslims, and keeps them on a wrong side of history by hindering their socio-economic and political development. It does so, Turkey would claim, by entrenching Muslims on a permanent collision course with the rest of the world, while Turkey-promoted Islam would not be a weaponized ideology, but a Modus Vivendi, one which would permit progress and be acceptable to all (including non-Muslims), with a centuries-long history of success.
References:
1. Wilkinson, R.G. and Pickett, K. (2009), The Spirit Level: Why more equal societies almost always do better?, London, Allen Lane (Why Equality is Better for Everyone, Paperback 2nd Edition, Penguin )
2. Bajrektarevic, A. (2012), Geopolitics of Technology and the Hydrocarbon Status Quo (Why Kyoto Will Fail Again), Geopolitics of Energy, 34 (1), CERI Canada 2012
3. UNDP (2013), Human Development report HDR-2013 – The Rise of the South: Human progress in a Diverse World, UN – UNDP Publications
4. IEA (2012), World Energy Outlook 2012 – Golden Rules for a Golden Age of Gas, OECD – IEA Publications
5. World Bank (2012), World Development Report 2012: Gender Equality and Development, WB Publications
6. OECD (2012), OECD Economic Outlook, (Issue 1, June 2012; and Issue 2, December 2012), OECD Publications
7. Bajrektarevic, A. (2012) Is There Life After Facebook, Addleton Academic Publishers RCP 11(2) 2012
8. Rushkoff, D. (2010), Program or Be Programmed – Ten Commands for a Digital Age, OR Books New York
9. Pariser, E. (2011), The Filter Bubble: What the Internet Is Hiding from You, Penguin (page: 43)
10. Dassù, M. (2013), How Obama II is likely to see Europe, Europe's World – the EU Policy Journal, Spring 2013/23 (page 96)
11. Krugman, P. (2013) Marches of Folly, IHT/The New York Times (19 MAR 2013, page: 7)
12. Singh, J. (2012), What Syria means to global community, Jakarta Post – Indonesia (04 SEP 12, page: 6)
Iraq Opens Hands to the Pope Francis' Historic Visit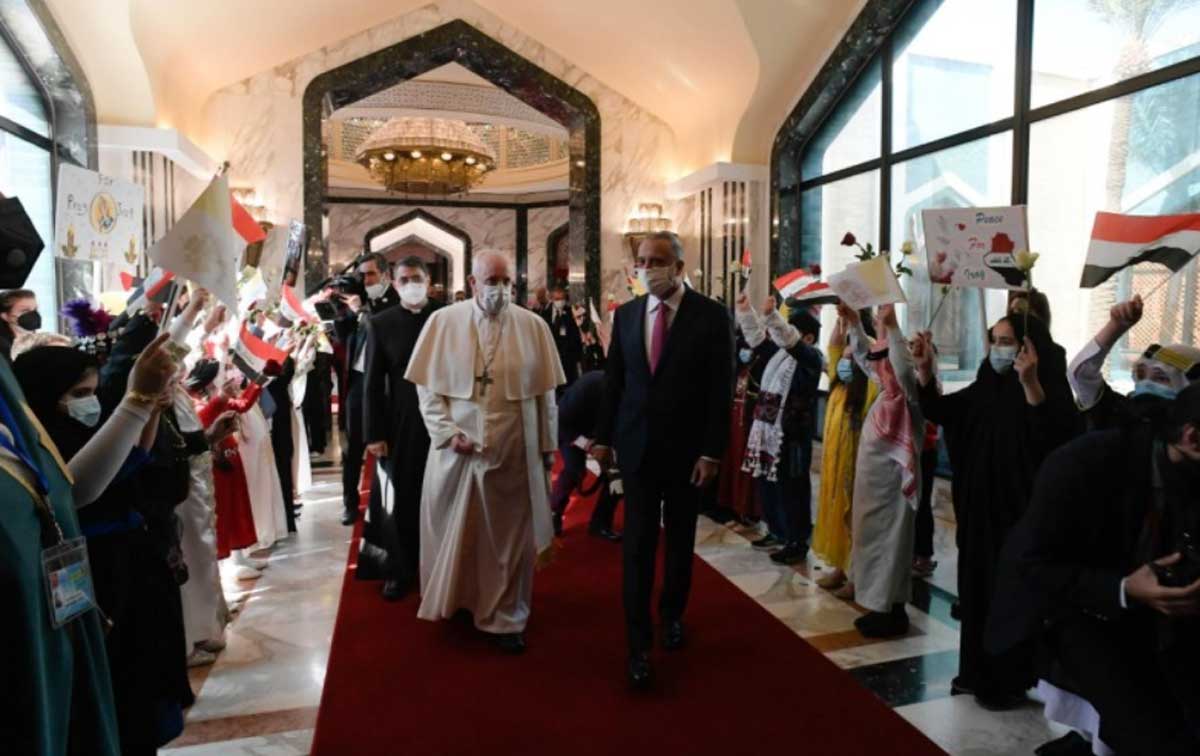 The world looks forward to Pope Francis' historic visit to Iraq which is considered the first papal trip represented by the Roman Catholic Church to the cradle of civilization, Mesopotamia, despite spreading the second wave of COVID-19 and the security situation in Iraq. This expected visit has an important impact on highlighting the challenges and disasters of humiliation, the sectarian war and displacing people, Yazidis persecution, and fleeing the Christian minorities that faced Iraq during all these past years after the US invasion occurred in 2003.
The three-day-visit is considered as the message of peace after years of war and violence, referring that the Pope's visit is as a pilgrim to the cradle of civilization. The papal visit includes Baghdad, Erbil, Mosul- Qaraqosh, and Ur city. The trip comes after 18 months as the pandemic restricts his movement, and it is the first visit to the Middle East when he visited the U.A.E in February 2019 where he met and celebrated in front of 180,000 people at the Zayed Sports City stadium in Abu Dhabi.
The papal visit was intended to occur twenty years ago when St. John Paul II tried to visit Mesopotamia during Saddam's regime, but the endeavors failed to complete that proposed trip. "The people of Iraq are waiting for us. The people waited for St. John Paul II who was not permitted to go. We cannot disappoint them twice", said the Pope.
In a video message addressed by the Pope to the people of Iraq, he expressed his happiness and longing to meet the people who suffered from war, scourges, and death during all these years. "I long to meet you, to look at your faces and to visit your blessed ancient land and the cradle of civilization," the Pope said.
It is expected that the purpose of the Pope's visit is to preserve the rest of the Christians in Iraq. According to the estimation of the charity aid of the Church in Need, the numbers of Christians have decreased from 1.4 million to under 250,000 since the American invasion of Iraq in 2003, especially in the cities of northern Iraq. Many Christians were killed and fled from 2014 to 2017 due to the Islamic State occupation and due to their atrocities, persecution, and violence against the Christian areas. The Pope yearns for meeting the dwindling Christian communities in Mosul, Qaraqosh, and Nineveh plains where these regions had suffered from the atrocities of ISIS in 2014 and people had been compelled to flee.
The world is waiting for the most significant historic meeting between the 90-year-old Shia Muslim cleric, the Grand Ayatollah Ali al-Sistani, and the 84-year-old Pope Francis in the Shiite shrine city of Najaf. The expected meeting is seen as a real chance to enhance the bonds of fraternity between the Muslims and Christians and to lighten the impact of the islamophobia concept that swept Europe and America due to the terrorism actions that happened in Europe. This expected meeting that will be by Saturday signifies a historic moment when the Grand Ayatollah Ali al-Sistani meets Pope Francis, illustrating the fraternal bonds to make people live in peace and tranquility.
Back in February 2019, the Pontiff Francis and Sheikh Ahmed al-Tayeb, the Grand Imam of Cairo's al-Azhar mosque and the most prestigious leader in Sunni Islam, agreed and signed the declaration of fraternity, affirming peace among all nations. The two parties in this document adhere to fight extremism in every place in the world. If the Pontiff and the Grand Ayatollah sign a document like the declaration of fraternity, this will give Najaf's Marjiya a very great impact, and this move will be seen as the first step to decrease the religious tensions and fill the gap of the clash of civilization. This document, if it is enacted, will have a great impact to make peace prevailing and encouraging Muslims and Christians to live in peaceful coexistence.
Ur, which is the oldest city in the world, is to be visited by the pontiff. It is considered the biblical birthplace of Ibraham, the common prophet to the Christians, Muslims, and Judaism and the father of Judaism, Christianity, and Islam. It is expected that there will be prayers in Ziggurat where this place is one of UNESCO world heritage sites. This visit to this historic site will help the landmark to polarize people from Iraq and outside to visit it after years of negligence and ignorance attention to its importance and the vital role that can help Iraq to increase the public income.
The papal visit has many different messages to the people of Iraq. Firstly, the expected meeting with the Grand Ayatollah Ali al-Sistani reflects the fraternal and human stances, and this meeting underlines the important role played by the Grand Ayatollah Ali al-Sistani after the US-led-invasion in 2003. Secondly, his visit to Ur to pray there is a message of the peaceful coexistence between Islam, Christianity, and Judaism, trying to point out that all these three religions emerged from one source. Thirdly, the Pope endeavors to be with the Christians who suffer from the past events of persecution, humiliation, and atrocities. His presence among them is a message of tranquility, serenity, peace, and contentment to live in Iraq with the Muslims and to abandon fighting against others. Finally, the Pope's visit to Iraq pays the world's attention to the religious importance of Iraq and the significant role that can be played by Iraq.
Restart Iran Policy by Stopping Tehran's Influence Operations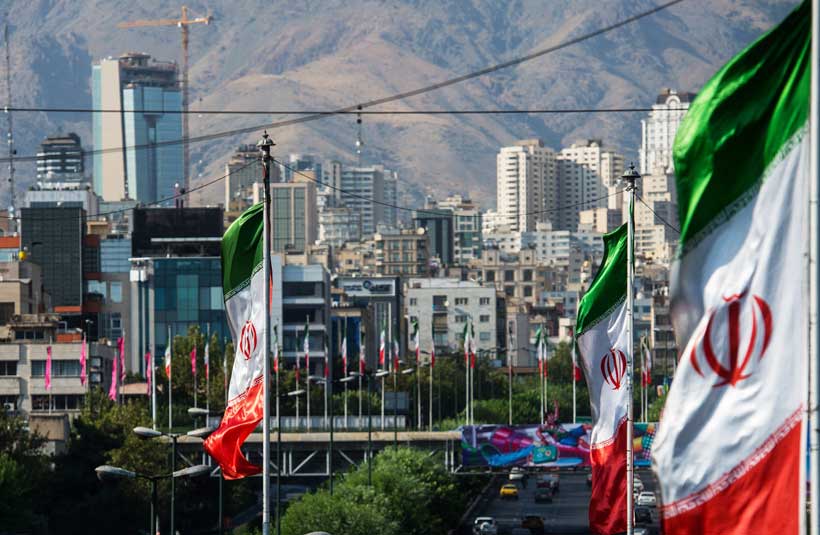 Another US administration is trying to figure out its Iran policy. And, as always, the very regime at the core of the riddle is influencing the policy outcome. Through the years, the clerical rulers of Iran have honed the art of exploiting America's democratic public sphere to mislead, deceive, confuse, and influence the public and government.
Yet Washington still does not have a proper taxonomy of policy antidotes when it comes to Tehran's influence operations.
Arguments dictated by Iranian intelligence services echo in think tanks and many government agencies. These include the extremely misguided supposition that the murderous regime can be reformed or is a reliable negotiating partner for the West; or that there is no other alternative but to deal with the status quo.
How has Tehran been able to deceive some in the US into believing such nonsense? First, by relying on the policy of appeasement pursued by Western governments. And second, through its sophisticated influence operations facilitated by that policy.
Consider three recent instances.
First. Just last month, an Iranian "political scientist" was charged by the Justice Department for acting as an unregistered agent of Iran and secretly receiving money from its mission in New York. "For over a decade, Kaveh Afrasiabi pitched himself to Congress, journalists, and the American public … for the benefit of his employer, the Iranian government, by disguising propaganda as objective polic1y analysis and expertise," the Justice Department noted.
Afrasiabi has an extensive body of published work and television appearances. In July 2020, according to the Justice Department, he linked many of his books and hundreds of articles in an email written to Iran's Foreign Minister, Javad Zarif, saying: "Without [Zarif's] support none of this would have been possible!"
Second. Across the Atlantic, one of Zarif's official diplomats in Europe, Assadollah Assadi, was convicted and given a 20-year prison sentence by a Belgian court on February 4 for trying to bomb an opposition rally in the outskirts of Paris in June 2018.
Court documents revealed that Assadi crisscrossed Europe as Tehran's intelligence station chief, paying and directing many agents in at least 11 European countries.
Assadi's terrorist plot in 2018 was foiled at the last minute. The main target was Maryam Rajavi, the President-elect of the National Council of Resistance of Iran (NCRI). Hundreds of Western lawmakers and former officials were also in attendance.
Third. Unable to harm its opposition through terrorism, the regime has expanded its influence operations against NCRI's main constituent organization the Mujahedin-e Khalq (MEK), which Tehran considers its arch nemesis.
For decades, the mullahs have misled, deceived, and confused America's Iran policy by disseminating considerable disinformation about the democratic opposition. This has in turn resulted in bungled American responses to Tehran's threats.
In a breaking revelation this month, a former Iranian intelligence operative wrote a letter to the UN Secretary General, outlining in glaring detail how the regime's Ministry of Intelligence and Security (MOIS) recruits, pays, and controls dozens of agents across Europe to influence policy.
Forty-one-year-old Hadi Sani-Khani wrote that he was approached by intelligence agents who lured him into the Iranian embassy in Tirana, Albania (MEK's headquarters). He said he wants to go back to Iran. On one condition, the embassy responded: Cooperate with the regime's intelligence against the MEK. He subsequently met with the regime's intelligence chief, Fereidoun Zandi, who coordinated a network of paid agents in Albania since 2014. The intelligence chief was later expelled by Albanian authorities along with the regime's ambassador.
Khani was paid 500 euros per month to write and publish anti-MEK articles and also send copious amounts of similar propaganda to members of the European parliament. Dozens of websites are operated by Tehran's intelligence, some of which are, astonishingly, undeclared sources for unsuspecting Western journalists, think tanks and government agencies when it comes to the MEK.
In many cases, reporters have met directly with the regime's intelligence agents for their stories. In September 2018, for example, according to Khani, a reporter from German newspaper Der Spiegel traveled to Albania. Khani recalls: "We met the Der Spiegel reporter in a Café in Ramsa district in Zagozi square. Each of us then told her lies about the MEK which we had been given in preparation of the meeting. … [Later on,] she occasionally asked me questions about the MEK which I then raised with the embassy and provided her the response I received."
Der Spiegel published the story on February 16, 2019, parts of which were copied from websites affiliated with Iran's intelligence service. Following a lawsuit, a court in Hamburg ordered Der Spiegel to remove the defamatory segments of its article.
These same agents also met with a New York Times correspondent at the same Café, who subsequently wrote a piece against the MEK, regurgitating the very same allegations.
The mullahs' influence operations are a serious obstacle to formulating an effective US policy toward Tehran. As long as the regime's agents are allowed to exploit America's public sphere, cultivate important relationships, infiltrate the media and think tanks, and influence serious policy deliberations in Washington through a flood of falsehoods, America will be at a substantial disadvantage.
China in the Middle East: Stepping up to the plate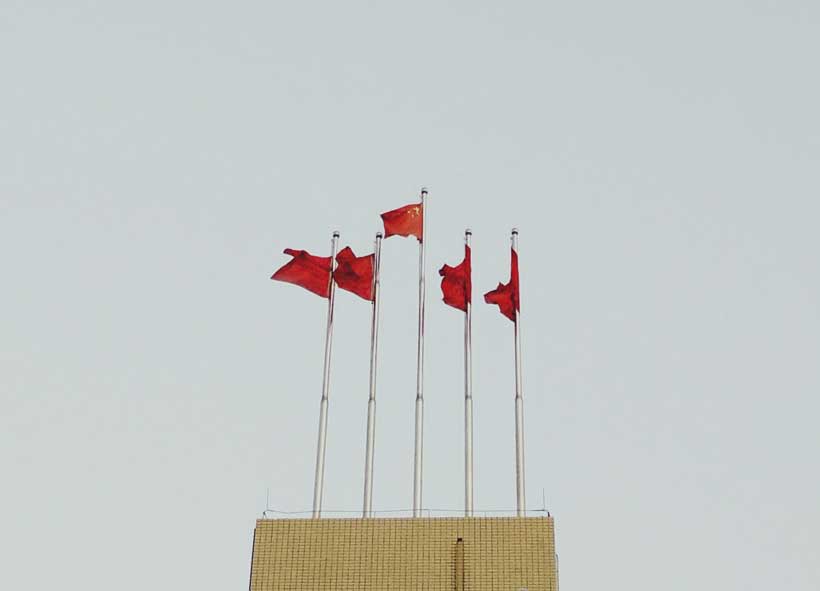 By defining Chinese characteristics as "seeking common ground while reserving differences," a formula that implies conflict management rather than conflict resolution, Messrs. Sun and Wu were suggesting that China was seeking to prepare the ground for greater Chinese engagement in efforts to stabilize the Middle East, a volatile region that repeatedly threatens to spin out of control.
The scholars defined China's goal as building an inclusive and shared regional collective security mechanism based on fairness, justice, multilateralism, comprehensive governance, and the containment of differences.
By implication, Messrs. Sun and Wu's vision reflected a growing realization in China that it no longer can protect its mushrooming interests exclusively through economic cooperation, trade, and investment.
It also signalled an understanding that stability in the Middle East can only be achieved through an inclusive, comprehensive, and multilateral reconstructed security architecture of which China would have to be part.
Messrs. Sun and Wu's article, published in a prominent Chine policy journal, was part of a subtle and cautious Chinese messaging that was directed towards players on all sides of the Middle East's multiple divides.
To be clear, China, like Russia, is not seeking to replace the United States, certainly not in military terms, as a dominant force in the Middle East. Rather, it is gradually laying the groundwork to capitalize on a US desire to rejigger its regional commitments by exploiting US efforts to share the burden more broadly with its regional partners and allies.
China is further suggesting that the United States has proven to be unable to manage the Middle East's myriad conflicts and disputes, making it a Chinese interest to help steer the region into calmer waters while retaining the US military as the backbone of whatever restructured security architecture emerges.
Implicit in the message is the assumption that the Middle East may be one part of the world in which the United States and China can simultaneously cooperate and compete; cooperate in maintaining regional security and compete on issues like technology.
That may prove to be an idealized vision. China, like the United States, is more likely to discover that getting from A to B can be torturous and that avoiding being sucked into the Middle East's myriad conflicts is easier said than done.
China has long prided itself on its ability to maintain good relations with all sides of the divide by avoiding engagement in the crux of the Middle East's at times existential divides.
Yet, building a sustainable security architecture that includes conflict management mechanisms, without tackling the core of those divides, is likely to prove all but impossible. The real question is at what point does China feel that the cost of non-engagement outweighs the cost of engagement?
The Middle East is nowhere close to entertaining the kind of approaches and policies required to construct an inclusive security architecture. Nevertheless, changes to US policy being adopted by the Biden administration are producing cracks in the posture of various Middle Eastern states, albeit tiny ones, that bolster the Chinese messaging.
Various belligerents, including Saudia Arabia, the United Arab Emirates, Qatar, and Turkey, but not Iran or Israel, at least when it comes to issues like Iran and the Palestinians, have sought to lower the region's temperature even if fundamentals have not changed.
A potential revival of the 2015 international Iran nuclear agreement could provide a monkey wrench.
There is little doubt that any US-Iranian agreement to do so would focus exclusively on nuclear issues and would not include other agenda points such as ballistic missiles and Iranian support for non-state actors in parts of the Middle East. The silver lining is that ballistic missiles and support for non-state actors are issues that Iran would likely discuss if they were embedded in a discussion about restructured regional security arrangements.
This is where China may have a significant contribution to make. Getting all parties to agree to discuss a broader, more inclusive security arrangement involves not just cajoling but also assuaging fears, including whether and to what degree Chinese relations with an Iran unfettered by US sanctions and international isolation would affect Gulf states.
To be sure, while China has much going for it in the Middle East such as its principle of non-interference in the domestic affairs of others, its affinity for autocracy, and its economic weight and emphasis on economic issues, it also needs to manage pitfalls. These include reputational issues despite its vaccine diplomacy, repression of the Uyghurs in the north-western province of Xinjiang, and discrimination against other Muslim communities.
China's anti-Muslim policies may not be an immediate issue for much of the Muslim world, but they continuously loom as a potential grey swan.
Nevertheless, China, beyond doubt, alongside the United States can play a key role in stabilizing the Middle East. The question is whether both Beijing and Washington can and will step up to the plate.