Questioning Riyadh's Nuclear Rationale
In the last few years, a marked shift in Saudi thinking on nuclear issues has become evident. Saudi princes have explicitly and publicly stated that a nuclear military option is something the kingdom is obligated to examine if Tehran is not stopped in its march toward nuclear weapons.
In March 2011, Prince Turki al-Faisal, former head of Saudi intelligence and ambassador to the United States, called for the Gulf states to acquire "nuclear might" as a counterweight to Iran should efforts fail to persuade it to abandon its military nuclear program,[1] a point he repeated several months later.[2] U.S. diplomat Dennis Ross confirmed that Saudi King Abdullah explicitly warned Washington in April 2009: "If they get nuclear weapons, we will get nuclear weapons."[3] Ross's quote of the Saudi king appears to be the first public confirmation of Riyadh's position. An unconfirmed report alleges that Abdullah made a similar statement to Russian president Vladimir Putin in their February 2007 summit.[4]
Despite its wealth and status, the kingdom operates out of a deep sense of inferiority and vulnerability: Some of its neighbors, notably Iraq and Iran, are powerful and historically hostile; its long borders are porous; it has a large Shiite population of questionable loyalty in its sensitive oil-producing regions, and its strategic installations are vulnerable.[5] In Riyadh's view, nuclear capabilities in Iranian hands would allow Tehran to dictate the Gulf agenda—including its oil markets—as well as incite the Shiites in Saudi Arabia's eastern province, undermining the kingdom's status in the Muslim world as well as the royal family's grip on power.[6]
The public statements reflecting Saudi intent to acquire nuclear weapons may be intended primarily to convince Tehran that obtaining the bomb will have unintended consequences. They may even be intended to pressure Washington to deal more forcibly with Tehran in order to prevent it from becoming a nuclear state. Nonetheless, these statements are not something to be taken lightly. Given Riyadh's historical involvement (albeit not all of it proven) with nuclear weapons programs and its military inferiority to Tehran, it is liable to strive for a nuclear deterrent of its own. Saudi Arabia may indeed become the first nuclear state to acquire rather than develop nuclear capabilities.
Immediate Solutions
Riyadh would view nuclear weapons as a counterweight to Tehran. The kingdom, which has traditionally achieved its goals through behind-the-scenes maneuvering backed up by enormous wealth, would probably not change this paradigm if it acquired a nuclear weapon.[7] The lack of transparency typical of Saudi decision-making does not afford knowledge of what, if any, decisions have been made on nuclear matters. Decisions on sensitive issues are made in very secretive settings usually involving the king and the brothers closest to him and are affected by a sluggish process that tends to seek consensus through consultation within the family, requiring the placation of various factions within it and within the broader circles of regime supporters.[8]
Due to its extremely limited research and development capabilities and know-how, Riyadh's possible nuclear pursuit is likely to be done with external help and acquisition of an off-the-shelf deterrent. It has nowhere near the level of indigenous technical capacity needed to produce, maintain, or deploy nuclear weapons. No long-term strategy for developing its nuclear sector has been publicly issued, nor does Riyadh possess the necessary institutional support (across regulatory, technical, and legal fields) to effectively retain nuclear deployments. Therefore, it might partner with China or Pakistan or both, which have the necessary technological and human infrastructures.
Saudi Arabia's track record merits some well-placed concern over the issue of nuclear weapons. In the late 1980s, China secretly supplied Riyadh with thirty-six CSS-2 intermediate-range ballistic missiles (IRBMs). A recently inked civilian nuclear cooperation deal with Beijing, supplier of the CSS-2s and reported supplier of newer and still nuclear-capable DF-5 ICBMs, may also be troubling.[9] Furthermore, the recent inauguration of a new command and control center belonging to the Strategic Missile Force near Riyadh raises a question: Why would Saudi Arabia invest billions in updating its strategic command and control facilities if it still possesses only outdated Chinese missiles?
The visit by the late Saudi defense minister, Crown Prince Sultan, to a uranium enrichment facility and a Pakistani missile production plant near Islamabad in 1999 (hosted by A.Q. Khan, accused of passing on nuclear secrets) raise concerns about Riyadh's future relations with Islamabad in this matter. On at least one occasion, Khan visited Riyadh,[10] and reports have surfaced about Pakistani scientists coming to Saudi Arabia under the guise of Hajj pilgrims.[11]
These concerns and connections are not merely speculative. Islamabad's willingness to provide security support for Riyadh, should the Saudis feel that there is a real danger to the kingdom's stability, was put to the test in the spring of 2011. The Saudi royals' fear that the Shiite uprising in Bahrain would spread to Shiite centers in northeast Saudi Arabia (where most of the kingdom's oil reserves are located) prompted Riyadh to ask Islamabad to place an expeditionary force on alert ready to be deployed on Saudi soil should the security situation deteriorate.[12] Pakistan responded positively to the Saudi request.[13]
Riyadh views Islamabad as its strategic hinterland. The Saudis are behind the financing of many arms deals, and in exchange, receive training of their aerial and naval personnel by the Pakistanis.[14] During a visit by Pakistani president Zardari to Riyadh in July 2011 (a visit that reportedly enhanced the strategic relations between the countries), King Abdullah thanked him for his support in Bahrain, where Pakistani mercenaries helped put down the Shiite uprising, and in maintaining regional stability. A month later, Pakistani prime minister Yousuf Raza Gilani also visited the kingdom, asking for Saudi help with oil supplies in light of Islamabad's economic situation and Washington's threats to cut off support; it is unclear what Pakistan promised in exchange for the aid.[15] Riyadh maintains a very close relationship with the heads of Islamabad's military and intelligence services. This is significant in the nuclear context because from the start, the Pakistani nuclear program was under the control of the military establishment without any real involvement on the part of the political leadership.[16]
The two nations, both with Sunni majorities, border Iran on two sides and are interested in curbing Tehran's power and influence.[17] Pakistan, lacking the monetary resources, has the requisite knowledge and skilled manpower for developing nuclear arms whereas Saudi Arabia is wealthy but lacks the relevant infrastructure and trained personnel. One cannot rule out the possibility that Riyadh may seek to balance Tehran's power by increasing cooperation in the nuclear field with its long-standing friend, despite the political risks of jeopardizing well-established defense relations with Washington. In October 2010, the head of the strategic planning unit of Pakistan's armed forces, who is responsible for the production, security, and storage of the nation's nuclear weapons, said that Islamabad had the right to provide its expertise in the nuclear field to other nations.[18] In the past, both Islamabad and Riyadh denied such a scenario.
Should Saudi Arabia find itself in a sensitive security situation, it may seek to capitalize on its investment in the Pakistani nuclear program and pressure Islamabad for assistance. It is unclear whether there is, in fact, a binding nuclear agreement between the states though the assessment is that both states have at least discussed the option. If such an agreement exists, the two have presumably trained for operational cooperation in this field.[19] Gary Samore, President Obama's advisor on arms control, has said that the possibility of Pakistani nuclear forces being placed in Saudi Arabia cannot be ruled out.[20]
Although there has never been a precedent of one state selling or transferring actual nuclear warheads to another, there is the precedent of exchange of nuclear technology between Pakistan and North Korea[21] as well as proliferation of forbidden nuclear equipment and know-how to countries including Iran and Libya and possibly Syria or Saudi Arabia.[22] As Tehran progresses, Riyadh is likely to exert more pressure on Islamabad to fulfill its presumed commitments. It is by no means certain that Pakistan will yield to Saudi pressure and inducements, but it is impossible to rule out the deployment of Pakistani fighter jets or surface-to-surface missiles with nuclear warheads, controlled by Pakistan, on Saudi soil.
Long-term Solutions
At the same time, the kingdom is accelerating its independent nuclear development—one of the largest development projects in its history—as another option in response to Iran. Saudi Arabia has in recent years started to prepare openly for the development of a civilian nuclear program and is broadening efforts to construct a knowledge base in the field, possibly as another way of establishing nuclear military capabilities over the long term.[23] It has initiated a string of projects and signed cooperation agreements with France, Russia, the United States, South Korea, and China.[24] In 2006, Riyadh called for the Gulf Cooperation Council (a regional bloc that includes Kuwait, the United Arab Emirates, Bahrain, Qatar, and Oman) to develop a shared program to use nuclear technologies for peaceful purposes in accordance with international treaties.[25] The Saudi foreign minister, Prince Saud al-Faisal, sought to assuage concerns about possible intentions to develop nuclear weapons stating, "It is no secret and we're doing everything out in the open. Our goal is to pursue technology for peaceful uses—no more and no less."[26] Yet notwithstanding similar declarations over the years, the kingdom has signaled that it would not surrender the capability to enrich uranium on its soil, which continues to raise doubts about its intentions.[27]
In April 2010, King Abdullah called for the establishment of a national body for nuclear research and development. In addition, he stated that Riyadh would invest more than $100 billion over two decades to establish no fewer than sixteen nuclear reactors with the first reactor set to be connected to the power grid by 2020.[28] While the civilian nuclear program seems designed to be a symbolic response to Tehran's nuclear project in the short term, this does not preclude the possibility of its serving as a cover or preliminary stage for a military nuclear project in the future. In June 2005, Riyadh signed the Small Quantities Protocol with the International Atomic Energy Agency (IAEA), but this protocol exempts it from intrusive inspections and makes it difficult for the IAEA to ensure there is no forbidden development underway. The concern that loopholes in the protocol could allow nations to develop military nuclear capabilities has moved the IAEA to attempt to change it.[29] Riyadh's response was to hurry to sign the present text, despite Washington's opposition.
Still Relying on America?
A signal from Riyadh that it intends to pursue the nuclear route may indeed be an effective way to pressure Washington to demonstrate its commitment to defend the kingdom more convincingly. Saudi doubts about their U.S. allies preceded the Obama administration's conduct during the recent Arab upheavals but have been intensified by them. In the last two years, the kingdom has missed few opportunities to express its displeasure with Washington's policy toward Tehran.[30] Although Secretary of State Hillary Clinton promised to extend the U.S. "defense umbrella" to the Gulf states should Tehran acquire military nuclear capabilities,[31] this type of declaration allays few fears as it is liable to be seen as a grudging acceptance of a nuclear-armed Iran. While Washington would not have to deploy nuclear forces on Arabian soil to deter aggression, such a move would make the message of deterrence more credible and calm Saudi nerves. However, any U.S.-Saudi security arrangement would likely be covert so as not to embarrass the kingdom vis-à-vis elements opposed to hosting "infidels" on "sacred" lands. Another possibility would be to deploy nuclear forces offshore. A hint that such an option might be in the making came in March 2010 when the U.S. navy fired a missile capable of carrying a nuclear warhead from a submarine near the Saudi coast.[32]
Continued Iranian progress toward a nuclear weapon, Iraq's increasing alignment with Tehran, and an expedited U.S. exit from Afghanistan are all changing the Saudi strategic landscape. The Obama administration's "lead from behind" approach in Libya and its hesitation to get involved in the Syrian civil war all contribute to a reassessment of U.S. commitments. With the U.S. "pivot to Asia"—taking the form of a series of military, economic, commercial, and diplomatic initiatives aimed at contending with the rising power of China—and a changing global energy map due to expansion of oil and natural gas production in the United States, Riyadh and others are beginning to prepare for a post-U.S. Middle East.
According to recent reports, Washington is considering expanding its nuclear cooperation with Riyadh on the basis of a 2008 memorandum of understanding: In exchange for foregoing the operation of nuclear fuel cycles on its soil, Saudi Arabia was to receive nuclear assistance.[33] Such a move, should it come to pass, may be meant to persuade Riyadh to abandon its strategic goals, prevent other players from gaining a foothold in the attractive Saudi market, and challenge Tehran's nuclear policy. The United States is still Saudi Arabia's most effective security support, but if Washington distances itself from regional matters, the gradual entrance of new players into the Gulf is inevitable.
The question of Saudi acquisition of a nuclear deterrent is more relevant than ever when both enemies and friends of the United States are looking at a possible regional drawdown on Washington's part as well as a lack of support for the pro-Western regimes that remain in place. If the U.S. government provides Riyadh with formal security guarantees, it would be natural for it to demand that the kingdom forego its strategic goals. But Riyadh's inclusion under a U.S. defense umbrella is not a given and depends both on the quality of relations between the two countries and other Saudi considerations. Riyadh remains skeptical over Washington's willingness to come to its aid and may thus seek to purchase a nuclear deterrent, which would provide it with more freedom vis-à-vis its stronger ally. Under present circumstances, it is not unreasonable for Riyadh to rely on other states for its defense in addition to Washington for the simple reason that it has done so in the past. Likewise, it is more than likely that the Saudis will not act transparently because they have acted in secret previously.
Conclusion
After Iran, Saudi Arabia is the number one candidate for further nuclear proliferation in the Middle East. Open source evidence remains circumstantial, but perhaps more than any other regional player, Riyadh has the requisite ideological and strategic motives as well as the financial wherewithal to act on the option.
The kingdom may conclude that its security constraints as well as the attendant prestige and influence generated by having a bomb outweigh the political and economic costs it will pay. The difficulty in stopping Tehran's dogged quest for a nuclear capability coupled with Riyadh's doubts about the reliability of Washington is liable to encourage Riyadh to shorten timetables for developing an independent nuclear infrastructure, as well as to opt to purchase a turnkey nuclear system, an off-the-shelf product, or to enter into a security compact of one sort with another power. Sunni-majority Pakistan has emerged as the natural candidate for such an arrangement.
Heavy U.S. pressure is likely to be brought to bear on the Saudis not to acquire nuclear capabilities. Indeed, it seems that, at present, the price Riyadh is likely to pay should it acquire military nuclear capabilities might outweigh the advantages of such a move. But strategic interest, motivated by considerations of survival, could have the upper hand. Should it seem that the kingdom's vital security interests are threatened, it may prefer to take a series of steps, including obtaining a nonconventional arsenal, to reduce risks and ensure the continuity of the House of Saud.
[1] Kuwait News Agency, Mar. 21, 2011.
[2] The Wall Street Journal, June 2, 2011; The Guardian (London), June 29, 2011; The Jerusalem Post, June 30, 2011.
[3] Ha'aretz (Tel Aviv), May 30, 2012.
[4] Ibid., May 30, 2012.
[5] Thomas Lippman, Saudi Arabia on the Edge: The Uncertain Future of an American Ally (Washington, D.C.: Potomac Books, 2012), pp. 229-30, 236-7.
[6] Ibid, pp. 231, 237-43.
[7] Joseph Kostiner, "The GCC States and the Security Challenges of the Twenty-First Century," The Begin-Sadat Center for Strategic Studies, Bar-Ilan University, Mideast Security and Policy Studies, no. 86, Sept. 2010.
[8] Shmuel Bar, "Culture of Command and Control of Nuclear Weapons in the Middle East: Saudi Arabia," working paper, Twelfth Herzliya Conference, Jan. 2012.
[9] Mark Jansson, "Conceding the Saudi Nuclear Breakout," Center for Strategic and International Studies, Washington, D.C., Feb. 21, 2012.
[10] "Pakistani Journalist Examines Saudi-Pakistani Nuclear Cooperation," Middle East Media Research Institute (MEMRI), Washington, D.C., Special Dispatch, no. 4205, Oct. 14, 2011.
[11] William Potter and Gaukhar Mukhatzhanova, eds., Forecasting Nuclear Proliferation in the 21st Century: A Comparative Perspective (Stanford: Stanford University Press, 2010), p. 93.
[12] Asia Times (Hong Kong), Apr. 2, 2011.
[13] Bruce Riedel, "Brezhnev in the Hejaz," National Interest, Sept.-Oct. 2011.
[14] Francisco Aguilar, Randy Bell, Natalie Black, Sayce Falk, Sasha Rogers and Aki Peritz, "An Introduction to Pakistan's Military," Harvard Kennedy School, Belfer Center, Cambridge, July 2011.
[15] Islamic Republic News Agency, Aug. 10, 2011.
[16] Rolf Mowatt-Larssen, "Nuclear Security in Pakistan: Reducing the Risks of Nuclear Terrorism," Arms Control Today (Washington, D.C.), July/Aug. 2009.
[17] Pervez Hoodbhoy, "Iran's bomb and Pakistan," The Express Tribune (Karachi), Jan. 15, 2012.
[18] "Head of Pakistan's Nuclear Program: Pakistan Has the Right to Use Nuclear Weapons Should the Need Arise," MEMRI, Special Dispatch, no. 3330, Oct. 31, 2010.
[19] Bruce Riedel, "Enduring Allies: Pakistan's Partnership with Saudi Arabia Runs Deeper," Force, Dec. 2011.
[20] Thomas Lippman, "Nuclear Weapons and Saudi Strategy," Policy Brief, no. 5, Middle East Institute, Jan. 2008.
[21] "Country Profiles: North Korea, Nuclear," Nuclear Threat Initiative, Washington, D.C., Aug. 2012.
[22] William Langewiesche, "The Wrath of Khan," The Atlantic, Nov. 2005.
[23] Asharq al-Awsat (London), Oct. 15, 2012.
[24] The Wall Street Journal, Jan. 16, 2012.
[25] The Gulf News (Dubai), Dec. 11, 2006.
[26] Ha'aretz, Dec. 10, 2006.
[27] Arab News (Riyadh), June 17, 2010; Asharq al-Awsat, Oct. 15, 2012.
[28] Arab News, June 1, 2011.
[29] Global Security Newswire, Nuclear Threat Initiative, Washington, D.C., June 16, 2005.
[30] The Washington Post, May 16, 2011; Asharq al-Awsat, Nov. 8, 2012.
[31] Fox News, July 22, 2009.
[32] The Washington Post, Mar. 31, 2010.
[33] The Wall Street Journal, July 30, 2011.
Amid ethnic protests, Iran warns of foreign meddling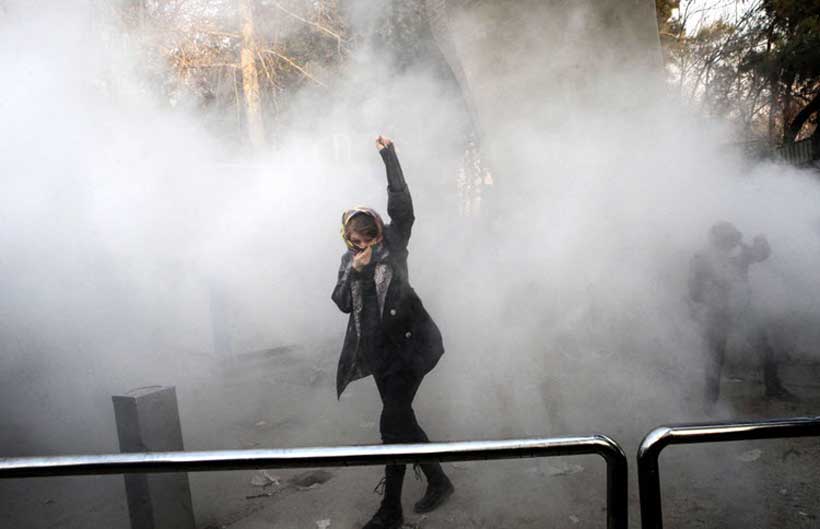 Iran has raised the spectre of a US-Saudi effort to destabilize the country by exploiting economic grievances against the backdrop of circumstantial evidence that Washington and Riyadh are playing with scenarios for stirring unrest among the Islamic republic's ethnic minorities.
Iran witnessed this weekend minority Azeri and Iranian Arab protests in soccer stadiums while the country's Revolutionary Guards Corps reported clashes with Iraq-based Iranian Kurdish insurgents.
State-run television warned in a primetime broadcast that foreign agents could turn legitimate protests stemming from domestic anger at the government's mismanagement of the economy and corruption into "incendiary calls for regime change" by inciting violence that would provoke a crackdown by security forces and give the United States fodder to tackle Iran.
"The ordinary protesting worker would be hapless in the face of such schemes, uncertain how to stop his protest from spiralling into something bigger, more radical, that he wasn't calling for," journalist Azadeh Moaveni quoted in a series of tweets the broadcast as saying.
The warning stroked with the Trump administration's strategy to escalate the protests that have been continuing for months and generate the kind of domestic pressure that would force Iran to concede by squeezing it economically with the imposition of harsh sanctions.
US officials, including President Donald J. Trump's national security advisor John Bolton, a long-time proponent of Iranian regime change, have shied away from declaring that they were seeking a change of government, but have indicated that they hoped sanctions would fuel economic discontent.
The Trump administration, after withdrawing in May from the 2015 international agreement that curbed Iran's nuclear program, this month targeted Iranian access to US dollars, trade in gold and other precious metals, and the sale to Iran of auto parts, commercial passenger aircraft, and related parts and services. A second round of sanctions in November is scheduled to restrict oil and petrochemical products.
"The pressure on the Iranian economy is significant… We continue to see demonstrations and riots in cities and towns all around Iran showing the dissatisfaction the people feel because of the strained economy." Mr. Bolton said as the first round of sanctions took effect.
Mr. Bolton insisted that US policy was to put "unprecedented pressure" on Iran to change its behaviour", not change the regime.
The implication of his remarks resembled Israeli attitudes three decades ago when officials argued that if the Palestine Liberation Organization were to recognize Israel it would no longer be the PLO but the PPLO, Part of the Palestine Liberation Organization.
In other words, the kind of policy changes the Trump administration is demanding, including an end to its ballistic program and support for regional proxies, by implication would have to involve regime change.
A string of recent, possibly unrelated incidents involving Iran's ethnic minorities coupled with various other events could suggest that the United States and Saudi Arabia covertly are also playing with separate plans developed in Washington and Riyadh to destabilize Iran by stirring unrest among non-Persian segments of the Islamic republic's population.
Mr. Bolton last year before assuming office drafted at the request of Mr. Trump's then strategic advisor, Steve Bannon, a plan that envisioned US support "for the democratic Iranian opposition," "Kurdish national aspirations in Iran, Iraq and Syria," and assistance for Baloch in the Pakistani province of Balochistan and Iran's neighbouring Sistan and Balochistan province as well as Iranian Arabs in the oil-rich Iranian province of Khuzestan.
A Saudi think tank, believed to be backed by Crown Prince Mohammed bin Salman, called in 2017 in a study for Saudi support for a low-level Baloch insurgency in Iran. Prince Mohammed vowed around the same time that "we will work so that the battle is for them in Iran, not in Saudi Arabia."
Pakistani militants have claimed that Saudi Arabia has stepped up funding of militant madrassas or religious seminaries in Balochistan that allegedly serve as havens for anti-Iranian fighters.
The head of the State Department's Office of Iranian Affairs met in Washington in June with Mustafa Hijri, head of the Kurdistan Democratic Party of Iran (KDPI), before assuming his new post as counsel general in Erbil in Iraqi Kurdistan.
Iran's Revolutionary Guards said last weekend that they had killed ten militants near the Iranian border with Iraq. "A well-equipped terrorist group … intending to infiltrate the country from the border area of Oshnavieh to foment insecurity and carry out acts of sabotage was ambushed and at least 10 terrorists were killed in a heavy clash," the Guards said.
The KDPI has recently stepped up its attacks in Iranian Kurdistan, killing nine people weeks before Mr. Hijri's meeting with Mr. Fagin. Other Kurdish groups have reported similar attacks. Several Iranian Kurdish groups are discussing ways to coordinate efforts to confront the Iranian regime.
Similarly, this weekend's ethnic soccer protests are rooted in a history of football unrest in the Iranian provinces of East Azerbaijan and Khuzestan that reflect long-standing economic and environmental grievances but also at times at least in oil-rich Khuzestan potentially had Saudi fingerprints on them.
Video clips of Azeri supporters of Tabriz-based Traktor Sazi FC chanting 'Death to the Dictator" in Tehran's Azadi stadium during a match against Esteghlal FC went viral on social media after a live broadcast on state television was muted to drown the protest out. A sports commentator blamed the loss of sound on a network disruption.
A day earlier, Iranian Arab fans clashed with security forces in a stadium in the Khuzestan capital of Ahwaz during a match between local team Foolad Khuzestan FC and Tehran's Persepolis FC. The fans reportedly shouted slogans reaffirming their Arab identity.
Saudi Arabia and other Gulf Arabs have a long history of encouraging Iranian Arab opposition and troubling the minority's relations with the government.
Iranian distrust of the country's Arab minority has been further fuelled by the fact that the People's Mujahedin Organization of Iran or Mujahedin-e-Khalq (MeK), a controversial exiled opposition group that enjoys the support of prominent serving and former Western officials, including some in the Trump administration, has taken credit for a number of the protests in Khuzestan. The group advocates the violent overthrow of the regime in Tehran.
Two of Mr. Trump's closest associates, Rudy Giuliani, his personal lawyer, and former House speaker New Gingrich, attended in June a gathering in Paris of the Mujahedin-e-Khalq.
In past years, US participants, including Mr. Bolton, were joined by Saudi Prince Turki al-Faisal, the former head of the kingdom's intelligence service and past ambassador to Britain and the United States, who is believed to often echo views that Crown Prince Mohammed bin Salman prefers not to voice himself.
"The mullahs must go, the ayatollah must go, and they must be replaced by a democratic government which Madam Rajavi represents. Freedom is right around the corner … Next year I want to have this convention in Tehran," Mr. Giuliani told this year's rally, referring to Maryam Rajavi, the leader of the Mujahedeen who is a cult figure to the group.
Russia's Role in the Israeli-Palestinian Conflict
It is often said in the Western mainstream media that Russian President Vladimir Putin is playing a disrupting role around the world, including in the Middle East. However, such accusations remind of an old Soviet joke that made its rounds in the late 1980s and could certainly be applicable to the United States and other Western countries. The joke begins with a man walking into a Soviet hospital and asking the desk nurse if he can see the eye-ear doctor. "There is no such doctor," she tells him, "Perhaps you would like to see someone else?" "No," he replies, "I need to see an eye-ear doctor." "But there is no such doctor," she replies. "We have doctors for eyes and doctors for ears, nose and throat (ENT), but no eye-ear doctor." "No help," he repeats. "I want to see the eye-ear doctor." They go around like this for a few minutes before the nurse interjects and says, "Sir, there is no eye-ear doctor, but if there was one, why would you want to see one?" "Because," he replies, "I keep hearing one thing and seeing another."
This is exactly the sentiment that seems to be gripping the international community. It is stated as fact that President Putin is attempting to destabilize the Middle East and Europe quite like he 'orchestrated' in the American Presidential Elections in 2016. Leaving aside the lack of evidence for the latter two cases, Middle Eastern countries do not feel that Russia is trying to destabilize the region. In fact, it is quite the opposite. Israeli-Russian relations have never been better: Russia's "frenemy," Saudi Arabia turns to Russia for regional issues more so than to the US; and Turkey has improved its relations with Russia since the Turkish army shot down the Russian jet in Syria. Russia is in close contact and on good terms with all the key players and countries in the Middle East, and playing broker or interlocutor when a crisis arises.
Russia has been actively involved in the region to preserve its interests, namely ensuring stability in a region where jihadi terrorism has run rampant. That was the main reason it intervened in Syria in 2015, as Salafi jihadi forces such as Da'esh, Fatah al-Sham (formerly known as Jabhat al-Nusra or Al-Qaeda in Syria), Ahrar al-Sham, and others were almost certainly on their way to occupying Damascus, which constitutes a red line for Moscow. In nearly three years, Russia has almost removed all of the Salafi jihadi terrorists from Syria and is now focused on finding a negotiated solution to the seven-year civil war. While it is working on a peace agreement in Sochi and Astana, Russia still sees Syria as the front line to its war on terror and is closely working with the Syrian Army to ensure it can fend off terrorists and any destabilizing efforts from any regional and external players. At the same time, Russia is constantly working with all the necessary partners to ensure stability there.
However, some prominent Russian figures including Russian foreign minister Sergei Lavrov, the Russian deputy envoy to the United Nations Vladimir Safronkov, and scholar Vitaly Naumkin have suggested that Russia can play a crucial role in resolving the decades-old Israeli-Palestinian conflict. While the prospect for a solution to this conflict seems bleak, having a new player that can help is a positive sign. In fact, Russia has unique credentials to kick-start peace talks, since it is a veto-holding member of the UN Security Council and a member of the Middle East Quartet. In both international bodies, Washington has been mingling with far right-wing elements in Israel and stonewalling any potential peace agreement between the Israelis and the Palestinians by vetoing key United Nations Security Council resolutions. A more reliable player who is active in the region, like Russia, would serve well as a broker to help the necessary parties come to an agreement.
More importantly, Russia can play a constructive role and be a dependable broker because it has close ties with all the necessary parties needed for any agreement. It is more of an honest broker than Washington for a variety of reasons. Chiefly among them, if for no other reason, is the fact that Russia can play a fair interlocutor given its presence in the region. If we look at Donald Trump's ill-advised decision to recognize Jerusalem as the capital of Israel, it not only reignited violence between the Israelis and the Palestinians but it also revealed that Washington had never been an honest broker in resolving the age-old conflict.
This is not the first time that Moscow had offered to be a broker between the Israelis and the Palestinians. The Kremlin had offered to host the two parties in Moscow as a venue for discussions in 2016. However, all hopes were dashed when two Israeli professors decided to reveal that Palestinian Authority Chairman Mahmoud Abbas was a KGB Agent in the 1980s while pursuing his doctorate degree. It was later revealed that the two Israeli professors had leaked this document to the Israeli press because they had their own agenda and did not want negotiations to bear fruit under the auspices of the Russians.
It takes two to tango: Do the two states want it?
Israelis
Current Coalition Government
The current Israeli government's perspective on a peace agreement between the Palestinians and the Israelis is nearly nonexistent. This is Israel's most far-right government coalition since it first became a state in 1948. Since becoming Israel's Prime Minister, Benjamin Netanyahu has always found an excuse to not seek a peace agreement with the Palestinians. Moreover, Netanyahu has laid down the conditions to an agreement that no Palestinian leader can agree to. For instance, in 2013, he outlined his so-called "vision" for a future Palestinian state. He stated that there would be no agreement unless the Palestinian leadership recognizes Israel as "the nation-state of the Jewish people." This is an ill-conceived approach as Israel's concern should be about creating a two-state solution (and future narrative) for its national security rather than ensuring that its future neighbouring state recognizes the complexion of its statehood. Does the United States have to recognize Canada as a multicultural country? Or does Canada have to recognize the United States as a Christian state? No. The United States recognizes Canada as a state and vice versa. What each state does internally is its own business.
Under Netanyahu's leadership, he has always suggested that the Palestinians are divided and when they did unite he suggested that they are aligning with Hamas—a "terrorist" organization—and, thus, Israel cannot negotiate with the Palestinians. In reality, Hamas conducted terrorist activities in the past, but today they are very popular with Gazans, East Jerusalemites, and West Bankers. If elections were held today in the Palestinian Territories, Hamas most likely would win in all three cities. For the last nine years, Prime Minister Netanyahu and his coalition governments have accused the Palestinian leadership of incitement. However, the blame should really be put on Netanyahu's government for their incitement in the Occupied Territories (East Jerusalem and the West Bank), as it condones the daily activities of the Israel Defence Forces (IDF) and the settlers' mistreatment of the Palestinians on a day-to-day basis. As the country has shifted further to the extreme right in recent years, it will take much skill to convince Benjamin Netanyahu and members of his far right-wing coalition to come to the table and, eventually, agree on a final two-state solution with Israel's neighbours. If anyone other than Netanyahu's "Likud" Party in this coalition (namely Naftali Bennett's "HaBayit HaYehudi" Party, any of the religious parties, or, to a certain extent, Avigdor Lieberman's "Yisrael Beiteinu" Party, or any of their offshoots) wins the next general election, which is scheduled for 2019, then it will be increasingly difficult to reach a two-state solution agreement.
Opposition Parties
There is still some hope because there are a few party leaders that want to seek a two-state solution. However, the two main opposition leaders—Avi Gabay ("Labor" Party) and Yair Lapid ("Yesh Atid" Party) — do not seem to indicate that they are genuine in seeking a two-state solution. Their statements about Jerusalem, and other issues for a future agreement between the Israelis and Palestinians, are disheartening. Both Gabay of the "Labor" Party (a central partner in the "Zionist Union" Party with Tzipi Livni's "Hatnuah" Party) and Lapid of the "Yesh Atid" Party have shifted to the right of the Israeli political spectrum. Whether this is a tactic to attract right-wing voters or it is their fundamental belief remains to be seen. However, their statements signal trouble for the two-state solution if either of them were to become Prime Minister.
That leaves Israel with "Meretz" Chairwoman Tamar Zandberg, Former Prime Minister Ehud Barak, and "the Joint List" Chairman Ayman Odeh. Zandberg leads the progressive "Meretz" Party into the next election with only 5 seats in the Israeli Knesset (Israel's Parliament). She has tried to inject new life in the party and suggested that if she were to lead a government, or take part in a coalition government, she would enter with all progressive parties on the Israeli left and would not rule out right-wing politician and current Defense Minister Avigdor Lieberman. Lieberman, the Chairman of "Yisrael Beiteinu," is a pragmatic leader who might be the only politician on the Israeli right that will change his view if he sees the security of his country at risk. That leaves the progressive with some hope that he would play it nice with Zandberg, but his negative comments about Arabs, Palestinians, and a future peace agreement makes one wonder if his views will actually change when faced with any potential agreement between the Palestinians and the Israelis. Zandberg's comments, however, could simply be a tactic for trying to lure more voters to her party, especially those on the right of the spectrum. It is still disheartening to hear the new "Meretz" Chairwoman make that promise to voters despite Lieberman's rhetoric, which puts him in opposition to a fair peace treaty. Also, "Meretz's" silence on Trump's Jerusalem declaration, like other political parties on the left, with the exception of the "Joint List," is also demoralizing to those struggling to bring peace.
Ehud Barak is a factor because he has wanted to return to the political scene since he resigned from his post as Defense Minister in a previous Netanyahu administration. He has been quite critical of the current Prime Minister over his several corruption scandals and his lackluster interest in seeking dialogue with the Palestinians. A former Chief of Staff of the Israeli Defense Forces and a protégé of the late Prime Minister Yitzhak Rabin, Barak has always sought a peace agreement with Israel's neighbours and the Palestinians in particular. This is encouraging news, as Israel needs safe borders to ensure its stability and address its two national security priorities: ensuring the Jewish complexity of the state and reducing the violence within its borders. While it would be advisable to maintain a two-state solution, Barak's strategy to ensure Israel's national security concerns might be met with stumbling blocks. First, it is unclear if Barak is a strong contender, as many Israelis still remember his attempt at a peace agreement with the late Palestinian Authority President Yasser Arafat. Second, it is unclear what he will do should he negotiate with the Palestinians. In his last attempt, he refused to divide Jerusalem, rejected to return land to the Palestinians along the 1967 borders, and declined to dismantle settlements in those Occupied Territories. If he were to repeat this strategy, negotiations will almost certainly fail. In any case, Barak's last attempt was Israel's closest at reaching an agreement with the Palestinians. It abruptly ended when violence broke out between Palestinians and Israelis on Temple Mount, when then-opposition leader Ariel Sharon decided to pay a visit to the holy site for Jews and Muslims, thus giving start to the second intifada. In the following elections, Ehud Barak lost to Ariel Sharon ending all hopes for a peace agreement between the Israelis and Palestinians.
While most would dismiss Ayman Odeh, it would be a mistake to do so. The "Joint List" is the third largest political party (13 seats) in the current Knesset behind the "Zionist Union" (24 seats) and the "Likud" (30 seats). Along with being the Chairman of the "Joint List" Party, a coalition of several Arab parties in the Knesset, Odeh is the leader of the "Hadash" Party. The young and energetic leader has consistently said that he supports a two-state solution, has consistently advocated for the rights of minorities living in Israel, and has challenged the current government's policy on settlement building in the Occupied Territories (the West Bank and East Jerusalem), in Gaza, and how it has conducted itself in bordering countries—namely in Syria and Lebanon. More importantly, Odeh and his "Joint List" Party can play a productive role in a coalition government. As previously mentioned, Odeh has consistently stated that he wants a two-state solution—something that Israel should be seeking to ensure its national security. More specifically, in a future coalition, he can make the government treat minorities with respect and dignity—something past government coalitions have not done. A high ministerial position in the government for Odeh would be a first step in demonstrating that Israel is serious about integrating the 20% of its population that feels neglected and alienated by Israeli society. At the time of publication, both Gabay and Lapid have ruled out giving the "Joint List" Party a place in their coalition government, but we have yet to hear from the other candidates on the Israeli left. It is unknown what "Meretz" Leader Zandberg would do. In any case, if not as Prime Minister, Odeh and his "Joint List" Party can inject some new blood into a two-state solution and implement some progressive policies within Israel.
Palestinians
Fatah (Harakat al-Tahrir al-Watani al-Filastini)
Fatah is one of the main factions in the Palestinian National Authority (PA) and the second largest faction in the Palestinian Legislative Council (PLC). The Chairman of the faction, Mahmoud Abbas, is also the President of the PA. He succeeded the PA's late President, and Fatah founding member, Yasser Arafat in a contested election. There are many problems with Fatah. Much has changed since it was founded in 1959. Swamped with graft and corruption, the "Old Guard" is still in control, but it is a movement that is deeply divided. The main tribulation for the "Young Guard" is the amount of corruption and the fact that it governs with a vertical approach, both within Fatah and the Palestinian Authority. While the "Young Guard" is demonstrating its frustrations about the movement, it remains largely dominated by aging cadres from the pre-Oslo era of Palestinian politics—most of them gaining prominence through their patronage to the late Yasser Arafat.
Most notable from the "Young Guard" is the popular Palestinian politician Marwan Barghouti. The jailed politician left Fatah in 2005 to form his own "al-Mustaqbal" Party, which was mainly composed of the youth of Fatah. His main complaint was the faction's lack of vision and exorbitant corruption. This struck a chord with many in the Occupied Territories. However, his party never came to fruition, as Fatah decided to present a unified list to voters in the 2006 Palestinian legislative elections—with Barghouti campaigning for Fatah from his jail cell. After the election, Barghouti remained popular within Fatah regardless of being in jail. PA President, Mahmoud Abbas is aging, in poor health, completely disconnected with the Palestinian people, and utterly alienated and demonized by the Israelis (with support from the United States). Any future mediator must look to the "Young Guard" within Fatah for a negotiating partner for a two-state solution—and Barghouti is one of those leaders to keep an eye on.
Hamas (Harakat al-Muqawamah al-Islamiyyah)
Hamas is another faction within the PA, and the largest faction within the PLC. Sheikh Ahmed Yassin, Mahmoud Zahar, and several others founded it in 1987, right after the beginning of the first intifada. Its current Chief of the Political Bureau is Ismail Haniyeh. He succeeded Khaled Mashal, who held on to the position from 1996 until 2017. Originally an offshoot of the Egyptian Muslim Brotherhood, Hamas was hostile to the Palestinian Liberation Organization (PLO)—the predecessor to the PA—and Israel. However, it has since revoked most of its hostile rhetoric to the PA and Israel. Furthermore, it has revamped its hostile charter, which recognizes Israel as a state along the 1967 borders—indicating the land that Israel obtained in the 1967 Arab-Israeli War, when Israel took ownership of the Gaza Strip, the West Bank, and East Jerusalem.
This is not to mean that Hamas does not face challenges. It is in a quagmire of its own, as it struggles to maintain legitimacy in the Gaza Strip, where it has governed since the brutal power struggle between them and Fatah following the 2005 Disengagement. There have been some small murmurs of discontent of their leadership as it tries to balance between resisting the occupation, avoiding another war, and governing its people. As the economic situation has deteriorated over the years (mainly but not solely due to the Israeli blockade), it has led to small divisions within the rank-and-file, but nothing noteworthy of any type of threat to their leadership in the Gaza Strip. For all intents and purposes, Hamas is a necessary partner in a future peace agreement as it is still popular with the majority of Palestinians.
Suggesting that Hamas is solely a terrorist organization is a mistake. There are some elements within the organization that still seek a hard line with Israel and want to have the entire state of Israel. However, this is not the official position of Hamas. This is the main argument that comes from the Israeli right and the naysayers to openly negotiating with Hamas. To those that feel that Hamas should never be trusted and dialogue with the organization is a non-starter: would it not be wiser to engage with an organization that has extremist views, such as they do, and integrate them into the mainstream in the hopes of marginalizing those that want to make Palestine a cause while strengthening those that want to make Palestine a nation? The only way to change Hamas' behaviour for the better is to engage them in the process, rather than leave them as an outlier where their mischievous behaviour will certainly continue. Engaging Hamas is necessary because without Hamas, there is no peace agreement.
The current regional players: How do they see it?
Saudi Arabia
The PA and Saudi Arabia have had a longstanding relationship. They both sit in the Arab League and the Islamic Cooperation Council. For the longest time, the two countries have been allies and the perception had been that the Saudis have always defended the Palestinians. As a charter member of the Arab League, Saudi Arabia has supported Palestinian rights to sovereignty and called for the withdrawal of Israeli forces from the Occupied Territories since 1967. However, in recent years, this all changed. With the new Crown Prince Mohammed Bin Salman having won the power struggle to succeed King Salman Bin Abdul-Aziz, the policy and relations with the Palestinians have significantly shifted.
With the Crown Prince in full control, he "offered" a "deal" to the Palestinians that was almost immediately rejected by PA President Abbas because it made many guarantees to the Israelis, but offered the Palestinians nothing. This should not come as a surprise because, in one of the region's worst kept secrets, Saudi Arabia and Israel have improved their relations significantly. This is a foreign policy that Bin Salman has carried out since solidifying his power. One has to wonder if this is a wise decision for Israel because the young Defense Minister has been highly sectarian in his wars with Yemen and the standoff with Qatar. What is more, he deems Iran as a greater threat than Israel, which is the main reason for his policy shift. For a country that is very weak, he is trying to hold on to power with an iron fist. This will not bode well for the Sheikhdom—a country composed of regions that differ in nature, which were united into a single political entity only by blending the Ibn Saud dynasty with Wahhabism. If left unchecked, Bin Salman's iron fist mentality, will most certainly disintegrate Saudi Arabia into its historic components, as happened in Iraq, Libya, Yemen, and potentially could happen in Syria. Furthermore, Bin Salman's belligerent behaviour may lead to resistance from the Saudi elites who he is attempting to purge. Also, there is a considerable Shi'i minority in the eastern part of the Sheikhdom, which will probably pursue a military or political sponsor for itself in Iran.
This type of aggressive activity at home and abroad has the very real possibility of creating a confrontation with Iran. Thus, Saudi Arabia can no longer be trusted as a key player in any political solution between the Israelis and the Palestinians, if not for its weakness and bellicosity, then for its lack of support within the Palestinian leadership as it's seen as a guarantor for the Israeli side. This does not mean engagement should be shelved. On the contrary, a mediator should be in contact with the Sheikhdom in order to avoid rogue elements within the regime to sabotage an agreement between the Israelis and the Palestinians.
Iran
Iran has been labeled as a menacing force by many Western countries, namely the United States and Israel. The argument is that Iran is a state that is sponsoring terrorism in the region and abroad. This is grossly exaggerated. While it might be on the same level as Saudi Arabia in "sponsoring terrorism," where is this criticism of Saudi Arabia? It has funded numerous organizations that are in line with its Wahhabist vision. We see this in Iraq, Libya, and Syria where Daesh (the Islamic State or IS for short), and other similar organizations, have wreaked havoc after American covert or overt operations created a vacuum allowing these Salafi jihadi organizations to run amuck. These same organizations are still threatening others in the region. The Arab New Cold War between Iran and Saudi Arabia might have started in 1979, when the Islamic Revolution was successful in overthrowing the Shah, but the extremist ideological feud predated it with the Saudi Sheikhdom's unholy alliance with Wahhabism and the exportation of its revolution into other countries in the Middle East. All this while cozying up to Western powers long before Iran had begun to export its revolution. What needs to be done with Hamas is exactly what needs to be done with Iran, and for the same reason. However, a similar approach also needs to be taken with Saudi Arabia because it is a country that has been allowed to act without consequence. The onus for the instability in the region and international terrorism should be placed on the Sheikhdom just as much as (if not more than) the Iranians.
Regarding Iran's influence on the Israeli-Palestinian conflict, it is limited. They do fund the Islamic Jihad in the Gaza Strip, which has claimed responsibility for some of the rockets launched into Israel. However, their influence and power are limited. But, if a mediator wants to marginalize the extremists within the organization, it would be wise to engage with the Islamic Republic of Iran. This is what Fmr. US President Obama began in 2015 with his "Iran Nuclear Deal." The withdrawal from the deal by the United States by current US President Donald Trump is disheartening for the simple reason that Iran has no incentive for cooperating with the international community and, more specifically, revoking its funding to Shi'i organizations in the region, such as the Islamic Jihad in the Gaza Strip and Hizbullah in Lebanon.
Turkey
In recent years, Turkey has taken a major shift from what it used to be in the 20th century. Under current President and former Prime Minister Recep Tayyip Erdoğan, the country has taken on a more traditionalist identity. When first elected as Prime Minister in 2003, Erdoğan was elected because the society was changing. In the 1980s and 1990s, there were military coups happening more often than one would change their underwear. Those that had become wealthier now wanted to be able to practice their religion freely. Many people also felt disenfranchised for a variety of reasons. Whether it was for religious, economic, or social reasons, the people wanted a change from a strict, secular country guided by the military. It would be a misnomer to suggest that Turks wanted (and still do not want) to be an Islamic fundamentalist state. Rather, they wanted to be free to pray or practice their religion without feeling threatened (a more traditionalist state, if you will). The Turks do not want an Islamic fundamentalist state and their Presidential elections have consistently shown that as Erdoğan or his presidential allies have usually received a little over than fifty percent of the vote while always maintaining power in the Turkish parliament. The message the voters are sending is that it likes the government's economic policies and it wants the traditionalist element in Turkish daily life but it does not want to have a fundamentalist version of Islam guide its country.
At the beginning, Erdoğan and his party, the Justice and Development Party (AKP), were the perfect fit. This is exactly what the party promised in their first election campaign and it has, more or less, implemented these laws throughout their time in power. However, as time went on, many rifts emerged within the AKP that eventually cost it seats in parliamentary elections. In fact, it received a minority government for a brief period before a snap election was called where the AKP regained its majority. Over the years, Erdoğan had gradually become weaker while pursuing a "neo-Ottoman" crusade in the region. We saw this in Libya during its civil war, in Syria during its civil war, and in his tough words and actions regarding Israel's occupation in the West Bank and East Jerusalem as well as the Israeli blockade of the Gaza Strip. Erdoğan remains weak and we know he is weak given the failed coup attempt back in 2016 and the countless arrests he has made ever since.
Today, Turkey has resumed ties with Moscow after Ankara shot down a Russian plane over Syrian skies. This is good news if Russia seeks to mediate a peace agreement between the Israelis and the Palestinians. Turkish-Israeli relations are "luke-cold" at best. They have diplomatic relations with each other. However, Turkey consistently criticizes Israel's every move and consistently tries to defend the Palestinians. It is in close contact with Hamas, a vital partner for any agreement, and ties have been improving with Fatah. Turkey has consistently invited Hamas to Ankara and has defended them on many occasions. Any mediator needs to include Turkey, given their strong ties to Hamas, because leaving the country on the sidelines might have undesirable consequences that will not be in the international community's best interest.
Qatar
Long before Crown Prince Mohammed Bin Salman's failed blockade back in 2017, Qatar had been conducting a robust foreign policy. The tiny peninsular Arab country has sought ties with many different states within the region beyond its "base." For instance, it has sought ties with Iran, which was at the heart of the Saudi Arabia-United Arab Emirates (UAE) led blockade. Since the Saudi-UAE led blockade, the Qataris also successfully reached out to improve diplomatic relations with Oman, Turkey, the United States, and Russia. Regarding the latter, in the waning years of the Soviet Union, Qatar established diplomatic relations and for three decades the two countries have had good diplomatic relations despite some minor tensions between them. In any case, economic ties between the two countries are strong and became even stronger after the failed Saudi-UAE blockade.
More importantly, Qatar is a crucial player in the Israeli-Palestinian conflict and will play a critical role in its solution. For the longest time, Qatar has been an active supporter of Hamas. It housed Hamas' former Political Bureau Chief Khaled Mashal and has assisted the Palestinian organization financially. This has been another element in its robust foreign policy. For a small country, it is trying to gain clout in a region where countries are jockeying for a position of regional supremacy. In the case of the Israeli-Palestinian conflict, it very much has clout due to the fact that, like Turkey, it has very close ties to Hamas. Some might suggest that it has more pull than Ankara. In any case, like Turkey, it should not be left aside in a future peace agreement.
Two be or not two be: Can it be done?
The question remains: can this seven-decade-old conflict be resolved? The answer is yes, if there is the resolve. There are players in both camps that are willing to engage in resolving the conflict. It will be a tall order to accomplish, but all parties — both domestic and foreign — need to be on board and engaged. "Yisrael Beiteinu" Chairman and Defense Minister Avigdor Lieberman once said that there should be a regional agreement before a peace agreement between the Palestinians and the Israelis. He does have a point, but it is vital that the two sides come to an agreement first before a regional agreement is achieved for the very simple reason: it's imperative Israel solve this issue for its own national security.
The United States and other Western countries have tried and failed to make the two sides come to an agreement. In the case of the former, it was never an honest broker in resolving the problem and usually took the side of the Israelis. Western players—namely, the European Union (EU) — never had the wherewithal and clout to resolve the conflict. With the exception of some breakthroughs, the Israelis and the Palestinians are far from coming to an agreement in which Israel will agree to give up the West Bank (in its entirety) along with East Jerusalem, and remove the blockade in the Gaza Strip. Israel claims that it still needs security guarantees that the latter will not lead to constant wars. However, if it doesn't completely relinquish these areas, the one-state reality and the very real possibility of a civil war will be upon the Zionist entity sooner rather than later, which would surely spell the end of the Jewish identity of the country.
At the moment, neither the Palestinians nor the Israelis are keen on talking to one another—each accusing the other of incitement and blaming one another for the upsurge in violence. Where the United States and the EU have been unsuccessful, Russia has the potential of successfully bringing these two sides together. Why Russia? It has good ties with the Israelis and Palestinians as well as the key regional players that must sign off on the agreement. As much as it is in the Israelis' national security interests to come to an agreement as soon as possible, so too is it an urgent national security issue for Russia. A civil war, which could explode in a region where extremism is rampant, is not only a threat to the Israelis, Palestinians, and the entire Middle East—but also to Russia and the entire international community.
Since the breakup of the Soviet Union, many Russian-Jews left the Russian Federation, because under former President Boris Yeltsin, life was tough and Israel offered better opportunities. Today, Israel has a significant population of Russian-Jews as well as other Jewish people from other countries of the former Soviet Union. Since President Putin came to power, he has sought better relations with Israel. Over the years, there have been numerous state visits: many Israeli Prime Ministers visited Russia and President Putin and others have visited Israel on many occasions. Today, the two countries are cooperating very closely in Syria. Russia also has good ties with the Palestinians. This relationship predates the Russian Federation when the Soviet Union usually took the side of the Palestinians. Where Russia plays a unique role that others don't is its presence and commitment to the region. It also has contacts with all the countries in the region and is, more or less, on good terms with them all. Russia genuinely wants to ensure stability in this region because of its fears that the extremism can spread to its backyard and, potentially, into its own country. It also has the experience and the relevant expertise to make the two-state solution a reality. More importantly, Russia has been in the region for centuries. So, trust and experience in a region full of skepticism can go a long way—and the Israeli-Palestinian conflict is no exception.
The Israelis and Palestinians have been in a stalemate for too long and something needs to change. The status quo is unsustainable, mainly for the Israelis but, to a certain extent, for the Palestinians as well. Both parties desperately need to return to the table if for no other reason than to ensure that their people live in peace, stability, and security. With the United States removing itself from the region over the last decade and a half coupled with the fact that it is a biased broker in this conflict, both the Israelis and the Palestinians should look to Russia if they want to resolve their age-old conflict. Russia seems to be a willing partner to broker a deal. Now, the warring parties must be ready to do the same rather than throw out useless accusations of incitement or "it is their fault, not mine." For Israel, this is an existential moment, as the very identity of the country is at stake. If this opportunity is overlooked, Israel will only have itself to blame—and one would assume that the elite in Israel do not want that to happen to its people and to the Jewish diaspora who it claims to be protecting.
First published in our partner RIAC
Yemen war challenges Saudi moral authority
Saudi conduct of its ill-fated war in Yemen coupled with Crown Prince Mohammed bin Salman's alignment with the Trump administration and Israel, and his often coercive approach to diplomatic relations, has opened the door to challenges of the kingdom's moral leadership of the Sunni Muslim world, a legitimizing pillar of the ruling Al Saud family's grip on power.
The cracks in Saudi legitimacy are being fuelled by the escalating humanitarian crisis in Yemen, described by the United Nations and aid organizations as the world's worst since World War Two; shocking civilian deaths as the result of attacks by the Saudi-led coalition; electoral successes by populist leaders in countries like Malaysia, Turkey and Pakistan; and the kingdom's inability to impose its will on countries like Qatar, Jordan, Lebanon, Kuwait and Oman.
An attack this week on a bus in the heartland of Iranian-backed Houthi rebels that killed at least 43 people, including 29 children returning from a summer camp, dealt a significant body blow to Saudi moral authority.
The coalition said it would investigate the attack that has sparked international outrage.
The attack was but the latest of multiple incidents in which weddings, funerals and hospitals have been hit by coalition forces in a war that has gone badly wrong and demonstrates Saudi military ineptitude despite the fact that the kingdom's armed forces operate some of the world's most sophisticated weaponry, according to military sources.
Mr. Trump reversed a decision by his predecessor, Barack Obama, to halt the sale of air-dropped and precision-guided munitions until it had better trained Saudi forces in their targeting and use of the weapons. An Obama official said at the time that there were "systemic, endemic" problems in Saudi targeting.
"Malaysia and other Muslim nations can no longer look up to the Saudis like we used to. They can no longer command our respect and provide leadership. The Saudis have abandoned the Palestinians, just like the Egyptians. The Saudis have moved much closer to Israel who are suppressing and killing the Palestinians," said Raja Kamarul Bahrin Shah Raja Ahmad, a member of Malaysia's upper house of parliament and the head of the ruling Pakatan Harapan (Alliance of Hope) coalition in the Malaysian state of Terengganu.
"Perhaps Malaysia under the leadership of Dr Mahathir Mohamad should take the lead again in speaking up for the oppressed Muslims of the world. It is about time Malaysia again show the leadership that was once so much admired and respected worldwide," Mr. Bahrin added.
Malaysia has sought to distance itself from Saudi Arabia since the return to power in May of Mr. Mahathir, whose past Islamist rhetoric and stark anti-Israeli and anti-Jewish statements propelled him to prominence in the Islamic world.
Malaysia has in recent weeks withdrawn troops from the 41-nation, Saudi-sponsored Islamic Military Counter Terrorism Coalition (IMCTC) and closed the Saudi-backed King Salman Centre for International Peace (KSCIP) in Kuala Lumpur. Mr. Mahathir's defense minister, Mohamad Sabu, long before taking office this year, was already highly critical of Saudi Arabia.
In anticipation of investigations into allegations of corruption against former prime minister Najib Razak and his recent indictment, Seri Mohd Shukri Abdull, Mr. Mahathir's newly appointed anti-corruption czar, noted barely a week after the May election that "we have had difficulties dealing with Arab countries (such as) Qatar, Saudi Arabia, (and the) UAE."
Speaking to Al Jazeera last month, Mr. Mahathir said that "we are disappointed that Saudi Arabia has not denied that the money was given by Saudi," referring to $681 million in Saudi funds that were allegedly gifted to Mr. Razak.
Malaysia is but the latest Sunni Muslim nation to either challenge Saudi Arabia or at least refuse to kowtow to the kingdom's foreign policy as it relates to its bitter rivalry with Iran; Prince Mohammed's tacit backing of US President Donald J. Trump's staunch support of Israel and pressure on Palestinians; its 14-month old economic and diplomatic boycott of Qatar in cooperation with the United Arab Emirates, Bahrain and Qatar; and the war in Yemen.
Like Mr. Mahathir in the past, Turkish President Recep Tayyip Erdogan, despite his evolving autocracy, has emerged as an Islamist populist counter pole, his credibility enhanced by his escalating disputes with the United States, his often emotional support for the Palestinians, and opposition to moves by Mr. Trump like his recognition of Jerusalem as the capital of Israel.
Mr. Erdogan's Turkey this week became the latest target of Mr. Trump's wielding of trade and economic sanctions as a means of bullying countries into submitting to his demands. Mr. Trump doubled metals tariffs on Turkey after earlier sanctioning two senior Turkish ministers in an effort to force Mr. Erdogan to release American evangelist Andrew Brunson.
Mr. Brunson has been detained in Turkey for the past two years on charges of having been involved in the failed 2016 military coup against Mr. Erdogan and seeking to convert Turkish Kurds to Christianity.
Mr. Erdogan has in recent years consistently thought to thwart Saudi policy in the region by positioning himself as the leader of a Muslim world opposed to Mr. Trump's Israel-Palestine approach and a de facto Arab alliance with Israel, maintaining close ties to Iran and defying US sanctions against the Islamic republic, supporting Qatar, and expanding Turkish influence in the Horn of Africa in competition with the UAE, Saudi Arabia's closest regional ally.
Mr. Erdogan has portrayed Prince Mohammed's vow to return Saudi Arabia to an unidentified form of 'moderate Islam' as adopting a Western concept.
"Islam cannot be either 'moderate' or 'not moderate.' Islam can only be one thing. Recently the concept of 'moderate Islam' has received attention. But the patent of this concept originated in the West. Perhaps, the person voicing this concept thinks it belongs to him. No, it does not belong to you. They are now trying to pump up this idea again. What they really want to do is weaken Islam … We don't want people to learn about religion from foreign facts," Mr. Erdogan said.
Echoing former US president George W. Bush's assertion of an axis of evil, Prince Mohammed charged in March that Turkey was part of a triangle of evil that included Iran and Islamist groups. The crown prince accused Turkey of trying to reinstate the Islamic Caliphate, abolished nearly a century ago when the Ottoman empire collapsed.
Similarly, Pakistan's prime minister-in-waiting appeared to be charting his own course by saying that he wants to improve relations with Iran and mediate an end to the debilitating Saudi-Iranian rivalry despite the fact that the kingdom has so far ruled out a negotiated resolution and backs US efforts to isolate the Islamic republic.
In a bow to Saudi Arabia, Jordan has backed the kingdom in its row with Canada over criticism of Riyadh's human rights record and refrained from appointing a new ambassador to Iran, but has stood its ground in supporting Palestinian rejection of US peace efforts.
Similarly, Lebanese prime minister Saad Hariri has reversed his resignation initially announced in Riyadh last year under alleged duress while Oman and Kuwait, alarmed by the Saudi-UAE campaign against Qatar, have sought to chart a middle course that keeps them out of the firing line of Riyadh and Abu Dhabi.
For the time being, Saudi Arabia is likely to successfully fend off challenges to its leadership of the Muslim world.
However, responding viscerally to criticism like in the case of non-Muslim Canada or, more importantly, two years ago to Muslim leaders who excluded Wahhabism and Salafism, the religious worldview that underpins the Al Sauds' rule, from their definition of Ahl al-Sunnah wal-Jamaah or the Sunni people, is unlikely to cut ice in the longer term.