Questioning Riyadh's Nuclear Rationale
In the last few years, a marked shift in Saudi thinking on nuclear issues has become evident. Saudi princes have explicitly and publicly stated that a nuclear military option is something the kingdom is obligated to examine if Tehran is not stopped in its march toward nuclear weapons.
In March 2011, Prince Turki al-Faisal, former head of Saudi intelligence and ambassador to the United States, called for the Gulf states to acquire "nuclear might" as a counterweight to Iran should efforts fail to persuade it to abandon its military nuclear program,[1] a point he repeated several months later.[2] U.S. diplomat Dennis Ross confirmed that Saudi King Abdullah explicitly warned Washington in April 2009: "If they get nuclear weapons, we will get nuclear weapons."[3] Ross's quote of the Saudi king appears to be the first public confirmation of Riyadh's position. An unconfirmed report alleges that Abdullah made a similar statement to Russian president Vladimir Putin in their February 2007 summit.[4]
Despite its wealth and status, the kingdom operates out of a deep sense of inferiority and vulnerability: Some of its neighbors, notably Iraq and Iran, are powerful and historically hostile; its long borders are porous; it has a large Shiite population of questionable loyalty in its sensitive oil-producing regions, and its strategic installations are vulnerable.[5] In Riyadh's view, nuclear capabilities in Iranian hands would allow Tehran to dictate the Gulf agenda—including its oil markets—as well as incite the Shiites in Saudi Arabia's eastern province, undermining the kingdom's status in the Muslim world as well as the royal family's grip on power.[6]
The public statements reflecting Saudi intent to acquire nuclear weapons may be intended primarily to convince Tehran that obtaining the bomb will have unintended consequences. They may even be intended to pressure Washington to deal more forcibly with Tehran in order to prevent it from becoming a nuclear state. Nonetheless, these statements are not something to be taken lightly. Given Riyadh's historical involvement (albeit not all of it proven) with nuclear weapons programs and its military inferiority to Tehran, it is liable to strive for a nuclear deterrent of its own. Saudi Arabia may indeed become the first nuclear state to acquire rather than develop nuclear capabilities.
Immediate Solutions
Riyadh would view nuclear weapons as a counterweight to Tehran. The kingdom, which has traditionally achieved its goals through behind-the-scenes maneuvering backed up by enormous wealth, would probably not change this paradigm if it acquired a nuclear weapon.[7] The lack of transparency typical of Saudi decision-making does not afford knowledge of what, if any, decisions have been made on nuclear matters. Decisions on sensitive issues are made in very secretive settings usually involving the king and the brothers closest to him and are affected by a sluggish process that tends to seek consensus through consultation within the family, requiring the placation of various factions within it and within the broader circles of regime supporters.[8]
Due to its extremely limited research and development capabilities and know-how, Riyadh's possible nuclear pursuit is likely to be done with external help and acquisition of an off-the-shelf deterrent. It has nowhere near the level of indigenous technical capacity needed to produce, maintain, or deploy nuclear weapons. No long-term strategy for developing its nuclear sector has been publicly issued, nor does Riyadh possess the necessary institutional support (across regulatory, technical, and legal fields) to effectively retain nuclear deployments. Therefore, it might partner with China or Pakistan or both, which have the necessary technological and human infrastructures.
Saudi Arabia's track record merits some well-placed concern over the issue of nuclear weapons. In the late 1980s, China secretly supplied Riyadh with thirty-six CSS-2 intermediate-range ballistic missiles (IRBMs). A recently inked civilian nuclear cooperation deal with Beijing, supplier of the CSS-2s and reported supplier of newer and still nuclear-capable DF-5 ICBMs, may also be troubling.[9] Furthermore, the recent inauguration of a new command and control center belonging to the Strategic Missile Force near Riyadh raises a question: Why would Saudi Arabia invest billions in updating its strategic command and control facilities if it still possesses only outdated Chinese missiles?
The visit by the late Saudi defense minister, Crown Prince Sultan, to a uranium enrichment facility and a Pakistani missile production plant near Islamabad in 1999 (hosted by A.Q. Khan, accused of passing on nuclear secrets) raise concerns about Riyadh's future relations with Islamabad in this matter. On at least one occasion, Khan visited Riyadh,[10] and reports have surfaced about Pakistani scientists coming to Saudi Arabia under the guise of Hajj pilgrims.[11]
These concerns and connections are not merely speculative. Islamabad's willingness to provide security support for Riyadh, should the Saudis feel that there is a real danger to the kingdom's stability, was put to the test in the spring of 2011. The Saudi royals' fear that the Shiite uprising in Bahrain would spread to Shiite centers in northeast Saudi Arabia (where most of the kingdom's oil reserves are located) prompted Riyadh to ask Islamabad to place an expeditionary force on alert ready to be deployed on Saudi soil should the security situation deteriorate.[12] Pakistan responded positively to the Saudi request.[13]
Riyadh views Islamabad as its strategic hinterland. The Saudis are behind the financing of many arms deals, and in exchange, receive training of their aerial and naval personnel by the Pakistanis.[14] During a visit by Pakistani president Zardari to Riyadh in July 2011 (a visit that reportedly enhanced the strategic relations between the countries), King Abdullah thanked him for his support in Bahrain, where Pakistani mercenaries helped put down the Shiite uprising, and in maintaining regional stability. A month later, Pakistani prime minister Yousuf Raza Gilani also visited the kingdom, asking for Saudi help with oil supplies in light of Islamabad's economic situation and Washington's threats to cut off support; it is unclear what Pakistan promised in exchange for the aid.[15] Riyadh maintains a very close relationship with the heads of Islamabad's military and intelligence services. This is significant in the nuclear context because from the start, the Pakistani nuclear program was under the control of the military establishment without any real involvement on the part of the political leadership.[16]
The two nations, both with Sunni majorities, border Iran on two sides and are interested in curbing Tehran's power and influence.[17] Pakistan, lacking the monetary resources, has the requisite knowledge and skilled manpower for developing nuclear arms whereas Saudi Arabia is wealthy but lacks the relevant infrastructure and trained personnel. One cannot rule out the possibility that Riyadh may seek to balance Tehran's power by increasing cooperation in the nuclear field with its long-standing friend, despite the political risks of jeopardizing well-established defense relations with Washington. In October 2010, the head of the strategic planning unit of Pakistan's armed forces, who is responsible for the production, security, and storage of the nation's nuclear weapons, said that Islamabad had the right to provide its expertise in the nuclear field to other nations.[18] In the past, both Islamabad and Riyadh denied such a scenario.
Should Saudi Arabia find itself in a sensitive security situation, it may seek to capitalize on its investment in the Pakistani nuclear program and pressure Islamabad for assistance. It is unclear whether there is, in fact, a binding nuclear agreement between the states though the assessment is that both states have at least discussed the option. If such an agreement exists, the two have presumably trained for operational cooperation in this field.[19] Gary Samore, President Obama's advisor on arms control, has said that the possibility of Pakistani nuclear forces being placed in Saudi Arabia cannot be ruled out.[20]
Although there has never been a precedent of one state selling or transferring actual nuclear warheads to another, there is the precedent of exchange of nuclear technology between Pakistan and North Korea[21] as well as proliferation of forbidden nuclear equipment and know-how to countries including Iran and Libya and possibly Syria or Saudi Arabia.[22] As Tehran progresses, Riyadh is likely to exert more pressure on Islamabad to fulfill its presumed commitments. It is by no means certain that Pakistan will yield to Saudi pressure and inducements, but it is impossible to rule out the deployment of Pakistani fighter jets or surface-to-surface missiles with nuclear warheads, controlled by Pakistan, on Saudi soil.
Long-term Solutions
At the same time, the kingdom is accelerating its independent nuclear development—one of the largest development projects in its history—as another option in response to Iran. Saudi Arabia has in recent years started to prepare openly for the development of a civilian nuclear program and is broadening efforts to construct a knowledge base in the field, possibly as another way of establishing nuclear military capabilities over the long term.[23] It has initiated a string of projects and signed cooperation agreements with France, Russia, the United States, South Korea, and China.[24] In 2006, Riyadh called for the Gulf Cooperation Council (a regional bloc that includes Kuwait, the United Arab Emirates, Bahrain, Qatar, and Oman) to develop a shared program to use nuclear technologies for peaceful purposes in accordance with international treaties.[25] The Saudi foreign minister, Prince Saud al-Faisal, sought to assuage concerns about possible intentions to develop nuclear weapons stating, "It is no secret and we're doing everything out in the open. Our goal is to pursue technology for peaceful uses—no more and no less."[26] Yet notwithstanding similar declarations over the years, the kingdom has signaled that it would not surrender the capability to enrich uranium on its soil, which continues to raise doubts about its intentions.[27]
In April 2010, King Abdullah called for the establishment of a national body for nuclear research and development. In addition, he stated that Riyadh would invest more than $100 billion over two decades to establish no fewer than sixteen nuclear reactors with the first reactor set to be connected to the power grid by 2020.[28] While the civilian nuclear program seems designed to be a symbolic response to Tehran's nuclear project in the short term, this does not preclude the possibility of its serving as a cover or preliminary stage for a military nuclear project in the future. In June 2005, Riyadh signed the Small Quantities Protocol with the International Atomic Energy Agency (IAEA), but this protocol exempts it from intrusive inspections and makes it difficult for the IAEA to ensure there is no forbidden development underway. The concern that loopholes in the protocol could allow nations to develop military nuclear capabilities has moved the IAEA to attempt to change it.[29] Riyadh's response was to hurry to sign the present text, despite Washington's opposition.
Still Relying on America?
A signal from Riyadh that it intends to pursue the nuclear route may indeed be an effective way to pressure Washington to demonstrate its commitment to defend the kingdom more convincingly. Saudi doubts about their U.S. allies preceded the Obama administration's conduct during the recent Arab upheavals but have been intensified by them. In the last two years, the kingdom has missed few opportunities to express its displeasure with Washington's policy toward Tehran.[30] Although Secretary of State Hillary Clinton promised to extend the U.S. "defense umbrella" to the Gulf states should Tehran acquire military nuclear capabilities,[31] this type of declaration allays few fears as it is liable to be seen as a grudging acceptance of a nuclear-armed Iran. While Washington would not have to deploy nuclear forces on Arabian soil to deter aggression, such a move would make the message of deterrence more credible and calm Saudi nerves. However, any U.S.-Saudi security arrangement would likely be covert so as not to embarrass the kingdom vis-à-vis elements opposed to hosting "infidels" on "sacred" lands. Another possibility would be to deploy nuclear forces offshore. A hint that such an option might be in the making came in March 2010 when the U.S. navy fired a missile capable of carrying a nuclear warhead from a submarine near the Saudi coast.[32]
Continued Iranian progress toward a nuclear weapon, Iraq's increasing alignment with Tehran, and an expedited U.S. exit from Afghanistan are all changing the Saudi strategic landscape. The Obama administration's "lead from behind" approach in Libya and its hesitation to get involved in the Syrian civil war all contribute to a reassessment of U.S. commitments. With the U.S. "pivot to Asia"—taking the form of a series of military, economic, commercial, and diplomatic initiatives aimed at contending with the rising power of China—and a changing global energy map due to expansion of oil and natural gas production in the United States, Riyadh and others are beginning to prepare for a post-U.S. Middle East.
According to recent reports, Washington is considering expanding its nuclear cooperation with Riyadh on the basis of a 2008 memorandum of understanding: In exchange for foregoing the operation of nuclear fuel cycles on its soil, Saudi Arabia was to receive nuclear assistance.[33] Such a move, should it come to pass, may be meant to persuade Riyadh to abandon its strategic goals, prevent other players from gaining a foothold in the attractive Saudi market, and challenge Tehran's nuclear policy. The United States is still Saudi Arabia's most effective security support, but if Washington distances itself from regional matters, the gradual entrance of new players into the Gulf is inevitable.
The question of Saudi acquisition of a nuclear deterrent is more relevant than ever when both enemies and friends of the United States are looking at a possible regional drawdown on Washington's part as well as a lack of support for the pro-Western regimes that remain in place. If the U.S. government provides Riyadh with formal security guarantees, it would be natural for it to demand that the kingdom forego its strategic goals. But Riyadh's inclusion under a U.S. defense umbrella is not a given and depends both on the quality of relations between the two countries and other Saudi considerations. Riyadh remains skeptical over Washington's willingness to come to its aid and may thus seek to purchase a nuclear deterrent, which would provide it with more freedom vis-à-vis its stronger ally. Under present circumstances, it is not unreasonable for Riyadh to rely on other states for its defense in addition to Washington for the simple reason that it has done so in the past. Likewise, it is more than likely that the Saudis will not act transparently because they have acted in secret previously.
Conclusion
After Iran, Saudi Arabia is the number one candidate for further nuclear proliferation in the Middle East. Open source evidence remains circumstantial, but perhaps more than any other regional player, Riyadh has the requisite ideological and strategic motives as well as the financial wherewithal to act on the option.
The kingdom may conclude that its security constraints as well as the attendant prestige and influence generated by having a bomb outweigh the political and economic costs it will pay. The difficulty in stopping Tehran's dogged quest for a nuclear capability coupled with Riyadh's doubts about the reliability of Washington is liable to encourage Riyadh to shorten timetables for developing an independent nuclear infrastructure, as well as to opt to purchase a turnkey nuclear system, an off-the-shelf product, or to enter into a security compact of one sort with another power. Sunni-majority Pakistan has emerged as the natural candidate for such an arrangement.
Heavy U.S. pressure is likely to be brought to bear on the Saudis not to acquire nuclear capabilities. Indeed, it seems that, at present, the price Riyadh is likely to pay should it acquire military nuclear capabilities might outweigh the advantages of such a move. But strategic interest, motivated by considerations of survival, could have the upper hand. Should it seem that the kingdom's vital security interests are threatened, it may prefer to take a series of steps, including obtaining a nonconventional arsenal, to reduce risks and ensure the continuity of the House of Saud.
[1] Kuwait News Agency, Mar. 21, 2011.
[2] The Wall Street Journal, June 2, 2011; The Guardian (London), June 29, 2011; The Jerusalem Post, June 30, 2011.
[3] Ha'aretz (Tel Aviv), May 30, 2012.
[4] Ibid., May 30, 2012.
[5] Thomas Lippman, Saudi Arabia on the Edge: The Uncertain Future of an American Ally (Washington, D.C.: Potomac Books, 2012), pp. 229-30, 236-7.
[6] Ibid, pp. 231, 237-43.
[7] Joseph Kostiner, "The GCC States and the Security Challenges of the Twenty-First Century," The Begin-Sadat Center for Strategic Studies, Bar-Ilan University, Mideast Security and Policy Studies, no. 86, Sept. 2010.
[8] Shmuel Bar, "Culture of Command and Control of Nuclear Weapons in the Middle East: Saudi Arabia," working paper, Twelfth Herzliya Conference, Jan. 2012.
[9] Mark Jansson, "Conceding the Saudi Nuclear Breakout," Center for Strategic and International Studies, Washington, D.C., Feb. 21, 2012.
[10] "Pakistani Journalist Examines Saudi-Pakistani Nuclear Cooperation," Middle East Media Research Institute (MEMRI), Washington, D.C., Special Dispatch, no. 4205, Oct. 14, 2011.
[11] William Potter and Gaukhar Mukhatzhanova, eds., Forecasting Nuclear Proliferation in the 21st Century: A Comparative Perspective (Stanford: Stanford University Press, 2010), p. 93.
[12] Asia Times (Hong Kong), Apr. 2, 2011.
[13] Bruce Riedel, "Brezhnev in the Hejaz," National Interest, Sept.-Oct. 2011.
[14] Francisco Aguilar, Randy Bell, Natalie Black, Sayce Falk, Sasha Rogers and Aki Peritz, "An Introduction to Pakistan's Military," Harvard Kennedy School, Belfer Center, Cambridge, July 2011.
[15] Islamic Republic News Agency, Aug. 10, 2011.
[16] Rolf Mowatt-Larssen, "Nuclear Security in Pakistan: Reducing the Risks of Nuclear Terrorism," Arms Control Today (Washington, D.C.), July/Aug. 2009.
[17] Pervez Hoodbhoy, "Iran's bomb and Pakistan," The Express Tribune (Karachi), Jan. 15, 2012.
[18] "Head of Pakistan's Nuclear Program: Pakistan Has the Right to Use Nuclear Weapons Should the Need Arise," MEMRI, Special Dispatch, no. 3330, Oct. 31, 2010.
[19] Bruce Riedel, "Enduring Allies: Pakistan's Partnership with Saudi Arabia Runs Deeper," Force, Dec. 2011.
[20] Thomas Lippman, "Nuclear Weapons and Saudi Strategy," Policy Brief, no. 5, Middle East Institute, Jan. 2008.
[21] "Country Profiles: North Korea, Nuclear," Nuclear Threat Initiative, Washington, D.C., Aug. 2012.
[22] William Langewiesche, "The Wrath of Khan," The Atlantic, Nov. 2005.
[23] Asharq al-Awsat (London), Oct. 15, 2012.
[24] The Wall Street Journal, Jan. 16, 2012.
[25] The Gulf News (Dubai), Dec. 11, 2006.
[26] Ha'aretz, Dec. 10, 2006.
[27] Arab News (Riyadh), June 17, 2010; Asharq al-Awsat, Oct. 15, 2012.
[28] Arab News, June 1, 2011.
[29] Global Security Newswire, Nuclear Threat Initiative, Washington, D.C., June 16, 2005.
[30] The Washington Post, May 16, 2011; Asharq al-Awsat, Nov. 8, 2012.
[31] Fox News, July 22, 2009.
[32] The Washington Post, Mar. 31, 2010.
[33] The Wall Street Journal, July 30, 2011.
Iran Proposed Five-Nation Bloc for Regional Stability, Peace, and Progress
In February this year, Pakistan's foreign minister Shah Mahmood Qureshi received Syed Mohammad Ali Hosseini, an Iranian Ambassador to Pakistan. Pakistan's foreign minister Qureshi expressed his thoughts through praising the traditionally strong ties between both the nations and showed his consent to further strengthen collaboration in all dimensions which would be mutually beneficial for both Tehran and Islamabad. As for as the historical, cultural, and religious affinities are concerned, both nations enjoy rich support of commonalities including similar views on the foreign occupation which proved as a source of disaster for them. Besides, Iran was the first country to recognize Pakistan after its independence in August 1947. As both Pakistan and Iran's basic factor of the independence was Islam and current scenario portrays a bad picture of Islamic countries which are suffering from a cluster of problems under foreign agenda. In this connection, the role of Islamic nations has not been effective in addressing issues of the Islamic Ummah. Hosseini also expressed his grievances over the Organisation of Islamic Cooperation (OIC) by explaining that it was not producing fruitful results for Muslim Ummah. He further talked about the sufferings of Muslim Ummah and the malicious plan of the United States along with Israel to subdue them.
Moreover, FM Qureshi showed consent to visit Iran for meeting with its leadership to talk about their concerns and disputes and their possible diplomatic solution. Moreover, during a meeting with Hosseini the Advisor to the Prime Minister on Finance and Revenue, Abdul Hafeez Shaikh, told that the government aimed at expanding the bilateral trade with Iran. So, giving more boost to the relation of both the nations, the Iranian Ambassador proposed a new bloc for addressing regional issues and promoting cooperation among themselves. This bloc will include Russia, China, Turkey, Pakistan, and Iran because these nations are capable of forming such an alliance that could effectively handle regional issues for the better future of the region. Similarly, he expressed his consent and help for solving the Afghan problem which is a great hindrance to regional peace and stability along with creating security issues for Pakistan. Iran aims at linking Pakistan's Gwadar Port with Chabahar Port of Iran via rail link which ultimately generates the economic benefits for both the nations.
He dubbed the recent "Deal of the Century" proposed by American President Trump for peace in the Middle East irrational and unjust which consists of many doubts over American-Israeli Alliance. In this situation where the whole world is trapped with the fatal disease of Corona Virus, the United States which considers itself the oldest democracy, protector of human rights and most developed nation on earth, has imposed more sanctions on Iran. While UN Security Council Members and signatories of the 2015 Nuclear Deal with Tehran namely Britain, France, Russia, China, and Germany rejected Trump's call for sanctions on Iran. President Trump's action portrays that he is under stress in whichhe looks unable to understand repercussions and results of the policies and actions taken by him. While at the same time he is ignoring the traditions and values of the founding fathers of his nation as well as he has no respect and obligation for international rules and laws.Furthermore, the Iranian Ambassador showed enthusiasm for increasing and strengthening the multilateral economic cooperation. In this regard, Iran-Pakistan (IP) gas pipeline is an important project and will even become more productive if it is linked with the CPEC which not only brings the huge economic development in both Tehran and Islamabad but also the region through making it more stable and developed.
Thisnew regional bloc could prove productive through solving themulti-faceted issues faced by the countries of this region. Whereas America has remained unsuccessful in eliminating the problems of the region, therefore, it is the responsibility of regional states to become serious in making such bloc which seriously takes the vast problems towards the solution for the development, peace, stability, and progress of the underdeveloped nations of the region. Besides, the Iranian President has also proposed cryptocurrency for Muslim nations for settling payment transactions as an alternative to the US dollar such as proposed by BRICS nations earlier. He further explained that the US always uses economic sanctions as the main tool of domineering hegemony and bullying of other nations. As stated by Iranian President that there is always room for diplomacy, therefore "let's return to justice, to peace, to law, commitment and promise and finally to the negotiating table" which is the last and effective solution for any issue.Iran's proposal of five nations bloc portrays a rational and real picture of solving the staggering and long-lasting problems of the region. Furthermore, the nations which are proposed by Iran in the bloc have no history of worsening or spoiling the situation of the region as America has been involved in generating the multiple problems throughout the region via its policies and actions. All these five regional nations have stakes in the region such as political, economic, social and financial. Therefore if the region is developed, peaceful and protected than they collectively can secure their interests along with giving the benefits to other regional nations as well.
The rapport between Iran and Turkey over Syria: Liaisons or tussle?
The two powers of Iran and Turkey constitute a crucial feature on the map of the Middle East. The influence of the dyadic interactions exceeds sometimes the meanings of any bilateral ties, transcending the political borders to impact the geographical proximity of surrounding states. However, more evident their influences upon the Arab Sphere were at the aftermath of what so-called the Arab Spring, particularly in Syria that became the most prominent playground for their regional competition became.
Syrian tragic conflict has, indeed, a multi-scalar interaction with different players, each of which is driven by complex and contradictory motivations. In the same vein, Turkey and Iran have several aims for intervening into Syria militarily. Nonetheless, the explicit objective for Turkey is to create a 'buffer zone'; thus, it might drive out the Kurdish presence along its border with Syria and address the Syrian refugee issue there. On the other side, the strategic partner for Syria, Iran, is seeking to bolster Assad's government, as it used to work as a safety valve for the regime in Damascus.
In order to prop up Bashar al Assad's regime, Tehran developed close ties with Russia that changed the equation in Syria. But, Moscow founded the rapports with the strategical foes of Tehran; Saudi Arabia and Israel. Likewise, the "marriage of convenience" brought Turkey with Russia, which, subsequently, facilitates carving up northern Syria between them by Sochi agreement, in October 2019.
Although it worked on the opposite front to Turkey's, nevertheless, Iran attempts always to maintain warm and unruffled relationships with it. Tehran has overtly been competing, just as it covertly cooperating with Ankara in Syria for managing the dynamic variables of the surrounding area. Subsequently, the unsatisfactory with Turkey's presence in the torn-war Syria doesn't mean by any means a full conflictual; neither means otherwise, a comprehensive cooperation and peace. After all, seems, Iran needs Turkey shortly both in Syria and beyond.
Upon the US withdrawal from the Kurdish-held zone of northern Syria the dispute between the two-peer regional powers, Iran and Turkey, has surfaced off considerably off. Tehran has continuously been preserving a secret connection with the Kurdish People's Protection Units which backed by the US. It was gaining a margin of leverage by occasionally working as a covert conduit bridging the differences between the Kurdish movement and the al-Assad's regime.
Nonetheless, Iran's substantial concern was a repercussion which might spill over its Kurdish regions if Turkey fulfils its intent to fill the expected power vacuum in the north of Syria.Thus, it was not surprising, once Turkey uncovered its intention by interfering the north-eastern Syria militarily, Iran announced the military exercises under the slogan "one goal … one bullet" in the area barely 20 miles from the Turkish border. Its maneuver, however, implied two-edges; on the one hand, it was against any potential Kurdish movement in its territory.
On the other hand, it gesticulated an external dimensional message, mainly to Turkey. In parallel to this combatant stand, Iran attempted to show, at least rhetorically, its alignment with and understanding of, Turkey's anxieties. As the Iranian President Hassan Rouhani stated in an amicable expression: "We are calling on our friendly and brotherly neighbor Turkey to act with more patience and restraint and to revise its decision and chosen path" of military invasion. Further, Tehran urged Ankara alternatively to work inline with the Adana agreement.
The Adana agreement of 1998 was signed between Turkey and Syria to address the border differences. The broker of the deal, along with the other Arab countries, was Iran, and the primary aim of the agreement was at expelling the Kurdistan Workers' Party (PKK) from Syria.
A complex of causes makes Iran avoid Turkey's dissatisfaction. The latter was always supportive of the Iranian regime in challenging times. Turkey, whether during the war between Iran and Iraq in the 1980s or international sanctions that intensified on Tehran in 2012, opened its borders with Iran to allow the trade that reached Europe. Similarly and lately, it helped Tehran to circumvent the US suffocating sanctions to a large extent.
As well, Turkey attempted to exploit the tensions between Tehran and Riyadh after the attacks on Aramco's oil facilities in eastern Saudi Arabia last September, by denying Tehran's involvement in the attacks. In an interview with Fox News, Turkish President RecepTayyip Erdogan said: "I don't think it would be the right thing to blame Iran."A few days later, when the architect of Iranian expansion in the Middle East the Iranian military leader Qasem Soleimani was assassinated, Erdogan offered condolences to him, though didn't use 'martyr' to describe him.
Notwithstanding, the chapter of persuasive confrontation between Iran and Turkey manifested when the Syrian airstrike hit the Turkish-backed forces in Idlib province on 27 January 2020. That resulted in killing 33 Turkish combatants. While Russia accused the Turkish soldiers of being "operating alongside jihadist fighters" when they had been struck, conversely and simultaneously, Iran emphasized on deescalating and restraining the tension in Idlib. It, further, called for all parties resort to decisions that had been taken by the presidents of Astana Process.
Although the Iranian President and his Turkish counterpart conducted a discussion on the phone regarding the tension over Idlib province, Turkey carried on the retaliation by launching a dozen air and missiles attack against the Syrian troops. The offence begot causalities of the Syrian military as well as several deaths of Iranian-backed forces in the northwest of Syria. As per the official Iranian media reported eight fighters of Hezbollah, and at least 21 militants affiliated with Fatemiyoun and Zaibayoun brigades were among the deaths.
Concurrently, Ankara opened the borders for the influx of the Syrian refugees to head for Europe. By so doing, it attempted to force its allies of the NATO states to pressurize Russia in order to alter its policy in Syria. Again and as always, Russian condemned the Turkish raids, but, its pragmatic rapprochements with Turkey outweigh the differences. Therefore, it is no wondering to see Russian assistance to Damascus minimized notably. Further, a deal will be reached to reduce the tension in Idlib when the Turkish President met his Russian counterpart in Moscow on March 2020.
On the other side, Iran and its affiliates warned Turkey by referring that its troops were within their "fire range". Tehran, however, tried to shun from escalating the situation, and instead, it was accusing the US of getting Ankara into Syrian trap. Meanwhile, it was calling Ankara for holding a new summit for Iran, Russia, and Turkey within the Astana summit framework.
By devoting immense political and financial potentialities to safeguard the Ba'ath regime, Iran was not ready to cede its clout there. So convinced too, it prefers a political triumph over martial achievements. Perhaps, for that reason, it worked to boost connections with the major players in Syria, including Turkey. However, Iran shares Turkey several issues not merely in Syrian circle, but expand to the regional level sometimes. In addition to their shared economic and commercial benefits, they both have a fear of Kurdish ambitions to establish of own state, as they both stood firmly with the government of Baghdad against the Kurdish referendum in the north of Iraq in 2017. Second: Although, Turkey's differences with Washington are mostly temporary; it meets with Iran in several issues that troubled their relations with the US.And thirdly: They were mutually pro-Qatar stand against Saudi and its allies. Qatar's flights switched to the "Iranian airspace and Turkey upped the ante on its military presence in the country as a sign of strength and commitment".
Teething Troubles for Pakistan in Mediating the Saudi-Iran Tension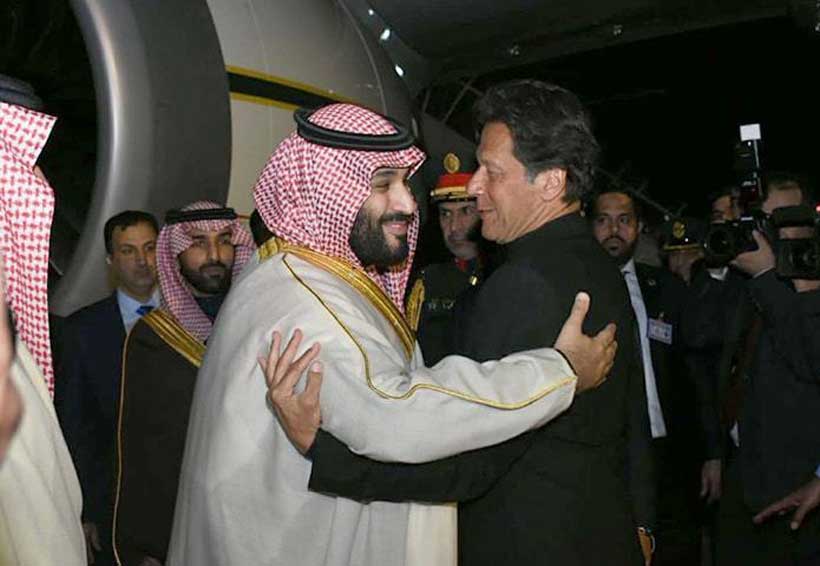 Imran Khan's visit to America, China, Iran, and Saudi Arabia carries much importance concerning the unity of the Muslim community and solution of their long-standing differences and enmities particularly Saudi-Iran Tension. Moreover, these visits are not only very significant for the relations of Tehran and Jeddah but also for Pakistan, being one of the neighbors of Iran. As for as the visit of PM Imran Khan to China is concerned, Beijing, being a rising power and an economic giant, could play a very effective and decisive role in normalizing the relations between Iran and Saudi along with Pakistan because of its economic interests. Islamabad has been experiencing many changes in the national, regional and global dynamics. In this regard, Pakistan wants to balance its side by engaging with China and tries to mediate between Iran and Saudi to end the long-standing conflict between both the Muslim nations.
However, it is not easy to lessen the tensions between both the rival nations as perceived by a large portion of societies because America never allows this to happen smoothly while it will try vigorously to counter this activity because of its long-standing problems with Iran. Particularly looking over the policies and actions of the United States against Iran such as when the whole world is suffering from a fatal disease known as COVID-19/Corona Virus, America imposed more sanctions on Iran which is against humanity. Besides, the killing of Iran's top bras general QasimSulemani in an attack by the US and the scrapping nuclear deal with Iran are condemnable acts. There can be many reasons for opposition from the United States for instance, it never wants China to engage with various nations throughout the globe mainly Iran. Because it creates the environment of friendship and engagement for China with other nations which pose threat and fear for the dominant position of Washington.
Moreover, America considers Iran as one of the staunch opposite nations of the world therefore the conflict between the US and Iran has been continued for very long. In this regard, America has imposed numerous sanctions upon Iran which creates more hardships for Tehran to smoothly run its affairs. While Iran considers it the violation of international and humanitarian laws that should not be bearable for any well-educated, sophisticated and sincere nation of the world. According to Iran, the US has been practicing inhuman and illegal policies throughout the world, especially the Muslim World. In this regard, Iran in the UN General Assembly strongly condemned the policies and actions by Washington in which Iran is on top of the list. On the other side, Saudi Arabia is one of the closest and reliable allies of America because of its economic interests.
Rationally looking over the US-Saudi bond, Washington keeps much influence concerning the economic, political and financial policies of the Kingdom of Saudi Arabia. In this regard, attacks on the oil fields of Saudi Arabia created insecurity for it therefore Saudi King called MBS requested more American forces to protect the security of his country. There are multiple perspectives regarding the control, influence and creating the warlike environment in the oil-rich Muslim nations of the Middle East. For instance, it is considered by a huge portion of the population within the Muslim world that these all issues and conflicts which have generated the deaths, destruction, fear, and insecurity all over the region are created by America to gain its interests mainly economic benefits.
This is the reason for which America intervenes within these countries rich in natural resources in the pretext of saving humanity and the US being a savior of human rights violations all over the world. While within the Western nations it is considered that terrorism and other multiple kinds of evils are generating from this region because of the undemocratic structure of these states. In this regard, the US should intervene to eliminate all evils from the region for protecting the peace and progress of the world. Therefore, Pakistan can play a very significant role through normalizing Saudi-Iran relations though it is very difficult because of sectarian division between both nations. Recent condemnation and opposition by PM Imran Khan about the new sanctions on Iran by the US is a good and positive sign. Besides, it is also considered by a huge population within the Muslim world that they are under the serious threat of Western Powers beneath different agendas so Pakistan being the only nuclear power state within the Muslim countries should seriously take the issue towards a peaceful solution. Though it is also in the interest of Islamabad because in case the spiraling tensions between Saudi Arabia and Iran are not solved and turn into the escalation of the conflict, Pakistan because of Iran's neighbor will face direct impact which could be sectarian violence and increasing oil prices.