Questioning Riyadh's Nuclear Rationale
In the last few years, a marked shift in Saudi thinking on nuclear issues has become evident. Saudi princes have explicitly and publicly stated that a nuclear military option is something the kingdom is obligated to examine if Tehran is not stopped in its march toward nuclear weapons.
In March 2011, Prince Turki al-Faisal, former head of Saudi intelligence and ambassador to the United States, called for the Gulf states to acquire "nuclear might" as a counterweight to Iran should efforts fail to persuade it to abandon its military nuclear program,[1] a point he repeated several months later.[2] U.S. diplomat Dennis Ross confirmed that Saudi King Abdullah explicitly warned Washington in April 2009: "If they get nuclear weapons, we will get nuclear weapons."[3] Ross's quote of the Saudi king appears to be the first public confirmation of Riyadh's position. An unconfirmed report alleges that Abdullah made a similar statement to Russian president Vladimir Putin in their February 2007 summit.[4]
Despite its wealth and status, the kingdom operates out of a deep sense of inferiority and vulnerability: Some of its neighbors, notably Iraq and Iran, are powerful and historically hostile; its long borders are porous; it has a large Shiite population of questionable loyalty in its sensitive oil-producing regions, and its strategic installations are vulnerable.[5] In Riyadh's view, nuclear capabilities in Iranian hands would allow Tehran to dictate the Gulf agenda—including its oil markets—as well as incite the Shiites in Saudi Arabia's eastern province, undermining the kingdom's status in the Muslim world as well as the royal family's grip on power.[6]
The public statements reflecting Saudi intent to acquire nuclear weapons may be intended primarily to convince Tehran that obtaining the bomb will have unintended consequences. They may even be intended to pressure Washington to deal more forcibly with Tehran in order to prevent it from becoming a nuclear state. Nonetheless, these statements are not something to be taken lightly. Given Riyadh's historical involvement (albeit not all of it proven) with nuclear weapons programs and its military inferiority to Tehran, it is liable to strive for a nuclear deterrent of its own. Saudi Arabia may indeed become the first nuclear state to acquire rather than develop nuclear capabilities.
Immediate Solutions
Riyadh would view nuclear weapons as a counterweight to Tehran. The kingdom, which has traditionally achieved its goals through behind-the-scenes maneuvering backed up by enormous wealth, would probably not change this paradigm if it acquired a nuclear weapon.[7] The lack of transparency typical of Saudi decision-making does not afford knowledge of what, if any, decisions have been made on nuclear matters. Decisions on sensitive issues are made in very secretive settings usually involving the king and the brothers closest to him and are affected by a sluggish process that tends to seek consensus through consultation within the family, requiring the placation of various factions within it and within the broader circles of regime supporters.[8]
Due to its extremely limited research and development capabilities and know-how, Riyadh's possible nuclear pursuit is likely to be done with external help and acquisition of an off-the-shelf deterrent. It has nowhere near the level of indigenous technical capacity needed to produce, maintain, or deploy nuclear weapons. No long-term strategy for developing its nuclear sector has been publicly issued, nor does Riyadh possess the necessary institutional support (across regulatory, technical, and legal fields) to effectively retain nuclear deployments. Therefore, it might partner with China or Pakistan or both, which have the necessary technological and human infrastructures.
Saudi Arabia's track record merits some well-placed concern over the issue of nuclear weapons. In the late 1980s, China secretly supplied Riyadh with thirty-six CSS-2 intermediate-range ballistic missiles (IRBMs). A recently inked civilian nuclear cooperation deal with Beijing, supplier of the CSS-2s and reported supplier of newer and still nuclear-capable DF-5 ICBMs, may also be troubling.[9] Furthermore, the recent inauguration of a new command and control center belonging to the Strategic Missile Force near Riyadh raises a question: Why would Saudi Arabia invest billions in updating its strategic command and control facilities if it still possesses only outdated Chinese missiles?
The visit by the late Saudi defense minister, Crown Prince Sultan, to a uranium enrichment facility and a Pakistani missile production plant near Islamabad in 1999 (hosted by A.Q. Khan, accused of passing on nuclear secrets) raise concerns about Riyadh's future relations with Islamabad in this matter. On at least one occasion, Khan visited Riyadh,[10] and reports have surfaced about Pakistani scientists coming to Saudi Arabia under the guise of Hajj pilgrims.[11]
These concerns and connections are not merely speculative. Islamabad's willingness to provide security support for Riyadh, should the Saudis feel that there is a real danger to the kingdom's stability, was put to the test in the spring of 2011. The Saudi royals' fear that the Shiite uprising in Bahrain would spread to Shiite centers in northeast Saudi Arabia (where most of the kingdom's oil reserves are located) prompted Riyadh to ask Islamabad to place an expeditionary force on alert ready to be deployed on Saudi soil should the security situation deteriorate.[12] Pakistan responded positively to the Saudi request.[13]
Riyadh views Islamabad as its strategic hinterland. The Saudis are behind the financing of many arms deals, and in exchange, receive training of their aerial and naval personnel by the Pakistanis.[14] During a visit by Pakistani president Zardari to Riyadh in July 2011 (a visit that reportedly enhanced the strategic relations between the countries), King Abdullah thanked him for his support in Bahrain, where Pakistani mercenaries helped put down the Shiite uprising, and in maintaining regional stability. A month later, Pakistani prime minister Yousuf Raza Gilani also visited the kingdom, asking for Saudi help with oil supplies in light of Islamabad's economic situation and Washington's threats to cut off support; it is unclear what Pakistan promised in exchange for the aid.[15] Riyadh maintains a very close relationship with the heads of Islamabad's military and intelligence services. This is significant in the nuclear context because from the start, the Pakistani nuclear program was under the control of the military establishment without any real involvement on the part of the political leadership.[16]
The two nations, both with Sunni majorities, border Iran on two sides and are interested in curbing Tehran's power and influence.[17] Pakistan, lacking the monetary resources, has the requisite knowledge and skilled manpower for developing nuclear arms whereas Saudi Arabia is wealthy but lacks the relevant infrastructure and trained personnel. One cannot rule out the possibility that Riyadh may seek to balance Tehran's power by increasing cooperation in the nuclear field with its long-standing friend, despite the political risks of jeopardizing well-established defense relations with Washington. In October 2010, the head of the strategic planning unit of Pakistan's armed forces, who is responsible for the production, security, and storage of the nation's nuclear weapons, said that Islamabad had the right to provide its expertise in the nuclear field to other nations.[18] In the past, both Islamabad and Riyadh denied such a scenario.
Should Saudi Arabia find itself in a sensitive security situation, it may seek to capitalize on its investment in the Pakistani nuclear program and pressure Islamabad for assistance. It is unclear whether there is, in fact, a binding nuclear agreement between the states though the assessment is that both states have at least discussed the option. If such an agreement exists, the two have presumably trained for operational cooperation in this field.[19] Gary Samore, President Obama's advisor on arms control, has said that the possibility of Pakistani nuclear forces being placed in Saudi Arabia cannot be ruled out.[20]
Although there has never been a precedent of one state selling or transferring actual nuclear warheads to another, there is the precedent of exchange of nuclear technology between Pakistan and North Korea[21] as well as proliferation of forbidden nuclear equipment and know-how to countries including Iran and Libya and possibly Syria or Saudi Arabia.[22] As Tehran progresses, Riyadh is likely to exert more pressure on Islamabad to fulfill its presumed commitments. It is by no means certain that Pakistan will yield to Saudi pressure and inducements, but it is impossible to rule out the deployment of Pakistani fighter jets or surface-to-surface missiles with nuclear warheads, controlled by Pakistan, on Saudi soil.
Long-term Solutions
At the same time, the kingdom is accelerating its independent nuclear development—one of the largest development projects in its history—as another option in response to Iran. Saudi Arabia has in recent years started to prepare openly for the development of a civilian nuclear program and is broadening efforts to construct a knowledge base in the field, possibly as another way of establishing nuclear military capabilities over the long term.[23] It has initiated a string of projects and signed cooperation agreements with France, Russia, the United States, South Korea, and China.[24] In 2006, Riyadh called for the Gulf Cooperation Council (a regional bloc that includes Kuwait, the United Arab Emirates, Bahrain, Qatar, and Oman) to develop a shared program to use nuclear technologies for peaceful purposes in accordance with international treaties.[25] The Saudi foreign minister, Prince Saud al-Faisal, sought to assuage concerns about possible intentions to develop nuclear weapons stating, "It is no secret and we're doing everything out in the open. Our goal is to pursue technology for peaceful uses—no more and no less."[26] Yet notwithstanding similar declarations over the years, the kingdom has signaled that it would not surrender the capability to enrich uranium on its soil, which continues to raise doubts about its intentions.[27]
In April 2010, King Abdullah called for the establishment of a national body for nuclear research and development. In addition, he stated that Riyadh would invest more than $100 billion over two decades to establish no fewer than sixteen nuclear reactors with the first reactor set to be connected to the power grid by 2020.[28] While the civilian nuclear program seems designed to be a symbolic response to Tehran's nuclear project in the short term, this does not preclude the possibility of its serving as a cover or preliminary stage for a military nuclear project in the future. In June 2005, Riyadh signed the Small Quantities Protocol with the International Atomic Energy Agency (IAEA), but this protocol exempts it from intrusive inspections and makes it difficult for the IAEA to ensure there is no forbidden development underway. The concern that loopholes in the protocol could allow nations to develop military nuclear capabilities has moved the IAEA to attempt to change it.[29] Riyadh's response was to hurry to sign the present text, despite Washington's opposition.
Still Relying on America?
A signal from Riyadh that it intends to pursue the nuclear route may indeed be an effective way to pressure Washington to demonstrate its commitment to defend the kingdom more convincingly. Saudi doubts about their U.S. allies preceded the Obama administration's conduct during the recent Arab upheavals but have been intensified by them. In the last two years, the kingdom has missed few opportunities to express its displeasure with Washington's policy toward Tehran.[30] Although Secretary of State Hillary Clinton promised to extend the U.S. "defense umbrella" to the Gulf states should Tehran acquire military nuclear capabilities,[31] this type of declaration allays few fears as it is liable to be seen as a grudging acceptance of a nuclear-armed Iran. While Washington would not have to deploy nuclear forces on Arabian soil to deter aggression, such a move would make the message of deterrence more credible and calm Saudi nerves. However, any U.S.-Saudi security arrangement would likely be covert so as not to embarrass the kingdom vis-à-vis elements opposed to hosting "infidels" on "sacred" lands. Another possibility would be to deploy nuclear forces offshore. A hint that such an option might be in the making came in March 2010 when the U.S. navy fired a missile capable of carrying a nuclear warhead from a submarine near the Saudi coast.[32]
Continued Iranian progress toward a nuclear weapon, Iraq's increasing alignment with Tehran, and an expedited U.S. exit from Afghanistan are all changing the Saudi strategic landscape. The Obama administration's "lead from behind" approach in Libya and its hesitation to get involved in the Syrian civil war all contribute to a reassessment of U.S. commitments. With the U.S. "pivot to Asia"—taking the form of a series of military, economic, commercial, and diplomatic initiatives aimed at contending with the rising power of China—and a changing global energy map due to expansion of oil and natural gas production in the United States, Riyadh and others are beginning to prepare for a post-U.S. Middle East.
According to recent reports, Washington is considering expanding its nuclear cooperation with Riyadh on the basis of a 2008 memorandum of understanding: In exchange for foregoing the operation of nuclear fuel cycles on its soil, Saudi Arabia was to receive nuclear assistance.[33] Such a move, should it come to pass, may be meant to persuade Riyadh to abandon its strategic goals, prevent other players from gaining a foothold in the attractive Saudi market, and challenge Tehran's nuclear policy. The United States is still Saudi Arabia's most effective security support, but if Washington distances itself from regional matters, the gradual entrance of new players into the Gulf is inevitable.
The question of Saudi acquisition of a nuclear deterrent is more relevant than ever when both enemies and friends of the United States are looking at a possible regional drawdown on Washington's part as well as a lack of support for the pro-Western regimes that remain in place. If the U.S. government provides Riyadh with formal security guarantees, it would be natural for it to demand that the kingdom forego its strategic goals. But Riyadh's inclusion under a U.S. defense umbrella is not a given and depends both on the quality of relations between the two countries and other Saudi considerations. Riyadh remains skeptical over Washington's willingness to come to its aid and may thus seek to purchase a nuclear deterrent, which would provide it with more freedom vis-à-vis its stronger ally. Under present circumstances, it is not unreasonable for Riyadh to rely on other states for its defense in addition to Washington for the simple reason that it has done so in the past. Likewise, it is more than likely that the Saudis will not act transparently because they have acted in secret previously.
Conclusion
After Iran, Saudi Arabia is the number one candidate for further nuclear proliferation in the Middle East. Open source evidence remains circumstantial, but perhaps more than any other regional player, Riyadh has the requisite ideological and strategic motives as well as the financial wherewithal to act on the option.
The kingdom may conclude that its security constraints as well as the attendant prestige and influence generated by having a bomb outweigh the political and economic costs it will pay. The difficulty in stopping Tehran's dogged quest for a nuclear capability coupled with Riyadh's doubts about the reliability of Washington is liable to encourage Riyadh to shorten timetables for developing an independent nuclear infrastructure, as well as to opt to purchase a turnkey nuclear system, an off-the-shelf product, or to enter into a security compact of one sort with another power. Sunni-majority Pakistan has emerged as the natural candidate for such an arrangement.
Heavy U.S. pressure is likely to be brought to bear on the Saudis not to acquire nuclear capabilities. Indeed, it seems that, at present, the price Riyadh is likely to pay should it acquire military nuclear capabilities might outweigh the advantages of such a move. But strategic interest, motivated by considerations of survival, could have the upper hand. Should it seem that the kingdom's vital security interests are threatened, it may prefer to take a series of steps, including obtaining a nonconventional arsenal, to reduce risks and ensure the continuity of the House of Saud.
[1] Kuwait News Agency, Mar. 21, 2011.
[2] The Wall Street Journal, June 2, 2011; The Guardian (London), June 29, 2011; The Jerusalem Post, June 30, 2011.
[3] Ha'aretz (Tel Aviv), May 30, 2012.
[4] Ibid., May 30, 2012.
[5] Thomas Lippman, Saudi Arabia on the Edge: The Uncertain Future of an American Ally (Washington, D.C.: Potomac Books, 2012), pp. 229-30, 236-7.
[6] Ibid, pp. 231, 237-43.
[7] Joseph Kostiner, "The GCC States and the Security Challenges of the Twenty-First Century," The Begin-Sadat Center for Strategic Studies, Bar-Ilan University, Mideast Security and Policy Studies, no. 86, Sept. 2010.
[8] Shmuel Bar, "Culture of Command and Control of Nuclear Weapons in the Middle East: Saudi Arabia," working paper, Twelfth Herzliya Conference, Jan. 2012.
[9] Mark Jansson, "Conceding the Saudi Nuclear Breakout," Center for Strategic and International Studies, Washington, D.C., Feb. 21, 2012.
[10] "Pakistani Journalist Examines Saudi-Pakistani Nuclear Cooperation," Middle East Media Research Institute (MEMRI), Washington, D.C., Special Dispatch, no. 4205, Oct. 14, 2011.
[11] William Potter and Gaukhar Mukhatzhanova, eds., Forecasting Nuclear Proliferation in the 21st Century: A Comparative Perspective (Stanford: Stanford University Press, 2010), p. 93.
[12] Asia Times (Hong Kong), Apr. 2, 2011.
[13] Bruce Riedel, "Brezhnev in the Hejaz," National Interest, Sept.-Oct. 2011.
[14] Francisco Aguilar, Randy Bell, Natalie Black, Sayce Falk, Sasha Rogers and Aki Peritz, "An Introduction to Pakistan's Military," Harvard Kennedy School, Belfer Center, Cambridge, July 2011.
[15] Islamic Republic News Agency, Aug. 10, 2011.
[16] Rolf Mowatt-Larssen, "Nuclear Security in Pakistan: Reducing the Risks of Nuclear Terrorism," Arms Control Today (Washington, D.C.), July/Aug. 2009.
[17] Pervez Hoodbhoy, "Iran's bomb and Pakistan," The Express Tribune (Karachi), Jan. 15, 2012.
[18] "Head of Pakistan's Nuclear Program: Pakistan Has the Right to Use Nuclear Weapons Should the Need Arise," MEMRI, Special Dispatch, no. 3330, Oct. 31, 2010.
[19] Bruce Riedel, "Enduring Allies: Pakistan's Partnership with Saudi Arabia Runs Deeper," Force, Dec. 2011.
[20] Thomas Lippman, "Nuclear Weapons and Saudi Strategy," Policy Brief, no. 5, Middle East Institute, Jan. 2008.
[21] "Country Profiles: North Korea, Nuclear," Nuclear Threat Initiative, Washington, D.C., Aug. 2012.
[22] William Langewiesche, "The Wrath of Khan," The Atlantic, Nov. 2005.
[23] Asharq al-Awsat (London), Oct. 15, 2012.
[24] The Wall Street Journal, Jan. 16, 2012.
[25] The Gulf News (Dubai), Dec. 11, 2006.
[26] Ha'aretz, Dec. 10, 2006.
[27] Arab News (Riyadh), June 17, 2010; Asharq al-Awsat, Oct. 15, 2012.
[28] Arab News, June 1, 2011.
[29] Global Security Newswire, Nuclear Threat Initiative, Washington, D.C., June 16, 2005.
[30] The Washington Post, May 16, 2011; Asharq al-Awsat, Nov. 8, 2012.
[31] Fox News, July 22, 2009.
[32] The Washington Post, Mar. 31, 2010.
[33] The Wall Street Journal, July 30, 2011.
Erdogan's Calamitous Authoritarianism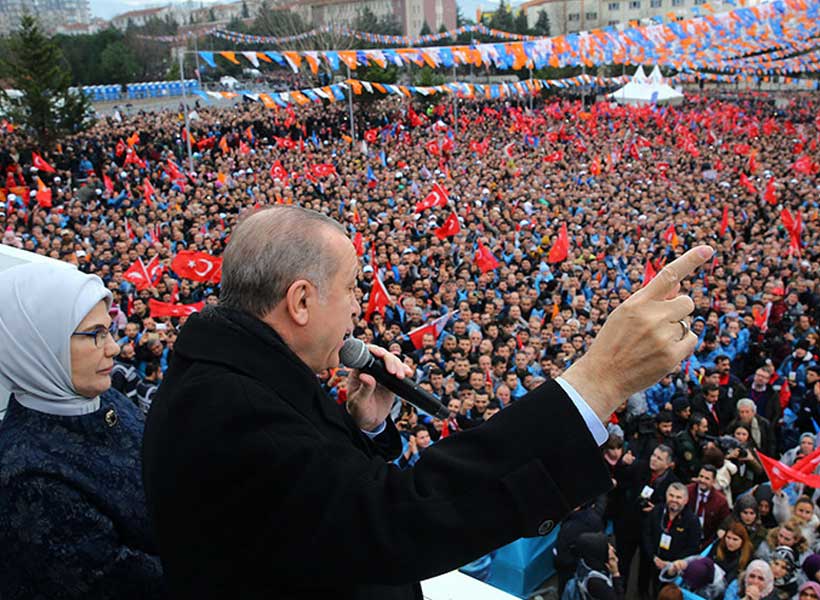 Turkey's President Erdogan is becoming ever more dangerous as he continues to ravage his own country and destabilize scores of states in the Middle East, the Balkans, and North Africa, while cozying up to the West's foremost advisories. Sadly, there seems to be no appetite for most EU member states to challenge Erdogan and put him on notice that he can no longer pursue his authoritarianism at home and his adventurous meddling abroad with impunity.
To understand the severity of Erdogan's actions and ambitions and their dire implications, it suffices to quote Ahmet Davutoglu, formerly one of Erdogan's closest associates who served as Minister of Foreign Affairs and subsequently Prime Minister. Following his forced resignation in May 2016 he stated "I will sustain my faithful relationship with our president until my last breath. No one has ever heard — and will ever hear — a single word against our president come from my mouth."
Yet on October 12, Davutoglu declared "Erdogan left his friends who struggled and fought with him in exchange for the symbols of ancient Turkey, and he is trying to hold us back now…. You yourself [Erdogan] are the calamity. The biggest calamity that befell this people is the regime that turned the country into a disastrous family business."
The stunning departure of Davutoglu from his earlier statement shows how desperate conditions have become, and echoed how far and how dangerously Erdogan has gone. Erdogan has inflicted a great calamity on his own people, and his blind ambition outside Turkey is destabilizing many countries while dangerously undermining Turkey's and its Western allies' national security and strategic interests.
A brief synopsis of Erdogan's criminal domestic practices and his foreign misadventures tell the whole story.
Domestically, he incarcerated tens of thousands of innocent citizens on bogus charges, including hundreds of journalists. Meanwhile he is pressuring the courts to send people to prison for insulting him, as no one can even express their thoughts about this ruthlessness. Internationally, Erdogan ordered Turkish intelligence operatives to kill or smuggle back to the country Turkish citizens affiliated with the Gülen movement.
He regularly cracks down on Turkey's Kurdish minority, preventing them from living a normal life in accordance with their culture, language, and traditions, even though they have been and continue to be loyal Turkish citizens. There is no solution to the conflict except political, as former Foreign Minister Ali Babacan adamantly stated on October 20: "… a solution [to the Kurdish issue] will be political and we will defend democracy persistently."
Erdogan refuses to accept the law of the sea convention that gives countries, including Cyprus, the right to an Exclusive Economic Zone (EEZ) for energy exploration, while threatening the use of force against Greece, another NATO member no less. He openly sent a research ship to the region for oil and gas deposits, which EU foreign policy chief Josep Borrell called "extremely worrying."
He invaded Syria with Trump's blessing to prevent the Syrian Kurds from establishing autonomous rule, under the pretext of fighting the PKK and the YPG (the Syrian Kurdish militia that fought side-by-side the US, and whom Erdogan falsely accuses of being a terrorist group).
He is sending weapons to the Sunni in northern Lebanon while setting up a branch of the Turkish Cooperation and Coordination Agency (TIKA) in the country—a practice Erdogan has used often to gain a broader foothold in countries where it has an interest.
While the Turkish economy is in tatters, he is investing hundreds of millions of dollars in the Balkans, flooding countries with Turkish imams to spread his Islamic gospel and to ensure their place in his neo-Ottoman orbit. Criticizing Erdogan's economic leadership, Babacan put it succinctly when he said this month that "It is not possible in Turkey for the economic or financial system to continue, or political legitimacy hold up."
Erdogan is corrupt to the bone. He conveniently appointed his son-in-law as Finance Minister, which allows him to hoard tens of millions of dollars, as Davutoglu slyly pointed out: "The only accusation against me…is the transfer of land to an educational institution over which I have no personal rights and which I cannot leave to my daughter, my son, my son-in-law or my daughter-in-law."
Erdogan is backing Azerbaijan in its dispute with Armenia (backed by Iran) over the breakaway territory of Nagorno-Karabakh, which is inhabited by ethnic Armenians and has been the subject of dispute for over 30 years.
He is exploiting Libya's civil strife by providing the Government of National Accord (GNA) with drones and military equipment to help Tripoli gain the upper hand in its battle against Khalifa Haftar's forces. Former Foreign Minister Yasar Yakis said in February 2020 that "The unclear Turkish foreign policy by Erdogan may put Turkey in grave danger due to this expansion towards Libya."
He is meddling in the Israeli-Palestinian conflict in an effort to prevent them from settling their dispute unless Israel meets Palestinian demands. He granted several Hamas officials Turkish citizenship to spite Israel, even though Hamas openly calls for Israel's destruction.
He betrayed NATO by buying the Russian-made S-400 air defense system, which seriously compromises the alliance's technology and intelligence.
He is destabilizing many countries, including Somalia, Qatar, Libya, and Syria, by dispatching military forces and hardware while violating the air space of other countries like Iraq, Cyprus, and Greece. Yakis said Turkey is engaging in a "highly daring bet where the risks of failure are enormous."
Erdogan supports extremist Islamist groups such as the Muslim Brotherhood and Hamas, and an assortment of jihadists, including ISIS, knowing full well that these groups are sworn enemies of the West—yet he uses them as a tool to promote his wicked Islamic agenda.
He regularly blackmails EU members, threatening to flood Europe with Syria refugees unless they support his foreign escapades such as his invasion of Syria, and provide him with billions in financial aid to cope with the Syrian refugees.
The question is how much more evidence does the EU need to act? A close look at Erdogan's conduct clearly illuminates his ultimate ambition to restore much of the Ottoman Empire's influence over the countries that were once under its control.
Erdogan is dangerous. He has cited Hitler as an example of an effective executive presidential system, and may seek to acquire nuclear weapons. It's time for the EU to wake up and take Erdogan's long-term agenda seriously, and take severe punitive measures to arrest his potentially calamitous behavior. Sadly, the EU has convinced itself that from a geostrategic perspective Turkey is critically important, which Erdogan is masterfully exploiting.
The EU must be prepared take a stand against Erdogan, with or without the US. Let's hope, though, that Joe Biden will be the next president and together with the EU warn Erdogan that his days of authoritarianism and foreign adventurism are over.
The views expressed are those of the author.
Syrian Refugees Have Become A Tool Of Duplicitous Politics
Since the beginning of the conflict in Syria the issue of Syrian refugees and internally displace has been the subject of countless articles and reports with international humanitarian organizations and countries involved in the Syrian conflict shifting responsibility for the plight of migrants.
The most notorious example of human suffering put against political games is the Rukban refugee camp located in eastern Syria inside the 55-km zone around Al-Tanf base controlled by the U.S. and its proxies.
According to official information, more than 50,000 people, mostly women and children, currently live in the camp. This is a huge number comparable to the population of a small town. The Syrian government, aware of the plight of people in Rukban, has repeatedly urged Washington to open a humanitarian corridor so that everyone can safely return home. However, all such proposals were ignored by the American side. U.S. also refuse to provide the camp with first aid items. Neighbouring Jordan is inactive, too, despite Rukban being the largest of dozens other temporary detention centres in Syria, where people eke out a meager existence.
At the same time, the problem is not only refugee camps. Syria has been at war for a decade. The country's economy has suffered greatly over this period, and many cities have been practically grazed to the ground. Moreover, the global coronavirus epidemic didn't spare Syria and drained the already weakened economy even more. However, Damascus' attempts of post-war reconstruction and economic recovery were undermined by multiple packages of severe sanctions imposed by the U.S. At the same time, U.S.-based human rights monitors and humanitarian organizations continue to weep over the Syrian citizens' misery.
The situation is the same for those refugees who stay in camps abroad, especially in countries bordering on Syria, particularly Jordan and Turkey. Ankara has been using Syrian citizens as a leverage against the European states in pursuit of political benefits for a long time. No one pays attention to the lives of people who are used as a change coin in big politics. This is equally true for Rukban where refugees are held in inhuman conditions and not allowed to return to their homeland. In those rare exceptions that they are able to leave, refugees have to pay large sums of money that most of those living in camp are not able to come by.
It's hard to predict how long the Syrian conflict will go on and when – or if – the American military will leave the Al-Tanf base. One thing can be said for sure: the kind of criminal inaction and disregard for humanitarian catastrophe witnessed in refugee camps is a humiliating failure of modern diplomacy and an unforgivable mistake for the international community. People shouldn't be a tool in the games of politicians.
Is Syria Ready For Second Wave Of COVID-19?
Despite a relative calm that has been holding on the front lines of the Syrian conflict since the beginning of the year, Syria had to face other equally – if not more – serious challenges. The spread of COVID-19 virus in the wake of a general economic collapse and a health care system battered by nine years of war threatened Syria with a death toll as a high as that of resumed military confrontation. However, the actual scale of the infection rate turned out to be less than it was expected considering the circumstances.

Although Syria did not have much in resources to mobilize, unlike some other countries that were slow to enforce restrictions or ignored them altogether, the Syrian authorities did not waste time to introduce basic measures that, as it became obvious in hindsight, proved to be the most effective. A quarantine was instituted in the areas controlled by the government, all transportation between the provinces was suspended, schools and universities were temporarily closed and face masks were made obligatory in public spaces.

As a result, official data puts the number of people infected with COVID-19 in the government areas at modest 4,457 while 192 people died of the infection. In turn, the Autonomous Administration of North and East Syria announced that 1,998 people contracted the virus. The data on the infection rate in the opposition-controlled areas in Idlib and Aleppo is incomplete, but the latest number is 1,072. Compared to the neighboring Turkey with 9,000 of deaths of COVID-19, Syria seems to be doing relatively well.

Tackling the virus put the already embattled health care system under enormous strain. Syrian doctors are dealing with an acute shortage of medicines and equipment, and even hospital beds are in short supply. Over 60 medical workers who treated COVID-19 patients died.

The situation is worsened even further by the economic hardships, not least due to the sanctions imposed on Syria by the U.S. and the European states. Syrian hospitals are unable to procure modern equipment necessary for adequate treatment of COVID-19, most importantly test kits and ventilators.

The economic collapse exposed and aggravated many vulnerabilities that could have been easily treated under more favorable circumstances. A grim, yet fitting example: long queues in front of bakeries selling bread at subsidised prices, that put people under the risk of catching the virus. Many Syrians are simply unable to avoid risking their health in these queues, as an average income is no longer enough to provide for a family.

Moreover, despite a nation-wide information campaign conducted with the goal of spreading awareness about means of protections against COVID-19 like social distancing and mask-wearing, for many Syrians the disease is still stigmatized, and those who contracted it are often too ashamed to go to a hospital or even confess to their friends. As consequence, a substantial number of cases goes unreported.

With the second wave of COVID-19 in sight, it is of utmost importance that the work of health care professionals is supported, not subverted by the citizens. Otherwise Syria – and the world – may pay too high a price.