Questioning Riyadh's Nuclear Rationale
In the last few years, a marked shift in Saudi thinking on nuclear issues has become evident. Saudi princes have explicitly and publicly stated that a nuclear military option is something the kingdom is obligated to examine if Tehran is not stopped in its march toward nuclear weapons.
In March 2011, Prince Turki al-Faisal, former head of Saudi intelligence and ambassador to the United States, called for the Gulf states to acquire "nuclear might" as a counterweight to Iran should efforts fail to persuade it to abandon its military nuclear program,[1] a point he repeated several months later.[2] U.S. diplomat Dennis Ross confirmed that Saudi King Abdullah explicitly warned Washington in April 2009: "If they get nuclear weapons, we will get nuclear weapons."[3] Ross's quote of the Saudi king appears to be the first public confirmation of Riyadh's position. An unconfirmed report alleges that Abdullah made a similar statement to Russian president Vladimir Putin in their February 2007 summit.[4]
Despite its wealth and status, the kingdom operates out of a deep sense of inferiority and vulnerability: Some of its neighbors, notably Iraq and Iran, are powerful and historically hostile; its long borders are porous; it has a large Shiite population of questionable loyalty in its sensitive oil-producing regions, and its strategic installations are vulnerable.[5] In Riyadh's view, nuclear capabilities in Iranian hands would allow Tehran to dictate the Gulf agenda—including its oil markets—as well as incite the Shiites in Saudi Arabia's eastern province, undermining the kingdom's status in the Muslim world as well as the royal family's grip on power.[6]
The public statements reflecting Saudi intent to acquire nuclear weapons may be intended primarily to convince Tehran that obtaining the bomb will have unintended consequences. They may even be intended to pressure Washington to deal more forcibly with Tehran in order to prevent it from becoming a nuclear state. Nonetheless, these statements are not something to be taken lightly. Given Riyadh's historical involvement (albeit not all of it proven) with nuclear weapons programs and its military inferiority to Tehran, it is liable to strive for a nuclear deterrent of its own. Saudi Arabia may indeed become the first nuclear state to acquire rather than develop nuclear capabilities.
Immediate Solutions
Riyadh would view nuclear weapons as a counterweight to Tehran. The kingdom, which has traditionally achieved its goals through behind-the-scenes maneuvering backed up by enormous wealth, would probably not change this paradigm if it acquired a nuclear weapon.[7] The lack of transparency typical of Saudi decision-making does not afford knowledge of what, if any, decisions have been made on nuclear matters. Decisions on sensitive issues are made in very secretive settings usually involving the king and the brothers closest to him and are affected by a sluggish process that tends to seek consensus through consultation within the family, requiring the placation of various factions within it and within the broader circles of regime supporters.[8]
Due to its extremely limited research and development capabilities and know-how, Riyadh's possible nuclear pursuit is likely to be done with external help and acquisition of an off-the-shelf deterrent. It has nowhere near the level of indigenous technical capacity needed to produce, maintain, or deploy nuclear weapons. No long-term strategy for developing its nuclear sector has been publicly issued, nor does Riyadh possess the necessary institutional support (across regulatory, technical, and legal fields) to effectively retain nuclear deployments. Therefore, it might partner with China or Pakistan or both, which have the necessary technological and human infrastructures.
Saudi Arabia's track record merits some well-placed concern over the issue of nuclear weapons. In the late 1980s, China secretly supplied Riyadh with thirty-six CSS-2 intermediate-range ballistic missiles (IRBMs). A recently inked civilian nuclear cooperation deal with Beijing, supplier of the CSS-2s and reported supplier of newer and still nuclear-capable DF-5 ICBMs, may also be troubling.[9] Furthermore, the recent inauguration of a new command and control center belonging to the Strategic Missile Force near Riyadh raises a question: Why would Saudi Arabia invest billions in updating its strategic command and control facilities if it still possesses only outdated Chinese missiles?
The visit by the late Saudi defense minister, Crown Prince Sultan, to a uranium enrichment facility and a Pakistani missile production plant near Islamabad in 1999 (hosted by A.Q. Khan, accused of passing on nuclear secrets) raise concerns about Riyadh's future relations with Islamabad in this matter. On at least one occasion, Khan visited Riyadh,[10] and reports have surfaced about Pakistani scientists coming to Saudi Arabia under the guise of Hajj pilgrims.[11]
These concerns and connections are not merely speculative. Islamabad's willingness to provide security support for Riyadh, should the Saudis feel that there is a real danger to the kingdom's stability, was put to the test in the spring of 2011. The Saudi royals' fear that the Shiite uprising in Bahrain would spread to Shiite centers in northeast Saudi Arabia (where most of the kingdom's oil reserves are located) prompted Riyadh to ask Islamabad to place an expeditionary force on alert ready to be deployed on Saudi soil should the security situation deteriorate.[12] Pakistan responded positively to the Saudi request.[13]
Riyadh views Islamabad as its strategic hinterland. The Saudis are behind the financing of many arms deals, and in exchange, receive training of their aerial and naval personnel by the Pakistanis.[14] During a visit by Pakistani president Zardari to Riyadh in July 2011 (a visit that reportedly enhanced the strategic relations between the countries), King Abdullah thanked him for his support in Bahrain, where Pakistani mercenaries helped put down the Shiite uprising, and in maintaining regional stability. A month later, Pakistani prime minister Yousuf Raza Gilani also visited the kingdom, asking for Saudi help with oil supplies in light of Islamabad's economic situation and Washington's threats to cut off support; it is unclear what Pakistan promised in exchange for the aid.[15] Riyadh maintains a very close relationship with the heads of Islamabad's military and intelligence services. This is significant in the nuclear context because from the start, the Pakistani nuclear program was under the control of the military establishment without any real involvement on the part of the political leadership.[16]
The two nations, both with Sunni majorities, border Iran on two sides and are interested in curbing Tehran's power and influence.[17] Pakistan, lacking the monetary resources, has the requisite knowledge and skilled manpower for developing nuclear arms whereas Saudi Arabia is wealthy but lacks the relevant infrastructure and trained personnel. One cannot rule out the possibility that Riyadh may seek to balance Tehran's power by increasing cooperation in the nuclear field with its long-standing friend, despite the political risks of jeopardizing well-established defense relations with Washington. In October 2010, the head of the strategic planning unit of Pakistan's armed forces, who is responsible for the production, security, and storage of the nation's nuclear weapons, said that Islamabad had the right to provide its expertise in the nuclear field to other nations.[18] In the past, both Islamabad and Riyadh denied such a scenario.
Should Saudi Arabia find itself in a sensitive security situation, it may seek to capitalize on its investment in the Pakistani nuclear program and pressure Islamabad for assistance. It is unclear whether there is, in fact, a binding nuclear agreement between the states though the assessment is that both states have at least discussed the option. If such an agreement exists, the two have presumably trained for operational cooperation in this field.[19] Gary Samore, President Obama's advisor on arms control, has said that the possibility of Pakistani nuclear forces being placed in Saudi Arabia cannot be ruled out.[20]
Although there has never been a precedent of one state selling or transferring actual nuclear warheads to another, there is the precedent of exchange of nuclear technology between Pakistan and North Korea[21] as well as proliferation of forbidden nuclear equipment and know-how to countries including Iran and Libya and possibly Syria or Saudi Arabia.[22] As Tehran progresses, Riyadh is likely to exert more pressure on Islamabad to fulfill its presumed commitments. It is by no means certain that Pakistan will yield to Saudi pressure and inducements, but it is impossible to rule out the deployment of Pakistani fighter jets or surface-to-surface missiles with nuclear warheads, controlled by Pakistan, on Saudi soil.
Long-term Solutions
At the same time, the kingdom is accelerating its independent nuclear development—one of the largest development projects in its history—as another option in response to Iran. Saudi Arabia has in recent years started to prepare openly for the development of a civilian nuclear program and is broadening efforts to construct a knowledge base in the field, possibly as another way of establishing nuclear military capabilities over the long term.[23] It has initiated a string of projects and signed cooperation agreements with France, Russia, the United States, South Korea, and China.[24] In 2006, Riyadh called for the Gulf Cooperation Council (a regional bloc that includes Kuwait, the United Arab Emirates, Bahrain, Qatar, and Oman) to develop a shared program to use nuclear technologies for peaceful purposes in accordance with international treaties.[25] The Saudi foreign minister, Prince Saud al-Faisal, sought to assuage concerns about possible intentions to develop nuclear weapons stating, "It is no secret and we're doing everything out in the open. Our goal is to pursue technology for peaceful uses—no more and no less."[26] Yet notwithstanding similar declarations over the years, the kingdom has signaled that it would not surrender the capability to enrich uranium on its soil, which continues to raise doubts about its intentions.[27]
In April 2010, King Abdullah called for the establishment of a national body for nuclear research and development. In addition, he stated that Riyadh would invest more than $100 billion over two decades to establish no fewer than sixteen nuclear reactors with the first reactor set to be connected to the power grid by 2020.[28] While the civilian nuclear program seems designed to be a symbolic response to Tehran's nuclear project in the short term, this does not preclude the possibility of its serving as a cover or preliminary stage for a military nuclear project in the future. In June 2005, Riyadh signed the Small Quantities Protocol with the International Atomic Energy Agency (IAEA), but this protocol exempts it from intrusive inspections and makes it difficult for the IAEA to ensure there is no forbidden development underway. The concern that loopholes in the protocol could allow nations to develop military nuclear capabilities has moved the IAEA to attempt to change it.[29] Riyadh's response was to hurry to sign the present text, despite Washington's opposition.
Still Relying on America?
A signal from Riyadh that it intends to pursue the nuclear route may indeed be an effective way to pressure Washington to demonstrate its commitment to defend the kingdom more convincingly. Saudi doubts about their U.S. allies preceded the Obama administration's conduct during the recent Arab upheavals but have been intensified by them. In the last two years, the kingdom has missed few opportunities to express its displeasure with Washington's policy toward Tehran.[30] Although Secretary of State Hillary Clinton promised to extend the U.S. "defense umbrella" to the Gulf states should Tehran acquire military nuclear capabilities,[31] this type of declaration allays few fears as it is liable to be seen as a grudging acceptance of a nuclear-armed Iran. While Washington would not have to deploy nuclear forces on Arabian soil to deter aggression, such a move would make the message of deterrence more credible and calm Saudi nerves. However, any U.S.-Saudi security arrangement would likely be covert so as not to embarrass the kingdom vis-à-vis elements opposed to hosting "infidels" on "sacred" lands. Another possibility would be to deploy nuclear forces offshore. A hint that such an option might be in the making came in March 2010 when the U.S. navy fired a missile capable of carrying a nuclear warhead from a submarine near the Saudi coast.[32]
Continued Iranian progress toward a nuclear weapon, Iraq's increasing alignment with Tehran, and an expedited U.S. exit from Afghanistan are all changing the Saudi strategic landscape. The Obama administration's "lead from behind" approach in Libya and its hesitation to get involved in the Syrian civil war all contribute to a reassessment of U.S. commitments. With the U.S. "pivot to Asia"—taking the form of a series of military, economic, commercial, and diplomatic initiatives aimed at contending with the rising power of China—and a changing global energy map due to expansion of oil and natural gas production in the United States, Riyadh and others are beginning to prepare for a post-U.S. Middle East.
According to recent reports, Washington is considering expanding its nuclear cooperation with Riyadh on the basis of a 2008 memorandum of understanding: In exchange for foregoing the operation of nuclear fuel cycles on its soil, Saudi Arabia was to receive nuclear assistance.[33] Such a move, should it come to pass, may be meant to persuade Riyadh to abandon its strategic goals, prevent other players from gaining a foothold in the attractive Saudi market, and challenge Tehran's nuclear policy. The United States is still Saudi Arabia's most effective security support, but if Washington distances itself from regional matters, the gradual entrance of new players into the Gulf is inevitable.
The question of Saudi acquisition of a nuclear deterrent is more relevant than ever when both enemies and friends of the United States are looking at a possible regional drawdown on Washington's part as well as a lack of support for the pro-Western regimes that remain in place. If the U.S. government provides Riyadh with formal security guarantees, it would be natural for it to demand that the kingdom forego its strategic goals. But Riyadh's inclusion under a U.S. defense umbrella is not a given and depends both on the quality of relations between the two countries and other Saudi considerations. Riyadh remains skeptical over Washington's willingness to come to its aid and may thus seek to purchase a nuclear deterrent, which would provide it with more freedom vis-à-vis its stronger ally. Under present circumstances, it is not unreasonable for Riyadh to rely on other states for its defense in addition to Washington for the simple reason that it has done so in the past. Likewise, it is more than likely that the Saudis will not act transparently because they have acted in secret previously.
Conclusion
After Iran, Saudi Arabia is the number one candidate for further nuclear proliferation in the Middle East. Open source evidence remains circumstantial, but perhaps more than any other regional player, Riyadh has the requisite ideological and strategic motives as well as the financial wherewithal to act on the option.
The kingdom may conclude that its security constraints as well as the attendant prestige and influence generated by having a bomb outweigh the political and economic costs it will pay. The difficulty in stopping Tehran's dogged quest for a nuclear capability coupled with Riyadh's doubts about the reliability of Washington is liable to encourage Riyadh to shorten timetables for developing an independent nuclear infrastructure, as well as to opt to purchase a turnkey nuclear system, an off-the-shelf product, or to enter into a security compact of one sort with another power. Sunni-majority Pakistan has emerged as the natural candidate for such an arrangement.
Heavy U.S. pressure is likely to be brought to bear on the Saudis not to acquire nuclear capabilities. Indeed, it seems that, at present, the price Riyadh is likely to pay should it acquire military nuclear capabilities might outweigh the advantages of such a move. But strategic interest, motivated by considerations of survival, could have the upper hand. Should it seem that the kingdom's vital security interests are threatened, it may prefer to take a series of steps, including obtaining a nonconventional arsenal, to reduce risks and ensure the continuity of the House of Saud.
[1] Kuwait News Agency, Mar. 21, 2011.
[2] The Wall Street Journal, June 2, 2011; The Guardian (London), June 29, 2011; The Jerusalem Post, June 30, 2011.
[3] Ha'aretz (Tel Aviv), May 30, 2012.
[4] Ibid., May 30, 2012.
[5] Thomas Lippman, Saudi Arabia on the Edge: The Uncertain Future of an American Ally (Washington, D.C.: Potomac Books, 2012), pp. 229-30, 236-7.
[6] Ibid, pp. 231, 237-43.
[7] Joseph Kostiner, "The GCC States and the Security Challenges of the Twenty-First Century," The Begin-Sadat Center for Strategic Studies, Bar-Ilan University, Mideast Security and Policy Studies, no. 86, Sept. 2010.
[8] Shmuel Bar, "Culture of Command and Control of Nuclear Weapons in the Middle East: Saudi Arabia," working paper, Twelfth Herzliya Conference, Jan. 2012.
[9] Mark Jansson, "Conceding the Saudi Nuclear Breakout," Center for Strategic and International Studies, Washington, D.C., Feb. 21, 2012.
[10] "Pakistani Journalist Examines Saudi-Pakistani Nuclear Cooperation," Middle East Media Research Institute (MEMRI), Washington, D.C., Special Dispatch, no. 4205, Oct. 14, 2011.
[11] William Potter and Gaukhar Mukhatzhanova, eds., Forecasting Nuclear Proliferation in the 21st Century: A Comparative Perspective (Stanford: Stanford University Press, 2010), p. 93.
[12] Asia Times (Hong Kong), Apr. 2, 2011.
[13] Bruce Riedel, "Brezhnev in the Hejaz," National Interest, Sept.-Oct. 2011.
[14] Francisco Aguilar, Randy Bell, Natalie Black, Sayce Falk, Sasha Rogers and Aki Peritz, "An Introduction to Pakistan's Military," Harvard Kennedy School, Belfer Center, Cambridge, July 2011.
[15] Islamic Republic News Agency, Aug. 10, 2011.
[16] Rolf Mowatt-Larssen, "Nuclear Security in Pakistan: Reducing the Risks of Nuclear Terrorism," Arms Control Today (Washington, D.C.), July/Aug. 2009.
[17] Pervez Hoodbhoy, "Iran's bomb and Pakistan," The Express Tribune (Karachi), Jan. 15, 2012.
[18] "Head of Pakistan's Nuclear Program: Pakistan Has the Right to Use Nuclear Weapons Should the Need Arise," MEMRI, Special Dispatch, no. 3330, Oct. 31, 2010.
[19] Bruce Riedel, "Enduring Allies: Pakistan's Partnership with Saudi Arabia Runs Deeper," Force, Dec. 2011.
[20] Thomas Lippman, "Nuclear Weapons and Saudi Strategy," Policy Brief, no. 5, Middle East Institute, Jan. 2008.
[21] "Country Profiles: North Korea, Nuclear," Nuclear Threat Initiative, Washington, D.C., Aug. 2012.
[22] William Langewiesche, "The Wrath of Khan," The Atlantic, Nov. 2005.
[23] Asharq al-Awsat (London), Oct. 15, 2012.
[24] The Wall Street Journal, Jan. 16, 2012.
[25] The Gulf News (Dubai), Dec. 11, 2006.
[26] Ha'aretz, Dec. 10, 2006.
[27] Arab News (Riyadh), June 17, 2010; Asharq al-Awsat, Oct. 15, 2012.
[28] Arab News, June 1, 2011.
[29] Global Security Newswire, Nuclear Threat Initiative, Washington, D.C., June 16, 2005.
[30] The Washington Post, May 16, 2011; Asharq al-Awsat, Nov. 8, 2012.
[31] Fox News, July 22, 2009.
[32] The Washington Post, Mar. 31, 2010.
[33] The Wall Street Journal, July 30, 2011.
Three Years of Saudi Heinous Crimes in Yemen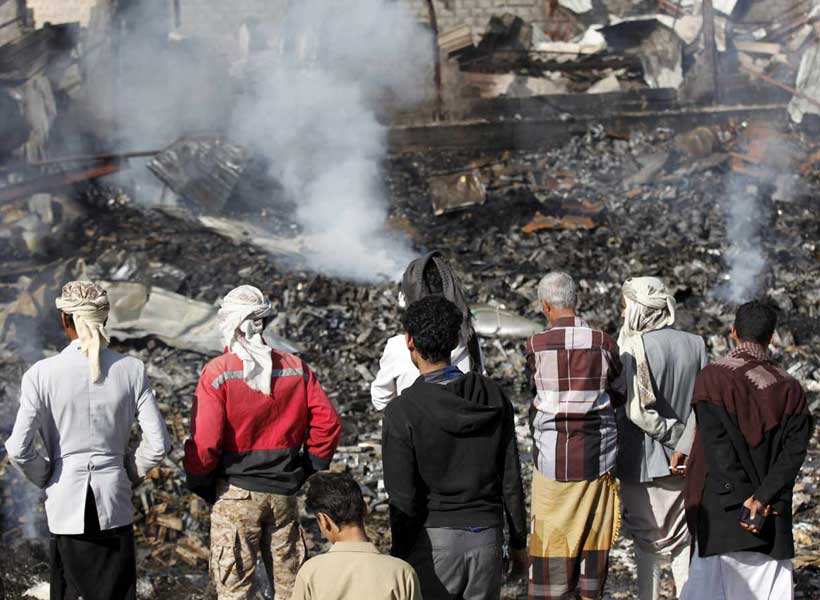 Yemen a miserable isolated Arab country has been devastated by an ongoing Saudi bloody war. Since March 2015, Saudi Arabia and its gulf allies (GCC) have launched a vicious military campaign against Yemen to reinstall its former government. Recently, the Saudi Crown Prince Mohammed bin Salman's visit to the UK has refocused attention on this silent conflict.
The collation has imposed a blockade on the port of Hodeida city, the main entry point for food and medicines and has been repeatedly accused of unlawful airstrikes on civilian targets which amount to war crimes. Obviously, the U.K., U.S. and other Western governments back, supply weapons and provides training to the GCC soldiers.
Amid the global silent and the mainstream media hypocrisy, the criminal collation systematically targets residential areas, claiming it would control arms transfer to the Houthi rebels. Saudi Arabia regards the Houthis as Iranian proxies and intervened to check their advance. These heinous massacres have prompted accusations by some Western opposition MPs and human rights groups of significant responsibility for civilian casualties. Thousands of Yemenis have been killed and the infrastructure has been thoroughly pulverized.
The GCC collation has imposed a blockade on Yemen's air, sea and land borders in November 2017 in response to Huthis firing missiles towards Riyadh airport, closing an aid lifeline to tens of thousands of starving Yemenis. The U.K. government denies that its forces are advising the Saudis on specific targets, though they admit that, after a raid, British officers can give advice on future targeting policy.
A UN panel of experts that reviewed 10 Saudi airstrikes found Saudi denials of involvement in these specific airstrikes were implausible, and individuals responsible for planning, authorising or executing the strikes would meet the standard for the imposition of UN sanctions. The panel reported early in January, "even if the Saudi Arabia-led coalition had targeted legitimate military objectives … it is highly unlikely that the principles of international humanitarian law of proportionality and precautions in attack were respected."
At the end of February, Russia vetoed a UK draft resolution that included a condemnation of Iran for violating the UN arms embargo in Yemen over claims that it supplied the missiles used by the Houthis that were fired towards Riyadh.The ongoing war has witnessed heinous atrocities, which emphasizes the urgent need of taking all necessary and possible steps to stop the war, bring the perpetrators to justice and ensure impunity.
Since the beginning of the military campaign, the coalition has targeted numerous facilities including schools, hospitals, airports, ports, universities, water and electric utilities, roads, bridges.  Although international conventions grant full protection for civilian installations, the Saudi warplanes have systematically targeted civil facilities using several internationally forbidden weapons, during the systemic raids over densely populated areas.
Medics have voiced alarm over the raging spread of the cholera epidemic in the impoverished country, saying that one child is infected every minute. Malnourished children, who number more than two million in Yemen, are greatly susceptible. Yemeni Health Ministry says that the Saudi aerial embargo has prevented patients from travelling abroad for treatment, and the entry of medicine into the country has been blocked. Over the following three years, the war has engulfed the entire country causing unbearable suffering for civilians. Due to the relentless bombardment, many civilians have been killed or injured, and a humanitarian crisis has spiraled, while the world ignores this raging war and hears little about its devastating consequences.
Various hospitals were shut because of the bombarding, and the insufficient medical teams. Further, vaccinations of major infectious diseases have been banned, amid the growth of the indicators of child malnutrition, and the spread of epidemics. In addition, more than 95% of doctors, nurses and consultants have been killed or fled the country. The lack of medicines has caused the deaths of many with Thalassemia and Anemia who need a monthly blood transfusion. Dialysis centres have made an SOS to save the lives of more than 6 thousand patients with Renal failure by providing them with necessary medical supplies, pointing out that the number of deaths of patients with renal failure exceeded 17 deaths in every 8 months.
The blockade imposed by the coalition has left more than 12,000 people killed, 49,000 injured and around 20 million people in need of humanitarian assistance. It has also created the world's largest food security emergency. Human Rights Watch has accused the Saudi-led coalition of committing war crimes, saying its air raids killed 39 civilians, including 26 children, in two months. Additionally, The International Committee of the Red Cross has said that the number of suspected cholera cases in war-torn Yemen has hit one million. More than eight million Yemenis are on the verge of starvation, making Yemen the scene of, what the United Nations calls, the world's worst humanitarian crisis.The Saudi regime has launched his war to eliminate the Houthis movement and to reinstall a Riyadh-friendly regime in Yemen.
However, the collation has failed to achieve its geopolitical and ideological objectives regardless of spending billions of dollars and enlisting the cooperation of its vassal states as well as some Western countries. The world's largest humanitarian crisis caused by Saudi prolonged military onslaught has pushed millions of Yemenis to the brink of starvation. Unfortunately, the UN has not yet taken any effective measures to halt the humanitarian tragedy for the sake of the ultimate objective that Saudi Arabia is pursuing in the country, which is eliminating the threat of the Houthis. Obviously, the Saudis have not achieved their basic goals; hence, they are seeking revenge on the innocent Yemenis through their aimless bombardment.
West using JCPOA as lever to pressurize Iran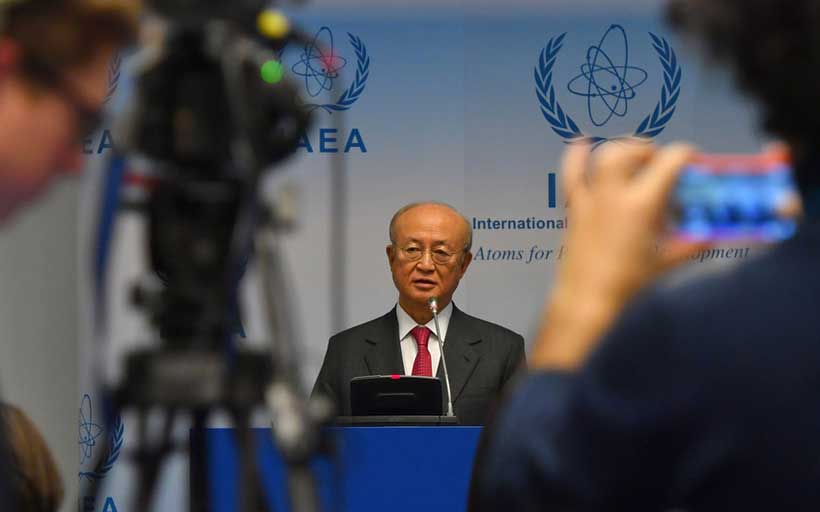 Recently, Reuters claimed European countries had commenced negotiations with Iran over the country's role in the region in order to ease U.S. President Donald Trump's concerns over the Iran nuclear deal known as the Joint Comprehensive Plan of Action (JCPOA).
Reuters alleges that the talks got off the ground on the fringes of the Munich security conference, with Yemen and certain regional issues taking center stage, and that the negotiations are going to continue in the future.
"European powers and Iran have started talks over Tehran's role in the Middle East and will meet again this month in Italy as part of efforts to prove to U.S. President Donald Trump that they are meeting his concerns over the 2015 nuclear deal," wrote Reuters.
What is worth mentioning about the Reuters' report is that the news agency claims the talks between Iran and Europe on regional issues conducted is phased. Reuters says the first round of the negotiations were held on the sidelines of the Munich security conference with the Yemen war top of the agenda, and that the Europeans hope to discuss the role of the groups supporting Iran in Lebanon and Syria. A few points need to be taken into account in this regard.
First, regional talks with Iran has been one of the common demands of the U.S. and the European Union following the conclusion of the JCPOA. When the nuclear deal was signed in July 2015, many analysts unanimously believed that Washington and the European Troika intended to use the JCPOA as a springboard for regional talks with Tehran.
Efforts by Germany, Britain and France to hold regional talks with Iran can be analyzed accordingly. Here, France seeks to play the role of a leading player. The trip to Iran by French Foreign Minister Jean-Yves Le Drian comes within the same framework. Paris has promised Washington to spare no effort to hold negotiations with Iran on the Islamic Republic's regional policies. Accordingly, Germany and Britain have got on board with France, too.
The second point is that while the general meeting of the UN General Assembly was underway in New York last summer, key talks were held between U.S. President Donald Trump and senior European officials over Iran's regional policies and their connection with the JCPOA. In the talks, French President Emmanuel Macron promised his U.S. counterpart to channel and manage missile and regional talks with Iran. This comes as the fundamental principles of Iran's foreign policy will remain unchanged. The principles include Iran's backing for resistance groups, and above all, the country's firmly dealing with the regional threats made by the U.S. and its allies and cronies. This firm approach by Iran will shatter the U.S. and Europe's hope for regional talks with Iran. Still, the European officials believe the commencement of regional negotiations with Iran (even if unofficial), per se, can serve as a starting point to curtail Iran's power and influence in the region. Thirdly, the Iranian diplomacy apparatus' insistence on the unchangeable and general strategies of the country's foreign policy, namely support for resistance groups, promotion of the resistance discourse, and fighting Takfiri terrorism will play a key role in foiling the ploys adopted by the U.S. and the European Union for talks.
One should bear in mind that the European Troika are channeling the talks on behalf of the U.S. and in coordination with the Trump administration. What Iran will employ to counter the joint game launched by Washington, Paris, London and Berlin will be the determination to safeguard the country's strategic and behavioral principles in the region. It goes without saying that with this firm and prudent defense, the U.S. and the European Troika will not achieve any of their objectives in restricting Iran's maneuvering power in the region. And lastly, the U.S. and the European Union are using the JCPOA as a lever to channel regional talks with Iran and pressure Tehran into giving in to Washington's regional demands. In other words, Instead of serving its function as an independent legal document, the JCPOA has turned into a political tool to exert pressure on Iran. Here, too, the Iranian diplomacy and foreign policy apparatus should act very prudently and consider "safeguarding Iran's regional power" as its red line, not "safeguarding the JCPOA." Obviously, Washington and the European Troika should get to understand the definitive principle that Iran will not compromise on its fundamental strategies in the region.
First published in our partner Tehran Times
Goals of bin Salman's visit to UK: Blood-colored agreement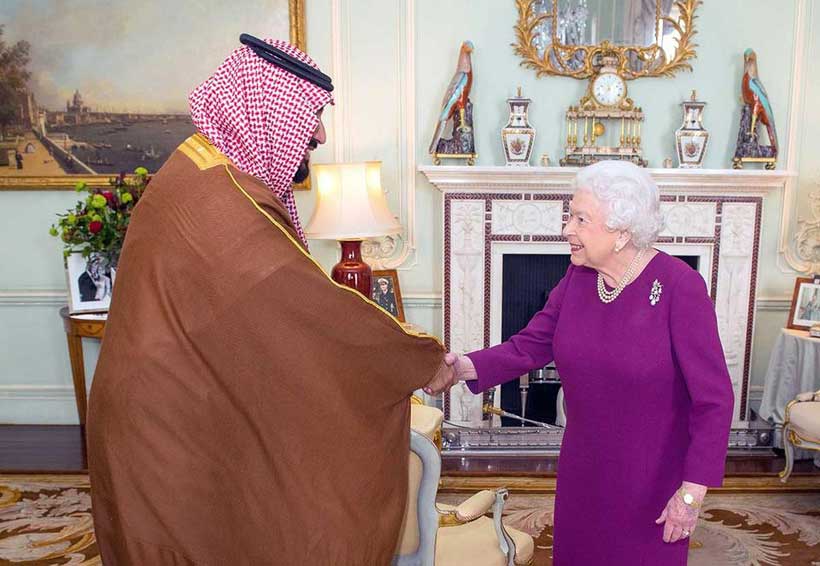 The recent visit of Saudi Crown Prince Mohammad bin Salman to the UK has attracted the attention of the various circles. Besides the diplomatic and business relations, bin Salman signed a preliminary deal to buy 48 Typhoon fighter jets from the UK.
The jets, made by British company BAE Systems, are part of 10 billion-pound deal which has been under discussion for many years. Finally the purchase of Typhoon jets by Saudi Arabia was agreed upon as a result of bin Salman visit to Britain.
It seems that Western-backed arms manufacturers are once again struggling to seize markets in the region, especially in the Arab states of the Persian Gulf. The Yemeni war, which the West has no desire for it to end, is another motivator for selling arms to Saudi Arabia and the UAE. For this reason, Amnesty International denounced the Saudi-British arms contract to buy Typhoon jets and said that it's just adding fuel to the humanitarian fire in Yemen. The British Labor Party, and some nonprofit organizations, also condemned the deal. Also, Politicians from the UK's main opposition party have denounced the $140 million humanitarian deal with Saudi Arabia, saying it "made a mockery" of Britain's reputation as a global leader in delivering humanitarian aid. But the British defense minister defended the deal and described the visit of the crown prince of Saudi Arabia to London as opening a new page in the relations between the two countries.
in bin Salman visit to the British authorities, bilateral relations, strategic cooperation between the two countries and ways to strengthen this cooperation, especially in the defense and military sectors, the opportunities available in Saudi Arabia by 2030, the developments in the Middle East and the world, as well as the so-called fight against Terrorism and extremism were discussed.
In a joint statement by the two countries, British support for Riyadh was emphasized. It's mentioned in this statement that Saudi Arabia is a strategic ally of Britain in the Middle East. The two sides also emphasized the political settlement of the Yemeni crisis based on the Persian Gulf Cooperation Council's plan and its strategies, the results of the Yemen national negotiations and Security Council resolution 2216, and claimed that such a solution would guarantee Yemen's security and integrity.
Ironically this emphasis on the political solutions for the existing crises in Yemen is taking place while Saudi Arabia uses Western weapons to continue to assault this country. With no doubt, Saudi Arabia's case in war crimes and human rights abuses in Yemen is really dark. Furthermore, the statement emphasizes Britain's commitment to presenting its experiences to Saudi Arabia in implementing reforms and the joint commitment of the two countries to a long-term partnership to support the 2030s vision of the Saudi Arabia.
Commercially speaking, contracts worth two-billion dollars have been signed on the three-day visit of the Saudi Crown Prince to England, though details of these contracts have not been announced. The two sides also agreed to make up to $ 90 billion in trade and mutual investment in the coming years.
Regarding the current situation, the question is, what are the Saudis and British goals of strengthening relations and signing such great amounts of different contracts?
-Naturally, Saudi Arabia, which is a traditional ally of Britain, will establish different kinds and levels of relations with the UK after the Brexit. The beginning of the development of bilateral relations between the two countries has been shaped around close security and military cooperation, and of course, Britain intends to extend these partnerships to all commercial and economic grounds.
On the other hand, Britain will need a solid ally, money and rich market after leaving the EU. Obviously, Saudi Arabia is at the top of its priorities. Meanwhile, selling billions of pounds of weapons to Saudi Arabia is a deal that, according to British officials, provides tens of thousands of job opportunities inside Britain.
The recent policies of the Saudi Arabia's Crown Prince for conducting reforms, and creating an open cultural atmosphere inside Saudi Arabia, have also encouraged London to develop relations with Saudi Arabia.
Confronting the influence of the Islamic Republic of Iran has also long been on the agenda of the foreign policy of Riyadh, and this issue has the support of the British authorities. For this reason, Saudi Arabia welcomes British experts' contributions and advice to counter what it calls Iran's threats.
On the one hand, bin Salman seeks to secure global support for domestic economic and cultural reforms and, on the other hand, he wants to ensure international investors to stay in the country.
On the other hand, the reform process in Saudi Arabia led by the inexperienced Crown Prince of Saudi Arabia faces serious internal barriers. The quick pace of reforms in the traditional and conservative society of Saudi Arabia will rather have negative consequences than positive ones. This is while economic and cultural reforms in Saudi Arabia, without political reform (freedom and democracy) won't be a fundamental solution, and thus will certainly face numerous obstacles.
Moreover, the issue of coping with the Islamic Republic of Iran is not easy for the Saudis. In recent years, Saudi Arabia suffered severe defeats in various regional scenes, including Iraq, Syria, Yemen, Lebanon et cetera against the Resistance Movement. Riyadh authorities think they would be able to confront the Islamic Republic of Iran relying on western political support and weapons, especially those by the United Kingdom and the United States. But they have overlooked the point that Western powers are only seeking their own goals and interests in the region, and therefore relying on them will lead to nothing but frustration and despair.
First published in our partner Mehr News Agency