Will Riyadh Get the Bomb?
As the impasse over Tehran's nuclear program worsens, those most likely to be directly effected by an Iranian bomb are showing greater alarm.
While the media fixates on Israel and its possible reaction, other regional players have no less at stake.
Despite Riyadh's long-held advocacy of making the Middle East a zone free of weapons of mass destruction, there has been much speculation in the last two decades about the possibility of its acquiring or developing nuclear weapons should Tehran obtain the bomb.[1] In the words of King Abdullah: "If Iran developed nuclear weapons … everyone in the region would do the same,"[2] a sentiment echoed by Prince Turki al-Faisal, former head of Saudi Arabia's General Intelligence Directorate.[3] Has Riyadh decided to go down the nuclear road, or is this bluster a desperate bid to stop Tehran's nuclear program dead in its tracks?
Why Go Nuclear?
A major deterioration in U.S.-Saudi relations—especially if Washington fails to stop Tehran's nuclear program or decides to scale back its military presence in the Middle East due to its recent energy discoveries—could force Riyadh to reconsider nuclear weapon acquisition to avoid having to face foreign aggression without U.S. security assurances. However, the relationship between Riyadh and Washington has thus far provided the Saudis with an unprecedented level of protection. From Washington's perspective, conventional wisdom holds that U.S. security commitments can keep Iran in check, prevent U.S. allies in the Middle East from submitting to Tehran's demands, and dissuade them from pursuing nuclear weapons. Yet both the willingness and the ability of the U.S. government to defend its partners in the region against a nuclear-armed Iran have been questioned.[4] As an Israeli observer argued recently:
The lack of American will to confront the ayatollahs and stop them in their tracks has given various Arab leaders plenty of incentive, as well as a good excuse, to proceed down the nuclear trail … If the Iranians aren't stopped, and soon, we may wake up a few years from now to discover that Saudi Arabia and other unfriendly regimes have decided to upgrade their "civilian" nuclear programs into weapons-making industries.[5]
Additionally, the Saudis are increasingly nervous about the strength of any U.S. commitment in light of the Obama administration's abandonment of such a long-standing regional ally as Egypt's Hosni Mubarak.[6]
The second issue is a mirror image of the first, namely, the concern over Tehran's nuclear ambitions. In February 2012, one senior Saudi source told the London Times:
There is no intention currently to pursue a unilateral military nuclear programme but the dynamics will change immediately if the Iranians develop their own nuclear capability … Politically, it would be completely unacceptable to have Iran with a nuclear capability and not the kingdom.[7]
Abdulaziz Sager, head of the Geneva-based Gulf Research Center, argues that the consequences of Tehran acquiring nuclear weapons would result in
turning Iran into a hegemonic power over the [Persian Gulf] states of the region, through its control of Iraq, its holding fast to the continued occupation of the UAE's [United Arab Emirates] islands, and its intervention in the domestic affairs of countries in the region through the agitated Shiite groups in these countries, which could push the GCC [Gulf Cooperation Council], namely Saudi Arabia, to seek, in turn, the acquisition of a nuclear weapon to confront Iran.[8]
Riyadh is most concerned about Iran's ambitions especially because it and many other Gulf states have substantial Shiite populations that could potentially become radicalized were a nuclear-empowered Iran to step up its incitement.[9] Many analysts argue that in the event of an Iranian nuclear breakout, Riyadh would feel compelled to build or acquire its own nuclear arsenal. Given Saudi Arabia's vast wealth and strategic weakness, such a decision might seem logical.[10] Riyadh's perception of the Iranian threat as serious and immediate was recently expressed by Foreign Minister Saud al-Faisal:
Sanctions are a long-term solution … But we are looking at an Iranian nuclear program within a shorter term because we are closer to the locus of the threat. We are interested in immediate rather than in gradual solutions.[11]
Diplomatic cables obtained by WikiLeaks reveal that King Abdullah privately warned Washington in 2008 that if Iran developed nuclear weapons, Saudi Arabia would do the same.[12]
A third factor in the Saudi calculus is Israel's nuclear and ballistic missile capabilities.[13] Given Israel's status as an assumed but undeclared nuclear weapons state, the most immediate consequence of Tehran's crossing the nuclear threshold would be the emergence of an unstable bipolar nuclear competition in the Middle East.[14] Were Israel to end this ambiguity and admit its possession of nuclear weapons, this might provide a form of deterrence against Iran, which in turn will increase the pressure on Riyadh to acquire its own deterrent vis-à-vis both countries.[15]
Finally, domestic factors must be taken into account. So far, King Abdullah and even Crown Prince Salman favor the continuation of military cooperation with the United States, but the two suffer from old age and poor health, and a change at the top of the pyramid could have a decisive impact on this issue. However, there has long been speculation that the royal family is divided over the nuclear issue. Former intelligence chief Prince Turki al-Faisal favors a secret nuclear program for military uses in cooperation with Pakistan and is supported in this by Prince Bandar Bin Sultan, director of the Saudi intelligence agency and former ambassador to the United States. In contrast to the hawks in Riyadh, there is also a group, headed by Foreign Minister Saud al-Faisal, which opposes establishing a secret nuclear military program reliant on Pakistan and prefers to be defended against Iran under the U.S. nuclear umbrella.[16]
Consumption and Constraints
Perhaps a more critical factor in the nuclear equation is Saudi Arabia's economic outlook. The country depends almost exclusively on oil export revenues to develop its economy. Jareer Elass and Amy Myers Jaffe of the Baker Institute for Public Policy at Rice University contend that
It is in the Kingdom's long-term geopolitical and security interests to maintain its leadership role in the global oil arena. Riyadh's ability to threaten other oil producers that it could flood the oil market is a critical aspect buttressing its leadership role inside OPEC [Organization of the Petroleum Exporting Countries] and gives the country regional clout as well. Saudi Arabia's ability to single-handedly alter the price of oil gives the Kingdom significant geopolitical power, and it has used its ability to lower the price of oil to its geopolitical advantage on many occasions over the decades. With this oil superpower stature comes much of the global influence that Saudi Arabia enjoys on the international stage.[17]
But the kingdom is an oil-consumer as well as a producer. Burning oil for electricity production currently consumes about a quarter of the crude oil Saudi Arabia produces, which could have very serious implications for the future.[18] In 2011, Saudi Arabia consumed an average of 2.87 million barrels per day (mb/d).[19] The country needs to find at least another 20 gigawatts (GW) of generating capacity by 2020 to add to its existing 40 GW if it is to meet projected demand.[20] As the GCC's largest economy, Saudi Arabia has more reason than most to turn to nuclear power.
According to analysts at Riyadh-based Jadwa Investment, oil demand in the kingdom rose by 22 percent between 2007 and 2010, outpacing China's oil demand growth rate despite the latter's economy expanding almost three times as fast.[21] While official data shows Saudi oil consumption rising by more than 5 percent a year in 2003-10 to an average of 2.4 mb/d in 2010,[22] analysts at British Petroleum put it at 2.85 mb/d in 2011,[23] (see Tables 1 and 2) making Saudi Arabia the world's sixth-largest oil consumer. On a per capita basis, its oil consumption is sky-high;[24] its consumption in 2011 is set to jump by 5.6 percent, way above the global average of 1.4 percent.[25]
Some economists argue that if Saudi Arabia's energy consumption continues at its current rate, within twenty years the kingdom will burn the equivalent of almost all its recent daily output—more than 8 mb/d —or around two-thirds its total production capacity.[26] Citigroup goes further to say that Riyadh could be an oil importer by 2030. Oil and its derivatives account for 50 percent of Saudi electricity production, mostly for residential use. According to Citigroup analysis, if nothing changes, the Saudis may have no available oil for export by 2030.[27] The head of Saudi Aramco has admitted that unless internal demand is controlled, the amount of oil left for export could fall to less than 7 mb/d by 2028.[28] Jadwa Investment paints an even bleaker picture, declaring that the kingdom could face a serious revenue crisis within the current decade, forced to cut exports to meet rising demand. By 2020, it expects exports available for the global market to fall to less than 5 mb/d.[29]
(Table 1): Saudi Oil Production Demand (2001-2011 million barrels per day)
| | | | | | | | | | | | |
| --- | --- | --- | --- | --- | --- | --- | --- | --- | --- | --- | --- |
| | 2001 | 2002 | 2003 | 2004 | 2005 | 2006 | 2007 | 2008 | 2009 | 2010 | 2011 |
| Production | 9,15 | 8,87 | 10,10 | 10,56 | 11,03 | 10,77 | 10,37 | 10,76 | 9,80 | 9,95 | 11,16 |
| Consumption | 1,62 | 1,66 | 1,78 | 1,91 | 1,97 | 2,04 | 2,16 | 2,33 | 2,55 | 2,74 | 2,85 |
Source: Adapted from BP Statistical Review of World Energy, (June 2012), pp. 8-9.
Given rising spending needs, the International Monetary Fund (IMF) estimated the break-even oil price for Saudi crude in 2011 to be US$80 a barrel, a rise of US$30 a barrel from three years ago; this would increase to US$98 by 2016.[30] The Washington-based Institute of International Finance suggested that Saudi Arabia will need at least US$110 for oil by 2015 to balance its budget.[31] But even these figures look conservative; the sheer scale of the kingdom's spending commitments now necessitates a substantially higher oil price.[32]
It is within this context that Riyadh's recently declared intention to launch its own nuclear program makes sense. In December 2011, Abdullah Zainal, minister of commerce and industry, announced that the equivalent of US$100 billion would be spent on building sixteen nuclear power plants to generate electricity in different parts of the kingdom.[33] Riyadh has signed nuclear technology agreements with several states for research reactors and nuclear power plants. Abdullah M. al-Shehri, governor of the Electricity and Co-Generation Regulatory Authority (ECRA), recently outlined Saudi Arabia's road map in building its nuclear capabilities for peaceful means:
First, we need to secure international cooperation; second, come up with long-term planning; third, study the required safety measures mandated by the international community; fourth, ensure we have the needed fuel supply; and fifth, we must prepare a national work force that is educated in nuclear engineering and operation.[34]
Such projects would, however, enable the Saudis to enrich uranium. With the aid of their Sunni allies in Pakistan, they could then obtain knowledge of bomb-making capabilities and the relevant technologies.[35]
Saudi nuclear ambitions crystallized in the run-up to the 2009 Copenhagen summit when it was realized that global efforts to control climate change could end up punishing countries that put off including non-carbon-based energy sources in their power portfolios.[36] According to the World Trade Organization, the Saudi economy is increasingly dependent on international trade: The ratio of merchandise and services trade (exports and imports) to gross domestic product (GDP) rose from 88.7 percent in 2005 to a peak of 104.9 percent in 2008 and reached 97.4 percent in 2010. Riyadh's export base is highly concentrated in fuels (petroleum and gas). The share of fuels in total merchandise exports depends largely on the evolution of world oil prices and Riyadh's quota production within OPEC. In value terms, the share of fuels in total merchandise exports (including re-exports) went from 89.5 percent in 2005 to 85.7 percent in 2010.[37]
(Table 2): Saudi Break Even Oil Forecast at Current Spending Patterns
2005

2010

2015F

2020F

2025F

2030F

Oil Indicators (million barrels per day)

Oil Production

9.4

8.2

9.3

10

10.7

11.5

Oil Exports

7.5

5.8

6.3

6

5.6

4.9

Domestic Consumption

1.9

2.4

3.1

3.9

5.1

6.5

Breakeven Oil Price (US$ per barrel)

Saudi Export Crude

30.3

71.6

90.7

118.5

175.1

321.7
Source: Adapted from Brad Bourland and Paul Gamble, "Saudi Arabia's coming oil and fiscal challenge," (Jadwa Investment, Riyadh), July 2011, p. 24. F= forecast
Third Party Connections
There have been suggestions that, rather than develop an indigenous nuclear program, Saudi Arabia would simply seek to buy nuclear warheads from Pakistan or China. According to a news media report, Riyadh is beefing up its military links with Islamabad to counter Tehran's expansionist plans either by acquiring atomic weapons from Islamabad or a pledge of nuclear cover,[38] a claim also reported earlier in The Guardian.[39]
Alternatively, Pakistan might offer a deterrent guarantee by deploying its own nuclear weapons, delivery systems, and troops on Saudi territory. This arrangement could be particularly appealing to both Riyadh and Islamabad, allowing the Saudis to argue that they are not violating the nuclear nonproliferation treaty (NPT) since the weapons would not be theirs. A Pakistani presence might also be preferable to a U.S. one because stationing Muslim forces on Saudi soil would not trigger the kind of opposition that has in the past accompanied the deployment of "infidel" U.S. troops.[40]
Despite these rumors, the Pakistanis know as well as anyone that the principal threats to the security and stability of Saudi Arabia are domestic against which nuclear weapons have no value but rather might stir up more trouble than they alleviate. But, a good Pakistani working relationship with Washington is essential. The Enhanced Partnership with Pakistan Act of 2009 (also known as the Kerry-Lugar-Berman bill) authorized a massive increase in U.S. civilian assistance to Islamabad, tripling it to US$1.5 billion a year.[41] In spite of tensions between the two states, Pakistan remains keen on developing its relationship with Washington, and continued proliferation of nuclear technology is unlikely to encourage either economic or military aid.[42] Indeed, selling complete nuclear weapons would come at great political cost. Islamabad might forfeit U.S. foreign assistance and drive Washington into closer cooperation with its mortal enemy India.[43]
Providing Riyadh with a Pakistani nuclear umbrella would also increase the likelihood of convergence between New Delhi and Tehran as both nations might view the move as part of a larger Sunni threat. In addition, Saudi nuclear acquisition could prompt a preventive strike by Israel—especially if the sale became known before the weapon was activated. Finally, although relations with Islamabad are improving, the House of Saud has no great trust in Pakistan's intentions; on the contrary, many of the WikiLeaks documents revealed Saudi dissatisfaction with Pakistani politicians and policies.[44]
In theory, the Saudis could pursue a nuclear option with the Chinese, but in the current strategic environment, it is hard to imagine this as a realistic scenario. Beijing and Riyadh have never had close military relations largely because Washington has provided the Saudis with advanced military equipment as well as security assurances against international threats that China cannot provide. While Beijing and Washington do not see eye-to-eye on many issues, including the severity of the Iranian threat, it is unlikely that Beijing would jeopardize its trade and other relations with Washington by supplying the Saudis with nuclear weapons.
Additionally, China is a member of the NPT system and thus obliged "not in any way to assist, encourage, or induce any nonnuclear weapon State to manufacture or otherwise acquire nuclear weapons or other explosive devices, or control over such weapons or explosive devices."[45] Under the Nuclear Proliferation Prevention Act of 1994, Beijing would face revocation of the U.S. nuclear cooperation agreement it worked so hard to secure, as well as the possible imposition of economic sanctions, if it were deemed to have "aided or abetted" the acquisition of nuclear weapons.[46]
If U.S.-Saudi relations should falter, the Chinese would doubtless view it as an opportunity to take a more active role in Saudi affairs. However, there is no evidence suggesting that this relationship will sour in the near future; in fact, as shall be seen, it is clearly improving.
Domestic Constraints
Technical barriers for entry into the nuclear club are high, and it is difficult for states to completely hide a clandestine military program from foreign intelligence observers. For example, the West successfully (albeit belatedly) detected Tehran's secret uranium enrichment facility constructed in tunnels under a mountain near Qom.[47] Indeed, many analysts believe that Riyadh's talk about developing nuclear arms may be more intended to focus Western attention on its concerns about regional risks than to indicate any kind of definitive action to go nuclear.[48]
It is unlikely that the Saudis would want to proliferate at the present time; doing so would deeply strain the U.S.-Saudi relationship, perhaps to an irrevocable degree.[49] Doing so would also place Riyadh in breach of a memorandum of understanding signed with Washington in 2008, promising U.S. assistance with civilian nuclear power on condition that Riyadh not pursue "sensitive nuclear technologies."[50] Riyadh's desire to maintain a strong relationship with Washington, especially in light of the royal family's desire to prevent unconventional terrorism within its borders, inhibits any strong appetite to develop nuclear weapons.[51]
There is also strong evidence that Washington is committed to defending Saudi Arabia. President Obama notified Congress on October 20, 2010, of the largest ever arms sales to Riyadh, including the proposed sale of fighter aircraft and upgrades to existing Saudi fighter aircraft, attack and utility helicopters, and related weaponry and services. If all options are exercised, the proposed sales may be worth more than $60 billion dollars over a period of ten to fifteen years.[52] The Saudis will also get help with training, logistics, and maintenance. The Obama administration hopes the sales will help "sustain long-term relationships to ensure continued U.S. influence for decades,"[53] or as the Economist put it:
the package of sales would not only tilt the balance of conventional weaponry in the Gulf decisively against Iran, whose suspected bid to acquire atomic bombs frightens its Gulf neighbors as well as Israel and the West. It would signal the return to normal of America's tight, 70-year-long alliance with Saudi Arabia. This had frayed following the revelation that 15 of the 19 hijackers who attacked American cities on September 11, 2001, were Saudi nationals. Fearing congressional opposition, Saudi Arabia had in recent years sought weaponry from other sources.[54]
Riyadh will also feel more secure from Tehran's missile capabilities once it acquires the Terminal High Altitude Area Defense (THAAD) system. This system is intended for shooting down short-, medium-, and intermediate range ballistic missiles in their terminal phase, using a "hit-to-kill" approach. At the same time, a potential $30 billion upgrade of the Saudi navy would greatly strengthen the latter's power projection in the Persian Gulf and the Red Sea. Ultimately, the U.S. arms package will increase Riyadh's confidence and capabilities in countering Tehran's rising power in the Middle East.[55]
Further, the character of the Saudi establishment militates against taking the drastic step of nuclear proliferation; the House of Saud is simply too conservative to undertake such a bold and controversial step. As Thomas Lippman argued,
The Saudis' weapons of choice are cash and diplomacy. It is difficult to imagine the princes of the House of Saud deliberately positioning themselves as global outliers and inviting reprisal from countries capable of inflicting serious damage on them.[56]
Journalist Richard Nield has noted that Riyadh has committed itself to a major industrialization and economic diversification campaign that will require sustained engagement with the rest of the world. "It's not rational that they would jeopardise this in favour of a preemptive strike against the theoretical possibility of a nuclear-armed Iran."[57] The same idea is echoed by Kate Amlin, who believes that Saudi leaders would not want to incur the political and economic backlash resulting from pursuit of a nuclear arsenal at a time when they are trying to integrate further into the international economy.[58]
Finally, it would take many years and considerable financial cost for Riyadh to develop nuclear weapons. There exists a relatively strong consensus regarding the immature state of the Saudi nuclear technology infrastructure. The country lacks the human expertise and technical knowledge necessary to develop a nuclear weapons program on its own.[59] It does not operate nuclear power facilities, and its scientists do not have the necessary experience to enrich uranium for reactor fuel, to convert nuclear fuel, or operate nuclear reactors.[60] A recent Citigroup report warns that several complex issues are likely to result in delays to Saudi Arabia's target nuclear power launch of 2019:[61] the lack of available nuclear power experts; cost overruns or high capital costs, and above all, plant safety risks such as keeping plants cool in desert conditions since there is no history of successful execution in such conditions.[62] According to Citigroup, the "safest location for a nuclear plant in Saudi Arabia is deep in the desert between Riyadh and Jeddah. Water would have to be piped over 30 miles to this region and under conditions that keep the pipes and plants cool."[63]
There have, however, been clear signs recently of the Saudis' intent to enter the nuclear arena. In June 2010, the kingdom commissioned Finnish management consultancy Poyry to offer a strategy for nuclear and renewable energy use and to study the economic and technical feasibility of becoming involved in all aspects of the nuclear power chain, including uranium enrichment.[64] Earlier that year, the Saudi government said it planned to build a new technology centre, the King Abdullah City for Nuclear and Renewable Energies, in Riyadh.[65] Despite this, it will be years before it is developed. In a 2007 visit to Saudi Arabia, Mohammed ElBaradei, then-director general of the International Atomic Energy Agency, estimated that the Saudi nuclear civilian plan might take up to fifteen years.[66]
Conclusion
Given that it is the world's top oil exporter, handling a nuclear Saudi Arabia would be a delicate manner. But, at least for now, the Saudis have no alternative but to rely on a U.S. defense umbrella. Still, it would be contrary to Riyadh's practice to put all its eggs in one basket. Thus, the kingdom will work in two parallel routes, strengthening its military, particularly the air force and navy, and aggressively seeking to buy the civilian nuclear technology that will in the future provide the technical capacity and human resources for dealing with nuclear weapons.
Riyadh is currently linked to arms deals with Washington for at least the next decade. It could also take a decade to develop the potential human and technical resources needed for a civilian nuclear program. At present there is no solid evidence that Riyadh has taken firm steps to go down this route, nor is there any evidence of Saudi acquisition of weapons of mass destruction
Overall, though not insurmountable, the obstacles to Saudi nuclearization are considerable. Much depends on Tehran's ambitions and the West's determination to stymie them.
Naser al-Tamimi is a U.K.-based Middle East analyst with research interest in energy politics and Middle East-Asia relations. He holds a PhD degree in International Relations from Durham University, U.K.
[1] Robert Shuey and Shirley A. Kan, "Chinese Missile and Nuclear Proliferation: Issues for Congress," U.S. Congressional Research Service, Nov. 16 , 1995; The New York Times, July 10, 1999; The Guardian (London), Sept. 18, 2003; The Washington Times, Oct. 21, 2003; Dan Blumenthal. "Providing Arms: China and the Middle East," Middle East Quarterly, Spring 2005, pp. 11-9; Cicero (Hamburg), Mar. 28, 2006; Ha'aretz (Tel Aviv), May 30, 2012.
[2] The Guardian, June 29, 2011.
[3] Reuters, Dec. 6, 2011.
[4] Eric S. Edelman, Andrew F. Krepinevich, Jr., and Evan Braden Montgomery, "The Dangers of a Nuclear Iran," Foreign Affairs, Jan./Feb. 2011, pp. 66-81.
[5] Michael Freund, "When Saudi Arabia Goes Nuclear," The Jerusalem Post, Apr. 29, 2010.
[6] The Wall Street Journal, June 23, 2011.
[7] The Times (London), Feb. 10, 2012.
[8] Abdulaziz Sager, "Alwady'a fi al-khaleej: Derasa Isteshrafeya 2025," paper presented to the Manama (Bahrain) Development Forum, Feb. 8-9, 2008, in al-Wasat News (Bahrain), Feb. 13, 2008.
[9] "Saudi Arabia Defense and Security Report Q1," Business Monitor International (London), Jan. 2011, p. 55.
[10] Thomas W. Lippman, "Nuclear Weapons and Saudi Strategy," Middle East Institute, Policy Brief, no. 5, Jan. 2008.
[11] Associated Press, Feb. 15, 2010.
[12] The Guardian, June, 29, 2011.
[13] "Avoiding a Nuclear Arms Race in the Middle East," Report to the U.S. Senate Committee on Foreign Relations, Washington, D.C., Feb. 2008.
[14] Edelman, Krepinevich, and Montgomery, "The Dangers of a Nuclear Iran," pp. 66-81.
[15] Kathleen J. McInnis, "Extended Deterrence: The U.S. Credibility Gap in the Middle East," The Washington Quarterly, Summer 2005, pp. 169-86.
[16] Ha'aretz, Sept. 8, 2011.
[17] Jareer Elass and Amy Myers Jaffe, "Iraqi Oil Potential and Implications for Global Oil Markets and OPEC Politics," James A. Baker III Institute for Public Policy, Rice University, July 2011.
[18] Mark Hibbs, "Saudi Arabia's Nuclear Ambitions," Carnegie Endowment, Washington, D.C., July 20, 2010.
[19] "Oil Market Report," International Energy Agency, Paris, Nov. 13, 2012.
[20] Petroleum Economist (London), Dec. 14, 2010.
[21] Brad Bourland and Paul Gamble, "Saudi Arabia's Coming Oil and Fiscal Challenge," Jadwa Investment, Riyadh, July 2011.
[22] Reuters, Oct. 12, 2011.
[23] "BP Statistical Review of World Energy Report," British Petroleum, London, June 2012, p. 9.
[24] Bourland and Gamble, "Saudi Arabia's coming oil and fiscal challenge."
[25] Financial Times (London), Feb. 28 2011.
[26] The Wall Street Journal, June 23, 2011.
[27] Heidy Rehman, "Saudi Petrochemicals: The End of the Magic Porridge Pot?" Citigroup, London, Sept. 2012, p. 1.
[28] Reuters, Oct. 12, 2011.
[29] Bourland and Gamble, "Saudi Arabia's Coming Oil and Fiscal Challenge."
[30] "Regional Economic Outlook: Middle East and Central Asia," International Monetary Fund, Washington, D.C., Sept. 2011, p. 22.
[31] Elass and Jaffe, "Iraqi Oil Potential."
[32] Middle East Economic Digest (MEED, Dubai and London), Dec. 23, 2011.
[33] Al-Akhbar (Beirut), Feb. 9, 2012.
[34] Saudi Gazette (Riyadh), Feb. 22, 2012.
[35] The Daily Mail (London), Feb. 24, 2012.
[36] Saurav Jha, "China's 'Third Island' Strategy," World Politics Review, Jan. 6, 2010.
[37] "The Kingdom of Saudi Arabia," Trade Policy Review, World Trade Organization, Geneva, Dec. 21, 2011.
[38] United Press International, Sept. 15, 2011.
[39] The Guardian, May 11, 2010.
[40] Edelman, Krepinevich, and Montgomery, "The Dangers of a Nuclear Iran," pp. 90-1.
[41] Alexander Evans, "Pakistan and the Shadow of 9/11," RUSI Journal, Aug./Sept. 2011, pp. 64-70.
[42] "Saudi Arabia Defense and Security Report Q4," Business Monitor International, Jan. 2012, p. 66.
[43] James M. Lindsay and Ray Takeyh, "After Iran Gets the Bomb: Containment and Its Complications," Foreign Affairs, Mar./Apr. 2010, pp. 33-49.
[44] See, for example, Associated Press, Dec. 3, 2010.
[45] Treaty on the Non-Proliferation of Nuclear Weapons, U.N. Office for Disarmament Affairs, New York, July 1, 1968, art. I.
[46] Lippman, "Nuclear Weapons and Saudi Strategy."
[47] Ian Jackson, "Nuclear Energy and Proliferation Risks: Myths and Realities in the Persian Gulf," International Affairs, Nov. 2009, p. 1157.
[48] The Guardian, June 29, 2011.
[49] Sammy Salama and Gina Cabrera Farraj, "Secretary General of Arab League urges Arab countries to exploit nuclear power, enter 'nuclear club'" WMD Insights, May 2006.
[50] The Times, Feb. 10, 2012.
[51] Kate Amlin, "Will Saudi Arabia Acquire Nuclear Weapons?" James Martin Center for Non-proliferation Studies, Washington, D.C., Aug. 1, 2008.
[52] "The Middle East: Selected Key Issues and Options for the 112th Congress," U.S. Congressional Research Service, Washington, D.C., report R41556, Jan. 3, 2011, p. 6.
[53] The New York Times, Dec. 29, 2011.
[54] The Economist (London), Sept. 15, 2010.
[55] Business Monitor International, Sept. 14, 2010.
[56] Lippman, "Nuclear Weapons and Saudi Strategy."
[57] MEED, Dec. 17, 2010.
[58] Amlin, "Will Saudi Arabia Acquire Nuclear Weapons?"
[59] "Avoiding a Nuclear Arms Race in the Middle East," Report to the U.S. Senate Committee on Foreign Relations, Washington, D.C., Feb. 2008.
[60] Yana Feldman, "Saudi Arabia Country Profile: Nuclear Facilities Profiles," Stockholm International Peace Research Institute, July 2004.
[61] Rehman, "Saudi Petrochemicals: The End of the Magic Porridge Pot?" p. 36.
[62] Ibid, p. 35.
[63] Ibid.
[64] "Saudi Arabia: Going Nuclear," Country Monitor, Economist Intelligence Unit, London, June 7, 2010.
[65] Petroleum Economist, Dec. 14, 2010.
[66] The New York Times, Apr. 15, 2007.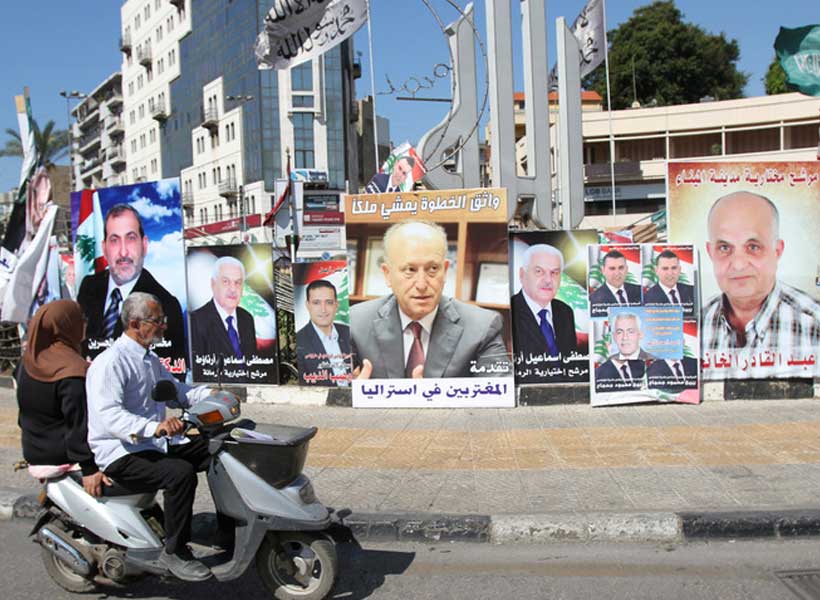 The general elections in the Lebanon were held on May 6 last. They had originally been scheduled for 2013 but,due to the repeated failure of Parliament to elect a new President from April 23, 2014 to October 31, 2016 because no candidate had succeeded in obtaining the required two-thirds majority, the Parliamentary term had been extended at first until 2017 and then until 2018.
A new electoral law had been adopted in 2017, providing a proportional representation system for the first time in the history of the country.
The maximum proportional representation system in elections coincides with the maximum destabilization of a country.
Finally, Michel Aoun was elected President on October 31, 2016 at the 46th electoral session of the Lebanese Parliament, breaking a 29-month deadlock.
Aoun is a Maronite Christian, as provided for by the Lebanese Constitution, and he was Head of the Armed Forces as early as 1984. From 1988 to mid-October 1990 he served also as Prime Minister appointed by the then departing Lebanese President Amine Gemayel, whose controversial decision led to the paradoxical situation of having two rival Lebanese governments contending for power, one by Aoun and the other by Selim Hoss, apparently pro-Western and self-appointed Prime Minister.
The Lebanese Constitution lays down, inter alia, that the President must be a Maronite Christian, the Head of  government an Islamic Sunni and the President of Parliament a Shi'ite.
The Lebanese Constitution, however, does not define – as happens also in other Middle East countries – traditional political groups, but sectarian parties of religious origin and affiliation.
Until Aoun's election, two coalitions competed in the country. The first one was the March 14 Alliance led by Saad Hariri, a politician close to Saudi Arabia floundering in a very severe financial and political crisis – a political alliance currently established, together with the Christians of Samir Geagea, by the group of Sami Gemayel, the Head of the Maronite Phalanx, and by Walid Jumblatt, the historical leader of the Druses.
From the very beginning the whole "March 14 Alliance"  was closely linked to Saudi interests.
It is worth recalling, however, that the Lebanon is the third most indebted country in the world, with a 150% share of the GDP, a total net indebtedness of 79 billion US dollars and an increase in the debt / GDP ratio which, according to the International Monetary Fund, could reach  a 180% share in three years.
In a forthcoming Conference to be held in Paris, the Lebanese government will ask for foreign investment targeted to infrastructure equal to at least 16 billion US dollars, while banks do not provide liquidity to anyone.
As evidenced by the growth of grassroots parties, infrastructure and local public services, as well as urban management issues, are the true weak point of the Lebanese State.
70% of the Lebanese public spending goes to wages and salaries and to debt servicing, in particular, while as much as 10% goes on subsidies to the electricity and energy bills of the poorest population.
Hence there is no room for any government to reduce the Lebanese public spending significantly.
Therefore there is always a very close link between the dysfunctionality of political systems and State's indebtedness and, finally, between the rigidity of electoral representation and the impossibility of controlling the connection between debt and GDP.
This should be studied to further clarify the "Italian case".
The March 8 Alliance, however, was established  by Hezbollah – the Shiite Party founded in 1982 by Imam Khomeini "as if it were the apple of his eye", as well as by Nabih Berri' Shi'ite movement of Amal (Hope) and, finally, by Michel Aoun's Maronite Christian Party.
According to what is currently maintained in the Lebanon, the agreement between the two major factions envisages the "green light" of the March 8 Alliance for the future premiership of Saad Hariri, one of the leaders of the other coalition.
However, who is Michel Aoun? First and foremost, the military commander of the 8th Brigade of the Lebanese Armed Forces who succeeded in stopping the offensive of the Druse leader Walid Jumblatt who, at that time, was leading the pro-Syrian militia.
As already stated, in the years following his appointment as Head of government, Aoun clashed especially with both the Shi'ite and Druse groups and the Maronite militia of Samir Geagea's "Phalanx".
As was also the case in Northern Ireland and Spain, with the Basque movement, the political revolution easily gives way to illegal activities.
In 1989, after the signing of the inter-Lebanese peace agreement -a sectarian pact, named Taif Accord because it was made in Taif, Saudi Arabia, which put an end to the  Lebanese civil war-the new President Hrawi dismissed Michel Aoun and ordered him to leave the presidential Palace. He refused to dismiss and barricaded himself in the Palace to prepare for his defense, thus refusing to give up the power.
Not very long after the attacks on the presidential Palace Aoun was asked to leave the Lebanon and later went into exile in France. For the former Head of the Lebanese Armed Forces the exile was inevitable after the victory of the Syrian forces that entered the Lebanon to stabilize the "province" of Beirut.
It was a period in which Aoun established very close relations with the French intelligence services and, above all, with the Israeli ones.
During those years the Lebanon became a full Syrian protectorate.
Nevertheless Aoun came back to the political scene and to the Lebanon in 2004, when the UN voted Resolution No. 1559, which obliged all the Syrian Armed Forces to leave Syria.
Aoun ended 15 years of exile when he returned to the Lebanon on May 7, 2015 – eleven days after the withdrawal of the Syrian Army from the Lebanon following the assassination of Rafic Hariri on February 14, 2005. The huge demonstrations following the assassination of Hariri, guarantor of the Lebanese reconstruction -although with the Saudi money – after the massive destruction caused by the civil war, forced the Syrians to leave the country.
It was from that moment that Aoun, who had long  secretly and later overtly returned to the Lebanon, quickly began to approach and come closer to his long-standing enemies, the Shi'ites of Hezbollah and Amal.
Amal, the old movement of Nabih Berri, had fought against Hezbollah for control over South Beirut in the "Lebanese civil war" and, however, had been founded by Musa al-Sadr, the Imam who established the belonging of the Alawites – hence the elite currently ruling Syria – to the Shi'ite Islam and was most likely killed, upon Gaddafi's order, in Rome in 1978.
As can be easily seen, the Lebanese politics has always been a game of shadows and paradoxes.
In 2008, however, Aounhad failed in his first presidential project, while reestablishing relations with his old Maronite enemy, Samir Geagea, who in 2016, withdrew from the presidential election and made his votes converge on Aoun.
Nevertheless Aoun could anticipate the real presidential victory only when Saad Hariri, weakened by the financial crisis of his company operating in Saudi Arabia and pressed by the French Embassy for other very urgent financial problems, gave him his support –  certainly in return for a future Premiership, thus abandoning the Christian candidate of his coalition, Suleiman Frangiehjr.
Aoun, however, is old since he is aged 82. He is supposed to pave the way for his son-in-law and current Foreign Minister, Gebrain Bassil.
Moreover, the two coalitions – both heirs of the civil war – are ever less voted by young people and by all those who want to lay the ghost of the Lebanese political and military factionalism. There are many of them.
Not surprisingly, in the latest elections the two coalitions  even joined forces to defeat the new civic and environmental movement known as Beirut Madinati ("Beirut My City") which, however, unexpectedly won  one of Beirut's three electoral districts.
Beirut Madinatiis a movement which emerged after the 2015-16Lebanese protests as a reaction to power and water shortages, streets filled with trash and dizzying urban infrastructure. Nothing destroys political representation as disaster in basic public services.
Nothing supported Hezbollah more than its supply of sectarian welfare, which replaces a State that no longer has  the money nor the rules – stupidly "liberalized" – to help the poor in hospitals, schools and at work.
The rules of privatization will destroy political representation also in the West.
As can be easily imagined, however, the core of the Lebanese political system is currently the intelligence service network.
Also as a military leader, Aoun is still at the centre of the Lebanese intelligence system.
He is the guarantor and the mitigator of both the demands of the Shi'ite alliances, including Hezbollah -Aoun's ally since 2005 and traditional point of reference for Syria and, above all, for Iran – and of the multifarious, but powerful world of Sunni militias.
The Sunnis are a politically growing area no longer tolerating the defeats of the "jihadist brothers" in Syria and Iraq, nor the perceived dominance of Hezbollah and Amal.
The Lebanon, however, has four intelligence agencies: the "Intelligence Section of the Interior Security Forces" (IS-ISF); the "General Directorate of General Security" (GDGS); the "Military Intelligence Directorate" (MID) and the "State Security Directorate" (SSD).
The IS-ISF deals with counterterrorism, anti-drugs and criminal investigations; the GDGS works on visas and passports, censorship, port and airport checks, as well as counterintelligence and counterterrorism.
Conversely, the MID operates in the field of military espionage, the protection of Armed Forces' sites and facilities, as well as the prevention of political upheavals.
Finally, the SSD protects public offices and important personalities.
General Antoine Suleyman Mansour has recently replaced his peer Camille Daher as Head of the MID.
Mansour was born in the Beqaa Valley and followed counterterrorism courses in the USA, in France, but above all in Syria.
The Beqaa Valley is the axis of Hezbollah's economic and strategic power.
It is in that region, which is essential also for Israel's defense, that the "Party of God" organizes its drug trafficking and where its main very secret arms caches are located.
The "Shi'ite pathway" stretching from Iraq to Teheran up to South Beirut – as currently imagined – is vital for the very survival of Hezbollah, but also for the Iranian power system.
It is the most evident threat to the Israeli system, especially if we relate it to the Iranian operations in the Gaza Strip and in the Territories.
Moreover, General Daher also dealt – directly with Saudi Arabia – a supply of brand new French weapons paid by Saudi Arabia and worth three billion US dollars. Nonetheless the negotiations  failed and the weapons were later bought by Saudi Arabia for its armed forces.
It is easy to understand what this meant for the Lebanese internal political equilibrium.
It is said that General Daher bears the brunt of his affinity with General Kahwahj, former Chief of Staff in Beirut and, above all, Aoun' sworn enemy and internal rival.
General Karaa, the first Head of the SSD and Abdou Fattou,  responsible for the confidential funds of the Service, were replaced by Tony Saliba and Wafiq Jizzini, respectively. In 2008 General Karaa had investigated into Hezbollah's advanced and confidential communication network, which is very powerful and secret, while Abbas Ibrahim, who leads the GSDS, is explicitly supported by the "Party of God" and hence has remained at his place.
Ibrahim has also held the recent and complex negotiations between the Daesh-Isis, Al Nusra and Hezbollah for the transfer – hence the recent increase in the Lebanese sectarian violence – of Sunni terrorists to Syria, under the direct protection of Hezbollah and the Lebanese intelligence Service.
Hence what is the current electoral system in the Lebanon? In June 2017 the various religious and political forces reached an agreement on electoral procedures.
The agreement led to a proportional representation system, wanted above all by the Maronite world, and, in particular, by Aoun's movement, namely the Free Patriotic Movement, as well as by its Shi'ite allies.
Considering the 6.2 million inhabitants of the Lebanon, Muslims account for 54%, of whom 27% are Sunni and 27% Shi'ite, with the latter growing significantly.  Christians account for 40.5%, of whom 21% are Maronite, 8% areGreek Orthodox, 5% are Greek Catholics, 6.5% are other types of Christians, while the Druses are 5.6%.
As could be easily predicted, currently Hezbollah is the real winner of the latest Lebanese elections.
Together with Amal, united in a joint list called Al Amal wal Wafa ("Hope and Loyalty"), the two Shi'ite Parties, along with other friendly lists, won 13 and 15 seats respectively.
Beforehand, the two pro-Iranian Parties, with a very long history of violent struggle between each other, had 13 seats each in the Lebanese Parliament, which has a total of 128 seats.
As many as 7,000 clearly documented infringements of the electoral procedures were checked, with a voter turnout lower than 50%. Hence many operations of tampering with people's will were recorded, whatever this means in the Lebanon.
Aoun's movement rose from 18 to 22 seats while, at least this time, Geagea's group–Hezbollah's traditional Maronite opponent and Aoun's current ally -rose  from 8 to 14 seats.
Also the Azm Party of former Prime Minister Najib Mikatirose from one to four seats.
The Azm Party was founded by Mikati, the well-known Premier of the March 8 Alliance, with the support of Hezbollah, Aoun and their local allies.
The Syrian National Socialist Party and Tashnag, the political group of reference for the Lebanese Armenian community, obtained two and three seats, respectively.
However, Kollouna Watani("We are All National") – a recently-established political group -got no seats.
Saad Hariri's Party, which seems to be no longer close to its Saudi friends' heart, fell from 33 to 21 seats only. Moreover, in Beirut, in the traditional strongholds of Hariri's Future Movement, the Shi'ites won.
The Druse Party of Walid Jumblatt, namely the Progressive Socialist Party, lost two seats falling from 11 to 9.
Here demography rather than militant politics matters – as well as the great Lebanese migration of the middle class to  Europe and the United States.
The Kataeb Party, the old Maronite Phalanx of Sami Gemayel, fell from five to three seats.
Marada, Frangieh's old movement, kept its three seats.
Certainly the prorogation of Parliamentary terms of office  began with the outbreak of riots in 1975 – except for the extraordinary appointment of 40 MPs elected in 1991. Hence the Parliamentary Assembly elected in 1975 lasted in office precisely until 1991.
The Parliament just dissolved had been elected in 2009, for four years only, but its term was extended four times in a row.
Furthermore, the election of President Suleiman on May 25, 2008 had been made possible only by the inter-Lebanese Dialogue held in Doha on May 21, 2008, shortly after the (military) show of strength by Hezbollah in West Beirut, right in the Sunni area of the capital city.
Therefore the elections of June 2009 directly followed President Michel Suleiman's rise to power.
Four years later, the elections already scheduled for June 7,  2013, were postponed again.
The Parliament continuously renewed its term of office  until 2014, then until June 2017 and again until 2018. A failed link between the Presidency and local representation.
Moreover, at military level, since that moment Hezbollah has been a unit integrated with the rest of the Lebanese Armed Forces.
Hence the Syrian army, the "Party of God" and the Al QudsIranian brigades have become actors on the operational front as early as the fall of Aleppo, on December 22, 2016, while a real Iranian military protectorate on the Lebanon has been created by the presence of said three forces along the axis stretching from Northern Syria to Southern Lebanon, through the Golan Heights.
Later, after the clear support of the "Party of God" to the Houthi insurgency in Yemen, the cleavage, i.e. the final "break" between Sunnis and Shi'ites, widened, even in the Lebanon alone.
Therefore, after the end of the "Caliphate", Saudi Arabia and its allies have no elements on which to manipulate the balance of power and forces in the Iraq-Syria-Lebanon axis.
All this happens while Saad Hariri, together with the Saudi "enemies" that are still in the broad March 8 Alliance, are agreeing with Hezbollah to form a "national unity" government. Hariri, who is floundering in a financial crisis, needs this government to get back on track.
As an old South American parliamentarian used to say, politics "es muy lucrativa pero muy peligrosa"
With specific reference to Hariri, this is the sense of his defacto "being held hostage" by Saudi Crown Prince Mohammed bin Salman as from November 2017.
This is the internal and external sphere of power relations in the Lebanese political system.
The rationale of the new electoral system provided for by Law No. 44 of June 17, 2017 is to project internally the external equilibria which ensure unity and funding to the Lebanese State.
With a view to avoiding further chaos, after Michel Aoun's election, all the electoral districts and constituencies were designed to preserve and stabilize the traditional religious-sectarian electorate.
In fact, electoral law No. 44/2017 divides the country into fifteen major electoral constituencies, further divided into 26 cazas, namely minor electoral districts, thus putting together the classic proportional representation system with a mechanism defined by the specific "preferential voting".
This means that each voter shall vote for one of the competing lists and shall be entitled to cast one preferential vote for a candidate of the same list he/she has chosen.
This voting system selects candidates only within the caza, the first and smallest electoral district.
The vote, however, is valid only if the preferential votes are cast in all fifteen regional constituencies – with the electoral quotient determined by the number of voters in a given constituency divided by the number of seats already allocated for that constituency.
The preferential voting, however, defines the ranking – hence the winner at caza level.
In other words –  as is also the case with Western Europe -this happens to create a sort of electoral elite as against the mass of irrelevant representatives.
Therefore the  Lebanese system creates a hidden electoral bonus, but only for the best known candidates.
Nonetheless the real issue is another one: the division is currently within the March 14 Alliance, with the Sunni, Druse and Christian side opposing the Syrian designs on the Lebanon, as against the March 8 Alliance that is  increasingly linked to the Syrian regime and its external supporters.
Hence the local paradoxes of a now clear geopolitical framework: Samir Geagea's "Lebanese Forces" of Samir Geagea are hostile to the Syrian-Iranian axis and close to Saudi Arabia, but are allied with the Free Democratic Movement of Aoun and his son-in-law Bassil, who have instead signed a written contract with Hezbollah.
Therefore, in the Lebanon, there is a political system reaffirming and maintaining the destabilization of the country indefinitely. It brings back memories.
A Ramadan Humiliating Commercial: A Blatant Call for which Sort of Peace?
The Kuwait-based Zain Group, a leading Mobile Telecommunications Company (MTC) in the Middle East and North Africa, has released a three-minute ad by the beginning of the holy month of Ramadan. The commercial ad features a child addressing the leaders of powerful countries including U.S.'s Donald Trump, Germany's Angela Merkel, Russia's Vladimir Putin and the North Korean leader Kim Jong-un. The child, who allegedly expresses children'svoice living in various conflict areas tell them [The Leaders] that they [Arabs and Muslims] will soon break their fasting in Jerusalem, the capital of Palestine, But!!
The suspicious viral Ramadan ad has sparked a social media backlash, accusing Zain of taking advantage of the Palestinians' and of other Arabs and Muslims refugees'plight.At the first place, seventy years after the Palestinian diaspora [Nakba,] an Arabian effective and influential company has finally and surprisingly remembered the Palestinian cause and the misery of its people along with other peoples.
Indeed, Jerusalem is definitely and unarguably the capital of Palestine, however it is more than shameful to utilise this cause in Zain's marketing projects for two obvious reasons. First, to gain more profits under the umbrella of standing in solidarity with the Palestinian cause. Secondly, to covey hidden-messages, i.e. normalising ties and 'peace' connotations. It would be reasonable, if the ad was purely commercial, however it is a politicised invitation to Arabs and Muslims to break their fasting, in Jerusalem, with their enemy on the same table.
Zain's ad, shockingly and audaciously, promotes the scheme of reconciliation and peace with the Zionist enemy and its imperialist allies, which kills on daily basis tens of innocent Palestinian children, youth and elderlies. Apparently, this ad, sponsored by Zain,has not been arbitrarily picked, exploiting a vulnerable child to beg Trump's sympathy.How come an oppressed plea his oppressor to grant him peace?
While the American president does not appear in a place other than his disreputable office, Vladimir Putin, the Russian President, sits in a starving family's kitchen, portraying him as the murderer of the Syrian children. On the other hand, the German Chancellor Angela Merkel rushes to save one of the refugees children on the death boats.
In the same scene, also the Canadian Prime Minister Justin Trudeau shows up to promote how kindly Canada and Germany welcome the Syrian refugees. Laughably enough, the same state where Zain and its other GCC allies have long refused to welcome refugees. These states in many cases deal with foreigners as second-class citizens or they exploit them in their demographic schemes as what is goingcurrently in Bahrain.
The ad continues its dramatic farce when the child tells the North Korean President Kim Jong-un that he cannot sleep; as whenever he closes his eyes, he hears an explosion. I wonder,has North Korea bombarded any missile against the Syrian, Lebanese, Iraqis, Yemenis, Palestinian? Who knows everything is possible according to the Persian peninsula's governments and their media!
The legendary melodramatic ad does not only cover Arabs' miseries; although it is supposedly addressing the Zionist arrogance American tyrant Donald Trump, inviting him to a humiliating fast-breaking in Jerusalem; the capital of Palestine!! It further reflects the Rohingya ethnic crises, where a group of displaced victims, together with UN Secretary-General Antonio Guterres, walk in rough ways and cross a river. This hypocritical part attempts at showing Zain's concern over this humanitarian melancholic catastrophe, through a suspicious ad, but not efficiently on the ground.
The ludicrous ad is purely a clear call of peace with Trump's aggressive administration and a reprehensible approval of the imperialist hegemony; despite its ongoing genocides and atrocities. Unfortunately, Zain has made foolish of itself, demeaned the innocent victims and particularly degraded the Palestinian cause. Instead of promoting such a ridiculous ad. Unequivocally, Zain should have either exerted pressure on its government to resolve the Palestinian calamity or it should have backed those peoples financially to purchase weapons and resist the occupation.
Besides, Zain's ad promotes the Arab's dilution belief, which requires a quick reconciliation with the Zionist enemy. A claim that obviously refutes the resistance choice and approves the superiority of the West. Furthermore, the ad boosts an emotional generation to avoid resistance and to easily accept humiliation and subjugation. Zain surprisingly turns blind eyes and deaf ears to the fact that this awaited 'Saviour,' i.e. Trump, due to his arrogance and foolishness, has already put the Middle East into a 'ring of fire' by declaring Jerusalem as a capital of the Zionist illegal entity.
Saudi Arabia's Entertainment Plans: Soft Power at Work?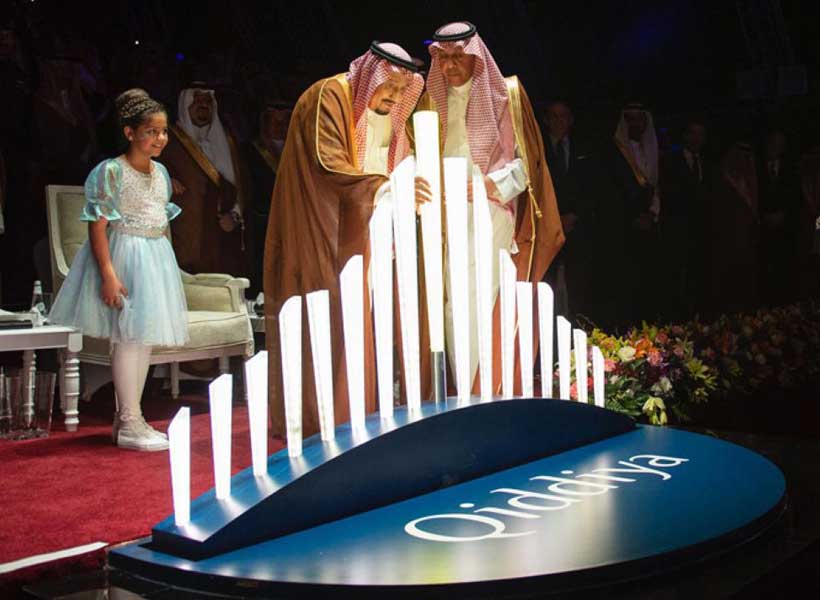 Saudi Arabia recently broke ground on its ambitious "entertainment city" known as Qiddiya, near Riyadh. The splashy launch, attended by 300 dignitaries from around the world, highlights a frequently overlooked aspect of Saudi Arabia's Vision 2030 plan: the entertainment industry as a growing economic sector. As the kingdom diversifies its economy away from reliance on petro fuels, Crown Prince Mohammed bin Salman has been keen to showcase the increasing openness of his country, promoting festivals, concerts and sports events and ending the country's 35-year ban on cinemas.
These projects are partially intended to bolster the economy and attract FDI—but not only. Saudi Arabia is also playing catch-up with other regional actors, such as Qatar and the UAE, in terms of cultural output and cultural participation. With Qiddiya and the other cultural projects in the works, Saudi is now carving out a road for itself to become a regional culture hub.
Thefirst phase of Qiddiya, which includes high-end theme parks, motor sport facilities and a safari area, is expected to be completed in 2022.  Saudi officials hope the park will draw in foreign investment and attract 17 million visitors by 2030; the final phase of the project is expected to be completed in 2035, by which point the entertainment resort will be the largest in the world, dwarfing Florida's Walt Disney World.
Beyond these financial incentives, however, the Qiddiya project is Saudi Arabia's answer to events like the Dubai Expo 2020 or the Qatar World Cup 2022 and suggests that the kingdom is trying to position itself as the next big destination for lucrative events – which also add to the idea that entertainment, culture, and innovation are key to Saudi Arabia's economic vision and success.
Vision 2030's emphasis on entertainment raises a key question: is Riyadh attempting to increase its soft power across the region in a constructive and proactive way?  The answer to that question is yes.
In the immediate future, Qatar and the UAE will remain the region's foremost entertainment and cultural hubs.  From Qatar's Islamic Museum of Art, which famous architect I.M. Pei came out of retirement to design, to Dubai's theme parks, including a $1 billion behemoth which is the world's largest indoor theme park, these two Gulf states are demonstrating their prowess to develop an arts and culture scene.  In Doha, Qatar is exemplifying its unique outlook towards world affairs by emphasizing humanitarianism and fourteen centuries of history.  Qatar is also hosting the World Cup in 2022, intended to bring Doha center-stage in the sports world. Abu Dhabi's Louvre has been referred to as "one of the world's most ambitious cultural projects", while advertisements throughout the emirate insist that the museum will cause its visitors to "see humanity in a new light".
Despite these Gulf states' head start on developing vibrant entertainment sectors, there is still room for Saudi Arabia to offer something new. For one thing, some of its neighbors are dealing with trouble in paradise: Qatar's once-strong economy is under increasing strain as the UAE, Saudi Arabia, Bahrain and Egypt boycott it; meanwhile, the company which owns many of Dubai's largest theme parks lost $302 million in 2017.
The Qiddiya project also represents a particular vision that's distinct from neighboring countries' cultural programs. Qiddiya is designed to mix desert heritage and the ethos of the past with the technological advances of the future. The intended result is to be a fusion between aspirations and building on those achievements from desert to post-modernity, on a colossal scale.
The project is crafted both to satisfy domestic demand—it includes plans to build 11,000 homes to serve as vacation homes for Riyadh residents— and to compete directly against Saudi Arabia's neighbors in the Gulf. With two-thirds of the Saudi population under the age of 35, building a thriving entertainment sector is particularly important.
The kingdom is hoping to use its idea of mixing the past with the future in Qiddiya to significantly alter the flow of tourist revenues in the Gulf. The UAE, Qatar and Bahrain rely on tourists from the Gulf and beyond for essential cash inflows—including the $30 billion a year Saudis spend on tourism abroad every year. By providing new entertainment options in-country for Saudi Arabia's citizens and residents, who pay more than any other country's citizens while on vacation, Riyadh aims to redirect some of this overseas tourism spending back into the kingdom. It's set up concrete goals to this effect, hoping to increase domestic spending on culture and entertainment from about three percent of household income to six percent. Saudi Arabia also likely hopes that Qiddiya will attract significant international tourism as well—one senior official tied the park's creation to the goal of making Riyadh one of the top 100 cities in the world to live.
Of course, it is likely to be a long wait before the kingdom itself starts producing the cultural output that will make it a real entertainment hub; after all, Saudi public schools still do not teach music, dance and theater, and the kingdom lacks music and film academies. But by taking the first steps of embracing the vast economic potential of the entertainment sector, the kingdom may well be on its way there.