Will Riyadh Get the Bomb?
As the impasse over Tehran's nuclear program worsens, those most likely to be directly effected by an Iranian bomb are showing greater alarm.
While the media fixates on Israel and its possible reaction, other regional players have no less at stake.
Despite Riyadh's long-held advocacy of making the Middle East a zone free of weapons of mass destruction, there has been much speculation in the last two decades about the possibility of its acquiring or developing nuclear weapons should Tehran obtain the bomb.[1] In the words of King Abdullah: "If Iran developed nuclear weapons … everyone in the region would do the same,"[2] a sentiment echoed by Prince Turki al-Faisal, former head of Saudi Arabia's General Intelligence Directorate.[3] Has Riyadh decided to go down the nuclear road, or is this bluster a desperate bid to stop Tehran's nuclear program dead in its tracks?
Why Go Nuclear?
A major deterioration in U.S.-Saudi relations—especially if Washington fails to stop Tehran's nuclear program or decides to scale back its military presence in the Middle East due to its recent energy discoveries—could force Riyadh to reconsider nuclear weapon acquisition to avoid having to face foreign aggression without U.S. security assurances. However, the relationship between Riyadh and Washington has thus far provided the Saudis with an unprecedented level of protection. From Washington's perspective, conventional wisdom holds that U.S. security commitments can keep Iran in check, prevent U.S. allies in the Middle East from submitting to Tehran's demands, and dissuade them from pursuing nuclear weapons. Yet both the willingness and the ability of the U.S. government to defend its partners in the region against a nuclear-armed Iran have been questioned.[4] As an Israeli observer argued recently:
The lack of American will to confront the ayatollahs and stop them in their tracks has given various Arab leaders plenty of incentive, as well as a good excuse, to proceed down the nuclear trail … If the Iranians aren't stopped, and soon, we may wake up a few years from now to discover that Saudi Arabia and other unfriendly regimes have decided to upgrade their "civilian" nuclear programs into weapons-making industries.[5]
Additionally, the Saudis are increasingly nervous about the strength of any U.S. commitment in light of the Obama administration's abandonment of such a long-standing regional ally as Egypt's Hosni Mubarak.[6]
The second issue is a mirror image of the first, namely, the concern over Tehran's nuclear ambitions. In February 2012, one senior Saudi source told the London Times:
There is no intention currently to pursue a unilateral military nuclear programme but the dynamics will change immediately if the Iranians develop their own nuclear capability … Politically, it would be completely unacceptable to have Iran with a nuclear capability and not the kingdom.[7]
Abdulaziz Sager, head of the Geneva-based Gulf Research Center, argues that the consequences of Tehran acquiring nuclear weapons would result in
turning Iran into a hegemonic power over the [Persian Gulf] states of the region, through its control of Iraq, its holding fast to the continued occupation of the UAE's [United Arab Emirates] islands, and its intervention in the domestic affairs of countries in the region through the agitated Shiite groups in these countries, which could push the GCC [Gulf Cooperation Council], namely Saudi Arabia, to seek, in turn, the acquisition of a nuclear weapon to confront Iran.[8]
Riyadh is most concerned about Iran's ambitions especially because it and many other Gulf states have substantial Shiite populations that could potentially become radicalized were a nuclear-empowered Iran to step up its incitement.[9] Many analysts argue that in the event of an Iranian nuclear breakout, Riyadh would feel compelled to build or acquire its own nuclear arsenal. Given Saudi Arabia's vast wealth and strategic weakness, such a decision might seem logical.[10] Riyadh's perception of the Iranian threat as serious and immediate was recently expressed by Foreign Minister Saud al-Faisal:
Sanctions are a long-term solution … But we are looking at an Iranian nuclear program within a shorter term because we are closer to the locus of the threat. We are interested in immediate rather than in gradual solutions.[11]
Diplomatic cables obtained by WikiLeaks reveal that King Abdullah privately warned Washington in 2008 that if Iran developed nuclear weapons, Saudi Arabia would do the same.[12]
A third factor in the Saudi calculus is Israel's nuclear and ballistic missile capabilities.[13] Given Israel's status as an assumed but undeclared nuclear weapons state, the most immediate consequence of Tehran's crossing the nuclear threshold would be the emergence of an unstable bipolar nuclear competition in the Middle East.[14] Were Israel to end this ambiguity and admit its possession of nuclear weapons, this might provide a form of deterrence against Iran, which in turn will increase the pressure on Riyadh to acquire its own deterrent vis-à-vis both countries.[15]
Finally, domestic factors must be taken into account. So far, King Abdullah and even Crown Prince Salman favor the continuation of military cooperation with the United States, but the two suffer from old age and poor health, and a change at the top of the pyramid could have a decisive impact on this issue. However, there has long been speculation that the royal family is divided over the nuclear issue. Former intelligence chief Prince Turki al-Faisal favors a secret nuclear program for military uses in cooperation with Pakistan and is supported in this by Prince Bandar Bin Sultan, director of the Saudi intelligence agency and former ambassador to the United States. In contrast to the hawks in Riyadh, there is also a group, headed by Foreign Minister Saud al-Faisal, which opposes establishing a secret nuclear military program reliant on Pakistan and prefers to be defended against Iran under the U.S. nuclear umbrella.[16]
Consumption and Constraints
Perhaps a more critical factor in the nuclear equation is Saudi Arabia's economic outlook. The country depends almost exclusively on oil export revenues to develop its economy. Jareer Elass and Amy Myers Jaffe of the Baker Institute for Public Policy at Rice University contend that
It is in the Kingdom's long-term geopolitical and security interests to maintain its leadership role in the global oil arena. Riyadh's ability to threaten other oil producers that it could flood the oil market is a critical aspect buttressing its leadership role inside OPEC [Organization of the Petroleum Exporting Countries] and gives the country regional clout as well. Saudi Arabia's ability to single-handedly alter the price of oil gives the Kingdom significant geopolitical power, and it has used its ability to lower the price of oil to its geopolitical advantage on many occasions over the decades. With this oil superpower stature comes much of the global influence that Saudi Arabia enjoys on the international stage.[17]
But the kingdom is an oil-consumer as well as a producer. Burning oil for electricity production currently consumes about a quarter of the crude oil Saudi Arabia produces, which could have very serious implications for the future.[18] In 2011, Saudi Arabia consumed an average of 2.87 million barrels per day (mb/d).[19] The country needs to find at least another 20 gigawatts (GW) of generating capacity by 2020 to add to its existing 40 GW if it is to meet projected demand.[20] As the GCC's largest economy, Saudi Arabia has more reason than most to turn to nuclear power.
According to analysts at Riyadh-based Jadwa Investment, oil demand in the kingdom rose by 22 percent between 2007 and 2010, outpacing China's oil demand growth rate despite the latter's economy expanding almost three times as fast.[21] While official data shows Saudi oil consumption rising by more than 5 percent a year in 2003-10 to an average of 2.4 mb/d in 2010,[22] analysts at British Petroleum put it at 2.85 mb/d in 2011,[23] (see Tables 1 and 2) making Saudi Arabia the world's sixth-largest oil consumer. On a per capita basis, its oil consumption is sky-high;[24] its consumption in 2011 is set to jump by 5.6 percent, way above the global average of 1.4 percent.[25]
Some economists argue that if Saudi Arabia's energy consumption continues at its current rate, within twenty years the kingdom will burn the equivalent of almost all its recent daily output—more than 8 mb/d —or around two-thirds its total production capacity.[26] Citigroup goes further to say that Riyadh could be an oil importer by 2030. Oil and its derivatives account for 50 percent of Saudi electricity production, mostly for residential use. According to Citigroup analysis, if nothing changes, the Saudis may have no available oil for export by 2030.[27] The head of Saudi Aramco has admitted that unless internal demand is controlled, the amount of oil left for export could fall to less than 7 mb/d by 2028.[28] Jadwa Investment paints an even bleaker picture, declaring that the kingdom could face a serious revenue crisis within the current decade, forced to cut exports to meet rising demand. By 2020, it expects exports available for the global market to fall to less than 5 mb/d.[29]
(Table 1): Saudi Oil Production Demand (2001-2011 million barrels per day)
| | | | | | | | | | | | |
| --- | --- | --- | --- | --- | --- | --- | --- | --- | --- | --- | --- |
| | 2001 | 2002 | 2003 | 2004 | 2005 | 2006 | 2007 | 2008 | 2009 | 2010 | 2011 |
| Production | 9,15 | 8,87 | 10,10 | 10,56 | 11,03 | 10,77 | 10,37 | 10,76 | 9,80 | 9,95 | 11,16 |
| Consumption | 1,62 | 1,66 | 1,78 | 1,91 | 1,97 | 2,04 | 2,16 | 2,33 | 2,55 | 2,74 | 2,85 |
Source: Adapted from BP Statistical Review of World Energy, (June 2012), pp. 8-9.
Given rising spending needs, the International Monetary Fund (IMF) estimated the break-even oil price for Saudi crude in 2011 to be US$80 a barrel, a rise of US$30 a barrel from three years ago; this would increase to US$98 by 2016.[30] The Washington-based Institute of International Finance suggested that Saudi Arabia will need at least US$110 for oil by 2015 to balance its budget.[31] But even these figures look conservative; the sheer scale of the kingdom's spending commitments now necessitates a substantially higher oil price.[32]
It is within this context that Riyadh's recently declared intention to launch its own nuclear program makes sense. In December 2011, Abdullah Zainal, minister of commerce and industry, announced that the equivalent of US$100 billion would be spent on building sixteen nuclear power plants to generate electricity in different parts of the kingdom.[33] Riyadh has signed nuclear technology agreements with several states for research reactors and nuclear power plants. Abdullah M. al-Shehri, governor of the Electricity and Co-Generation Regulatory Authority (ECRA), recently outlined Saudi Arabia's road map in building its nuclear capabilities for peaceful means:
First, we need to secure international cooperation; second, come up with long-term planning; third, study the required safety measures mandated by the international community; fourth, ensure we have the needed fuel supply; and fifth, we must prepare a national work force that is educated in nuclear engineering and operation.[34]
Such projects would, however, enable the Saudis to enrich uranium. With the aid of their Sunni allies in Pakistan, they could then obtain knowledge of bomb-making capabilities and the relevant technologies.[35]
Saudi nuclear ambitions crystallized in the run-up to the 2009 Copenhagen summit when it was realized that global efforts to control climate change could end up punishing countries that put off including non-carbon-based energy sources in their power portfolios.[36] According to the World Trade Organization, the Saudi economy is increasingly dependent on international trade: The ratio of merchandise and services trade (exports and imports) to gross domestic product (GDP) rose from 88.7 percent in 2005 to a peak of 104.9 percent in 2008 and reached 97.4 percent in 2010. Riyadh's export base is highly concentrated in fuels (petroleum and gas). The share of fuels in total merchandise exports depends largely on the evolution of world oil prices and Riyadh's quota production within OPEC. In value terms, the share of fuels in total merchandise exports (including re-exports) went from 89.5 percent in 2005 to 85.7 percent in 2010.[37]
(Table 2): Saudi Break Even Oil Forecast at Current Spending Patterns
2005

2010

2015F

2020F

2025F

2030F

Oil Indicators (million barrels per day)

Oil Production

9.4

8.2

9.3

10

10.7

11.5

Oil Exports

7.5

5.8

6.3

6

5.6

4.9

Domestic Consumption

1.9

2.4

3.1

3.9

5.1

6.5

Breakeven Oil Price (US$ per barrel)

Saudi Export Crude

30.3

71.6

90.7

118.5

175.1

321.7
Source: Adapted from Brad Bourland and Paul Gamble, "Saudi Arabia's coming oil and fiscal challenge," (Jadwa Investment, Riyadh), July 2011, p. 24. F= forecast
Third Party Connections
There have been suggestions that, rather than develop an indigenous nuclear program, Saudi Arabia would simply seek to buy nuclear warheads from Pakistan or China. According to a news media report, Riyadh is beefing up its military links with Islamabad to counter Tehran's expansionist plans either by acquiring atomic weapons from Islamabad or a pledge of nuclear cover,[38] a claim also reported earlier in The Guardian.[39]
Alternatively, Pakistan might offer a deterrent guarantee by deploying its own nuclear weapons, delivery systems, and troops on Saudi territory. This arrangement could be particularly appealing to both Riyadh and Islamabad, allowing the Saudis to argue that they are not violating the nuclear nonproliferation treaty (NPT) since the weapons would not be theirs. A Pakistani presence might also be preferable to a U.S. one because stationing Muslim forces on Saudi soil would not trigger the kind of opposition that has in the past accompanied the deployment of "infidel" U.S. troops.[40]
Despite these rumors, the Pakistanis know as well as anyone that the principal threats to the security and stability of Saudi Arabia are domestic against which nuclear weapons have no value but rather might stir up more trouble than they alleviate. But, a good Pakistani working relationship with Washington is essential. The Enhanced Partnership with Pakistan Act of 2009 (also known as the Kerry-Lugar-Berman bill) authorized a massive increase in U.S. civilian assistance to Islamabad, tripling it to US$1.5 billion a year.[41] In spite of tensions between the two states, Pakistan remains keen on developing its relationship with Washington, and continued proliferation of nuclear technology is unlikely to encourage either economic or military aid.[42] Indeed, selling complete nuclear weapons would come at great political cost. Islamabad might forfeit U.S. foreign assistance and drive Washington into closer cooperation with its mortal enemy India.[43]
Providing Riyadh with a Pakistani nuclear umbrella would also increase the likelihood of convergence between New Delhi and Tehran as both nations might view the move as part of a larger Sunni threat. In addition, Saudi nuclear acquisition could prompt a preventive strike by Israel—especially if the sale became known before the weapon was activated. Finally, although relations with Islamabad are improving, the House of Saud has no great trust in Pakistan's intentions; on the contrary, many of the WikiLeaks documents revealed Saudi dissatisfaction with Pakistani politicians and policies.[44]
In theory, the Saudis could pursue a nuclear option with the Chinese, but in the current strategic environment, it is hard to imagine this as a realistic scenario. Beijing and Riyadh have never had close military relations largely because Washington has provided the Saudis with advanced military equipment as well as security assurances against international threats that China cannot provide. While Beijing and Washington do not see eye-to-eye on many issues, including the severity of the Iranian threat, it is unlikely that Beijing would jeopardize its trade and other relations with Washington by supplying the Saudis with nuclear weapons.
Additionally, China is a member of the NPT system and thus obliged "not in any way to assist, encourage, or induce any nonnuclear weapon State to manufacture or otherwise acquire nuclear weapons or other explosive devices, or control over such weapons or explosive devices."[45] Under the Nuclear Proliferation Prevention Act of 1994, Beijing would face revocation of the U.S. nuclear cooperation agreement it worked so hard to secure, as well as the possible imposition of economic sanctions, if it were deemed to have "aided or abetted" the acquisition of nuclear weapons.[46]
If U.S.-Saudi relations should falter, the Chinese would doubtless view it as an opportunity to take a more active role in Saudi affairs. However, there is no evidence suggesting that this relationship will sour in the near future; in fact, as shall be seen, it is clearly improving.
Domestic Constraints
Technical barriers for entry into the nuclear club are high, and it is difficult for states to completely hide a clandestine military program from foreign intelligence observers. For example, the West successfully (albeit belatedly) detected Tehran's secret uranium enrichment facility constructed in tunnels under a mountain near Qom.[47] Indeed, many analysts believe that Riyadh's talk about developing nuclear arms may be more intended to focus Western attention on its concerns about regional risks than to indicate any kind of definitive action to go nuclear.[48]
It is unlikely that the Saudis would want to proliferate at the present time; doing so would deeply strain the U.S.-Saudi relationship, perhaps to an irrevocable degree.[49] Doing so would also place Riyadh in breach of a memorandum of understanding signed with Washington in 2008, promising U.S. assistance with civilian nuclear power on condition that Riyadh not pursue "sensitive nuclear technologies."[50] Riyadh's desire to maintain a strong relationship with Washington, especially in light of the royal family's desire to prevent unconventional terrorism within its borders, inhibits any strong appetite to develop nuclear weapons.[51]
There is also strong evidence that Washington is committed to defending Saudi Arabia. President Obama notified Congress on October 20, 2010, of the largest ever arms sales to Riyadh, including the proposed sale of fighter aircraft and upgrades to existing Saudi fighter aircraft, attack and utility helicopters, and related weaponry and services. If all options are exercised, the proposed sales may be worth more than $60 billion dollars over a period of ten to fifteen years.[52] The Saudis will also get help with training, logistics, and maintenance. The Obama administration hopes the sales will help "sustain long-term relationships to ensure continued U.S. influence for decades,"[53] or as the Economist put it:
the package of sales would not only tilt the balance of conventional weaponry in the Gulf decisively against Iran, whose suspected bid to acquire atomic bombs frightens its Gulf neighbors as well as Israel and the West. It would signal the return to normal of America's tight, 70-year-long alliance with Saudi Arabia. This had frayed following the revelation that 15 of the 19 hijackers who attacked American cities on September 11, 2001, were Saudi nationals. Fearing congressional opposition, Saudi Arabia had in recent years sought weaponry from other sources.[54]
Riyadh will also feel more secure from Tehran's missile capabilities once it acquires the Terminal High Altitude Area Defense (THAAD) system. This system is intended for shooting down short-, medium-, and intermediate range ballistic missiles in their terminal phase, using a "hit-to-kill" approach. At the same time, a potential $30 billion upgrade of the Saudi navy would greatly strengthen the latter's power projection in the Persian Gulf and the Red Sea. Ultimately, the U.S. arms package will increase Riyadh's confidence and capabilities in countering Tehran's rising power in the Middle East.[55]
Further, the character of the Saudi establishment militates against taking the drastic step of nuclear proliferation; the House of Saud is simply too conservative to undertake such a bold and controversial step. As Thomas Lippman argued,
The Saudis' weapons of choice are cash and diplomacy. It is difficult to imagine the princes of the House of Saud deliberately positioning themselves as global outliers and inviting reprisal from countries capable of inflicting serious damage on them.[56]
Journalist Richard Nield has noted that Riyadh has committed itself to a major industrialization and economic diversification campaign that will require sustained engagement with the rest of the world. "It's not rational that they would jeopardise this in favour of a preemptive strike against the theoretical possibility of a nuclear-armed Iran."[57] The same idea is echoed by Kate Amlin, who believes that Saudi leaders would not want to incur the political and economic backlash resulting from pursuit of a nuclear arsenal at a time when they are trying to integrate further into the international economy.[58]
Finally, it would take many years and considerable financial cost for Riyadh to develop nuclear weapons. There exists a relatively strong consensus regarding the immature state of the Saudi nuclear technology infrastructure. The country lacks the human expertise and technical knowledge necessary to develop a nuclear weapons program on its own.[59] It does not operate nuclear power facilities, and its scientists do not have the necessary experience to enrich uranium for reactor fuel, to convert nuclear fuel, or operate nuclear reactors.[60] A recent Citigroup report warns that several complex issues are likely to result in delays to Saudi Arabia's target nuclear power launch of 2019:[61] the lack of available nuclear power experts; cost overruns or high capital costs, and above all, plant safety risks such as keeping plants cool in desert conditions since there is no history of successful execution in such conditions.[62] According to Citigroup, the "safest location for a nuclear plant in Saudi Arabia is deep in the desert between Riyadh and Jeddah. Water would have to be piped over 30 miles to this region and under conditions that keep the pipes and plants cool."[63]
There have, however, been clear signs recently of the Saudis' intent to enter the nuclear arena. In June 2010, the kingdom commissioned Finnish management consultancy Poyry to offer a strategy for nuclear and renewable energy use and to study the economic and technical feasibility of becoming involved in all aspects of the nuclear power chain, including uranium enrichment.[64] Earlier that year, the Saudi government said it planned to build a new technology centre, the King Abdullah City for Nuclear and Renewable Energies, in Riyadh.[65] Despite this, it will be years before it is developed. In a 2007 visit to Saudi Arabia, Mohammed ElBaradei, then-director general of the International Atomic Energy Agency, estimated that the Saudi nuclear civilian plan might take up to fifteen years.[66]
Conclusion
Given that it is the world's top oil exporter, handling a nuclear Saudi Arabia would be a delicate manner. But, at least for now, the Saudis have no alternative but to rely on a U.S. defense umbrella. Still, it would be contrary to Riyadh's practice to put all its eggs in one basket. Thus, the kingdom will work in two parallel routes, strengthening its military, particularly the air force and navy, and aggressively seeking to buy the civilian nuclear technology that will in the future provide the technical capacity and human resources for dealing with nuclear weapons.
Riyadh is currently linked to arms deals with Washington for at least the next decade. It could also take a decade to develop the potential human and technical resources needed for a civilian nuclear program. At present there is no solid evidence that Riyadh has taken firm steps to go down this route, nor is there any evidence of Saudi acquisition of weapons of mass destruction
Overall, though not insurmountable, the obstacles to Saudi nuclearization are considerable. Much depends on Tehran's ambitions and the West's determination to stymie them.
Naser al-Tamimi is a U.K.-based Middle East analyst with research interest in energy politics and Middle East-Asia relations. He holds a PhD degree in International Relations from Durham University, U.K.
[1] Robert Shuey and Shirley A. Kan, "Chinese Missile and Nuclear Proliferation: Issues for Congress," U.S. Congressional Research Service, Nov. 16 , 1995; The New York Times, July 10, 1999; The Guardian (London), Sept. 18, 2003; The Washington Times, Oct. 21, 2003; Dan Blumenthal. "Providing Arms: China and the Middle East," Middle East Quarterly, Spring 2005, pp. 11-9; Cicero (Hamburg), Mar. 28, 2006; Ha'aretz (Tel Aviv), May 30, 2012.
[2] The Guardian, June 29, 2011.
[3] Reuters, Dec. 6, 2011.
[4] Eric S. Edelman, Andrew F. Krepinevich, Jr., and Evan Braden Montgomery, "The Dangers of a Nuclear Iran," Foreign Affairs, Jan./Feb. 2011, pp. 66-81.
[5] Michael Freund, "When Saudi Arabia Goes Nuclear," The Jerusalem Post, Apr. 29, 2010.
[6] The Wall Street Journal, June 23, 2011.
[7] The Times (London), Feb. 10, 2012.
[8] Abdulaziz Sager, "Alwady'a fi al-khaleej: Derasa Isteshrafeya 2025," paper presented to the Manama (Bahrain) Development Forum, Feb. 8-9, 2008, in al-Wasat News (Bahrain), Feb. 13, 2008.
[9] "Saudi Arabia Defense and Security Report Q1," Business Monitor International (London), Jan. 2011, p. 55.
[10] Thomas W. Lippman, "Nuclear Weapons and Saudi Strategy," Middle East Institute, Policy Brief, no. 5, Jan. 2008.
[11] Associated Press, Feb. 15, 2010.
[12] The Guardian, June, 29, 2011.
[13] "Avoiding a Nuclear Arms Race in the Middle East," Report to the U.S. Senate Committee on Foreign Relations, Washington, D.C., Feb. 2008.
[14] Edelman, Krepinevich, and Montgomery, "The Dangers of a Nuclear Iran," pp. 66-81.
[15] Kathleen J. McInnis, "Extended Deterrence: The U.S. Credibility Gap in the Middle East," The Washington Quarterly, Summer 2005, pp. 169-86.
[16] Ha'aretz, Sept. 8, 2011.
[17] Jareer Elass and Amy Myers Jaffe, "Iraqi Oil Potential and Implications for Global Oil Markets and OPEC Politics," James A. Baker III Institute for Public Policy, Rice University, July 2011.
[18] Mark Hibbs, "Saudi Arabia's Nuclear Ambitions," Carnegie Endowment, Washington, D.C., July 20, 2010.
[19] "Oil Market Report," International Energy Agency, Paris, Nov. 13, 2012.
[20] Petroleum Economist (London), Dec. 14, 2010.
[21] Brad Bourland and Paul Gamble, "Saudi Arabia's Coming Oil and Fiscal Challenge," Jadwa Investment, Riyadh, July 2011.
[22] Reuters, Oct. 12, 2011.
[23] "BP Statistical Review of World Energy Report," British Petroleum, London, June 2012, p. 9.
[24] Bourland and Gamble, "Saudi Arabia's coming oil and fiscal challenge."
[25] Financial Times (London), Feb. 28 2011.
[26] The Wall Street Journal, June 23, 2011.
[27] Heidy Rehman, "Saudi Petrochemicals: The End of the Magic Porridge Pot?" Citigroup, London, Sept. 2012, p. 1.
[28] Reuters, Oct. 12, 2011.
[29] Bourland and Gamble, "Saudi Arabia's Coming Oil and Fiscal Challenge."
[30] "Regional Economic Outlook: Middle East and Central Asia," International Monetary Fund, Washington, D.C., Sept. 2011, p. 22.
[31] Elass and Jaffe, "Iraqi Oil Potential."
[32] Middle East Economic Digest (MEED, Dubai and London), Dec. 23, 2011.
[33] Al-Akhbar (Beirut), Feb. 9, 2012.
[34] Saudi Gazette (Riyadh), Feb. 22, 2012.
[35] The Daily Mail (London), Feb. 24, 2012.
[36] Saurav Jha, "China's 'Third Island' Strategy," World Politics Review, Jan. 6, 2010.
[37] "The Kingdom of Saudi Arabia," Trade Policy Review, World Trade Organization, Geneva, Dec. 21, 2011.
[38] United Press International, Sept. 15, 2011.
[39] The Guardian, May 11, 2010.
[40] Edelman, Krepinevich, and Montgomery, "The Dangers of a Nuclear Iran," pp. 90-1.
[41] Alexander Evans, "Pakistan and the Shadow of 9/11," RUSI Journal, Aug./Sept. 2011, pp. 64-70.
[42] "Saudi Arabia Defense and Security Report Q4," Business Monitor International, Jan. 2012, p. 66.
[43] James M. Lindsay and Ray Takeyh, "After Iran Gets the Bomb: Containment and Its Complications," Foreign Affairs, Mar./Apr. 2010, pp. 33-49.
[44] See, for example, Associated Press, Dec. 3, 2010.
[45] Treaty on the Non-Proliferation of Nuclear Weapons, U.N. Office for Disarmament Affairs, New York, July 1, 1968, art. I.
[46] Lippman, "Nuclear Weapons and Saudi Strategy."
[47] Ian Jackson, "Nuclear Energy and Proliferation Risks: Myths and Realities in the Persian Gulf," International Affairs, Nov. 2009, p. 1157.
[48] The Guardian, June 29, 2011.
[49] Sammy Salama and Gina Cabrera Farraj, "Secretary General of Arab League urges Arab countries to exploit nuclear power, enter 'nuclear club'" WMD Insights, May 2006.
[50] The Times, Feb. 10, 2012.
[51] Kate Amlin, "Will Saudi Arabia Acquire Nuclear Weapons?" James Martin Center for Non-proliferation Studies, Washington, D.C., Aug. 1, 2008.
[52] "The Middle East: Selected Key Issues and Options for the 112th Congress," U.S. Congressional Research Service, Washington, D.C., report R41556, Jan. 3, 2011, p. 6.
[53] The New York Times, Dec. 29, 2011.
[54] The Economist (London), Sept. 15, 2010.
[55] Business Monitor International, Sept. 14, 2010.
[56] Lippman, "Nuclear Weapons and Saudi Strategy."
[57] MEED, Dec. 17, 2010.
[58] Amlin, "Will Saudi Arabia Acquire Nuclear Weapons?"
[59] "Avoiding a Nuclear Arms Race in the Middle East," Report to the U.S. Senate Committee on Foreign Relations, Washington, D.C., Feb. 2008.
[60] Yana Feldman, "Saudi Arabia Country Profile: Nuclear Facilities Profiles," Stockholm International Peace Research Institute, July 2004.
[61] Rehman, "Saudi Petrochemicals: The End of the Magic Porridge Pot?" p. 36.
[62] Ibid, p. 35.
[63] Ibid.
[64] "Saudi Arabia: Going Nuclear," Country Monitor, Economist Intelligence Unit, London, June 7, 2010.
[65] Petroleum Economist, Dec. 14, 2010.
[66] The New York Times, Apr. 15, 2007.
The Coronavirus and Conflicts in the Middle East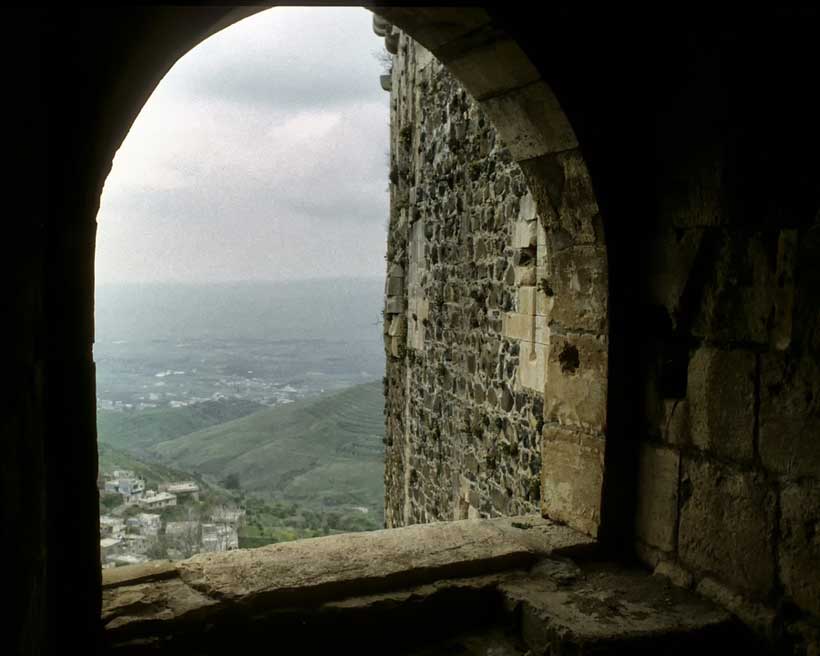 The question of the political and socioeconomic consequences the COVID-19 pandemic will have for global development has prompted heated analytical discussions among leading politicians, economists and political scientists. The range of opinions is staggering, varying from "the world will never be the same" (Henry Kissinger) to "the pandemic will accelerate history rather than reshape it" (Richard Haass). Should we, therefore, expect radical shifts in the global leaders' thinking or will the dangerous inertia of the last two decades ultimately come out on top?
The only thing most people agree on is that the coronavirus has plunged the world into a global, multidimensional crisis. This crisis is made particularly acute and unpredictable by the developments that predated it: the slowdown of global economic growth, the collapse of oil prices, socioeconomic differentiation, the rapid increase in military spending, protracted "unresolvable" conflicts and the growing threat of losing control amid geopolitical rivalry. There are new nuclear missiles, cyber- and biotechnologies, "hybrid wars," and the consequences of all these trends are not yet entirely clear, which makes this rivalry far more dangerous than the USSR-US confrontation.
Thus far, it is difficult to say confidently what direction these developments will take and whether they will become a turning point. In any case (and here Russian and Western analysts agree), the statesmanship, competency and acumen of all world leaders will be put to the test, as will their ability for reasonable compromise. This "test" will be particularly relevant for those states in the greater Middle East that are involved in various conflicts and for their leaders, whose ambitions are, at this historical juncture, under powerful pressure from both within and without; this test may be even more relevant there than in other parts of the crumbling, yet interconnected world.
"Old" internal conflicts in Syria, Libya and Yemen, new-type protest movements demanding a change of the ruling elites (the "everyone means everyone" slogan) in Algeria, Lebanon and Iraq, balancing on the brink of an armed conflict in the Persian Gulf – this chronic instability constantly feeds into mutual enmity, the preference for solutions by force, and overall thinking along the lines of "winner takes all." Regional wars remain a sore point on the Russia-West global agenda, which is already overburdened with many acute problems. At the same time, it has become apparent that domestic driving forces increasingly trump extra-regional influences such as the geopolitical rivalry between Russia and the US, between Western states (France, Italy, Germany, Greece), including Turkey, as is happening in Libya, between the regional powers themselves (Saudi Arabia, Iran, the UAE, Qatar) in Yemen, or between all of them in Syria.
The pandemic has affected Libya, Syria and Yemen to a lesser degree than the US and West European states. At the same time, the number of cases is still growing and is gradually approaching the limits of their capacities as these countries are exhausted by protracted wars and external aggressions. In that sense, they have much in common, which causes concern to the UN's specialised agencies, the International Committee of the Red Cross (ICRC), and non-governmental humanitarian organisations. The ICRC has warned in a press release that "it will be nearly impossible to fight COVID-19 in countries already devastated by conflict unless a concerted response by states and humanitarian organisations is launched immediately."
Despite appeals from the UN Secretary-General, from Russia, the US, several leading European states and other members of the international community, military hostilities are still raging in the region; they periodically abate and then flare up again. It takes a strong state, suppressing political violence, and a legitimate authority to succeed in combating the consequences of military conflicts in the Middle East in the middle of the pandemic. In the meantime, these three regional conflict centre have still not restored their territorial integrity, the principal criterion of national sovereignty, and the prospects for a final settlement appear quite vague.
The fight for territories continues. Local administrations of those states' constituent parts largely depend on non-state actors, various militias, including those of a terrorist persuasion. International humanitarian aid is either inaccessible in many areas or is used for political purposes. Healthcare systems have been completely destroyed or significantly undermined, transport and commercial communication lines have been interrupted, while, according to the UN, about 38.4 million people (25 million in Yemen, 11 million in Syria and 2.4 million in Libya) are in need of humanitarian aid. Until recently, the World Health Organisation had no information about Huthi-controlled areas of Yemen, including the number of COVID-19 cases. Overcrowded city centres, prisons and camps for refugees and displaced persons are seen as the source of the infection.
Syria is a special case in the general picture of Middle Eastern conflicts amid the coronavirus pandemic. The outcome of the internal confrontation will have far-reaching consequences. If compromise solutions are found, a settled Syrian conflict might serve as a precedent for the global community and as a model and a key for resolving other conflicts. Alternatively, if Damascus fails to learn the lessons of 2011, this conflict might become a powder keg under the prospects of Syria's stable domestic development. Not should we rule out the possibility of the country being split into areas of influence with socioeconomic rehabilitation in each area carried out by external sponsors (mostly with the help of Russia, Iran and China in Damascus-controlled lands, by Turkey in the northwest, and with the support from the US and some Gulf states in the east). The latter variant, though, appears the least probable.
At the extended meeting of the government in early May, President Assad made a powerful statement similar to the one made in the summer of 2015, when the Syrian regime was on the verge of collapse, and the President acknowledged publicly for the first time the dearth of domestic military resources, emphasising the need to "preserve useful Syria."[1] This time, now that the regime appears to have bolstered its positions thanks primarily to Russia, Assad has again warned the Syrian public and the global community that, if the coronavirus cases spike, Syria would face a "real catastrophe." The current relatively low level of infection (there were 47 cases at that time), he said, did not mean Syria had avoided the danger. The World Health Organisation lists Syria among high-risk countries.
The President had more than enough reasons to make this statement. In late 2019, only 64% of the country's hospitals and 52% of its medical outposts were still operating, while about 70% of healthcare workers found themselves among refugees and displaced persons. The geographical distribution of the medical institutions that are working is highly uneven: two-thirds of them are in Damascus, in the provinces of Latakia and Tartus, while there are none in Deir ez-Zor in the country's east. According to the Brookings Institution, there are 1.4 medical workers per 10,000 people and a grand total of 100 ventilators in Idlib. Immediately after the first coronavirus cases were recorded, food and medication prices went up 20–40% on top of the existing inflation.
Since the first coronavirus cases were recorded on 22 March, Syria's government has been mobilising its internal capabilities in three areas:
First: preventing the spread of the infection within the area under its control. In Syria's northeast (Afrin, Idlib), similar measures are being introduced by local authorities that are under the influence of Turkey and several groups that have been declared terrorists, and by the Kurdish administration in inner Syria east of the Euphrates. The announced administrative and legislative measures envisaged even harsher steps than international standards suggested. A curfew was imposed immediately, external borders were closed, control was stepped up over transport between provinces and between the cities within them. This was a vital step for Syria, with its close commercial ties and cross-border contacts with Lebanon, Jordan and Iran (Syria has particularly intensive contacts with the latter). As of late April, Iran accounted for 79.1% of all coronavirus cases in the Middle East; Arab states of the Persian Gulf accounted for 12.1%, and other states for 8.8%. Territorial fragmentation, however, stands in the way of coordinating the fight against the coronavirus throughout the country. It is creating serious difficulties in handing out the international aid that is coming into Syria.
Second: mitigating the socioeconomic consequences for the regime, especially because surges in protests have been recorded since last spring, including in regions with predominantly Alawite population. The government imposed state price regulation, primarily for food, medications and essential goods. Fuel subsidies were maintained and bread stamps were introduced for people in particular need. At the same time, a set of solutions was introduced to remove administrative and bureaucratic procedures for import contracts on essential goods. Syrian importers working with such goods were offered preferential currency exchange rates. The government's emergency decisions also included exempting individual types of business from taxes for April and gradually (since the first ten days of May) lifting restrictions on work in industrial and service sectors.
Third: concentrating the fragmented financial resources within the inner circle of the President's power. This could mean transitioning to a policy of centralised distribution of the reduced state revenues, which means the authorities intend to be more decisive in fighting corruption and the "shadow economy" (between 2010 and 2017, GDP fell from USD 60.2 bn. to USD 17 bn.). The experience of many states, including European ones, shows that enhanced financial discipline is a must at a time of crisis, especially in collecting taxes and combating illegal economic activities.
Yet, as regards Syria, Arab and Western media focused rather on looking for sensations than on providing a balanced analysis of the situation with a view to helping find ways out of the crisis that had been compounded by the threat of the coronavirus pandemic. Regrettably, the media show the latest economic steps undertaken by the Syrian government through the lens of the conflict between the President and his cousin, Syria's wealthiest businessman, multibillionaire Rami Makhlouf.
His business empire does, indeed, span a range of key economic sectors: telecommunications, oil and gas, banking, construction, real estate, commerce, etc. The rise of Rami Makhlouf began soon after Assad came to power, during the short period of liberal economic reforms. During the war, his standing in Syria's economy was consolidated significantly by the preferences given in exchange for charitable activities and financing militias loyal to the government. Now is the time to pay the bills and some of his assets have been frozen. The conflict peaked when the Syrian oligarch decided to publicise the economic dispute about paying Syriatel's taxes totaling USD 180 m. He did this at a juncture that was critical for the country. Consequently, the conflict was broadly politicised and resulted in rumourmongering about a split in the presidential elites similar to the late 2017 events in Saudi Arabia (Crown Prince Mohammad bin Salman had several members of the royal family temporarily detained on allegations of large financial claims against them).
Incidentally or otherwise, precisely in April and May, the western and Arab media were inundated with various speculations concerning Russia-Syria relations. Distorted interpretations were given to those articles in the Russian media and on Russian social networks that contained benign criticism of Damascus' inflexible policies in political settlement and of the widespread corruption getting in the way of reconstruction and handling the most pressing socio-economic problems. These articles were presented as allegedly reflecting the Russian political elites' discontent with President Assad personally.
Deliberately fake news affected even the Russian International Affairs Council (RIAC), whose expert materials always contain objective analysis and verified facts, whether people like it or not. At the instigation of Syrian opposition sources, citing some RIAC paper, fake news was disseminated about Russia, the US and Turkey (with possible participation by Iran) having some plan about removing Assad from power and establishing a "transitional government" consisting of representatives of the "Syrian regime," the opposition and "Kurdish militias." Even more regrettable is the excessively emotional response by some "members of the public" in Damascus itself, expressed in the spirit of the ideological rhetoric of the past, of the outdated black-and-white foreign policy notions. They classify members of the Russian expert community (journalists serving purely corporate interests do not count) as "those in favour" and "those against," into "pro-Western" and "patriotic." The former naturally strive to "undermine the allied relations" between Russia and Syria.
Meanwhile, despite the many barriers dividing the world, cooperation in fighting the coronavirus pandemic, this "common enemy" as Antonio Guterres called it, is being gradually established, but things are far more complicated in the Syrian conflict.
Besides the WHO, the International Red Cross and some other international organisations, real external aid to Syria's government is provided only by Russia, China and, to a lesser degree, Iran, with limited aid coming from some European and Arab states. With the start of the coronavirus outbreak, Russia launched humanitarian deliveries to Syria, bringing in face masks, coronavirus testing systems, and other medications and medical equipment. Food aid has been no less important for Syrians. In April, Russian grain, which had previously been in short supply on the market, was delivered to the port of Tartus.
Although the European Union expressed its support for the UN Secretary General's appeal to lift the sanctions off several states, including Syria, so that the needed medical and humanitarian aid could be provided, in practice, Europe's contribution is doubtful. First, EU member states have no consensus on Syria and, second, European companies are, as in the case of Iran, extremely wary of secondary US sanctions.
The stance of the Trump Administration is, like that on several other foreign political issues, rather ambiguous, not to say hypocritical. On the one hand, they introduce all kinds of "exceptions," "authorisations" and "special licences" for providing humanitarian aid to Syria and some other states during the fight against COVID-19. This procedure is detailed in a relevant paper by the US Department of the Treasury dated 16 April 2020 (Department of the Treasury, Washington DC, Office of foreign control, Fact Sheet: Provision of Humanitarian Assistance and Trade to Combat COVID-19). On the other hand, the US is putting "maximum pressure" on Syria, stepping up its verbal threat campaign against President Assad personally and warning those countries, including Arab states, that are willing to provide Syria with the necessary financial and material support, about the consequences. European experts believe that, even if Syria agreed to use the offer of exemptions from the sanctions, this would hardly produce any results because of the large number of duplicate sanctions imposed over the last 20 years and also the "bewildering" bureaucratic procedures.
Many statements made by official US representative for Syria Engagement James Jeffrey in recent months are just as contradictory and confused. One day, he says the US does not want to overthrow the Syrian regime and supports the launch of the Constitutional Committee; another day, he says that Assad is utterly unacceptable, which can be understood to mean that he is unacceptable even as a presidential candidate at the elections to be held under Resolution 2254. Statements about his contacts with Russian partners and unwillingness to intervene in Russia-Syria relations do not jibe with his words that the purpose of the US is to let Russia get bogged down in Syria. As for jointly fighting international terrorism, there is a certain slyness there, as well, concerning Hay'At Tahrir al-Sham, which apparently cannot really be considered quite terrorist since it has never carried out terror attacks outside Syria and only fights the Assad regime.
The reality is that the coronavirus pandemic caught Syria in the midst of an unsettled conflict and social tensions, a destroyed infrastructure, limited internal reserves and financial resources. We need to understand that in this emergency the way out of the crisis or the simple act of meeting the urgent needs of the people, regardless of their political preferences, is closely linked to the integral progress in several areas: mobilising internal economic resources and creating conditions equally favourable for the work of public-private partnerships and foreign investors; providing a safe environment for refugees to return; creating an atmosphere conducive to national reconciliation; what is required politically is for these efforts to be enshrined through specific steps taken in compliance with UN Security Council Resolution 2254, largely spearheaded by Russia.
[1] See: A. Aksenenok. "The Syrian Crisis: A Thorny Journey from War to Peace" [in Russian] // Valdaiskie zapiski [Valdai Memoranda] No. 104, Valdai Discussion Club. P. 11.
From our partner RIAC
Palestine Ends All Agreements with Israel and the United States
On May 19, Mahmoud Abbas, President of the Palestinian National Authority (PNA), declared an end to all agreements, including security agreements, with Israel and the United States. On May 22, Palestinian security forces withdrew from the East Jerusalem area.
The reason for this decision was Israel's claims to annex about 30 per cent of the territories in the West Bank, also known as Judea and Samaria. This was announced by Prime Minister Benjamin Netanyahu on May 10 during the presentation of his government to the Knesset. According to him, the time has come to apply Israeli law to these territories and "write another glorified chapter in the history of Zionism."
It should be noted that the territories mentioned are the Palestinian territories in West Bank captured by Israel during the six-day war of 1967. The United Nations defines these territories as occupied. According to UN General Assembly Resolution No. 181, they are "the area of the proposed Arab State."
Israel considers these territories disputed. In violation of the Geneva Conventions, banning to move the civilian population into the occupied territory, to date, Israel has created about 140 settlements in West Bank with approximately 500,000 people living there. From the point of view of international law, they are not part of Israel. Another 200,000 Israelis moved to the occupied East Jerusalem.
The vote on extending Israeli sovereignty to the occupied Palestinian territories may take place on July 1. In this effort, Israel is actively supported by the United States, as the annexation of territories in West Bank is part of the so-called "deal of the century" formally unveiled by Donald Trump on January 28, 2020. He is convinced that the establishment of Israeli sovereignty over territories in West Bank is fully consistent with his personal peace plan for Israel and the Palestinians. Secretary of State Mike Pompeo says that annexing territories in West Bank is "ultimately Israel's decision to make," and the U.S. Ambassador to Israel David Friedman, the main supporter of Israeli settlements, is confident that Washington will recognize this move.
Netanyahu's plan is not widely supported by the Israeli society. If the majority of Israeli Knesset members are ready to support it, a rather significant group of former senior military and special services officers are against it. For instance, 220 retired Israeli generals and admirals (including Gadi Shamni, a retired general in the Israel Defense Forces; Tamir Pardo, former Director of the Mossad; and Ami Ayalon, former director of the Shin Bet, Israel's secret service) made a collective statement, warning that the annexation would threaten Israel's peace treaties with Egypt and Jordan, anger allies in the Gulf and undermine the Palestinian authorities collaborating with Israel on important security issues. The generals were supported by 149 prominent American-Jewish leaders and 11 members of the U.S. Congress.
Judging by opinion polls, a significant part of Israeli society is of the same opinion. Many Israeli human rights organizations, including such respectable ones as B'Tselem and Yesh Din, have spoken out against the proposed annexation.
Egypt, a major regional player and mediator between Israel and Hamas, is coordinating with Israel in its fight against ISIS and al-Qaeda in Sinai. The annexation of the West Bank can spark negative reactions from the Egyptian population, which will force President Abdel Fattah el-Sisi to reconsider relations with Israel.
The situation with Jordan is more complicated, with a significant number of Palestinians living there. They will get involved if Israel begins to implement its plans. This will lead to even greater radicalization and will inevitably provoke mass protests. The Kingdom of Jordan, facing difficult economic problems exacerbated by the coronavirus pandemic, will be confronted with enormous challenges. Amman is well aware of this.
For many years, the Jordan-Israel border was the safest border for Tel Aviv. The situation may change after July 1, as warned of by Jordan's King Abdullah II. On May 15, in an interview with the German magazine Der Spiegel, Abdullah II warned that if Israel really does move to change the borders, it would set off a massive conflict with Jordan.
It is unlikely that this time the Gulf monarchies, collaborating with Israel against Iran in recent years, won't get involved (for example, Saudi Arabia, exchanging intelligence with Israeli intelligence services). They have known about Netanyahu's plans for West Bank for a long time, now the public in these countries will probably have a negative reaction to the annexation and require actions from the authorities.
The United Nations and the European Union cautioned against the West Bank annexation. Their representatives, in particular, Nickolay Mladenov, UN Special Coordinator for the Middle East Peace Process, warned that this would be a devastating blow to the two-State solution for resolving the Palestinian-Israeli conflict, would slam the door on fresh negotiations and threaten efforts to advance regional and international peace.
According to Josep Borrell, High Representative of the European Union, Brussels does not recognize Israeli sovereignty over the occupied West Bank. However, this is his personal opinion and not the official position of the EU. The Union does not have a single position on what needs to be done now. Some EU member states, such as Hungary and Austria, believe that this is not the right time for such statements. Ireland, Norway, and Luxembourg, on the contrary, believe that it is necessary to make a statement and take measures against Israel if it does not abandon its plans.
France and Germany expressed their disagreement with Netanyahu's intentions to extend Israeli sovereignty to Jewish settlements in West Bank. They called on the Israeli authorities to refrain from any unilateral measures that would lead to the annexation of all or part of the Palestinian territories. Given that Borrell's statement is personal, and the demarches by Paris and Berlin are more like wasting breath, it is unlikely that the EU will move from words to some decisive action against Israel, like imposing sanctions. Moreover, the United States will not allow this.
Turkey, as expected, harshly criticized Netanyahu's intentions. Ankara warned that the country would always stand by the brotherly Palestinian people.
The Church expressed its utmost concern. On May 7, the Patriarchs and Heads of the Holy Land Churches published a statement on Israeli unilateral annexation plans, "which would bring about the loss of any remaining hope for the success of the peace process." Church leaders urged the Palestine Liberation Organization, which they called "the sole legitimate representative of the Palestinian people," to resolve all internal and factional conflicts so it could present a united front "dedicated to achieving peace and the building of a viable state that is founded upon pluralism and democratic values." They also called on the UN, the United States, Russia, and the European Union to respond to annexation plans.
The League of Arab States is also making attempts to increase the efforts to oppose Netanyahu's plans. The Arab League condemned Israel, saying that the implementation of plans to annex any part of the Palestinian territories would "represent a new war crime" against the Palestinians. In late April, in the Arab League Council online extraordinary meeting at the ministerial level, under the chairmanship of Egypt, a joint statement was made to support the Palestinians and Jordan, rejecting the Israeli unilateral moves.
An ambiguous position was taken by Canada. When the people of Crimea decided to join the Russian Federation following to the results of the referendum, official Ottawa was restless about the alleged Russian annexation and not only joined the economic and political sanctions of the West against Moscow and certain Russian politicians and entrepreneurs, but also sent its military instructors and started to provide material and technical support to the Ukrainian army. The country, thus, became directly involved in the civil war in Donbass. Now the Canadian government is abstaining from making public statements condemning Netanyahu's intentions, let alone imposing practical sanctions.
There is little time left until the moment of truth on July 1. Much depends on how the international community and the Arab world behave. The complicit silence in the face of the situation, as was the case with Israel's recent annexation of the Golan Heights, might bring about unexpected consequences for the entire Middle East. Palestinian Foreign Minister Riyad al-Maliki cautioned against the annexation, saying it would "end the two-state solution" and will "turn the battle from a political one to an endless religious war."
Judging by the statement of Mahmoud Abbas, there is still hope. According to him, Palestinians are ready to return to the negotiating table with Israel, but with the mediation of a third party.
Some experts believe that under the prevailing conditions, the Middle East Quartet – the United Nations, the United States, Russia, and the European Union, could serve as a mediator. However, there are some factors that can obstruct such work.
The European Union is divided at this point. Its members should first decide what they want to achieve and develop an action strategy.
Prior to the U.S. presidential election, the current administration will not refuse the well-publicized "deal of the century." It is part of the election campaign of Donald Trump, who is extremely interested in the lack of international consensus on measures to influence Israel. In addition, the American President probably takes into account the fact that the Arab world is now focused on internal problems and paralyzed by the coronavirus pandemic.
Russia emphasized its willingness, together with other participants of the Middle East Quartet, to encourage talks between Israel and Palestine and "to continue to facilitate the resumption of the peace process via direct dialogue between Israelis and Palestinians within a generally recognized international legal framework." On May 22, by the initiative of the Palestinian side, Mikhail Bogdanov, Deputy Foreign Minister and Special Presidential Representative for the Middle East and Africa, had a telephone conversation with Hussein al-Sheikh, Fatah Central Committee member, who informed Mr Bogdanov about the latest decisions by the Palestinian leadership regarding relations with Israel. Russia reaffirmed its unwavering commitment to supporting the legitimate rights of the Palestinian people to self-determination, including the establishment of an independent state within the 1967 lines with its capital in East Jerusalem, living peacefully and maintaining neighborly relations with Israel. The Special Presidential Representative of the Russian Federation pointed out that the proposal by Russia's leadership to hold a face-to-face meeting between President of Palestine Mahmoud Abbas and Prime Minister of Israel Benjamin Netanyahu in Moscow without any preconditions remained on the table.
At the same time, If Palestine is ready for negotiations, Benjamin Netanyahu might not be. In Israel, many of his political opponents believe that discussions around the annexation of part of the West Bank and COVID-19 are the only way for him to stay in politics and evade prosecution for corruption and breach of trust, at least for the next few months. And the Prime Minister is unlikely to refuse it.
From our partner RIAC
Prospects of normalization grim in Libya
Analysts say that Libya is one of the most important crisis to watch for in 2020 because of the involvement of Russia and Turkey. More importantly, the plight of the Libyans after almost 10 years of civil war cannot be ignored.
Jens Stoltenberg, head of NATO military alliance recently said in an interview that Turkey remains an important ally and NATO is ready to support GNA increasing the possibility of Russia and NATO locking horns.
Eight years after Libyan leader Colonel Muammar Gaddafi eliminated his country's weapons of mass destruction the colonel found himself on the wrong side of the gun, when he was overthrown and killed in 2011 submerging the country in a civil war.
NATO members led by Britain and France supported the so-called revolution by airstrikes – then watched as the country sank into chaos. Barrack Obama said leaving Libya without a plan after Gaddafi was the "biggest mistake" of his presidency.
There are fears that the global Covid-19 pandemic could devastate the war-torn Libya, where a decade long conflict has ravaged key infrastructure and created dire medical shortages.
Today the country is divided into two factions backed by foreign powers struggling to put the country together.
On the one side, there is the UN-recognized Government of National Accord (GNA) under Prime Minister Fayez Mustafa al-Sarraj in Tripoli supported by Turkey, Qatar, and Italy. Turkey has deployed Syrian mercenaries.
Tripoli has been under siege by Libyan National Army (LNA) headed by Khalifa Haftar, who started his offensive on Tripoli in April 2019. The offensive was launched while UN Secretary-General Antonio Guterres arrived in Tripoli to prepare for a peace conference.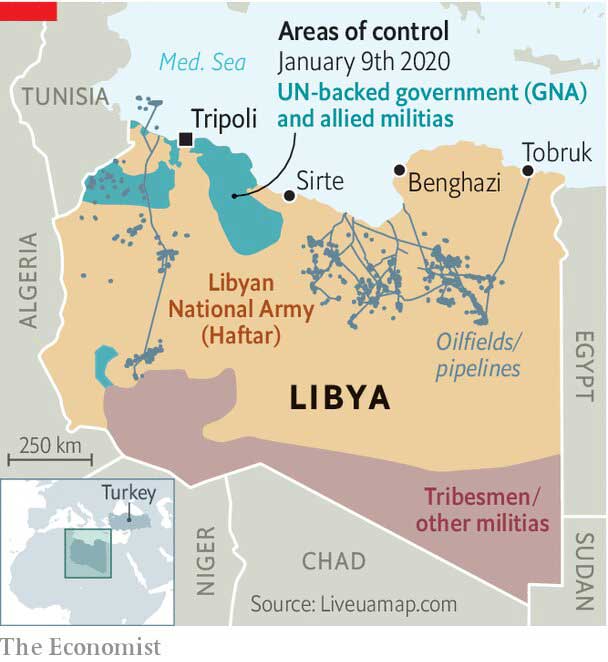 Unsuccessful in taking Tripoli, Haftar has laid a siege on the capital city for the last four months.
The 76-year-old Libyan-born commander Haftar is supported by Russia, Egypt, France, Jordan, the United Arab Emirates, and to a lesser extent Israel. Russia has sent mercenaries.
The Wall Street reported that prior to his April offensive on Tripoli, Haftar was in Riyadh where Saudis gave him tens of millions of dollars.
In his dominion, Haftar is known as "the marshal", and is the military ruler of eastern Libya, with Benghazi as his stronghold. He has promised to build a stable, democratic, and secular Libya but the regions in his control are without any law and order and corruption abounds.
There were several summits by international community to put an end to the Libyan strife before Covid-19 pandemic sidelined the Libyan crisis.
The last summit was called the Berlin Conference was held on January 19. Haftar and al-Sarraj didn't even meet face to face and the summit failed to yield results.
China has remained neutral in this conflict. Under the Gaddafi regime, China engaged in various infrastructure activities with 35,000 Chinese laborers working across 50 projects, ranging from residential and railway construction to telecommunications and hydropower ventures. The year leading to Gaddafi's overthrow, Libya was providing three percent of China's crude oil supply, constituting roughly 150,000 barrels a day. All of China's top state oil firms – CNPC, Sinopec Group, and CNOOC – had had standing infrastructure projects in Libya.
In the outbreak of protests in 2011, China sought to preserve economic ties with Libya and rejected the NATO-led military intervention. China abstained at the UN Security Council vote to authorize military intervention.
In late 2015, the GNA emerged as the new political authority, the product of negotiations brokered by the United Nations and backed by China.
Although many Chinese projects were suspended in Libya and bilateral trade decreased by 57 percent, China's neutrality paved the way for Beijing to stand in good stead with GNA for years to come.
Immigrants crisis
Home to an estimated 654,000 migrants – more than 48,000 of them registered asylum seekers or refugees – many of them cramped conditions with little access to healthcare amidst the pandemic. An outbreak can be catastrophic.
Many live on transfers from friends and family and UNHCR handouts. With work hard to find many hope to proceed with their journey to Europe. Smugglers have put hundreds and thousands of them in boats and sent them across the Mediterranean to Italy.
UNHCR has been evacuating some of the most vulnerable refugees until airspace was shut in early April.
On May 13, WHO issued a joint statement on Libya emphasizing that the entire population of the country, especially some 400,000 Libyans that have been displaced – about half of them within the past year, since the attack on Tripoli — are at risk of Covid-19 pandemic.
The statement reported everyday challenges that humanitarian missions and workers face to carry on with their mission. The UN verified 113 cases of grave violations, including killing and maiming of children, attacks on schools, and health facilities.
The report points out that as of May 13, there were 64 confirmed cases of Covid-19, including three deaths, in different parts of the country. This shows transmission of the disease is taking place and the risk of further escalation of outbreak is very high.
The report talks about food security and latest assessments show that most cities are facing shortages of basic food items coupled with an increase in prices, urging all parties to protect the water supply facilities that have been deliberately targeted.
"We look forward with anticipation to the pledged financial support to the Humanitarian Response Plan for Libya, as announced by the GNA," WHO statement said.
Oil production
Oil reserves in Libya are the largest in Africa with 46.4 billion barrels as of 2010. Much of Libya's oil wealth is located in the east but the revenues are channeled through Tripoli-based state oil firm National Oil Corporation (NOC), which says it serves the whole country and stays out of its factional conflicts.
Prior to the 2011 Libyan civil war, Libya produced over 1.5 million barrels a day. As a result of a blockade of export terminals by LNA by February of this year oil production dropped to 200,000 barrels a day reports Bloomberg. NOC said the North African state's current level of production is at 91,221 barrels per day as of March 17.
In order to choke GNA from the crucial crude export revenue, the LNA seized Libya's export terminals and ports in the east in mid-January. The blockade has cost Libya some $560 million, Petroleum Economist reported in January.
According to NOC, the blockade has plunged production from around 1.2 million barrels a day, and added losses had surpassed four billion dollars by April 15.
Conflict wages
In the last couple of weeks, significant developments have been happening in the Libyan civil war.
In an interview with Italian daily La Repubblica, Jens Stoltenberg, head of NATO military alliance said that Turkey remains an important ally and NATO is ready to support GNA. He stressed NATO is supporting UN's efforts for a peaceful solutions to conflicts both in Libya and Syria.
Meanwhile, the independent English language Tripoli-based Libyan Express reported that Haftar launched a rocket attack Thursday on Tripoli, hitting the Central Hospital on other downtown areas.
Tripoli Central Hospital and some civilian areas were targeted. GNA's Health Ministry said 14 civilians were injured, adding that the hospital will not be able to serve people due to the attack pointing out what a massive setback was amid the outbreak of Coronavirus.
Libyan military forces said Monday that the Libyan army struck forces loyal to Haftar in Al-Watiya airbase in the southwest of Tripoli during the government-led Operation Volcano of Rage.
LNA has intensified attacks on civilians since the beginning of May as GNA made substantial military progress in the offensive in the western part of Tripoli. Armed drones provided by Turkey conducted effective attacks against the LNA.
Libyan Interior Minister Fathi Bashaghe has accused Haftar's forces had used chemical weapons on the Salah Al-Deen front, south of Tripoli. The accusations were confirmed by Canadian journalist Amru Saleheddine, who found several government soldiers with symptoms to those of epilepsy, usually caused by nerve gas.
The conflict in Libya is backed by foreign actors with different objectives and priorities. Any emerging power configuration will be fragile unless the external actors come to a shared understanding.
From our partner Tehran Times