What has happened to Pakistan and why it matters to the West?
The Islamic Republic of Pakistan is a nation of 173 million people. It has a fine military tradition with the seventh largest standing armed forces in the world (the military accounts for 25% of Pakistan's national budget) and is a declared nuclear weapons state.
Since Oct 21 2011 it is an elected member of the UN Security Council (for the next 2 years) and its soldiers have played key roles in UN peace keeping missions.
However, something has happened inside its body politick to cause the global community to have strong concerns that Pakistan may be deteriorating into a very unstable country racked by sectarianism and extremist ideology and that this has permeated into the government, military and intelligence services to such an extent that it threatens Western security.
To a Western observer, a very curious group has emerged in the Pakistani body politick called the Difa-e-Pakistan Council (DPC) /Pakistan Defense Council
In January 2012 they held a rally in which approximately 10,000 people attended. The event was pitched as a coalition of 'right minded' leaders and supporters supporting the military and security services. It was held ironically in Liaqat Bagh Park in Rawalpindi Northern Punjab. This was the site of the assassination of former Prime Minister Benazir Bhutto (leader of the PPP who represent in large measure the moderate Sunnis (Barelvis) in 2007 and where her father, former Prime Minister Zulfikar Ali Bhutto was hanged in 1979.
Rawalpindi is also the headquarters of the Pakistani Army and where their officers are trained.
The DPC rally was sponsored by Pakistani Intelligence (ISI) and the Deobandi-Wahhabi-Salafist Sipah-e-Sahaba (SSP) and included representatives of the political and religious right in Pakistan. It was meant to be a show of strength of the community's resolve to support the military's decision to force the government to stop road NATO road convoys resupplying into Pakistan through the Kyber Pass because of the November 2011 air strikes on a Pakistani military outpost killing 25 Pakistani soldiers.
Another rally of a similar nature happened on 12th of February this year, this time in Karachi.
Again. no one from the moderate Sunnis (Barelvis), Shias, or Christians were invited to participate, (as if they would be any less patriotic Pakistani's than the Wahhabi-Deobandi in their condemnation of drone attacks killing civilians as well as terrorists). So this rally and the below picture of its leaders conveys not only a political solidarity of the right but moreover conveys the propaganda that it's only the people at the rally who are true patriots.
The chairman of the Pakistani Defence Council is ironically not a military man but a clergyman, Maulana Sami ul Haq.
Ul Haq also heads his own political movement, Jamiat Ulema-e-Islam Sami (Assembly of Islamic Clergy, or JUI). More importantly however he is at the apex of the ideology of the elites that control Pakistan and also the insurgents in Afghanistan because he is also chair of Darul Uloom Haqqania, the preeminent Deobandi Islamic seminary for Pakistan and Afghanistan. This institution is the 'font' of current religious orthodoxy in Pakistan and Afghanistan of what it means to be a good Muslim. This same institution is the alma mater of several Taliban leaders such as Mullah Omar. As many of the top jobs in government, military and Intelligence are products of or strongly influenced by Darul Uloom Haqqania and the ideologies it promotes, it would be impossible to understand Pakistani domestic or foreign policy or even the machinations of Afghan politics and insurgency without an understanding what Darul Uloom Haqqania or JUI stands for.
Ul Haq said at the DPC Rally: "All religious parties will guide the nation on national issues… US must refrain from attacking our sovereignty and recognize Pakistan as an atomic power just like India… (the current situation) was an Armageddon between good and evil."
In late January the DPC held a rally in Multan ul Haq lead a mass public oath that the people would rise up to lead their lives for the defence of their country. Former ISI boss Hameed Gul told the enthusiastic crowd that India is a dagger in the back of Pakistan via Afghanistan.
At this year's February, Karachi DPC rally, ul Haq called on the crowd to defend not only the geographical frontiers of the country but also its 'ideological frontiers'. JuD spokesman, Hafiz Mohammad Saeed used the occasion to apologize to the Afghans that Pakistan's soil was being used against them. He saw the DPC and the brave warriors in Afghanistan who once again had defeated a world power as the beginnings of a broader 'Islamic revolution' He warned the Government of Pakistan (now ruled by PPP's Gilani) to disengage itself from the US war against terror and warned that if it did not, "the Pakistani people would come on the streets and oust the present rulers." And declared a mass sit in outside the national Parliament on 20th of February 2012 'DPC vows to resist reopening of Nato supplies, drone attacks' International The News Feb 13 2012
Another huge PDC rally is planned for Quetta at the end of February. Interestingly Quetta (which is in Pakistan) is the home base of the Afghan Taliban which is called the 'Quetta Shura".
The agenda of the religious political right that JUI represents includes not only supporting state and non-state use of force or other assertive action against enemies from without such as India (and now it seems the US and its allies who were once their allies but are now evil) but also safeguarding pure Islam from the infectious influence of moderate Sunnis (Barelvis), Shias, Ahmadis, Jews, Shias, Hindus, Christians and the West (including one presumes the vestiges of old British values and institutions still remaining in Pakistan) by the aggressive Islamization of the State especially the legal system and education where only what is 'right' in their eyes must be upheld and everything else that is 'wrong' outlawed.
Normative values in Pakistani society as well as foreign policy therefore increasingly reflect this world view which is very similar to extreme forms of Wahhabi-Salafi ideology in Saudi Arabia of the political kind (as opposed to the non-extreme purely religious, unobjectionable, self-purification Salafi teachings which ironically from a paradigm point of view is similar in its spiritual dimension to Christian fundamentalism of going back to the purity of the Book rather than be 'distracted' by religious tradition). This is not surprising as Darul Uloom Haqqania, like so many other such institutions in Pakistan and globally, are financed in large measure by Saudi money.
What makes this scenario even more disconcerting is that Pakistan is a nuclear power and that extremist elements may be able to control or influence that 'agenda' too, (especially if they have influence over any future PM, given that a PM will now control not only the numbers in Parliament but also the nuclear button). That does not bode well for world peace given the fact that their mortal enemies the Jewish State of Israel and Shia Iran are (or soon will be) also nuclear capable.
Even though one can sympathize with ul Haq (or more moderate voices from the right in Pakistan such as Imran Khan's party) demands for US drone attacks to stop because amongst other things they inflict tremendous casualties on innocent civilians, one hopes for Pakistan's sake and for the sake of security in our homelands from global terrorism and the ideologies that fuel them, Pakistan can rejuvenate its democracy and justice system free from the fear of sectarian violence and limit the influence and power of radical leaders in matters of security and foreign affairs at least so as to ensure their territory or those that they or their 'thought leaders' control is not used as bases for the inculcation, training or export of terrorism.
The 'revelations'/allegations about Pakistani Inter-Services Intelligence Directorate (ISI) and or the Pakistani Intelligence Bureau (IB) allegedly hiding of Osama bin Laden (OBL) from their supposed American allies in Abbottabad, (a city in Khyber Pakhtunkhwa province, North West Pakistan) and the ensuing 'Memogate Scandal' are but the most recent examples of the controversies and instability rocking Pakistan, a nuclear state.
The revelations came from Pakistan's former Army Chief General Ziaud Din Butt (aka) Ziaud Din Khawaja at a conference on Pakistani-U.S. relations in October 2011. Whilst the news was shocking to the West, and some have suggested the source had a grudge against the Pakistani regime and the full extent of the story may not be factual or entirely reliable, it was apparently no surprise within certain sections of the elite in Pakistan.
The ISI/IB, like many intelligence agencies (such as Iran) (have to) resort to shady characters to effect 'under the radar' missions against 'enemies of the state'. The same official implicated in giving sanctuary to OBL in Abbottabad also was the alleged 'handler' for other renowned terrorists like the London born, LSE educated, Pakistani trained, Ahmed Omar Saeed Sheik. Saeed Sheik and elements within the officially banned, Islamic militant groups variously labelled Jaish-e-Mohammed (JeM) or Harkat-ul-Mujahideen (HuM), were said to be the ones behind the attack on the Indian Parliament in 2001. Sheik's group's most infamous episode however was in the kidnapping and eventual murder of Wall Street Journal reporter Daniel Pearl in 2002.
Interestingly one has to ask, if it's true and they had some knowledge, influence or control over someone like Saeed Shiek, what strategic interest ISI/IB or elements within their ranks may have had to allow this 'asset' loose to do this?
At the time of his murder in Karachi, Pearl (an Israeli citizen living as a permanent resident in America) was the the South Asia Bureau Chief of the Wall Street Journal, and was based in Mumbai, India. Was he a spy? If so, for whom was he working? Or was he a nosy journalist that was writing stories that were too 'close to home' for some people? Was this all just about militants being lucky to kidnap such a high profile person useful for ransom and when demands were not met and they found out that he was Jewish the militants just executed him? During the 9 days Pearl was held his captors allegedly wrote a strange ransom note on the Internet demanding 'freeing of all Pakistani terror detainees and releasing a halted U.S. shipment of F-16 fighter jets to the Pakistani government.' (Time U.S. 21 Feb 2002).
In March 2003, only one year after Pearl was murdered, al-Qaeda's Khalid Shaikh Mohammed, alleged master mind behind 9/11 attacks on New York and Washington, was captured in Rawalpindi and handed over to the US. Whilst in custody in Guantanamo Bay detention camp he is alleged to have confessed to many things including the murder of Daniel Pearl by personally beheading him.
If that is true and if Ahmed Omar Saeed Sheik who was implicated in the kidnapping was an ISI/IB 'asset', what was Khalid Shaikh Mohammed? Khalid Shaikh Mohammed also confessed/boasted that he was involved in many of the most significant terrorist plots over the last twenty years, including the World Trade Center 1993 bombings, the Operation Bojinka plot, an aborted 2002 attack on the U.S. Bank Tower in Los Angeles, the Bali nightclub bombings, the failed bombing of American Airlines Flight 63 and the Millennium Plot. If Khalid Shaikh Mohammed and his fellow jihadi's like his nephew Ramiz Yousef were involved with the Blind Sheikh Omar Abdel-Rahman's plans/conspiracies to blow up the World Trade Centres in 1993 and in 1995 with other associates such as his other nephew and Ammar al-Baluchi were planning on hijacking or blowing up planes over the US, then it is no little wonder that he planned and pulled off 9/11 as it was a plan whose various elements were seven years in the making.
Other matters of concern to the West are that many terrorists who committed or tried to commit terrorist acts against Western cities travelled to Pakistan either to be radicalized or trained as terrorists.
People like UK's 2001 shoe bombers Richard Reid and his co-accused Saajid Badat or the London 7/7/2005 bombers Mohammed Sidique Khan and Shehzad Tanweer are reported to have been recruited by extremists such as JeM's Osama Nazir and Amjad Farooqi (aka Amjad Hussain), radicalized by attending radicalization 'finishing' schools such as Jihad bi al-Saif and then put on the conveyor belt onto radical groups such as Jaish-e-Mohammed (JeM)/al-Furquan/ Khudam-ul-Islam and Harakat ul-Mujahideen who operate hands-on terrorist boot camps in known extremists strongholds not only in the Western tribal regions (FATA) such as Waziristan but also in Peshawar and other cities in Khyber Pakhtunkhwa province or adjacent districts such as Malakand or Baluchistan.
Peshawar was also where OBL and his mentor and 'professor' Abdullah Azzam first collaborated to create Maktab al-Khadamat (MAK), the forerunner of Al Qaeda in the 1980's. Unlike the Muslim Brotherhood's emphasis on Jihad/struggle via the political system to effect change, MAK was for violent and armed Jihad. Azzam's trademark slogan was, "Jihad and the rifle alone: no negotiations, no conferences and no dialogues." Abbottabad is in the same district and so OBL was in a sense 'back home' when the US Navy Seals raid happened in May last year.
No state with an active democracy is really a monolith, and so for Pakistan too, it would be wrong to 'tar' (everyone in ISI/IB) 'with the same brush' and say they are an extremist 'state within a state' (as some high ranking diplomats have suggested).
Certainly it would be wrong to suggest that the Pakistani Army is not professional because it is susceptible to the demands and expectations of the religious right or finds it useful to have their support. Just recently for example Pakistan Army has decided to court martial Brigadier Ali Khan for his alleged links with Hizb-ul-Tehrir which political group it is reported, in the aftermath of the raid that killed OBL in Abbottabad, produced pamphlets urging soldiers to turn against their commanders. It also comes on the heels of Pakistani Taliban insurgents storming the Naval Air Station in Karachi, apparently armed with inside information on its layout and security. They destroyed two U.S. supplied surveillance aircraft.
Disturbingly however, the Pakistani Journalist Saleem Shahzad was killed in Karachi two days after writing about links between 'rogue elements' in the Pakistani Navy and Al Qaeda.
Further it would be wrong to say that every leader in the religious right in Pakistan supported or inspired terrorists (many would probably suggest they were only supporting freedom fighters against Indian aggression in Kashmir and that they have no control over how impassioned 'idealists' then 'self-propel' themselves against the West).
Also these parties/groups, whilst influential, do not represent the thinking of the majority of people in Pakistan on all issues.
However, since the days of General Zia's earlier Nizam-e-Mustafa (Islamisation) programs since the late 1970's, the radical right parties have been given "a strong legal and political apparatus that enables them to influence policy far beyond their numerical strength" (International Crisis Group Asia Report No 216 Dec, 12, 2011 p (i) and (1), and particularly footnote 1).
The notorious Blasphemy Laws introduced by General Zia in the 1980's which carries the death penalty in Pakistan have been criticized as being contrary to the Universal Declaration of Human Rights (UDHR). Article 18 states that everyone has the right to freedom of thought conscience and religion. In Pakistan the Blasphemy Laws have been sometimes abused by villagers as personal vendettas and sometimes by others to silence and intimidate minorities and free speech as un-Islamic. Many attempts over the years have been made to amend or ameliorate the harsh application of this law. However in October 1997, His Honour Justice Arif Iqbal Bhatti a Pakistani High Court judge who acquitted two people on blasphemy charges was shot in his chambers in Lahore by radical militants unhappy about the judge's findings.
After what appears to be a contrived case was launched against a Christian lady Aasia Noreen Bibi resulting in her being the first woman in Pakistan sentenced to death for defending her Christian faith , Sherry Rehman (PPP) politician introduced a private member bill into Pakistan's parliament in late 2010 to amend the law so it couldn't be abused like this. She was supported by governor of Punjab, Salmaan Tasser and special Minister for Minorities Shahabaz Bhatti. Since then both Tasser and Bhatti have been assassinated. Tasser's killer, his bodyguard, Mumtaz Qadi, was treated like a hero by the radical right. In fact the judge Pervz Ali Shah who sentenced Qadi to execution for his murder of the former governor has had to flee Pakistan because his Rawalpindi offices were ransacked and he received numerous death threats. Also Sherry Rehaman received so many death threats that she has since withdrawn her bill. Aasia Noreen Bibi remains on death row.
This series of recent events is very disturbing for the Rule of Law and the independence of the judiciary in Pakistan which for decades has had a fine tradition inherited from the British of judicial administration. It also is symptomatic of a structural disintegration of the Pakistani's state seemingly unable to protect its institutions and officials. Unless it is addressed, the road to further radicalization and destabilization of the Pakistani State seems inevitable.
Have the politicians in Pakistan the will to resist this attack on the State? Politics in Pakistan is complex with many players and leaders of the Army and intelligence agencies change with the passing of the political winds. For many years the army was a faithful partner with the West and also of the UN and they have often collaborated with Allied commanders in operations against militants and terrorists in the War on Terror.
Support for certain rallies that the religious right may organize in defence of Pakistani sovereignty such as the Difa-e-Pakistan Council (DPC) (discussed in Part 1) does not mean that the Military and Security Services agree with everything the religious right stand for but it is a worrying development for democracy and stability given the broader agendas of the groups represented on the DPC.
We shall need to see how the relationship between current Army chief General Kiyani and ISI chief Lt. General Pasha and embattled PM Gilani develops in light of the 'Memogate Scandal'. The fact that President Zardari (widower of the assassinated Benazir Bhutto) has felt the need to flee the country with his staff to operate his office from Dubai is symptomatic of growing dysfunctionality of the Pakistani body politic.
With the Parliament of Pakistan in such a state, the army is really the key to the immediate future of the health of democracy and the Rule of Law in Pakistan.
Address the army's concerns and much of what happens in politics will no doubt be more stable and vice versa.
The army wields a lot of power and influence in Pakistan. The relationship between it and the ISI/IB or with government and non-government players is not easy to understand. It is not unlikely that the military and ISI/IB are not always 'on the same page' with each other let alone the government of the day. Also they may act independently of each other in seeking to do what they think is best for Pakistan and their own sectional interests. Also there may be people in these organizations who quite independent of the organization itself run their own agendas relying from time to time on their connections with all political and financial brokers and 'assets' in and outside Pakistan including non-state militia associated with some radical groups. Nevertheless they are command structures and in theory ultimately should be responsible to the government.
If you were 'in the shoes' of an impassioned ISI/IB official who was brought up to see good and evil a certain way, with wars raging around and subversives real or imagined from neighbouring countries like Iran or India trying to destabilize your country, would you utilize 'assets' available to secure your country's security interests; especially if a political party was in power who you knew would not act decisively the way that you deem is in the best interests of national security?
Whatever the answers to that question may be in our eyes, when the volatility and violence within Pakistan and Afghanistan spill over to affect our homelands (such as the indoctrination and training in Pakistan of terrorists for suicide missions in the West), the West surely has every right to do what is necessary to protect its own people including asking the power brokers in Pakistan to do more to get their house/region in order.
How does one diplomatically talk to the military and intelligence agencies directly in any case? If the Pakistani democracy is too weak politically and economically to govern independently of fear or favouritism and cannot control its military and intelligence agencies, how can another country commence dialogue with the government about such things and how can they approach military and Intelligence agencies? If the military and security agencies in Pakistan do not want to co-operate with a proper diplomatic approach from the West, however it comes, will other 'suitors' such as China then just step in to fill the political, military and economic void?
These are not easy questions to answer whether you are in the Europe or the US. These are probably difficult issues within Pakistan which itself has more than the West had its people suffer the consequence of lawlessness, corruption and extremist violence and threats of violence.
Perhaps part of the answer may be for the West to put more diplomatic effort into resolving Kashmir with India and Pakistan so that the Pakistani Army has an incentive to reinforce democratic principles and institutions in Pakistan and distance themselves from the excess of the extreme right who are otherwise useful 'assets' in their border wars and instruments of leverage geo-politically.
The other part of the solution may be to pull out of Afghanistan and stop the drone attacks in Pakistan because the roots of the problem probably cannot be fixed that way in the medium to long term. Indeed these measures at the moment, no matter how seemingly effective they are in the short term are fuelling the narrative of the extreme right in Pakistan from whence new recruits and devotees will surely come to replace their ranks. Whatever negotiations happen in Afghanistan there must be just as much diplomatic effort go into discussions with Pakistan. Any lasting peace in region and in the West from trans-national jihadi terrorism will need their endorsement and active support. To be able to give assistance to Pakistan in these ways and to put away the military option of troops on the ground and drone strikes, what the West needs from Pakistan's political, military and intelligence leaders is a sustainable and verifiable assurance they will not allow that region or its own territory to be used as a base for terrorism against the West either ideologically, financially or materially.
Will the enduring Proxy-war be ever ended in Afghanistan?
Abstract: this paper long-story-short explains a four-decade of Afghan conflict, the causes and effects of the ongoing proxy war in passage of the modern history of the country. Furthermore, this paper elucidates roles and conducts of the major powers in the conflict; it unveils their national security priorities as well, along with their rivalry and disputable foreign policy objectives. The paper also explicates whether peace and stability is achievable or not. Finally, it draws a tragic and upsetting conclusion, which is a black eye not only for the Afghan leadership but also for the global players. Despite no perception of any potential peace in Afghanistan, this paper by no accounts encourages an exodus of Afghan Nation.
D-day in Afghanistan
Afghanistan is overwhelmingly engulfed and hampered by proxy-war roughly for 4 decades, and the country has become a chessboard not only for super powers but also for regional countries and beyond. The cumulative toll of the war on the country and its people is massive.The conflict between Soviet Union-India proxies and Pakistan-US proxies just began, when Sardar Muhammad Daoud Khan took an oath as Afghanistan's first president in 1973. In the course of his tenure, ISI-CIA backed warlord Gulbudin Hikmatyar launched his first armed face off in the eastern Afghanistan, and meantime the KGB sponsored Marionettes and MSS puppets hurled their surge in the whole country.
As a result, pro-Soviet proxies toppled Daoud Khan`s presidency thru a military coup in 1978, which paved the way for the Red-army incursion. In the decade subsequent the Soviet invasion in 1979, 1.5million Afghans lost their lives, another million were wounded and disabled, 6.2 million took refuge either in Pakistan, Iran and the rest of the world, and 2.2 million more were internally displaced. The fiscal damage caused by invaders during this period approximated around $644.8 billion. United States, China, Pakistan, Iran as well asArab countries initiated anti-Soviet front, and began to harbor, train, and sponsor and arm their proxies in order to defy pro-Soviet proxies. The armed strife lasted a decade and the so-called freedom fighters/jihadi terrorists caroled ´´war until the end of occupation´´. Thus, the era of invasion dramatically came to an end in 1989, but the proxy war continued, and the self-styled freedom fighter/jihadi terrorists again chanted ´´ war until the end of communist regime´´.
In 1992, the communist led government was ousted, following the super powers (Soviet Union and the United States) total withdrawal from the region. Awkwardly, the proxy war interred into the new phase and the conflict warmed up among Indian, Iranian, Pakistani and Saudi proxies.
Iran and India supported the Northern Alliance, whereas Pakistan and Saudi Arabia backed Hikmatyar (1992-1996), in the aftermath of such a skirmish capital of the country was effusively ruined, and a 100 thousand innocent Afghans killed and 1000s either injured or disabled, thousands internally displaced and fled to rest of the world. As Pakistan-Saudi Arabia came short to topple, the northern alliance led government, Pakistan and its Arab and western allies originated Taliban movement in 1994.
In 1996, Taliban movement was able to overthrow the Northern Alliance leadership and conquered two-third of the country, and ruled Afghanistan barbarically, brutally and mercilessly. Hence, Iran, India and Russia instigated counter-measures, called Resistance Front to fight back the Taliban Movement and the proxy war sustained until 2001.
In 2001, the 9 11 phenomena occurred in the US, and the American administration launched a crusade to bring to justice, who took American lives. Taliban movement, which harbored Usama Bin Laden the master-mind of the 9 11 incidence, rebuffed to hand over him to Washington, accordingly, the American Administration commenced a full-scale war against Taliban to get rid of the alleged Islamic Emirate, which ended up with American occupation.
America's two-decade-long occupation, beginning in 2001, which still goes on resulted the death of 3.500 coalition forces and the loss of 150.000 Afghan civilian and military personnel, in order to achieve purported "Nation Building" and "Democratization". The occupiers endeavored to bring to power their puppets, via phony democratic process in hope of using Afghan territory for their strategic purposes.
In 2002, Pakistan, China along with some Arab monarchies started to regroup Taliban movement and other proxies to fight pro-American and pro-Indian Kabul regime, due to the strategic divergence with the US, Russia and Iran have also jumped in, to support Taliban's resurgence ironically with American taxpayers money. The insurgents (proxies) chanted again "the war until the end of foreign/American occupation".
In 2020, some hoodwinked and naïve policy makers have advised Donald Trump the American potentate to draw down the combat forces, and open negation in order to reach an agreement with Taliban. The settlement was made between the US and the insurrectionaries, the US started withdrawing, expecting that peace will prevail in Afghanistan. Seemingly, peace will not carry the day, since the rebels call for war until dethroning Ashraf Ghani.
Now the question is whether the proxy war will be ended anytime in the future, in other words whether peace and stability is achievable. The experts stipulate (for)an interim-government to integrate Taliban in the political system of the country. Some others enjoin additional approaches to be employed to transform the conflict, including the agreement to rule the country in accordance with a viable model, such as the Swiss model, whereby some representatives choose a leader for a limited time based on performance. Nevertheless, these approaches do not seem to be convincing and substantial, even if all at odds factions reach a comprehensive settlement to form a broad-based government, peace and stability will not be achieved, and the proxy war will be sustained.
Implications of global players' divergence
In order to answer the above said question, we have to find out the root cause of the conflict, to the best of my knowledge; the Afghan proxy war is deeply ingrained in and intertwined with regional and trans-national disputes, therefore it makes sense to look into each conflictual issues one by one.
Indo-Pakistan dispute
Subsequent the end of British rule in 1947, British-India was divided into two separate nations, India and Pakistan, since then the countries have fought a series of conventional wars, mainly over the region of Kashmir, of which possession has been claimed by the countries. The partitioned, which was based on Hindu and Muslim majorities, caused mass migration and clashes, resulted hostility, violence and bloodshed. Consequently, the first Indo-Pak war took place in October 1947, following assault on Kashmir by Pakistan's tribal forces. The war lasted roughly two years, which ended up with ceasefire and provisionary demarcation –now called the line of Control.
In 1965, the second Indo-Pak war occurred due to a series of cross-border clashes. The clashes turn to a full-scale war, when Pakistani soldiers crossed the line of control deep into the Indian administered Kashmir in search of starting insurgency against Indian army. The war came to an end, when officials of both countries agreed upon acknowledging peaceful vows.
A third Indo-Pak war erupted, when Pakistan was further divided into two parts Eastern and
Western Pakistan. As a result, both East and West Pakistan began to tussle, due to the significant
Indian role in the conflict, eastern Pakistani soldiers Surrendered to Indian Army and Western Pakistan got independence, which now called Bangladesh. In 1987, a nation-wide election took place in India and in Indian administered Kashmir, but the so-called Islamic movements did not acknowledge the result of the election, which eventuated an armed standoff against the Indian rule in Kashmir. Kashmir was acutely polarized, some of the inhabitants demanded independence from India, while the others sought to be integrated with Pakistan. Subsequently, armed résistance broke out, since then Pakistan's ISI start to train, finance, shelter and sponsor the insurgent groups to fight Indian Defense forces, which has continued until here and now.
Sino-Indian row
Apart from border dispute, which occasioned a Sino-Indian war in 1962, China and India are warming up to contain one another; China has kicked off Belt and Road Initiative. This initiative (BRI) puts China at the heart of the new Pan-Eurasian economic order; the effort has drawn commitments from over 60 countries, and international organizations, and has been described as China's project of the century.
The massive undertaking is divided into two main components: the Silk Road Economic Belt and the 21st-Century Maritime Silk Road. The "Belt" is a series of overland routes that will collectively connect China with Western Europe through the resource-rich countries of Central Asia. The "Road," counter intuitively, refers to a dizzying sea route that flows around Southeast and South Asia, through Africa, and into the Mediterranean.
In counter measures, India has a continent-crossing plan of Washington-Tokyo oriented (South-Central Asia policy) which is called North-South Transport Corridor (NSTC); the objective is to link India with Central Asia, Caucasus and Europe thru Iran (if Iran is aligned with Washington) and possibly Afghanistan. India has been trying to interweave itself deeper within the infrastructural and economic fabric of Eurasia.
The NSTC is a multimodal trade corridor which extends from India to Caucasus, linking the India Ocean and Persian Gulf to Caspian Sea, which lies from Jawaharlal Nehru and Kandla port in western India to the port of Bandar Abbas in Iran, then go road and rail north thru Baku to the Caucasus and beyond.
The second route goes along the eastern side of the Caspian Sea, connecting the new Kazakhstan-Turkmenistan-Iran railway to amalgamate with the North-South Transnational Corridor.
The third route linking India with Chabahar port of Iran then goes to Afghanistan extends to Central Asia, which is currently suspended due to Washington's mounting pressure to give it up if not India, will face sanctions. India is a big driver of enhancements to Iran's Chabahar port. The country (India) is also backing a 218-kilometer road connecting the heart of Afghanistan with a border to Iran, the Kaladan multimodal project in Myanmar, the Trans-Asian Railway (TAR), which goes all the way from Dhaka to Istanbul, the India-Myanmar-Thailand Trilateral Highway, and, possibly, developing Trincomalee port in Sri Lanka as well as Delhi-Kabul Air Corridor in order to bypass and debase Beijing oriented Pakistani Corridor.
In the face of American drawdown, there are some speculations India is considering to deploy around 15 thousand troops to Afghanistan to deter threats posed by China and Pakistan and to safeguard its strategic projects in the region. Meanwhile India has consolidated its effort to support Afghan security forces in general and sponsor the Afghan intelligence Networks in particular. As a result of recent joint actions, Afghan intelligence Agency (NDS) and Indian intelligence organizations ( IB, RAW, DIA and the inter-service Joint Cipher Bureau), the Afghan counter intelligence department was able to crack down the active and sleeping cells of Chinese MSS in the capital of Afghanistan.
Meantime India and China are pushing the blame game accusing one another for aggressive actions at the border points, which revitalize the Sino-Indian border dispute.
The sovereignty over two large and various smaller separated pieces of territory have been contested between China and India. The westernmost, Aksai Chin, is claimed by India as part of Jammu and Kashmir and region of Ladakh but controlled and administered as part of Chinese autonomous region of Xinjiang. The other large disputed territory, the easternmost, lies south of the McMahon Line.
It was referred to as the North East Frontier Agency, and is now called Arunachal Pradesh. The McMahon line was part of 1914 Simla Convention between British-India and Tibet an agreement rejected by China which caused Sino-Indian war in 1962. The border dispute was in somehow resolved in 1996 as part of Confidence-Building measures.
But tension recently has risen as India has stationed sophisticated military hardware at the border, namely after receiving green signals from Washington and Tokyo, meanwhile India accuses China for acts of aggression at border, India claims, that China has ordered its military unites to be positioned at the crossing line, therefore India has taken reactionary steps.
Iran-Saudi Arabia dispute
The Saudi-Iran dispute originated, when widespread riots and rattles erupted in Iran, which put Iranian at armed standoff. As aresult, the Iranian kingdom was toppled, and the King (shah) fled, and there was a power vacuum in the country in 1979. Thus, Ayatollah Ruhollah Khomeini rushed to lead the mutiny, in order to fill the gap. He brought a strategic shift to the Iranian foreign policy, so that he tried to reestablish Iran as a regional power based on Shia Islam to counter-weight Sunni Islam. Although Iran had been a Shia country, but had had a secular regime and Shia Islam had not been promoted as state religion. Khomeini's strategic foreign policy shift was perceived as warmongering by the Sunni Muslim world, and especially by Saudi Arabia, which has customarily declared itself as leader of the Islamic world. Moreover, the country is home for two holiest places –Mecca and Medina—, Saudi Arabia is the Guardian, and responsible to protect them reach out their role in the entire globe especially within the Islamic world. Therefore, millions of Muslim take part at pilgrimage each year, which has added to the importance of Saudi Kingdom as an advocate of Sunni Islam.
On top of geo-political and geo-strategic discrepancy that the Kingdom has with Iran, Saudi Arabia arranges Sunni Islam as fundamental of its foreign policy object, whereas Iran's forward policy for the region based on the tents of Shia Islam, hence there is divergence of policy objectives, which challenge and contradict each other. In addition, the countries are oil-rich and overflowed with petrodollars to export their dogmas to the rest of Islamic world, thru both conventional and unconventional measures.
Sino-Russian and USA animosity
Despite significant divergence between China and Russia in both regional and international arena, the countries has striven to expand their cooperation in several directions namely in diplomatic, political and defense realms. China and Russia consider the US as a challenge to the national security of both Beijing and Moscow. The countries are bearing in mind that alignment between Moscow and Beijing is thought to be the best possible measure to deter US hegemonic policy. Russia and China are working together to the fill the gaps of their military capability, accelerating their technological innovations, supplementing each other's defense competency to emasculate US global leadership, challenging US dominance in strategic regions as well.
Their joint naval drills are supposed to be projected as a counter-measure to minimize the US capability, and to defy US regional scenario. Furthermore, the countries accelerate their cooperation to erode US military advantages. In order to enhance their efforts, Russia provides China with advanced weapons to remove the US from their backyards. Their joint efforts have put America under immense pressure to reconsider its defense budget and its alleged commitments to advocate a free and open Indo-Pacific. The countries are doing their best to counter American Democratic measure in form of "color revolutions", substantiating each other to defend their interests in multidimensional environments, creating norms around cyber and internet sovereignty, and augmenting anti-American elements even radical Islamists to gain the power and expand their territorial control. They legitimize each other's conducts to persuade swing states to abandon the US.
Moscow and Beijing consolidating their efforts to inter to the new spaces more likely Artificial Intelligence, they strive to offer diverse digital system and other technologies. They also joined hands to disqualify American financial measures in the global economic arena especially bypass the US sanctions and minimize the US ability in financial realm as part of the US foreign policy objective.
They have long before tried to de-dollarize the world finical system, which will in turn curtail the US capability in the area of export control. Nonetheless, the US has launched counter measures to limit Sino-Russia cooperation and the threats they pose to Washington. In response to Sino-Russian partnership, the US stationed and installed vigilant technologies all around the countries to curb their liabilities. Additionally, in response to the Sino-Russian joint-partnership, the US adopted a new maritime strategy in December 2020 the three maritime services of the US military – the US Navy, Marine Corps and Coast Guard. The strategy elucidates both China and Russia as resolute adversaries, who pose a long-term strategic threat to the national security of the US in the global arena particularly in Indo-pacific domain. In comparison to the old strategies, the new strategy presses on the importance of sea control, which ascribes the possibility of armed conflict with at maritime level. Moreover, the strategy signifies the importance of Coastguard as a part of main element to deter multidimensional threats posed by Sino-Russia. The new strategy also implies and stress on building partnerships and cooperation with other countries to defend the US global perspective. It clarifies as well that current US defense capability is not sufficient. Thus, the maritime forces ought to be modernized in order to counter Sino-Russia maritime strategy. According to the new strategy the size and shape will boldly change to answer the current and future challenges.
Sino-Russia rivalry
China and Russia enmity lays back to the Chinese Eastern Railway (CER) conflict took place in 1929 between Soviet Union and China, which was the bloodiest conflict of its time. Joseph Stalin played a significant role to neutralize Chinese efforts to recapture the Railway. In order to attain its goals China used both conventional and asymmetric approaches to eliminate Soviet Union control over the Railway. Obtaining green signals from Japan, Stalin forcefully trespassed the region and pushed back Chinese armed forces, which was connoted as a sign of aggression, and ended up with border dispute. Throughout, the history both countries unsuccessfully endeavored to find a peaceful and acceptable solution to the border conflict. Consequently, in 2003 Russia and China signed an agreement to resolve the border dispute. In 2005, Moscow and Beijing finalized the border issue, nevertheless, Chinese leadership still claims that Vladivostok Russia's Fareast city is part of Chinese territory, besides Beijing asserts that Russia has annexed 350.000 square mile of Chinese territory. Nonetheless, due to American Air, Land and sea superiority, in global level and particularly in Indo-pacific, Asian and African regions, which is considered as threat to the national security of China and Russia. Therefore, Moscow and Beijing agreed upon to build up partnership and cooperation along with filling each other's gaps in term of defense, aerial, sea and digital technologies, to rule out American Maritime strategic challenges. In addition, kick out the US military forces from their back yards. It is worthwhile to note Sino-Russian cooperation or partnership is not strategic, because is not built on natural basis, rather it instituted on a tactical measure to deter American aggression. It is very conventional term that the enemy of my enemy is my friend, which means Beijing and Moscow have a common enemy "the United States". Therefore, they disregard their border dispute for the time being, which will definitely be brushed up, when the US is out of the race in the global arena.
According to the management criteria, partnership or cooperation is based on three terms; short term, midterm and long term in other word operational, tactical and strategic, taking in to account the mentioned terminologies the Sino-Russia partnership is operational and tactical then to be strategic/long-term. While China has been shifting its soft strategic measures, the country tries to apply hard power in Central Asia "Russia's back yard". Beijing considers stationing military forces in the region to defend the country's Belt and Road initiative extended to the region. China wants to safeguard its geo-economic and geo-political objectives thru future military installations in Central Asia. Therefore, Beijing's motives are irreconcilable with the foreign policy objectives of Moocow for the region, because China pursues to advance trans-Eurasian transportation corridor in order to bypass Russia. Furthermore, China recently built an airport in Xining-Uyghur autonomous district close to Afghan and Tajikistan borders, which is the first airport of such kind in the mountainous area of Badakhshan. China's initiative in this form, offers Beijing enjoying upper hand to get hold on Natural resources of the disputed region. The country undertook to build extra 25 airports in the region in order to expand its military buildup. Hence, Russia reconsiders its partnership with China, the balance between Beijing and Moscow is changing in the region.
In addition, Sino-Russian partnership is depended on China's commitment to full carbon neutrality by 2060. The Beijing will reduce consumption of all fossil fuels, including natural gas, which will definitely play a significant role in future cooperation and partnership between Moscow and Beijing.
China has recently made public that the country will almost be carbon neutral in 40 years; means the country will reduce 65% of its oil consumption and 75% of its natural gas consumption. These assertions will disqualify forthcoming efforts to run a mega-pipeline "Power of Siberia-2" in order to pump Russian natural gas to China. In order to minimize its dependency on Russian Natural Gas, China has diversified its efforts to import natural gas from centrals Asian countries. China made a technological breakthrough in domestic natural gas production, which will in turn reduce Chinese dependency on Russia. In couple of decades, Russia will totally lose its fuel and gas advantages to leverage China. Between 2050.2060, China will independently handle its energy needs, and develop its defense, maritime and digital technology including artificial intelligence. China will increase its defense budget up to 1 trillion dollars. Until 2060, the US will completely be out as a major element of world order.So there would be no need for Russian cooperation, China alone would be in a position to police the world and Russia will become Beijing's number one geo-political enemy.
Turkish and Indo-Greek-Saudi potential conflict
Although Greece and India are separated by great geo-political distance, the countries cooperate and collaborate on many issues, and work closely to deepen and further, expand their bilateral ties, since Turkey pledged to harbor, train, and sponsor and arm Kashmiri separatist jihadi terrorist groups under the auspices of Pakistani ISI. The recent strategic developments have highlighted semi-dormant areas of common Indo-Greek security interests and concerns. The incentive for such a convergence between India and Greece caused by the hastily growing strategic cooperation between Turkey and Pakistan to utilize jihadi terrorism as a tactic to promote their foreign policy objectives, which occasions hypothetically risky destabilization potentialities in the eastern Mediterranean and South Asia. From now on, it is clear that Erdogan's Turkey is an obvious threat not only to Mediterranean, but also to South Asia and even to global peace and security. The Turku-Pakistani alignment has materialized a distinct threat to both Athens and New Delhi making Indo-Greek strategic cooperation a natural outcome of desire of both countries to secure and foster their strategic interests. Pak-Turku axis made Saudi the strategic ally of Pakistan during cold war and thereupon withdraw economic and strategic sponsorship, and join Indo-Greek alliance. Since then the countries even added Sudan exploring how to strengthen multilateral security cooperation with other states that share similar concern about Turku-Pakistani flexing their muscles in the Mediterranean, red sea and Indo-pacific region and South Asia. The partnership among Greece, India, Saudi Arabia and Sudan put immense pressure on the US to make Turkey give in the preplanned sale of T129 Atak Helicopters to Pakistan, because American technology is part of the aircraft design, the Turkish company selling the helicopters must first secure the US export licenses before delivery can take place.
Indo-Russian Split
New Delhi and Moscow have been enjoying fruitful bilateral relations since dozens of decades almost in all occupations, this relationship meaningfully turned to a strategic cooperation in 2000, since then the countries have been holding annual dialogue to further bilateral relations. For the first time, from the time when, the strategic cooperation emerged, Moscow called off the annual summit, initially due to Delhi's participation in the Indo-Pacific initiative and Quad, whereby the country is more inclined towards the US hub in the region, which could assumingly pose a threat to the alleged Sino-Russian strategic partnership in the Indo-Pacific region.
Furthermore, the Ladakh Standoff between China and India made Moscow choose to gradient towards Beijing, although the head of the Carnegie Moscow Center Dmitri Terin proclaims that Russia will not choose between Delhi and Beijing, while Russia looks at the world differently. In addition, it is in Moscow's interest to encourage a multipolar region in which several powerful axes exist he added. Despite India is a sales market for Russian products especially military ones, and the country's export to India reaches 8 Billion USD. Alternatively, Sino-Russian bilateral trade had crossed $110 Billion, China is a huge sales market for Russian energy, agricultural and military products, and China's share increased to 18 percent since 2013, which was 16 percent thereupon.
China even overtook Germany to become Russia's largest trade partner. Therefore, Moscow should choose between New Delhi and Beijing, so Russia chose China rather than India. Hence, India has no other choice, but setting up a strategic partnership with the United States and its allies. Consequently, the alignment between China and Russia, on the other hand cooperation between India and the US will widen the gap between Moscow and New Delhi, which will definitely have adversarial implication for the entire region.
Conclusion: in accordance with the analysis, the proxy war may last 100 plus years, and the countries will keep the ongoing war taking place in Afghanistan. They have chosen Afghanistan, since the country is primarily, no man's land and its inhabitants are cheap and sucker to be taken on board, hired and utilized as fodder in favor of any local, national, regional and trans-national state and non-state actors or institutions.
Promoting their foreign policy objectives thru Afghanistan serves more or less to avoid direct confrontation among rival countries. Imagine once the war or direct confrontation takes place between India and Pakistan, Saudi and Iran, Russia and China or the US and China, what may happen needless to say, devastation of the entire region. Having had both tactical and strategic weapons, their application definitely jeopardizes global peace and security. Therefore, they have preferred to launch and lengthen the Afghan proxy war, while they have vested interest and stake in maintaining the status qua in order to uphold their foreign policy objectives. Unfortunately, the underdogs and scapegoats of this bloody war are only Afghans, thus I hesitate to say that Afghanistan is the graveyard of empires; rather it is the graveyard of Afghans themselves.
Iran is becoming more desperate – its terror threats should not be ignored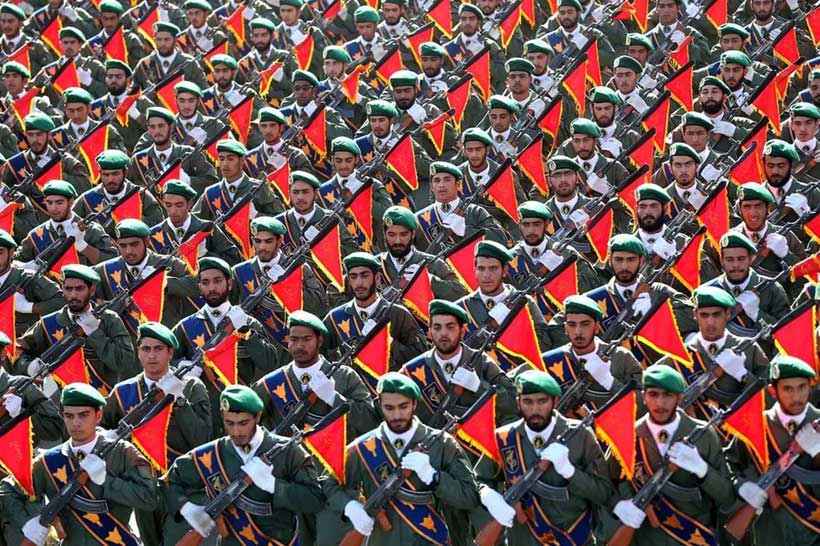 Citing two unidentified senior US intelligence officials, the Associated Press recently reported that the US National Security Agency (NSA) has intercepted communications in January which exposed emerging terrorist plots from Iran's Islamic Revolutionary Guard Corps (IRGC). According to the report, in January the IRGC discussed carrying out a "USS Cole-style attacks" (a reference to the October 2000 al Qaeda suicide bombing of a US guided missile destroyer which killed 17 American sailors) on Fort McNair to kill General Joseph M. Martin, the vice chief of staff for the US Army.
According to the intelligence officials, the recent threat was one example ofthe Iranian regime's apparent commitment to seekingrevenge for the January 2020 killing of Qassem Soleimani, the commander of the IRGC's terrorist Quds Force. A number of senior officials of the regime, including the current commander of the Quds force, Esmail Qaani, have already threatened to carry out terrorist attacks on US soil for the same purpose.
"So long as there is a man around the world, he is ready to punish the cowards who did this," Qaani said on January 1, 2021, adding, "With this crime you have committed, you have created another objective for all the free people in the world, and rest assured that someone, even from inside your house, will respond to your crime."
He also tweeted: "We warn the US President, the head of the CIA, the Secretary of Defense, the US Secretary of State and other US officials involved in the assassination of Martyr Soleimani that they must learn the secret lifestyle of Salman Rushdie because the Islamic Republic will avenge Martyr Soleimani's blood that was unjustly shed."
The Fort McNair plot cannot be dismissed as mere talk or bravado.
From the assassination of Iran's last pre-revolution Prime Minister in Paris in 1991to the bombing of a Jewish community center in Argentina in 1994 to many more such attacks in foreign cities, Iran's regime has consistently carried out extraterritorial terror attacks and assassinations against its enemies.

In October 2011, the Iranian regime plotted to kill the Saudi Ambassador in Washington DCby bombing a restaurant that he frequented. The Iranian agent in charge of that plot, a permanent resident of the US, had planned the terrorist operation in cooperation with a Mexican cartel. He pleaded guilty and confessed that he was working at the behest of the IRGC and had received approximately $100,000 as a down payment.
In June 2018, multiple European authorities thwarted a plot to set off explosives at an annual international gathering in support of National Council of Resistance of Iran (NCRI), near Paris. In addition to tens of thousands of expatriates, the event was also attended by hundreds of political dignitaries from the US, Europe, Canada and throughout the world. The investigations established that the NCRI's President-elet, Maryam Rajavi, the keynote speaker of the event, was the main target of the plot, whichcould have been one of the bloodiest terrorist events in European history and would have most likely claimed a large number of Western lives.
The mastermind of the plot was a senior Iranian diplomat who was acting as Iran's Third Counselor in its Embassy in Vienna. Assadollah Assadi was a veteran officer of the Iranian Ministry of Intelligence and Security (MOIS) and had activated two MOIS sleeper cells for the operation. He personally brought the explosives – 500 grams of TATP and a detonator – on a commercial flight from Tehran and handed them over to the would-be bombers, an Iranian-Belgian couple, in a Pizza Hut in Luxembourg.
Assadi and his three accomplices were arrested in Belgium, Paris and Germany and were put on trial in Belgium last November and convicted in early February. Assadi received a 20-year sentence for plotting to commit terrorist murder and still faces additional charges in Germany, where his arrest took place. Assadi was by no means the first Iranian diplomat to come under suspicion of terrorism, but he was the first to actually face prosecution for it in a European court.
That arrest yielded a substantial amount of evidence regarding Assadi's further activities in Europe. In the years leading up to the 2018 terror plot, he had apparently cultivated a network of assets spanning at least 11 European countries and had delivered cash payments to many of them.
It is safe to assume that some of them were involved in gathering intelligence for the MOIS in Europe that could be used for future terrorist plots.
It would be naive and dangerous to write off the threats from Tehran as mere propaganda. Prudence and vigilance dictate that counterterrorism and counter-espionage activities against Tehran have to be intensified, while its network in the West should be dismantled and prosecuted. But that is not enough.The West must also put policies into place that will continue a trend of accountability and challenge the Iranian regime over its past and ongoing behaviors.
The Italian job: A russian spy story in Rome
The Carabinieri, Italian military police, said the suspected spy in Italy's navy was discovered after a long investigation led by AISI, Italy's domestic intelligence bureau.
They detained an Italian Navy captain together with a Russian military official on suspicion of spying.
To start this narration we have to tell what Russia did last year to "help" Italy during the first covid Pandemic by the "From Russian with love" operation.
The Russian army on 22 March 2020began flying medical help to Italy to help it battle the new coronavirus after receiving an order from President Vladimir Putin, a goodwill gesture that Moscow labelled "From Russia with Love".
Giant Il-76 military planes began taking off from an airbase in the Moscow region after Putin spoke to Italian former Prime Minister Giuseppe Conte and agreements were later reached between respective defence ministers.
The Kremlin said Putin had expressed his support for Italy's leaders and people in the extremely difficult situation they were facing and had heeded an Italian request for help.
Italy is one of the countries within the European Union and NATO with the warmest relations with Russia. Former Prime Minister Silvio Berlusconi is a good friend of Russian President Vladimir Putin.
"Giuseppe Conte had expressed his sincere gratitude for the steps Russia had taking to support Italy at such a tough time for it," the Kremlin said one year ago.
In order of this telling we have to explain the Russian "guide line".
Russia has tried to cultivate close ties with NATO and European Union member Italy in recent years.
It asked Rome to help persuade the EU to lift sanctions imposed over Russia's annexation of Ukraine from Crimea in 2014 – although those sanctions remain in place.
TV footage released by the Russian Defence Ministry showed a column of at least seven military vehicles, including large trucks, waiting to be loaded onto planes.
During this period in March 2020, was evidence for most Italians mass media "no control over the Russian military troops during the sanification operations in the territory of northern Italy".
Many intelligence experts have wondered why such freedom was allowed…. Much concern was also received from American intelligence agencies.US administration has shown that it does not think this libertine behavior in NATO territory. An operation definitely that some here believed raised security fears given the large number of military officers sent in.
The Italian government chaired by Mr. Giuseppe Conte was very close to both China and Russia in 2020. A strategic mistake that has now been corrected by the new government of Mr. Mario Draghi, who strongly affirmed that his mandate will be in line with the themes of Europeanism and Atlanticism.
Italy today, The Italian Foreign Ministry later said it had summoned Russian Ambassador Sergey Razov over the case.
"Carabinieri, the Italian military police, intervened during a clandestine meeting between the two, caught immediately after the transfer of a document by the Italian officer in exchange for a sum of money," the police force said in a statement on March 31.
Russia's embassy in Rome confirmed that an employee of its military attache's office had been detained, adding that "details of the case are being clarified."
It also expressed hope that "the case will have no effect" on Russian-Italian relations.
Police said the meeting between the Italian frigate captain and the Russian official took place late the previous day.
Both are suspected of "serious crimes tied to spying and state security," according to the statement.
It said the Italian officer was taken into custody, while "the position of the foreign national is still under consideration in relation to his diplomatic status."
Relations between Russia and NATO member states have been hit by a number of spy scandals in recent years amid heightened tensions between Moscow and the West.
Bulgaria for example, an EU and NATO member like Italy, expelled two Russian diplomats last week after six people were arrested, including several defense ministry officials, on suspicion of spying for Russia. Italian fighter planes were involved in a NATO operation to intercept Russian planes over the Baltic Sea on Monday.
Earlier this month, relations between Moscow and Washington sank to a new low after U.S. President Joe Biden called the Russian president a "killer," leading Putin to say: "It takes one to know one."
Which consequence will have this spy story on the relationship between Italy and Russia?
To start Italian media are describing the incident as the most serious since the Cold War.
Immediately the UK stood in solidarity with Italy in "exposing and taking action against Russia's malign and destabilising activity that is designed to undermine our NATO ally"
We have to remind the Draghi's speech, during his assignment as Prime Minister, was very clear, Italy will always have an Atlantic and pro-European policy.
Last but not least, in line with the double-track line decided within the EU and NATO (firmness on principles and deterrence, accompanied by dialogue and engagement). Italy will support the need for an inclusive approach that encourages Russia to work together to find shared solutions to major global problems, but from today with an different point of view, the cold war is back in Rome, a great present from Russia for the Biden administration.
It's self-evident that for a number of European countries Russia primarily represents a security concern – not one part of the problem, but the entire and only problem. Traditionally, observers attribute this view to the countries of Central and Eastern Europe, which have historical reasons of anxiety vis-à-vis Russia. In fact, the list is not fully exhausted by those countries, even though apprehensions elsewhere can be weaker and are not expressed too vocally like in Italy, but after today Rome will be more cold with Moscow in the middle term for sure.
As rightly emphasized by Russian scholar Vladimir Baranovsky, "among the challenges that Europe is facing in terms of organizing its own security space, the most serious one could be defined as alleviating concerns in and about Russia"
Finally, if NATO and the European Union are to remain value-based institutions – and there are no reasons to imagine otherwise – sooner or later they will have to think about how to bridge the value gap in relations with Russia.
The dilemma is easily solved, on a theoretical level, if the objectives are united within a single political framework. A good example of this approach can be found in the recommendations of the high-level expert group on NATO's new strategic concept, which state that allies "should endorse a policy that combines reassurance for all alliance members and constructive re-engagement with Russia "and that the goal of cooperation must be pursued "while also guarding against the possibility that Russia could decide to move in a more adversarial direction"