Turkish Islamic soft power strategies
The Turkish foreign policy, as it has been dictated over the past few years, relies heavily in the so-called "Islamic soft-power" strategies that aim to push forward foreign policy interests via the use of Islam-based virtues of charity work and the Islamic ethics in general.
This approach has accelerated since 2007 when AKP political party in Turkey managed to establish firmly itself within the state by winning overwhelmingly its second general elections and since then it has effectively been able to disband numerous Kemalist networks of political and state influence. In terms of foreign policy, AKP places great importance into projecting Turkish interests abroad and especially in the regions of the Balkans, Middle East and Africa through the use of state-sponsored NGO's, charity foundations and religious organizations.
For example, the original goal behind The Union of NGOs of the Islamic World (UNIW) organization was to perform a new kind of soft-power based foreign policy by the Erdogan's Administration that aims to enchase Turkey's role in the globe, by boosting Turkey's profile as a major Sunni country. In short it plays the card of Sunni Islam, but in contrast to Saudi Arabia in a more moderate fashion, so as to be able to be accepted more easily by the "West" (NATO, EU). In a second level this particular NGO, acts as a hub and forum for the creation of interpersonal relations between a diverse crowd of figures that are involved in politics, business, charity and arts. Thus Turkish diplomacy, as directed by the pro-Erdogan elements- finds itself of new avenues to expand the diplomatic support this country may need for its state purposes. In simple terms, the Turkish foreign policy can "muscle" more supporters for Turkish aims and at the same time being able to grasp in a broader sense the tunes of societal changes in the contemporary globalized world. By having a reach in local societies as far as Seychelles, Indonesia and other countries, Ankara acquires a "global outlook". In the case of the Balkans this particular organization has considerable reach in Kosovo, FYROM and Albania.
Continuing, there are many advantages of such strategies that blend Islam with foreign policy goals for Turkey. First of all the building of a "good name" abroad is an expensive process that takes years to be achieved, but once it happens, it provides the country with advantages in issues such as the direction of developmental aid, peace-keeping operations and of course a greater diplomatic clout in the United Nations. The case of Norway is illustrative. A small country of 4.5 million people has managed since the early 70′s to establish a good name for itself in regions such as Africa and South East Asia by providing financing, humanitarian aid and know-how. Thus Oslo has managed to have a reliable international voice and garner diplomatic and political support in international forums, disproportional to its small size as a state. In case of Turkey, a 70 million people country, that connects the Middle East with Southeastern Europe and with obvious ambitions of becoming a regional power; the policy benefits of charity work can be tremendous and as far as the business opportunities are concerned, quite substantial.
However, it should be noted that this use of a "soft-power approach" is not unique in international affairs, and actually it has been a well-established tool for diplomatic services for decades now. There are different sets of powers using soft power approaches. First we have the former colonial powers such as France and UK and to a lesser extent Netherlands, Belgium, Spain and Portugal. The aims of these countries stem from their bonds with their former colonies, their commercial interest and their will to have a global voice by cultivating linguistic and political ties with these countries.
Then we have the Scandinavian group (Norway, Sweden, Iceland and Denmark) that are interested traditionally in keeping up a stern image of peace-loving nations and supporters of economic development. Scandinavian countries, due to their highly industrialized and technologically advanced societies, who happen to be small in numbers and in the periphery of the Northern Hemisphere, the main manner under which they can have a political impact is by providing charities to the so-called "Third world". Also these societies have always yearned to be heard globally due to their historical isolation.
Another category is the countries of Germany and Japan. Due to the WW2 effects and the peculiar state of affairs since, their aim has been traditionally to escape from the past and emerge as nations aiming for global security and peace, through charity work amongst other. USA, Russia and China, is another group that performs charities mostly for the sake of political interests, since they all have global ambitions and are keen and cynic players in the world stage.
Lastly we have the category where Turkey is located along with Saudi Arabia, South Africa, Iran, Gulf States, Brazil, India, and Indonesia. These are all emerging market countries with ambitions of acquiring a regional role or a wider global role based mostly on the religious factor, in the case of Turkey, Sunni Islam of the so-called moderate fashion, along with the "Neo -Ottoman" tendency which is frequently being exported as a role model in the Balkan region.
Somalia is the African country where Turkey seems to have the most high-profile role nowadays. Aside from establishing several aid centers, schools, mosques and other facilities in the country, Turkey has given full scholarships to more than 1,000 Somali students to study at Turkish high schools and universities. There have been quite a few developments in Africa in general since 2007, with Turkish delegations having visited and participated in conference, forums and events in almost all Sub-Saharan African states. Nevertheless, the ambitions of Turkey in that Continent are counterbalanced by the ambitions of global players such as USA, China or the well-established presence of former European colonial powers. Somalia is a country devastated by wars, famines and dissolution of the social fabric, therefore the direction of the Turkish foreign policy it seems was to take advantage of the dire straits the Somalia society is in, so as to be able to gain a "soft-power" base rather easily. Estimations point out those similar moves by Turkey to Africa will be directed in the coming period in Sudan, Angola and Nigeria.
Turkey in Africa a rather new presence in the region and the most important countries involved in similar charity or business projects, have a achieved a long-lasting presence by either investing heavily, as is the case of China, or have committed substantial security guarantees, as is the case with USA which has a military Command for Africa (AFRICOM), that is actually very much involved in "Soft-Power" projects. The interesting fact around Turkey is the pace of activity its diplomatic efforts have been for Africa under Erdogan's Administration, especially after his second electoral victory in 2007. Before that little attention was paid to Africa by Turkey.
It is assumed that Turkey will continue to pay attention to Somalia in particular, due to the piracy issue, since it offers diplomatic capabilities for Turkey to be involved in international culminations in such an important global security issue.
Almost all countries with either global ambitions of some sort (Political, economic), are all involved in establishing their soft power infrastructure into Africa. In the case of China for instance, this has resulted in bringing Africa closer to Beijing in diplomatic terms and has provided ample business opportunities for both sides. In the case of USA, it has resulted in a virtual political control of a significant area of Africa. In the case of European countries and the EU as a supranational organization, soft power has achieved the notion that Europe is a world mediator and a good-will actor, something that often translates into fruitful corporate and commercial arrangements and occasional diplomatic support in the UN, IMF and World Bank through the votes of the African countries.
In other regions the situation is similar, although fluctuations occur. In Latin America China is creating soft power webs of influence in Bolivia, Venezuela, Peru and increasingly Argentina that result often to business deals. In Southeastern Europe, Saudi Arabia and the Gulf states have invested billions of Dollars into boosting the presence of Wahhabis, with negative results for the local societies, including terrorism incidents. In June 2012 a lecturer in the Police Academy of FYROM relayed to the local press that Al Qaeda-like training camps exist in his country and further attacks against Christians should be expected.
In Central Asia, Turkey tried in the 90′s especially to reach out to Turkmenistan, Uzbekistan and Kazakhstan, with no success due to the opposition by Russia and by the local elites that viewed any external influence as a danger for their survival. Attempts were intensified in these countries also after 2007, but the local governments reacted fiercely by confiscating assets of Turkish NGO's and companies or prosecuting Turkish citizens involved.
Soft-power strategies in order to be successful needs a lot of available capital, a sophisticated state and non-state mechanism, political will, strategic global outlook, intercultural knowledge and sensitivity by the actors involved and integration of it, to the long-term visions that the prospective country has in mind. Moreover they need a solid cultural and historical base upon which they can reflect to other cultures. Thus, the tendency to use Ottoman Empire as a historical example by the modern Turkish state since it is viewed as the pinnaculum of cultural achievement by Ankara that could be exported as a "cultural best-practice" abroad.
In overall "Soft power, is not just a show of good-will but rather a carefully planned path that leads to the increase of the diplomatic capability of the country in question. Therefore the states that are able to amass all these qualities and abilities, are the ones that eventually are going to see their soft power approaches bear fruits and remain as such for the long-term.
The question that arises is what may happen if all these actors step up from their soft-power antagonism into a harder approach? History has showed that Africa and other regions will pay the price in terms of social unrest, conflicts and destabilization as each actor will try to advance it interests as it is vying for influence and power. The difference between soft and hard power it's in the means. The ends are the same and it is the acquisition of power, control and wealth. Of course this a cynic read of international relations, and as in ever social subject, it is only of subjective nature.
Turkish Soft Power in Albania
– On mid-May 2012 the infamous Turkish Islamic NGO "Humanitarian Relief Foundation" (Turkish name: Insan Hak ve Hurriyetleri ve Insani Yardım Vakfı) organized a mass circumcision ceremony in Tirana-Albania for 500 local children. The organization was held with the assistance of the Municipality of Istanbul which is completely under the control of the AKP party. It was a first time since the 1930′s that such a ceremony was performed in Albania and was covered by Turkish media, although the Albanian ones kept a low profile on it. A delegation of Turkish Muftis and Islamic theologists travelled from Istanbul to attend and more than 3,000 locals viewed the ceremony and participated in the afterwards feast.
– The same period in Tirana an international conference on Sufism in the Balkans was organized by the department of Islamic theology of the Turkish "Konya Necmettin Erbakan University". A delegation also from Istanbul theologists participated and Albanian Sufi representatives attended and expressed their views on how to enlarge this religious Islamic sect in the Balkan region.
– In early May the President of the Albanian Parliament Mrs. Topali during a visit of her Turkish counterpart Cemil Cicek in Tirana expressed her view that the Turkish nation "Has a lot of Albanian blood" and that "Turkey is a more than just a strategic ally to Albania and is a brotherly nation". Cicek spoke along similar lines by hailing the "Turkish-Albanian brotherhood".
– During the visit of Cicek who has accompanied by a delegation of Turkish Members of Parliament, a special trip was organized in the city of Shkondra, where tribute was paid to the monument of Hasan Riza Pasha (1871 – 1913) who was a general in the Ottoman Army. He was the son of Namik Pasha, Vali of Baghdad, and he was born in Baghdad. He was one of the commanders during the Siege of Scutari. He was shot dead by Osman Bali and Mehmet Kavaja, two Albanians who were servants of Essad Pasha. In parallel Cicek visited the Turkish cultural center "Junis Emre" that was established there in early 2012.
– This center is part of a wider "Soft-power" cultural centers network being established over the past few years by Turkey in several countries such as Albania, Iran, Jordan, Belgium, Georgia, UK, Japan, Kazakhstan, Cyprus (Occupied North), Kosovo, Lebanon, FYROM, Egypt, Romania, Syria. It is under the influence of the AKP government and can be considered as one of the basic elements of the "Turkish-Islamic soft power web of influence" presently.
The 25-year China-Iran agreement
On March 27, 2021, a document entitled "Comprehensive Document of Iran-China Cooperation" was signed by Javad Zarif, Iran's Foreign Minister, and his Chinese counterpart. The Iranian regime's Supreme Leader Ali Khamenei had previously called "the agreement between the presidents of Iran and China correct and wise." However, the Iranian people have widely criticized it as entirely against their national interests. Iranian officials have not even publicized the document's contents yet probably because it is highly contentious.
In 2019, excerpts from this document were revealed by the Economist Petroleum news site. The details included:
China invests $460 billion in Iranian oil and transportation sectors. China will get its investment back from the sale of Iranian crude during the first five years.
China buys Iranian petroleum products at least 32% cheaper.
The Chinese can decide before other companies whether to participate in completing all or part of a petrochemical project.
50,000 Chinese security personnel will be deployed to protect Chinese projects in Iran.
China has the right to delay the repayment of its debts for up to two years in exchange for Iranian products' purchase.
At least one Russian company will be allowed to participate in the Tabriz-Ankara gas pipeline design together with the Chinese operator.
Every year, 110 senior Revolutionary Guards officers travel to China and Russia for military training. 110 Chinese and Russian advisers will be stationed in Iran to train Revolutionary Guards officers.
Development of Iranian military equipment and facilities will be outsourced to China, and Chinese and Russian military aircraft and ships will operate the developed facilities.
Even some circles within the regime have criticized the agreement. The state-run Arman newspaper wrote, "China has a 25-year contract with Iran and is investing $460 billion in Iran. It is somewhat ambiguous. Presently, China is holding the money it owes us and blames it on the U.S. sanctions. How can we trust this country to invest $460 billion in Iran?"
Last year, Iran and China had the lowest trade in the previous 16 years, and according to statistics, by the end of 2020, the volume of trade between Iran and China was about $16 billion, which, including undocumented oil sales, still does not reach $20 billion.
Jalal Mirzaei, a former member of Iran's parliament, said: "If in the future the tensions between Tehran and Washington are moderated, and we see the lifting of some of the sanctions, China can also provide the basis for implementing the provisions of this document, but if the situation continues like today, Beijing will not make any effort to implement the document, as it is essentially unable to take concrete action on the ground because of the sanctions."
China's objectives
Iran is vital to China in two ways, through its geopolitical location and its geo-economic importance. China knows that it does not have enough natural resources and is currently having a hard time supplying them from Russia and Saudi Arabia. Saudi Arabia supplies its energy needs from oil giant Aramco, half of which is owned by the United States. That is why China is looking for a safe alternative that the United States will not influence, and the only option is Iran. They may also have a two-pronged plan in Iran, which involves using Iran's profitable market and making Iran into a lever of pressure against the United States for additional concessions.
The Iranian regime's objectives
The deal could deepen China's influence in the Middle East and undermine U.S. efforts to isolate the Iranian regime. While the international dispute over the Iranian regime's nuclear program has not been resolved, it is unclear how much this agreement could be implemented. The regime intends to make it a bargaining chip in possible future nuclear negotiations. However, some of Iran's top authorities believe that China and Russia cannot be trusted 100 percent.
Due to the sanctions, the regime has a tough time to continue providing financial support to its proxy militias in the region. The regime also faced two major domestic uprisings in 2017 and 2019. Khamenei's regime survived the widespread uprisings by committing a massacre, killing 1,500 young protesters in the 2019 uprising alone, according to the Iranian opposition, the National Council of Resistance of Iran (NCRI) and later confirmed by the Iranian regime's Interior Ministry officials. Now with the coronavirus pandemic, Khamenei has been able to delay another major uprising.
Iran's economy is on the verge of collapse. Khamenei must bow to western countries' demands regarding the nuclear issue, including an end to its regional interventions and its ballistic missile program. Khamenei will struggle to save his regime from s imminent uprisings and a deteriorating economy that will undoubtedly facilitate more protests by the army of the unemployed and the hungry at any moment.
Unlike the 2015 JCPOA, the Iranian regime in 2021 is in a much weaker position. In fact, by many accounts, it is the weakest in its 40-year history. By signing the recent Iran-China agreement and auctioning Iranian resources, Khamenei wants to pressure the United States to surrender and restore the 2015 JCPOA as quickly as possible. But in the end, this pivot will not counteract domestic pressures that target the regime's very existence.
China-Arab Relations: From Silk to Friendship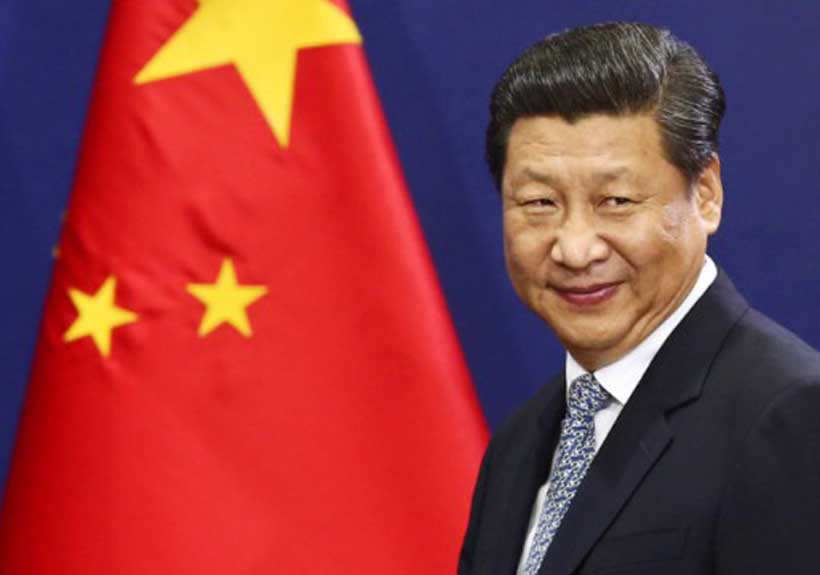 China and the Arabs have a long and rich economic and cultural history, and this distinguished relationship still exists today, with a promising future. This bilateral relationship between the two nations is based on the principles of respect and non-interference in internal affairs or foreign policies. Therefore, China's relationship with the Arabs as well as with other nations is unique and a model to be followed. If you meet a Chinese person, the first phrase will be "Alabo" or an Arab in Mandarin, and he/she will welcome you. The Chinese state's dealings with its counterparts can be measured based on the model of this Chinese citizen. China deals with the Arabs on the basis of friendship and historical ties.
The history of Sino-Arab relations goes back to the Tang Dynasty, and these relations developed with the flourishing of trade between the two nations. Since China was famous for its high quality silk, this trade route was called the "Silk Road". Baron Ferdinand Freiherr von Richthofen, better known in English as Baron von Richthofen, was a German traveller, geographer, and scientist. He is noted for coining the terms "Seidenstraße" and "Seidenstraßen" = "Silk Road" or "Silk Route" in 1877.
Chinese-Arab relations have developed in contemporary history. In 1930, China established official relations with the Arab Republic of Egypt and the Kingdom of Saudi Arabia. A library in China was named the "Fouad Islamic Library", after the late Egyptian king, "Fuad the First". In 1956, Egyptian President Gamal Abdel Nasser cut ties with China and established relations with the Communist People's Republic of China and inaugurated an embassy in Egypt. In the same year, the Arab League established relations with the People's Republic of China. By the year 1990, all Arab countries cut their relations with the Republic of China and established diplomatic relations with the People's Republic of China.
In 2004, the China-Arab Cooperation Forum was established, and today it is considered a milestone for the Sino-Arab relationship. At its inauguration, Chinese Foreign Minister Li Zhaoxing delivered a speech stating:"The Arab world is an important force on the international scene, and that China and the Arab countries have enjoyed a long friendship. Our similar history, our common goals and our broad interests have been credited with enhancing cooperation between the two sides; no matter how the international situation changes, China has always been the sincere friend of the Arab world". The China-Arab Cooperation Forum was officially established during the visit of Chinese President Hu Jintao to the headquarters of the League of Arab States in January of 2004.
Hu Jintao indicated at that time that the formation of the forum is a continuation of the traditional friendship between China and the Arab world. The Chinese president said at the time, "The establishment of the forum is conducive to expanding mutual cooperation in a variety of fields. He added that China had made four proposals; First, maintaining mutual respect, fair treatment and sincere cooperation at the political level. Second, strengthening economic and trade relations through cooperation in the fields of investment and trade, contracted projects, labor services, energy, transportation, communications, agriculture, environmental protection and information. Third, expand cultural exchanges. Finally, conducting training for the employees."
During the second session of the forum in Beijing in 2006, China showed its sympathy for the issues of the Arab world and its interest in the peace process between Palestine and Israel, since China is a peace-loving country; it presented the idea of "a nuclear-free Middle East". China is the best friend of the Arab countries today. Although some Arab countries have strong relations with the West whose policy does not match the Chinese policy, but all Arab countries agree on friendly and good relations with the People's Republic of China.
The Arab citizen is not interested today in the foreign policy of the US, the deadly weapons of the US and Russia, or European culture, but rather the livelihood and economy, and this is what China provides through its wise economic policy. In 2013, Chinese President Xi Jinping launched the Belt and Road Initiative, or New Silk Road, which will restore glow to China-Arab relations; as the Arab world is in a strategic location on the initiative map. Thus, the Arab countries are an important partner for China in the initiative. Although the volume of trade exchanges between China and the Arab countries exceeded 200 billion US dollars, which increased 10 times over the past decade, there was no commercial and institutional arrangement to facilitate trade between the two sides.
China, as a peaceful and non-invasive country, aims to promote economic cooperation with Arab region on an equal basis because it considers the Arab world a historic partner. The historical experience of the Arabs with the Chinese through the Silk Road has confirmed that China differs from the nations of colonialism and imperialism, which consider the Arab region a place rich in natural resources only. In his historic speech at the Arab League, Chinese President Xi stressed that China will not seek to extend influence and search for proxies in the Middle East. The Chinese initiatives will contribute to establishing security and stability through economic development and improving the people's livelihood, in line with the post-2015 development agenda and the aspirations of the Arab people for a better life, as the Chinese experience proves that development is the key to digging out the roots of conflicts and extremism in all its forms.
China is a neutral country and does not favor the use of violence. During the Syrian crisis, for example, the Chinese envoy to the Security Council raised his hand three times, meaning that China, with its wise diplomacy, supported the Syrian regime without entering the military war. During the recent Chinese military parade, Chinese President Xi Jinping revealed some Chinese military capabilities and thus sent a message to the enemies that China will always be ready if a war is imposed on it, and a message of support to China's allies. The Arab region today needs a real partner who possesses economic and military power and international political influence, such as China; to ensure the success of the Belt and Road Initiative, and to consolidate the China-Arab relations and raise it to the level of a strategic alliance.
The analysis of developments in relations between Turkey and Israel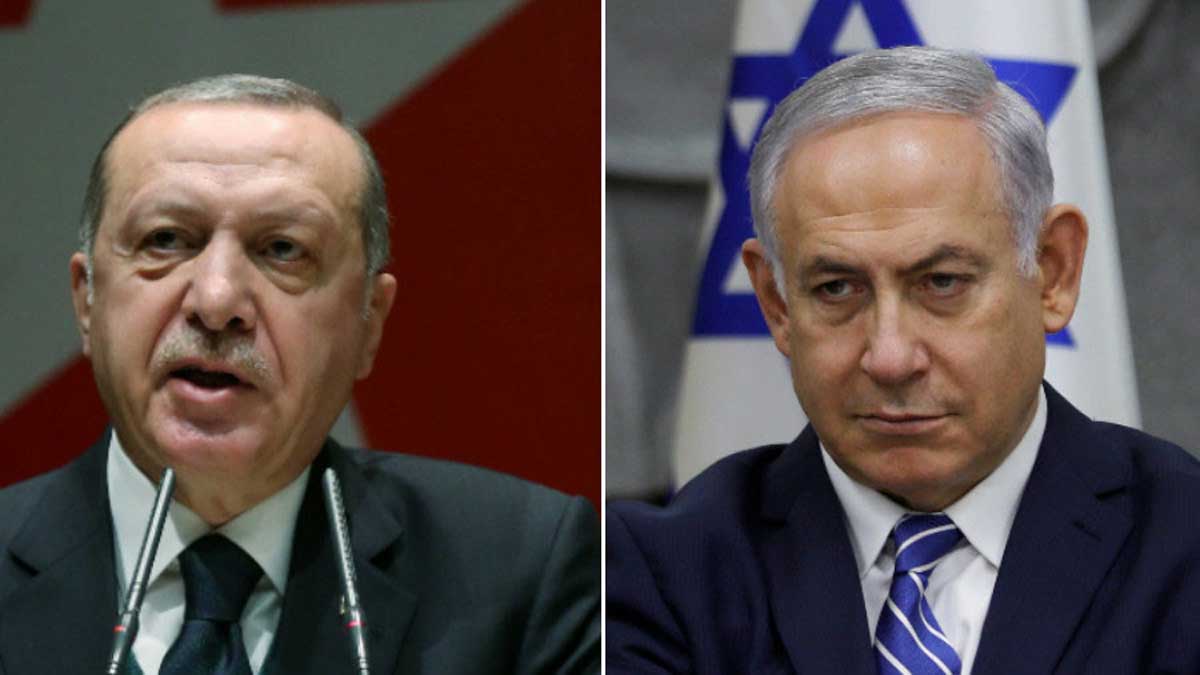 The fear of Biden's Administration, the concern over the Abraham Accords (see below), the positioning of the geopolitical status in the Middle East, and the safeguarding of interests in Israel are the main factors through which Turkish President Recep Tayyip Erdoğan seeks to improve relations with Israel which, however, he connects to the Palestinians.
The statements made by Turkish President Erdoğan's on developments in relations with Israel have confirmed media reports of his repeated attempts to reach an understanding on several controversial issues, as well as paving the way for the re-establishment of diplomatic relations. The statements made by President Erdoğan, as well as other Turkish officials, have stressed the connection between the change in Turkish-Israeli relations and Israel's policy towards the Palestinian issue.
The "linking principle" connecting the two issues has been a key factor in Turkish foreign policy since the 1950s, and it operates in the range between words and deeds, which at times have also led to severe crises in the relations between the two countries.
At the time Turkey opposed the partition plan, but recognised Israel and maintained diplomatic relations with it. Relations were suspended after the second Arab-Israeli war in 1956, when Turkey recalled its diplomatic representative from Tel Aviv, announcing he would not return there "until a just solution to the Palestinian issue was found in accordance with UN Resolutions".
After rising to power, President Erdoğan has developed the aforementioned "linking principle". Against the backdrop of Israel's actions with the Palestinians, Turkey has increased its political and economic support for its Muslim brethren and caused crises.
President Erdoğan's recent statements have been made against the backdrop of this policy: on the one hand, the Turkish President has expressed his country's desire to improve relations with Israel and continue intelligence cooperation; on the other hand, he has maintained that Israel's treatment of the Palestinians is "unacceptable".
It is important to note that Turkey will not relinquish the "linking principle", which differs from the principle of the new Arab normalisation, based on the separation between the Palestinian issue and relations with Israel. The so-called Abraham Accords, such as the recognition of the State of Israel by the United Arab Emirates in September last year: the third Arab country to formally recognise Israel, after Egypt and Jordan; the fourth one if we considers Mauritania's "frozen" recognition.
The policy implemented by President Erdoğan is not only shaped by foreign relations, but is also a Turkish internal issue in which public opinion plays a key role. It seems that until elections are held in Turkey (scheduled for June 25, 2023), there will be no complete normalisation with Israel. The majority of the Turkish population supports the Palestinians and their rights, feels full solidarity for them and opposes the Israeli presence.
Moreover, President Erdoğan regards the Palestinian issue as an important factor in building a renewed Turkish Muslim national identity. These stances increase his popularity and strengthen people's support for him and his party, as well as his authority and prestige in the Muslim world.
At the same time, however, this policy also has pragmatic implications: President Erdoğan is not severing ties with Israel, but merely creating actions that lead to symptoms of "diplomatic" crises.
Despite this wait-and-see attitude, economic ties between Turkey and Israel are flourishing. According to official data, in 2018 exports from Turkey to Israel were worth 6.5 billion dollars and imports 1.9 billion dollars (excluding diamond trade and tourism).
Following the crisis in relations and the expulsion of the Israeli Ambassador from Turkey (May 2018), exports had fallen to 4 billion dollars in 2019 and imports to 1.7 billion dollars. Although declining, there are still deep economic ties.
Trade relations, however, are not the decisive factor in determining the nature of Turkey-Israel relations. There are four issues that are believed to have led Turkey to review its relations with Israel:
1. Turkey has welcome the new U.S. President, Joe Biden, with caution and fear that he will oppose Turkish activities in the region. The U.S. leader may also be very tough on security, armaments and minority rights in Turkey. Some believe that improved relations with Israel will calm down the situation with President Biden, and the U.S. Congress and the Zionist lobby will be able to contribute to this result. It is not known, however, whether Prime Minister Benjamin Netanyahu will be as good a mediator with Biden as he was with Donald Trump.
2. Turkey is seeking to remove the isolation imposed on it due to the distribution of marine economic zones in the Eastern Mediterranean area, and is trying to bring Israel on its side to develop a joint stance and oppose such subdivisions. According to Israeli sources, Turkey has made Israel a generous offer to expand its area of control over the marine economic zones, in exchange for Turkey' siding with Greece, Cyprus and Egypt. Israel has reacted cautiously, both because it much weighs President Erdoğan's intentions and because it is actually interested in strengthening its relations with the above stated countries.
3. Turkey is worried about the Abraham Accords for normalisation with Israel, particularly the aforementioned one with the United Arab Emirates, and Turkey aims at limiting their influence and status as a further "undertaking" of Arab rivals. Turkey endeavours to dismantle a rising alliance between the Arab countries and Israel. After all, we wonder why Turkey is not instead trying to improve its ties with Arab countries to achieve the same goal. Could it still be because of history and traditional mutual dislike?
4. Turkey is trying to relieve the pressure on its activities in Israel and Palestine as a result of the possible improvement in relations with Israel. Turkey funds important projects in Jerusalem and Israel is trying to contain and restrain it. Conversely, an improvement in Israeli-Turkish relations could release the Israeli brake.
To date, no official Israeli response has been provided to Turkish statements. Israel's media speak of suspicion and coldness in response to the Turkish rapprochement, with fears that President Erdoğan is preparing a ploy, a trick aimed not at improving his relations with Israel, but at sabotaging Israel's relations and contacts with other countries.
However, leaks from senior Israeli officials indicate that their country has set conditions for restoring relations, which include ending Turkey's ties with Hamas and transferring Turkish projects to Jerusalem through Israeli channels, as well as abstaining from voting against Israel in international organisations and adopting a balanced position between Israel and the Palestinians.
It is not yet clear what the fate of Turkey-Israel relations will be in the coming months, with President Biden in the White House and after the Israeli elections held on March 23, 2021. It is important to note, however, that Turkey will not give up the "linking principle", which differs from the new principle of Arab normalisation, based on the separation between the Palestinian issue and relations with Israel.
The Turkish "linking principle" is a real need for Turkey- hence the Palestinian leadership must work with Turkey to maximise common goals, especially with regard to Jerusalem, the Al-Aqsa Mosque and Gaza.
Not easy steps to make, but not impossible either.