Trends To Watch In Russia In 2013
It began with a roar and it ended with a whimper.As 2012 wound down in Russia, the soaring expectations for change that accompanied the civic awakening and mass protests at the year's dawn had clearly faded.
But the social, economic, and political forces that spawned them will continue to shape the landscape well into the new year.
A fledgling middle class remains hungry for political change, splits still plague the ruling elite over the way forward, and a fractious opposition movement continues to struggle to find its voice.
With the Kremlin unable to decisively squelch the mounting dissent and the opposition unable to topple President Vladimir Putin, Russia has entered an uneasy holding pattern that has the feel of an interlude between two epochs.
"I don't think we are at the end of the Putin era, but we are at the beginning of the end," says longtime Russia-watcher Edward Lucas, international editor of the British weekly "The Economist" and author of the recently published book "Deception."
With economic headwinds on the horizon, generational conflict brewing, and new political forces developing, Russian society is changing — and changing rapidly. But the political system remains ossified.
So what can we expect in 2013? Below are several trends and issues to keep an eye on in the coming year.
The Oil Curse: Energy Prices And The Creaking Welfare State
If 2012 was all about politics, 2013 will also be about economics.
The Russian economy, the cliche goes, rests on two pillars — oil and gas. And both will come under increasing pressure as the year unfolds.
World oil prices, currently hovering between $90 and $100 per barrel, are expected to be volatile for the foreseeable future. And any sharp drop could prove catastrophic for the Russian economy.
Energy experts and economists say Russia's budget will only stay balanced if oil prices remain between $100 and $110 per barrel. Five years ago, the figure needed for a balanced budget was $50 to $55.
Meanwhile, Moscow's dominance of the natural gas market is being challenged by the development of new energy sources like shale gas and liquefied natural gas.
"The Russians are going to have to face, just as the Saudis did in the 1980s, the possibility of dropping energy prices," says Nikolas Gvosdev, a professor of national security studies at the U.S. Naval War College.
The flush days when petrodollars could power Russia's economy and lubricate Putin's political machine are coming to a close.
How the political system responds to these challenges will be a key question in 2013.Leading Russian economists like Deputy Prime Minister Arkady Dvorkovich and former Finance Minister Aleksei Kudrin have stressed the need to diversify the economy away from its dangerous dependence on nonrenewable energy. Both Putin and Prime Minister Dmitry Medvedev have likewise made calls for diversification.
But despite all the rhetoric, there has been little real action.
Part of this is due to fierce resistance from powerful figures in the Russian elite with ties to the energy industry, like Rosneft CEO Igor Sechin, a longtime Putin crony.
But the reasons for inaction are actually much more fundamental. Diversifying and modernizing Russia's economy would entail a degree of decentralization and the subsequent development of alternative centers of economic power. This, in turn, would eventually lead to new centers of political power with more independence from the Kremlin than Putin appears willing to tolerate.
"The decoupling of gas and oil prices, the large quantities of liquefied natural gas on world markets, the growth of shale gas have all [diminished the regime's] ability to collect natural-resource rents," Edward Lucas says. "And the collection and distribution of those rents is central to its model."
With resources declining and no economic diversification program in sight, the authorities appear to have concluded that they need to reform the country's creaking social-welfare system. But such a move is certain to be politically volatile, especially since Putin's main base of support is now the rural poor and the working classes.
The Kremlin is still haunted by the protests that broke out in 2005 when the government attempted reforms to the social safety net.
Fathers And Children: The Looming Generational Conflict
When Putin took power in 2000, the 40-something former spy looked like an energetic young leader, especially compared to his geriatric predecessor, Boris Yeltsin.
But more than a decade later, he and his team are aging together. And by most accounts, they intend to remain in office at least until 2018 — and possibly until 2024. By that time, much of his ruling circle will be in their 70s.
The comparisons to Leonid Brezhnev that accompanied Putin's return to the Kremlin were not superfluous. In addition to the fears of stagnation, the graying of Team Putin also sets the stage for a generational conflict within the elite.
"The lack of institutional mechanisms for promotion and rotation is a problem because, when you don't have that, it leads the younger generations to get frustrated if they don't believe there is a way to advance within the system," Gvosdev says. "If everything is blocked off it creates tension. You can't just freeze the government establishment because the energy of people is going to be directed toward breaking into it or replacing it, and that becomes a danger."
How this generational discord develops will be one of the key underlying trends to watch in 2013. This is especially true since a whole new cohort entered the elite over the past four years.
During his presidency, Dmitry Medvedev made a concerted effort to bring younger cadres into the Kremlin, which analysts say added a political element to the generation gap.
"Real fragmentation is taking place by age because Medvedev rejuvenated the system of administration," prominent Moscow-based sociologist Olga Kryshtanovskaya told the daily "Nezavisimaya gazeta" this summer. "The more conservative older part of the elite was irritated by this and moved toward Putin. And those who were younger moved toward Medvedev in hopes of a quick career if Medvedev remained for a second term."
The young guns who came in with Medvedev are also ideologically inclined toward greater pluralism. "Many observers are convinced that these leaders are giving financial support to the opposition," Kryshtanovskaya said.
The generational gap in the elite is mirrored by a similar one in society as the cohort born after the fall of the Soviet Union — and which has only faint memories of the chaos of the 1990s — comes of age.
"This group of citizens sees itself as not only post-Soviet, but non-Soviet," says Masha Lipman of the Moscow Carnegie Center. "They don't consider themselves to be vassals of the state. They are more free-thinking."
Lipman adds that this younger generation is helping fuel Russia's civic awakening. "This process is irreversible," she says. "And as Russia continues to urbanize and cities become centers for younger people, this process will only accelerate."
Strange Bedfellows: When Aleksei Meets Aleksei
When speculation emerged that anticorruption blogger Aleksei Navalny and former Finance Minister Aleksei Kudrin may be cooperating politically, it raised eyebrows among Kremlin-watchers.
And the reason for the interest goes much deeper than an abiding fascination with these two emerging players on the political scene.
An alliance of the Alekseis would have pointed to one of the key developments analysts have been watching for since mass protests broke out a year ago: collaboration between the technocratic wing of the elite and moderate elements in the opposition.
Such a marriage makes sense in many ways. Elite technocrats understand that Russia is dangerously dependent on energy exports, that current levels of corruption are unsustainable, and that in order for the economy to diversify and modernize, the political system will need to become more pluralistic.
Moreover, as moderate opposition activists come to understand that a colored revolution in Russia is unlikely, they are more likely to place their hopes in evolutionary change.
And in the event that the Putin regime begins to look dangerously shaky, overtures from inside the halls of power to the opposition will become more likely.
"We are going to see more people toying with defection to the opposition, people opening up back channels," says Mark Galeotti, the author of the blog "In Moscow's Shadows" and a professor at New York University. "We're going to see the economic elite trying to reach out [to the opposition] and this is going to be very dangerous for the state."
On the opposition's Coordinating Council, a bloc is already emerging that seeks to negotiate political change with willing elements in the Kremlin, rather than trying to topple the regime, according to press reports.
The faction apparently includes 16 members of the 45-seat council. In addition to Navalny and his backers, it reportedly includes socialite-turned-activist Ksenia Sobchak and her supporters, as well as longtime opposition figure Ilya Yashin and entrepreneur Aleksandr Vinokurov, the co-owner of Dozhd-TV.
For his part, Kudrin has been trying to position himself as a bridge between the opposition and the authorities to foster what he calls "evolutionary change" toward greater pluralism. So has billionaire oligarch and former presidential candidate Mikhail Prokhorov.
If a bridge is ultimately built between the opposition and the technocratic wing of the elite, it could result in negotiated political reforms, in the co-opting of a vital wing of the Kremlin's opponents — or a measure of both.
"I think it is more likely that as we see divisions within the regime that one faction tries to exploit public discontent," Lucas says. "It will still be kind of 'inside baseball' rather than a 1917-style change."
Beyond The Street: Will The Opposition Mature?
Bouts of soul searching are an inevitable ritual after the past few opposition demonstrations.
The heady days of December 2011 and January 2012, when dissenters found their voice and discovered they were not alone, are a fading memory. Likewise, the period from the beginning of the year until Putin's return to the Kremlin in May, when the opposition seemed to control the national conversation, is also over.
And opposition leaders look increasingly uncertain about what to do next.
"They're focusing on the glory days, the revolutionary days of December through May. But nobody is thinking about what happened after May, when they lost control of the agenda," says Sean Guillory, a fellow at the University of Pittsburgh's Center for Russian and Eastern European Studies. "How are they going to recapture the agenda and how are they going to really start making connections with society?"
The opposition, of course, is not a unified movement. It comprises nationalists, leftists, and liberals, united only by their opposition to Putin.
Will a single leader emerge in the coming year? Will the Coordinating Council, an elected body designed to bridge the divides in the opposition and establish a bond with civil society, prove an effective form of collective leadership?
"A process we are going to see is the opposition actually beginning to fragment," Galeotti says. "You will begin to see ideological blocs, real opposition movements rather than just the generic 'we want Russia without Putin' thing. But it will be a painful process."
What happens with the opposition, whether it is able to move beyond the street and develop into a potent political force, is a trend to watch because there is a deep well of discontent in society to potentially tap.
"They have this feeling of stagnation," Lucas says. "Of institutions that don't work, of a public life plagued by lies, evasions, and propaganda. They want more decent behavior by public officials and public institutions and they aren't getting it."
Copyright (c) 2013. RFE/RL, Inc. Reprinted with the permission of Radio Free Europe/Radio Liberty, 1201 Connecticut Ave., N.W. Washington DC 20036
Russia Postpones BRICS Summit to Later Date
The summits of the BRICS (Brazil, Russia, India, China and South Africa) and Shanghai Cooperation Organization (SCO) member states have been postponed from July to a later date, due to the coronavirus pandemic, the Kremlin press service said on May 27.
The Shanghai Cooperation Organization (SCO), established in 2001, brings together China, India, Kazakhstan, Kyrgyzstan, Pakistan, Russia, Tajikistan and Uzbekistan. Afghanistan, Belarus, Iran and Mongolia are SCO observers, while Azerbaijan, Armenia, Cambodia, Nepal, Sri Lanka and Turkey are dialogue partners.
"In light of the global pandemic and the temporary restrictions linked to it, the Organizing Committee for the preparation and securement of the chairmanship of the Russian Federation in the SCO in 2019-2020 and BRICS in 2020 has made a decision to postpone the meeting of the BRICS leaders and the session of the SCO Heads of State Council earlier scheduled for July 21-23 in St. Petersburg to a later date," the press service said in a statement.
The new dates for the summits will be determined depending on the further development of the epidemiological situation in the member states and in the world in general, the statement said.
As part of the events, Foreign Ministers from BRICS held their meeting online late April while the Ministers of Health held theirs in May. BRICS members were, particularly, looking for ways to step up cooperation within the bloc to contain coronavirus pandemic, as well as to revive the economies that have received a major blow due to the travel restrictions and lockdown imposed in most countries to curb the spread of coronavirus.
Throughout 2020, – under the theme "BRICS Partnership for Global Stability, Shared Security and Innovative Growth" – Russia holds the BRICS pro tempore presidency.
The emphasis of the Russian presidency is on promoting science, technology and innovation and digital economy and health, and strengthening cooperation in the fight against transnational crimes.
In addition to those, dozens of academic, sporting, cultural and artistic events planned for the year. St Petersburg was chosen as the venue in accordance with the Presidential Executive Order No. 380 of 15 August 2019.
BRICS is the group composed by the five major emerging countries – Brazil, Russia, India, China and South Africa, – which together represent about 42% of the population, 23% of Gross Domestic Product (GDP), 30% of the territory and 18% of the global trade.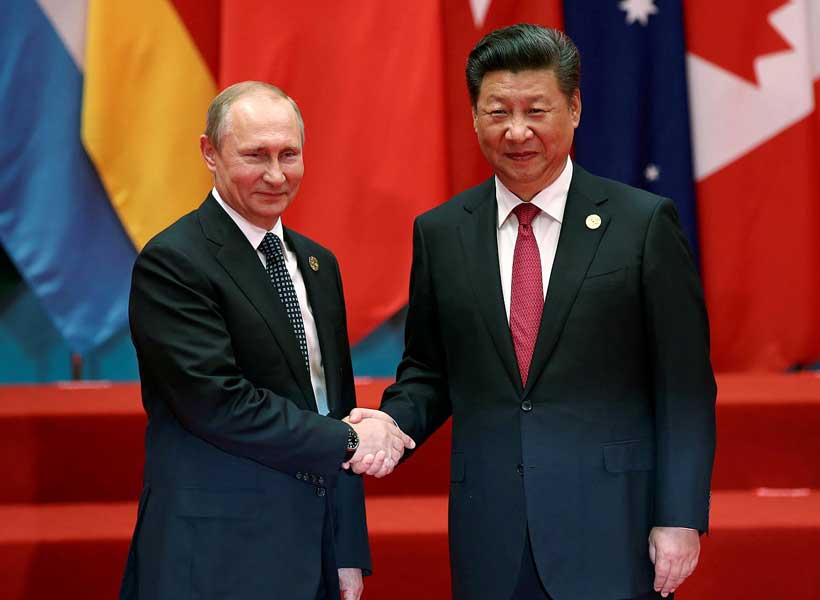 Cooperation between Russia and China has deep historical roots, and its earliest manifestations can be found already during the Chinese civil war. It seems that both countries should be most united by their communist ideology, but the ambitions of their leaders and the willingness to be the first and the most powerful was in fact the dominating force. Relations between these nations have seen times of flourishing, as well as times of military conflict.
The relationship between both countries are currently presented as friendly, but it is difficult to call them truly friendly. Even in the past, relations between the USSR and China were based on each nation's calculations and attempts to play the leading role, and it doesn't seem like something has changed at the present, although China has become a "smarter" and resource-wise richer player than Russia.
We will now look at the "similarities" between China and Russia, the ways they are cooperating and future prospects for both of them.
Russia is a semi-presidential federative republic, while China is a socialist nation ruled by the secretary general of its Communist Party.
Already we can see formal differences, but if we dive deeper both countries essentially feel like Siamese twins. There are more than one party in Russia, but only one party decides everything that takes places in the country – United Russia. Russia isn't even attempting to hide the aim of establishing the said party, which is to support the course taken by Russian President Vladimir Putin.
China, too, has nine parties, but only one of them is allowed to rule and it is the Communist Party of China which answers to the secretary general who is also the president of the state.
Therefore, there is a single ruling party both in Russia and China, and this party is responsible for implementing and executing whatever the president wishes, meaning that both countries are ruled by a rather narrow circle of people. Forecasting election results in Russia and China is as difficult as being able to tell that the day after Monday is Tuesday. To write this piece, I spent a lot of time reading about the history of China and Russia and the current events taking place in these countries, and for this reason I figured that we also have to look at the meaning of the word "totalitarianism".
Totalitarianism is a political system in which a country is governed without the participation of its people and decisions are made without the agreement of the majority of the people; in a totalitarian regime the most important social, economic and political affairs are controlled by the state. It is a type of dictatorship where the regime restricts its people in all of the imaginable aspects of life.
Notable characteristics:
Power is held by a small group of people – a clique;
Opposition is suppressed and general terror is a tool for governing the state;
All aspects of life are subordinate to the interests of the state and the dominating ideology;
The public is mobilized using a personality cult of the leader, mass movements, propaganda and other similar means;
Aggressive and expansionist foreign policy;
Total control over public life.
Are China and Russia truly totalitarian states? Formally, no, but if we look at the essence of it we see a completely different picture. We will look at all of the signs of totalitarianism in China and Russia, but we will not delve too deep into events and occurrences that most of us are already familiar with.
Can we say that the majority of Russian and Chinese citizens are engaged in decision making? Formally, sort of, because elections do take place in these countries, but can we really call them "elections"? It would be impossible to list all the video footage or articles that reveal how polling stations operate in order to provide the required election results. Therefore, we can say that the general public is involved in making decisions, it's just that the results are always determined by those in power.
The last paragraph brings us to the first point: power is held by a small group of people – a clique. Both nations are ruled by presidents who appoint whoever they wish and dismiss whoever they wish. This is power held by a small group of people. The next point – suppressing the opposition and using general terror to govern the state. Media outlets have written enough about suppressing the opposition in both countries, and everyone has seen at least a video or two on this topic. To stop their political opponents and any events organized by them Russia and China use not only their police forces, but the army as well. From time to time, information appears that an opposition activist has been murdered in either of the countries, and these murders are never solved. We will not even begin talking about criminal cases and administrative arrests of opposition activists. We can say that the point in question is completely true. Regarding all of the aspects of life being subordinate to the state and ideology – is there anyone who isn't convinced by this? If Russia is engaged in restricting and "teaching" its citizens quite inconspicuously, China has no time for ceremony – the Communist Party of China has published new guidelines on improving the "moral quality" of its citizens, and this touches upon all of the imaginable aspects of one's private life – from organizing wedding ceremonies to dressing appropriately.3 Is the public in Russia and China mobilized using the cult of personality, mass movements, propaganda and other means? We can look at 9 May celebrations in Russia and all of the surrounding rhetoric, and the events dedicated to the anniversary of founding the People's Republic of China. I'm sorry, but it feels like I'm watching some Stalin and Hitler era montage but in a more modern fashion, and instead of Stalin and Hitler there are some new faces. What is left? Of course, aggressive and expansionist foreign policy. China has been very active in the South China Sea for many years now, which has aggravated tensions among the armed forces of its neighbors – Brunei, Malaysia, the Philippines, Taiwan and Vietnam.
China is continuing to physically seize, artificially build and arm islands far from its shores. And in the recent years China has been particularly aggressive towards Taiwan, which the regime sees as being rightfully theirs. China is also willing to impose sanctions against those nations who intend to sell arms to Taiwan.
However, when it comes to armed aggression China pales in comparison to Russia, which isn't shy to use armed aggression against its close and far neighbors in order to reach its goals. Russia's aggression goes hand in hand with its nihilism. I am sure I don't have to remind you about the events in Georgia, Ukraine and previously in Chechnya as well. Russia will use every opportunity to show everyone its great weaponry, and this also includes directly or covertly engaging in different military conflicts.
Maybe some of you will disagree, but as I see it China and Russia currently are totalitarian states in their essence.
History has shown us that up to a certain point even two totalitarian countries are able to cooperate. Let's remember the "friendship" between Nazi Germany and the USSR, but let's also not forget what this friendship resulted in.
It is also true that the economic sanctions imposed against Russia have pushed it to be more friendly with China, but it seems that China will come out as the winner of this relationship.
According to data from the Chinese Ministry of Commerce, in 2018 the Chinese economy received 56.6 million USD in direct investments from Russia (+ 137.4%), meaning that by the end of 2018 the amount of direct investments from Russia reached 1,066.9 million USD.
In 2018, the Russian economy received 720 million USD in direct investments from China, resulting in a total of 10,960 million USD in direct investments from China by the end of 2018.
The main spheres of Chinese investments in Russia are energy, agriculture and forestry, construction and construction materials, trade, light industry, textiles, household electric goods, services, etc.
The main spheres of Russian investments in China are production, construction and transportation.5 We can see from the amount of investments that in this "friendship" China has far exceeded Russia. We also cannot ignore the fact that China has launched more large-scale investment projects in other nations than Russia has.
It should be noted that China's procurement of military equipment has allowed Russian armaments programs to exist. Russia sold modern armaments to China, despite the concerns that China will be able to "copy" the received armaments and then improve them. But the need for money was much greater to worry about such things. As a result, in early 2020 it was concluded that China has surpassed Russia in producing and selling armaments.
If we look at the ways Russia and China are attempting to shape public opinion in the long term, we can see some differences. Russia tries to do this using publications, demonstrative activities and attempts for its compatriots to become citizens of their country of residence while maintaining their cultural identity in order to establish an intellectual, economic and spiritually-cultural resource in global politics. China, in addition to all of this, has established Confucius Institutes that are subordinate to the Chinese Ministry of Education. There are a total of 5,418 Confucius Institutes or classes around the world. These institutes, named after the most known Chinese philosopher, have drawn sharp criticism globally for its foreign policy views – ones that avoid discussing human rights or believe that Taiwan or Tibet are inseparable parts of China. These institutes have been accused of espionage and restricting academic freedom.
"The Confucius Institutes are an attractive brand for our culture to spread abroad," representative of the Communist Party's Politburo Li Changchun said in 2011. "They have always been an important investment in expanding our soft power. The brand name "Confucius" is quite attractive. By using language tuition as a cover, everything looks logical and acceptable from the outside." The leadership of the Communist Party calls these institutes a crucial part of its propaganda toolset abroad, and it is estimated that over the past 12 years China has spent roughly two billion USD on them. The constitution of these institutes9 stipulates that their leadership, personnel, guidelines, tuition materials and most of their funding is ensured by the Hanban institution which is under the Chinese Ministry of Education.
Both Russian and Chinese citizens either buy or rent property abroad. Russians do this so they have somewhere to go in case the necessity arises.
Chinese citizens and companies slowly rent or purchase large swathes of land in in the Russian Far East. There is no precise estimate of the amount of land handed over to the Chinese, but it is said it could range between 1–1.5 billion hectares.
What can we conclude from all of this? China and Russia are, in essence, totalitarian states with bloated ambitions. If Russia tries to reach its ambitions in an openly aggressive and shameless manner, then China is doing the same with caution and thought. If Russia often uses military means to reach its goals, China will most likely use financial ones. If Russia attempts to fulfill its ambitions arrogantly, then China achieves the same result with seeming kindness and humility.
Which country has gotten closer to its goal? I believe it is definitely not Russia. In addition, just as the USSR, Russia too believes it is better than China. But for those observing from the sidelines, it is evident that in many areas China has far succeeded Russia and is now even acquiring Russian land.
This brings us back to history – what happens when two totalitarian states share a border? One of them eventually disappears. For now, it seems that China has done everything in its power to stay on the world map.
COVID-19 Presents Both Opportunities and Threats to Russia's Foreign Policy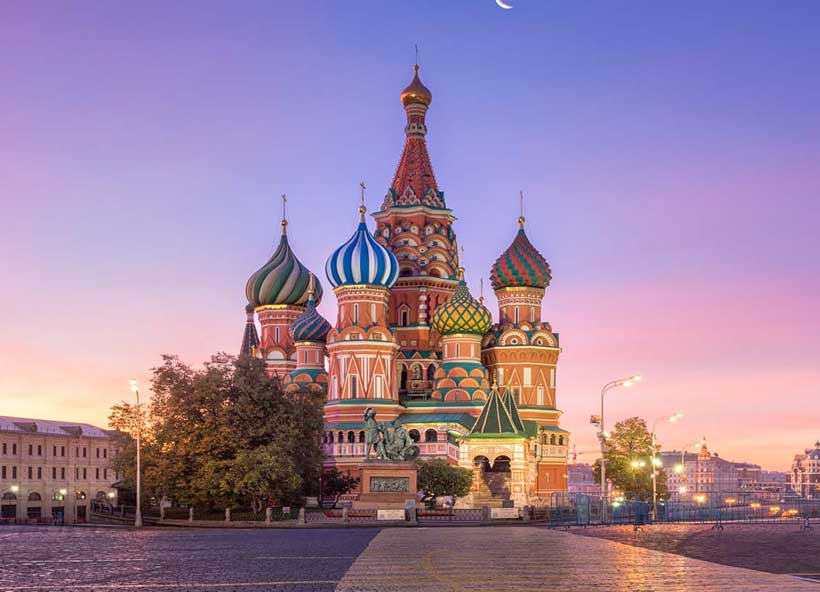 Like every major global crisis, the coronavirus pandemic both generates additional risks, challenges and threats to every state's foreign policy and opens up new opportunities and prospects. Russia is no exception in this. The specific nature of Russia's case lies, we believe, in its opportunities being mostly tactical and situational, while the threats it faces are strategic and systemic. The balance of opportunities and threats depends on many variables but primarily on how Russia ultimately copes with COVID-19 compared to other states, particularly its international opponents. Any comparative advantage that Moscow has in fighting the virus, be it the numbers infected and lost to COVID-19 or the relative scale of economic losses will somehow expand Moscow's range of opportunities in the post-virus world. Any failure will increase foreign policy threats and curtail opportunities. Let us compile a preliminary list of these opportunities and threats.
Opportunities
Confirming Russia's Perspective of the World
Over recent years, Russia's leadership has insistently advanced its own "Westphalian" picture of international relations, emphasizing the priority of national states and the importance of sovereignty, questioning the stability of Western solidarity and the effectiveness of Western multilateral diplomacy. Thus far, the epidemiological crisis is bearing out the Russian perspective: the crisis is bolstering national states, demonstrating the helplessness of international organizations and generating doubts as to whether the West does, indeed, follow its own declared values and principles. This development both opens up a huge number of additional opportunities for Russia's domestic and foreign propaganda and justifies the Kremlin's ambition to be one of the principal architects of the post-crisis world order.
The Possibility of the West Adjusting its International Priorities
The global pandemic that has delivered a particularly grievous (at the moment!) blow to the leading western states may well result in them revising their hierarchy of external threats and, accordingly, adjusting their system of foreign political priorities. In recent years, the established idea of Russia has come to be that of the "main problem" in global politics and the "main threat' to the interests of the West, while COVID-19 is rapidly eroding this. Such a mental shift is unlikely to result immediately in practical positive shifts in Moscow's relations with its western partners, but we do believe that it will open up opportunities for a "mini-reset" of these relations. At the very least, we might expect increasing pressure from the West on Moscow, as well as further escalation of the confrontation, to be averted.
The Expanding Global "Power Vacuum"
Proposals for curbing international commitments were popular in developed states, primarily the US, long before the COVID-19 pandemic. The pandemic will, however, apparently be a powerful catalyst to such sentiments, which will have an increased effect on foreign political practices. This development will manifest itself, in particular, in a possible curtailing of bilateral and multilateral financial and economic aid programmes for the global South and in reduced military and political commitments to developing partner states. The expanding "power vacuum" in the Middle East, Africa, South Asia and the post-Soviet space can create additional opportunities for Russia's foreign policy.
Threats
Russia's Global Economic Standing Deteriorating
The experience of the last global financial and economic crisis in 2008–2009 allows us to conjecture that, in the new upheaval, Russia will be hit harder than other countries. The prospects of even a partial recovery of global oil prices are dubious, accumulated financial reserves will be shrinking rapidly, the timeframe for Russia's economy returning to the global average growth rate will be revised, and the threat of Russia being pushed on to the periphery of the global economy will remain. Accordingly, there is an emerging threat of Russia's defence and foreign policy resource base shrinking, and that includes support for Russia's allies and partners, funding for international organizations, and Russia's participation in cost-intensive multilateral initiatives (such as implementing the Paris Climate Agreement). If the country's current socio-economic model remains unchanged in the post-crisis world, the consequences for the "national brand" will be no less significant.
The Rise of Isolationism in Russia
Russian society's initial reaction to Moscow's efforts to assist several foreign states (from Italy to Venezuela) was mixed. In general, however, the pandemic is certainly boosting isolationist sentiments and reducing public support for an active and energetic foreign policy. Previously, the public saw demonstration of Russia's presence in the Middle East, Africa, and Latin America as an affirmation of it as a "superpower", which was perceived in a solely positive light. Now, this presence is, with increasing frequency, viewed as an unfounded waste of shrinking resources. It may be concluded that, given the pandemic, the so-called "Crimean consensus" is becoming entirely ineffective, and it is becoming harder and harder to justify Russia's foreign policy in the eyes of the country's population.
The Harsh Bipolarity of the Post-Virus World
The COVID-19 pandemic has evidently accelerated the shaping of the new US-China bipolarity. The recently-launched electoral campaign in the US is marked by Trump and Biden outdoing each other in demonstrating their harsh attitude toward Beijing. The confrontation between the two states is undermining the effectiveness of the UN Security Council, the WHO, G20 and other international organizations. The emerging rigid bipolarity carries systemic risks for all participants in global relations; Russia, additionally, faces other specific threats. The growing asymmetry between the Moscow and Beijing potentials is becoming increasingly visible and cooperation with China's real or potential opponents (such as India, Vietnam or even Japan) more and more problematic.
P.S.
"Never waste a good crisis": this paradoxical adage credited to Winston Churchill is relevant today as never before. Neither Russia nor other states should waste the systemic global crisis triggered by the coronavirus pandemic. A crisis does not give anyone grounds for crossing out their past mistakes or forgetting their past achievements. Yet a crisis is not just a convenient pretext but also a solid reason for shaking up one's old foreign political "wardrobe." Close scrutiny is certain to reveal things that are moth-eaten, no longer fit, or are simply no longer fashionable.
From our partner RIAC