The Problem with Turkey's "Zero Problems"
U nder the Justice and Development Party (Adalet ve Kalkınma Partisi, AKP), Turkey's foreign policy has been associated with the prescriptions and efforts of three men: Prime Minister Recep Tayyip Erdoğan, President Abdullah Gül, and Foreign Minister Ahmet Davutoğlu.
Davutoğlu, a former international relations professor, has been the most articulate exponent of the troika's ideas,
penning perhaps the most authoritative summary of its worldview in his 2001 Stratejik Derinlik (Strategic Depth)[1] and coining its foremost article of faith: a "zero-problems policy" with Turkey's neighbors because Ankara "wants to eliminate all the problems from her relations with neighbors or at least to minimize them as much as possible."[2]
This might all be well and good if such words were supported by actions. But Davutoğlu has also described Turkey as a "heavyweight wrestler," hinting that it may use "the maximum of its abilities" when dealing with its neighboring "middleweight wrestlers."[3] A survey of Ankara's relations with these "middleweight wrestlers" reveals its "zero problems policy" to be little more than a cover for the AKP's reasserted "neo-Ottoman" ambitions.
The Eastern Mediterranean
Achieving a zero problems status with Greece and Cyprus would seem to be the most difficult goal for Ankara to attain, given both countries' painful history with Turkey.
Even if one could put aside the long and tortuous past—from the Greek war of independence of the 1820s, to the 1923 uprooting of Greeks from Asia Minor, to sporadic crises over Aegean islands (1976, 1987, 1996), to the continuing standoff over air space and territorial waters—the AKP's rise to power has exacerbated, not allayed, tensions.
Far from following a zero problems policy with Greece, Turkey maintains existing problems and adds new ones: It has made alleged violations of the Muslim minority's rights in Western Thrace an item on the Islamic Conference's agenda[4] and has muddied the waters over what constitutes Greece's exclusive economic zone (EEZ) by questioning the role of the Greek island of Kastelorizo (one mile off Turkey's coast) in determining that EEZ. And Davutoğlu's ambitions did not stop here:
The security of the Balkans is increasingly identified with the security considerations of Turkey's western border. The security zone that has been established in eastern Thrace during the Cold War should be extended to the west with multilateral and bilateral agreements which should be made on a Balkan level.[5]
These are not mere words. Ankara has recently signed a military cooperation agreement with Albania, allowing docking privileges for Turkish warships at Durës, thereby marking the return of the Turkish navy to the Adriatic Sea after centuries.[6] The press has reported that Turkey is responsible for the cancellation of an agreement between Athens and Tirana over the delimitation of maritime zones,[7] and Turkey has also initiated major programs of military assistance to the former Yugoslav Republic of Macedonia, a state with which Greece is in dispute over the use of the name "Macedonia." Finally, Turkey continues to flood Greece and the European Union with tens of thousands of mostly Muslim illegal immigrants.[8]
Meanwhile, the already fraught relations with Cyprus have worsened. Turkey not only works against ending the continued and illegal occupation of the northern half of the island but seems bent on increasing problems. Such behavior is not all that surprising considering Davutoğlu's belief:
It is not possible for a country that neglects Cyprus to have a decisive say in the global and regional politics … Even if there was not one Muslim Turk there, Turkey had to maintain a Cyprus issue. No country can stay indifferent toward such an island, located in the heart of its very own vital space … Turkey needs to see the strategic advantage which it obtained … in the 1970s, not as the component of a Cyprus defense policy, directed toward maintaining the status quo, but as one of the diplomatic main supports of an aggressive maritime strategy.[9]
Small wonder, therefore, that Ankara reacted to the discovery of new energy resources in the Cypriot EEZ in a heavy-handed manner, stating that it too had rights and interests in the region and warning that support for the Republic of Cyprus on this issue would have consequences in future negotiations with Nikosia.[10] It attempted to stop Cyprus and Noble Energy, which planned to drill for natural gas off southern Cyprus's coast, from proceeding, then signed an agreement delimiting the continental shelf between itself and the "Turkish Republic of Northern Cyprus" (recognized by no one except Ankara), so as to carry out its own energy exploration in the area. This culminated in Ankara dispatching a research vessel into the Cypriot EEZ to protect its "national interests," simultaneously ignoring U.S. and EU entreaties and alarming Israel.[11]
Notwithstanding claims about zero problems then, Turkish behavior in the eastern Mediterranean remains impenitent, bordering on the aggressive, and seemingly indifferent to the consequences it may have for any possible future with the rest of Europe.
Former Soviet Republics of the Caucasus
After the dissolution of the USSR in 1991 and the resulting independence of Azerbaijan, Armenia, and Georgia, Turkey perceived a power vacuum in the region and attempted to expand its presence into areas of former Soviet influence in both the Caucasus and Central Asia.[12] But its current zero problems policy is being tested in a region of past enmities, fractious ethnic interests, lucrative energy resources, and a resurgent Russian presence.
Due to historical, cultural, and linguistic ties, relations between Turkey and Azerbaijan seem to offer the best prospects, despite their religious differences (Sunni and Shiite, respectively). The benefits for Turkey could be substantial due to proximity, trade links and especially Azerbaijan's energy resources. Unfortunately, such relations do not exist in a vacuum, and in its effort to improve relations with other neighbors, Ankara has sometimes acted in a way that threatens its relationship with Baku.
Take for example, the Nagorno-Karabakh dispute in which both Turks and Azerbaijanis assert that Armenia is illegally occupying the area. This meeting of minds was set back when Ankara attempted to improve relations with Armenia, leading to Azeri assertions that such contemplated agreements would undermine regional peace and security.[13] Nor did Ankara take into account Azerbaijan's interests when it recognized Kosovo, which had seceded from Serbia. For Azerbaijanis, recognition of such a breakaway republic (similar in this way to Nagorno-Karabakh) was far from reassuring.
In addition, Ankara's on-again off-again relations with Tehran bear on its relationship with Baku. Iran threatens that it will explore for hydrocarbons in parts of the Caspian Sea claimed by Azerbaijan while not allowing the latter to do the same.[14] Concurrently, there is growing restiveness among Azeri-speaking Iranians against perceived suppression of their heritage and language by the mullahs and even talk of some form of union with Azerbaijan. On these topics, Ankara is apparently silent, leading some Azerbaijanis to wonder about the true intentions of their "friend."
Armenia, of course, presents its own set of problems with the Turks, largely due to the genocide of Turkish Armenians in 1915, which Ankara refuses to recognize. These differences were exacerbated by the struggle over Nagorno-Karabakh; and in 1993, Turkey closed its land border with Armenia in support of Azerbaijan's claims over the territory.[15]
In 2008-09, there was an effort to improve relations between the governments of Turkey and Armenia centering, in part, on the possibility of Armenian participation in the long-planned Nabucco pipeline project.[16] The two countries drafted the so-called "Zurich protocols," but when Turkey tried to link ratification with its position on the Armenian genocide and Nagorno-Karabakh, the initiative floundered.[17] Relations between the two countries remain problematic; from time to time they worsen, especially when third parties attempt to recognize the Armenian genocide officially as France did in 2001.[18] While Davutoğlu may assert that Turkey "rejects the concept of freezing problems with her neighbors,"[19] relations with Yerevan have barely begun to thaw.
Likewise, while Davutoğlu has claimed that Ankara aims "to solve problems in line with a win-win approach,"[20] its behavior vis-à-vis another Caucasian neighbor, Georgia, belies that assertion. This is largely due to an unspoken recognition that its neo-Ottoman efforts run up against its old nemesis from actual Ottoman days—Russia.
In the immediate post-Cold War period, when Turkey's orientation was still largely pro-Western, Ankara was eager to recognize Georgia's independence from the Soviet Union. In 2011, the two countries signed and ratified a protocol, according to which their citizens could travel in both countries without travel documents. According to the Turkish ministry of foreign affairs, Turkey is Georgia's largest trading partner (with a positive balance in Turkey's favor) and cooperates with it in the field of energy pipelines.[21]
But these good relations are clouded by Ankara's two-faced approach to the questions surrounding the breakaway Russian-backed republics of South Ossetia and Abkhazia.[22]As a NATO member, Ankara feels bound to follow, at least in word, the Western line defending Georgia's territorial integrity. Its actions, however, are more equivocal. Turkish officials have visited Abkhazia while there have been cases where ships, under a Turkish flag, have unsuccessfully tried to break the sea blockade the Georgians have imposed on Abkhazia or to strengthen the latter in any way they can.[23] Likewise, regarding South Ossetia, whose independence only Russia recognizes, Turkey has taken a more moderate stance than that of its Western allies; it tried to broker a distinct compromise of its own,[24] which "got a cold reception in the United States, a close ally of Turkey, where officials complained they had not been informed in advance and criticized the initiative for failing to include Western nations."[25] According to the Jerusalem Post, Erdoğan's Caucasus proposal was met with "disbelief in both Georgia and Azerbaijan, since it effectively promised to freeze all territorial disputes in the region, including legitimizing Russia's recent territorial grab in Georgia."[26] Finally, Turkey, by using the Montreux Treaty, delayed allowing Western ships to cross the Bosphorus.[27]
This ambivalence has a number of root causes. Abkhazia is home to a small Turkish population over which Ankara may feel protective; at the same time, there are Abkhazians in Turkey who actively promote Abkhaz interests.[28] Further, Turkey's interests in Georgia, regardless of trade ties, are naturally better served with a weakened neighbor to the north.[29] A weakened Georgia is also what Turkey's more northerly neighbor craves; and for all its imperial pretensions, Ankara is not ready or willing to provoke the Russians and will thus follow a policy ranging from appeasement to the freezing of problems. Notwithstanding Davutoğlu's claims, zero problems are only for selected neighbors.
Northern Middle East Neighbors
Syria and Iraq, according to Davutoğlu, form both the "northern Middle East" region and the Mesopotamia-Persian Gulf "axis." In his view, Ankara is "obliged to act in these regions not simply as a NATO member but also as a regional power, defending its own national strategies."[30] With such an admission, it is hardly surprising that the policy of zero problems has come up hard against a regional reality that is, to say the least, transitional and turbulent.
Turning first to Syria, it must be acknowledged that there is a long and difficult history between the two nations, revolving around issues of territorial integrity (e.g., Alexandretta),[31] control of water resources (the headwaters of the Tigris and the Euphrates),[32] Ottoman behavior toward its former Arab subjects, and most importantly, the Kurdish problem.
Turkish-Syrian relations began to improve with the signing of the Protocol of Adana on October 20, 1998, under which Syria expelled from its territory Abdullah Öcalan, leader of the PKK (Kurdistan Workers' Party—Partiya Karkerên Kurdistan), and his Kurdish rebels. Under Erdoğan, these relations continued to improve with mutual visits at the highest level,[33] Turkish support for Syria during the 2005 Cedar Revolution in Lebanon, and a 2007 memorandum of understanding between the two countries creating conditions for cooperation in the fields of politics, security, economics,[34] energy, and water resources.[35] In 2009, the two countries met, along with Iraqi representatives, to resolve issues related to control of the Tigris and Euphrates water resources.[36] Turkish-Syrian relations were further strengthened after Ankara's condemnation of Israel's incursion into Gaza in December 2008 and January 2009[37] and formalized in early 2011 when the Turks signed an agreement to train Syrian armed forces (simultaneously raising questions within NATO.)[38]
With the emergence of serious domestic opposition to the Assad dynasty in 2011, Turkish leaders sensed an opportunity for increasing the country's influence and dramatically changed their behavior toward Damascus. After an initial delay, Ankara froze relations with Syria, began to criticize the regime, and lobbied for greater participation by Sunni Muslims in Bashar al-Assad's government, and when that failed, raised the banner of democratization and human rights, pressuring Assad to step down.[39]
At present Ankara is pursuing multiple goals in Syria, some of which are mutually exclusive. It seeks first and foremost to overthrow Assad and to help accomplish this, obtain the assistance of Masoud Barzani, the Iraqi Kurd leader, as well as incite the sizable Kurdish population in Syria to join the opposition against Assad. This must not, in Ankara's eyes, evolve into the creation of a separate Kurdish enclave should Syria disintegrate, thereby igniting the aspirations of its own restive and autonomy-seeking Kurdish population. Turkey also seeks to limit the influence of Iran and Russia in the Syrian crisis, a task made all the more difficult by Moscow's clear stake in keeping the Assad regime in power: Syria is an important purchaser of Russian equipment, and Tartus is the only naval facility open to Russia in the Mediterranean. For its part, Iran's only state alliance in the region has long been Syria, which has also served as a transit point for arming Tehran's Lebanese proxy, Hezbollah.[40]
Like Syrian relations, Turkish-Iraqi relations are colored by a past history of Ottoman rule as well as the Sunni-Shiite divide. Although Ankara antagonized both its NATO allies and Iraq's nascent post-Saddam regime by denying use of its territory for the 2003 coalition invasion, it has over the past five years made efforts to promote its interests in Iraq though these efforts have hardly fostered zero problems.
One of Ankara's highest priorities has been to exclude the PKK from operating in Iraq.[41]At the same time, it seeks, for various reasons, to improve relations with the Kurdistan Regional Government in Iraq. Most importantly, it wants to play a major role in the transfer of the landlocked oil deposits from northern Iraq to the West via either Kirkuk-Ceyhan or Nabucco pipelines.[42] As such, it signed an agreement in May 2012 with the Kurdish Barzani government to build a new pipeline for transporting crude oil.[43] In doing so, Turkey has adopted a tactic of momentarily forgetting its opposition to an independent Kurdistan but without abandoning previous declared positions[44] or practices of military intervention[45] when it so chooses.
While Turkey has officially declared its support for the territorial integrity and national unity of Iraq, its actions have contributed to the forces that threaten to tear the country apart. Much of this instability has its origins in Shiite-Sunni antagonism: Iraqi prime minister Nuri al-Maliki, a Shiite, is considered too close to Iran while Iraqi vice president Tareq al-Hashemi, a Sunni, is close to Turkey, the Arab countries, and the Regional Government of Kurdistan.
The withdrawal of U.S. troops in December 2011 has increased centrifugal forces in Iraq.[46] When a governmental crisis erupted around an arrest warrant issued for Hashemi, Ankara quickly reacted, siding with the Sunnis and criticizing the policies of the prime minister. Maliki's reaction was unusually strong by diplomatic standards, excoriating the Turks for interference in the internal affairs of his country "as if Iraq is controlled or run by them."[47] Having fled to Turkey, Hashemi was sentenced to death by an Iraqi court.[48] Erdoğan gave his full support to the exiled leader, declaring, despite Interpol's "red notice," that Turkey would host Hashemi for "as long as he wants," and that it "will not hand him over" to Iraqi authorities.[49]
Further, Ankara sought to obtain a non-Kurdish status for the oil-rich Kirkuk area in northern Iraq after the fall of Saddam and supported its "cousin" Turkmens in their claims to the area, thus creating a tool of leverage within Iraq against the Kurds and the Iraqi government.
In sum, Ankara seeks its own interests in Syria and Iraq, which, while often contradictory, are clearly independent of the interests of both states. Whether supporting an insurgency in Syria or encouraging the Kurds of northern Iraq, Turkey's behavior cannot be characterized as that of a good neighbor. And while Ankara may reap some short term gains, notably the transfer of Iraqi Kurdish oil through its territory, it also risks losing its land access to the Arabian Peninsula by angering Baghdad. It remains to be seen whether all these Turkish actions will bear long-term fruit.
Turkish-Iranian Rivalry
Iran has been a Turkish rival in some form or another at least since the days of the old Ottoman and Safavid empires, and the AKP Erdoğan government has vacillated between drawing closer to Tehran and confronting it over various issues.
Some analysts consider Ankara's outreach to Tehran as being purely economic in origin. Certainly trade with Iran has increased significantly from $1 billion at the beginning of the decade to $10 billion in 2009, to $16 billion in 2011.[50] It is Iran, however, that mostly benefits from these trade relations[51] while simultaneously using its Turkish connection to break out of its international isolation.[52]
Erdoğan seems happy to oblige the ayatollahs and has repeatedly acted as an apologist for Iranian behavior.[53] His congratulations to Iranian president Mahmoud Ahmadinejad on his fraudulent reelection in 2009 outraged many in the West. He has argued that Tehran is unjustly accused by outsiders and has characterized discussions regarding the Iranian nuclear weapons program as "gossip," deriding any potential military operation against it as "crazy."[54] While serving as a non-permanent Security Council member, Ankara voted against U.N. Security Council resolution 1929 of June 2010, which imposed serious sanctions on Tehran in various spheres. In opposition to the wishes of its NATO partners, Turkey joined in a trilateral meeting with Iran and Brazil, the upshot of which was an agreement for Iran to send 1200 kilograms of uranium for enrichment to Turkey and receive, in exchange, nuclear fuel for its reactor.[55] To Ankara's deep embarrassment, Iran almost immediately reneged on the agreement, vowing to continue its efforts to enrich uranium.[56]
Ankara has further distanced itself from its NATO allies by embracing Tehran's positions regarding a proposed missile shield to be installed on Turkish soil to safeguard against Iranian threats. When it failed to convince its partners not to install the antimissile shield, Turkey worked to ensure that Iran would not be named its target and has assured the Iranians that no non-NATO country (i.e., Israel) would have access to the radar's data.[57]
True, there are areas of disagreement between Ankara and Tehran. The Turks would like to see better conditions for their Iranian Azeri "cousins" while the Iranians want Turkey to stay out of its internal affairs and to keep neighboring Azerbaijan from inflaming this issue.[58] While both states reject an independent Kurdistan, neither is above playing the Kurdish card with each other's minority group.[59] And the two governments have starkly divergent positions vis-à-vis the Syrian civil war where Turkey has thrown its support behind the rebels while Tehran sends arms and soldiers to bolster the Assad regime.[60] Is this behavior a successful example of zero problems? For all its bluster, Ankara's choices may merely reflect recognition that Tehran has dangerous military capabilities that must be blunted.
Turkey and Israel
Significantly, Turkish policies toward Iran are also potentially damaging Ankara's standing with the West and its closer neighbor—and former ally—Israel. Turkish overtures to Iran have often come at the expense of Israel, which has borne the brunt of Ankara's revived imperial ambitions, coupled with an Islamist disdain for the Jewish state.
Until the rise of the AKP, relations between Ankara and Jerusalem had ranged from good to excellent. Not only did the two countries not compete, but during the Cold War, they benefited from U.S. as well as British foreign policy imperatives. In the post-Cold War era, as two regional Western strongholds in a turbulent area, the governments cooperated on addressing common risks such as terrorism, strengthening their relationship in all areas.
Under Erdoğan, this has changed dramatically. By way of reasserting its leading regional role and winning over the Arab world, Ankara has progressively distanced itself from Israel and the West. In 2004, Erdoğan accused Israel of practicing "state terrorism;"[61] in 2006, his wife publicly endorsed the Valley of the Wolves, an anti-American and anti-Semitic movie; also in 2006, instead of inviting extremists to renounce violence, Erdoğan personally received Hamas leader Khaled Mashal after the militant Islamist group won the Palestinian elections.[62]
Matters worsened in late 2008 and early 2009 when Israel, reacting to years of rocket and missile attacks against its southern citizens, launched Operation Cast Lead in Gaza. In January, Erdoğan publicly railed against longtime dove and Israeli president Shimon Peres at an international conference in Davos, Switzerland. In April, Turkey conducted joint military exercises with Syria, and in October, excluded Israel from the "Anatolian Eagle" military exercise,[63] in which the latter had participated in every year since 2001.
Turkish hostility to Israel reached its zenith on May 31, 2010, when the Mavi Marmara boat, under Turkish flag, attempted to break the Israeli blockade of Gaza under the pretence of transferring aid to the Palestinians. According to Turkish press reports, the Ministry of Foreign Affairs was in contact with the organizers of the operation despite claims to the contrary.[64] When Israeli troops boarding the ship were met with violence, which resulted in the death of nine people,[65] Ankara downgraded its diplomatic relations with Israel and cancelled all military cooperation with Jerusalem.[66] Despite Israeli offers of compensation for the victims' families,[67] Turkey continues to spurn any efforts at reconciliation. Most recently, it announced the intention to sell uncensored images of Israel when it launches the GokTurk satellite, something that could damage Israeli security interests[68] and has threatened Israeli and Cypriot energy explorations in the eastern Mediterranean.
While Israel may not border Turkey directly, it is the only true democracy in the region and a country with which Turkey not only had zero problems for decades but also the closest of relations. In an effort to woo the neighboring Arabs by being seen as a champion of the Palestinians and, to some degree, of Islam, Turkey has initiated a cold war with the Jewish state. At the same time, it seems that Iran has earned more from Ankara's policy of rapprochement while Israel accumulates the costs.
Conclusion
Thanks to continuous Western support, the end of the Cold War found Turkey stronger, both militarily and economically, and with a power vacuum to its immediate east. Within this context, the AKP's foreign policy decisions demonstrate the insincerity of its "zero problems with neighbors" claims. Rather than solve problems, Ankara is, at best, freezing them, in the hope of building better commercial relations to satisfy its growth needs. In many instances, it is worsening them at its neighbors' expense.
The Turkish government's insincerity manifests itself in an attempt to mask its expansionist ambitions and an attitude that can be described as "what applies to others does not apply to me." Thus, Erdoğan accuses foreign leaders of "killing children"[69] while fighting against the recognition of past genocides (Armenians, Greeks of Pontus, and Assyrians). It exploits the Mavi Marmara flotilla incident in which nine Turks were killed while downplaying its far more numerous killings of Kurdish civilians in Iraqi territory. It accuses Israel of occupying Palestinian territories while illegally occupying northern Cyprus, claims the right to invade Iraq with impunity, and frequently violates its neighbors' airspace.[70] It accuses others of terrorism while facilitating the transfer of weapons to terror organizations.[71] It participates in and benefits from NATO while obstructing the organization's policies as in the case of Iraq in 2003, Lebanon in 2005, Georgia in 2007, and Iran.
Initial improvements with the Arab world have stalled. Despite statements to the contrary from its minister of economics,[72] Turkey has lost the Syrian market. It risks losing access to the energy resources of the Arabian Peninsula through Iraqi or Syrian pipelines and is desperately trying to replace this route with shipping routes from Mersin to Port Said, Egypt.[73] Due to its policies toward its Western-oriented neighbors—Greece, Cyprus, Armenia, and Israel—the AKP has also undermined Ankara's relations with the West, particularly those nations who were contemplating its joining the EU.[74]
The policy of zero problems appears to be operative with only two states: Iran and Russia. In contrast to their behavior toward Greece, Cyprus, Syria, and Iraq, which have at various times either been threatened with violence or have been attacked, the Turks remain conspicuously silent toward Armenia, Abkhazia, and South Ossetia where Russian armed forces are present. Similarly, Ankara behaves toward Iran as if it were not a member of NATO, excusing Tehran's nuclear program and delaying the installation of a NATO missile shield system. Since both Russia and Iran are stronger than Turkey, Ankara seems, for the most part, to be doing its utmost to avoid upsetting their regional interests, but this has nothing to do with neighborly solicitude.
The zero problems policy has not failed, as has been suggested, because it was tested against authoritarian governments:[75] Greece, Cyprus, Armenia, and Israel are hardly governed by dictators, and Iraq, for all its failings, has not descended to this level. The policy has failed because it was a tool for neo-Ottoman ambitions and global aspirations that have now become all too obvious.[76]
The unvarnished truth is that Ankara acts, to use Davutoğlu's metaphor, like a heavyweight wrestler seeking to intimidate its middleweight neighbors. As such, "zero problems with neighbors" may turn into the country's zero hour as Ankara finds itself increasingly considered an unreliable partner by its allies and a regional bully by its neighbors.
Ilias I. Kouskouvelis is Professor of International Relations at the University of Macedonia, Greece, and Director of the Laboratory of International Relations and European Integration. The author thanks Nikolaos Raptopoulos, Alexander Koutsoukis, and Revecca Pedi for their incisive comments.
[1] Ahmet Davutoğlu, Stratejik Derinlik. Türkiye'nin Uluslararası Konumu (Istanbul: Küre Yayınları, 2001).
[2] "Policy of Zero Problems with Our Neighbors," Ministry of Foreign Affairs, Republic of Turkey, Ankara, accessed Sept. 21, 2012.
[3] Davutoğlu, Stratejik Derinlik, p. 147.
[4] See, for example, "On the situation of the Turkish Muslim Minority in Western Thrace, Greece," res. 3/33-M, 33rd Islamic Conference of Foreign Ministers (ICFM), Baku, June 19-21, 2006; "On the Situation of the Turkish Muslim Minority of Western Thrace, Greece," res. 3/34-MM, 34th ICFM, Islamabad, May 15-17, 2007.
[5] Davutoğlu, Stratejik Derinlik, p. 124.
[6] The Sofia (Bulgaria) Echo, June 3, 2010.
[7] SKAI TV (Greece), accessed Oct. 1, 2012.
[8] See "Annual Risk Analysis 2012," Frontex, European Agency for the Management of Operational Cooperation at the External Borders of the Member States of the European Union, Warsaw, Apr. 2012.
[9] Davutoğlu, Stratejik Derinlik, pp. 176-80.
[10] Hurriyet (Istanbul), Dec. 17, 2010, Jan. 5, 2011.
[11] Ibid., Aug. 5, 2011, Sept. 21, 27, 2011.
[12] "National Security," Country Studies, Turkey (Washington, D.C.: Library of Congress, Jan. 1995), chap. 5.
[13] BBC News (London), Oct. 11, 2009; Today's Zaman (Istanbul), Dec. 26, 2011.
[14] "Azerbaijan," The World Factbook 2002, CIA, Mar. 19, 2003.
[15] "Background note: Armenia," U.S. Department of State, Washington, D.C., Mar. 22, 2012.
[16] Eurasia Insight (New York), Eurasianet.org, Sept. 29, 2008.
[17] New Caucasus (Armenia), Jan. 29, 2011.
[18] See, Génocide arménien, Assemblée Nationale, Paris, Jan. 30, 2001. For Turkish reactions to French actions, see Today's Zaman, Jan. 23, 2012, Reuters, Jan. 23, 2012.
[19] "Policy of Zero Problems with Our Neighbors," accessed Sept. 21, 2012.
[20] Ibid.
[21] "Relations between Turkey and Georgia," Ministry of Foreign Affairs, Republic of Turkey, Ankara, accessed Sept. 21, 2012.
[22] Today's Zaman, Apr. 28, 2010.
[23] Georgia Times (Tbilisi), June 11, 2006.
[24] Today's Zaman, Aug. 15, 2008.
[25] Radio Free Europe/Radio Liberty (Washington, D.C.), Sept. 5, 2008.
[26] The Jerusalem Post, Jan. 14, 2009.
[27] Radikal (Istanbul), Sept. 20, 2008.
[28] See Mitat Çelikpala, "From immigrants to diaspora: Influence of the North Caucasian diaspora in Turkey," Middle Eastern Studies, 3 (2006): 423-46.
[29] Igor Torbakov, "The Georgia Crisis and Russia-Turkey Relations," The Jamestown Foundation, Washington, D.C., 2008.
[30] Davutoğlu, Stratejik Derinlik, pp. 397-405.
[31] "Syria," Country Studies, Turkey (Washington, D.C.: Library of Congress, Jan. 1995).
[32] CNN World, Sept. 3, 2009.
[33] See, for example, "Latest Developments," Ministry of Foreign Affairs, Republic of Turkey, Ankara, Sept. 21, 2012.
[34] "Syria Economic and Trade Relations," Ministry of Foreign Affairs, Republic of Turkey, Ankara, accessed Sept. 21, 2012.
[35] CNN World, Sept. 3, 2009.
[36] Ibid., Sept. 3, 2009.
[37] Ibid., Dec. 14, 2010.
[38] CNSnews (Alexandria, Va.), Feb. 11, 2011.
[39] BBC News, Nov. 30, 2011.
[40] Today's Zaman, Dec. 18, 2011; United Press International (Washington, D.C.), Jan. 12, 2012.
[41] "Latest Developments," Ministry of Foreign Affairs, Republic of Turkey, Ankara, Dec. 15, 2011.
[42] United Press International, Dec. 22, 2011.
[43] Southeast European Times Türkiye (U.S. European Command), June 21, 2012.
[44] Today's Zaman, Aug. 10, 2012.
[45] CNN News, Dec. 30, 2011.
[46] BBC News, Dec. 22, 2011.
[47] Today's Zaman, Jan. 14, 2012.
[48] BBC News, Sept, 10, 2012.
[49] Today's Zaman, May 8, 2012; Reuters, Sept. 11, 2012.
[50] AEI Irantracker, American Enterprise Institute, Washington, D.C., June 24, 2010; CNN World, Sept. 7, 2011; Tehran Times, Mar. 28, 2012.
[51] Today's Zaman, Jan. 25, 2012.
[52] Eurasia Daily Monitor, Jamestown Foundation, Washington, D.C., Mar. 3, 2009.
[53] CNSnews, Feb. 11, 2011.
[54] BBC News, Oct. 26, 2009.
[55] Ibid., May 17, 2010.
[56] CNN World, May 17, 2010.
[57] Today's Zaman, Mar. 30. 2012.
[58] "Iran," Country Studies, Turkey (Washington, D.C.: Library of Congress, Jan. 1995).
[59] Ibid.
[60] The Wall Street Journal, Aug. 27, 2012.
[61] BBC News, June 3, 2004.
[62] Al-Ahram Weekly (Cairo), Feb. 23-Mar. 1, 2006.
[63] BBC News, Oct. 11, 2009.
[64] Milliyet (Istanbul), June 5, 2010.
[65] The New York Times, May 31, 2010.
[66] CNN World, Sept. 6, 2011.
[67] The Guardian (London), May 24, 2012.
[68] Ha'aretz (Tel Aviv), Mar. 10, 2011.
[69] CNN World, June 6, 2011.
[70] The Guardian, Dec. 29, 2011; The Sofia Echo, Aug. 19, 2009.
[71] See, for example, Voice of America, Aug. 24, 2012; Hurriyet, Sept. 18, 2012; The Guardian, Sept. 27, 2012 .
[72] Reuters, Dec. 7, 2011.
[73] Today's Zaman, June 4, 2012.
[74] O Fileleftheros (Cyprus), Jan. 11, Dec. 9, 2011; Hurriyet, Sept. 28, 2011.
[75] Damla Aras, "Turkish-Syrian Relations Go Downhill," Middle East Quarterly, Spring 2012, pp. 41-50.
[76] Piotr Zalewski, "The Self-Appointed Superpower: Turkey Goes It Alone," World Policy Journal, Dec. 2010, 27, pp. 97-102.
Turkey plays Khashoggi crisis to its geopolitical advantage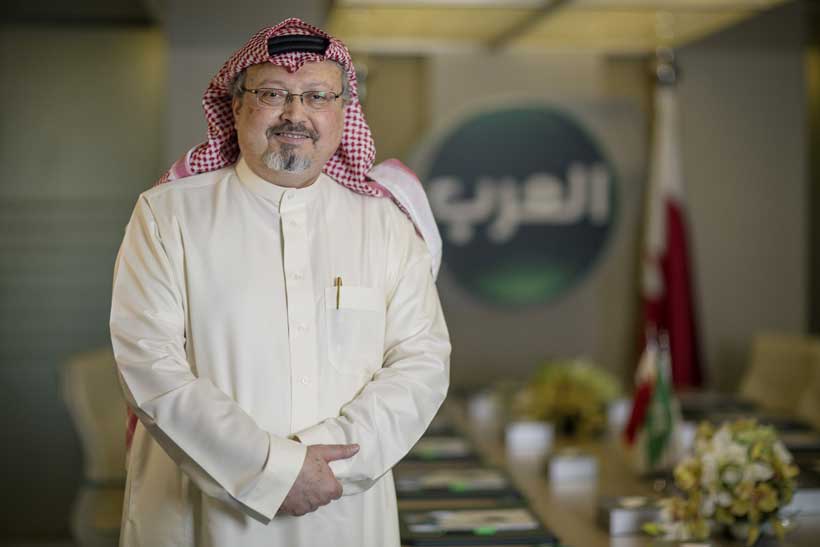 With Turkish investigators asserting that they have found further evidence that Saudi journalist Jamal Khashoggi was killed when he visited the kingdom's consulate in Istanbul two weeks ago, Turkey appears to be leveraging the case to enhance its position as a leader of the Islamic World and reposition itself as a key US ally.
To enhance its geopolitical position vis a vis Saudi Arabia as well as Russia and Iran and potentially garner economic advantage at a time that it is struggling to reverse a financial downturn, Turkey has so far leaked assertions of evidence it says it has of Mr. Khashoggi's killing rather than announced them officially.
In doing so, Turkey has forced Saudi Arabia to allow Turkish investigators accompanied by Saudi officials to enter the consulate and positioned President Recep Tayyip Erdogan as the kingdom's saviour by engineering a situation that will allow the kingdom to craft a face-saving way out of the crisis.
Saudi Arabia is reportedly considering announcing that Mr. Khashoggi, a widely-acclaimed journalist critical of Crown Prince Mohammed bin Salman who went into self-exile because he feared arrest, was killed in either a rogue operation or an attempt gone awry to forcibly repatriate it him back to the kingdom.
US President Donald J. Trump offered the Turks and Saudis a helping hand by referring this week to the possibility of Mr. Khashoggi having been killed by rogues and dispatching Secretary of State Mike Pompeo to Riyadh and Ankara.
Mr. Khashoggi, seeking to obtain proof of his divorce in the kingdom so that he could marry his Turkish fiancé, visited the consulate two weeks ago for the second time after having allegedly received assurances that he would be safe.
Turkey emerges as the crisis moves towards a situation in which an official version is agreed that seeks to shield Prince Mohammed from being held responsible for Mr. Khashoggi's disappearance and likely murder with its international status significantly enhanced.
Turkish leverage is further boosted by the fact that Saudi Arabia — its image in government, political and business circles significantly damaged by the crisis — and the Trump administration that wants to ensure that the kingdom's ruling family emerges from the crisis as unscathed as possible, are in Ankara's debt.
As a result, the denouement of the Khashoggi crisis is likely to alter the dynamics in the long-standing competition between Turkey and Saudi Arabia for leadership of the Islamic world.
It also strengthens Turkey's position in its transactional alliance with Russia and Iran as they manoeuvre to end the war in Syria in a manner that cements Bashar al-Assad's presidency while addressing Turkish concerns.
Turkey's position in its rivalry with Saudi Arabia is likely to also benefit from the fact that whatever face-saving solution the kingdom adopts is likely to be flawed when tested by available facts and certain to be challenged by a host of critics, even if many will see Turkey as having facilitated a political solution rather than ensuring that the truth is established.
Already, Mr. Khashoggi's family who was initially quoted by Saudi Arabia's state-controlled media as backing Saudi denials of responsibility, insinuations that his fate was the product of a conspiracy by Qatar and/or Turkey and the Muslim Brotherhood, and casting doubt on the integrity of the journalist's Turkish fiancée, has called for "the establishment of an independent and impartial international commission to inquire into the circumstances of his death."
Turkey and Saudi Arabia differ on multiple issues that divide the Muslim world. Turkey has vowed to help Iran circumvent Saudi-supported US sanctions imposed after Mr. Trump withdrew in May from the 2015 international agreement that curbed the Islamic republic's nuclear agreement.
Turkey further backs Qatar in its dispute with a Saudi-United Arab Emirates-led alliance that has diplomatically and economically boycotted the Gulf state for the last 16 months. The credibility of the alliance's allegation that Qatar supports terrorism and extremism has been dented by the growing conviction that Saudi Arabia, whether in a planned, rogue or repatriation effort gone wrong, was responsible for Mr. Khashoggi's killing.
Mr. Khashoggi's death, moreover, highlighted differing approaches towards the Brotherhood, one of the Middle East's most persecuted, yet influential Islamist groupings. Saudi Arabia, alongside the UAE and Egypt, have designated the Brotherhood a terrorist organization.
Many brothers have sought refuge in Turkey with Mr. Erdogan empathetic and supportive of the group. A former brother, Mr. Khashoggi criticized Saudi repression of the group.
The Saudi-Turkish rivalry for leadership of the Muslim world was most evident in the two countries' responses to Mr. Trump's recognition of Jerusalem as the capital of Israel and his as yet unpublished plan to resolve the Israeli-Palestinian conflict.
Turkey emerged as the leader of Islamic denunciation of Mr. Trump's move of the US embassy from Tel Aviv to Jerusalem and recognition of the city as Israel's capital after Prince Mohammed tried to dampen opposition. Ultimately, King Salman was forced to step in a bid to clarify the kingdom's position and counter Turkish moves.
No matter how Turkey decides to officially release whatever evidence it has, Saudi Arabia figures out how to respond and halt the haemorrhaging, and Mr. Pompeo holds talks with King Salman and Mr. Erdogan, Turkey is likely to emerge from the crisis strengthened despite its increasingly illiberal and increasingly authoritarian rule at home,
Turkey's success is all the more remarkable given that it has neither Saudi Arabia's financial muscle nor the mantle the kingdom adopts as the custodian of Islam's two holiest cities, Mecca and Medina.
A successful political resolution of the Khashoggi crisis is likely to earn it the gratitude of the Trump administration, Saudi Arabia, and its other detractors like the UAE who support the kingdom even if it may help it to regain popularity in the Arab world lost as a result of its swing towards authoritarianism, alliance with Iran and Qatar, and support for Islamism.
One immediate Turkish victory is likely to be Saudi acquiesce to Mr. Erdogan's demand that Saudi Arabia drop its support for Kurdish rebels in Syria that Ankara sees as terrorists – a move that would boost Turkey's position the Turkish-Russian-Iranian jockeying for influence in a post-war Syria. Turkey is also likely to see Saudi Arabia support it economically.
Turkey may, however, be playing for higher stakes.
Turkey "wants to back Saudi Arabia to the wall. (It wants to) disparage the 'reformist' image that Saudi Arabia has been constructing in the West" in a bid to get the US to choose Ankara as its primary ally in the Middle East, said international relations scholar Serhat Guvenc.
Turkey's relations in recent years have soured as a result of Turkish insistence that the US is harbouring a terrorist by refusing to extradite Fethullah Gulen, the preacher it accuses of having engineered the failed 2016 coup; detaining American nationals and US consulate employees on allegedly trumped up charges, cosying up to Russia and purchasing its S-400 surface to air missile system, and aligning itself with Iran. Relations were further strained by US support for Syrian Kurds.
Mr. Trump, however this week heralded a new era in US-Turkish relations after the release of unsubscribeAndrew Brunson, an evangelist preacher who was imprisoned in Turkey for two years on charges of espionage.
Mr. Guvenc argued that Turkey hopes that Saudi Arabia's battered image will help it persuade Mr. Trump that Turkey rather than the kingdom is its strongest and most reliable ally alongside Israel in the Middle East.
Said journalist Ferhat Unlu: ""Turkey knows how to manage diplomatic crises. Its strategy is to manage tensions to its advantage,"
MbS: Riding roughshod or playing a risky game of bluff poker?
A stalemate in efforts to determine what happened to Saudi journalist Jamal Khashoggi is threatening to escalate into a crisis that could usher in a new era in relations between the United States and some of its closest Arab allies as well as in the region's energy politics.
In response to US President Donald J. Trump's threat of "severe punishment" if Saudi Arabia is proven to have been responsible for Mr. Khashoggi's disappearance while visiting the kingdom's consulate in Istanbul, Saudi Arabia is threatening to potentially upset the region's energy and security architecture.
A tweet by Saudi Arabia's Washington embassy thanking the United States for not jumping to conclusions did little to offset the words of an unnamed Saudi official quoted by the state-run news agency stressing  the kingdom's "total rejection of any threats and attempts to undermine it, whether through economic sanctions, political pressure or repeating false accusations."
The official was referring to the kingdom's insistence that it was not responsible for Mr. Khashoggi's disappearance and assertion that it is confronting a conspiracy by Qatar and/or Turkey and the Muslim Brotherhood.
"The kingdom also affirms that if it is (targeted by) any action, it will respond with greater action," the official said noting that Saudi Arabia "plays an effective and vital role in the world economy."
Turki Aldhakhil, a close associate of Saudi Crown Prince Mohammed bin Salman and general manager of the kingdom's state-controlled Al Arabiya news network, claimed in an online article that Saudi leaders were discussing 30 ways of responding to possible US sanctions.
They allegedly included allowing oil prices to rise up to US$ 200 per barrel, which according to Mr. Aldhakhil, would lead to "the death" of the US economy, pricing Saudi oil in Chinese yuan instead of dollars, an end to intelligence sharing, and a military alliance with Russia that would involve a Russian military base in the kingdom.
It remains unclear whether Mr. Aldhakhil was reflecting serious discussions among secretive Saudi leaders or whether his article was intended either as a scare tactic or a trial balloon. Mr. Aldakhil's claim that a Saudi response to Western sanctions could entail a reconciliation with the kingdom's arch enemy, Iran, would make his assertion seem more like geopolitical and economic bluff.
Meanwhile, in what appeared to be a coordinated response aimed at demonstrating that Saudi Arabia was not isolated, Oman, Bahrain, Jordan, Palestine, Lebanon, the United Arab Emirates and Egypt rushed to express solidarity with the kingdom. Like Turkey, Bahrain, Egypt and the UAE have a track record of suppressing independent journalism and freedom of the press.
Ironically, Turkey may be the kingdom's best friend in the Khashoggi crisis if its claims to have incontrovertible proof of what happened in the consulate prove to be true. Turkey has so far refrained from making that evidence public, giving Saudi Arabia the opportunity to come up with a credible explanation.
Turkish president Recep Tayyip "Erdogan wants to give Saudis an exit out of #Khashoggi case, hoping the Saudi king/crown prince will blame 'rogue elements' for the alleged murder, then throwing someone important under the bus. This would let Erdogan walk away looking good & prevent rupture in Turkey-Saudi ties," tweeted Turkey scholar Soner Cagaptay.
The Saudi news agency report and Mr. Aldakhil's article suggest that Prince Mohammed believes that Saudi Arabia either retains the clout to impose its will on much of the international community or believes that it rather than its Western critics would emerge on top from any bruising confrontation.
Prince Mohammed no doubt is reinforced in his belief by Mr. Trump's reluctance to include an arms embargo in his concept of severe punishment. He may also feel that Western support for the Saudi-UAE-led war in Yemen and reluctance to credibly take the kingdom to task for its conduct of the war was an indication that he was free to do as he pleased.
Prince Mohammed may have been further strengthened in his belief by the initial course of events 28 years ago, the last time that the fate of a journalist was at the centre of a crisis between a Western power and an Arab country.
At the time, British prime minister Margaret Thatcher, similar to Mr. Trump's inclination, refused to impose economic sanctions after Iraqi president Saddam Hussein ordered the arrest, torture and execution of Farhad Barzoft, a young London-based Iranian journalist who reported for The Observer.
Since declassified British government documents disclosed that Mrs. Thatcher's government did not want to jeopardize commercial relations despite its view of the Iraqi government as a "ruthless and disagreeable regime."
The comparison between the Khashoggi crisis and the case of Mr. Barzoft goes beyond Western governments' reluctance to jeopardize commercial relationships.
Mr Barzoft was executed months before Mr. Hussein's military invaded Kuwait prompting US-led military action that forced his troops to withdraw from the Gulf state, crippling economic sanctions, and ultimately the 2003 Gulf War that, no matter how ill-advised, led to the Iraqi leader's downfall and ultimate execution.
Prince Mohammed's ill-fated military intervention in Yemen, of which Mr. Khashoggi was critical in one of his last Washington Post columns, has tarnished the kingdom's international prestige and sparked calls in the US Congress and European parliaments for an embargo on arms sales that have gained momentum with the disappearance of the Saudi journalist.
To be sure Saudi Arabia enjoys greater leverage than Iraq did in 1990. By the same token, 2018 is not 1973, the first and only time the kingdom ever wielded oil as a weapon against the United States. At the time, the US was dependent on Middle Eastern oil, today it is one of, if not the world's largest producer.
More fundamentally, Prince Mohammed appears to show some of the traits Mr. Hussein put on display, including a seeming lack of understanding of the limits of power and best ways to wield it, a tendency towards impetuousness, a willingness to take risks and gamble without having a credible exit strategy, a refusal to tolerate any form of criticism, and a streak of ruthlessness.
"We're discovering what this 'new king' is all about, and it's getting worrisome. The dark side is getting darker," said David Ottaway, a journalist and scholar who has covered Saudi Arabia for decades.
Mr. Hussein was public and transparent about Mr. Barzoft's fate even if his assertion that the journalist was a spy lacked credibility and the journalist's confession and trial were a mockery of justice.
Prince Mohammed flatly denies any involvement in the disappearance of Mr. Khashoggi and appears to believe that he can bully himself out of the crisis in the absence of any evidence that the journalist left the kingdom's Istanbul consulate of his own volition.
Mr. Hussein miscalculated with his invasion of Kuwait shortly after getting away with the killing of Mr. Barzoft.
Prince Mohammed too may well have miscalculated if the kingdom is proven to be responsible for Mr. Khashoggi's disappearance.
Mr. Hussein's reputation and international goodwill was irreparably damaged by his execution of Mr. Barzoft and invasion of Kuwait.
Mr. Khashoggi's disappearance has dealt a body blow to Saudi Arabia's prestige irrespective of whether the journalist emerges from the current crisis alive or dead.
King Salman and the kingdom appear for now to be rallying the wagons around the crown prince.
At the same time, the king has stepped into the fray publicly for the first time by phoning Turkish president Erdogan to reaffirm Saudi cooperation with an investigation into Mr. Khashoggi's fate.
It remains unclear whether that phone call will pave the way for Turkish investigators to enter the Istanbul consulate as well as the Saudi consul general's home and whether they will be allowed to carry out forensics.
The longer the investigation into Mr. Khashoggi's fate stalls, the more Saudi Arabia will come under pressure to put forth a credible explanation and the harder Western leaders will be pressed by public opinion and lawmakers to take credible action if Saudi Arabia is proven to be responsible.
A Saudi decision to act on its threats to rejigger its security arrangements and energy policy, even if overstated by Mr. Aldhakhil, in response to steps by Western nations to penalize the kingdom,  could prove to have not only far-reaching international consequences but, in the final analysis, also equally momentous domestic ones.
"Looks like #Saudi royal family is coming together to protect the family business. Eventually there will be internal reckoning with what transpired. Not now. Now is the time to save the family reign," tweeted Middle East scholar Randa Slim.
Said former US State Department and White House official Elliott Abrams: "Jamal Khashoggi lost control of his fate when he entered the Saudi consulate in Istanbul. Mohammed bin Salman must act quickly to regain control of his own."
Syrian Kurds between Washington, Turkey and Damascus
The recent turmoil over Idlib has pushed the developments in Syrian Kurdistan out of political and mass media spotlight. However, it's Idlib that will most likely host the final act of the drama, which has become known as the "civil war in Syria".
The self-proclaimed Democratic Federation of Northern Syria (DFNS), or Rojava, was formed in 2016, although de facto it has existed since 2012. Added later was the hydrocarbon-rich left bank of the Euphrates, which had been cleared of militants of ISIL (an organization banned in the Russian Federation), and now the jurisdiction of the unrecognized DFNS extends to almost a third of the country's territory.
From the very start the main threat to the existence of this predominantly Kurdish quasi-state came for obvious reasons from Turkey, where Turkish Kurds were set on securing autonomy. In addition, the most influential political force in Rojava, the Democratic Union Party, is affiliated with the Kurdistan Workers' Party, and the latter has officially been declared a terrorist organization and unofficially – a number one enemy – in Turkey.
In January-March 2018, the Turkish army, backed by the Arab and Turkomanen allies, occupied part of the territory of Rojava (canton Afrin). And it looks like Ankara plans to settle on these territories: recently, Turkish President Recep Tayyip Erdogan reiterated that Afrin will be transferred to its residents "when the time comes" and that "this time will be set by us". In the meantime, according to local media reports, the demographic situation in the canton is changing rapidly. Taking advantage of the fact that many Kurds left their homes at the approach of the Turkish army, the local (in fact, Turkish) administration is bringing in Arabs here, who, in many cases, are not Syrian Arabs.
Kurdish politicians, fully aware of the fact that amid Turkey, Iran and Syria maintaining statehood without outside assistance is hardly possible, opted for the patronage of Washington. And, as it seems, they lost.
In Syria, the Americans decided to replay the "Kosovo scenario", by turning part of a sovereign state into a political structure, which is allied to them. Washington, which only recently excluded the People's Protection Units (the armed wing of the Democratic Forces), from the list of terrorist organizations, argues, like Ankara, that its military personnel will remain in the region "for an indefinite period" to protect Kurdish territories from "aggression" on the part of Damascus. And from Ankara's ambitions as well. But this is read between the lines.
All this enabled Turkey to accuse the United States of supporting terrorism and relations between the two countries quickly deteriorated into a crisis. As mutual accusations, occasionally supported by political and economic demarches, persist, the parties, however, are beginning to look for common ground. Talks on June 4, 2018 in Washington between Turkish Foreign Minister Mevlut Cavusoglu and US Secretary of State Michael Pompeo resulted in a "road map" for the withdrawal of Kurdish forces from predominantly Arab Manbij, which Kurds regained control of from ISIL (an organization banned in Russia) two years ago. The next day, the Turkish minister announced that the Kurdish troops "… would retreat east of the Euphrates. However, this does not mean that we will agree that they stay there. " On September 24, 2018, upon arriving at the UN General Assembly, Erdogan confirmed: Turkey will expand its sphere of influence in Syria, by including areas that are under control of the Kurdish armed units.
If Turkey does not change its rhetoric, then the assurances of the American authorities that the US troops will remain in Syria are intermingled with statements about the need for the withdrawal of its forces from this country. In any case, it is unlikely that the United States will choose to leave the region "to its own devices". We can recall how Washington trumpeted the withdrawal of its troops from Afghanistan! But things haven't budged an inch since then. The Afghanistan example demonstrates that the Americans will not move out of Syria that easily – they will not pull out in full, at least not of their own free will. US instructors and pilots will remain here "for an indefinite period." But who will they care of and support? Here are the options:
Firstly, it could be a hypothetical "Arab NATO" with Saudi Arabia in the lead. But there are serious doubts as to the effectiveness of such a structure – even if we forget about the level of combat readiness of these kinds of coalitions (in Yemen, for example), Arab countries could unite only on an anti-Israeli platform. And that, as history shows, is unlikely to yield success. In addition to this, it is still unclear how Kurds, the majority of whom are not religious, will react to Wahhabi commanders.
Secondly, the United States could choose to strengthen the Arab sector of the "Syrian Democratic Forces" (Rojava militia) at the expense of the Kurds. In mid-September, a number of media outlets, citing sources in the Syrian opposition, reported that Saudi emissaries had already suggested this option while meeting with leaders of the Arab tribes living east of the Euphrates. However, this development is also fraught with the Kurdish-Arab confrontation.
Thirdly, Washington persists in its attempts to improve relations with Turkey,  distancing it from Russia and Iran, and instruct it to "maintain order" in the region: the Americans did not intervene in the Operation Olive Branch and made concessions on Manbij. Even though this might seem strange amid the hostile American-Turkish rhetoric, military and political contacts between Washington and Ankara have been on the rise in recent months. Moreover, President Erdogan has already stated that he believes in an early improvement of relations with the United States despite the "inconsistency" and "economic aggression" of Washington.
Meanwhile, we need to remember that the US control over Kurds is far from unlimited. The "people's protection units" are ideologically close to the Kurdistan Workers' Party (or could even be seen as its "branch" in Syria), and the PKK itself, grown on the Marxist ideas, would normally support the Soviet Union and "by inertia" – Russia. For this reason, the Americans have to threaten the Kurdish allies with a cessation of military and financial support. Reports say the US and Turkish troops are already operating in the Manbij area, having dislodged the Kurdish YPG militia from the area.
These threats, along with the self-withdrawal of the United States during the capture of Afrin by Turkish troops, have made Kurds doubt the reliability of their patron. The result is a move towards rapprochement with Damascus. In late July, the Kurdish leadership announced an agreement with the Syrian authorities on the creation of a "road map" for the formation of a decentralized Syria.
The Americans are not sitting idle either, though it looks like they have no concrete plan of action. Such a conclusion comes from Donald Trump's somewhat incoherent answers to questions from a correspondent of the Kurdish media group Rudaw (09/27/2018):
Question: What are you planning to do for (Syrian – AI) Kurds?
Answer: We will offer them a lot of help. As you know, we are good friends to them, we fought shoulder to shoulder with ISIL (an organization banned in the Russian Federation), we recently defeated ISIL (an organization banned in the Russian Federation). We accomplished this with the support of the Kurds. They are great warriors. You know, some nations are great warriors, and some are not. The Kurds are great warriors, they are a wonderful people. We are currently negotiating this.
Question: So what will you do to support them?
Answer: As I said, we will negotiate this, we have begun negotiations. The Kurds have helped us a lot to crush ISIS (an organization banned in the Russian Federation).
Most likely, the hot phase of the protracted inter-Syrian conflict is nearing its end, and the preferences of the Kurds will determine the outcome of future elections, a referendum, or another form of will expression of the Syrian people, when the political situation allows it. Moscow has always called for involving Kurds in the negotiation process and on ensuring their full participation in the life of post-war Syria. "Russia insists that Kurds should participate in the process to determine the post-conflict future of Syria on a parity basis with other ethnic and religious groups of this country," Foreign Minister Sergey Lavrov said in an interview with the Italian magazine Panorama.
Until recently, Damascus did not particularly pedal negotiations with Rojava, but being aware that the capture of Afrin by Turkish troops was not in its interests, it has adjusted its approach to the self-proclaimed territorial entity. It looks like Syrian leaders have opted for softening their stance, which was previously set on the revival of the country on the basis of unitarism. Otherwise, an agreement with the Kurds will be nowhere in sight.
First published in our partner International Affairs