Islamo-fascist Terrorism now in France; what must be done to stop its spread
The murder in Toulouse and Montauban France this month of 7 innocent people including three school children was committed by a Wahhabi-Salafi-Jihadi-Takfiri cult member Mohamed Merah.
Even though known to authorities to be an extremist and being 'watched' and even though the Americans also knew of him and put him on a no-fly to US list, he could not be arrested authorities say because French Prime Minister Francois Fillon argues, "Belonging to a Salafist organisation is not an offence in and of itself…We cannot mix up religious fundamentalism with terrorism, even if we know there are elements that unite them."
Perhaps Monsieur Fillon would do well to (take a leaf out of his mother's book and) study history. Who was behind most of the terrorist attacks in the West since 1990? The media made it look like 'nutters' like the underpants bomber Umar Farouk Abdulmutallab and 'freaks' like Richard Reid the Shoe bomber were ad hoc potential criminals who just so happened to have a background that included coming from an Islamic background. However if one looks carefully at the global Jihadi attacks for the past 20 years and Mohammed Merah's path into the cult behind his motivation for the attacks one will see that the same cult was behind many others radicalization that lead to terrorist attacks in the West. Then Prime Minister Fillon will know what France is up against and understand that their new foe is no less organized committed and lethal than the Nazi's were and that their Republic is in great danger unless they deal with the extremist conveyor belt of this cult at its source and help strengthen traditional Islam which is in as much mortal danger as the French State. If Fillon does not 'join the dots' Toulouse will only be the beginning.
Mohamed was born in France from Algerian parents and grew up with his three brothers and two sisters in a troubled high-rise estate called 'Les Izards', home to a large North African population, in Toulouse, South West France. He was first arrested at 16 for stealing and again at aged 18 and 20. Even though he had a reputation for extremist tendencies on his own housing estate in Toulouse and his brother Abdelkader Merah, had links to jihadists in Libya, Mohamed's path to radical Islam began when he was 18 in Toulouse in 2007 while serving a prison sentence for robbery.
He was like so many troubled Muslim youths approached by Salafist groups like Forsane Alizza (FA- The Knights of Pride) and encouraged to progress his study their cult which was their brand of militant Salafi 'Islam' from their radical mosques or private 'prayer groups' and if suitable for mission training Al Qaeda operatives then arranged for the acolyte go to Pakistan for deeper indoctrination into the cult and specialist weapons and bomb training when he got out.
Forsane Alizza aka 'Sharia4France' is ostensibly an anti-Islamophobia group but authorities say it is a terrorist organization that used the mantra of anti-Islamophobia to mask its deeper purpose of radicalizing disenchanted youth from Islamic backgrounds. They followed the rhetoric of fellow terrorists like Yemeni-American cleric Anwar al-Awlaki to recruit disillusioned youth from Islamic communities in the West away from the traditional Islamic faith of their parents who immigrated to the West and instead adopt their cult. Their cult made everything from their plight to the perceived injustice of Muslims around the world easily understood in a populist way and in the vernacular. The converts were shown a way out of their sin and into heaven by taking the express lane of radical militancy to attack all enemies of the Wahhabi-Salafi Jihadi's (the only true Muslims) whether they be Crusader-Zionists in AF-PAK, Shia Muslims, Sufi Muslims or Moderate Sunni Muslims (all apostates in the cults eyes to be excommunicated (Takfiri) and worthy of death) or non-Sharia democracies in the West. The ultimate goal of the cult is establishing a kind of 'Third Reich' Salafist caliphate stretching from Chechnya to the Philippines that will restore pride and power to "Muslims" (the ones that are left after the bad Muslims have been enlightened as to the true 'path' or eliminated); hence their name Forsane Alizza -The Knights of Pride.
Forsane Alizza has links to other radical Islamist groups in Europe, such as al-Muhajiroun / 'Islam4UK' in Britain and 'Shariah4Belgium', 'Muslims Against Crusades' as well as 'Revolution Muslim' in the United States. Al-Muhajiroun means "the Emigrants". The name comes from their 'target market', the children of traditional Islamic parents who immigrated to the West. These Islamo-Fascist cult's modus operandi is not unlike the Hitler Youth movement of the Nazi's, brainwashing the youth with magazines, and sending them to specialized indoctrination schools and camps with their 'brothers' and SS style (Mujahedeen) elite training, how to be 'good Muslims' just like the Nazi's did in the 1930's by teaching the 'jugend' how to be 'good Germans'. The devotees would then have no qualms about the war ahead and what had to be done to the 'untermench' (Jews, Crusaders and Takfiri or moderate/traditional Muslims). The allies upon liberating Eastern Europe could not believe how civilized people could commit the atrocities that the Einsatzgruppen did especially against women and children. These Hitler Youth graduates were formed into heartless death squads responsible for the murders of over 1,000,000 people, mainly Jews including women and children in occupied Eastern Europe between 1939 and 1944.
It is no surprise then that when today's Wahhabi Salafi Takfiri Jihadi's strike whether its Bali, Beslan or Toulouse, they do so without mercy and show no remorse afterward if they survive. Indeed they often laugh and smile chanting "Allahu Akbar" like the Bali mass murderer Amrozi bin Nurhasyim did when sentenced by an Indonesian Court rejecting his defence that his actions in 2002 planting bombs that indiscriminately killed 202 tourists because he was seeking to 'strike at America and its allies, especially Israel' were justified under Islam.
Similarly, the Chechen war of nationalism against Russia turned into an Islamist cause and with it came the Islamo-Fascist propaganda that could justify any form of atrocity on ideological grounds. From the mid 1990's Saudi charities like Al-Haramain , Benevolence International Foundation (BIF was started by OBL's brother-in-law Mohammed Jamal Khalifa who also funded 9/11's precursor the Bojinka Plot), and Wahhabi extremist commanders like Ibn al-Khattab poured millions of dollars and thousands of human resources into establishing several military training and religious indoctrination camps in Chechnya. After the US launched its war in Afghanistan even more Mujahedeen troops and preachers poured into Chechnya subsidizing and thereby taking over traditional Chechen Sufi mosques and Islamic schools spreading Wahhabi-Salafi extremism. This culminated in the 2002 Moscow theatre siege and then the even more devastating and heartless 2004 Beslan massacre in which Wahhabi-Salafi-Takfiri-Jihadi's took hostage and murdered 335 innocent Russian school children. The message sent by the terrorist cult is that there are no moral boundaries for them.
Groups like AF and Al- Muhajiroun have apart from their proselytizing role for the Wahhabi-Salafi-Takfiri-Jihadi cult have also been involved in many public confrontational incidents including wild demonstrations against the West.
In the UK al Muhajiroun has many modern incarnations/name changes to stay out of the slow moving UK Terrorist Legislation definitions of proscribed Terrorist Organization (such as al-Ghurabaa (AG), the Saviour/Saved Sect (SS), Ahlus Sunnah Wal Jama'aah, Call to Submission, Islamic Path, London School of Shiria, Muslims Against Crusades, Supporters of Sharia and Islam4UK and has been closely linked with Hizb ut-Tahrir). Al Muhajiroun has been associated with the radicalization of Muslim communities away from their traditional moderate beliefs to the Wahhabi-Salafi-Takfiri-Jihadi cult.
Abu Hamza (al-Masri)
Prominent figures include ex-Imam of the radical Finsbury Park Mosque, Abu Hamza al-Masri who discipled the shoe bomber Richard Reid and Anjem Choudary al-Masri's successor.
Anjem Choudary
It was Finsbury Parks 2ic Choudary who in 2006 arranged a notorious demonstration in London against the Danish cartoons stating "Behead those who insult Islam…Europe take some lessons from 9/11…you will pay demolition is on its way."
According to surveys carried out by respected Centre for Social Cohesion (CSC), a significant number of UK nationals convicted of Al-Qaeda related terrorist offences had links to FA's British 'sister group', al Muhajiroun (Islam4UK) as a 'gateway' into terrorism, providing ideological indoctrination at the beginning of the Salafist extremist "path" and later access to Al-Qaeda recruiters in their Wahhabi funded Mosques who would then prepare them for terrorist 'finishing schools' in Khyber Pakhtunkhwa province, North West Pakistan and 'blooding' in FATA with Afghanistan insurgents.
In France it can be about the French laws banning women from wearing a full veil (niqab) in public places and posted a number of well-produced videos of its protests in French cities. Forsane Alizza promoted on its website the Wahhabi- Salfai-Takfiri-Jihadi group Al Qaeda's English-language magazine 'Inspire' which has a section dedicated to helping terrorist sympathizers in the West carry out attacks on Western targets.
AF has since been banned by French Interior Ministry for inciting racial hatred in January 2012.
FA's Mohammed Achamlane, aka Abu Hamza
FA's leader Achamlane then simply changed its name to 'Force de Défense Musulmane sur Internet', which says its only mission is to have so called "Islamophobic" material removed from French websites.
The main thing to note about the Islamic Clerics that propagate the Wahhabi-Salafi-Takfiri-Jihadi cult's beliefs is that they legitimize notions of murder as acts of divine Islamic ordinance and so are direct causal links to the acts of terrorism that follow.
Mohamed Merah's 'path' in the cult was not unlike his fellow countryman, Zacarias Moussaoui (involved in 9/11). He too was from parents who had a traditional Islamic faith from their homeland (Morocco for the Moussaoui family). Unlike Merah, Zacarias Moussaoui had intellect having a master's degree in International Business from South Bank University in London, having enrolled in 1993 and graduated in 1995. However that intellect did not stop Moussaoui from being proselytised by al Muhajiroun who radicalized him as thoroughly as Forsane Alizza messed with Mohamed Merah's mind.
Mohamed Merah went to Afghanistan and Pakistan several times between 2008 and 2011 to further his 'studies', as they all do. On his first trip in 2008, Mohamed went to Pakistan to be further radicalized before being sent to al Qaeda insurgency operations group in Afghanistan under the leadership, Hamza el Alami, a French Moroccan.
In fact in 2008 he was captured fighting against the US and coalition forces with Al Qaeda insurgents and imprisoned in Kandahar but escaped in a mass breakout in 2008.
In 2011 he may have met with Umar Patek, an Indonesian Salafist terrorist involved in the Bali bombings just before he was caught in Abbottabad Pakistan (the same town OBL was killed later that same year by US Navy Seals). If so then what happened in Toulouse may well have had direct Al Qaeda support and sanction in addition to local sign off from the Wahhabi-Salafi-Takfiri-Jihadi's in France.
Upon his return it was obvious that he had been brainwashed AF-PAK, he tried to indoctrinate Muslim youngsters in his neighbourhood by showing them video footage of men being decapitated (perhaps it was the beheading of Wall Street Journal reporter Daniel Pearl in Pakistan in 2002 by the self-confessed fellow Wahhabi Salafai Takfiri Jihadi, Khalid Sheikh Mohammed the 9/11 mastermind).
Mohamed Merah went about his killing in Toulouse school playground without remorse and in fact filmed all three attacks as he was doing them (just like his hero Khalid Sheikh Mohammed did when he gruesomely videotaped beheading Daniel Pearle).
Mohamed Merah despite the fact that both he and his brother were on the police 'radar' for involvement with Jihadist causes was not put under surveillance and so was able to amass a huge stock pile of weapons and began to plot his 'glorious heroic martyrdom' by murdering school children.
In 2008, the Frenchdomestic intelligence service, the DCRI (Central Directorate of Interior Intelligence) was formed as a merger between the Central Directorate of General Intelligence (RG) and the Directorate of Territorial Surveillance (DST). The Toulouse massacres just goes to show that merely creating a bureaucracy without addressing the legal definitions of who a terrorist is, will not stop these atrocities in the future.
French authorities (including Bernard Squarcini chief of domestic intelligence service, the DCRI (Central Directorate of Interior Intelligence) faced justifiable criticism as to why the convicted Jihadist had not been more closely watched and allowed to amass such a large arsenal of weapons. Perhaps it was Mohamed's close association with a so-called 'anti-Islamophobia' group that used the media that caused 'political correctness' to turn their gaze away in fear that they may unleash controversy in an election year.
Anti-terrorism chief Francois Molinssaid Mohamed Merah had trained with Al Qaeda terrorists in the Pakistani militant stronghold of Waziristan, and had been planning to kill two soldiers and a policeman. Merah, described himself as an "Islamic warrior" who wanted to take revenge for what was happening to Muslims in the world.
His first murder was on March 11 in Toulouse where he killed an off duty soldier Sgt Imad Ibn Ziaten outside a gym.
Then on March 15 in nearby Montauban he killed two off duty but uniformed soldiers, Corporal Abel Chennouf, 24 and Private Mohamed Legouad, 26 and seriously injured a third 28-year-old Corporal Loic Liber who is still in a coma. In the attacks on the two soldiers in Montauban after shouting out "Allah Akbar", he acted calmly, stopping to change the magazine of his pistol. Witnesses described how he had turned over one of the wounded men who was trying to crawl away, and fired three more shots into him.
Then on March 18 he dined out with his brother Abdelkader (who as well known to police because in 2007 he was arrested for supporting Salafi jihadists travelling to Iraq to push out Christians and Shia's and establish their own Islamic Republic based on their cult. But there was insufficient evidence to charge him). One wonders what topics were discussed on the eve of the horrors that were to befall the children at the local Jewish school the next day.
The next day March 19 this self-professed 'Islamic warrior' decided to "bring France to its knees" as he later told police during the siege at his flat and so he set off for a Jewish school in Toulouse.
Reminiscent of what his Wahhabi-Salafi-Takfiri-Jihadi 'brothers' did in Beslan with such monstrous lack of feeling for children, he set upon a killing spree at the school. Mohammed Merah casually killed Rabbi Jonathan Sandler, 30, who tried in vain to shield his sons from Mohamed. Their father dead, Mohamed took his time and murdered at close range Mr Sandler's two young sons, 4 year old Gabriel and 5 year-old Arieh. He actually had only wounded Arieh with his first shot so walked after him as the five year old was desperately crawling away and then came up to him and shot him.
Then he turned his attention to a beautiful little eight year old girl Miriam whom he chased into the courtyard, caught her by her hair and raised a gun to shoot her. The gun jammed at this point and Merah changed weapons from what the police identified as a 9-mm pistol to a .45 calibre gun, and having time to think about what he was doing to this poor little girl nevertheless shot 8 year old Miriam in her temple at point-blank range.
Mohammed Merah was shot dead by Police after a two day siege in his flat on March 22, 2012.
During the siege he wanted "to die as a mujahedeen with a weapon in his hands and he would therefore go to paradise. Whereas if it was policemen who were killed, for them it would be too bad…. he had expressed no regrets other than "not having claimed more victims" and was proud of having "brought France to its knees."
The French authorities need to see this tragedy in context of how the Wahhabi-Salafi-Takfiri-Jihadi's operate at source and upon execution and change their laws to interdict terrorist instigators before these tragic mass murders take place.
Ref
http://www.bbc.co.uk/news/world-europe-17487320
http://www.icsr.info/news/icsr-insight-toulouse-gunmans-link-to-uk-extremists
http://www.bbc.co.uk/news/world-europe-17481537
http://www.bbc.co.uk/news/world-europe-17428860
http://www.bbc.co.uk/news/world-europe-17456541
http://edition.cnn.com/2012/03/21/world/europe/france-solo-terror/index.html
http://www.icsr.info/news/icsr-insight-toulouse-gunmans-link-to-uk-extremists
http://www.bbc.co.uk/news/world-europe-17484121
http://www.dailymail.co.uk/news/article-2118052/Toulouse-shooting-Mohammad-Merah-dead-jumping-flat-window-guns-blazing.html#ixzz1q3avHCni
http://www.dailymail.co.uk/news/article-2118052/Toulouse-shooting-Mohammad-Merah-dead-jumping-flat-window-guns-blazing.html
http://www.meforum.org/744/how-chechnya-became-a-breeding-ground-for-terror
http://www.thecuttingedgenews.com/index.php?article=11576&pageid=16&pagename=Opinion
http://news.bbc.co.uk/2/hi/europe/2565585.stm
http://www.ict.org.il/Articles/tabid/66/Articlsid/636/Default.aspx
http://news.bbc.co.uk/2/shared/spl/hi/world/04/russian_s/html/1.stm
http://www.socialcohesion.co.uk/uploads/1278089320islamist_terrorism_preview.pdf
http://www.telegraph.co.uk/news/worldnews/europe/france/9164827/Brother-of-Toulouse-gunman-Mohamed-Merah-dined-with-him-before-Jewish-school-shooting.html
Kashmir puts Chinese counterterrorism on the defensive
Heightened tension in Kashmir and evidence of a Chinese military presence on the Tajik and Afghan side of their border with China's troubled north-western province of Xinjiang are putting on display contradictions between the lofty principles of the People's Republic's foreign and defense policies and realities on the ground.
The escalating tension between Pakistan and India puts to the test what Pakistan and China tout as an "all-weather friendship." The test will likely occur when the Financial Action Task Force (FATF), an international anti-money laundering and terrorism finance watchdog, debates an Indian demand that the South Asian nation, already grey-listed, be put on the organization's black list.
With the attack and its aftermath unfolding as FATF this week concluded a meeting in Paris, the Kashmir incident is expected to really play out in June when the group is certain to discuss a report that is expected to provide what India considers evidence of Pakistan's alleged culpability for this month's attack on a bus in Kashmir that killed more than 40 Indian paramilitary personnel as well as Pakistani backing for the group believed responsible for the assault and other militant organizations.
Pakistan has denied the allegations and offered to help investigate the Kashmir incident.
China, however, despite refusing to prevent FATF from grey-listing Pakistan last year, will find it increasingly difficult to defend its shielding of Pakistan in the United Nations and could be caught in the crossfire as it continues to protect Masood Azhar, the leader of Jaish-e-Mohammed, the group believed responsible for the Kashmir attack.
Like in the past, China this week rejected an Indian request that it no longer block designation of Mr. Azhar by the UN Security Council as a global terrorist. China asserts that Indian evidence fails to meet UN standards.
Nonetheless, China's shielding of Mr. Azhar risks it being perceived as violating the spirit of the 2017 summit in Xiamen of BRICS countries – Brazil, Russia, India, China and South Africa – that for the first time identified Pakistan-backed militant groups as a regional security threat.
Question marks about China's approach to the countering of political violence and militancy also reflect on China's justification of its brutal crackdown on Turkic Muslims in Xinjiang.
Concern that militant Uyghurs, the predominant Turkic Muslim minority in Xinjiang, including foreign fighters exfiltrating Syria and Iraq, could use Central Asia as an operational base has prompted China to violate its declared principle of not wanting to establish foreign military bases.
China has been believed to be involved for several years in cross-border operations in Tajikistan and Afghanistan's Wakhan Corridor, both of which border on Xinjiang.
A Washington Post report this week, based on a visit by one of its correspondents to the Tajik-Chinese border provided evidence of China's military presence on the Tajik side of the dividing line. "We've been here three, four years," a Chinese soldier told the reporter.
Evidence of the long-reported but officially denied Chinese military presence in Tajikistan comes on the back of China's increasing effort to put in place building blocks that enable it to assert what it perceives as its territorial rights as well as safeguard Xinjiang and protect its mushrooming Diaspora community and overseas investments that are part of its Belt and Road initiative.
The evidence in Tajikistan, moreover, follows the establishment of a military base in Djibouti in the Horn of Africa and facilities in the South China Sea that bolster China's disputed territorial claims.
"Beijing is quietly establishing a security presence in CA (Central Asia) that is broader and deeper than just facilities or hundreds of PLA (People's Liberation Army) soldiers on the ground," said Carnegie Endowment for International Peace scholar Alexander Gabuev.
Potentially, China's military expansion into Central Asia could complicate relations with Russia that sees the Eurasian heartland, once part of the Soviet Union, as its backyard. Continued expansion would call into question a seeming Chinese-Russian division of labour that amounted to Russian muscle and Chinese funding.
Like China, Russian Foreign Minister Sergei Lavrov appeared to be nibbling at the edges of that understanding on a visit to Central Asia this month in which he dangled investment, economic assistance and security guarantees.
Mr. Lavrov's travels followed a visit to Uzbekistan in October by President Vladimir Putin that produced US$27 billion in commercial deals.
"Russia would be smart to rethink its policy towards CA, and base new approach on support for sovereignty of local states. If Russia won't view the 5"(Central Asian) states as its subjects, they are likely to seek greater engagement with Moscow to balance Beijing's econ/sec influence," Mr. Gabuev said, referring to China's economic and security interests.
Pulwama Attacks: Pakistan takes on India again
The attacks by Jaish-e-Muhammed on Indian security forces has come at a tricky time; Modi led government's reaction to the killings, and the preparations for the 2019 general elections, are two events, that are going to intrigue imagination of wide possibilities. Forty men lost their lives, in the kind of barbarism that India expects from Pakistani non-state actors. Mind the assertion; if media sources in India can prove that Masood Azhar-the master mind, controlled the entire event from a military hospital in Rawalpindi, Pakistan has landed itself in a great limbo. Masood Azhar is no longer a non-state actor in Pakistan; instead he is a Pakistani non-state actor. Pay attention, there is a difference.
The fact that India failed to anticipate such an attack, again, is beyond sound logic. Terrorist attacks on armed convoys over bordering highways, is but a chilling script that keeps the Indian administration on their toes. Mind the lapse. What a miss!
What happened?
Nobody in India and elsewhere predicted this. PM Narendra Modi did not see this coming. Not the intent, but the magnitude of casualties. For this alone, Pakistani non-state actor(s) calculated brilliantly. They intercepted a psychological lapse of a strong, yet busy Prime Minister. Let us also pretend that there was a rare moment of blunder by the Indian intelligence. That leaves us to the only realistic assumption of what might have happened.
For many years, India has maintained the vocal discourse of Pakistan's deceitful personality in dealing with transnational issues. The Pulwama killings would have choked Narendra Modi, reminding him the lesson of how a wild animal can never be tamed. More so, not when they promise to not hurt you. Imran Khan is an icon, but no excuses this time, the blood is in his hands. From an observatory perspective, one cannot help but conclude that there is an element of serious political assurance turning into fraudulence.
After-effects
Two months prior to the 2019 general elections, the Indian Prime Minister has woken up to the challenges, that nobody in India would have not predicted. Still, the Pulwama attacks has placed him in a very awkward position. It is a well-documented fact that India can carry out surgical strikes, just like it has in the recent past. Equally, it can only be fair to assume that Pakistan will be ready this time. The story will lose all plot, if Pakistan, like India fails to anticipate another precision attack on its border. Mind the context, it actually means something more.
Reportedly, PM Modi threatened against Pakistani aggression; however, India stands on crossroads. From the Pakistani logic, time has subsided India's options. Imagine another strike gone wrong in the enemy's territory. Imagine a full-fledged war, overtaking the carousal of national elections. Islamabad is ready this time. In the worst case, they have managed to manufacture a predictable excuse to penalize India's confronting military creativity. Pay attention, there are little choices. And the consequences are alarming.
Pakistan's credibility
Regardless of all legitimate Indian accusations, Pakistan would be less worried, by Indian threats to isolate them diplomatically. While the current Indian rhetoric might be another disguise before their jets ignite for a military crackdown; Pakistan has and will operate with their elements of non-state actors. Hence, there is no question about credibility. Mind the change in Pakistani attitude. Before, non-state actors were merely a means to their ends. Now, the Pakistani military is on the front foot, itching for an Indian reaction. Calculations have been made. The Pulwama attacks are a testimony to their intentions. The international community will be hoping that India will let go this time; take it under their chin, once again. There is an acute wish to avoid a situation of hypocrisy. Given a foreseeable Indian aggression, Pakistan will seek international assurance based on equality. The rules apply the same for everyone.
Distinctive
For good reasons, the Pulwama killings will presumably lead to a peaceful solution. The Indian reaction will be gold for academic books, that are based on solving inter-state disputes. India owes a reaction to all kinds of anticipative communities, on a platform that Pakistan has calculatedly fished for their arch-rivals. The ball is in India's court. A moment of magnifique for Narendra Modi, or a strategic tit for tat for Pakistan? Mind the set-up. Evenly poised!
ISIS Smuggler: Sleeper Cells and 'Undead' Suicide Bombers Have Infiltrated Europe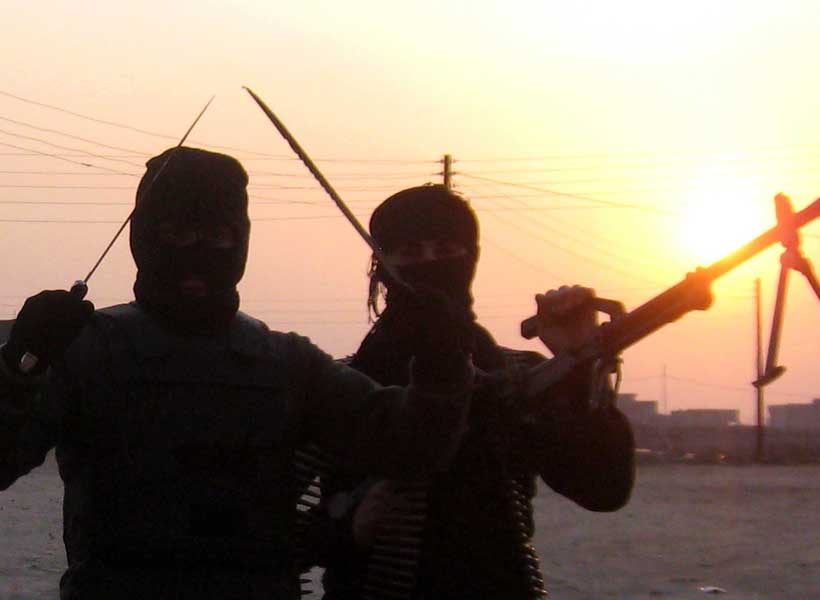 Authors: Anne Speckhard, Ardian Shajkovci & Hamid Sebaly
Europe is bracing for a new wave of jihadist attacks by terrorists affiliated with the so-called Islamic State, what "you might call ISIS 2.0," as Interpol chief Jürgen Stock recently told reporters. Some previously imprisoned jihadists are being released from jail, others are returning to Europe—and to prison—while still others, we have learned, have never been known to police and operate as "sleeper cells" waiting to be mobilized.
It is in the face of such concerns that U.S. intelligence chiefs have warned, despite President Donald Trump's assertions to the contrary, that ISIS is still far from defeated.
Last week, the International Center for the Study of Violent Extremism (ICSVE) interviewed 18 ISIS cadres held by the Kurdish People's Protection Units (YPG) closely allied with U.S. coalition forces in Syria. Two of the prisoners interviewed were former members of the ISIS intelligence operation known as the "emni," sometimes also written as "amni."
One of them, a Tunisian named Abdel Kadr, was a 35-year-old athletic-looking and obviously clever individual, who had illegally smuggled himself into Europe in 2008 and then managed to get legal residency, to live and work there, by marrying a German. Abdel Kadr claimed to have "found religion" and also, like many foreign fighters, to have been moved by the plight of Syrians assaulted by Bashar al-Assad's forces, which caused him to leave Germany for Syria in 2014, driving an ambulance loaded with humanitarian supplies.
Abdel Kadr ultimately joined and served ISIS until he was captured by the YPG last year. He appears to have had high-level access in ISIS and was open to discussing what he knows while also seeking not to incriminate himself.
Regarding the ISIS emni, Abdel Kadr says there are both internal and external emni networks in ISIS, the former enforcing security within the self-declared caliphate and the latter sending operatives outside of it, to be sleeper cells organizing attacks in Europe and globally. They are not police but intelligence operatives, he said. "They live 24 hours per day with a mask. They are chosen specially for this. They have their own houses, special families. They have been chosen specially, and many were sent back to Europe."
People smuggling
Prior to joining ISIS, Abdel Kadr had been a human and goods smuggler based in Germany, working between Turkey and Europe. He said he joined the Islamic State alongside his friend Dominic, a white German convert to Islam. Dominic wanted to return to Germany to work as an undercover operative for ISIS and, being fair-skinned with no known criminal history, he believed he could do so undetected. (He should not be confused with Dominic Musa Schmitz, a Salafi who wrote a book in German in 2016 about his disillusionment with Salafi Islam.)
"There are a lot of those who were trained by ISIS to go into Europe," said Abdel Kadr. The emni member who trained and facilitated many of them was also a white European, an Austrian who went by the kunya, or pseudonym, of Abu Musa al-Almani.
"He was in charge of Germany," Abdel Kadr explained. "He spoke around seven languages: German, Dutch, French, Arabic, and German with the accent of Austria. He was an Austrian native with long hair and a red beard," Abdel Kadr said. "He was from a wealthy family in Austria and a convert from Christianity. I met him in Syria, but he was moving everywhere." He was traveling back and forth via Turkey.
"I heard about this wave that they prepared for Europe," Abdel Kadr told us. "They asked me if I'd like to go back to Germany. They were saying to me if you want to go back don't worry about money, but they don't know how I think."
Abdel Kadr was content at that time inside ISIS doing business on the side and making considerable profits. And he had a ready excuse for begging off from such a mission. "I have seven pieces of shrapnel in my body," he explained. "If I pass through an airport they will catch me." Also, he looks like the Arab he is, and is liable to fall prey to profiling. "They were sending athletic guys who look European back into Europe," Abdel Kadr told us.
The ISIS emni asked Abdel Kadr to return to his former human smuggling trade. "They wanted me to make logistics and coordination because before I joined ISIS and came, I was smuggling people between Turkey and Greece." That was when Abdel Kadr was living in Germany with his German wife, making thousands of dollars smuggling Bengalis, Iranians, Pakistanis, Afghans who had already made their way into Turkey on into Europe. The back trails across the border were primitive and rough, he said, but he knew them. "Our bridge to cross the river was a tree we cut for that purpose."
ISIS intelligence "knew I was a people smuggler. All my German friends knew I was a smuggler," Abdel Kadr explained. "Abu Musa al-Almani, who was in charge of Germany, came to me in Raqqa with Dominic and asked me about the smuggling. He said, 'Dawlah [the State, ie. ISIS] needs you. The whole nation of Islam needs you.'"
The emni asked Abdel Kadr to help them smuggle trained operatives back into Europe following the routes from Turkey into Greece that he had previously exploited. Abdel Kadr claims he refused. "I took my injuries as an excuse to escape from this, I have a screw in my leg, shrapnel [from a bomb attack]. It took seven kilometers walking to get across to Greece. My role was five kilometers up to the tree [bridge]. Someone else took them inside, an Algerian guy."
Abdel Kadr claims that he told ISIS he was no longer fit enough to do it. It may be true that he refused, as he was at the time engaged in a smuggling and trade operation inside ISIS, enriching himself there, or he may in fact have re-engaged in his former trade but did not want to tell us.
The Undead
According to Abdel Kadr, when the emni was going to send a European back to attack they would first falsely announce inside ISIS, and on their external media, that he had been killed fighting or in a bomb attack. But later, it would be revealed that he was actually alive and had successfully attacked in Paris or Brussels, for instance, and had been "martyred" there.
In the case of most suicide attacks in Europe, according to Abdel Kadr, the death of the operative is announced by ISIS a few months earlier, when in fact, "they took them to a camp to train them. Then after you get a communiqué about their action in Europe. The communiqué on this date stated he died in France or Belgium, but for ourselves, seven or eight months before [we had heard] they were announcing his death."
The same was true of Dominic, according to Abdel Kadr. "ISIS said he was killed, but it wasn't true. He lived next to me and when I went to see his wife and children inside the ISIS area [in Tabqa, near Raqqa], they told me, 'He is not killed, but we don't know where he is.'" Abdel Kadr already knew Dominic's desire to return to Europe to serve ISIS.
"He's alive somewhere," Abdel Kadr told us. "Up to now, there is no communiqué [about his actions in Europe]." Abdel Kadr, who is imprisoned by the YPG and says he is now totally disillusioned with ISIS, claims to have tried to thwart any possible attack by Dominic by alerting German and European intelligence about his friend's "disappearance" and fake death announcement inside of ISIS.
"There are 1,000 partisans in Europe," Abdel Kadr claims. "They have a big plan to introduce hundreds of refugees from all nationalities of the world," he claims, saying ISIS was able to insert them into the refugee streams flowing into Europe. Many are sent to Europe with false passports. "They are processed by surgery, training and language and they send them as sleeping cells. In Turkey they give them hair transplants, surgically change their eyes, even the eye color." (Presumably that would be with contact lenses.)
At least two of the attackers who struck Paris in November 2015 had entered Europe among refugees and carried false papers.
In 2015, Harry Sarfo, a German whose family originally was from Ghana, and who'd grown up in Britain, working as a postman there before he joined ISIS, was pressured by the ISIS emni to train and return to attack in Germany. He told the authorities, and later Der Spiegel and The New York Times, about his training and knowledge of these ISIS emni activities.
ISIS was telling Europeans to book short vacations in resorts in the south of Turkey, take many pictures, and then come to train for a short time with ISIS to be sent back to join sleeper cells in Europe. Without overstaying their Turkish visas and with the strong alibi of the resort booking and pictures to confirm it, they passed suspicions if questioned by security about their activities.
Abdel Kadr confirmed that this indeed was happening. "They are able to bring a youth into ISIS and then back into his family without the knowledge of his parents. They send him home to Europe after one year in training with ISIS," he states. "There are some people who came with European faces for a short time and went back through Turkey," he explains. "Like my friend, Dominic. I think he's living in Europe," Abdel Kadr concludes.
When asked about this case and others like it, a high-level YPG security official explains that his organization is doing everything it can to stop such operations. The YPG says it has caught and now holds in its prisons over 3,500 foreign fighters, many of them Europeans.
But the Kurds feel frustrated knowing that these foreigners streamed in through Turkey, some of them received medical help inside Turkey when injured, and most of the logistical supplies and extra food supplies for ISIS were delivered across the Turkish border.
Although the YPG has provided the core ground force working with the Americans to defeat ISIS, President Trump's decision to withdraw some 2,000 U.S. troops providing logistical and other support leaves the organization in a vulnerable position. The Turkish government insists that the YPG is a branch of the Kurdish Workers Party or PKK, which Ankara and many other governments, including the U.S., deem a terrorist organization.
The YPG says the Turks have actually been complicit with ISIS. "They call us the terrorists" another YPG military intelligence officer told us, "but we are fighting terrorism every single day, losing our lives by the thousands doing so and trying to keep Europe safe from such people. We are fighting terrorism, while others are helping them to come and go, in and out of Syria, across our borders."
Author's note: Article first published in The Daily Beast