An outlook of radical Islamism in Bosnia
Information available to experts on international terrorism indicate that Bosnia Herzegovina is presently one of the epicentres of extremist Islamic circles in Europe, as it represents a hub for potential Islamic terrorists – the so called "white" or "European" Al-Qaeda .
Money from Islamic countries that is laundered through "humanitarian" organizations finances the religious education of at least 100,000 young Bosnian Muslims. In addition to such education, which follows the interpretations of Wahhabi Islam, there is another type of "training" in various officially registered camps throughout the B-H Federation. There, the young and carefully selected Wahhabis attend "additional courses" in marksmanship, explosives and martial arts.
Organizations such as "Furqan," the "Active Islamic Youth," the "Muslim Youth Council" and others – differing only in name and primary donors, but otherwise interchangeable – teach young Muslims computer and Internet skills, so they could establish contacts with their coreligionists worldwide. Knowing all this, the former head of UN Mission in Bosnia Jacques Paul Klein has stated that some 200 mujahid'din in Bosnia did not represent a danger, because they can be easily controlled. Klein knew it would be a lot more difficult to stop the spread of young Bosnian Wahhabis throughout Europe, youths who consider Osama Bin Laden and the mujahid'din role models. Nowadays there is still a strong presence of a variety of extremist Islamic groups in Bosnia-Herzegovina, under the pretext of charity funds and related philanthropic establishments. Thus it is not of surprise that the U.K Foreign Office has previously warranted concern safety for every British national travelling there, especially in relation to potential terrorist incidents.
According to EU reports, many Islamic charities that have been banned still operate in BiH – including Al Hаramain, Al Maysed Al Aqsa, and Benevolence International Foundation (BIF). All these organizations were banned in BiH (after direct political pressure from the West) but there are indications they remain active. Specifically noted was BIF, which was blacklisted in the U.S. In August 2002, the Federal Banking Agency approved the merger of Vakufska and Depozitna banks, owned by Yasin Al-Qadi (44.3%) and "Mahmal Investments" (44.2%), which has been under investigation by intelligence agencies for years, on suspicion of funding terrorism.
Between 1998 and 2000, "Енгра д.о.о" was conducting financial transactions on behalf of an organization linked to Bin-Laden, through accounts with Depozitna and Vakufska banks of Sarajevo (Zenica branch).
Moreover certain connections can be outlined for the financial institutions that are linked to Islamic causes in Turkey, such as the Al Baraka Finance and the link between Faisal Bank (Now named Family Finance) which has its roots in Saudi Arabia and the core of the Islamic elite of that country. The former is linked to Islamic-Balkan affairs. Vakufska Banka (Islamic bank in Bosnia) has several partners in Europe and especially in Turkey, where the bank is above all the main correspondent of Al Baraka Turkish Finance House. Mohamed Galeb Kalaje Zouaydi, financial head of al-Qaida in Spain, and financier of the Hamburg cell, transferred to UBL Courier for Europe, Mohamed Baiahah (aka Abu Khaled), and $97,000 US on July 2000, through al Baraka Turkish Finance House in Turkey. According to the Spanish police documentation, Muhamed Galeb Kalaje Zouaydi used several times Al Baraka Turkish Finance House to transfer money to al-Qaida operatives.
The involvement of extremists with the local banking system, is the main source of capital for functions, such as proving up to 500 Euros to local men and woman in order to wear the appropriate attire in their daily lives and in short to recruit them into becoming followers in Wahhabism. The sum is substantial in Bosnia, but also in Kosovo and FYROM where similar phenomena have been recorded by the local media. Moreover the locals that are been recruited and converted from moderate Islam to its extremist form, have also other benefits, such as scholarships for their offspring, as well as a wider network of support, which is much needed in societies with high unemployment and poverty.
The main areas in Bosnia, where in particular the Wahhabis have managed to spread considerably their reach are: Serici, Zeljezno, Polje Pojska, Mehurici, Bocinja, Travnik, Gornja Maoca, Grmusa, Velika Kladusa, and Debeljak.
The World Islamic League (Rabita), which is mostly controlled by Saudi Arabian religious circles, has invested substantially in the Western Balkans and in January 2006 it financed with 150,000 USD youth programs by bringing that capital from Mecca through Munich and into the Societe Generale banking outlet in the Novi Pazar city of Serbia, where radicalism has increased over the past decade.
In Albania recently it was made public by the media, that quite a few international terrorism supporters were active in the country and in neighbouring countries such as Bosnia over the past decades. The most well-known one is Yasin Abdullah Ezzedine Qadi the owner of the Muwafaq Company. He has also involved in the "cell" foundation Makhtab al-Khidamat that was related to Osama Bin Laden in the 90's. According to UN sources the foundation was implicated in 1995 in transferring weaponry from Albania to Bosnia Herzegovina in order to support the Muslim side and under the direction of the Al Qaeda's terrorist network.
Another notable figure mentioned in the Albanian press, is Abdul Latif Saleh, who had obtained Albanian citizenship and was associate of Bin Laden. Through the Al Haraiman foundation's branch in Albania he was promoting radical Islam in the country and also laundered capital to be used for international subversive activities.
Another nine figures associated with the aforementioned are: Adb Al Wahab Abd Al Hafiz; Abderrahmane Kifane; Ali El-Heit; Fethi Ben Hassen Ben Salem Al-Haddad; Farid Aider; Abdelhadi Ben Debka; Moustafa Abbes; Othman Deramchi; Yacine Ahmed Nacer. They were active in Albania but also toured across several countries and coordinated the expansion of the terrorist network by facilitating amongst other the trafficking of Islamists from Asia to Europe and the forging of travel documents, as well as, money laundering operations.
Safet Ekrem Durguti was the head of the Al-Haramain Islamic Foundation in the region and was cooperating with Jemaah Islamiyah, Al-Al-Islmaiya Itihadd, the Egyptian Jihad and the Lashkar-e- Tayyiba. He was active for a number of years in Albania and also promoted Bin Laden's reach in the Balkans.
A UN report has also identified the Aqeel Abdulaziz Aqeel Al-Aqeel and Suliman Hamd Suleiman Al-Buthe, as formerly Albanian -based heads of the Al-Haramain Islamic Foundation in Tirana and direct supporters of terrorist acts.
Furthermore, Yassin Kadi, also controlled a number of other companies in the Balkans, such as: Lox Holl LTD, Caravan Construction: Caravan Albania, Cavallo SHPK, Twaik East, Karavan Durres Street Project, Camel SHPK, Medicare Co SHPK, Medicare LTD, Albanian Snacks, Alintin Albania Office, Albanian International and Development by Morgan and Morgan Trust Corporation LTD address: Road Town; Parsea Estate P.O. Box 3149 British Virgin Islands, Alintid beton, Emane SHPK.
In late March 2010, an international Wahhabi organization has launched a campaign in Bosnia-Herzegovina calling on non-Muslims to convert to Islam.
The organization, which calls itself "Poziv u Raj" (Invitation To Heaven), has been putting up slick billboards and posters and distributing leaflets in Sarajevo, Bihac, Sanski Most, Maglaj, Zenica, Travnik, Tuzla, and Tesanj.
The group also has been organizing public lectures in Bosnian cities and towns by a Greek man and a German man who recently converted to Islam. The organization maintains its core base in Germany and has a reach in several countries in Europe by actively trying to infiltrate moderate Muslim organizations.
According to a past report by Juan Carlos Antúnez, the Bosnian Wahhabi movement is currently comprised of two main streams:
– A Salafi / Wahhabi stream loyal to the B-H Islamic Community;
– A Salafi / Wahhabi stream outside the control of the B-H Islamic Community. This stream can also be divided into two main groups: Missionary and Jihadi.
It seems that for the long-term purposes of further subversion of radical elements of the Bosnian Wahhabi networks into B-H, the infiltration of the religious structure of the mainstream Muslim community is needed.
Hajrudin Somun the former ambassador of Bosnia and Herzegovina to Turkey noted in an article in the Zaman newspaper, that "Wahhabis began spreading their interpretation of Islam in poor villages, opening dozens of Quran schools and preparing to take over the country's Islamic Community. Two prominent Kosovo imams were brutally attacked by Wahhabis in January 2009. First, Osman Musliu, who tried to prevent them from occupying the Zabel Mosque, was attacked.
He said he "doubted that Serbia had damaged Kosovo as badly as the Wahhabi infiltration." A few days later, Kosovska Mitrovica imam Hamit Kamberi was beaten by the "people in short pants" so fiercely that he lost his consciousness". Literally hundreds of similar incidents took place over the past decade in Kosovo, Bosnia, FYROM, and Southern Serbia and there are unverified information for such cases in Montenegro, Bulgaria and Albania.
Anes Alic reporting for the ISN, comments on the "Bosnian Muslim cleric Muhamed Porca, who has served as the head of the Vienna-based Al-Tawhid Mosque since 1993. Bosnian intelligence believes he is the main source of financial and ideological support for the Bosnian Wahhabi movement.
Imamovic also runs an extremist website putvjernika.com, which glorifies jihad and tabulates number of dead Americans in the war on terror. Imamovic has previously attracted public attention by his statement on the website that suicide attacks are not forbidden by Islam, and that they should be used in "exceptional circumstances."
The "Green traverse" theory that was made especially known in the early 90's seems to have become a reality due to the growing influence of radicals in the Balkans, coupled with the chronic corruption issues in the region that facilitates organized crime operations that feed with capital groups of extremists and especially in the sectors of human trafficking and narcotics. Already the media attention in the issue is becoming stronger and that may well prove to be a factor of importance if one adds the increasing international competition regarding the future geopolitical direction of the whole of the Balkan region.

Stateless and Leftover ISIS Brides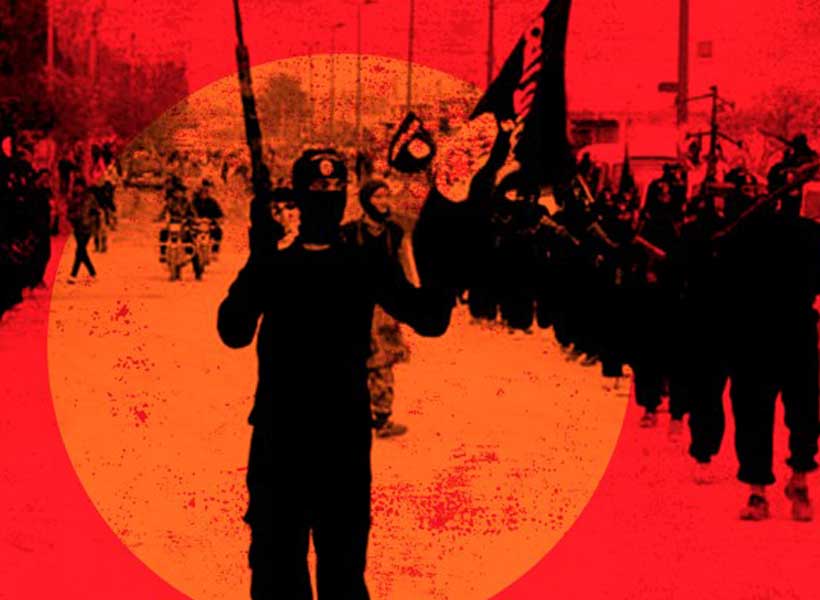 While the World is busy fighting the pandemic and the economic devastation caused by it, one of the important problem that has been pushed to dormancy, is the status of the ISIS(Islamic State of Iraq and Syria) brides. The Pandemic has crippled the capacity of the law enforcement and exploiting this the ISIS executed attacks in Maldives, Iraq, and the Philippines. The United Nations Secretary-General Antonio Guterres has warned that terrorists are exploiting the COVID-19 Pandemic. Albeit the ISIS has been defeated, approximately ten thousand of them are in ISIS detention centres in Northern Syria under Kurds. Most of these detention centres are filled by women and children, who are relatives or widows of the ISIS fighters. With their native states denouncing them, the status of the stateless women and children is unclear.
As it stands today states' counter-terrorism approach has been primarily targeting male militants but women also have played a role in strengthening these terrorist organizations. Women involvement in militant organizations has increased as they perform several activities like birthing next-generation militants/jihadists, managing the logistics and recruiting the new members to the organizations. The world did not recognize women as key players in terrorist organizations until the 1980s when females held major roles in guerilla wars of southern America. Women have either willingly or unwillingly held a variety of roles in these extremist organizations and Islamist terrorist organizations like Hamas and al-Qaeda women do simply provide moral support.
According to the media reports since the US withdrawal from Iraq in 2006 female suicide attacks have been increased and they have been extensively part of ISIS. The ISIS had a female brigade which they called as Al-Khansaa which was established to perform search activities in the state. Both foreign and domestic recruits in the Islamic state have participated in brutal torture. A recently acquired logbook from a guesthouse in Syria provides important information about 1100 females who joined the organization, the western women who are called as 'the muhajirat'.
When the people from rest of the world joined organizations such as ISIS, they burnt their passports and rejected their national identity. Especially women from western countries who were radicalized online based on their phenomenon 'ISIS brides/Jihadi brides' to marry terrorists. Since Islamic State isnot recognized by the world these marriages are not legally valid, apart from this a number of these brides have experienced sexual torture and extreme violence.
While the erstwhile members of the extremist organizations like ISIS and others are left adrift the one challenging question remaining is should states and their societies keep them and reengage or rehabilitate or prosecute them. How firmly the idea of their erstwhile organization is stuck in their minds and especially the followers who crossed the world to join remains a concern to many. The U.S backed Kurdish forces across turkey border hold thousands of these left-behind women and children in their centre. Hundreds of foreign women and children who were once part of an aspirant state, The caliphate are now floating around the concentration camps in Syria, Turkey and Kurdish detention centres and prisons. Many are waiting to return to their origin countries. They pose a unique challenge to their native states like whether to include them or not and even if they include how to integrate adults who at least for a time part of these terrorist organizations and what to do with children who are too young to understand the politics and obstacles keeping them in camps and detention centres where resources are scarce. Women present a problem because its hard to know what kind of crimes they have committed beyond the membership of the terrorist organization.
It is no secret that women also have been part of insurgency across the world, like in ISIS,LTTE,PIRA and PFLP. The responsibility of women in ISIS includes wife to ISIS soldiers, birthing the next generation of jihad and advancing ISIS' global reach through online recruiting. The International Center for Study of Radicalization (ICAR) estimates that out of 40000 people joined ISIS from 80 different countries nearly 8000 are women and children. After the defeat of ISIS and such extreme organization those who are left behind possess the ideological commitment and practical skills which again a threat upon return to home countries.
The states across the world are either revoking the citizenship or ignore their responsibility. The most famous case of Shamima Begum a UK citizen married to an ISIS fighter whose citizenship was revoked by the UK government. In other cases like HodaMuthana of the USA and Iman Osman of Tunisia have been the same case. As recently as Tooba Gondal an ISIS bride who now in a detention camp in northern Syria begged to go home in the UK in a public apology.
The American president Donald Trump issued a statement saying women who joined ISIS cannot return. The NATO deputy head said "…returning ISIS fighters and brides must face full rigours of the law". Revoking the citizenship and making someone stateless is illegal under international law and it is also important to know how gendered these cases are because the UK have successfully prosecuted Mohammad Uddin and the USA has also done it so. Stripping off their citizenship itself a punishment before proper trail and the only good out of it would state can take their hands off in dealing with cases. Samantha Elhassani the only American who repatriated from Iraq so far and pleaded guilty for supporting ISIS. Meanwhile, France is trying to route its citizens who joined the ISIS and extradited few who are under trial in Bagdad.
As experts and political analysts say "countries should take responsibility for their own citizens" because failure to do so will also make the long term situation more dangerous as jihadists will try to a hideout and turn into militant groups for their protection. The children, the second-generation ISIS need cultural centres and rehabilitation centres and this is an international problem. These women known as jihadists brides suffer from a post-traumatic stress disorder and many are pregnant or multiple children born in ISIS territory.
In some countries travelling abroad to join the insurgencies in North Africa and Syria was not always a criminal act, Sweden criminalized such act recently but to prosecute them proof of offences committed in the conflict zone is difficult to collect and most countries in the world do not allow the pre-trial detention for more than 14 days. With problems of different national Lawson extradition and capital punishment and to prosecute them in conflict countries is also a challenge for states. Since Kurdish forces have signalled that they cannot bring all the prisoners into justice the home countries will have to act or else it might create a long term dangerous situation. With the civil war in Syria is about to end it is time to address these issues because since there are more ISIS fighters in Kurdish prisons and detention centres they could be influenced to join rebels who are fighting the regime of Assad in last standing province of Idlib.
If the governments reject the repatriation applications then they will be signalling that their action is essential for national security and thus asserting that failed or poorly resourced states are better equipped to handle potential extremists. The criminal system in Iraq is corrupt and human rights violations have been reported and which creates the risk of further radicalization. One should not forget that even citizenship of Osama bin laden was also stripped but which did not stop him from forming al-Qaeda in Afghanistan. If the citizens commit crimes and forget their responsibility then the states must bring them to justice instead of stripping citizenship. The states must come with a solution for this problem before its too late, setting up an international tribunal to deal with these cases would be a great start but these tribunals are time-consuming and expensive.
States must act as a responsible actor in the international system. Jihadist terrorism is a global problem and states must act together to deal with it because with nearly 40000 fighters joining caliphate from across the world it only shows how global and deeply rooted the phenomenon is. Instead of stripping their citizens' citizenship, states must find a way to act together for the peace and security of the international community.
COVID-19: Game-changer for international peace and security
The world has "entered a volatile and unstable new phase" in terms of the impact of COVID-19 on peace and security, the UN chief told a virtual meeting with world leaders on Wednesday.
Speaking at one of a series of international meetings among heads of State to enhance global cooperation in fighting terrorism and violent extremism, as part of the Aqaba Process, Secretary-General António Guterres said the pandemic was more than a global health crisis.
"It is a game-changer for international peace and security", he spelled out, emphasizing that the process can play a key role in "promoting unity and aligning thinking" on how to beat back the pandemic.
Warning lights flashing
Mr. Guterres maintained that the coronavirus has exposed the basic fragility of humankind, laid bare systemic and entrenched inequalities, and thrust into the spotlight, geopolitical challenges and security threats.
"The warning lights are flashing", he said, pointing out that as the virus is "exacerbating grievances, undermining social cohesion and fueling conflicts", it is also likely to "act as a catalyst in the spread of terrorism and violent extremism".
Moreover, international tensions are being driven by supply chain disruptions, protectionism and growing nationalism – with rising unemployment, food insecurity and climate change, helping to fuel political unrest.
A generation in crosshairs
The UN chief also noted that a generation of students is missing school.
"A whole generation…has seen its education disrupted", he stated. "Many young people are experiencing a second global recession in their short lives."
He explained that they feel left out, neglected and disillusioned by their prospects in an uncertain world.
Wanted: Global solidarity
The pandemic has highlighted vulnerabilities to emerging threats such as bioterrorism and cyber-attacks on critical infrastructure.
"The world faces grave security challenges that no single country or organization can address alone", upheld the Secretary-General, "there is an urgent need for global unity and solidarity".
Recalling the UN's Virtual Counter-Terrorism Week in July, he reminded that participants called for a "reinvigorated commitment to multilateralism to combat terrorism and violent extremism".
However, a lack of international cooperation to tackle the pandemic has been "startling", Mr. Guterres said, highlighting national self-interest, transactional information sharing and manifestations of authoritarianism.
'Put people first'
The UN chief stressed that "we must not return to the status quo ante".
He outlined the need to put people first, by enhancing information sharing and technical cooperation "to prevent terrorists exploiting the pandemic for their own nefarious goals" and thinking "long-term solutions rather than short-term fixes".
"This includes upholding the rights and needs of victims of terrorism…[and] the repatriation of foreign terrorist fighters, especially women and children, and their dependents to their countries of origin", he elaborated.
Closing window
Meanwhile, the risk of COVID-19 is exacerbating the already dire security and humanitarian situation in Syrian and Iraqi camps housing refugees and the displaced.
"The window of opportunity is closing so we must seize the moment", the UN chief said. "We cannot ignore our responsibilities and leave children to fend for themselves and at the mercy of terrorist exploitation".
He also expressed confidence that the Aqaba Process will continue to "strengthen international counter-terrorism cooperation, identify and fill capacity gaps, and address evolving security threats associated with the pandemic", and offered the UN's "full support".
Post-COVID rebuilding
The Secretary-General also addressed the Centenary Summit of the International Organization of Employers (IOE) on how private and public sector cooperation can help drive post-COVID change.
He lauded the IOE's "significant contributions" to global policymaking for economic and social progress, job creation and a mutually beneficial business environment, calling it "an important pillar of the International Labour Organization (ILO) since its earliest days".
"Today, our primary task is to defeat the pandemic and rebuild lives, livelihoods, businesses, and economies", he told the virtual Summit.
In building back, he underscored that workers and small business be protected, and everyone be given the opportunity to fulfil their potential.
Businesses input
The UN chief urged businesses to engage with the multilateral system to create a "conducive global environment for decent work, investment, and sustainability"; and with the UN at the national level, to help ensure that multilateralism "works on the ground".
He also encouraged them to actively participate in national and global public-private dialogue and initiatives, stressing, "there must be space for them to do so".
Tripartite cooperation
ILO chief Guy Ryder highlighted the need for "conscious policy decisions and tripartite cooperation to overcome transformational challenges", such as technological change and climate change, as well as COVID-19.
Mr. Ryder also flagged that employers must continue to collaborate in social dialogue and maintain their commitment to both multilateralism and the ILO.
The IOE represents more than 50 million companies and is a key partner in the international multilateral system for over 100 years as the voice of business at the ILO, across the UN, the G20 richest countries and other emerging forums.
Traumas of terrorism cannot be erased, but victims' voices must never be forgotten
In remembering and honouring all victims of terrorism, Secretary-General António Guterres said the UN stands by those who grieve and those who "continue to endure the physical and psychological wounds of terrorist atrocities".
"Traumatic memories cannot be erased, but we can help victims and survivors by seeking truth, justice and reparation, amplifying their voices and upholding their human rights", he stressed.
Keep spotlight on victims, even amid pandemic
This year's commemoration takes place against the backdrop of the COVID-19 pandemic, when vital services for victims, such as criminal justice processes and psychosocial support, have been interrupted, delayed or ended as Governments focus attention and resources on fighting the pandemic.
Moreover, many memorials and commemorations have been cancelled or moved online, hampering the ability of victims to find solace and comfort together.
And the current restrictions have also forced the first-ever UN Global Congress of Victims of Terrorism has to be postponed until next year.
"But it is important that we keep a spotlight on this important issue," stressed the UN chief.
"Remembering the victims of terrorism and doing more to support them is essential to help them rebuild their lives and heal", said Mr. Guterres, including work with parliamentarians and governments to draft and adopt legislation and national strategies to help victims.
The Secretary-General vowed that "the UN stands in solidarity with all victims of terrorism – today and every day" and underscored the need to "ensure that those who have suffered are always heard and never forgotten".
Terrorism unjustifiable
General Assembly President Tijjani Muhammad-Bande saluted the resilience of terrorist survivors and called the day "an opportunity to honour the memories of the innocent civilians who have lost their lives as a result of terrorist acts around the world".
"Terrorism, in all forms and manifestations, can never be justified", he stated. "Acts of terrorism everywhere must be strongly condemned".
The UN commits to combating terrorism and the Assembly has adopted resolutions to curb the scourge while working to establish and maintain peace and security globally.
Strengthen assistance
Mechanisms for survivors must be strengthened to safeguard a "full recovery, rehabilitation and re-integration into society through long-term multi-dimensional support", stated the UN official.
"Together we can ensure that you live a full life defined by dignity and freedom. You are not alone in this journey. You are not forgotten", concluded the Assembly president.
'Human dimension'
Closing the event, Vladimir Voronkov, chief of the UN Office of Counter-Terrorism, maintained that victims represent "the very human dimension of terrorism".
While terrorists try to depersonalize victims by reducing them to mere numbers or statistics, Mr. Voronkov maintained that "we have a responsibility to do the exact opposite".
"We must see victims' hopes, dreams and daily lives that have been shattered by terrorist violence – a shattering that carries on long after the attack is over", he stated. "We must ensure their human rights are upheld and their needs are met".
Reaffirming humanity
While acknowledging the "terrible reality of terrorism", Mr. Voronkov flagged that the survivors shine as "examples of resilience, and beacons of hope, courage and solidarity in the face of adversity".
In reaffirming "our common humanity", he urged everyone to raise awareness of victims needs and rights.
"Let us commit to showing them that they are not alone and will never be forgotten", concluded the Counter-Terrorism chief.
Survivors remember
At the virtual event, survivors shared their stories while under lockdown, agreeing that the long-term impacts of surviving any kind of an attack is that the traumatic experience never really goes away.
Tahir from Pakistan lost his wife in attack against the UN World Food Programme (WFP) office in Islamabad.
"If you have an accident, you know how to cope with it. Terminal illness, you know how to cope with it. But there is no coping mechanism for a person who dies in an act of terror", he said.
Meanwhile Nigeel's father perished in the 1998 US Embassy attack in Kenya, when he was just months years old.
The 22 year-old shared: "When you are growing, it really doesn't have a heavy impact on you, but as life starts to unfold, mostly I'll find myself asking if I do this and my dad was around, would he be proud of me?"
And Julie, from Australia, lost her 21-year-old daughter in the 2017 London Bridge attack.
"The Australian police came to our house and said 'we have a body, still not confirmed', so they recommended that we fly to London", she recalled. "I can't describe how devastating as a parent to lose a child in these circumstances is for the rest of your life".