South China sea security dilemma
World looked forwardpassionately to achieve a long awaited break from the conflicts brewing up in Middle East (ME) as well as in Central Asia. A glimmer of hope kindled after withdrawal of US forces from Iraq,
claiming to have achieved its objectives, and draw down from Afghanistan, already in full swing where NATO operates in unison for over a decade. Strange enough, metaphorically the winding down war intensity appears to have been negatively manipulated by Ares, the god of violence, to hype quietly the hostilities or the threat of them in a new theatre, called South China Sea (SCS). Rhetoric rumbles wide and far that the storm is building up.
Perception Variants
Some scholars appear determined to prove that talk of impending conflict in Asia-Pacific region amounts to expecting tempest in a tea-cup. Despite hostile gestures, other analysts tend to connect huge economic stakes and finding them significant, they rule out conflict. Sterling (2012) thinks, 'According to a Japanese business group, 30,000 firms operate in China. Japan has investments there of $85 billion….For their part, the Japanese don't want to jeopardise access to a market of 1.3 billion people.' The optimism soon vanishes, however, once some warships and submarines pop up from the 'tea-cup' and are observed conspicuously indulging in hostile manoeuvres. Ungar (2012) remarked about the ensuing tension, 'The Philippines and Vietnam have already protested the Chinese action, but the Chinese Global Times responded that China will not back down on sovereignty issues….'
Ongoing territorial tiff is likely to suck in militarily not only SCS peripheral countries like China, Taiwan, Vietnam, Philippines, Singapore, Indonesia, Brunei, Thailand and Malaysia but also some distant powers like India, Japan, and Australia. US gets soon bracketed by implications because of security-guarantee obligations, it owes to Japan and Philippines, besides being recognised as a lead power to keep the Asian allies' mercury down. Even Australia and Canada, its traditional allies are cautious to encourage or pursue a posture that would stoke diplomatic tension. Manicom (2012) comments, 'Ottawa has made no secret of its preference to focus this engagement (with China) on economic issues as part of a strategy to diversify away from US markets.' Perceiving these comments within the alliance, apparent ambivalence about SCS paradox by the parties ought to be seen as profuse pragmatism.
Conflict Feasibility and Limitation
Under the environments of globalised politics, the conflicts have the tragic character to expand, particularly when more than one direct party in the arena happen to be the powerful titans with heavy stakes. The chemistry of recent conflicts testifies at least two hypotheses.
First, given the prowess, it has become far more feasible to initiate a conflict by the powers, which enjoy global military reach, albeit at an exorbitant cost in men and material. In classical sense, no other power has demonstrated such versatility except NATO and recently France in Mali to sustain trans-continental operations of war. Chinese strategic reach within the sphere of South and ECS is a reality now that littoral states would find hard to rebuff. Rudd (2012) is of the view, 'Chinese strategic capabilities, the force structure of its military together with its emerging doctrine are aimed at supporting China's core interests….'
Second, conflicts are becoming increasingly difficult to wrap up because of the ability of lesser powers to outsource a conflict with minimal costs but stupendous gains to keep the adversaries embroiled in a conflict, no matter how potent militarily they may be. What also lacks in the entire appreciation of the SCS crumbling security paradigm is that Chinese views and diplomacy, even if not apparently palatable, are finding scant elaboration. There is a contextual need to prefer exploratory research over descriptive one. The desirability cannot be over-emphasised even if the study culminates ultimately as a balanced combination of co-relational, descriptive and exploratory modes that tend to overlap because the tangible determinants in this narrative do not predominate. Therefore critical inquiry would enable us to raise and answer some pertinent questions.
Geography and Disputes
Geological and geopolitical contours of the arena are somewhat intricate. SCS lies to the
south of China and Taiwan, west of Philippines, northwest of Sabah/Sarawak (Malaysia) and Brunei, north of Indonesia, northeast of Malay Peninsula (Malaysia) and Singapore and east of Vietnam. It has about 250 small islands. Dramatic irony plays at the peak when all the coastal states of SCS appear determined to claim respective sovereignty and get increasingly bitter when any of them is denied approach to any feature by the other party. As a consequence there are multi-layered disputes. However, China claims the entire SCS space through famous (others possibly view it as mischievous) nine-dotted line. It appears like a loft of rope by a cowboy from Chinese coast that almost hugs the entire SCS coast.
Vectoring Security through Economic and Geopolitical Significance
Until recently it received scant attention and the SCS littorals security woes were labelled perhaps as their self-created tomfoolery. However, dawn of third millennium brought SCS into spotlight. According to initial assessment, SCS region has 8 billion barrels of proven oil reserves with 28 billion barrel of possible reserves. As regards natural gas, it has 266 trillion cubic feet. The emergence of another 'Middle East' in Asia-Pacific is certainly a bonanza, not only SCS countries would crave for but the entire world because the promise of alternative fuels still remains elusive. Rather lavish territorial claims in SCS by China to secure future oil giants, under the obtaining scenario means a very complex tangle in the region and beyond, particularly when each actor would be weighing options and attempting to assess others' degree of finesse in the realm of diplomacy.
Another factor that has bolstered the strategic significance of SCS is the enormous volume of cargo that moves through it. Year 2008 statistics show that 58 percent of the world total shipping, worth $ 435 billion went through Malacca and other straits, destined for or emanating from Asia-Pacific region (Oegroseno 2012). Recently, fast emerging vulnerability of the sea lanes, particularly in the vicinity of choke points where maritime security environments have deteriorated tremendously, has lent SCS an added dimension. Lyzhenkov (2012, p. 4), taking stock of transnational threats did not miss to underscore the need to, 'enhancing containers security/supply chain security'. On the contrary, impending conflicts or threat of them would deliver a severe blow to operability through the vulnerable sea lanes when hostile state(s) would attempt to interdict energy supplies. SCS makes a critical area of international concern.
SCS Conflict Dynamics
Diplomacy and Posturing Antagonism
A cobweb of conflicting dynamics haunts SCS theatre. Conduct of diplomacy by the states that are party to the dispute and others who legitimise their role under available version of International Law, suggest that all analyses have to conform to different bench marks. An impression that SCS conundrum is being efficiently fed by proxies, paradoxes and profuse pragmatism simultaneously is quite relevant. The explicit stance of every actor has conciliatory tones but some policy manoeuvres made by them appear confrontational. Similarly the bracketing of US, Japan, Australia and India, in sympathy with SCS littorals' antagonism against China tends to fall apart when the huge stakes of these major powers are seen interdependent as long as all remain focused on the priority objectives of boosting and sustaining their economic potentials and in the process fostering the world peace. Paal (2012) thinks, 'Strategic objective of United States in Asia is to manage China's rise.' Here the clarity of emphasis resides in 'management' and not confrontation or tit-for-tat sparring. US contemplated shift to place strategic pivot in Asia-Pacific must have come as a knee-jerk decision for the Chinese, alerting them to draw some obvious deductions, not in sync with their national interests. It was ostensibly flung like a bolt in the international arena. Not denying US, its prerogative to adjust the forces' strategic posture, had the declaration been preceded by consultations with the main stake holders, it would have generated lesser controversy than it did, particularly when their economies are extensively developed and mutually engaging.
US plan to deploy a sizeable Marines force in Australia, though at considerable distance from China and pushing 60 percent warships into SCS by 2020 would logically force Chinese to assume that the stage is being set to replay World War II Pacific Campaign in reverse order. Matloff (1973, p. 506) noted, 'By mid 1943…. Major Allied objective was the control of South China Sea and a foothold on the coast of China so as to sever Japanese lines of communications southward and to establish bases from which Japan could…, if necessary, invaded.' Chinese fear would have touched sky when the emerging pattern of US rebalancing of Asia-Pacific 'Pivot' unilaterally is transposed in 21st century, requiring China to substitute Japan. Conversely if there are really no hidden barbs as both need to reassure each other, the two powers can pull on amicably disregard to the fact that Chinese ships and submarines swarm around US West Coast or the US Marines are cruising in SCS with full array of deadly war arsenals. To achieve such a symbiotic equation which is so vital for the fast fragmenting world, some snares would naturally test the diplomats' wizardry from both sides.
Alliances and Alignments versus Regional Security Sensibilities
Search for new alliances and cooperating partners with compatible geopolitical synergy is an ongoing phenomenon of military history. However, certain moves make others scary and lead to polarisation. Chinese suspicion stands strengthened when US, through strategic alliance with India, is found inclined to inspire it for embracing bigger role in Asia-Pacific maritime security. November 2012 dialogues between US, Japan and India, observed Indian 'Daily News', prove that it is not only the forum to address peace time issues but, '…leveraging their strengths to shape the Asia-Pacific architecture', adding further, 'India sought clarifications from the US about its so called Asia-Pivot Strategy which envisages roping in New Delhi as the lynchpin of security in the region'. Embracing Asia-Pacific role would sound as Indian prerogative; being a potent emerging power in Indian Ocean. However, India might find it hard to encounter China in Pacific even if its military capability is bolstered by US because of Chinese projected forces preponderance and superior strategic orientation in SCS. However, there are vast areas of convergence among US and India. Hence, India has emerged as US's natural ally. Blumenthal (2007, p. 308) opines, 'The United States thus has a fundamental interest in assisting India's rise as a prosperous democracy that contributes to international security. More immediately United States would like to see India play the role of counterweight on China's western flank (with Japan doing the same in the east).' The emerging scenario would certainly be perceived by Chinese strategic defence-wizards as pincer in the offing in Asia-Pacific region to clinch China. Some experts are also sceptical about India's role in Asia-Pacific, fearing that US efforts to march India against China may be a matter of serious conjecture as Indians are known to pursue independent approach to the global issues. Sibal (2012) is of the view, 'Being a pro-American is not a stigma any longer whether in politics or business… though not at the cost of becoming subservient….' China has, however, possibly measured the depth of Indo-US strategic alliance and has not felt jittery about it, leaving window of reconciliation open with India for resolution of its border disputes.
Sino, Japan and Vietnam's Threat Orientation
China and Japan are at odds historically and old wounds among them appear too deep to heel. Though there have been confrontations recently among them, Japan perceives Chinese force projections worrisome but manageable. Holms (2012) asserts that China would employ 'rope-a-dope strategy' or 'shadow boxing' with fellow Asian powers in the event of crises in Asia-Pacific region and not meet adversaries in direct fleet-to-fleet engagements. Quoting Admiral Yoji Koda, he observed, 'Chinese leadership can keep the enforcement ships on station near to Senkaku/Diaoyu Island, send PLA Navy task force through…as matter of routine and otherwise overtax finite Japanese leadership and electorate overtime. Ultimately Tokyo may throw in the towel ….' Conversely Japan seems aware that option of peaceful settlement of dispute would only sell better at an opportune moment on the dialogue table if Japan manages to convince China that East or SCS space would never be exclusive to her but rather inclusive to some or all the littorals. Augmenting Philippines high sea capability by providing her fast manoeuvring gun- boats and scrambling fighter jet recently after an alleged threat of violation by Chinese air craft, were possibly the acts well considered not only by Japan but its allies as well.
The conflict vulnerability in SCS and ECS between China and others vary from low to high probability. Some analysts (Ciorciari & Chen 2012, p. 62) maintain, 'The Sino-Vietnamese feud is part of a tangled web of competing claims to the Paracel and Spratly chains and the surrounding South China Sea.' Vietnam is likely to meet incessant Chinese naval provocations at forward foot, assuming that China's loss of face among international community would be greater after attacking a small neighbour's navy and China has essentially bigger stakes for sustaining peace as economies are always conflict-shy. China, considering Vietnam's mischief unbearable may be inclined to drub its navy in short and intense engagements, hoping it would be a well defined deterrent for others. China and Vietnam navies appear to have toyed with access-denial strategy recently as a defensive manoeuvre that leads us to believe that both are maintaining naval alert unobtrusively.
China's Blues and Opposing Manoeuvres
China does not omit noticing US encouraging gestures to Vietnam when, 'Defence Secretary Leon Panetta visited a deep-water Vietnamese port near the contested South China Sea…, calling access to such harbours critical as the US shifts 60 percent of its warships to the Asia-Pacific by 2020 (Alexander 2012).' Their protests are also the index of intense feelings raging through Chinese leadership and public alike when US is seen equipping Taiwan's military with sophisticated weapons. China perceives Taiwan as an integral part of mainland China. Hence US role amounts to encourage Taiwan to shun Chinese overtures of re-unification and prime it as one of the link in, as some call it 'string of pearls' or 'pearls' necklace' to consummate a sort of perfect siege around China. However, China is also carving elaborate pearl-nodes to ensure adversaries' access-denial and exhaust them way short of their objectives in South and ECS. Chinese forays into Central Asia, South Asia, Middle East, Africa and Latin America; mainly to enhance its energy security is met with suspicion by US and her allies as their energy security stands vitally threatened by implications. Almost in parallel context, an observer had raised a question way back, asking, even if the stage setting of transition of hegemony from Anglo-Saxon-centric to Sino-centric world is accepted, remains a lot between the cup and the lips. Will the transition be peaceful or the two sides would end up locked in oil resources war as and when race for oil degenerates to oil stampede (Khan 2008, p.156)?
If China is accused of consuming all its markers, demarcating its possession through entire length and breadth of SCS, still the onus of responsibility to avert rather than initiate a conflict in SCS lies on US because the world hinges hope on US to undertake 'fire-fight' anywhere on the planet. Its suspicions that within a few decades, US may be challenged militarily by China are also well within US prerogative to hypothesise. However, US should evolve and attempt strategies away from use of force, preventing triggering of widespread conflagration, spinning out of control. In other words, as a RAND Review (Dobbins & Cliff 2012) suggests, US be well advised to meet such aims by creating a spectre of, 'Mutual Assured Economic Destruction.' In other words, US compulsion to remain an economic giant would further sharpen but it would deter any power to risk its economic destruction, as the threat of economic fiasco would outweigh the gains of lucrative military strategic objectives. An objective argument hints about US being alive to such an obligation, 'Given the growing importance of the US-China relationship and Asia-Pacific more generally, to the global economy, the United States has a major interest in preventing anyone of the various disputes in the South China Sea from escalating militarily (Glaser 2012a, p. 1).'
Legal and Professional Dimensions
Forces Projection and Pretexts
Chinese show of force in SCS and harassing others, sometime searching them, has been a sore point. Their decision to establish a full-fledged Sansha Garrison on Paracel Islands in June 2012 means that another red rag has been flaunted to provoke the arena's fury. Thus Philippines and Vietnam emphatically denounced such move though China perceives act of some countries contracting foreign oil and gas companies to commence oil exploration in SCS as far more serious breach of trust than establishing a garrison with symbolic connotations rather than operational one. An expert thinks, 'The decision (of establishing Sansha Garrison) fundamentally challenges two key aspects of the conventional wisdom in Washington about China's South China Sea strategy: that China's assertive behaviour results from actions taken by the civil and military agencies independently of the central government and that China has been moderating its policies towards the South China Sea since 2009 (Mastro 2012).'
As regards legalities of claims over the SCS territories through historical documents, China is very well equipped with huge stock of evidence to support its plea since Yuan Dynasty period though it has not shown flare for international arbitration except from the Association of South East Asian Nations' (ASEAN) platform. There is however, a hope for the remaining SCS states to advance their view point and press for territorial waters concessions because all of them have gone through alteration of boundaries and dynasties over the centuries. Having gained independence generally in 20th Century, some UN conventions and International Laws support their plea to the extent of being granted respective EEZs that at the moment are denied by China. When China has not ruled out negotiations, there is a scope of settlement, step by step through multiple approaches.
Responsibility and Policy paradigm
Shifting of US focus from Middle East to Asia-Pacific can be successful and draw no ire from China though the statement appears self-negating within. It would be successful, heralding an era of peace and reconciliation if the emphasis is about the quest for peace by all parties, particularly, China and US when the latter has lien over decision making of Vietnam and Philippines also, being an ally or potential ally. To do that, a paradox has to be eliminated. Glaser (2012b) comments, 'China's neighbours seek greater US economic, diplomatic and military involvement in the region as counter balance to Chinese growing power but at the same time every country in the region also desires a close relationship with Beijing.' In other words, SCS littorals are pursuing double-stream foreign policy. One, to induce US that it should remain available for all out support, even military. Second, keep Chinese connection sacred and close to heart.
US is in better position to encourage them to develop thorough understanding of China and to work towards mutual recognition of merit of grievances and resolving them rather than turning to US for every thorn-prick. Another aspect which SCS countries have to watch against is the rise of nationalist sentiments for resolving the disputes. No wonders, Vietnam and lately, Philippines have managed to mobilize their youths, condemning China and obfuscating their own governance deficits but it has also propped Chinese youths' frenzy as a repercussion. They openly question Deng Xiaoping's policy of appeasing SCS neighbours who advised them to maintain sovereignty over SCS but circumvent all disputes for the sake of economic prosperity of China. Rachman (2012) comments favourably about Deng Xiaoping, 'It was a brilliant strategy which ensured that China…rapid economic growth without significant international opposition.' Chinese leadership's aggressive posture in SCS may be, more often, a response to sooth their youths and middle class on finding narrow political space. At the same time China compensates its loss of international image with propriety of tones at diplomatic levels.
'Go' and 'Shi' Factor
It is a matter of conjecture whether Chinese stratagem has been understood. Lai (2012) emphasises that it would be possible only if US understood Chinese board game 'Go', the oldest, yet modern that is reflected in their philosophy. Interestingly Chinese entire range of philosophical twists are still nourished by 'Go' that is compatible and having firm roots in centuries old Sun Tzu's classical 'Shi'. The discussions in the Western world are predominantly about the narratives that are usually obvious and not on the wrapped philosophy from which the narratives emanate. Finkelstein (1999, p. 193) comments would give us the glimpse that he claims to have distilled from wide range of sources, 'If one were to distil all of the statements of China's national security objectives, both explicit and implicit, that have been publicly declared or adduced over the last few years they could be distilled to three simple words: sovereignty, modernity, and stability.' From a western scholar's point of view it sounds as an all encompassing remark but Chinese philosopher would differ about what he has distilled that relates to every aspiring sovereign state confronting challenges and also because it skips the interpretation through 'Go' and 'Shi' standards in Chinese context.
Chinese way of war and conduct of diplomacy even today is like water, denoting Sun Tzu and Lao Tzu's 'Shi' (Lai 2012). Water ultimately finds a flow-path. Conversely, Western art of war and diplomacy flow from Greek traditions; chivalrous, agile like a boxer and have tendency to match force on force, seeking immediate result on the battlefield, assumed as chessboard, even at enormous cost in men and material.
Western diplomats found during early 70s US-China thaw that when the West spoke of events maturing in months and years, Chinese planned on span of dynasties. In other words, to push negotiations against the tide of time and expecting to pluck the success like a plum from dialogue table is dangerous. During Cold War era, America won over China against Soviet Union with patience and perseverance. What is relevant part of the argument here is to highlight a point that US and its allies may not be finding rhythm with China on the security issue of SCS and getting frustrated with her but for China, SCS may be a board game on which is being played 'Go' and 'Shi'.
Conclusions
SCS security dilemma is not only complex but challenging. US and China emerge after evaluation from all angles of the calculus, the sole powers who would decide the destiny of SCS. However, the constructive role of other SCS border states cannot be relegated to lesser significance. The lesser powers in the region got to muster an increased sense of faith in multilateral dialogue option. Economic inter-dependability is emerging vital ground to shun war and violence as execrable acts. Spread of prosperity through economic interdependence would keep the world hostage to peace. That will remain a welcome proposition.
China, being militarily strong in SCS, draws obvious flak for coercing neighbours through its forward if not aggressive posture, driven by its weakness of domestic politics, an aspect the West does not always take into account. An analyst, who is more familiar with 'Go' and 'Shi', made very realistic remarks: Over the next decade or so, the Middle Kingdom's future will hinge on the dynamic between the fear of revolution and the hope for political reform. The threat of revolution from below may push the elite to pursue incremental yet bold political reform. Should reform fail, however, revolt may well be the upshot. And the unfolding drama, wherever it leads, will undoubtedly have profound ramifications far beyond China's borders (Li 2013, p. 47). Hence Chinese exercise to keep the courtyard in order may be leaning on SCS geopolitics as an instrument of effective appeasement, directed inwardly.
SCS littorals and others with heavy stakes in the arena have to avoid making it the pivot of geopolitics. Choong (2013) quotes a Chinese professor, raising very pertinent questions, 'If China doesn`t have a Cold War mentality, why does it see the US as the main threat? If the US doesn`t have a Cold War mentality, why does it deploy so many troops in Asia? To obviate unwinding of plethora of irritants, sagacity points to an opportunity for both the arch actors to settle down, talk and build an edifice of peace that embraces South as well as ECS. Therefore, one would hinge huge hope on new leadership of China and the renewed leadership of United States of America to mobilise and commit their energies toward this end. 'Shi' and 'Chess' compatibility has to be explored as two-way responsibility and there is no other option.
References
Alexander, D. (2012), 'Access of Pacific Harbors Key to US Strategy: Panetta', Reuters, 3 June,
www.reuters.com/articles, 15 September.
Blumenthal, D. (2007), 'Will India Be a Better Strategic Partner than China', in Sokolski, (Ed),
'Gauging U.S.-India Strategic Cooperation', Strategic Studies Institute, US Army
War College.
Choong, W. (2013), 'US and China's Anxieties', DAWN, Pakistan, accessed DAWN.COM, 15
January.
Ciorciari, J. & Chen, J, (2012), 'The Sino-Vietnamese Stand Off in the South China Sea',
George Town, Journal of International Affairs, Winter/Spring, accessed
http://journal.georgetown.edu/past-issues, 10 November.
Dobbins, J. & Cliff, R. (2012) 'Peace with China through Deterrence', 'RAND REVIEW', Rand
Corporation, accessed www.rand.org/publications/randreview/issues/2012, 5
November.
Finkelstein, D. (1999), 'China's National Military Strategy', in Mulvenon, J & Yang, R. (Eds),
The People Liberation Army in the Information Age, RAND National Security
Research Division (Project Air Force), accessed
www.rand.org/pubs/conf_proceedings, 20 October, 2012.
Glaser, B. (2012a), 'Armed Clash in South China Sea', Council of Foreign Relations,
Contingency Planning Memorandum No. 14' accessed
www.cfr.org/east-asia/armed- clash-south-china-sea, 20 September.
Glaser, B. (2012b), 'Trouble in South China Sea', 'Foreign Policy (National Security)', 17
September, accessed www.foreignpolicy.com/articles/2012, 30 October.
Holmes, J, (2012), 'Can China Win without Fight? The Diplomat, accessed
www.thediplomat.com/the-naval-diplomat, 7 November.
Khan, M. (2008), 'The New Great Game: Oil and Gas Politics in Central Eurasia', (Raider
Publishing International, New York, London, Swansea).
Lai, D. (2012), 'Learning from the Stones: A 'Go' Approach to Mastering China Strategic
Concept, 'Shi', Strategic Studies Institute, US Army War College, 1 May,
www.strategicstudiesinstitute.army.mil/pub, 25 September.
Li, C. (2013), 'China at the Tipping Point', Journal of Democracy', 24:1, January, National
Endowment for Democracy and The Johns Hopkins University Press,
http://www.journalofdemocracy.org/articles, 15 January.
Lyzhenkov, A. (2012), 'Towards necessary adaptation in improving the fight against new
threats', (Presentation), Crans Montana Forum, Geneva, Switzerland, attended
18 October, accessed www.cmf.ch, 2 November.
Manicom, J. (2012), 'Canada's Re-Engagement Challenge with South China Sea Dispute', Asia
Pacific Foundation ,Vancouver, Canada, 30 May, accessed
www.asiapacific.ca/editorial/canada-asia-viewpoint, 31 December.
Mastro, O. (2012), 'The Sansha Garrison: Chinese Deliberate Escalation in South China Sea',
Centre for New American Security, East and South China Sea, Bulletin-5,
accessed www.cnas.org, 15 October.
Matloff, M. (1973), (ed), 'American Military History', (Centre of Military History, Lafayette,
CO), accessed www.ibiblio.org/hyperwar 10 October, 2012.
Nixon, R. (1993), 'In The Arena: A Memoir of Victory, Defeat and Renewal', Army Education
Press, Pakistan.
Oegroseno, A. (2012), 'Managing Strategic Waters in South Asia', (Presentation), Crans
Montana Forum, Geneva, attended 18 October, accessed www.cmf.ch, 29
October.
Paal, D. (2012), 'Dangerous Shoals: US Policy in South China Sea', Carnegie Endowment,
Washington DC, 11 August, accessed
www.carnegieendowment.org/2012/08/11/dangerous-shoals-u.s.-policy
25 December.
Rachman, G. (2012), China and US navigate in risky waters, 'Financial Times', London, 12
November, accessed www.ft.com/cms, 13 November.
Rudd, K. (2012), 'Dynamics Driving China's Policies,' 'The Standard' Zimbabwe, 11
November, accessed www.thestandard.co.zw, 13 November.
Sibal, K. (2012), 'The Arc of India-US Partnership', Indian Defence Review (Journal) 27:2,
April-June, Bangalore, India, accessed www.indiandefensereview.com, 30
October.
Sterling, H. (2012), 'Tempests toss East China Sea', (Winnipeg Free Press), accessed
www.winnipegfreepress.com/opinion, 19 November.
Ungar, A. (2012), 'China Dares US to Respond with More than Bromides to Measures', Israel
National News, 27 July, accessed www.israelnationalnews.com/news, 24
October.

North Korea's Nuclear Threat and East Asia's Regional Security Stability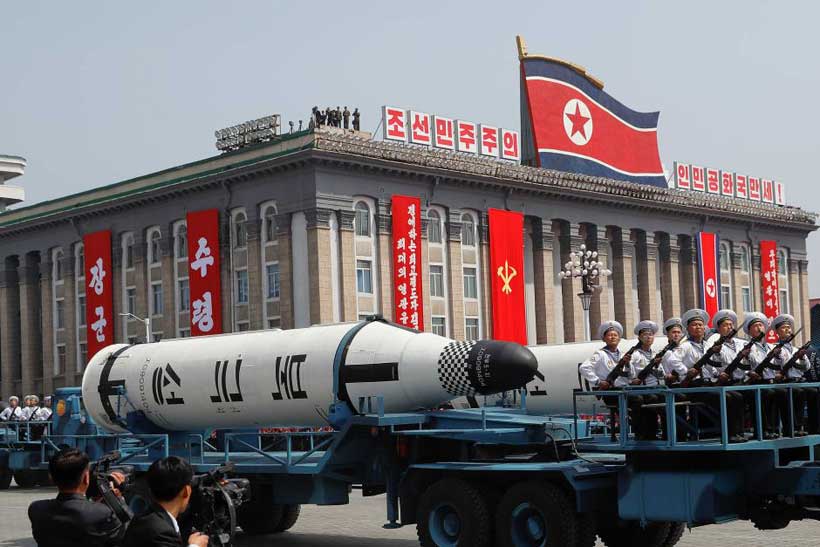 Authors: Raihan Ronodipuro& Hafizha Dwi Ulfa*
The East Asian region's anarchy system is colored by mutual distrust, which makes the countries in this region constantly competitive. There are both internal and external forces driving countries in this area to continue to improve their national security.
North Korea, like other East Asian nations, believes that it must continue to strengthen its armed forces in order to defend itself from external threats. Internally, North Korea is considered to have a juche philosophy, which emphasizes independence from other countries and emphasizes military force as a defensive policy.
Meanwhile, North Korea raises its military strength in self-defense efforts to balance the United States' defense alliance with South Korea and Japan, where the alliance is perceived as a challenge to North Korea in the region.
Likewise, South Korea sees nuclear North Korea as a major threat to its security as a neighboring nation that threatens international peace and wishes North Korea to abandon its nuclear weapons program.
Since the 1950s, North Korea has been working on developing nuclear missiles. North Korea's production and testing of nuclear missiles has heightened tensions and fears in the East Asian region. North Korea has performed a series of nuclear missile drills, which are believed to be destabilizing the region's atmosphere.
In 2006, this nuclear test was performed for the first time. This move attracted a strong reaction from the international community, with several nations, including Russia and China, who have diplomatic contacts with the communist state, condemning North Korea's test action and urging all parties concerned to show caution in order to prevent regional tensions.China's active involvement is also expected to have a positive impact, but in reality China always has a double role. Beijing finds itself caught in a dilemma in preventing North Korea nuclear strategist. In this context, China's relations position with United States as an influential country in the region will have an important role for the nuclear settlement process on the Korean Peninsula.
Furthermore, China and the United States debated the prospect of a UN Security Council resolution in reaction to North Korea's nuclear test. The international community is still concerned about North Korea's ongoing nuclear production and research. The production of nuclear missiles by North Korea will strengthen the United States, South Korea, and Japan by improving military technology to fight the North Korean nuclear threat.
The presence of growing mistrust between countries could also spark a traditional arms race in East Asia. North Korea's defiant posture is shown by the trials it continues to conduct, rendering the situation in the country more complicated and unpredictable. North Korea, South Korea, and Japan all agree that their countries must continue to strengthen their defense in order to protect themselves from external attacks.
North Korea's nuclear weapons have three kinds of consequences: international stability, proliferation, and the nuclear nonproliferation policy. North Korea's nuclear weapons production will increase security vigilance in the East Asian zone, potentially making events volatile.
This nuclear proliferation has a major effect on the stability of regional security in the East Asian region, and it has the potential to ignite a nuclear arms race among regional countries, as well as the expansion of capabilities among other countries with nuclear weapons, such as the United States, China, and Russia, as well as the rise of interest in nuclear weapons by a nation that does not have one.
To maintain equilibrium in an anarchist international system, such as the viewpoint of realism, a balance of power is needed. This power balance is complex in nature, and it can move in response to changing developments at both the national and international levels.Apart from the United States interests as an influential country in the East Asia geopolitics and geostrategy, it is hoped that United States can implement policies that maintain the stability and security of the East Asian region.
In the end, an equilibrium will arise, either through peace or through war. This is consistent with East Asia's complex balance of power, in which one country's defense policy affects other countries in the region, causing mistrust between countries to surface and color their relationship. Because of their mutual mistrust, these countries are able to use military force or wage war in the East Asian region.
In a realist perspective, the state is a rational actor, and the interactions carried out by the state are nothing other than the interests of the state itself, which is not unusual if the greedy existence of this state then creates a confrontation if there are gaps of interests between nations. In this situation, the public interest may be viewed as a weapon used by the state to accomplish its goals.
A state's national interest also serves to defend its citizens and its territories. North Korea's interest in nuclear production is motivated by a desire to strengthen its country's defense in the face of external challenges, especially from the United States and South Korea. In this situation, it is clear that North Korea is attempting to amass as much strength as possible within its boundaries.
Then it is related to the theory of National Security, which is characterized as the allocation of resources for the development, execution, and implementation of what is known as a coherent facility, which is used by the state to achieve its country's interests. North Korea's nuclear program is designed to strengthen its national security defense and negotiating power. The presence of this nuclear weapon force, however, allows for the rise of an arms race and has an impact on security stability, especially in the East Asian region.
*Hafizha Dwi Ulfa is a Research Assistant of the Indonesian International Relations Study Center with focus analysis in ASEAN, East Asia, and Indo-Pacific studies.
The Galwan Conflict: Beginning of a new Relationship Dynamics
The 15th June, 2020 may very well mark a new chapter in the Indo-Chinese relationship and pave the way for totally new politico-strategic equations, shaping the way for a more complex and unstable world order in the near future. On this night, a bloody, violent and unusual armed clash took place between two of the world's fiercest armies, Indian and Chinese, at the heights of Galwan Valley in Ladakh. Officially, India has admitted losing 20 of its soldiers, including a senior officer while China, continues to be discreet about PLA casualties and after a good 8-months hiatus, came up with a what everyone knows a blatant lie– a 4-death figure.
This border conflict however, has made the situation volatile between the two Asian powers. The borders between the two, almost 3,400 Kms continue to remain unclear and non-demarcated in the form of Line of Actual Control (LAC) and that is something the Chinese side, is quite keen to continue with. It is the Chinese strategy that it has employed since 1950s to continue occupying territories without firing a single bullet. From Tibet to Aksai Chin to South China Seas, China has gained territories by portraying itself as a great military power but not really able to showcase its military might anywhere.
However, the efficacy of its military remains questionable on certain credible grounds. It is well known that the Chinese PLA comprises of officers and troops who are recruited on account of their loyalty and service to the Chinese Communist Party (CPC) and not entirely on professional grounds and hence, is a politicized force. Internal reports leaked out from China have also indicated of massive restructuring and training exercises for the PLA to keep it as a proper fighting force, being initiated on direct orders of the Chines President, Xi Jinping.
The PLA again does not have a distinguished military track record. In 1954, it occupied Tibet, a free, sovereign country till then who had at best, a medieval age, security force to defend itself. In 1962 border conflict with India, it won due to the impuissance of Nehru and his lack of politico-strategic vision and leadership. However, the border conflict at Nathu La with India in 1967, proved to be its undoing with PLA losing more than 300 soldiers against Indian losses of 80 troops.
Even in the Vietnam war, it failed to emerge as a clear winner against the tiny Vietnam. Since then, it has had no real time fighting exposure. In one of the highly embarrassing episodes, a unit of the PLA as part of the UN peacekeeping duties, ran away leaving their weaponry and armaments, in Sudan in 2016. In the very recent Galwan fight-off with the Indian border troops, again the PLA failed to show it in a gallant light as in spite of a virtual 4:1 ratio against Indians, it failed to ensure a victory and in fact had to concede the area to Indians it had occupied surreptitiously a few weeks ago.
It is true that since the commencement of economic reforms in China in early 1980s, the single party political dictatorship has helped China to grow economically and emerge as the manufacturing hub of the world. The impressive economic turnaround has helped China to enhance its political stature in the comity of nations while also providing with enough money to use them for furthering its politico-strategic objectives. From making huge investments in national economies of Europe, US, Canada to Africa, South and South-East Asia to becoming a major player in global capital and bond markets, China has strategically made its presence felt.
With Xi Jinping's accession as the Chairman of CCP, ambitions of China got a new fillip. The highly ambitious politico-strategic initiative, in the form of debt diplomacy, the much-touted Belt and Road Initiative (BRI) emerged as the innovative neo-colonialist Chinese weapon to secure the political and military control of the world. Already many countries beneficial of Chinese strategic benevolence like Pakistan, Sri Lanka, Congo, Senegal, Kazakhstan are feeling the pinch. Their politico-strategic sovereignty is under a severe threat from China. No wonder, other countries like Bangladesh, Myanmar, Maldives and many others are trying to balance their politico-strategic relationship with the middle kingdom.
Subsequent to the Galwan fiasco, after the Doklam setback in 2017 China seems to be in a catch-22 situation. It is not in a position to go for even a limited war with India while compelled to a negotiated settlement with India, has affected its perceived military capability adversely. While losing the political and military trust of India in a hurry, it has made India more emboldened and cautious.
India has suddenly gone into a military build-up overdrive with scores of new missiles and armaments that have been tested in recent months. On the politico-strategic front, much to China's dismay, QUAD is getting into a shape while the US Navy and Air Force is constantly increasing its presence in South China Seas. Taiwan too, is getting bold and willing to face China, with the US as its protector.
Japan that till recently maintained its dependence on the US alone for its security, too has opened up and started bolstering its defences with China in mind. Countries in the region like Philippines, Indonesia, Vietnam are getting into strategic dialogues with India to counter China's strategic dominance. They are also opening up to arms imports from India. And most importantly India has started seeing itself as a strategic rival to China, more explicitly. Voices in New Delhi regarding getting closer to Taiwan, are undoubtedly a pointer in that direction. And so is the Chinese reactions when its embassy is seen publishing full page advertorials in Indian media, cautioning against abandoning the so-called One-China policy.
While military and diplomatic negotiations on disengagement and de-escalation continue between India and China, it will remain debateable if China actually gained out of its latest incursions in Ladakh. While its PLA had an element of aura till Galwan, since then questions repeatedly are being raised on the capability and leadership of the entire PLA. How far those assessments are correct or otherwise need to be seen but it seems absolutely certain that China has lost much in the process. It will have to prepare for a new, emerging politico-strategic dynamics that could well be not to its liking.
Sino-US rivalry and the myth of Thucydides Trap
The writer of the view that are an outcome of complex phenomena. One can't understand them through the lens of Thucydides trap which he considers nothing short of a China-bashing myth. He points out that nuclear capability itself is a great deterrence to war adventurism. He stresses that wars are outlandish in terms of postulates of Modern theory of Conflict Management; that states conflict is not spread by a black sheep but it is natural to human relations. It can't be eliminated by eliminating the blacksheep. The key to success lies in keeping the conflict to its minimal point while remaining peacefully engaged with one's adversary.
Wars end in ceasefires, "grand concerts', and realisation that they were avoidable. That they were cumulative upshot of reciprocal stupidities of belligerents. Post-World War II period has not witnessed any war between major powers as they realise that how destructive a nuclear war would be. The potential belligerents nowadays enjoy armchair warfare blaming one another of hostile intentions.
Fallacy of thinking templates
The best way to analyse why a war broke out in the first place is to interview the key warriors or belligerents. But, most of them stand perished in wars unable to tell their part of the story. As such, major powers rely on thinking templates like Thucydides Trap to create imaginary rivals to fit in the crucible of their templates.
Thucydides's Trap comes about "when a rising power threatens to displace an established power. Graham Allison, in his Destined for War (page vii) says, 'As a rapidly ascending China challenges America's accustomed predominance, these two nations risk falling into a deadly trap first identified by the ancient Greek historian Thucydides…He explained: It was the rise of Athens and the fear that this instilled in Sparta that made war inevitable'. Though key players may abhor wars "unexpected events by third parties or accidents that would otherwise be inconsequential or manageable, but even ordinary flashpoints in foreign affairs, can act as sparks that trigger large-scale conflict". Thucydides trap could perhaps be rephrased as stupidities trap.
Arnold Toynbee once said" history is something unpleasant that happens to other people". Through their myopic decisions rulers sleep walk into the vortex of war. They are sure that their enemies would perish both they would survive. Yet the outcomes are quite pungent. Look at the outcomes of the World War I (1914-18) and II (1939-45). When the World War I ended in 1918, the Austro Hungarian Empire had vanished, German Kaiser ousted, Russian Tsar shown the door, France, Britain and so many other countries were left to mourn loss of depletion of their treasuries and extinction of youth capital (scientists/engineers/doctors/teachers/intellectuals-to be). At the end of the World War II, Germany could not replace the United Kingdom. Two unexpected hegemons the erstwhile Soviet Union and the USA were born out of the womb of the war. The UK lost the fifty colonies that Hitler much talked about in his fiery speeches.
Before committing suicide, Hitler must have reminisced ' I was mistaken not to have thought about eliminating England as they were sons of a German tribe l'anglais who migrated to britain due to vagaries of nature'. 'I was a fool to have ventured into the freezing Russia'. John Fitzgerald Kennedy rejected the dictum "better dead than Red". Yet many of his decisions pushed closer and c loser to a nuclear confrontation with the Soviet Union. During post-WWII, McCarthyism had blurred American vision so much that they saw red in everywhere.
Classical versus Modern theory of conflict management
Relations and conflicts between states
Thucydides trap takes a simplistic view of relations and conflicts between states.Thousands of years back Chanakya posited his mandal (interrelationships) doctrine.
One of his most misunderstood postulate is 'all neighbouring countries are actual or potential enemies'. So they have to be subdued. Little attention is paid to another of his counter-balancing postulate, mandal (interrelationships) doctrine. In mandal, Chanakya thinks in terms of intersecting and just touching circles. He focuses on intersecting section of two intersecting circles like in mathematical solution set theory.
Even Kissinger, Kafka, et al, believed in establishing effective 'spheres of influence'. Rich, powerful and progressing countries could but would not shun their poor pals in the comity of nations.
History shows that weakness invites aggression. Often militarily strong countries have attacked weaker nations with 'litany of problems' on one pretext or another. Economic motive could be unearthed in both modern and ancient wars. For instance, the Trojan War (1250 BC) was caused by an economic rivalry between Mycenae and Troy. Grants by Persia of good western Anatolian land to politically amenable Greeks, or to Iranians, created a casus belli for wars with rivals.
Yet all wars are justified by the now discarded Classical Theory of Conflict management, and rejected by the Modern Theory of Conflict management.
According to modern theory of conflict management, terrorism or any conflict for that matter is not really caused by a few black sheep, as assumed under the Classical Theory of Conflict Management.
The Classical Theory says that "conflict is created by a blacksheep. If he is eliminated the conflict is eliminated there and then". The modern theory, on the contrary postulates "No matter what you do conflict cannot be eliminated. It is natural to relations. However, through effort, it could be kept at its minimal point. And the minimal point is the optimal point".
Fallacy of rising Dragon
It appears that Joe Biden is not a prisoner to Thucydies trap. He views rivalry with China as intense competition not as confrontation. He calls the shots but then quickly defuses the situation. For instance, to pacify furious China about `freedom of navigation' in the South China Sea, he dispatched USS Pal Jones into the Lakshadweep waters. The aim was to send the message, that China need not fume and fret much about the Quad. The USA still thinks in terms of some principles.
Neither Sparta nor Athens was a nuclear power. If so, they would have perhaps preferred to remain engaged in a long period of cold war. In the ancient Greek world, it was Athens that threatened Sparta. In the late 19th Century, Germany challenged Britain. Today a rising China is believed to be challenging the United States. But, neither China nor the USA is structurally similar to Sparta or Athens. For ease of thinking we liken the two states to either China or the USA.
Today's China is more inspired by Song dynasty which pushed economic progress through peace rather than wars like some other dynasties. China remarkably grew in terms of Gross Domestic product, imports, exports and reserves. But it still lags behind the USA.
China's GDP of 7% as a percentage of the United States' in 1980 rose to 61 % in 2015, imports from 8%to 73%, exports from 8% to 151%, and reserves from 16% to 3140%. Chinese economy doubled every seventh year. Still, it is no match for the USA. Chinese workers have become more productive. Yet they are quarter as productive as the American. China still lags behind the USA in major economic indicators. Look at Chinese economic size in terms of GDP: year 2000 ($ trillion 1.211), 2010 (($ trillion 6.101), 2016 (($ trillion 11.199). Corresponding figures for the USA are: U.S. 2010 ($ trillion 10.285), 2011 ($ trillion 14.964), 2016 ($ trillion 18.624). GDP per capita ($) for the aforementioned years from 2010 to 2016: China 940. 4,340, 8,250. U.S. 36,070, 48,950, 56,810. Researchers in R&D (per million people) China: 547.3, 903, and 1176.6. Corresponding figures for the US: 3475.7, 3868.6, and 4232. R&D expenditure (% of GDP) China: 0.896, 1.71, and 2.066. U.S.: 2.617, 2.734, and 2.794.
True, China has been the fastest-growing economy since 1979. Yet, it is nowhere near surpassing the USA even on one account that is gross Domestic Product. Heretofore are China and US figures of economic growth for the years 1977, 1987, 1997, 2003, 2008, and 2019. China: China 843,097, 1,883,027, 3,706,647, 6,187,983, 8,908,894, US$ trillion) 14.4. USA: USA: 3,868,829, 5,290,129, 7,109,175, 8,431,121, 9,485,136, and 21.44.
Engagement not containment
Wars precede isolation. A benign corollary of Sino-US rivalry is that they are not isolating from one another but engaging in multi-dimensional economic relations.
Mr. Trump was viscerally predisposed to viewing China as a looming military threat to peripheral countries, in general, and the USA, in particular. True, Mr. Biden is also viewed as an America Firster.
Biden realises that China is much behind the USA in economic and military prowess. China trails behind the USA in terms of expenditure on its defence forces and possession of actual military equipment. Despite ongoing modernization, China spends approximately $ 5 billion in arms export far below US exports of about $ 46.5 billion. China's sales are about three per cent of global sales while the USA's are about 79 per cent.
The US has over 8,000 operational and inactive warheads as against China's 240 mostly non-deployed. The US has 2,000 nuclear weapons with strategic/intercontinental-range compared with China's twenty. The US have sixteen ballistic missile submarines compared with China's one, and more than 1000 US nuclear cruise missiles, compared with none for China.
The US has ten aircraft carriers plus one under construction attached to the Fifth and Seventh Fleet. China currently has two aircraft carriers, with a third in early construction, and a fourth planned for sometime in the mid-2020 or 2030s. Their first carrier, the Liaoning was commissioned by the PLAN in 2012, though it was first laid down in the early 1990s.
Shades of China's critics
China critics in the USA are not monolithic. They have many shades including `Engagers', `Realists', `Duopolists', ` China Lead', `Declinists' and so on.
The `Critics' have an un-reconcilable antipathy toward China because of its repression of a wide spectrum of human rights (religious, labour, media and ethnic minority).
The `engagers' lookup for common ground with China as a matter of national interest. The `engagers' are optimistic that globalization, economic interdependence and rules of multilateral trade will lead to democratisation in China.
`Realist engagers' are convinced that China has learnt lessons from the collapse of the former Soviet Union about the dangers of imperial overstretch. As such, China understands the realities of the current international system and limited capacity to change it.
`China Duopolists' believe the USA and China could cooperate to bring into being a Chimerica (G-2), being the two most important countries.
The `China lead' school believes China is already on the verge of replacing the USA as the world's number-one power.
The `Declinists' believe that the demise of the US global leadership already occurred as `Washington consensus' has been replaced by `. It is now Beijing, not Washington that is dictating new rules to govern the international economy.
Joseph Biden belongs to the `America Firster' School that China can't replace the USA as number-one, even if it tries to. After visiting China, Biden wrote `the United States has nothing to fear from China since it is far ahead of China in size of the economy, per capita income, scientific innovation, and educational excellence among other indicators' (Biden, China's Rise Isn't Our Demise, New York Times, September 7, 2011, online ed.).
Global Leadership
At present, China lacks the soft and hard power to supplant the USA. To do so, China needs to:
(a) Command loyalty of the majority of the countries. (b) Initiate, innovate and articulate policies, programmes and activities, including dispensing rewards and punishments. (c) Being a `model', worth emulating, of values, culture, language, laws, and social and political practices. (d) Excel in soft-power resources such as educational and public-health systems
Concluding remarks
Thucydides traps is a china-bashing myth. Biden is a whiff of fresh air, though he has no magic wand to change the climate and trade atmosphere. He has promised to rebuild America's decrepit infrastructure, spend more on health and education, and ease immigration. He has pledged to raise tax on firms and the wealthy.
He is no revolutionary though his policies are tilted to the left of what Trump did. His job is to re-unite fractious American democracy. He is inclined to shun the personalized style of his predecessor's rule, scorning decency and truth.
Joe understands China better than his predecessor. But, it remains to be seen how the USA would set right the topsy-turvy alliances that Trump had interwoven. Confrontation with China will make it difficult for Biden to deliver his promises to the American electorate.