Prospects for the Development of RF's Policy in Central Asia
The results of the official visit of RF President V.Putin to Tajikistan that took place on October 4-5 suggest there is a probability of increased tension in the Central Asian region within the nearest 9-12 months.
Moscow's attention to Tajikistan should be discussed in the context of building up its presence in Central Asia (CA) within the framework of the attempt to create Eurasian geopolitical project. This project is expected to restore Kremlin's geopolitical influence on the post-Soviet space under new political and economic conditions.
Availability of sufficient energy resources in the region allows some countries to claim to attempt conducting their own foreign policy. Russia's loss of control over these countries will pose direct threat to both RF's geopolitical model in the region and its monopoly/control over regular energy carriers transportation routes.
Today, Russia has opportunities for exercising full-scale influence only in Kyrgyzstan and Tajikistan. However, one may say that Kazakhstan falls under the same influence because pro-Russia moods among local elites and their favouring preservation of Nazarbayev's regime allows Moscow to overcome the country's energy independence not least of all by means of involving Astana in the Customs Union. However, due to geographical location, economic potential and political regime Dushanbe still remains the most controlled Russia's partner in the region helping to efficiently achieve its foreign policy objectives.
Regional Tactical Standpoint. Today, Moscow has faced the issues of developing its geopolitical projects on the territory of Central Asia. Key problems come from official Tashkent (Uzbekistan) which had already suspended its membership in EurAsEu, as well as in CSTO – in 1999 and 2012. As for the latter, Tashkent has not ratified a single significant document. According to our estimations, Uzbekistan's distancing from CSTO is first of all related to expectations of profitable proposals regarding hosting US military bases on the country's territory, as well as to the attempts to avoid entering Russia's geopolitical arena and preserve opportunities for foreign policy manoeuvres. Moreover, Karimov's regime has been lately under pressure, in particular in respect to businesses related to his daughter Gulnara, and opposition forces in exile declare their plans to organize civil disobedience in Uzbekistan aimed at overthrowing the antidemocratic regime. Similar situation forces Karimov to manoeuvre between Washington and Moscow and remain neutral, at the same time staying interesting and promising for both parties.
Probability of republicans rising to power after the next presidential election in the US will enhance American present in the region in future – especially in the context of conflict with Iran. Moreover, Uzbekistan is the most favourable base for the localization of a part of military forces removed from the territory of Afghanistan in case immediate return and deployment in this country is needed. The US is also expected to relocate to Uzbekistan a part of the armed forces remaining after withdrawing the coalition's forces in Afghanistan in 2014.
Thus, Russia may face enhanced competition in CA on the part of the US and China within a short-term period. Such changes in the foreign policy situation require more drastic actions from Kremlin aimed at strengthening its influence in the region.
Military and Political Standpoint. According to the signed agreements, Russia has prolonged its military presence in Tajikistan for 30 years. Ministers of Defence signed a treaty replacing the previous one that came into force in May of 1993 and is going to terminate in 2014. Duration of the new treaty is 49 years.
The treaty is of great military and political importance since it stipulates that Russia will keep under control one of the largest exterritorial military groups in Central Asia. Firstly, this will allow Moscow to control security within the region after complete withdrawal of coalition's military forces from Afghanistan. We believe that withdrawal of ISAF troops from Afghanistan will trigger rise of radical forces on the borders of Central Asian republics and will pose a threat to stability of these countries' regimes. This process will be probably accompanied by increasing drug trafficking from this country. Therefore, Kremlin in its strategic model sees Tajikistan first of all as a border containing radical Islamic forces from the territory of Afghanistan. Secondly, 2013 will see presidential election in the country participation in which of the current president E.Rachmon may raise a question about legitimacy of the procedure and destabilize the situation in the country according to the "colour revolution" scenario. Thirdly, this will give Moscow a chance to achieve parity under conditions of probable deployment of American military bases on the territory of Uzbekistan.
Moreover, 201 Russian Military Base (RMB) and financial aid in the amount of USD 5 million will allow more effective prevention of drug trafficking towards Russia in which – as of today – some representatives of Tajikistan army and border troops are involved which is proved by recent event in Gorno-Badakhshan (GBAR). The same events showed that Tadjik authorities in fact have no control over about 45% of their territory, and there is a probability of another round of separatism and extremism in Gorno-Badakhshan. Back in 2010, confrontation tendencies here were enhanced after the breach of agreement between official Dushanbe and the groups controlling the Rasht Valley which the authorities failed to take under control. According to the operational report prepared by Da Vinci AG analytic group in February 2011, Tajikistan is the most vulnerable state in Central Asia for the implementation of "Arab spring" scenario. Therefore, Russian military presence will guarantee security to E.Rachmon's regime and enhance stability of the regime and domestic policy situation in the country. This is also important considering the personal conflict between E.Rachmon and I.Karimov which, in our opinion, may turn into a military conflict in case of implementation of water and energy supply projects by Tajikistan which may cause water deficiency within the republic. Therefore, RMB 201 may influence the decision-making process in Uzbekistan regarding planning of acts of violence against Dushanbe.
All this strengthens RF's position in the region, ensures stable implementation of integration projects for it, as well as enhances the role of CSTO as regional security organization.
Situation Forecast. We believe that Moscow's medium-term tactics lies in the use of contradictions of Dushanbe for the purpose of strengthening its position in the region. Moscow will seek to keep influence on Tajikistan by means of providing military assistance, security guarantees and economic support in the form of liberalization of labour migration for Tadjiks and abolition of export duties on light oils. Plans to increase labour migration flow from Tajikistan aimed at reducing tension in this country caused by unemployment will probably be accompanied by tightening of migration policy in relation to migrant workers – including from Ukraine and Moldova. Introduction of new migration rules is quite advantageous for RF. 75% of migrants from Central Asia have families on their native land and send them money. Thus, by employing foreigners on its own territory Moscow reduces tension in Central Asian countries where male unemployment can stimulate growth of extremism. Moreover, 99% of them go to Russia seeking some earnings and do not plan on staying on its territory unlike representatives of European post-Soviet republics.
According to our estimations, Kremlin is interested in the creation of confrontation between Uzbekistan and Tajikistan (and possibly Kyrgyzstan). For this purpose, Moscow takes measures to support implementation of infrastructure projects which pose threat to Uzbekistan's security. It concerns construction of Rogun HPS and Kambar-Atin HPS-1. In case construction of dams on these two sites is completed Tajikistan and Kyrgyzstan will get an opportunity to regulate flows of trans-border rivers Naryn in Kirgizia and Vahksh in Tajikistan and Uzbekistan, thus creating water deficiency there. Receiving control over water resources by means of investment projects with the participation of Russian companies RusHydro and RAO UES will allow Kremlin to get bargaining chips in the process of negotiations with Uzbekistan and offset its regional influence as a supplier of energy resources.
We suppose that there is quite little probability of implementation of this project by Moscow. Such implementation is rather risky considering the fact that the dam which is going to become the world's largest is situated at the point of tectonic fault and high seismic activity. In view of the aforesaid, investments in the amount of about USD 3 billion managed by Russian companies are imposed to high financial and reputation risks and seem to be unreasoned from the economic point of view. However, results of V.Putin's visit in October show that Russia for the first time got involved in Tadjik-Kyrgyz water-energy project in which it had been persistently staying neutral for several years. We believe that this is a part of a multi-move game in which Moscow provokes escalation of tension between Dushanbe and Tashkent and between Tashkent and Bishkek, and then will become mediator in the regulation process taking up issues of peaceful regulation of regional conflicts.
Moreover, as 2014 is approaching I.Karimov's regime will seek foreign support and security guarantees on its southern borders. Despite the fact that the length of borders with Afghanistan for Uzbekistan is significantly less than for Tajikistan, infiltration of radical Islam into its territory, intrusion of armed troops into its territory from Afghanistan aimed at destabilization of the situation within the country and spread of influence of Uzbek sub-ethnic groups and clans of Afghanistan on Uzbekistan are quite likely. At the same time, Tashkent has no resources to maintain its positions on the southern border with Afghanistan and 100% of control over its own part of Ferghana Valley where chances are high that the activity will revive, nor to prevent revitalization of opposition forces. In view of the above, Moscow probably hopes that under such conditions Tashkent will not be able to show active resistance to Tajikistan and Kyrgyzstan and will agree to trade-off alternatives of settling the issues, including within the framework of pro-Russian geopolitical projects.
However, we believe that the situation is not likely to take such turn. Moscow has 9-12 more months until the situation with the construction of hydro-energy sites brings Dushanbe to understanding of the fact that Kremlin uses it in its geopolitical strategy. There was a similar situation in the past when Russian companies refused to complete the construction of the very same Rogun HPS which caused cooling down of relations with Tajikistan. This may result in significant strengthening of China's positions due to investment infusion in Tajikistan and Uzbekistan and construction of transport communications in Ferghana Valley.
In our opinion, Russia's policy in the region will result in the fact that Tashkent will use a manoeuvre aimed at imitation of return under Russia's wing. In such case, Kremlin will face an issue of fulfilling obligations to Dushanbe because the strategic plan suggests that the importance of Uzbekistan for Kremlin is more significant. Such games will hardly bring a happy end to Moscow because weakness of national economies of most Central Asian countries facilitates growth of radicalism and reduction of stability, and variety of tribes and clans complicates consolidation of power and implementation of efficient domestic policy which allows to predict further development of the situation in some of them according to Libyan scenario. Moreover, RF uses contradictions of CA countries under conditions of non-conflict infiltration of PRC into this region. Therefore, Russia's influence in the region may be significantly reduced in case of change of power in one of the countries: Uzbekistan or Tajikistan which will strengthen positions of China and the US.

Jihad in Central Asia and Russia and the Prospect of Nuclear Terrorism
In Central Asia, the focus of Jihadists groups has been the Tajikistan, Turkmenistan and Russian Federation. But it is unclear how many Central Asian fighters will ultimately seek to return to their countries of origin, and if they do, whether any of them will remain committed to ISIS. Before the rise of ISIS, the Islamic Movement of Uzbekistan (IMU) was the main Central Asian extremist organization in the field. Its base of operations is in Afghanistan and Pakistan. Central Asian fighters linked to ISIS headquarters in Syria also participated in acts of terrorism in other countries. The ISIS has previously restrained from getting involved in attacks in Central Asia as the group's leadership emphasised that attacking this region was not the highest priority. In July 2018, five Tajik men killed four foreign cyclists in a car-ramming attack, accompanied by an on-foot gun and knife assault in the Khatlon province of Tajikistan. The presence of Daesh in Iraq and Afghanistan, and participation of Central Asian jihadists in it prompted consternation in the region. In Syria, the radical Islamic militants from Central Asia established terrorist organisations of their own. These terrorists have Salafi-Wahhabi inclinations and are among the backers of al-Qaeda, al-Nusra Front, and Daesh group. In his Diplomat analysis (20 September 2016), Uran Botobekov, documented videos and extrajudicial killing in Iraq and Syria:
"Recently, Central Asians saw on YouTube a terrible video of a teenager, Babur Israilov from Jalal-Abad in southern Kyrgyzstan, on his way to becoming a suicide bomber. In the video, Babur cries before being sent to his death in an armored car laden with explosives in Fua, Syria. One of the fighters gathered around encourages him, saying in Uzbek that Satan intervenes at crucial moments to confuse a Muslim's mind, so he should think only of Allah. Further in the video sentimental Arabic music plays, the armored personnel carrier moves, and, at the fatal moment, the bomb explodes. According to Radio Free Europe/Radio Liberty, Babur Israilov was a member of an extremist group of Uzbeks–Imam Bukhari Jamaat–which fights alongside Jabhat al-Nusra in Syria. Just like the father of the British boy JoJo, resident of Suzak district in the Jalal-Abad region of Kyrgyzstan Tahir Rahitov saw his son Babur via video. According to Tahir, his wife died in 1995 and the boy was raised by his grandmother. In November 2013 Babur left for Russia in search of work. In March 2014 he arrived in Syria via Turkey, joined Imam Bukhari Jamaat, and fought alongside Jabhat al-Nusra against the government of Bashar al-Assad".
The four Central Asian States (Kyrgyzstan, Tajikistan, Kazakhstan, and Uzbekistan) security agencies and government have adopted several law and order measures to effectively fight against radicalization, but some states failed to intercept the infiltration of the ISIS militants from Afghanistan into the region. The power structures, social institutions and local authorities of the Central Asian states are unable to work with radical Islamic groups. Analyst Uran Botobekov has also warned that presence of Central Asian minors in Daesh ranks might possibly cause huge fatalities when they translate their ideologies into violent actions:
"According to the special services of Kyrgyzstan, about 140 minors have been taken from Kyrgyzstan to training camps in Iraq and Syria. The vast majority of children are under the age of 14, with an estimated 85 children under the age of 10. Authorities have not reported how many children have come to the Islamic State from Kazakhstan, Tajikistan, Turkmenistan, and Uzbekistan. According to human rights organizations more than 600 children from Central Asia are in ISIS-controlled areas of Iraq and Syria. Most children were brought into the conflict zone by their parents. According to various estimates, there are 4,000 Central Asians fighting with various groups in Iraq and Syria. Estimates of the number of children from the former republics of the Soviet Union vary, and no one can pinpoint the exact number".
Aside from an Islamic State-linked attack on foreign cyclists, Tajikistan had largely been spared from significant attacks by both international terrorist organizations and radicalized individuals. The ISIS recruitment of Tajikistanis relies heavily on the glorification of celebrity jihadist commanders. Despite this, ISIS recruitment in Tajikistan is perhaps the least organized of all the Central Asian states as Tajikistanis fighting for ISIS maintain no dedicated official media outlet or spokesman. The Tajikistani government restricted religious freedom to an exceptional degree. All but 500 to 1,000 ethnic Uzbekistanis were also fighting in Syria during 2015, with a majority of them believed to be from southern Kyrgyzstan. However, more than 400 to 500 Islamist fighters with ties to Uzbekistan participated in the battlefields of Syria and Iraq.
After March 2015, Uzbekistan changed its tactics and started to actively downplay the threat ISIS internally poses to the country and to show that ISIS was subverting true Islam. Tajikistanis fighting for ISIL repeatedly threatened to return and wage jihad in Tajikistan, but they failed. In January 2015, members of an IMU cell planned to attack a police station were arrested in Tajikistan. Monitoring of the Central Asian Salafi-jihadi groups activities showed that since 2018, al Qaeda-linked Katibat Imam al Bukhari (KIB) stepped up its participation in the terror attacks against the Afghan Armed Forces. This Uzbek terrorist group has a high level of trust among the leaders al Qaeda and Taliban and has become a link in their strategic ties. Analyst, Mr. Uran Botobekov has noted the group has established two important branches to maintain its army:
"It is known that KIB has two branches. The group's main fighting force of more than 500 militants, led by leader Abu Yusuf Muhojir today is based in the Syrian province Idlib. Despite the fact that KIB positions itself as an "independent" faction it is closely connected with Ahrar al Sham who has had al Qaeda operatives embedded in its own ranks. The KIB's second branch is concentrated in Afghanistan, which positions itself as an integral part of the Taliban. Even the emblem and the name of the KIB branch are closely associated with the Taliban. It is known that the Taliban refers to itself as "the Islamic Emirate of Afghanistan" and has the website under the same name. With the Taliban's consent KIB leaders gave their branch the name "Katibat Imam al Bukhari of the Islamic Emirate of Afghanistan". After pledging an oath of allegiance to Taliban leader Mullah Omar, KIB became a reinforcing factor of the strategic ties of the Taliban and al Qaeda. It should be noted that the US State Department designated KIB to the list of global terrorist organizations on March 22, 2018".
The establishment of the ISIS networks in Tajikistan and Uzbekistan raised several question including the failure of Tajik law enforcement agencies to intercept infiltration of ISIS fighter into the country. The Islamic State is now recruiting young people into its ranks, and supports them financially. In view of this development, Tajikistan introduced new legislation in 2015 allowing authorities to pardon citizens who voluntarily return home and express regret that they joined militant groups abroad, but, notwithstanding this legislation, people of all walks of life are joining Daesh consecutively. On 06 November 2019, BBC reported terror attack of the ISIS fighters on Checkpost of Tajik border with Uzbekistan, and killed 17 people. Analyst Damon Mehl in his paper (Damon Mehl, CTC Sentinel, November 2018, Volume-11, Issue-10) noted some aspects of the development of ISIS networks in Tajikistan:
"Jamaat Ansarullah, an Afghanistan-based Tajikistani terrorist group, was formed in 2010 with likely fewer than 100 members and has since received support from the IMU, the Taliban, and al-Qaeda. The group's stated mission is to bring an 'Islamic' government to Tajikistan. Beginning with its foundation, Jamaat Ansarullah sporadically published videos and disseminated messages through its website, which has been inactive since 2016. The group's leader Amriddin Tabarov was killed in Afghanistan in December 2015 and Tabarov's son-in-law Mavlavif Salmon was appointed as the new leader by the end of 2016. In 2014, Jamaat Ansarullah sent some of its members to fight in Syria with Jabhat al-Nusra, an al-Qaeda-aligned group now known as Hayat Tahrir al-Sham. At a point in 2014 or 2015, some Jamaat Ansarullah members ended up fighting alongside the Islamic State. The Islamic State subsequently began financially supporting Ansarullah according to Afghanistan expert Antonio Giustozzi, citing a Jamaat Ansarullah commander. This support reportedly caused fissures between Jamaat Ansarullah and al-Qaeda, and by 2015, Ansarullah received 50 percent of its financial backing from the Islamic State. In October 2014, a Jamaat Ansarullah member going by the name Mansur stated on the group's website that Jamaat Ansarullah considered the Islamic State a jihadi organization, but had paused its decision on whether to accept the Islamic State's claim of being the caliphate".
In 2010, Jamaat Ansarullah extremist group was formed in Afghanistan, with possibly 100 members and trained by the Islamic Movement of Uzbekistan to fight the Tajik forces effectively. The group's leader Amriddin Tabarov was killed in Afghanistan in December 2015 and Tabarov's son-in-law Mavlavif Salmon was appointed as the new leader by the end of 2016. Analyst Damon Mehl in his paper (Damon Mehl, CTC Sentinel, November 2018, Volume-11, Issue-10) has documented the activities of Daesh in Tajikistan, and a Tajik language audio, in which the Islamic State member Abu Usama Noraki threatened Tajikistan President Emomali Rahmon:
"In early August 2018, a week following the attack on the cyclists, a nine-minute, Tajik-language audio message from Islamic State member Abu Usama Noraki threatened Tajikistan president Emomali Rahmon. Abu Usama Noraki is very probably synonymous with a Syria-based Islamic State member whom Tajik authorities identified as 31-year-old Tojiddin Nazarov in March 2018. Tajik authorities stated Abu Usama was from Norak, located in Khatlon province southeast of Dushanbe, and called him the "Islamic State's most dangerous recruiter among Tajiks." According to the same Tajik authorities, Abu Usama Noraki joined the Islamic State in Syria and Iraq in 2014, previously worked with the IMU, and was radicalized when he was a migrant laborer working in Russia. Noraki is a prominent Islamic State spokesperson to a Tajik-language audience and since at least 2015 has frequently disseminated audio speeches through an Islamic State-affiliated, Tajik-language Zelloi channel that now has approximately 15,000 subscribers. Noraki's early August 2018 message regarding the Tajikistan President was likewise disseminated via Zello and social media sites. Noraki stated Rahmon was acting against Islam and that Islamic State Mujahideen would soon move to Tajikistan and overthrow the government. Noraki claimed the killing of foreigners, an obvious reference to the July 29, 2018, attack, was the "first bell" for future jihad and attacks in Tajikistan. Noraki also called on Tajik government officials to join Islamic State ranks and praised a certain Shaykh Abu Malik for providing the Islamic State with Tajik military insight. Shaykh Abu Malik is the nom de guerre of the former commander of Tajikistan's OMON (Special Purpose Police Unit) Colonel Gulmurod Khalimov who defected to the Islamic State in 2015, was appointed Islamic State War Minister in 2016, and may have been killed in 2017".
Chechen fighters have also established networks across Russian Federation and want to retreive sophisticated weapons. The group in Afghanistan receive military training to strengthen its army for the future war against Russia. Pakistan have also trained Chechen commanders years ago, while during their jihad against Russia, some reports confirmed the participation of over 1000 Pakistani jihadists and retired military officers in fighting alongside their fighters. Analyst and researcher, Mr. Christian Bleuer noted the presence of Chechen leadership in Afghanistan:
"Extremist members of Chechnya's rebel movement adhere to ideas tied to jihad and the creation of an Islamist state. Afghan and foreign officials say as many as 7,000 Chechens and other foreign fighters could be operating in the country, loosely allied with the Taliban and other militant groups. Local reporting by Pajhwok News, sourced to the Logar governor's spokesman, was slightly different, naming the targets as "Taliban Commanders Mullah Saber, Mullah Sabawon and Mullah Bashir," but also noting the presence of Chechens–in this case, three Chechen women who were allegedly killed. Khaama Press also reported the incident, noting that "[f]oreign insurgents fighting the Afghan forces is not new as scores of militants from Chechnya and other countries are routinely reported killed during the fight with the Afghan forces," with the caveat that "[t]he anti-government armed militant groups have not commented regarding the report so far."
With the presence of Jihadist Groups and the ISIS in Central Asia, the use of chemical, biological and nuclear weapons cannot be ruled out, the fact is that the ISIS found these weapons in Syria and Iraq. If they used these weapons, reaction of Central Asia States and Russian would be violent, and they might attack the US and NATO installations inside Afghanistan. Researchers and analysts Keir A. Lieber and Daryl G. Press in their paper have warned that if state transferred nuclear or biological weapons to jihadist groups and ISIS in Central Asia, this will change the whole picture of war in Afghanistan:
"The concern that a state might transfer nuclear weapons to terrorists, however, is among the greatest of these worries, and to many analysts it is the most compelling justification for costly actions—including the use of military force—aimed at preventing proliferation. Despite the issue's importance, the danger of deliberate nuclear weapons transfer to terrorist's remains understudied. Scholars have scrutinized many other proliferation concerns more extensively. Analysts have investigated the deductive and empirical bases for claims that new nuclear states would be deferrable; the likelihood that Iran, in particular, would behave rationally and avoid using nuclear weapons recklessly; and the risks of proliferation cascades, "loose nukes," and nuclear-armed states using their weapons as a shield for aggression or blackmail. To the extent that analysts have debated the possibility of covert state sponsorship of nuclear terrorism, however, the arguments have consisted mostly of competing deductive logics—with little empirical analysis. This article assesses the risk that states would give nuclear weapons to terrorists".
The prospect of nuclear terrorism in Central Asia and might possibly in Russia, is crystal clear as the ISIS groups, and US army are making thing worse. There are possibilities that terrorists can acquire nuclear material or a complete warhead to use it in Central Asia, or possibly in Russia. The risk of a complete nuclear device falling into the hands of terrorists will cause consternation in the region. Over the past several years, the prospect of a terrorist group armed with a nuclear weapon has frequently been cited as a genuine and overriding threat to the security of Central Asia and Russia.
If terrorist groups such as ISIS or Lashkar-e-Toeba determine to go nuclear, what will be the security preparations in Central Asia to intercept these groups? These and other Pakistan based groups can attampt to manufacture the fissile material needed to fuel a nuclear weapon—either highly enriched uranium or plutonium, and then use it. Moreover, there are possibilities that Pakistan, Afghanistan and Central Asia based extremist and jihadist groups can purchase fissile material in black market or steal it from a military or civilian facility and then use that material to construct an improvised nuclear device. The US tensions with Russia receded and nuclear strategy came to seem like a relic of a bygone era. Yet today, with Russia rising again as a military power, the grim logic of nuclear statecraft is returning. In his nuclear risk analysis, Simon Saradzhyan (Russia Matters, Simon Saradzhyan, (August 06, 2019) argued that there are possibility of nuclear war between Russia and the United States:
"Is the risk of a nuclear war between the U.S. and Russia now higher than at the height of the Cold War? Yes, it is, according to an article former U.S. Energy Secretary Ernie Moniz and former U.S. Sen. Sam Nunn have penned for Foreign Affairs. "Not since the 1962 Cuban Missile Crisis has the risk of a U.S.-Russian confrontation involving the use of nuclear weapons been as high as it is today," the co-chairs of the Nuclear Threat Initiative warn in their commentary published on Aug. 6, 2019. To back their claim, the two American statesmen describe an imaginary scenario in which Russian air defense systems shoot down a NATO aircraft that has accidentally veered into Russian airspace during a wargame in Russia's Kaliningrad exclave in 2020".
All but, 15 years ago, Graham Allison (September/October 2004) noted the possiblity of nuclear terrorism in Russia by Chechen terrorists. Chechen have had a long-standing interest in acquiring nuclear weapons and material to use in their campaign against Russia. He is of the opinion that Chechen had access to nuclear materials, and their experts were able to make nuclear explosive devices:
"To date, the only confirmed case of attempted nuclear terrorism occurred in Russia on November 23, 1995, when Chechen separatists put a crude bomb containing 70 pounds of a mixture of cesium-137 and dynamite in Moscow's Ismailovsky Park. The rebels decided not to detonate this "dirty bomb," but instead informed a national television station to its location. This demonstration of the Chechen insurgents' capability to commit ruthless terror underscored their long-standing interest in all things nuclear. As early as 1992, Chechnya's first rebel president, Dzhokhar Dudayev, began planning for nuclear terrorism, including a specific initiative to hijack a Russian nuclear submarine from the Pacific Fleet in the Far East. The plan called for seven Slavic-looking Chechens to seize a submarine from the naval base near Vladivostok, attach explosive devices to the nuclear reactor section and to one of the nuclear-tipped missiles on board, and then demand withdrawal of Russian troops from Chechnya. After the plot was discovered, Russian authorities disparaged it, and yet it is ominous to note that the former chief of staff of the Chechen rebel army, Islam Khasukhanov, had once served as second-in-command of a Pacific Fleet nuclear submarine".
The ISIS found dagerous weapons in Syria and Iraq and killed thousands innocent women and children. In Central Asia and Russian Federation, there are several extremist and terrorist groups that seek nuclear weapons to use it against local security forces. Chechen extremist groups have also consistently expressed the desire to obtain, build, and utilize unconventional devices against selected targets, and have innovated by incorporating hazardous materials into their ordnance. The war in Syria and Iraq has significantly altered modern terrorism, with radical Islamic militants from Central Asia being no exception. The terrorists' method for recruiting forces is almost the same in most of the countries in the Central Asia.
While the majority of ISIS recruits originate in the Middle East, the Maghreb, and Western Europe. Central Asia is the third largest source of foreign fighters in Syria. More than 4,000 Central Asian fighters are believed to have joined armed groups fighting in Syria, with an estimated 2,500 arriving there in 2014 and early 2015 alone. Russian President Vladimir Putin once stated that as many as 7,000 fighters from Russia and Central Asia have joined the ranks of the Islamic State.
The Takfiri groups of al-Nusra Front and the so-called Islamic Jihad Union are also employing nationals from Central Asia. In some countries, the process of employment is done through indigenous people. Efforts of terrorists to get access to nuclear materials and technologies appear to be increasing at the same time as there is a race for developing nuclear power projects in the Middle East, Africa and Asia. This might create fertile soil for the rise of nuclear terrorism on a global scale. There is evidence that terrorist groups have tried to acquire the material needed to construct a crude nuclear explosive device, or a dirty bomb. Terrorists use biological agents because they are often difficult to detect. In 2016, after the two ISIS brothers involved in the Brussels bombings, Khalid and Ibrahim el-Bakraoui, were killed and captured, authorities discovered they had been secretly watching a Belgian nuclear scientist who worked at the Tihange Nuclear Power Station.
Nuclear terrorism remains a constant threat to global peace. Access of terrorist organizations to nuclear material is a bigger threat to civilian population. Terrorist groups can gain access to highly enriched uranium or plutonium, because they have the potential to create and detonate an improvised nuclear device. Since the ISIS has already retreived nuclear materials from Mosul city of Iraq, we can assert that terrorist groups like ISIS and Katibat Imam Bukhari, and Chechen extremist groups can make access to biological and nuclear weapons with the help of local experts. Nuclear facilities also often store large amounts of radioactive material, spent fuel, and other nuclear waste products that terrorists could use in a dirty bomb.Without access to such fissile materials, extremist and radicalized groups can turn their attention toward building a simple radiological device. The most difficult part of making a nuclear bomb is acquiring the nuclear material, but some Muslim and non-Muslim state might facilitate the ISIS, Lashkar-e-Toiba, Chechen extremist groups and Afghanistan and Pakistan based groups to attack nuclear installations in Russia and Central Asia.
Information on how to manipulate nuclear material to produce an explosive device—an improvised nuclear device, which would produce a nuclear explosion and a mushroom cloud, or a radiation-dispersal device, which would spread dangerous radioactive material over a substantial area—is now available widely. Daesh (ISIS) seized control of the Iraqi city of Mosul in 2014. Pakistan has also been heavily dependent on outside supply for many key direct- and dual-use goods for its nuclear programs. It maintains smuggling networks and entities willing to break supplier country laws to obtain these goods. Many of these illegal imports have been detected and stopped. These illegal procurements have led to investigations and prosecutions in the supplier states, leading to revelations of important details about Pakistan's complex to make nuclear explosive materials and nuclear weapons. According to some reports that weapons-grade and weapons-usable nuclear materials have been stolen by terrorist groups from some states. Once a crude weapon is in a country, terrorists would transport it in a vehicle to city and then detonate it in a crowded area.
Qassem Soleimani's Broken Dream in Central Asia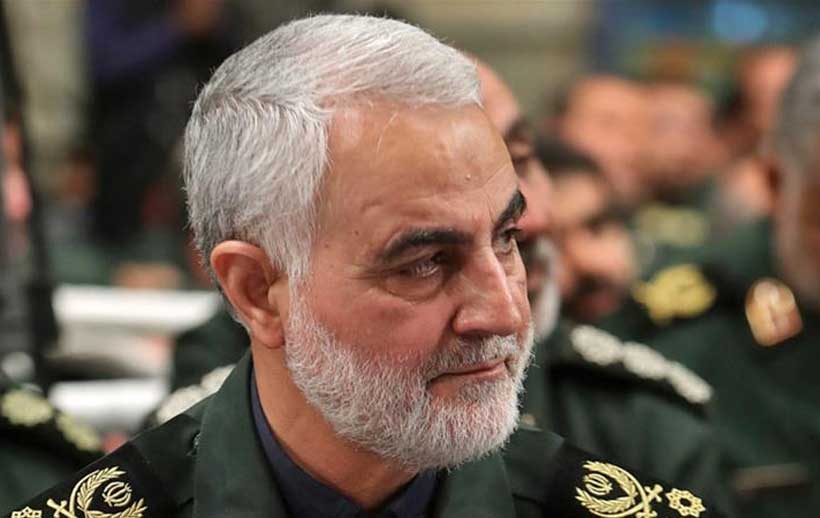 Exactly two months ago, Iranian Major General Qassem Soleimani was killed, whom the Shiite world considered a national hero, while the Sunni regimes of the Arabian Peninsula regarded him as evil incarnate. What legacy has Soleimani left in Central Asia? Will the Iranian policy in Central Asia change after the loss of its most influential military strategist? Is the threat to US interests in the Middle East and Central Asia "after Soleimani" gone?
Central Asia after Qassem Soleimani
The five post-Soviet countries of Central Asia are cautiously following the development of confrontation between the US and Iran trying to take a "middle ground" without interfering in "someone else's war". Neither political leaders nor the foreign policymakers of these Muslim republics expressed their condolences to Iran on the occasion of the assassination of Qassem Soleimani, Iran's most powerful general, the commander of the Islamic Revolutionary Guard Corps' elite Quds Force (IRGC-QF). The books of condolences for General Qassem Soleimani at the Iranian embassies in Central Asia did not contain records even of mid-level officials. Kazakh president Kassym-JomartTokayev expressed his condolences to the Iranian people, not because of the assassination of Major General, but because of the crash of a Ukrainian airliner mistakenly downed by IRGC during the so-called "Iran's revenge missile attack" at US military base in Iraq on January 8, 2020.
The analysis had shown that Central Asia's presidents tried to overlook the fact of Qassem Soleimani's assassination. Even Moscow's position, condemning Washington for the murder of "Putin's friend" and expressing condolences to Iran, could not force Central Asian leaders to speak about their own opinion on this event. Yet it is no secret that due to its economic and political influence, Moscow plays a key role in the foreign policy orientation for these post-Soviet republics. Such demonstrative "neutrality" is connected, first of all, with the concern of the region's leaders that the US-Iran conflict in the Middle East could reflect onto Central Asia's neighbor, Iran. Consequently, it could be expected that Central Asian governments will try to find a "diplomatic balance" between Washington and Tehran, as they wish to maintain cooperation with each of them individually. As a result, they will not openly take either side in the US-Iranian confrontation to the detriment of one of them.
After losing its distinguished military strategist, not a single high-ranking Iranian politician has yet visited Central Asia. Tehran's attention today is turned to the Middle East where it makes clumsy attempts to oust the United States from Iraq. The Trump administration pursues a comprehensive policy aimed at maximum pressure on Iran not only in the Middle East but throughout the world, including the Central Asian region.
On February 3, 2020, US Secretary of State Mike Pompeo visited Central Asia, where within the framework of the meeting of the so-called C5+1 he defended US strategic interests, including aimed at minimizing Iran's influence in the region. A month earlier, January 7, 2020, Alice Wells, U.S. Principal Deputy Assistant Secretary for South and Central Asian Affairs, during a meeting with Tajik Foreign Minister Sirojiddin Muhriddin, stated that "the chaos and unrest created by Iran directly through the Islamic Revolutionary Guard Corps threaten Tajikistan's security and stability." However, this time as well, Tajikistan, balancing between Washington and Tehran, cautiously circumvented the US-Iran confrontation and did not comment on the destructive activities of Iran's Quds Force and the role of its former leader Qassem Soleimani.
However, unlike government officials, middle-level politicians and analysts widely commented on Qassem Soleimani's assassination, blaming the US of "imperial behavior". For instance, Tajik politician Shodi Shabdolov compared Trump's actions, who ordered the neutralization of Qassem Soleimani, to a madman. He added that if a war between Washington and Tehran begins, it would be the end of the US, as it underestimates Iran's military power.
Another well-known analyst, head of the Tajik Political Scientists Association Abdugani Mamadazimov, noted that Soleimani's liquidation opens the door to a hybrid war, during which American embassies and other institutions in the region and in Europe can become targets for attacks by pro-Iranian Shiite militias. An analysis of local media showed that some public figures and organizations working closely with Iran for many years have expressed their support for Tehran and consider Qassem Soleimani to be a Shahid (Martyr)
Qassem Soleimani's Shadow in Central Asia
The political elite and security agencies of newly independent Central Asian states knew first-hand Qassem Soleimani, who twice, officially and secretly, visited the region to strengthen Iranian military interests in the late 90s and early 2000s. After the collapse of the Soviet Union, Iran seriously intended to expand its influence into Central Asia, using Islamic commonality, its transit attractiveness with access to Persian Gulf's trading ports and common language factor with Tajikistan. It is known that Tajiks and Iranians are the closest related peoples in the world, speaking the same Persian language. During his presidency, Akbar Hashemi Rafsanjani had declared Tajikistan as an integral part of the "Great Persian World".
To expand Iranian military influence, Tajikistan has become an ideal launching pad, the army of which was the weakest in the region, requiring external financial and technical assistance for modernization. Soon, Tehran began to actively use its leverage in the seven-year civil war in Tajikistan, playing the role of a mediator between the government of Emomali Rahmon and the Tajik Islamic opposition leader, Said Abdullo Nuri, in essence, providing hidden support to the latter.
Iran planned to realize the strengthening of its influence in Central Asia in two directions. The first provided for the establishment of political, economic and cultural cooperation with the government of Rafsanjani. The second way concerned the strengthening of military cooperation between the two countries and the creation of informal militarized groups within the Tajik Islamic opposition, focused exclusively on Tehran. The second focus was under the personal control of Iran's Supreme Leader, Ali Khamenei, who gave the task to his right-hand man, the Quds Force's chief Qassem Soleimani to assess the prospects of creating Iran's effective system of informal leverage in Central Asia opposing the United States.
For the first time, Qassem Soleimani visited Tajikistan on January 18, 1999, at the head of the Iranian military delegation, during which he met with Tajik Minister of Defense SheraliKhairullaev. According to the Tajik Ministry of Defense, the parties discussed the implementation of the Memorandum of Understanding in the field of security between the two countries. The two generals agreed to form a joint intergovernmental defense commission.
As one of the participants in that meeting later told, General Qassem Soleimani surprised many with his pronounced modesty and courtesy. He spoke in a quiet calm tone, without drawing attention to himself, which is not typical for post-Soviet military commanders educated in the spirit of Russian military traditions. His visit went unnoticed, with no media attention.
However, the real reason for Soleimani's visit was to protect Iran's interests in Afghanistan after the Taliban executed 8 Iranian diplomats. But instead of confronting the Taliban from the Iranian border, Soleimani directed the operations in support of the United Islamic Front for the Salvation of Afghanistan, also known as the "Northern Alliance," from the Tajik border. This was a unique case when the interests of the governments of Central Asia, Iran, Russia and the West coincided against the Taliban, and Soleimani successfully implemented the model of proxy warfare.
According to local sources, the second time Qassem Soleimani secretly visited Central Asia through Turkmenistan after September 11, 2001. But information about the purposes of his visit and the participants of the meeting is practically not available. Perhaps his visit was related to the upcoming deployment of U.S. troops in Central Asia, which Tehran considers a threat to its security.
Unlike the Middle East, Iran failed to create its proxies in Tajikistan. The main obstacle to the creation of the pro-Iranian Network was the difference in religious views between Central Asian Sunni Islam and Iranian Shiism. The majority of Central Asians belong to the Hanafi school of Sunni Islam, which doesn't accept Shia ideology in the region. Qassem Soleimani, as a realist military strategist, soberly assessed the situation that Iran would not be able to create strong levers of pressure in the region with the help of fragmented Tajik Islamists. In addition, Russia could not allow the creation of Iranian interests in Central Asia, which it considers a zone of its influence. Soleimani convinced Ayatollah Ali Khamenei of the futility of creating pro-Iranian proxy groups in Central Asia. He expressed his concern that funding for Tajik radical Islamists could push Dushanbe away from Tehran, and, as a result, Khamenei abandoned this venture. What Iran failed to achieve in Central Asia, it more than compensated for in the Middle East ten years later.
After 15 years, Major General's concerns have come true. Relations between Tajikistan and Iran seriously deteriorated in 2015. Tajik authorities accused Iran of supporting the opposition Islamic Renaissance Party of Tajikistan (IRPT), attempting a coup d'état in the country and training Tajik Islamic militants in Iran. Iran incurred Tajikistan's profound rage in December 2015, when Iran's top leader Ali Khamenei received IRPT leader MuhiddinKabiri, who left the country due to political persecution of the authorities.
After the failure of Iran's plan in Central Asia, Qassem Soleimani brilliantly completed the task assigned to him by Ayatollah Khamenei in the Middle East. He successfully created a pro-Iranian Shi`a Foreign Fighter Network of 50 000 bayonets, which became an effective tool of Tehran's influence in the Middle East. Today Soleimani's unique creation, Shia proxy groups such as Hezbollah, Liwa Fatemiyoun, Liwa Zainebiyoun, al-Hashd al-Shaabi, Asaib Ahl al- Haq, play the role of Iran's shock transnational terrorist forces against interests of US, Saudi Arabia, Israel, Turkey and Sunni Muslims in the Middle East.
Iran-Central Asia Military Cooperation: Problems and Challenges
As we said above, the official government of Iran conducted military cooperation with Central Asian countries. In order to jointly combat the threats of terrorism, organized crime and drug trafficking, Iran has signed a package of bilateral treaties with all governments of Central Asia.
In particular, there are intergovernmental agreements between Iran and Uzbekistan on Border cooperation, Cooperation in reducing drug use and controlling the production of narcotic and psychotropic substances. In June 2000, a Memorandum on cooperation in the fight against terrorism, transnational crime and illegal migration was signed between the National Security Service of Uzbekistan and the Ministry of Information of Iran, which performs the tasks of intelligence, counterintelligence and counter-terrorism.
However, the military cooperation between Uzbekistan and Iran was sharply reduced after the 9/11 terrorist attacks and the deployment of the U.S. military base in Uzbek Khanabad to combat international terrorism in Afghanistan. Tehran was opposed to the presence of U.S. troops in Central Asia. Moreover, Uzbekistan was alarmed by unofficial allegations that Iran allegedly provided asylum to the militants of the Islamic Movement of Uzbekistan (IMU) and its leader, Tahir Yuldash, after September 11, and the Iranian secret services allegedly trained and supplied them with documents, weapons and explosives. Tehran has repeatedly denied the allegations. However, given the fact that the IMU was closely linked with Al Qaeda, and after the overthrow of the Taliban in Afghanistan in 2001, Iranian authorities allowed Osama bin Laden's family to reside temporarily in the eastern Iranian city of Zahedan, the claims of the Uzbek side about Iranian secret service would possibly have a solid foundation
Despite the denial of Iran's intelligence services of any ties with the IMU, this assumption left a deep distrust between the two countries. Fearing Tehran's declared "export of the Islamic revolution", although this did not fit into Iran's policy in Central Asia, President of Uzbekistan, Islam Karimov, sharply reduced economic, cultural and military ties with Iran.
The political leaders of Kazakhstan and Kyrgyzstan were not interested in military cooperation with Iran because of their pro-Western views. They actively participated in the NATO Partnership for Peace program, under which they received military and technical assistance from Western countries and trained their military personnel in Russia. The activity of the U.S. military base at Bishkek's Manas airport in Kyrgyzstan (2002-13) and the participation of Kazakhstan's peacekeeping troops in the U.S. led coalition in Iraq (2003-08) deterred Iran's desire to military cooperation with Kazakhstan and Kyrgyzstan.
Iran tried to develop close military cooperation with Tajikistan and through it to extend its military influence in Central Asia. The only Iranian military attaché in Central Asia worked at the Iranian embassy in Tajikistan, who was responsible for the development of military cooperation with other countries of the "Five Stans".
Military delegations of Iran and Tajikistan regularly made mutual visits. More than 20 agreements were signed between the Ministries of Defense of these two countries, in particular, the Memorandum of understanding on military-technical cooperation, the Agreement on cooperation in training of the military personnel, and also Intergovernmental Memorandum of fighting organized crime and drug trafficking. In addition, the Iranian-Tajik intergovernmental commission on defense was created and conducted regular meetings.
In 2005, Tajikistan began to cooperate with IRGC. The leadership of the IRGC declared its readiness to cooperate in training Tajik military personnel on the basis of two Iranian military universities in the fields of engineering and military medicine, communications and electronics. Iran also expressed readiness to send its military advisers to Tajikistan to train 500 Tajik soldiers to participate in maneuvers and to work out attacks in mountainous areas. Tehran was willing to take on the costs of their training.
In 2010, the Ministry of Defense of Iran launched an initiative to develop military cooperation in the framework of the Union of Persian-Speaking Nations between Afghanistan, Tajikistan and Iran. According to the Iranian side, such cooperation can be effective in the fight against drugs and international terrorism and will ensure security in the region.
However, Iran failed to fulfill its intentions to expand cooperation with Central Asia in the military-technical sphere for several reasons. First, Russia was and remains the main military partner of Tajikistan, which did not allow the expansion of Iran's military influence in the post-Soviet space. Tehran's recognition of Moscow's special interests in Central Asia forced Iran to hold its horses in the region, and such deft diplomatic maneuvering has been appreciated by the Kremlin. Tehran's diplomatic courtesy in Central Asia allowed it to create a tactical alliance with Russia in the Middle East. According to Reuters, it was Soleimani who personally persuaded Putin to intervene in the Syrian war during an unofficial visit to Moscow in July 2015.
Secondly, the problematic state of Iran's economy, the low potential of its national military industry, and outdated military equipment were an inhibiting factor of Iran's ambitions.
Thirdly, the United States' "maximum pressure" campaign against Tehran played an important role to curb Iran's military influence in Central Asia.
In conclusion, Iran's strategy in Central Asia after the assassination of Qassem Soleimani is unlikely to change. It is to be expected that Tehran will continue to pursue its policy in the region taking into account Russian interests. The tactical alliance of Moscow and Tehran, and their strategic interests today are directed against the expansion of US influence in Central Asia and the Middle East.
Iran looms large in Central Asia despite sanctions and Saudi financial muscle
Saudi Arabia may have been getting more than it bargained for when authorities in Khujand, Tajikistan's second largest city, ordered that the city's largest and most popular mosque be converted into a cinema.
The order followed the closure of some 2,000 mosques in the country in the last three years and the arrest last month of scores of Muslim clerics and teachers, many of whom were accused of being members of the Muslim Brotherhood, a group that is banned in both Tajikistan and the kingdom.
Fewer men sport beards in Tajikistan after being harassed by police, while women in hijabs are far and few between after many were detained and intimidated.
Imams deliver sermons praising President Emomali Rahmon that are approved by authorities, reinforcing his effort to cloak himself in Islamic legitimacy despite the crackdown.
Larger mosques are equipped with surveillance cameras to ensure prayer leaders stick to their texts.
The arrests no doubt will have pleased Saudi leaders who stepped in to help Tajikistan financially in 2015 as the country's relationship with Iran soured over Iranian demands that Tajikistan pay down its huge debt, allegations that a businessman charged with fraud in the Islamic republic had deposited large sums of money in the National Bank of Tajikistan, and a meeting between Iranian spiritual leader Ayatollah Ali Khamenei and a Tajik opposition leader.
As relations with Saudi Arabia improved and Saudi Arabia pledged to pump money into infrastructure projects like the Rogun hydroelectric power plant and a highway in eastern Tajikistan as well as education, Tajikistan accused Iran of involvement in the murder of Tajik social and political figures as well as 20 Russian military officers during the 1990s Tajik civil war, which Iran helped bring to an end.
Tajik authorities also closed down an Iranian trade and cultural center in Khujand and helped block Iran's application to become a member of the China-led Shanghai Cooperation Organization (SCO). Iran is an observer at the SCO.
Developments in Tajikistan, however, no longer look all that good from a Saudi perspective and bode ill for the kingdom elsewhere in Central Asia. In fact, the more than four years of strained relations between Tajikistan and Iran have made way for quickly warming ties.
Driving the patching up of differences is the fact that landlocked Tajikistan, like its neighbour, Uzbekistan, needs access to ports and Iranian ports, including the Indian-backed one in Chabahar at the top of the Arabian Sea, offer the cheapest and shortest transportation options.
Iran's attractiveness to Central Asian nations increases the Islamic republic's importance to the Belt and Road, China's infrastructure, transportation and energy-driven initiative to connect the Eurasian landmass to Beijing.
There is an element of irony in the Saudi-backed crackdown on mosques and clerics in Tajikistan. That was long the preserve of Uzbek president Islam Karimov, whose state security services tightly controlled religion under the guise of combating Islamic extremism, until his death in 2016.
Mr. Karimov's successor, Shavkat Mirziyoev, has promised to reverse his predecessor's repressive policies and put his government "at the service" of the Uzbek people.
Mr. Mirziyoev's reforms included emasculating the security service's Religious Committee, by ending its oversight of all religious education, publications, and gatherings, and sacking its supervisor, Aydarbek Tulepov, without replacing him.
Mr. Mirziyoev has also created an academy of higher Islamic learning that is operated by the state-run Spiritual Directorate of Muslims of Uzbekistan.
Meanwhile, delegations of Saudi businessmen visited Uzbekistan twice last year to explore investment opportunities.
Saudi Arabia's textiles-focussed Ajlan & Bros Holding Group plans to invest over the next five years up to US$2 billion in an Uzbek cotton-textile cluster.
Already a vital node for Uzbek exports and imports, Iran is nonetheless written all over Mr. Mirziyoev's transportation infrastructure plans. A decree issued in late 2017 identified as key to the plans the Uzbekistan-Turkmenistan-Iran-Oman. China-Kyrgyzstan-Uzbekistan, and three Trans-Afghan corridors.
The three Afghan corridors take a rail line connecting Uzbekistan's Termez to Afghanistan's Mazar-i-Sharif as their starting point. Uzbek plans envision the rail line being extended to the Afghan city of Herat from where it would branch out to Iran's Bandar Abbas port, Chabahar; and Bazargan on the Iranian-Turkish border.
The Central Asian focus on Iranian ports, despite harsh US sanction, takes on added significance with the Chinese-backed Pakistani port of Gwadar, a mere 70 kilometres down the coast from Chabahar, a Belt and Road crown jewel at the core of the China Pakistan Economic Corridor (CPEC), running into problems.
China Ocean Shipping Company (COSCO) recently terminated its container liner services between Karachi and Gwadar because of a lack of cargo destined for transit to Afghanistan.
Zhang Baozhong, chairman of China Overseas Port Holding Company (COPHC), insisted that transit trade was key to Gwadar's success.
Port authorities said last month that two 20-foot containers containing 54 tonnes of bagged fertilizers had been shipped to Gwadar from Karachi for onward transport to Afghanistan in what amounted to an effort to kickstart transit trade.