Possibility of a New Round of Conflict in Sudan
On April 19 Sudanese President Omar Hassan al-Bashir declared that disputes with South Sudan would be solved by military means.
He also repeated that he would cease domination of the Sudan People's Liberation Movement (SPLM) in South Sudan. This declaration followed the day when al-Bashir declared war on this country and promised to overthrow the SPLM's authority in Juba. In his TV-address broadcasted by Sudan TV al-Bashir declared, "We have already decided to settle our problems by war" and "square all accounts between the two countries".
Al-Bashir's reaction was the response to the loss of control over Heglig which is one of main oil regions in Sudan. Sudanese Army managed to prevent intervention of the largest rebel group in Darfur Justice and Equality Movement (JEM). With the support of South Sudan Army this formation tried to pass Heglig to Kauda in order to join the main rebel forces in South Kordofan. However, on April 10 after counterattack of the 4th division of Sudan People's Liberation Army (SPLA) South Sudan took control over about 75% oil deposits remained within the territory of Sudan after its partition.
Analysis and Forecast
We consider that current battles between Khartoum and Juba have gone beyond the conflict stipulated by current contradictions relating to distribution of oil export revenues. Seizure of Heglig by forces of South Sudan has become an obvious violation of territorial integrity of Sudan. In addition, it is significant that previously al-Bashir many times declared his readiness to negotiate on wide range of matters provided government of South Sudan[1] undertakes to cease supporting armed groups in Blue Nile and South Kordofan. However, at the beginning of April an operation in Heglig performed by part of ruling elite of South Sudan headed by President S. Kiir ruined ratification of agreement obtained in the course of negotiations in Addis Ababa during March-April 2012. Thus, according to our estimates, today actions of South Sudan are directed more on erosion of al-Bashire's regime than on reaching agreements concerning division of oil export revenues. Today it becomes obvious that there is no alternative to sustainable export routes for oil supply from South Sudan within mid-term period. However, continuing confrontation between these countries shall facilitate worsening of political situation, humanitarian crisis development and, as a result, further destabilization of the situation in region.
Keeping tension in relationship with Juba promotes split in North Sudan elite, restricts financial opportunities for Khartoum and weakens it. Cutting Khartoum off financial flows leads to strengthening of Khartoum political forces opposed to al-Bashir regime such as, e.g. of National Congress Party (NCP) and its leader Hassan al-Turabi. His alliance with Sudan Revolutionary Front may launch rebellion mechanism in Sudan according to Lybian scenario.
However, according to our opinion fall of al-Bashir's regime is unlikely to lead to positive outcome for Juba. In connection therewith recent conflicts must, for both Kiir's and al-Bashir's environment, present more reasons for further bilateral negotiations on tenders for export revenues distribution.
At the same time, such policies may be corrected by means of interference and interests of external players. Thus, on April 10 in port of Mombasa, Kenya, two ships were unloaded carrying Chinese weaponry and military equipment for Juba.
China's interest in support of South Sudan is stipulated by several factors. First, its support may allow Beijing to increase diversification of oil supplies which already make 5% of PRC's carbon import and 80% of oil fields in South Sudan are owned by Chinese CNPC. Such diversification shall lower risks for Beijing in case of situation exacerbation around Iran which is one of largest energy carrier suppliers to China.
Secondly, PRC is large investor in Greater Nile Oil Pipeline which is object of conflict between the two countries in matter of oil export revenues distribution. Beijing is also the largest shareholder of two leading Sudanese oil extraction consortiums and investor in railroad infrastructure. However, after declaration of independence of South Sudan and loss of the most part of the oil deposits al-Bashir's regime has activated contacts with Persian Gulf countries. The result of this was contract with Saudi Arabia on provision for use of 2 million acres in Port Sudan district for the purposes of agricultural farm construction. The contract provides for establishment of Saudi jurisdiction within the territory and exemption of all types of taxation for investors. The Project is directed to provision of KSA with all necessary food products within 75% of total import volumes what will lead to decrease of export share to Riyadh from USA, India and Australia[2]. In addition, this will allow Sudan itself to provide food security. This step is an obvious convergence between Sudan elite and Gulf countries. In the context of "Arab vector" strengthening it is necessary to consider Khartoum initiatives relating to establishing confederation with Egypt which may be regarded as an attempt to escape under the wing of "Muslim Brotherhood".
Similar diversification on the part of Sudan reduces investment opportunities for China, which is actively purchasing agricultural lands on African continent on one side and, on the other side, inflicts strike on Washington's influence on Arabian monarchy. Political and economic convergence between Khartoum and KSA and Gulf countries might become trigger for growth of pressure on al-Bashir.
We consider that the key target of current processes within the region is review of territorial status of Abyei district with largest undiscovered oil reserves of potential exceeding that of South Sudan. Activity of rebels close to Juba may provide return to Abyei of Dinka tribe representatives dominating in South Sudan. This will create conditions for raising a question of Abyei and Juba merger. This scenario will allow for cutting Khartoum off promising oil fields, decreasing financial takings and thereby reducing opportunities for further islamisation of the region by Sudan.
Thus, we think that granting independence to Juba is not the end of Sudan split. This can explain restrained reaction of the West to Juba's operation in Heglig.
---
[1] Boundary demarcation, oil matters, citizen and group status.
[2] It is significant that South Sudan in its turn also activates agricultural projects, however, with Israel.
Persistent Conflict and Instability Hamper the Recovery of the Central African Republic
According to the first issue of the Central African Republic (CAR) Economic Update published today by the World Bank, the deterioration in security conditions and the humanitarian situation is dampening hopes for a robust economic recovery in the Central African Republic. After peaking at 4.8% in 2015, the growth rate slowed to 4.5% in 2016 and 4.3% in 2017. Despite the optimism prevailing since the 2016 presidential election and the government's promising fiscal consolidation policy, the CAR remains a fragile state that could draw lessons from the successful experience of other fragile states in order to sustain its peacebuilding and recovery efforts.
Titled "Breaking the Cycle of Conflict and Instability," the World Bank's publication provides an in-depth analysis of the factors creating fragility and proposes a number of avenues to achieve economic recovery. It identifies three essential prerequisites to break the cycle of instability and conflict: restoring security, combating impunity by guaranteeing compensation for the harm suffered by the victims, and promoting equitable and inclusive economic and social development.
"Without a doubt, the persistent insecurity is the biggest obstacle to poverty reduction, as each new violent confrontation between armed groups leads to additional displacement, destroys private property, and complicates the work of humanitarian organizations," said Jean-Christophe Carret, World Bank Country Director for the Central African Republic. "The protracted security crisis in the CAR is taking a toll on the capacity of the state to provide essential public services and goods in the areas of health, education, and water."
The report recommends that lessons be learned from other post-conflict countries such as Ghana, Liberia, and Rwanda, which have managed to put prolonged periods of instability behind them.
"The experience of these countries underscores the importance of promoting the development of civil society in order to consolidate democratic progress, strengthen public accountability, and enhance transparency while implementing a pragmatic set of policy and institutional initiatives to achieve gradual but steady improvement in the quality of the public service," said Souleymane Coulibaly, World Bank Lead Economist for the Central African Republic and publishing coordinator for Economic Updates.
The new Economic Updates series for the Central African Republic will review economic trends in the country on a biannual basis in order to help the government and its development partners identify new opportunities and tackle persistent challenges.
Mauritania Conference : AU Reopen Western Sahara File
Since the kingdom of Morocco left the OAU in 1984, the Kingdom's participation with the African states has been seen by its enterprise involvement in several fields like oil imports and humanitarian aid. At the end of the 90s, under the King Mohammed VI rule, Morocco's African alignments accept a new measurement whereby, continental banking, commercial and economic exchanges took the significant stage in Morocco's re-engagement with the African States. The main objective for this collaboration and mutual African team banding was to build up a solid South-South strategy cooperation, tapping into Morocco's longstanding historical, cultural, geopolitical and economic band with the African continent.
On the beginning of July, the 31st Ordinary Session of the African Union(AU) meeting, which took place in Nouakchott, the capital of Mauritania which is expectedly going to discuss a report on the Moroccan Sahara Issue.
Depending on the African Union calendar released, this meeting will hold the presentation of three main reports, including a report on the Moroccan Sahara Issue, conferred by Moussa Faki Mohamed, Chairman of the AU Commission.
Basically, this is the first time that the Western Sahara dispute has been conferred with the calendar of an African Union conference since the Kingdom's return to the African organization last year, after it had left the country three decades ago because of the same issue, which necessitates the kingdom of Morocco would face any challenge to its national case as its priority .
On Thursday, Moussa Faki Mohamed, head of the African Union Commission in Morocco, met with King Mohammed VI, Prime Minister Saad Eddin Othmani and Minister of Foreign Affairs and Cooperation Nasser Bourita, along with some of the King's advisors to discuss the Sahara Dispute which is a report in AU.
The communiqué issued by the African Union on Vicky's visit to Morocco did not refer to the Sahara issue with Moroccan officials. The communiqué issued on Friday made reference to the role of the Kingdom in the Union Foundation, as well as issues of major concern.
The Moroccan government refuses the inclusion of the Sahara report in the AU calendar and esteems the report to be an exclusive competence of the United Nations, especially in the presence of a total of parties opposed to the Moroccan proposal, led by the separatist Polisario Front, supported and financed by Algeria and some other countries.
Additionally, to offering a report on the Moroccan Sahara Issue, it is anticipated that the 31st AU Meeting, on 1 and 2 July, will show a report on the tools and implementation of the institutional reform decision of the African Union by Paul Kagame, President of the Republic of Rwanda. Additional report on the Africa-Africa Free Trade Area will be handled by Mohamed Essovo, President of the Republic of Niger. Moussa Faki will come up with another report on the African Common Position on the African, Caribbean, and Pacific countries beyond 2020.
This African Union Agenda also includes the presentation of the subject of the year on "Victory in the struggle against corruption: a sustainable path towards African transformation", to be seen by Mohamed Boukhari, President of the Republic of Nigeria, to be pursued by a debate by the Conference. The concluded sessions will argue the discussion of the activities of the Peace and Security Council on Africa, in which Morocco won a seat months ago.
The calendar of the African Meeting contains a report on the implementation of the African Union's main roadmap for practical ways to silence guns in Africa in 2020, the adoption of the AU's 2019 budget and the ratification of appointments in the Federation's institutions.
Morocco's acquisition to the African Union will undisputed change the policy of how the Pan-African organization stands the Western Sahara file. Despite Morocco's diplomatic orientation to refine solving the Sahara dispute in a pragmatic way, its policy will sustain the same as for the acceptance of the SADR is concerned. The kingdom of Morocco is likely to endure its changeless policy to delegitimize any declare or allege of the Polisario in its search for being an independent state. It will also try to undermine the political impact of the Polisario leadership and its keen supporters, South Africa and Algeria.
At the same time, to disband the SADR from the African Union will be a weak mission, as the latter can only discourage other countries whose governments were agreed towards unconstitutional layers. Several African states refuse to disband the SADR. Regardless of Morocco's intense African policy calendar and huge commercial economic projects, there stay countries who still cover the Polisario leadership. For instance, the case of Nigeria, which get advantage from Morocco's economic bonus, continuing exercises its position to support the Polisario in their faith for independence.
Currently, the Kingdom of Morocco has used its diplomatic and economic might to return its empty seat at the African Union, it has to bestow that it is a capable partner whose membership will favor the African Union, therefore, solving and resolving the deadlock of an African colonial dispute. In contrast, the SADR can also urge for a resolution by sustaining powerful AU member states endorsement, especially, South Africa and Algeria, to guarantee the Kingdom of Morocco brings up some sort of a win-win barraging agreement.
New Somali Business Fund Creates Jobs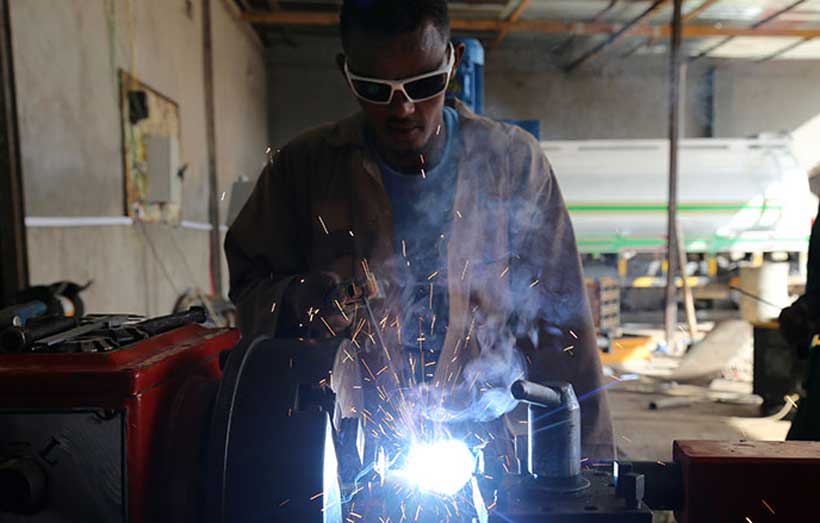 Sahal, a dairy farmer, is CEO of Bovine Industry, an urban dairy farm in central Mogadishu. The company cross-breeds Somali cattle with Jersey cattle to produce higher-quality milk.
"Mogadishu is the only capital in the world where you can't buy fresh milk," Sahal said. "How can a country that exports the most livestock in the world not have fresh milk?"
Despite the clear need for fresh milk, it has been difficult for Sahal and other small and medium enterprises (SMEs) like his to access capital to grow their businesses. That was before the November launch of the Somali Business Catalytic Fund (SBCF), which aims to spur economic growth in country by supporting SMEs and entrepreneurs.
With support from the SBCF, Sahal was able to fit his backyard business with grazing grass and fences. The demand for fresh milk is soaring, with an average waiting list of three months for a single liter. Soon, Sahal will be able to increase his herd of 15 cows, producing more milk and allowing him to employ more people. He believes that development should be based on grassroots needs, and simple supply/demand analyses.
"Farmers have the knowledge to pasteurize milk, produce yogurt and expand the Somali dairy sector," he said. "We just need the machinery and capital to make it happen."
SBCF, the Bank's flagship job creation initiative in Somalia, targets businesses that focus on innovative processes, products and markets new to the region. It is also intended to stimulate the business and technical services industry to build sector expertise in agriculture, livestock and energy, among others. So far, the SBCF has selected 101SMEs across the Somali peninsula – South Somalia, Puntland and Somaliland — to receive financial and technical support. The selected firms are expected to generate more than 2,000 jobs.
"Poverty reduction in Somalia must be private sector-led. We have relied on traditional aid since the early 1990s, and handouts have not been a sustainable method to reduce poverty," said Sahal. "I believe that access to capital is crucial for both job creation and dignified poverty reduction."
Asli Health Care Company, based in Hargeisa, has also benefited from the SBCF. The company's manager, Nemo Yusuf, founded the company after she and her partners studied imports to Somaliland. Through a market study, she and her partners studies the viability of producing beauty products and creating jobs in the process.
"We observed an excess of imports of personal healthcare and beauty products from China and the Middle East, most of which could be produced domestically," she said. "Our study confirmed that we could produce and sell shampoo, soaps and detergents competitively," she said. "A reality that is too familiar with Somalis is that we import most products, when we should be producing them."
Through the SBCF, Yusef was able to purchase high-speed manufacturing equipment, allowing her to produce shampoo bottles that limit waste from importing more plastic.
Her company is also supported through the SME Facility (SMEF). SMEF provides technical assistance and business development services to assist Somali entrepreneurs to launch, manage, and grow successful businesses. Asli and her partners were trained in budget planning, finance, and human resources training, which is helping their business become more effective. SBCF and SMEF fall under the Somali Core Economic Institutions and Opportunities (SCORE) Program, which is funded by the World Bank's Multi-Partner Fund (MPF).
Armed with this knowledge, Yusuf and her partners have expanded their business. They created a sachet-packet shampoo line as a new product.
"There is a demand for one-time use 10 milliliter sachets, especially among young people and those who cannot afford full bottles," Yusuf said. "We are in the process of manufacturing our own bottles to drive prices even lower."
Challenges in Hargeisa are similar to those in Mogadishu, where Yusuf said "accessing capital is probably the main constraint to private sector growth." There are also challenges such as the availability of skilled labor, supply-chain issues related to infrastructure, affordable energy and economic policies that support private sector competitiveness are also prominent.
Yusuf can see the results in Hargeisa, where the large market could be used to create jobs for young people as well as keep currency in the market and limit inflation.
"Our company is managed entirely by fellow citizens," she said. "We have employed an additional 17 people to support the expansion of our company, of which most are young people. A third of our employees are women."