Possibility of a New Round of Conflict in Sudan
On April 19 Sudanese President Omar Hassan al-Bashir declared that disputes with South Sudan would be solved by military means.
He also repeated that he would cease domination of the Sudan People's Liberation Movement (SPLM) in South Sudan. This declaration followed the day when al-Bashir declared war on this country and promised to overthrow the SPLM's authority in Juba. In his TV-address broadcasted by Sudan TV al-Bashir declared, "We have already decided to settle our problems by war" and "square all accounts between the two countries".
Al-Bashir's reaction was the response to the loss of control over Heglig which is one of main oil regions in Sudan. Sudanese Army managed to prevent intervention of the largest rebel group in Darfur Justice and Equality Movement (JEM). With the support of South Sudan Army this formation tried to pass Heglig to Kauda in order to join the main rebel forces in South Kordofan. However, on April 10 after counterattack of the 4th division of Sudan People's Liberation Army (SPLA) South Sudan took control over about 75% oil deposits remained within the territory of Sudan after its partition.
Analysis and Forecast
We consider that current battles between Khartoum and Juba have gone beyond the conflict stipulated by current contradictions relating to distribution of oil export revenues. Seizure of Heglig by forces of South Sudan has become an obvious violation of territorial integrity of Sudan. In addition, it is significant that previously al-Bashir many times declared his readiness to negotiate on wide range of matters provided government of South Sudan[1] undertakes to cease supporting armed groups in Blue Nile and South Kordofan. However, at the beginning of April an operation in Heglig performed by part of ruling elite of South Sudan headed by President S. Kiir ruined ratification of agreement obtained in the course of negotiations in Addis Ababa during March-April 2012. Thus, according to our estimates, today actions of South Sudan are directed more on erosion of al-Bashire's regime than on reaching agreements concerning division of oil export revenues. Today it becomes obvious that there is no alternative to sustainable export routes for oil supply from South Sudan within mid-term period. However, continuing confrontation between these countries shall facilitate worsening of political situation, humanitarian crisis development and, as a result, further destabilization of the situation in region.
Keeping tension in relationship with Juba promotes split in North Sudan elite, restricts financial opportunities for Khartoum and weakens it. Cutting Khartoum off financial flows leads to strengthening of Khartoum political forces opposed to al-Bashir regime such as, e.g. of National Congress Party (NCP) and its leader Hassan al-Turabi. His alliance with Sudan Revolutionary Front may launch rebellion mechanism in Sudan according to Lybian scenario.
However, according to our opinion fall of al-Bashir's regime is unlikely to lead to positive outcome for Juba. In connection therewith recent conflicts must, for both Kiir's and al-Bashir's environment, present more reasons for further bilateral negotiations on tenders for export revenues distribution.
At the same time, such policies may be corrected by means of interference and interests of external players. Thus, on April 10 in port of Mombasa, Kenya, two ships were unloaded carrying Chinese weaponry and military equipment for Juba.
China's interest in support of South Sudan is stipulated by several factors. First, its support may allow Beijing to increase diversification of oil supplies which already make 5% of PRC's carbon import and 80% of oil fields in South Sudan are owned by Chinese CNPC. Such diversification shall lower risks for Beijing in case of situation exacerbation around Iran which is one of largest energy carrier suppliers to China.
Secondly, PRC is large investor in Greater Nile Oil Pipeline which is object of conflict between the two countries in matter of oil export revenues distribution. Beijing is also the largest shareholder of two leading Sudanese oil extraction consortiums and investor in railroad infrastructure. However, after declaration of independence of South Sudan and loss of the most part of the oil deposits al-Bashir's regime has activated contacts with Persian Gulf countries. The result of this was contract with Saudi Arabia on provision for use of 2 million acres in Port Sudan district for the purposes of agricultural farm construction. The contract provides for establishment of Saudi jurisdiction within the territory and exemption of all types of taxation for investors. The Project is directed to provision of KSA with all necessary food products within 75% of total import volumes what will lead to decrease of export share to Riyadh from USA, India and Australia[2]. In addition, this will allow Sudan itself to provide food security. This step is an obvious convergence between Sudan elite and Gulf countries. In the context of "Arab vector" strengthening it is necessary to consider Khartoum initiatives relating to establishing confederation with Egypt which may be regarded as an attempt to escape under the wing of "Muslim Brotherhood".
Similar diversification on the part of Sudan reduces investment opportunities for China, which is actively purchasing agricultural lands on African continent on one side and, on the other side, inflicts strike on Washington's influence on Arabian monarchy. Political and economic convergence between Khartoum and KSA and Gulf countries might become trigger for growth of pressure on al-Bashir.
We consider that the key target of current processes within the region is review of territorial status of Abyei district with largest undiscovered oil reserves of potential exceeding that of South Sudan. Activity of rebels close to Juba may provide return to Abyei of Dinka tribe representatives dominating in South Sudan. This will create conditions for raising a question of Abyei and Juba merger. This scenario will allow for cutting Khartoum off promising oil fields, decreasing financial takings and thereby reducing opportunities for further islamisation of the region by Sudan.
Thus, we think that granting independence to Juba is not the end of Sudan split. This can explain restrained reaction of the West to Juba's operation in Heglig.
---
[1] Boundary demarcation, oil matters, citizen and group status.
[2] It is significant that South Sudan in its turn also activates agricultural projects, however, with Israel.
U.S. Policy on Zimbabwe Leaves Door Open for China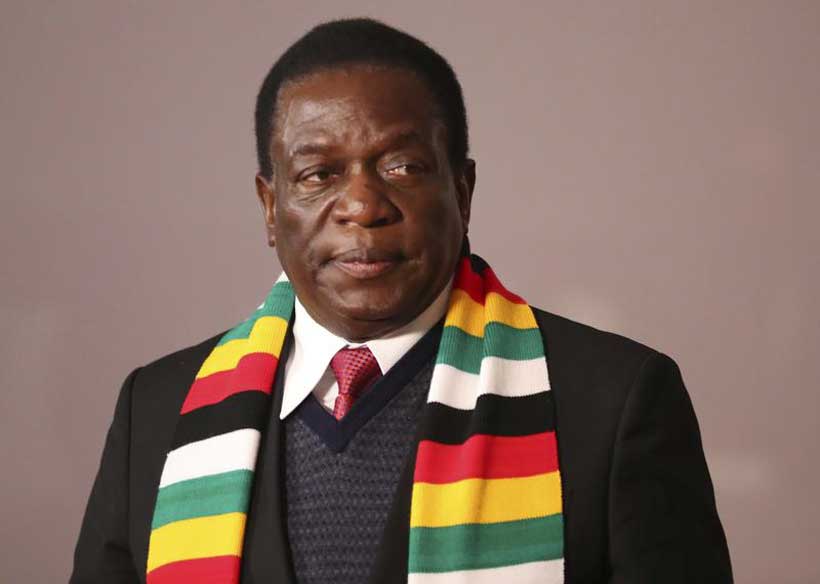 The clearest image yet of the failure of United States' policy towards Zimbabwe was on display last week when President Emmerson Mnangagwa toured the site of his country's new parliament building, funded by the Chinese government and being built by a Chinese contractor.
Scheduled for completion by March 2021, this $140 million building at Mount Hampdennear Harare will stand six stories tall as the largest building in Africa funded by China. It will soon be the seat of Zimbabwe's democracy as the country ends its decades of isolation. But rather than western democracies coming forward to support Zimbabwe in this transition, it is China which has filled the gap.
"We cannot tire in repeating our sincere and deep gratitude to China for the magnificent gesture…we are grateful," President Mnangagwa said as he toured the site.
According to the Johns Hopkins School of Advanced International Studies in Washington, China extended loans worth $2.2 billion to Zimbabwe during 2000-2017.Recent loans have been awarded for the upgrade of Harare's airport as well as construction of the Hwange 7 and 8 power plant project.
The West, on the other hand, has stuck to sanctions as its foreign policy tool. These were first imposed on Zimbabwe in the early 2000s by the U.S. and European Union in response to the alleged crackdown on political opponents by former president Robert Mugabe. This included financial and travel restrictions against specific individuals and companies.
Many of these measures are still in place today despite Mugabe's resignation in 2017 and Mnangagwa's election last year. The EU, however, has begun to normalise its relations with Zimbabwe, with only a few sanctions remaining. The start of political talks in June was perceived as a positive sign towards abandoning all EU sanctions in the near future.
An EU memo ahead of talks in Harare last week, noted that Zimbabwe has made progress by not enforcing its empowerment law, which would have required all foreign investors to cede at least 51% of their shares in local operations to Zimbabweans.
The memo also said the government's interim compensation of white farmers whose land was seized under Mugabe was a positive gesture towards re-opening export markets in the EU. In a budget statement last week, Finance Minister Mthuli Ncube set aside $24 million to compensate white farmers, 768 of whom had consented to the interim compensation scheme.
The U.S., meanwhile, has maintained wide-ranging sanctions, at least until March 2020. Officials in Washington claim this is due to Zimbabwe's failure to change laws curbing protests and media freedoms – a strange assessment since Mnangagwa's government is currently modernising 30 Mugabe-era laws to meet Western standards. A controversial emergency law has already been replaced, and media laws are being replaced with new legislations currently in Parliament.
Following decades of open hostility with Zimbabwe, the West is now jeopardising the opportunity to work constructively with the Mnangagwa government. Under Mugabe, Zimbabwe had actively pursued Chinese investment under his 'Look East' policy. But after Mugabe resigned, Mnangagwa said restoring ties with the West and western financial institutions was one of his major priorities.
That was the moment when the U.S could have helped turn Zimbabwe around, bringing in international investment and technical knowhow. But the U.S. instead chose to extend its sanctions, leaving Zimbabwe's economy reeling from high inflation and power shortages, exacerbated by the effects of climate change. Despite signals of keeping the door open, the Mnangagwa government is slowly but surely being forced to turn back to the arms of a willing China.
Guo Shaochun, the Chinese Ambassador to Zimbabwe, summed up the West's short-sighted approach."No country is perfect. No country knows Zimbabwe better than Zimbabwe. Zimbabwe doesn't need other countries to teach it to do this or not to do that. Zimbabwe needs real partners and real help without any political conditions. Zimbabwe has the wisdom & ability to address its own issues," Guo tweeted on November 16.
At the site of Zimbabwe's new parliament, President Mnangagw aexpressed his frustration last week, saying Western countries had done "nothing except criticise" Zimbabwe.
"Those countries who speak against our relations with our good friends have done nothing except to impose sanctions on us," the president pointed out.
The situation is not yet completely lost, however. If the U.S. were to reach out to Zimbabwe and acknowledge the painful reforms undertaken by Mnangagwa, it could still turn this southern African country towards the West.
The U.S. should also immediately allow Zimbabwe access to international lending agencies and provide technical expertise that is urgently needed, and, above all, eliminate sanctions when these come up for renewal in March.
Winning the hearts and minds of Zimbabweans – the most educated population in Africa – will take more than the 'stick' approach that has been tried so far; a 'carrot' will do the work much better. If the West doesn't grab this opportunity, then it should not be surprised when China steps in to reap the benefits.
A New Currency Offers New Hope for Zimbabwe
For many Zimbabweans queuing up outside banks last week, it must have felt like the beginning of a new era. A decade after the Zimbabwean dollar was abandoned after falling victim to years of hyper-inflation, crisp new "Zimdollars" have once again entered circulation. However, this time around the denominations come – at least for now – in two and five dollar bills, instead of the 100 million dollar notes that were printed towards the end of the last Zimbabwean dollar.
This new generation Zimdollar is the latest salvo by the government to combat the physical cash crunch and a crucial step ahead in its currency reforms. The Reserve Bank of Zimbabwe plans to incrementally inject $1 billion into the economy over the next six months, stimulating demand and production in a measured manner while keeping money supply in check.
"We will make sure that we drip-feed the physical cash into the market in order to ensure that there is sufficient cash in the economy," said central bank chief John Mangudya. "We believe this will also help in eliminating queues at the bank where people spend countless hours of productive time queuing for cash."
Mangudya added that the new Zimdollar would take the place of existing electronic money, alleviating the fear that the cash injection in the middle of an economic crisis would stoke inflation. Keeping price increases and speculative behaviour in check is also one of the reasons why the Reserve Bank is initially issuing lower denomination notes and coins.
For Zimbabweans, the new cash is a welcome relief. Over the past 10 years, they had to juggle a multitude of currencies and proxies. Following the collapse of the old Zimbabwean dollar in 2009, a basket of currencies became legal tender in the country, from the US dollar to the Chinese yuan. By 2015, the foreign currency notes dried up at the banks, which started the chronic cash shortage in Zimbabwe. The central bank introduced bond notes as a surrogate currency, but black market speculation quickly eroded their value, which then triggered the creation of electronic notes.
Given Zimbabwe's disastrous state of affairs, a popular uprising ensued against the country's long-time strongman Robert Mugabe, leading to his resignation two years ago. He was replaced by Emmerson Mnangagwa, who then won the presidential election in July 2018. He inherited a struggling economy marked by hyperinflation, cash shortages, a budget deficit, endemic corruption and a lack of monetary sovereignty.
Promising wide-ranging reforms, Mnangagwa appointed MthuliNcube as Finance Minister, a respected economist who was a professor of Public Policy at Oxford with a PhD in Mathematical Finance from Cambridge University. Mnangagwa tasked him to stabilise and transform the Zimbabwean economy so that it could achieve upper middle-income status by 2030, in line with countries such as Russia, China, Thailand, Costa Rica, Turkey and Malaysia (in fact, Zimbabwe was upgraded by the World Bank from a low income to lower middle income country in July).
Facing large fiscal deficits due to the expansion of underground economic activity and the sanctions imposed on Zimbabwe during Mugabe's rule – which restricted access to U.S. dollars – Ncube launched the Transitional Stabilisation Programme (TSP) a year ago with far-reaching currency and structural reforms. The move was endorsed by the International Monetary Fund (IMF), with whom Zimbabwe signed a two-year monitoring programme that could earn it debt forgiveness and future financing.
In February this year, the government introduced the so-called Real Time Gross Settlement (RTGS) dollar and abandoned its multi-currency system four months later. By now, most Zimbabweans had resorted to mobile money, which became an integral part of the country's payment system. But it too had its challenges, as wallet holders had to pay premiums of up to 50% to price-gouging mobile money agents to access their funds in cash. This contributed to the rapid depreciation of the currency and compounded the cash shortage. This month's issuance of the physical Zimdollar bills aims to alleviate that problem, as the availability of cash will eliminate the extortionate premiums incurred when transacting through mobile money.
The new currency likely faces an uphill battle. But the government is confident, urging Zimbabweans to embrace the freshly minted bills and coins to ensure they find traction in the market. Leaders from politics, business and civil society need to play their part as well, shedding their differences and quarrels and rally collectively behind the Zimdollar.
Its roll-out comes at a critical time for the government's reform agenda, coinciding with the presentation of Zimbabwe's 2020 budget, which revolved around enhancing productivity, growth, competitiveness and job creation, and the passing of the Maintenance of Peace and Order (MOPA) bill, which replaced a controversial emergency law that dated back to the Mugabe era, a key demand by the U.S. government to remove sanctions.
Implementing reforms – especially after decades of mismanagement – is a painful process and Zimbabweans are tired. But with political will tangible results are gradually being achieved. The country may be on the cusp of a better future, finally putting the years of isolation behind it. Perseverance and collaboration will help to ease the way.
The Geopolitics of natural resources of Western Sahara
In the post-bipolar international legal literature, the right to self-determination is part of the broader concept of human rights, and the only aspect of self-determination that remains in current international relations is the right to self-determination for peoples to dispense with their natural wealth, a concept related of the right of development.
Western Sahara is regarded by the UN as the last colony in Africa. However, Morocco continues to occupy the Saharawi territory without any respect to UN resolutions on decolonization. The main driver of this colonisation is natural resources.
In fact, with the natural resources of Western Sahara that Morocco buys the political positions of the States, to finance lobbyists in the EU and the USA to defend the Moroccan thesis of occupation, and at the same time to develop its internal economy and encourage the movement of Moroccan populations to Western Sahara, to make Sahrawi a minority in their homeland.
Natural resources determining factor in conflicts
There is a high likelihood that most of the important (armed) conflicts in our twenty-first century will be those concerning resources. All the conflicts have an economic aspect, with greater or lesser weight in their emergence and development. Indeed, the French sociologist Gaston Bouthoul states that Germany had to resort to the 1914 war as a result of the too costly economic struggle that it had sustained against others great industrial and exporting powers.
With the same idea, the famous phrase of the Prussian strategist Carl von Clausewitz "War is not an independent phenomenon, but the continuation of politics by different means", one could say that geopolitics is nothing more than the concentrated expression of geo-economics.
This left Lenin the leader of the Russian Revolution of 1917, to observe that "politics is the concentrated expression of the economy", something that we live and that is perfectly valid for all times, economic aspects have been the main engine of interstate relations, the economic realities that truly set the pace for the rest of the politics, including the bellicose or the pacific, which leaves Napoléon Bonaparte to say, "war is done with three things: money, money, money".
The natural resources and their economic exploitation have contributed, and continue to do so, to favour a kind of occupation of the Western Sahara Territory, which would introduce a more complex resolution of a conflict encysted for more than forty-four years.
The marginalized and impoverished of Saharawi people, whether during the Spanish colonial era or during the Moroccan colonial period
We can say that the economic side of the colonialism phenomenon constitutes the decisive characteristic feature of Spanish presence in Western Sahara. Indeed, the international economic crisis which began in the 1870s contributed to the origin of spurred Spain to rush its colonization of the southern flank of Western Sahara, while the other parts of Western Sahara were only pacified late in 1934, by stimulating the imagination of those caught up in it to find means of escaping from a precarious situations.
Historically, since 1884 and until the arrival of the Franco in power in Spain, Western Sahara, had an essentially economic value, both for its proximity to the old caravan routes, and mainly for the very rich fishing bank that runs along its coasts, since one of the most important in the world and has represented the grease between both banks along of history. In addition, the political interest of Western Sahara lay in its geostrategic position in the Atlantic as a rearguard of the Canary archipelago.
The occupation of Western Sahara aims to build up a powerful national economy, whose production is geared to the needs of the mother country while isolating the colonial economy which is just the supplier of the raw materials needed for the economy of the colonial state. This will be amplified with the exploitation of Saharawi phosphates in the region of Boukraa in 1967.
In view of these 44 years of Moroccan occupation of Western Sahara, the Moroccan practice use the same process as that of the Spanish colonial era. In fact, Morocco will start relentlessly to exploit the natural resources (fishing, phosphates, agriculture, other precious metals solar and wind energy, ) of the Saharawi people while marginalizing indigenous populations, by favouring Moroccan settlers who today represent an undeniable majority in the daily life of the occupied territories.
Spain and Morocco they have an important common denominator, that of being despotic regimes and their objective aims to eliminate Saharawi political and cultural identity. However, the international law of the Non-Self-Governing Territories distorts the equation of the colonizing country
The low profile of UN action in Western Sahara to protect the natural resources of the Saharawi people
In 1975 the International Court of Justice (ICJ) Advisory Opinion insisted that the people of Western Sahara should be fully decolonised and allowed their right to self- determination.
From then until today, this opinion has had its political and legal importance, since it has served as a support for the Polisario Front position and explains in a clear way the favouring votes to the self-determination of the Saharawi people within the AU and UN.
The legal aspect will be strengthened in favour of the right of the Saharawi people and their sovereignty over their natural wealth in the opinion of the UN legal counsel Hans Corell stated succinctly in 2002,in accordance with the international law, one cannot exploit the natural resources of an occupied country without the express consent of the indigenous population. To do so is plunder.
These legal instruments in favour of the Saharawi people will be reinforced by the two judgments of the European Court of Justice of 2016 and 2018 regarding raw materials exploited by Morocco with connivance and complicity of some EU states.
However, like MINURSO the only mission of the UN without wings to supervise the human rights in Western Sahara, so how will be protected the natural resources of the Saharawi people:it is a bubble dream.
You have to notice, the discrete role of the UN which is constant, already in 1975, Spain retired without holding the referendum of self-determination, we see that the Security Council does not show a special interest, it is more likely favourable to the role that Morocco plays in the area as an ally of France and Europe from the geostrategicpoint view to leave the situation as it is in an endless status quo.the UN is unable or unwilling to force Morocco to respect the referendum.
We can conclude that the UN has never taken a firm and clear position around Western Sahara and has never used all the mechanisms at its disposal, as would be the use of Chapter VII of the UN Charter and maintain the application of Chapter VI concerning the peaceful rule of controversy and supports negotiations between Morocco and Polisario, as if they are two equal parties.