Pakistani peace road-map or the return of 90s to Afghanistan
A so-called summit held in Shantein a suburb of Paris in which Taliban, Hiz-e-Islami, Northern alliance [National Front & National Coalition] and Afghanistan high peace council and some affiliates of former PDPA took part.
France Foreign Minister Laurant Fabius, while speaking to RFT radio, said president Karzai had given green lights to the peace meeting. In addition, almost all of the participants were content with the overall discussion taking place at the summit, as well as the major regional and international players including the United States (except the peace-loving people of Afghanistan and India, the fifth largest contributor of Afghanistan innovation series). Therefore, it needs further analysis and research to find out the real grounds and upshots of the so-called peace summit.
Sources close to Defines Clandestine Service (DCS) say that president Karzai is believed to have offered a significant role for Pakistan. In other words, Pakistan and Karzai have come up to politicize Taliban via this measure. Other sources close to National Clandestine Service of CIA say that Pakistan thrust Taliban to assemble with Northern Alliance, the former foe of Taliban. It gives the impression that Pakistan has modified its guiding principles towards Northern Alliance as Pakistani Ambassador Mohammad Sadiq indicates he is one of vital diplomat at ministry of foreign affairs of Pakistan. Its mission is to focus overseas Pakistani to play a more active role in their adopted countries, developing their databases and electronic mass mailing system along with revision of Pakistan guidelines towards warlords association branded as northern alliance. Ambassador MS arranged scores of meetings at Pakistani embassy in Kabul to enlighten the key members of the Northern Alliance in relation to the Pakistan policy alteration. The reality on the ground illustrates Pakistan ambitious strategy has yet to be revolutionized. It still endeavors to make Afghan authorities to recognize Durand Line as officially demarcation of Pak-Afghan borders, punt India form Afghanistan's political and economic arena. During the number of summits Pakistani authorities yearn for further elucidation of Indian Consulates Company in Kandahar and Nangarhar provinces of Afghanistan.
Pakistan accuses the Indian consulates plotting against Pakistan. ISI and other sensitive Pakistani institutions criticized Afghan-Indian strategic ties most specially the strategic treaty in this perspective Pakistani authorities point the finger at Indian obliteration of Pakistan role in Afghanistan. Some issues including Durand line and expansionistic character of India in Afghanistan and in central Asia made Pakistan to revise its policy towards northern alliance, the Pakistani authorities are convinced that northern alliance is geared up to recognize the Durand line as an official demarcation. Taliban and Hizb-e-Islami led by Hikmatyar are already in favor of Pakistani side furthermore, having northern alliance on their side; Pakistan can have trouble-free admittance to the central Asian markets. That is why Pakistan desires for establishing a new coalition government consists of Hizb-e-Islami, Taliban and some warlords within the team of president Karzai and the northern alliance. Pakistan arrangement is that the coalition government ought to be led by the northern alliance. Keeping the northern alliance in power Pakistan in one hand lashing out India from Afghanistan, easy access to central Asian markets on the other recognition of Durand line if northern alliance will not cooperate with Pakistan then military authority of Pakistan can effortlessly amass Pashtuns, Taliban and Hizb-e-Islami to overthrow the northern alliance government. Subsequently, one essential query hangs about that why France interestingly host the peace talks sources close to western sensitive organization say France DST and Pakistan ISI made a secret give and take deal, in this deal Pakistan notified Taliban not to assault French non-combat forces in Afghanistan and in return France to host any summit to bring together different antagonistic crowds.
It seems the U.S. as well props up Pakistan road map for peace building in Afghanistan, in spite of India's fret according to the report of Times of India that the U.S. and Pakistan made a secret deal to sustain Pakistan perception, U.S. undertakes rapid drawdown of its forces moreover according to World Socialist Website The top US military commander in Afghanistan has warned that India's growing influence in the country could "exacerbate regional tensions" and encourage "countermeasures" by Pakistan, India's historic rival in south Asia.
In a confidential report submitted to US President Barack Obama on August 30, General Stanley McChrystal wrote, "Indian political and economic influence is increasing in Afghanistan, including significant development efforts and financial investment. In addition, the current Afghan government is perceived by Islamabad to be pro-Indian. While Indian activities largely benefit the Afghan people, increasing Indian influence in Afghanistan is likely to exacerbate regional tensions and encourage Pakistani countermeasures in Afghanistan or India."
Furthermore, the disparity between U.S. and India is obvious now; the Indian active input in BRICS, annulment of $12 Billion contract to procure American fighter jets, Indian withdrawal from joint military exercise in South China Sea and restriction on export of high-tech, the said elements rams U.S. to take Pakistan side to replicate the end of cold war era and leave Afghanistan on its own and stare at political developments from Pakistani slant. Pakistan stance in the mark of peace talks is to deal out political power amongst adversary warlords; the return of 90s a position that Pakistan got gratification from of its most dominant role in Afghanistan.
Consequently, amiable people of Afghanistan are susceptible to any measures taken by Pakistan in the designation of peace building. Hence, Afghans insist United Nation, United States and Afghan democratic elements take the lead. Beside immense diplomatic and political pressure, it should be laid on Pakistan to abandon its tactical practice of peace building. Instead spotlight on strategic procedures for peace building and overlook its strategic depth in Afghanistan. In the meantime it is incumbent on Afghan government to adjust its foreign policy to set up regional balance in order to shun aggravation of regional tensions. Along with calling for further democratization, rule of law, good governance, and sustainable economic development, the International Community, Regional Leaders, and Afghanistan should pave the way for lasting peace to be ascertained in the country. The continuous dialogue between Afghanistan and Nations that have gone through similar experiences will be extraordinarily helpful. There is no "silver bullet" single solution to these issues Afghanistan faces. All of the solutions will also take a long time to develop. But by refusing to do the simple parts stated above it will only take that much longer. This country is heading into a completely new phase of forward motion development. It will also take a new way of thinking and acting by every Afghan citizen, including politicians, for success to occur and entrance into the Global Community to be something more than a farce.
Webinar: Kashmir Outside the Crosshairs- Does Anyone Care about Kashmir?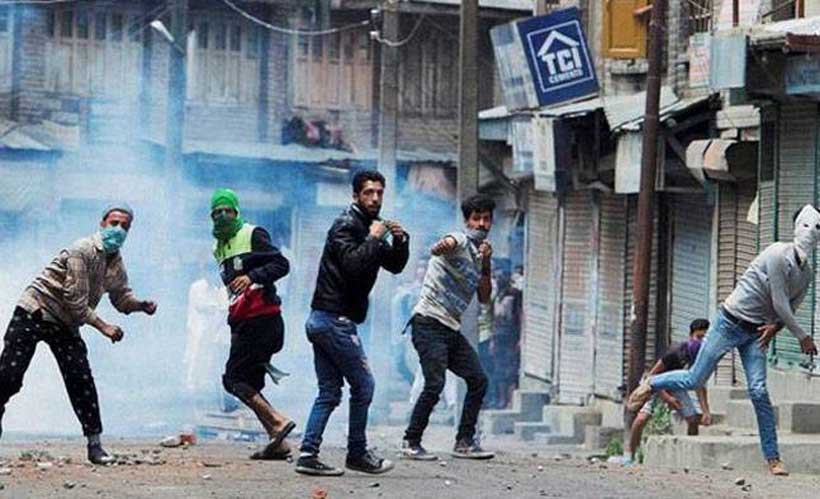 Join Modern Diplomacy and our Executive Vice Chairman, Prof. Matthew Crosston, for a Live Intelligence briefing / Webinar, on Sunday September 29 at 18:30 (IST) to learn:
* Why does the US continue to ignore Kashmir but give loads of attention to every country around it?
* Is it necessarily a positive if the US DOES start paying attention to it?
* What would be GOOD attention and what be BAD? Which one is the US likely to give?
* Can Kashmir ever be left alone to develop independently and not be a pawn of regional neighbors?
These and other controversial but critically important questions will be covered in an exciting intelligence briefing that will still allow for a dynamic, open discussion exchange with one the world's most recognized, accomplished and sought after Intelligence experts, Dr. Prof. Matthew Crosston, Executive Vice Chairman of Modern Diplomacy.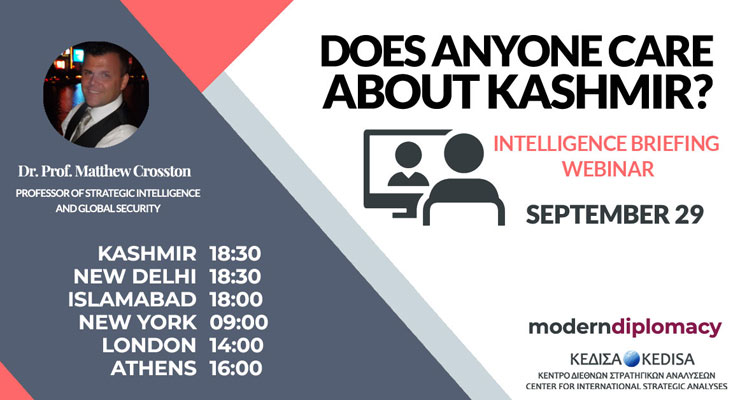 Dr. Matthew Crosston is Director over all Intelligence programs and Professor of Strategic Intelligence and Global Security in the School of Security and Global Studies at the American Military University. He is an acclaimed author and international speaker who consults with governments, media organizations, and academic institutions on a range of issues covering peace mediation, human rights conflicts, resource dilemmas, intelligence, change leadership, and education innovation. His works overall have been translated into Russian, Arabic, Chinese, Indonesian, Hebrew, Spanish, Turkish, Farsi, Greek, and Uzbek. He has a BA from Colgate University, MA from the University of London, PhD from Brown University, and completed his Post-Doctoral Fellowship at the University of Toronto.
Modern Diplomacy and Center for International Strategic Analyses
Secularism in India: Disparity in theory and practice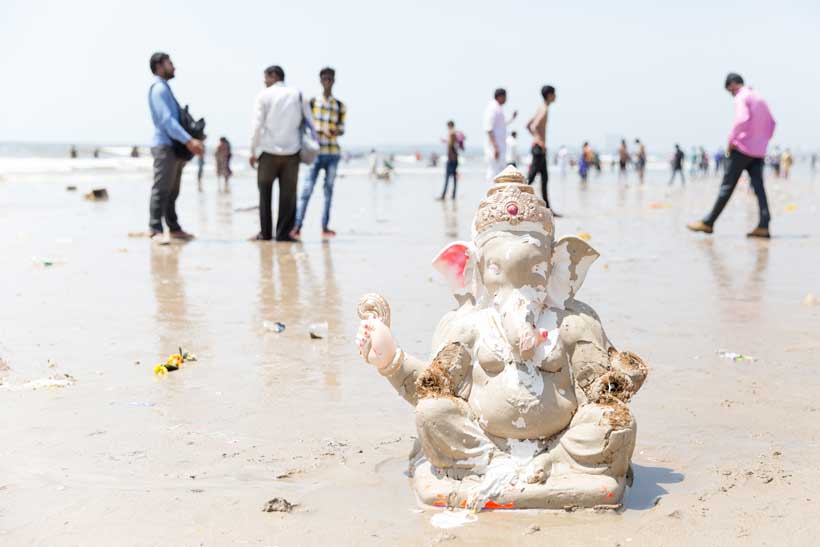 Authors: Areeja Syed and Kinza Shaheen*
Secularism is adopted by most of the contemporary states. The three intrinsic principles of secularism are freedom of belief, that every person living in that particular state has his own belief system and he can believe and worship any God, second is the institutional separation and third is the 'no discrimination' on the basis of religion. The largest democracy of the world, India claims to be a secular state. There were various reasons to declare a state as a secular, in which one was domestic reasons and other was global. If we talk about the internal reason, we know that most of the people in India follow the religion of Hinduism, but apart from Hinduism there are many religions such as the Islam, Sikhism and Buddhism etc. The state of India declares itself as a secular to get the support of the heterogeneous population. As far as the global reason is concerned, India proclaims itself as a secular state to portray a positive image in the world.
Secular means equality, so in western states it depicts a positive image that these particular states have equality for every individual. For that reason, India following the notion of the western states declared itself as a secular state. However, the record of India in religious bigotry is quite disappointing. Minorities are not enjoying equal rights as enjoyed by the Hindus in India. It is adopting the policies of 'Hindutva' which shows the dominance of Hindus in every walk of life. On one hand it portrays a secular image to the world and on the other hand minorities like Muslims are beaten and even killed to eat the beef. Beef is one of the favourite hilal meals of Muslims. Moreover, most of the Muslims have businesses that are directly and indirectly related to the livestock. They slaughter the cows and make a living. Ironically, Muslims are being beaten by the Hindus either on the slaughter of cow and eating of beef. A lot of beef shops had been burned by the radical Hindus. They generate limitations on the Muslims to slaughter cows. How India could claims to be a secular state if a minority individual could not practice his own religion. The Indian media also added fuel to the fire by just giving biased and one sided stories in favour of extremist Hindus.
The ruling government of BJP is also silent over that biasness for the cause that there is Hindu majority in India and if they do anything to protect the rights of minorities, it will make Hindu fanatics discontented and they will lose their vote banks, they think rational too in terms of political gains. Francis Schaeffer says that just showcasing secularism is a more dangerous than the clear-cut discrimination. There are exceptionally stumpy numbers of political representations of Muslims in the politics.
Question arises that being the 2nd highest population of India, why much Muslims are not representing the Indian government? Kashmir is one of the major examples of human rights violation. Each day Muslims have been targeted by the radical Hindus. Indian military is killing the Kashmiri youth on daily basis. Most of the time, Kashmiris have to live under the curfew. However, curfew is the element of a dictator and an authoritative regime. The democratic and secular states view curfew as a violation of human rights. Since 1947, India remained unsuccessful to establish it writ over the Jammu & Kashmir. And so, India is adopting barbaric tactics to get hold of Jammu &Kashmir. Indian forces are making use of Pallet guns against the civilians. Incidents of braid chopping and rape of Muslim girls by the extremist Hindus and Indian forces are rising up. But the world has closed its eyes over the human rights violation in Jammu & Kashmir because India is emerging as an economic giant in the international forum. The International community is quiet interested in India due to its growing economy, its geopolitical location and a number of other elements. That is why; states are silent over the atrocities of India in Jammu & Kashmir.
The human rights violation in Kashmir gives an incentive to the freedom fighters to take up weapons to defend their rights. One can analyze this from two dissimilar perceptions. One is the discriminative behaviour of the state with that individual (who became freedom fighter later) which compel him to be a freedom fighter and fight for himself and his family, and second refers to the historical background of that individual, from how much sufferings he sees in his childhood on him n his family, that psychologically disturbed him and he had that thinking from his childhood that he will take the revenge when he grew up. In both of situations, India is solely accountable and responsible for creating Freedom Fighters in the Region.
Dissatisfied with the curfew and killing India is taking the territory of Jammu and Kashmir under the legal pretext to maintain its image as a democratic and secular state. On August 5, the President of India Ram Nath Kovind issued a presidential order to make applicable the provision of the constitution in the Jammu & Kashmir. The presidential order was approved by the parliament in a resolution. On August 6, 2019 the president nullify the article 370 of the Indian constitution that provides special status to the Jammu& Kashmir territory. With the nullification of the article 370, non-Kashmiris will be allowed to purchase land in the disputed territory which is likely to change the demographic of the Jammu Kashmir. India is targeting the minorities through such kinds of tactics to serve the interests of the Hindus. Democracy and Secularism gives equal rights to the citizens without creating discrimination on the basis of religion, colour and creed. If India continued the policies of persecution against the minorities than it will create further security problems for it. More and more people will take up weapons against the state when they see that state is backing the atrocities. It will lead India at the brink of collapse. If India treat everyone equally then it will also diminish the anger of freedom fighter and there will be no reason for unequally treated people to struggle against government. Hence Indian government need to look into this state of affairs in a quiet serious method or else in the Indian government will be responsible for the disputes and which will deteriorate their international image too.
*Kinza Shaheenhas done M.phil in International Relations from Comsats University Islamabad.
Chandrayaan-2 was really a failure, but for whom?
Before leaving Pakistan I had written an article "India's Space Diplomacy in 2017: Where Pakistan Is Standing?" published in Weekly Technology Times. In that article I highlighted the fundamental shift in how nations manage their international relations beyond the classic diplomacy and the attitude of Indian government/ISRO for technological capabilities in outer space as an effective tool of foreign policy. Additionally, I also compared the SUPARCO (subcontinent's oldest space agency) with ISRO in term of satellite launching and producing technology and how the focus of SUPARCO became countering India, rather than explore and investigation, research and development. That attempt was not only to draw attention towards the use of space dexterity to expand diplomatic influence to achieve Pakistan Space Vision 2040, but also soft power projection. Surprisingly, I received mixed comments from fellows and readers in the context of "patriotism".
The core motive to pen-down this article is to highlight the quote of Prof. Dr. Abdus Salam "Scientific thought and its creation is the common and shared heritage of mankind". Let's have a look on Chandrayaan-2 – Chandrayaan-2 was an Indian lunar mission that was supposed to go where no country has ever gone before (the Moon's South Polar Region). According to ISRO official credentials, "this mission will help us gain a better understanding of the origin and evolution of the Moon by conducting detailed topographical studies, comprehensive mineralogical analyses, and host of other experiments on the lunar surface. While there, we will also explore discoveries made by Chandrayaan-1, such as the presence of water molecules on the Moon and new rock types with unique chemical composition. Through this mission, we aim to: (1) expand India's foot print in space; (2) inspire a future generation of scientists, engineers, and explorers; (3) surpass international aspirations".
Launched on 22 July 2019 from Satish Dhawan Space Center on Sriharikota Island on an ISRO Geosynchronous Satellite Launch Vehicle (GSLV) Mark III. The lander-orbiter pair went into an initial elliptical, earth parking orbit, followed by a translunar injection on 14th August. The pair entered lunar polar orbit on 20th August. Subsequently, the lander and orbiter separated on the 2nd September. The orbiter evolved into a circular polar orbit and the Vikram lander maneuvered into orbit with a plan to land on the surface in the high latitude areas near the South Pole. On 7th September contact was lost during the descent at an altitude of approximately 2 KM. The ISRO officials said that the spacecraft stopped communicating with Earth when it was within 1.3 miles of the lunar surface. Though contact with the Vikram lander was lost, the orbiter going around the moon and will carry out experiments over the next year.
On the eve of 7th September, several scientist, technologist and general public were eagerly waiting for the Vikram lander to land on the Moon's South Polar Region. Even though, the communication between the orbiter and lander was lost, ISRO, Indian scientists and engineers received appreciation and support for their efforts around the globe. Gauhar Raza, an Indian scientist, Urdu poet and social activist said, "The objective of the Chandrayaan-2 will be solved by Chandrayaan-3. A lot of lessons has been learnt this time and we will definitely master the technology of the lander in the coming future".