India Toying with Dangerous Cold Start War Doctrine
The article in non-Asian entities would particularly need to be read in the context of almost perennial hostile relations prevailing between India and Pakistan since independence from colonial rule in 1947. Britain gave up this rich colony to avert the replay of events that occurred to some other European powers while leaving their African colonies in blood of the natives and considerably bruised themselves.
Britain left in haste, leaving many thorny territorial division issues between India and Pakistan unresolved, 'Kashmir' the major one. The state had predominantly Muslim population but a Hindu chieftain ruled it. There have been military conflicts of varying intensity between India and Pakistan in 1948, 1965 and 1971, the last being more devastating for Pakistan when India also helped public revolt against Pakistan by launching full-fledged military offensives and its eastern wing, erstwhile 'East Pakistan' was clipped that emerged as Bangladesh. Thus, the hostility simmers, forcing both the countries to maintain large standing armies as of operational necessity. India and Pakistan now possess nuclear weapons, which means looming war scenario, has an added dangerous dimension to it. Some major powers and the beneficiaries are happy with threatening status quo in Kashmir.
The simmering hostility nourishes their national interests perhaps better than the resolved conflict would do. Hence, no effective arbitration has been attempted ever by any power or organization except UN in early years of their inception by adopting Resolutions 38(1948) and 47(1948), which recognized Kashmiris right to choose between India and Pakistan through a plebiscite. India concurred initially but later backtracked. Tragedy of the time is that the Subcontinent remains prone to a horrific nuclear conflagration, possibly at the cost of world peace. (Assume the views expressed below are of author's and may not be construed as of the publishing source or Pak Army).
"I disapprove of what you say, but I will defend to the death your right to say it."
—Voltaire
Indian Military 'Cold Start Doctrine' (CSD) for war surfaces occasionally in Indian and Pakistani media as an unexplored paradigm. The opinion makers enjoy Voltaire's philosophy support across the board, that in the third millennium globalized world politics, has become synonymous to the 'Controversy Theory' which allows the scholars perceptional as well as approach variations while evaluating any concept, doctrine or theory. Even Voltaire was not spared by 'controversy'. While it is usual to attribute the above quote, for instance, to Voltaire, there is considerable evidence that in fact Evelyn Beatrice Hall wrote it in her 'The Friends of Voltaire' under a pen name, Stephen G. Tallentyre.
CSD is very high-sounding concept with its compulsory corollary ambiguity and those not possessing deep insight to the operational methodology tend to bolster its psychological fall out on the Pakistani readership, which is the only significant gain so far for India. Wittingly or unwittingly, its interpretation through plethora of contemporary theories projects it like an intricate myth if not monster. At times, it virtually appears that the war would flash like a bolt that would mince Pakistan's military retaliatory capability to the dust unless some big 'ifs' were not resolved by Pak Army. It is therefore pertinent to put the threat, haunting world peace in real perspective that had a brush with almost an imminent nuclear conflict in early 2002.
The roots of CSD like doctrine were nourished more by the unbridled euphoria of a maverick Indian Army Chief than by operational necessity. General Krishnaswamy Sundarrajan, besides being an architect of several brilliant episodes as well as reverses, was perceived by Indians to have carried a feather in his cap called Operation Brasstacks. Commencing in July 1986 as a war game, it developed into an ever-biggest exercise in Asia when air, artillery, armor and mechanized formations' 'blitzkrieg-like' integrated deep offensive strategy was tested. The much-trumpeted exercise reached its crescendo in December 1986, employing three strike corps (I Corps-Mathura, II Corps-Ambala and XXI Corps-Bhopal) along Indo-Pak southeastern borders but to the misfortune of Indian Chief, Pakistan had shrewder military strategist, General Zia-ul-Haq who lie in wait to let Indian Chief put all his eggs in one basket, Rajasthan. Before he went with broad smile to launch cricket diplomacy in India, he ordered his Army reserves in the North to sally unobtrusively from army garrisons by the time Sundarji (Indian Chief's short name) had achieved optimum assembly of forces comprising nine divisions excluding the holding corps, in Rajasthan. It was fantastic move by Pak Army and a masterpiece work of ISI and military intelligence outfits. Soon in Pak Army GHQ, heap of signal interception reports (sinrep) indicated that scramble back from Rajasthan to their original battle locations was ordered to all the Brasstacks forces immediately. When a formation complained of lack of transport, a sinrep indicated, it received prompt advice to use all mobility means, even obsolete like bull carts. Thus some young Pakistani officers, referred to 'Operation Brasstacks' in light vein as 'Operation Bull Carts'. Sundarji's dream of flashing saber like masterstroke to cut Pakistan into two halves simply crashed in the sand dunes that he had nurtured all along to eliminate status quo in operational equation between India and Pakistan prevailing since 1947. Thanks to Rajiv Gandhi, Indian Prime Minister who rescued Sundarji by agreeing with Gen Zia-ul-Haq to de-escalate the conflict in February 1987. Later Sundarji candidly admitted his failure, saying, he had over reached with Brasstacks. Not many people know the severity of dilemma Indian Army intended to create in the region and the reverses it faced in the process.
Briefly, one would put here the heightened concern for lack of strategic equivalence between the forces system of the two countries to rest by maintaining that it cannot be achieved in number game, as Pak Army is in comfortable position without it vis-à-vis country's weak economy. Jonathan Marcus, a BBC defense correspondent had also observed in 2003, "In straight numerical terms of population, economic might, military manpower and equipment it is almost meaningless to speak about an India-Pakistan balance". Nevertheless, through persistent sharp scrutiny of Indian Army doctrines that are 'war-gamed' by Pakistan without laxity ever and her expansion as well as modernization, Pak Army has taken some potent measures by regrouping, modernizing and at times resorting to modest new raising of forces level to keep adversary's hostile designs in effective check. Strategic imbalance, for several reasons, would remain Pak Army's perennial friend and it has to coexist with it. Pak Army has some spare arrows in the bow to act as force multipliers in the power game like its ever readiness to counter war as a cherished ideological duty, conventional or nuclear if it is thrust upon it and exploiting geo-strategic advantage that geography renders it. Pak Army is in position to deploy and employ holding corps as well as reserves in a manner that achieves effective counter level, yet with remarkable economy of effort. It has overwhelming edge in time and space factor and hence expeditious assembly of forces and convenient readjustment of the forces posture is possible if a hypothesis unfolds, other than the one on which defensive/offensive maneuver is mounted. Thus, its strategic orientation remains superior, allowing it to operate on interior lines, an advantage that Indian army cannot achieve.
Instead, India has to maintain Eastern Command far away for Chinese and Bangladesh borders as well as Northern Command for Chinese border and Pakistan Northern Areas/Line of Control. Western, Southern and South Western Commands remain poised against international borders with Pakistan while Central Command is in the depth at Lucknow because it has to meet certain operational contingencies in different directions. On achieving credible nuclear deterrence, Pakistan stands compensated for Indian preponderance in the conventional forces ratio while Indian nuclear claw has also been defanged that she would have been rattling on Pakistan every now and then. In fact, Sundarji's venture of 1986-87, in all probability was driven by such hypothesis that Pakistan would resort to 'diplomacy' means only to de-escalate once haunted by the specter of Indian nuclear force projections and not confront India by mobilizing its holding or punch formations for war. Their hypothesis was way off the mark.
Despite such reverses, however, the flare for concept of simultaneity, targeting more than one objective at a time, lightening strikes against deep objectives in a theatre and destruction of Pakistan Army lingered on among Sundarji's subordinates. On the contrary, three years of evaluation of Sundarji's finesse enabled Pak Army to further fine tune its offensive as well as defensive plans. Not content with it, General Mirza Aslam Beg, Pak Army Chief, kicked off yet another mega exercise, 'Zarb-e-Momin' (Stroke of a Believer) in 1989 in Central Punjab that the world rated as the beginning of Pakistan Army 'glasnost' ensuring that posture-balance was maintained to preempt any mischief from the adversary.
Foxland and Blueland wrestled for several weeks at the final stages of exercise with troops. Chief Control HQ at Sargodha, assisted by Blueland and Foxland Senior Controls, orchestrated the entire conduct, monitoring and evaluation. Three corps, two armoured brigades, two artillery divisions, an air defence division and the Pakistan Air Force participated….Fourteen new concepts were tested; many vital lessons were learnt.The events were covered by national and international media. Several international delegates, Asian as well as Western, visited and were briefed including the leaders of, what Zbigniew Brzezinski also called them, the holy warriors. Gulbadin Hikmatyar, Prof Burhanudin Rabbani, Sibghatullah Mujadadi, Abdul Rab Rasul Sayyaf and Mulvi Younis Khalis were prominent. Some observations, they made, were point black and dictated by their grip on war making strategy. Over all the visiting delegates appreciated, the conduct that was meticulous and agreed that Blueland maneuvers could blunt Foxland offensives. That was precisely the message Gen Beg had intended to convey across the border.
Indian Military hierarchy's frustration with what Sundarji had left for them as a model doctrine, employing three strike corps in 'blitzkrieg' style, grew worse in the wake of 'Operation Parakaram' that trailed December 13, 2001 attack on Indian Parliament. Mobilization of Indian army was ordered on 18 December 2001 to maul Pakistan severely for its alleged involvement that India detected 'marvelously' in just about three days time. Other than a few leading powers, world was oblivious of the Indian 'responsibility' to spark off an inferno in the Subcontinent. However, assembly of Indian forces was sluggish and stretched over three weeks. In the mean time, President Musharraf played his cards by ordering formations to occupy battle locations. He also gave a 'turn about' address to the nation, renouncing 'Jihadis' to woo Western sympathies, particularly of US that could not afford to see Pakistan switch its forces from Western to its Eastern borders. International actors' intervention averted the conflict. Thus, masked operational lacunas in Indian Army planning, surviving comfortably hitherto fore, came under sharp scrutiny. Walter Ladwig III of Oxford University clearly saw the flaws in Indian's war making ambitions like loss of strategic surprise, large size of strike forces that forced a long gap between political decision and military action and finally denuding of holding corps of any offensive punch. Hence, it was imperative to evolve a doctrine that should over-ride such weaknesses of one of the largest standing armies in the word that had clung to defensive-defence strategy since partition. In other words, a dangerous conflict averted in 2001 led to Indian pursuits that are more lethal in the realm of deceptive war making in all forms.
Indian Army Chief, General Padmanabhan unveiled CSD in April 2004. Could it be summed up as a novel and brilliant idea? Certainly not because it carried conspicuous Sundarji's stamp with mix of Indian Army Chief's astuteness who managed now to substitute Sundarji's lightening 'blitzkrieg-like' deep offensives doctrine with sharp and crisp shallow multiple strikes called CSD, also claiming to knock out their own holding and offensive corps' capability gaps. In other words, now Indian defensive corps could contribute as effectively as strike corps, at least hypothetically and the latter were to become known as Integrated Battle Groups (IBGs). Media leaks suggested that initially Indian army would constitute eight IBGs and each would be a concentrate of firepower and mobility under lavish air umbrella, built upon division size armor or mechanized formation with ability to operate as groups or sub-groups executing independent operations within the Group's area of operation. The destruction of Pakistan Army has been retained as most lucrative objective, employing tremendous firepower and state-of-art means of ground as well as aerial mobility that would interdict and destroy its reserves, comprising mechanized formations.
General Padmanabhan's brand of CSD sounded fantastic, as did Sundarji's blitzkrieg and concept of simultaneity during peacetime about a decade earlier. Once the military logisticians, assembly of forces experts and their Ordnance Corps would have sat together to formulate the inventories to equip the Army with Padmanabhan's long indent for latest machines, weapons and munitions, finance organ of Indian Government would have shuddered. Commenting on CSD within a month of its unveiling in his May 2004, what he called, strategic paper, Dr. Subhash Kapila, almost had rub with the vision that CSD could not be harnessed militarily as per the perceived scales and if proceeded with, it would amount to asking for moon. He wrote as an indirect admission, "The unveiling of a new war doctrine throws up a host of factors for discussion in terms of why a new war doctrine is required, what are the attendant factors in putting it into operation, the limiting factors that may come into play…". Commenting three and half years later in December 2007, Dr. Subhash Kapila's apprehensions further blossomed. He even argued to defer CSD until 2010 because, "India's COLD START WAR DOCTRINE woven around the operational concept of offensive operations at the very outset of hostilities cannot proceed towards success on Indian Army undertaking military operations with incomplete military inventories…". Hence, it says all to conclude that CSD is a concept on paper and may be nothing more than at experimental stage with old clattering machines. Conversely, maintaining vigilance about an adversary is the hallmark that Pak Army must observe. For its consumption, it has to underscore the need for meeting an adversary in the battlefield as if they are equipped right now to the needle details. Indian endeavor to fling strategic surprise on Pakistan as a pre-emption strategy must be checkmated by covert peacetime measures so that its forces instinctively remain out of their bite through ruses, well conceived by military leadership even when the war balloon has not gone up yet.
One would not question Indian Army's prerogative to equip its forces to any limit but a pertinent question comes up here. Why did General Padmanabhan switch to intense multiple SHALLOW maneuvers concept? Obviously, the answer is that in the presence of nuclear strike capability with Pakistan Army, there has to be a limited war on the cards. In other words, the change of heart did not emanate from his vision but driven by a compulsion, forced on Indian army under the obtaining politico-military environments. Therefore, CSD has another inhibiting factor that Indian battle sweeps have to remain short of reaching nuclear retaliation threshold. Answer becomes a question again if one asks the proponents of CSD that when India initiates conflict under the label of limited war, how friendly India would remain with Pakistan to keep the war under 'limited' tag. Do the adversaries prescribe the counter measure levels to each other? What India marks as limited objectives, in Pakistan Army reckoning they might not be 'limited' category? Military will and intentions on two sides have to differ because they work against each other. Though Pakistan would never ever be nuclear button-happy-power but when destruction of our Army is envisaged by CSD, that is the center of gravity of our survival, how would Indian war wizards ensure that Pakistan would desist from using nukes, particularly once Pakistan Army's concept of operations hinges on offensive-defence strategy? About the nukes, Shireen Mazari says, "Pakistan's nuclear escalation ladder has only 'one rung'." Thus, she seals the argument.
The proposition would remain dangerous when India intends resorting to such measures like CSD under the assumption that by subjecting Pakistan to retribution, it would desist from proxy war in Kashmir that Pakistan denies. Instead, Pakistan maintains that Indian state terrorism has pushed Kashmiris to the brink. The scholars, world over have labeled CSD as dangerous to execute on prefixed speculations based on tunnel vision. CSD creates space of legitimacy for Pakistan to demand from India to rub off its intrusive footprints in Baluchistan, FATA, Pak-Afghan border areas and thus leverage for escalation of crisis is afforded to Pakistan to recover its internal stability. On Pakistan side, there is undue haste instead to sacrifice all its national interests and strong diplomacy pivots without India shifting from its non-yielding stance by an iota. Affording India the facility of trade corridor to Central Asia through Pakistan and granting 'Most Favored Nation' status while 'Kashmir' wound still festers since decades, would be a folly with no parallel. Indian military collaboration with Israel is also a cause of change in Indian overtone when she talks of military ventures or handles Kashmiri demonstrations in mode and severity parallel to Israeli handling of the Palestinians' demonstrations. With Israel colluding now with Indian military extensively, resentment against Israel has grown manifold in Pakistan though, it did not enjoy a favorable score since inception of state of Israel.
India has to realize that its stakes in regional peace are far greater than Pakistan and hence its unimpeded economic spiral would be a factor to force India to reach for reconciliation with Pakistan in an earnest manner. Seeking 'peace' through dialogues and negotiations fervently by both the powers is the ultimate option they would have to embrace but an early embrace would augur well for the regional as well as for the world peace. Powers that have the clout with India and Pakistan must facilitate the adversaries to reach at workable solution. International community is also encumbered with the responsibility to caution India to desist from such momentary madness of 18 December 2001 that could have far-reaching repercussions beyond remedy.
Dr.Makni (his acronym) is also an author of a book: "The New Great Game: Oil and Gas Politics in Central Eurasia". (irsri@hotmail.com)
Criminal Silence of Ummah on Kashmir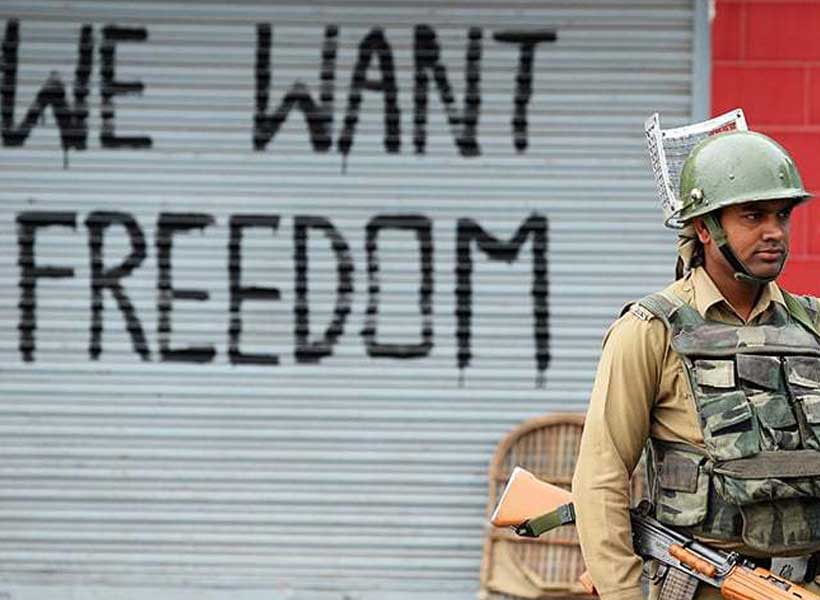 "The world suffers a lot. Not because of the violence of bad people, but because of the silence of good people."
15 million people of Kashmir are under curfew for 2 weeks. One million Indian Army is suppressing them inhumanly. The Indian Army Kills, Tortures, Kidnaps, Rapes, Arrest, Detains the innocent Kashmiris. The whole region is turned into Jail. Due to prolonged Curfew, people are facing a shortage of food, fuel, drinking water and basic necessities of routine life. No Electricity, No sanitation, No Gas, No Fuel, No medicines, No medical Facilities, The life is at stand-still – Halt.
Secretary-General of the UN has spoken on the issue and expressed his deep concern. Security Council has called its meeting and deliberated the situation with serious notes. European Parliament has sympathized with the innocent oppressed people of Kashmir. International Community has raised its voice in favor of Kashmir. World capitals and big cities have expressed solidarity with the people of Kashmir. Public rallies, protests, demonstration, and agitation are witnessed all around the globe.
Kashmir is placed with 87% Muslim population and supposed to be part of Pakistan principally according to the agreed formula of partition at the time of independence in 1947 from British. But. Indian Army entered into Kashmir and occupied part of it known as Indian Occupied Kashmir. UN Security Council passed several Resolution on Kashmir Issue and asked to hold a plebiscite to seek the will of Kashmiri people either they want to join Pakistan or India. As the majority of the population was Muslim and India was dead sure that the Kashmiri people will vote for joining Pakistan. So India kept on delaying tactics and finding one or another lame excuse to avoid the implementation of UNSC decisions.
For 7 decades, India used all dirty tricks to control Kashmir and suppress the Kashmiri struggle of self-determination. They used a huge army and draconian laws to suppress Kashmiris. India has killed hundreds, thousands, and millions of Muslims in Kashmir, humiliated them, raped women and children, kidnapped, arrested, detained them, but could not change their will for self-determination. India damaged their properties, business, killed their castles, bun their housed and crops, destroyed their economy, but could not be succeeded in controlling them. India settled Hindus from other parts of India into Kashmir to change the demography of Kashmir, to make Muslims a minority, so that in case of the plebiscite, India may get a favor. But all their tactics failed.
The recent accession and provocation have crossed all limits of atrocities. A global reaction has been witnessed to condemned Indian brutalities. Even inside India, the intellectuals and moderate politicians are against Indian policy over Kashmir. NGOs and Human Rights Organizations are raising their voices in solidarity with Innocent Kashmiri People.
No doubt OIC has given a statement on Kashmir Issue, but it is not sufficient to resolve the Kashmir Issue. The OIC is the second-largest organization after the UN, consisting of 57 countries, and one-fifth of the population of the whole world, owner of the world's major natural resources, especially energy – Oil and Gas, can do much more. As the people of Kashmir are Muslims, OIC has a stake and should do much more, the expectations are very high.
Governments in some of Muslim countries might have their personal interests or economic interests with India, but public has sympathies with Muslims of Kashmir. If the Muslim world or only few countries stop oil supply to India and ask Indian nationals to leave their countries, suspend trade and investment with India, till India resolves Kashmir Issue according to UN resolution, India may bow down and find no alternate except respecting the UN Charter and Humanity.
If Muslim Ummah kept criminal silence and become mere spectators, India may be encouraged to accede other nations and states. Silence must be broken with concrete action and observe unity of Ummah. Demonstration of Ummah's strength will resolve may other issues faced by Ummah indirectly. The whole Ummah, each individual Muslim, all have a role to play. Especially the Scholars and Intellectuals of Ummah have heavy responsibility. Let's contribute our share of responsibility and in our individual capacity, whatever we can do, we must act proactively. May Allah Protect "Islam" and "Muslims" anywhere on this earth.
Modi-fying Kashmir and Historical Facts
The Modi government on 5th august 2019 revoked two key constitutional provisions — Article 370 and Article 35A — which gave the state of Jammu and Kashmir distinctive rights. India moved around 50 thousand military personnel into the valley to avoid any backlash, which shows that the Indian government is afraid of the repercussions of an illegal act. But these curfews and emergencies are not new for Kashmiris. Kashmiri's will continue fighting for their land and will never compromise. Kashmir is an 86,000-square mile disputed region that is divided between India, Pakistan and China. Kashmir's independence struggle has a long history.
Historically Kashmiris have not ruled their own land since their last king Yusaf Shah Chak who was defeated by the Mughals in the 16th century. Chak launched guerrilla attacks against the armies of Mughal king Akbar on November 1586, he was certain that "Independence was just a day away". Since then it's been 400 years since Kashmir has passed into the hands of Afghans, Sikhs, the British Great Britain and now Indian rulers after partition. Today, the same kind guerrilla attacks continue against Indian occupational forces, although by a renewed insurgency fueled by modern weapons and communications technology.
Thousands of Kashmiri's are part of the armed freedom struggle against Indian forces. Now in the shape of the Kashmir freedom movement, it is entirely different from what it was during the early years of partition. Now, the use of social media has changed the dynamics of the freedom movement making it extremely challenging for India to curb the voices of Kashmiris in the present era. Though India always blames Pakistan for supporting freedom fighters and stone pelters it has never really applied an introspective approach to what its armed forces are doing.
As Kashmiris continue to reject India and its democracy the Modi government has locked down almost 90 lakh Kashmiris since 5 august. There is a complete media blackout in Kashmir and still India calls itself a democracy. Such Indian actions to erode the basic fabric of the Kashmir freedom movement will only fuel the struggle for independence even more. There are many people inside India which negate this act of oppression by the Modi Government. Modi's actions are opposite to democratic values which India claims are reason for its unity.
Several Indian activists have condemned the abrogation of articles 370 and 35 A. Till now 6 petitions have been filed in the Indian supreme court, all of which reflect the pure negation of Mr. Modi's agenda. Hence, the way India is treating Kashmiris will surely have dire consequences for the state in the future. The country which calls itself the largest democracy is treating Kashmiris worse than animals, a democracy where even cows purportedly enjoy more rights than Kashmiris and Muslims.
In 1947 Kashmiris resisted against Dogra forces and around 2 lakh were killed but the Kashmiris refused to be subdued. After partition on 2 November 1947, Indian Prime Minister Pandit Jawaharlal Nehru had promised a plebiscite in Kashmir saying: "The fate of Jammu and Kashmir is ultimately to be decided by the people. The pledge we have given not only to the people of Kashmir but also to the world. We will not and cannot back out of it."
But India has still not pulled back its troops since then and has continued to forcefully occupy the region. Pakistan and India have fought a number wars and smaller-scale conflicts in 1948, 1965, 1971 and 1999 due to Kashmir with border skirmishes remaining common even today. India is involved in killing Kashmiris while the world remains in silence. Only a consistent struggle can force India to check its decisions otherwise, India is on its way to change the demography of Kashmir. Modifying the status of Kashmir within the Indian constitution won't change realities which exist historically. Even today, the whole world acknowledges that Kashmir is an international dispute and not just an internal matter of India. By casting even further light and global attention on this issue through his most recent actions, Mr. Modi has gravely miscalculated the outcome of this move.
Revoking Article 370 A has already stripped Kashmiris of their special rights and now there would be single citizenship for Kashmiris. The Indian flag will be the only flag and article 356 and 360 will be applicable. Minorities will be eligible with a 16 % quota. People from other states will be eligible to buy land in Jammu and Kashmir. Assembly duration of the union territory of Jammu and Kashmir will be for 5 years. All the above developments will further estrange Kashmiris in their own land.
From 1586 till now, the Kashmiris defeated many oppressors and none was able to subdue them. Mr. Modi's modification of its status will definitely fire back in the coming days as India cannot impose a curfew forever. At least 4,000 people have been detained in Kashmir since August 5 and situation on ground as reported by international media is getting worse than ever. More and more Kashmiri youth will join armed groups and the intensity and number of armed attacks is widely expected surge dramatically. Without a doubt such a dangerous and arrogant decision by the Indian leadership has severely compromised the peace and stability of the entire region.
Kashmir: A Victim of the Influence of Major Powers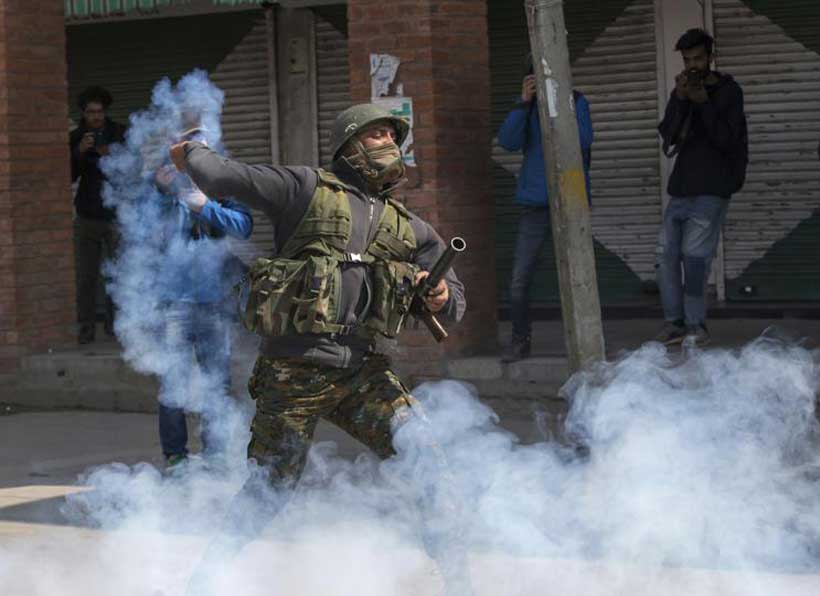 India-Pakistan relations are constantly tense and India-Pakistan history is full of struggles and rivalries. The problems between the two countries have emerged on the international scene recently when the Indian state decided to abolish autonomy in Jammu and Kashmir and apply full control of the Indian state over the region. The area is known to be the center of a dispute between India and Pakistan over land claims and border demarcation.
The Indo-Pakistan conflict over Kashmir is classified as one of the most dangerous in the world. India and Pakistan are nuclear states. The Kashmir conflict began in 1947 and did not end today, after Kashmir was a former independent region in the Himalayas. Kashmir lies in a strategic area on the Himalayas, bordered by India, Pakistan, China and Afghanistan; it is a region of cultural diversity and contains the most important Eastern religions such as Islam, Buddhism and Hinduism. The region of Kashmir is one of the most beautiful regions of the world and fertile agricultural land with a lot of natural resources, but the political instability and security has ruined the economic situation and the lack of tourists and investors.
Historically, Kashmir has been a Hindu religion, but the connection between Kashmiri people and Afghan families has led to the spread of Islam. Kashmir was ruled by the Mongols from the 16th to the 18th centuries, after which Kashmir returned to be an independent state. However, strong British influence in that period robbed the sovereignty of that country by selling land and people, who are mostly Muslims, to a Hindu warlord, Gulab Singh, for 7.5 million rupees.
This "contract of sale" was quickly legalized in the Amritsar Treaty. Since then Singh has declared himself "Maharaja of Jammu and Kashmir", and imposed on the local population by force Hindu culture and its religious principles. He burned mosques and overthrew anyone who begged himself to oppose his rule and stand up to Hindu principles. After Maharaja "Gulab Singh" took over the rule of Jammu and Kashmir Maharaja "Hari Singh", who completed the same path of his predecessor in a land where the number of Muslims at the time 94%.
The severe repression of the people of Jammu and Kashmir in cooperation with the British prompted them to raise their voice in the face of the Maharaja and his allies in 1931. On 25 October 1947, after violent confrontations between the Maharaja and the population, the Kashmiri people won and the Maharaja was expelled. Maharaja sought support from India after Britain stopped supporting him.
The British colonial policy divided the area there on a religious basis. Most of the Muslim lands have been annexed to Pakistan, and the Hindu-majority lands have been annexed to India. In 1947, Indian military forces returned to Kashmir by force against weak Kashmiri resistance and little support from Pakistanis.
At that time, Pakistan began to support the rebels and the separatists from India, which led India to complain to the Security Council accusing Pakistan of supporting the rebels in Kashmir. Pakistan has responded that India is trying to promise Kashmir sovereignty, but it is working to annex Kashmir and bring Maharaja Hari Singh back to power. In 1948, the Security Council sought a mutually satisfactory solution, dividing Kashmir territory, one part called Azad Kashmir or Free Kashmir is supervised by Pakistan, and another part is Jammu and Kashmir and is supervised by India
The never-ending wars between India and Pakistan over the Kashmir issue prompted India in 1974 to conduct six nuclear experiments. This means that India has become a nuclear state and is capable of destroying every enemy, namely Pakistan. This has pushed Pakistan to become a nuclear power by acquiring nuclear weapons. In 1988, India and Pakistan signed a non-aggression pact. Military science suggests that the Asian region is the most dangerous on earth and capable of destroying mankind. India, Pakistan, China, Russia and Iran are nuclear states. Religious conflicts and territorial disputes are accelerating the nuclear war. According to the Pentagon, the next nuclear war between India and Pakistan will claim at least 12 million deaths and more than 7 million wounded from the region.
India, as a big country and a major nuclear power in the Asian region, will not concede to Pakistan in this Kashmir conflict. But India is demanding the entire territory of Kashmir, i.e. Pakistani Kashmir and Chinese Kashmir and this is impossible to achieve, and the conflict is increasing today through the legal measures taken by the Indian state to annex Jammu and Kashmir to the sovereignty of the Indian state and wrest autonomy. Therefore, the solution to this issue remains through diplomacy and negotiations because the weapons, force and many wars in that region did not lead to any positive result.