India Toying with Dangerous Cold Start War Doctrine
The article in non-Asian entities would particularly need to be read in the context of almost perennial hostile relations prevailing between India and Pakistan since independence from colonial rule in 1947. Britain gave up this rich colony to avert the replay of events that occurred to some other European powers while leaving their African colonies in blood of the natives and considerably bruised themselves.
Britain left in haste, leaving many thorny territorial division issues between India and Pakistan unresolved, 'Kashmir' the major one. The state had predominantly Muslim population but a Hindu chieftain ruled it. There have been military conflicts of varying intensity between India and Pakistan in 1948, 1965 and 1971, the last being more devastating for Pakistan when India also helped public revolt against Pakistan by launching full-fledged military offensives and its eastern wing, erstwhile 'East Pakistan' was clipped that emerged as Bangladesh. Thus, the hostility simmers, forcing both the countries to maintain large standing armies as of operational necessity. India and Pakistan now possess nuclear weapons, which means looming war scenario, has an added dangerous dimension to it. Some major powers and the beneficiaries are happy with threatening status quo in Kashmir.
The simmering hostility nourishes their national interests perhaps better than the resolved conflict would do. Hence, no effective arbitration has been attempted ever by any power or organization except UN in early years of their inception by adopting Resolutions 38(1948) and 47(1948), which recognized Kashmiris right to choose between India and Pakistan through a plebiscite. India concurred initially but later backtracked. Tragedy of the time is that the Subcontinent remains prone to a horrific nuclear conflagration, possibly at the cost of world peace. (Assume the views expressed below are of author's and may not be construed as of the publishing source or Pak Army).
"I disapprove of what you say, but I will defend to the death your right to say it."
—Voltaire
Indian Military 'Cold Start Doctrine' (CSD) for war surfaces occasionally in Indian and Pakistani media as an unexplored paradigm. The opinion makers enjoy Voltaire's philosophy support across the board, that in the third millennium globalized world politics, has become synonymous to the 'Controversy Theory' which allows the scholars perceptional as well as approach variations while evaluating any concept, doctrine or theory. Even Voltaire was not spared by 'controversy'. While it is usual to attribute the above quote, for instance, to Voltaire, there is considerable evidence that in fact Evelyn Beatrice Hall wrote it in her 'The Friends of Voltaire' under a pen name, Stephen G. Tallentyre.
CSD is very high-sounding concept with its compulsory corollary ambiguity and those not possessing deep insight to the operational methodology tend to bolster its psychological fall out on the Pakistani readership, which is the only significant gain so far for India. Wittingly or unwittingly, its interpretation through plethora of contemporary theories projects it like an intricate myth if not monster. At times, it virtually appears that the war would flash like a bolt that would mince Pakistan's military retaliatory capability to the dust unless some big 'ifs' were not resolved by Pak Army. It is therefore pertinent to put the threat, haunting world peace in real perspective that had a brush with almost an imminent nuclear conflict in early 2002.
The roots of CSD like doctrine were nourished more by the unbridled euphoria of a maverick Indian Army Chief than by operational necessity. General Krishnaswamy Sundarrajan, besides being an architect of several brilliant episodes as well as reverses, was perceived by Indians to have carried a feather in his cap called Operation Brasstacks. Commencing in July 1986 as a war game, it developed into an ever-biggest exercise in Asia when air, artillery, armor and mechanized formations' 'blitzkrieg-like' integrated deep offensive strategy was tested. The much-trumpeted exercise reached its crescendo in December 1986, employing three strike corps (I Corps-Mathura, II Corps-Ambala and XXI Corps-Bhopal) along Indo-Pak southeastern borders but to the misfortune of Indian Chief, Pakistan had shrewder military strategist, General Zia-ul-Haq who lie in wait to let Indian Chief put all his eggs in one basket, Rajasthan. Before he went with broad smile to launch cricket diplomacy in India, he ordered his Army reserves in the North to sally unobtrusively from army garrisons by the time Sundarji (Indian Chief's short name) had achieved optimum assembly of forces comprising nine divisions excluding the holding corps, in Rajasthan. It was fantastic move by Pak Army and a masterpiece work of ISI and military intelligence outfits. Soon in Pak Army GHQ, heap of signal interception reports (sinrep) indicated that scramble back from Rajasthan to their original battle locations was ordered to all the Brasstacks forces immediately. When a formation complained of lack of transport, a sinrep indicated, it received prompt advice to use all mobility means, even obsolete like bull carts. Thus some young Pakistani officers, referred to 'Operation Brasstacks' in light vein as 'Operation Bull Carts'. Sundarji's dream of flashing saber like masterstroke to cut Pakistan into two halves simply crashed in the sand dunes that he had nurtured all along to eliminate status quo in operational equation between India and Pakistan prevailing since 1947. Thanks to Rajiv Gandhi, Indian Prime Minister who rescued Sundarji by agreeing with Gen Zia-ul-Haq to de-escalate the conflict in February 1987. Later Sundarji candidly admitted his failure, saying, he had over reached with Brasstacks. Not many people know the severity of dilemma Indian Army intended to create in the region and the reverses it faced in the process.
Briefly, one would put here the heightened concern for lack of strategic equivalence between the forces system of the two countries to rest by maintaining that it cannot be achieved in number game, as Pak Army is in comfortable position without it vis-à-vis country's weak economy. Jonathan Marcus, a BBC defense correspondent had also observed in 2003, "In straight numerical terms of population, economic might, military manpower and equipment it is almost meaningless to speak about an India-Pakistan balance". Nevertheless, through persistent sharp scrutiny of Indian Army doctrines that are 'war-gamed' by Pakistan without laxity ever and her expansion as well as modernization, Pak Army has taken some potent measures by regrouping, modernizing and at times resorting to modest new raising of forces level to keep adversary's hostile designs in effective check. Strategic imbalance, for several reasons, would remain Pak Army's perennial friend and it has to coexist with it. Pak Army has some spare arrows in the bow to act as force multipliers in the power game like its ever readiness to counter war as a cherished ideological duty, conventional or nuclear if it is thrust upon it and exploiting geo-strategic advantage that geography renders it. Pak Army is in position to deploy and employ holding corps as well as reserves in a manner that achieves effective counter level, yet with remarkable economy of effort. It has overwhelming edge in time and space factor and hence expeditious assembly of forces and convenient readjustment of the forces posture is possible if a hypothesis unfolds, other than the one on which defensive/offensive maneuver is mounted. Thus, its strategic orientation remains superior, allowing it to operate on interior lines, an advantage that Indian army cannot achieve.
Instead, India has to maintain Eastern Command far away for Chinese and Bangladesh borders as well as Northern Command for Chinese border and Pakistan Northern Areas/Line of Control. Western, Southern and South Western Commands remain poised against international borders with Pakistan while Central Command is in the depth at Lucknow because it has to meet certain operational contingencies in different directions. On achieving credible nuclear deterrence, Pakistan stands compensated for Indian preponderance in the conventional forces ratio while Indian nuclear claw has also been defanged that she would have been rattling on Pakistan every now and then. In fact, Sundarji's venture of 1986-87, in all probability was driven by such hypothesis that Pakistan would resort to 'diplomacy' means only to de-escalate once haunted by the specter of Indian nuclear force projections and not confront India by mobilizing its holding or punch formations for war. Their hypothesis was way off the mark.
Despite such reverses, however, the flare for concept of simultaneity, targeting more than one objective at a time, lightening strikes against deep objectives in a theatre and destruction of Pakistan Army lingered on among Sundarji's subordinates. On the contrary, three years of evaluation of Sundarji's finesse enabled Pak Army to further fine tune its offensive as well as defensive plans. Not content with it, General Mirza Aslam Beg, Pak Army Chief, kicked off yet another mega exercise, 'Zarb-e-Momin' (Stroke of a Believer) in 1989 in Central Punjab that the world rated as the beginning of Pakistan Army 'glasnost' ensuring that posture-balance was maintained to preempt any mischief from the adversary.
Foxland and Blueland wrestled for several weeks at the final stages of exercise with troops. Chief Control HQ at Sargodha, assisted by Blueland and Foxland Senior Controls, orchestrated the entire conduct, monitoring and evaluation. Three corps, two armoured brigades, two artillery divisions, an air defence division and the Pakistan Air Force participated….Fourteen new concepts were tested; many vital lessons were learnt.The events were covered by national and international media. Several international delegates, Asian as well as Western, visited and were briefed including the leaders of, what Zbigniew Brzezinski also called them, the holy warriors. Gulbadin Hikmatyar, Prof Burhanudin Rabbani, Sibghatullah Mujadadi, Abdul Rab Rasul Sayyaf and Mulvi Younis Khalis were prominent. Some observations, they made, were point black and dictated by their grip on war making strategy. Over all the visiting delegates appreciated, the conduct that was meticulous and agreed that Blueland maneuvers could blunt Foxland offensives. That was precisely the message Gen Beg had intended to convey across the border.
Indian Military hierarchy's frustration with what Sundarji had left for them as a model doctrine, employing three strike corps in 'blitzkrieg' style, grew worse in the wake of 'Operation Parakaram' that trailed December 13, 2001 attack on Indian Parliament. Mobilization of Indian army was ordered on 18 December 2001 to maul Pakistan severely for its alleged involvement that India detected 'marvelously' in just about three days time. Other than a few leading powers, world was oblivious of the Indian 'responsibility' to spark off an inferno in the Subcontinent. However, assembly of Indian forces was sluggish and stretched over three weeks. In the mean time, President Musharraf played his cards by ordering formations to occupy battle locations. He also gave a 'turn about' address to the nation, renouncing 'Jihadis' to woo Western sympathies, particularly of US that could not afford to see Pakistan switch its forces from Western to its Eastern borders. International actors' intervention averted the conflict. Thus, masked operational lacunas in Indian Army planning, surviving comfortably hitherto fore, came under sharp scrutiny. Walter Ladwig III of Oxford University clearly saw the flaws in Indian's war making ambitions like loss of strategic surprise, large size of strike forces that forced a long gap between political decision and military action and finally denuding of holding corps of any offensive punch. Hence, it was imperative to evolve a doctrine that should over-ride such weaknesses of one of the largest standing armies in the word that had clung to defensive-defence strategy since partition. In other words, a dangerous conflict averted in 2001 led to Indian pursuits that are more lethal in the realm of deceptive war making in all forms.
Indian Army Chief, General Padmanabhan unveiled CSD in April 2004. Could it be summed up as a novel and brilliant idea? Certainly not because it carried conspicuous Sundarji's stamp with mix of Indian Army Chief's astuteness who managed now to substitute Sundarji's lightening 'blitzkrieg-like' deep offensives doctrine with sharp and crisp shallow multiple strikes called CSD, also claiming to knock out their own holding and offensive corps' capability gaps. In other words, now Indian defensive corps could contribute as effectively as strike corps, at least hypothetically and the latter were to become known as Integrated Battle Groups (IBGs). Media leaks suggested that initially Indian army would constitute eight IBGs and each would be a concentrate of firepower and mobility under lavish air umbrella, built upon division size armor or mechanized formation with ability to operate as groups or sub-groups executing independent operations within the Group's area of operation. The destruction of Pakistan Army has been retained as most lucrative objective, employing tremendous firepower and state-of-art means of ground as well as aerial mobility that would interdict and destroy its reserves, comprising mechanized formations.
General Padmanabhan's brand of CSD sounded fantastic, as did Sundarji's blitzkrieg and concept of simultaneity during peacetime about a decade earlier. Once the military logisticians, assembly of forces experts and their Ordnance Corps would have sat together to formulate the inventories to equip the Army with Padmanabhan's long indent for latest machines, weapons and munitions, finance organ of Indian Government would have shuddered. Commenting on CSD within a month of its unveiling in his May 2004, what he called, strategic paper, Dr. Subhash Kapila, almost had rub with the vision that CSD could not be harnessed militarily as per the perceived scales and if proceeded with, it would amount to asking for moon. He wrote as an indirect admission, "The unveiling of a new war doctrine throws up a host of factors for discussion in terms of why a new war doctrine is required, what are the attendant factors in putting it into operation, the limiting factors that may come into play…". Commenting three and half years later in December 2007, Dr. Subhash Kapila's apprehensions further blossomed. He even argued to defer CSD until 2010 because, "India's COLD START WAR DOCTRINE woven around the operational concept of offensive operations at the very outset of hostilities cannot proceed towards success on Indian Army undertaking military operations with incomplete military inventories…". Hence, it says all to conclude that CSD is a concept on paper and may be nothing more than at experimental stage with old clattering machines. Conversely, maintaining vigilance about an adversary is the hallmark that Pak Army must observe. For its consumption, it has to underscore the need for meeting an adversary in the battlefield as if they are equipped right now to the needle details. Indian endeavor to fling strategic surprise on Pakistan as a pre-emption strategy must be checkmated by covert peacetime measures so that its forces instinctively remain out of their bite through ruses, well conceived by military leadership even when the war balloon has not gone up yet.
One would not question Indian Army's prerogative to equip its forces to any limit but a pertinent question comes up here. Why did General Padmanabhan switch to intense multiple SHALLOW maneuvers concept? Obviously, the answer is that in the presence of nuclear strike capability with Pakistan Army, there has to be a limited war on the cards. In other words, the change of heart did not emanate from his vision but driven by a compulsion, forced on Indian army under the obtaining politico-military environments. Therefore, CSD has another inhibiting factor that Indian battle sweeps have to remain short of reaching nuclear retaliation threshold. Answer becomes a question again if one asks the proponents of CSD that when India initiates conflict under the label of limited war, how friendly India would remain with Pakistan to keep the war under 'limited' tag. Do the adversaries prescribe the counter measure levels to each other? What India marks as limited objectives, in Pakistan Army reckoning they might not be 'limited' category? Military will and intentions on two sides have to differ because they work against each other. Though Pakistan would never ever be nuclear button-happy-power but when destruction of our Army is envisaged by CSD, that is the center of gravity of our survival, how would Indian war wizards ensure that Pakistan would desist from using nukes, particularly once Pakistan Army's concept of operations hinges on offensive-defence strategy? About the nukes, Shireen Mazari says, "Pakistan's nuclear escalation ladder has only 'one rung'." Thus, she seals the argument.
The proposition would remain dangerous when India intends resorting to such measures like CSD under the assumption that by subjecting Pakistan to retribution, it would desist from proxy war in Kashmir that Pakistan denies. Instead, Pakistan maintains that Indian state terrorism has pushed Kashmiris to the brink. The scholars, world over have labeled CSD as dangerous to execute on prefixed speculations based on tunnel vision. CSD creates space of legitimacy for Pakistan to demand from India to rub off its intrusive footprints in Baluchistan, FATA, Pak-Afghan border areas and thus leverage for escalation of crisis is afforded to Pakistan to recover its internal stability. On Pakistan side, there is undue haste instead to sacrifice all its national interests and strong diplomacy pivots without India shifting from its non-yielding stance by an iota. Affording India the facility of trade corridor to Central Asia through Pakistan and granting 'Most Favored Nation' status while 'Kashmir' wound still festers since decades, would be a folly with no parallel. Indian military collaboration with Israel is also a cause of change in Indian overtone when she talks of military ventures or handles Kashmiri demonstrations in mode and severity parallel to Israeli handling of the Palestinians' demonstrations. With Israel colluding now with Indian military extensively, resentment against Israel has grown manifold in Pakistan though, it did not enjoy a favorable score since inception of state of Israel.
India has to realize that its stakes in regional peace are far greater than Pakistan and hence its unimpeded economic spiral would be a factor to force India to reach for reconciliation with Pakistan in an earnest manner. Seeking 'peace' through dialogues and negotiations fervently by both the powers is the ultimate option they would have to embrace but an early embrace would augur well for the regional as well as for the world peace. Powers that have the clout with India and Pakistan must facilitate the adversaries to reach at workable solution. International community is also encumbered with the responsibility to caution India to desist from such momentary madness of 18 December 2001 that could have far-reaching repercussions beyond remedy.
Dr.Makni (his acronym) is also an author of a book: "The New Great Game: Oil and Gas Politics in Central Eurasia". (irsri@hotmail.com)
Will CPEC be a Factual Game Changer?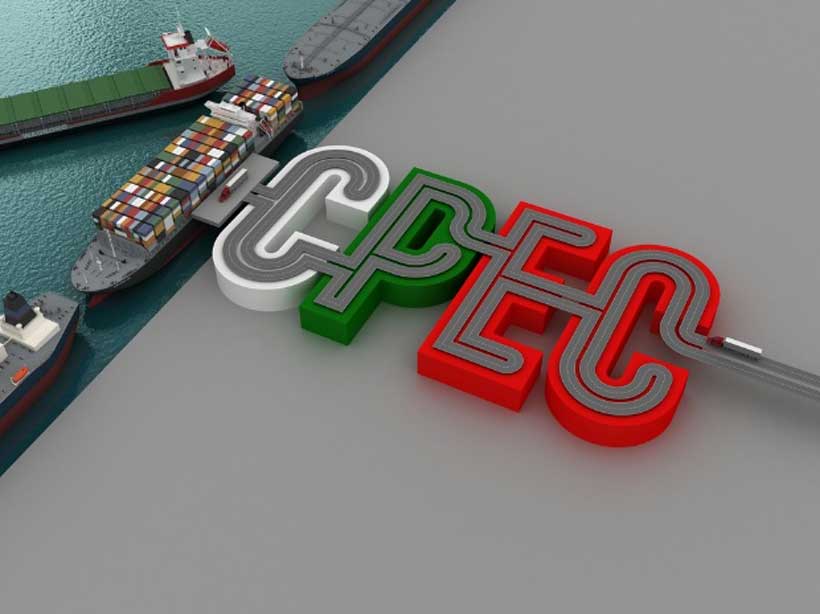 Pakistan's economy is shrinking, and shrink economy always needs reforms, reforms either political, social or economic can be an upright source of wherewithal to fight preceding challenges. Since independence Pakistan is swathed with many serious issues, these are the issues which extremely hamper Pakistan's economic growth. Nearly every political leader since independence didn't pay courtesy to deal with problems, however, every political leader has tried to snatch public wealth through different means. For domestic development and trade balance Pakistan always went towards IMF toabailout. Recently in 2019 Pakistan again bailout of almost US$ 6 billion for 39 months.
Pakistan faces long-term economic challenges, including high budget and the debt deficit, low-income mobilization, low external vulnerability and less spending on education, social, health and many other sectors. This imitates the birthright of the jagged and cyclical economic policies of current years aimed at stimulating growth, but at the disbursement of growing weaknesses and persistent structural and institutional weaknesses, Pakistan failed to boost its economy. Thanks to Chinese One Belt One Road Initiatives, which will help Pakistan economy to grow self-reliant under the China Pakistan Economic Corridor CPEC.
The question of whether the so-called CPEC will certainly help Pakistan's shrink economy or will abundantly abolish the nascent economic system where the Chinese investor will hold the power of the industrial sectors. Most of the leaders see CPEC is another obliteration for Pakistan economy. Furthermore, they believe that the CPEC will destroy the usual exquisiteness, for the construction of the roads, and Special Economic Zones (SEZs), they will cut down thousands of trees, many agriculture lands will convert to buildings, roads, and the pollution level will twofold compare to the present. They refused to ignore that CPEC is a game-changer for Pakistan but rather destruction for the country contemporary status quo.
Such questions got much attention in public, and researchers are worried about the specific outcome. As argued by many intellectuals the CPEC is win-win game, if CPEC allow China to the warm-water of the Arabian-Sea for smooth trade with less coast and safe route to save billions of dollars, so as for Pakistan the CPEC will bring a vast amount of employment opportunities, as well as trade prospects to the domestic people which will minimalize the level of unemployment, poverty, besides most importantly will link all those isolated people and their small business to the industrial hub as well as economic-cantered.
The CPEC according to most of the observers parting optimistic impacts on Pakistan economy. It believes that the CPEC has generated more than 60,000 jobs for Pakistani in 2015 and expected to generate more than 800, 000 job opportunities in near future 2025. A report released by the Think-Tan of South Asia Investors, the CPEC will offer about two million direct as well as indirect jobs, which will boost the economy and will raise GDP growth to 7.5% compared to 5% present.
Additionally, the data revealed by the World Bank, that the GDP of Pakistan has increased remarkably for $244 billion in 2014 to $300 Billion in 2017. To be more specific the annual GDP of Pakistan improved from 5.2% in 2018to 5.527% in 2019, viewing continuous improving with time being. Consequently, from the above facts, we conclude that CPEC is a game-changer for Pakistan, which will not only build the infrastructure but importantly will boost the economy and will add millions of jobs, unswervingly contributing toward the GDP growth of Pakistan.
The story isn't finished yet. The CPEC, on the other hand, emphasis on Special Economic Zones (SEZs), under the CPEC agreement, there are eight SEZs has been planned. The important aims of special economic zones SEZs are to sustain trade balance, increase employment, create jobs and increase investment. These are the zones where the trade and other business's laws are different from the rest of the states though SEZs are located inside the border of a nation. As far as SEZs are concerned China experienced successful stories of the so-called SEZs.
Fortunately, most of the SEZs are also in those isolated areas like Baluchistan, Gilgit Baltistan and Mohmand Agency, these areas are almost disregarded by many preceding governments due to the deficiency of pecuniary resources. The infrastructure, education, and the health system of these areas are self-same diminutives. Hence, after the construction of SEZs in these areas, will not only pave the infrastructure but health and the standard of living will rise along with education and many other amenities. In conclusion, all these SEZs will create thousands of jobs across the country which will raise thousands of people from poverty, unemployment as well as improve the standard of living.
Considering the fact that CPEC has a positive impact on Pakistan's economy, such impacts are strongly related to trade and investment. Since a longtime, China is a major and important investor in Pakistan. But the flow of goods and services, as well as the investment, has risen up particularly after 2000. Trade is thus important for economic development. The CPEC has tremendous positive impacts on the trade relation between China and Pakistan, as well as the neighbour's states. The CPEC will improve the trade relationship between Pakistan and the neighbour countries in addition to a general trade opportunity directly or indirectly, which will improve the economic condition of Pakistan.
Finally, it's concluded that economically the CPEC is the combination of SEZs, infrastructures, gas, and pipeline which will, of course, help Pakistan to overcome energy shortage, infrastructure problem, unemployment, eradicate poverty up to some extent and will raise the GDP.
In previous ten years, the country experienced political instability which blowout many domestic social, economic as well as a political problem, resulting in the high inflation rate, corruption, poverty, social isolation because of poverty and unemployment. These kinds of problems which up to a great extent affect the country's economic and social system are predictable to change under the CPEC contract. This contract will not only boost the economy but will also change the social and cultural ways of life. People to people communication, adopting a new culture, the rise of the living standard are all related to the CPEC.
The CPEC will also bring socio-cultural changes such as educational exchange, training and skill exchange, media exchange and business exchange. Thus, the CPEC is a real game-changer for Pakistan, which will increase regional cooperation, peace and stability in the region, diverse investment opportunities, socio-economic development (education, water and gas supply, medical treatment, poverty alleviation), educational exchange, professional drill, and will improve safety and constancy in the areas.
Post-UNGA: Kashmir is somewhere between abyss and fear
Hailed as a hero for calling out New Delhi's draconian measures in occupied Kashmir, Imran Khan warned the world of a "bloodbath" once India lifts its lockdown of Jammu and Kashmir. He persuaded global leaders to denounce the brutalities and human rights violations unleashed on Kashmiris ever since the disruption of the decades old status quo, which had been granted by the symbolic autonomy of Articles 370 and 35(A) within the Indian constitution. The constitutional coup d état ensures the alienation of Kashmiris in IOK beyond the point of redemption with massive spillover effects across the LOC. Pakistan is home to 4,045,366 self-governed and independent Kashmiris as per the 2017 census, who are desired of more than a political and diplomatic support for their brothers in IOK. India and Pakistan have already fought three wars on the Kashmir issue.
Focusing on the brazen denial of core human values, Imran Khan prognosticated a more radicalized world as the scourge of radicalism finds more fodder in a discriminated society. If climate change is ignored, the clichés of religious affiliation continues and the inherent right of self-determination remains disregarded, violent reaction is inevitable. He said, "we all know that marginalisation leads to radicalization"… "No one did research that before 9-11, the majority of suicide bombers in the world were Tamil Tigers. They were Hindus", but Hindus rightly escaped the blame since belief and religion has nothing to do with desperation.
Imran Khan talked more like Gandhi than the nation of Gandhi itself. He reminded the world of the reincarnation of the progrom and racial ridden medieval periods when religion and state were inseparable .It has reshaped and now resides more in inter-state relations while negatively stirring regional cooperation and globalization. Already enwrapped in a world of deprivation, the fifth largest population of South Asia is fearfully seen at the brink of a nuclear war with there being very few options left for a seven times smaller nuclear state of Pakistan, which has been already driven to the wall. The speech was well received and touched a chord with many Kashmiris reeling under the unprecedented communications blackout and travel restrictions in place since August 5.
"It felt like there is someone to watch our back. It felt that someone is talking for us, that we are not alone", was the feeling commonly displayed. Hundreds of affected Kashmiri stakeholders came out of their homes, shouting slogans in support of Imran Khan and calling for the independence of Kashmir despite the movement restrictions and deployment of additional force by India in Srinagar.A fresh charge sheet has also been filed by the National Investigation Agency (NIA) of India against the chief of Jammu & Kashmir Liberation Front, (JKLF) Yasin Malik, and other leaders including Asiya Andrabi, and Masarat Alam on October 4, 2019.
Conjuring up his dystopian vision, Prime Minister Modi made no mention of the disputed region of Kashmir in his read-out speech at the UN along the lines of diplomatically bureaucratic explanation. He only ticked the fanciful boxes of development, progress, and world peace, annihilation of terrorism and protection of environment. This speech however, was soon followed by a threat from his own government's defence minister calling for the liberation of Pakistani Administered Kashmir as the next step in India's quest for regional dominance.
Moreover, Imran Khan has also expressed his fears in his erstwhile meetings with Donald Trump, Angela Merkel, Emmanuel Macron and Boris Johnson on the sidelines of the General Assembly session. Trump has offered mediation, but only if both Pakistan and India agree. A senior US diplomat for South Asia called for a lowering of rhetoric between India and Pakistan, while saying that Washington hoped to see rapid action by India to lift restrictions it has imposed in Kashmir and the release of detainees there. Similarly, State Councilor and Foreign Minister of China, Wang Yi, in his address to the General Assembly on 27 September stated that,;"The Kashmir issue, a dispute left from the past, should be peacefully and properly addressed in accordance with the UN Charter, Security Council resolutions and bilateral agreements."
Nonetheless, an arrogant denial by India to the support of Pakistan's stance on Kashmir by Turkey and Malaysia is more of an inept understanding of diplomacy and international commitment. India needs to step out of the skeptical comprehension of the role of the UN that was pronounced by Ms. Vidisha Maitra India's Permanent Mission to the UN. The sway of diplomatic terms espoused with preconceived historical interpretations could be misguiding for political leaders. Modi needs to keep his ears close to the ground to save his political future. It is an extensional battle for Kashmiris. No concertina wire can blur the contradiction in his approach to the issue, "when they are in India they say it is an internal issue and when they are on the international forums, they consider it a bilateral issue," said one of the residents of Srinagar. Confusion exacerbates the fear, which consequently becomes a forerunner to terrorism. Same goes for the US whose mediator's role gets paradoxical by Trump's close alliance with Modi in his perusal of Asia-Pacific policy. Though, Imran Khan is perpetually using his political and diplomatic influence proactively, to mobilize both the international community and his own people, the anti-India feeling, the pro-militancy sensitivity and the general sense of despair — is stronger than before in Kashmir.
Kashmir Issue at the UNGA and the Nuclear Discourse
The Kashmir issue has more significance in view of the nuclearization of South Asia as many security experts around the world consider Kashmir a potential 'nuclear flashpoint' between India and Pakistan. The revocation of the special constitutional status of Kashmir by the BJP government on August 5, 2019, also referred to as Jammu and Kashmir Reorganization Act 2019 and the subsequent lockdown in Kashmir has since considerably increased political and diplomatic tensions between India and Pakistan. India's recent moves and actions in Kashmir have once again internationalized the Kashmir dispute. This was evident during the UN General Assembly's 74th Session, where the Kashmir issue remained a crucial agenda item for several countries.
During this year's session prominent leaders of the world condemned Indian brutalities in Kashmir. Turkish President Recep Tayyip Erdoğan criticized the international community for failing to pay attention to the Kashmir conflict and called for dialogue to end this dispute. Malaysian Prime Minister Dr. Mahathir Mohamad said that Kashmir "has been invaded and occupied" by India despite the UN resolution on the issue. Chinese Foreign Minister Wang Yi also discussed the issue and called for a peaceful resolution of the dispute based on the UN Charter and Security Council resolutions. Based on the grave importance of Kashmir as a potential 'nuclear flashpoint' between India and Pakistan, Prime Minister Imran Khan, while addressing the UNGA warned the world community about the dangers of a nuclear war that according to him might break out over Kashmir due to Indian atrocities. The current situation appears to be the most critical time for both the countries and the region as both countries are nuclear-armed.
However, unfortunately, the Indian leaders and media perceived Prime Minister Imran Khan's warning as a nuclear threat and termed it as 'brinkmanship'. Contrary to this perspective, it is worth mentioning here that the Indian leadership itself is involved in negative nuclear signaling and war hysteria against Pakistan in recent months. For instance, the 2019 Indian General Election campaign of Prime Minister Modi was largely based on negative nuclear signaling comprising of several threats referring to the possible use of nuclear weapons against Pakistan. Furthermore, as an apparent shift from India's 'No First Use' (NFU) policy, on August 16, 2019Indian Defence Minister Rajnath Singh, while on a visit to the Pokhran nuclear test site paid tribute to the late former Prime Minister Atal Bihari Vajpayee and asserted that India might review its NFU policy. He stated that a change in future circumstances would likely define the status of India's NFU policy. Since then there is no official denial of this assertion from India which indicates that India might abandon its NFU policy.
Moreover, India's offensive missile development programs and its growing nuclear arsenal which include; hypersonic missiles, ballistic missile defence systems, enhanced space capabilities for intelligence, reconnaissance, and surveillance and the induction of nuclear-powered ballistic-missile-capable submarines clearly indicate that India's nuclear weapons modernization is aimed at continuously enhancing its deterrence framework including its second-strike capabilities vis-à-vis Pakistan. This is also evident from India's military preparations under its more recent doctrines such as the 2017 Joint Doctrine of the Indian Armed Forces (JDIAF) and the 2018 Land Warfare Doctrine (LWD)which are also based upon more proactive offensive strategies and indirect threats of pre-emptive strikes against Pakistan.
As evident from the above-mentioned developments, it seems likely that India aspires to increasingly project itself as a regional hegemon and a potential superpower. The BJP government under Prime Minister Modi inspired by the Hindutva ideology is taking offensive measures under the notions of 'a more Muscular or Modern India' based on strong military preparedness. In such circumstances, Pakistan's threat perception would likely remain increasingly inclined towards its eastern border. Pakistan due to its economic constraints would also likely face considerable difficulties in competing with India toe to toe with respect to its military modernization plans. Pakistan is already punching well above its weight, and nuclear deterrence would be the only way through which Pakistan can maintain a precise balance of power to preserve its security. This could only be carried out by deterring India with the employment of both minimum credible deterrence and full-spectrum deterrence capabilities. This posture clearly asserts that since Pakistan's nuclear weapons are for defensive purposes in principle, they are aimed at deterring India from any and all kinds of aggression.
Hence, at the present India's forceful annexation of occupied Kashmir and the resultant nuclear discourse at the UNGA has further intensified Pakistan-India tensions. Under present circumstances, the situation could easily trigger another politico-military escalation between India and Pakistan. Prime Minister Modi has bet his political reputation on his move to annex the region and his political career is on the line. The same way Pakistan's politico-military establishment is equally unlikely back down from its stance on Kashmir. It would be difficult for both countries to come down from the escalation ladder because politico-military reputations would be at stake at both ends. Consequently, Pakistan might be forced to take action before India's modernization plans get ahead and might respond even sooner.
The nuclear discourse in Prime Minister Imran Khan's speech against the backdrop of the Kashmir crisis at such a high forum like UNGA would likely keep the issue internationalized. The situation demands the UN fulfill its responsibility of ensuring peace and to prevent billions of people from the dangers of a nuclear war. However, Indian blame game, aggressive behavior and offensive nuclear signaling against Pakistan all present a clear warning of nuclear war. It would greatly limit the prospects for international mediation especially by the United Nations whose resolutions on Kashmir clearly provide a right of self-determination to decide Kashmir's future.