India Toying with Dangerous Cold Start War Doctrine
The article in non-Asian entities would particularly need to be read in the context of almost perennial hostile relations prevailing between India and Pakistan since independence from colonial rule in 1947. Britain gave up this rich colony to avert the replay of events that occurred to some other European powers while leaving their African colonies in blood of the natives and considerably bruised themselves.
Britain left in haste, leaving many thorny territorial division issues between India and Pakistan unresolved, 'Kashmir' the major one. The state had predominantly Muslim population but a Hindu chieftain ruled it. There have been military conflicts of varying intensity between India and Pakistan in 1948, 1965 and 1971, the last being more devastating for Pakistan when India also helped public revolt against Pakistan by launching full-fledged military offensives and its eastern wing, erstwhile 'East Pakistan' was clipped that emerged as Bangladesh. Thus, the hostility simmers, forcing both the countries to maintain large standing armies as of operational necessity. India and Pakistan now possess nuclear weapons, which means looming war scenario, has an added dangerous dimension to it. Some major powers and the beneficiaries are happy with threatening status quo in Kashmir.
The simmering hostility nourishes their national interests perhaps better than the resolved conflict would do. Hence, no effective arbitration has been attempted ever by any power or organization except UN in early years of their inception by adopting Resolutions 38(1948) and 47(1948), which recognized Kashmiris right to choose between India and Pakistan through a plebiscite. India concurred initially but later backtracked. Tragedy of the time is that the Subcontinent remains prone to a horrific nuclear conflagration, possibly at the cost of world peace. (Assume the views expressed below are of author's and may not be construed as of the publishing source or Pak Army).
"I disapprove of what you say, but I will defend to the death your right to say it."
—Voltaire
Indian Military 'Cold Start Doctrine' (CSD) for war surfaces occasionally in Indian and Pakistani media as an unexplored paradigm. The opinion makers enjoy Voltaire's philosophy support across the board, that in the third millennium globalized world politics, has become synonymous to the 'Controversy Theory' which allows the scholars perceptional as well as approach variations while evaluating any concept, doctrine or theory. Even Voltaire was not spared by 'controversy'. While it is usual to attribute the above quote, for instance, to Voltaire, there is considerable evidence that in fact Evelyn Beatrice Hall wrote it in her 'The Friends of Voltaire' under a pen name, Stephen G. Tallentyre.
CSD is very high-sounding concept with its compulsory corollary ambiguity and those not possessing deep insight to the operational methodology tend to bolster its psychological fall out on the Pakistani readership, which is the only significant gain so far for India. Wittingly or unwittingly, its interpretation through plethora of contemporary theories projects it like an intricate myth if not monster. At times, it virtually appears that the war would flash like a bolt that would mince Pakistan's military retaliatory capability to the dust unless some big 'ifs' were not resolved by Pak Army. It is therefore pertinent to put the threat, haunting world peace in real perspective that had a brush with almost an imminent nuclear conflict in early 2002.
The roots of CSD like doctrine were nourished more by the unbridled euphoria of a maverick Indian Army Chief than by operational necessity. General Krishnaswamy Sundarrajan, besides being an architect of several brilliant episodes as well as reverses, was perceived by Indians to have carried a feather in his cap called Operation Brasstacks. Commencing in July 1986 as a war game, it developed into an ever-biggest exercise in Asia when air, artillery, armor and mechanized formations' 'blitzkrieg-like' integrated deep offensive strategy was tested. The much-trumpeted exercise reached its crescendo in December 1986, employing three strike corps (I Corps-Mathura, II Corps-Ambala and XXI Corps-Bhopal) along Indo-Pak southeastern borders but to the misfortune of Indian Chief, Pakistan had shrewder military strategist, General Zia-ul-Haq who lie in wait to let Indian Chief put all his eggs in one basket, Rajasthan. Before he went with broad smile to launch cricket diplomacy in India, he ordered his Army reserves in the North to sally unobtrusively from army garrisons by the time Sundarji (Indian Chief's short name) had achieved optimum assembly of forces comprising nine divisions excluding the holding corps, in Rajasthan. It was fantastic move by Pak Army and a masterpiece work of ISI and military intelligence outfits. Soon in Pak Army GHQ, heap of signal interception reports (sinrep) indicated that scramble back from Rajasthan to their original battle locations was ordered to all the Brasstacks forces immediately. When a formation complained of lack of transport, a sinrep indicated, it received prompt advice to use all mobility means, even obsolete like bull carts. Thus some young Pakistani officers, referred to 'Operation Brasstacks' in light vein as 'Operation Bull Carts'. Sundarji's dream of flashing saber like masterstroke to cut Pakistan into two halves simply crashed in the sand dunes that he had nurtured all along to eliminate status quo in operational equation between India and Pakistan prevailing since 1947. Thanks to Rajiv Gandhi, Indian Prime Minister who rescued Sundarji by agreeing with Gen Zia-ul-Haq to de-escalate the conflict in February 1987. Later Sundarji candidly admitted his failure, saying, he had over reached with Brasstacks. Not many people know the severity of dilemma Indian Army intended to create in the region and the reverses it faced in the process.
Briefly, one would put here the heightened concern for lack of strategic equivalence between the forces system of the two countries to rest by maintaining that it cannot be achieved in number game, as Pak Army is in comfortable position without it vis-à-vis country's weak economy. Jonathan Marcus, a BBC defense correspondent had also observed in 2003, "In straight numerical terms of population, economic might, military manpower and equipment it is almost meaningless to speak about an India-Pakistan balance". Nevertheless, through persistent sharp scrutiny of Indian Army doctrines that are 'war-gamed' by Pakistan without laxity ever and her expansion as well as modernization, Pak Army has taken some potent measures by regrouping, modernizing and at times resorting to modest new raising of forces level to keep adversary's hostile designs in effective check. Strategic imbalance, for several reasons, would remain Pak Army's perennial friend and it has to coexist with it. Pak Army has some spare arrows in the bow to act as force multipliers in the power game like its ever readiness to counter war as a cherished ideological duty, conventional or nuclear if it is thrust upon it and exploiting geo-strategic advantage that geography renders it. Pak Army is in position to deploy and employ holding corps as well as reserves in a manner that achieves effective counter level, yet with remarkable economy of effort. It has overwhelming edge in time and space factor and hence expeditious assembly of forces and convenient readjustment of the forces posture is possible if a hypothesis unfolds, other than the one on which defensive/offensive maneuver is mounted. Thus, its strategic orientation remains superior, allowing it to operate on interior lines, an advantage that Indian army cannot achieve.
Instead, India has to maintain Eastern Command far away for Chinese and Bangladesh borders as well as Northern Command for Chinese border and Pakistan Northern Areas/Line of Control. Western, Southern and South Western Commands remain poised against international borders with Pakistan while Central Command is in the depth at Lucknow because it has to meet certain operational contingencies in different directions. On achieving credible nuclear deterrence, Pakistan stands compensated for Indian preponderance in the conventional forces ratio while Indian nuclear claw has also been defanged that she would have been rattling on Pakistan every now and then. In fact, Sundarji's venture of 1986-87, in all probability was driven by such hypothesis that Pakistan would resort to 'diplomacy' means only to de-escalate once haunted by the specter of Indian nuclear force projections and not confront India by mobilizing its holding or punch formations for war. Their hypothesis was way off the mark.
Despite such reverses, however, the flare for concept of simultaneity, targeting more than one objective at a time, lightening strikes against deep objectives in a theatre and destruction of Pakistan Army lingered on among Sundarji's subordinates. On the contrary, three years of evaluation of Sundarji's finesse enabled Pak Army to further fine tune its offensive as well as defensive plans. Not content with it, General Mirza Aslam Beg, Pak Army Chief, kicked off yet another mega exercise, 'Zarb-e-Momin' (Stroke of a Believer) in 1989 in Central Punjab that the world rated as the beginning of Pakistan Army 'glasnost' ensuring that posture-balance was maintained to preempt any mischief from the adversary.
Foxland and Blueland wrestled for several weeks at the final stages of exercise with troops. Chief Control HQ at Sargodha, assisted by Blueland and Foxland Senior Controls, orchestrated the entire conduct, monitoring and evaluation. Three corps, two armoured brigades, two artillery divisions, an air defence division and the Pakistan Air Force participated….Fourteen new concepts were tested; many vital lessons were learnt.The events were covered by national and international media. Several international delegates, Asian as well as Western, visited and were briefed including the leaders of, what Zbigniew Brzezinski also called them, the holy warriors. Gulbadin Hikmatyar, Prof Burhanudin Rabbani, Sibghatullah Mujadadi, Abdul Rab Rasul Sayyaf and Mulvi Younis Khalis were prominent. Some observations, they made, were point black and dictated by their grip on war making strategy. Over all the visiting delegates appreciated, the conduct that was meticulous and agreed that Blueland maneuvers could blunt Foxland offensives. That was precisely the message Gen Beg had intended to convey across the border.
Indian Military hierarchy's frustration with what Sundarji had left for them as a model doctrine, employing three strike corps in 'blitzkrieg' style, grew worse in the wake of 'Operation Parakaram' that trailed December 13, 2001 attack on Indian Parliament. Mobilization of Indian army was ordered on 18 December 2001 to maul Pakistan severely for its alleged involvement that India detected 'marvelously' in just about three days time. Other than a few leading powers, world was oblivious of the Indian 'responsibility' to spark off an inferno in the Subcontinent. However, assembly of Indian forces was sluggish and stretched over three weeks. In the mean time, President Musharraf played his cards by ordering formations to occupy battle locations. He also gave a 'turn about' address to the nation, renouncing 'Jihadis' to woo Western sympathies, particularly of US that could not afford to see Pakistan switch its forces from Western to its Eastern borders. International actors' intervention averted the conflict. Thus, masked operational lacunas in Indian Army planning, surviving comfortably hitherto fore, came under sharp scrutiny. Walter Ladwig III of Oxford University clearly saw the flaws in Indian's war making ambitions like loss of strategic surprise, large size of strike forces that forced a long gap between political decision and military action and finally denuding of holding corps of any offensive punch. Hence, it was imperative to evolve a doctrine that should over-ride such weaknesses of one of the largest standing armies in the word that had clung to defensive-defence strategy since partition. In other words, a dangerous conflict averted in 2001 led to Indian pursuits that are more lethal in the realm of deceptive war making in all forms.
Indian Army Chief, General Padmanabhan unveiled CSD in April 2004. Could it be summed up as a novel and brilliant idea? Certainly not because it carried conspicuous Sundarji's stamp with mix of Indian Army Chief's astuteness who managed now to substitute Sundarji's lightening 'blitzkrieg-like' deep offensives doctrine with sharp and crisp shallow multiple strikes called CSD, also claiming to knock out their own holding and offensive corps' capability gaps. In other words, now Indian defensive corps could contribute as effectively as strike corps, at least hypothetically and the latter were to become known as Integrated Battle Groups (IBGs). Media leaks suggested that initially Indian army would constitute eight IBGs and each would be a concentrate of firepower and mobility under lavish air umbrella, built upon division size armor or mechanized formation with ability to operate as groups or sub-groups executing independent operations within the Group's area of operation. The destruction of Pakistan Army has been retained as most lucrative objective, employing tremendous firepower and state-of-art means of ground as well as aerial mobility that would interdict and destroy its reserves, comprising mechanized formations.
General Padmanabhan's brand of CSD sounded fantastic, as did Sundarji's blitzkrieg and concept of simultaneity during peacetime about a decade earlier. Once the military logisticians, assembly of forces experts and their Ordnance Corps would have sat together to formulate the inventories to equip the Army with Padmanabhan's long indent for latest machines, weapons and munitions, finance organ of Indian Government would have shuddered. Commenting on CSD within a month of its unveiling in his May 2004, what he called, strategic paper, Dr. Subhash Kapila, almost had rub with the vision that CSD could not be harnessed militarily as per the perceived scales and if proceeded with, it would amount to asking for moon. He wrote as an indirect admission, "The unveiling of a new war doctrine throws up a host of factors for discussion in terms of why a new war doctrine is required, what are the attendant factors in putting it into operation, the limiting factors that may come into play…". Commenting three and half years later in December 2007, Dr. Subhash Kapila's apprehensions further blossomed. He even argued to defer CSD until 2010 because, "India's COLD START WAR DOCTRINE woven around the operational concept of offensive operations at the very outset of hostilities cannot proceed towards success on Indian Army undertaking military operations with incomplete military inventories…". Hence, it says all to conclude that CSD is a concept on paper and may be nothing more than at experimental stage with old clattering machines. Conversely, maintaining vigilance about an adversary is the hallmark that Pak Army must observe. For its consumption, it has to underscore the need for meeting an adversary in the battlefield as if they are equipped right now to the needle details. Indian endeavor to fling strategic surprise on Pakistan as a pre-emption strategy must be checkmated by covert peacetime measures so that its forces instinctively remain out of their bite through ruses, well conceived by military leadership even when the war balloon has not gone up yet.
One would not question Indian Army's prerogative to equip its forces to any limit but a pertinent question comes up here. Why did General Padmanabhan switch to intense multiple SHALLOW maneuvers concept? Obviously, the answer is that in the presence of nuclear strike capability with Pakistan Army, there has to be a limited war on the cards. In other words, the change of heart did not emanate from his vision but driven by a compulsion, forced on Indian army under the obtaining politico-military environments. Therefore, CSD has another inhibiting factor that Indian battle sweeps have to remain short of reaching nuclear retaliation threshold. Answer becomes a question again if one asks the proponents of CSD that when India initiates conflict under the label of limited war, how friendly India would remain with Pakistan to keep the war under 'limited' tag. Do the adversaries prescribe the counter measure levels to each other? What India marks as limited objectives, in Pakistan Army reckoning they might not be 'limited' category? Military will and intentions on two sides have to differ because they work against each other. Though Pakistan would never ever be nuclear button-happy-power but when destruction of our Army is envisaged by CSD, that is the center of gravity of our survival, how would Indian war wizards ensure that Pakistan would desist from using nukes, particularly once Pakistan Army's concept of operations hinges on offensive-defence strategy? About the nukes, Shireen Mazari says, "Pakistan's nuclear escalation ladder has only 'one rung'." Thus, she seals the argument.
The proposition would remain dangerous when India intends resorting to such measures like CSD under the assumption that by subjecting Pakistan to retribution, it would desist from proxy war in Kashmir that Pakistan denies. Instead, Pakistan maintains that Indian state terrorism has pushed Kashmiris to the brink. The scholars, world over have labeled CSD as dangerous to execute on prefixed speculations based on tunnel vision. CSD creates space of legitimacy for Pakistan to demand from India to rub off its intrusive footprints in Baluchistan, FATA, Pak-Afghan border areas and thus leverage for escalation of crisis is afforded to Pakistan to recover its internal stability. On Pakistan side, there is undue haste instead to sacrifice all its national interests and strong diplomacy pivots without India shifting from its non-yielding stance by an iota. Affording India the facility of trade corridor to Central Asia through Pakistan and granting 'Most Favored Nation' status while 'Kashmir' wound still festers since decades, would be a folly with no parallel. Indian military collaboration with Israel is also a cause of change in Indian overtone when she talks of military ventures or handles Kashmiri demonstrations in mode and severity parallel to Israeli handling of the Palestinians' demonstrations. With Israel colluding now with Indian military extensively, resentment against Israel has grown manifold in Pakistan though, it did not enjoy a favorable score since inception of state of Israel.
India has to realize that its stakes in regional peace are far greater than Pakistan and hence its unimpeded economic spiral would be a factor to force India to reach for reconciliation with Pakistan in an earnest manner. Seeking 'peace' through dialogues and negotiations fervently by both the powers is the ultimate option they would have to embrace but an early embrace would augur well for the regional as well as for the world peace. Powers that have the clout with India and Pakistan must facilitate the adversaries to reach at workable solution. International community is also encumbered with the responsibility to caution India to desist from such momentary madness of 18 December 2001 that could have far-reaching repercussions beyond remedy.
Dr.Makni (his acronym) is also an author of a book: "The New Great Game: Oil and Gas Politics in Central Eurasia". (irsri@hotmail.com)
Can India Balance Between Beijing and Washington?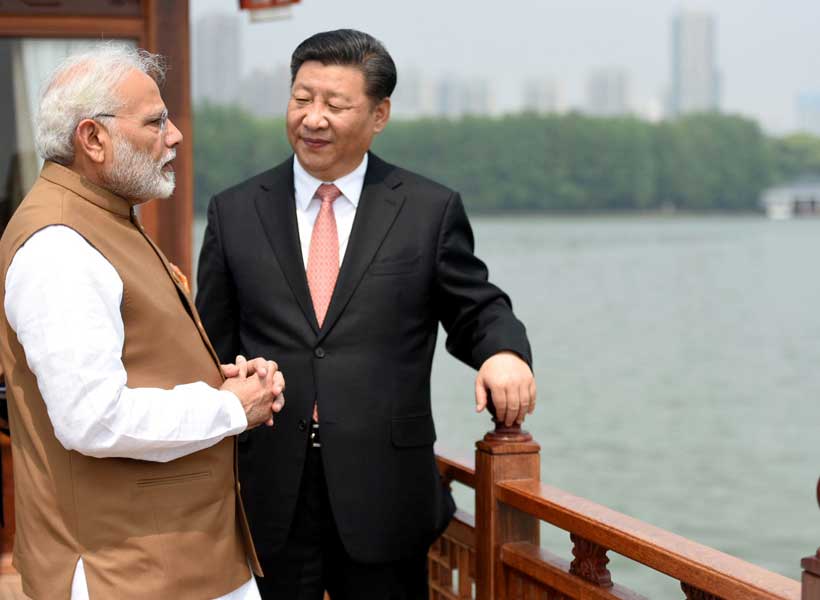 On October 10, 2018, a Senior Chinese Diplomat in India underscored the need for New Delhi and Beijing to work jointly, in order to counter the policy of trade protectionism, being promoted by US President, Donald Trump.
It would be pertinent to point out, that US  had imposed tariffs estimated at 200 Billion USD in September 2018, Beijing imposed tariffs on 60 Billion USD of US imports as a retaliatory measure, and US threatened to impose further tariffs. Interestingly, US trade deficit vis-à-vis China reached 34.1 Billion USD for the month of September (in August 2018, it was 31 Billion USD). Critics of Trump point to this increasing trade deficit vis-à-vis China as a reiteration of the fact, that Trump's economic policies are not working.
Ji Rong, Spokesperson of the Chinese Embassy in India said that tariffs will be detrimental for both India and China and given the fact that both are engines of economic growth it is important for both to work together.
The Chinese diplomat's statement came at an interesting time. US President, Donald Trump on October 2, also referred to India as 'tariff king'. Even though the India-US strategic relationship has witnessed a significant upswing, yet the US President has repeatedly referred to India imposing high tariffs on US exports to India (specifically Harley Davidson motorcyles).
It also came days after, after India signed a deal with Russia (October 5, 2018) for the purchase of 5 S-400 Air Defence system, during the visit of Russian President Vladimir Putin. The Chinese envoy's statement also came days before India attended the China dominated Shanghai Cooperation Organization (SCO). Significantly, India and China also began a joint training programme for Afghan Diplomats on October 15, 2018 (which would last till October 26, 2018).
Trilateral cooperation between India, China and Afghanistan was one of the main thrust areas of the Wuhan Summit, between Chinese President, Xi Jinping, and Indian PM, Narendra Modi, and this is one of the key initiatives in this direction.
There are a number of factors, which have resulted in New Delhi and Beijing seeking to reset their relationship. The first is difference between New Delhi and Washington on economic ties between the former and Iran and Russia. Washington has given mixed signals with regard to granting India exemptions from Countering America Through Sanctions Act (CAATSA).
US ambiguity on providing waivers to India
While sections of the US establishment, especially Jim Mattis, Defence Secretary and Secretary of State, Michael Pompeo have been fervently backing a waiver to India, there are those who oppose any sort of waiver even to India. NSA John Bolton has been warning US allies like India, that there will be no exemption or waiver from US sanctions targeting Iran's oil sector. On October 4th, Bolton while briefing the press said:
"This is not the Obama administration … is my message to them (the importers),
Trump himself has not been clear on providing India a waiver, when asked about this issue, he said India would  know soon about the US decision (Trump has the authority to provide a Presidential waiver to India from the deal with Russia). A State Department Spokesperson also stated, that the US was carefully watching S-400 agreement with Russia, as well as India's decision to import oil from Iran, and such steps were 'not helpful'. With the US President being excessively transactionalist, it is tough to predict his final decision, and with growing differences between him and Mattis, one of the ardent advocates of waivers for India, it remains to be seen as to which camp will prevail.
US protectionism and New Delhi's discomfort
Differences between Washington and New Delhi don't end on the latter's economic ties with Tehran and Moscow. India has on numerous occasions stated, that while strengthening strategic ties with the US, it was concerned about the Trump administration's economic policies. This was clearly evident from the Indian Foreign Minister Sushma Swaraj's speech at the SCO Meet (October 12, 2018) held at Dushanbe, Tajikistan where she pitched for an open global trading order. Said Swaraj:
"We have all benefited from globalization. We must further develop our trade and investment cooperation. We support an open, stable international trade regime based on centrality of the World Trade Organization,"
Even if one to look beyond Trump's unpredictability, there is scope for synergies between New Delhi and Beijing in terms of economic sphere and some crucial connectivity projects.
Economic Opportunities
For long, trade has been skewed in favour of China, and this is a growing concern for India. Trade deficit between India and China has risen from 51.1 Billion USD in 2016-2017 to 62.9 Billion in 2017-2018 (a rise of over 20 percent).
The imposition of US tariffs has opened up opportunities for China importing certain commodities from India. This includes commodities like soybeans and rapeseed meal. In a seminar held at the Indian embassy in Beijing in September 2018, this issue was discussed and one on one meetings between potential importers (China) and sellers (India) was held. India urged China to remove the ban which had imposed on the import of rape meal seeds in 2011.
Connectivity and Afghanistan
Another area where there is immense scope for cooperation between India and China is big ticket connectivity projects. During his India visit, Uzbekistan President, Shavkat Mirziyoyev invited India to participate in a rail project connecting Uzbekistan and Afghanistan.
Afghanistan has welcomed this proposal, saying that this would strengthen cooperation between China and India in Afghanistan. India-China cooperation on this project is very much in sync with the China-India Plus Model proposed by China at the BRICS Summit in July 2018.
India and China can also work jointly for capacity building in Afghanistan. New Delhi has already been involved in providing assistance to Afghanistan in institution building and disaster management, and if Beijing and New Delhi join hands this could make for a fruitful partnership. The India-China joint training program for Afghan diplomats is a significant move in this direction. India and China can also look at joint scholarships to Afghan students where they can spend part of their time in China and the remaining time in India.
Both India and New Delhi for any meaningful cooperation in Afghanistan can not be risk averse, and will have to shed their hesitation. Beijing for instance has opted for a very limited 'capacity building' , where it will work with India in Afghanistan. While Kabul had expected that both sides will invest in a significant infrastructure project, Beijing with an eye on its ally Islamabad's sensitivities opted for a low profile project.
Conclusion
New Delhi should not be too predictable in it's dealings with Washington DC, and has to do a fine balancing act between Beijing and Washington DC. While on certain strategic issues are synergies between India and the US, on crucial economic and geo-political issues, there are serious differences, and India's ties with Beijing are crucial in this context. New Delhi and Beijing should seek to expand economic ties, and the latter should give more market access to Indian goods. Apart from this, both countries should work closely on connectivity projects. If both sides build trust, the sky is the limit but it will require pragmatism from both sides. Beijing should not allow the Pakistani deep state to dictate it's links with India (especially in the context of cooperation in Afghanistan). New Delhi on its part, should not make any one issue a sticking point in its complex but very important relationship with Beijing.
The "Neo-Cold War" in the Indian Ocean Region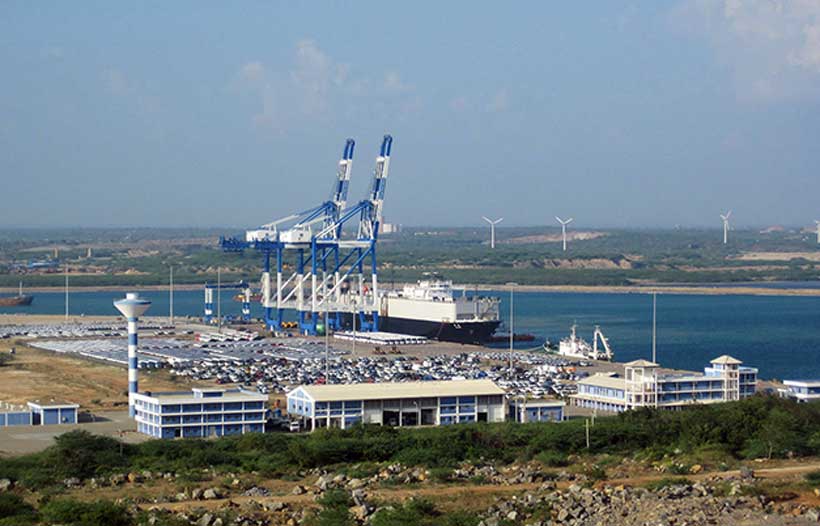 Addressing an event last week at London's Oxford University, Sri Lankan Prime Minister Ranil Wickremesinghe said some people are seeing "imaginary Chinese Naval bases in Sri Lanka. Whereas the Hambantota Port (in southern Sri Lanka) is a commercial joint venture between our Ports Authority and China Merchants – a company listed in the Hong Kong Stock Exchange."
Prime Minister Wickremesinghe has denied US' claims that China might build a "forward military base" at Sri Lanka's Hambantota port which has been leased out to Beijing by Colombo. Sri Lanka failed to pay a Chinese loan of $1.4 billion and had to lease the China-developed port to Beijing for 99 years. Both New Delhi and Washington had in the past expressed concerns that Beijing could use the harbor for military purposes.
The USA, China, and India are the major powers playing their key role in the "Neo-Cold War" in Central Asian landmass and the strategic sea lanes of the world in the Indian Ocean where 90% of the world trade is being transported everyday including oil. It is this extension of the shadowy Cold War race that can be viewed as the reason for the recent comment made by the US Vice President Mike Pence that China is using "debt diplomacy" to expand its global footprint and Hambantota "may soon become a forward military base for China's expanding navy".
According to some analysts, the deep-water port, which is near a main shipping route between Asia and Europe, is likely to play a major role in China's Belt and Road Initiative.
In his book "Monsoon" Robert D. Kaplan (2010), a senior fellow at the Centre for a New American Security notes the following:
[…] the Indian Ocean will turn into the heart of a new geopolitical map, shifting from a unilateral world power to multilateral power cooperation. This transition is caused by the changing economic and military conditions of the USA, China and India. The Indian Ocean will play a big role in the 21st century's confrontation for geopolitical power. The greater Indian Ocean region covers an arc of Islam, from the Sahara Desert to the Indonesian archipelago. Its western reaches include Somalia, Yemen, Iran, and Pakistan — constituting a network of dynamic trade as well as a network of global terrorism, piracy, and drug trafficking […]
Two third of the global maritime trade passes through a handful of relatively narrow shipping lanes, among which five geographic "chokepoints" or narrow channels that are gateway to and from Indian ocean: (1) Strait of Hormuz (2) Bab el-Mandab Passage (3) Palk Strait (4) Malacca and Singapore Straits and (5) Sunda Strait.
While Lutz Kleveman (2003), argues that the Central Asia is increasingly becoming the most important geostrategic region for the future commodities, Michael Richardson (2004) on the other hand explains that the global economy depends on the free flow of shipping through the strategic international straits, waterways, and canals in the Indian Ocean.
According to the US Energy Information Administration (EIA)  report published in 2017, "world chokepoints for maritime transit of oil are a critical part of global energy security. About 63% of the world's oil production moves on maritime routes. The Strait of Hormuz and the Strait of Malacca are the world's most important strategic chokepoints by volume of oil transit" (p.1). These channels are critically important to the world trade because so much of it passes through them. For instance, half of the world's oil production is moved by tankers through these maritime routes. The blockage of a chokepoint, even for a day, can lead to substantial increases in total energy costs and thus these chokepoints are critical part of global energy security.  Hence, whoever control these chockpoints, waterways, and sea routes in the Indian Ocean maritime domain will reshape the region as an emerging global power.
In a recent analysis of globalization and its impact on Central Asia and Indian Ocean region, researcher Daniel Alphonsus (2015), notes that the twists and turns of political, economic and military turbulence were significant to all great players' grand strategies:
(1) the One Belt, One Road (OBOR), China's anticipated strategy to increase connectivity and trade between Eurasian nations, a part of which is the future Maritime Silk Road (MSR), aimed at furthering collaboration between south east Asia, Oceania and East Africa; (2) Project Mausam, India's struggle to reconnect with its ancient trading partners along the Indian Ocean, broadly viewed as its answer to the MSR; and (3) the Indo-Pacific Economic Corridor, the USA's effort to better connect south and south east Asian nations. (p.3)
India the superpower of the subcontinent, has long feared China's role in building outposts around its periphery. In a recent essay, an Indian commentator Brahma Chellaney wrote that the fusion of China's economic and military interests "risk turning Sri Lanka into India's Cuba" – a reference to how the Soviet Union courted Fidel Castro's Cuba right on the United States' doorstep. Located at the Indian Ocean's crossroads gives Sri Lanka the strategic and economic weight in both MSR and Project Mausam plans. MSR highlights Sri Lanka's position on the east-west sea route, while Project Mausam's aim to create an "Indian Ocean World" places Sri Lanka at the center of the twenty-first century's defining economic, strategic and institutional frameworks. Furthermore, alongside the MSR, China is building an energy pipeline through Pakistan to secure Arabian petroleum, which is a measure intended to bypass the Indian Ocean and the Strait of Malacca altogether.
A recent study done by a panel of experts and reported by the New York Times reveal that how the power has increasingly shifted towards China from the traditional US led world order in the past five years among small nation states in the region. The critical role played by the strategic sea ports China has been building in the rims of Indian Ocean including Port of Gwadar in Pakistan, Port of Hambantota in Sri Lanka, Port of Kyaukpyu in Myanmar and Port of Chittagong in Bangladesh clearly validates the argument that how these small states are being used as proxies in this power projection.
This ongoing political, economic and military rivalry between these global powers who are seeking sphere of influence in one of the world's most important geostrategic regions is the beginning of a "Neo-Cold War" that Joseph Troupe refers as the post-Soviet era geopolitical conflict resulting from the multipolar New world order.
IMF bail-out Package and Pakistan
Pakistan may approach IMF to bail-out the current economic crisis. It is not the first time that Pakistan will knock the doors of IMF. Since 1965, Pakistan has been to IMF 17 times. Almost all of the governments has availed IMF packages. Usually, IMF is a temporary relief and provide oxygen for short time so that the patient may recover and try to be self-sustained. The major role of IMF is to improve the governance or reforms, how the ill-economy of a country may recover quickly and become self-sustained. After having oxygen cylinder for 17 times within 5 decades, Pakistan's economy could not recover to a stage, where we can be self-sustained and no more looking for IMF again and again. This is a question asked by the common man in Pakistan to their leadership.  People are worried that for how long do we have to run after IMF package? The nation has enjoyed 70 decades of independence and expects to be mature enough to survive under all circumstances without depending on a ventilator.
The immediate impact of decision to approach IMF, is the devaluation of Pakistani Rupees. By depreciating only one rupee to US dollar, our foreign debt increases 95 billion rupees.  Today we witness a depreciation of rupee by 15 approximately (fluctuating), means the increase in foreign debt by 1425 billion rupees. Yet, we have not negotiated with IMF regarding depreciation of Rupees. Usually IMF demand major depreciation but all government understands the implications of sharp devaluation, always try to bargain with IMF to the best of their capacity. I am sure, Government of Pakistan will also negotiate and get the best bargain.
IMF always imposes conditions to generate more revenue and the easiest way to create more income is imposing tax on major commodities including Gas, Electricity and Fuel. Pakistan has already increased the prices of Gas, Electricity and Fuel. It has had direct impact on basic necessities and commodities of life. We can witness a price hike of basic food, consumer items and so on. Except salaries, everything has gone up. While negotiating with IMF formally, we do not know how much tax will be increased and how much burden will be put on the common man.
We believe, our rulers know our capacity and will keep in mind the life of a common man and may not exceed the limit of burden to common man beyond its capacity. We are optimistic that all decisions will be taken in the best interest of the nation.
It is true, that Pakistan has been to IMF so many times, so this might be a justification for the PTI Government to avail IMF package. But, there are people with different approach. They have voted for change and for "Naya" (new) Pakistan. They do not expect from PTI to behave like previous several governments. If PTI uses the logic of previous governments, may not satisfy many people in Pakistan.
Especially, when Pakistan was in a position to take-off economically, we surrendered half way, may not be accepted by many people in Pakistan.
The government has explained that other options like economic assistance from friendly countries was also very expensive, so that they have preferred IMF as more competitive package. I wish, Government may educate public on the comparison of available options, their terms and conditions, their interest rate, their political conditions, etc. There might be something confidential, Government may avoid or hide, one may not mind and understand the sensitivity of some of the issues. But all permissible information on the terms and conditions of all options in comparison, may be placed on Ministry of Finance's website or any other mode of dissemination of knowledge to its public.
Against the tradition, people of Pakistan have voted Imran Khan, who so ever was given ticket of PTI, public has voted him or her blindly in trust to Imran Khan. A few of his candidates might not be having very high capabilities or very good reputation, but, public has trusted Imran Khan blindly. Imran Khan is the third most popular leader in Pakistan, after Jinnah the father of nation, and Zulfiqar Ali Bhutto, the Former Prime Minister of Pakistan in 1970s.
People of Pakistan have blindly trusted in Imran Khan and possess very high expectations from him. I know, Imran Khan understands it very well. He is honest, brave and visionary leader and I believe he will not disappoint his voters.