General Elections Pakistan-2013: Rendezvous with Monster or Messiah
Seldom has a country gone through an agonising period of trial and tribulation more severely than Pakistan for last about a decade and half.
Fall of the dictator in March 2008 ordinarily should have ushered in a new era of peace and prosperity at the dawn of democracy but the dream remained elusive. It was not because of lack of virtues that democracy presents to any nation but the rulers, instead of nurturing it carefully were hell bent to ensure that it gasps under the weight of their malignant follies.
The safety chutes, democracy affords to circumvent governance deadlocks, were employed by the ruling Pakistan People Party (PPP), instead as the means to lure in political support for survival from the coalition parties, 'Awami National Party' (ANP), Pakistan Muslim League, Quaid-e-Azam (PML-Q) and 'Mutahida Qaumi Movement' (MQM), as criminal trade off. Now the state is bracing up for general elections by midyear.
All the ruling coalition partners have extremely tainted record. Survival being the most sought for pursuit, the government has been obliged to over look massive corruption, heinous crimes and rampant nepotism committed by their party heavy weights, though some were clearly adjudicated with specific awards by the judiciary but were rubbed on the toe. Two extremes are interesting as well as deplorable. First, never ever Pakistan, since independence in 1947, has had an honest and courageous judiciary as it has now under the auspices of Chief Justice of Supreme Court of Pakistan. Secondly, never ever any government mocked and blatantly defied judiciary verdicts as did President Asif Ali Zardari and his administration, which carries the heaviest political baggage of questions that it has to answer at certain point of time, some lethal one.
More Questions than Answers
The current five years tenure is expiring in mid March and the constitutional provision makes it mandatory to hold general elections within 90 days of dissolution of the government under an independent election commission. But questions are lurking in every sane mind whether elections would engulf us as a monster or would prove as panacea for all rampant ills. The pointers are that elections would result in emergence of political alliance that would foster the corrupt and criminal gridlock of the rulers yet again for the coming term. Even if the ruling coalition is knocked out through the sagacity of voters, the second layer of possible coalition among Pakistan Muslim League, Nawaz (PML-N) and Jamiat-ul-Ulema-e-Islam,Fazal (JUI-F) happens to surface as contender with some other minor parties' support, would mean yet another futile alternative as both parties have dubious record of performance. JUI (F) remained an ally of the dictator to lend him crucial support all along his rule of tyranny in tandem with PML(Q) and PML (N) governs the largest province of Punjab, almost half of Pakistan if population is taken into account. Its performance has the only lustre of presenting a Chief Minister, Shahbaz Sharif, who can sob on the stage, lamenting about common man suffering at the hands of corruption mafia. Other than occasional emotional outburst, he did nothing to prevent his bureaucracy from exploiting poor people lest he might lose their 'help' during general elections where it always plays unseen role. In other words, he proved himself during the entire tenure of about five years as a magician who always criticised the ruling parties at the federation incessantly to obfuscate his failings and attain political mileage against them.
Democracy Perverted by Politicians But Some Parties are Vibrant
The civilised world would be spell bound after knowing that democracy has seen the worst degree of perversion in Pakistan. The political parties like PML(N), PPP, MQM, PML(Q), ANP and JUI(F) have become single family or person's maid. Their leaders boast around in royal regalia who either never accept intra party elections or concede to the extent of 'mock' exercise with precondition that their dynastic hold would not be challenged, ever since these parties were founded. Dissenters, if any are ruthlessly eliminated. Where nature came to rescue the democracy, the party reacted shamefully by retaining the leadership within the family by fielding a son or a daughter in the arena. While the world takes pleasure from the concept of universal acceptance of democracy as the just system to govern the nation states, our dynasties are well and safe under royals with a small badge of 'democracy' displayed off and on for appeasing the West. Since 1971, the country has been, for the same reason, either under PPP or PML(N) rule and when these two parties blundered, the vacuum was filled by Martial Law.
There are political parties which have the support at grassroots level like Pakistan Tehreek-e-Insaf (PTI), led by famous cricketer turned philanthropist/politician, Imran Khan or the one led by Munawar Hassan, Jamat-e-Islami, (JI) considered as balanced Islamic party where discipline, honesty and patriotism reside and thus they are in position to deliver. Their success, however, is contingent upon big 'if' and that is the conduct of fair and free elections. Unfortunately, independent election commission which has not matured as yet in its role has been foxed already by the ruling elites. The government had devised several modes to fool people and twist the laws to their convenience by handing down billions of grants to their party legislators/cronies in the name of development schemes of the public concern. To make the matter worse, there is almost no accountability of such funds that are consumed on production of false documents because the major chunks of money-grants go to legislators. In other words, the ruling parties have purchased their vote bank before the constitution of care taker government for overseeing impartial conduct of elections and transition of power. Even if the care takers could claim honest conduct of general elections later on, they may be justified but tragedy they might know is that the elections had already been rigged before they stepped in. Now the dilemma which cannot be prevented and emanates from the fear of guilt that haunts at least three parties very clearly and sadly they are the ones ruling the roost. PPP, PML-Q and MQM have huge stock of criminal cases against them. If not voted back to power, which is least likely despite their clever manoeuvres, they would prevent/hinder smooth transition of power under fabricated pretexts. Stoking law and order situation in province of Sind where they have appeal on regional/ethnic basis is a dangerous option they would resort to. PPP, MQM and ANP maintain potent militant wings that are an open secret by now. When such scenario is a reality on the horizon, coupled with ongoing play of fissures getting deeper every day, is there any justification of holding general elections.
Emerging Paradigm of Geo-Political Environments
Casting look in wider perspective, political and economic landscape of the country is extremely distorted. While the government managed to put up a fake democratic face to the international community, internally its performance has been horribly pathetic and the world knows it. According to Transparency International (TI) report, the government has presided over 8000 billion rupees ($ 80 billion) corruption during its tenure. In fact some local sources have been quoting much more figures with credibility hard to believe. In the mean time, profit churning public organizations like Pakistan International Airline, Pakistan Railways, Pakistan Steel Mills, WAPDA and Tourism Corporation etc have gone pauper. Law and order situation throughout Pakistan is in shambles. Corrupt practices have permeated to every layer of governance. Common man, while rupee devalued 100 percent against US dollar since 2008, is aghast to see apathy meted out to him. Inflation is sky high.
There is growing unrest in Baluchistan, Sind (Karachi), Federally Administered Tribal Area (FATA) and Gilgit-Baltistan province. War on terror is taking heavy toll on country's meagre resources. Sectarian and ethnic killings by mushrooming militant groups have hung the country's fate by a fragile thread. Writ of the state is precarious, options narrow and leadership deficit monumental. Decade long war in Afghanistan has sucked in Pakistan to the limit from the western border. As if it was not enough, hostilities simmer on the eastern borders along the Line of Control (LOC) with India as well. A major chunk of over a million-strong Indian Army is brutalising Kashmiris across LOC in full view of civilised world for decades. Geo-political expediencies have quelled the ethics of the international standard bearers of the humane values to prevent the subjugation and human carnage.
Pakistan Army, an institution held in high esteem by people at large, faces the spectre of war on multiple fronts including the one that has nuclear connotation in the fold—and then election are just around the corner. Pakistani nation has the potential to brave these scenarios but shudders to perceive that the general elections, instead of heralding any significant democratic change would mean, at best, status quo with increased violence and added dent to national unity. This is scary appreciation and no one wants to remain under the yolk of corrupt rulers who have trashed the rule of law or face trauma of impending civil war, though in lesser intensity it has been already unleashed. In Pakistani brand of democracy, the ruling elite and their cronies when persuaded to abide by rule of law by the courts, react as if an act of sacrilege has been committed to ditch their honour. The way government has stood for five years suggests that name of democracy was perverted without shame. No party ever showed the guts to admit failures and vacate the power seat for other party that could manage the affairs rather wisely or seek early elections. In the meantime, rot compounded when billions of rupees corruption was consummated by those who were supposed to prevent it. Within the ruling elites, there is hardly any leader who, given the chance, could resist temptation of massive illicit gains. Pakistan's security forces are managing the national security dilemma in a chivalrous ways but for the duration of election campaign and actual conduct, need to maintain security would not be confined to the polling booths only to protect the voters but the entire population against any threat of terror. In other words, defence forces shall by thoroughly committed, draining thus their domination of war zones from the threatened eastern as well as western borders. Should there be confluence of national and international conspiracies to destabilise Pakistan, there would not be more opportune time than the occasion of general elections to implement it. Instability in Pakistan means geostrategic threat of wider dimensions. Pakistan has its borders contiguous to Iran, Afghanistan, China, India and has a long coastal stretch of Arabian Sea. Taking the regional situation into account and changing paradigms of geo-politics coupled with nuclear capabilities of the regional powers; soon dimensions of threat become perceivable, connecting with the distant actors also.
Possible Way-out Strategy
Conversely, our major political parties have failed to show flare for the emancipation of masses except when sloganeering from the stage to woo their vote bank. Most of them are power hungry, would compromise to any extent and cling to each other to evade worthwhile accountability. Does the nation see any promise? In all probability, elections would be ruinous exercise. What could be the way-out strategy to steer the country away from crises?
As an alternative, plant a national government of a few dozen honest people, like Imran Khan, Dr. AQ Khan, Mahmood Khan Achakzai, Maulana Munawar Hassan etc with limited years mandate to achieve national coherence, retrieve hundreds of billions of tax payers' money from the fraudsters, flush out rogue elements and criminals, disregard to any other consideration, denying them the capability to buy every vote and then go for the luxury of general elections supported by judiciary and Army. Conversely, under the obtaining geo-political environments, election results would stoke divisive forces more than lending any balming effect to our national unity. As Franklin D. Roosevelt said, 'Democracy cannot succeed unless those who express their choices are prepared to choose wisely. The real safeguard of democracy, therefore, is education'. Let us heed to the time-tested dogma. The proposition becomes meaningful by postponing the elections and educating the masses about inevitability of clearing the garbage first that the dictator and the 'democratic' government have heaped during last 13 years. 'Seize the moment' to recognise the vagaries of time and resort to measures that would steer Pakistan through internal turmoil intact.
Taliban and the crisis in Afghanistan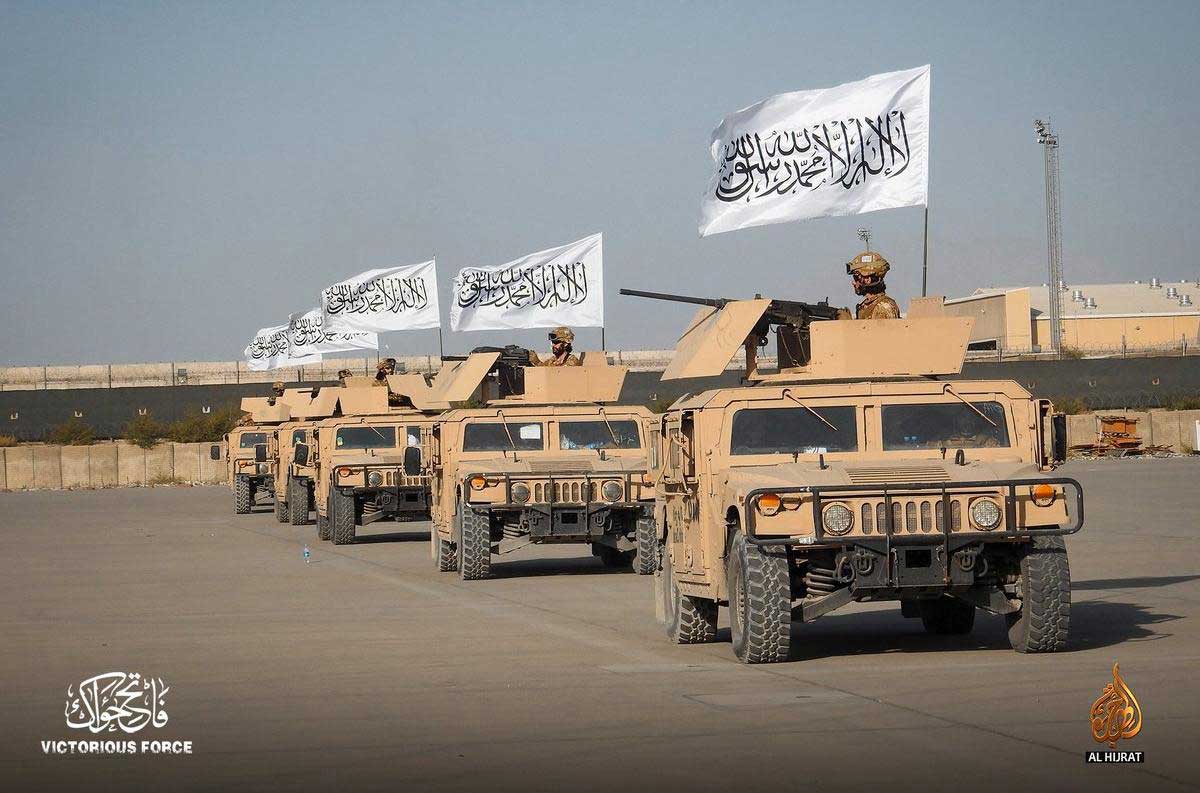 In 2021, the Afghan Taliban took back control of Afghanistan after fighting a rebellion for twenty years. The Taliban reformed and began regaining territory less than 10 years after the American-led invasion that overthrew the previous regime in 2001. In line with a 2020 peace agreement with the Taliban, they staged a swift assault as the US started to evacuate its last forces from Afghanistan.
Even though they promised to preserve the rights of women and communities of religious and racial minorities, the Taliban have enforced a strict interpretation of Islamic law. The Taliban have failed to provide Afghans with sufficient food supplies and economic possibilities as they have evolved from an insurgent organization to a functioning administration.
Numerous instances of human rights violations have been documented by the UN mission in Afghanistan. Because the Taliban scared off journalists and put limits on press freedom, more than 200 news outlets had to close. Activists and protesters have been tracked and forcefully disappeared, and their government has ruthlessly suppressed protests. They also reinstated the Ministry for the Propagation of Virtue and the Prevention of Vice, which was previously in place, and enforced laws against actions judged to be contrary to Islam. They instructed judges to apply their version of sharia in November 2022; in the following weeks, authorities resumed public hangings and floggings.
Women's rights have been undermined. Due to restrictions put in place by the Taliban, girls are not allowed to go to high school, and women are not allowed to go to college or teach there. The group banned women from working for local and international voluntary groups in December 2022. According to estimates from the UN Development Program (UNDP), limiting women's employment might cost Afghanistan's GDP up to 5%. Amnesty International reports a substantial increase in the number of women jailed for defying discriminatory rules, such as those requiring women to cover their whole bodies while in public and to only appear with male chaperones. In addition, there are now more child marriages.
The UNDP says that the Taliban's rule has also taken away the gains that Afghans made in their living conditions in the 20 years after the US invasion. In a study from October 2022, the organization claimed that practically all Afghans were living in poverty. Since the takeover, the economy has contracted by up to 30%, and there have been an estimated 700,000 job losses. More than 90% of individuals are impacted by food insecurity. The problem is getting worse because several countries and international groups have stopped giving aid, which is vital to the economy and public health.
International observers are nonetheless worried that the Taliban pose a danger to national and international security through their funding of terrorist groups, especially Al-Qaeda. Taliban leadership might convert Afghanistan into a haven for terrorists who could launch attacks against the US and its allies, despite Taliban pledges that the country's territory wouldn't be used against the security of any other country. The violence has also increased along Pakistan's border with Afghanistan, which has always supported the Taliban. Tehrik-e-Taliban, a terrorist organization commonly referred to as the Pakistani Taliban, has gained strength due to the Taliban's ascent to power. The organization broke off a cease-fire with the Pakistani government in 2022 and began carrying out assaults throughout the nation. Officials from Pakistan have charged the Afghan Taliban with giving the extremists a safe harbor in their country.
For many years, the Afghan government relied on help from a number of countries; according to 2019 World Bank research, contributions from foreign partners funded 75% of the government's public expenditures. Many of these countries stopped off aid when the Taliban took control, fueling concerns about potential future economic turmoil. Nevertheless, aid rose in 2022 as donors sent more than $2.6 billion. The US has donated more than $1.1 billion in help since the coup. However, according to UN authorities, the pledges fell short of the nation's humanitarian requirements.
Many Western countries, most notably the US, shut down their diplomatic posts in Afghanistan when the Taliban took power. Diplomatic relations and recognition have been withheld from the Taliban regime, which refers to Afghanistan as the Islamic Emirate of Afghanistan. The UN General Assembly has also postponed a decision on who would indefinitely represent Afghanistan at the UN. The Taliban are now being investigated by the International Criminal Court for suspected atrocities, including crimes against humanity, committed against Afghans.
Decoding Donald Lu's Visit: A Positive Upward in US-Bangladesh Relations?
The U.S Assistant Secretary for South and Central Asia Donald Lu paid a visit from January 12 to 15. During his brief but swarming itinerary the two parties discussed various issues ranging from diplomatic to political. Interestingly, this is the 11th visit of any U.S high-official in the past two years. The frequent swapping of delegations from the both sides pose a critical juncture between the U.S-Bangladesh relationship. Experts believe that recurrent visits from US high-ups are definitely an auspicious sign between the relationship of the two nations. Therefore, the visit of Donald Lu is an offshoot of the "growing reciprocity and renewed engagement" between Dhaka and Washington.
Needless to say, Bangladesh has a long standing and steady relationship with the US since the latter recognized the former shortly after independence on April 04, 1972. Recently the US-Bangladesh celebrated the completion of 50 years of bilateral relationship and US President Joe Biden termed this as "robust partnership". Amid such backdrop, it goes without saying that the recent visits signal to a significant positive tie-up between the two parties and the visit can be interpreted in the context of international and domestic backdrop of international politics.
The US is the largest market for Bangladesh's RMG export. Naturally, the issue of GSP reinstatement plays a key role in bilateral camaraderie. Under such circumstances, Lu's visit is important to hold talks of economic in the context of Bangladesh's growing needs, especially after the LDC graduation. Moreover, in the annual Global Firepower 2023 Military Strength Ranking, Bangladesh is placed 40th out of 145 nations. On the other hand, Bangladesh came in 12th place on the GFP review's list of 'Strengths on the Rise,' which emphasizes national military powers based on strong growth patterns until 2023. In this context, the General Security of Military Information Agreement (GSOMIA) and Acquisition and Cross-servicing Agreement (ACSA) agreement indicates to a deeper and strategic engagement from the US rationale.
Bangladesh's stands at the heart of a strategic position of the US's Indo-Pacific Strategy, which aims to counter the increasing footprint of China in the Indo-Pacific region. However, Bangladesh maintains a neutral position in terms of its foreign relations and has been carefully helming without taking any side of any major powers. Washington's focus on free and fair election is important to maintain a stability in the greater Bay of Bengal neighborhood- an important feat in it's IPS. Conversely, Bangladesh values economic partnership to sustain her ongoing upward trend. However, at the same time Bangladesh should be careful not to succumb to any pressure, a case in point when the Foreign Minister announced that the US proposed strategy is being vetted under the lens of economic opportunity.
On the domestic fore, arguably, the U.S has been advocating for a free and fair election, upholding democratic values, and condemning extra judicial excesses. However, continuous engagement between the two parties resulted helping to mitigate tensions and create a more positive atmosphere. The crux of Donald Lu's visit is to reaffirm democratic ideals in state mechanism, rule based international system and Bangladesh to be part of the Indo-Pacific Strategy. Accordingly, Bangladesh has committed to hold a fair election and the recent decline of the controversial RAB's extrajudicial excesses reported by Human Rights Watch as well as peaceful demonstrations of the opposition have been markedly praised by Donald Lu. From Bangladesh's perspective rescinding of sanctions, reinstatement of GSP, and more support for Rohingya Refugees were reiterated. More importantly, Dhaka's impartial foreign policy goals align with Washington's interest in the South Asian region and it will be of American interest to consider Bangladesh as an important ally in the geopolitical chessboard of the Indo-Pacific region.
However, the visit is also crucial for Donald Lu who is accused of meddling with the internal affairs of Pakistan, Sri Lanka and Nepal. But, Donald Lu manifested his diplomatic acumen to "manage the fissures of the diplomatic ties' and "highlight on the areas of convergence" in the recent visit. Evidently, the past year has been tumultuous for South Asian nations, following the collapse of Colombo, the Pakistani Economic Crisis and the revolving debt crisis around the region. Amongst her neighbors, Bangladesh has endured relatively steady political and economic pursuit. Therefore, US needs to formulate a comprehensive South Asian policy to accommodate the interests of the respective nations on its own merit.
Bangladesh's relationship with the U.S is vital in both economic and political stance. Continued engagement and partnership between the two states is critical for the security of South Asia as well as Bangladesh's ongoing economic prosperity. On a pragmatic tone, it would take more than just this one visit for Bangladesh to solve these complex geopolitical issues. For now, the visit has symbolized strengthening of U.S-Bangladesh relationship going forward by exonerating the mutual interests to diplomatically resolve pressing bilateral issues and elevation of continuous engagement.
Praiseworthy Development of RAB in the Last Year
On December 10th 2021, the United States of America (USA) announced sanctions against Rapid Action Battalion (RAB) and its seven current and former officials on allegations of Human Rights violation. Such unilateral decisions of the US on the elite force surprised many. But Bangladesh chose to respond maturely through diplomatic communication. Since then, Bangladesh increased diplomatic engagement with the US, a method lauded by many as 'prudent' also.
Since the sanction, Bangladesh enhanced its effort to uphold the Human Rights situation in Bangladesh. RAB as an elite force also acknowledged the sanction and behaved in a more professional way. And it seems after one year, there are significant developments regarding both RAB and government policy. Foreign dignitaries and organizations are also lauding these developments.
Efforts from Bangladesh
After the announcement of the sanctions, Bangladesh immediately contacted the US diplomatic institutions to understand and assess the situation. As a part of the efforts, Bangladesh established Human Rights Cell in the Foreign Ministry under its United Nations wing.
Bangladesh also increased its diplomatic communications with the US, not necessarily because of the sanctions, but also due to growing geopolitics in the Indo-Pacific region, and commitment to deepen bilateral relations with the US. In the last two years, both countries undertook 18 bilateral visits of mid and high-level. Bangladesh sent 7 delegations to the US while the US sent 11 delegations including Donald Lu's latest.
Both countries also hold the bilateral Partnership Dialogue and Security Dialogue in March and April of 2022. In the same year, they also celebrated 50 years of their anniversary. Bangladesh's foreign minister also met his counterpart in April 2022.
While many rogue states such as North Korea, react to the US sanctions by projecting hard power or test-launching missile, Bangladesh resorted to diplomatic means to raise and provide an update about the agenda to its counterpart. Almost in all diplomatic meetings, Bangladesh raised its concern about the sanction. Bangladesh even gave a 'non-paper' dossier to Under-Secretary Victoria Nuland, when Nuland came to Bangladesh in March 2022.
Significant Developments
Since the US sanctions on 10th December 2021, the allegations of extrajudicial killings have gone down in Bangladesh. It has reached zero after one year. There were no new allegations of extrajudicial killing by RAB for the last 13 months. RAB's name was not also mentioned in any other allegations or negative deeds. Therefore, RAB is maintaining a 'clean record' at least for last 13 months or so.
Apart from that, the Human Rights situation also improved in Bangladesh in the meantime as the government gave extra effort to project the situation to the international community. During Under Secretary Nuland's visit in March, she also acknowledged that the situation has improved.
The US Assistant Secretary Donald Lu also acknowledged the further development regarding the allegations against RAB. Secretary Lu visited Bangladesh on January 14th and 15th. He also acknowledged the falling extrajudicial killing in Bangladesh. He also said that there was 'tremendous progress' in reducing extrajudicial killings after the US sanctions.
Home Minister Asaduzzaman Kamal also told the media that the US delegation is satisfied with RAB's current activities. In another expert talk with The Business Standard, the Home Minister further said that the US also praised the actions of Bangladesh in combating militancy, terrorism, arson, and radicalism.
Apart from the US, global watchdogs are also acknowledging the fact. Human Rights Watch World Human Rights Report 2023 mentioned that there is a 'drop-in abuse' in Bangladesh (See Page 68).
Such transformation in the US perspective within only 13 months regarding a sanction is very unique considering the history of sanctions. Bangladesh's diplomatic efforts and commitment to upholding Human Rights deserve praise in this regard. Till now Bangladesh is dealing with the issue prudently.
Lifting the sanctions in a diplomatic manner will require making it a national security interest for the USA. An elite force with a 'clean record' and its die-hard effort in curbing terrorism and militancy, fighting drug and human trafficking, and anti-piracy drive can easily draw US national security interest in this region. And RAB has the ability to become so. Considering the historic relations between the US and Bangladesh, the Sanctions are the only 'strain' in this bilateral relationship. Lastly, as there are praiseworthy developments, both countries are likely to pass beyond this issue in the near future if Bangladesh continues to maintain the positive trend.