Fall and Rise of Khan, Case Pakistan: General Elections-2013
Empires rose and fell in the history but none fell before the rise. The empire (a metaphor) characterised by his appeal to the masses' passion rather than territories that is christened by (Imran) Khan, a cricketer turned philanthropist and later a politician,
saturates the nation morally as does a mystic inspires his folks about the virtues he is determined to cling to, no matter what the cost, even life, if he has to sacrifice. This blizzard of hope has taken roots in a country soaked in corruption, anger, ethnic schism, poverty and incessant malicious blackmail from the top for last about six decades, turning the peace mongering society into fractured islands of violence.
His election campaigns sparked the ardent desire among his supporters to do something that could serve as a beacon for the posterity, heralding an era of peace and tranquillity. Pakistan Tehrik-e-Insaf (PTI), that translates as 'Pakistan Justice Movement' is his platform from where he speaks extempore and with conviction. Truth drips from his every word, cutting through the thick layers of vile deception that wraps all politicians (a few exceptions apart), contesting 11 May 2013 general elections in Pakistan.
Fall and Rise of Khan
An edifice of empire with 'centre' orientation, yet an ideological one was building up fast. Everyone would love to rush to his rallies and those not finding the option feasible would get glued to TVs from the sofa brink. Then something struck like a bolt. Only three days before the elections, millions of his fans saw the towering Khan plummeting from 16 feet crashing platform. Hundreds of hearts were near to cease. It was as if the dream of Pakistan was shattering. The hope for emergence of a brilliant, meaningful and prosperous state where justice ruled was inclined to abandon us much faster than the falling Khan.
He sustained head injury and went unconscious for a while. The fall had occurred. Millions hands went up high above the shoulders; beseeching God to give him and Pakistan a chance. Lo and behold, All-knowing, All-seeing, the Merciful and the Magnificent answered prayers within minutes. Khan was back to senses, talking as if the hope had reinvigorated, pushing the entire nation in a fit of mix of jubilation and responsibility. Country appeared rising from the fall as did Khan who was on fast pace of recovery, consoling his fans from hospital bed to be calm and thrust ahead to realise PTI manifesto. He did not utter a single word to explain or complain, how and why he was tossed off the platform. With hands on the pulse of the people of Pakistan, he knew the scale and intensity of their anguish and at a critical moment he did not want to stoke their anger further. He aimed high. Brush with angel of death appears to have given him an added feel of aroma of ultimate success even if it was partially elusive this time on conclusion of current elections.
Spark of Hope
During his electioneering campaign, Khan sounded scary warnings about inevitable Tsunami to corrupt politicians and some top government functionaries against whom cases are pending in higher courts for swindling billions of rupees from state's coffer. Tsunami, he described, would wash away all evils, the corrupt and others committing acts of felony but hiding behind the safety net that democracy affords even in the countries where rule of law is flouted or seen applying to the down trodden only. An elite class is above it, even when its crimes are abhorrently heinous. Dawn of 11 May witnessed an unimaginable phenomenon. Young, old men, women and children wrapped in PTI flags were reaching the polling stations before the doors opened.
Khan labelled the PTI performance akin to defeat amidst wide spread rigging episodes in Punjab and Karachi. However he was hilarious about the youths' fervour with which they toiled day and night for the party. PTI has recovered from long drought. In 2002 elections, the party had yet not geared up and Khan won solitary National Assembly seat from his native constituency, NA-71 Mianwali. In 2008, PTI boycotted the general elections as a protest against the dictator, Gen Musharraf's policies. During the five years break, it concentrated on organisational aspects and opinion mobilisation that led to its impressive performance, now in 2013. Jumping to National Assembly with 33 seats in pocket, emerging as leading party in Khyber Pukhtoonkhwa (KP) with 34 seats and in Punjab with 22 seats, its leadership has proved that PTI is a force in national and international politics to reckon, with potentials of yet longer, perhaps trampling leaps during 2018 elections.
Election Synopsis
Summary of the election results which are yet to be officially declared amidst wide spread rigging charges, several parties have sounded, shows PML (N), a party led by Mian Nawaz Sharif has secured formidable position in National Assembly at the federal level and also in the Provincial Assembly of Punjab. PTI of Khan swept in KP with 'Independents' and JUI (F) on the trail prominently. Province of Sindh has been bagged by PPPP and in urban centres, MQM has made significant gains. Baluchistan has been the arena of nationalist parties where major parties have not been able to demonstrate their electoral power. Significant numbers of seats have been clinched by 'independent' candidates throughout the country with apparent motives to trade off their pivotal position as the bargain chips while extending cooperation to the leading party's race to the power corridors. In a short stipulated period, they got to join some party but in the process, there have been instances in the past that they earned millions of rupees in exchange for the electoral support to the party wishing to ascend the podium.
Ground Realities and Future Projections
Some pleasant and bitter realities have emerged. PPPP led by Asif Zardari, the scandal-prone ruling party, has been reduced to non-entity in the national assembly as well as in the provinces except in its strong hold of Bhuttos (Sindh) where it managed to keep the nationalist tinge alive despite claiming to be the secular party. Indulgence in massive corruption and allowing coalition partners to blackmail it during the entire previous term in exchange of letting the party to run the highest offices at the federal level are the main causes of its downfall. No issue of the public concern when the nation sweltered under the weight of power crises or inflation and hopeless law and order situation, were addressed by the party seriously. They consumed the term in the struggle of their survival.
PML (N) has clinched dominating position at National Assembly and Punjab Provincial Assembly. The populous province of Punjab alone has more than 50 % share in the total electoral tally. With coalition partners that it may enlist, it is likely to rule Baluchistan as well. It would be unfair, though not impossible if it attempts to hijack PTI mandate from KP to constitute PML (N)-led government through alliance with smaller parties. Thus the party is confronted by interesting paradox which, if not handled with care could ruin its index of good governance.
PML(N) has the tendency to flout the majority mandate as it did during its previous term by locking horns with Chief of Army Staff, Gen Pervez Musharraf. As the prime minister, Mian Nawaz Sharif had the prerogative to appoint a chief of his own choosing but the manner he proceeded with to remove him was loathsome for the entire army. He wanted to prove himself an unbeatable macho and the Army chief a humble taxi driver as if the chief was to change the wheel only, forgetting that Army is extremely disciplined and respected institution. Even if he has learnt from his tragic episode of removal by Gen Musharraf, he is likely to fail on certain issues as one reads from his statements in last couple of days when he has yet not taken over the coveted office of the Premier. Hate for Army runs in his family genes for reasons best known to him to the extent that his brother, Mian Shahbaz Sharif, who shared PPPP government until March 2013 as the chief minister of the largest province of Punjab, gets hostile even to the retired Army officers. If ever any of them approached him for the redress of grievance, he took pleasure in giving cold shoulder to him if not an insult of the kind.
On the national and international issues, PML (N) is likely to fall trap to the glitters that are not to heal the wounds of people of Pakistan who have been afflicted with during the last about two decades. Its leadership rule would be characterised by love and hate only as it has no middle position, extremely vindictive to the foes and forgiving to its well wishers, no matter the degree of crimes they commit. Within last few days, talk of the town is that US and Saudi Arabia lent Sharif Brothers unrestricted financial support to prevent Khan Tsunami sinking PML (N) to the depths of nonentity. A journalist reportedly has pulled a loud shot through a column, claiming that to defeat Khan from Lahore constituency, Sharif Brothers doled out money to rig the election to the tune of 850 million rupees. Also their vengeance was at peak against PTI when they made two deplorable moves in Khan's native constituency in Mianwali by forcing Humair Hayat Rokhri, a traditional winner family, to withdraw and leave field open for Obaidullah Shadikhel alone to win from Khan. Not stopping here, Sharif Brothers are alleged to have opened the treasure chest filled by US and Saudi Arabia for their candidate to defeat Khan, no matter what the price. Mercifully the tons of money could not purchase the proud people of Mianwali. The proofs are yet to surface from the level of wide spread gossips. Fortunately gossips in Pakistan are generally more authentic than the government inquiry commissions who produce concocted , distorted and corrupt reports.
There is a considerable hate for US but saner elements are of the opinion that powerful US must be respected and moved along as a partner. However no one, like Khan had declared, is inclined to be subservient to US. Royals of Kingdom of Saudi Arabia are predominantly respected by every Pakistani, being the 'khadim-ul-harmaain al-shariffain' but interference in Pakistani politics to such an extent to defeat a sincere, truthful and dedicated leader like Khan is against the teaching of Islam. If the Royals had to side with anyone, they should have sided with PTI on merit or stayed away from PML(N) whose past record is quite tainted.
The Elusive 'Maulana'
JUI (F), led by canny Maulana Fazal-ur-Rehman, is one case in the entire exercise who has gained in 2013 general elections despite lending support to dictator to the hilt for the entire duration until 2008 and his notorious Legal Framework Order (LFO) that has been overturned by the judiciary. He is capable of speaking from the dais to scold US and Jews but off the scene, he can beg concessions from them. He is one man who has not been discovered or if the masses have registered his lust to remain part of every government minus political morality, they have not held him accountable by shunning him off on the eve of general elections. It appears as a research topic to ascertain why proud people of FATA and other provinces have failed to measure his follies.
Conclusion
PTI is likely to do well in whatever capacity it finds itself. The leadership is sincere, mature, educated and young. Even if the conspiracies by old hacks force it to play the opposition role that is equally crucial as it would have been in power. Striving for the rule of law, prevalence of justice no matter who is in the dock must remain their cardinal points of conduct. With the larger picture yet to emerge, PML (N) should be best advised to dampen its arrogant and revengeful history. It must heed PTI and other sincere political parties for the conduct of internal affairs and about the matters of foreign policy, an area it is woefully ignorant, at best emotional. Mian Nawaz Sharif, just on receiving the felicitation messages from foreign dignitaries, has started showing his cards that should have taken months to reveal in exchange for national gains. Deficit of brinkmanship was legible on his face. On the hand, the party has to root out corruption, as it has festered in Punjab even during their recent rule for several years. Dispensation of justice and building up the institutional capacity of the departments must be its top priority. It must remember claims are easy to make but need Herculean effort to implement. If peace in the country, self-sustaining economic recovery and diplomatic palpability, not necessarily through alien shadows, is not achieved the soonest possible on merit of our national interests, then we are headed for status quo. Such a monster of despair must cause shudder to every Pakistani because none can endure a corrupt and inefficient as well as biased government for yet another term. One would wish happy governance to PML (N) at the Centre, in Punjab and possibly Baluchistan, to PTI in KP and to PPPP in Sindh. Long live Pakistan and its lustrous Khan.
Author is a retired Brig Gen from Pakistan Army, holds Master's as well PhD degree in International Relations and has authored a book. Writes frequently, has participated in several national and international conferences/seminars. (dr.makni49@yahoo.com)
The efficiency of German contribution in the Afghan peace process
Germany is heavily involved in the afghan affairs since 9.11.2001; the country has brought in to being the modern Afghanistan thru launching the international Bonn conference "Bonn 1" in December 2001, the said conference toke place right after the collapse of the barbaric regime of Taliban in Afghanistan. Furthermore, it paved the way to engage several rival groups to establish an interim administration under the leadership of pro-American figure "Hammed Karzai". Albeit the conference was a turning point in the Afghan modern history, but it encompassed numerous shortcomings because Taliban, Haqani Network and Hikmatyar band, who had been the main adversaries to the acting Government, were excluded from the process, which opened Pandora's Box. Moreover, the national interests and apprehensions of the regional countries were not taken serious, which in turn caused destabilization and gloominess in Afghanistan.
Consequently, Pakistan and Iran who have been pursuing strategic depth in Afghanistan began to regroup, fund, train and outfit the Afghan government antagonists, which unfortunately incited a proxy war in the country.
The second Bonn conference
Germany hosted the second Bonn conference in December the 5th 2011 to celebrate the 10th anniversary of the first Bonn conference, in order to renew the so-called mutual commitment to a table, democratic and prosperous future for Afghanistan.
In addition, the participants of the conference ought to shed lights on some issues such as governance, security, economic developments, regional cooperation, peace process and the way forward. The participants called for a political solution to achieve peace and security in Afghanistan, in order to ensure durable stability.
Additionally, it was discussed to promote capacity building in the country to uphold a political process, to endorse negotiation and reconciliation. Unfortunately, the conference primarily focused on economic developments and continuation of democratization in the country, so that the peace process was sidelined and the root-cause of the instability and insecurity was not identified. Which ended up with further destabilization and blood-shed in addition, sparked fears and violence in Afghanistan.
Doha conference
In July the 7th 2019 Germany and Qatar hosted a conference in Doha Qatar, which was labeled intra-afghan dialogue. The hosting countries endeavored to bring about a framework in order to support the peace process in Afghanistan. In accordance with the joint statement, that the country is at a central crossroad to snatch the chance to accomplish peace, so the shortest concord linking the afghan adversary groups could be one of the essential factors of any process leading to such an objective.
It was also expect, that the conference would contribute to confidence-building amid chief rivals to hold up peace and constancy in Afghanistan. Although the conference did not have a tangible agenda, but at the end a resolution was released calling for reducing violence, avoiding to assail public institution and bringing civilian causalities to "zero". Despite the efforts of the conference hosting countries, the conference comprised inadequacies; the Afghan government, which ought to be the main party, was excluded from the direct-intra-afghan-dialogue.
Not only the ceasefire, which has been the only wish of the Afghans, was not sincerely addressed, but also no-part of the outlined resolution has been implemented. Regrettably convening of the conference did not put into practice the expectations of the Afghan people, so that the security situation fundamentally deteriorated.
The third Bonn conference
Subsequent, to the walk out of the US president from the Afghan peace deal, Germany wants to jump in exerting its leverage to bring the Afghan rivalry bodies to the negotiation table. Germany is really concerned, if the US troops withdrawal will take place Kabul government would collapse and the positive developments have so far came about would be lost. Thus Markus Potzel Germany's special envoy for Afghanistan and Pakistan, since some times endeavors to hold meetings with the representatives of both Taliban and the Afghan government, in order to initiate another round of peace talks.
Consequently, If Germany genuinely put forth its efforts, it will help to avoid political vacuum in Kabul, let the democratization process to flourish, women rights to thrive and the economic prosperity to boom. Germany enjoys full-scale leverage in the entire region and beyond, because Germany stationed the second largest troops in Afghanistan, the country is one of the main initiator of the NATO Resolute Support Mission for Afghanistan and it is one of the top 10 contributors to the reconstruction process and humanitarian assistance in the country.
Germany has very good diplomatic relations with almost all of the surrounding countries of Afghanistan; it has influence on all of the gulf countries including Qatar, Saudi Arabia and UAE, which are supposed to be the major patrons of Taliban.
In addition, Germany leads the EU commission and it is the number one economy in Europe and number 4 economy in the world. If it will put in 2% of its GDP to the NATO annual budget, Germany would be the second leverage enjoyer within NATO following the United States of America. So Counter Narco-terrorism Alliance Germany (cnt-alliance) express the need for the initiation of the third Bonn conference, which should include all opponents to be brought to the negotiation table, in order to form a framework of lasting peace, continuation of the political process, stability, Good and lean governance, economic prosperity, revival of democratic norms and revamping of human and women rights as well as confidence building amongst regional countries.
Popularity-Graph of PM Imran Khan has not dropped down
Although the economy of Pakistan has deteriorated, price hike, increase in utility bills, food prices and consumer prices of daily used items has grown up, the job market has deteriorated. According to a survey, mostly people are complaining about price-hike and the unavailability of jobs. Some people are complaining about the bad practice of nepotism and especially targeting "hired electable and technocrats". It is a fact that the PTI government has failed to meet the expectations of its voters. PTI workers and supporters have been cornered and ignored.
What so ever the government is presenting economic parameters, to defend themselves. What so ever reasons or logic and explanation are provided by the Government to defend themselves? How much blame is put on previous governments, but the failure of the PTI government cannot be justified. The common man in Pakistan is a victim and suffering.
Yet, the popularity of Prime Minister Imran Khan has not deteriorated. According to a small scale survey, the public will vote for Imran Khan in the next general election. As per Survey, no one was willing to accept Maulana Fazl-u-Rehman, leader of JUI-F, as prime Minister of Pakistan. The popularity of PPP and PML-N has also deteriorated sharply.
Strange! It is really very strange, while people are complaining about the performance of PTI Government, but still, praise PM Imran Khan. Some people blame his team, while other analyses as the nature of issues inherited by the previous government are so complex that no one can manage quickly. It might take more time to reach any conclusion and favors that the PTI government should complete its term of 5 years and wait till 2023, for the general election.
Pakistan is a democratic country and the constitution of Pakistan protects the right of every citizen to protest, express his/her opinion, criticize the government and its policies, can organize any procession, demonstration or Dahrna – sit-in. "Azadi March" is permissible in our system and legal, and the government has not offered any resistance in it. The government will not disturb them as long as they stay within the law and peaceful.
Such agitations are part of the Pakistani political system and has a long history. Whenever some of the political parties lose in the election, they blame the winner party or ruling party for rigging and asks them to resign and dissolve assemblies. Even the currently ruling party PTI has been protesting the Government in 2014 and so on. But history has witnessed, no Prime Minister one prime Minister resigned or assemblies dissolved in past as a result of opposition pressure. It is expected, that this time also the PM will not resign, and not dissolve the assemblies.
However, the opposition always gains millage and concessions through negotiations and deals. This time is also no exception and it is guessed that some way out will be explored soon.
But there is a lesson for PM, to pay more attention to the issues of the common man in Pakistan. He has to give due importance to PTI workers and supporters. He must respect the merit and create opportunities for qualified people.
There are 1.5 million fresh graduates every year entering the job market, but the creation of jobs is not in accordance with it. As a result, youth are desperate and unfortunately may involve in negative activities. It is worth mentioning that the biggest vote bank and political force for PM Imran Khan were "Youth". Pakistan's demography consists of 70% of youth under the age of 40.
It is suggested that PM may take serious notice of the ground situation. Realize the problems of the common man in Pakistan. May initiate major structural changes and deep reforms in all dimensions.
Pakistan possesses huge potential for growth if enabling environments are provided and right policies are implemented, there is no reason that Pakistan's economy take-off rapidly.
Pakistan,a Victim of Vicious Circle: The Container Politics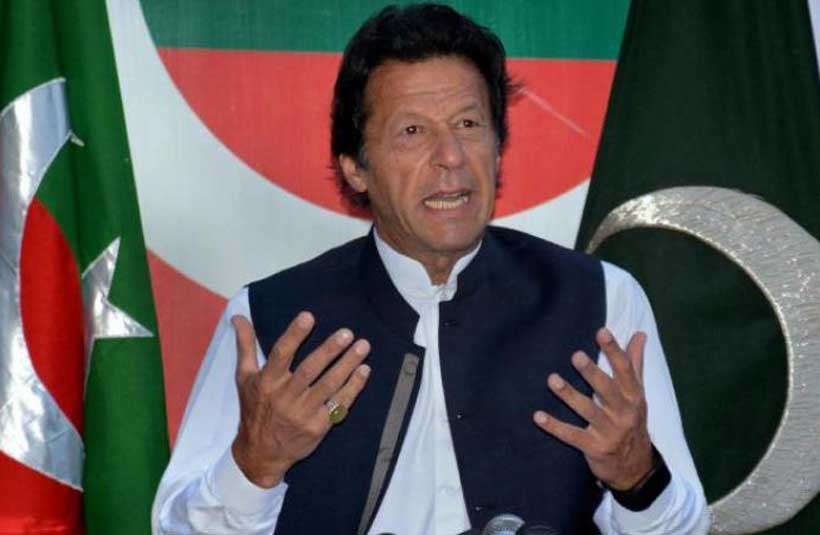 It's pretty tough to comprehend Pakistan's politics or the behavior of Pakistan's political leaders. The example of Pakistan's political system and politicians can be tacit with Robert Jervis's astounding words. "When you pick up one piece of this planet, you find that one way or another, it's attached to everything else-if you jiggle over here, something is going to wiggle over there… We need this sense of the continuing interconnectedness of the system as part of the common knowledge so that politicians feel it and believe it, and so that voters feel it and believe it, and so that kids feel it and believe it so that they'll grow up with an ethic."
Since 1947 Pakistan is trapped in a vicious circle, and it's hard to get rid of this wicked circle with the current political system. Immense tension with neighbor countries, internal political instability, high inflation rate, massive unemployment, poverty, discrimination, corruption, human rights violation, economic problem, low level of domestic and foreign direct investment, energy shortage, wrecked infrastructure, weak and self-centered political leader ruined the country. Now we are witnessing a massive number of lessening faiths on the institutions of almost all kinds. People don't trust the government; they don't believe any corporation and virtually no political leader — the reasons why people's trust is declining in government. The govern leaders do not fulfill their promises, they always raise different slogans spreading fake news to convince the voters for votes, but things are not still the same after elections; all the obligations remain broken. Thus, people certainly don't believe politicians.
After 71 years of a bumpy hard and tough journey, the people of Pakistan in 2018 elected a new prime minister with much new hope, to fight against corruption and other serious challenges. This hope was up to the greatest extent achieved when the supreme court of Pakistan took action against the corrupt leaders and imprisoned them. With such enormous weight, the oppositions are now vindicating a mean to get rid of the present administration; the adversaries have started a long march called Azadi-March, with the aim to takeover Khan's (Imran Khan Niazi current Prime minister of Pakistan) government. The majority of the people are against the so-called Azadi-March, as they are aware of situations. To sidetrack Imran Khan's consideration, these opposition leaders have started Azadi-March, where thousands of protestors are marching to the capital city Islamabad, calling on prime minister Khan over the weak and fragile economy and corruption.
Some religious groups organized the Azadi-March and political rivals, Jamiat Ulema-i-Islam-Fazal (JUI-F) party prearranged the protests, almost all parties have used the march to show their complaints throughout what they call the Azadi March (or Freedom March).The main aim of the Azadi-March, calling Imran Khan to resign, they believe that the current government ruined to satisfy their promises, and the administration is amateurish, inexpert, and doesn't distinguish how the state-run. While addressing the people, Fazal said all Pakistani, from Karachi to Islamabad, want that prime minister Imran Khan should resign, further stated that prime minister still has time to deferentially submit his resignation because the Pakistani will not give him also time to do so.
The purpose behind such Azadi-March isn't only that they want to overthrow the prime minister, but they want him to stop disparaging the adversaries. The opponents, according to most of the local people, are corrupt and crooked, and they are responsible for the country's weak institution and corruption. Since now, Khan is taking legal actions against the oppositions with the support of millions of Pakistani people, thus permit the opponents formed a coalition to stand against Khan. With the help of millions of people Khan isn't against their Azadi-March, but it's something everyone knows, the country is going through tough time, skirmishes with India and recently with Afghanistan, ongoing economic reforms, working to encourage tourists and foreign direct investment, and many other developmental projects, such actions or the so-called Azadi-March will ruin the hope of the current administration and people. The immediate adverse consequence of the Azadi-March is also on the recent Kashmir issue. Currently, the prime minister and his administration are working to find a solution for IOK,by voicing on a different medium, such domestic scuffle will not only hamper the objective but will instead encourage the neighbor states to take advantage of domestic unrest.
The time being Khan is dealing with massive problems, the oppositions should stand with Khan, instead of creating other domestic violence and discontent. The continues Azadi-March will do nothing more than internal turbulence and other dangerous predicaments that will hit the country with more severe difficulties. Democracy means the government of the people, by the people, for the people, which specify that the people of Pakistan elect the current government. Pakistan is a democratic country where people can choose any leader they trust. To make it more vibrant, Pakistan is not the legacy of some elites to govern all the time.
A country with more than 200 million people ought to decide their future; they should stand with Khan and support his campaign of fighting against corruption and corrupt people to bring peace, political stability, economic development, and employment opportunities. Fora very long time, we have experienced different government and their fake promises; they have tumble-down the state's institutions, nepotism, favoritism, and cronyism, all were the hidden agendas of the previous government. Thus, it is clear that the present government is fighting against all the above problems.
Finally, let us begin anew — recalling the current Azadi-March, which is not a sign of being active or reliable, but rather a sign of weakness. Sincerity is always subject to proof, and when you don't have a single proof, you are lucky enough to have needles in your chopsticks. Let us never negotiate with these political leaders who are involved in the march out of fear. But let us never fear to negotiate.