Fall and Rise of Khan, Case Pakistan: General Elections-2013
Empires rose and fell in the history but none fell before the rise. The empire (a metaphor) characterised by his appeal to the masses' passion rather than territories that is christened by (Imran) Khan, a cricketer turned philanthropist and later a politician,
saturates the nation morally as does a mystic inspires his folks about the virtues he is determined to cling to, no matter what the cost, even life, if he has to sacrifice. This blizzard of hope has taken roots in a country soaked in corruption, anger, ethnic schism, poverty and incessant malicious blackmail from the top for last about six decades, turning the peace mongering society into fractured islands of violence.
His election campaigns sparked the ardent desire among his supporters to do something that could serve as a beacon for the posterity, heralding an era of peace and tranquillity. Pakistan Tehrik-e-Insaf (PTI), that translates as 'Pakistan Justice Movement' is his platform from where he speaks extempore and with conviction. Truth drips from his every word, cutting through the thick layers of vile deception that wraps all politicians (a few exceptions apart), contesting 11 May 2013 general elections in Pakistan.
Fall and Rise of Khan
An edifice of empire with 'centre' orientation, yet an ideological one was building up fast. Everyone would love to rush to his rallies and those not finding the option feasible would get glued to TVs from the sofa brink. Then something struck like a bolt. Only three days before the elections, millions of his fans saw the towering Khan plummeting from 16 feet crashing platform. Hundreds of hearts were near to cease. It was as if the dream of Pakistan was shattering. The hope for emergence of a brilliant, meaningful and prosperous state where justice ruled was inclined to abandon us much faster than the falling Khan.
He sustained head injury and went unconscious for a while. The fall had occurred. Millions hands went up high above the shoulders; beseeching God to give him and Pakistan a chance. Lo and behold, All-knowing, All-seeing, the Merciful and the Magnificent answered prayers within minutes. Khan was back to senses, talking as if the hope had reinvigorated, pushing the entire nation in a fit of mix of jubilation and responsibility. Country appeared rising from the fall as did Khan who was on fast pace of recovery, consoling his fans from hospital bed to be calm and thrust ahead to realise PTI manifesto. He did not utter a single word to explain or complain, how and why he was tossed off the platform. With hands on the pulse of the people of Pakistan, he knew the scale and intensity of their anguish and at a critical moment he did not want to stoke their anger further. He aimed high. Brush with angel of death appears to have given him an added feel of aroma of ultimate success even if it was partially elusive this time on conclusion of current elections.
Spark of Hope
During his electioneering campaign, Khan sounded scary warnings about inevitable Tsunami to corrupt politicians and some top government functionaries against whom cases are pending in higher courts for swindling billions of rupees from state's coffer. Tsunami, he described, would wash away all evils, the corrupt and others committing acts of felony but hiding behind the safety net that democracy affords even in the countries where rule of law is flouted or seen applying to the down trodden only. An elite class is above it, even when its crimes are abhorrently heinous. Dawn of 11 May witnessed an unimaginable phenomenon. Young, old men, women and children wrapped in PTI flags were reaching the polling stations before the doors opened.
Khan labelled the PTI performance akin to defeat amidst wide spread rigging episodes in Punjab and Karachi. However he was hilarious about the youths' fervour with which they toiled day and night for the party. PTI has recovered from long drought. In 2002 elections, the party had yet not geared up and Khan won solitary National Assembly seat from his native constituency, NA-71 Mianwali. In 2008, PTI boycotted the general elections as a protest against the dictator, Gen Musharraf's policies. During the five years break, it concentrated on organisational aspects and opinion mobilisation that led to its impressive performance, now in 2013. Jumping to National Assembly with 33 seats in pocket, emerging as leading party in Khyber Pukhtoonkhwa (KP) with 34 seats and in Punjab with 22 seats, its leadership has proved that PTI is a force in national and international politics to reckon, with potentials of yet longer, perhaps trampling leaps during 2018 elections.
Election Synopsis
Summary of the election results which are yet to be officially declared amidst wide spread rigging charges, several parties have sounded, shows PML (N), a party led by Mian Nawaz Sharif has secured formidable position in National Assembly at the federal level and also in the Provincial Assembly of Punjab. PTI of Khan swept in KP with 'Independents' and JUI (F) on the trail prominently. Province of Sindh has been bagged by PPPP and in urban centres, MQM has made significant gains. Baluchistan has been the arena of nationalist parties where major parties have not been able to demonstrate their electoral power. Significant numbers of seats have been clinched by 'independent' candidates throughout the country with apparent motives to trade off their pivotal position as the bargain chips while extending cooperation to the leading party's race to the power corridors. In a short stipulated period, they got to join some party but in the process, there have been instances in the past that they earned millions of rupees in exchange for the electoral support to the party wishing to ascend the podium.
Ground Realities and Future Projections
Some pleasant and bitter realities have emerged. PPPP led by Asif Zardari, the scandal-prone ruling party, has been reduced to non-entity in the national assembly as well as in the provinces except in its strong hold of Bhuttos (Sindh) where it managed to keep the nationalist tinge alive despite claiming to be the secular party. Indulgence in massive corruption and allowing coalition partners to blackmail it during the entire previous term in exchange of letting the party to run the highest offices at the federal level are the main causes of its downfall. No issue of the public concern when the nation sweltered under the weight of power crises or inflation and hopeless law and order situation, were addressed by the party seriously. They consumed the term in the struggle of their survival.
PML (N) has clinched dominating position at National Assembly and Punjab Provincial Assembly. The populous province of Punjab alone has more than 50 % share in the total electoral tally. With coalition partners that it may enlist, it is likely to rule Baluchistan as well. It would be unfair, though not impossible if it attempts to hijack PTI mandate from KP to constitute PML (N)-led government through alliance with smaller parties. Thus the party is confronted by interesting paradox which, if not handled with care could ruin its index of good governance.
PML(N) has the tendency to flout the majority mandate as it did during its previous term by locking horns with Chief of Army Staff, Gen Pervez Musharraf. As the prime minister, Mian Nawaz Sharif had the prerogative to appoint a chief of his own choosing but the manner he proceeded with to remove him was loathsome for the entire army. He wanted to prove himself an unbeatable macho and the Army chief a humble taxi driver as if the chief was to change the wheel only, forgetting that Army is extremely disciplined and respected institution. Even if he has learnt from his tragic episode of removal by Gen Musharraf, he is likely to fail on certain issues as one reads from his statements in last couple of days when he has yet not taken over the coveted office of the Premier. Hate for Army runs in his family genes for reasons best known to him to the extent that his brother, Mian Shahbaz Sharif, who shared PPPP government until March 2013 as the chief minister of the largest province of Punjab, gets hostile even to the retired Army officers. If ever any of them approached him for the redress of grievance, he took pleasure in giving cold shoulder to him if not an insult of the kind.
On the national and international issues, PML (N) is likely to fall trap to the glitters that are not to heal the wounds of people of Pakistan who have been afflicted with during the last about two decades. Its leadership rule would be characterised by love and hate only as it has no middle position, extremely vindictive to the foes and forgiving to its well wishers, no matter the degree of crimes they commit. Within last few days, talk of the town is that US and Saudi Arabia lent Sharif Brothers unrestricted financial support to prevent Khan Tsunami sinking PML (N) to the depths of nonentity. A journalist reportedly has pulled a loud shot through a column, claiming that to defeat Khan from Lahore constituency, Sharif Brothers doled out money to rig the election to the tune of 850 million rupees. Also their vengeance was at peak against PTI when they made two deplorable moves in Khan's native constituency in Mianwali by forcing Humair Hayat Rokhri, a traditional winner family, to withdraw and leave field open for Obaidullah Shadikhel alone to win from Khan. Not stopping here, Sharif Brothers are alleged to have opened the treasure chest filled by US and Saudi Arabia for their candidate to defeat Khan, no matter what the price. Mercifully the tons of money could not purchase the proud people of Mianwali. The proofs are yet to surface from the level of wide spread gossips. Fortunately gossips in Pakistan are generally more authentic than the government inquiry commissions who produce concocted , distorted and corrupt reports.
There is a considerable hate for US but saner elements are of the opinion that powerful US must be respected and moved along as a partner. However no one, like Khan had declared, is inclined to be subservient to US. Royals of Kingdom of Saudi Arabia are predominantly respected by every Pakistani, being the 'khadim-ul-harmaain al-shariffain' but interference in Pakistani politics to such an extent to defeat a sincere, truthful and dedicated leader like Khan is against the teaching of Islam. If the Royals had to side with anyone, they should have sided with PTI on merit or stayed away from PML(N) whose past record is quite tainted.
The Elusive 'Maulana'
JUI (F), led by canny Maulana Fazal-ur-Rehman, is one case in the entire exercise who has gained in 2013 general elections despite lending support to dictator to the hilt for the entire duration until 2008 and his notorious Legal Framework Order (LFO) that has been overturned by the judiciary. He is capable of speaking from the dais to scold US and Jews but off the scene, he can beg concessions from them. He is one man who has not been discovered or if the masses have registered his lust to remain part of every government minus political morality, they have not held him accountable by shunning him off on the eve of general elections. It appears as a research topic to ascertain why proud people of FATA and other provinces have failed to measure his follies.
Conclusion
PTI is likely to do well in whatever capacity it finds itself. The leadership is sincere, mature, educated and young. Even if the conspiracies by old hacks force it to play the opposition role that is equally crucial as it would have been in power. Striving for the rule of law, prevalence of justice no matter who is in the dock must remain their cardinal points of conduct. With the larger picture yet to emerge, PML (N) should be best advised to dampen its arrogant and revengeful history. It must heed PTI and other sincere political parties for the conduct of internal affairs and about the matters of foreign policy, an area it is woefully ignorant, at best emotional. Mian Nawaz Sharif, just on receiving the felicitation messages from foreign dignitaries, has started showing his cards that should have taken months to reveal in exchange for national gains. Deficit of brinkmanship was legible on his face. On the hand, the party has to root out corruption, as it has festered in Punjab even during their recent rule for several years. Dispensation of justice and building up the institutional capacity of the departments must be its top priority. It must remember claims are easy to make but need Herculean effort to implement. If peace in the country, self-sustaining economic recovery and diplomatic palpability, not necessarily through alien shadows, is not achieved the soonest possible on merit of our national interests, then we are headed for status quo. Such a monster of despair must cause shudder to every Pakistani because none can endure a corrupt and inefficient as well as biased government for yet another term. One would wish happy governance to PML (N) at the Centre, in Punjab and possibly Baluchistan, to PTI in KP and to PPPP in Sindh. Long live Pakistan and its lustrous Khan.
Author is a retired Brig Gen from Pakistan Army, holds Master's as well PhD degree in International Relations and has authored a book. Writes frequently, has participated in several national and international conferences/seminars. (dr.makni49@yahoo.com)
Can India Balance Between Beijing and Washington?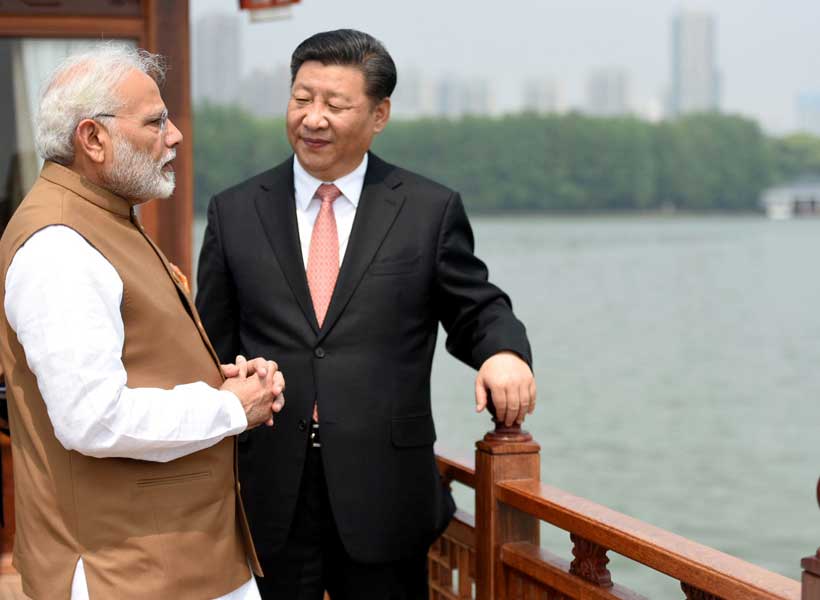 On October 10, 2018, a Senior Chinese Diplomat in India underscored the need for New Delhi and Beijing to work jointly, in order to counter the policy of trade protectionism, being promoted by US President, Donald Trump.
It would be pertinent to point out, that US  had imposed tariffs estimated at 200 Billion USD in September 2018, Beijing imposed tariffs on 60 Billion USD of US imports as a retaliatory measure, and US threatened to impose further tariffs. Interestingly, US trade deficit vis-à-vis China reached 34.1 Billion USD for the month of September (in August 2018, it was 31 Billion USD). Critics of Trump point to this increasing trade deficit vis-à-vis China as a reiteration of the fact, that Trump's economic policies are not working.
Ji Rong, Spokesperson of the Chinese Embassy in India said that tariffs will be detrimental for both India and China and given the fact that both are engines of economic growth it is important for both to work together.
The Chinese diplomat's statement came at an interesting time. US President, Donald Trump on October 2, also referred to India as 'tariff king'. Even though the India-US strategic relationship has witnessed a significant upswing, yet the US President has repeatedly referred to India imposing high tariffs on US exports to India (specifically Harley Davidson motorcyles).
It also came days after, after India signed a deal with Russia (October 5, 2018) for the purchase of 5 S-400 Air Defence system, during the visit of Russian President Vladimir Putin. The Chinese envoy's statement also came days before India attended the China dominated Shanghai Cooperation Organization (SCO). Significantly, India and China also began a joint training programme for Afghan Diplomats on October 15, 2018 (which would last till October 26, 2018).
Trilateral cooperation between India, China and Afghanistan was one of the main thrust areas of the Wuhan Summit, between Chinese President, Xi Jinping, and Indian PM, Narendra Modi, and this is one of the key initiatives in this direction.
There are a number of factors, which have resulted in New Delhi and Beijing seeking to reset their relationship. The first is difference between New Delhi and Washington on economic ties between the former and Iran and Russia. Washington has given mixed signals with regard to granting India exemptions from Countering America Through Sanctions Act (CAATSA).
US ambiguity on providing waivers to India
While sections of the US establishment, especially Jim Mattis, Defence Secretary and Secretary of State, Michael Pompeo have been fervently backing a waiver to India, there are those who oppose any sort of waiver even to India. NSA John Bolton has been warning US allies like India, that there will be no exemption or waiver from US sanctions targeting Iran's oil sector. On October 4th, Bolton while briefing the press said:
"This is not the Obama administration … is my message to them (the importers),
Trump himself has not been clear on providing India a waiver, when asked about this issue, he said India would  know soon about the US decision (Trump has the authority to provide a Presidential waiver to India from the deal with Russia). A State Department Spokesperson also stated, that the US was carefully watching S-400 agreement with Russia, as well as India's decision to import oil from Iran, and such steps were 'not helpful'. With the US President being excessively transactionalist, it is tough to predict his final decision, and with growing differences between him and Mattis, one of the ardent advocates of waivers for India, it remains to be seen as to which camp will prevail.
US protectionism and New Delhi's discomfort
Differences between Washington and New Delhi don't end on the latter's economic ties with Tehran and Moscow. India has on numerous occasions stated, that while strengthening strategic ties with the US, it was concerned about the Trump administration's economic policies. This was clearly evident from the Indian Foreign Minister Sushma Swaraj's speech at the SCO Meet (October 12, 2018) held at Dushanbe, Tajikistan where she pitched for an open global trading order. Said Swaraj:
"We have all benefited from globalization. We must further develop our trade and investment cooperation. We support an open, stable international trade regime based on centrality of the World Trade Organization,"
Even if one to look beyond Trump's unpredictability, there is scope for synergies between New Delhi and Beijing in terms of economic sphere and some crucial connectivity projects.
Economic Opportunities
For long, trade has been skewed in favour of China, and this is a growing concern for India. Trade deficit between India and China has risen from 51.1 Billion USD in 2016-2017 to 62.9 Billion in 2017-2018 (a rise of over 20 percent).
The imposition of US tariffs has opened up opportunities for China importing certain commodities from India. This includes commodities like soybeans and rapeseed meal. In a seminar held at the Indian embassy in Beijing in September 2018, this issue was discussed and one on one meetings between potential importers (China) and sellers (India) was held. India urged China to remove the ban which had imposed on the import of rape meal seeds in 2011.
Connectivity and Afghanistan
Another area where there is immense scope for cooperation between India and China is big ticket connectivity projects. During his India visit, Uzbekistan President, Shavkat Mirziyoyev invited India to participate in a rail project connecting Uzbekistan and Afghanistan.
Afghanistan has welcomed this proposal, saying that this would strengthen cooperation between China and India in Afghanistan. India-China cooperation on this project is very much in sync with the China-India Plus Model proposed by China at the BRICS Summit in July 2018.
India and China can also work jointly for capacity building in Afghanistan. New Delhi has already been involved in providing assistance to Afghanistan in institution building and disaster management, and if Beijing and New Delhi join hands this could make for a fruitful partnership. The India-China joint training program for Afghan diplomats is a significant move in this direction. India and China can also look at joint scholarships to Afghan students where they can spend part of their time in China and the remaining time in India.
Both India and New Delhi for any meaningful cooperation in Afghanistan can not be risk averse, and will have to shed their hesitation. Beijing for instance has opted for a very limited 'capacity building' , where it will work with India in Afghanistan. While Kabul had expected that both sides will invest in a significant infrastructure project, Beijing with an eye on its ally Islamabad's sensitivities opted for a low profile project.
Conclusion
New Delhi should not be too predictable in it's dealings with Washington DC, and has to do a fine balancing act between Beijing and Washington DC. While on certain strategic issues are synergies between India and the US, on crucial economic and geo-political issues, there are serious differences, and India's ties with Beijing are crucial in this context. New Delhi and Beijing should seek to expand economic ties, and the latter should give more market access to Indian goods. Apart from this, both countries should work closely on connectivity projects. If both sides build trust, the sky is the limit but it will require pragmatism from both sides. Beijing should not allow the Pakistani deep state to dictate it's links with India (especially in the context of cooperation in Afghanistan). New Delhi on its part, should not make any one issue a sticking point in its complex but very important relationship with Beijing.
The "Neo-Cold War" in the Indian Ocean Region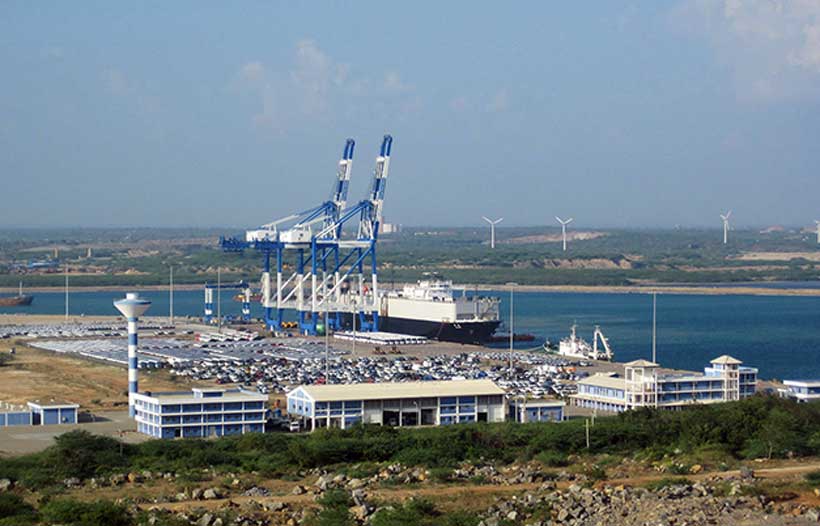 Addressing an event last week at London's Oxford University, Sri Lankan Prime Minister Ranil Wickremesinghe said some people are seeing "imaginary Chinese Naval bases in Sri Lanka. Whereas the Hambantota Port (in southern Sri Lanka) is a commercial joint venture between our Ports Authority and China Merchants – a company listed in the Hong Kong Stock Exchange."
Prime Minister Wickremesinghe has denied US' claims that China might build a "forward military base" at Sri Lanka's Hambantota port which has been leased out to Beijing by Colombo. Sri Lanka failed to pay a Chinese loan of $1.4 billion and had to lease the China-developed port to Beijing for 99 years. Both New Delhi and Washington had in the past expressed concerns that Beijing could use the harbor for military purposes.
The USA, China, and India are the major powers playing their key role in the "Neo-Cold War" in Central Asian landmass and the strategic sea lanes of the world in the Indian Ocean where 90% of the world trade is being transported everyday including oil. It is this extension of the shadowy Cold War race that can be viewed as the reason for the recent comment made by the US Vice President Mike Pence that China is using "debt diplomacy" to expand its global footprint and Hambantota "may soon become a forward military base for China's expanding navy".
According to some analysts, the deep-water port, which is near a main shipping route between Asia and Europe, is likely to play a major role in China's Belt and Road Initiative.
In his book "Monsoon" Robert D. Kaplan (2010), a senior fellow at the Centre for a New American Security notes the following:
[…] the Indian Ocean will turn into the heart of a new geopolitical map, shifting from a unilateral world power to multilateral power cooperation. This transition is caused by the changing economic and military conditions of the USA, China and India. The Indian Ocean will play a big role in the 21st century's confrontation for geopolitical power. The greater Indian Ocean region covers an arc of Islam, from the Sahara Desert to the Indonesian archipelago. Its western reaches include Somalia, Yemen, Iran, and Pakistan — constituting a network of dynamic trade as well as a network of global terrorism, piracy, and drug trafficking […]
Two third of the global maritime trade passes through a handful of relatively narrow shipping lanes, among which five geographic "chokepoints" or narrow channels that are gateway to and from Indian ocean: (1) Strait of Hormuz (2) Bab el-Mandab Passage (3) Palk Strait (4) Malacca and Singapore Straits and (5) Sunda Strait.
While Lutz Kleveman (2003), argues that the Central Asia is increasingly becoming the most important geostrategic region for the future commodities, Michael Richardson (2004) on the other hand explains that the global economy depends on the free flow of shipping through the strategic international straits, waterways, and canals in the Indian Ocean.
According to the US Energy Information Administration (EIA)  report published in 2017, "world chokepoints for maritime transit of oil are a critical part of global energy security. About 63% of the world's oil production moves on maritime routes. The Strait of Hormuz and the Strait of Malacca are the world's most important strategic chokepoints by volume of oil transit" (p.1). These channels are critically important to the world trade because so much of it passes through them. For instance, half of the world's oil production is moved by tankers through these maritime routes. The blockage of a chokepoint, even for a day, can lead to substantial increases in total energy costs and thus these chokepoints are critical part of global energy security.  Hence, whoever control these chockpoints, waterways, and sea routes in the Indian Ocean maritime domain will reshape the region as an emerging global power.
In a recent analysis of globalization and its impact on Central Asia and Indian Ocean region, researcher Daniel Alphonsus (2015), notes that the twists and turns of political, economic and military turbulence were significant to all great players' grand strategies:
(1) the One Belt, One Road (OBOR), China's anticipated strategy to increase connectivity and trade between Eurasian nations, a part of which is the future Maritime Silk Road (MSR), aimed at furthering collaboration between south east Asia, Oceania and East Africa; (2) Project Mausam, India's struggle to reconnect with its ancient trading partners along the Indian Ocean, broadly viewed as its answer to the MSR; and (3) the Indo-Pacific Economic Corridor, the USA's effort to better connect south and south east Asian nations. (p.3)
India the superpower of the subcontinent, has long feared China's role in building outposts around its periphery. In a recent essay, an Indian commentator Brahma Chellaney wrote that the fusion of China's economic and military interests "risk turning Sri Lanka into India's Cuba" – a reference to how the Soviet Union courted Fidel Castro's Cuba right on the United States' doorstep. Located at the Indian Ocean's crossroads gives Sri Lanka the strategic and economic weight in both MSR and Project Mausam plans. MSR highlights Sri Lanka's position on the east-west sea route, while Project Mausam's aim to create an "Indian Ocean World" places Sri Lanka at the center of the twenty-first century's defining economic, strategic and institutional frameworks. Furthermore, alongside the MSR, China is building an energy pipeline through Pakistan to secure Arabian petroleum, which is a measure intended to bypass the Indian Ocean and the Strait of Malacca altogether.
A recent study done by a panel of experts and reported by the New York Times reveal that how the power has increasingly shifted towards China from the traditional US led world order in the past five years among small nation states in the region. The critical role played by the strategic sea ports China has been building in the rims of Indian Ocean including Port of Gwadar in Pakistan, Port of Hambantota in Sri Lanka, Port of Kyaukpyu in Myanmar and Port of Chittagong in Bangladesh clearly validates the argument that how these small states are being used as proxies in this power projection.
This ongoing political, economic and military rivalry between these global powers who are seeking sphere of influence in one of the world's most important geostrategic regions is the beginning of a "Neo-Cold War" that Joseph Troupe refers as the post-Soviet era geopolitical conflict resulting from the multipolar New world order.
IMF bail-out Package and Pakistan
Pakistan may approach IMF to bail-out the current economic crisis. It is not the first time that Pakistan will knock the doors of IMF. Since 1965, Pakistan has been to IMF 17 times. Almost all of the governments has availed IMF packages. Usually, IMF is a temporary relief and provide oxygen for short time so that the patient may recover and try to be self-sustained. The major role of IMF is to improve the governance or reforms, how the ill-economy of a country may recover quickly and become self-sustained. After having oxygen cylinder for 17 times within 5 decades, Pakistan's economy could not recover to a stage, where we can be self-sustained and no more looking for IMF again and again. This is a question asked by the common man in Pakistan to their leadership.  People are worried that for how long do we have to run after IMF package? The nation has enjoyed 70 decades of independence and expects to be mature enough to survive under all circumstances without depending on a ventilator.
The immediate impact of decision to approach IMF, is the devaluation of Pakistani Rupees. By depreciating only one rupee to US dollar, our foreign debt increases 95 billion rupees.  Today we witness a depreciation of rupee by 15 approximately (fluctuating), means the increase in foreign debt by 1425 billion rupees. Yet, we have not negotiated with IMF regarding depreciation of Rupees. Usually IMF demand major depreciation but all government understands the implications of sharp devaluation, always try to bargain with IMF to the best of their capacity. I am sure, Government of Pakistan will also negotiate and get the best bargain.
IMF always imposes conditions to generate more revenue and the easiest way to create more income is imposing tax on major commodities including Gas, Electricity and Fuel. Pakistan has already increased the prices of Gas, Electricity and Fuel. It has had direct impact on basic necessities and commodities of life. We can witness a price hike of basic food, consumer items and so on. Except salaries, everything has gone up. While negotiating with IMF formally, we do not know how much tax will be increased and how much burden will be put on the common man.
We believe, our rulers know our capacity and will keep in mind the life of a common man and may not exceed the limit of burden to common man beyond its capacity. We are optimistic that all decisions will be taken in the best interest of the nation.
It is true, that Pakistan has been to IMF so many times, so this might be a justification for the PTI Government to avail IMF package. But, there are people with different approach. They have voted for change and for "Naya" (new) Pakistan. They do not expect from PTI to behave like previous several governments. If PTI uses the logic of previous governments, may not satisfy many people in Pakistan.
Especially, when Pakistan was in a position to take-off economically, we surrendered half way, may not be accepted by many people in Pakistan.
The government has explained that other options like economic assistance from friendly countries was also very expensive, so that they have preferred IMF as more competitive package. I wish, Government may educate public on the comparison of available options, their terms and conditions, their interest rate, their political conditions, etc. There might be something confidential, Government may avoid or hide, one may not mind and understand the sensitivity of some of the issues. But all permissible information on the terms and conditions of all options in comparison, may be placed on Ministry of Finance's website or any other mode of dissemination of knowledge to its public.
Against the tradition, people of Pakistan have voted Imran Khan, who so ever was given ticket of PTI, public has voted him or her blindly in trust to Imran Khan. A few of his candidates might not be having very high capabilities or very good reputation, but, public has trusted Imran Khan blindly. Imran Khan is the third most popular leader in Pakistan, after Jinnah the father of nation, and Zulfiqar Ali Bhutto, the Former Prime Minister of Pakistan in 1970s.
People of Pakistan have blindly trusted in Imran Khan and possess very high expectations from him. I know, Imran Khan understands it very well. He is honest, brave and visionary leader and I believe he will not disappoint his voters.